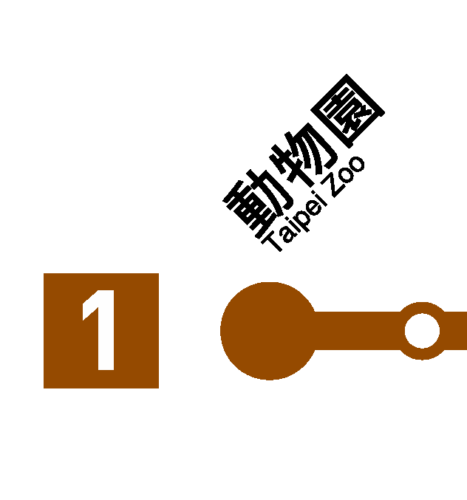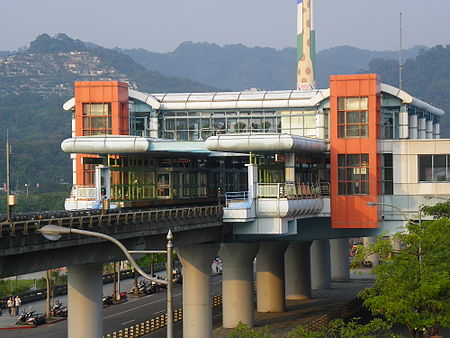 [This post will be updated if new information about places around the station comes available. 🙂 ]
Maokong Café Alley (貓空Café 巷)
Info added on March 18, 2020
The Maokong area, located in Taipei City's Wenshan District just south of the Taipei Zoo, has long been famous for the multitudes of teahouses and tea restaurants that dot the mountainside. Setting itself apart, Maokong Café Alley has taken to inventing new desserts for visitors to enjoy. After a day of exploring the area, choosing from among the number of hiking trails, settle in to relax with one of their sweet treats – Baozhong or Tieguanyin tea ice cream, cheesecake, sundaes, and smoothies – for a delicious dessert experience.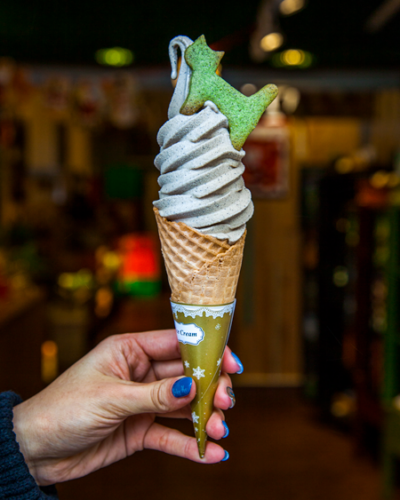 Maokong Café Alley (貓空Café 巷)
Add: No. 35-5, Ln. 38, Sec. 3, Zhinan Rd., Wenshan Dist., Taipei City
(台北市文山區指南路三段38巷33-5號)
Tel: (02) 2234-8637
Website: www.facebook.com/maokongcafealley
Taipei Zoo (台北市立動物園)
This metropolitan zoo has 8 outdoor and 6 indoor display areas, along with 5 eco-education teaching sites. This leisure park, surrounded by natural woodland, combines natural landscape and unique ecological features, and simultaneously serves educational, research, conservation, and recreation functions.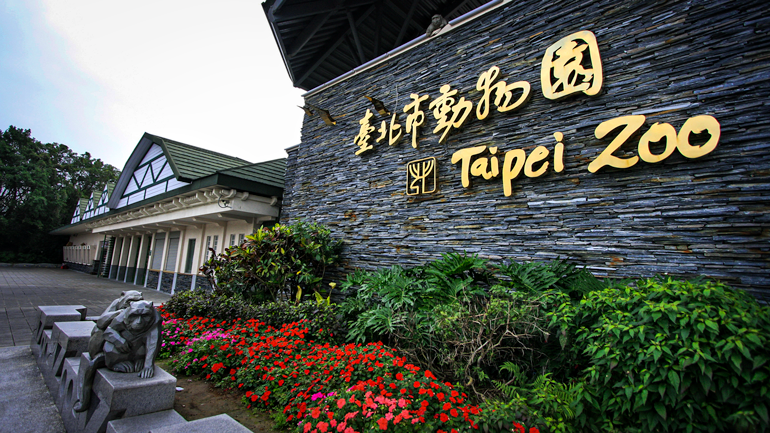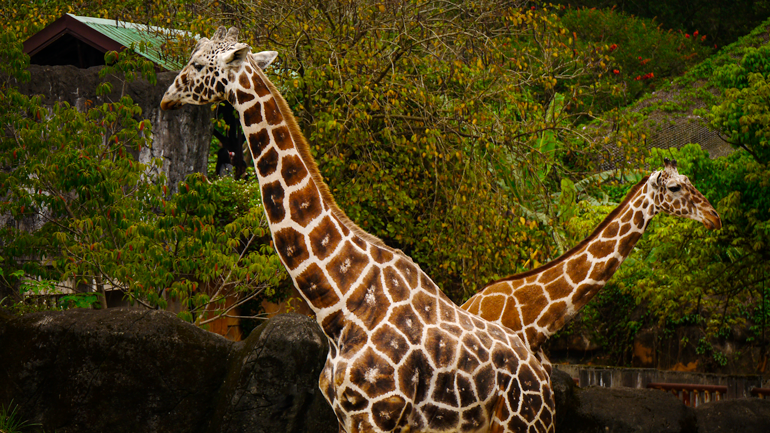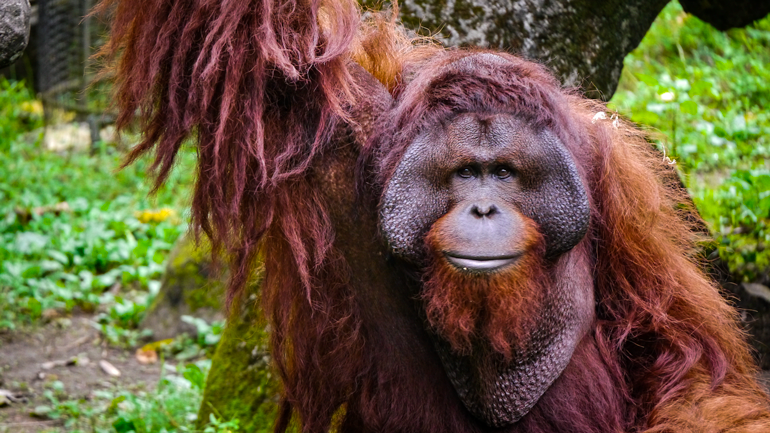 Add: No. 30, Sec. 2, Xinguang Rd., Taipei City
(台北市新光路2段30號)
Tel: (02) 2938-2300
Website: www.zoo.gov.tw
Maokong ( 貓空 )
In Taipei's Wenshan District, Maokong has many mountain-ascent trails along its edges – a great place for Taipei overlooks, especially at night. This is the city's biggest tea-production area, and today offers traditional tea arts with hearty dining in a unique tea-tourism leisure destination.
Camphor Tree Trail (樟樹步道)
This is Maokong's most popular hiking trail, mostly flat with easy walking, taking you through old-style rustic rural scenery – past oxcarts, tea farms, mud-brick dwellings, etc., brimming with local cultural history. The trail changes appearance and character with the seasons, adding further flavor to the experience.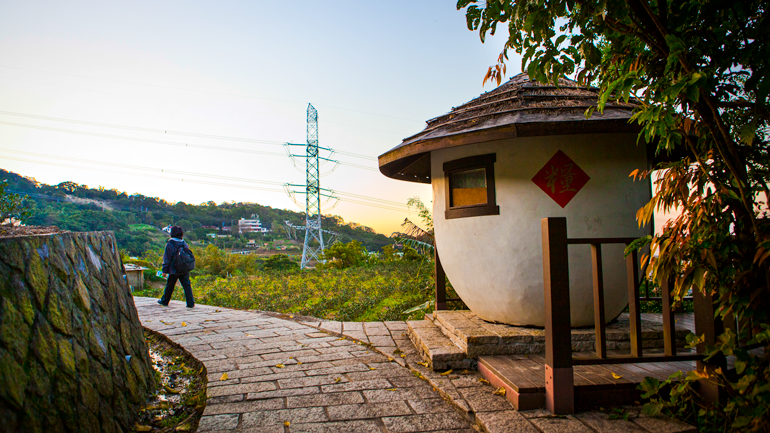 Location: From Maokong Gondola's Maokong Station, follow Ln. 38, Sec. 3, Zhinan Rd. to Sanxuan Temple (三玄宮方).
Zhanghu Trail (樟湖步道)
Gentle-graded and comfortable, along this trail enjoy lovely tea-field terracing. Along one branch is the U-Theatre drumming troupe's famed mountain theater, and along the "Rhythm Corridor" are music-instrument interactive installations, showcasing different countries' instruments, which emit different sounds according to the weather, and which you can also "play" for fun yourself.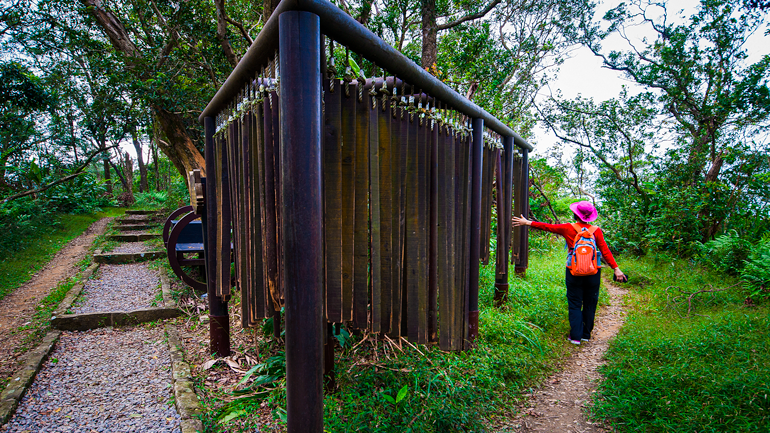 Location: The trailhead is close to Maokong Gondola's Maokong Station.
Denggao Hiking Trail (登高步道)
The Denggao Hiking Trail trailhead is directly in front of Maokong's Mingde Temple. Ascend to the Wangyuan Pavilion for a grand Taipei panorama. The trail, just 1~200 meters, is safe and comfortable, great for beginner hikers. Finish with a teahouse visit and good conversation, soaking up the pleasant Maokong greenery.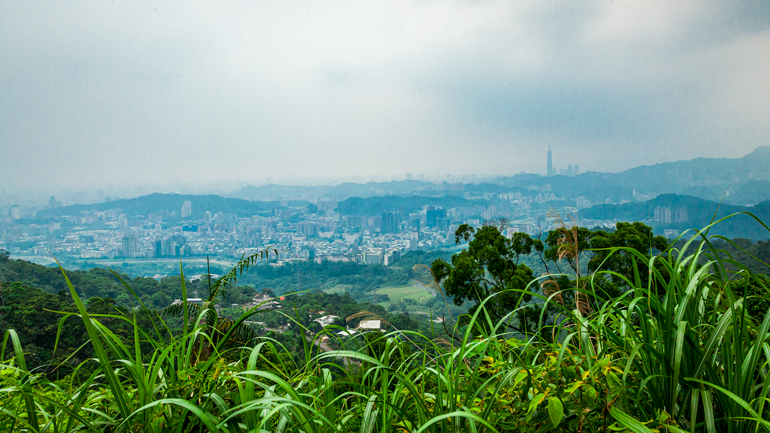 Location: The trailhead is oppostie Mingde Temple on Ln. 45, Laoquan St.
Chalu Hiking Trail (茶路古道)
Also called Sanxuan Temple Hiking Trail, before the Zhinan Industrial Road was opened this was the sole tea-transport artery for local farmers. The old pathway meanders through a Tie Guanyin (Iron Goddess) cultivation area of tea fields, old farm buildings, and bamboo forest. Information signage augments the old-time/modern-times nature-education tour.
Location: The trailhead is near Shibokeng Bridge ( 石坡坑小橋 ) on Ln. 38, Sec. 3, Zhinan Rd.
Apricot Blossom Leisure Farm
(杏花林休閒農場)
Mountainsides covered in cherry blossoms in spring, and apricot blossoms all about, this farm features a farm-produce processing plant, making farm-preserved Chinese radish, mustard greens, fruit preserves, and other treats. Detailed guided tours are offered, plus tea-biscuit DIY sessions (reservations required). No advance booking is needed for weekday farm visits.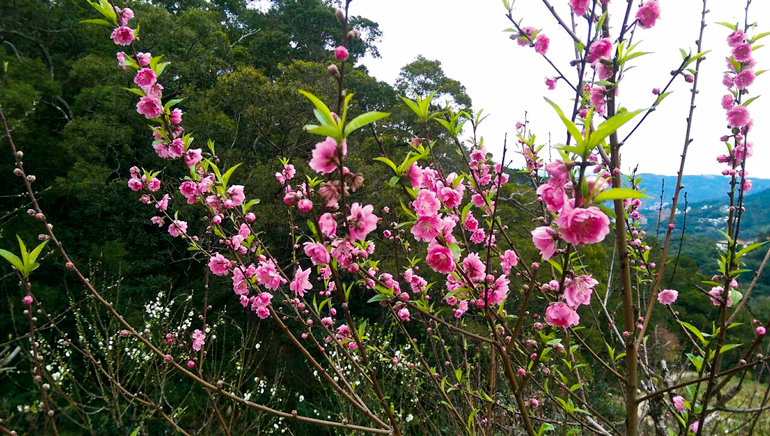 Add: No. 30, Ln. 45, Laoquan St., Taipei City
(台北市老泉街45巷30號)
Tel: (02) 2937-8959
Good Food Around National Chengchi University (國立政治大學周邊美食)
Around this campus are many inexpensive eateries with first-rate food. On the west, Si Fang Noodles serves Southeast Asian wheat-based staples and Hainanese chicken rice; 45 Da Jie offers fried-egg rice bowl and butter pork chop rice. On the east, Dian Wei Kitchen serves Yunnan-Myanmar cuisine. Down the alleys, Bao Bao Restaurant offers northeast-China dumplings and other noodles.
Jingmei River's Left/Right Bank Family-Fun Bike Paths (景美溪左右岸親子生活自行車道)
These paths run from MRT Taipei Zoo Station up along the river's high banks, with a connection across Daonan Bridge. The paths give easy access to the Taipei Zoo, National Chengchi University sportsground, and grassy expanses of the riverside parks – perfect for family outings.
Location: Beside Jingmei River
Master A-Yi's Big Teapot Tea Restaurant
(阿義師大茶壺茶餐廳)
Owner Master A-Yi, a trained chef fastidious about his ingredients, has developed many creative dishes, such as Tie Guanyin enoki mushroom and chicken soup, Wuyi Rock Tea smoked chicken leg, and "four seasons" spring tea stewed tofu – all naturally delicious.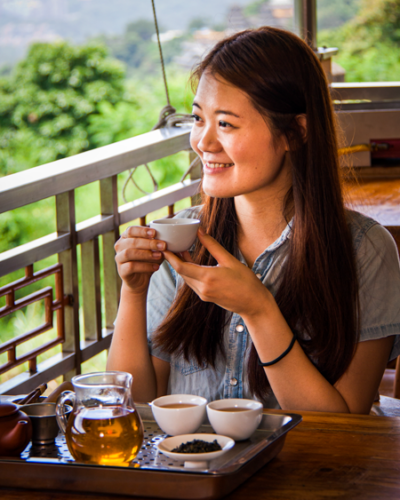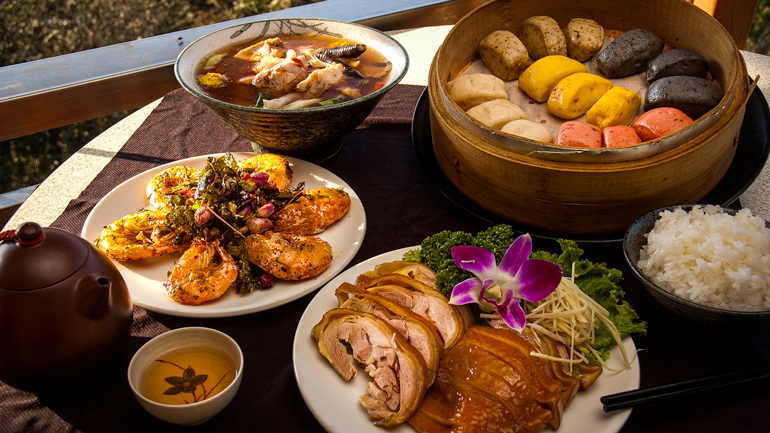 Add: 1F, No.37-1, Ln. 38, Sec. 3, Zhinan Rd., Taipei City
(台北市指南路3段38巷37-1號1樓)
Tel: (02) 2939-5615 (closed on Monday, except for public holidays)
Yao Yue Teahouse (邀月茶坊)
This expansive teahouse, in business over 25 years, is open 24H year-round. Enjoy ginger "exploding" tea-oil chicken, Yao Yue goose w/soymilk, honey, and tea, Pu-er-tea-rubbed beef, and other private-kitchen cuisine, accompanied by Maokong's renowned Tie Guanyin tea, savoring the pleasures of life.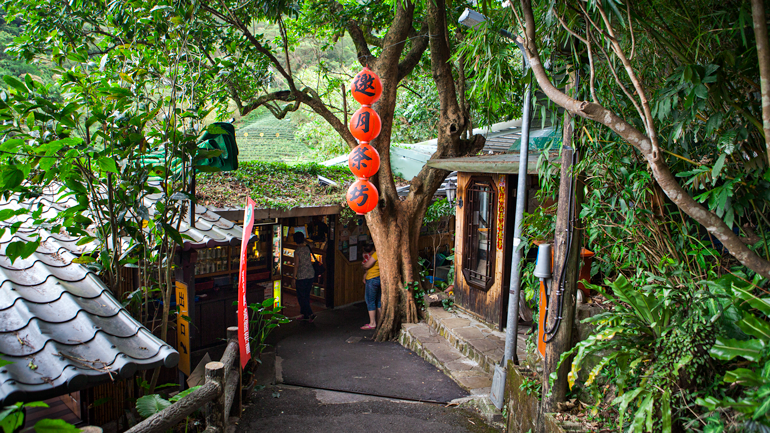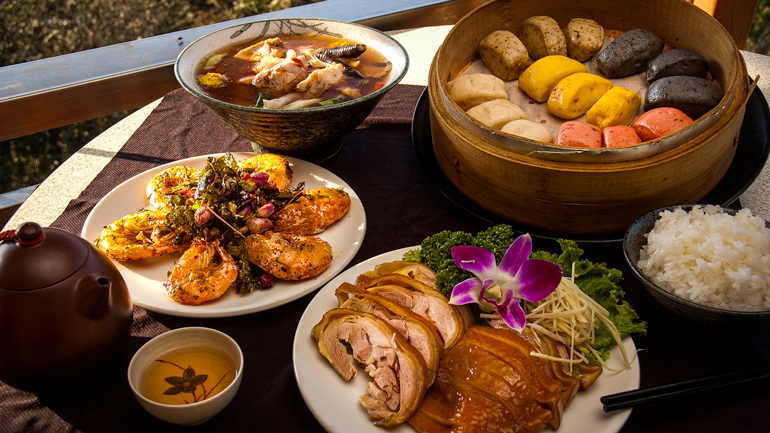 Add: No. 6, Ln. 40, Sec. 3, Zhinan Rd., Taipei City
(台北市指南路3段 40 巷 6 號)
Tel: (02) 2939-2025
Longmen Restaurant (龍門客棧)
Between Maokong's Maokong Station and the Camphor Tree Trail, this restaurant primarily serves Chinese set-meal cuisine. Specialties include barrel-broiled chicken, Tie Guanyin-tea shrimp, and salt/pepper lamb chop. The open-concept, wood-theme design creates a holiday-resort feel.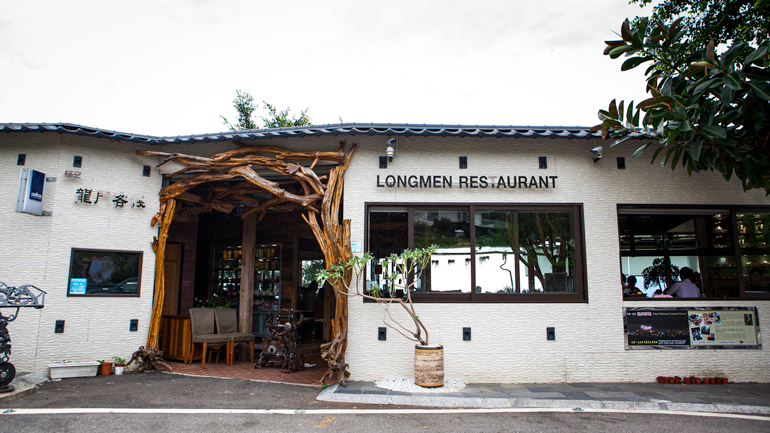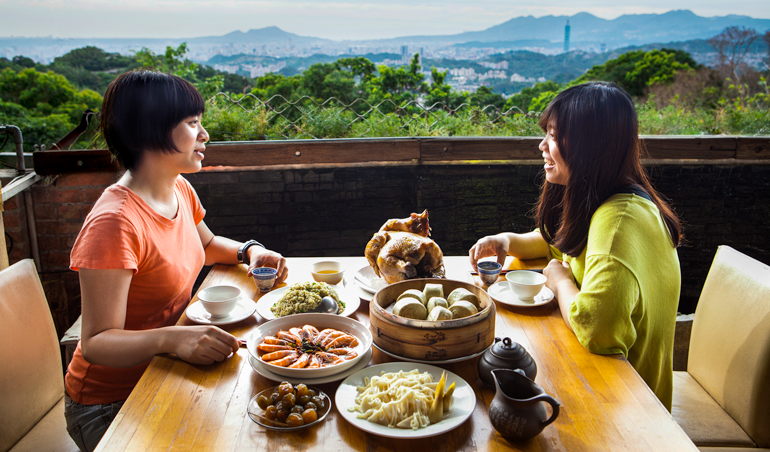 Add: No. 22-2, Ln. 38, Sec. 3, Zhinan Rd., Taipei City
(台北市指南路3段 38巷22-2號)
Tel: (02) 2939-8865
Lytea (光羽塩Lytea)
A wood-built building with a stylish and innovative design, Lytea's exterior is integrated with its mountain setting. Bright and spacious inside, floor-to-ceiling windows provide a superb Taipei panorama. House specialties include smoked tea goose, tea-flavored cod, and fried rice with shredded tea leaf.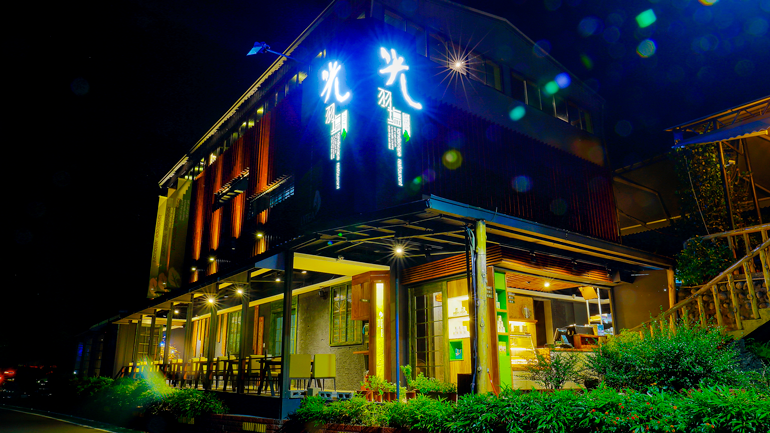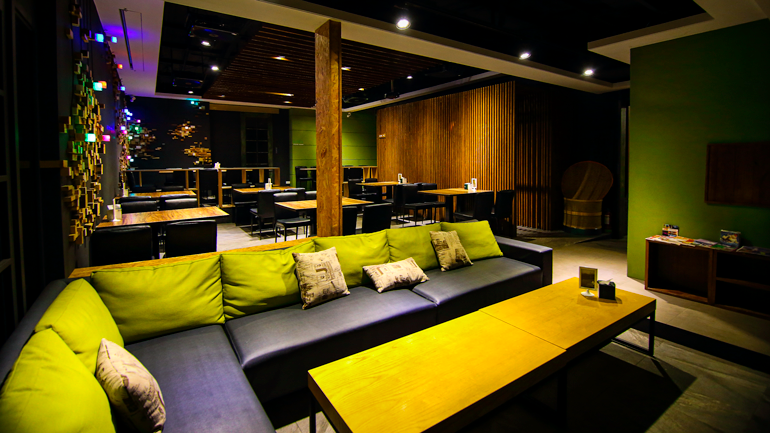 Add: No. 14-2, Ln. 38, Sec. 3 Zhinan Rd., Taipei City
(台北市指南路3段38巷14-2號)
Tel: (02) 2939-4050 (closed on Monday)
Also read:
A Style Alike / Ruins Coffee Roasters