Two Popular Hot-Spring Resort Villages in Southern Taiwan with Excellent Food Options
TEXT / MARK CALTONHILL
PHOTOS / CHEN CHENG-KUO

Both Guanziling and Baolai have the right preconditions for a perfect hot-spring soak environment: enchanting mountain scenery, quiet and relaxed atmosphere, excellent spring-water quality. Making these popular hot-spring resort villages even more attractive are the two award-winning restaurants introduced in this article.
Whether it's a mountain hike followed by a feast of mountain boar, venison, and unusual vegetables cooked to some special indigenous recipe; or swimming, surfing, and building sandcastles at the beach followed by traditional seafood dishes; or a day spent hunting for fashion items and bargains in downtown malls sustained by intermittent intakes of Taiwan's world-renowned night-market snacks – it is clear that the people of Taiwan have a penchant for combining their hobbies with eating. Or perhaps, one might say, for combining one of their secondary hobbies with their main hobby of eating.
This is no less true when pampering themselves in the pools and spas of a hot-spring resort. Taiwan has over 100 hot springs, both carbonate and sulfur, hot and cold, mountain-high and ocean-side, and many have been developed into resorts. Last year the Taiwan Tourism Bureau felt the time had arrived to recognize the importance of food to the local hot-spring resort experience with its inaugural Hot Spring Cuisine Awards, to help discriminating visitors indulge themselves just that little bit more. The ten winners in two categories – banquets and set meals – were selected with the help of experts from the Chinese Gourmet Association and voting by the general public.
Guanziling
One of Taiwan's most popular hot-spring resort villages, perhaps because it is one of the most unusual, is Guanziling, located in the central mountain foothills of Tainan City's Baihe District and within the Siraya National Scenic Area (www.siraya-nsa.gov.tw). It is readily accessible by bus, car, scooter, or bicycle from downtown Chiayi and Tainan cities. This close proximity to Taiwan's western plain makes not just for accessibility but also for fine views: as far as the "oyster capital" of Dongshi Township on the coast, by day and by night.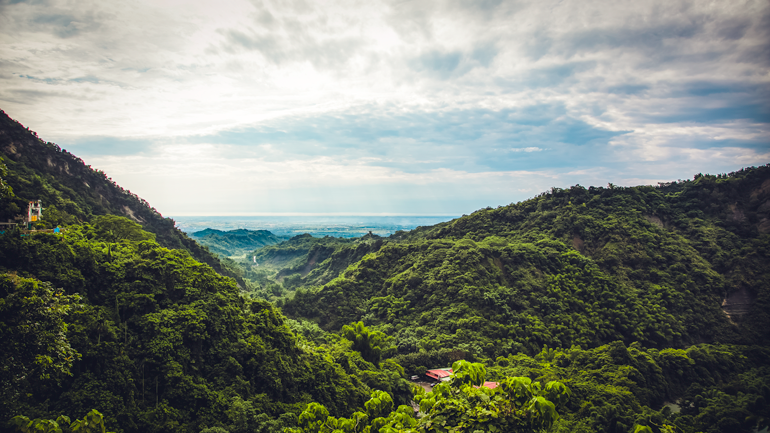 This is not what makes it unusual, however. Nor is it the area's interesting temple complexes – the Daxian Temple, with its many pagodas, and the Biyun Temple, dating back over 200 years; the clay-pot roast chicken restaurants that line the main access road for miles; nor even the Water and Fire Spring, created when geothermal gases emerging from a hot-spring vent caught fire many centuries ago, though this is almost unusual enough.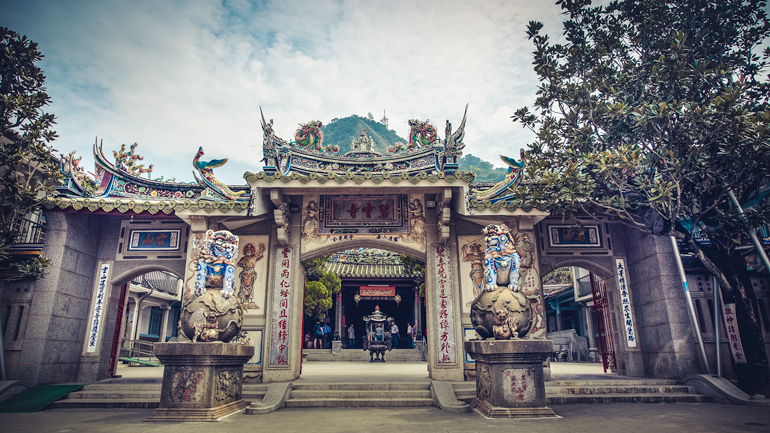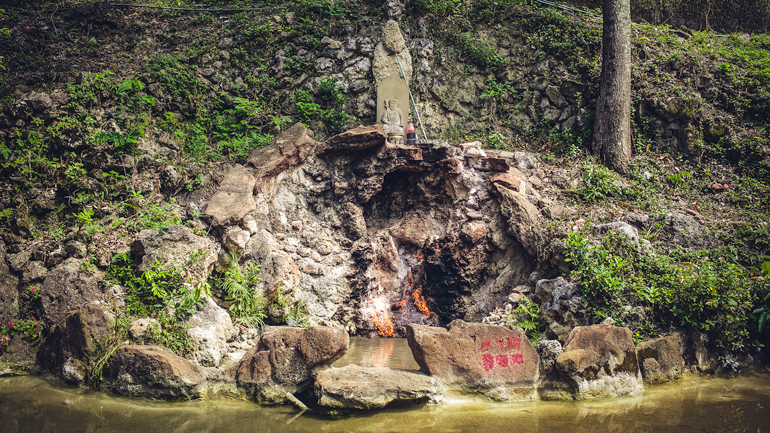 No, what is special about Guanziling is that it is one of only three mud hot springs in the world, the others being in Japan and Italy. Hot-spring pilgrims therefore head here to bathe in the opaque alkaline water and daub themselves with the thick, dark "skin-rejuvenating, joint-improving" mud.
A wide range of hotels and bathhouses in Guanziling offer variations on this theme, including the imposing Guanziling Toong Mao Resort Hotel, which has a conference center and 400-seat dining room. Built 18 years ago on the former site of an elementary school, in addition to private rooms it has a swimming pool and half-a-dozen outdoor pools ranging in temperature and muddiness, all beneath century-old trees which early in the year hang romantically with cherry blossoms.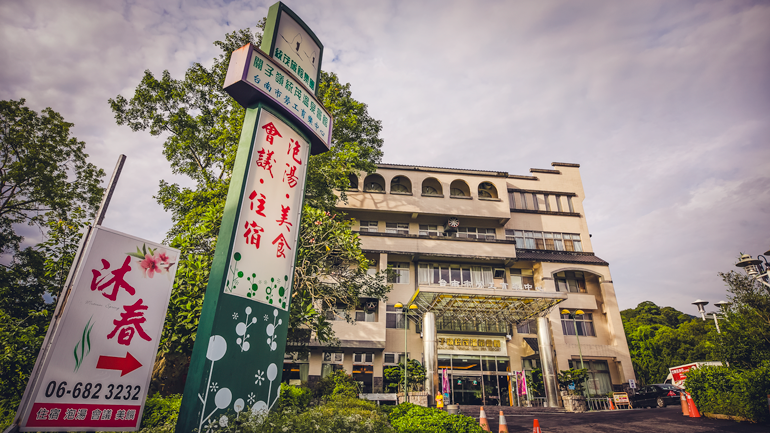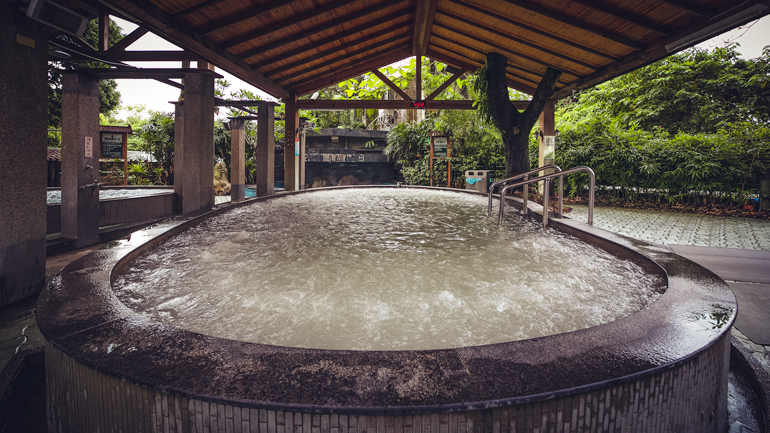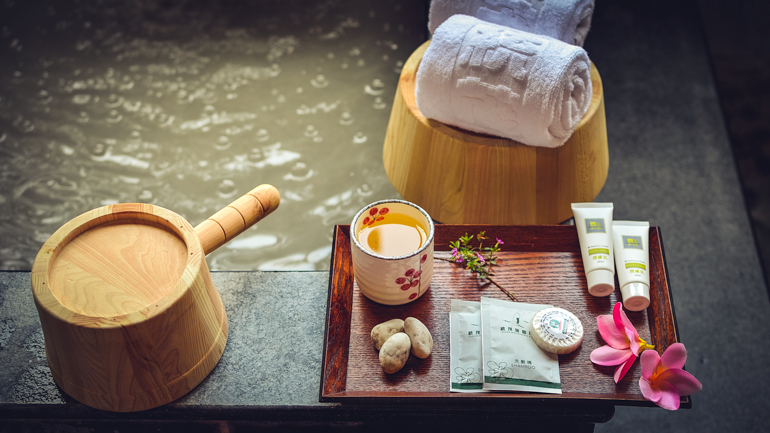 During a recent Travel in Taiwan summer visit, we had the chance to talk to Shen Chi-tsong, head chef of the resort hotel's award-winning (Chinese Banquet Style Dishes category) restaurant. He explained that his banquet menu changes every three months depending on seasonal freshness and availability, but that local produce is used wherever possible. Prices vary from NT$2,000 to NT$20,000 per table, and menus can also be tweaked by contacting the resort in advance.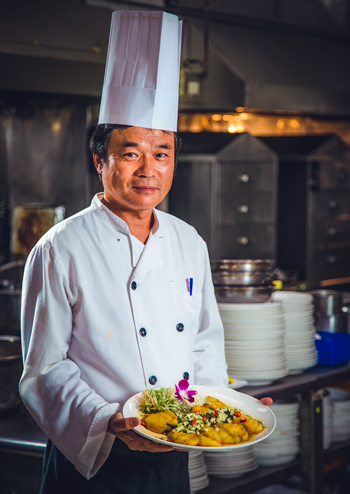 The meal we sampled started with a selection of cold side dishes, presumably to contrast with the hot water in which most diners will have just bathed. These included jellyfish with turnip and carrot; whelk meat cooked until tender – as distinct from the Taiwan night-market variety readers may have chewed their way through previously; slices of pork arranged over fermented cabbage, spring onion, and chili kimchi; and black mu-er ("tree ear" fungus) marinated in ginkgo-flavored vinegar. All were so delicious it was hard to hold back for the main hot dishes that were on the way from the kitchen. They were also visually appealing, with Shen explaining that color plays an important role in his menu design.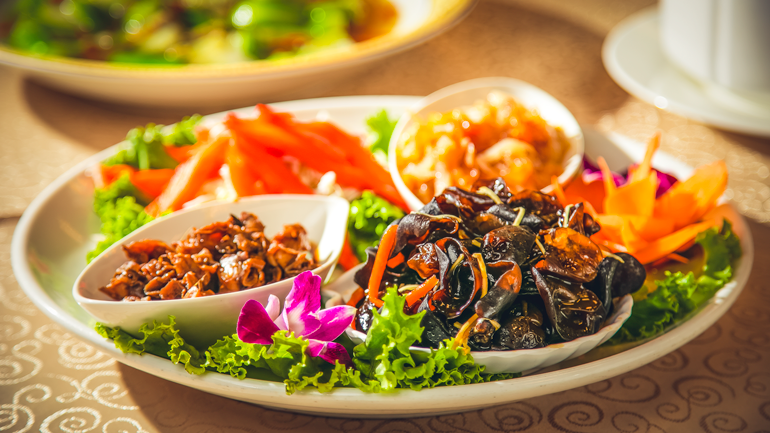 Next up was a chicken soup. No clay-pot roast here, but rather Shen's innovative recipe, using slices of sun-dried lotus root he had fermented and slow cooked to impart an unusual and most enjoyable flavor, enhanced by the addition of gouqi (Chinese wolfberry), which in recent years has made the transition from traditional herbal medicine to cooking ingredient.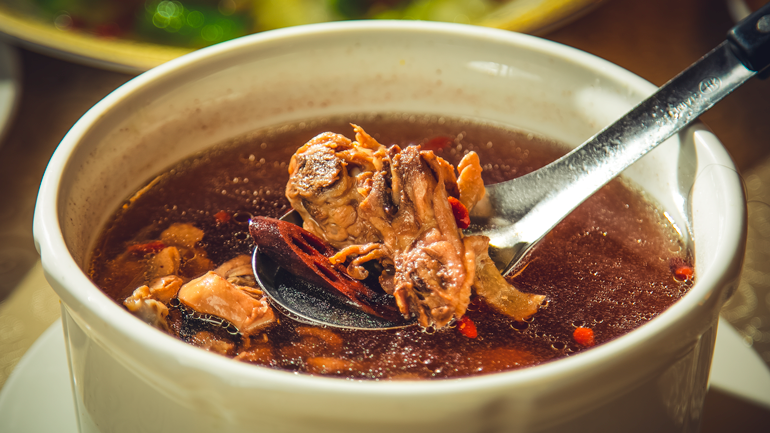 Another Shen original recipe is his fish with mango sauce, using locally grown fruit but saltwater fish since, he said, many diners find the fiddly dismantling of more bony freshwater fish more suited to family meals than to banquet-style group dining. The combination, which at first seemed a little surprising, turned out to be a masterful innovation, with the sour and sweet fruit notes complementing the freshness of the fish.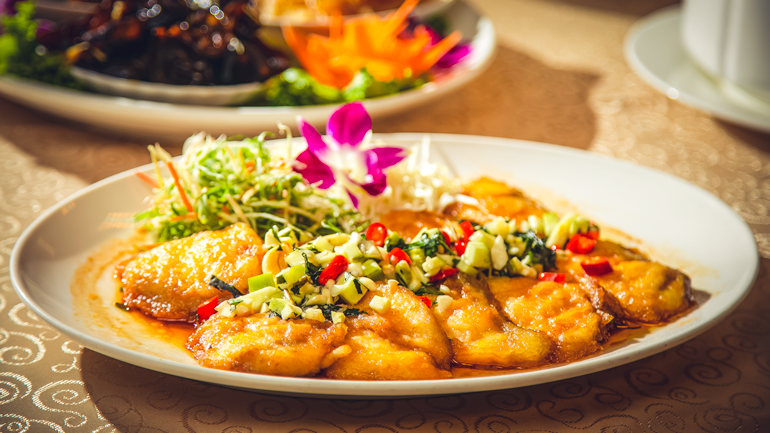 More seafood came in the form of a geng (starch-thickened soup), which contained clams, local sigua (loofah gourd), and again gouqi; a plate overflowing with prawns steamed with rice wine and herbs; and finally, as if any more was needed, scallops cooked with tomato, carrot, and chewy balls made from fish paste.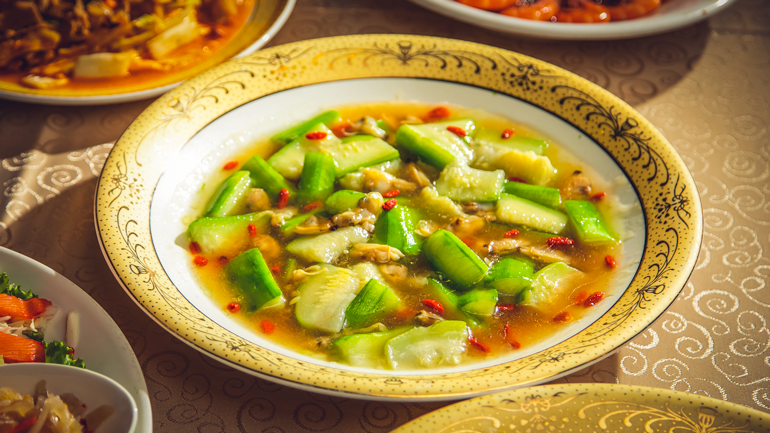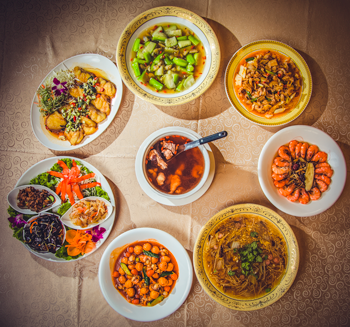 As Shen intended: a feast for the eyes as well as the palate.
Guanziling Toong Mao Resort Hotel (統茂溫泉會館)
Add: No. 28, Guanziling, Guanling Borough, Baihe District, Tainan City
(台南市白河區關嶺里關子嶺28號)
Tel: (06) 682-3123
Website: www.toongmao.com.tw
Baolai
As a hot-spring resort, Guanziling dates back at least to early in the period of Japanese rule (1895~1945), though history does not recall what use the area's Siraya indigenous people might have made of the waters in earlier centuries. On the other hand, Baolai, located about 50 kilometers to the southeast in Kaohsiung City's Liugui District, is a much more recent resort development, dating back around three decades. It is hardly less popular, however, and with the Shan Jr Lian Local Flavor Restaurant established and run for the last decade by the wife-and-husband team of Guo Hui-ru and Li Chong-rui having also won the Tourism Bureau's coveted hot-spring cuisine award (Chinese Banquet Style Dishes category), it is equally worthy of a visit.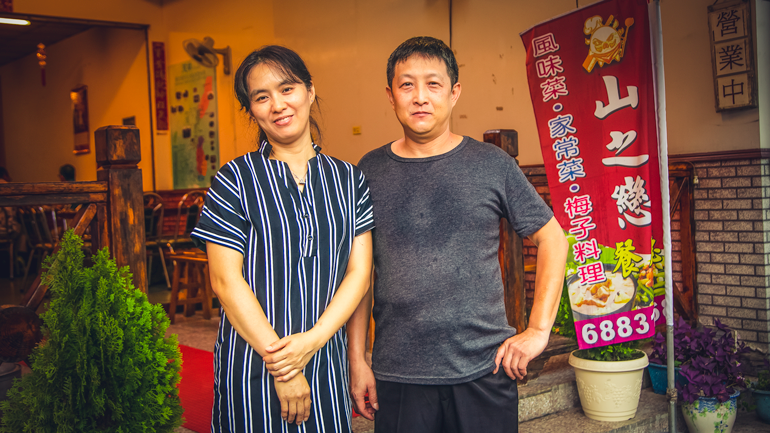 In fact, until recently both the restaurant's and indeed the whole area's prosperity hung in the balance following severe damage by Typhoon Morakot in 2009. The hot-spring source was even lost for a while, and at the time of this writing the Southern Cross-Island Highway, which connects Baolai with eastern Taiwan, was still only open to local traffic. Rediscovery of the source – carbonate waters at pH 7 and 60 degrees Celsius – as well as patience and hard work are paying off, however, and a new hot-spring park, in which presently visitors can bathe their feet, will open for full immersion around year-end.
From the outside, Shan Zhi Lian (lit. "Love of the Mountains") looks much like other restaurants on the area's main road, when one might expect a big sign boasting "WE WON A PRESTIGIOUS AWARD." But Guo said they didn't want to rub it in their friends' and neighbors' faces, by which she probably also meant they don't need to, that word of mouth is sufficient advertising. And indeed, business was good when Travel in Taiwan visited on an out-of-season weekday afternoon.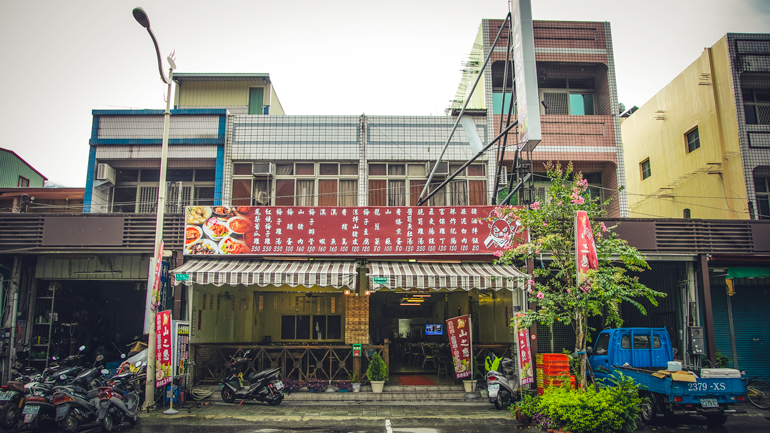 Driving up from the western plain – there is a bus from central Kaohsiung, but it is infrequent and winds its way along at a country pace – provides a lesson in hilly-terrain farming, as pineapple fields give way to groves of tree-sized bamboo, then to betel-nut and coconut plantations, and finally to fruit farms with wax apple trees covered in black nets and mangoes in individual bags to keep birds off.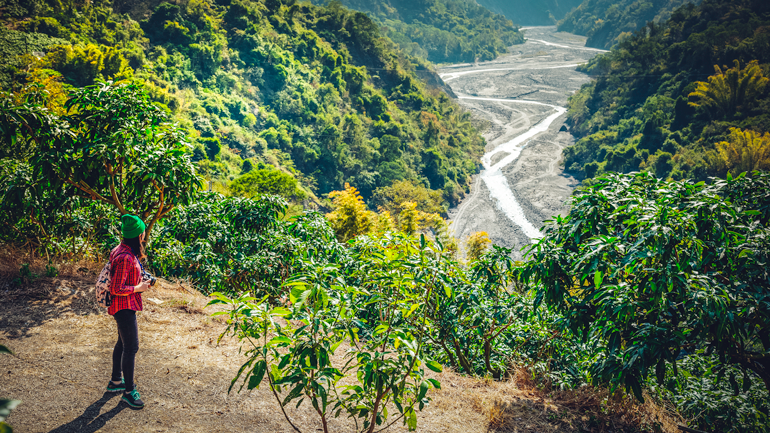 Higher up still, beyond Baolai, are the plum orchards that provide Guo and Li with their primary ingredient. Of the three dozen or so items on their daily menu – more exotic items such as handmade, preservative-free tofu need to be ordered in advance – quite a few include plums: pork ribs with plums, ribs and taro with plums, chicken and plum soup, fried tofu in plum sauce, and so forth.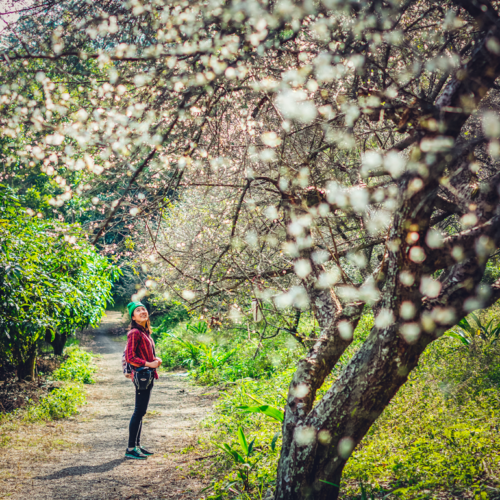 The first dish brought to our table comes as a revelation: Served with mini carrots that taste of plum, as well as plums that taste of savory gravy, the meat on the bone is sticky and chewy.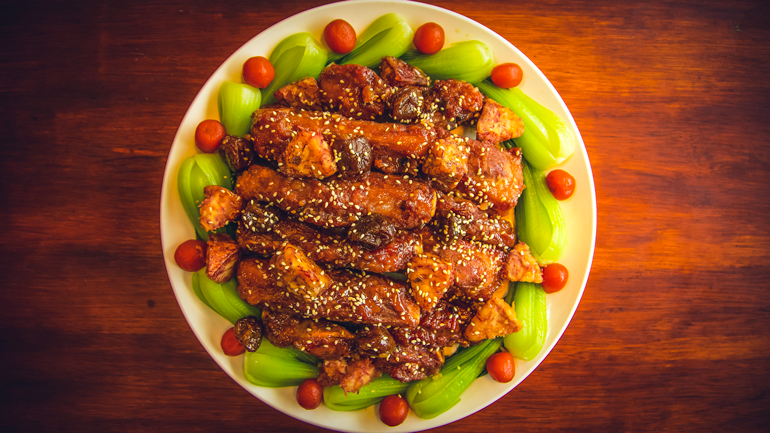 Then there is a kind of bamboo-and-spring-onion omelet, with a subtle cream cheese taste that helps clear the palate after the strong flavors of the meat. For our vegetable dish, what else but shansu (bird's nest fern), a Taiwan mountain-cuisine classic, though it is not usual to find it adorned with plum sauce and sesame seeds. Providing a change, locally reared pork is served with orange and shacha (a sauce of oil, garlic, onion, chili, shrimp paste, etc.). Pig-skin cold cuts come with ginger, chili, and cucumber. And fish are flavored with pobuzi (small fruit from local Cordia dichotoma trees).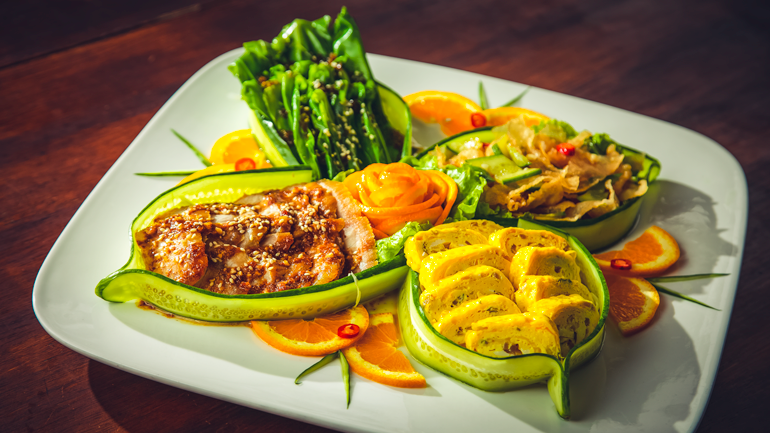 Prawns cooked in plum vinegar bring up the main theme once more.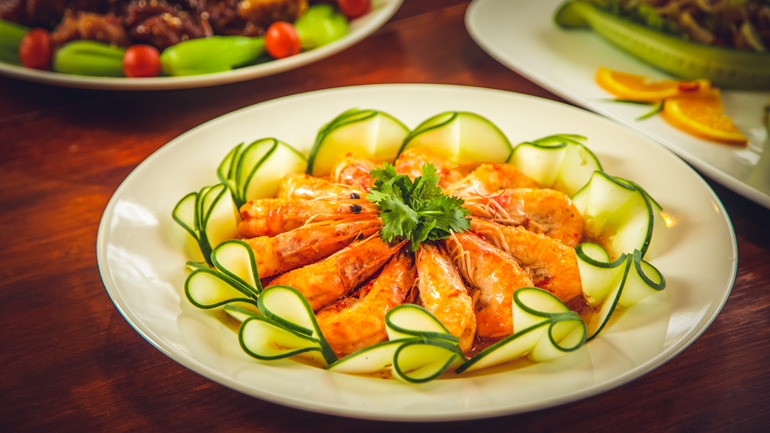 The final offering, a large bowl of the chicken and plum soup.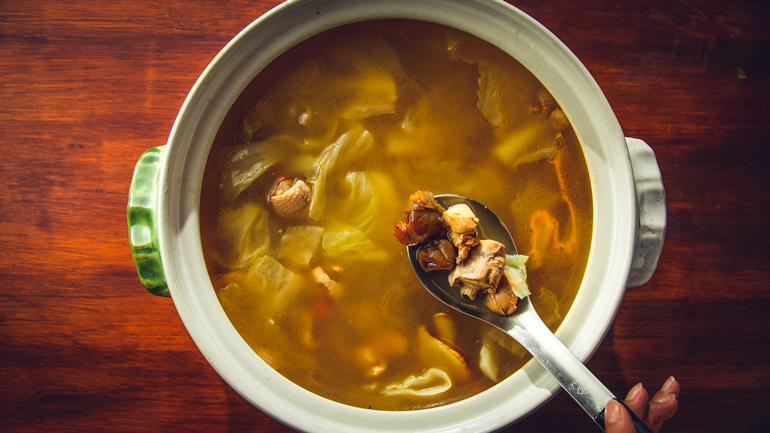 Bizarrely, none of the dishes scream PLUM, as the flavor has been judiciously used to bring out the main ingredients' essential characteristics. Except for the mini carrots, of course, which were great!
Shan Jr Lian Local Flavor Restaurant (山之戀風味餐廳)
Add: No. 105-5, Zhongzheng Rd., Liugui Dist., Kaohsiung City
(高雄市六龜區中正路105-5號)
Tel: (07) 688-3168
Getting there
Although one's own transportation – car, scooter/motorcycle, or bicycle – is most convenient, both locations are served by buses: Chiayi Bus (wwm.cibus.com.tw; Chinese) No. 7214 runs from Chiayi Bus Station to Guanziling.

On weekends there is a direct Kaohsiung Bus, H11, twice a day from Kaohsiung's Zuoying Station to Baolai. On other days, you can take Kaohsiung Bus E25 from Kaohsiung Station or Zuoying Station to Liugui town, and there transfer to bus H11 to get to Baolai.