Two Truly Remarkable Places to Stay in Shoufeng Township
TEXT / SIMON FOSTER
PHOTOS / RAY CHANG, VISION
It's easy to drive through the splendid mountain, ocean, and rift valley scenery of Hualien County's Shoufeng Township without realizing how much there is to see and do away from the main north-south roads. This small farming community is home to hidden treasures aplenty. Among these are some great places to stay and dine.
Terrace Resort Hualien
Perched 300 meters above the East Rift Valley floor in the central mountains foothills on the site of an old pomelo orchard, Terrace Resort (originally named Deep Breath B&B) is a destination in its own right, and the last few kilometers of the journey there is just the start of the adventure. There's a reason a Tesla Road Trip (www.tesla.com/zh_tw/campaign/hualien-roadtrips) came here – seemingly endless switchbacks take you higher and higher until you reach the resort, from where the view over the patchwork of fields in the valley to the Coastal Mountain Range is spellbinding. The vista reinvents itself at nighttime, presenting twinkling lights in the valley below, the pitch black of the mountains, and then the stars above. The resort takes full advantage of its location, with a triangular wooden deck perched out over the hillside making it almost feel like you're floating above the valley. Another deck is set into the jungled hillside and partially enclosed by a web of woodwork, making it a great place to spot wildlife, or to enjoy music and conversation around a fire in the evenings.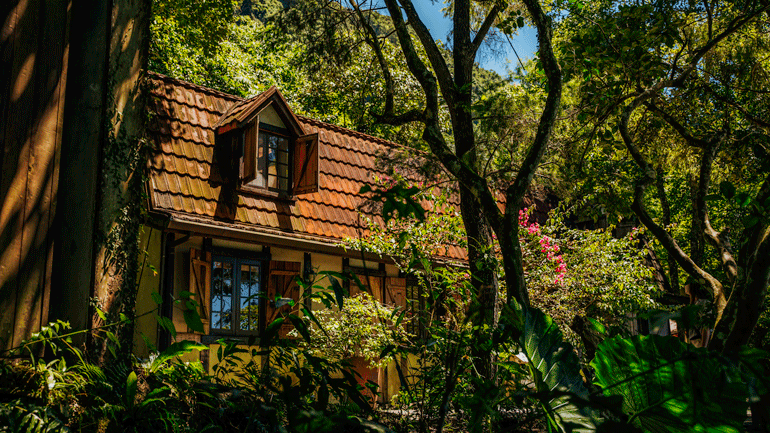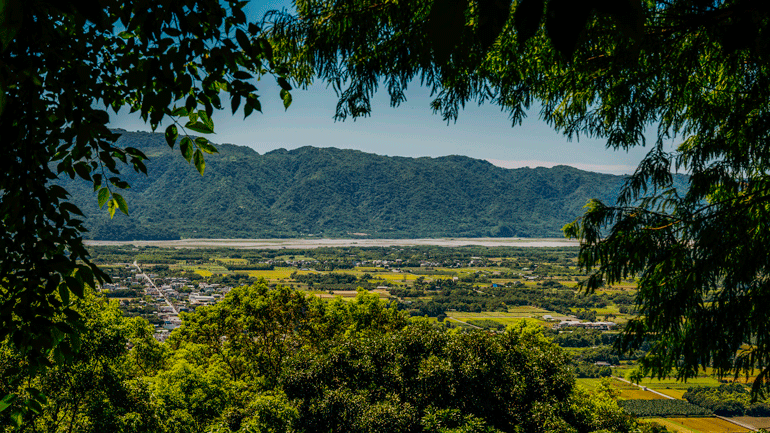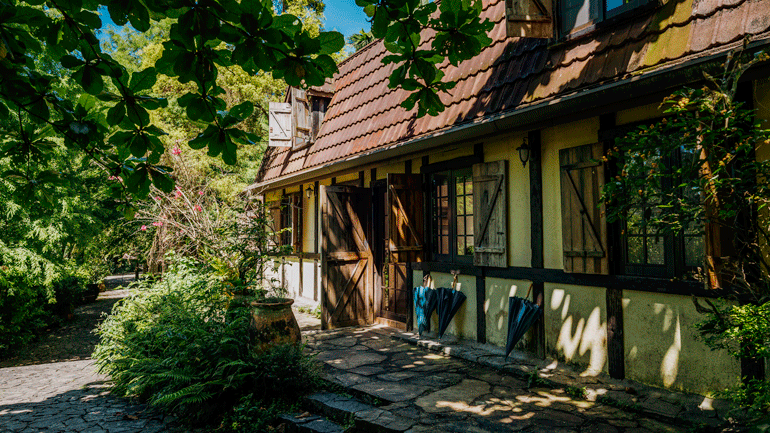 The resort's architecture is fresh from Europe, constructed in Dutch farmhouse style, yet somehow it doesn't look out of place! In spite of feeling like you are truly in the wild, there is no need to forsake creature comforts here, with five comfortable air-conditioned guestrooms featuring beautifully handcrafted wooden furniture imported from Europe, chandeliers, and photos from the owner's travels around the globe. The vaulted rooms are split over two levels, with different interior configurations: Ruby and Gold have the bedroom upstairs and a living room below, whilst in Marble and Sapphire the master bedrooms and living spaces are downstairs, with attics that have extra smaller beds above (Marble two, Sapphire one). Crystal is similarly laid out, but features a desk in the master bedroom looking straight out to lush greenery and is designed with creative types in mind. Some of the rooms also feature circular outdoor tubs in which you can soak away the stresses of life to the sound of cicadas and frogs.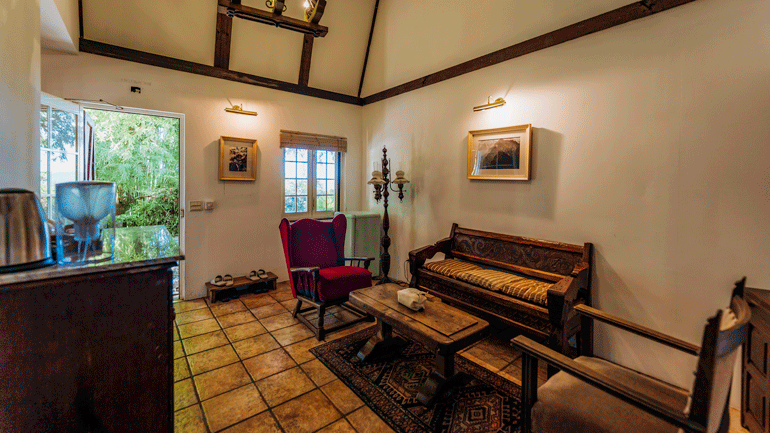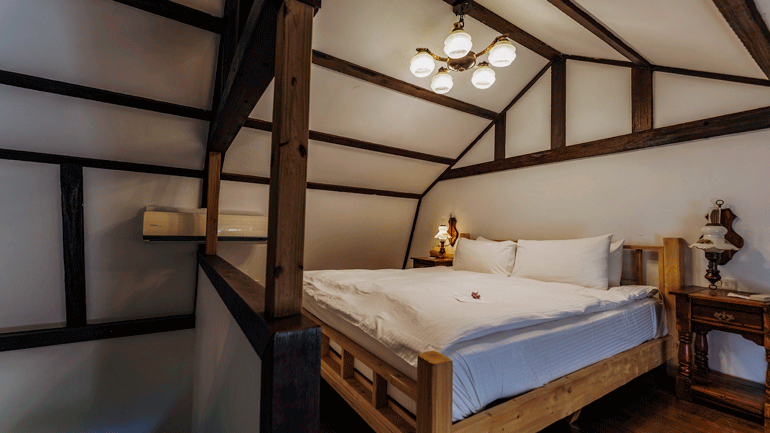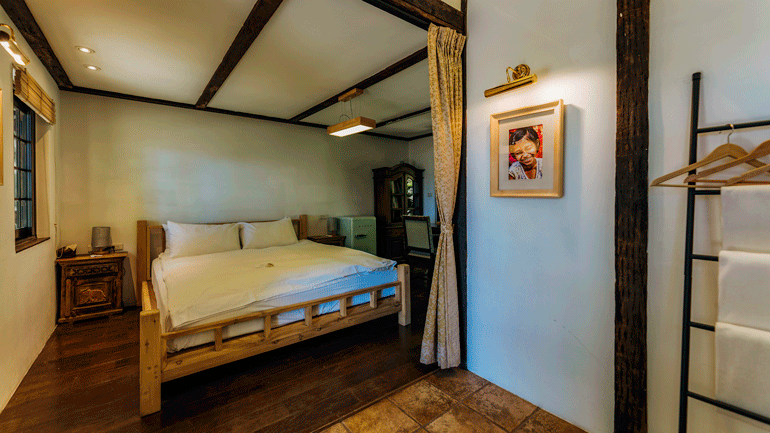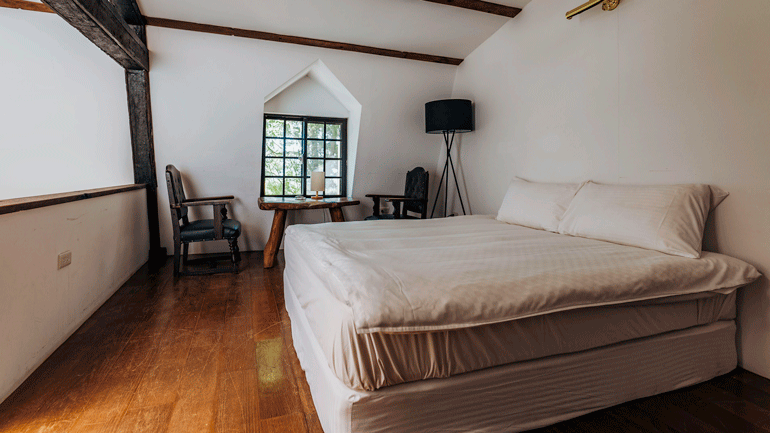 Terrace Resort is the perfect place to unwind and get away from the hustle and bustle of the city, and you could happily spend your time here just marveling at the view and enjoying the first-rate food, but if you want to really embrace nature then an indigenous Bunun tribe guided hunting trip (winters only) is recommended. The resort can also arrange massages to soothe your muscles after a hike. Breakfast isn't included in the room price, but can be arranged on the terrace, or inside if the weather is cooler. If you want to take your stay to the next level, the resort can also organize special themed evenings with top chefs delivering unique delicacies from the recently constructed professional kitchen.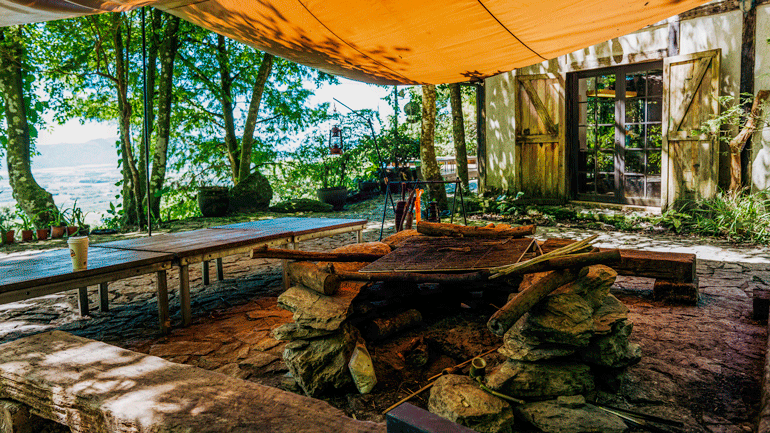 Terrace Resort Hualien
(梯田山民宿)
Tel: 0910-844-018
Add: No. 10, Lane 83, Sec. 2, Shanbian Rd., Fengshan Village, Shoufeng Township, Hualien County
(花蓮縣壽豐鄉豐山村山邊路二段83巷10號)
Facebook: www.facebook.com/terraceresort2016
Website: www.terrace-resort.com
Golden Yihe Stronghold
When cycling along pretty, meandering Hualien County Road 193 I've often wondered what lies beyond the imposing entrance gate to Golden Yihe Stronghold. So it was with eager anticipation that I finally crossed the threshold and made my way uphill to this unique bed and breakfast with a Travel in Taiwan team.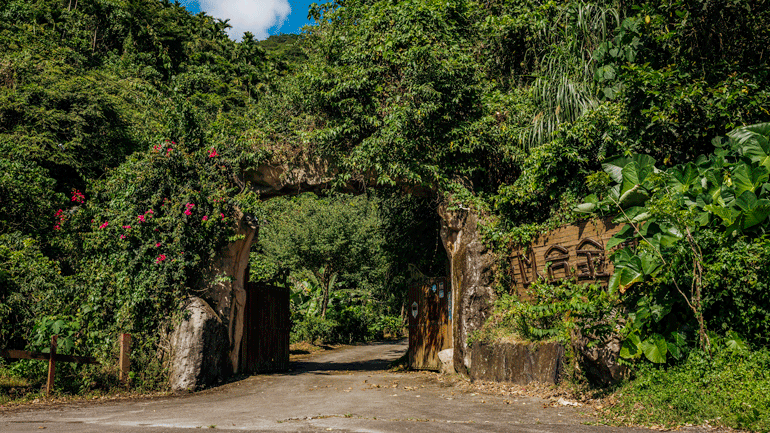 We arrived at the striking angular reception building and were warmly welcomed by the owners, a husband and wife team originally from the city of Taoyuan in northwest Taiwan, who moved here to escape urban living. We were shown inside to a high-ceilinged communal area which serves as the lobby and dining hall and is furnished with solid wooden tables and benches made from Taiwan hemlock. Impressive as the space was, I couldn't keep my eyes off the view through the huge windows, and was drawn to the deck outside and the seemingly endless blue sky beyond. Set 170 meters above sea level, Golden Yihe Stronghold is a little lower than the Terrace Resort Hualien, but its views are equally as spectacular, taking in the East Rift Valley with the Hualien River seen clearly and the vast Central Mountain Range beyond.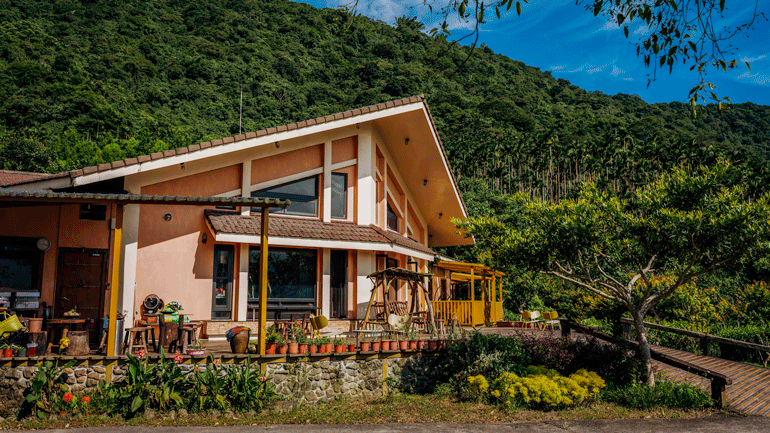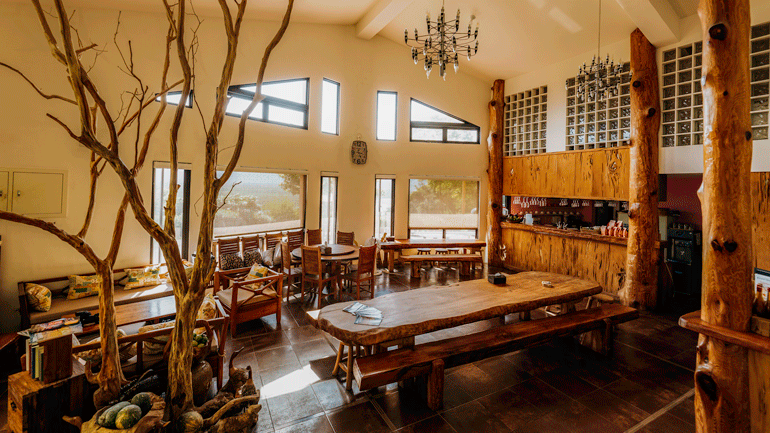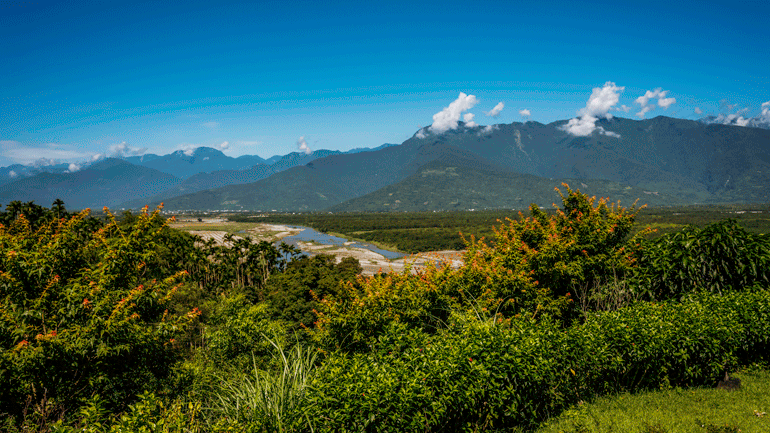 After a quick drink we set off to explore the rooms and expansive grounds of this sprawling property. Along the way we were shown golden caimito (star apple) fruit growing in the orchard (a first for me) and visited the fowl pen, which is home to a hundred or so happy-looking chickens and a goose. The pen is housed in what was previously a stable, and we learned that until recently the owners had horses, and arranged rides for visitors.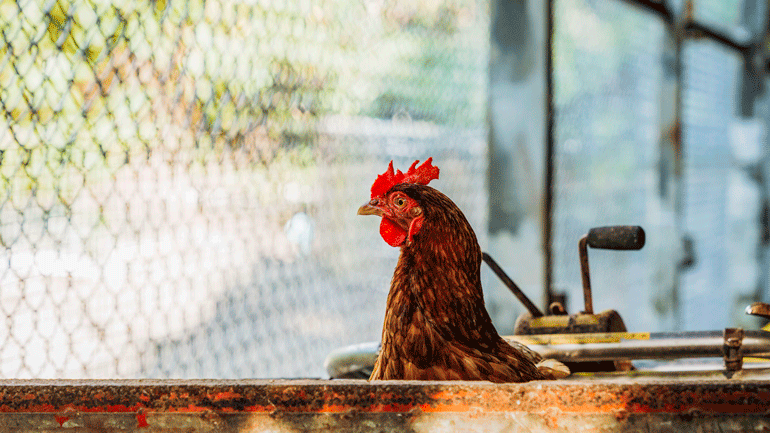 The rooms themselves are grouped into three different areas on the hillside: next to the lobby, there are six simple but stylish Honghuo ("red fire") rooms, with a mezzanine sleeping level and a living room below leading to a decent-sized balcony with (yet more) amazing views.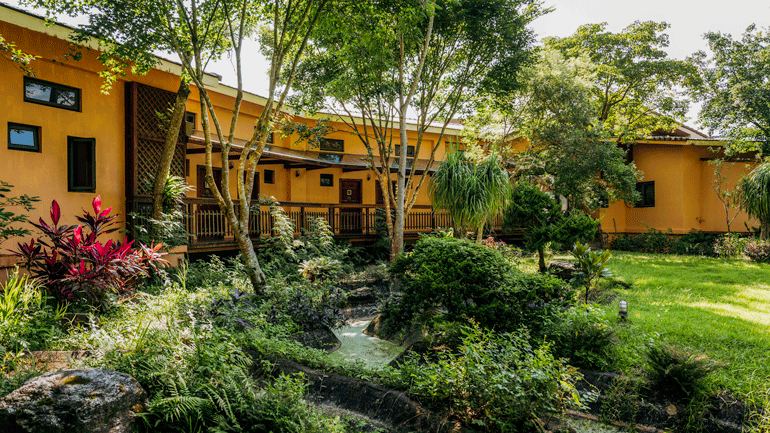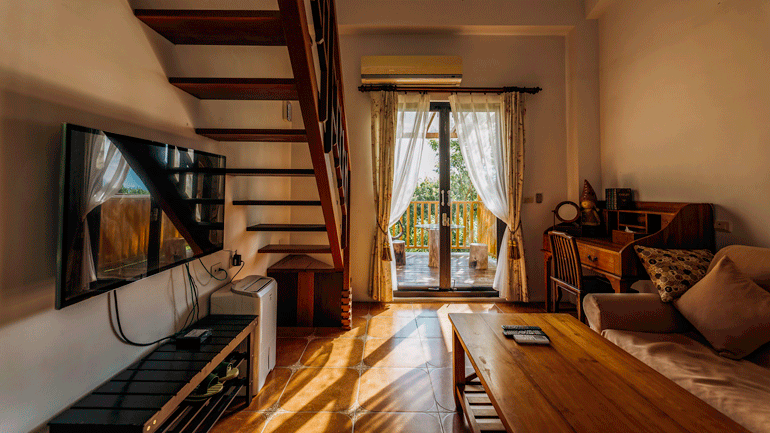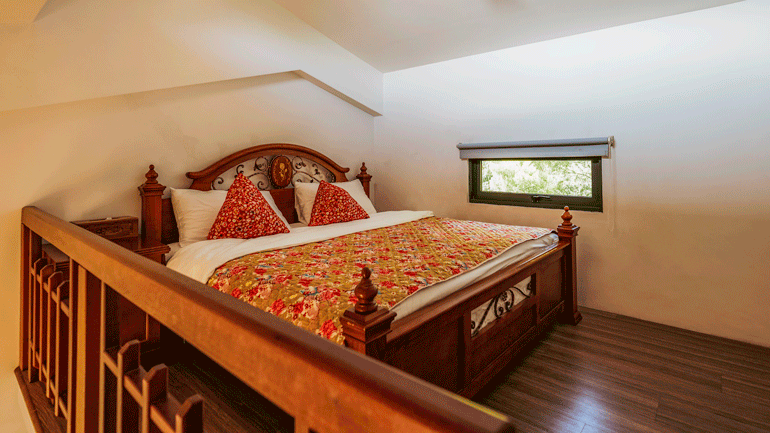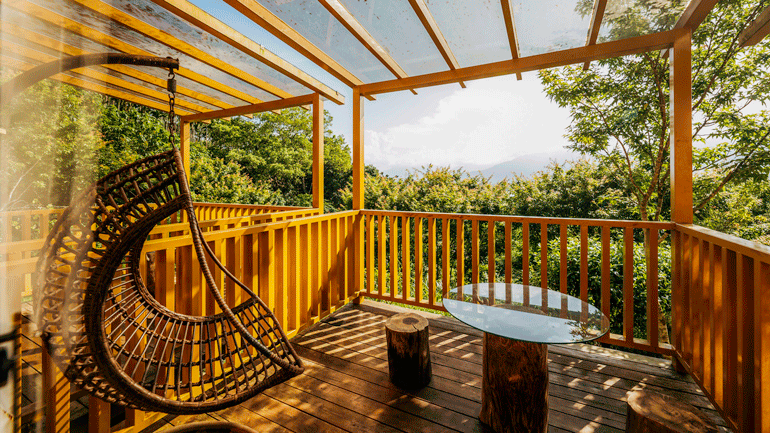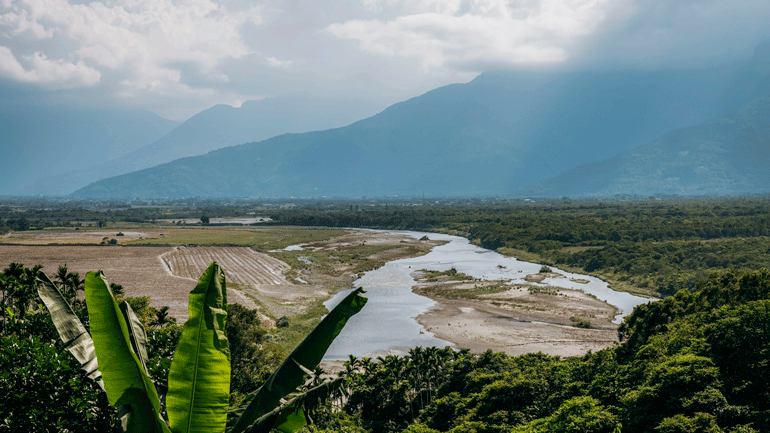 Higher up the hillside, the three rooms in the Qingmu ("green wood") building have a Zen-like living area with floor-to-ceiling windows looking straight into the tree canopies; note that the twin-bedded sleeping quarters above are a little cramped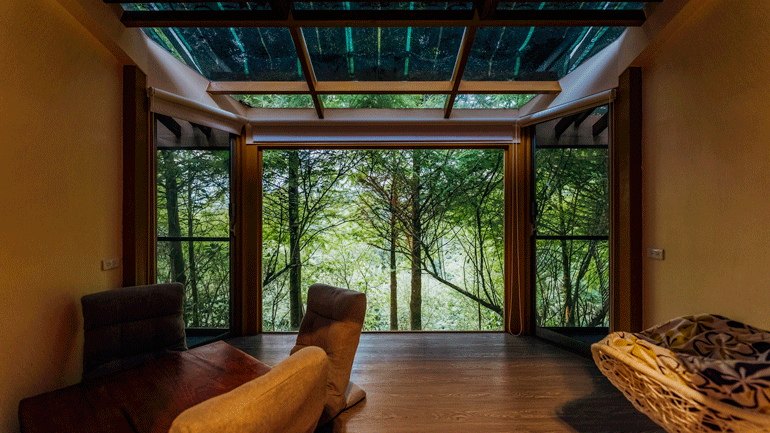 . A couple of minutes' walk below the lobby, the last five rooms, in the Heishui ("black water") building, are the largest, most expensive, and quirkiest. Designed to look like cave dwellings, these rooms are spacious, well furnished, can sleep up to four people each, and have attractive bathrooms – but perhaps the faux rock style won't appeal to everyone!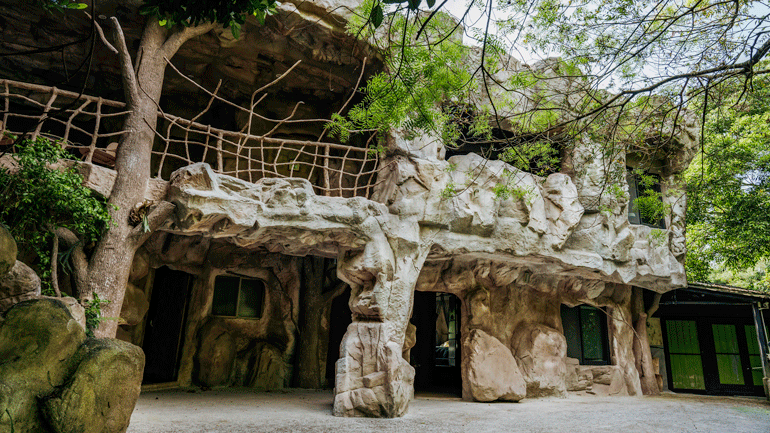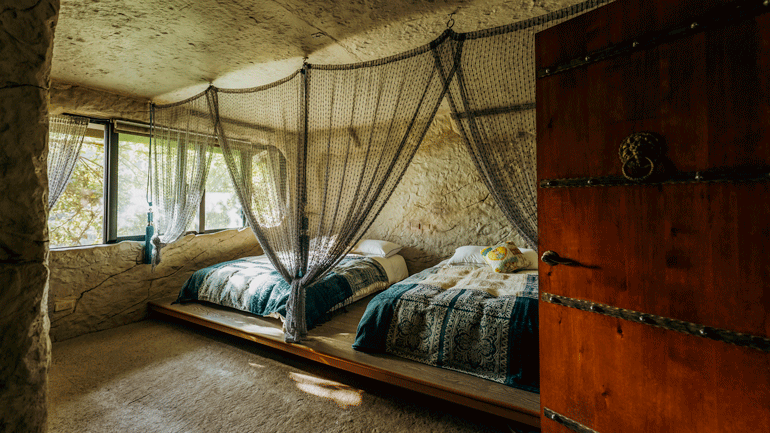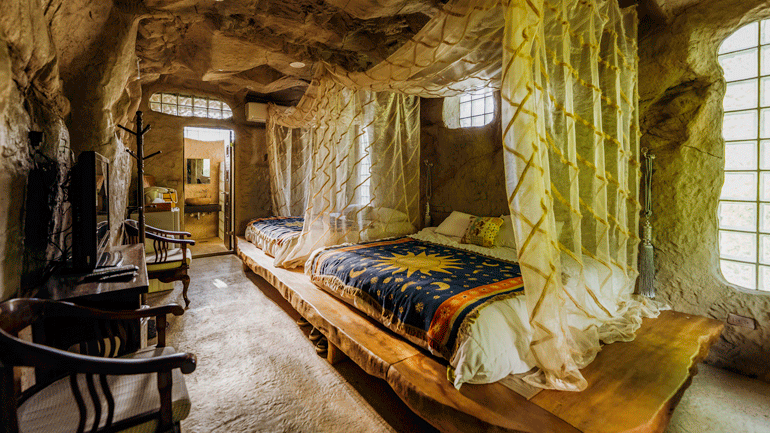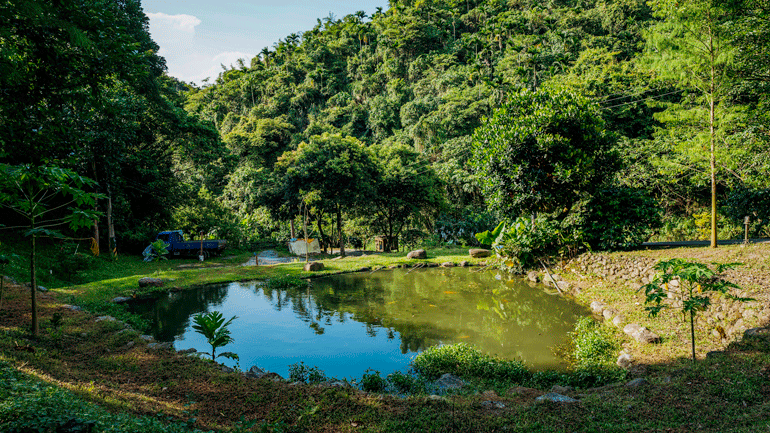 In the evenings the main deck enjoys a cool breeze and is a great spot for a drink with the chatty owners. After a comfortable night's stay, an excellent breakfast is served from 8am in the gorgeous lobby, and consists of tasty eggs, rice patties, vegetables, and lots of lovely fresh fruit, which sets you up well for the day.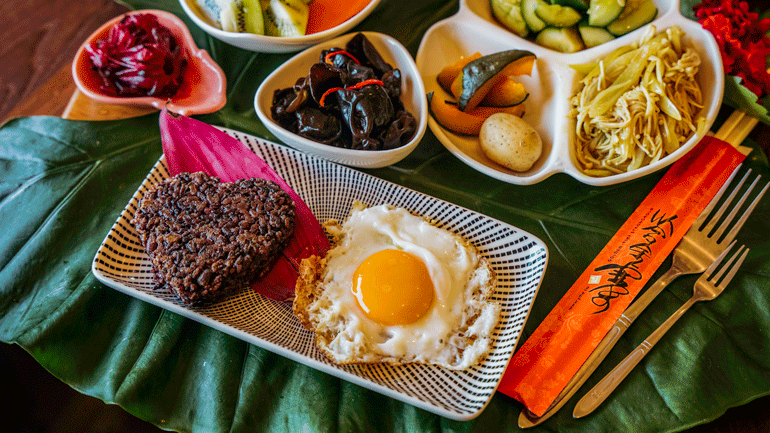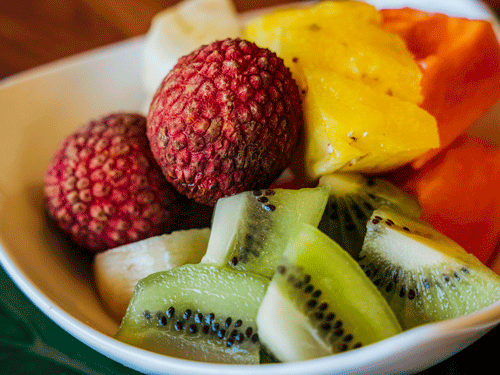 Golden Yihe Stronghold
(以合金寨)
Tel: (03) 874-1393
Add: No. 3-1, Sec. 2, Mizhan, Neighborhood 6, Mizhan Village, Shoufeng Township, Hualien County
(花蓮縣壽豐鄉米棧村六鄰米棧二段3-1號)
Facebook: www.facebook.com/yihe.tw
Website: www.yihe.tw
Other Places of Interest in Shoufeng
In the northwestern corner of the township, picturesque Liyu Lake is Shoufeng's primary drawcard. It's worth stopping at the visitor center here to pick up a map, and you can hire bikes to cycle the 5km bike path that encircles the lake. You can also rent kayaks and swan-shaped pedal boats or, for the less actively inclined, take a lake tour on an electric boat, to get out onto the glimmering waters. For great views, head for the network of hiking trails through the forested hills surrounding the lake. Steep, and slippery after rain, make sure you bring appropriate footwear – and insect repellent.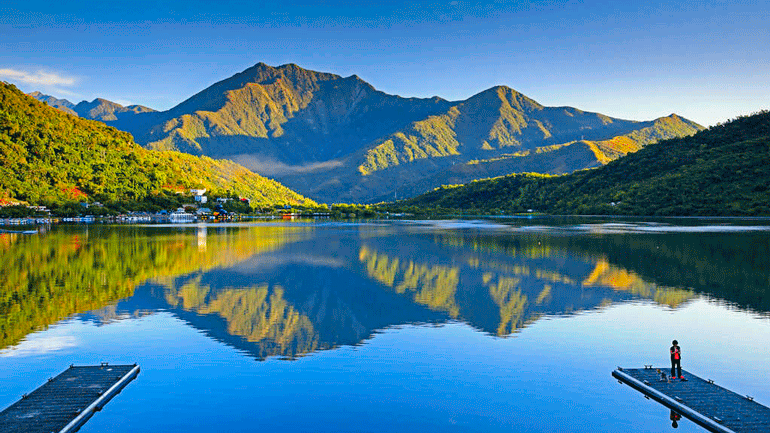 After all of this activity, a refreshing drink or meal at one of the numerous lakeside cafés and restaurants might be in order. From late March through May, Liyu Lake becomes a popular evening destination because of the huge swarms of fireflies that cluster at the water's edge. There's also a large campsite a few minutes to the south of the lake, which has regular pitches as well as more comfortable transparent geodesic domes.
Just west of the campsite, Chinan National Forest Recreation Area (www.erv-nsa.gov.tw/zh-tw/attractions/detail/31) offers more opportunities to stretch your legs and appreciate the majesty of the Shoufeng Township scenery. On the site of a former logging transport camp, the recreation area has forest trails with views over Liyu Lake, breezy pavilions, a playground, and an informative visitor center. The center details the history of the logging industry in Taiwan (in Chinese and English) and displays some impressive historical machinery outside, including a steam train and a small cable car.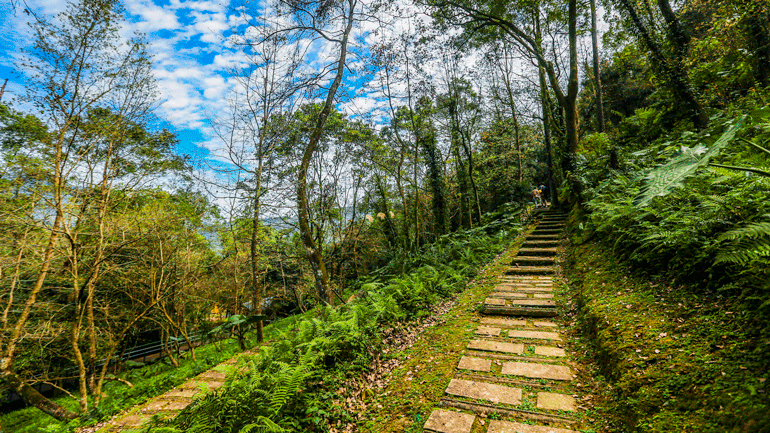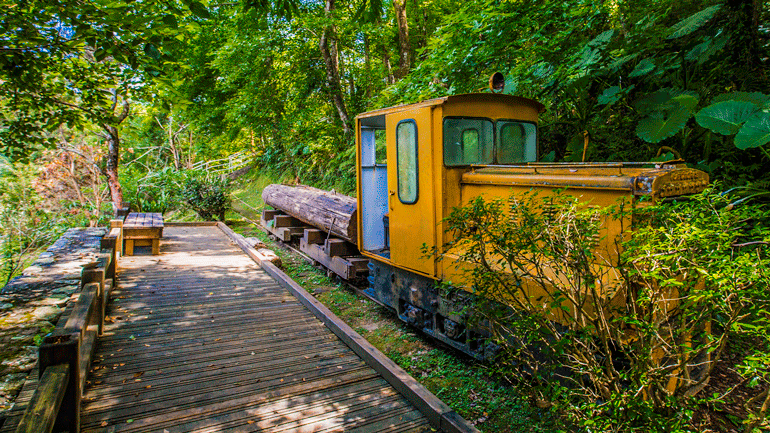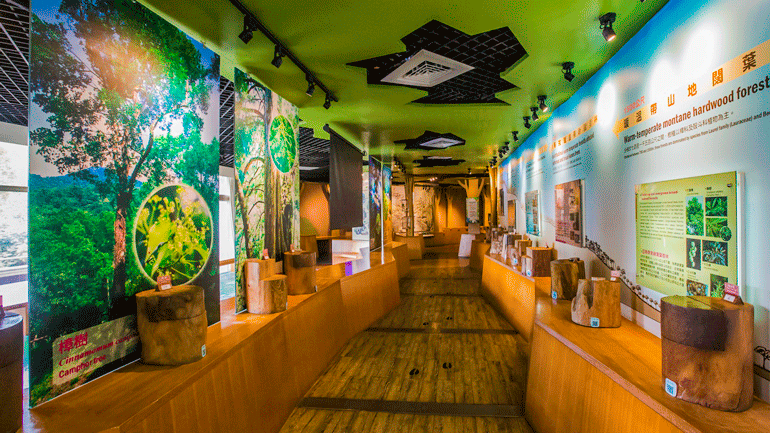 Every time I pass through the town of Shoufeng I can't help myself from stopping at the tiny no-name crafts shop located diagonally just opposite the 7-Eleven on Provincial Highway 9 (there is also a popular night market right behind the 7-Eleven). It may be just a few stalls tucked under the footbridge, but the owners are friendly, prices are very reasonable, and there are some unique locally made pieces. As a result I've bought some of my favorite regional handicrafts here, and my house as well as the bakery my family runs are festooned with wooden stools, woven baskets, and wicker chairs from Shoufeng.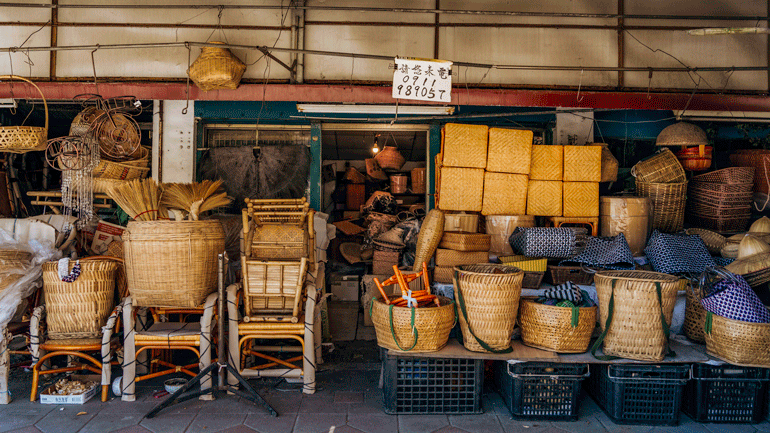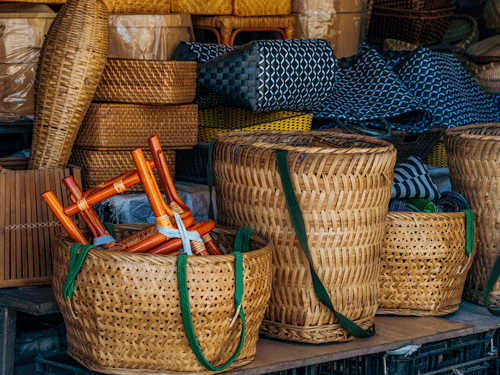 Moving away from the rift valley and mountains to Shoufeng's ocean side allows you to really appreciate its diversity, and in this area there are few better places to do this than trendy Shandu (www.facebook.com/mountain059), an outdoor café set above coastal Provincial Highway 11 in Yanliao village. Popular with the Instagram crowd, the grassy hillside here is adorned with a variety of shaded seating areas, transparent hanging chairs, and even a spiral-staircase watchtower, all with the deep blue of the Pacific as a backdrop. There's an entry fee of NT$80 per person, which is discounted from any purchases. The menu offers simple snacks like lemon chicken, sandwiches and fries, and a wide choice of drinks including iced teas, coffees, and smoothies.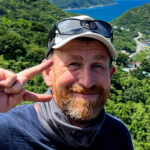 Simon Foster was born in London and grew up in rural Yorkshire. Family holidays first ignited his wanderlust, and he started work as a tour leader in the Middle East in 1997. Subsequently he was posted to India and then China, and he now lives in Chenggong, Taitung County with his wife, Tot, and their two daughters, two dogs and cat. He has combined his love of travel with his passion for writing, and has contributed to nearly 20 guidebooks and countless magazines and online publications, including the Rough Guides (www.roughguides.com) to Australia, China, Egypt, Europe, India, Philippines, Spain, Taiwan, Tunisia, Turkey, Frommer's China, Frommer's Taipei (www.frommers.com) and the Adventure Guide to China which Simon authored solo. Simon also continues to operate bike rides for Grasshopper Adventures around Asia, and is currently the Managing Editor of Hello Taitung magazine (https://issuu.com/369702/docs/_).