Note: The order of appearance of the following festivals and events is according to the time of the year when they usually occur. Dates can change however over time. We try to update the info frequently, but some of it might be outdated. The year in the bracket […] indicates when the info was posted. Dates of the current year will be shown in RED.
OCTOBER
[2023] September 16
[2022] October /
Lienchiang County (Matsu Islands)
"Niujiao Coming of Age Ceremony"
牛角做出幼
Niujiao is a village in the northeast of Nangan known for its fiery-red-walled Niufengjing Wuling Temple, which is the main venue for the ceremony. The event is a coming-of-age-ritual for 16-year-old islanders, during which Lady Linshui, the Goddess of Birth and Fertility, and other deities are thanked for protecting children during their upbringing. The participating teens undergo a series of age-old rituals at the temple before being symbolically released into early adulthood.
Website: www.matsu-nsa.gov.tw (Matsu National Scenic Area)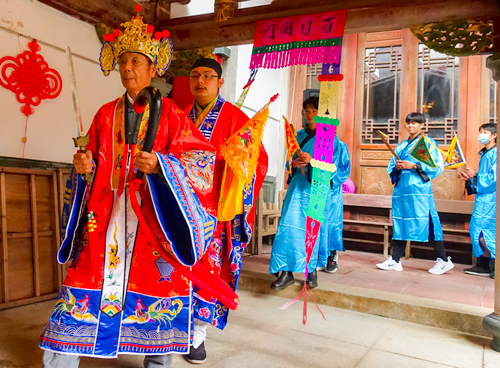 [2023] September 22-24
[2022] October /
Lienchiang County (Matsu Islands)
Mazu Ascension Day
媽祖昇天祭
Mazu Ascension Day is all about celebrating Mazu, the Goddess of the Sea, beloved by millions in Taiwan and southeast coastal China. According to legend, the body of Mazu was washed upon the shore of Nangan after saving members of her family during a typhoon. Nangan Tianhou Temple, on the west coast of the island, contains her sarcophagus. The temple is the venue for the Mazu Ascension Day events, held to celebrate the deity's ascension to heaven. Part of the festivities is an elaborate ceremony with traditional artistic performances and an evening prayer gathering for safety and good fortune.
Website: www.matsu-nsa.gov.tw (Matsu National Scenic Area)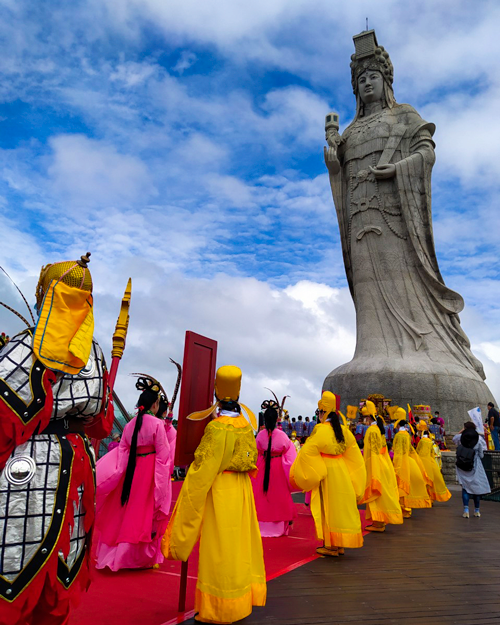 [2023] September 24 ~ October 14
[2020]
October
1 ~11
/
Yunlin County
Yunlin International Puppet Theater Festival
雲林國際偶戲節
Staged annually since 1999, the Yunlin International Puppet Theater Festival is a great gathering of puppet-theater lovers young and old. The festival takes place in Yunlin County's Huwei Township, known as Taiwan's center of puppet theater, and neighboring Douliu Township. Last year, local and foreign troupes conducted around 100 puppet performances, entertaining the crowds with a wide range of puppet drama. Apart from the performances, visitors can enjoy a host of other activities, including exhibitions and DIY workshops.
www.2023yunlinpuppet.com/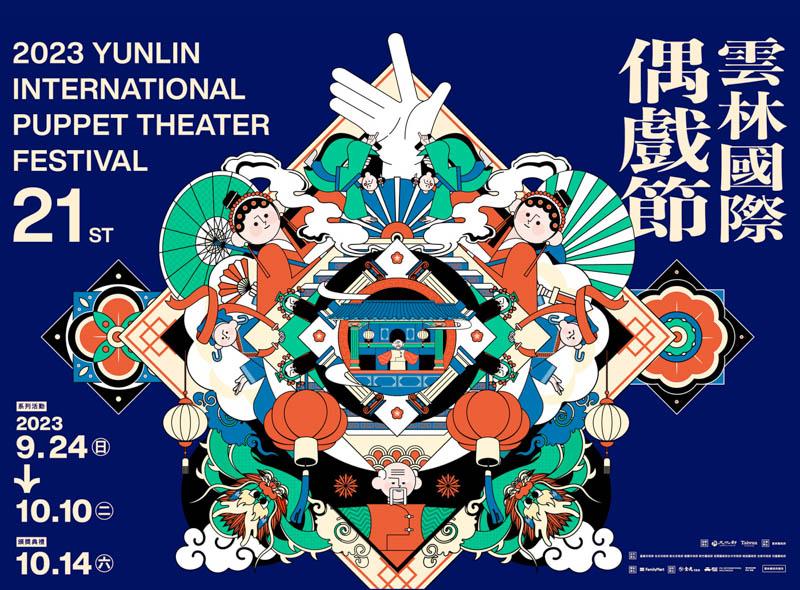 [2023] September 28~ October 29 [Korean Month]
[2019]
October 1~31
/
Chiayi County
NPM Asian Art Festival
故宮亞洲藝術節
In 2017 ago the Southern Branch of the National Palace Museum, located in Chiayi County, launched the first NPM Asian Art Festival, a month-long happening that showcases a different country each year. After shining a spotlight on the art of India in the first edition, and of Singapore in 2018, in 2019 it was all about Thailand. Exhibitions, stage performances, lectures, and guided tours will bedazzle visitors with the wonderful cultural wonders that Thailand has to offer.
Southern Branch of the National Palace Museum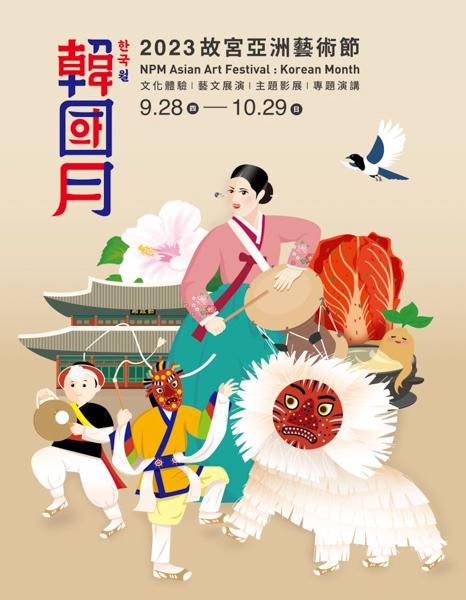 [2022] October ~ February
Season of Purple Butterfly in Maolin
雙年賞蝶
There are larger and more beautiful butterlies than the ones of the euploea genus, also commonly known as crows because of their dark colors, but when they gather in large numbers to spent the winter in southern Taiwan, they are a sight to behold. The largest concentrations can be found in the Maolin Purple Butterfly Valley inside Maolin National Scenic Area. Butterfly lovers come in large numbers as well, eager to find the Striped Blue Crow, Double-Branded Black Crow, Dwarf Crow, Euploea Eunice, and even the Chestnut Tiger. Visit the Maolin Visitor Center to find helpful information about the butterflies before going on the trails and see them in the wild.
Website: www.maolin-nsa.gov.tw (Maolin NSA)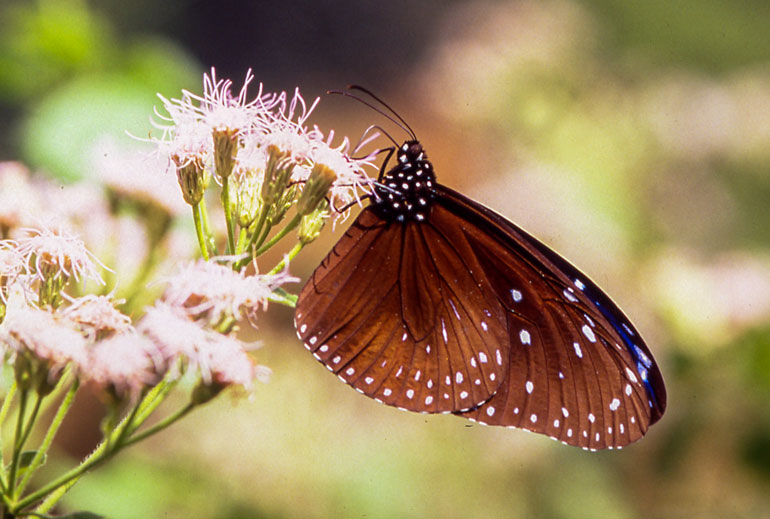 [2023] October 1 ~ December 24
[2020]
October
2 ~ December 20
/
Miaoli County
Miaobei Arts Festival
苗北藝術節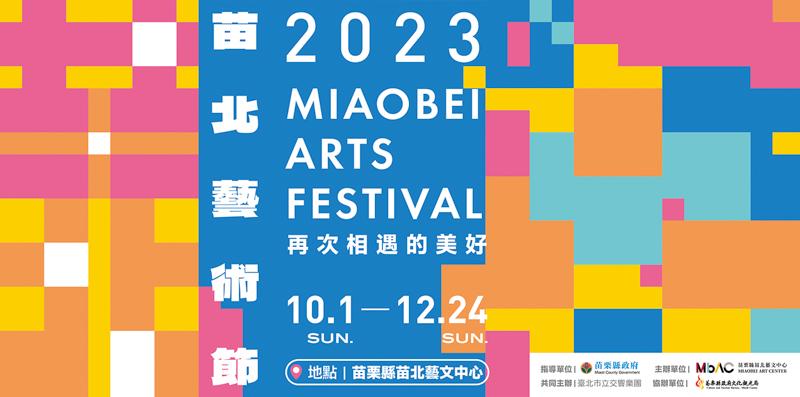 Website: www.miaobeiac.org (Miaobei Arts Center)
[2023] October 7~8
[2022]
October
1~ 2
/
Taipei City
Nuit Blanche Taipei
臺北白晝之夜
Taipei's version of the annual nighttime arts festival Nuit Blanche was first staged in 2016 after the city government was invited to host a local edition of the event by the Bureau Français de Taipei, which represents France's interests in Taiwan. Since the first-ever Nuit Blanche (2001 in Paris, France), similar events have been organized in well over 100 cities around the world. It's a fun celebration of the arts, jam-packed with exciting street theater, music and dance performances, sophisticated light and laser shows, light-art sculptures, and much interaction between performers and revelers, ensuring that everyone has a great time.
Website: english.culture.gov.taipei (Taipei City Department of Cultural Affairs)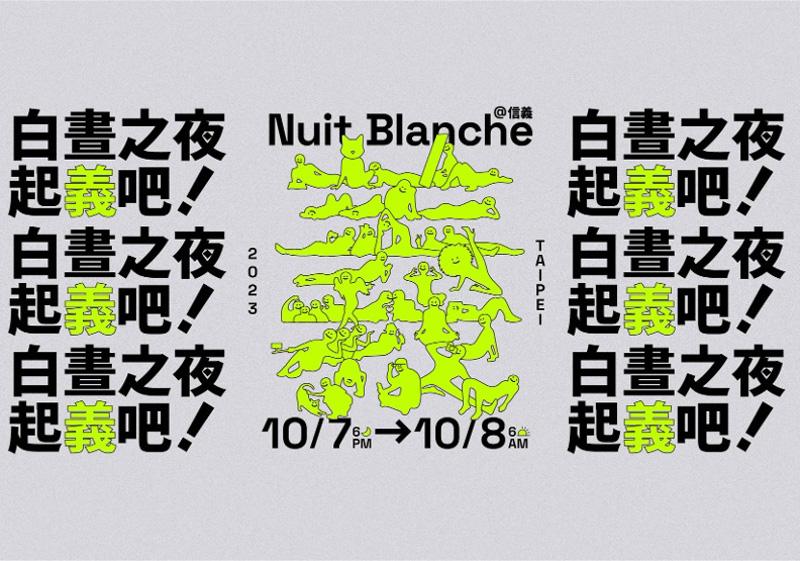 [2023] October 7~8
[2022]
October
/
Kaohsiung City
Kaohsiung Zuoying Wannian Folklore Festival
高雄左營萬年季
The modern Wannian Folklore Festival dates from 2001, when the Kaohsiung City Government's Civil Affairs Bureau began coordinating and sponsoring traditional events in Zuoying District. Since 2005 the Taiwan Tourism Bureau has been lending a hand, and the festival has grown steadily in popularity. The star of the event is the Great Wannian Fire Lion, a cute yet dignified effigy far larger than a real lion. This lion tours temples in the district for eight days, accompanied by lion dancers, drum and gong musicians, and constant firecracker explosions beneath and around it. On the final day the lion arrives at Lotus Pond, a popular Kaohsiung attraction, where it is set ablaze in spectacular fashion. The festival allows you to experience Taiwan folk religion up close, and to witness the people of Kaohsiung's passion for their customs and traditions.
FB: www.facebook.com/FireLion.Kaohsiung
Websites: wannian.kcg.gov.tw (festival website 2022; Chinese), khh.travel (Kaohsiung Travel)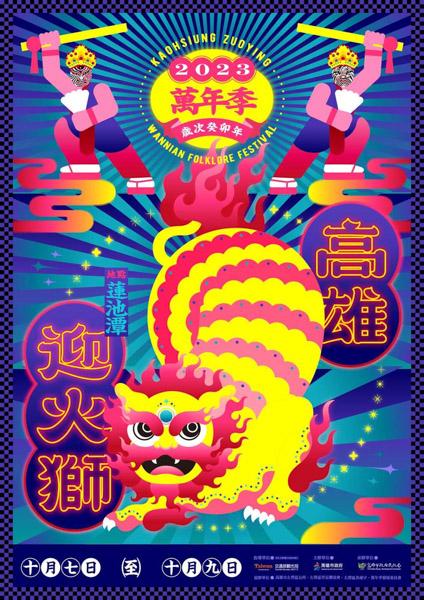 [2023] October 7~10
[2020]
October 1 ~ 10
/
Miaoli County
Sanyi International Wood Carving Art Festival
三義木雕藝術節
The town of Sanyi in Miaoli County is known for mostly one thing, wood sculpture art, and there is perhaps no better time to visit than during this festival. While the Sanyi Wood Sculpture Museum, the festival's main venue, can be visited year round, the festival has numerous attractive activities at other sites that allow you to see master carvers at work and even do some woodcarving yourself. While in the area, be sure to go on an unforgettable rail-bike ride on a decommissioned railway line starting at quaint Shengxing Railway Station.
Sanyi Wood Sculpture Museum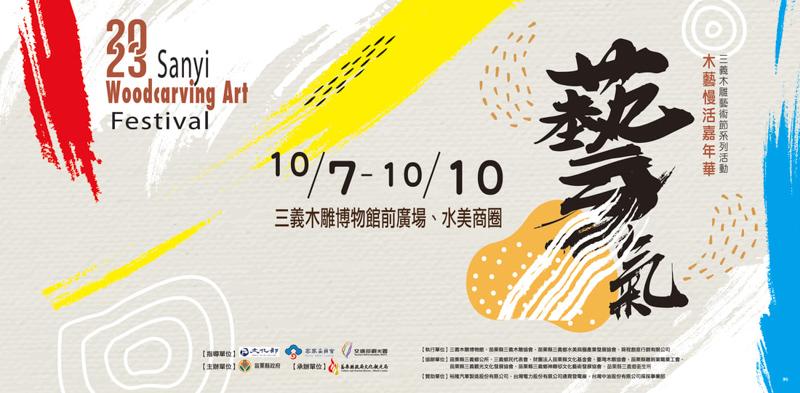 [2023] October 7 ~ 15 / Nantou County
[2020]
October 9~18 / Nantou County
Nantou Global Tea Expo
南投世界茶業博覽會
Nantou County in central Taiwan is an important tea-growing region, with tea plantations covering large areas of land and tea farmers producing a wide variety of excellent teas. The annual Nantou Global Tea Expo is the perfect event for learning more about this local industry and sampling the best teas available. The expo has been staged 10 times to date, attracting many a tea lover eager to find and buy new selections just to his or her liking. Having tea farmers showcasing their products in one place at the same time makes the tea purchase convenient, educational, and highly enjoyable. For travelers that do not necessarily intend to buy anything, there is also a rich cultural program with tea-themed performances put on for entertainment.
teaexpo.mmweb.tw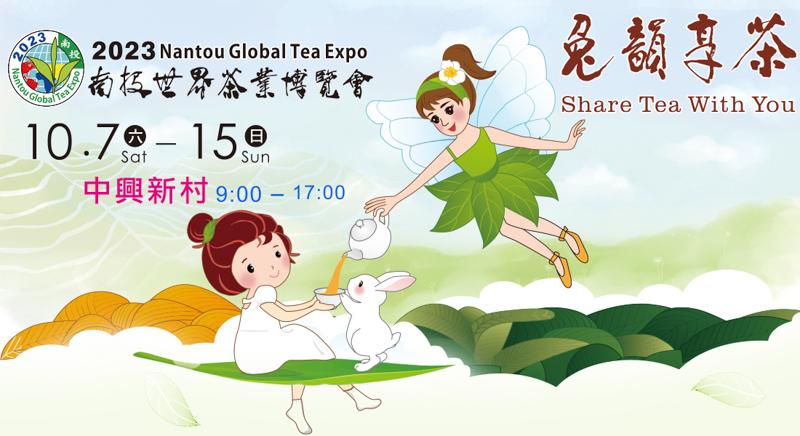 [2023] October 7 ~ 22 / Kaohsiung City
Taiwan Technology x Culture Expo 2023 [TTXC]
台灣文化科技大會
Website: ttxc.tw/en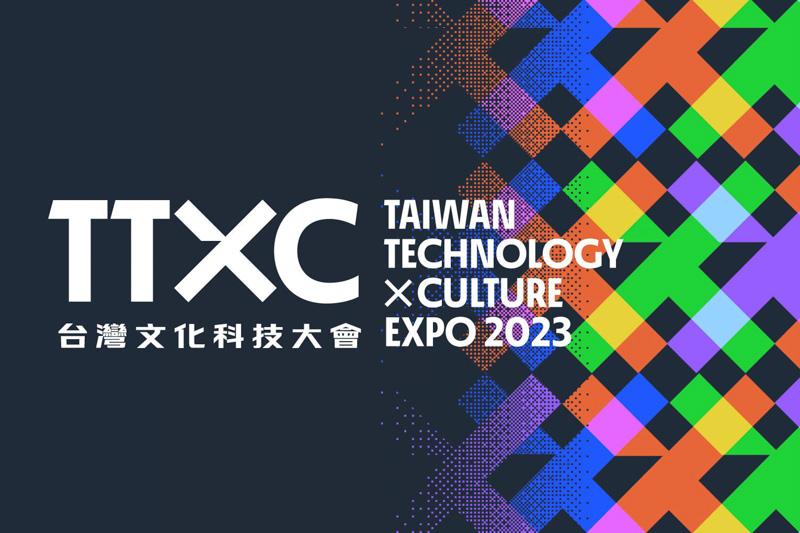 [2023] October 9
[2022] October /
Lienchiang County (Matsu Islands)
Tieban Tower Burning Festival
鐵板燒塔節
The Tieban Tower Burning Festival takes place at Jinbanjing Tianhou Temple in the village of Tieban close to the southernmost point of Nangan Island. The festival originated in mainland China's nearby Fuzhou area, and is part of the traditional Mid-Autumn Festival revelry. Activities during the day (including a small parade through the village) lead up to the highlight of the event, a grand fire in a small makeshift brick tower on the beach close to the village. The symbolic meaning of this burning spectacle is "getting rid of the old, inviting in the new."
Website: www.matsu-nsa.gov.tw (Matsu National Scenic Area)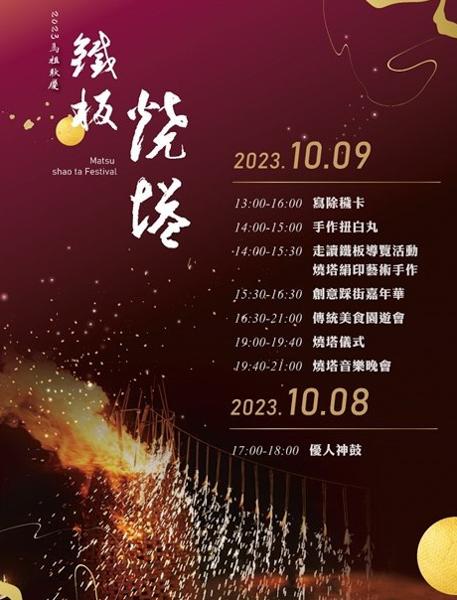 [2023] October 12 ~ 15 / Taipei City
[2019] October 18 ~ 20 / Taipei City
World Music Festival
世界音樂節

[2023] October 13 ~ 22
[2017] October 7 ~ 15 / Taichung City
Taichung Jazz Festival
臺中爵士音樂節
Taichung in central Taiwan, the island's second-largest city, is justifiably called by many a city of culture. It is known for its excellent museums, such as the National Taiwan Museum of Fine Arts, and premier venues for cultural performances, such as the world-class National Taichung Theater. For more than a decade the annual Taichung Jazz Festival has been setting the tone for the city's cultural vibe. The main stage is set up in Civic Square in the center of the city, a large square-shaped park surrounded by modern high-rises. Music lovers flock here to take in open-air performances by local jazz troupes and well-known jazz artists from abroad. The Calligraphy Greenway, a popular pedestrian area connected to Civic Square, is the festival's other key performance venue.
www.taichungjazzfestival.tw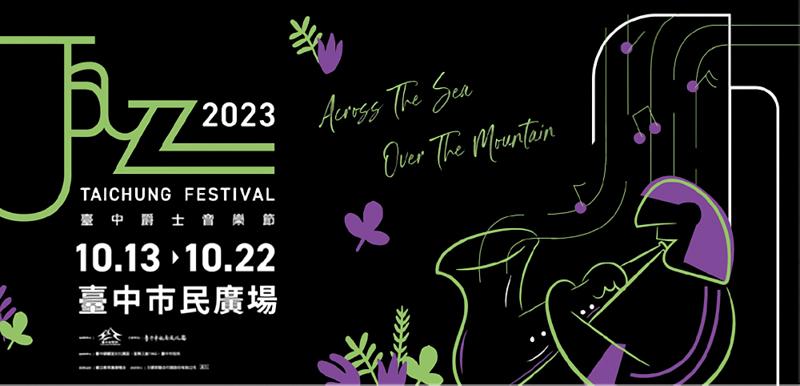 [2023] October 20 ~ 23 / Taipei City
[2022]
October 21~24
/ Taipei City
Art Taipei
臺北國際藝術博覽會
Art Taipei is an important annual event for art lovers in East Asia. Held for the first time in 1992, the fair is organized by Taiwan's Ministry of Culture and the Taiwan Art Gallery Association. In 2021, works from 124 galleries in nine countries and regions (92 from Taiwan), including outstanding examples of contemporary art, were presented to professional buyers and the general public. Each year the event also includes themed exhibitions, art salons, lectures, and guided tours. A new feature in 2021 was an exhibition about the restoration of artwork.
Website: art-taipei.com (official website)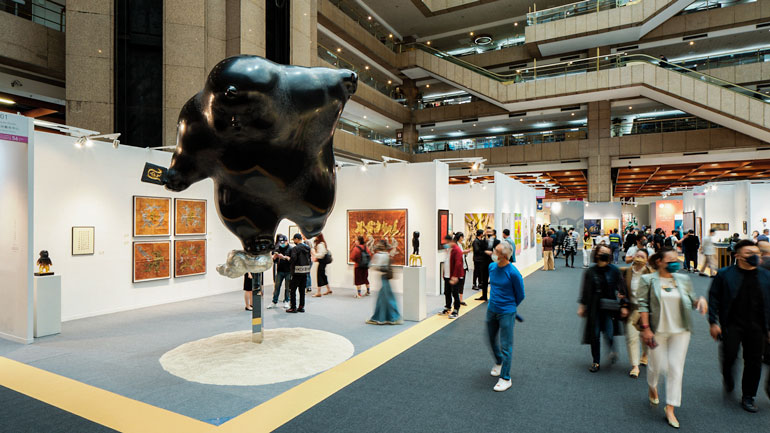 [2023] October 21-22
[2022]
October
1~ 31
/
Kinmen County
KINMEN TUNNEL MUSIC FESTIVAL
金門坑道音樂節
The setting of this music event and its presentation are truly unique. The venue is the Zhaishan Tunnel, located near the southernmost tip of Kinmen Island. Carved out of granite gneiss over a period of five years in the 1960s, the 100-meter-long tunnel served as a shelter for up to 42 navy vessels at a time. Now preserved as a heritage site, the tunnel is visited by many a tourist exploring Kinmen. During the music festival classical music is performed by musicians on a raft that slowly makes its way through the tunnel, with the audience (200 for each performance) lining up along the tunnel wall. The curved tunnel ceiling creates an unforgettable acoustic effect.
Website: kinmen.travel (Kinmen Travel)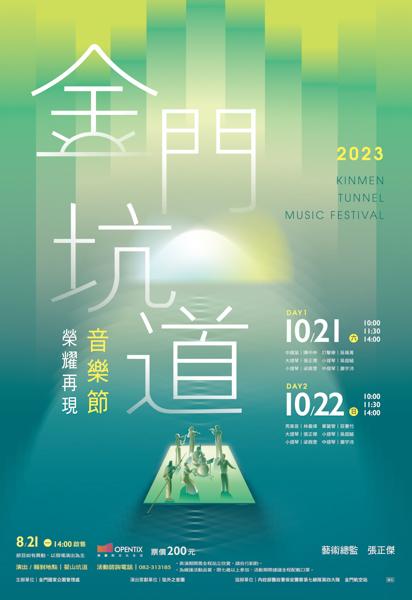 [2023] October 21 ~ November 5 / Kaohsiung City
Military Dependents Village Festival
眷村嘉年華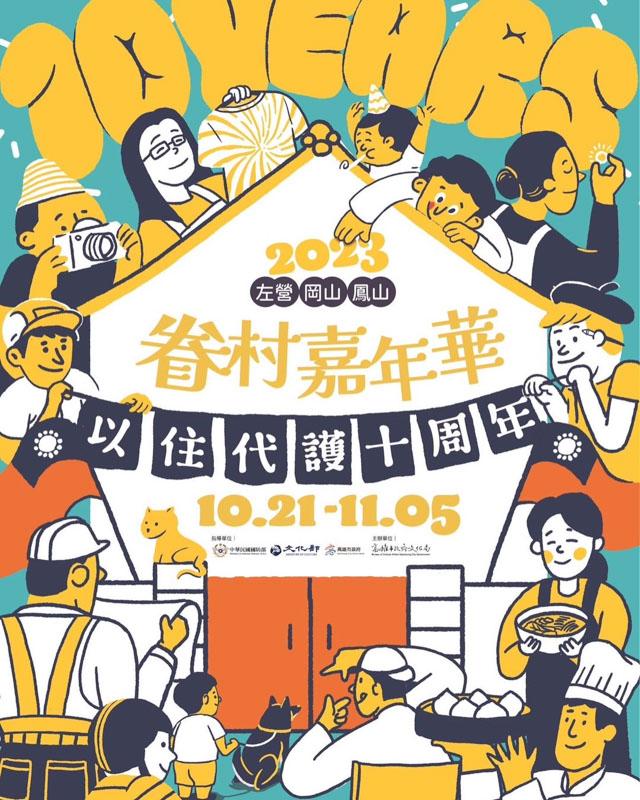 Bureau of Cultural Affairs, Kaohsiung City Government: khcc.kcg.gov.tw
[2023] October 28 ~ 29 / Miaoli City
[2020]
October 24~25
/
Miaoli County
Kite Culture and Hakka Food Festival
苗栗國際風箏節暨客家美食
Hosted by the Miaoli City Office
Taking place at Miaoli Riverside Park
15 kite-flying teams from around
More than 1,000 kites
Focus on Hakka culture
mailea-9kite.weebly.com (Chinese)

[2020]
October 31 ~ November 22
/
Taoyuan City
Taoyuan Flower Festival
桃園花彩節
Website: www.2020tff.com.tw