[This post will be updated if new information about places around the station comes available. 🙂 ]
"Orchid Pavilion Cold Noodles" (蘭花亭涼麵)
Located under Zhongzheng Bridge, opened way back in 1966, the signature dish here is the original-flavor cold noodles. Other options include fried-bean paste, fruit, and XO (brandy) sauce variations. The owner, who loves dreaming up new flavors, uses pineapple, cherry, honey peach, etc., adds konjac for extra taste and texture, and adds a special-sauce topping for a refreshing and delicious treat. The XO sauce brings a lightly spicy seafood flavor, savory and appetizing. The owner also specially adds a bit of mustard atop noodles, adding tasty zestiness to the sesame sauce.
Add: 87, Sec. 3, Chongqing S. Rd., Taipei City
(台北市大安區敦化南路一段160巷2號)
Tel: (02) 2365-4221
Website: www.facebook.com/蘭花亭涼麵-110062889024683/
Hotel Poispois
Located in close proximity to Dr. Sun Yat-sen Memorial Hall, Hotel Poispois is a great starting point for an adventure in Taipei. The building's unique red-and-silver façade is in line with its young and trendy interior décor, as every inch of the hotel offers something interesting to see. Even if you aren't staying, the hotel's first-floor restaurant Ch-Eat and Drink, is a cozy café perfect for a brunch stop. If you're arriving at night, head up to the rooftop bar for drinks and take in the hotel's magnificent view of the Xinyi District skyline until midnight.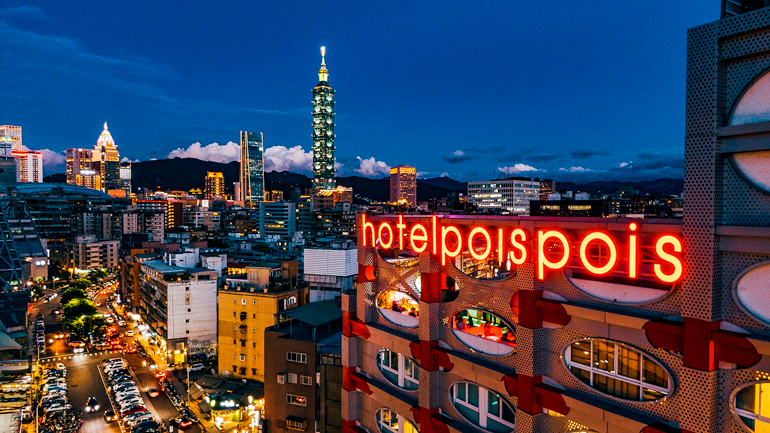 Hotel Poispois
Add: No. 168, Sec. 4, Civic Blvd., Da'an Dist., Taipei City
(台北市大安區市民大道四段168號)
Tel: (02) 2771-1188
Website: www.hotelpoispois.com (Chinese)