Three Mountainside Villages Deserving of More Than Just a Day Trip
TEXT / OWAIN MCKIMM
PHOTOS / RAY CHANG

Jiufen, Jinguashi, and Shuinandong are three former mining villages in New Taipei City's Ruifang District, roughly an hour from downtown Taipei. Situated on the mountainous seaside slopes of Taiwan's scenic Northeast Coast, they offer a glimpse into the island's fascinating gold-mining era, during which these settlements bustled with miners, magnates, entertainers, food vendors, and every other type of character a prosperous gold town attracts. Furthermore, the jagged mountains to which the villages cling provide not only a jaw-dropping backdrop to these living museums, but also some of north Taiwan's most exciting day hikes, providing riches for several days of exploration, both historic and mountainous.
Through much of the 19th century, Jiufen was nothing more than a poor mountainside village of only nine families (the name literally translates as "nine portions," and refers to the allocation of household supplies delivered to the village by boat in the days before reliable road access). In 1890, however, gold was discovered in "them thar hills" and the area – including the new villages of Jinguashi and Shuinandong – was rapidly transformed into the precious-metals capital of East Asia, turning out gold, and later copper, and attracting thousands upon thousands of islanders and venturers from further afield to the area to seek their fortunes.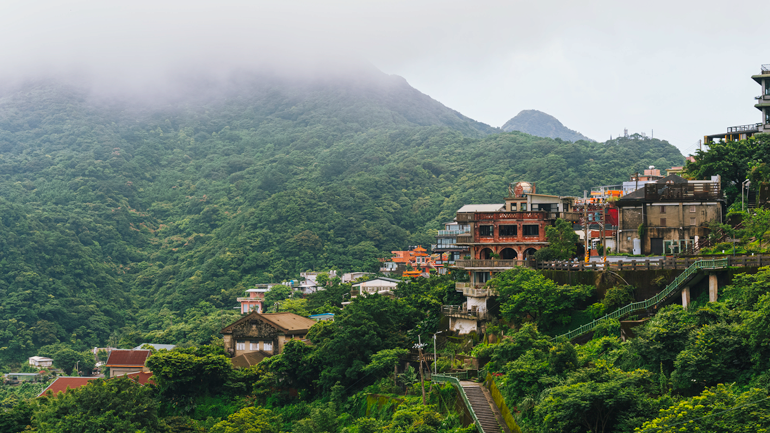 Jiufen eventually became so prosperous that it was even dubbed "Little Shanghai." But by the latter half of the 20th century, the local mining industry had fallen into decline and the villages began to drift once again into obscurity. It wasn't until the 1990s – after the award-winning Taiwanese historical drama film A City of Sadness was filmed in Jiufen – that the area began to experience a renaissance as a tourist destination among the Taiwan population. The secret soon spread to international visitors after the village was touted as the inspiration for the otherworldly bathhouse and its environs in the 2001 Studio Ghibli movie Spirited Away (Hayao Miyazaki, co-founder of the studio,has since debunked this claim – though this has not stopped many local businesses from capitalizing on the resemblance between their village and Miyazaki's creation).
Though most visitors to the area are day-trippers who head home before evening's arrival, its true magic only really reveals itself after dark, when the lanterns that drape the old buildings light up, the old mining-era ruins are set glow, and you can see squid-fishing vessels out on the sea, lighting up the dark waters like stars in the night sky. To experience these historic villages at their most enchanting, an overnight stay is therefore thoroughly recommended.
Flip Flop Hostel
You'll find the Flip Flop Hostel within a nest of steeply inclined alleys a little outside of Jiufen's main tourist area. The hostel offers several types of accommodation (mixed dorm rooms, single and double private rooms, and entire private houses) in a handful of lovingly preserved and tastefully renovated old buildings. Prices are extremely reasonable (even for a private house, which can be booked for as little as NT$2,500 per night), and the staff are passionate about their mission to help you discover the real Jiufen (as opposed to the more tourist-oriented area), with a focus on appreciating the stories of the village's long-term residents and local artists, as well as its unique architecture.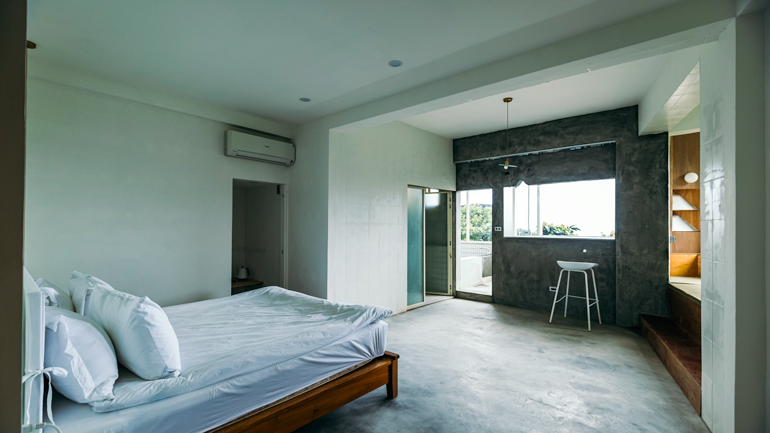 Breakfast, for example, is served in the old workshop of local artist Hu Da-hua, whose abstract collages of Jiufen street scenes (made using strips of Taiwan Beer and Mr. Brown Coffee cans) have earned him the affectionate nickname "the Taiwanese Picasso." Now in his 80s, Master Hu seldom creates art anymore, but his workshop has been transformed by the Flip Flop staff into the comfortable Wild Herbs café – serving artisanal herbal teas and sweet treats – and gallery for his work.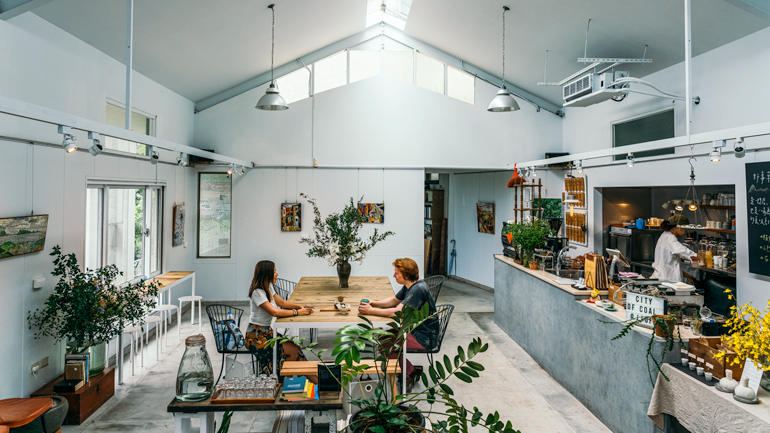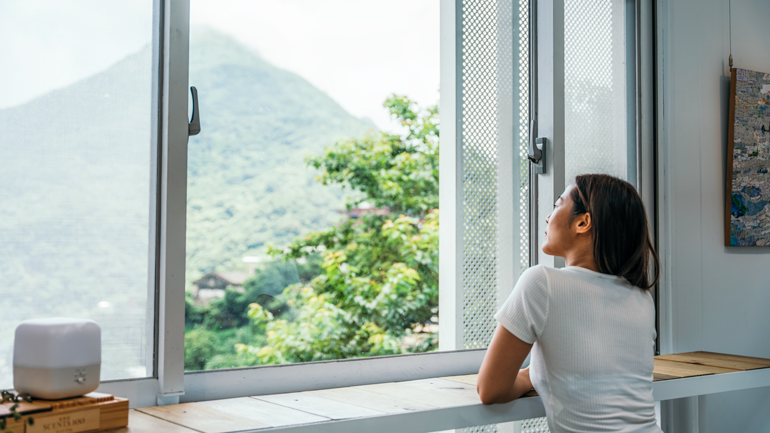 On a recent Travel in Taiwan team research trip to Jiufen, eager to show us Flip Flop's newest acquisition, Jasper, one of Flip Flop's project managers, turns our attention to the building opposite Hu's gallery. Currently under renovation, this three-story house was until recently inhabited by an old couple and their son, an art prodigy. Introduced to the couple by Master Hu, Jasper, when being shown around their house, was surprised by the striking abstract paintings of Jiufen adorning the walls, depicting the village in a way he had never seen before. The prodigy's mother explained that the art was her son's and, as such, unique to the house. After the young artist graduated from university last year, his parents decided to retire away from the area and agreed to let Flip Flop take over the property. When the renovation is finished, the house will be able to accommodate six to ten guests in beautiful ensuite rooms, each with tatami-cushioned reading nooks and views of both the hills and, of course, the young artist's paintings.
A second private house used by Flip Flop is located further up the hill and can be reached by climbing a series of winding stone steps. On the way, we pass a shrine – one of many in Jiufen, Jasper tells us – to the miners who passed away here with no family to pray or burn offerings for them in the afterlife. Indeed, one of the most attractive features of staying at Flip Flop is the provision of guided evening walks, during which the staff impart these fascinating pieces of local lore.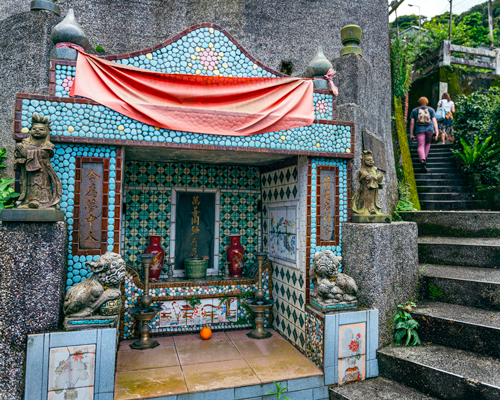 At the top of the hill, Jasper lets us into the bungalow, the name of which – Lianyu – roughly translates as "Joined Together at the Mountain's Corner." Why soon becomes apparent. The house – a squat box-like building with a gleaming façade of corrugated steel (an artful homage to rural Taiwan's many sheet-metal houses) is split into two halves: one a spacious living area with kitchen and first-class views of both Mt. Jilong and the Pacific; the other, a sleeping area with antique beds (able to accommodate four to six guests) and bathroom complete with showers and an enormous stone tub. The addition of a gated courtyard at the front of the property guarantees privacy in the charming though somewhat cramped arrangement of houses that one must expect in a former gold-rush village.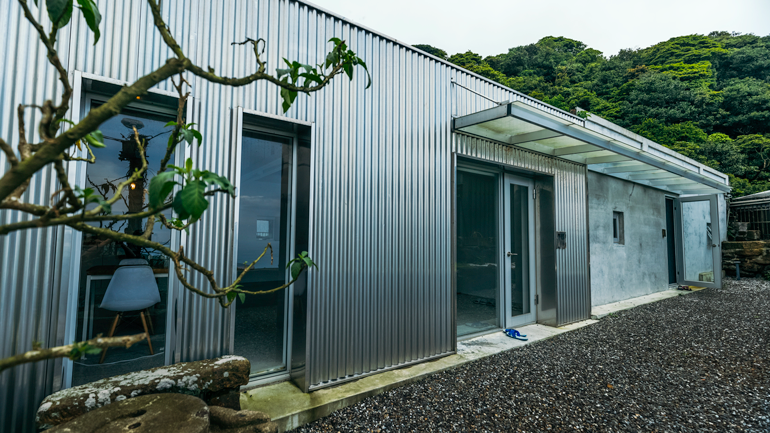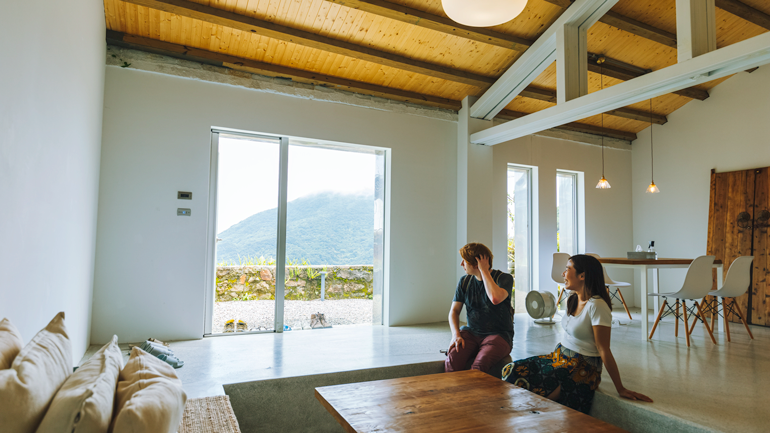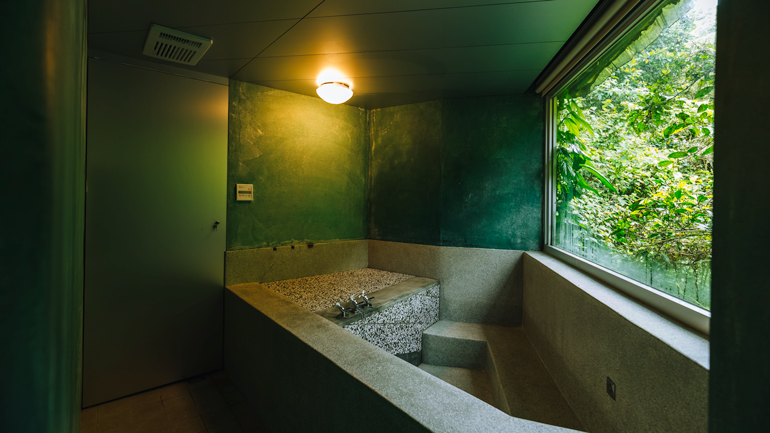 True to Flip Flop tradition, Jasper tells us that they are in the process of decorating the bungalow's interior walls with the works of a local photographer. This should be a tasteful finishing touch, based on the examples we saw in the photographer's workshop a little way down the hill.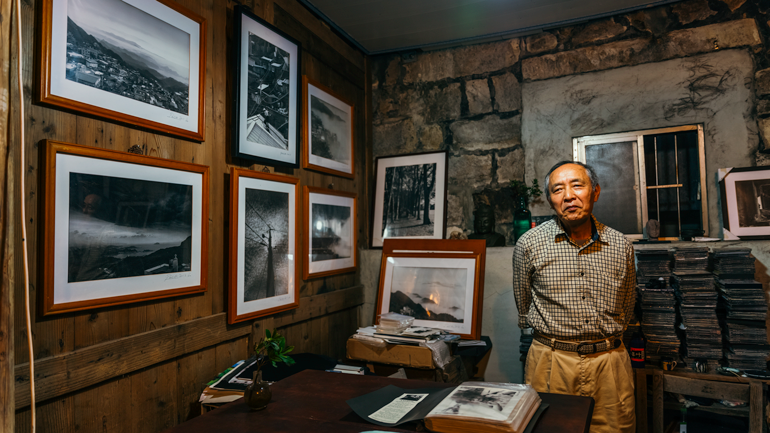 Flip Flop Hostel Jiufen (夾腳拖的家九份山居)
Add: No. 247, Jishan St., Ruifang District, New Taipei City
(新北市瑞芳區基山街247號)
Website: www.flipflophostel.com
Facebook: www.facebook.com/FlipFlopHostel/
Book a room (booking.com)
More places to stay in Jiufen (booking.com)
Jiufen Old Street
The lively heart of Jiufen is its Old Street (Jishan Street). A narrow covered alley intersected in several places by steep stone stairs, the Old Street is a hive of snack vendors selling a taro-ball sweet treat (a Jiufen classic), herbal rice cakes, fishballs, and other local specialties; souvenir shops; and teahouses serving traditional teas and delicate finger snacks. The most famous example of the latter is undoubtedly the A-Mei Teahouse, located in a former smithy, with a lantern-draped, ocean-facing façade that can be seen on the front page of travel literature about the village. Be sure, too, to drop into the Shengping Theater, originally a small wooden structure for staging Taiwanese opera, later one of Taiwan's first cinemas, and now a characterful free museum.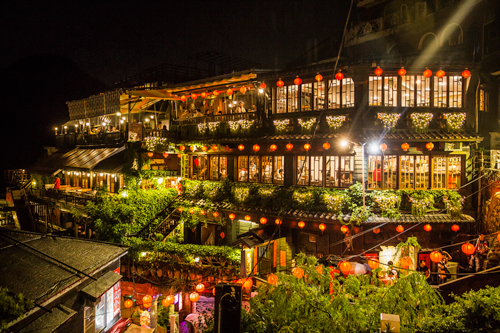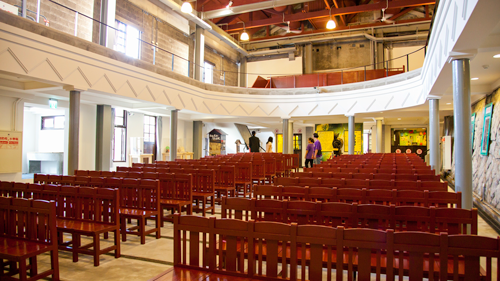 Jinguashi
A short bus ride from Jiufen will bring you to its more tranquil sister, Jinguashi. It wasn't really until 2004, with the opening of the open-air Gold Ecological Park (now called the Gold Museum), that Jinguashi became established as a tourist destination in its own right. Here, in addition to learning the ins-and-outs and nuts-and-bolts of the area's gold- and copper-mining history, you can actually put your hands on a 220.30kg ingot of 99.9% pure gold, on display in one of the park's buildings.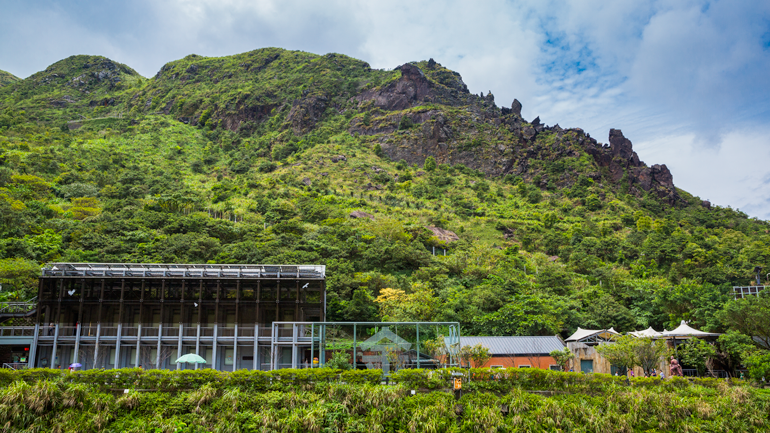 Nearby, the village's Old Street, Qitang Street, is a far more relaxed affair than its counterpart in Jiufen. Once the main shopping area of Jinguashi and known as "Little Ginza" – Ginza being the upmarket shopping district in Tokyo – Qitang Street is nowadays far more retiring and has very much reclaimed its bygone sleepy mountain village ambiance.
For the laid-back, a particularly charming café, among the handful that line the street, is the San San Bu Café, which is set in a beautiful old building that was once a busy grocery store.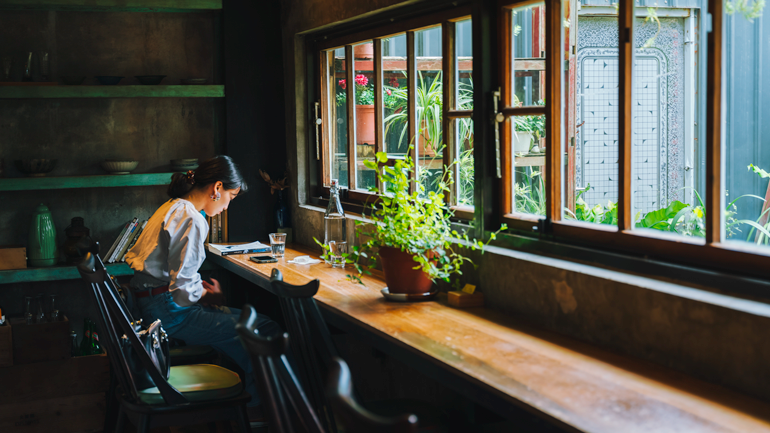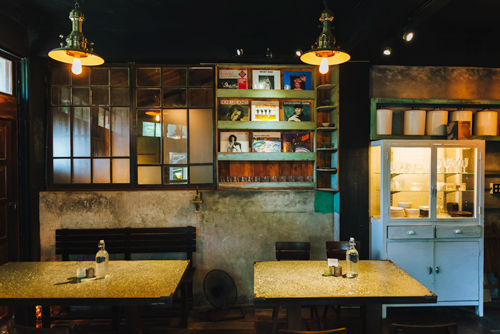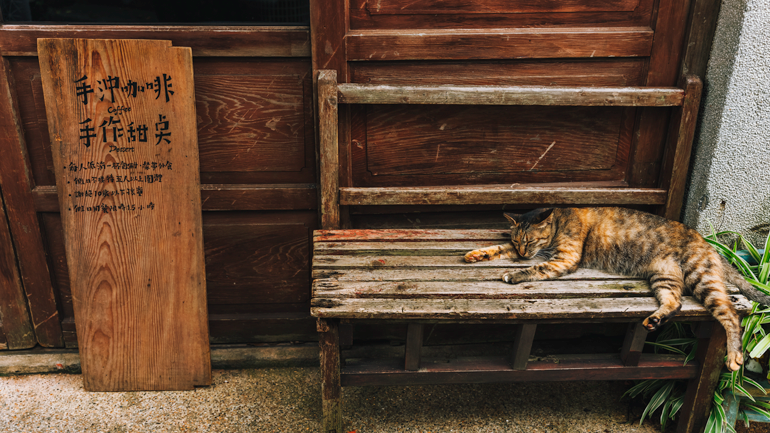 Those wanting to work up a sweat and explore the surrounding hillsides, on the other hand, can choose between two highly contrasting mountain walks that start nearby. The first is an easy 15-minute stroll up to the Baoshishan Lookout, where you can take in both the serene Pacific and the jagged spine of the mountains to the southwest.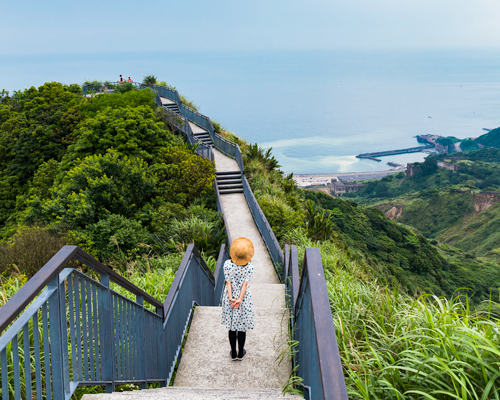 The second, up to and beyond the descriptively named Teapot Mountain, is a far longer and considerably more challenging ridge-walk that will have you scrambling over boulders and through gouges in the rock before bringing you – several hours later – back to the village.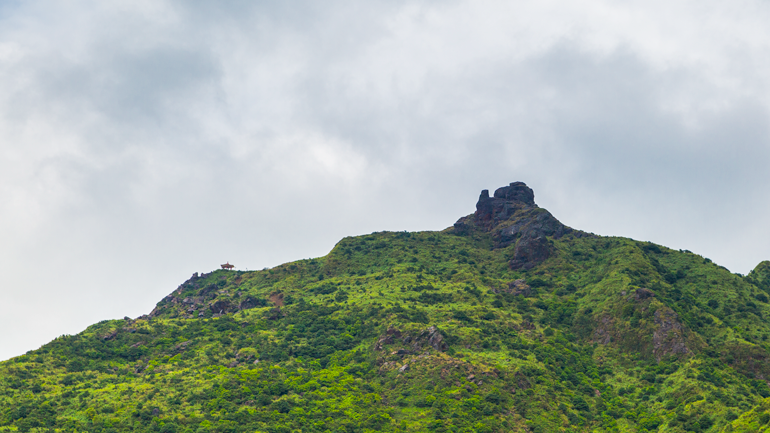 San San Bu (散散步咖啡)
Add: No. 172, Qitang Rd., Ruifang District, New Taipei City
(新北市瑞芳區祈堂路172號)
Tel: 0981-885-933
Facebook: www.facebook.com/jinguashi/
Places to stay in Ruifang District (booking.com)
Shuinandong
The third of the area's former mining settlements – reached by following the main road from Jinguashi down towards the sea – Shuinandong is home to one of Taiwan's most impressive industrial relics: the Shuinandong Smelter. Also known as the Remains of the 13 Levels, the structure was a giant copper/gold-smelting plant, built in 1933 and decommissioned in the 1970s. At night the complex, impressive even in ruins, is illuminated with soft yellow light that makes it appear more like a Baroque palace than a dilapidated factory. (Towards sunset, stunning photos of the lit-up smelter, with the imposing Mt. Keelung (Mt. Jilong) looming blue-black in the background, can be taken from the nearby Changren Pavilion.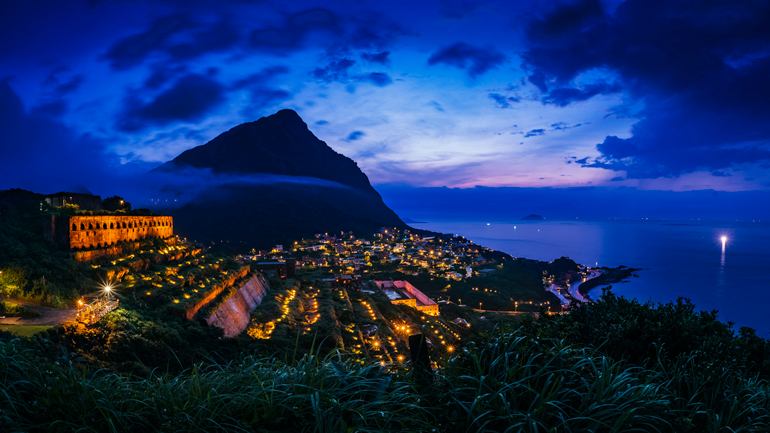 Between Jinguashi and Shuinandong you will also pass a curious natural landmark – the Golden Waterfall – named so because the high concentration of heavy metals in its cascading waters (picked up as they travel through the old mines) have, over many years, stained the rocks a deep golden-orange.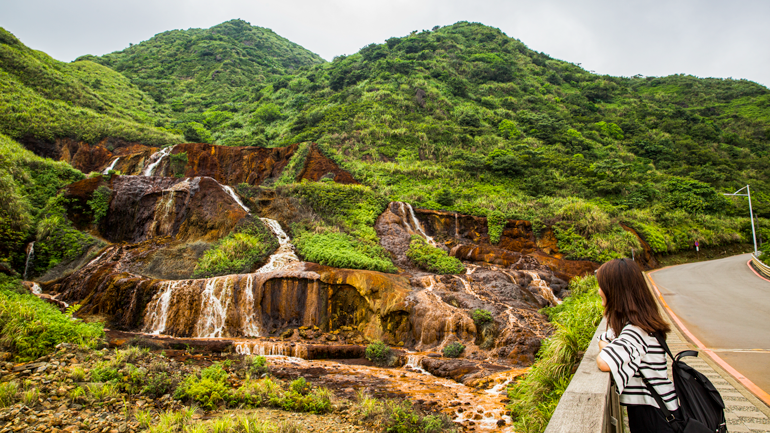 The sea at Shuinandong too bears marks of the area's geology. The waters of the bay immediately below where the village is located – dubbed the Yin Yang Sea – swirl in a striking contrast of yellow and blue, caused in part as particles of pyrite, abundant in the area, get washed by rain into the sea.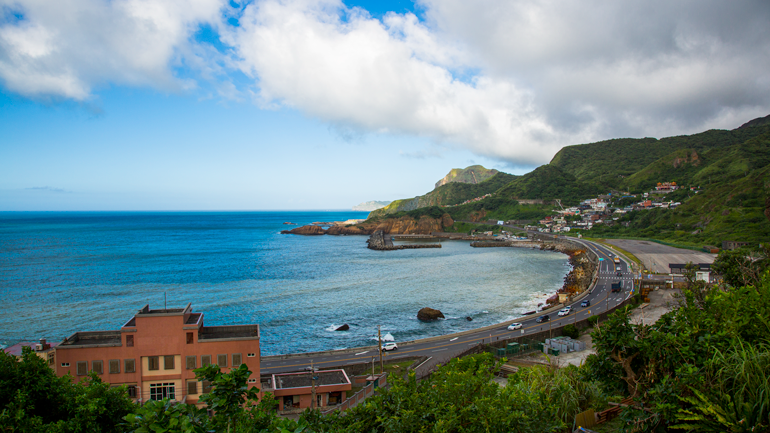 San San Bu Homestay
Another restoration project by the owner of the aforementioned café in Jinguashi, who evidently has a passion for preserving old buildings, the San San Bu Homestay is a hundred-year-old Japanese-style house tucked into the secretive alleys of Shuinandong. Built in 1922 as a dormitory for the Japan Mining Corporation, the house still retains its original wood-beamed structure and comes complete with a tatami room, old-fashioned kitchen, double bed, and wooden bathtub with a sea view. Nightly prices begin at NT$2,500 (for two people), and guests get the whole house to themselves – the perfect opportunity to contemplate the bay and the surrounding mountains, read a good book, and immerse oneself in a small bit of history. Note: If booked here, the owner suggests that you call him upon arrival in Shuinandong, so he can guide you to the somewhat obscure location.
Rose Villa
With brilliant views of the Yin Yang Sea and the Remains of the 13 Levels, the Rose Villa offers double, quadruple, family, and 6~8 people rooms, as well as entire fully-equipped villas for even larger parties of up to 16. The check-in area, which doubles as a café, is located in an old house overlooking the bay that once was the home of an artist who painted postcards of the local scenery. It has now been converted into the style of an old Taiwanese grocery store, complete with retro sweets and vintage sliding-panel doors. Prices begin at NT$2,500 for a weekday stay in a double room with a sea view.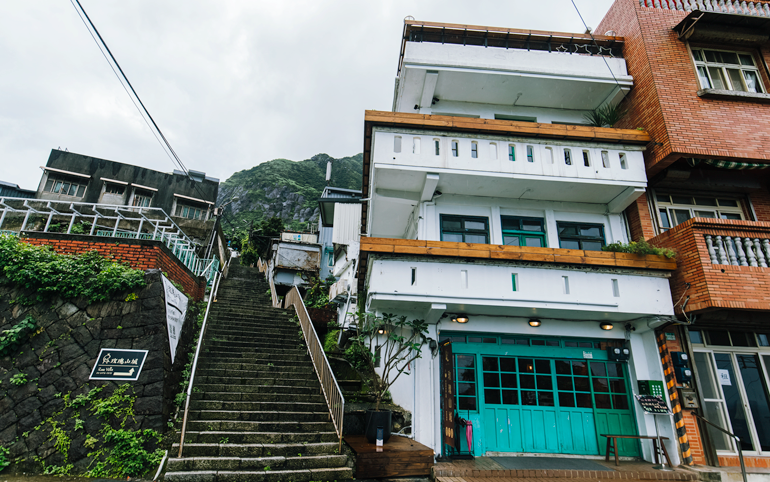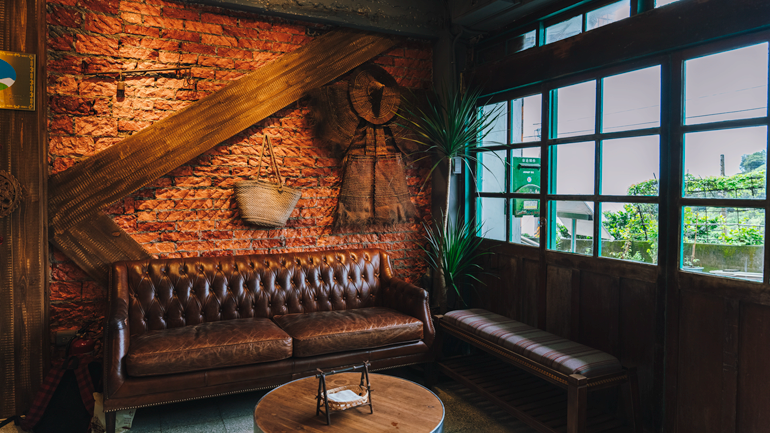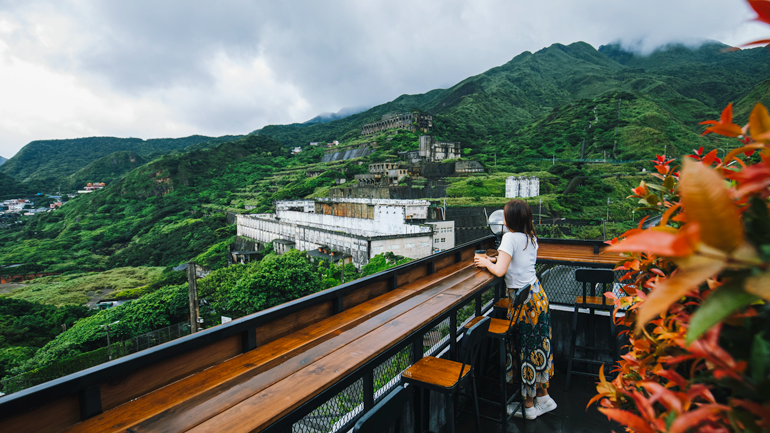 Rose Villa (玫瑰山城柑仔店)
Add: No. 155-1, Dongding Rd., Ruifang District, New Taipei City
(新北市瑞芳區洞頂路155-1號)
Tel: (02) 2496-1818
Facebook: www.facebook.com/rosehotel.villa/
Website: www.rosevilla.com.tw
How to Get There
Take bus No. 965 from MRT Banqiao Station (Exit 2) or bus No. 1062 from MRT Zhongxiao Fuxing Station (Exit 2). Both buses stop in Jiufen and Jinguashi, and the journey takes approximately one hour. Services are frequent. Alternatively, take an eastbound train from Taipei Main Station to Ruifang Station and transfer to a local bus heading to Jiufen/Jinguashi. To get to Shuinandong, take bus No. 856 (Gold Fulong Shuttle Bus) from near Ruifang Station, with stops at Jiufen and Jinguashi.
Guided Tours (Klook)
Jiufen Village & The Northeast Coast
A Day Tour in Jiufen and Shifen From Ximen (Day and Night Scene in Jiufen)
Taipei North Coast Day Tour with Tofu DIY Experience
More Info
Visit the website of the Northeast and Yilan Coast National Scenic Area: www.necoast-nsa.gov.tw.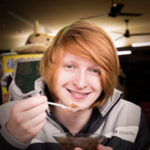 Owain McKimm is a freelance writer who has been living in Taiwan since 2009 and has written about everything from Taiwanese foot massages to flower cuisine.
E-mail: owain [dot] mckimm [at] googlemail [dot] com