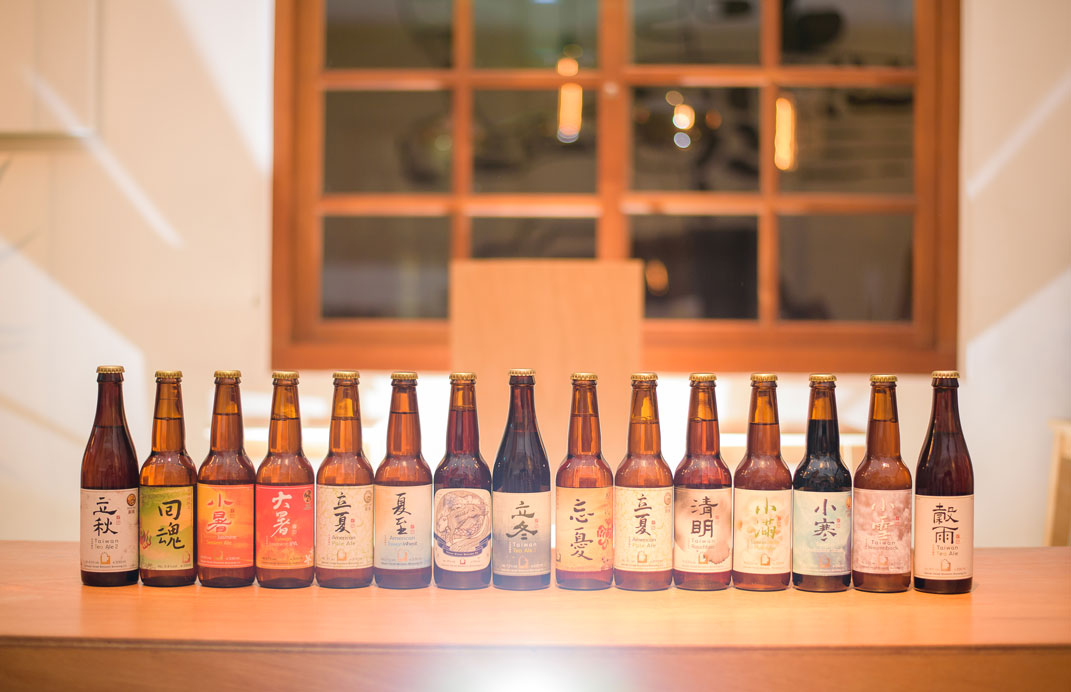 For a very long time, Taiwan Beer was the only domestic beer brand on this island. Things have changed significantly over the last decade. Entrepreneurial Taiwanese micro-brewers are now making intriguing excursions into uncharted gustatory territory, matching craft beer with flavors that are quite familiar to locals, but exotic to the foreign visitor. Let's find out what one of Taiwan's best–known small-scale brewers is concocting these days.
Text: Owain Mckimm; Photos: Chen Cheng-kuo
To those from countries with a long, proud history of beer-making, it may come as a shock to learn that Taiwanese brewers have only been allowed to make craft beer since 2002. Before then, alcohol production was a government monopoly under the control of the Taiwan Tobacco and Liquor Corporation, the organization that produces the still ubiquitous Taiwan Beer, Taiwan's domestic beer brand  – and only brand  – up until 2002.
After the monopoly was dismantled, a handful of small breweries began making their own beer, but for many years these remained too small and inexperienced, and their beers too pricey from the perspective of a population used to drinking very cheap lagers, to make any kind of impact.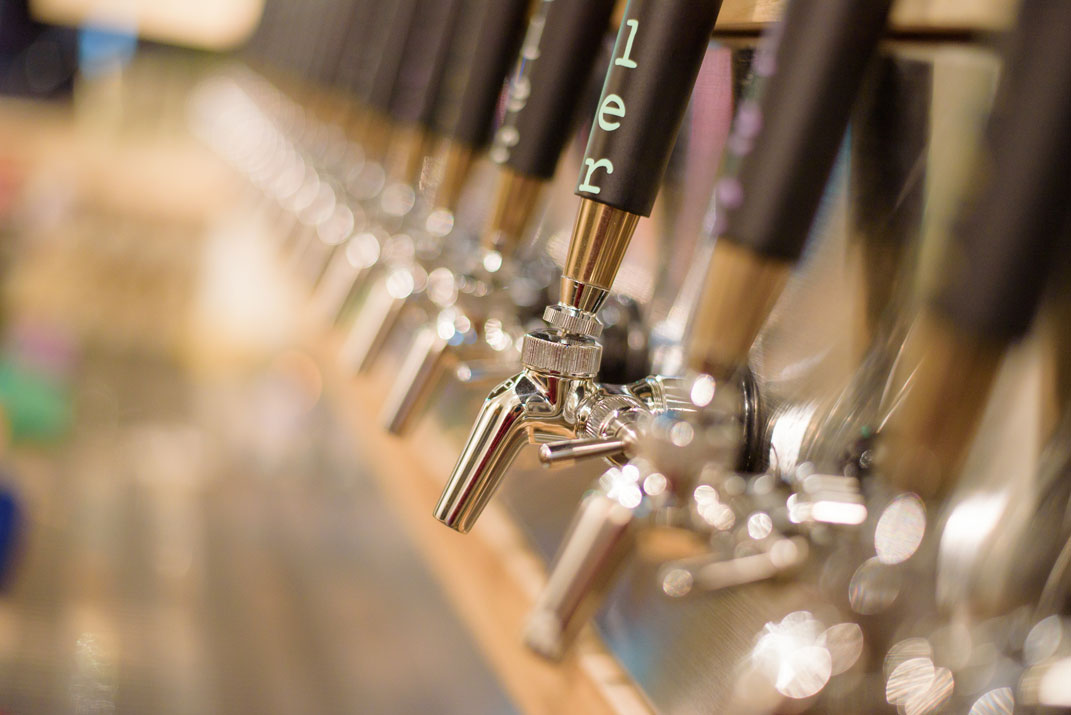 Over the last couple of years, however, things have changed – drastically. A second generation of microbreweries has emerged, some run by beer-loving foreigners, others by the disciples of those original Taiwanese pioneers: Jim and Dad's, 23 Brewing Co., Redpoint, Sambar, 55th Street, Hardcore … the list is ever growing. And what's more, the Taiwanese consumer, too – as a result of more foreign travel, working holidays, and study-abroad programmes – is becoming more and more enthused about embracing the craft beer scene.
The most decorated of this new guard – with a World's Best Experimental Beer award from the 2016 World Beer Awards under their belts – is the trio of young beer lovers that run Taiwan Head Brewers, who are putting a Taiwanese stamp on their creations by incorporating local ingredients and flavors into their brews.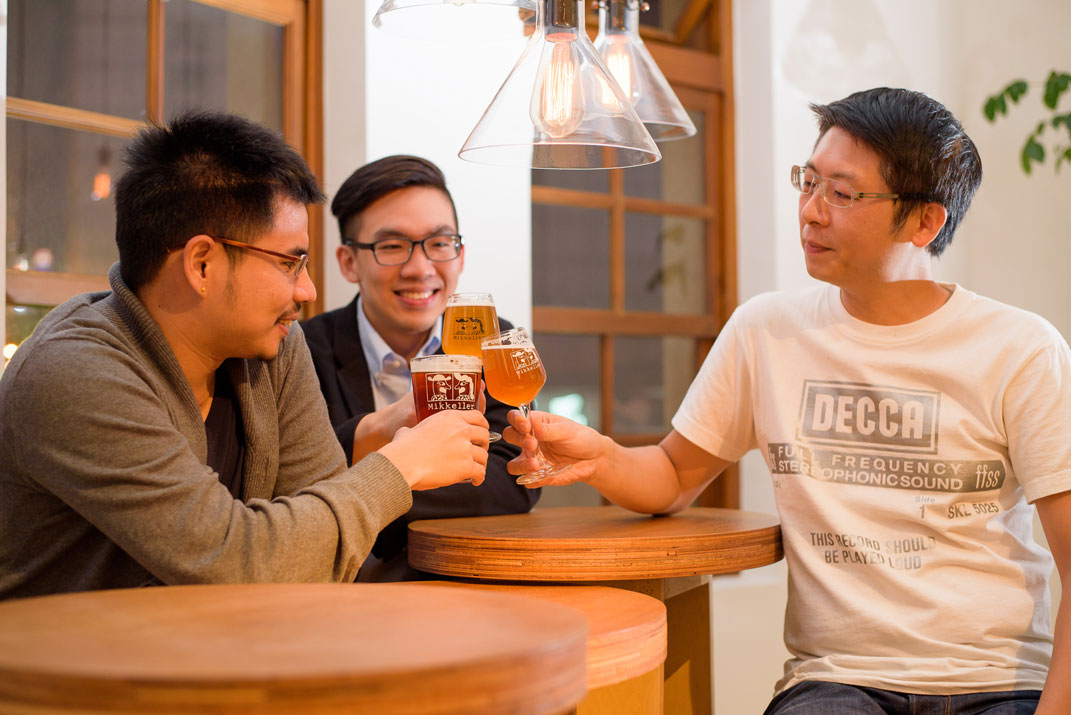 The brewers, Leo Yeh, Ray Sung, and Jay Duan, met through their mutual love of home-brewing – though Duan is also head brewer at one of Taiwan's first microbreweries, North Taiwan Brewing – and decided to create a series of beers that appeals to a local Taiwanese audience; one that, for the most part, is still fairly new to craft beer. Quite the task, then. To talk about how they've managed it, we meet at the newly opened branch of Mikkeller (a Danish beer bar and craft brewery brand, and one of the first Western microbrewery enterprises to make a serious foray into Asia) in Taipei's historic Dadaocheng district. Actually, Dadaocheng, known for its rich history of tea trading, is the perfect place to showcase the trio's beers, as the special ingredient in their most celebrated beers is in fact Taiwanese tea.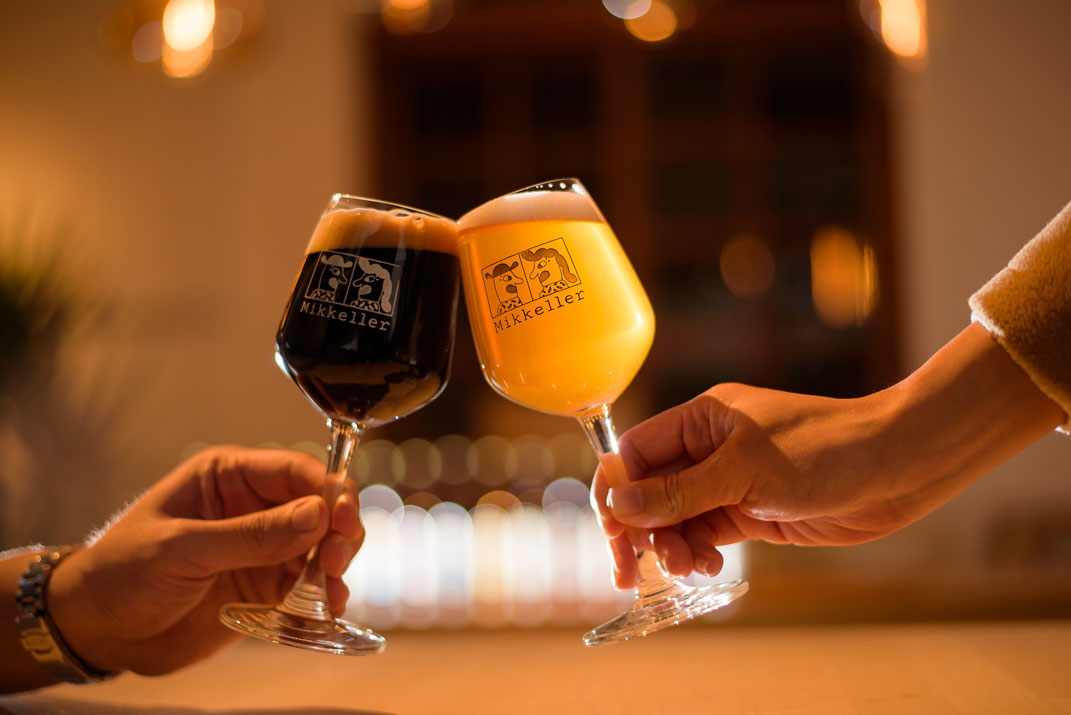 "Taiwan doesn't have hops, but it does have world-class tea," says Sung. "Tea is something that we've experienced since childhood, that we know the nuances of, so we felt confident that we could integrate it successfully into a beer's flavor profile."
But while their ingredients may be unconventional, their approach is still careful and tentative. "When we experiment with flavors, we do our best not to stray too far from beer-making tradition," Sung says. "We want to make beers in traditional styles, but use Taiwanese ingredients to achieve that effect."
This has been a wise move, as many experimental beers I've tried in Taiwan – e.g., waxy rice ale, sweet potato ale – have simply not worked, the flavors fighting with the beer rather than complementing it. The key is to know which flavors work well in beer, and that, says Duan, who has been in the brewing game for over a decade and is the most practised of the three, comes with experience.
The trio's Taiwan Tea Ale 2, for instance, features Oriental Beauty tea, which has honey and fruity notes completely at home with that particular style of beer – a crisp English pale ale. Their Taiwan Tea Ale 4, on the other hand, is a Scotch ale, a style known for its buttery toffee flavors. Tea Ale 4 has this character, but it does not come as per tradition from the malt. It is from the tea – a Jin Xuan oolong.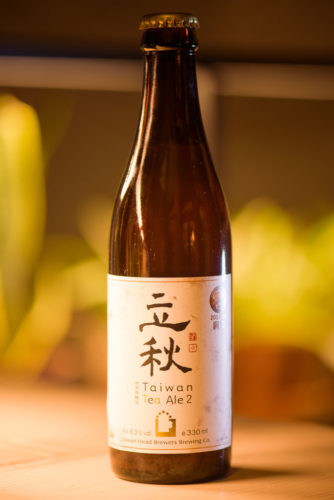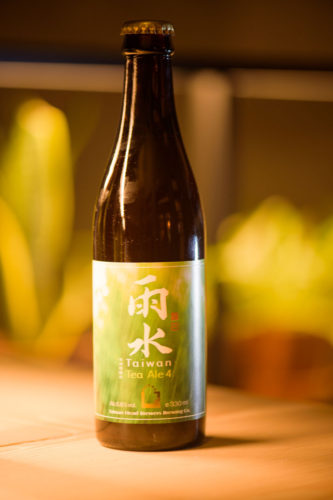 Familiar beer, then, but from a Taiwanese perspective. However, while the Taiwanese flavors in their tea ales may be subtle, once you – the drinker – emboldened, start to explore the rest of their alcoholic oeuvre, the sense of Taiwanese identity becomes bolder, too.
The majority of the trio's beers – including the tea ales – are selections from a series called 24 Solar Terms. The name comes from the Chinese lunisolar farming calendar, which divides the year into 24 mini seasons – Grain Rain, Start of Autumn, Rain Water, Major Heat, and Minor Heat, to pick a few. Each beer they brew is named after a season – the one they think best describes the flavors or spirit of that beer. Little Snow, for instance, is an effervescent snowy weizenbock – a strong wheat beer made with local wheat from Taichung – while Major Heat is a sweltering India pale ale with rich notes of Taiwanese jasmine.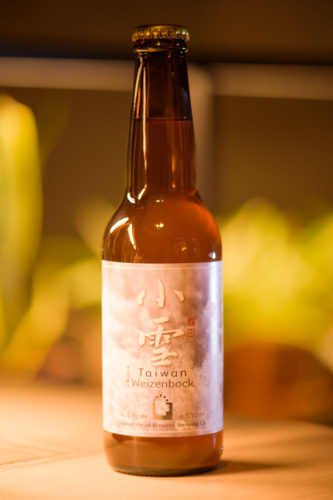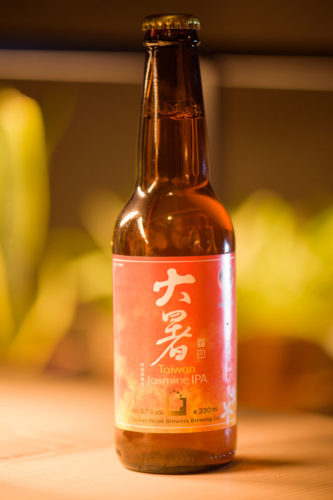 "The idea behind the 24 Solar Terms series," Sung says, "comes from the fact that for Taiwanese people, drinking beer in summer is common, but no one really drinks beer in winter. In Europe and America, though, you have beers for all seasons: amber autumn ales, hearty winter stouts. We wanted to introduce this concept to Taiwanese drinkers, too."
It's a shame, though, that the whole idea of the 24 solar terms and the philosophy behind it will be lost on most foreigners. However, as Sung reminds me, it's not for foreigners that they're creating these beers.
Indeed, the labels on their beer bottles have a vastly different aesthetic compared to Western bottled brews, with their bold cartoonish colors and logos. Those of Taiwan Head Brewers are much simpler: two calligraphic Chinese characters on a mild-mannered background of grassy green, warm orange, smudged charcoal, or baby blue flecked with lambent dew droplets. The only English on each label is the beer style. Not even the names of the beers – poetic as they are in Chinese – are translated. "We've always loved calligraphy," Sung says. "For us, the characters themselves are the artwork."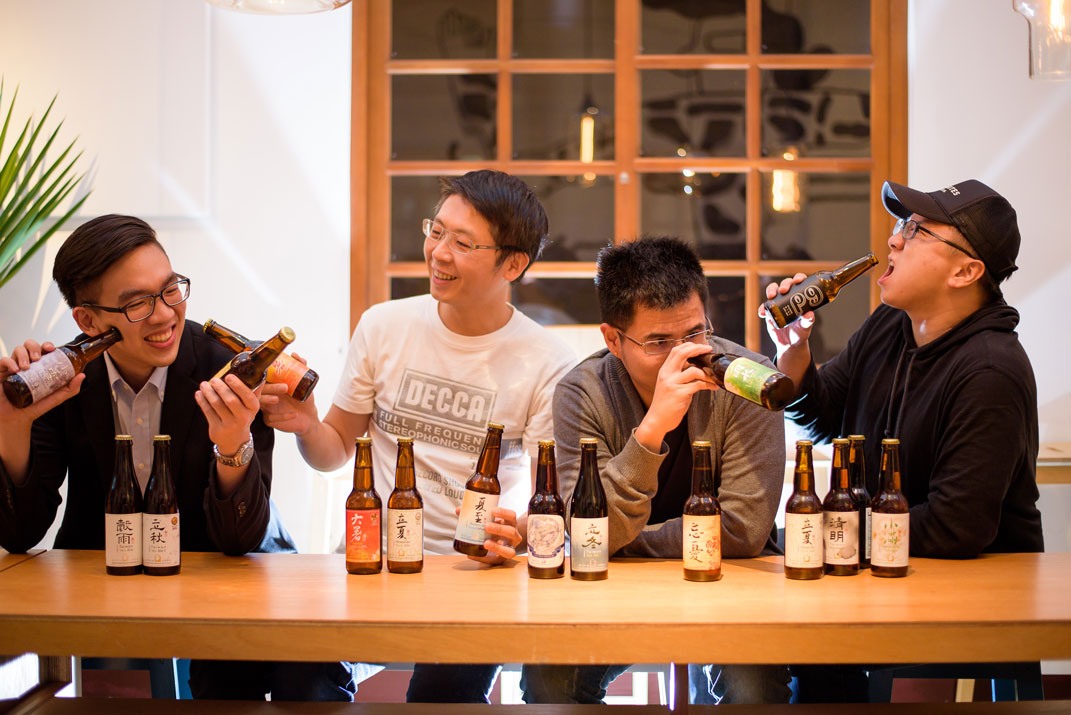 Their intention, Duan makes clear, is not just to make beer, but to create a local craft beer culture: beers with significance, with deeper meaning.
But is there (indeed, can there be?) a beer that encapsulates all of this – culture, national identity, local ingredients – and still stand up as a beer? Sung thinks so, and points me to Clear and Bright, the trio's take on a German rauchbier, or smoked beer.
Normally, a rauchbier gets its smoky flavor from smoked malt. The trio, however, have replaced smoked malt with – of all things – Chinese mugwort. "In Taiwanese tradition," Sung says, "burning mugwort gets rid of evil spirits. For our rauchbier, we wanted to use something local to create the smoky flavor; because it's so deeply rooted in the culture, mugwort ash seemed to fit the bill perfectly."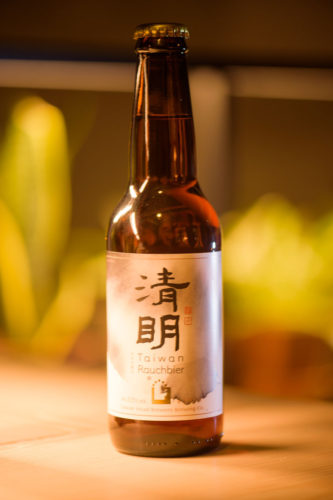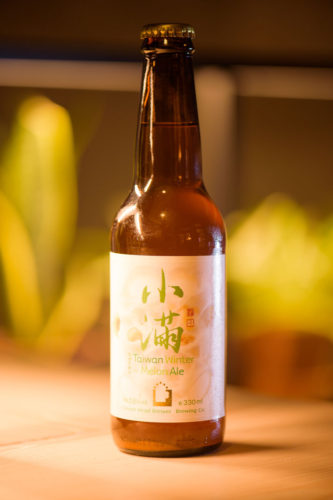 That's not the end of it. "Adding ash to the beer is also reflective of another tradition common in Taiwanese temples," Duan adds, "which is drinking blessed water. If a child has a fright or is sick, you can go to a temple and a priest will burn a piece of paper with a blessing on it, adding the ashes to a cup of water. Drinking the water drives away harm."
The cultural aspect, then, certainly isn't lacking. But is it a good beer? Well, yes, as it happens – smoky with hints of molasses, dry, toasty, and despite being a light beer, quite meaty, with a distinct essence of smoked ham. The mugwort comes through as a mildly ashy aftertaste that, again, doesn't overpower or make the drink taste like anything other than good beer.
The brew that surprises me the most, however, is Grain Full – a winter-melon ale that should, for all intents and purposes, fail, but may, in fact, be something of a work of genius. The beer, which at its heart is a heady, cloudy, golden-orange Belgian pale ale, is flavored with winter-melon punch – a popular folk beverage made by boiling down winter melon with brown sugar, and offered free at many Taiwanese eateries. The sweet notes of this beer would usually come from adding Belgian candi sugar. Here, it has been replaced with the winter-melon punch, which imparts a grassy, vegetative undertone that's balanced beautifully by a creamy, bubble-gum mellifluousness. It's lovely, has a distinct cultural connection, and has a flavor which I recognize as being completely Taiwanese. For me, at least, it ticks all the boxes.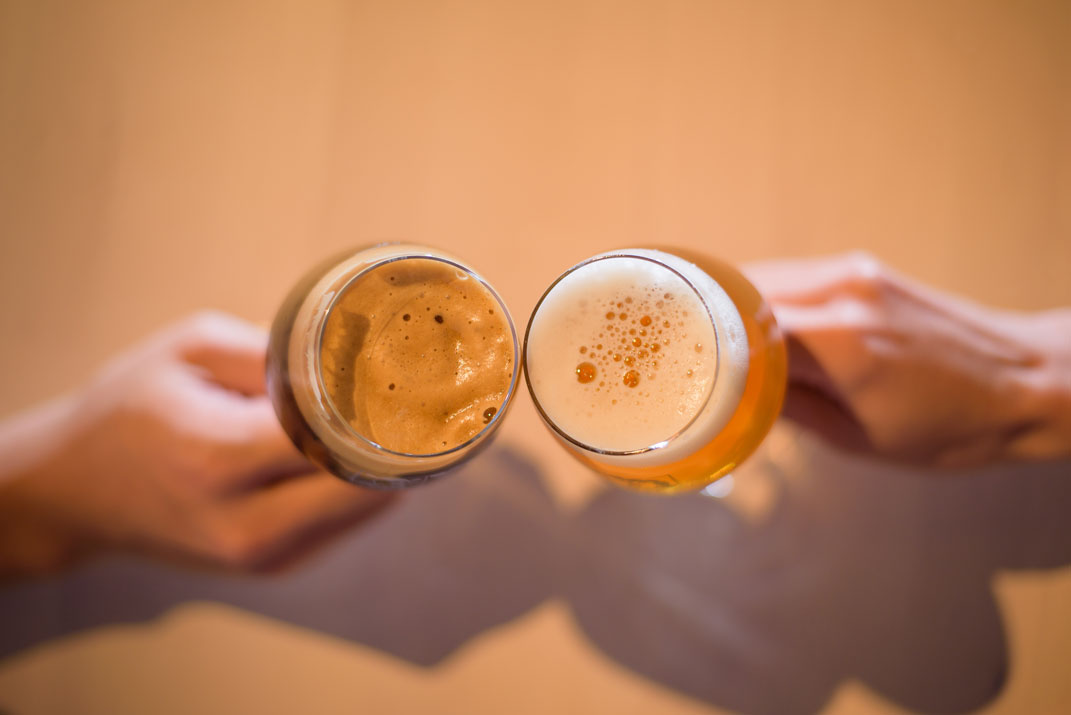 To date, Taiwan Head Brewers has finished 12 out of the trio's goal of 24 solar term beers. Twelve more to go, then, and I'm looking forward to every single one of them.
Taiwan Head Brewers (啤酒頭)
Website: headbrewers.com.tw
Note: Taiwan Head Brewers beers can be found in most bars and beer cafés selling craft beer in Taipei and New Taipei City. A list of those in Taipei City can be found on the company website.
Mikkeller Taipei (米凱樂啤酒吧)
Add: No. 241, Nanjing W. Rd., Datong Dist., Taipei City
(台北市大同區南京西路241號)
Hours: Mon-Thu 16:00~00:00; Fri-Sat 16:00~01:00; Sun 14:00~22:00
Tel: (02) 2558-6978
Website: mikkeller.dk/location/mikkeller-bar/
Note: Mikkeller is one of the few places in Taipei where you can get Taiwan Head Brewers beer on draft.
Two other places in Taipei where you can try local micro-brewery beer are Zhangmen and bEEru.
Zhangmen is located in the heart of Yongkang Street Commercial District, an area with many restaurants, cafés, ice parlors, and boutiques. This small beer bar has 16 beer taps, with most of the beers produced by the Zhangmen brewery, and serves no other alcohols. It's basically a tasting room for the brewery (which is located outside Taipei City), where beer lovers can indulge in their passion for great beer.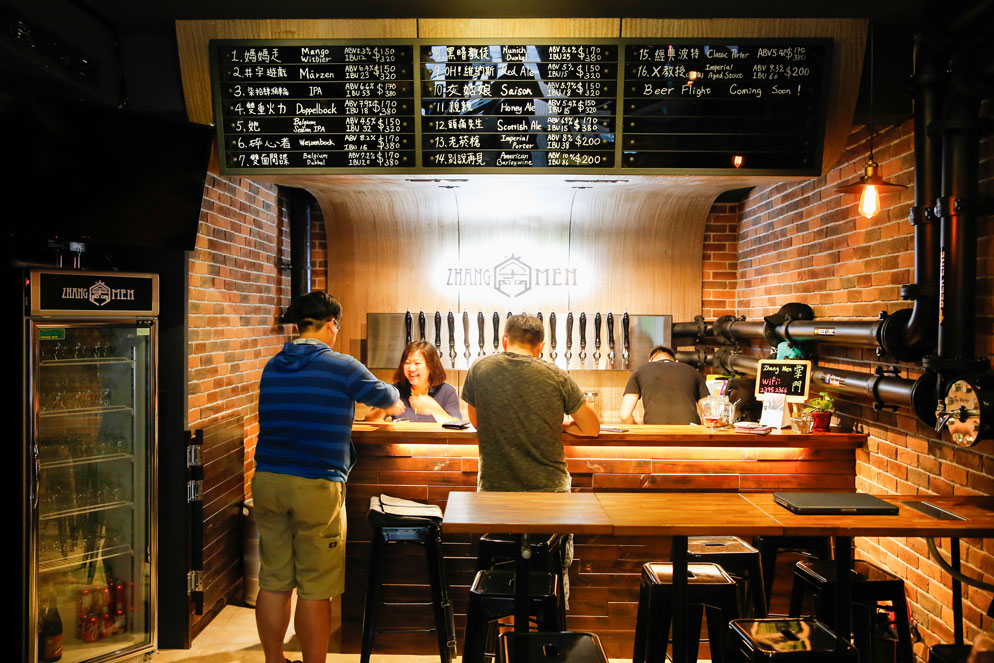 Zhangmen (掌門精釀啤酒)
Add: No. 10, Lane 4, Yongkang St., Da'an Dist., Taipei City
(台北市大安區永康街4巷10號)
Hours: Mon-Thu 13:00~00:00; Fri-Sat 13:00~01:00; Sun 13:00~00:00
Tel: (02) 2395-2366
bEEru is one of an increasing number of restaurants and beerhouses lining busy Civic Boulevard. Three beers from their one brewery operation are available on tap, alongside other craft beers. The stylishly designed bar/restaurant also has a range of cocktails and wines, and also serves up meat, seafood, and vegetable dishes that complement the craft beer experience perfectly.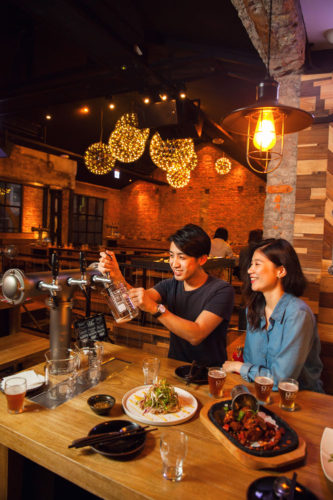 bEERu (bEEru 啤調客精釀啤酒屋)
Add: No. 129, Sec. 4, Civic Blvd., Songshan Dist., Taipei City
(台北市松山區市民大道四段129號)
Hours: 18:00~02:00
Tel: (02) 2577-1815
Website: www.facebook.com/craftbeeru
Turkish Specialties in Taipei — SAFRANBOLU RESTAURANT
Read about Turkish cuisine in Taipei: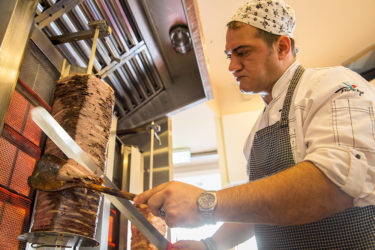 https://taiwaneverything.cc/2017/01/24/safranbolu-restaurant/
Further reading on other sites:

Taiwan Scene:
Finding Local Flavor at Taipei's Beer Cafes

My Professional Travel Guide:
9 Types of Craft Beer You Should Really Know | Craft Beer Scene in Taiwan

Tricky Taipei:
Where to Drink in Taipei
KLOOK: Taipei Popular Sightseeing Private Car Charter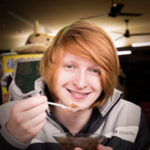 Owain McKimm is a freelance writer who has been living in Taiwan since 2009 and has written about everything from Taiwanese foot massages to flower cuisine.
E-mail: owain [dot] mckimm [at] googlemail [dot] com