Life's a Beach
TEXT / DANA TER
PHOTOS / ASKA CHI

Taiwan's North Coast, stretching from the harbor city of Keelung in the east to the port town of Tamsui in the west, is a marvelous coastline featuring rocky shores, colorful reefs, and white-sand beaches. Among the tourist favorites are the fine beaches at Zhongjiao, Baisha, and Qianshui bays. Beachgoers and shoreline explorers also enjoy the many stylish seaside cafés offering not just coffee and refreshments but also enchanting views and plenty of reason to lie back and do absolutely nothing.
A 30-kilometer stretch of blissful golden-sand and rocky shores backed by evergreen mountains to the south, the North Coast of Taiwan beckons. It takes just an hour or so to drive from downtown Taipei to one of the area's popular beaches (a bit longer by public transport; MRT + bus via Tamsui or railway + bus via Keelung). Late summer and early autumn, with the promise of cooler weather and dwindling crowds, is the perfect time to visit.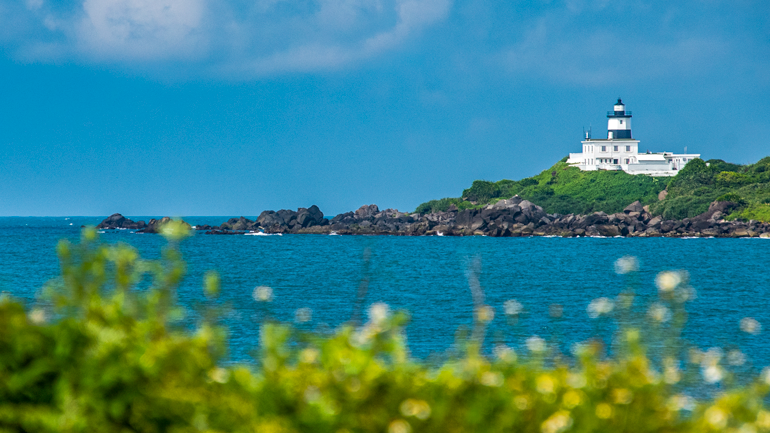 For this article, we start our journey at Zhongjiao Bay, a popular spot for beginner surfers. We then make our way northwest to check out the Laomei Green Reef, where bright-green algae beautifully covers coastal rocks, and the Fugui Cape Lighthouse, at the island's northernmost point. Then it's southwest along the coast with stops at the golden-sand beach at Baisha Bay and then onto the Qianshui Bay beach, a perfect place to see glorious sunsets.
A popular area for surfing, stand-up paddleboarding (SUP), and other watersports, the North Coast is also home to many fine cafés, serving refreshing beverages, light snacks, and desserts. These range from stylish coffee shops right by the beach to barebones "mobile cafés" (i.e., small vans with coffee-making equipment) parked on highway-side parking lots. What all these coffee places have in common is that they espouse the same laid-back ethos: that life really is a beach.
Quiet B. Days
New Taipei City's rural Jinshan District, well-known locally for its natural hot springs, Old Street, and seaside park, has also become a surf and SUP destination in recent years. In particular, Zhongjiao Bay, with its calm waves and a brand-new surf/SUP center, is popular among beginner surfers.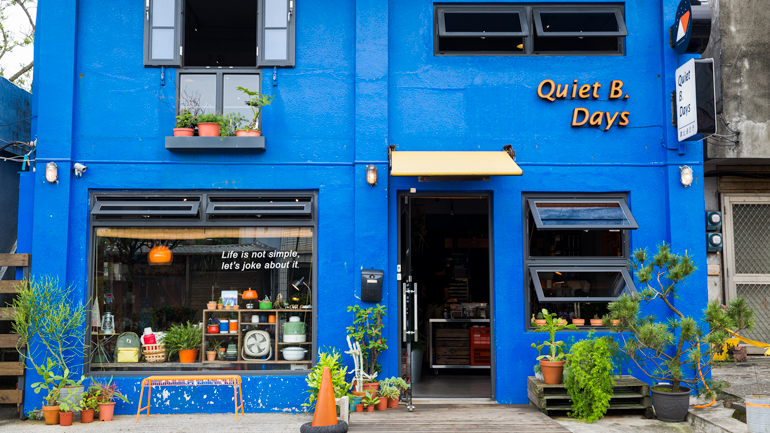 Right outside the seaside park entrance to the bay is Quiet B. Days, a two-story café and shop right on the coastal highway. It is hard to miss, as its azure-colored façade makes a bright and cheery statement. The aroma of homemade pancakes and cookies fills the first floor, which is part kitchen and order counter and part souvenir shop. The latter displays items such as incense burners in the shape of surfboards and colorful towels with maps of the North Coast, along with more mundane household goods as cookery items and lunchboxes.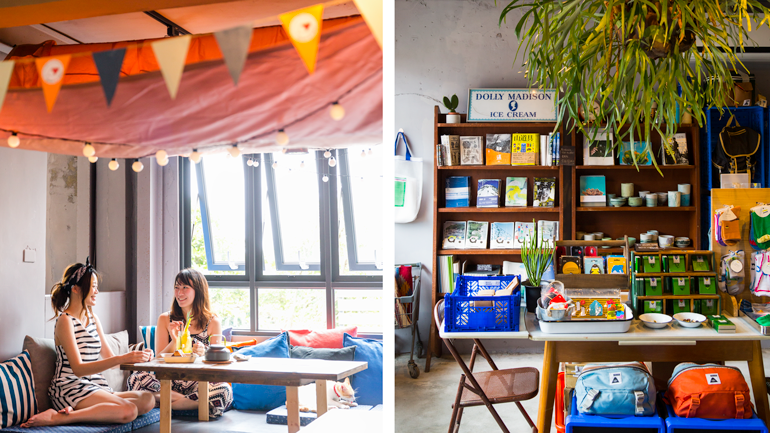 Pineapple and mint juices and other refreshing drinks are brought up to the second-floor café and the rooftop, both providing wonderful views of the bay and surfers both out riding the waves and back in rinsing their boards at the nearby visitor center.
Quiet B. Days (靠北過日子)
Add: No. 174, Haixing Rd., Jinshan District, New Taipei City
(新北市金山區海興路174號)
Tel: (02) 2408-2332
Website: www.quietbdays.com/
Facebook: www.facebook.com/qbdays/
Mobile Cafés
Just a short distance north from Zhongjiao Bay the coast changes from sandy to rocky, with large rocks lining the shore. You will pass two small vans parked in a narrow car park right beside the highway. These vehicles have been transformed into mobile coffee stations complete with espresso machines and other apparatus. Order either from Umi or M.G.O.D., and enjoy a latte or iced tea sitting alfresco under a large umbrella on one of the many plastic chairs while taking in the excellent ocean view. Look to the east and you'll see the Yehliu Geopark in the far distance, one of the most popular tourist draws in Taiwan, famous for its unusually shaped rocks.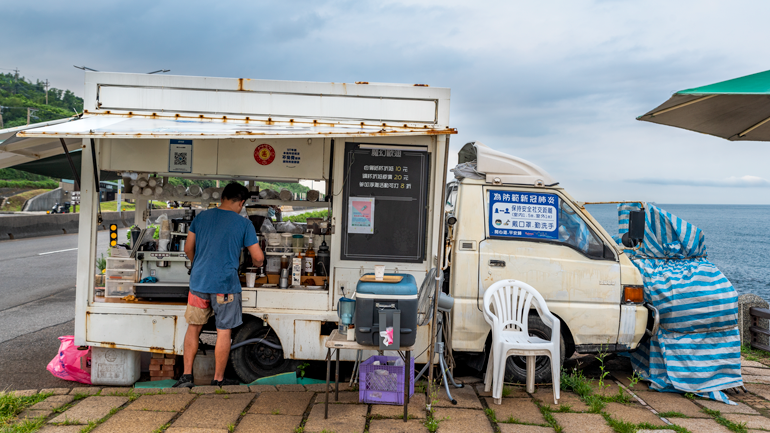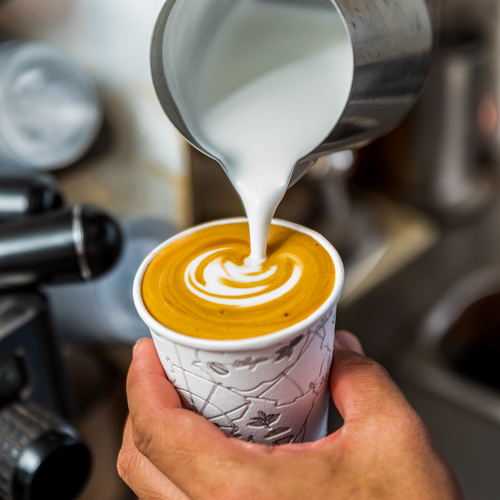 The operator of the red-and-white Umi van serves the morning crowd, and besides the usual lattes, cappuccinos, and milk teas, also rolls out tasty waffles and pizzas. M.G.O.D. is open in the afternoon, and the operator's cold osmanthus pomelo tea, which comes with thin slices of pomelo skin in the drink and is sprinkled with bits of osmanthus flower, is especially refreshing.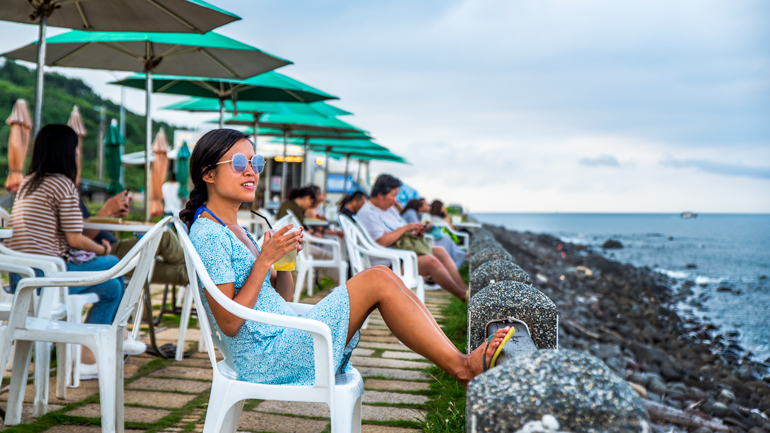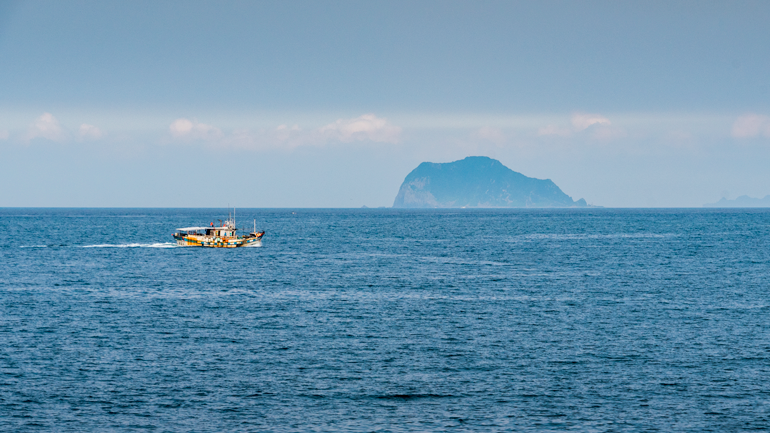 Umi Coffee Bus (烏咪咖啡小巴) + M.G.O.D. (魔幻歐迪)
Location: At 38.5km marker of Provincial Highway 2 (south of Liaotianding Temple bus stop, about 3km north of central Jinshan town)
Facebook: www.facebook.com/umicoffeebus/, www.facebook.com/MGODCafe/
Fugui Cape Lighthouse
Like the southernmost point of Taiwan (Eluanbi peninsula in the Kenting National Park), the northernmost point is also marked by a lighthouse, the Fugui Cape Lighthouse. Built in the late 19th century during the Japanese occupation of Taiwan, the black-and-white tower has been rebuilt several times, including after it was destroyed during World War II. It's part of the Fugui Cape Park, an area with lush greenery, easy to follow pathways, and access to the Fuji Fishing Harbor southwest of the lighthouse and the Laomei Beach to its southeast.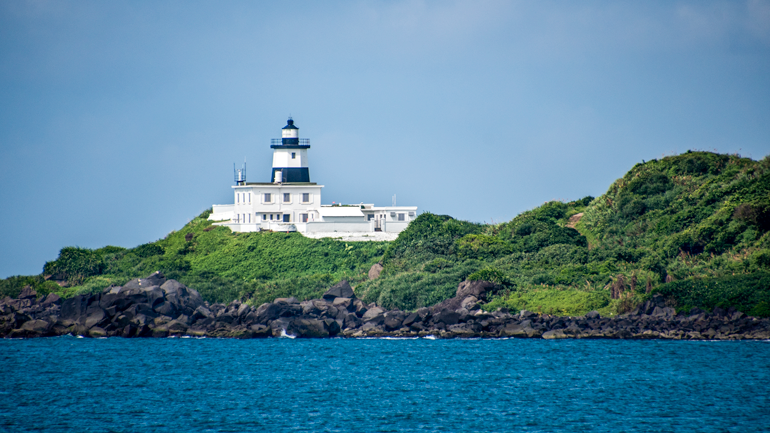 Laomei Maze
Another attraction within the park is the Laomei Maze, a small, circular-shaped maze made with brick walls just under five feet high. Steps are conveniently placed in some parts of the maze, assisting Instagrammers angling for the best shots. There is a small hill nearby from where you can take a look at the maze from higher up and view how others are having fun in it. Close by is also the Laomei Lookout, which has a sweeping 360-degree view of the Laomei Beach, the ocean in front, and the mountains in the far distance in the rear.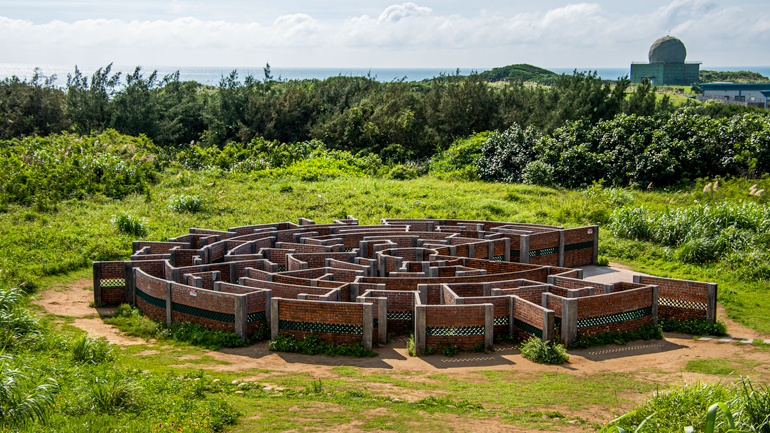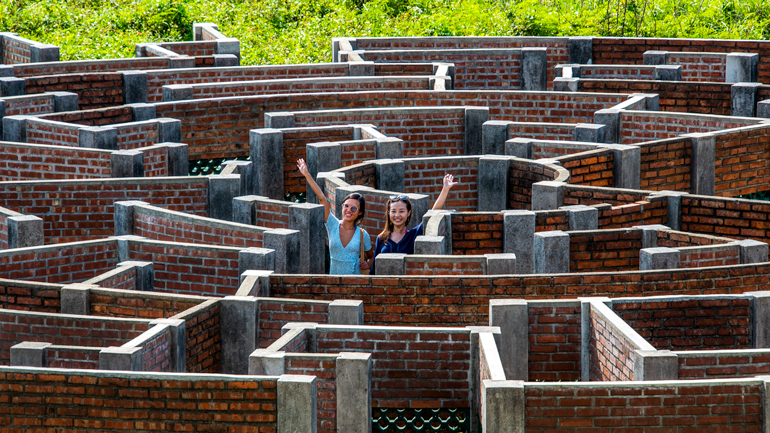 Laomei Green Reef
From the maze it's just a short walk to the beach along a picturesque path that cuts through swathes of silvergrass and low-lying trees. A wooden boardwalk then takes you down to the beach, where you'll see the scenic Laomei Green Reef, an area with rows of stone troughs that jut out from the sand and into the water. Atop the reef is a covering of bright green algae. The algae remains year-round, thanks to the build-up of many successive layers, though the best time to see it is in April and May when the reefs are entirely covered with the spongy material. (Please note that the green reef is a protected area and you are not allowed to step on the algae-covered rocks.)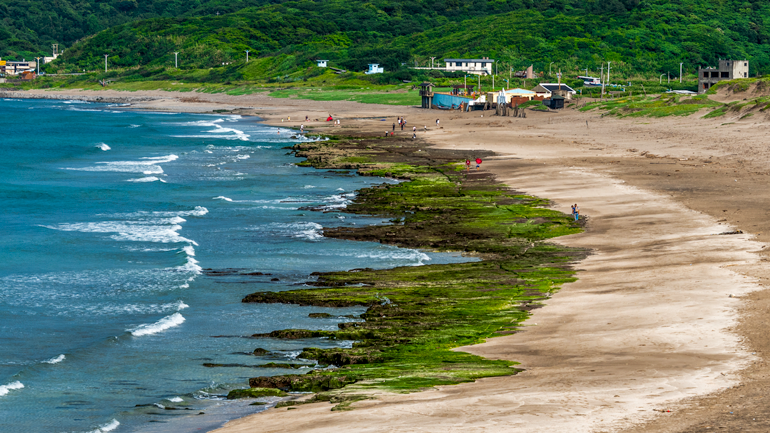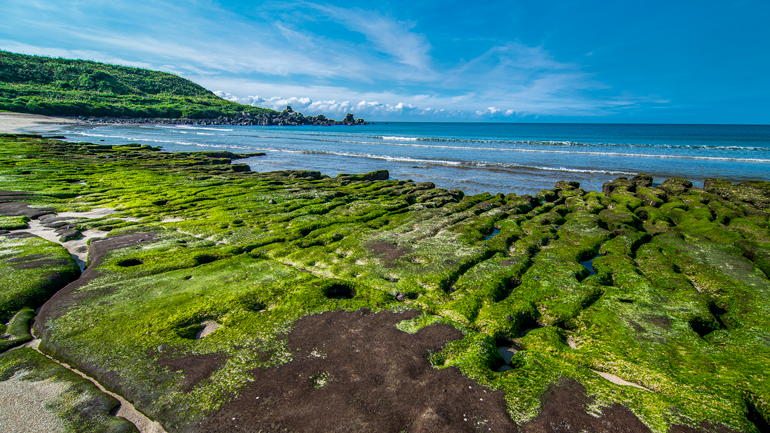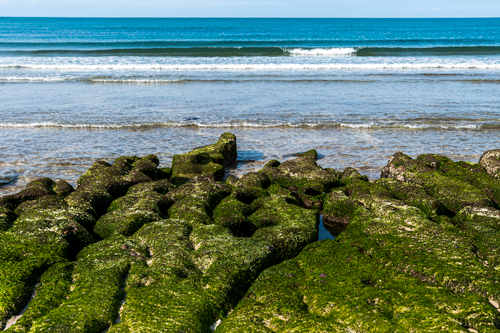 Baisha Bay Beach
A long-time favorite among Taipei-dwellers, the half-moon shaped Baisha Bay is named after its white sand (baisha). Its calm waters and comprehensive beach-fun facilities make it a popular choice for families with young children.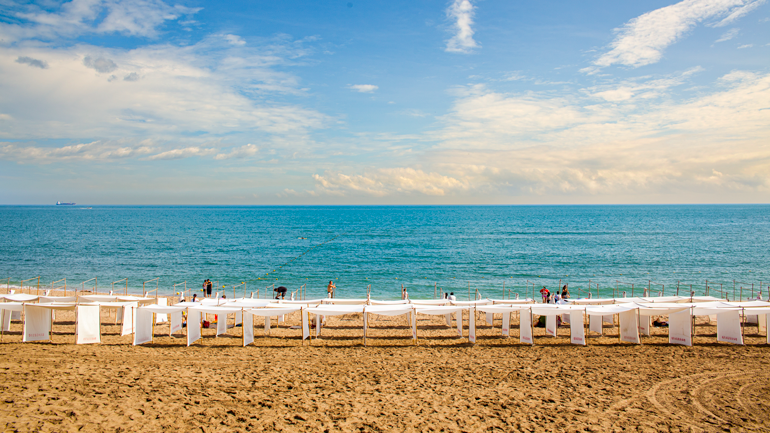 The modern buildings you'll see between the main parking lot and the beach, featuring slanted roofs and floor-to-ceiling windows, are home to the North Coast and Guanyinshan National Scenic Area administration and a visitor center. On the beach itself, near its iconic white cabanas, stand-up paddleboards and paddles, boogie boards, rattan beach mats, and big unicorn floats are available for rent. Vendors also sell snacks and refreshments such as adzuki-bean ice.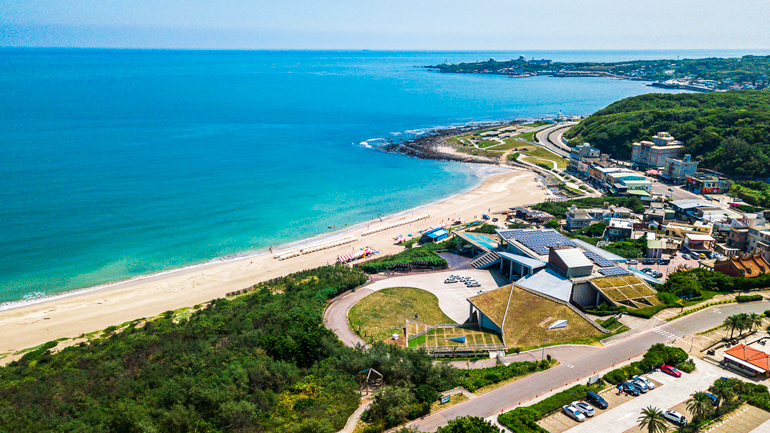 While Baisha Bay is a popular recreational beach, just beyond its eastern end you can see fishermen wading out waist-deep into the water and spreading out their fishing nets. There's more rock than sand here, and the exposed rocks, flanked with gorgeous red-and-yellow Indian blanket flowers in summer and autumn, create pools of water in between that trap little and medium-sized fish.
Bo Bo Café
Located in the eastern corner of the NSA administration building is the Bo Bo Café, easy to find because there is a white boat with its name on it parked outside the entrance. Inside is a spacious dining area with wooden tables. Floor-to-ceiling windows invite the sunlight to pour in. This is a lovely place to cool off after a dip in the ocean; if sitting window-side you can spot beach and ocean through a small group of coniferous trees.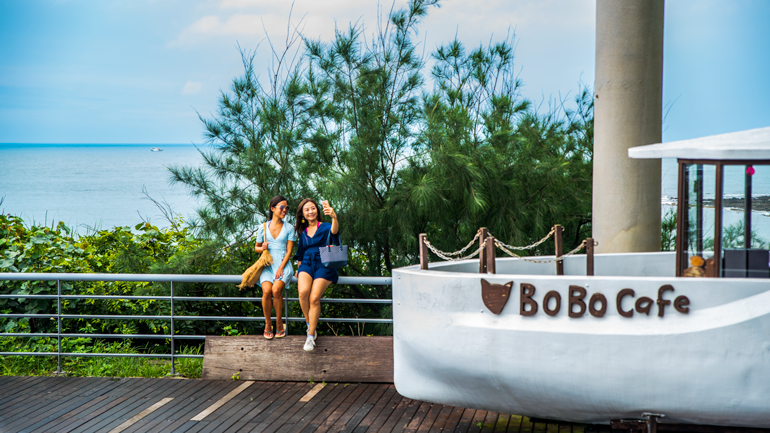 Notice the café's logo – the outline of a cat's face – on menus, window frames, and even engraved on cutlery. Bo Bo used to be a cat café, but its feline residents have been relocated to a new café occupying a huge house in a forest area on Mt. Guanyin northwest of Taipei City.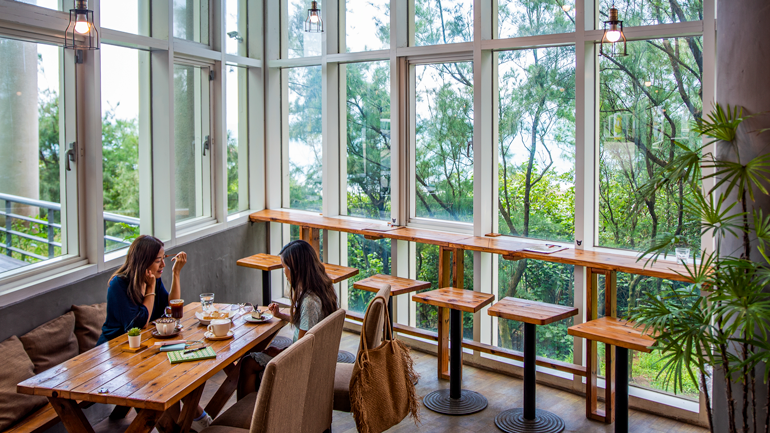 The menu offers a wonderful assortment of sweet treats – try the no-bake Oreo cheesecake, which is served with crushed Oreo cookies, or the sinful peanut butter toast with caramel ice cream. A myriad of latte flavors are available, including vanilla, hazelnut, caramel, honey, and rose, served either hot or cold. Then there's the mammoth-sized brown sugar caffe latte, a delightful concoction of coco pops floating in a latte that's encircled on top with a thick rim of frothy brown sugar.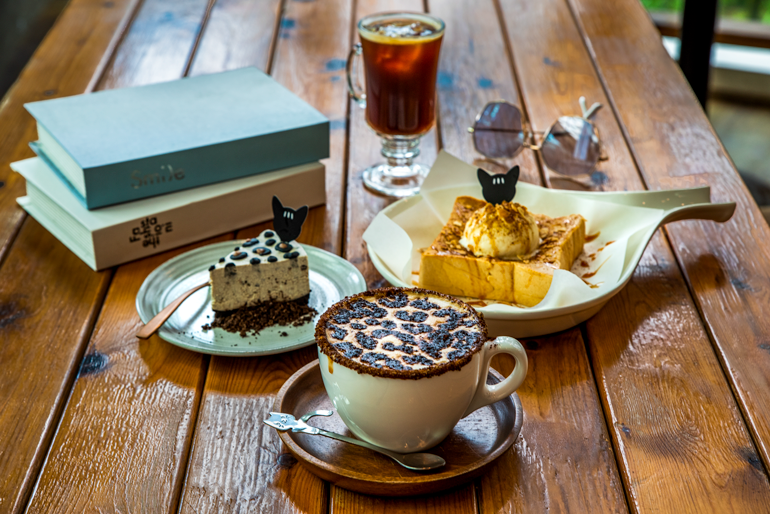 Bo Bo Café (豹豹咖啡)
Add: No. 33-6, Xiayuankeng, Shimen District, New Taipei City
(新北市石門區下員坑33之6號)
Tel: (02) 2636-6760
Villa Sugar
A long-time popular beach destination due to its proximity to the town of Tamsui – just a 30-minute bus or taxi ride away – Qianshui Bay (lit. "Shallow Water Bay") is a laid-back getaway for city folk. The bay offers numerous beachside restaurants, cafés, and pubs.
Unassuming from its highway-side entrance, Villa Sugar is a tropical-feel gem. The first in a row of coffee shops and restaurants you will see when arriving at Qianshui Bay from Tamsui, the café/restaurant has Balinese-style water features, white canopies, and frangipani trees. The décor is akin to a Southeast Asian resort, the centerpiece being an elongated water feature with two small reflective basins on both sides, drawing the eyes to the beach. Inside the building are rattan chairs with white pillows and cool white walls and ceilings; most patrons, however, prefer the wooden deck outside, which has shaded seating. If you're just ordering drinks or light meals, the raised wood-board plank area next to a red-brick wall is a good choice, and decidedly casual.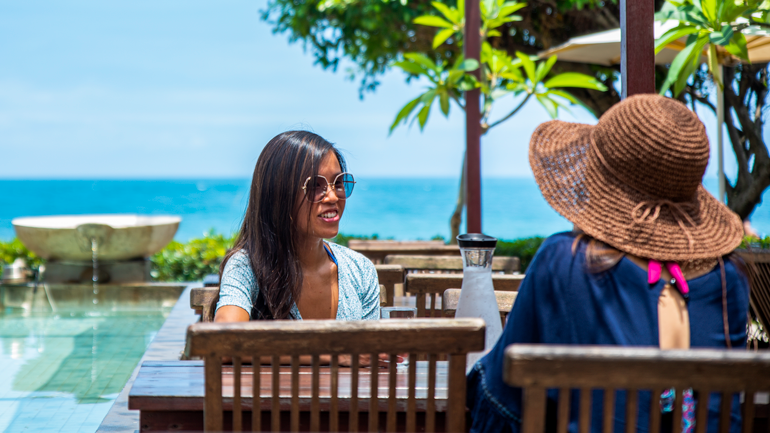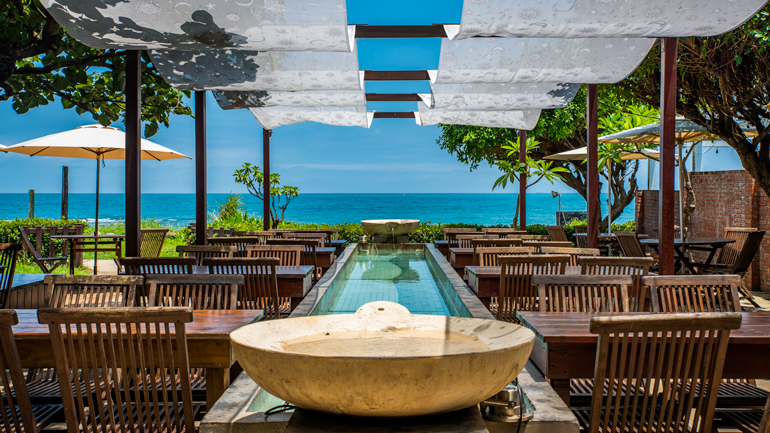 Try to come early, as the place is often busy, even on weekdays. Guests primarily comprise families and groups of friends, and since right outside is the main North Coast bike route, bicyclists can be seen parking their bikes outside and dropping in for a bite.
The food and drink menu is extensive, and includes various types of risottos, short ribs, beef stew, pastas, and pizzas, as well as a refreshing Caesar salad. Drinks-wise, the Viennese coffee is a fine choice, though on hotter days a bright-red peach soda or blue passion fruit soda is the way to go.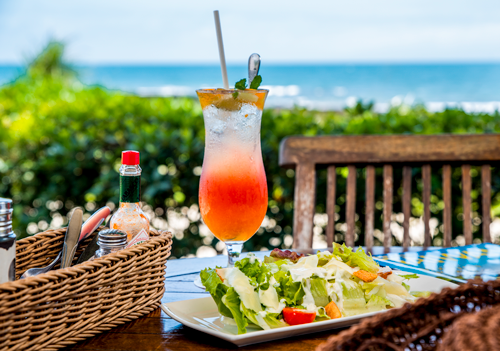 Villa Sugar
Add: No. 54-16, Tudigongkeng, Sanzhi District, New Taipei City
(新北市三芝區土地公坑54-16號)
Tel: (02) 2636-1585
Website: www.villasugar.com.tw (Chinese)
Qianshui Bay
A mish-mash mix of brown rock, green reef, and white sand speckled with tiny white-and-brown seashells, Qianshui Bay paints quite the charming picture, and watching the sunset from here is a most atmospheric way to round up your beach-hopping trip along the North Coast. Park yourself at one of the many beachfront cafés or bars, or bring your own picnic feast, to observe this heartwarming natural spectacle.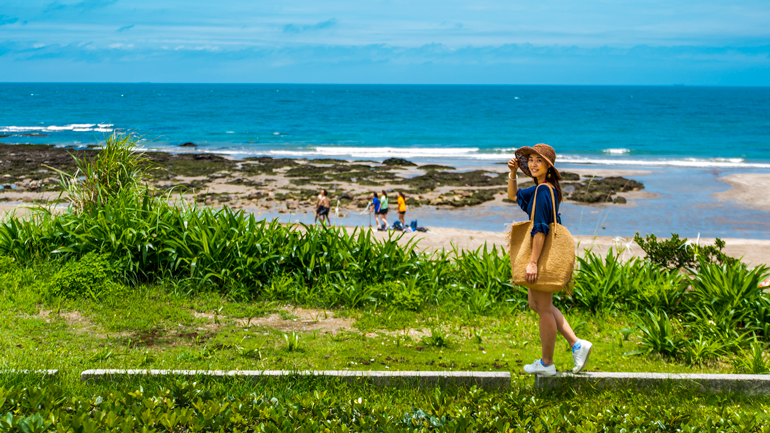 The bay is an intertidal zone, meaning that a wonderful mini ecosystem appears during low tide and disappears during high tide. Notice the wavy, zigzag patterns on the white sand and the many big rocks, all different hues of brown and covered with encrusted clam shells, that form dozens of tidal pools between them. These little pools are home to tiny black fish and the odd crab scuttling in and out of crevices in the rock agglomeration – they are also perfect for children to play and splash about in.
While the water in the tidal pools is warm, out in the open ocean it's much cooler. Most of the fishermen who work the waters here will have vacated the bay well before sunset, though a few might remain, their backs turned away from people on the beach, oblivious to their chatter. Eventually, the sunset – most often a brilliant candy-floss pink interjected with dashes of bright orange and yellow – hushes everyone and all that's heard are the lapping waves.
KLOOK offers:
Taipei Popular Sightseeing Private Car Charter: Tamsui, Northern Coast, and Ju Ming Museum (Chinese/English/Korean/Japanese)
Taiwan's Northern Coast
Taipei North Coast Day Tour with Tofu DIY Experience
How to Get There
Take the MRT to Tamsui, the last stop on the Red Line. Jinshan, Laomei, Baishawan, and Qianshuiwan are easily accessible by taxi from MRT Tamsui Station.

More Info
Visit the website of the North Coast & Guanyinshan National Scenic Area.
Where to Stay (Tamsui)
Where to Stay (Keelung)
Also read:
The Rugged Northeast Coast
The NORTH COAST of Taiwan — from GUANYINSHAN to KEELUNG
STANDUP PADDLEBOARDING (SUP) on Taiwan's North Coast
FLYBOARDING on the North Coast
PARAGLIDING at Wanli on the North Coast