Exploring the Townships of Dongshan and Yuanshan
TEXT / RYAN HEVERN
PHOTOS / ASKA CHI

Let's head off on an exploration of two of Yilan County's charming rural townships, Dongshan and Yuanshan. Close neighbors in the northern foothills of the Xueshan Range and the Central Mountain Range, these scenic townships are home to a host of compelling tourist attractions and unique accommodation options, with a selection of the best specially introduced in this article.
Dongshan Township is in the south of the triangular-shaped Yilan Plain (also called the Lanyang Plain), while Yuanshan Township is in its central-west sector. Beyond their flatland areas on the plain, both also encompass substantial foothill areas. The townships are known for their enchanting scenery, natural surroundings, and agricultural activities. Admittedly, I haven't paid much attention to places on the Yilan Plain when traveling to the eastern parts of Taiwan in the past. I have usually headed straight to the coast or into the high mountains. After recently exploring Dongshan and Yuanshan, however, I've found myself falling in love with the beauty of this side of Yilan as well.
Dongshan and Yuanshan are a bit off the beaten path for the majority who travel around Taiwan, both locals and, especially, travelers from overseas. These areas, however, are incredibly vibrant, with placid waterways weaving through a great green expanse of paddy fields. They are perfect destinations for travelers who want to get outside hustling and bustling cities such as Taipei. Beyond the scenes of beauty, there is artistic flair and indigenous culture to experience as well. Among the blooming field of unique businesses are colorful homestays, cozy cafés, and an award-winning whisky distillery.
Below I will go over a handful of fun travel ideas for you to explore in Dongshan and Yuanshan.
Dongshan Railway Station
The Dongshan Railway Station was the first railway station in Taiwan to be redeveloped as a tourist attraction. The project, completed in 2008, transformed it into the island's first elevated railway station. The station's roof structure features gigantic steel loops meant to resemble the framing of the arched pergolas used to grow gourds. The uniquely appealing design is a favorite with photographers.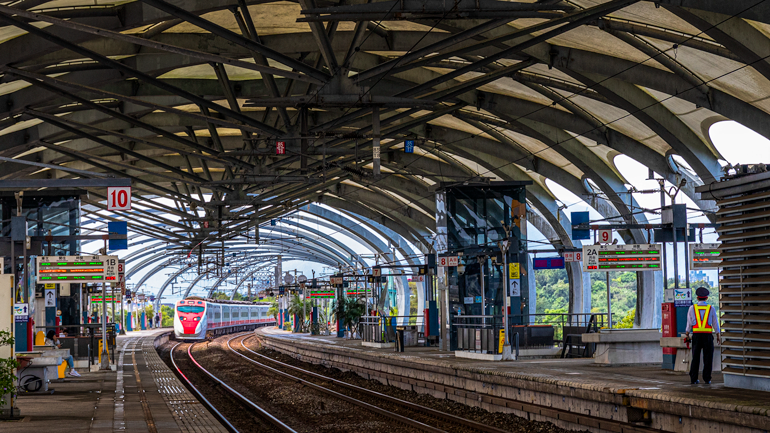 Below and around the station are numerous art installations highlighting farm life, trains, kites, and other local-culture themes. There are playgrounds and "classrooms" for children to enjoy as well. Admission to the station for those who just want to have a look inside, without taking a train, is NT$6, and the platform ticket (yuetai piao) can be taken home as a souvenir!
While the Dongshan Railway Station is a tourist attraction in and of itself, it is also a travel hub for those who come by train to explore Yilan. There are a number of tourist attractions and fine eateries close by. Within walking distance from the station are, for example, the Dongshan EcoArk, Dongshan Kite Museum, Dongshan Old Street, and Dongshan Night Market. The town of Dongshan's streets are filled with colorful murals, sculptures, and other artworks, matching the natural vibrancy of the Yilan Plain.
Getting there: Dongshan's station is small, mainly served by local trains. To get there from Taipei or Hualien, take an Express train to Yilan Station or Luodong Station, then take a local train to Dongshan Station.
Dongshan River EcoArk
The Dongshan River EcoArk, also known as the Dongshan River Forest Park, is just to the northwest of the Dongshan Railway Station. The park was opened in 2016, after 20 years of planning and construction, undertaken to create an area that functions as an environmental reserve where green tourism is promoted. An important local ecological preserve, the park is home to many species of birds, reptiles, and amphibians, as well as a rich mix of native vegetation. Within its borders are winding pathways, playgrounds for children, and platforms for birdwatching enthusiasts. You'll likely see Cattle Egrets, easy to recognize by their distinctive orange-brown heads, Lesser Egrets, Common Moorhens, and Black Drongos inhabiting the 16ha of open grassland and riverbanks. Migratory birds are frequent visitors as well.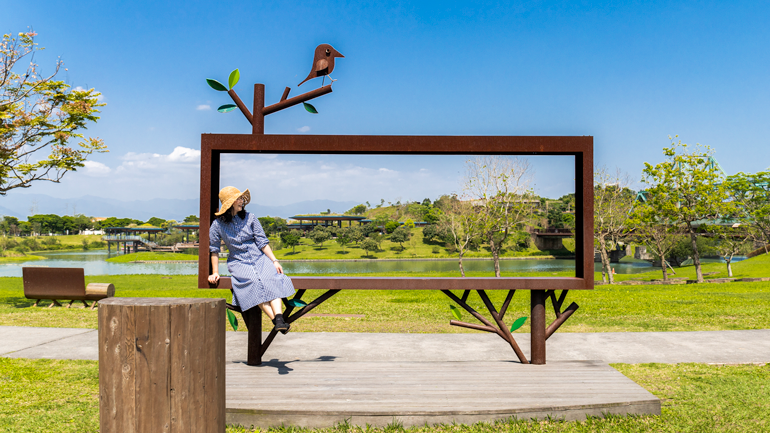 You can easily explore the park on foot following the pathways. For a more relaxing option, cross the wood plank pedestrian bridge beside the railway bridge in the northern part of the park and look for the riverboat landing stage. There, guided electric boat rides (40min.; NT$70) are available, during which you'll follow the waterways that meander through the park's forested northern section.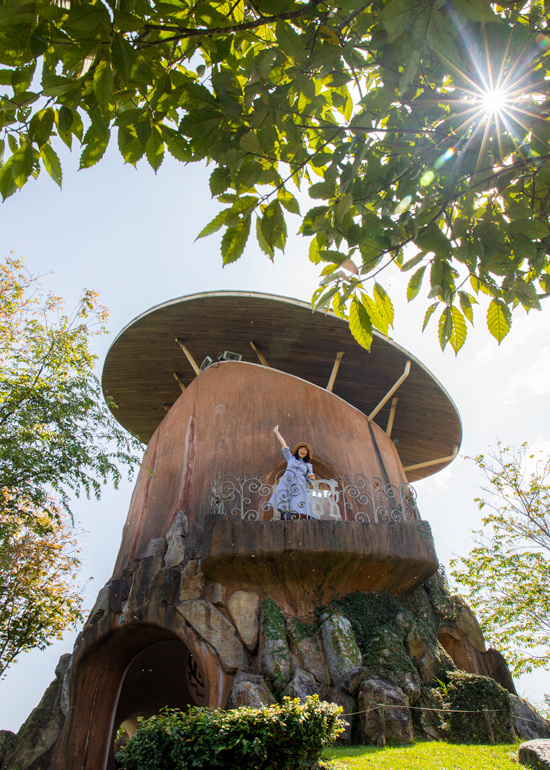 Getting there: The park is a short walk northwest from Dongshan Railway Station.
Artemis Garden
Situated close to Yuanshan Township's foothills and surrounded by emerald rice paddies, the Artemis Garden is Taiwan's largest greenhouse, and the island's first museum dedicated to floral fragrance. It was established in 2012 with the simple idea of sparking joy with the help of beautiful and aromatic flowers. The greenhouse is filled with flowers, trees, and herbs, the rich fragrances of which fill the air. Magnolias, Gardenias, Orange Jessamines, and myriad other types of flowers emit incredibly aromatic fragrances. The delicious scents seem to drift out to greet you immediately upon arrival.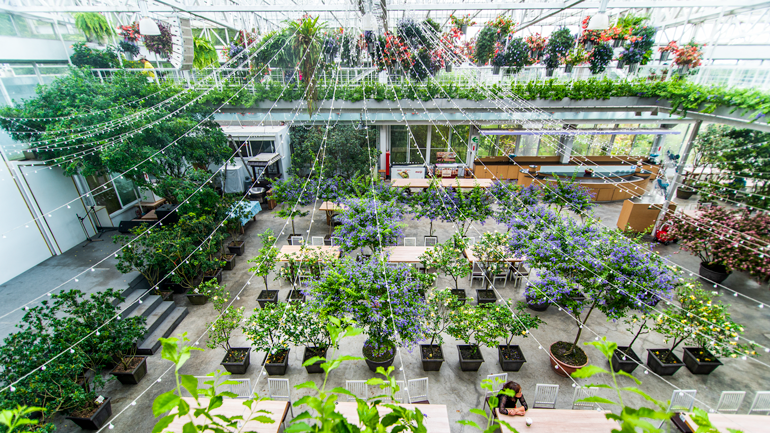 The Artemis Garden is also much more than just a massive greenhouse. Inside the building is a large buffet restaurant (lunch), which becomes a garden-style oasis for tea in the afternoon. Enjoy tea made with grown-in-house herbs, such as rosemary and spearmint green tea. During lunch, you can also order dishes, for example pork chop, perfectly cooked, with fresh-cut rosemary and pepper, and garnished with various flowers grown in the greenhouse. Above this section, visitors can follow a skywalk to get a better view of the trees and the various hanging flowers from above. In the DIY section of the building you can experience how to make soap, essential oil, and potted plants.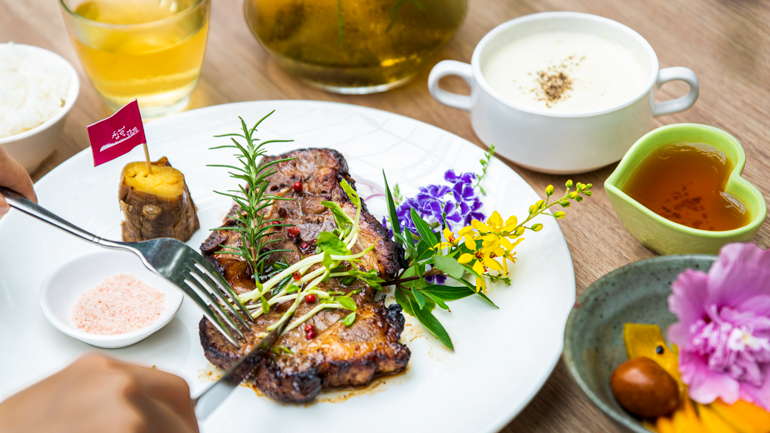 Planning a wedding? The Artemis Garden is a gorgeous hall for wedding receptions as well! Since the flowers within are changed every week, there is a guaranteed fresh fragrance infusing the venue at all times.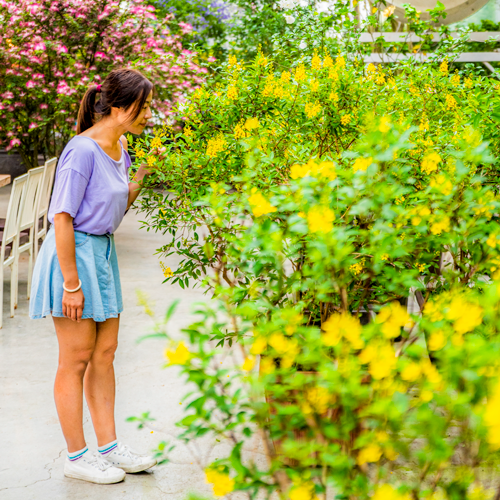 Getting there: Take bus No. 752 from Yilan Railway Station or Yilan Bus Station and get off at Taiyangpi (太陽埤) bus stop.
Artemis Garden (香草菲菲)
Add: No. 650, Neicheng Rd., Yuanshan Township, Yilan County
(宜蘭縣員山鄉內城路650號)
Tel: (03) 922-9933
Website: artemisgarden10103.incdoor.com (Chinese)
Wanglongpi Lake
Wanglongpi is a small scenic lake area in the northeast of Yuanshan Township. It is perfect for a short, easy stroll. On the way to this tucked-away tourist attraction, you will pass through a rural area with farm operations such as wax apple and guava plantations.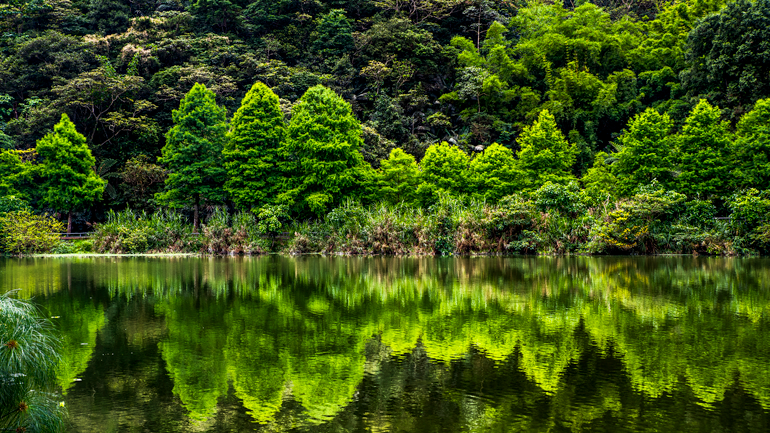 You can walk around the lake (700m), and visit a small island in the lake – crossing a picturesque arched bridge on one side and a seven-cornered bridge on the other. You'll come across flocks of ducks waddling around, looking for food. The lake is also busy with carp, some larger than small dogs! If you want to feed them, you can buy fish food at one of the makeshift stalls around the lake.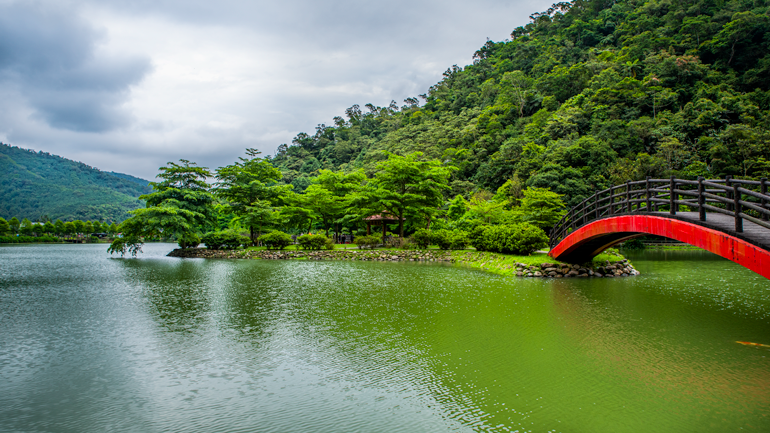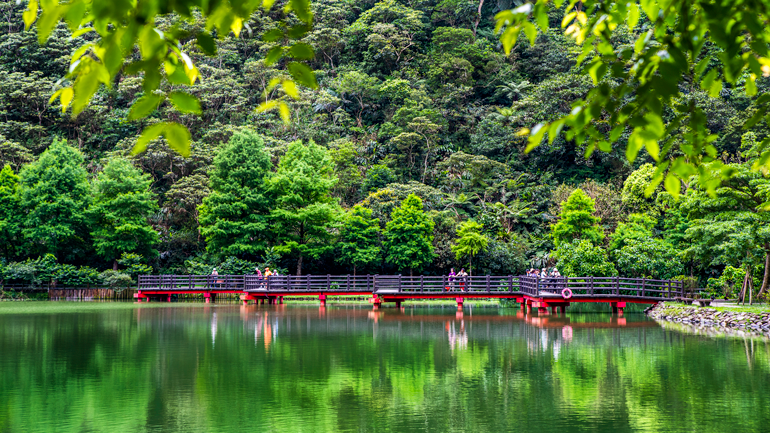 Well-known to locals is the Wanglongpi Huatian Village Café, located at the southern end of the lake. It was featured in the Taiwan drama series Autumn's Concerto (2009). The café is open daily, and has outdoor seating right by the water. With a minimum order of just NT$60 per person, this is a great inexpensive place to sit and enjoy a cool drink on a hot summer day.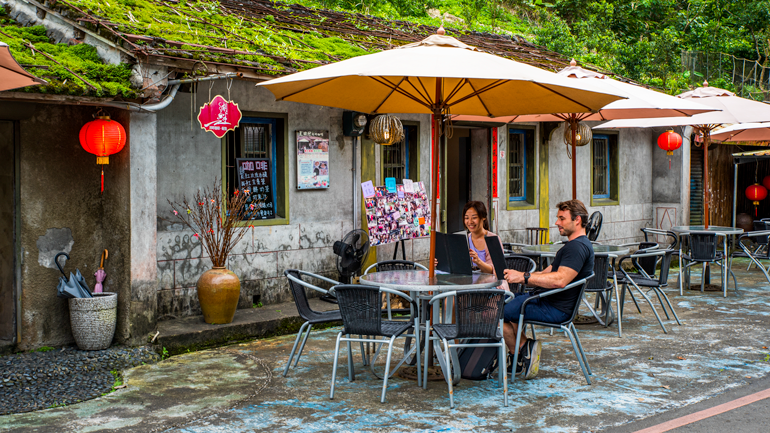 Getting there: Take bus No. 755 from Yilan Railway Station or Yilan Bus Station and get off at Wanglongpi (望龍埤) bus stop.
Zozowater Coffee House
Just a 10-minute walk from the Dongshan Railway Station and close to the Dongshan River EcoArk is the chic Zozowater Coffee House. This beautiful coffee shop, with dark walls and hanging plants above wooden furniture, is a photographer's dream. Served are your normal coffee shop items, such as Americano and lattes, with specialty drip coffees available as well. You can also try a variety of homemade cakes, waffles, and tarts, which cost anywhere from NT$80 to NT$100.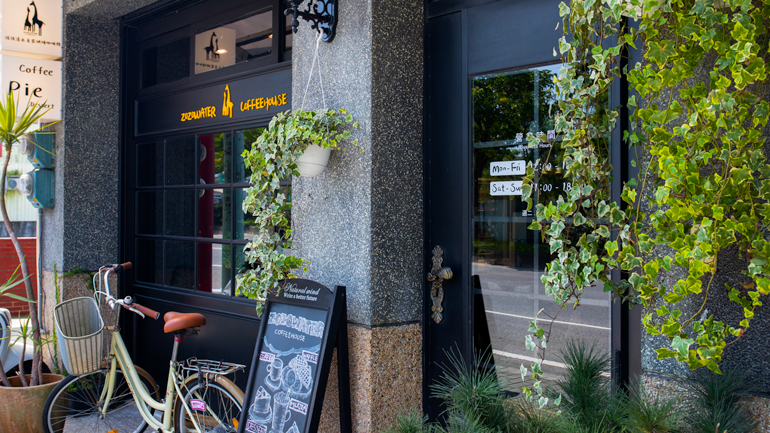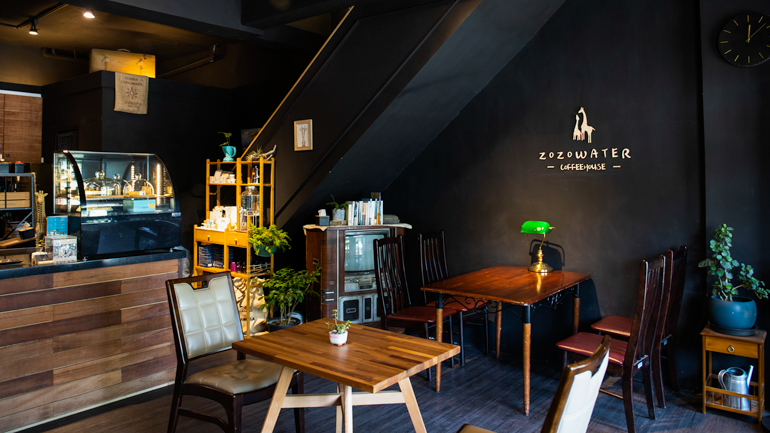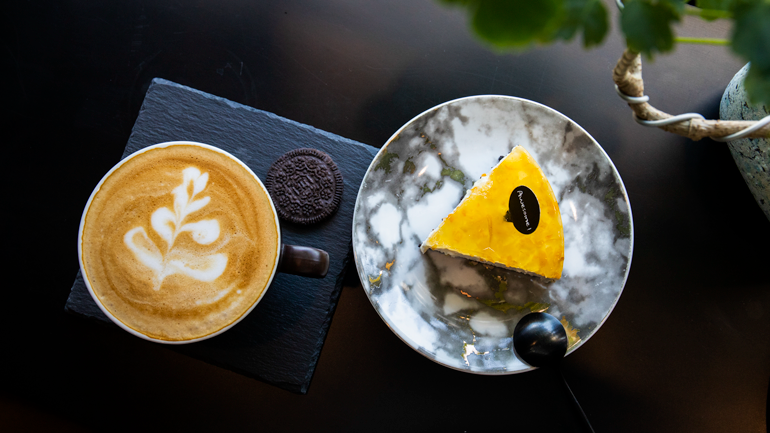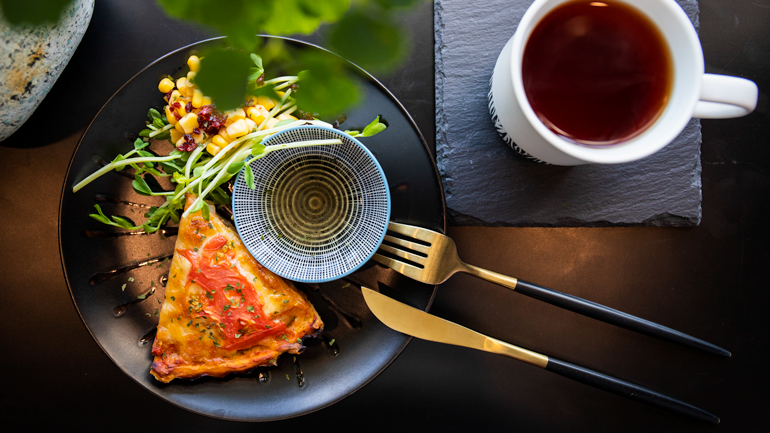 Getting there: About 500m from Dongshan Railway Station; follow Zhongzheng Road (中正路) then Dongshan Road (冬山路).
Zozowater Coffee House (佐佐清水自家烘焙咖啡館)
Add: No. 63, Sec. 2, Dongshan Rd., Dongshan Township, Yilan County
(宜蘭縣冬山鄉冬山路二段63號)
Tel: 0966-769-778
Facebook: www.facebook.com/zozowatercafe
Eternal Spring Beef Noodles
Trying a delicious bowl of beef noodle soup is among the top things to do for a traveler who wants to taste classic Taiwanese dishes. Eternal Spring Beef Noodles offers succulent melt-in-your-mouth chunks of beef served in both spicy and regular broths, with homemade noodles. There is a wide selection of broth and meat options, including Sichuan-style spicy and broth with beef shank and tendon.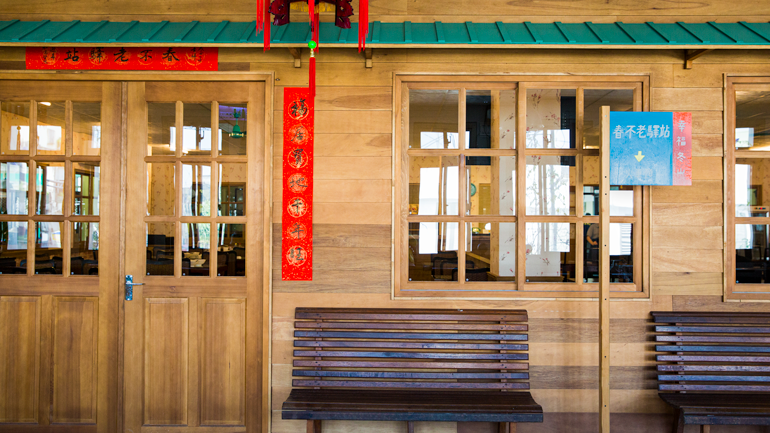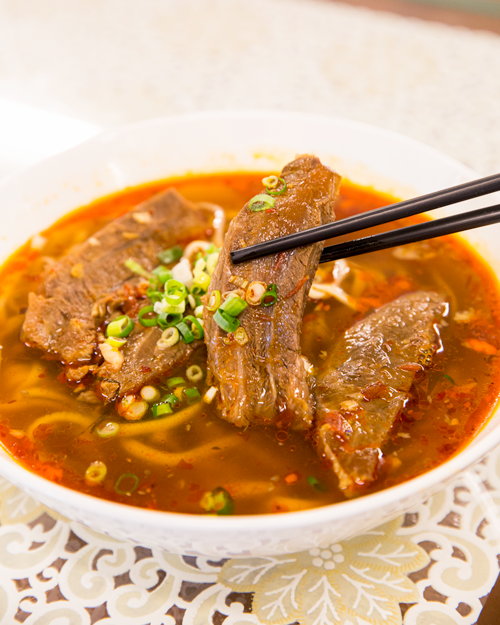 Getting there: About 300m from Dongshan Railway Station; follow Zhongzheng Road (中正路) to Dongshan Road (冬山路).
Eternal Spring Beef Noodles (春不老驛站牛肉麵)
Add: 2F, No. 186, Dongshan Rd., Dongshan Township, Yilan County
(宜蘭縣冬山鄉冬山路186號2樓)
Tel: (03) 959-0599
Facebook: www.facebook.com/chunbulaoBN
"Fei Yu Shi Ran Tofu Pudding"
Hidden within the traditional-style Dongshan Market, this tofu pudding shop has a distinctive Japanese flair. Tofu pudding, a traditional Taiwanese dessert, is made here with local ingredients save for the soybeans, which are sourced from Japan. Instead of using gypsum (more common today) for coagulating the tofu (i.e., creating the curd), at this store nigari or bittern (the original coagulant used for tofu-making) is used. Typically, the sauce accompanying the tofu pudding is made with brown sugar; however, here you can enjoy the dessert-style treat with soymilk as an option, giving you more pronounced soy flavors and textures.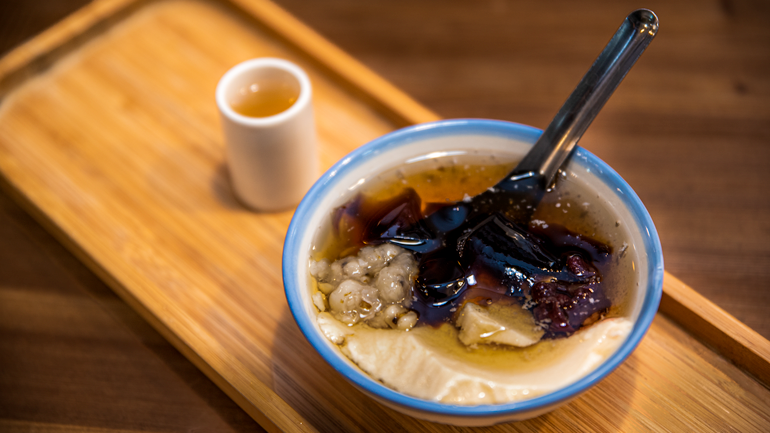 Getting there: About 300m from Dongshan Railway Station; follow Zhongzheng Road (中正路) to Dongshan Road (冬山路).
"Fei Yu Shi Ran Tofu Pudding" (飛魚食染鹽滷豆花)
Add: No. 186, Dongshan Rd., Dongshan Township, Yilan County
(宜蘭縣冬山鄉冬山路186號)
Tel: (03) 959-5020
Facebook: www.facebook.com/cuil.tw/
Dongshan Jinzhu Scallion Pancake
If you're looking for a simple Taiwanese savory snack, Yilan's famous scallion pancakes are a must try. Dongshan Jinzhu Scallion Pancake sources its scallions from the township of Sanxing, located between Yuanshan and Dongshan, and instead of the more common practice of pan-frying the pancake, the method used here is half pan-fry and half deep-fry. This makes the pancake crispy and better brings out the sweetness and moisture of the scallion. For just NT$35 you get a deliciously thick scallion pancake with a fried egg inside that is covered with spring onions!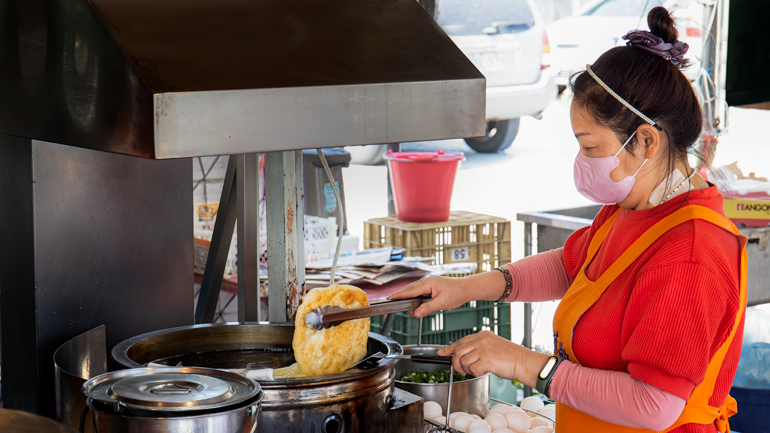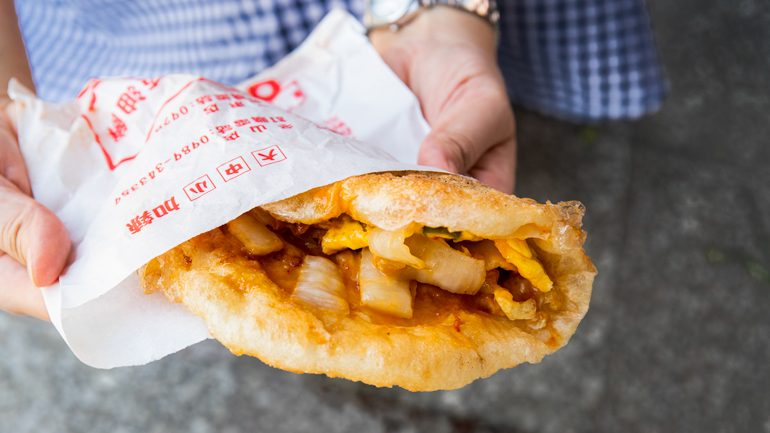 Getting there: About 500m from Dongshan Railway Station; follow Zhonghua Road (中華路) then Chengxing Road (成興路).
Dongshan Jinzhu Scallion Pancake (冬山金珠蔥油餅)
Add: Opposite No. 5, Lane 986, Sec. 1, Dongshan Rd., Dongshan Township, Yilan County
(宜蘭縣冬山鄉冬山路一段986巷5號對面)
Tel: 0989-343-359
Facebook: www.facebook.com/JinZhuCongYouBing
Meeting Miracle Homestay
This fantastically colored homestay, located in the northeast corner of Dongshan Township, sits amidst fields of swaying rice close to the Dongshan River. It is run by two young sisters from the city of Taoyuan, whose family loves Yilan so much that they decided to build a colorful homestay and provide a place for others to enjoy the beautiful land as well. The homestay, in operation since 2017, is a splendid getaway from the big city.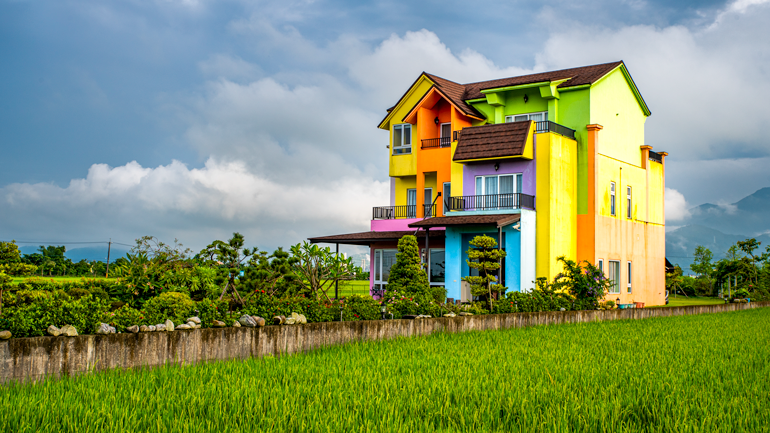 Seen from afar, the rainbow-colored building looks like a magical place, especially during the seasons when the surrounding rice fields appear in golden-green colors. The location is reason enough to book a night in this getaway, and the peaceful atmosphere and family vibe attract visitors as well. Meeting Miracle Homestay is a true gem among Yilan's many quality homestay operations.
You might experience a feeling of familiarity when arriving at the homestay, especially if you're a Pixar movie fan. The design inspiration comes from the movie Up, which becomes very apparent once you walk inside. There is a replica of the house featured in the movie, complete with balloons.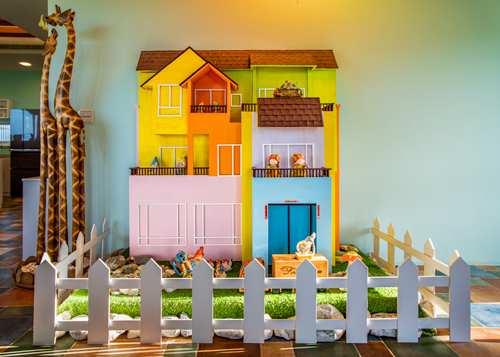 There are four separate guestrooms, of various sizes and layouts, all with different color schemes taken from the rainbow. Each room has a balcony with a stunning view – of the surrounding rice fields, a lazy river, and the mountains in the far distance (there are no other buildings in the immediate vicinity).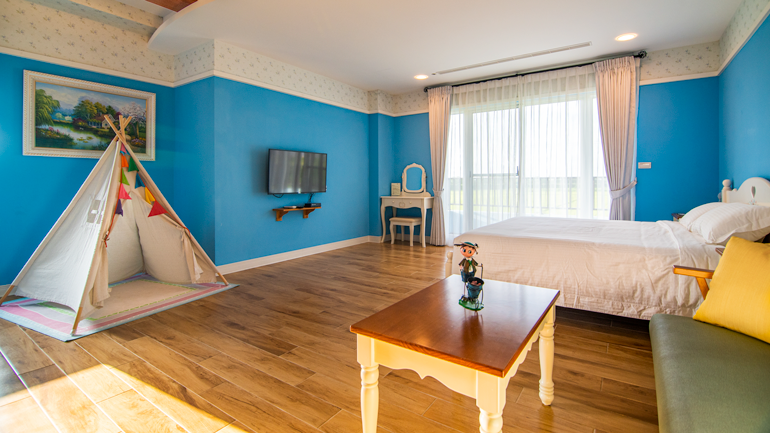 Room prices vary, ranging from NT$2,900/night on a weekday for the "Setting Sun" double to NT$5,600/night during weekends/holidays for the "Rising Sun" quadruple.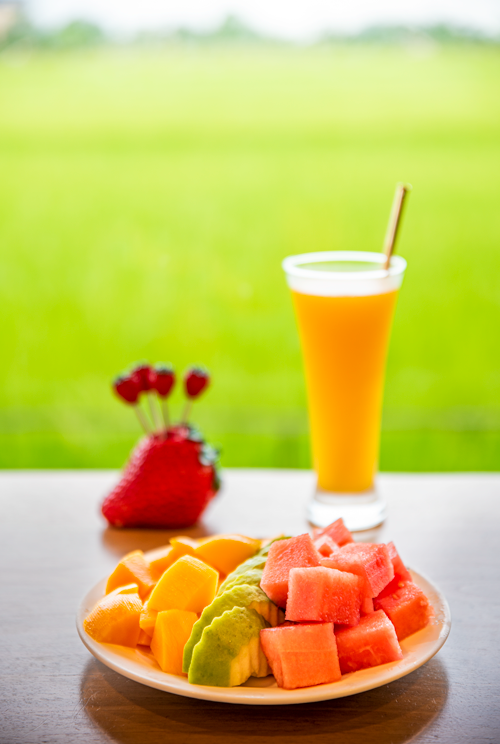 Getting there: There is no bus stop close to the homestay; taking a taxi from Luodong Railway Station (5km away) is recommended.
Meeting Miracle Homestay (遇見奇蹟鄉村民宿)
Add: No. 61, Fudu 5th Rd., Dongshan Township, Yilan County
(宜蘭縣冬山鄉富堵五路61號)
Tel: 0909-689-664
Website: www.meetingmiracle.com.tw (Chinese)
Other places to stay in Dongshan
"Xiao Jiezi Wugui Dao" Café
This may just be the most beautiful coffee shop this writer has been to. The shop's Chinese name translates as "Little Kumquat Turtle Island," hinting at the various specialty orange-based drinks and desserts, as well as the Turtle Island shape of not only the building but also the delicious cookies sold (famed Turtle Island is a small turtle-profile island off the coast of northern Yilan County). The owner of the café has a special emotional attachment to the island because to him it represents home. Whenever returning to Yilan from elsewhere, the moment he spots Turtle Island is the moment he feels he has returned home. His hope is that his café will provide his customers with a similar feeling whenever they visit the county.
Located in the far northwest of Dongshan Township, close to the Luodong River, the café is surrounded by paddy fields. The visually striking building, which has a slanted roof and floor-to- ceiling windows on the first floor, was constructed to resemble Turtle Island in stylized form. Outside there is a small wading pool, filled with natural spring water, complete with two lounge chairs and an umbrella (right in the water), a perfect setting for taking Instagram photos.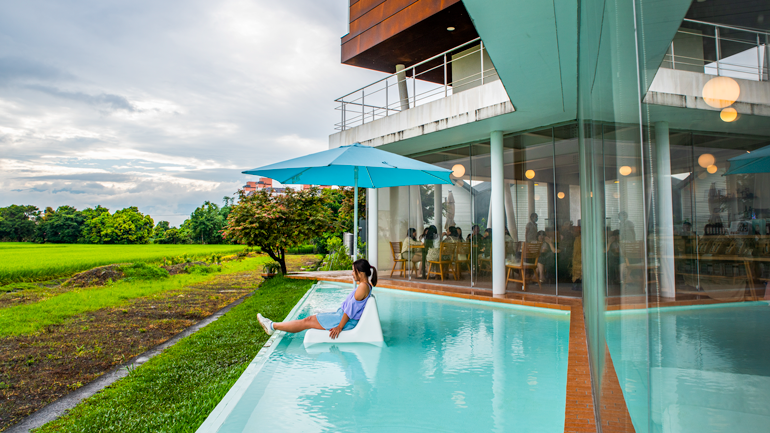 A variety of drinks, snacks, and cakes is available inside. The café, however, is best known for its kumquat products, as the family-owned brand has been around for 20 years. You definitely want to try the fruit teas, most popular of which is the refreshing kumquat lemon tea. Other teas come in flavors such as cranberry and passion fruit. You can even order a delicious kumquat coffee. Savor it while overlooking the beautiful rice fields outside!
The snacks and cakes are all made with locally grown produce, among them traditional Yilan cakes, pineapple cakes, spring onion crisps, and more. These are all wonderful, but the star of the show is a cookie in the shape of Turtle Island that was introduced earlier this year. It comes with a delightful filling of cream flavored with black tea. On top of the "turtle's shell" is a matcha-flavored icing that adds a great touch to the treat. All of the products are available in box sets ready to be taken home as gifts for friends and family. You aren't going to find a more unique gift in Yilan than the Turtle Island-shaped cookie!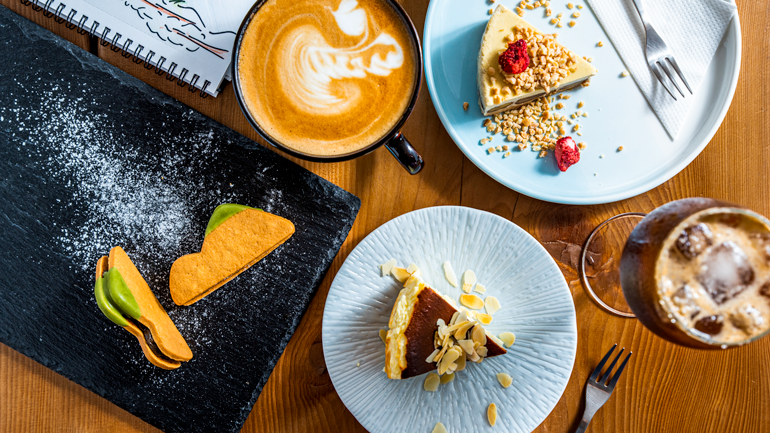 Getting there: There is no bus stop close to the café; taking a taxi from Luodong Railway Station (about 4.5km away) is recommended.
"Xiao Jiezi Wugui Dao" Café (小桔子烏龜島)
Add: No. 297, Kelin 1st Rd., Dongshan Township, Yilan County
(宜蘭縣冬山鄉柯林一路297號)
Tel: (03) 951-7227
Facebook: www.facebook.com/wuguidao
Yilan Turtle Island Whale Watching Tour
Kavalan Whisky Distillery
The Kavalan Whisky Distillery, located just east of the Artemis Garden in Yuanshan Township, is a producer of award-winning whiskies praised by connoisseurs around the world. Kavalan, Taiwan's first single malt whisky, takes its name from the region's indigenous Kavalan tribe, which translates as "people of the plains."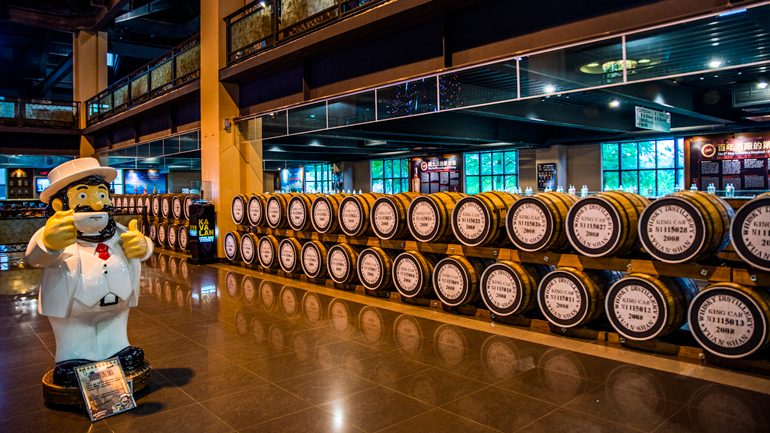 The company was established in 2005, and Kavalan has since become a world-renowned brand. The distillery crafts world-class whiskies using the pristine, mineral-rich spring waters of the nearby mountains. The whiskies are described by the company as high in quality, smooth and fruity, and reflective of the natural surroundings of Yilan.
The Kavalan Series, Solist Series, Distillery Select Series, and Distillery Reserve Series have received numerous accolades over the years. Some of the more notable choices are the Kavalan Solist Vinho Barrique, winner of the World's Best Single Malt award in 2015, and the Kavalan Solist Amontillado Sherry Cask, winner of the World's Best Single Malt award in 2016.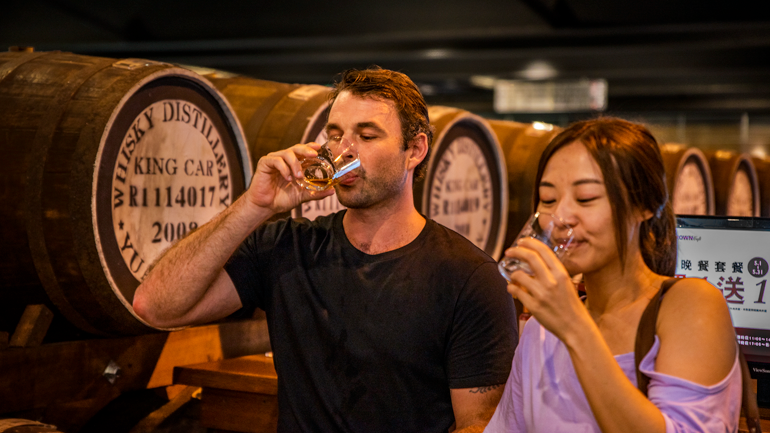 Each day at the top of each hour the distillery is open to the public a five-minute tasting session is held, free to join, during which you can learn about the daily tasting selections (in Chinese). Afterwards you can make your way to the gift shop to purchase some of the world-class whiskies, in bottles that come in a wide range of shapes and sizes.
Getting there: Take bus No. 1744 or GR12 from Yilan Railway Station or Yilan Bus Station and get off at Wenyan Rd./Kavalan Distillery (蚊煙路/金車酒廠) bus stop.
Kavalan Whisky Distillery (金車噶瑪蘭威士忌酒廠)
Add: No. 326, Sec. 2, Yuanshan Rd., Yuanshan Township, Yilan County
(宜蘭縣員山鄉員山路2段326號)
Tel: (03) 922-9000
Website: www.kavalanwhisky.com
More Info
Visit the website of the Northeast and Yilan Coast National Scenic Area.
Other Yilan articles:
TAIPINGSHAN, QILAN, and YILAN CITY
The SUHUA HIGHWAY in YILAN
LUODONG Forestry Culture Park in YILAN
Surfing at WAI'AO in Yilan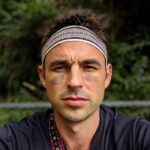 With almost a decades experience living and leading adventures in Taiwan and Asia, Ryan is a passionate adventurer, nature photographer, and naturalist.