A trip to the mountain village of Jiufen and its "little sister," Jinguashi, sits atop the list of things to do for many tourists visiting Taiwan. Both settlements are located in the scenic coastal mountains overlooking the northeast coast, both were once thriving mining centers (copper and gold), and both are worth spending a good amount of time exploring. Below are five places and things to experience/check out/enjoy while there.
Text and Photos: Vision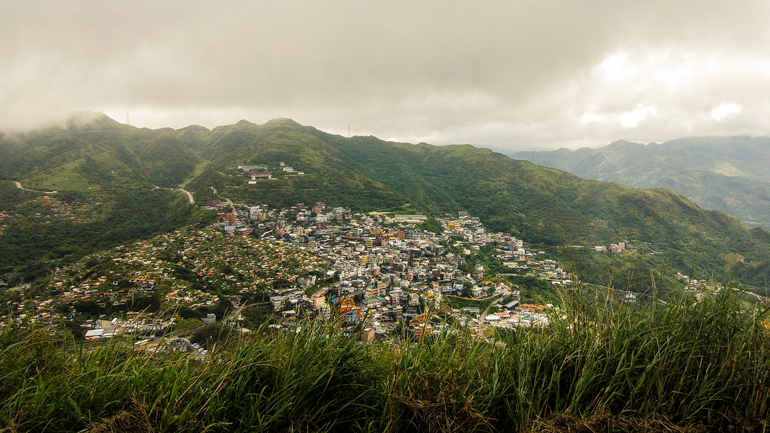 Jiufen Old Street
After arriving at Jiufen, most tourists head straight to the Old Street, a narrow and winding pedestrian-only alley lined with souvenir shops and eateries on both sides. Apart from trying some yummy hot or cold (depending on time of year) tapioca and sweet-potato ball soup (Jiufen's best-known specialty), have a cup of tea at Jiufen A Mei Teahouse, in a beautiful and well-preserved wooden structure with great views, and visit the close-by Shengping Theater, Taiwan's first cinema, built in 1914 to entertain miners during the heyday of mining in Jiufen.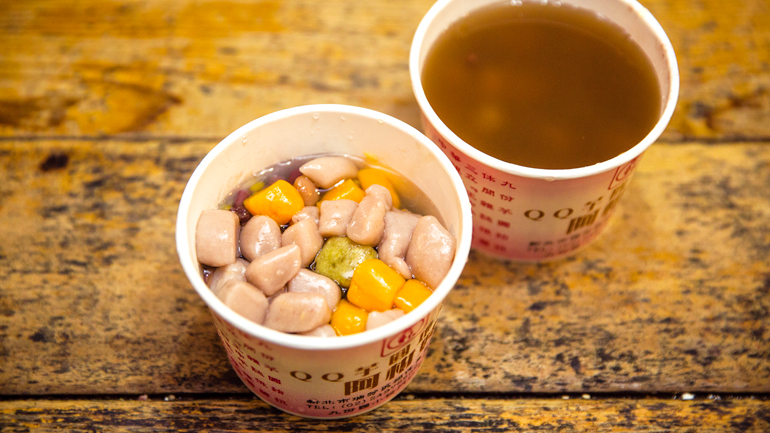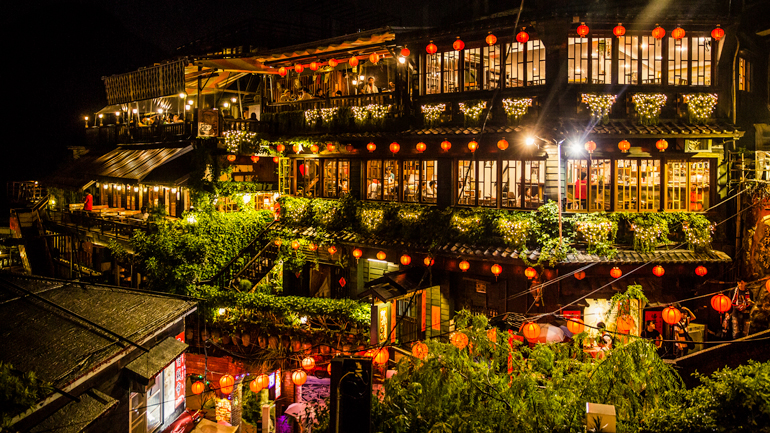 Gold Ecological Park
Just a short bus ride from Jiufen is the village of Jinguashi. It's much quieter here, and the scenery is even more spectacular than in Jiufen. The village's main attraction is the Gold Ecological Park, a showcase on Jinguashi's gold-mining legacy. Be sure to touch the world-record 220.30kg ingot of 99.9% pure gold on display at the park's museum, and explore the old mining tunnels to get a feel for the conditions miners had to deal with while digging for this and other metals.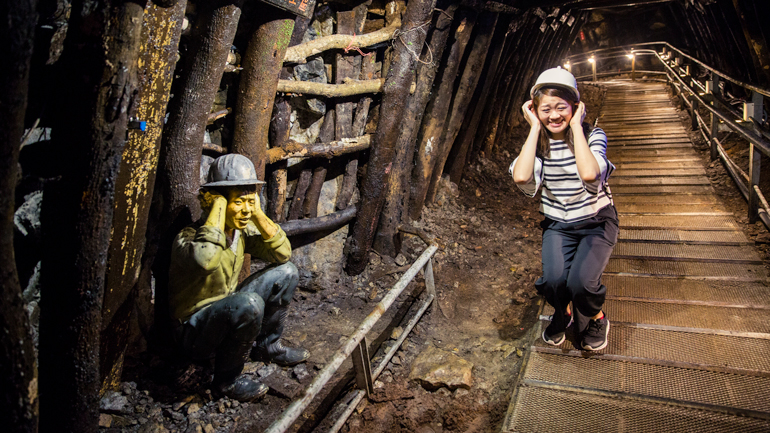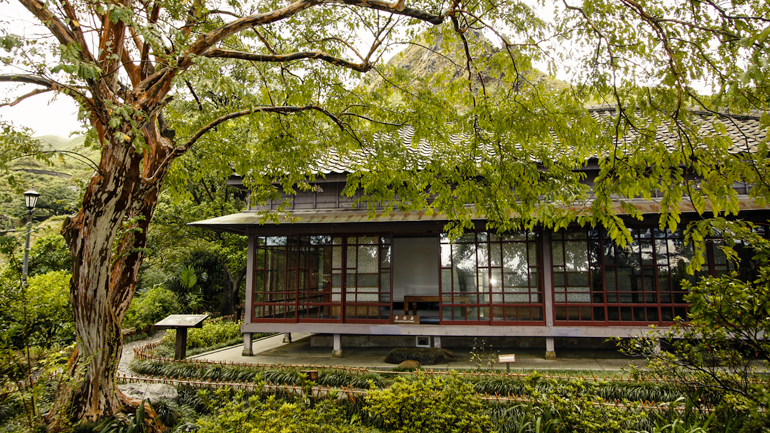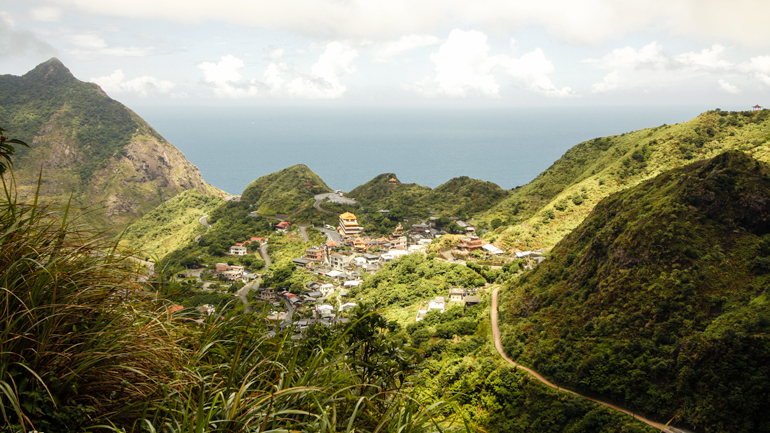 Tea Pot and Jilong Mountains
The average tourist, content with sightseeing/eating/shopping, is missing out when it comes to breathtaking scenery. What already looks nice from Jiufen and Jinguashi proper becomes even more dramatic when higher up the local mountains! There are two great hiking options, Mt. Jilong north of Jiufen and Tea Pot Mountain east of Jinguashi. Both mountains have easy-to-follow but steep and shadeless paths (don't forget sun protection and plenty of water in the summer) that bring you to vantage points with incredible views of the coastal mountains and sea.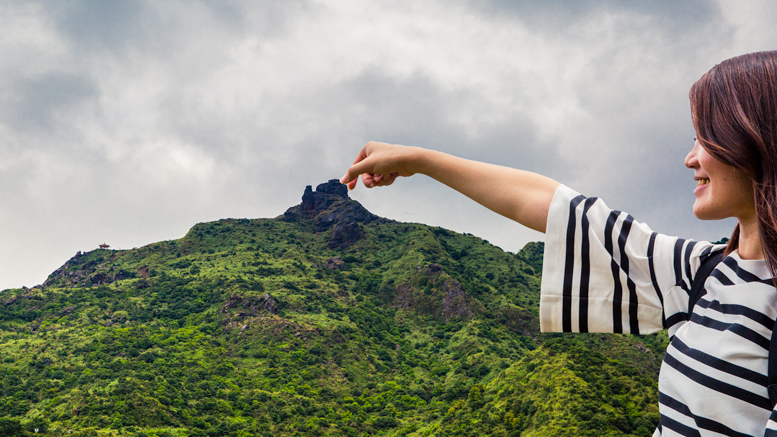 DACUKENG Historic Trail (from Houtong to Jiufen)
JIUFEN Hiking — Mountains in Northeast Taiwan
Golden Waterfall
If you follow serpentine County Highway 34 from Jinguashi north, downhill toward the coast, you'll pass a remarkable waterfall, conveniently located right beside the road. The water here picturesquely cascades over a golden-brown streambed and rocks, creating a truly unique scene. The color stems from minerals that were exposed during mining operations further up the mountain and then deposited in the stream, which interestingly emanates from the ground. The waterfall is a favorite spot for photographers.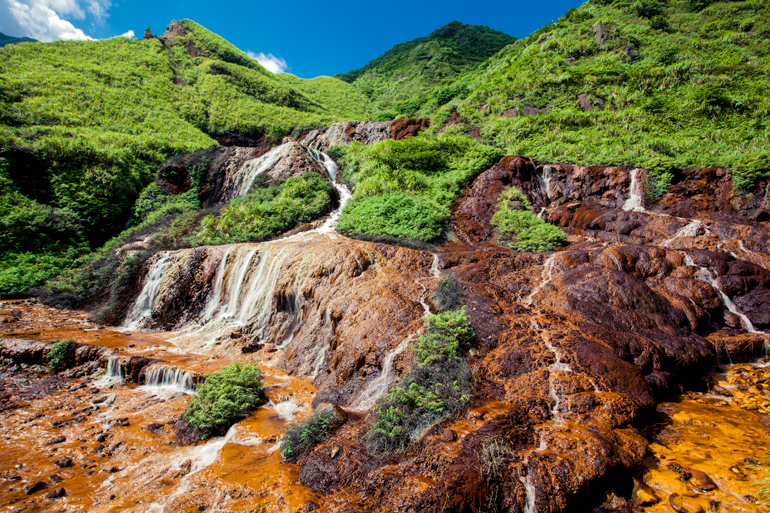 Jiufen Evening Scenery
Back in Jiufen, make sure to stick around until the evening when the weather is fine. The mountainside-hugging town faces the northwest, meaning that the sun will set to the left when looking out over the coast. The sunset can be quite remarkable and dramatic, especially when there is a scattering of clouds in the sky, a common occurrence on the northeast coast.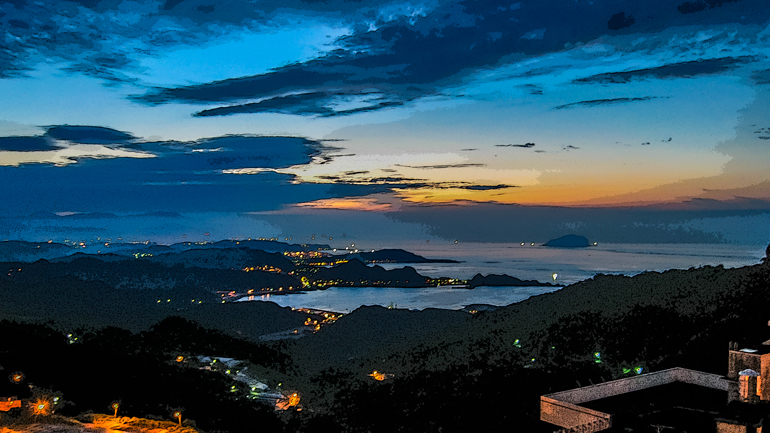 Getting there:
Bus from Taipei: There is frequent bus service (No. 1062) from near MRT Zhongxiao Fuxing Station (Exit 1) in downtown Taipei to Jiufen and Jinguashi. The ride takes about an hour.
Railway plus bus: Alternatively, take an eastbound train (heading to Yilan/Hualien) to Ruifang and transfer to a bus bound for Jiufen/Jinguashi or further on to Fulong (passing the Golden Waterfall).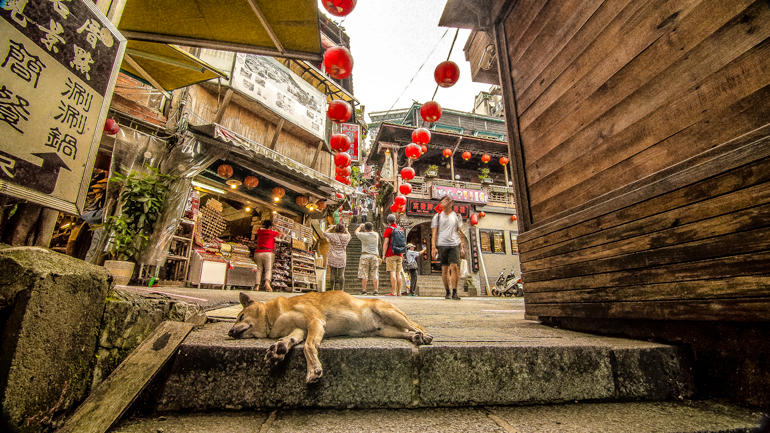 If you want to go on a guided tour to Jiufen, check out:
A Day Tour in Jiufen and Shifen From Ximen
Jiufen English Guide Walking Tour
Check out places to stay in Jiufen here.
Also read:
The Rugged NORTHEAST COAST
NORTHEAST COAST Train Ride
KAYAKING At Fulong On The NORTHEAST COAST
CAOLING HISTORIC TRAIL On The Northeast Coast
JIUFEN Hiking — Mountains In Northeast Taiwan
Taiwan NORTHEAST COAST Trip
Further reading on other sites