Visiting the Southeast Corner of the Taiwan Mainland
Text and Photos | Twelli
If you are based in Taipei, the most remote area to visit on Taiwan proper (except for the high mountains) is the southern part of Taitung County, where you will find the townships of Taimali, Jinfeng, Dawu, and Daren. Sparsely populated, this area has spectacular mountain and coastal scenery and is homeland to the indigenous Paiwan people.
In October I happily accepted an invitation to go on an organized trip to this area. I had not spent much time in southern Taitung, except for getting off the train in Taimali town once a few years ago. What also got me excited was the prospect of attending the Maleveq Festival in the indigenous village of Tuban, which only takes place every five years and is known for the very unique bamboo spearing activity, a way of communicating with the tribe's ancestors and bringing good fortune to the local community.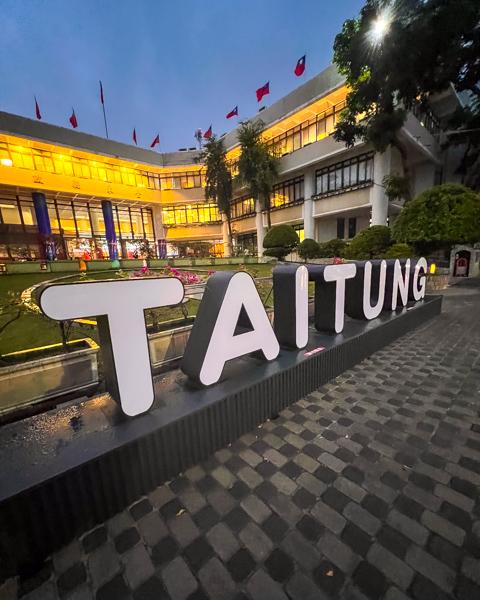 Looking at a satellite map of southern Taitung one can easily see that the four southern townships, for the most part, consist of verdant mountains. On the coast, along Provincial Highway No. 9, there are a few larger settlements. The highway connects to Taitung City in the north and in the south cuts through the island west of Daren town to reach the southwest coast in Fangshan Township. The South-Link Railway Line follows a similar route, but traverses the mountains a bit further to the north than the highway. On the map you can also clearly see five East-West river valleys, the short rivers (from north to south, Taimali, Jinlun, Dazhu, Dawu, and Anshuo) carrying water from the coastal mountains straight to the Pacific. There are a few indigenous communities in these valleys, including Tuban, located on the left bank of the Dazhu River.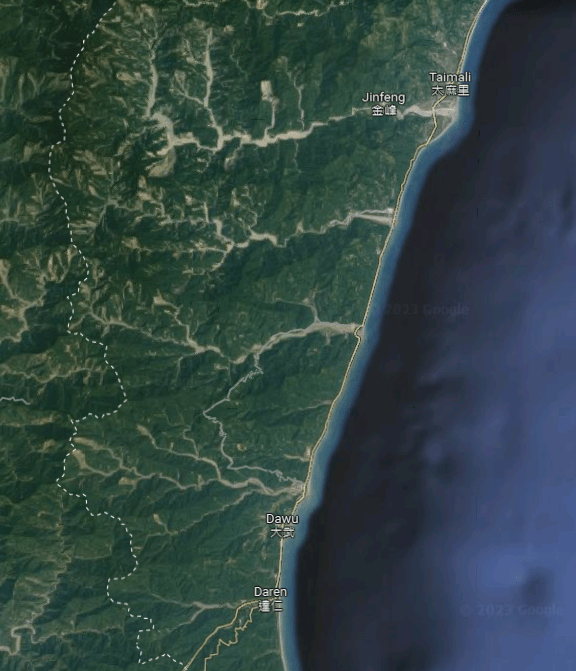 Getting There
Getting to Taitung by train is easy and convenient. From Taipei, take an express train via Hualien (the fastest train takes 3 hours and 45 minutes). From Kaohsiung, the fastest express train takes 1 hour and 43 minutes. To explore the southern part of Taitung County you can take a local train from Taitung Station and get off at stops along the coast. Renting a car or motor scooter is recommended if you want to explore the hinterland.
Since I went on an organized trip, I did not have to worry about how to get around Taitung after arriving, so instead I enjoyed my long train ride from Taipei and thought about the wonderful places we were going to visit. Apart from the festival at Tuban we also had visits to indigenous enterprises, such as a driftwood workshop, a millet school, and a restaurant serving indigenous delicacies on our itinerary.
Taitung City Stay
After arriving on a Monday evening I checked into the Ita Taiwan Indigenous Cultural Resort. This is a quality hotel with a strong indigenous theme – in the lobby you will be greeted by a traditional canoe of the Tao (or Yami) people living on Orchid Island (Lanyu) off the coast of Taitung. The guestrooms are pretty standard, as is the buffet breakfast. If you are looking for a place to eat dinner near the hotel, there are a few options, but you might consider the 20min. walk (or a short taxi ride) to central Taitung City – the area close to the old railway station – to find more restaurants and a bit of nightlife.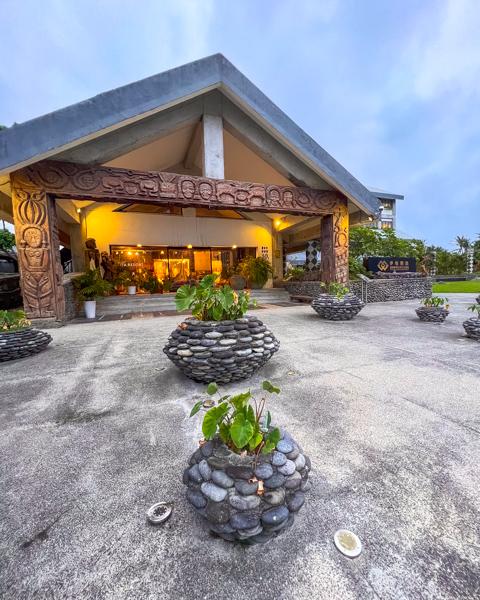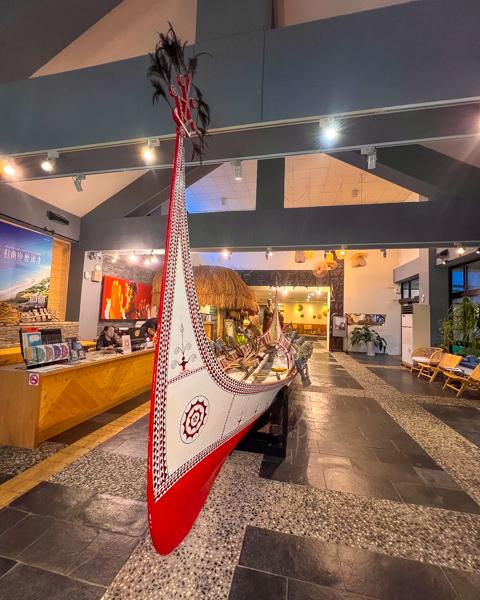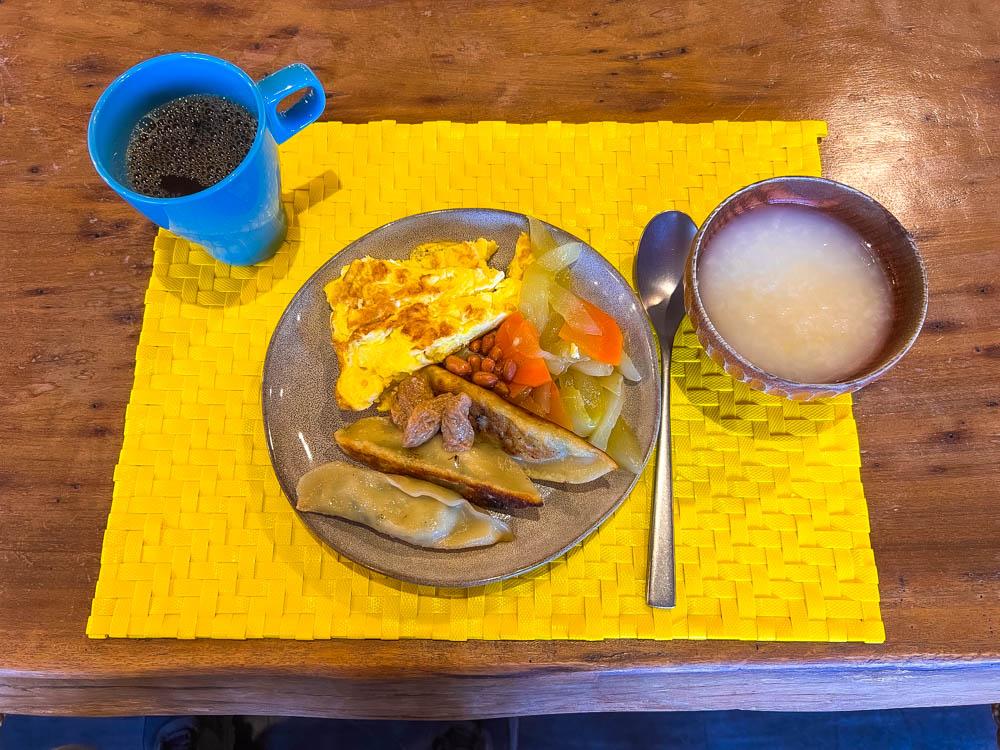 Ita Taiwan Indigenous Cultural Resort
(伊塔原旅)
Add: No. 10, Zhongshan Rd., Taitung City, Taitung County 
(台東縣台東市中山路10號)
Tel: (08) 934-0605
FB: www.facebook.com/itataiwaindigenousculturalresort 
DAY 1
Morning Walk
Never missing a good morning walk when staying in a hotel somewhere in Taiwan, I was intrigued by the fact that the Ita Taiwan Indigenous Cultural Resort is located right across the street from the Taitung Forest Park (unfortunately the park does not open before 7:30am). Instead of going there, after leaving the hotel at 5:30am, I walked a bit further southeast to another spacious park area, which has some interestingly shaped bodies of water. The largest is known as the Flowing Lake. This is a long rectangle, about 1km long and 100m wide. There are signs prohibiting swimming, but you will see locals doing their morning swim (in Chinese known as chen yong) in the early morning hours anyway. This is also a place for stand-up paddle boarding and row boating on the water and jogging and cycling on the path around the water. I passed the lake and headed to the close-by right bank of the Beinan River in hopes of catching a beautiful sunrise over the river's estuary. Unfortunately a wall of clouds blocked the sun. The scenery was enchanting nevertheless.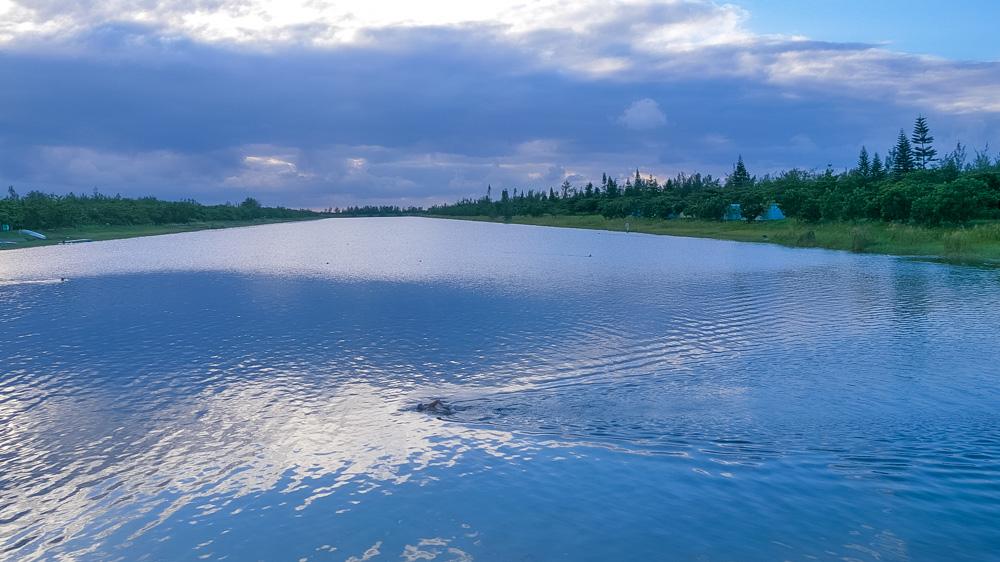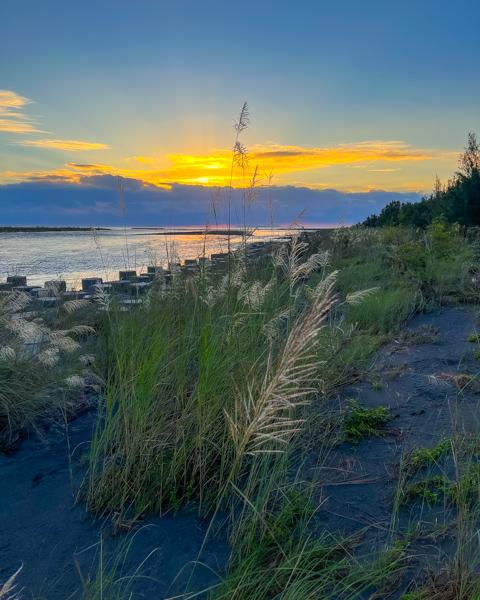 Taitung Bilingual Program
The county of Taitung has much to offer to local and international tourists, including pastoral scenery and hot-air ballooning in the East Rift Valley, ocean scenery and good surfing along the coast, and intriguing indigenous culture found everywhere. While the northern and eastern parts of the county are well prepared for receiving and accommodating tourists, the four southern townships are somewhat behind in terms of development. The 2023 Cross-generational Bilingual Training Program initiated by the Taitung government is an attempt at providing indigenous communities and businesses with assistance in creating services and itineraries that will attract and satisfy not just local but also foreign visitors. Since the language barrier is one of the reasons why foreign travelers might be reluctant to explore remote areas like southern Taitung, one main focus of this program is to encourage local guides to up their English-speaking abilities. On this trip we met quite a few guides with passable English who were able to introduce to us local indigenous culture, food, and much more. I was truly touched by their eagerness to overcome the language obstacles.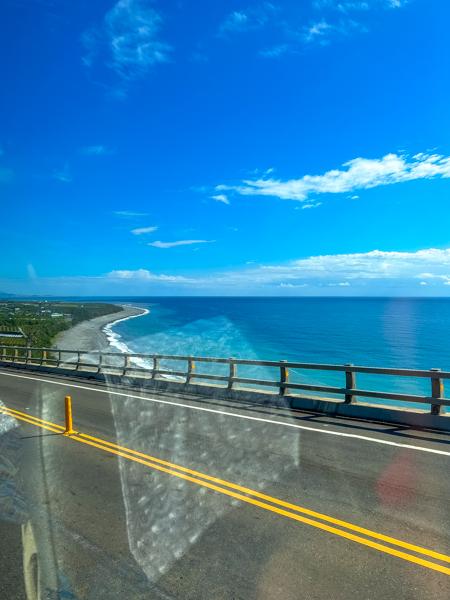 Sunrise Driftwood Workshop
The first stop on our journey through the southern townships of Taitung was the Sunrise Driftwood Workshop in Taimali Township to the south of Jinlun town. It's just a short walk uphill from Duoliang Station, a tiny former station (in operation until 2006) on the South-Link Railway Line. In recent years, the station has become a popular tourist attraction with a spacious observation platform just above the railway tracks from where you can take pictures of trains passing by with the amazing azure waters of the Pacific as perfect backdrop. There is a modest admission fee of NT$10 you need to pay in order to enjoy the views from the platform. There are also stalls selling refreshments and souvenirs.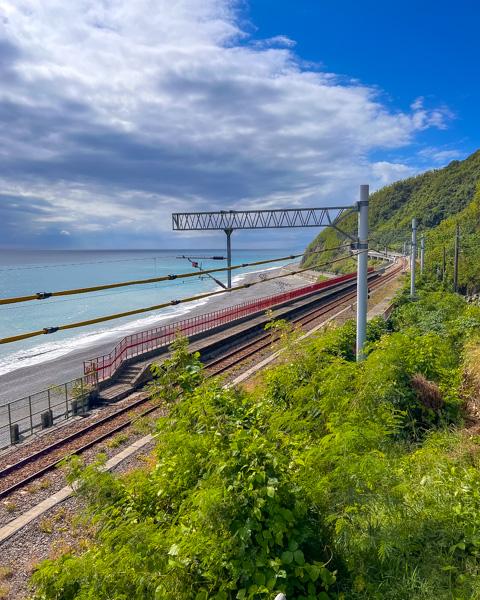 The Sunrise Driftwood Workshop was established after the devastating Typhoon Morakot caused severe damage in Taiwan, including Taitung County, in 2009, to create work opportunities for the local community. Craftsmen now make use of driftwood to produce a wide range of products, from large furniture to small trinkets and toys, in the workshop. In a showroom you can browse through and buy many different wooden objects, including plates, bowls and coasters, key rings, and all sorts of puzzles.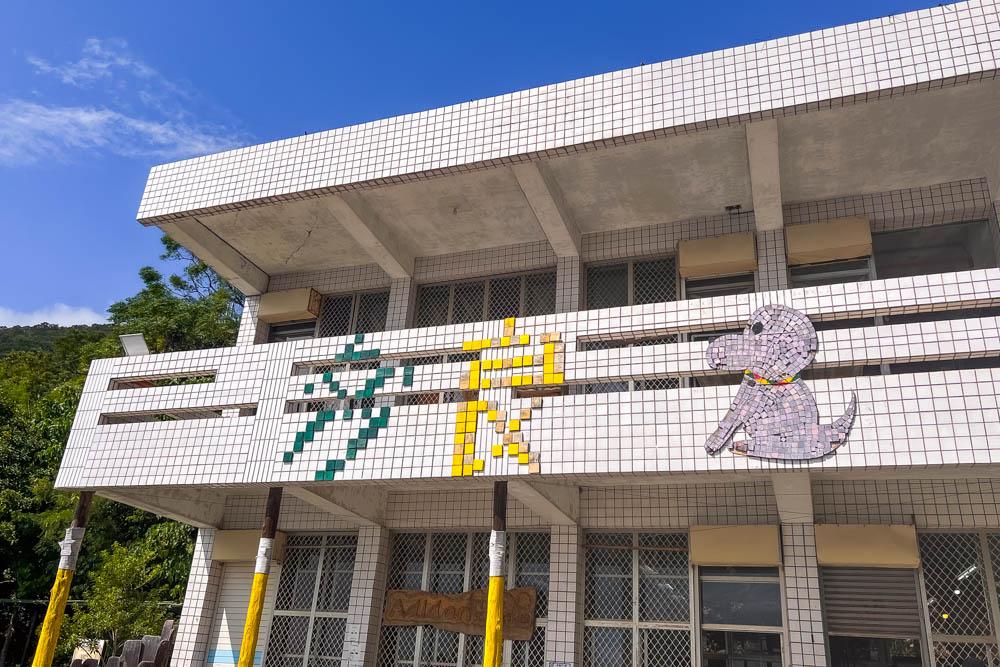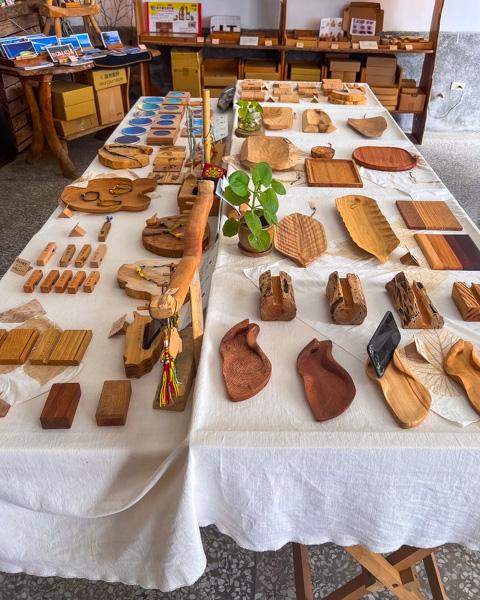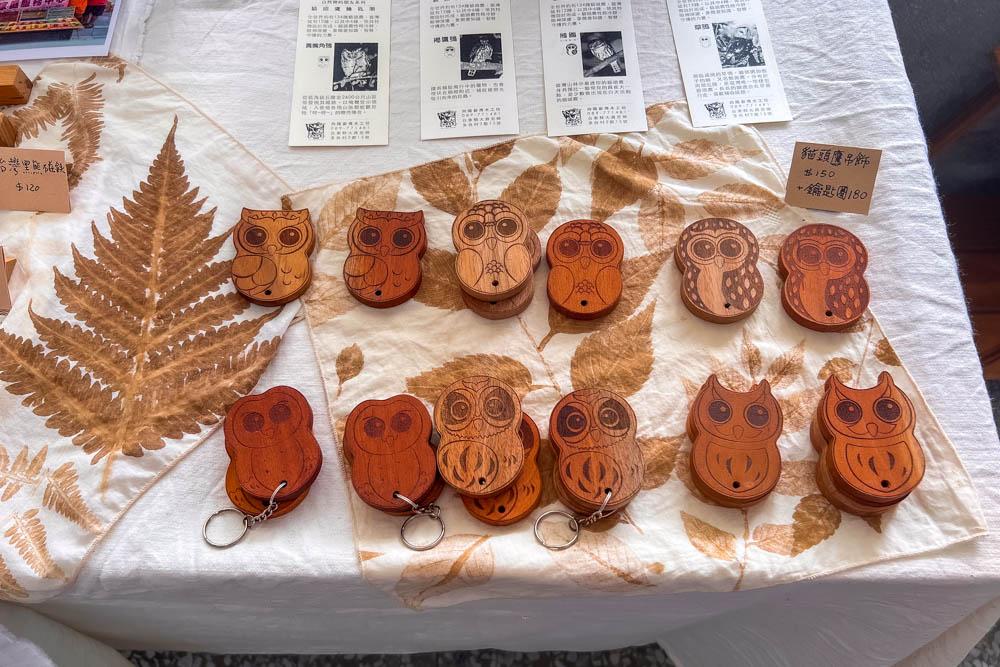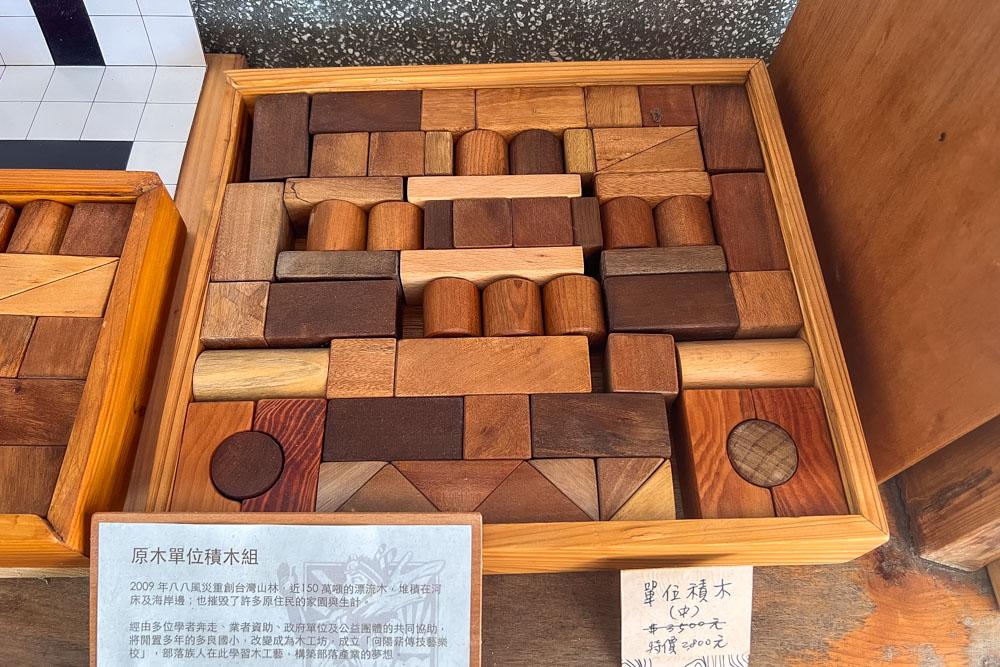 If you bring time and are interested in some DIY hands-on experience you can sign up for a class during which you are shown how to create a simple leaf-shaped plate using Taiwan fir as wood. This is what we did next. The process is simple and straightforward. You choose a slab of wood with a pattern to your liking, then use a pencil to draw a leaf pattern onto the wood. Next you will saw off the edges of the slab with a coping saw before expert staff will smoothen the edges by machine for you. Then it's time to carve the leaf pattern into the wood with a chisel and sandpaper the plate to make the surface smooth. Finally you add bee's wax as finishing. This is a nice souvenir to take home, not too heavy, not too large, and it smells really nice too!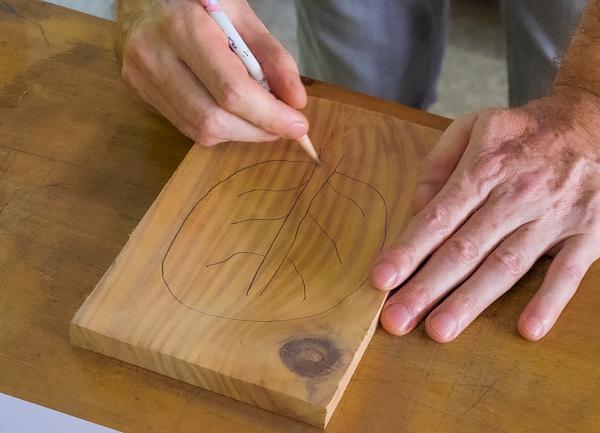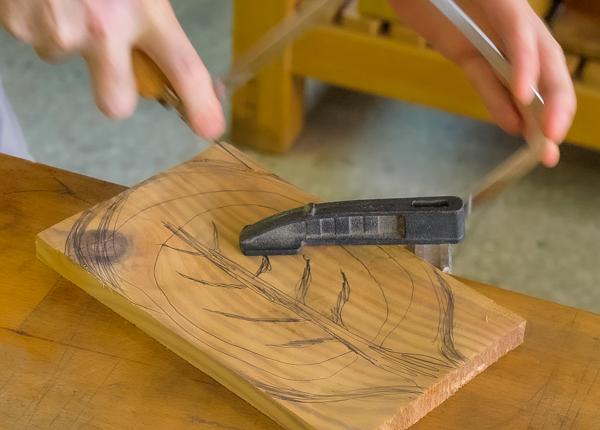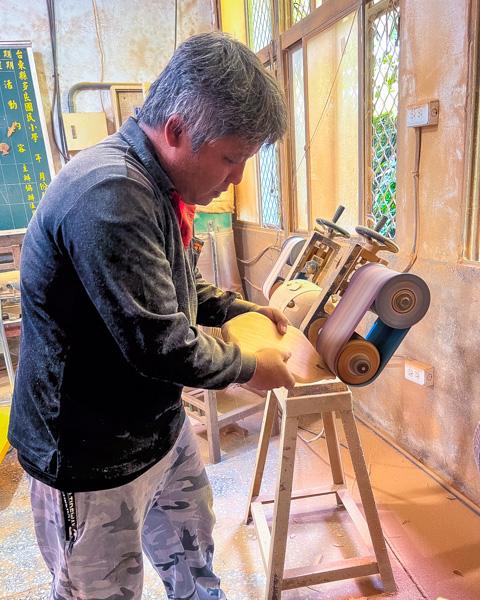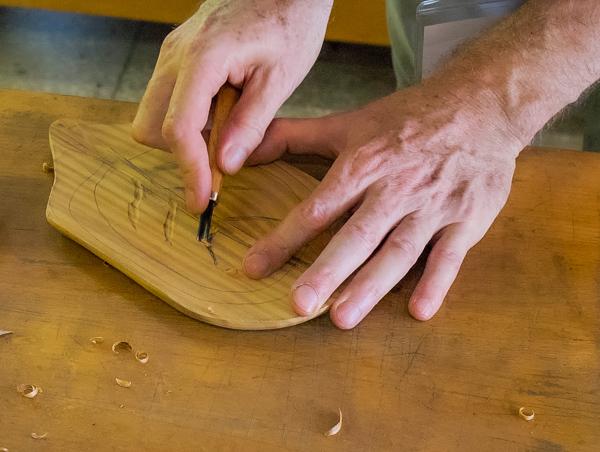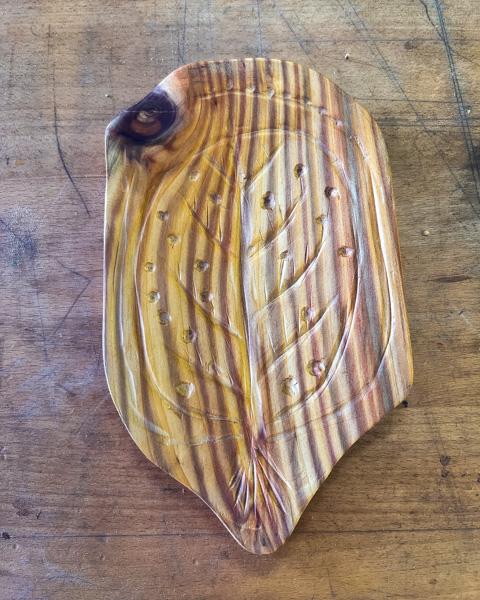 Outside the driftwood workshop is a small patio with seating from where you can look right over the multi-colored (amazing shades of blue and green) Pacific from high up. You can even see short sections of the railway track below and take pictures of passing trains.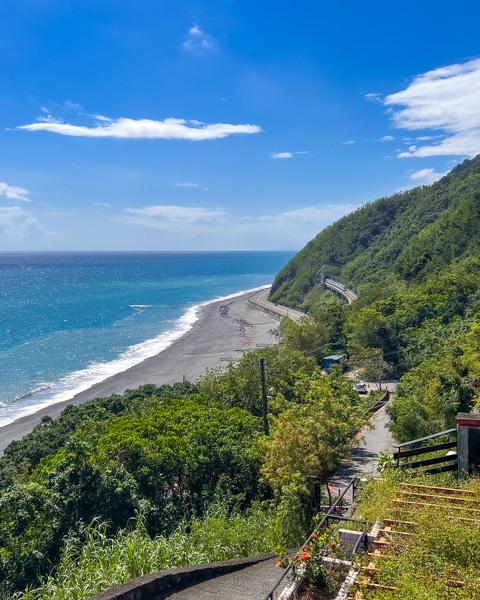 This is where we had a truly delicious meal for lunch, including two types of cinavu, one made with millet, another with taro powder. For this indigenous specialty, apple of Peru leaf (ljavilu in the Paiwan language), which you can eat and is supposed to help your digestion, is used as wrapping. The meal also included steamed sweet potato, dumplings made with fragrant prickly ash (which according to Paiwan belief helps to keep away evil spirits and bad luck), fried eggs (also with prickly ash), pickled ginger made with roselle (giving the ginger a strong red color), salad, avocado, fruits, and shell ginger lemon tea. For the salad we had two types of sauce, made with roselle and avocado respectively, and for the dumplings there was a soy sauce with chili and garlic. All ingredients are sourced from the area, including nearby Duoliang Farm about 6km south from the station. We also saw roselle bushes right below the patio.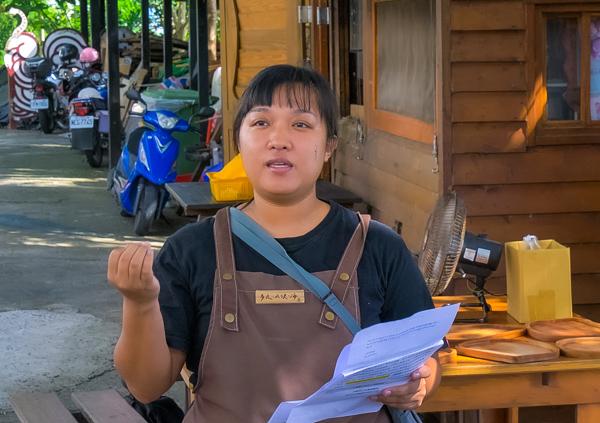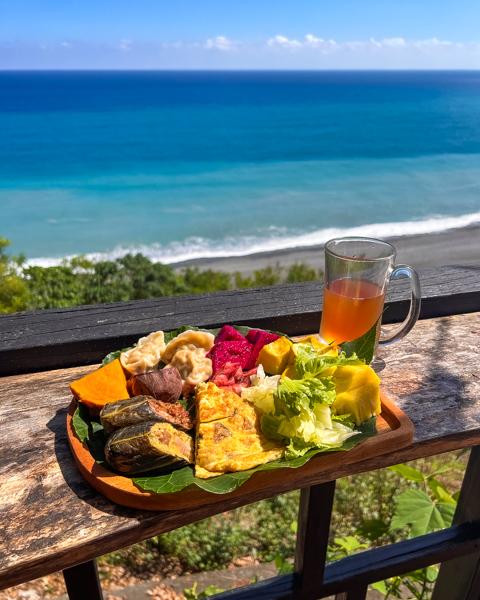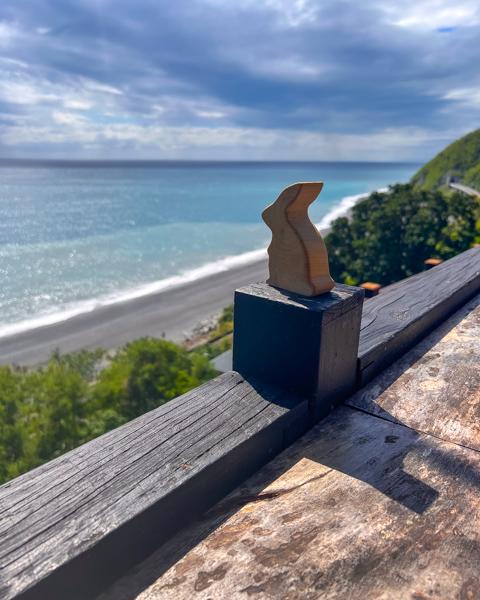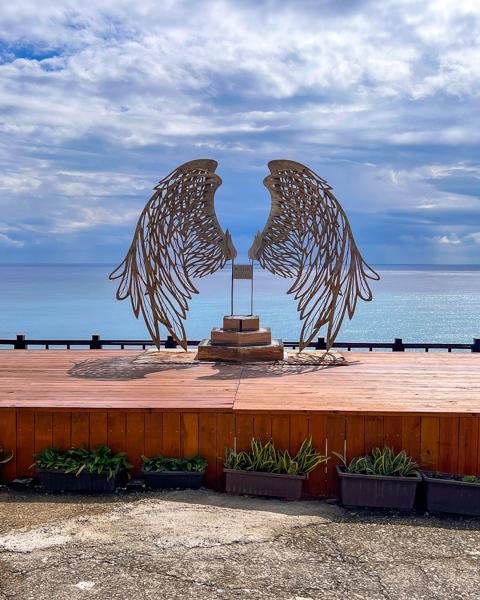 Sunrise Driftwood Workshop
(向陽薪傳木工坊)
Add: No. 15, Neighborhood 2, Duoliang Village, Taimali Township, Taitung County
(台東縣太麻里鄉多良村2鄰15號)
Tel: (08) 977-1481
FB: www.facebook.com/sunrise.88.2010
Hours: 9am~5pm (closed on Tuesday)
Millet School
Next up was a visit to the Millet School, which is located in the indigenous village of Rulakes (Chinese name Liqiu). This village sits on the left bank of the Jinlun River, about 5km from the coastal town of Jinlun. Millet is one of the staples of not just the Paiwan but also other indigenous tribes in Taiwan and at this "school" you will receive an in-depth introduction to the crop, how it is cultivated, what role it plays in tribal culture, and how you can distill millet wine from it. The Millet School, inside the building of the former Liqiu Elementary School, has exhibits about millet and local culture and classrooms for DIY activities. Here you can learn about the spearing rattan ball activity as well, which is at the center of the Maleveq Festival in Tuban we were attending the following day.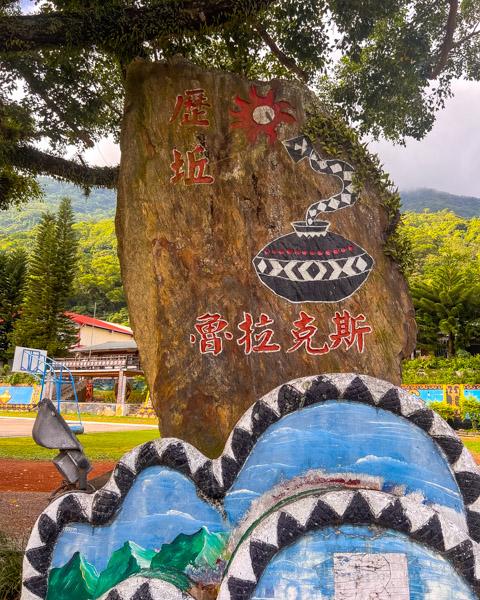 After arriving at the school we were greeted by Frank, a French guy who has lived in Taiwan for more than 30 years and who moved to Rukales with his Paiwan wife five years ago. He is now helping to promote the village as a tourist destination. First he explained to us the traditional way outsiders are welcomed when visiting a Paiwan village in these parts of Taiwan.  We each were handed a piece of wood and were asked to write a wish onto it and throw it into a fire that was burning in a wok placed on a wooden tripod stand. Then we had to face east in the direction of Mt. Dawu, regarded by the Paiwan people as a sacred place. His wife used sprigs of the acacia tree to pad us and we had to say masalu (the Paiwan word for "Thank You!") to the ancestors residing on the mountain. We then had to wash our hands with water that would then flow through a miniature landscape model of the Paiwan homeland.
Next, Frank gave us a tour of the exhibition room, introducing us to the millet cultivated by the Paiwan people and to agricultural practices, such as scaring off birds with the help of ant colonies and empty beer cans. We were also shown – and asked to try – carrying millet the traditional way on the head and pound millet with a mortar and pestle. Finally, we had the chance to try out rattan ball spearing. Using much shorter bamboo poles than are used in the Maleveq Festival we had fun trying to catch the ball.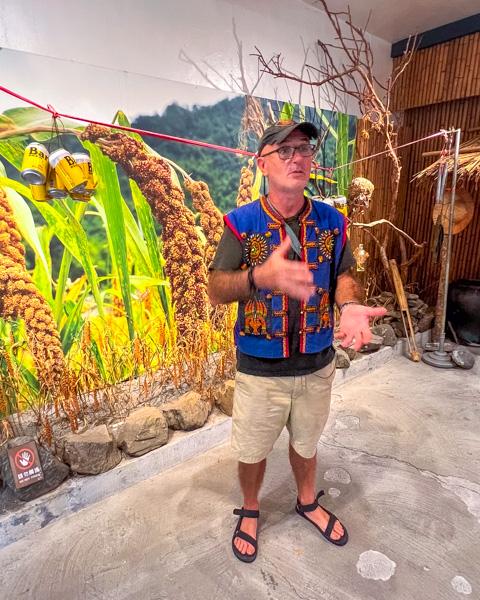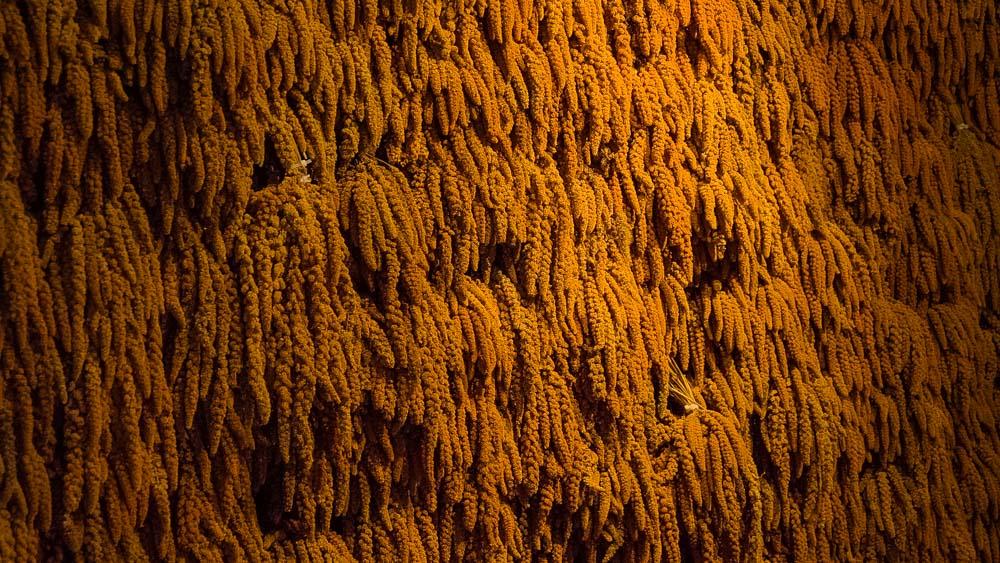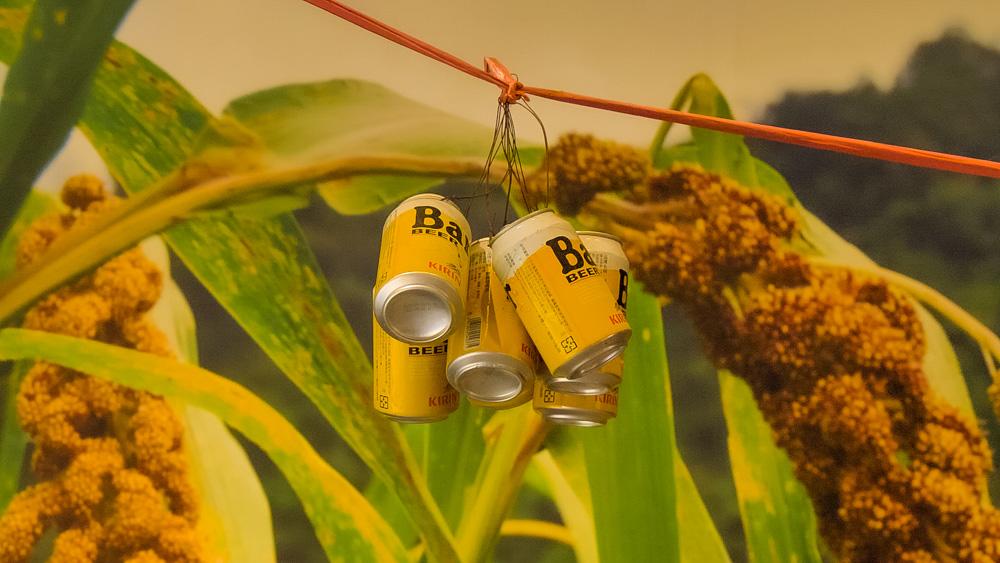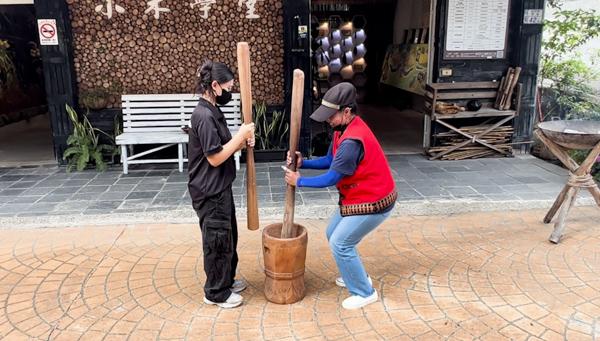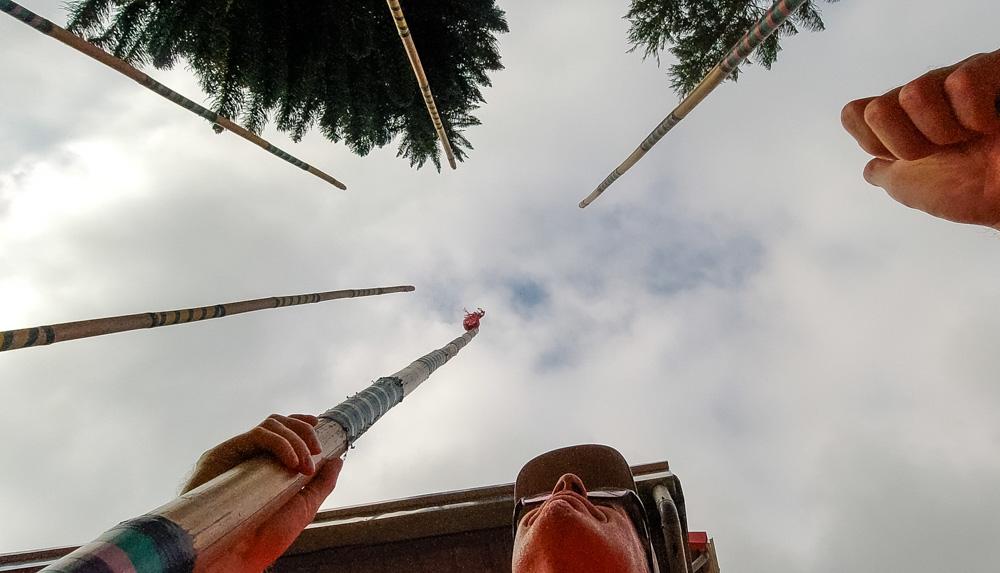 Millet School
(小米學堂)
Add: No. 42-2, Neighborhood 3, Liqiu Village, Jinfeng Township, Taitung County
(台東縣金峰鄉歷坵村3鄰42號-2)
Tel: (08) 977-2240
FB: www.facebook.com/kakituauanpakatuavaqu
Hours: Daily 9am~5pm
The Village of Rulakes
In the Paiwan language Rulakes means "covered in camphor trees." This village has about 300 inhabitants (Paiwan and Rukai), mostly consisting of the elderly and young children, young adults making a living in urban areas elsewhere. There is some small-plot agriculture in the area focused on the cultivation of millet, sugar apples (Buddha fruit), bird's nest fern, and taro. Over the last two decades coffee has also become an important source of income for the villagers. There are about 8,000-10,000 coffee trees covering an area of around 15ha in the surrounding hills (at an altitude of 300-800m above sea level).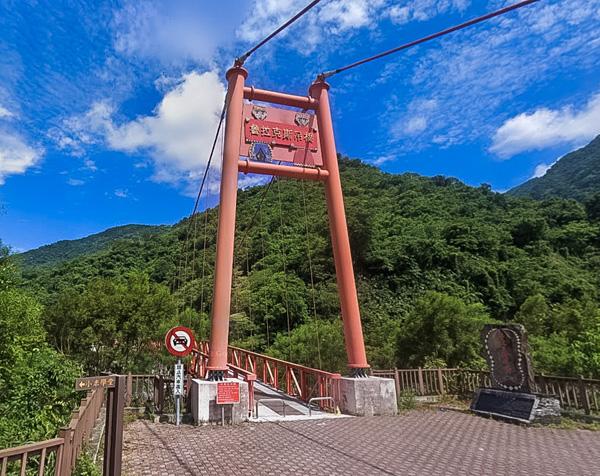 The most prominent sight of the village is Rulakes Suspension Bridge, which crosses Jinlun River. The river here marks the borderline between the townships of Jinfeng and Taimali. The bridge was first built in 1955. After being destroyed by Typoon Morakot in 2009 it was rebuilt in 2017. There are hot springs in the Rulakes area, but no facilities and getting to wild hot springs like Dufeilu and Jinhuang, both about 7km west of the village, requires a bit of river tracing (during the dry season it's a 2-hour walk on the mostly dry river bed of Jinlun River).
Ni Camak's Kitchen
Next we headed down the coast to the village of Nanxing in Dawu Township. There we would meet the friendly people who run Ni Camak's Kitchen, chef Ah-Tai and his wife Rong-Jia, parents of two young children. After spending more than a decade in Taipei and other places working for 5-star hotels, Ah-Tai recently decided to return to Taitung and open this restaurant where he now creates traditional Paiwan cuisine dishes with Western influences.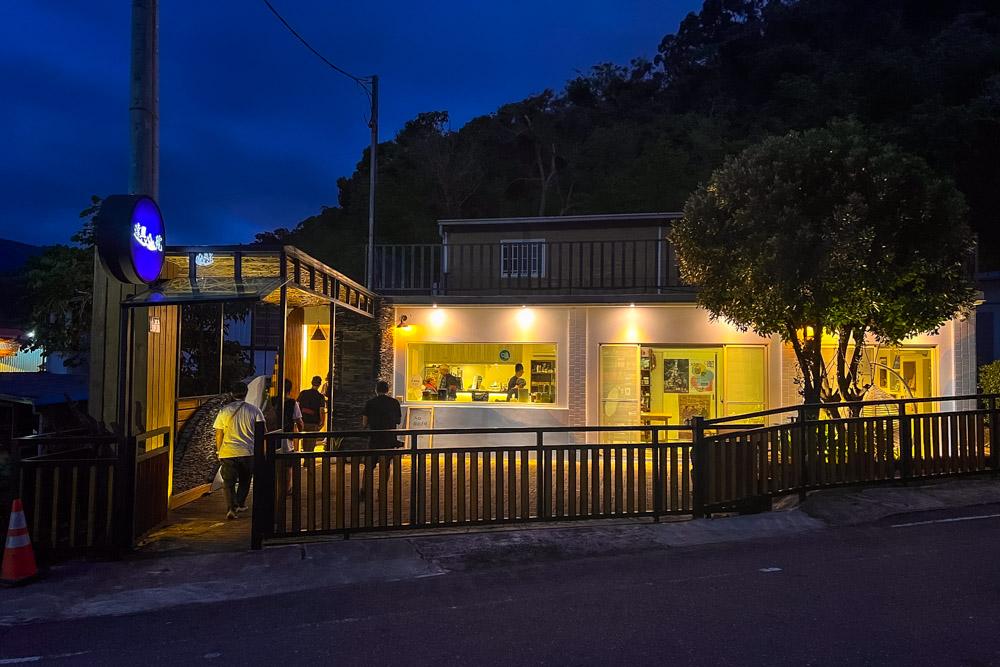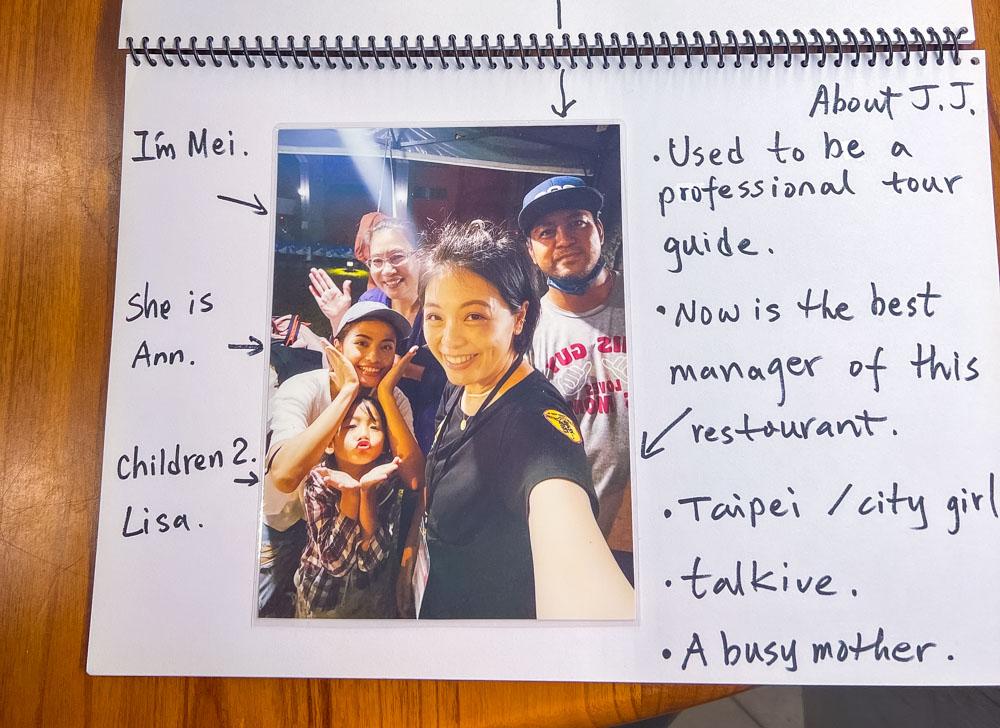 The fairly new restaurant is located just off the coastal highway on a side road leading to Nanxing. It has a distinct design with a wooden fence and slate stone wall sections, reference to the traditional houses of the Paiwan. Inside is a modern dining room with wooden tables. After a brief introduction to the restaurant we sat down to learn how to sing Paiwan nursery rhymes. We were taught by Umi, a retired elementary school teacher who likes to educate children – including her nine grandchildren – and visitors to the village, about Paiwan history through telling stories and singing songs.
The first song we would learn is named "Firefly," a song Paiwan women would sing on their way home from the fields or the forest. In times gone by, cicadas starting to make noise in the late afternoon would tell women that it was time to go home. Imitating the sound of the insects – sounding a bit like ljan, ljan, ljan – is how this children's song originated. We also sang a simple wedding song in which you compliment others on their great looks. A third song we learned was one that women would sing during hot days. This joyful music lesson was a fascinating glimpse into the life of the tribespeople and how they would ease their hardship by singing happily together.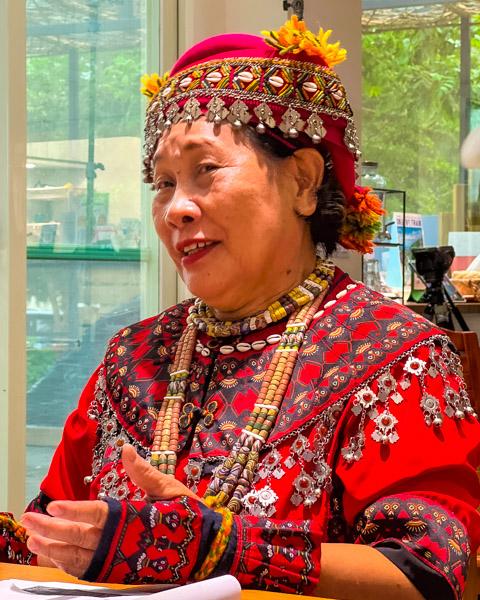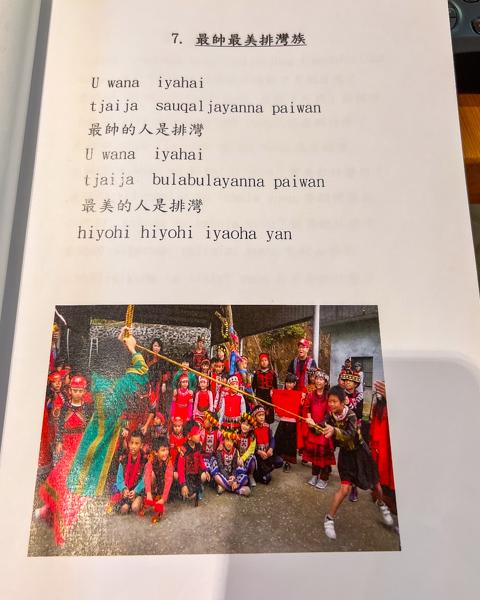 Next, another retired teacher named Mei took us on a short tour of Nanxing village. Married to a Paiwan man, she is living in the nearby coastal village of Nantian. In the Paiwan language Nanxing is known as Lu Jiakasi, jiakasi meaning myrtle tree. Mei took us to the local Catholic church, introduced two interesting plants, told us about the old village school, stopped by a grocery store, and pointed out some myrtle trees before we returned to the restaurant.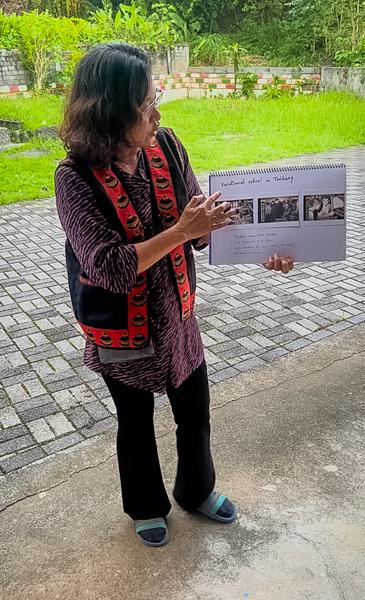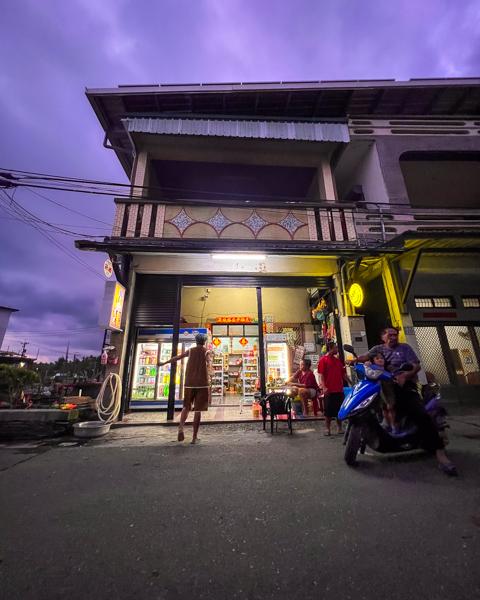 At the church we were told the story of two foreign missionaries from Switzerland (Lukas Stoffel and Jakob Hilber) who came to Taitung in the 1950s and built the church of Lu Jiakasi. A vocational school was also established by Hilber in Taitung City. In small classes of just 3-5 teachers from Europe taught students practical skills they could use in real life, like making furniture.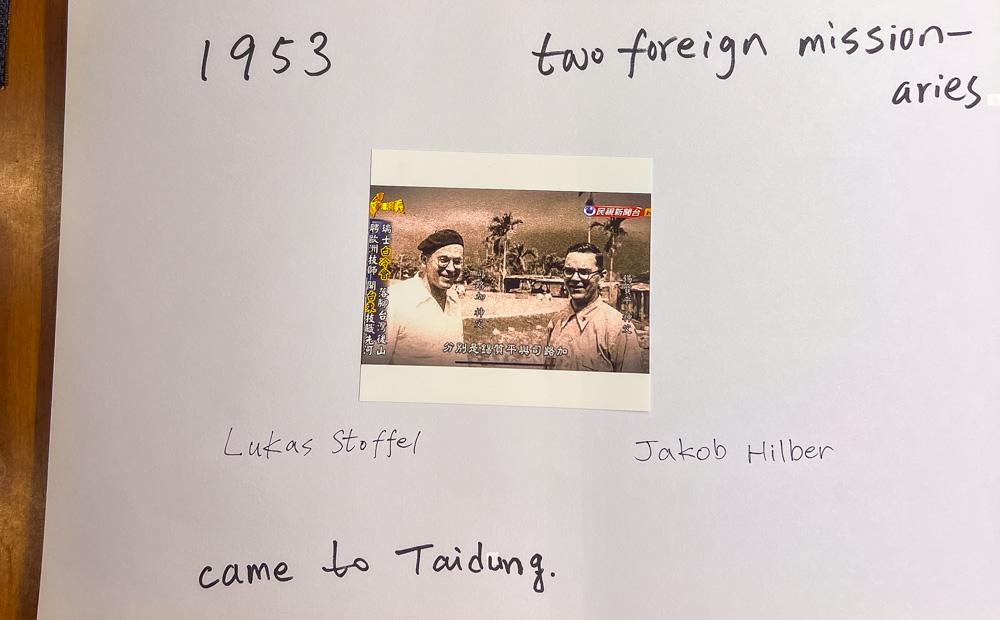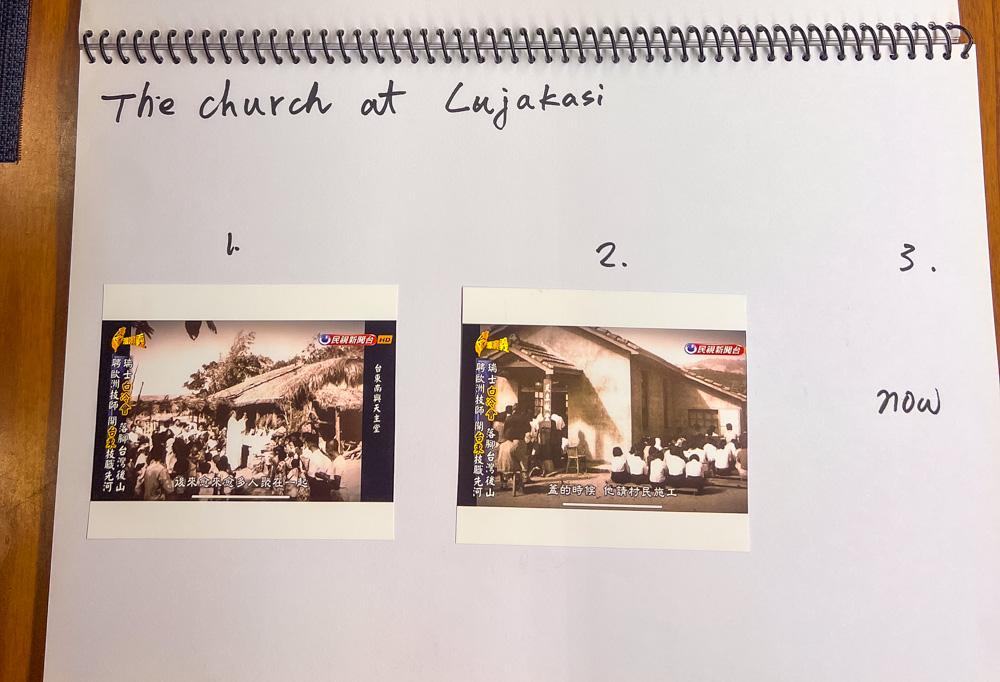 Jakob Hilber
Back home I read a bit more about Jakob Hilber and found out about his amazing story. Born in 1917, he joined the Catholic Bethlehem Mission Society at the age of 21. He served as missionary in China for two years before returning back to Switzerland. In October 1953, he arrived in Taitung and was responsible for the missions in this part of Taiwan. He could often be seen riding a motorcycle on visits to indigenous villages to oversee the work of priests in the communities. But his endeavors went much further than missionary work. He initiated projects, such as improving farming and digging wells, teaching women skills like sewing, and taking care of the sick. His biggest achievements, however, were in the field of education. After seeing the lack of opportunities for the indigenous youths, he raised money to build a vocational school in Taitung City, the St. Joseph Technical High School. Designed by a Swiss architect, the building was constructed by indigenous apprentices with a workshop on the first and dormitories on the floors above. Starting in 1960, the small-sized precision woodworking classes were initially taught by volunteers with professional licenses from Switzerland, Germany, and Austria. The school, still in existence today, produced quite a few woodworking masters who go on to make careers in Taiwan's furniture industry.

Hilber also had a close relationship with the chieftain of the Qutjaqas tribe (Nanxing village), Liu Chang, who entitled the Swiss priest to one day being buried in Liu's family grave. Hilber took care of Liu's grandson, a trouble-making child, given up upon by many. His positive influence was well received by the boy and he turned out to become a good student.

Here's another example of how dedicated and selfless Hilber was. When he discovered that he had cancer on a visit to Switzerland he decided to return to Taiwan instead of getting treatment. The money his brother gave to him for receiving treatment in Taiwan he donated to his school for building a basketball court.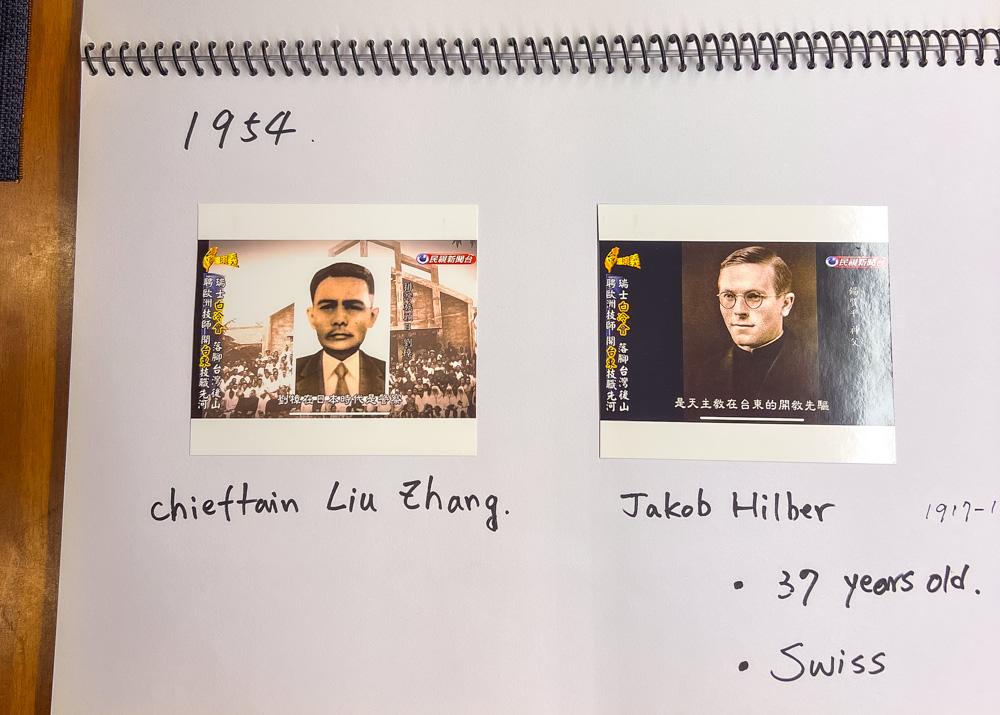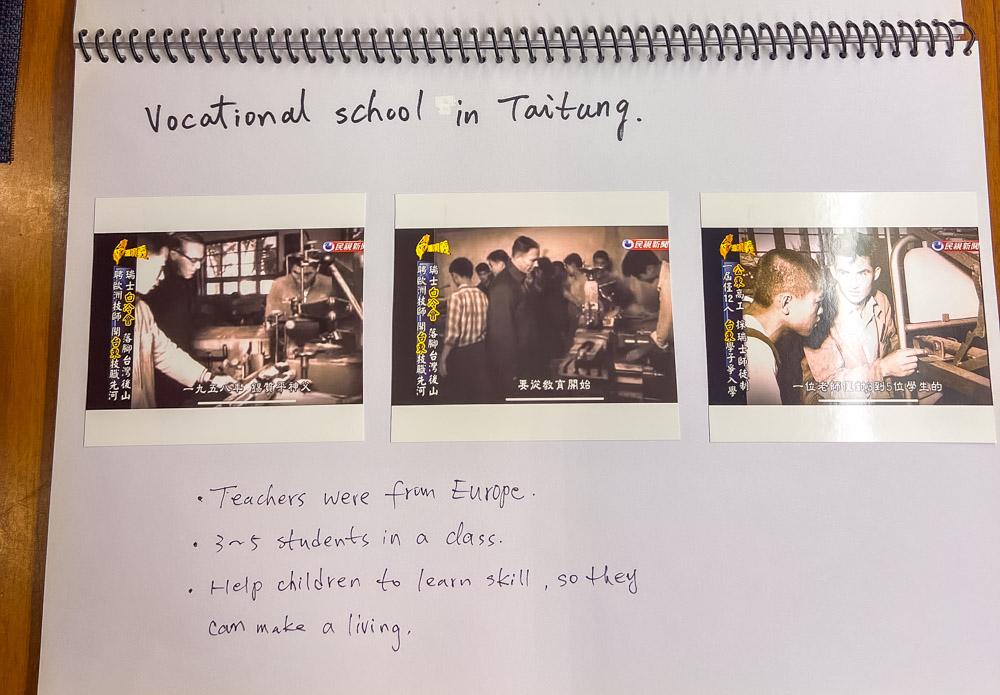 The two plants teacher Mei introduced to us on the village tour were prickly ash and apple of Peru, both featuring prominently in the dinner we had shortly after in the restaurant and also in food provided to us at other places we visited on this trip. Prickly ash leaves are very fragrant and are used widely in Paiwan cuisine as spice. The leaves of apple of Peru bushes are used to wrap cinavu. They are edible and good for helping digestion.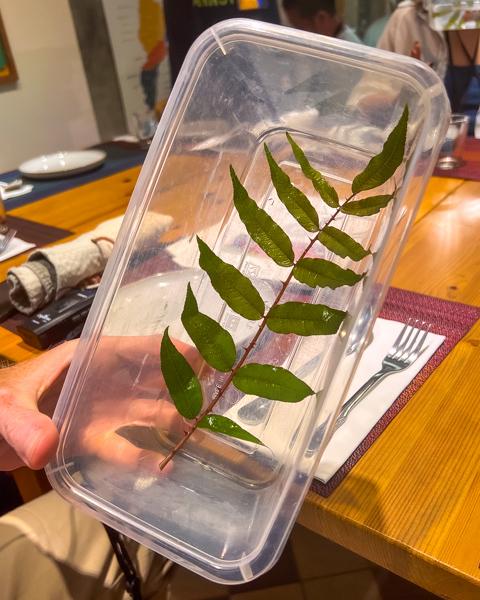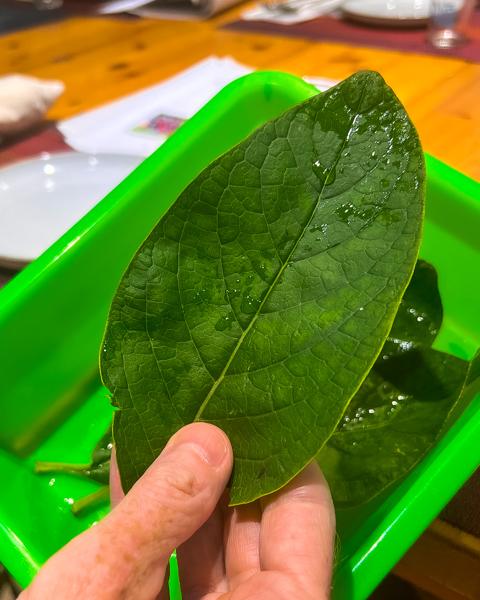 Prepared by a former 5-star hotel chef, the "slow food" dishes at the restaurant were exquisite and authentic Paiwan. Among the excellent morsels we enjoyed were cinafu, baby corn, sweet potato, and mini taro; pizza slices and vegetable rolls; pork sprinkled with myrtle tree powder with asparagus; pudding; and millet wine.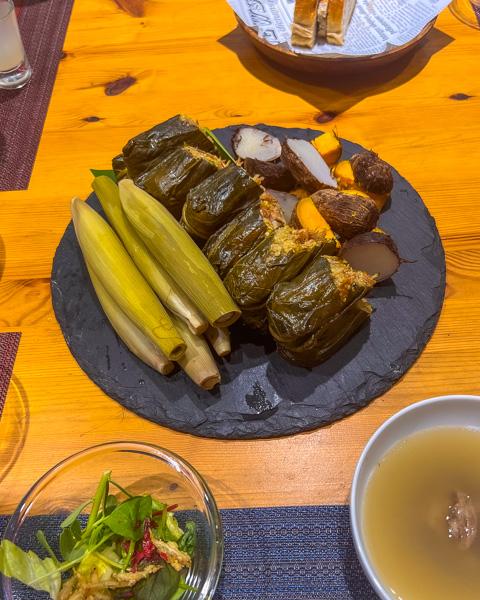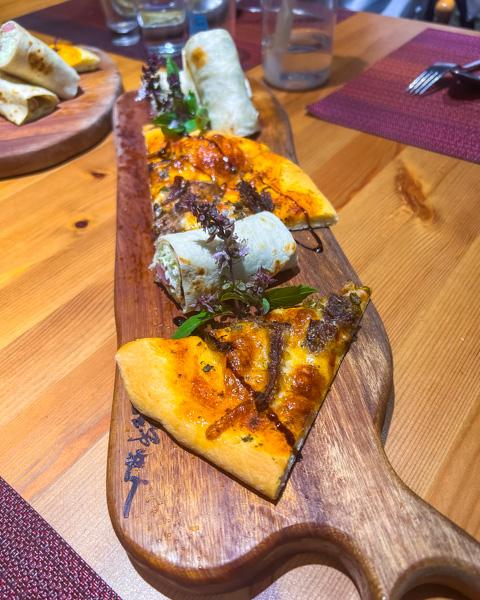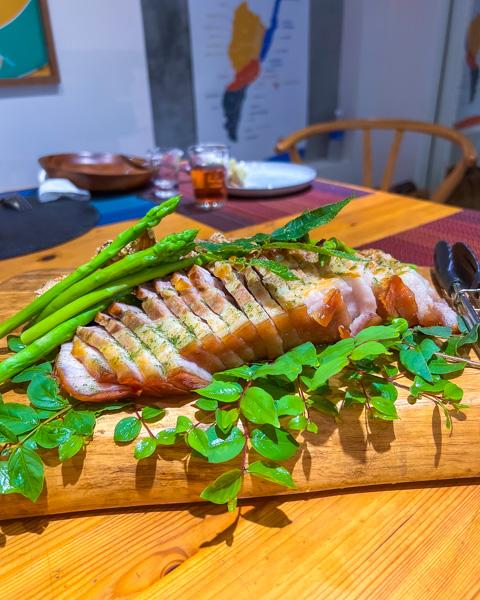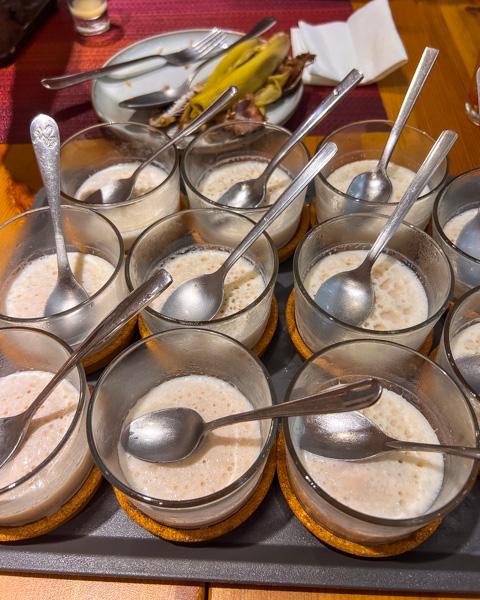 Ni Camak's Kitchen
(達興山號)
Add: No. 3, Daxing, Nanxing Village, Dawu Township, Taitung County
(台東縣大武鄉南興村達興3號)
Tel: 0932-221-039
Website: www.dahsin3.com (Chinese)
FB: www.facebook.com/dahsin3com
Hours: Tue.~Sat. 11am~2pm, 5pm~8pm
Sunrise Hotel & Resort Taimali
For accommodation the tour organizers had chosen the Sunrise Hotel & Resort Taimali. A hotel with a distinct indigenous theme, it is located in the town of Taimali (in the Paiwan language, Tjaualji, meaning "fertile land under the rising sun") a short distance from Taimali Station in the north, and the Millenium Dawn Memorial Park in the northeast, which is an excellent place to take in the sunrise over the Pacific. If you are not a morning person and don't want to leave the hotel before the sun appears (6am in late October) but still would like to watch the sun rise over the Pacific you can head to the 3rd floor patio of the hotel, which has sweeping views of the coast.
Sunrise Hotel & Resort Taimali
(太麻里曙光飯店)
Tel: (08) 978-2489
Add: No. 147, Taifeng Rd., Dawang Village, Taimali Township, Taitung County
(台東縣太麻里鄉大王村太峰路147號)
Website: www.ruyigroup.com.tw/dawnhotel (Chinese)
Day 2
Morning Walk
Since I am a morning person and love to go for a walk, I got up at 5am and made my way to the beach at Millennium Dawn Memorial Park, named so after a Millenium Concert was held here to greet the first sun of the millennium on January 1st, 2000. There is a large dark-sand beach, framed by palm trees. Like the day before, a wall of clouds formed above the horizon, but this time the sun did appear in all its glory.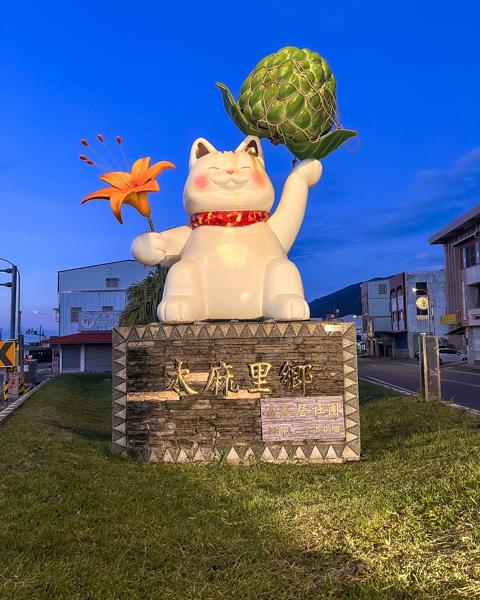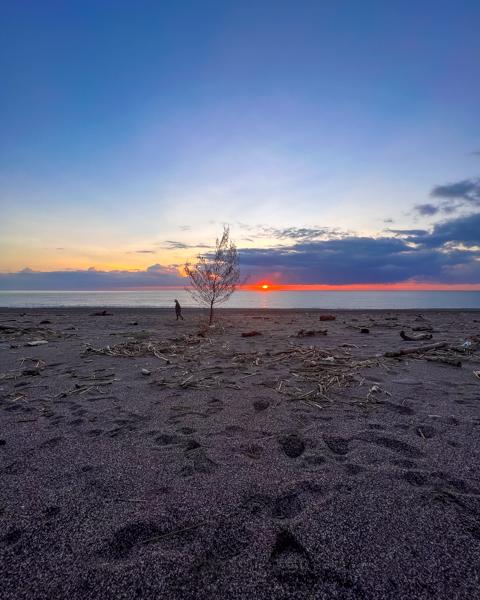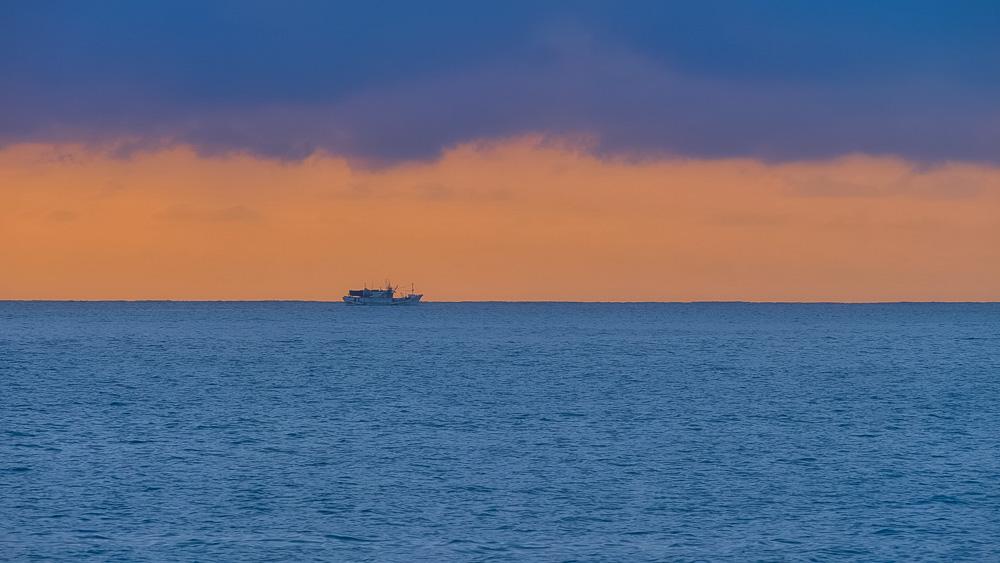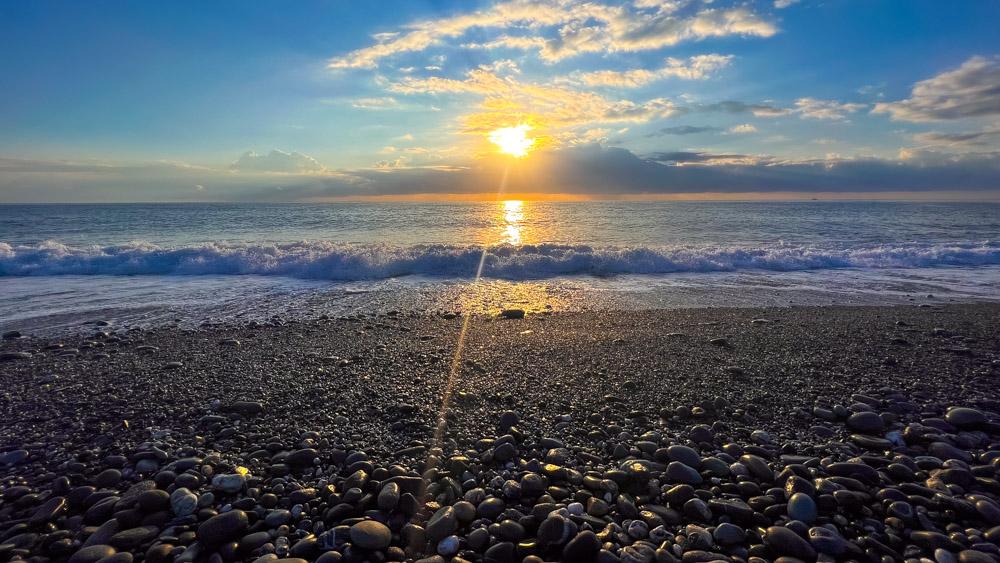 /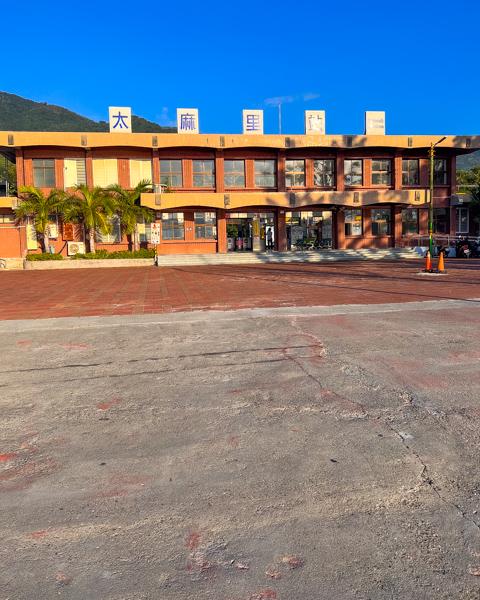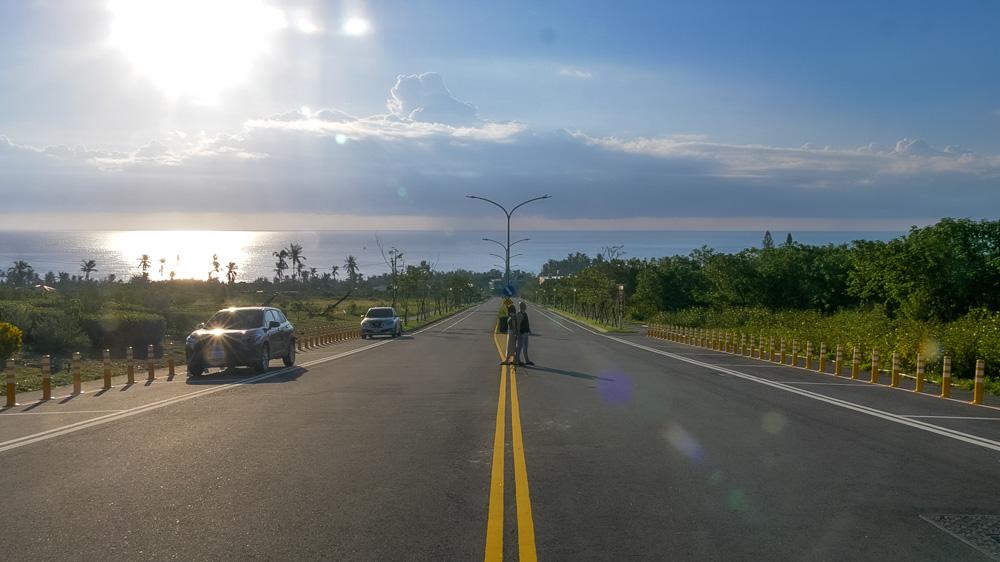 Tuban Village
On to the main event of this trip. It's about 25km from Taimali town to the indigenous village of Tuban. You will be presented with breathtaking views of the Pacific from the elevated highway. Then you enter a completely different world, once you make your way through the Dazhu River Valley. Tuban is a small village nestled between high mountains. At the entrance there is a monument depicting two tribespeople their bodies in the shape of a hundred-pace pit viper, a snake revered by the Paiwan as well as the Rukai.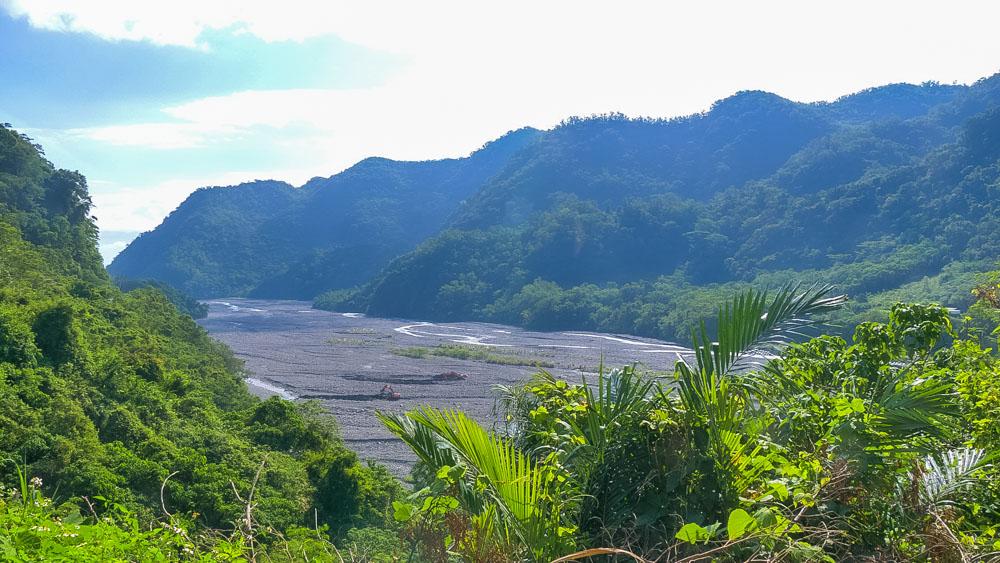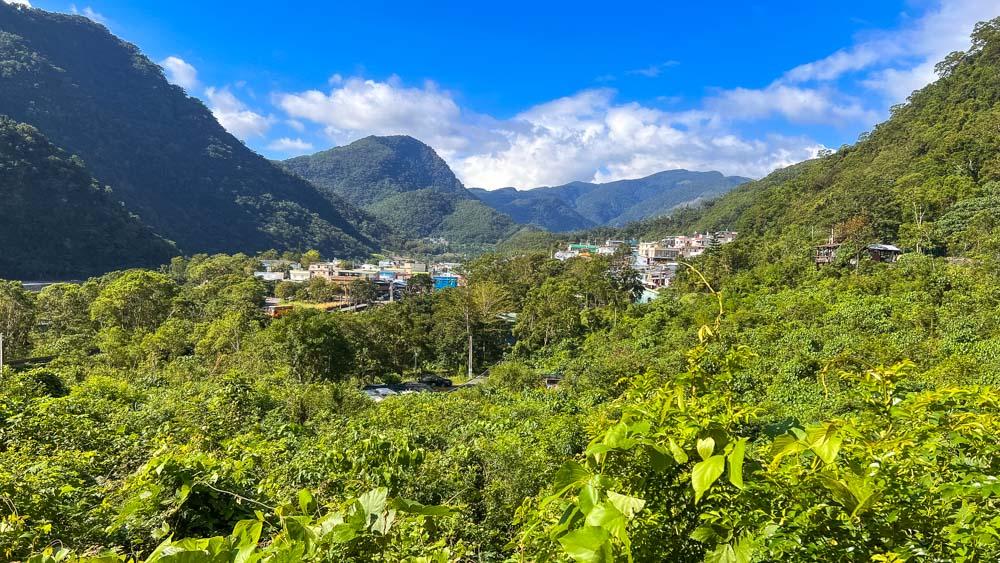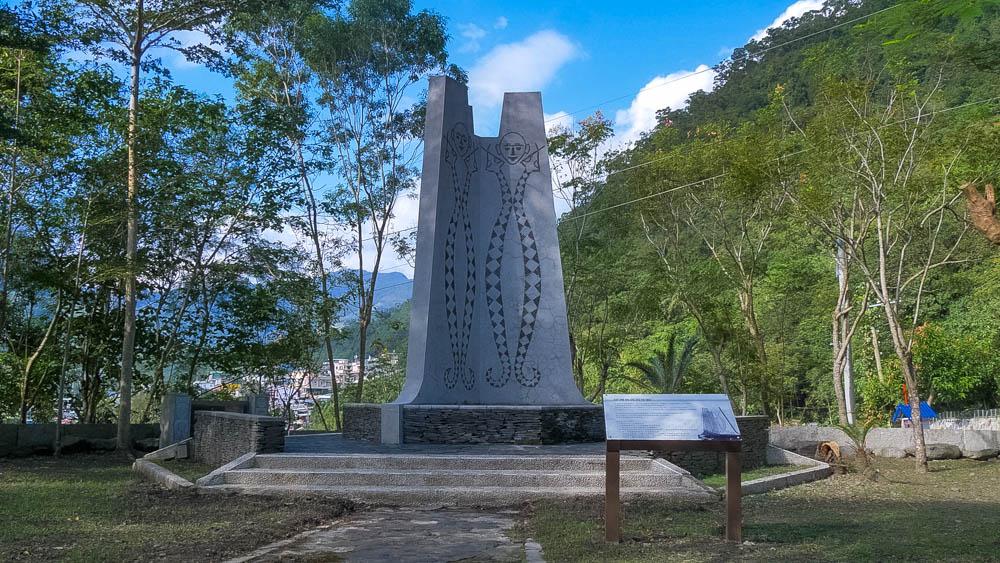 While outside visitors are welcome to attend the Maleveq Festival, it is advisable to contact the village's Southlink Health and Care Association to learn about the best way to visit without becoming a nuisance to the locals who regard this as an important spiritual event. It's good to know the taboos, like where not to go, what not to photograph, what not to touch, etc., before your visit.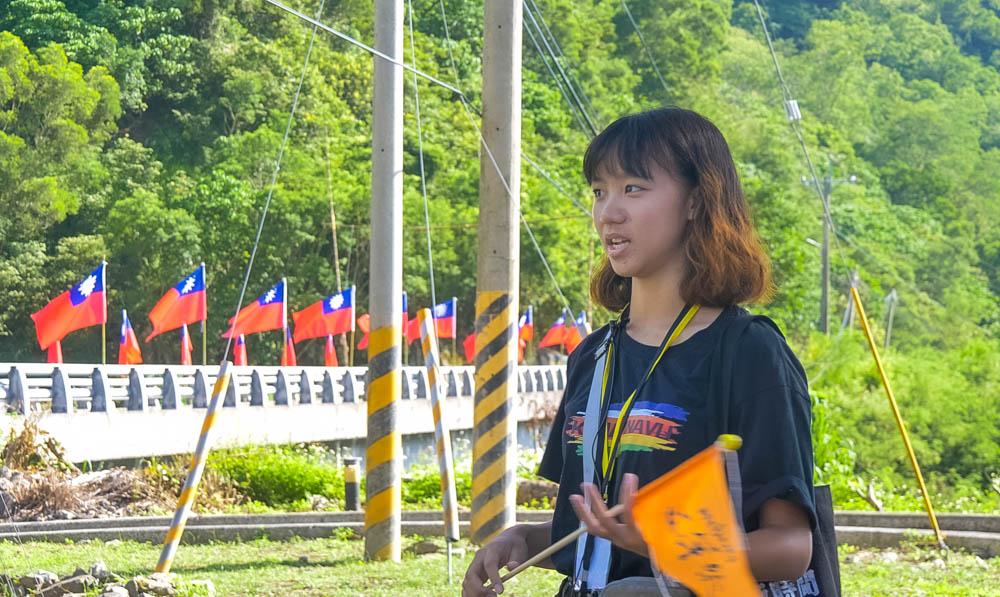 We were welcomed by our guide, a young student who first took us on a guided walk through the village. Walking along the main street through the settlement, dubbed Tuban's Zhongxiao East Road (after Taipei's main thoroughfare), the festive atmosphere was strong. National flags lining the street, bus loads of school children in indigenous attire walking to the festival ground, people in the front courts of their houses smiling and welcoming us and other visitors. We passed the village's best choice of accommodation, a recently opened B&B, the Catholic church (with Paiwan-style hundred-pace pit viper imagery and a Jesus on the cross inside also in indigenous style), and the houses of the chieftains, easily recognized by their beautiful decorations.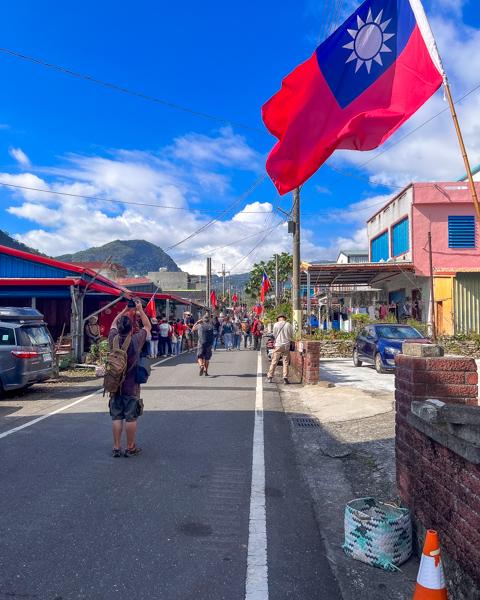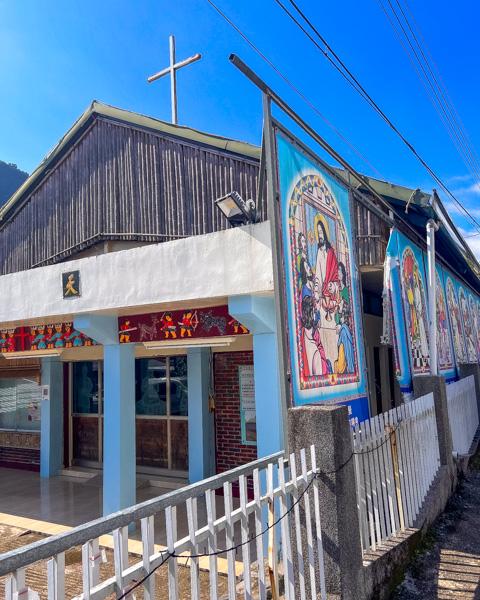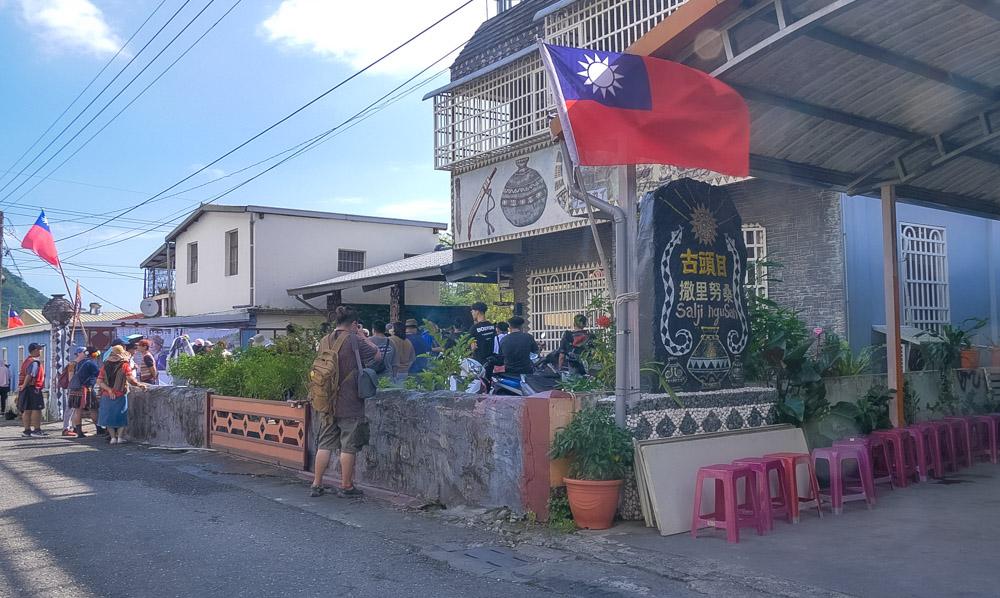 The Paiwan People
There are about 100,000 Paiwan living in Taiwan, which is approximately 18% of the total indigenous population on the island (second largest indigenous group after the Amis). Their traditional homeland is the southern reaches of the Central Mountain Range with Mt. Dawu as their mythical birthplace. Paiwan villages can be found at an altitude of 500 to 1,300 meters above sea level as well as in coastal areas in the southeast. In Pingtung County you will find large contingents of Paiwan people in townships like Sandimen and Majia, in Taitung County the they are concentrated in the four townships we visited for this article.

Historically, the Paiwan came to the attention of the outside world when they encountered and defeated American Marines during the Formosa Exhibition in 1867, and then, four years later, when they beheaded ship wreck survivors from the Ryukuyu islands (not yet part of Japan at the time) in what became known as the Mudan Incident and led to the Japanese invasion of Taiwan in 1874.

Culturally, the Paiwan, like their neighbors, the Rukai, were known to practice hand-tattooing. Like the Rukai, the Paiwan are also known for their slate houses.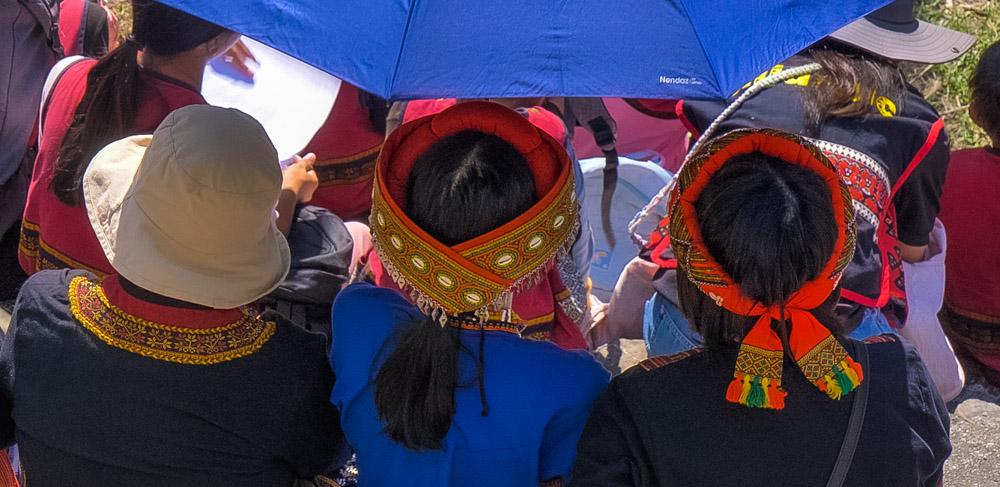 The Maleveq Festival
This festival, also known as Bamboo Pole Ceremony or 5-Year Festival, is held over a five-day period with many ceremonies and rituals not meant to be seen by outsiders. It is staged by the Vuvulj group of the Paiwan and is a way to welcome the ancestral spirits who are believed to make their round visiting indigenous communities. One reason for the 5-year gap between festivals is that the ancestors are believed to need time to visit all Paiwan communities and therefore only come to Tuban every five years. Earliest records of the festival are from 1722. In the past it was celebrated by other Paiwan groups as well, but today it is only staged in Tuban and Kulou village (Kunaljau) of Laiyi Township, Pingtung County. During the main event tribal warriors use eight-meter long bamboo poles to try and spear rattan balls of different meaning thrown high into the air by a priest (parakaljai). According to Paiwan belief, the ancestral spirits determine the victors and offer them and their families good fortune until the next festival. There are three parts to the event: pre-ceremony, ball-spearing (djiemuijat) and sending-off ceremony. The ball-spearing symbolizes both unity against enemies and blessing for the community.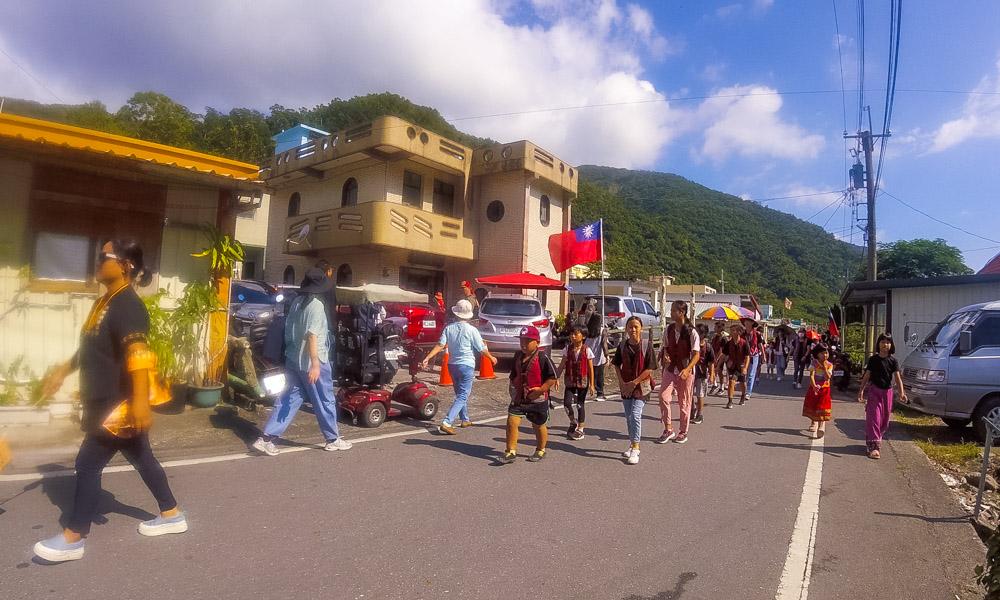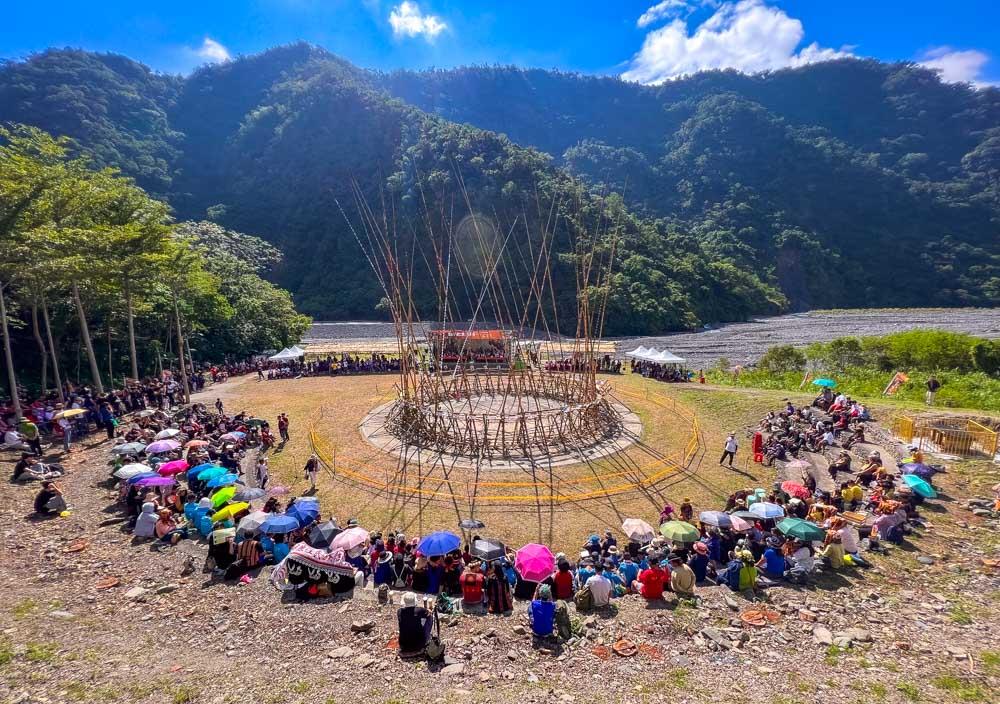 The festival ground was located downhill from the village near the river with a narrow access path down a slope. I set my camera up on that path for a great view from above. The activities took place on a flat ground, in the center of which was a round bamboo structure. The bamboo poles were secured inside the structure facing straight up into the air. At the far end, close to the river, was a small stage from where distinguished guests would watch the event.
It started with the march-in of the village's chieftains and the warriors taking part in the ball spearing. This was an impressive scene, everyone clad in traditional Paiwan attire, some of the warriors with fierceful looks, others in good spirits enjoying the moment. A few ceremonies were conducted inside the bamboo frame circle before the warriors took their seats each grabbing one bamboo pole. Then the fun started with the priest throwing up the rattan balls after chanting by shamans. There are eight rounds (eight balls). Each ball is thrown as many times as it takes for one warrior to catch it with the sharp end of his pole (it usually takes quite a few times before this happens, despite the fact that there are about 30 poles competing against each other.)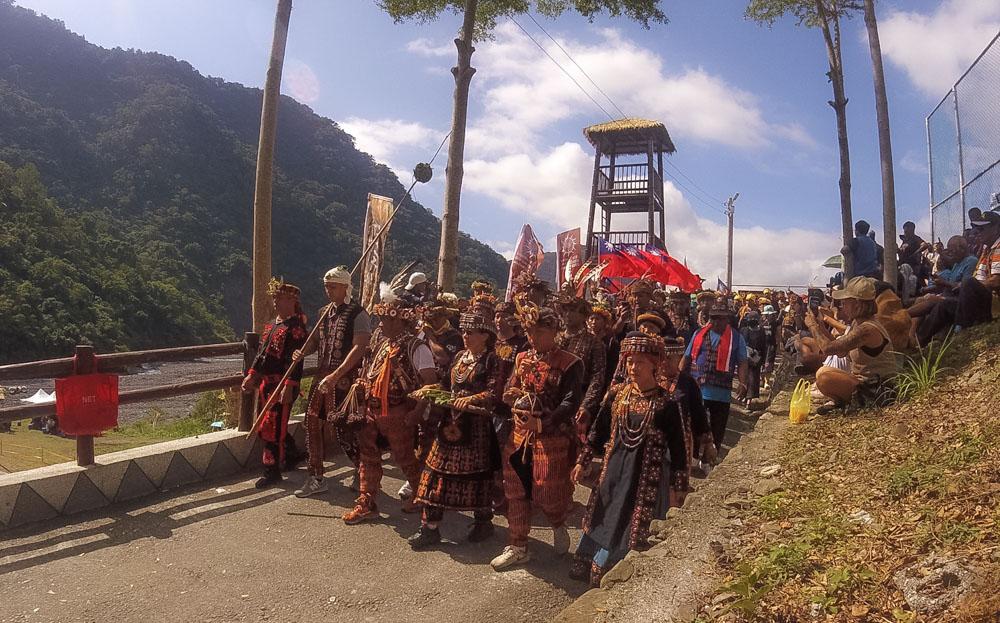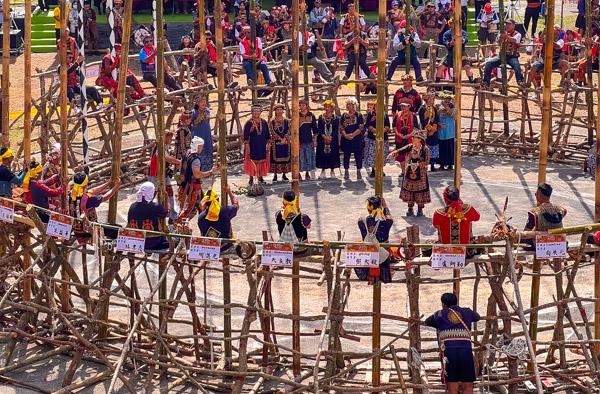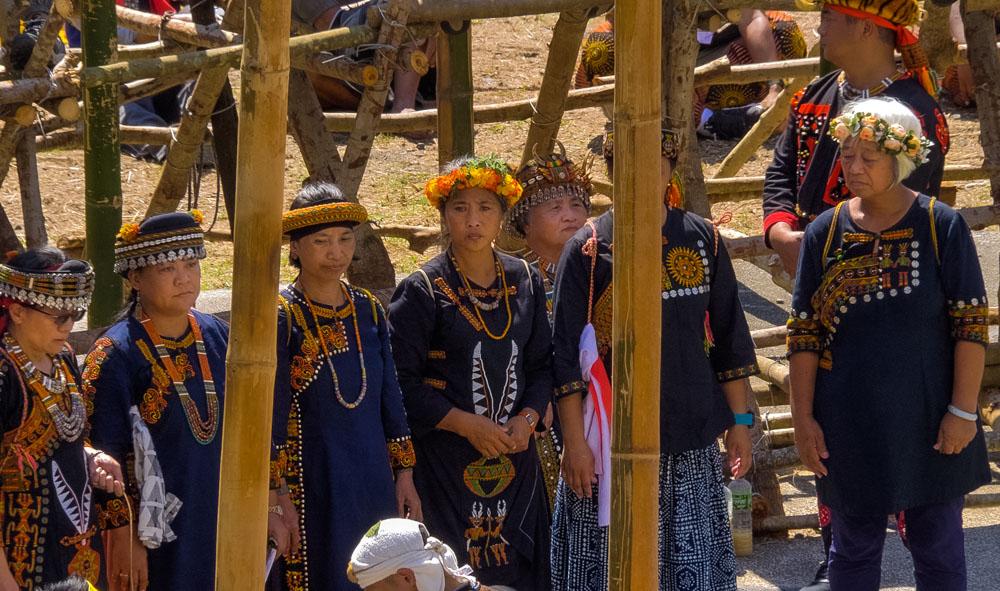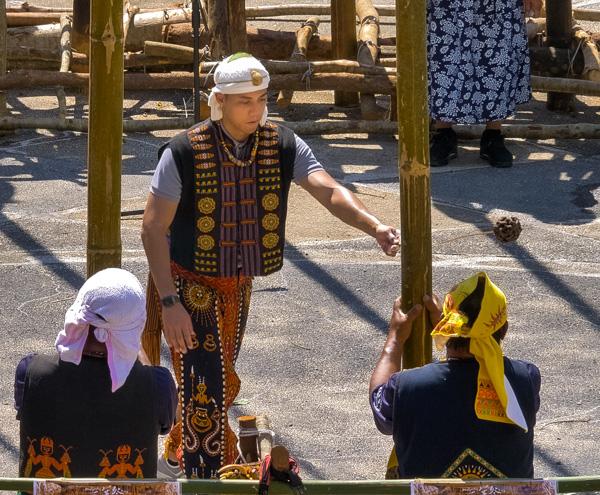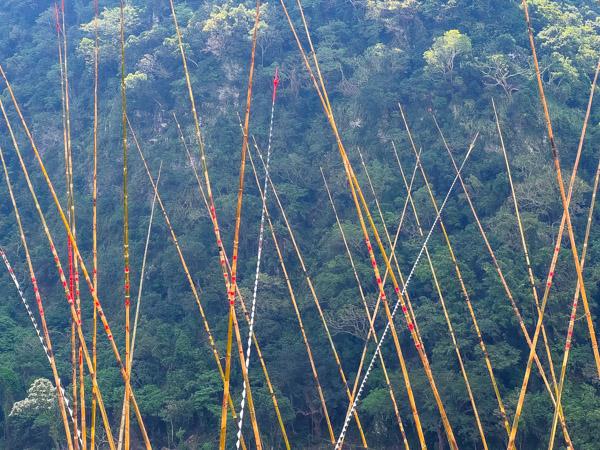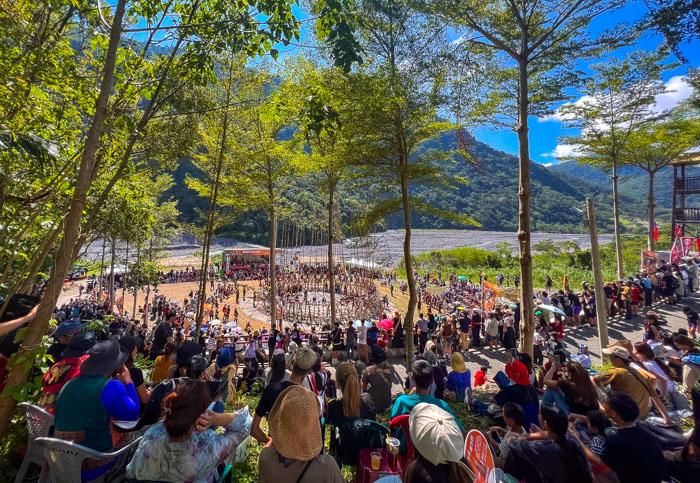 It's a fun event for participants and spectators who loudly cheered each time a ball was caught. It took more than an hour for all balls to be speared. The bamboo poles were taken down soon after and carried away, but the fun continued in the village. Many participants and visitors would first flock to Tuban's gathering plaza near the festival ground to grab food and drinks at stalls serving all sorts of indigenous-style refreshments, including cinavu and millet wine. Then the ball spearing would continue, but in a less formal way. A group of youngsters with shorter bamboo poles would move through the village making stops in front of each house. Again, each time the ball would be thrown as many times it took for one guy to catch it. The reward each time was a shot of millet wine.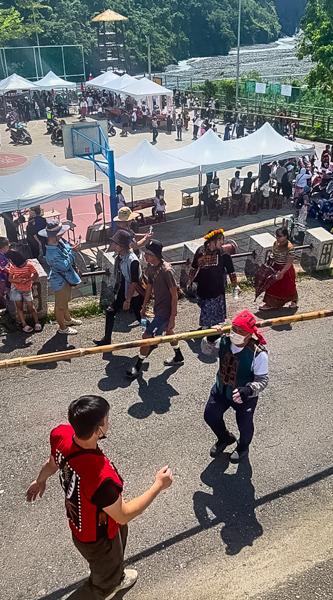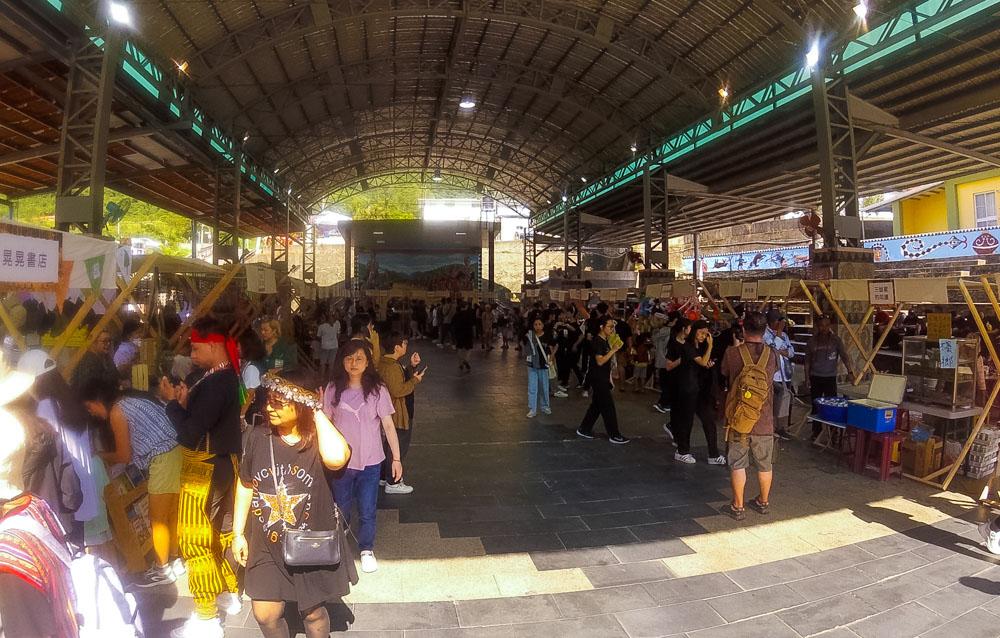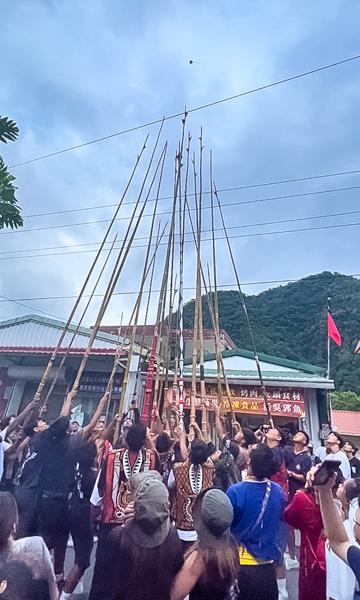 For lunch we were invited by the Southlink Health and Care Association, an organization that organizes guided tours (English available), like the village tour we enjoyed earlier. They also cooperate and support local farmers who mainly cultivate Tuban's "three treasures" millet, djulis, pigeon peas, but also prickly ash, tilia mushrooms, lemongrass, and taro. If you want to visit Tuban, learn about the local community, go one a guided tour, stay a night or visit the next festival (in 2028), contacting the association is highly recommended.
Southlink Health and Care Association (南迴協會捌個零社企)
Website: www.arksunshine.org
FB: www.facebook.com/arksunshineorg
Sakinu & Hanaku Café
Leaving Tuban and the friendly Paiwan people living there, we headed back up the coast. Our final stop of the day and this two-day trip (for me at least; the tour would continue for another day, but I had to get back to Taipei earlier) was the Sakinu & Hanaku Café in Xianglan Village. Xianglan is one of nine villages in Taimali Township and has a mixed population of Han-Chinese, Hakka, Paiwan, and Amis. The café, in a simple but nice one-story building, located up a path from the main highway, is run by Li Jin-rong. It is known for excellent coffee, made with locally grown beans, and fine desserts. The coffee is produced in Huayuan Village, northern Taimali, at an altitude of 600m. The desserts include djulis roselle macaron, oil millet sweet potato brownies, and cheese cake.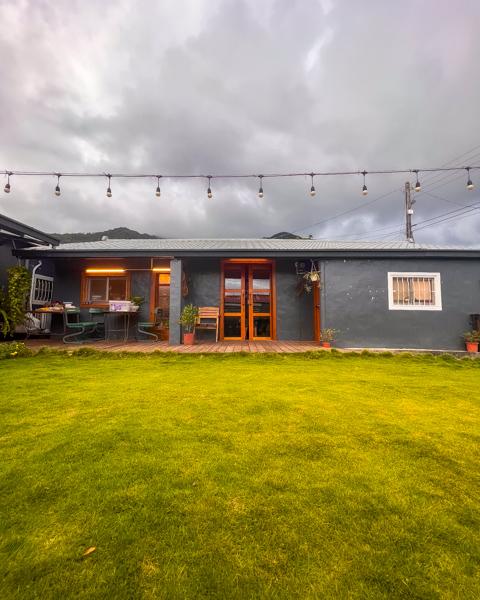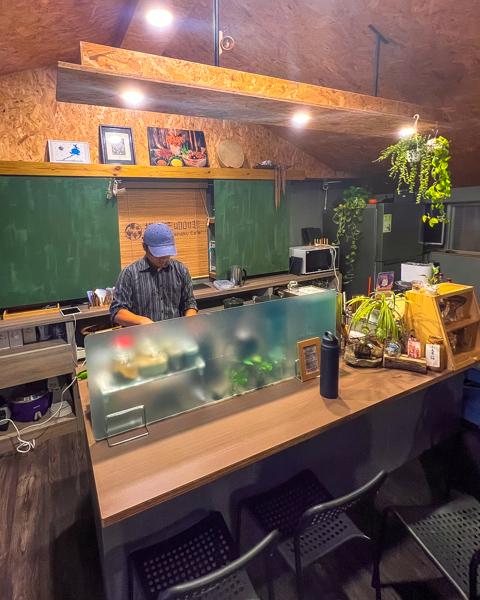 Sakinu & Hanaku Café
(撒花咖啡)
Tel: (089) 780-030
Add: No. 33-5, Xinxianglan, Neighborhood 10, Xianglan Village, Taimali Township, Taitung County
(台東縣太麻里鄉香蘭村10鄰新香蘭33之5號)
FB: www.facebook.com/sanguaqcafe
Final Words
I am really glad that I decided to go on this trip. It was an eye-opening journey during which we encountered friendly and welcoming people, learned a lot about the fascinating history and culture of the Paiwan people, and enjoyed spirit-lifting views of ocean and mountains. Taitung County's southern township are well-kept secrets worth discovering indeed!