Advertorial by Chiayi County Government
Minxiong, the Home of Pineapples
Minxiong is in the center of Chiayi County, in the middle of the Jianan Plain, and has an elevation of only 25 meters, with simple, flat terrain. Apart from where the land rises and falls in some hilly areas, it is mainly typical plain land. Located on the Tropic of Cancer, the area has both sub-tropical and tropical climate, making it suitable for growing various kinds of fruit. It is most famous for producing pineapples. The red soil is slightly acidic and the pineapples that are grown here are delicate, sweet, and juicy and have excellent taste and texture, which is why Minxiong is known as "the home of pineapples."
Ghost Café
Minxiong's haunted house is known across Taiwan. Anytime, "haunted house" is mentioned, the one in Minxiong is first on the list of places put forward to test people's courage. Due to the waves of visitors that have been attracted in recent years, a coffee shop, the Ghost Café, has opened up next to the haunted house. Two notable things about the coffee shop are the strange atmosphere inside and the fact that local fresh fruit is used in the dishes it serves.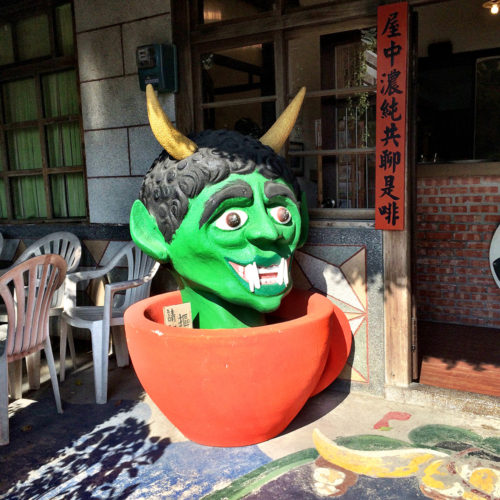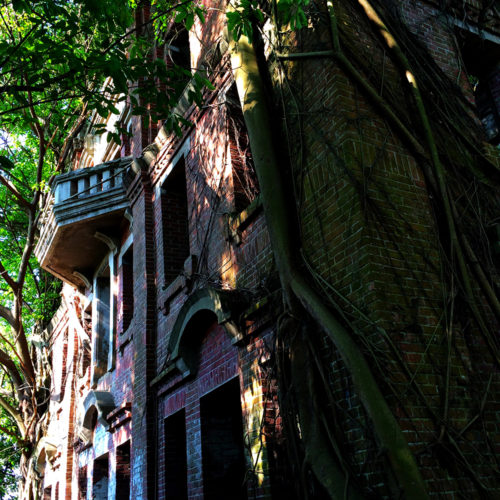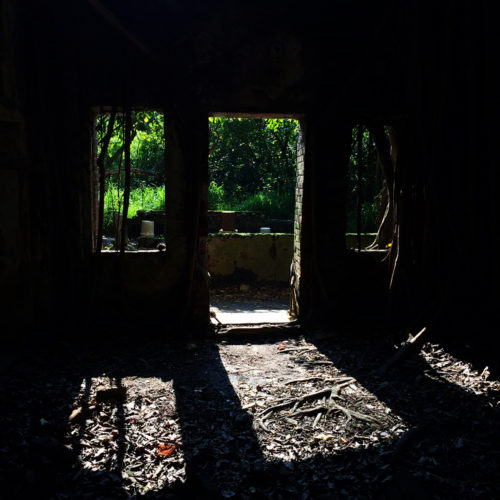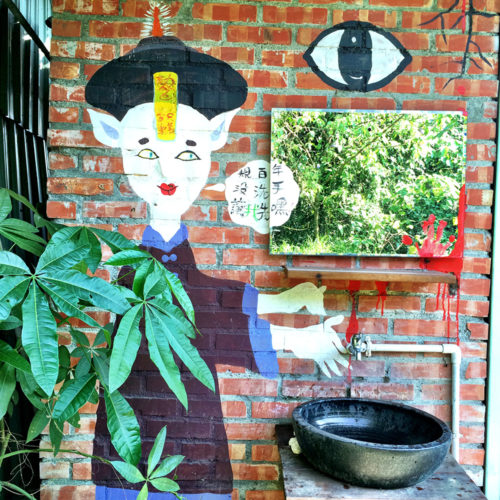 Ghost Café (鬼屋咖啡)
Add: No. 12, Yiqiao, Xingzhong Village, Minxiong Township, Chiayi County
(嘉義縣民雄鄉興中村義橋12號)
Tel: (05) 220-8508
The advantages of Minxiong's climate and soil make it a place where various fruits with economic value are grown. Apart from its renowned pineapples, it also produces excellent cherry tomatoes, muskmelons, and pomegranates. Minxiong is top for pineapple output and quality in Taiwan. As more and more tourists visit the township, a variety of products have been developed; one of them, pineapple cake, has become a must-buy gift for visitors to the area.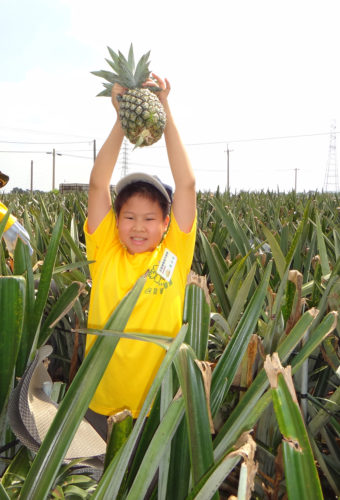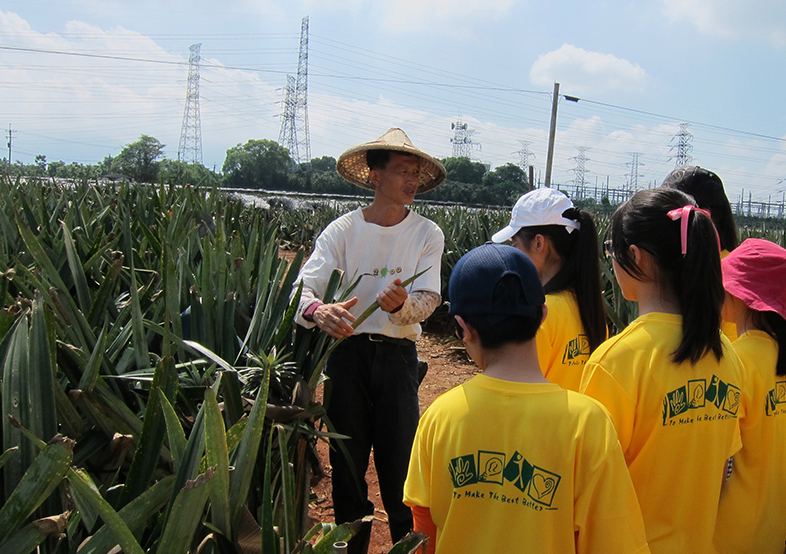 Minxiong Kumquat Factory
The founder of Minxiong Kumquat Factory, a place where sincerity can be found amidst the ordinary, is dedicated to promoting the local kumquat brand and introducing the various good things about the fruit. The small golden fruit is highly nutritious. The different products made by processing kumquat present its different flavors, such as sweet kumquat cake which is a great nutritional supplement for women in the period after they give birth.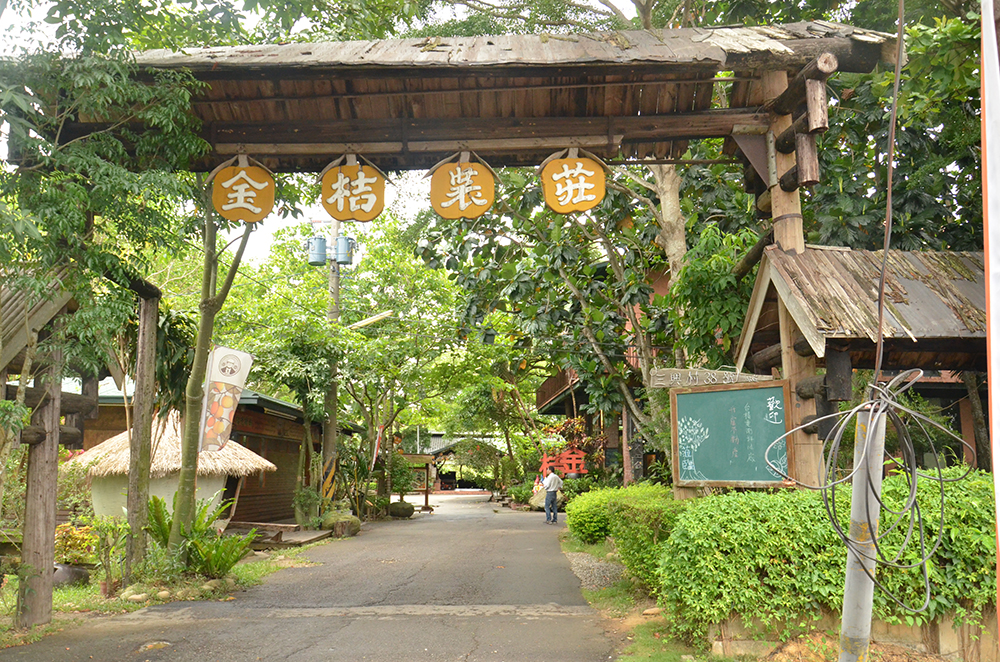 Minxiong Kumquat Factory (金桔觀光工廠)
Add: No. 38, Neighborhood 7, Chencuo Liao, Sanxing Village, Minxiong Township, Chiayi County
(嘉義縣民雄鄉三興村陳厝寮7鄰38號)
Tel: (05) 272-0351, DIY courses available; advance booking required
Star Coffee
In earlier times, Taiwanese pineapples were too sour and most were processed. The Taiwan Agricultural Research Institute set about developing a variety that could be eaten fresh and Minxiong was chosen as the test area. In cooperation with Star Farm, the variety of pineapple now with the highest market share, Golden Diamond Pineapple, was developed. The family behind Star Farm opened Star Coffee in 2015. The dishes served feature pineapple and the café continues to promote the farm's principle of eco-friendly farming and living.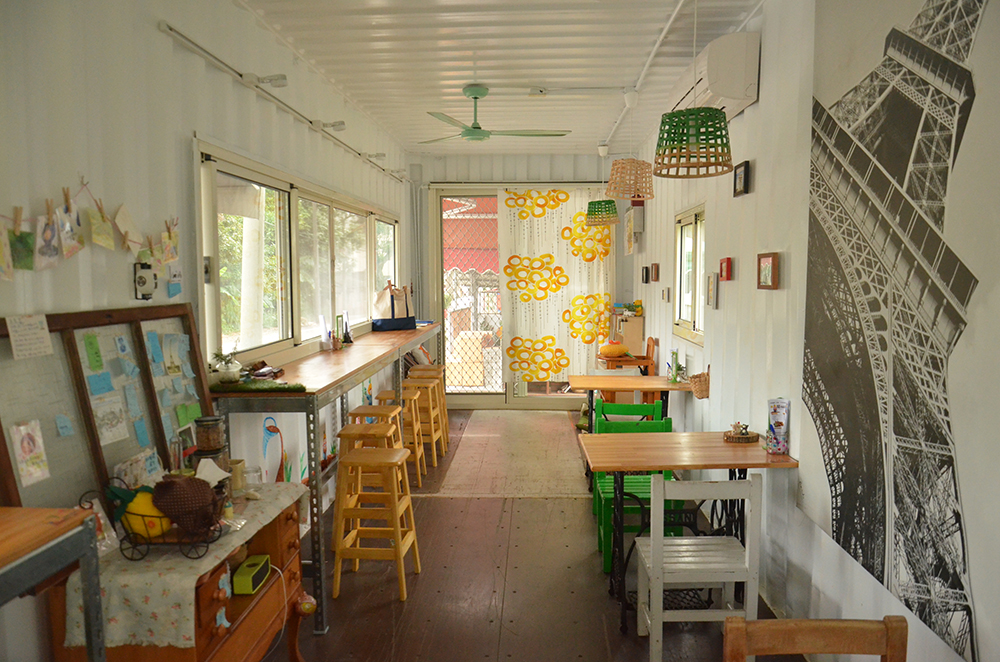 Star Farm & Star Coffee (星農場X星咖啡)
Add: No. 40, Sanxing Village, Minxiong Township, Chiayi County
(嘉義縣民雄鄉三興村40號)
Gigi Shop
The story of the encounter between Gigi Shop and Songjie Pineapple and the founding of Gigi Shop has its origin with the love of a mother for her children, and the desire to give her children the best of everything. This led her to develop the healthful Gigi yoghurt. The farmer who grows Songjie pineapples is actually Gigi's husband; he focuses the same care he shows for his children on growing pineapples. With the farmer insisting on natural farming methods, it takes a full two years for the sweet and fragrant pineapples to grow. The pineapples are processed and made into pineapple jam that is eaten together with the handmade yoghurt, a healthful, worry-free, and tasty combination.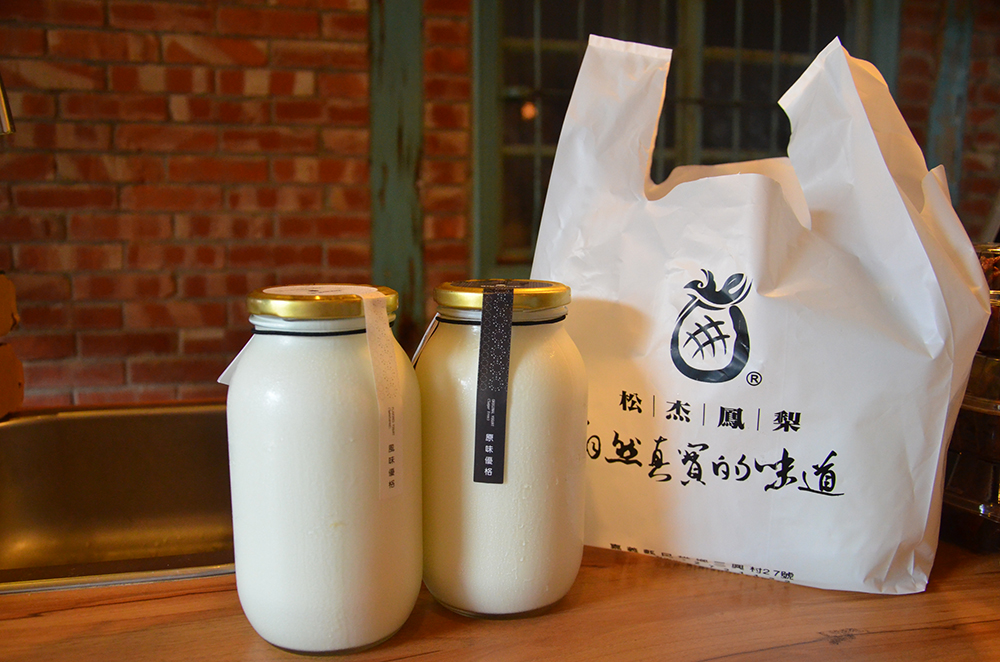 Gigi Shop (琪琪健康鋪)
Add: No. 27, Sanxing Village, Minxiong Township, Chiayi County
(嘉義縣民雄鄉三興村27號)
Tel: (05) 272-1122
Pineapple Hill
The pineapple master of Pineapple Hill grows pineapples that have won the Shennong Award, the highest agricultural award in Taiwan. Plump, fragrant pineapples of the best varieties are used to make pineapple cake. Insisting on the best quality pineapple cakes, each pineapple is only used to make four small pineapple cakes. Every mouthful presents an unforgettable local taste.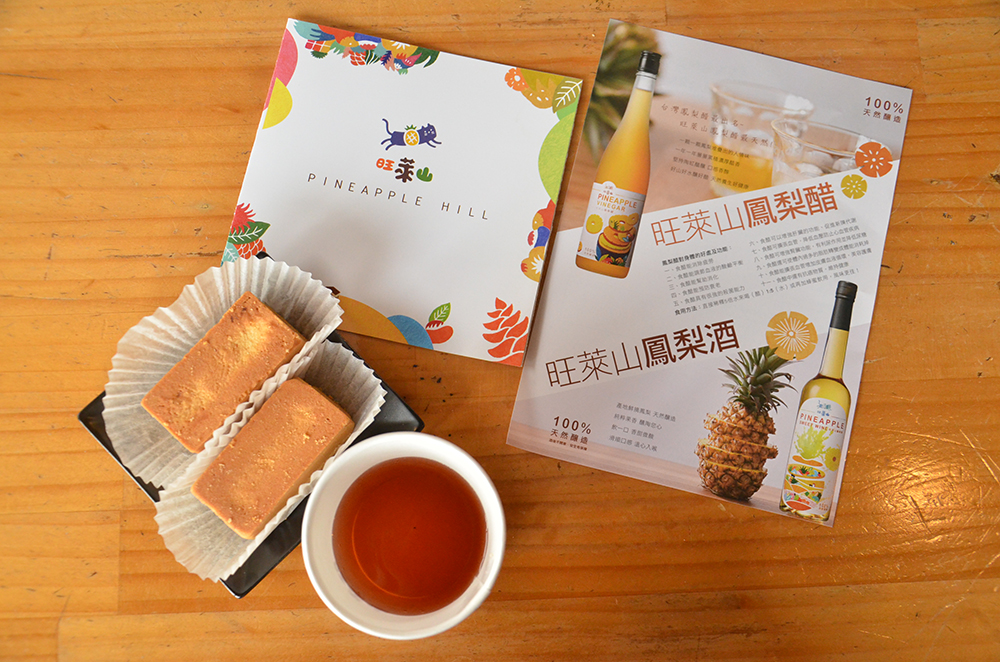 Pineapple Hill (旺萊山)
Add: No. 1-3, Chencuo Liao, Sanxing Village, Minxiong Township, Chiayi County
(嘉義縣民雄鄉三興村陳厝寮1-3號)
Tel: (05) 272-0696
Better Farming
Better Farming originated from Minxiong, the home of pineapples. The first two characters in the Chinese name come from the Taiwan meaning "to work and rest," reflecting the basis of rural life: Get up to work in the fields at sun up, rest when the sun goes down, farm the local land, and Taiwan will be a better place. The aim of Better Farming is to extend pineapples from food culture to the realm of life aesthetics, including food, washing, fabric, useful objects, and education. Merging agriculture and aesthetics, fun and practical daily use items have been developed, adding depth and aesthetic width to Taiwanese pineapple culture.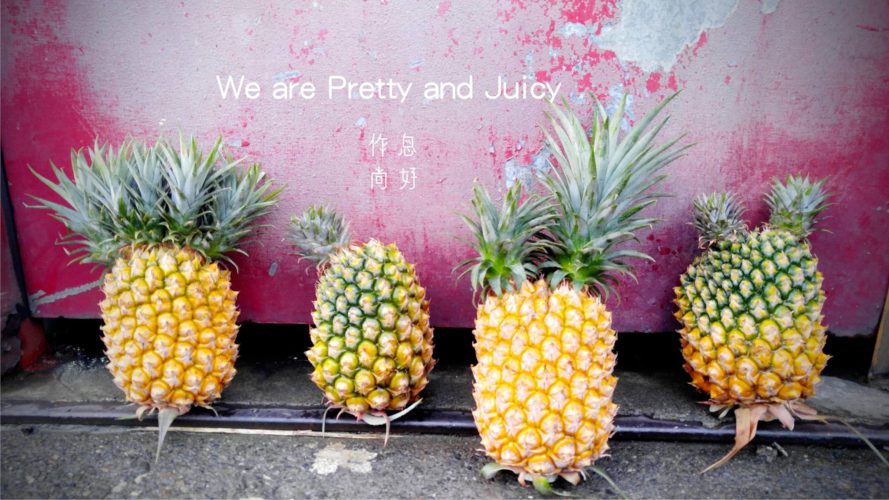 Better Farming (作息尚好)
Ordering Hotline: 0963-665-633
Café de Fish
Café de Fish is a distinctive coffee shop in Minxiong. Originally, a property with a fish pond, a second generation family member returned home and creatively turned the fish pond area into a fish-themed café, offering people a highly distinctive coffee-drinking experience. Anyone who likes to drink coffee and also view fish should not miss a visit to Café de Fish when in the Minxiong area.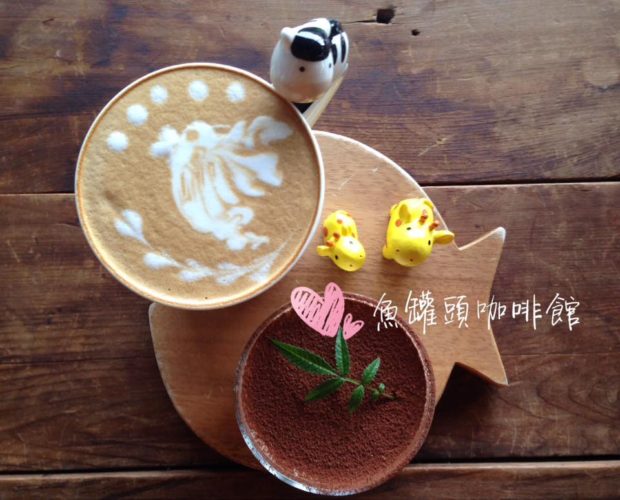 Café de Fish (魚罐頭咖啡館)
Add: Chiayi Township Road 78, Minxiong Township, Chiayi County
(嘉義縣民雄鄉嘉78鄉道)
Tel: (05) 206-2775
Facebook Fanpage: www.facebook.com/minsyongjam
Also read:
Minxiong Haunted House (民雄鬼屋)