Flying Away to Mountains of Tea
TEXT / RICK CHARETTE
PHOTOS / RAY CHANG, VISION
Is tea your thing? Invigorating mountain scenery? The simplicity and purity of countryside life? Long meandering drives along roads with few vehicles through farmland and forest? Well, we've got just the multi-day trip for you, to tea country in the west region of Nantou County, moving between flatlands and mountains about 1,600 meters up.
In long, comparatively narrow Taiwan, Nantou is the only landlocked county. It's entered by most via the long, narrow flatland strips on its western flank – at the edge of the western plains – leading up ever higher through foothills into central mountain fastnesses where surprisingly high numbers of permanent residents are found.
Nantou is primarily rural, just a few urban areas, with tea a key crop, grown on plantations in almost all of the county's 12 townships. The climate is ideal for tea cultivation. Temperatures average 15~24 degrees Celsius, and dramatically varying terrain, elevations, and climatic conditions result in teas of unique character from each growing area.
Lugu Township
This is perhaps the best-known of Nantou's tea regions. Tea was first cultivated here in 1855, using bushes brought from the Wuyi Mountains in China's Fujian Province. The ancestors of most Han Chinese in Taiwan emigrated from Fujian, directly across the Taiwan Strait during the Chinese imperial era; Fujian is a major tea-production region. In fact, the word "tea" is from Western traders' attempts at the southern Fujianese for tea, pronounced "teh."
Dalunshan Tea Plantations
This area is reached most easily via County Route 151, which starts in the flatlands town of Zhushan and takes you up past the tea-growing town of Lugu. Above Lugu, turn onto County Route 55, then a few hundred meters later (just past a small village), head steeply up-mountain on the winding plantation-access road, Yangwan Lane.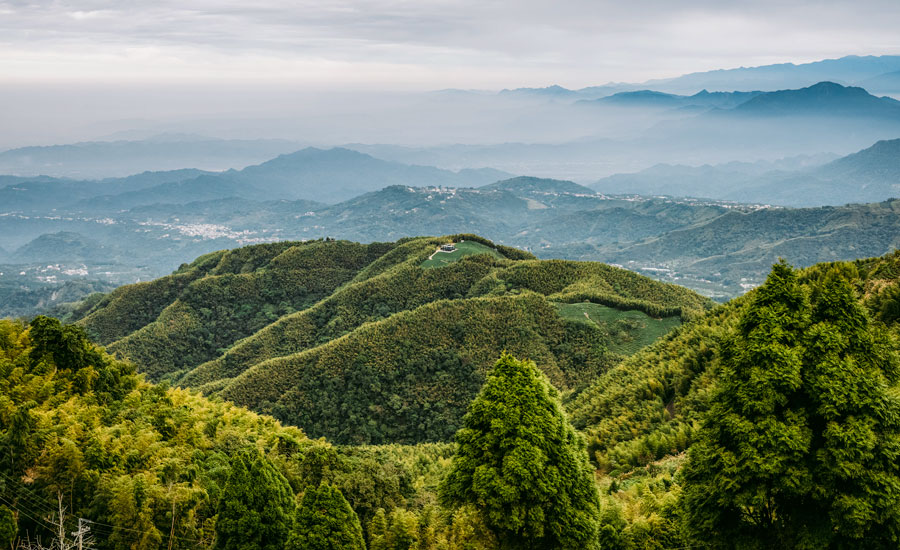 The tea plantations are spread out atop Dalunshan, or Dalun Mountain, from 1,250~1,500m above sea level. This is the biggest Oolong tea area in Lugu Township, measuring about 100 acres. You'll also see thick swathes of gingko forest, planted in afforestation efforts to protect the steep slopes from erosion. The combination of tea-bush tiers of green, blue skies, intense golden-yellows of the gingko trees (in autumn), and the frequent fog and mist make for tremendous photos and videos.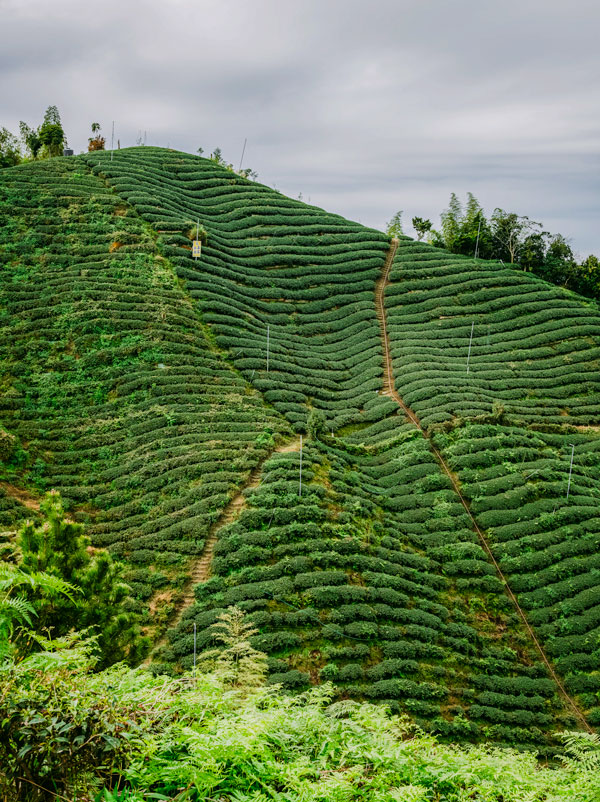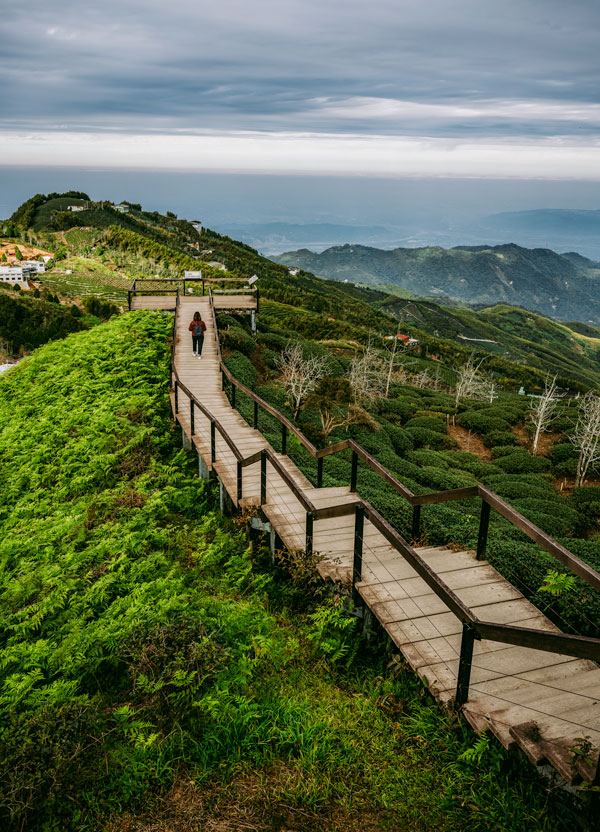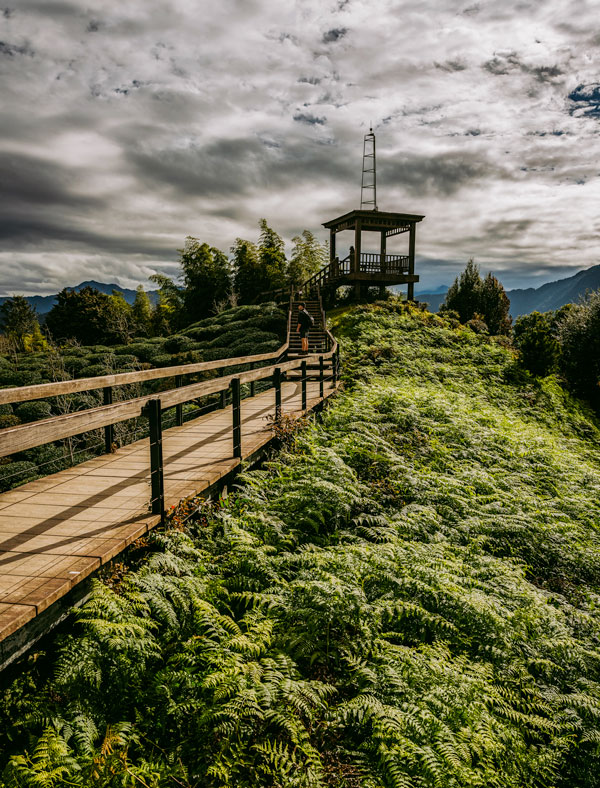 Boardwalk paths and dirt paths take you through the tea-bush rows. At the highest point is a rest pavilion and, just below, a viewing deck. From these, tremendous views north are enjoyed, all the way to the long east-west valley through which the famed Jiji Line tourist trains run. Note that there is a trio of simple eateries in the plantation area, selling fresh range chicken and mountain vegetables.
Once a bamboo-cultivation center, local farmers began switching to tea starting in 1987, in the face of dwindling sales (bamboo wood was to that point widely used in scaffolding, furniture, etc.). Disease also hit the township's bamboo in 1990.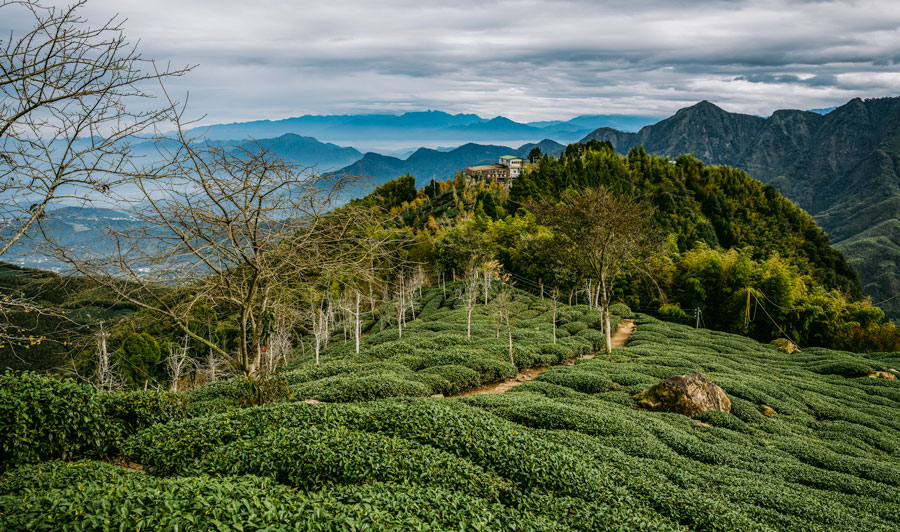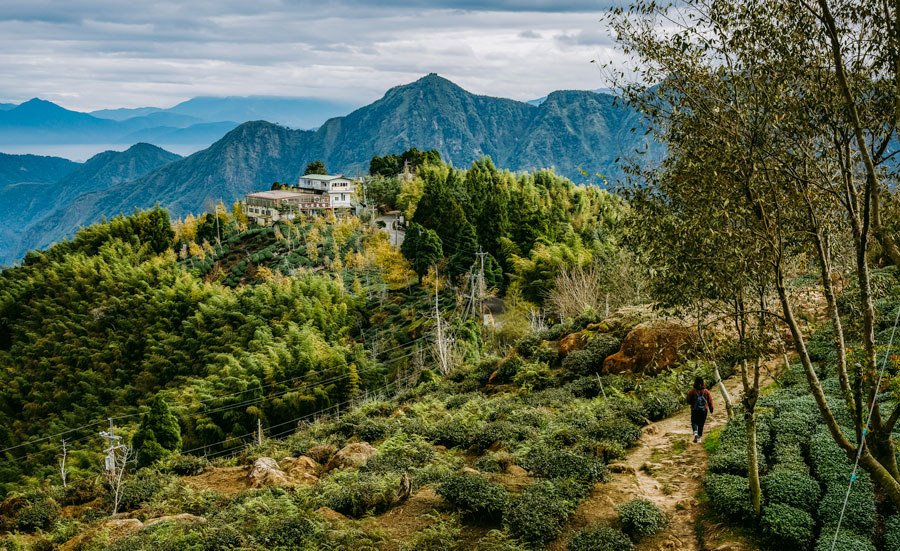 Sun-Link-Sea Forest and Nature Resort
Reach this secluded forest resort area by taking County Route 151 to the popular Xitou Nature Education Area, then switching to the Shanlinxi Highway (County Route 95) just before the road's terminus. An alternative is to continue past Dalunshan on Yangwan Lane, which connects with the Shanlinxi Highway.
Sun-Link-Sea is in a deep and narrow valley spread over an elevation of 1,600~1,880m. This is a privately operated getaway idyll (entry fee) where ecotourism is the clarion call. People come for three things – the abundant wildlife, the waterfalls, and the flowers. Anyone with moderate fitness can easily tackle all the spread-out sights walking, but a shuttle-bus service is also available (fee).
At the valley's upper end is Songlong Rock Waterfall, which hurtles over a wide semi-circular cliff, the waters gathering in a deep green-hue lagoon. A paved pathway leads behind the waterfall "into" the cliff's base – a massive hollow 30m high and 30m deep – created by soft-sandstone erosion.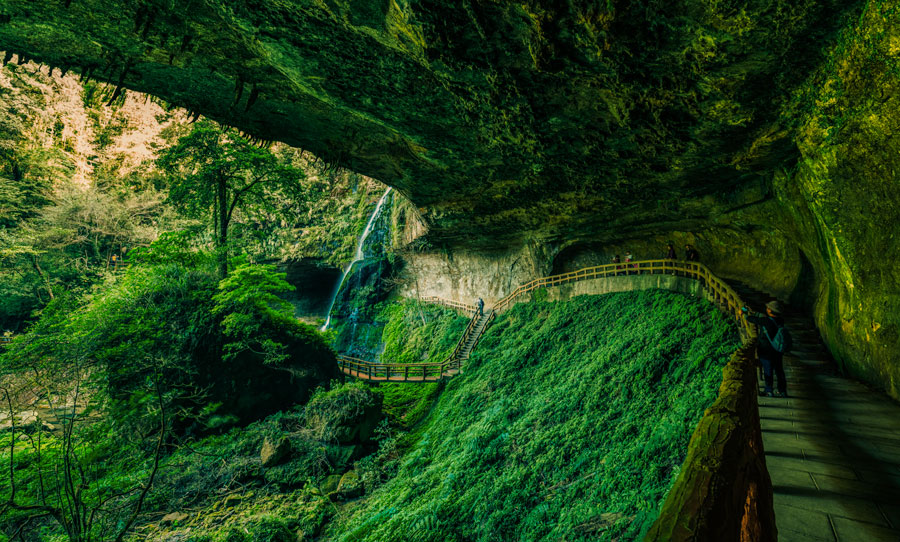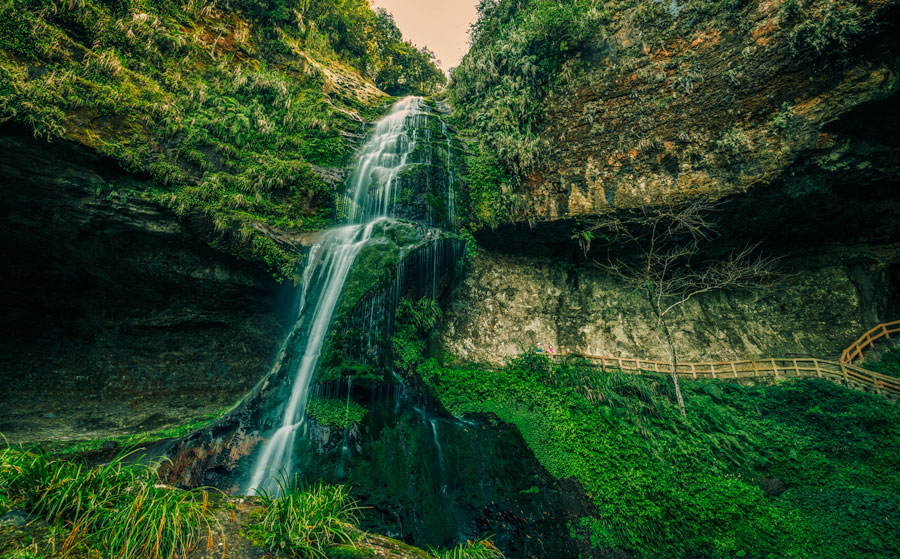 Toward the valley's middle is the expansive Flower Center, laid out like a chateau's gardens – showcase of a flower and medicinal-herb botanical research and teaching center. The focus is on temperature-climate floral gems. Among the tourist-favorite residents are tulips, peonies, rhododendrons, Taiwan azaleas, hydrangeas, and golden bell flowers.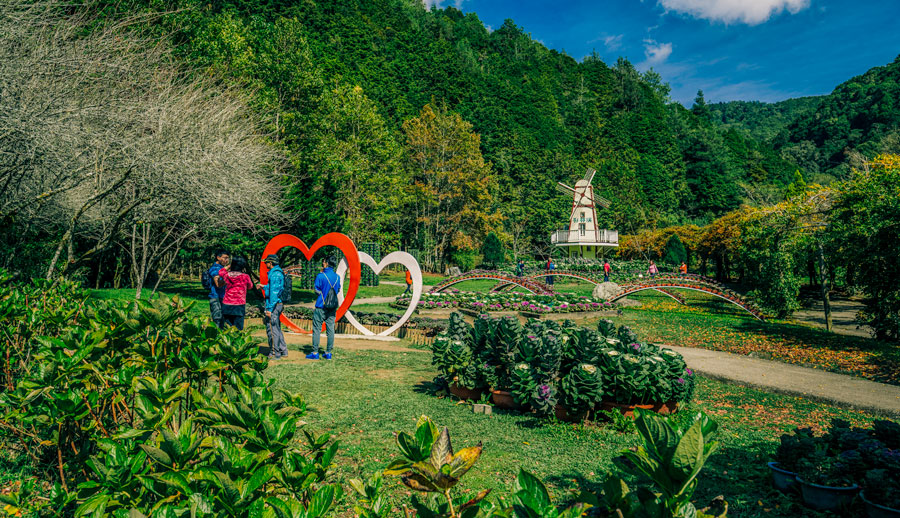 Lower in the valley is Shijing Ji, literally "Stone-Well Eddy," a collection of ten stream-bed potholes, the deepest of which is 5.5m; the sightly 88 Suspension Bridge, which connects the easy-grade paved pathways that run along the valley-sculpting waterway; and the soaring 116m-high Qinglong Waterfall, this cataract and its gorge forming a superb "headward erosion" classroom.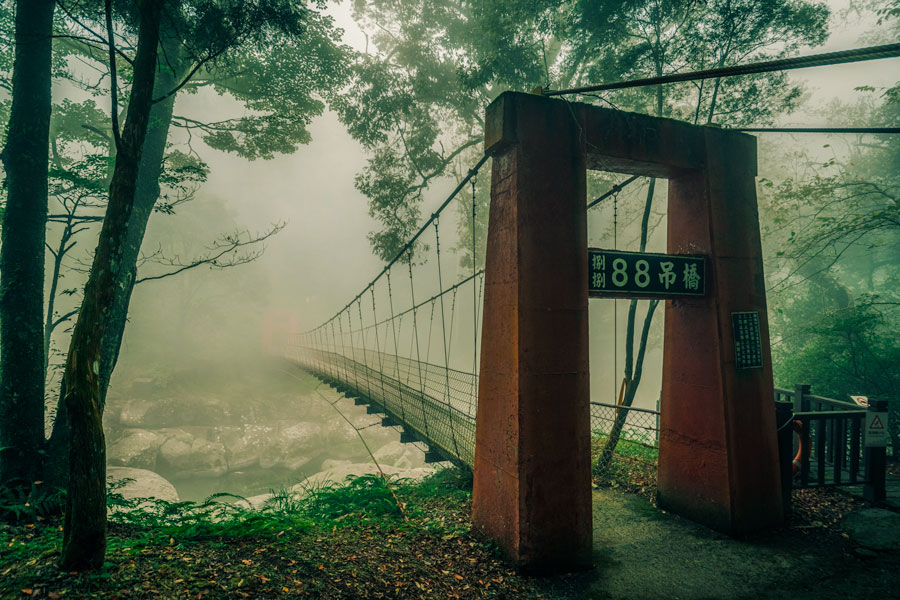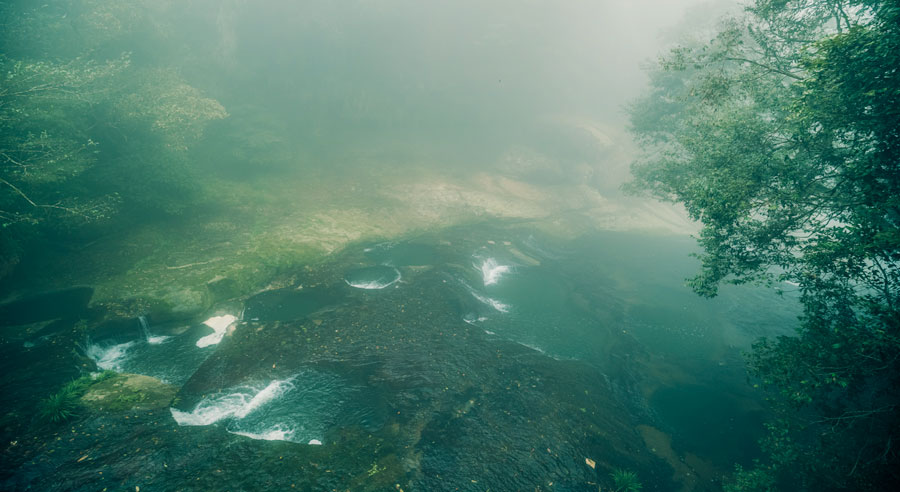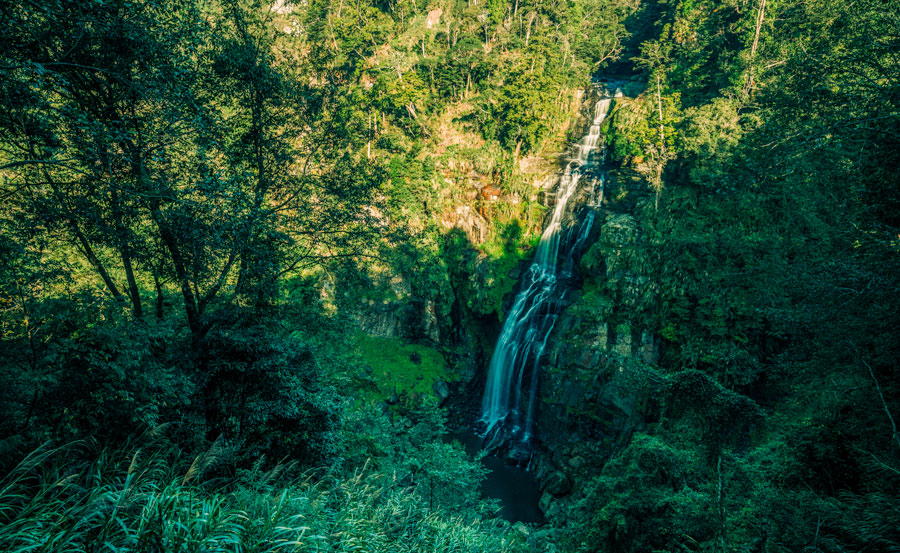 Sun-Link-Sea Forest and Nature Resort
(杉林溪度假園區)
Add: No. 6, Xishan Rd., Da'an Borough, Zhushan Township, Nantou County
(南投縣竹山鎮大鞍里溪山路6號)
Tel: (049) 261-1217
Website: www.goto307.com.tw (Chinese)
Lugu Township
Yen's Tea Garden
The retail operation of Yen's Tea Garden is right on County Route 151 as it runs through the town of Lugu. The Yen family's farm is below the town, just off County Route 139. This family operation is today run by the third generation, a young couple who lived in the nearby city of Taichung for a time and decided to return and take over the reins in 2012 when the generation above began to experience health issues. Both are trained designers, a talent put to good use in the packaging, signage, and other elements of the business.
At the retail operation you'll find a wide range of products, including Oolong loose leaf and tea bags, camellia oils, tea-infused perfumes, tea-based snacks, and traditional "Grandma"-style pillows with a filling of compressed tea stems. Cold-pressed oil extraction is used for the camellia seeds. Online shopping is also available on the sophisticated website the tea cultivator/designer team has set up, and shipping is also available.
Yen's also offers a range of popular experience activities. Participants gather at the retail center, and are then led in their vehicles to the family farm. For the guided Tea-Picking Experience, you don a traditional Taiwan conical farmer's hat made with bamboo leaf and, carrying a cute tea-picker basket, head into the close-knit rows of tea to learn how to pick tea. At the end you sit down to fresh-brewed tea at a rustic table-and-chair set in the shade of the family's adjacent fruit orchard to enjoy fresh-brewed Yen's-leaf tea and snacks. The activity lasts an hour or so and costs NT$350 per person.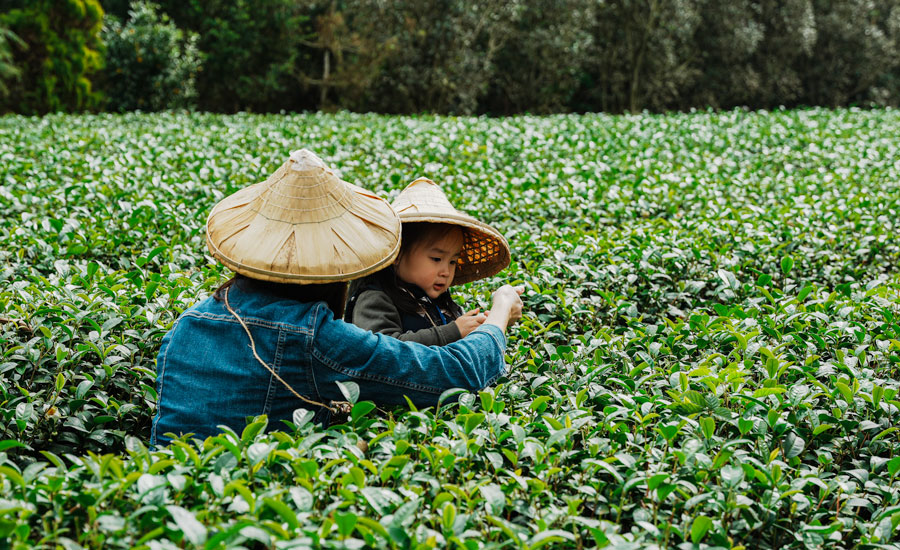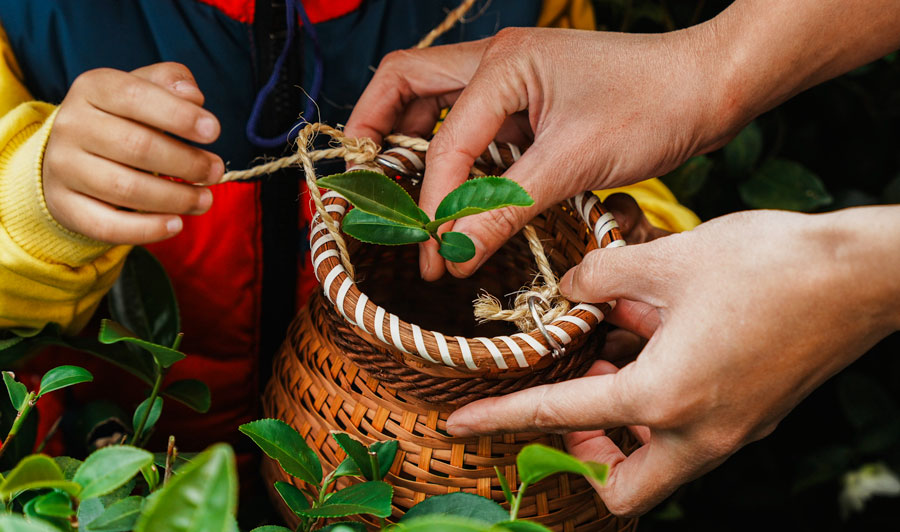 During the session you'll learn of much beyond the details of how to recognize ready-to-pluck leaf and how to properly pluck without harming the bush. For example, how the Yen's farm was affected by the aforementioned bamboo blight in 1990, causing a decision to concentrate on tea. How Yen's tea bushes are thigh-high to enable easy manual plucking, whereas in nearby Songboling (to be visited later) they are low to the ground, with wider spaces between rows, to enable machine plucking; in the Yen family's opinion, hand-plucking produces higher-quality leaf.
You'll also learn how the name "Lugu" means "deer valley," and how Taiwan's western plains and foothills once teemed with deer, the herds eliminated during the Chinese imperial period for sale of their skins overseas, primarily to Japan (where they were put to such uses as leggings and quiver covers for samurai). How island tea consumption slid from the 1960s through 1980s, but then picked up dramatically after Taiwan's population began celebrating the unique local homegrown culture and plantation areas were developed as tourist destinations. Today, most production is consumed in-country.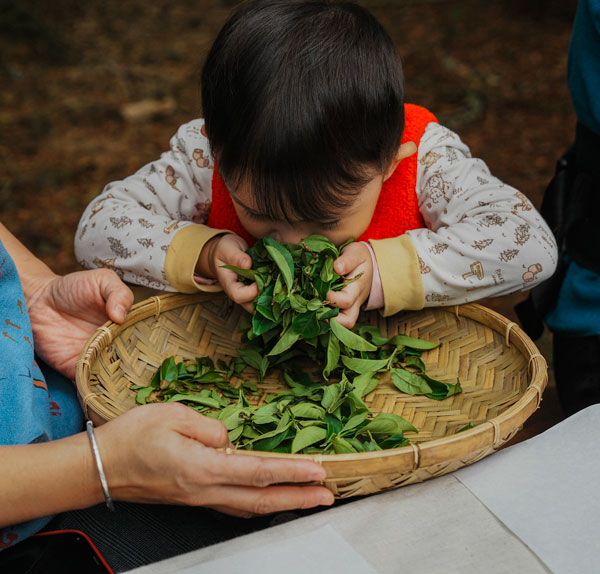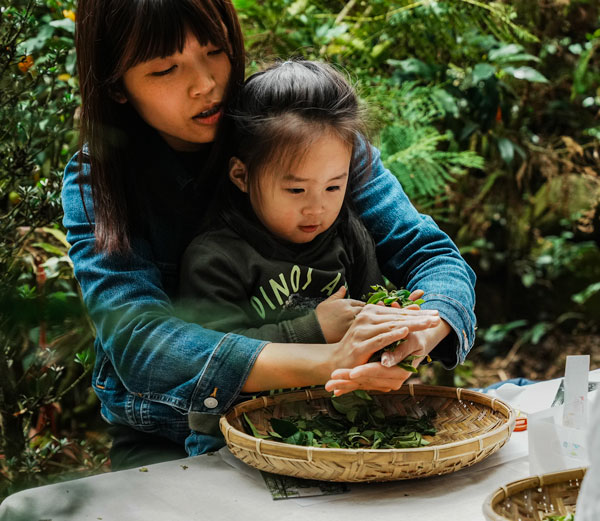 Among Yen's other experience activities are DIY making of an afore-described traditional-style "Grandma" tea-scented pillow; a factory tour and DIY tea processing; forest tea tasting and tea-snack eating; and combo sessions.
The pillow-making activity lasts 1.5 hours and costs NT$650 per pillow. Participants are given one attractive Yen's-designed box containing all necessary materials (compressed tea-stem bag, bright-design pillow-cover fabric, etc.). These boxes can also be purchased separately for at-home DIY use. The experience activity can either take place at the retail center or, for even more fun, at the farm in the shady fruit orchard. During the session your guide provides instructions and assistance and, yes, regales you with interesting Taiwan tea-culture nuggets of knowledge.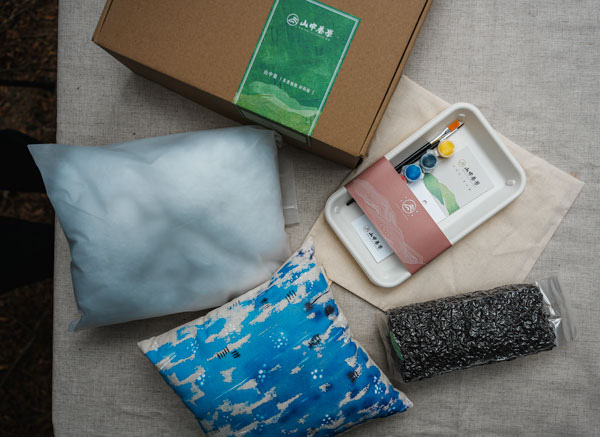 Yen's Tea Garden
(山中茶學)
Tel: (04) 9275-0996
Add: No. 336, Zhongzheng 1st Rd., Zhangya Village, Lugu Township, Nantou County
(南投縣鹿谷鄉彰雅村中正一路336號)
Website: donglongtea.com (Chinese)
Facebook: www.facebook.com/donglongtea
Zhushan Township
This township is in Nantou's southwest corner. Tea and bamboo are two key crops here – "Zhushan" means "bamboo mountain." Government authorities began encouraging local farmers to begin planting tea on a larger scale in the late 1970s. The township's administrative center is the town of Zhushan, a flatlands urban agglomeration right at the base of the central-mountain foothills.
Bagua Tea Plantations
The main driving route to this area is County Route 49, with a switch and short drive along County Route 54 before another switch and short drive along Wuliao Lane. Note that County Route 49 terminates at a Shanlinxi Highway connection (see Sun-Link-Sea section above).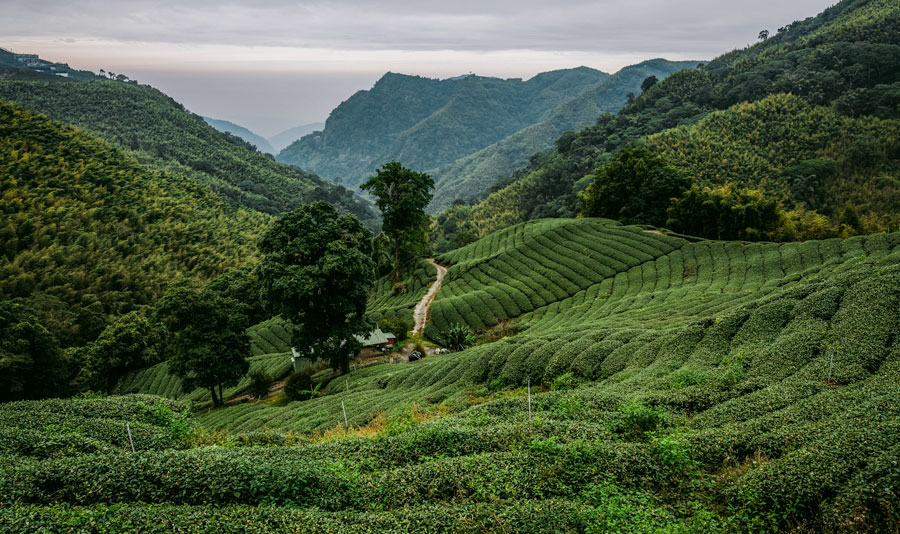 As with the Dalunshan plantations, the tea operations here are spread over a mountaintop like a tiered bush-row carpet (1,000~1300m altitude). The "Bagua" in the name refers to the bagua of Daoist cosmology, an octagonal trigram template with a series of short rows in a circle. In the middle of the concentration of tea fields is a large mounded protuberance on which the tea-bush rows very closely resemble a bagua. Local farm folk say that most visitors believe this was created specifically as an auspicious symbol to attract good fortune, but in fact this pattern was incidentally chosen as the planting pattern most suited to the location's slopes.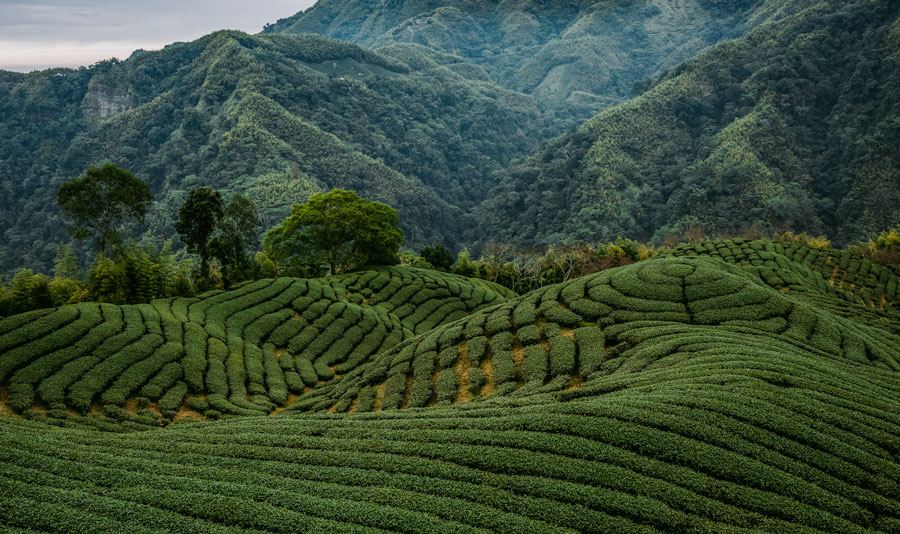 Unlike Dalunshan, where you park at the roadside or in the lot of any specific plantation's retail center you are visiting, this area has a public parking lot. A stepped pathway just off the lot leads you up through a cherry-tree tunnel, tea rows either side, to the Bagua Echo Pavilion, which has the area's most panoramic views. There are higher peaks to the north, east, and south – the "big long" view is directly down a deep, narrow valley to the western plains. Twisting, most-often quiet Wuliao Lane also takes you to other area high points.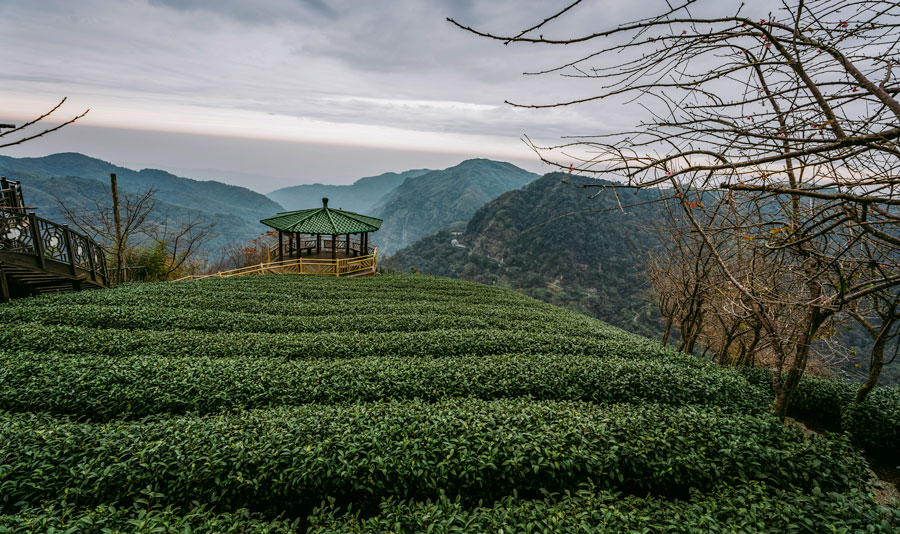 Directly across the lane from the parking lot is a large combo tea processing/retail facility with outdoor deck seating. Hot meals are served here, such as tea eggs and beef stew/chicken curry with rice.
Yoshan Tea
Located in Zhushan town, this modern-look facility is housed in a once-abandoned factory, now completely transformed. The mission here is to provide visitors with an overview of the development of Taiwanese tea and an understanding of the production process and different types. The proprietor family has been engaged in the cultivation and processing of tea since 1880.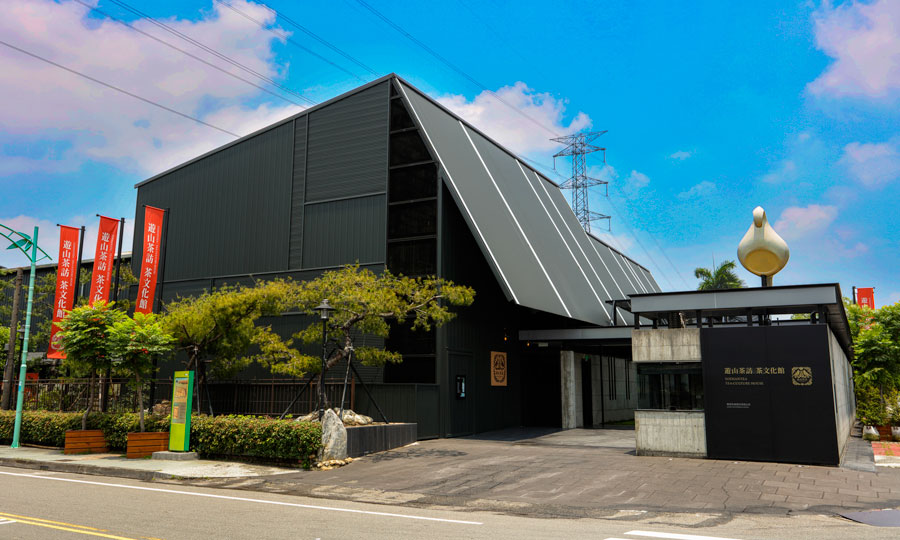 The specific retail-product focus here is Dong Ding Oolong, a celebrated varietal. Yoshan Tea uses traditional hand-plucking in its fields, averring that correct hand-plucking is essential to achieving a balance of a tea's aroma and taste.
A variety of experience activities are offered. Each requires online booking through the official website or Facebook page. There is a free one-hour guided tour of the large Tea Culture House facility, providing edification on Taiwan's tea history, tea culture, types, and processing. Another one-hour experience (fee) provides insight on the principles and differences between roasting and fermentation, and involves DIY tea kneading and roasting (take-home). A third one-hour experience (fee) is focused on proper tea-tasting methods to judge tea quality, with Taiwanese specialty teas front and center. All sessions are conducted in Chinese.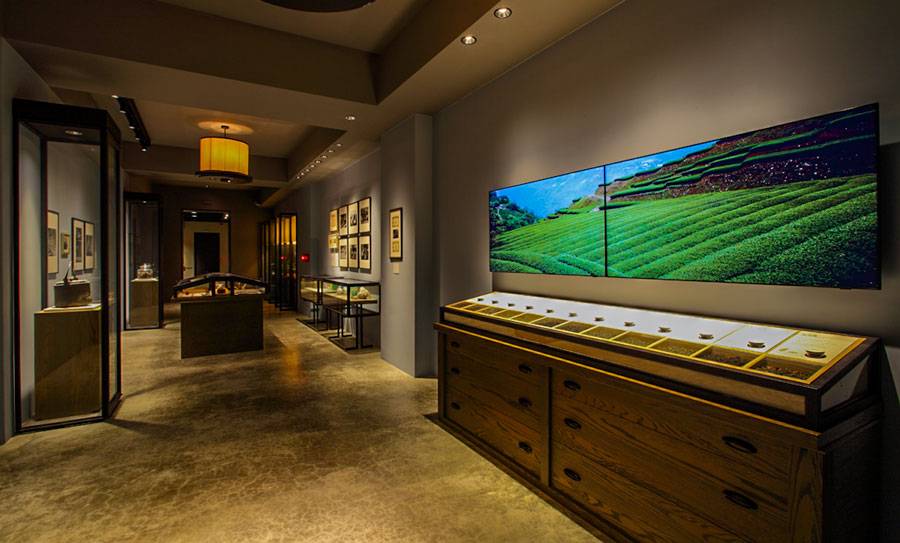 An extensive range of loose leaf and tea bag selections are available retail. Key are local-area Oolongs from Dong Ding (located in Lugu Township), with many other selections from around the island.
Yoshan Tea
(遊山茶訪)
Tel: (04) 9264-3919
Add: No. 19, Yanping Rd., Industrial Area, Zhushan Township, Nantou County
(南投縣竹山鎮工業區延平路19號)
Website: www.yoshantea.com
Facebook: www.facebook.com/yoshantea
Mingjian Township
The Bagua Plateau, also called the Bagua Mountain Range, is a long north-south protuberance that sits on the western plains directly south of Taichung's urban core, 32km long and 4~7km wide. Its highest point is just 424m above sea level. The western section of Mingjian Township is on the range's southeast "foothills" slopes. This is home to the Songboling area, which tops the country in tea-leaf production, cultivating Oolong and Tieguanyin (Iron Goddess). County Route 139B runs north-south through this area.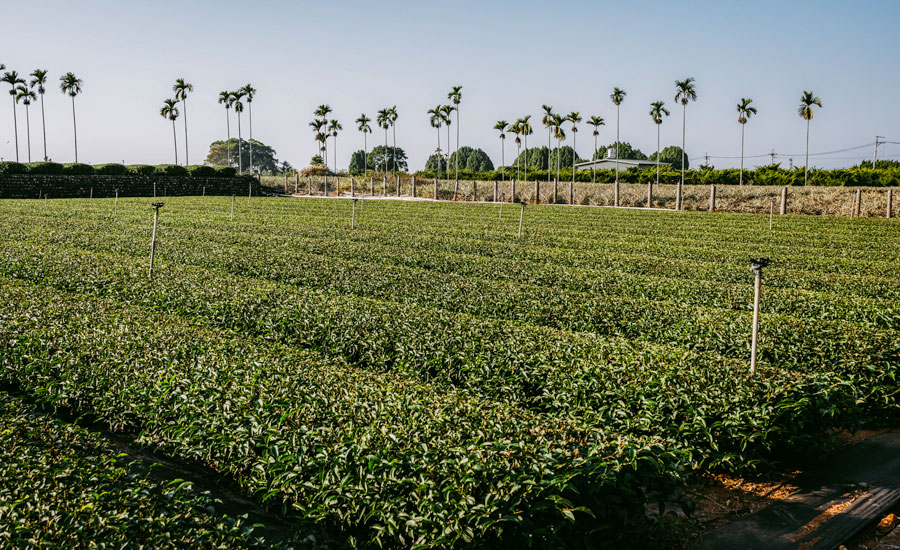 Tea Two Fingers Story House
This place is just southeast of small Songboling town, the area's administrative center. One of the township's most tourist-popular plantations, it features an unusually large retail center, informative tea-culture mini-museum, and family-friendly relaxation area with fine views looking west.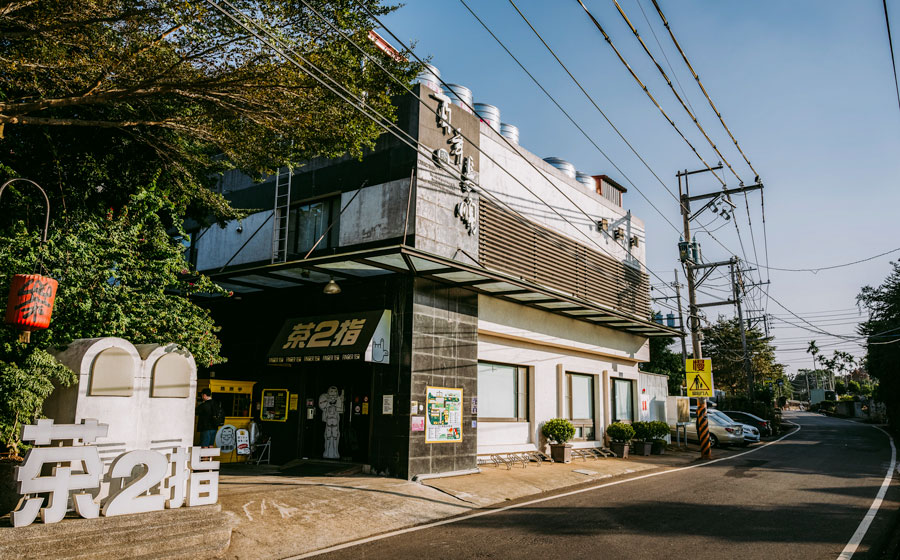 The first question all visitors ask: "What's with the 'Finger' in the name?" At the entrance of the tourist-service building (entry fee), the "Tea Two Fingers Story House," you'll see a meter-plus-high caricature of a bespectacled farmer, handkerchief around neck, with an upraised hand that's short a few digits. This is the Finger Tea proprietor, who lost the digits to tea-processing machinery but obviously did not lose his sense of humor. His family has been Songboling tea cultivators for over a century.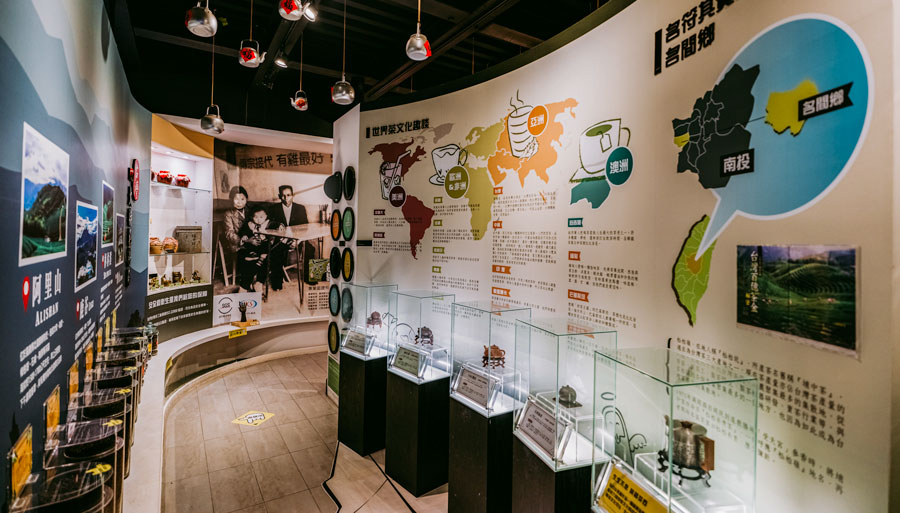 On entry you find yourself at the head of a winding corridor. First up is the mini-museum, presenting a variety of edifying displays. On the traditional tea-making process, using exquisite bronze statuary; on Finger Tea's own teas, such as Aged Tea, Osmanthus Oolong Tea, and Longan Charcoal Tea (English for this one); on the world's major tea-production areas, including Taiwan; and on Taiwan's own major areas, with clear-plastic containers filled with leaf from each, smell-sampling encouraged.
The mini-museum corridor opens up to a gauntlet-like winding aisle through the retail-area displays, offering a cornucopia of tea-purchase options and other area agri-products. Fresh-made tea drinks are also available, including pearl milk tea.
The rear outdoor recreation area is a tea garden with picnic tables, rest pavilions, a tall pearl milk tea sculpture, small tea-kettle cottage, petite aviary with very tourist-friendly exotic birds, two-story-high lookout tower, ice-cream stand, and small ramen restaurant.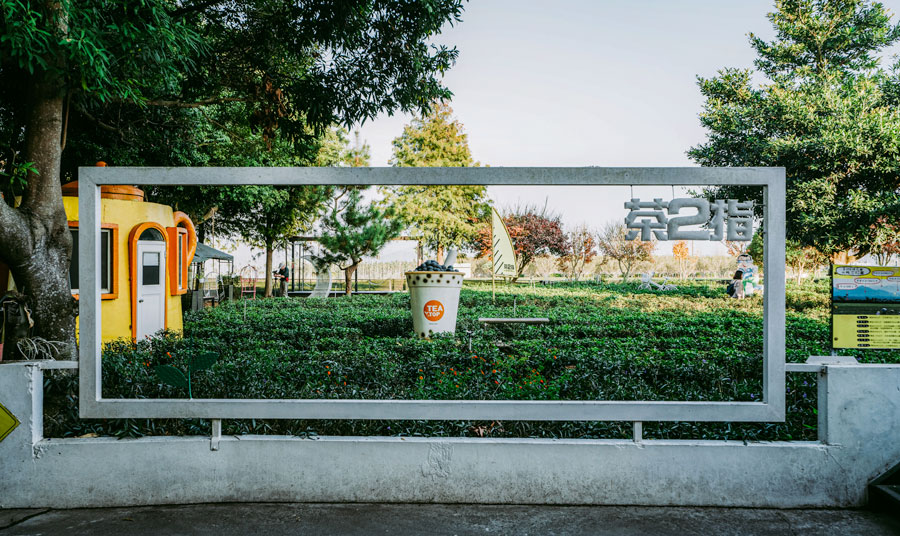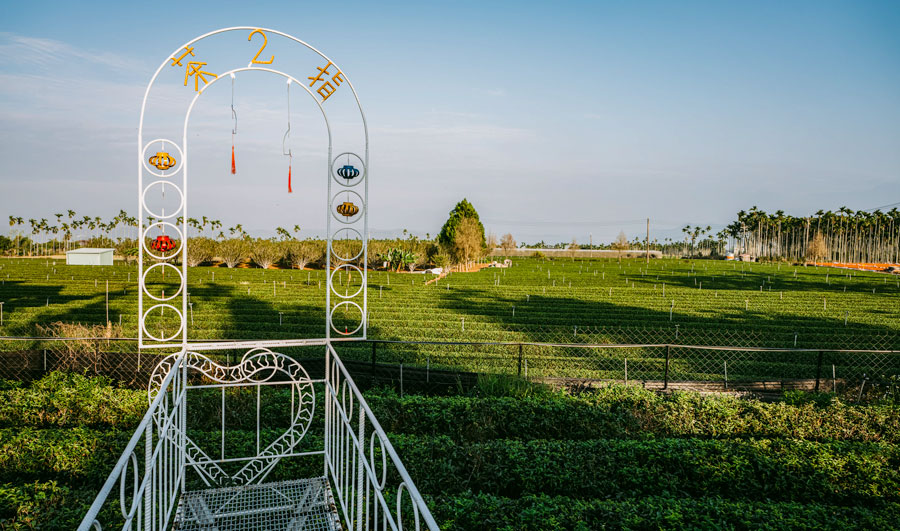 Tea Two Fingers Story House
(茶二指故事館)
Tel: (04) 9258-3126
Add: No. 32-1, Puzhong Lane, MingjianTownship, Nantou County
(南投縣名間鄉埔中巷32之1號)
Website: www.fingertea.com.tw
Facebook: www.facebook.com/fingertea
Songboling Visitor Center
This expansive center is in Songboling town's south on Route 139B, which doubles as the town's main thoroughfare. It fills up the main level of a large four-story building.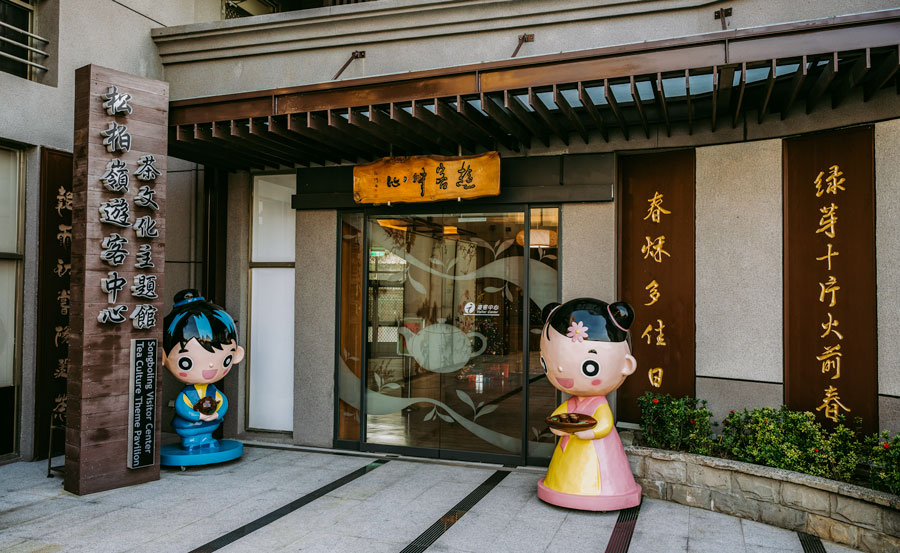 Just outside the entrance is a garden area in which the Tea Tree (melaleuca alternifolia), native to Australia/Southeast Asia, is on show. English signage explains how its aromatic-oil needle leaves have long been used to make Melaleuca/Tea Tree oil, used as an insect repellent, traditional herbal medicine, etc.
Stepping inside, directly before you is a sample of the exquisitely carved wooden latticework doors found at traditional countryside sanheyuan (three-sided courtyard houses). An antique-style low wooden table topped with the tea paraphernalia needed to welcome guests sits before it.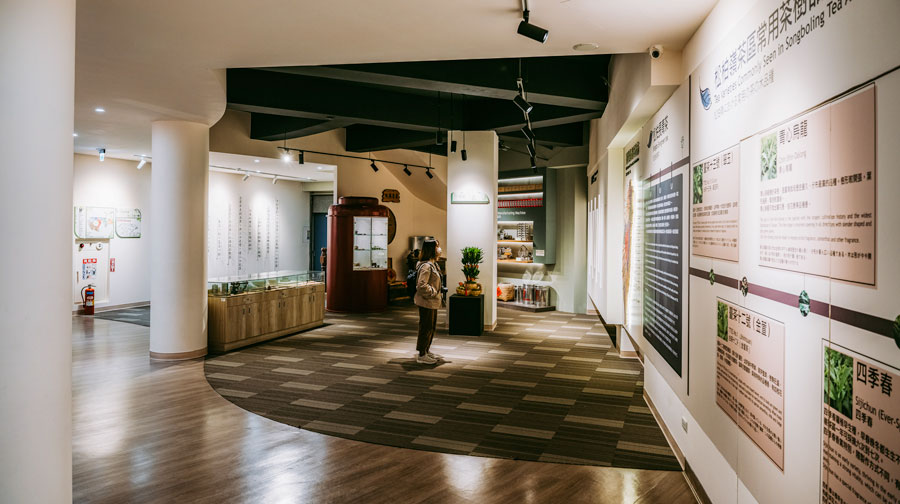 Among the most compelling of the other varied edu-attractions: a large 3D topographical map of the Bagua Plateau region with tourist spots marked; a selection of traditional farm machinery and implements; a section on Songboling's history and tea varieties; and a section on Taiwan's scented teas and the fruits, flowers, and herbs used to make them. There is good and abundant English.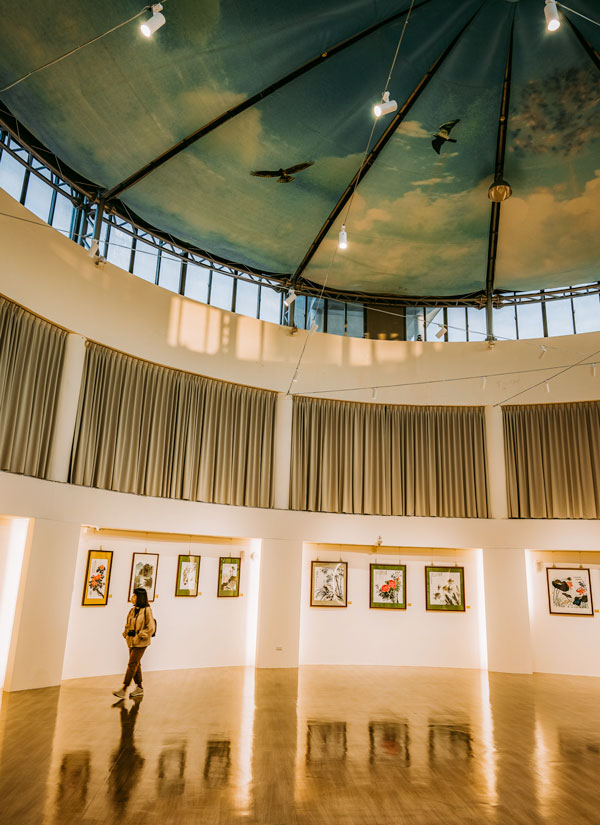 Songboling Visitor Center
(松柏嶺遊客中心)
Tel: (04) 9258-0525
Add: No. 181, Sec. 2, Mingsong Rd., MingjianTownship, Nantou County
(南投縣名間鄉名松路二段181號)
Website: www.trimt-nsa.gov.tw
Yuchi Township
This township is at Nantou's geographical heart, where foothills meet high mountains. At its heart is Sun Moon Lake, an iconic Taiwan tourist attraction offering visitors a splendid array of leisure, recreation, and accommodation pleasures. The main route here is National Highway 6 from Taichung City's urban core, with a switch to Provincial Highway 21.
Sun Moon Lake is also known for black-tea production. In the 1920s, the Japanese, Taiwan's rulers from 1895~1945, introduced plants from India's Assam region. Black tea became an important Taiwan export. As production costs rose in the 1960s-1970s, many fields were converted to Oolong or Pouchong, consumed domestically. Today about 400 hectares remain dedicated to black tea.
Hohocha
Hohocha is a large-scale attraction right beside Highway 21 just north of Sun Moon Lake. The theme here is black tea (Assam, Amber, Ruby, Amethyst varieties). Its diverse facilities sit amidst an expansive hillside/hilltop tea plantation. For the best visit experience, join one of the regular free guided tours (Chinese). These start at the main building, a three-story Japanese-style wood-built edifice that's a combination exhibit/retail/dining facility. Your guide explains the tea-processing operations on the main floor and introduces the building's different services. It's then into the fields for an intro to the various leaf types and hilltop leaf-gathering facility.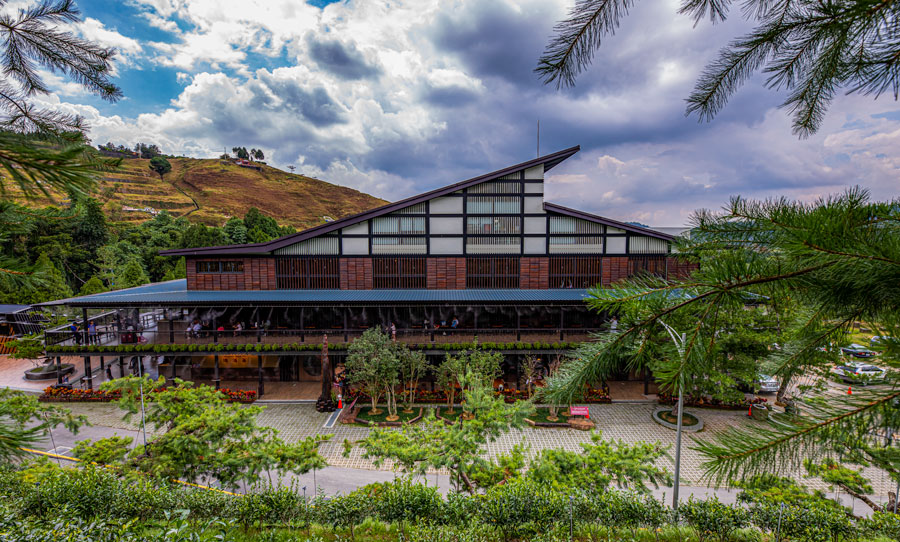 In the main building's 3F dining/DIY hall visitors enjoy a free tea-sampler tray and succulent Hohocha tea egg. Tea ceremony and DIY activities are held here: tea kneading, blending, sealing, etc. The 2F retail center has teas and a big array of tea-theme snacks; a bakery provides oven-fresh tea cookies, biscuits, and other goodies. On a 2F balcony is a stand with seating at which house-made gelatos, sausages, and dried bean curd are sold, black tea used as a flavoring for the latter two and for numerous gelato selections. DIY tea-as-ingredient pizza sessions are also held here. 1F stands sell fresh-prepared tea eggs, tea luwei (soy-braised tasties), and tea drinks.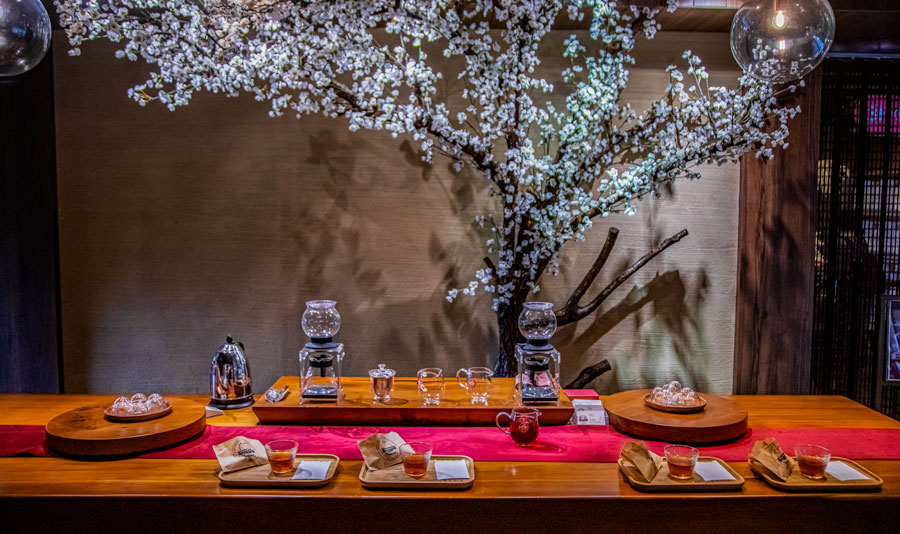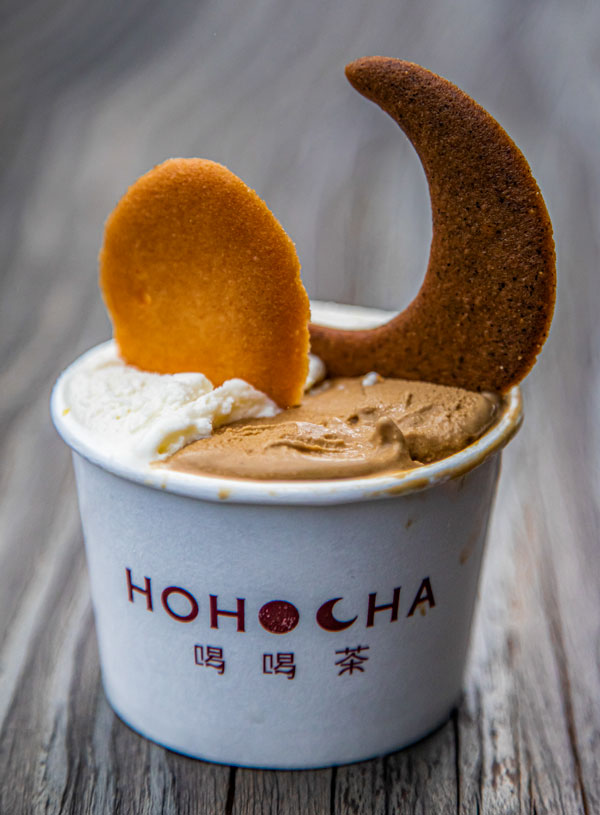 Hohocha
(喝喝茶)
Tel: (04) 9289-5899
Add: No. 443-36, Yuchi St., Yuchi Village, Yuchi Township, Nantou County
(南投縣魚池鄉魚池村魚池街443-36號)
Website: www.hohocha.com
Facebook: www.facebook.com/sunmoonblacktea/
Sun Moon Lake Antique Assam Tea Farm
This attraction is also beside Highway 21 just north of the lake. The main cultivar sold at this plantation/factory/retail operation is Taiwan Tea No. 18. This is a black tea – the Sun Moon Lake area's most popular – which is a cross-breed of Assam tea with a wild Taiwanese mountain tea that has hints of cinnamon and mint.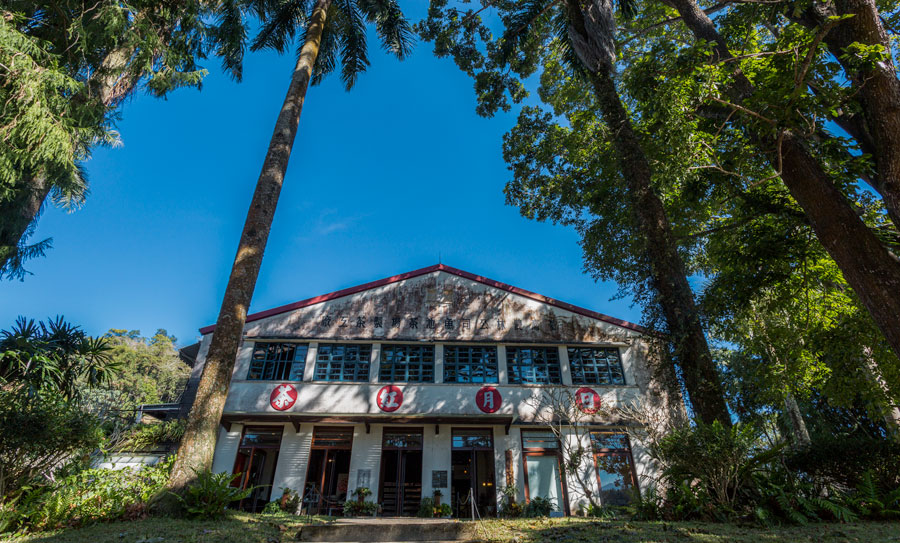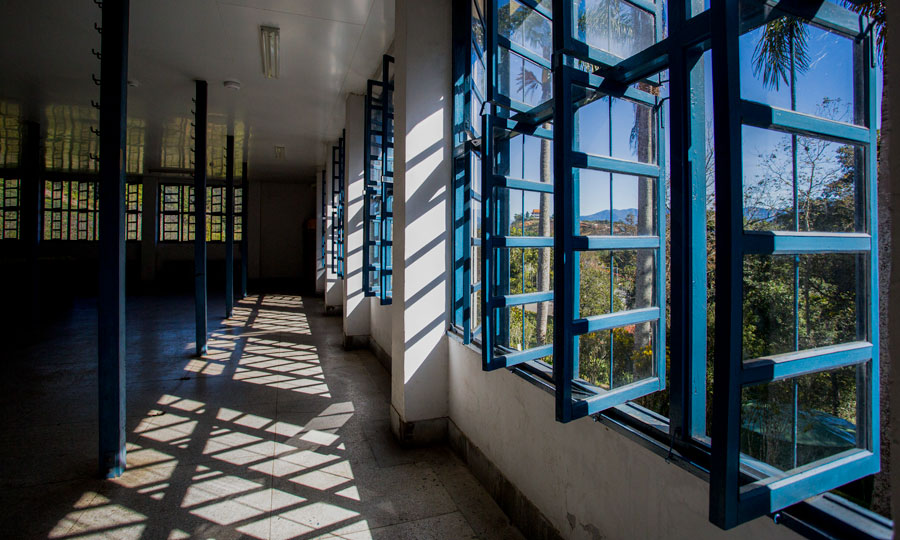 A wide range of loose leaf and tea bag choices is available in the retail center. Also for sale is a tasty selection of food items, including black tea-flavored rice crackers, green tea candy, black tea date and walnut candy, green tea pumpkin seed crisps, camellia oil and sesame seed oil, "tea-drinking" snacks such as dried fruits (green mango, mango, pineapple, guava, carambola), plus fruit vinegars and coffee beans/drip-coffee bags.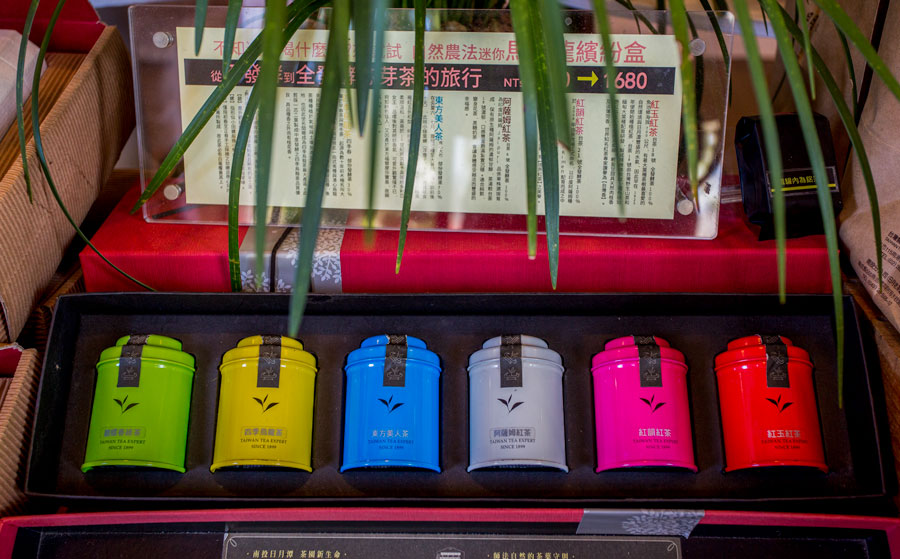 Sun Moon Lake Antique Assam Tea Farm
(日月老茶廠)
Tel: (04) 9289-5508
Add: No. 38, Youshui Lane, Zhongming Village, Yuchi Township, Nantou County
(南投縣魚池鄉中明村有水巷38號)
Website: www.assamteafarm.com.tw
Facebook: www.facebook.com/sunmoonteafarm