Exploring Scenery, Nature, Beaches, Seafood, and Quaint Villages on a Penghu Trip
Text | Rick Charette
Photos | Chen Kuo-cheng
The Penghu Islands will be whatever you wish them to be. What is it you desire? Beach-action and water-play tour? Island-hopping tour? History tour? Seafood and fishing tour? On these pages we're off on a geology/ecology exploration adventure.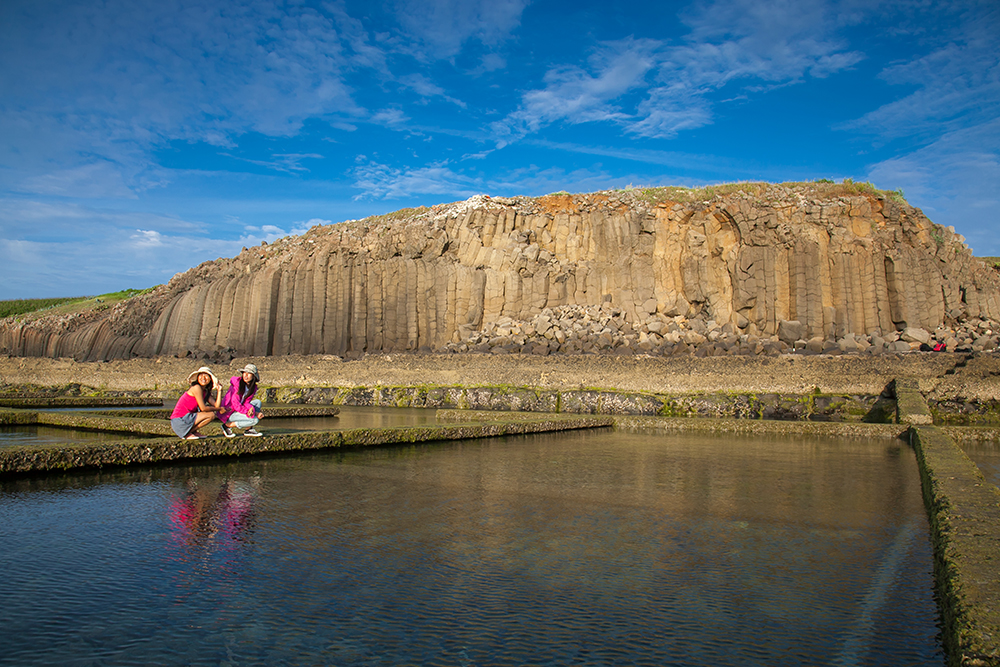 At last," I thought to myself as my plane swept past one after another low-lying island, low enough that I could clearly see captains at the helms of fishing boats chugging in and out of the small harbors. I was finally about to set foot on the pristine Penghu Islands, after two aborted trips over the past 15 years. From my window I could also clearly see they fully deserved the commonly-used description "like pearls scattered in the sea."
Located off Taiwan proper's southwest coast, close enough that while your plane descends or climbs you clearly see the archipelago out the windows on one side and the settlements and high-mountain backdrop of Taiwan out the other, Penghu has become a popular tourist destination over the past two decades, in large part because of systematic tourism-infrastructure investment since the Penghu National Scenic Area's establishment in the early 1990s.
The islands are very much a world unto themselves, with a geology and culture wholly different from the Taiwan mainland. Characterized by small fishing ports and farm plots, the latter with earth-hugging crops such as peanuts, melons, and gourds because of the strong northern winter winds that blow down the Taiwan Strait, there are few towns, and just one "city," Magong, population 56,000-plus. You'll see coral reefs along the shorelines, fine coral-sand beaches, low walls of coral protecting crops, and countless old residences with coral used as a primary building material. These many ingredients make this place a well-nigh perfect getaway from busy places.
You'll also see basalt columns, by the thousands. What is a basalt column, you ask? Read on and you shall be enlightened, for the primary purpose of my trip was to explore Penghu's geology and ecology, with a little time reserved, of course, for good summertime fun-for-the-sake-of-fun, good food, and a bit of history exploration.
Main Islands
I was part of a group of four friends, on a three-day Penghu trip. Days 1 and 2 were to be spent traveling the sleepy roads of the three bridge-connected main islands, Penghu, Baisha, and Xiyu, in the quintessential local manner – by scooter. Day 3 would begin with a ferry ride to one of the many outlying islands, Wang'an, where we'd travel the sleepy roads in, yes, the same quintessential local manner. We'd return to Magong by ferry, then fly out back to Taipei.
Within 15 minutes of sitting down at the Magong Airport car/scooter rental counter, we were breezing down open road. A reminder: Penghu has limited tree cover, so good sunblock is a must.
Guoye Sunrise Observatory
Our first day's destinations were all on Penghu island, the largest of the archipelago. Our first stop was Guoye Sunrise Observatory, on Penghu's easternmost edge. The tide was out, and we inspected the many types of small crabs and other inter-tidal marine life. While inspecting the unusually colorful Daoist temple in the sleepy village behind, we were watched intently by a large rooster in the plaza before it – the "village mayor," said one local – and I was fascinated by a blue lorry that stopped here and at other village points. This was the "village store," the locals reported, sounding its arrival via mounted loudspeakers, canopied truck bed piled high with racks themselves piled high with spices, cleaners, and myriad other household necessities. My European buddies said these are still common enough in rural Europe, but I, a North American, had never before heard of or seen such a thing.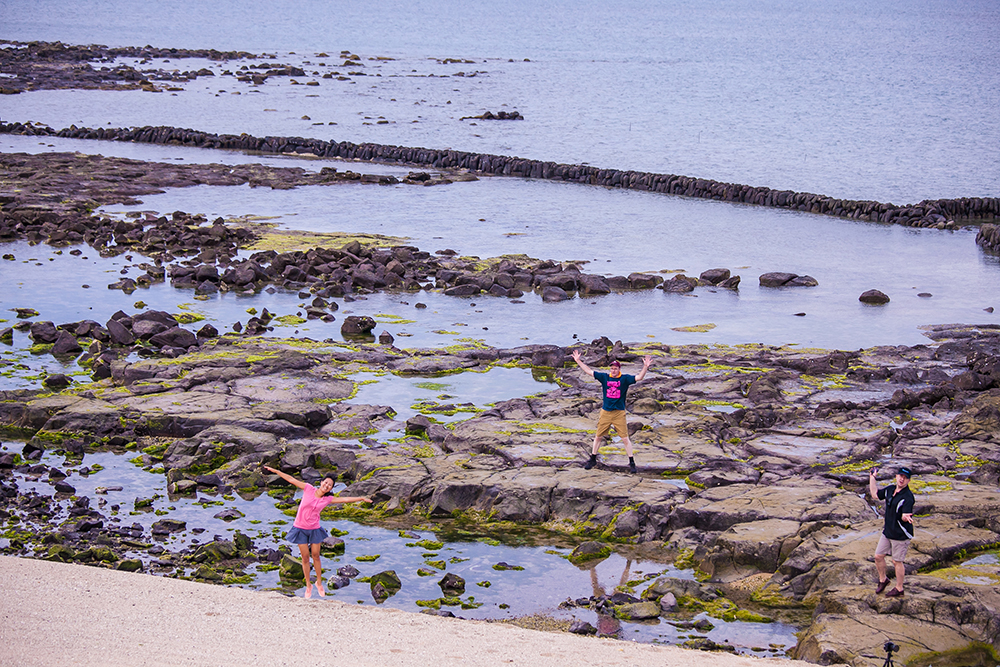 Kuibishan Geopark
Our next stop was Kuibishan Geopark, in Penghu's northeast corner. A long coral-and-rock pathway, exposed at low tide, leads to a small island, where we had our first close-up inspection of the archipelago's famed basalt columns. Almost all of its scores of islands have basalt-column bases, created between 17 and 8 million years ago when lava shot through seabed faults as the Eurasian and Philippine Sea plates fought for dominance (the fight continues today, though things are quiet here). As the lava blasted up through seawater and air it was super-cooled, quickly drying and cracking into columns.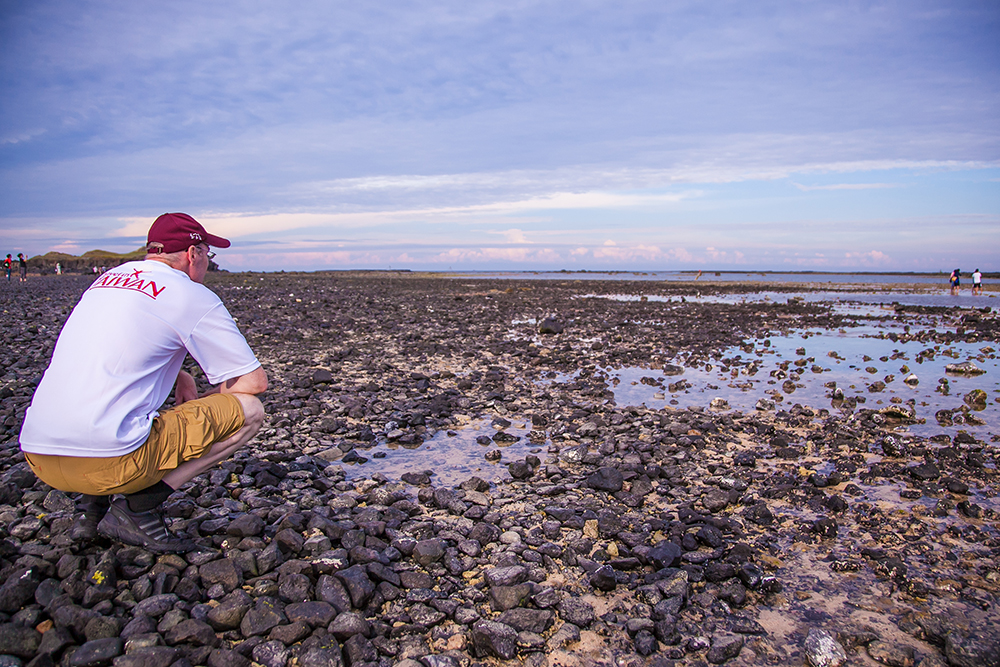 Shanshui Beach
I cannot say we got up bright and early, for though it was indeed exceedingly early, bright it was not. We headed out in pitch-black darkness to catch one of the famed sunrises at Guoye Sunrise Observatory, and were not disappointed. It was ethereal. Though it is said that on clear days you can see the mountains of Taiwan, on this day we were not obliged.
After a needed nap, we motored over to Shanshui Beach, near Penghu island's southernmost tip. The popular golden-sand, turquoise-water beach stretches hundreds of meters, and is very wide. Vacationers come to sunbathe, swim, surf, and windsurf, and there is good snorkeling off the south end. The sand is piled high in a long dune that makes the beach invisible from the village behind and protects it from tidal surges. The village sports numerous guesthouses and eateries, including a burger joint.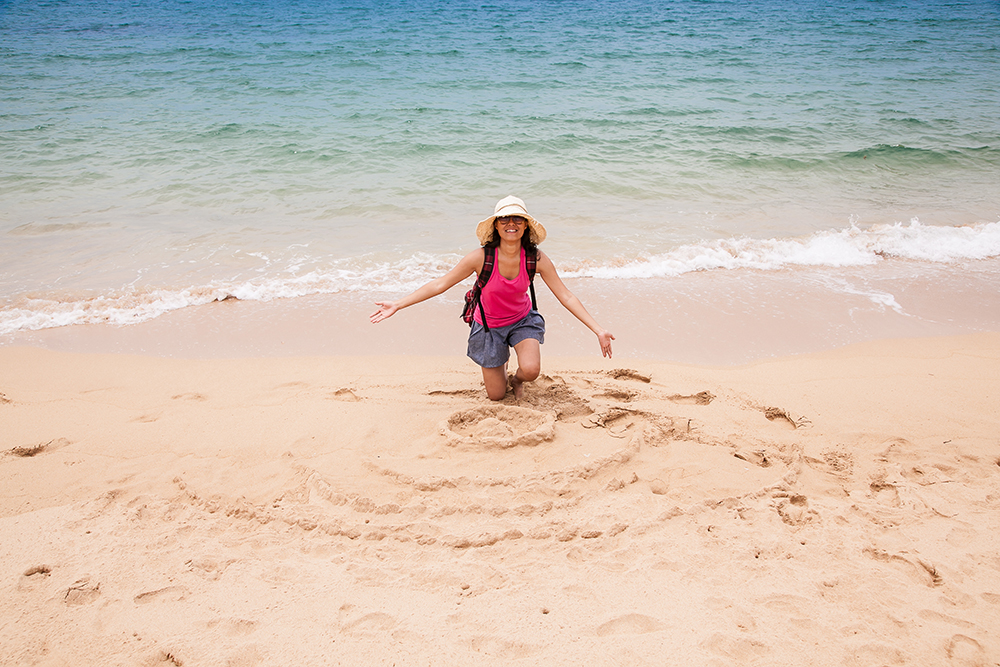 Fenggui Blowholes
It was then a quick drive over to the Fenggui Blowholes, in the island's southwest corner. The pounding sea has carved trenches and boreholes in the basalt-column cliffs here, and when the waves are surging they roar into the caves and blow out the cliff-top openings, which you can stand right beside (careful!). Fenggui means "wind cabinets," and the rushing water and air create impacts like thunderclaps. The trick, local villagers told us, is to come when there are winds from the south/southwest, when nature's pounding is at its strongest.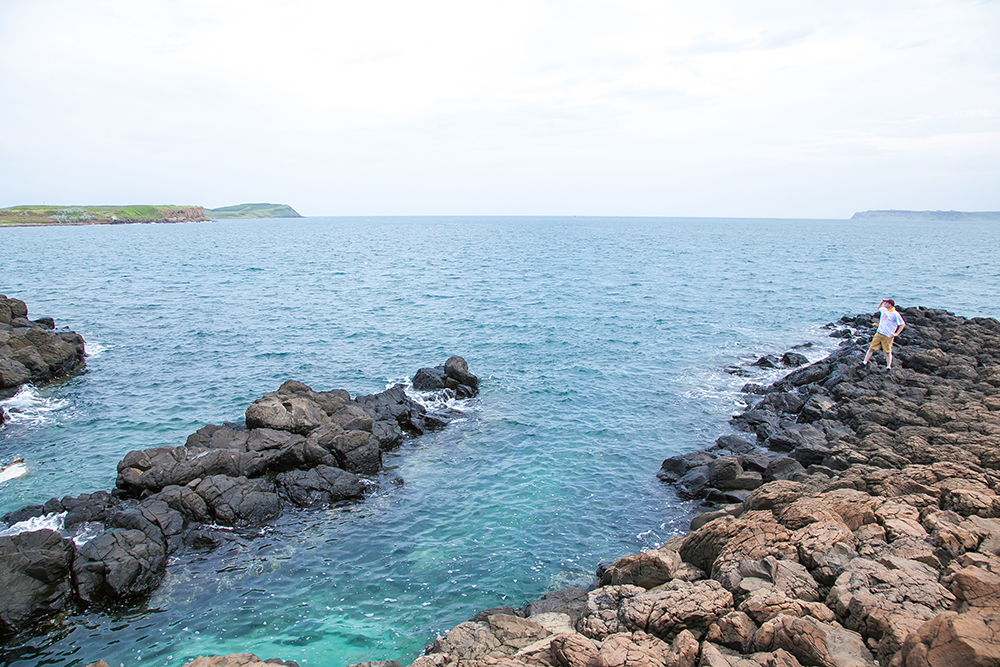 Baisha Island
From here we drove north, to Baisha island, to see its best-known scenic attraction, the Tongliang Great Banyan. It stands in little Tongliang fishing village, which faces the inland sea formed by Penghu's three main islands, before centuries-old Bao'an Temple. Over 300 years old, this is Penghu's oldest and largest tree. Its branches stretch out in all directions, creating a huge foliage canopy. There is an amazing 95 aerial feet, and unless you look closely it's almost impossible to tell they're all from a single trunk.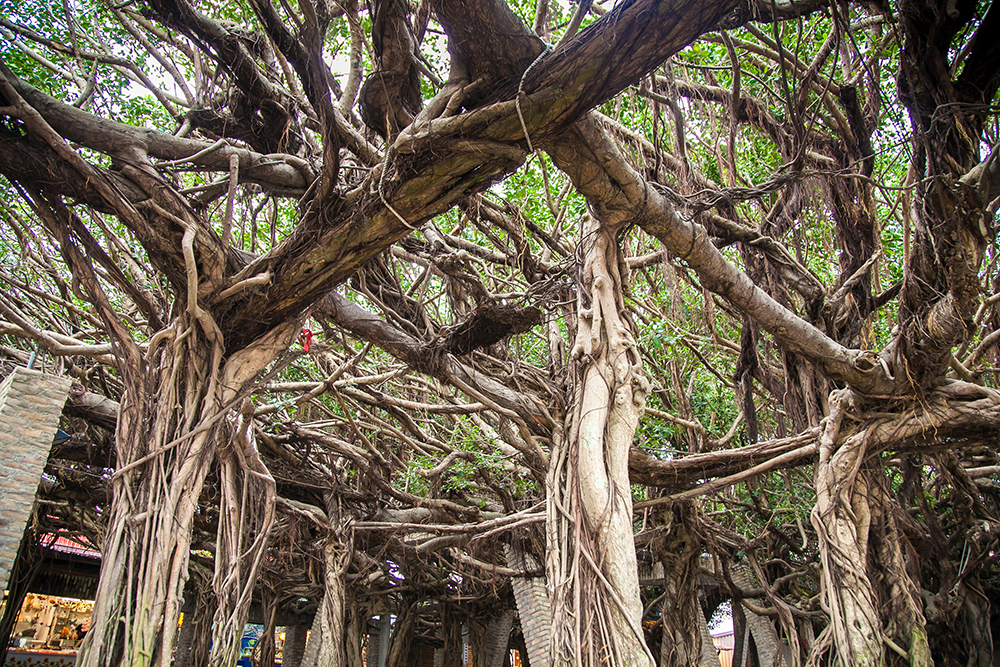 Xiyu Island
We spent the rest of our day inspecting some of the main islands' most impressive basalt-column formations, the Daguoye Columnar Basalt, Secret Three Stone Walls, and Chixi Rock Waterfall, located close to each other in Xiyu's mid-section. The first faces the inland sea, with a sweeping view toward Magong far across the water. The second features a set of three column-walled dead-end canyons that have been dug out of the island's farmland-dotted plateau. The third is on the west side, before an abandoned coast-side fish farm busy with marine life, including sea cucumbers, eels, and crabs. We watched the sun set sitting atop the "rock waterfall" cliff, enjoying a serene end to a day of beauty and inspiration.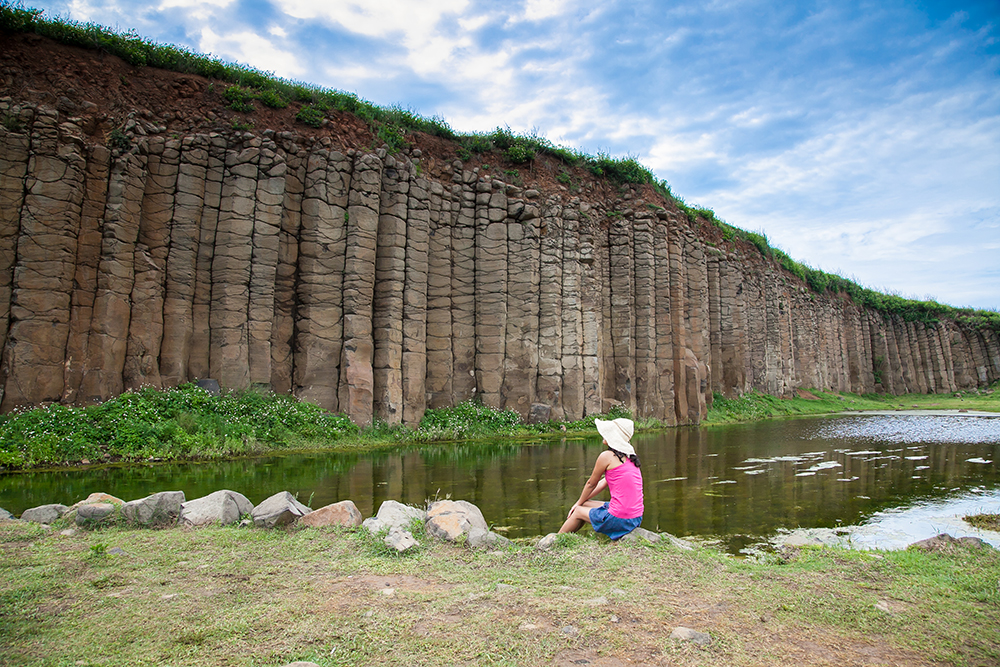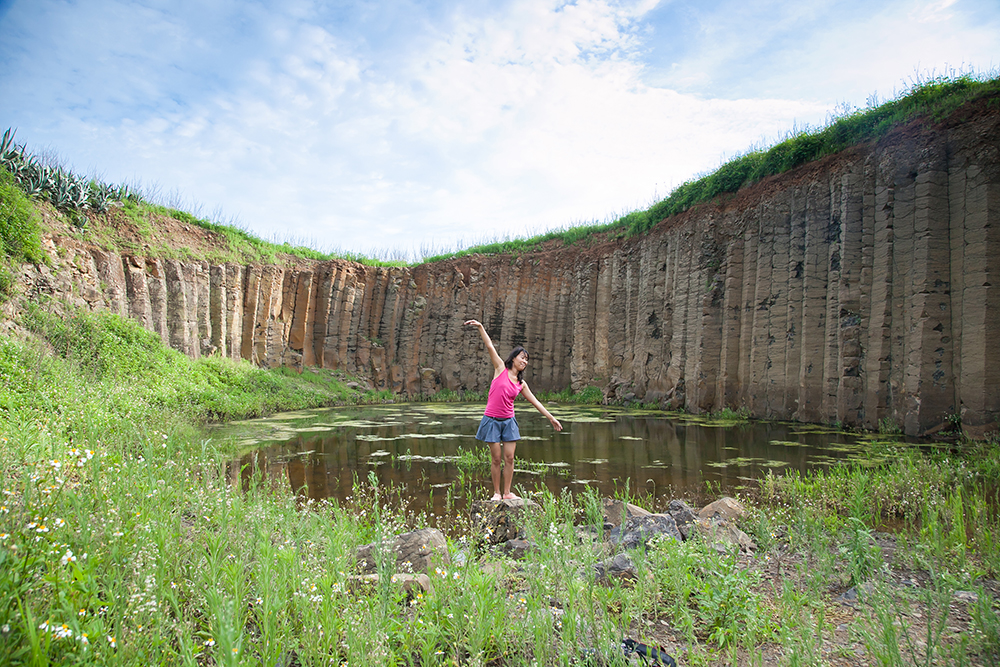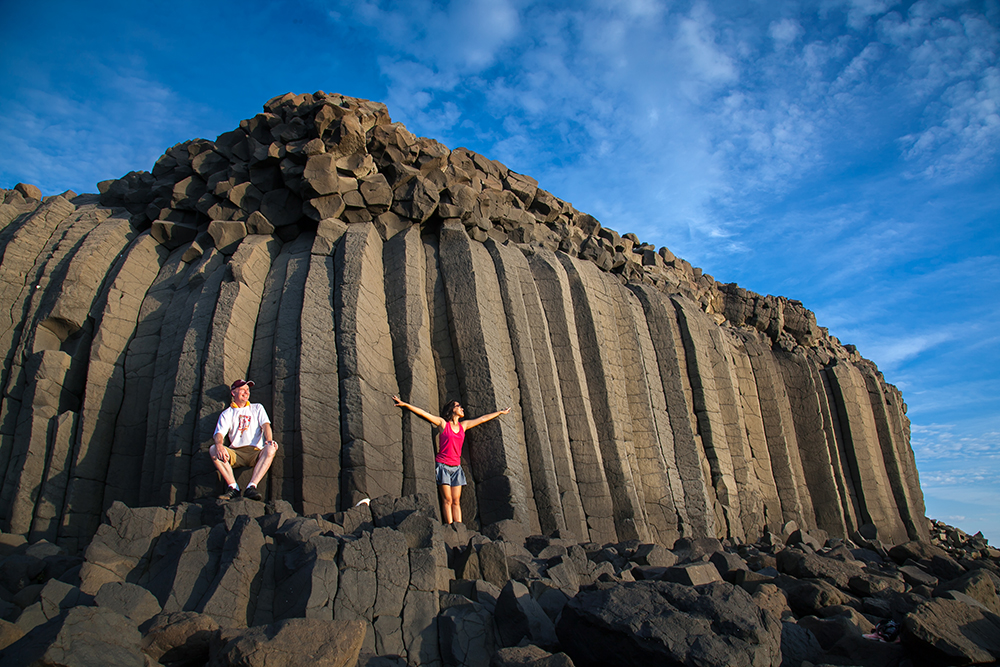 Wang'an Island
In the morning we took the regular Magong-Wang'an ferry, making our way south 50 minutes through a romantic fog that obligingly dispersed as we docked. Wang'an is Penghu's fourth-largest island; low in the south, it rises to 53 meters (Tiantai Hill) in the north. We headed out on the two-wheeled motorized steeds we'd rented from one of the multiple pier-facing outlets, zooming along the island's easy-grade loop road.
First up was the Green Turtle Tourism and Conservation Center, which fronts one of the island's protected beaches where sea turtles come to lay their eggs (note that there are organized in-season viewings, with limited spaces). Its exterior is in the stylized shape of a turtle, and inside are displays on Penghu's marine ecology, with English provided. There's an English introductory video, and English-speaking guides can be booked. The highlight is a small aquarium that is a temporary home for turtles undergoing rehabilitation after being found sick or injured.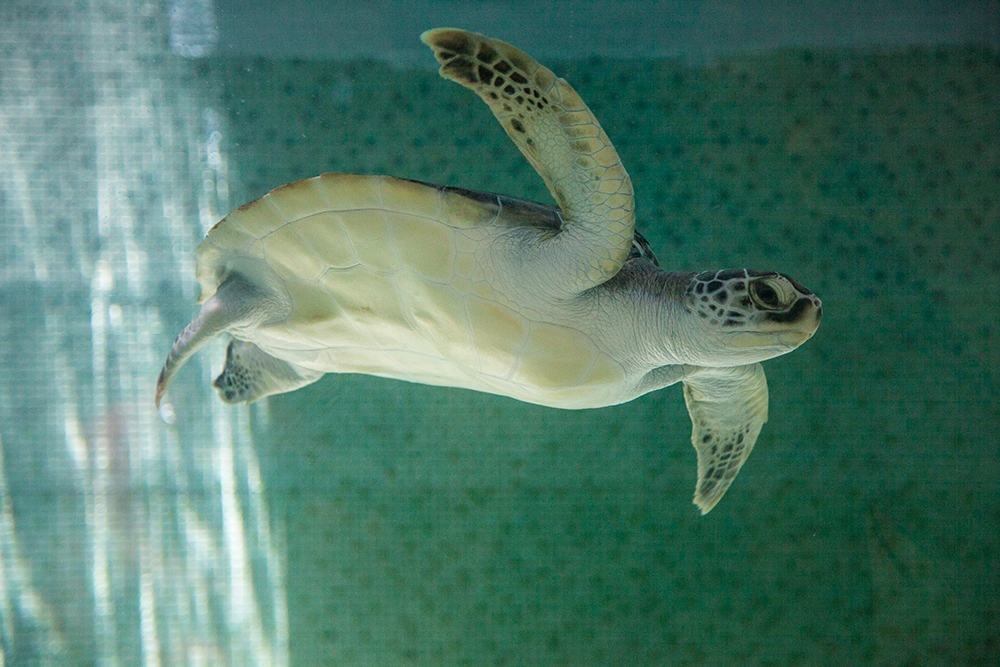 A military history buff, I found our next stop, the Yuanyang Caves, irresistible. The secluded cove and valley has numerous caves, many now collapsed, dug by forced local labor in WW II to hide Japanese suicide boats. You can also view the stone foundations of barracks, a cookhouse, hidden gun emplacements, and other structures. I couldn't help but think how lonely a posting this must have been, soldiers endlessly scanning the horizon for death-promising excitement that never came, the Allied juggernaut bypassing these particular tiny specks of real estate.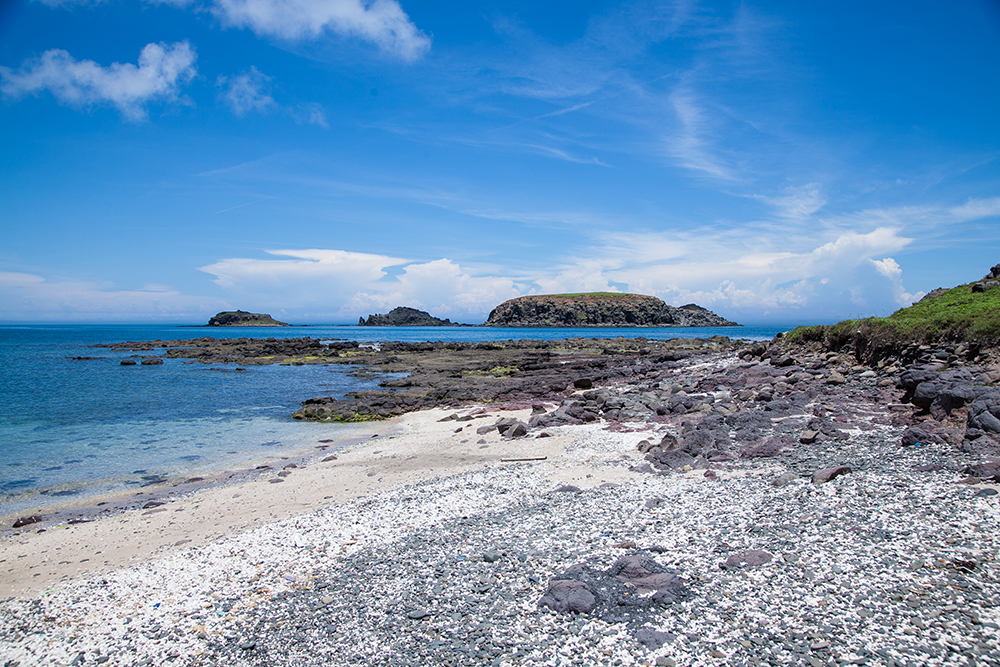 Soaring Tiantai Hill – well, it looks mighty in comparison to the flat land and flat sea surrounding it – offers wonderful kaleidoscopic views over Wang'an and its numerous nearby islands. The hill has a tall basalt-column foundation, with a dramatically exposed seaside section viewable to adventurous types willing to tackle the sometimes steep 15-minute walk from the hilltop. Off to the west you can see miniscule Huayu, Penghu's westernmost island, which a local tour-group guide told me is inhabited and has both a police station and a one-room school.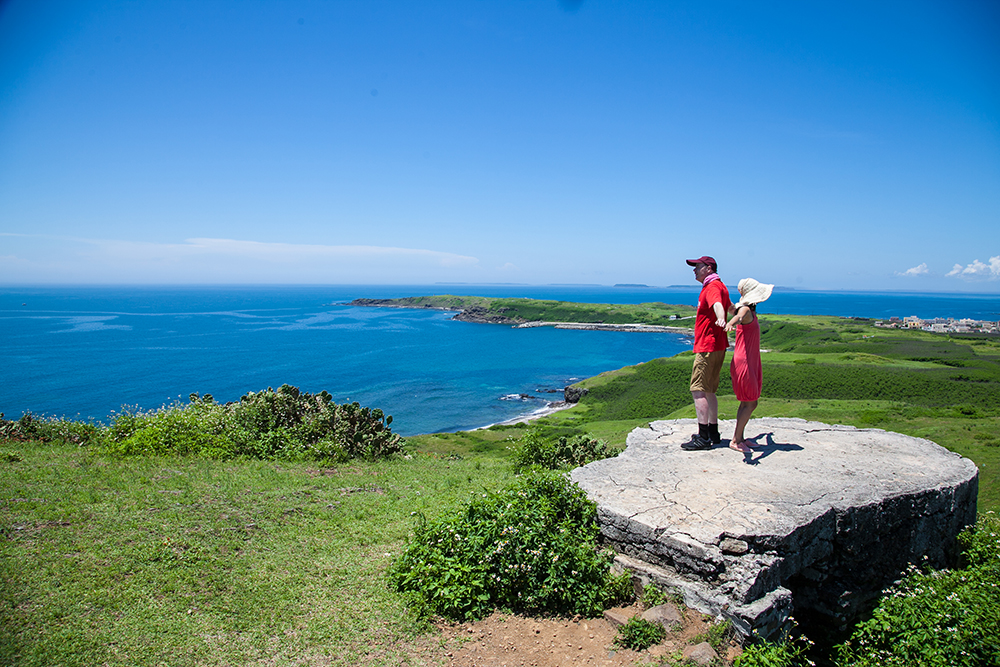 Our final Wang'an stop was Zhongshe, an old fishing village of narrow alleys and densely clustered heritage residences, almost all stone/coral-built. The majority are still inhabited, and many have been returned to their original state to attract tourists. The refurbished homes of the rich of former days are easy to identify – white stucco covers the walls to reflect the intense sun, and they are decorated with beautiful glazed ceramic tiles featuring individual paintings.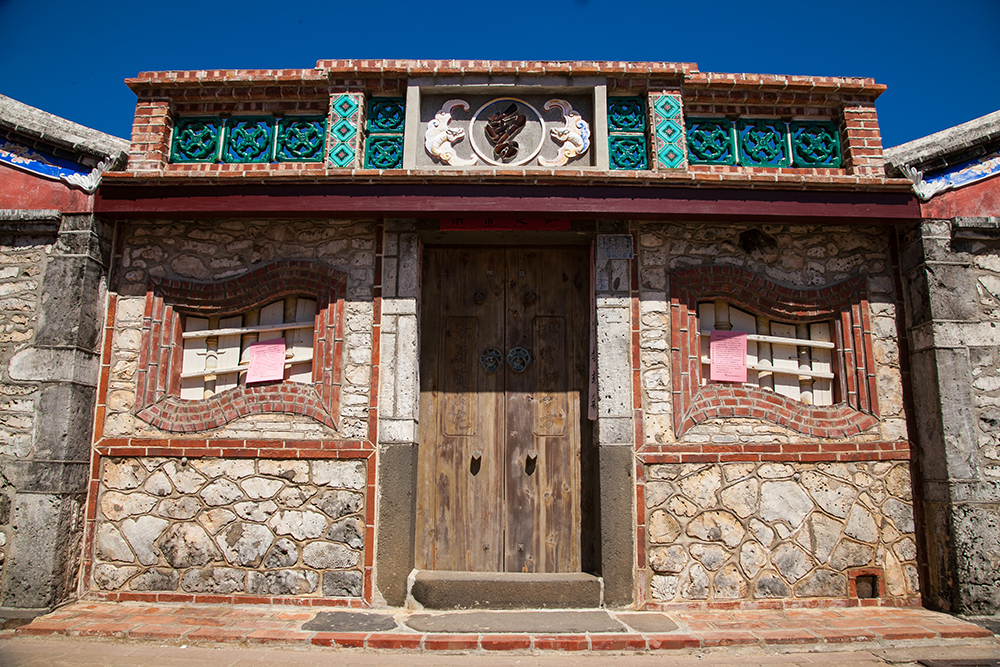 On our ferry ride back, 10 minutes out of Magong our captain slowed down off Tongpan Islet, one of Penghu's most iconic sights. Almost completely encircled by 20-meter-high basalt-column cliffs, as I admired its harmony and beauty I thought to myself that this was the perfect exclamation point to a wonderful trip. The columns, in fact, reminded me of thousands of exclamation points. In less than an hour I was on a plane and well on my home, busy Taipei, happy and content about our Penghu trip.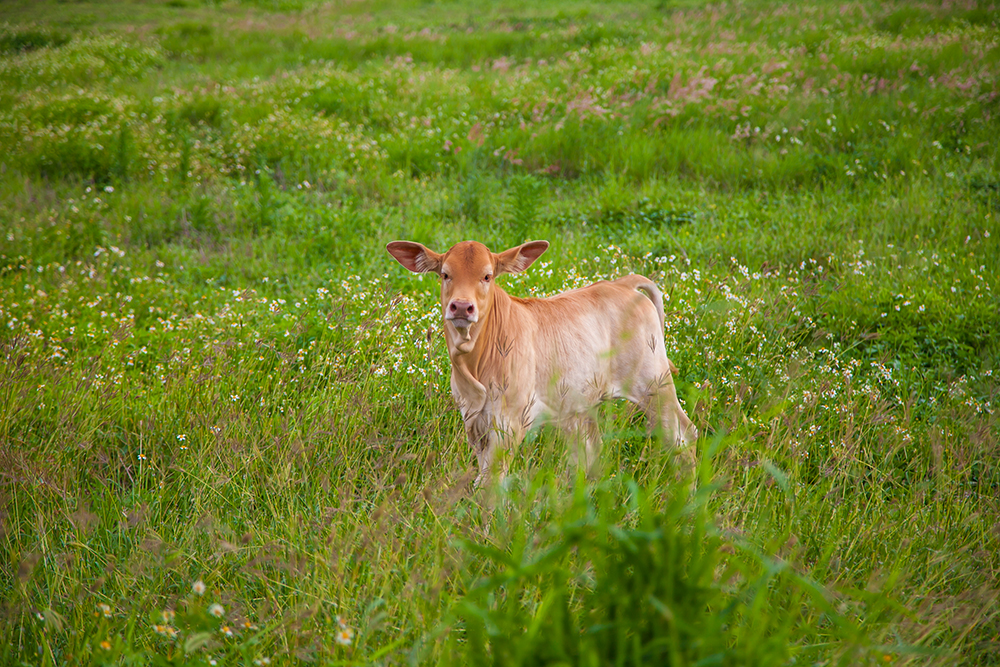 Getting There and Around
There are regular flights and ferry runs between Penghu and Taiwan proper, regular ferry services between Penghu's islands, and car/scooter rental facilities at various locations. Your best source for details is the Penghu National Scenic Area website (www.penghu-nsa.gov.tw).
Penghu Tours on Klook
Snorkeling and Yachting Day Tour in Penghu by Hsing Yu Yacht
Discovery Hotel Stay
Penghu Highlights Sightseeing Car Charter from Magong
Canoe, SUP, and Snorkeling Experience in Penghu by PIDC
Four Points By Sheraton Penghu Stay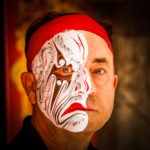 A Canadian, Rick has been resident in Taiwan almost continually since 1988. His book, article, and other writings, on Asian and North American destinations and subjects—encompassing travel, culture, history, business/economics—have been published widely overseas and in Taiwan. He has worked with National Geographic, Michelin, APA Insight Guides, and other Western groups internationally, and with many local publishers and central/city/county government bodies in Taiwan. Rick also handles a wide range of editorial and translation (from Mandarin Chinese) projects.