A Guide to Traditional Culture and Innovative Creativity in Tainan and Kaohsiung
Text | Rick Charette
Photos | Chen Cheng-kuo
Insight Guides: Taiwan says that Kaohsiung is Taiwan's "industrial showcase," and that the city of "Tainan is to Taiwan what Kyoto is to Japan, and Kyongju to Korea." These are proud legacies, but both cities are now hard at work comprehensively enhancing their citizens' quality of life with an eye to the future – and the tourist experience. One key area in this endeavor is the cultural-creative realm; both cities are systematically saving and preserving individual old structures and, in some cases, entire areas, prettying them up and giving them new life and self-supporting function as bases for cultural-creative expression.
Both cities have their fair share of first-rate attractions that have long been drawing international tourists. The Michelin Green Guide Taiwan, which uses Michelin's famed 3-star rating system, gives Tainan three stars, Kaohsiung two.
In this article our focus is on the key new cultural-creative stars in Tainan and Kaohsiung, with a concentration on those in heritage buildings, that Michelin, Insight Guides, National Geographic, and other international publishers will no doubt be working into their guidebooks in upcoming editions.
Kaohsiung
The Michelin guide gives three stars to one attraction in the city, two stars to 19 attractions, and one star to nine attractions.
The 3-star attraction is Foguangshan, a magnificent Buddhist monastery complex in the hills of the city's rural area. Among the 2-star attractions is another rural draw, the district of Meinong, a thriving enclave of traditional Hakka culture. In the city's core, 2-star attractions include the Love River, which has been characterized as Taiwan's River Seine, Qijin Island, a breakwater for Kaohsiung Port famed for historic sites and superb seafood, the Former British Consulate at Takao, a key historic site built in the 1800s that has tremendous views into the harbor and out to sea, and Lotus Pond, a large body of water "surrounded by fairy-tale statues, elegant pavilions and colorful temples." A number of the pond's sites are themselves given 2 stars, as is Chouchai Wetland Park, just to the east.
Yancheng District is among Kaohsiung's oldest. Once largely sodden, marshy land, it was drained in imperial times for salt production. "Yancheng" means "salt fields." Today's Love River, on the district's south side, was the course chosen for the freshwater flowing into the area.
Pier-2 Art Center
The expansive and still growing Pier-2 Art Center (www.pier-2.khcc.gv.tw), a short walk from the Kaohsiung Metro's KMRT Yanchengpu Station, is at the heart of a cultural-creative bloom underway in both district and city. The special zone has become one of Kaohsiung's most popular cultural attractions. The numerous old, renovated Kaohsiung Harbor warehouses here, long abandoned, were formerly used to store such treasures as fish meal and granulated sugar. Today they are dedicated to cultural-arts treasures, including exhibits, live shows, and large-scale outdoor installation artworks and graffiti-style murals.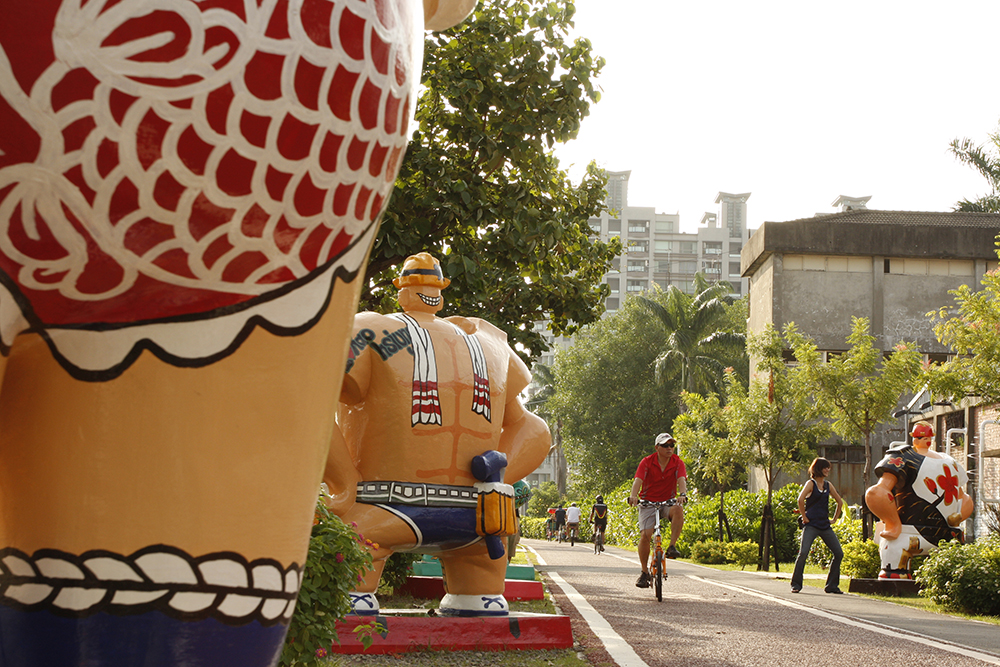 In one warehouse is a museum dedicated to Kaohsiung labor. Half of another – roof torn down to allow for under-the-sky entertainment – is now the Kaohsiung base for The Wall, a keystone in Taiwan's indie-music scene. There are also arts and crafts boutiques showcasing independent Taiwan design talent. Hungry folk can dine at Pasadena, a place of pastel-neon lighting, tiffany glass, dark wood, and Western family fare that looks as though airlifted direct from some North American downtown district.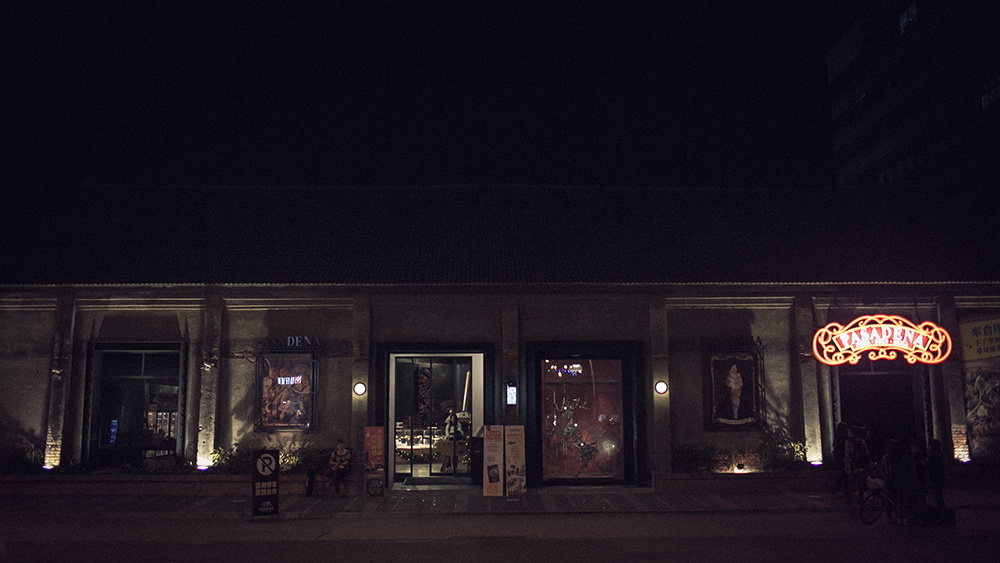 Takao Railway Museum
Just to the north of Pier-2's north warehouse cluster is Takao Railway Museum. This was Kaohsiung's first railway station, and long a key hub in south Taiwan's land-sea transportation. The station, Japanese in style with a Chinese hip-style roof, was targeted and severely damaged by Allied bombing in WW II. Later rebuilt, it was finally retired and became a museum in 2010. There are exhibit rooms, a railway-document archive, and a platform and track area.
Kaohsiung's popular harbor-area bikeway rolls right by the art center and museum, the section here running where the trains that once served these facilities trundled along. There are a number of bike-rental facilities close by. In 2010 CNN Travel declared Kaohsiung one of Asia's five best biking cities.
Qiaotou Sugar Refinery
Qiaotou Sugar Refinery, in the city's rural north area, conveniently has its very own KMRT station. The refinery was opened in 1901 by the Japanese, introducing modern mass-production technique to the industry. Its final day of production was in 1999. A designated heritage site, on the sprawling grounds you find numerous colonial-style century buildings, including offices, dormitories, and warehouses. The complex is a museum, and there is information on Taiwan's sugar-manufacturing history, sugarcane cultivation, the aforementioned architecture, and other highlight attractions such as two original Belgian steam locomotives imported in 1948, Taiwan's first sugar-industry narrow-gauge railway line (also used for passenger travel), WW II above-ground bomb shelters, and restored production-line equipment.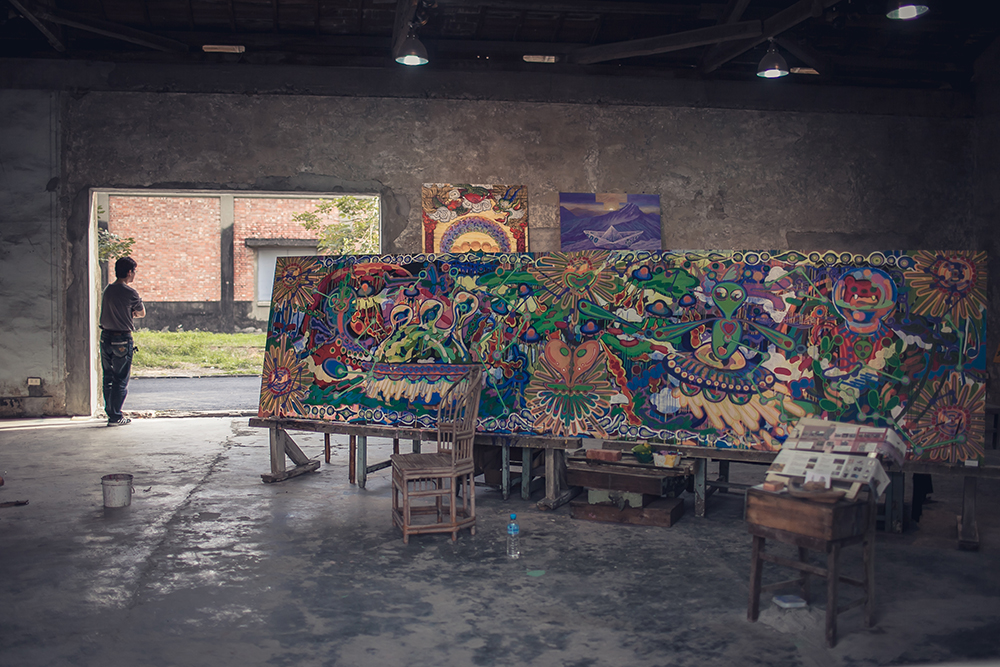 Bywood
The refinery is, at the same time, a cultural-creative complex. Bywood, a private initiative, leases a number of facilities. It runs an artist-in-residence program, with both local and international talent participating, and stages periodic arts happenings. You'll see artists at work in studios in varying locations throughout the complex, including the warehouses, and see intriguing installation works. Bywood also has a gallery with a comfy café; admittance is free, with advance notice requested. The refinery also has a regular schedule of cultural-arts performances at an attractive restaurant/theater in one of the warehouses, and the celebrated Taiwan performance troupe Ten Drum Percussion Art has set up a base here.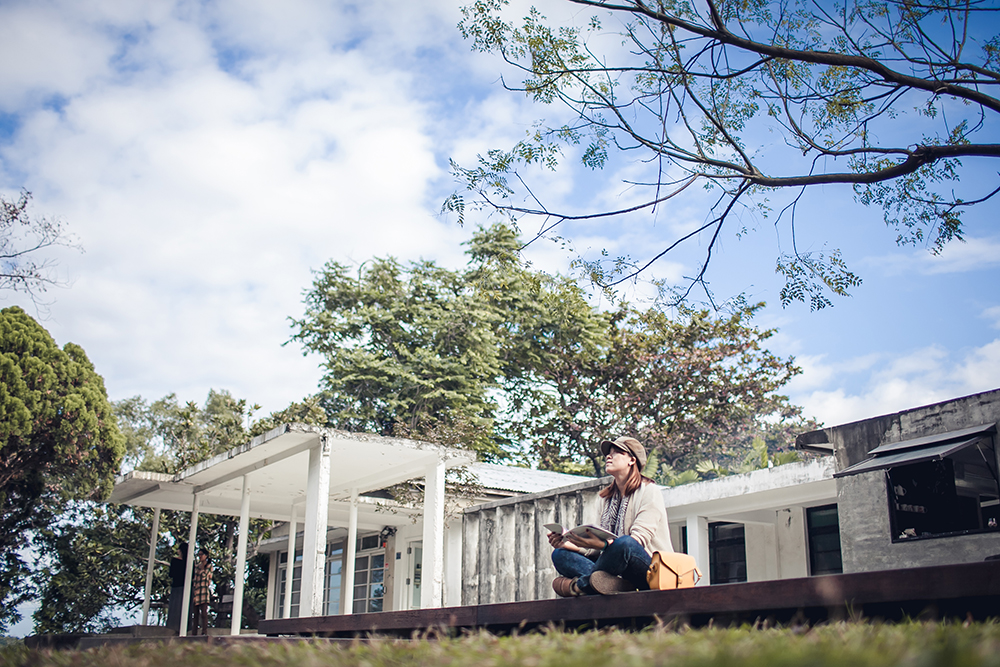 Bywood
(白屋)
Add: 12, Dayi Lane, Shifeng S. Rd., Qiaotou District, Kaohsiung City
(高雄市橋頭區仕豐南路大義巷12號)
Tel: (07) 611-4998
Klook activities in Kaohsiung
Classic Kaohsiung Attractions Day Tour
Suzuka Circuit Park Ticket
Romantic Love Gondola
Xiao Tiao Crazy Jump
i-Ride Kaohsiung Ticket
Kaohsiung hotels on booking.com
Tainan
The Michelin Green Guide Taiwan gives three stars to five attractions in Tainan, two stars to five attractions, and one star to eight attractions.
The four 3-star attractions in the urban core are the Chikan Tower, Sacrificial Rites Martial Temple, Grand Queen of Heaven Temple, and Tainan Confucius Temple. The first is built over the ruins of Fort Provintia, built by the Dutch in 1653, who ruled over a good part of Taiwan from 1624 until being ousted by Ming Dynasty patriot Koxinga in 1662; some of the ruins are visible. The second is dedicated to Guan Gong, the God of War – an ornate, superbly preserved temple built in the latter 17th century. The third, dedicated to Mazu, Goddess of the Sea, was built where Tainan's shoreline was once located; it is now kilometers away, the result of silting. This complex was originally the palatial residence of Prince Ningjing, the last Ming Dynasty heir to the throne. The fourth is Taiwan's original, and most complete, Confucius Temple; it was commissioned in 1665, and was "Taiwan's foremost school" – its first official institution of learning.
In the cultural-creative realm, two of Tainan's flourishing sites are in fact already included in the Michelin Green Guide Taiwan, which was released in March 2011 and is still in its first edition – Hai'an Road and Shennong Street. Each is given a single star.
Hai'an Road
Hai'an Road is a north-south thoroughfare that was, long ago, near the sea and Taiwan's busiest port, with five transport canals leading into the thriving commercial district. The area between Minzu and Minsheng roads is today being developed as a historical-cultural zone, and brims with trendy shops, bars, cafés, and art venues. Come at night and you'll see live bands playing in open-air spaces at street-side bars that serve tasty traditional night-market-style food.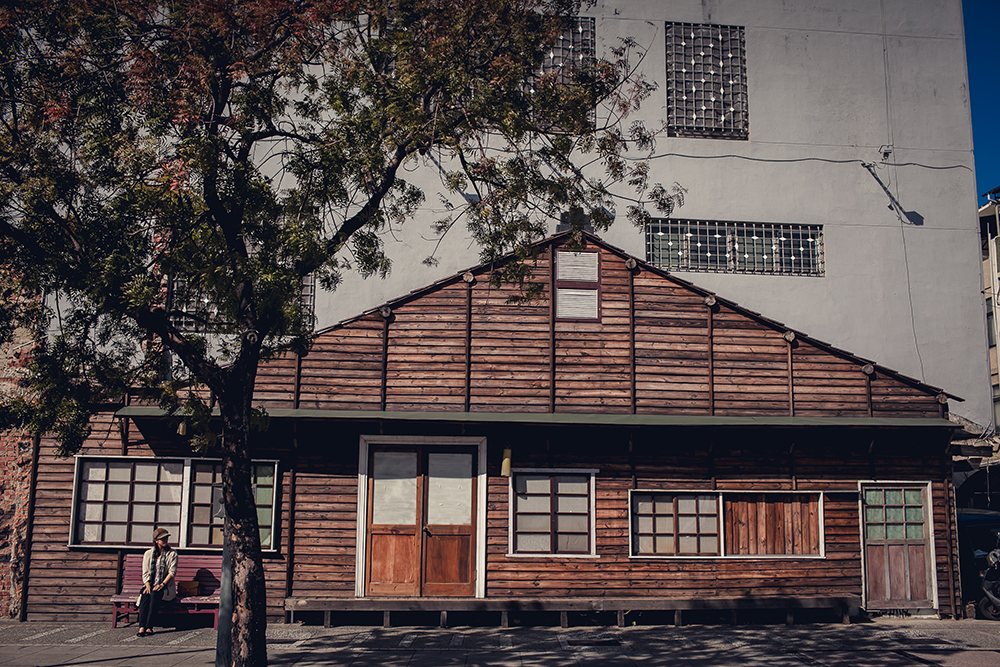 Across from the T-intersection where narrow Shennong Street and Haian Road meet is Shuixian Temple Market, Taiwan's oldest, where one of the five canals ended in days of old. The maze-like covered market still thrives, and in the 1990s the local government tried to help by starting work on an underground shopping complex along Hai'an. Things did not go well, the project was abandoned, many old buildings were left partly demolished, and an ongoing beautification project has now resulted in a series of remarkable public artworks that incorporate and celebrate these vestiges of yesteryear, using a contemporary-art approach.
One, called The Memory of Wall, fronts an abandoned-now-renovated building home to artist-run Blueprint Lounge Bar. The façade is now a blueprint, with painted white windows and rafters creating an illusion of the interior space. Another, right at the entrance to Shennong Street, is called Great Yongchuan Palanquin (49 Shennong Street). This wonderful mural is on the side of a Shennong shop of the same name, where master Wang Yong-chuan has long been creating exquisite palanquins and other objects for Tainan's temples. The mural presents a cross-section view of the two-story shop interior.
Blueprint Lounge Bar
(藍圖餐飲)
Add: 79 Heping Street, Zhongxi District, Tainan City
(台南市中西區和平街79號)
Tel: (06) 222-2701
Shennong Street
When you look down long, narrow Shennong Street, tightly packed with two-story heritage shophouses, each of which has its own quaint and wonderfully eclectic façade, you can easily imagine the scene in imperial days, everyone in queues and indigo-blue clothing, busily going about their business. Transport canals ran behind the shophouses in imperial days, and most goods were brought in the rear. Shops were in the front section, facing the street, storage was above on the second floor, and family quarters were in the back. Front and rear sections were often divided by a sky well, an open courtyard area allowing in sunlight.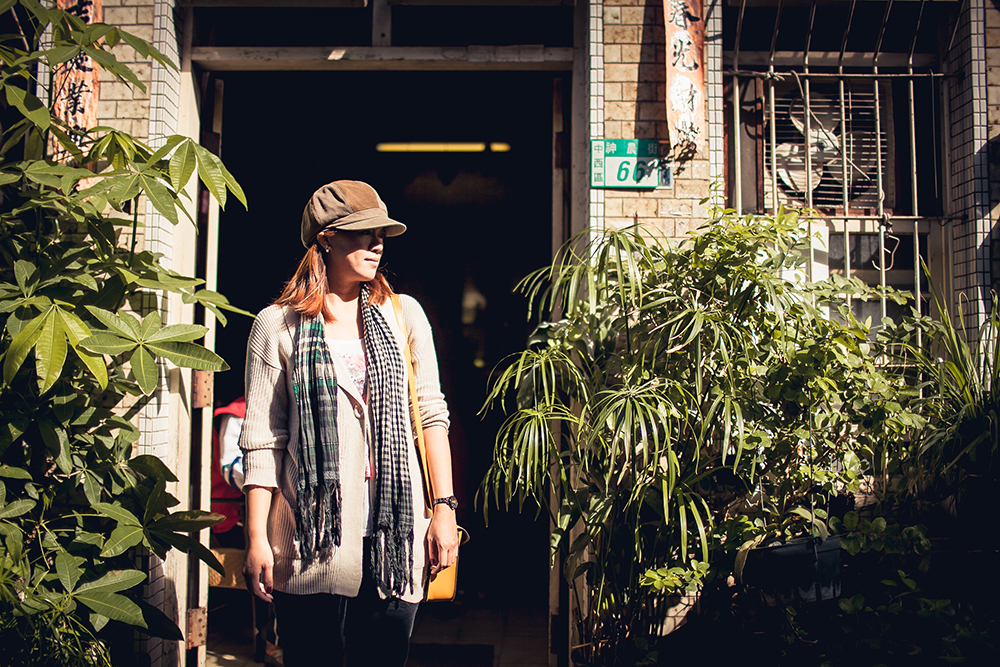 Today the street has an alluring mix of old-time residents and newcomers from elsewhere in Tainan who are setting up cultural-creative galleries, cafés, bars, and teahouses. The street surface has been redone in brick, retro-style lamps introduce an attractive night-time glow, and façades have been prettified and personalized.
76 Art Space
Two notable enterprises are 76 Art Space and Taikoo. 76 Art Space is a gallery that represents Taiwan artists and craftspeople. In the rear section beyond the sky well is a woodworking shop called Black Snail Studio where the young master craftsmen create lovely artworks in addition to handmade furniture; samples of the former are in the art space. Other attractive 76 Art Space lines are ceramics in the shape of well-known Tainan heritage buildings and the Goodo line, which features unique woven bags, purses, and other fashion accessories made from classic Tainan materials such as burlap rice sacks. The Goodo craftspeople are retirees given crafts training by the Tainan government so they can earn extra income.
76 Art Space
(76當代實驗空間)
Add: No. 76, Shennong St., Zhongxi District, Tainan City
(台南市中西區神農街76號)
Tel: (06) 221-5795
Taikoo
Taikoo is an unusual bar/café that is the physical manifestation of the eclectic character of the owner, Mark. Premium coffees are hand-crafted, all beers are Belgian imports, and the furnishings are 1950s~1970s Western retro-style pieces which Mark sources by himself from the Netherlands. Take a shining to a piece and you can buy it. Asked about this most offbeat of combos, he simply says that these are the things he likes best, so he wants to share them with others.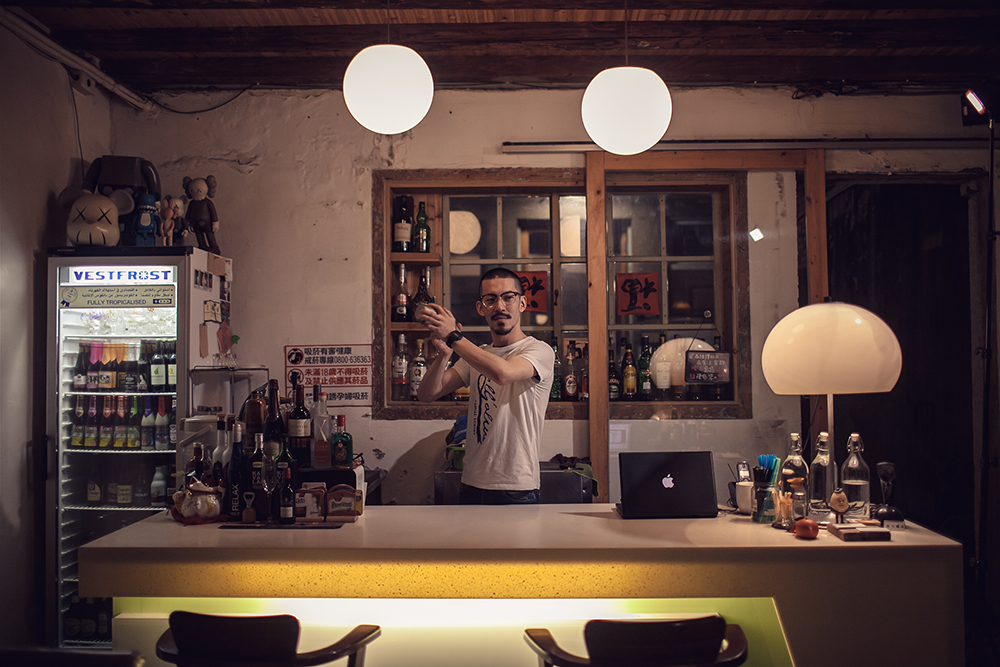 Taikoo
(太古百貨店)
Add: 94, Shennong St., Zhongxi District, Tainan City
(台南市中西區神農街94號)
Tel: (06) 221-1053
B.B. Art
B.B. Art, on Minquan Road near Gongyuan Road, bills itself as a "gallery, café, forum space, and performance venue." It is in a distinctive old three-story building purpose-built by the Japanese over 80 years ago to house Tainan's first modern department store, called the Republic of America, which had import/export fabrics as a specialty. Abandoned for years, the facility has been spruced up and reintroduced to the public. B.B. Art, which stands for "Beautiful Building of Art," specializes in contemporary works by local and international talent, and stages musical, theatrical, and other performances in the open-stage area behind its large sky well.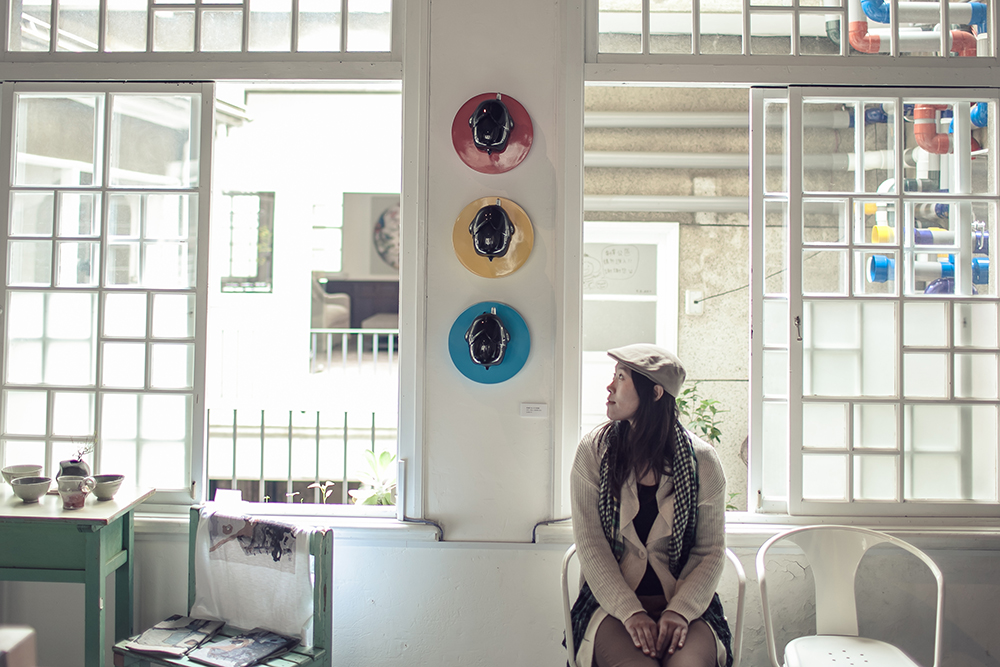 B. B. Art
Add: 48, Sec. 2, Minquan Rd., Zhongxi District, Tainan City
(台南市中西區民權路二段48號)
Tel: (06) 223-3538
Chikan Peddler's Noodles
Tainan is famed for its rich array of traditional snack delicacies, which Chikan Peddler's Noodles restaurant on Minzu Road serves in an upscale retro-chic milieu. Owner Sunny has taken a heritage building that was long home to a well-known teahouse and made it a time capsule of 1950s Tainan. Tables are old school desks, and old lamps, lanterns, vases, baskets, maps, photos, and other curios add to the pleasant aesthetics. All the classic Tainan specialties are here, most notably the danzai ("peddler's") noodles, oyster omelets, fried shrimp rolls, and "coffin" bread (chowder-stuffed deep-fried bread).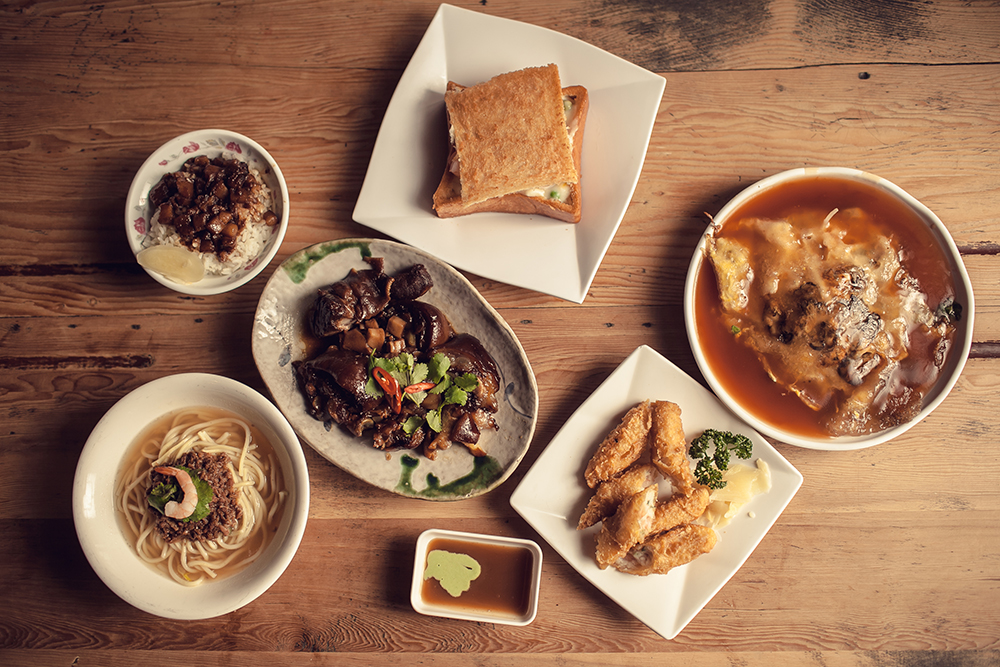 Chikan Peddler's Noodles
(赤崁擔仔麵)
Add: 180, Sec. 2, Minzu Rd., Tainan City
(台南市民族路二段180號)
Tel: (06) 220-5336
Booday
The Booday brand, launched in 2003 in Taipei by a team of adventurous young designers, is aimed at young-at-heart consumers, with items featuring simple lines and decorations and an emphasis on bright colors. A new Tainan outlet is located across Nanmen Road from Tainan Confucius Temple, in a narrow, deep heritage building that formerly housed a general-merchandise store. The best-selling items are the T-shirts, blouses, and canvas tote bags, the most interesting an attractive line of blouses made with organic cotton and dies. Be sure to head up to the third floor, which has a great view over the Confucius Temple complex.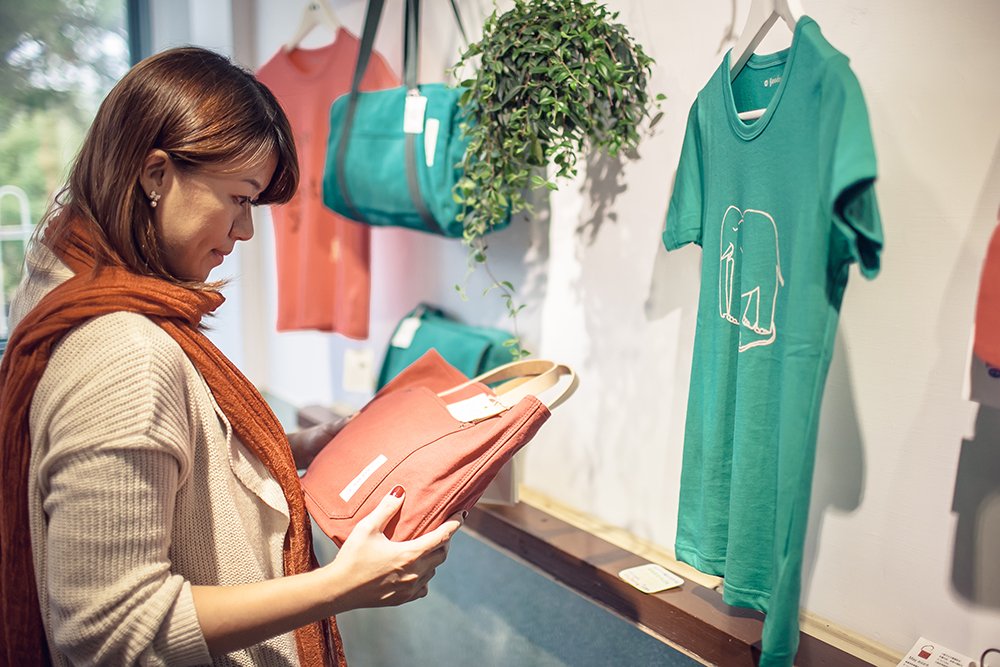 Booday
(蘑菇)
Add: 57, Nanmen Rd., Tainan City
(台南市南門路57號)
Tel: (06) 221-4216
Narrow Door
All good adventures should end with a good cup of coffee. The Narrow Door café is a few doors down from Booday. Its name is more than apt – you enter sideways via a long, narrow slit between two buildings that's like a deep fissure in a cliff, go to the rear, then enter via steep, plant-shaded stairs. Though it does no advertising it has a loyal fan base, including local expatriates, who learn of it by word of mouth. Owner Jessica has taken what was originally a home built by a doctor a century ago during the Japanese colonial era and transformed it into a Turkish getaway idyll; she still fondly remembers a trip to Safranbolu, a wonderfully preserved Ottoman-Turkish museum town, and when the cool breezes are wafting in through the large open windows you'll feel you are far, far away.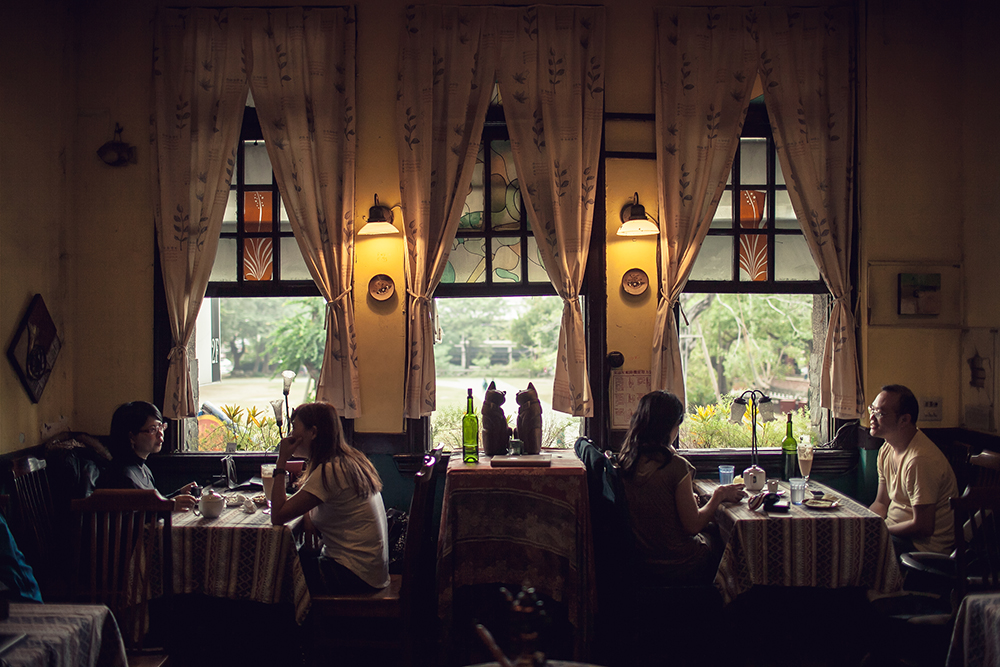 Narrow Door Café
(窄門咖啡)
Add: 2F, 67, Nanmen Rd., Tainan City
(台南市南門路67號2F)
Tel: (06) 221-0508
Klook activities in Tainan
Glamping in Tainan by Vanaheim
Mountain Village Cooking Class in Tainan
Nanxi, Tainan: Guidan Hot Spring Experience Pool
Reality Game Experience in Tainan by Chimei Museum
Getting There and Around
The fastest and most comfortable way to get from Taipei to Kaohsiung and Tainan is the High Speed Rail system. In Kaohsiung, the three rail systems converge at Zuoying Station (regular railway, High Speed Rail, metro), enabling easy transfers. In Tainan, a spur line provides rail service between the HSR station and downtown Tainan Railway Station; the trip takes 15 minutes. In Qiaotou, it takes about 10 minutes on foot to reach the regular railway station from the metro station. Scooters are a convenient form of travel in slow-paced Tainan. Rentals are available directly across the street behind Taiwan Railway Station (i.e., Tainan Rear Station). Your international/local license and passport/Alien Resident's Certificate must be presented.
Also read:
Spending Time in the OLD CITY of TAINAN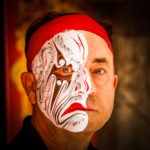 A Canadian, Rick has been resident in Taiwan almost continually since 1988. His book, article, and other writings, on Asian and North American destinations and subjects—encompassing travel, culture, history, business/economics—have been published widely overseas and in Taiwan. He has worked with National Geographic, Michelin, APA Insight Guides, and other Western groups internationally, and with many local publishers and central/city/county government bodies in Taiwan. Rick also handles a wide range of editorial and translation (from Mandarin Chinese) projects.