Hiking Adventure in the Amazing Taroko Gorge
Text | Rick Charette
Photo | Chen Cheng-kuo
Taroko Gorge's wonderful trails give you thrilling all-natural highs – up high on mountainsides and cliffsides, and with soaring spirits just as high.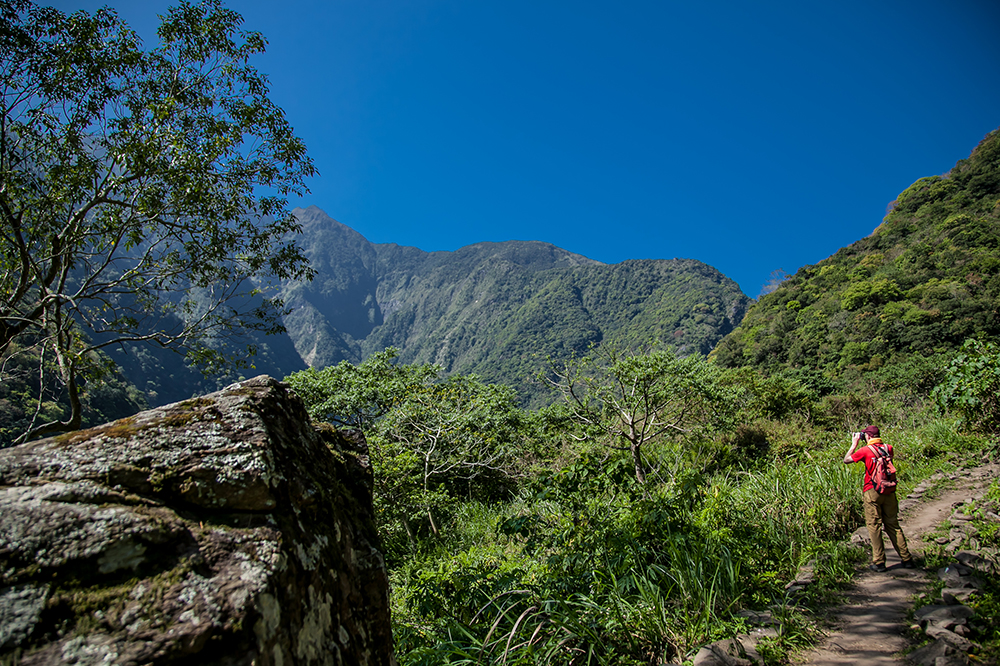 One trail, the Zhuilu (also spelled Jhuilu) Old Trail, brings you up so high on a sheer cliff face that you must almost look down at your feet to see the highway at the bottom of Taroko Gorge. The narrow path between cliff-face and sky leaves you feeling as though you're soaring like an eagle, peering down far, far below at colorful tour buses and motorcycles that appear far smaller than if you had Hot Wheels cars – just by chance – placed at your feet at the precipice edge.
Of course, if not looking for thrills quite so high, the wide selection of Taroko Gorge trails lets you mix to precisely match your desired intensity level. Whichever you choose, thrilling scenery is guaranteed. In this article we take you out on some trail samplers, and introduce the Truku tribe (also called the Taroko), who have long called the gorge home. Before hitting the trails, however, let's get a little background.
Day 1
On a fine recent day I headed down the east coast by train from Taipei, accompanied by two good friends. We rented a car right outside Hualien Railway Station, headed north immediately, and within four hours of leaving Taipei were at the Taroko National Park Visitor Center, just inside the park's east gate, just off the coast.
The Gorge
The center offers first-rate exhibit areas and video presentations (in English with a little advance notice). Here's what we learned, with knowledge imparted to us on our two-day adventure by our guide, park ranger Lin Mao-yao, added to the mix. What stood out about Mao-yao was his deep knowledge, and that after 20 years here his park still obviously fascinates him.
The finger-of-God-type road called the Central Cross-Island Highway, etched through pass and along canyon and deep-valley edges, descends through the mighty Taroko Gorge, which abruptly "empties," along with the Liwu River that has carved it, into the Pacific Ocean. Taroko Gorge is 19 kilometers long, with the opposing cliffsides, thick with marble, sometimes just a few dozen meters apart. One of Asia's and our world's great natural wonders, this is one of Taiwan's top attractions.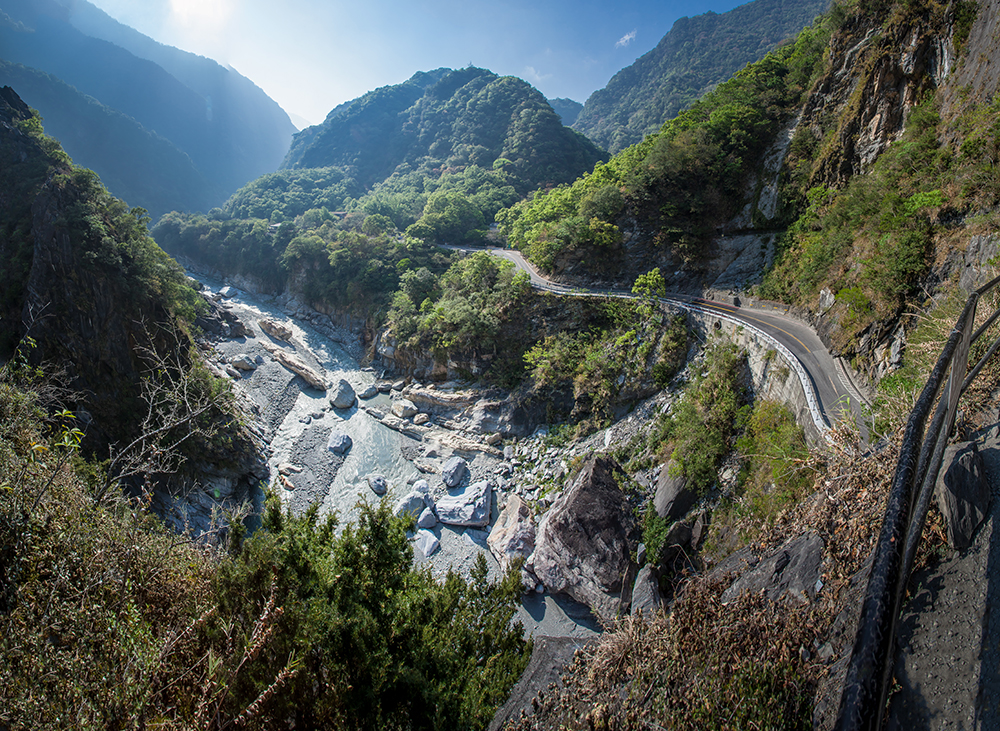 The gorge is the hollowed foundation, one might say, around which magnificent Taroko National Park has been constructed. Around the gorge, moving away from the sea, are mountains, then higher mountains, then higher ones still. Tallest is Mt. Nanhu, at 3,742 meters. This means many different eco-environments, from near-sea-level whitewater-river gorge to alpine. There is flora and fauna aplenty: 108 butterfly species, 144 bird (14 Taiwan-specific), 14 amphibian, 25 reptile, 34 mammal. In the quieter areas away from the main gorge-cuts, where fewer human soles tread, watch for Swinhoe's pheasant, Formosan serow, Sambar deer, wild boar, Formosan macaque, and other treasures. The expansive park surpasses 92,000 hectares. Trail and alpine hiking – no surprise – are key attractions.
Origin
Taroko Gorge began its emergence on the world stage four million years back, when the Eurasian and Philippine Sea tectonic plates started going at each other, a battle of titans still going on with vigor. Limestone built up layer by layer over many tens of millions of years in the shallow seas of earlier times has been pushed up, the intense heat generated by the plate-crushing melting and molding the limestone into marble. As what was below water continues to be tossed skyward – the turbulent yet patient Liwu River has etched a narrow path through weak spots while watching the cliffs either side soar past ever higher. With the river continually etching while Taiwan's mountain monarchs continue to grow, the gorge deepens an estimated 5 mm per year.
Shakadang Trail
Our first trail adventure was the easy-grade Shakadang Trail, which takes you along the lowest tributary of the Liwu River, the Shakadang River. The gorge that the Shakadang has cut is not so deep or narrow as Taroko Gorge, but is dramatic nonetheless, featuring some of the park's most impressive stone folding, which in places looks like giant works of abstract art. The riverbed is strewn with massive boulders. The trail takes you to two now abandoned Truku settlements, called 5D Cabin and 3D Cabin, and by a dam and aqueduct built by the Japanese when they controlled Taiwan (1895-1945).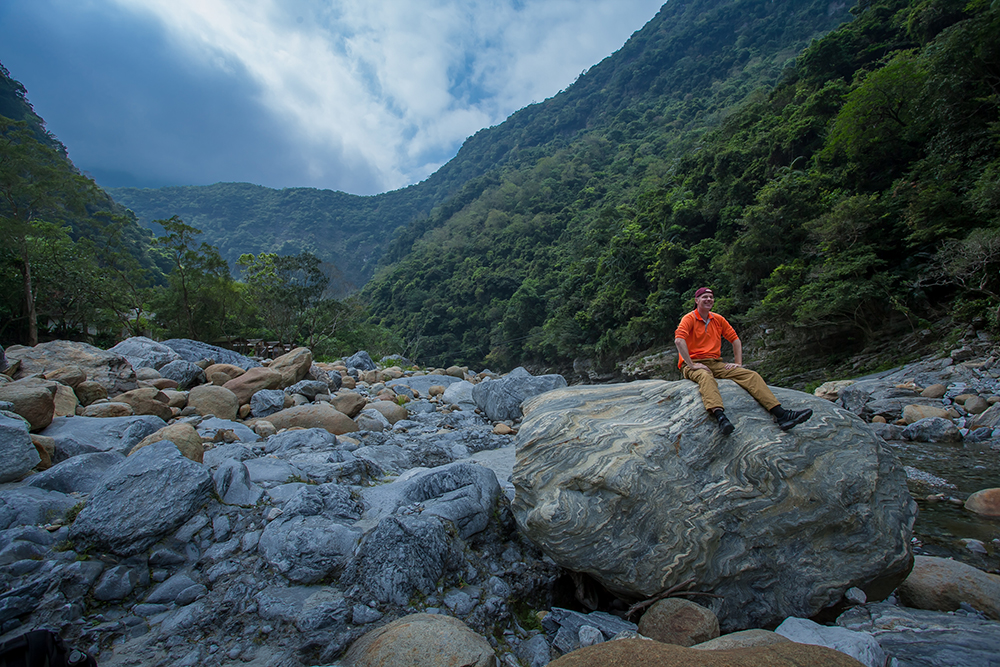 At the 5D Cabin site, friendly members of the Truku tribe sell souvenirs at trailside stands. They use the old red-brick police station and two surviving small homes, on a clearing just above at eye level, for storage. Just under the lip you can clearly see the surge lines from the roaring waters racing along the gorge in past typhoons. The stands have native-theme souvenir items. Be sure to buy some of the fresh bananas, cultivated on small plots nearby, and the delicious figs, harvested from Ficus trees, this river's dominant species. Macaques and colorful birds can oft be seen feeding on the fruit early and late in the day.
The dam, and nearby aqueduct, are components of an impressive work of Japanese engineering. The dammed waters are piped right through the mountains to a still-operating Liwu River power plant you'll see when entering the park.
Lushui-Heliu Trail
In the afternoon we tackled the Lushui-Heliu Trail, steeper in sections than the Shakadang Trail but still an easy walk. Starting at the highway, the trail takes you up to about 100 meters above the Liwu River and then brings you back down to the highway. You return (about 300 meters) along the highway itself. This trail is part of the Old Cross-Hehuan Mountain Road, constructed in 1914-1915 by the Japanese when they sent in military forces to establish control over tribal settlements from Wushe in the central mountains to the Taroko Gorge mouth. The western section has now disappeared, but Taroko Gorge sections survive. The two-meter-wide Lushui-Heliu Trail is maintained almost as it looked during the Japanese period.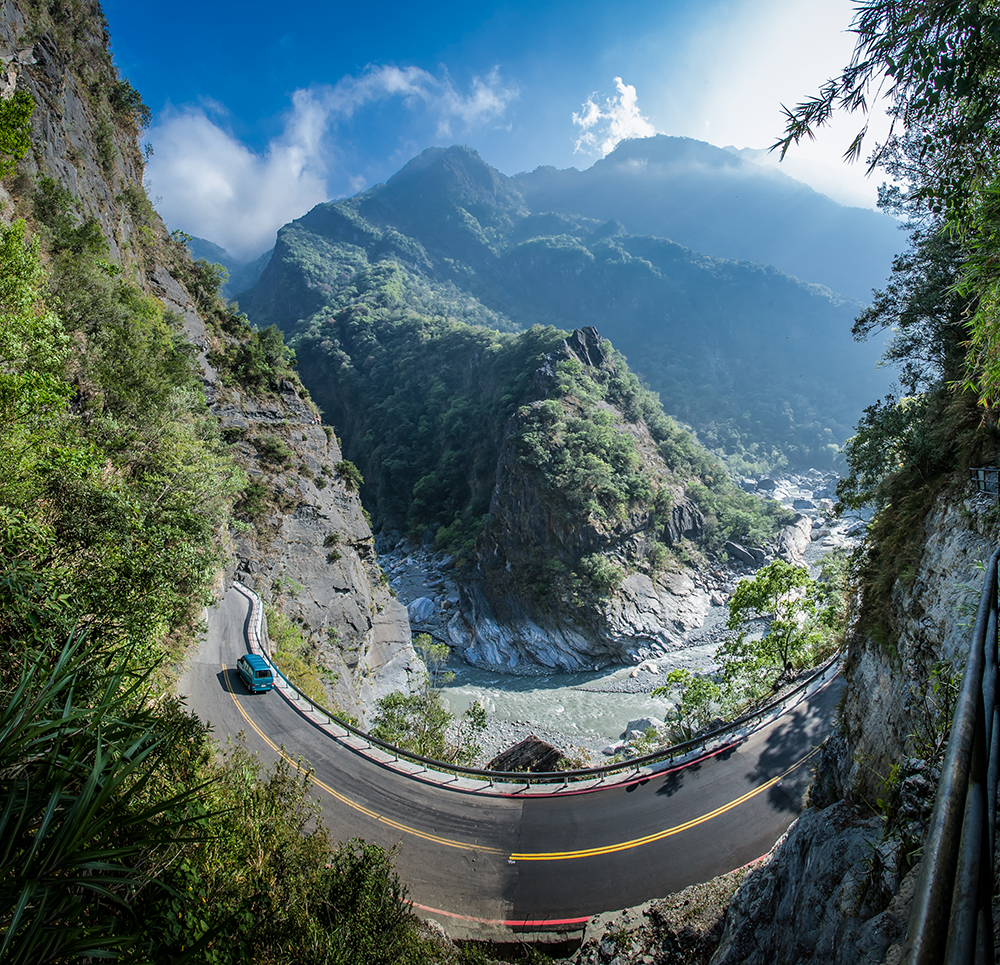 The section along cliff above the Liwu presents fine views of the river-terrace formations on which old Truku settlements were built. In the old days, before most were moved out by the Japanese, there were over 70 Truku communities in the Taroko Gorge area. Other trail highlights include a 1930s monument commemorating four locally stationed Japanese officers who fell off a mountain during the suppression of a major Wushe-area native uprising (their cliff-trail collapsed), old Japanese-built stone retaining walls, a Japanese-built tunnel (bring a flashlight), and the rare Taiwan-endemic Taroko oak, with the familiar acorns but with leaves decidedly "un-oak-like."
There is an interesting geological exhibition hall beside the Lushui Service Station trailhead, and across the highway is another exhibition hall with photos, maps, and other information on the old mountain road and Lushui area.
Buluowan Recreation Area
After our walk we headed to the Buluowan Recreation Area's Leader Village Taroko, where we were staying the night (more in our accompanying Stay/Buy/Eat article). Manager Joseph Cheng showed us around and gave us detailed background on the Truku. Buluowan is the name of the original Truku settlement here, and most recreation-area staff are Truku (all save Cheng himself at Leader Village).
The recreation area is on an upper and lower terrace about 160 meters above the Liwu. The Truku, distinct from but associated with Taiwan's second-largest tribe, the Atayal, moved into the gorge from the Wushe area a few hundred years back, displacing the Amis, Taiwan's largest tribe, who inhabit the eastern plains. It's believed that strife within the Atayal orbit obliged them to move, and that "Truku" was the name of their original central-mountain settlement/area. They followed old hunting trails to the gorge.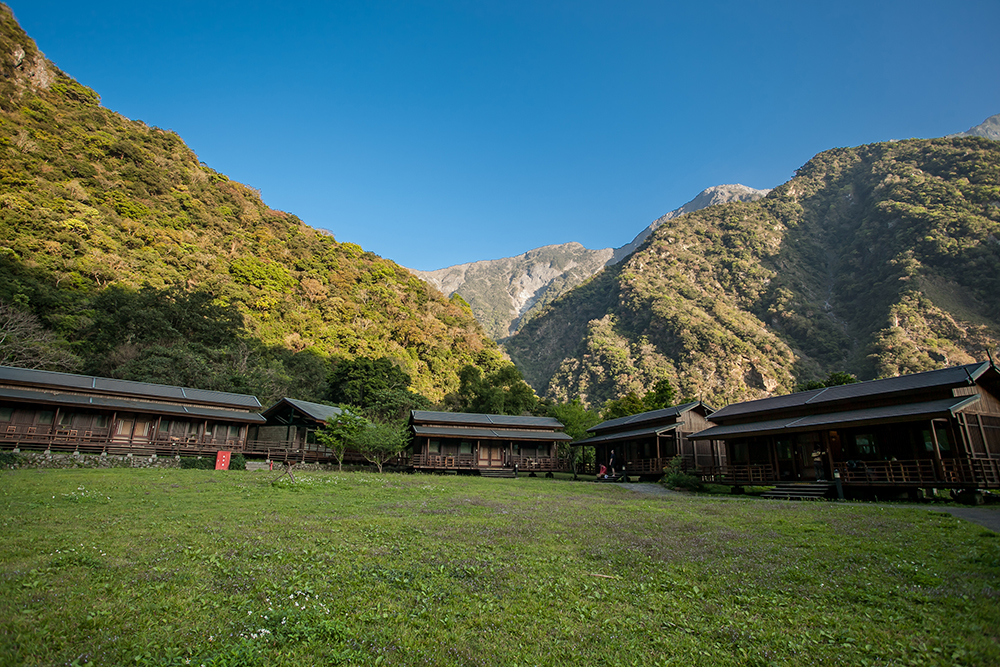 "Buluowan" is Truku for "echo." Guess why. The cliff-surrounded recreation area offers trails, a sophisticated multimedia Truku/Atayal/Amis cultural intro, a circular theater where traditional dances are staged, a museum explicating traditional arts and crafts – with accompanying gift shop – and live arts/crafts demos. We attended the nightly Leader Village song-and-dance performance, which is open to all. Visitors are taught traditional Truku greetings, given a demonstration of the stylized shouting used to communicate between settlements, and entertained with performances featuring traditional Truku musical instruments and the songs and dances of the Truku and other Taiwan tribes. Kids being kids, the performers convinced Mr. Cheng to let them finish with a spirited break-dance routine and the rousing Korean rap monster-hit Gangnam Style.
Day 2
Zhuilu Old Trail
This was our two-day high point, in every sense. This is also part of the Old Cross-Hehuan Mountain Trail; you head high uphill from the Liwu, cross Zhuilu Cliff, rest, and come back the same way. The trail in fact continues from the rest stop, coming back down to the river further west/inland, but this section is closed for the next while.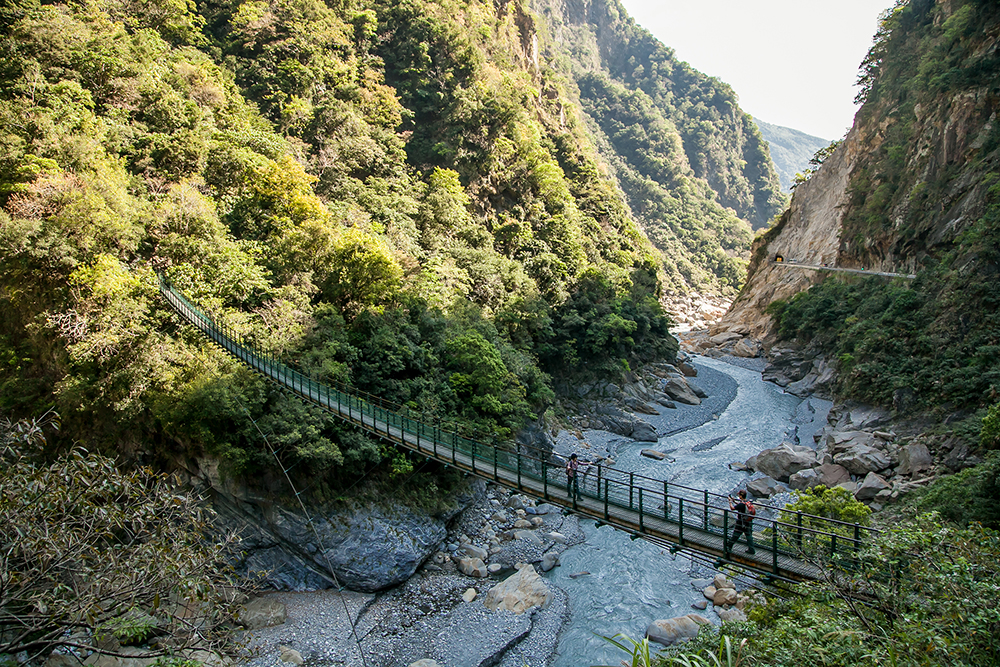 You start by crossing a long suspension bridge over the Liwu at the east mouth of Swallows' Grottos, perhaps Taroko Gorge's single most popular tourist attraction (more later). Afterward there is a fair bit of steep climbing, mostly up steps, especially in the first 30 minutes. Along the way you pass by a cave used for ammo storage by the Japanese, the ruins of an old Japanese station that had a small police office, inn, and school, and another suspension bridge over a deep ravine. Your final rest stop before returning is a small, covered cliff-edge clearing where another Japanese police station once stood. I could not help but imagine how lonely, isolated, and dangerous these postings were.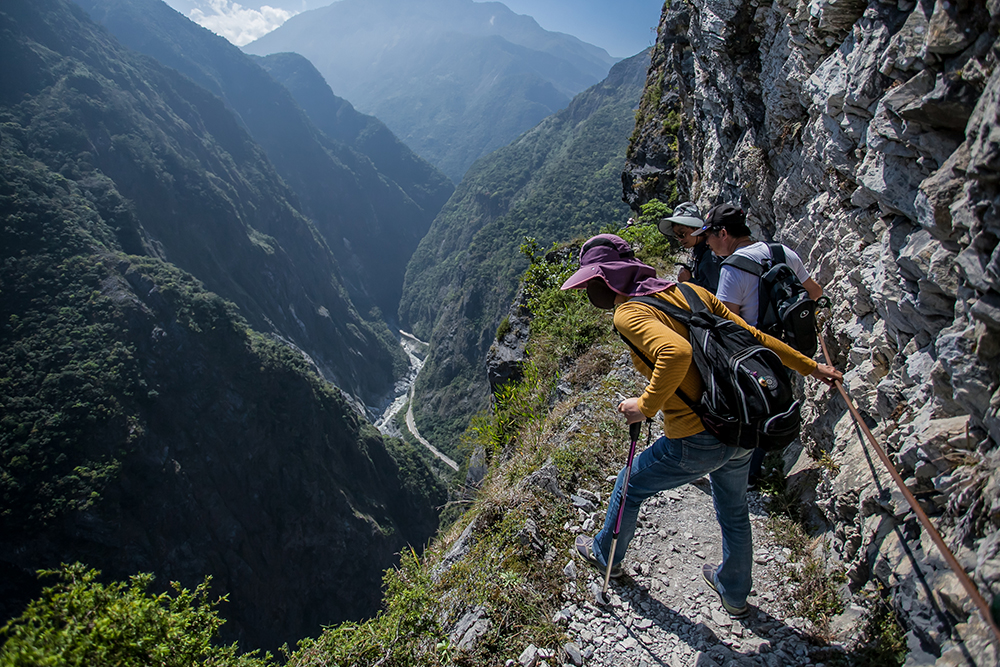 The trail highlight, of course, is your traverse across the face of Zhuilu Cliff. This is a massive face of marble over 1,200 meters wide. You're about two-thirds of the way up, about 500 meters above the Liwu. And for about 600 meters the path is only about a meter wide. Need I say your excitement level will be very high? If you've a desire to soar like an eagle, the Zhuilu Cliff is calling. I just hope that our photos somehow reflect the emotions I felt that day.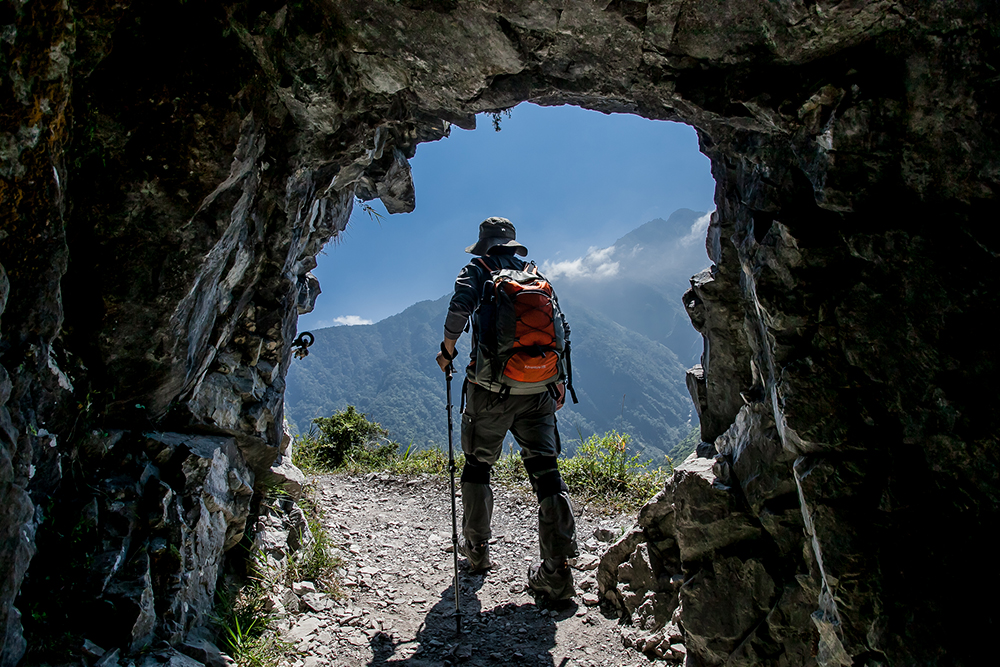 (Note that you need a special mountain-access permit for this trail. Details are available on the Taroko National Park website: www.taroko.gov.tw.)
Swallows' Grottos
We finished our trip by walking along magnificent Swallows' Grottos tunnel. Its east end is right beside the Zhuilu Trail trailhead. The grotto gawks up at opposing cliffs so close and high above the walkway that direct sunlight reaches the floor only around mid-day. The countless cliff-face holes were either carved by the Liwu long ago, the drill-stones, which burrowed into the stone still inside many. Or they were carved out from within – places where underground waters have found mid-air exits. There are indeed swallows here, zipping past while riding the gorge-swooping breezes.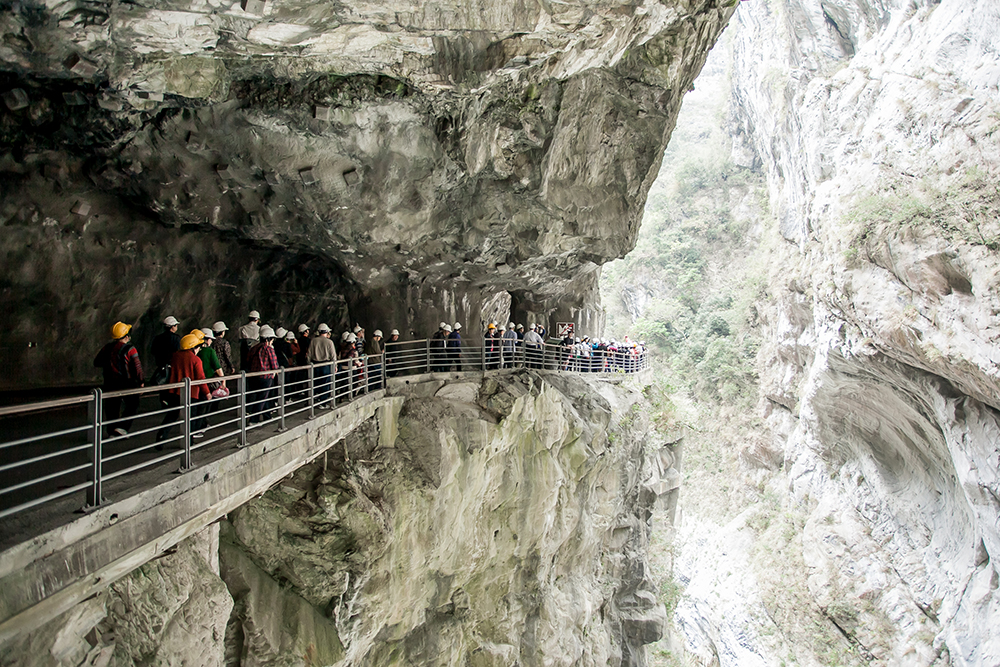 Final Recommendations
In our two days we could tackle only a few of the trail adventures the park offers. Happily for me, though I have visited numerous times. The three trails introduced here were all new experiences. For your own adventures, I also specially recommend the Baiyang Trail, Wenshan Trail, and Eternal Spring Shrine Trail.
Getting There & Getting Around
On this trip we took the train between Taipei and Hualien, to soak in the wonderful coast and valley scenery between Yilan County and Hualien City. The ride, one-way, is a bit more than two hours with the fastest trains. We then rented a car at one of the many car/motorcycle/scooter rental businesses right outside Hualien Railway Station. Those not interested in self-driving should check out the all-in-one tour packages offered by Taiwan tour agencies. (Check the Tourism Bureau website; www.taiwan.net.tw). You should also check out the hop-on/hop-off Taroko Tourist Shuttle service (www.taiwantrip.com.tw). Both the Tourism Bureau and Taroko National Park websites also offer a wealth of other practical and general information.
Taroko Gorge Tours on Klook
Hualien: Taroko Gorge One-Day Tour from Taipei
Hualien: Taroko National Park Day tour to Shanyue Suspension Bridge & Baiyang Trail & Tunnel of Nine Turns
Private Taroko Gorge Day Tour from Hualien
Hiking Tour at Zhuilu Old Road, Taroko National Park
Hotels close to Taroko Gorge on booking.com
Also read:
HUALIEN — Taroko Gorge, East Rift Valley, Pacific Coast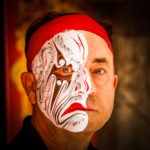 A Canadian, Rick has been resident in Taiwan almost continually since 1988. His book, article, and other writings, on Asian and North American destinations and subjects—encompassing travel, culture, history, business/economics—have been published widely overseas and in Taiwan. He has worked with National Geographic, Michelin, APA Insight Guides, and other Western groups internationally, and with many local publishers and central/city/county government bodies in Taiwan. Rick also handles a wide range of editorial and translation (from Mandarin Chinese) projects.