Discovering the Many Tourist Attractions in Kending at the Southern Tip of Taiwan
Text | Rick Charette
Photos | Chen Cheng-kuo
When the cool of late autumn/early winter settles in around Taipei and the seasonal rains come, and I find my skin looking ever more pasty-white, Kenting National Park (short "Kending") beckons. It takes up much of the southern tip of the island, is in the tropics – the rest of Taiwan island is subtropical – and always seems to be drenched in sunshine.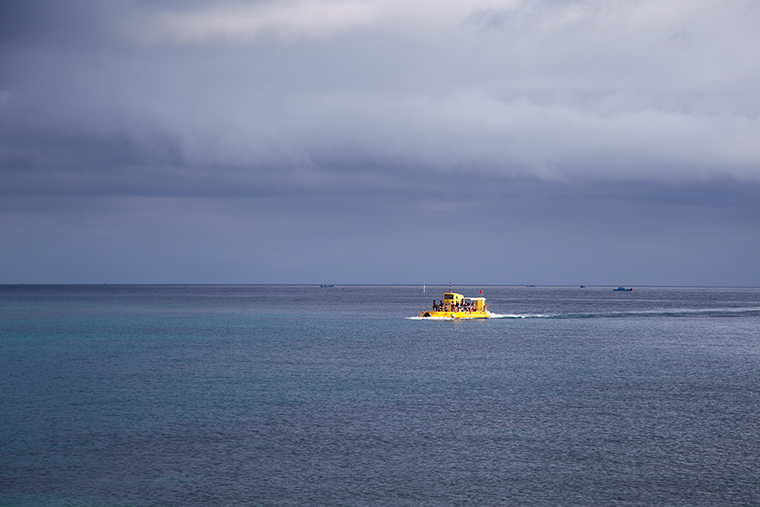 Day 1 – Kending Eco-Tours
It's also easy to get to, so on a recent moody day of drizzling rain and high humidity in north Taiwan I hopped aboard a High Speed Rail (HSR) train with a few friends for a 3-day DIY Kending eco-tour. The trip from Taipei to Kaohsiung took just 90 minutes, and as usual once we popped out from the north's hills/mountains onto the central plains near Taichung the sun also obligingly came out to play. Right outside HSR Kaohsiung (Zuoying) Station we boarded a waiting Taiwan Tourist Shuttle bus, and two hours later our green-theme frolic on tropical land and sea began.
I've said it before and I'll say it again – never visit this park without first visiting the main visitor's center, just west of Kending village by the main highway, Provincial Highway No. 26. Kending was the first national park in Taiwan, officially opened in 1984, and it's big, taking up about 20,000 hectares of land and about 16,000 of ocean. You can choose from myriad activities, and park staff can help you set things up. Here's a sampling; i.e., everything we tackled in our three days: daytime Sheding Nature Park hike, Longkeng Ecological Protection Area hike, Shadao eco-preserve beach visit, guided tidal-zone tour, bike-ride on park's west side, Longluan Lake birdwatching, snorkeling off Maobitou peninsula, guided Sheding Nature Park night tour, and Kenting National Forest Recreation Area visit.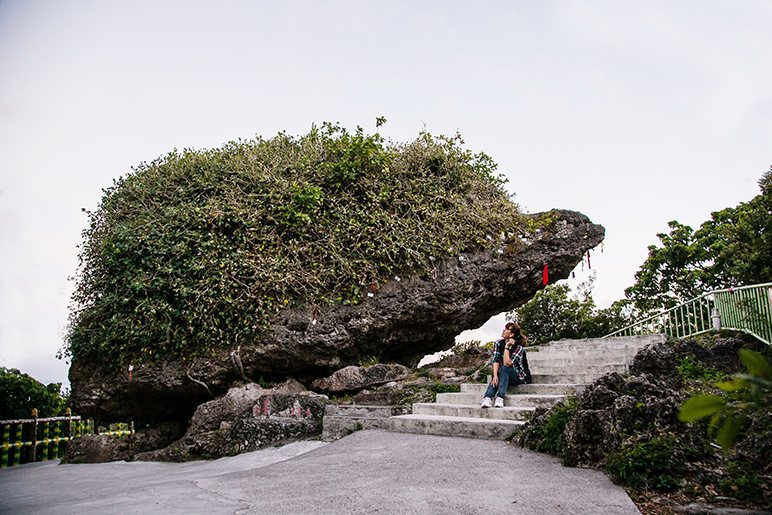 I once wrote elsewhere that Kending is a "giant organic health and fitness center." By the way, most every place you choose to go will be very close to Highway 26, a wide thoroughfare with gentle curves, cool breezes, and appealing scenery that makes it very popular with bicyclists. Also, note that the park administration provides English-speaking guides for tour groups; advance notice required.
Our first adventure was in Sheding Nature Park, in the hills behind Kending village, which – drifting off topic – is the park's main settlement, the main recreational and accommodation center, and the main nightlife attraction, with many restaurants, bars, night-market stalls, and other entertainments along its main road, the local section of Highway 26.
Getting back on topic, Sheding Nature Park receives fewer visitors than neighboring Kenting National Forest Recreation Area, primarily because the latter is less rugged, with paved walkways. We found our "Sheding Nature Park Self-Guidance" brochure, picked up at the visitor's center, invaluable. The terrain is raised coral rock. Pathways slice through crevices and small gorges, and there are a number of limestone caves. You'll see stalactites, stalagmites, stone columns, and other natural structures; it takes five to 160 years for the first two to grow a single centimeter.
You'll pass by the pit of an old lime kiln; there were many here in imperial days, the exposed coral an excellent source of masonry material. We were also lucky enough to spot some members of the local monkey community, darting about among the wind-stunted trees on high coral outcroppings.

Next up was Longkeng Ecological Protection Area, at Taiwan's southernmost point, on finger-like Eluanbi peninsula. Most people believe this is in nearby Eluanbi Park, where the iconic gleaming-white Eluanbi Lighthouse stands, but 'tis not so. Only 200 people can visit Longkeng each day; sign up at the main visitor's center or on the national park's website (www.ktnp.gov.tw). Wearing your identifying wristband (after visiting the small info center), you walk a shady path through 20 minutes of tough, wind-defying cacti-like plants higher than your head, then emerge quite suddenly amidst a bizarre moon-like world of raised coral traversed by shoe-friendly boardwalk. From a high-point lookout I saw Taiwan's Qixing (Seven Stars) Islands for the first time, small bodies of raised coral about 10km south of Eluanbi that are, some say, Kending's best dive site and, say I, the bane of sailors in the days of sail, and a major reason why Great Britain built and manned Eluanbi Lighthouse in the 1880s, the world's only fortified and armed lighthouse.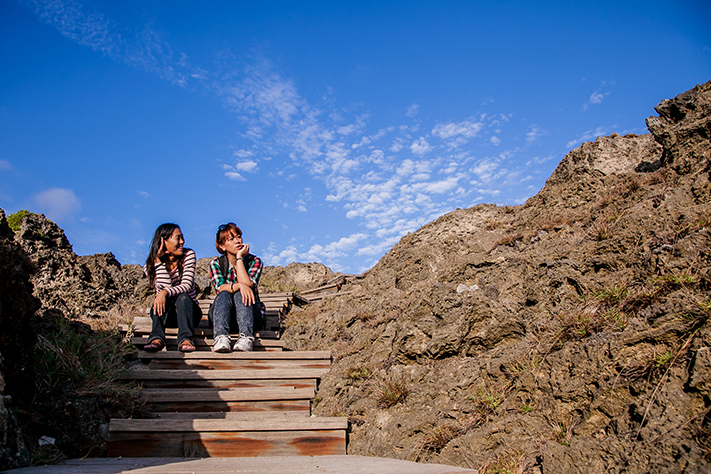 We ended our day's eco-theme adventuring with a visit to Shadao, site of a magnificent stretch of beach almost 300m-long that actually shines. This is said to be Taiwan's purest shell sand, with 98% crushed seashell, coral, and foraminifera. The coast here makes a dramatic 90-degree turn, meaning the materials are washed in but not easily washed back out. Above the beach, now off-limits, the Shell Beach Exhibition Hall answered all our questions, first and foremost being: "What the heck is foraminifera?"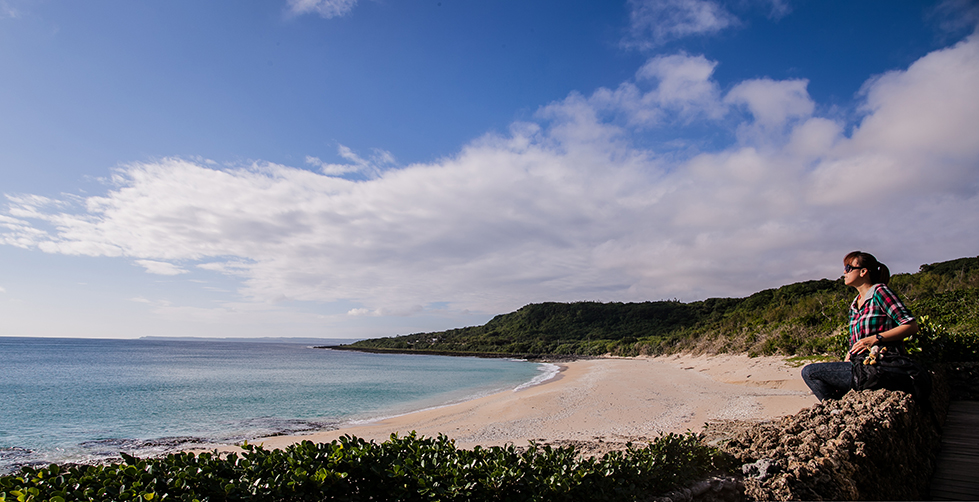 Day 2 – Kending Water Fun
After a leisurely breakfast at YOHO Beach Resort, on the west coast, we joined the daily 9:30am guided tidal-zone tour. I'll never visit a tidal zone again without looking down every step to avoid crushing another living being's house. There was life everywhere. Among my many unique thrills was my first face-to-face encounter with a live sea cucumber, that Chinese banquet-table favorite, thick skin rough to the touch, which hides just out of sight under coral-rock shelves in tidal zones to escape hunting birds' notice.
We then almost immediately jumped on a bike (me) and e-scooters (my gang) for a Longluan Lake jaunt. Our machines were rented from a Giant shop right inside the resort. My bike ride took just 25 leisurely minutes on easy-grade, two-lane, mostly tree-lined backroads with shady, dedicated bike paths along most of the length. We stayed on the road much of the time, for this was a Thursday, most of Taiwan was at work or school, and motor vehicles were scarce.
Taiwan lies along a major migratory route stretching from Siberia to Southeast Asia, and Longluan Lake (entry fee) is a premier spot to ogle both endemic and migratory waterfowl. This protected water-body is surrounded by lush wetlands. A fine nature center overlooks the thriving mini-eco-environment, telescopes allow close-up observation, and there's ample on-site reference information (with English). The "Kenting National Park Bird-watching Guide" brochure, picked up on our first day, was also a great help. We identified white-breasted water hens, cinnamon bitterns, great white egrets, gray herons, and many other types – even, we believe, the magisterial and elusive gray-faced buzzard. Viewing prime-time is October~May.
In the afternoon we went snorkeling off Maobitou peninsula, our boat launching from Houbihu Harbor. I had a grand time. The variety of marine life in terms of both color and shape was far beyond what I'd anticipated. More systematic, coordinated habitat-protection efforts over the past six years have resulted, our guides said, in the return of many species. Over 40 species of stony coral (reef-building) have been recorded off Kending, along with over 40 of soft coral, and 1,105 types of reef fish. What I know I saw was clown fish, angel fish, parrot fish, surgeon fish, knife fish – and, yes, seahorses. What I don't know but saw, was much, much more.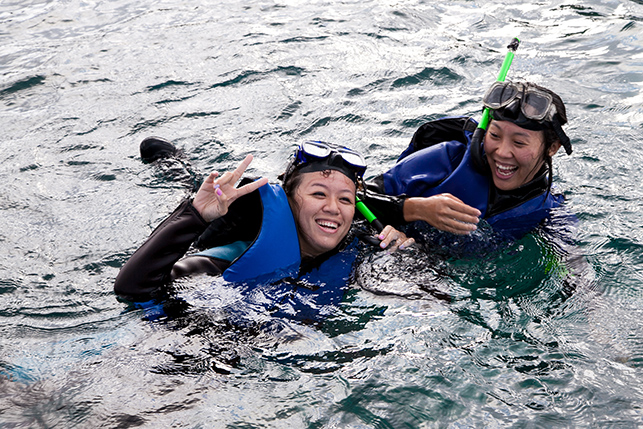 Our day's eco-exploration itinerary was ended with another extra-special treat, a guided Sheding Nature Park night tour (fee). The national park administration has now transferred many trained-guide service responsibilities to the local population, and our extremely friendly guides were from the especially active village of Sheding (www.shirding.org.tw), which offers numerous different theme tours, and handles English tours with advance notice. My night's highlights were repeated encounters with the rare Formosan sika deer, and an encounter with a fist-sized land crab which insisted I give way and advanced in slugging form, claws swinging. I survived. Certified local guides are also given access to normally off-limits paths, and ours brought us to an old charcoal kiln, among other bonuses.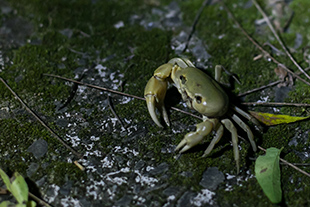 Day 3 – Kending Nature Exploration
We scheduled just one major adventure for our final day, a foray into Kenting National Forest Recreation Area, in the hills above Kending village (entry fee). The area's core is a botanical garden and herbarium opened as a research station by the Japanese in 1906 when they controlled Taiwan, in which they gathered specimens from around the globe looking to enrich their empire. Many of the trees are now giants, and truly magnificent. When you explore yourself, you'll find the two greatest, the wondrous breadfruit tree and looking-glass tree, the latter over 400 years old.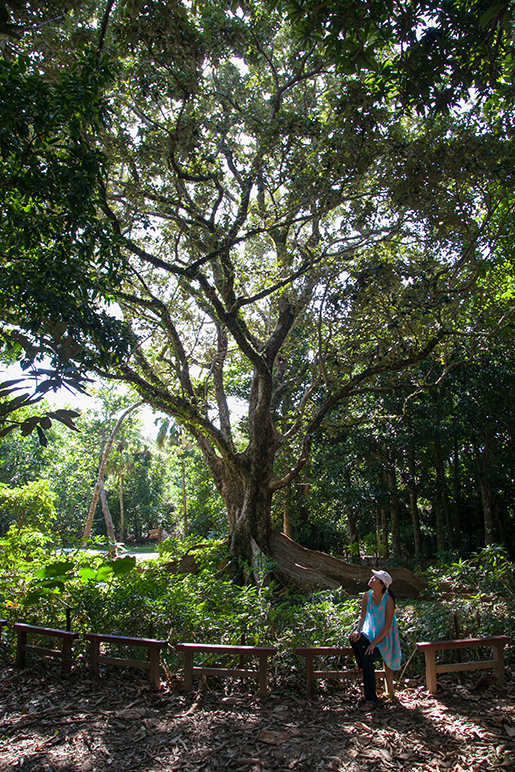 Before heading back to Kaohsiung via the same Taiwan Tourist Shuttle bus service we used coming in, we rambled this way and that along and off Highway 26 on bicycles rented in Kending village. Having been careful to use sun-block my three days away, I came home to Taipei with skin tinted healthy-brown rather than the usual lobster-red. I type these final words in a confident, still-somewhat-bronze state, weeks later. It's raining outside.
A one-way High Speed Rail ticket between Taipei and Kaohsiung is NT$1,490. Buy a Taiwan Tourist Shuttle – Kending Express (www.taiwantrip.com.tw) bus ticket for NT$356 at the Kending Express kiosk by Exit No. 2 at Kaohsiung's HSR station; save 15% by using your EasyCard. The same company, Pingtung Bus Lines (www.ptbus.com.tw), also operates crisscrossing Kending Shuttle Bus routes to points inside and just outside the park; a one-day ticket (NT$150) brings unlimited rides. There are also high-value HSR/Kending Express/Kending Shuttle Bus combo tickets.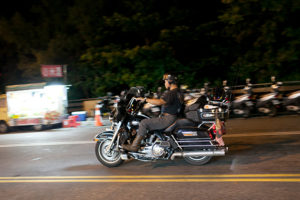 KLOOK activities in Kenting
– Pingtung|Liuqiu Kart Experience
– Kart Experience in Kenting, Pingtung
– Alangyi Historic Trail Day Tour in Pingtung
Hengchun/Kending hotels on booking.com
Also read:
KENTING — The BEST SPOTS from West to East!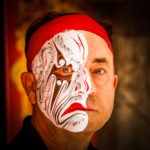 A Canadian, Rick has been resident in Taiwan almost continually since 1988. His book, article, and other writings, on Asian and North American destinations and subjects—encompassing travel, culture, history, business/economics—have been published widely overseas and in Taiwan. He has worked with National Geographic, Michelin, APA Insight Guides, and other Western groups internationally, and with many local publishers and central/city/county government bodies in Taiwan. Rick also handles a wide range of editorial and translation (from Mandarin Chinese) projects.