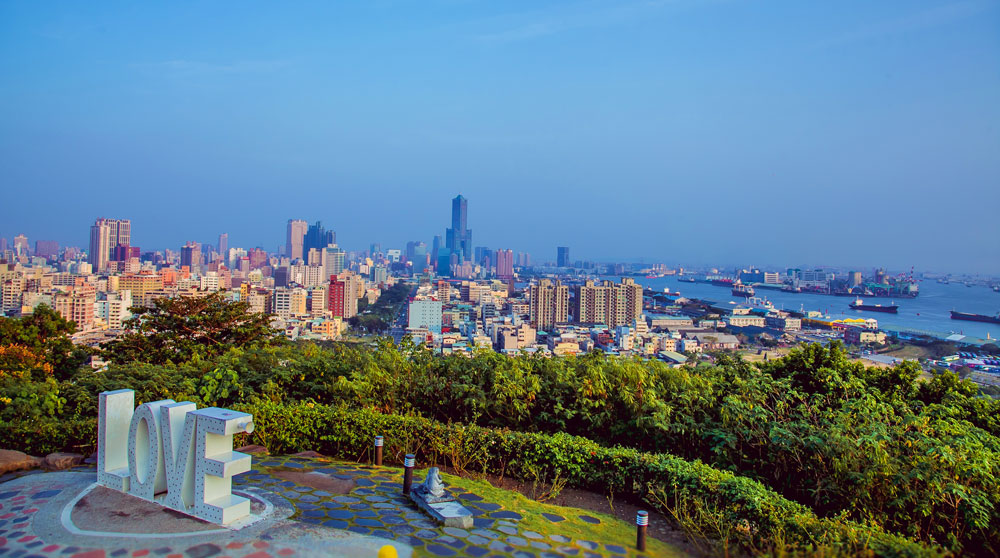 Located on the southwest coast of Taiwan, Kaohsiung is the island's second-largest and second most important city. It attracts visitors with its warm weather, friendly people, and range of new and distinctive scenic spots. Have fun and sate both your gourmet and gourmand spirits along Kaohsiung's metro-system lines (subway and light rail). You can also explore the city by bike during the day and on a romantic boat cruise on the Love River in the evening. Below you'll find suggestions for places to go and things to do on a Kaohsiung sightseeing tour!
Popular Sightseeing Spots in Kaohsiung
Let's start off in the north
Lotus Pond
One of Kaohsiung's most popular tourist attractions, Lotus Pond, is located southwest of Zuoying Station, the southern terminus of the High-Speed Rail line. There is also a conventional railway station and a KMRT station at Zuoying. The pond is a 42-hectare body of water, perfectly complemented by nearby hills, but it's the surrounding religious architecture, including fairy-tale statues, elegant pavilions, and colorful temples, which makes it truly special. Here you want to visit the Spring and Autumn Pavilions and the Dragon and Tiger Pagodas, which you can reach via a zigzag walkway. At the northern end of the pond is Confucius Temple, said to be the largest Confucian shrine in Taiwan. The temple has many information panels helping you to learn more about Confucius.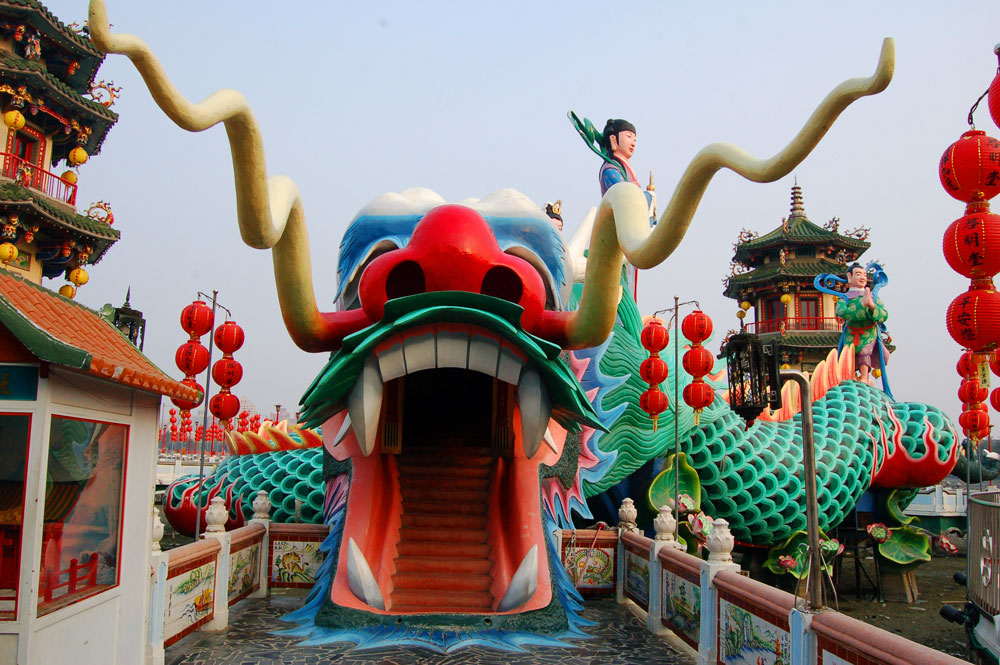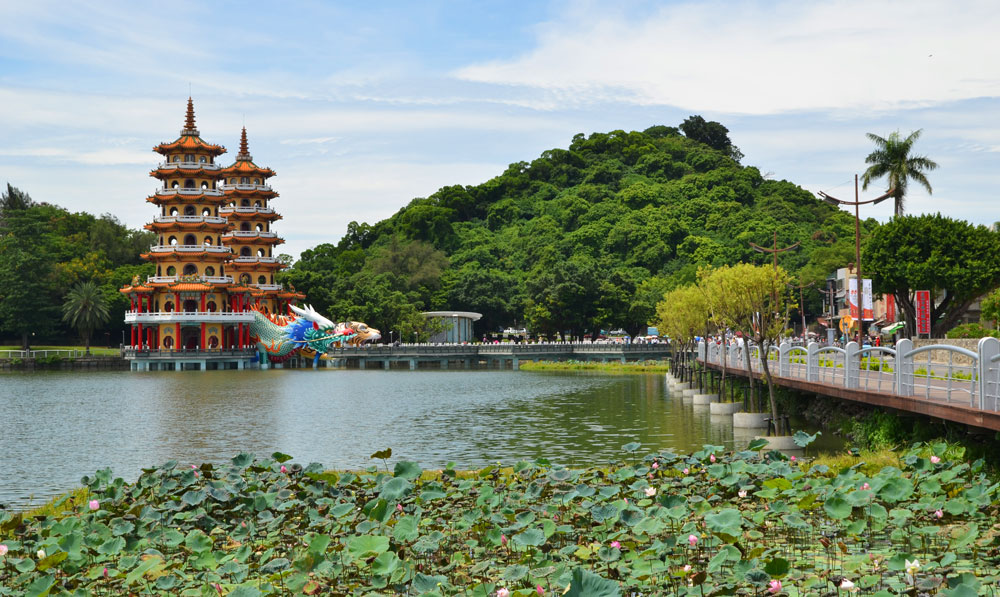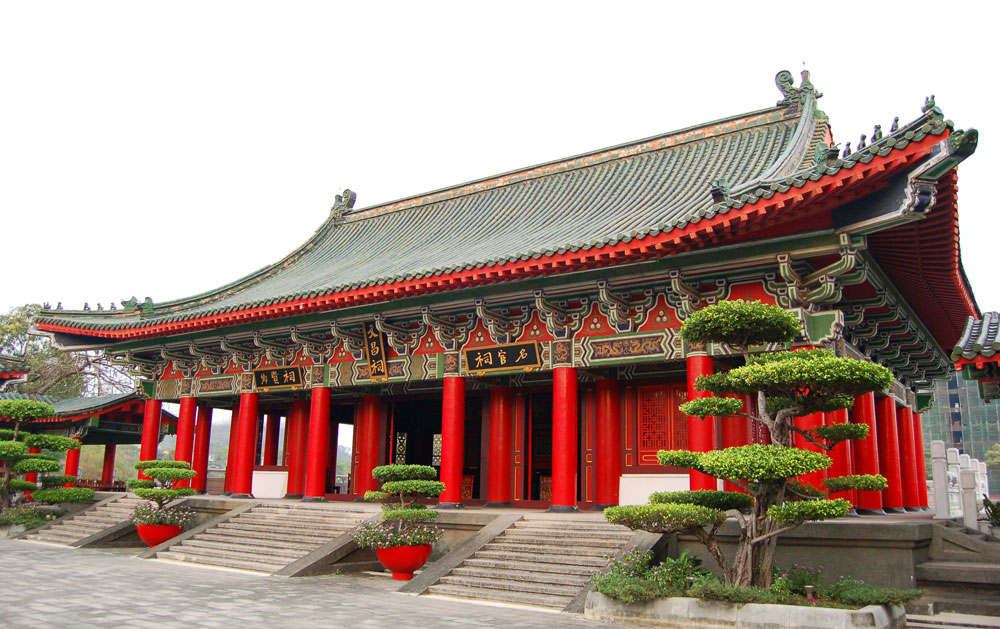 KMRT: Zuoying/THSR Station or Ecological District Station (Red Line)
C-Bike: Lotus Pond (蓮池潭站), Dragon and Tiger Pagoda (龍虎塔站), Confucius Temple (孔廟站)
KLOOK: Kaohsiung Classic Attractions Day Tour
Let's get to Kaohsiung Harbor
Pier-2 Art Center
This is one of the in-spots in Kaohsiung. Young, expansive, and still-growing, Pier-2 Art Center is a special zone at the heart of the city's cultural-creative bloom. There are numerous old, renovated Kaohsiung Harbor warehouses here, long abandoned, which were formerly used to store such goods as fish meal and granulated sugar. Today they are venues for domestic and international exhibitions, festivals, live indoor and outdoor musical, theatrical, and busker performances. Outside you can see large-scale outdoor installation artworks and graffiti-style/3D murals, many wonderfully quirky and whimsical. There are also various cultural-creative merchandise shops and cafés and restaurants.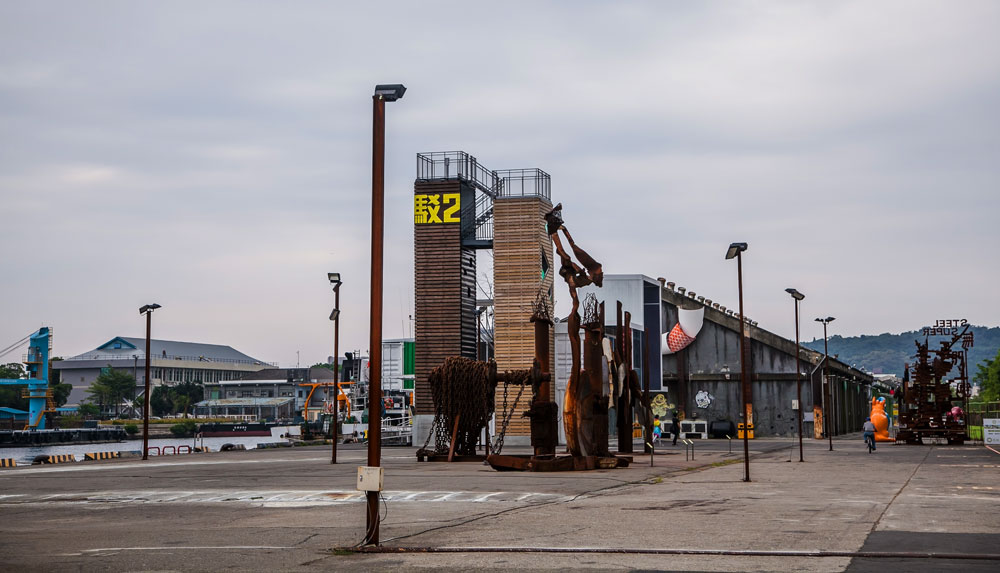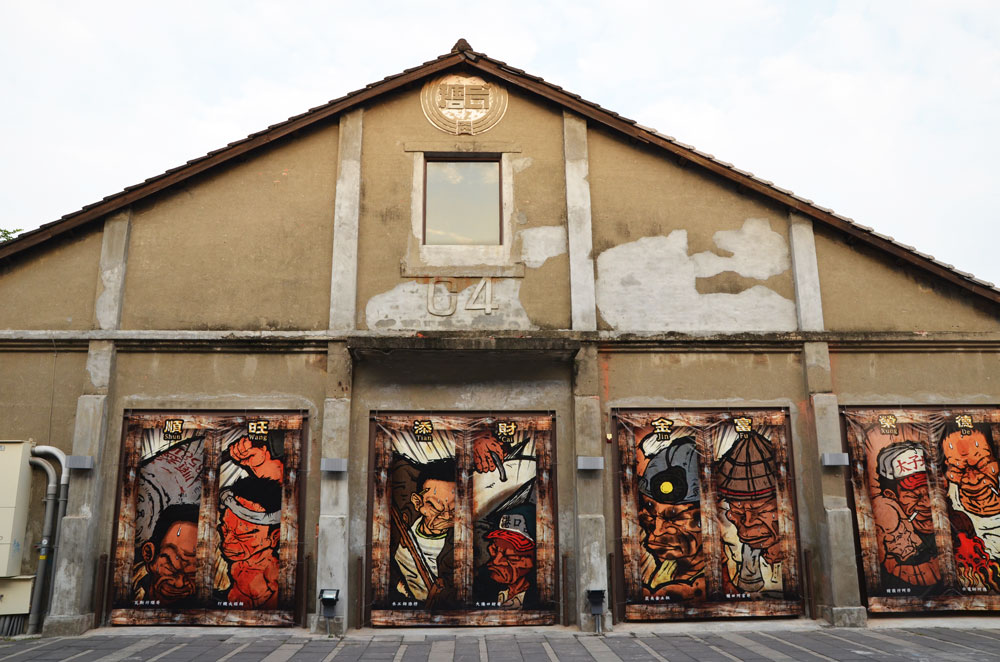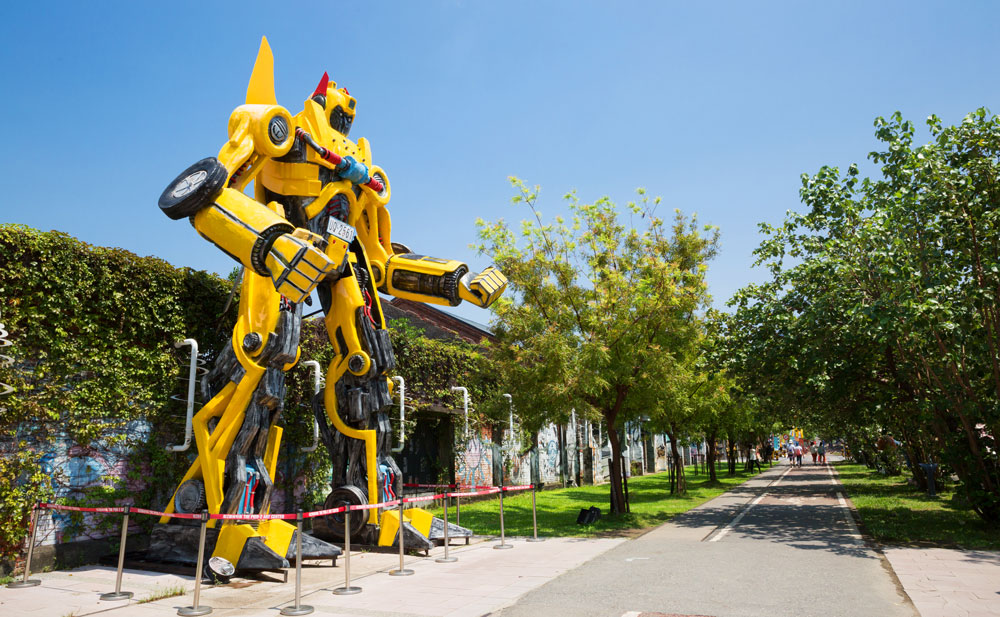 Add: No. 1, Dayong Rd., Kaohsiung City (高雄市大勇路1號)
Website: pier-2.khcc.gov.tw
KMRT: Yanchengpu Station or Sizihwan Station (Orange Line)
C-Bike: Fisherman's Wharf (漁人碼頭站)
Love Pier
From Pier-2 Art Center head east and you will reach Love Pier, formally called Kaohsiung No. 12 Pier. It was named "Love Pier" to capture the local romance for tourists. One prominent feature of the pier is a large white sail. Emphasizing the "love" part are heart-shaped signs with the name of the pier where you want to take selfies and enjoy the harbor scenery, which is especially splendid in the evening.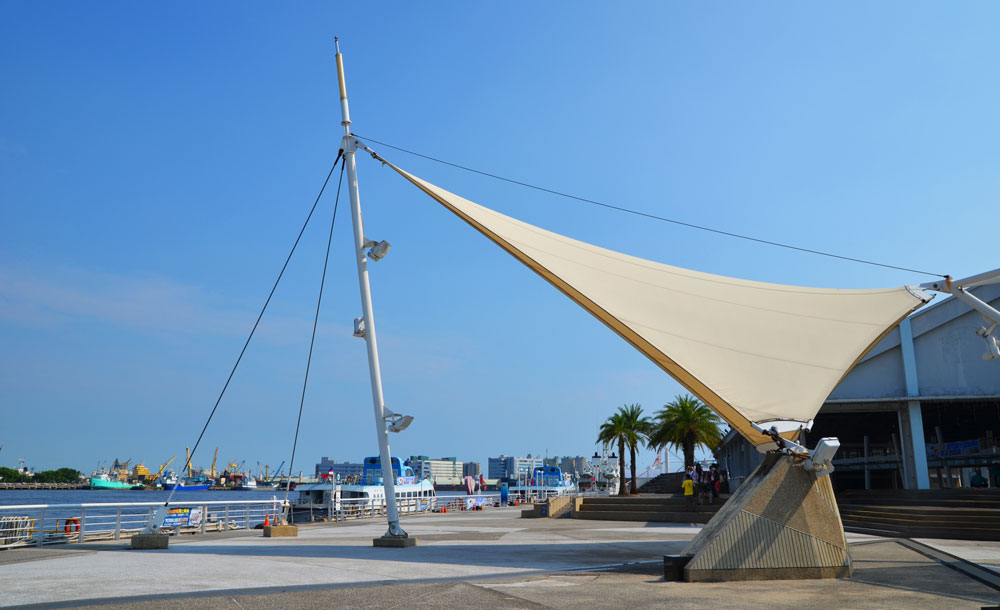 Location: Junction of Gongyuan 2nd Rd. (公園二路) and Hexi Rd., (河西路), Yancheng District
KMRT: Yanchengpu Station (Orange Line)
C-Bike: Kaohsiung Chenai (高雄真愛館站)
Banana Pier & Fisherman's Wharf
The easy-to-recognize (it's yellow…) Banana Pier warehouse is located southwest of Pier-2 Art Center. It has stood beside Kaohsiung Harbor for almost half a century. Here, you can feel the changes that the city has undergone over the years, and taste a variety of delicious snacks. Fisherman's Wharf, near the warehouse, is the biggest pier in Kaohsiung. This is also a great spot to take in the harbor night views.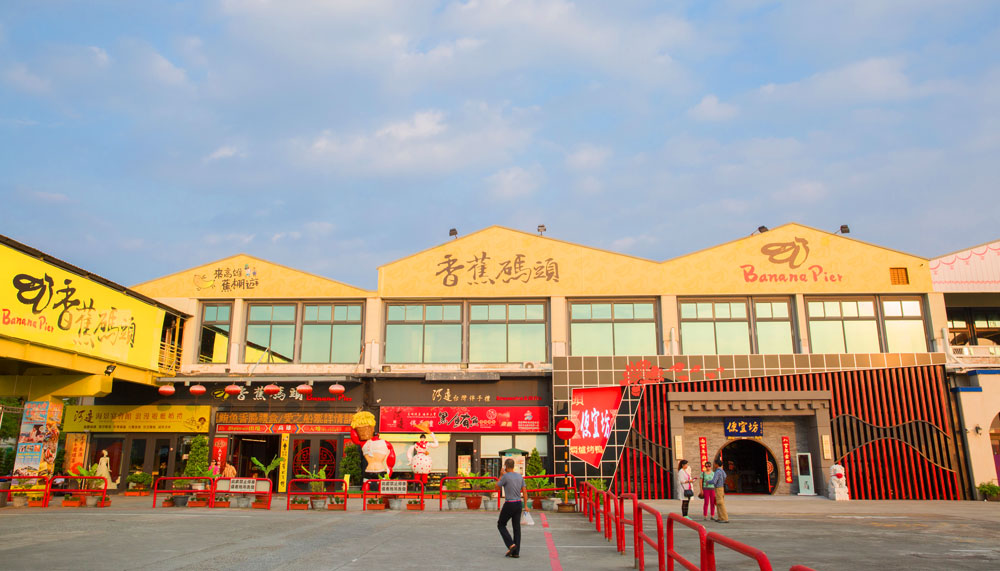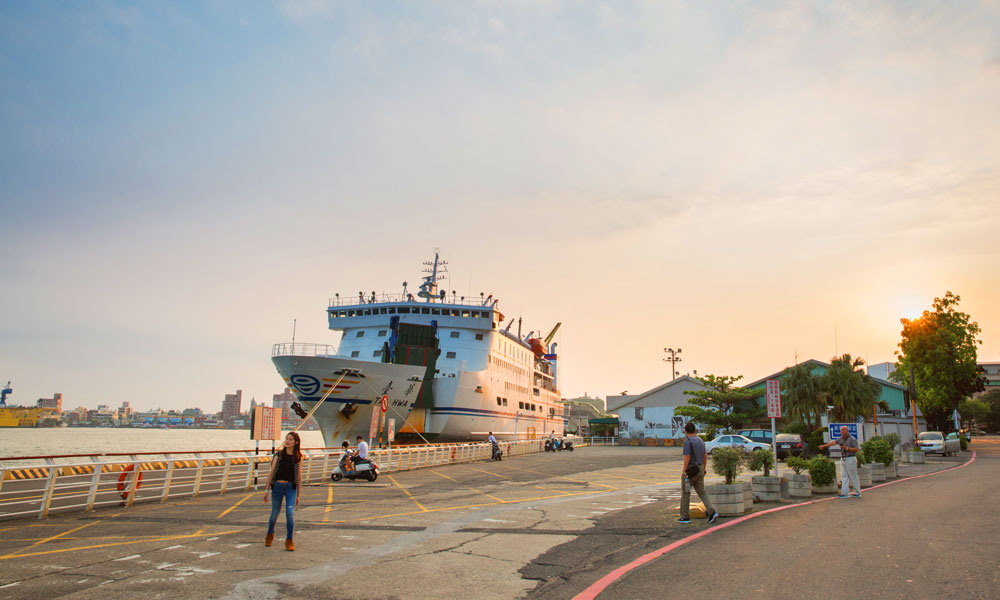 Add: No. 23, Penglai Rd., Gushan Dist., Kaohsiung City
(高雄市鼓山區蓬萊路23號)
KMRT: Sizihwan Station (Orange Line)
C-Bike: Fisherman's Wharf (漁人碼頭站)
KW2
Right by the harbor is KW2, a warehouse that has been transformed into a modern shopping and dining space, with vendors selling designer items and eateries serving yummy dishes. The Yancheng District is an old Kaohsiung neighborhood known for its delicious snack foods. Walk the lanes and alleys north of Yanchengpu Station and you'll come across many of the locals' favorite eateries, including "Da Kou Pang Grilled Sandwiches" and "Po Po Shaved Ice."
KLOOK: Takao1972 Pier 2 at Dayi Pier 2 Station
Let's ferry to Qijin (Cijin) Island
Qijin
This long and narrow island serves as a natural protective barrier for Kaohsiung Harbor. There are numerous tourist attractions, including the beautiful Qihou Lighthouse, seafood restaurants, and a long sandy beach, a great spot for viewing the sunset. But first you have to get to the island. Head to Gushan Ferry Pier and buy a ticket (NT$40; you can pay with iPass and EasyCard). The ride to the other side only takes about five minutes.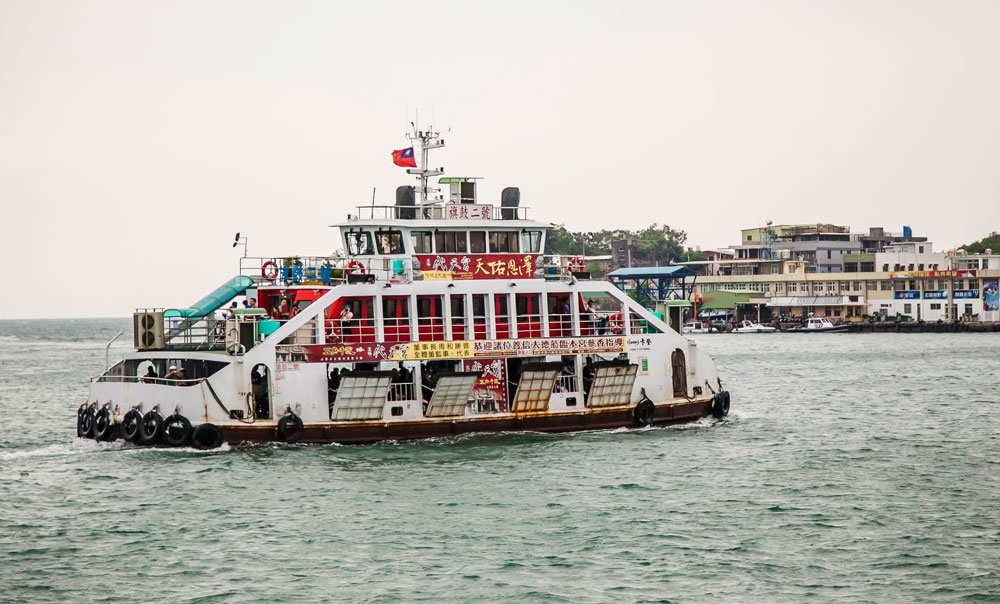 Once you are on the island first check out Qijin Old Street, the oldest settlement of Kaohsiung, dating back to the 1600s. There are inexpensive, simple-décor, high-quality seafood eateries serving the freshest catch imaginable, with display tanks by entrances. The main place of worship here is Tianhou (Empress of Heaven) Temple, Kaohsiung's oldest temple, established in 1673. The temple is dedicated to Mazu, Goddess of the Sea, protector of seafarers. Then you want to walk up to Qihou Lighthouse, which is located close to the northern tip of the island. A snow-white 11-meter-high Baroque-style tower erected by the Japanese in 1916, it stands at the edge of a sea-facing cliff guarding the harbor's exceedingly narrow north-end mouth. South of the lighthouse is Qihou Battery, built by a justifiably anxious Qing Dynasty government in the 1870s, fearful of invasion by the Japanese or Western powers. It was later used by both Taiwan's Japanese colonial masters and the Chinese Nationalist government. From the top of the ruins you have marvelous views south over Qijin Island and Kaohsiung Harbor. (Note: Temple, lighthouse, and battery are all open to the public; but the lighthouse is closed on Mondays.)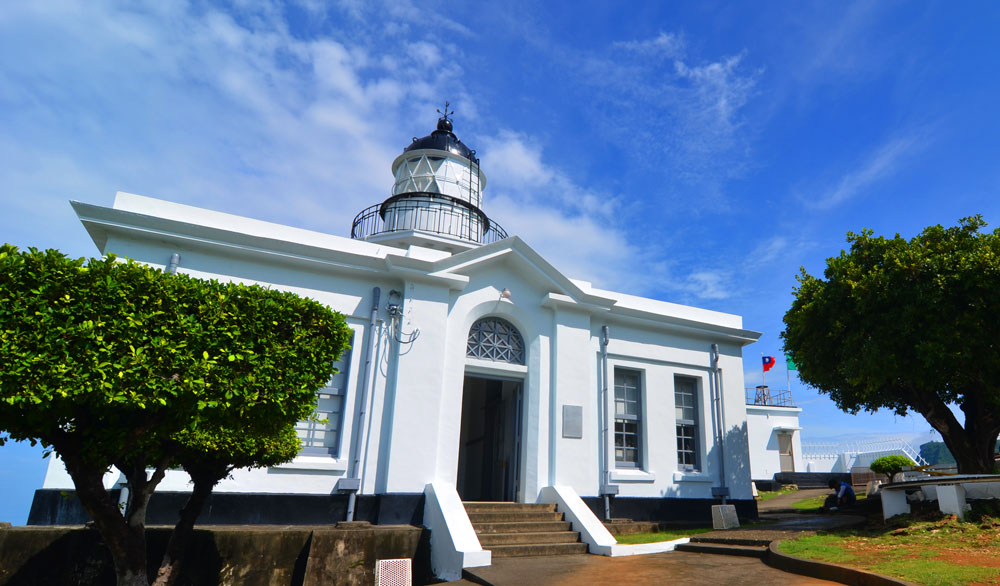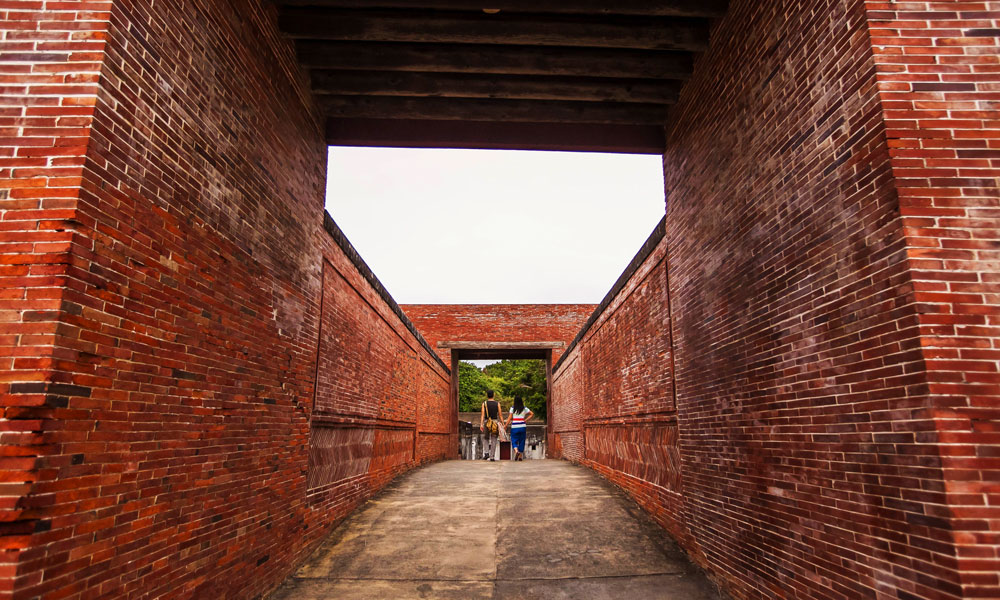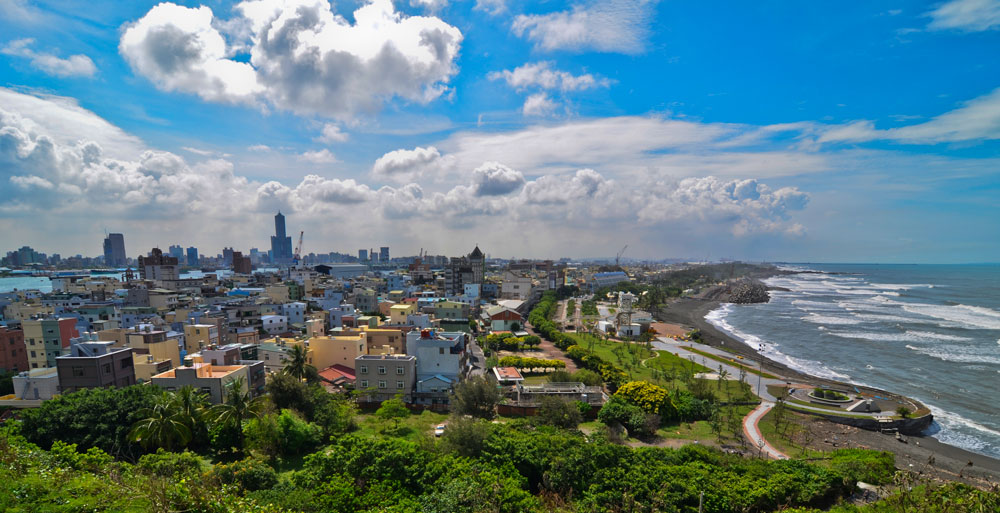 To explore more of Qijin Island, consider renting a bicycle or electric quadricycle (inexpensive and well-maintained) from one of the shops right outside the Qijin ferry building. Head down the main road and look for paths that get you close to the dark-sand beach of Qijin Seaside Park. Among the draws here is Rainbow Church, a colorful open-air chapel-like structure with an ocean backdrop that draws countless couples for wedding-photo shoots, and the Qijin Sea Pearl, a large clam-shaped amphitheater-like structure designed as a sea-viewing platform. A little further south is Qijin Wind Power Park, an eco-theme park with a line of small tri-blade wind turbines that provide nighttime park illumination, a large observatory directly behind.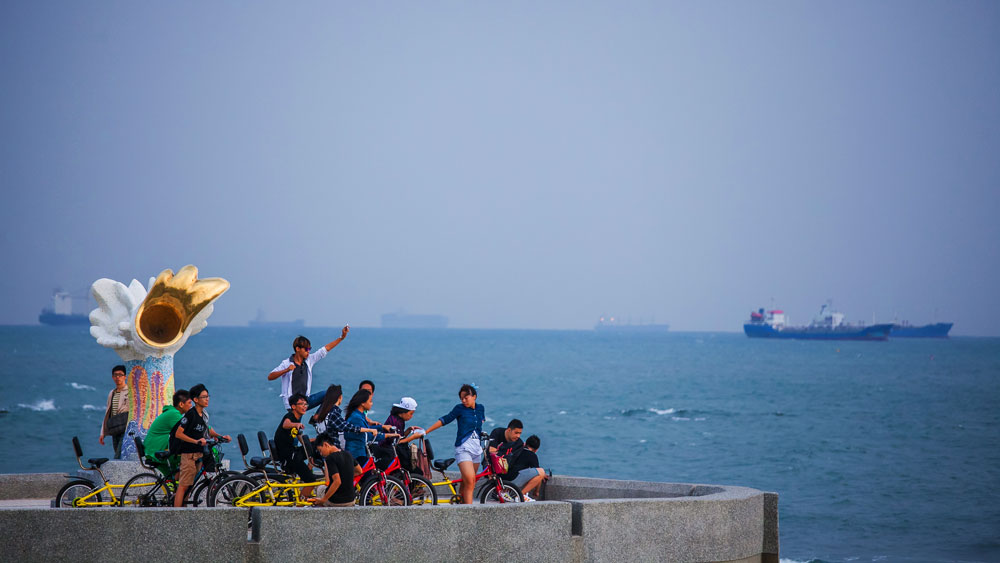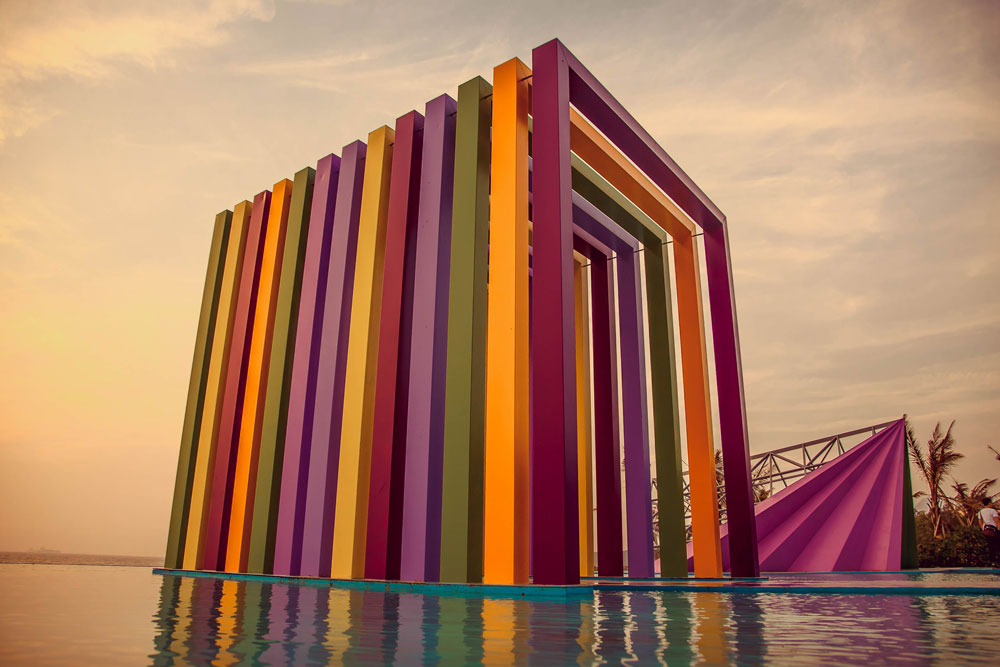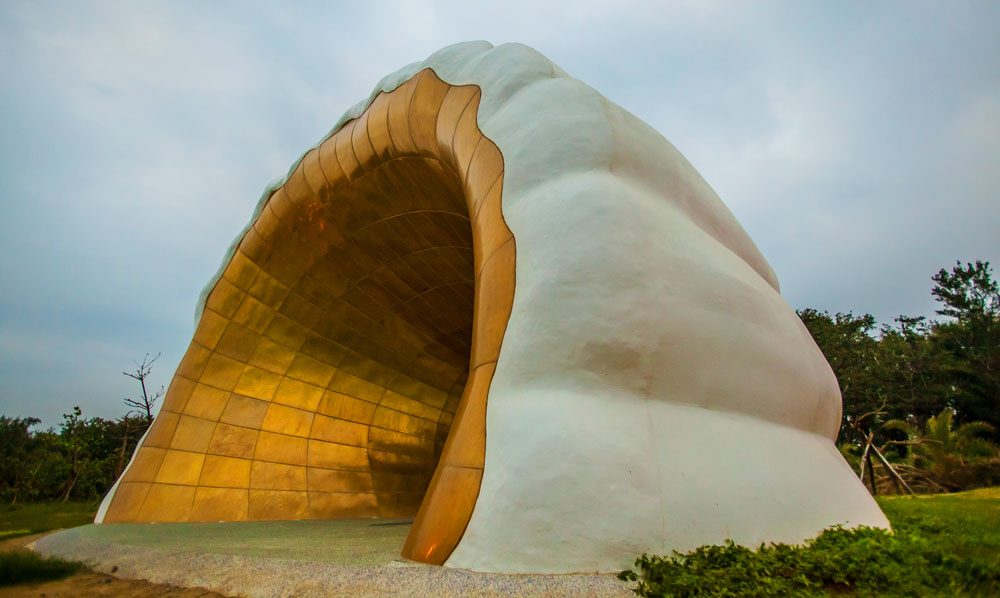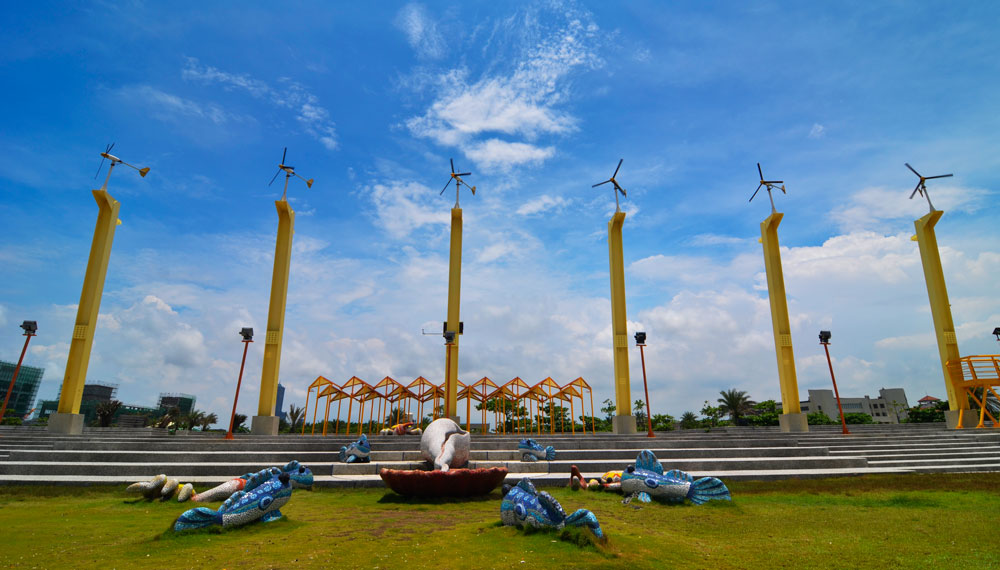 Not many tourist make it to the southern tip of Qijin Island, which is characterized by large container facilities. There is however a tourist attraction, Qijin's Gaozi Tower overlooking the southern entrance to Kaohsiung Harbor. Here you can see the huge ocean-going vessels enter the harbor. On the opposite side is Hongmaogang Cultural Park.
KMRT: Sizihwan Station (Orange Line)
C-Bike: National Kaohsiung Marine University Cijin District (海科大旗津站)
Hongmaogang Cultural Park
To get to Hongmaogang Cultural Park takes a bit of effort. It is located on the peninsula opposite the southern end of Qijin Island. You can get there from Pier 2 on a boat cruise or from KMRT Siaogang Station via shuttle bus or by taking a taxi.
Originally, this was site of an indigenous village and, founded in imperial times, a Han Chinese fishing village. "Hongmaogang" means "Red Hairs Harbor." Dutch ships moored here in the 1600s; the Chinese commonly called Hollanders, and Westerners in general, "Red Hairs." The young park is built around the remains of the old Han village; there are videos and displays on the local indigenous life and on Hongmaogang's "five major cultural properties: lagoons, shrimp farming, black mullet fishing and draggers, neighborhood temples, and sailing rafts."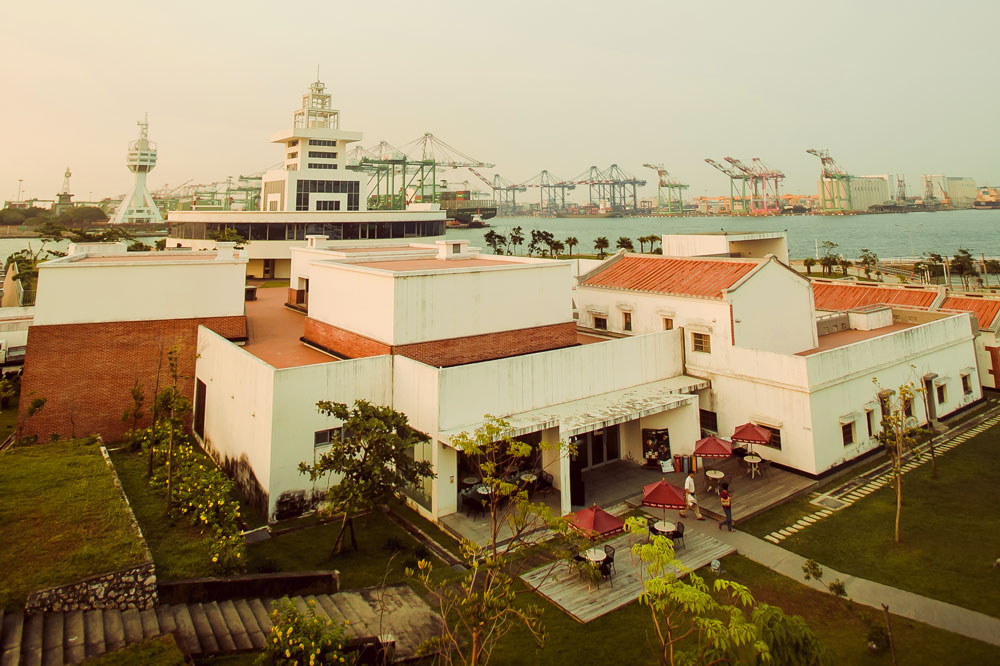 Website: hongmaogang.khcc.gov.tw
KMRT: Siaogang Station (Red Line)
C-Bike: Siaogang (MRT) (捷運小港站)
Let's head to Kaohsiung's Shoushan Hill
Shoushan Lover's Observatory
A popular spot to take in Kaohsiung scenery from above and take some memorable pictures is the LOVE sign near Kaohsiung Martyrs' Shrine. It's not far from Gushan Ferry Pier, located on the southeastern side of Shoushan Hill (Mt. Longevity). To get there, take bus No. 56 from Yanchengpu Station or walk from Sizihwan Station and get off at the Lover's Observatory bus stop. The views are especially delightful in the evening, when the sign is illuminated. You can see much of Kaohsiung City, including the Ferris wheel of the Dream Mall.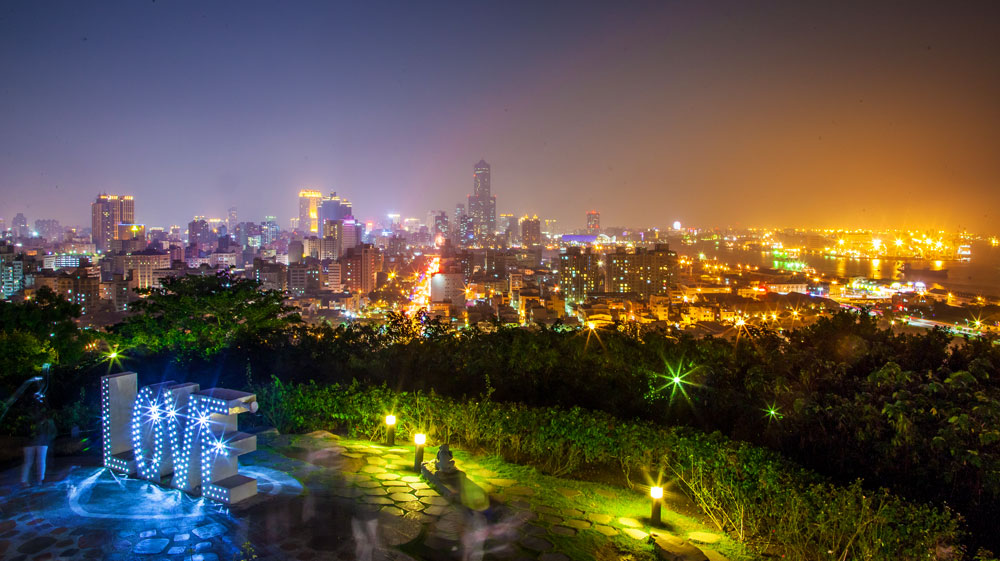 KMRT: Sizihwan Station (Orange Line)
C-Bike: Sizihwan (MRT) (西子灣站)
The British Consulate at Takow
Further south on a spur of Shoushan is The British Consulate at Takow, also an excellent place to take in views of Kaohsiung. The original consulate was built in 1865, after Taiwan treaty ports were opened following the Second Opium War. The current heritage-site edition, an attractive red-brick building done in late Renaissance Baroque style, dates to 1879. The rectangular mansion, which has a breezy wraparound arcade veranda, today houses displays on 19th-century trade and the important amateur natural scientist Robert Swinhoe, who served as British consul. It also has a café/restaurant with much-in-demand outdoor seating, day and night.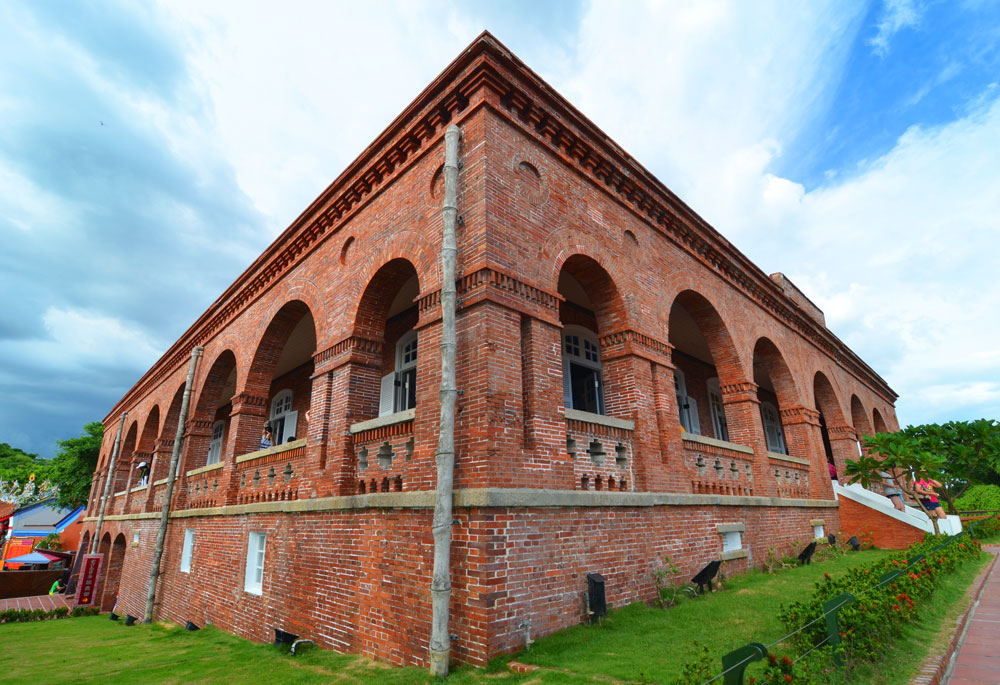 Add: No. 20, Lianhai Rd., Gushan District, Kaohsiung City
(高雄市鼓山區蓮海路20號)
Tel: (07) 525-010
Website: britishconsulate.khcc.gov.tw
KMRT: Sizihwan Station (Orange Line)
C-Bike: Sun Yat-Sen Alumni House (西子樓站)
Let's see the sunset
Xizi Bay
Walk down from the hill on which the consulate is and turn right to reach Xizi Bay a place renowned for beautiful sunsets and natural reefs. The sunsets are among the "eight famous sights" of Kaohsiung – as the sun descends, couples gather to enjoy the sundown glow, which paints a scene of great poetic beauty. To get back to the city from the bay take the small tunnel at National Sun Yat-sen University, which brings you to Linhai Road in Gushan District. Follow that road to get to Sizihwan Station.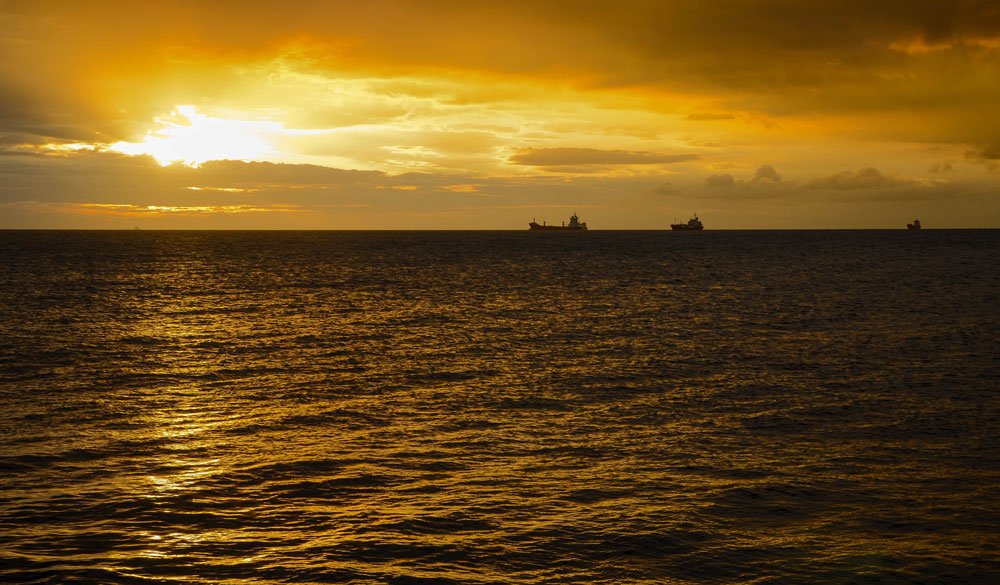 KMRT: Sizihwan Station (Orange Line)
C-Bike: National Sun Yat-Sen University (中山大學站)
Let's do some river cruising
Love River
After watching the sunset at Xizi Bay (or on Qijin Island) head to the Love River. This is the main river in Kaohsiung, 12 km long, meandering through the heart of the city. It is framed by attractive bike paths and pedestrian walkways and is a favorite place to go walking. During the day, you can enjoy the shimmering waters and luxuriant flower and tree life. At night the lights come on, blending with the building illumination on either side to create a resplendent road of romance.
The best Love River views are from down on the water's surface, and for good reason Love Boat tours are greatly popular, sailing by the tall buildings and riverside strollers. The 20-minute outings take you from Zhongzheng Bridge to Love Pier and back. The best time is dusk, the sky aglow with the day's sunset art.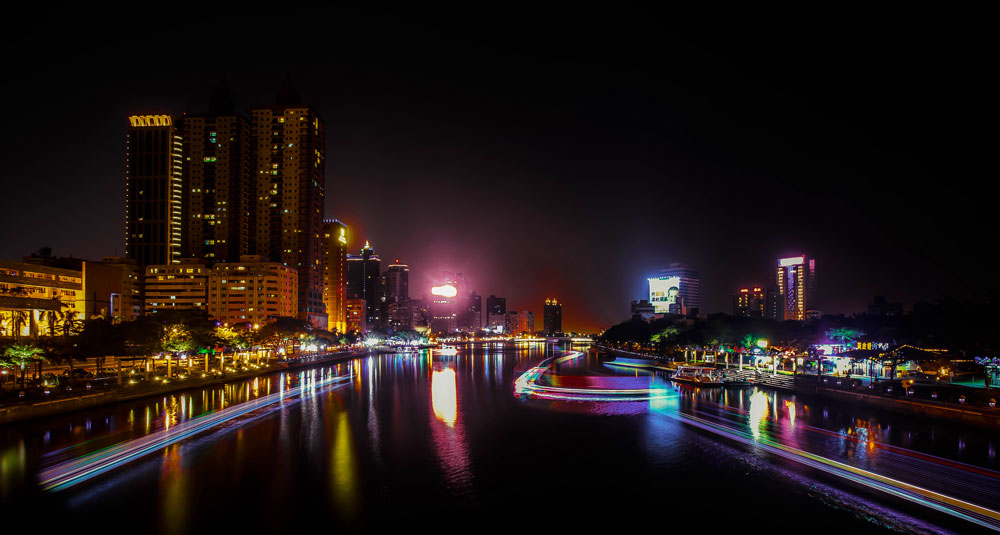 Tel: (07) 521-2463 (Love Pier); (07) 216-0668
(Kaohsiung City Ferry Co./高雄市輪船公司)
Tickets: Adults NT$80
Boarding Locations: On Hexi Rd. (河西路) and Hedong Rd. (河東路) near Zhongzheng
d. (中正路)
Operation Time: 4pm ~ 11pm
KMRT: City Council and Yanchengpu stations (Orange Line)
C-Bike: Ambassador Hotel (國賓飯店站) (Hedong Rd.), Kaohsiung Film Archive (高雄電影館站) (Hexi Rd.)
Love Pier Station/Glory Pier Station
Between these two LRT stations, trains pass a bridge crossing the Love River, close to where the river merges with the waters of the harbor. You can walk across the same bridge and take in the views of the river, which are especially enchanting in the evening when the bridges across the waterway are colorfully illuminated. The Love Pier, to the south of the bridge, is dominated by a decorative structure featuring two large sails, a popular place to take pictures.
Let's have some fun
Taroko Park
Taroko Park is Taiwan's first sports-theme park, and arguably offers the best range of facilities for toddlers and young children, making it ideal for families. What's more, it is the only major theme park accessible by metro in Taiwan; and being located only one stop from Kaohsiung International Airport, it tempts travelers with a last-stop shopping and entertainment experience before catching their flights. Perhaps the biggest attraction at the park is the Suzuka Circuit Park, a 1/10 scale go-karting version of the F1 race track in Suzuka, Japan.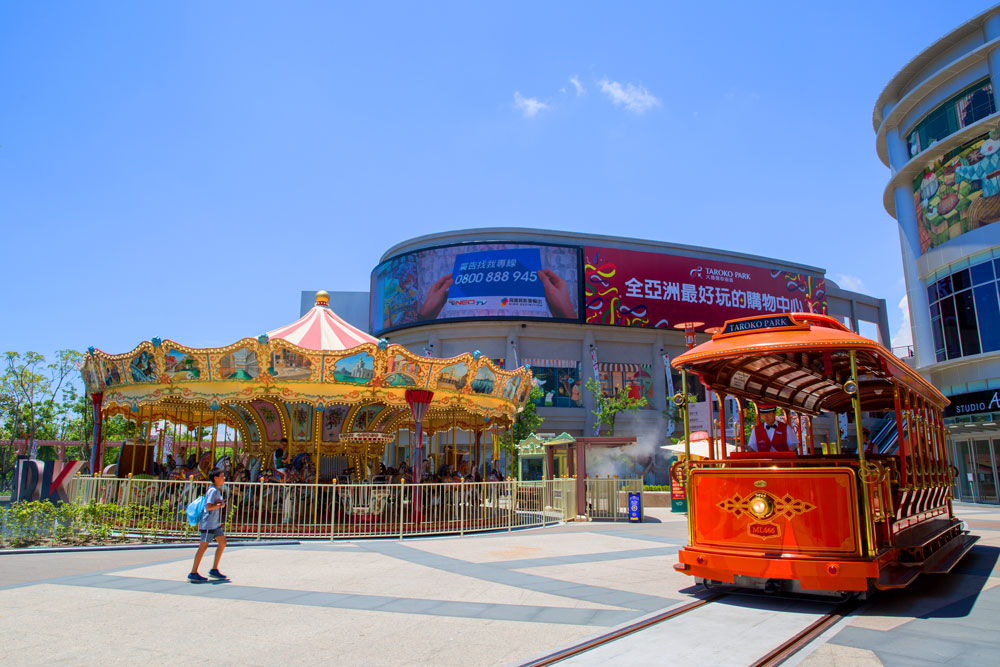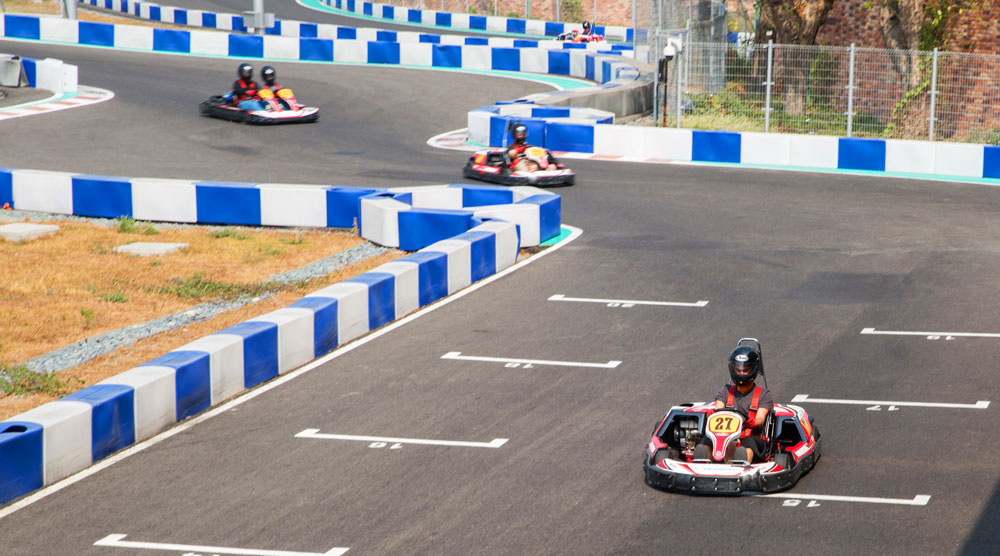 Add: No. 1-1, Zhong'an, Qianzhen District, Kaohsiung City
(高雄市前鎮區中安路1之1號)
Tel: (07) 796-9999
Website: www.tarokopark.com.tw
KMRT: Caoya Station (Red Line)
C-Bike: Caoya (MRT) (草衙站)
TAROKO PARK in Kaohsiung, a LOT of FUN to HAVE!
KLOOK: Mini Suzuka Circuit Kart Racing Ticket in Kaohsiung
Let's do some shopping
Dream Mall
It's easy to get to the Dream Mall, just take the LRT to Dream Mall Station. This is a large center for shopping, leisure, entertainment, and dining based on four themes: ocean, flowers, nature, and universe. Its most striking feature is its massive rooftop Ferris wheel, known as the Kaohsiung Eye. While on a ride you enjoy a spectacular bird's-eye view of city center, harbor, and sea.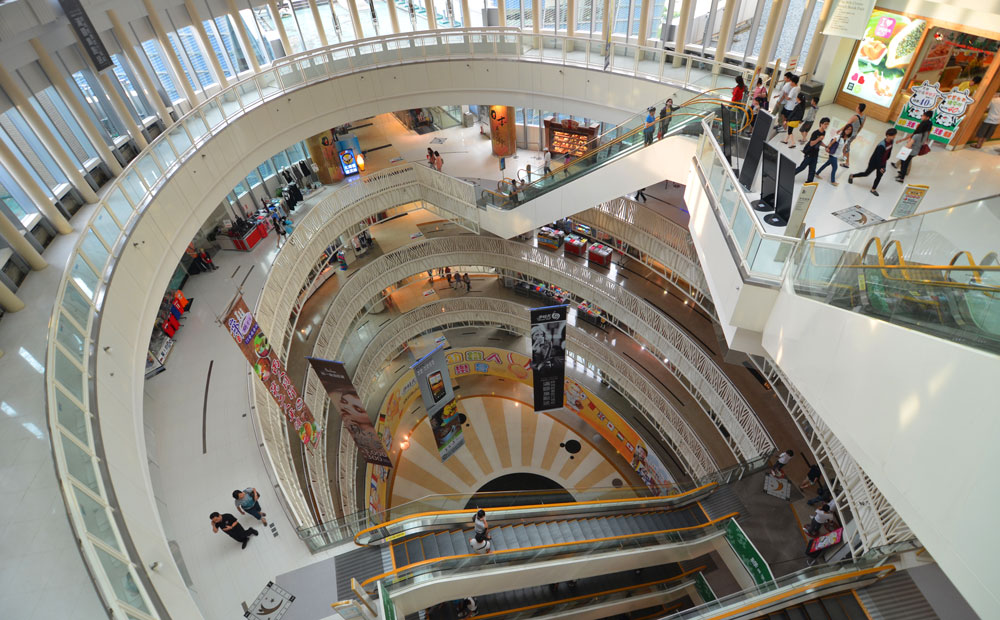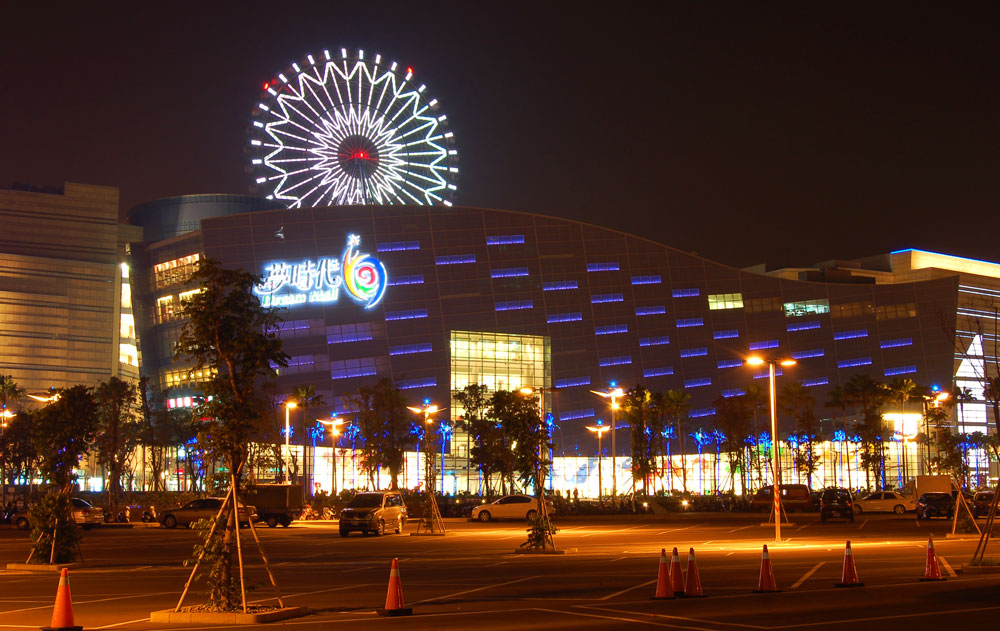 Add: No. 789, Zhonghua 5th Rd., Kaohsiung City
(高雄市中華五路789號)
Tel: (07) 973-3888
Website: www.dream-mall.com.tw (Chinese)
KMRT: Dream Mall Station (Light Rail)
C-Bike: Fire Bureau (消防局站)
New Jyuejiang Shopping Area
New Jyuejiang Shopping Area is smack in the center of the city, close to spacious Central Park, a green oasis with pond, bridges, and water birds. The shopping area offers the latest fashions, leisure fun, and good food all in one, attracting many young visitors. Here, you can not only buy the hottest clothing brands and the newest and most stylish in other products, products, but also take in a movie and enjoy tasty food treats.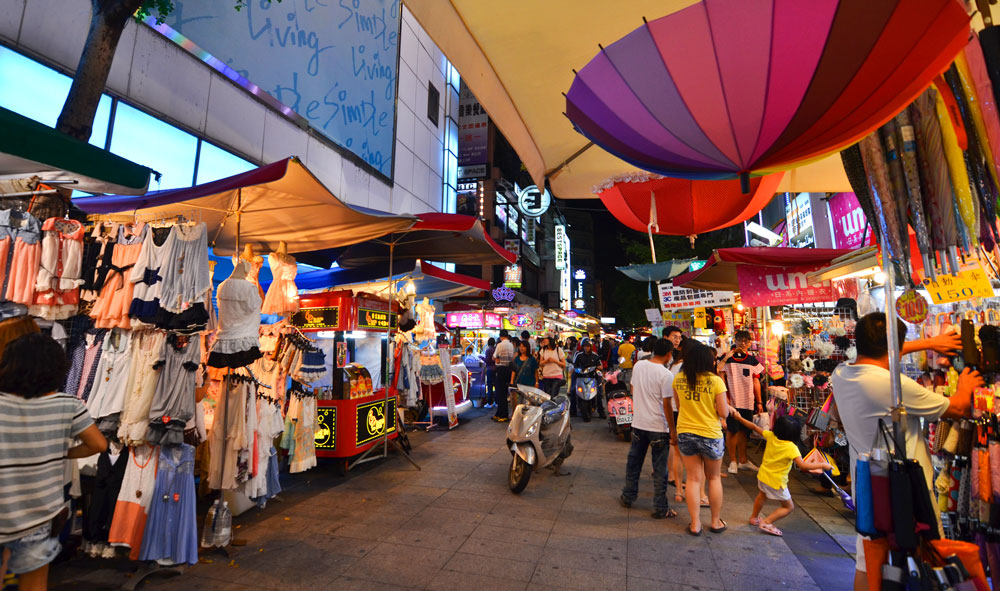 Location: Intersection of Wufu 2nd Rd. and Zhongshan Rd., Xinxing Dist., Kaohsiung City
(高雄市新興區五福二路與中山路口)
KMRT: Central Park Station (Red Line) (中央公園站)
C-Bike: Central Park (MRT)
Let's take a culture trip
Kaohsiung Main Public Library
Close to Kaohsiung Exhibition Center Kaohsiung Main Public Library is a modern library with interesting architecture. It is the first green suspension structure in the world. Check out the lovely rooftop hanging garden on the 8th floor, which has a fine broad view of the harbor and Qijin Island.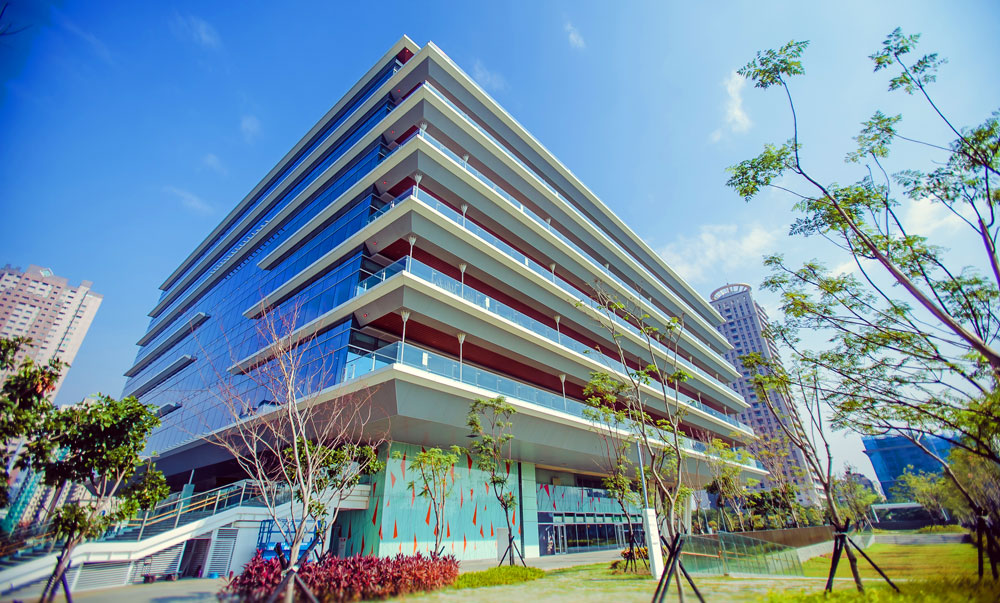 Tel: (07) 536-0238
Add: No. 61, Xinguang Rd., Qianzhen District, Kaohsiung City
(高雄市前鎮區新光路61號)
Website: www.ksml.edu.tw
Hours: All week 10am ~ 10pm; national holidays 10am ~ 5pm
KMRT: Kaohsiung Exhibition Center Station (Light Rail)
C-Bike: Kaohsiung Main Public Library (圖書總館站)
Dadong Arts Center
Another young green-complex creation, the magnificent membrane-roof Dadong Arts Center, has also become an artistic attraction, especially at night when lit up. The center is a functional art space, aiming to be the state-of-the-art venue for producing artistic and cultural events in Kaohsiung.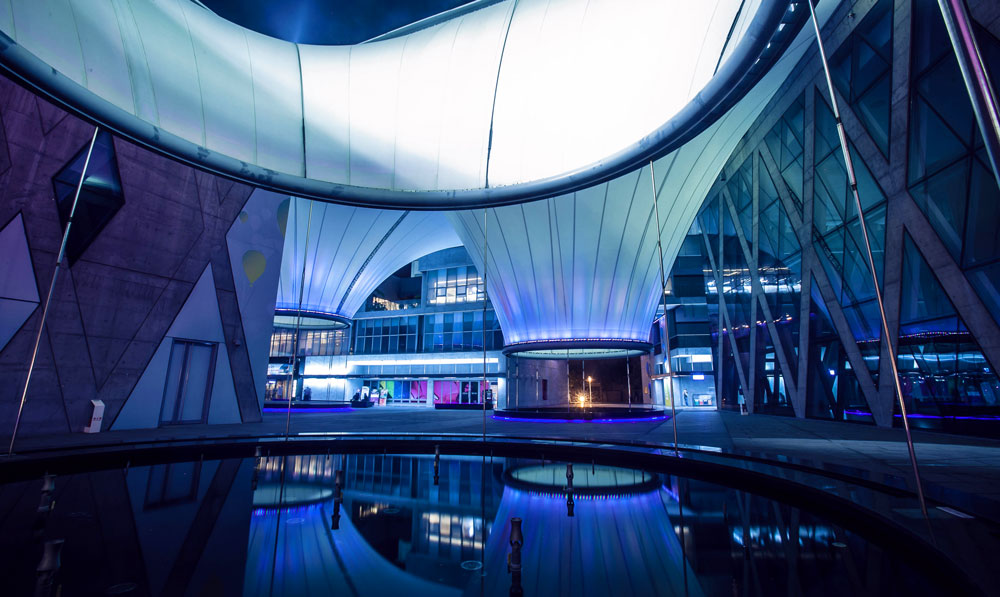 Tel: (07) 743-0011
Add: No. 161, Guangyuan Rd., Fengshan District, Kaohsiung City
(高雄市鳳山區光遠路161號)
Website: dadongcenter.khcc.gov.tw
KMRT: Dadong Station (Orange Line) (大東文化藝術中心站)
C-Bike: Da-Dong Art Center 01 & 02
Sightseeing in Kaohsiung's FENGSHAN District
Takao Railway Museum
This facility, originally Kaohsiung's port station, was also its first railway station, a key hub in the city's development of land-sea transportation. The station was targeted and destroyed by Allied bombing in WW II, rebuilt, and finally entrusted by the city government to an outside enterprise for operation as a museum. There are exhibit rooms, a railway-document archive, and a platform and track area.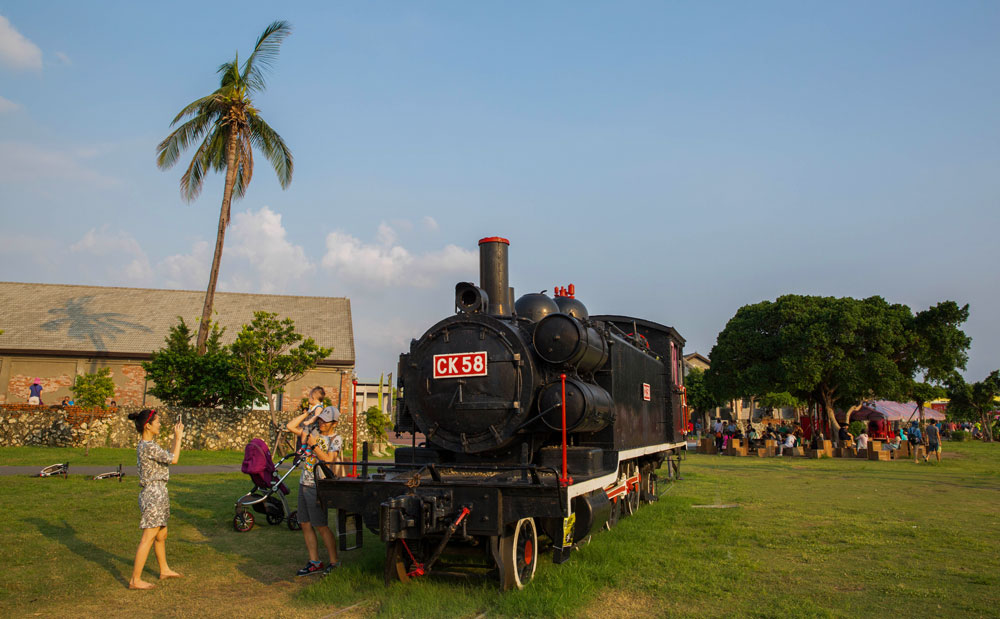 Tel: (07) 531-6209
Add: 32 Gushan 1st Rd., Gushan District, Kaohsiung City
(高雄市鼓山區鼓山一路32號)
Website: takao.railway.tw (Chinese)
Hours: Tue. ~ Sun. 10am ~ 6pm (closed on Mondays)
KMRT: Sizihwan Station (Orange Line)
C-Bike: Sizihwan (MRT) (西子灣站)
Kaohsiung Film Archive
Established in 2001, this is a compact space of sophisticated design where ticketed movies are screened daily. Within the archive's collection are all types of projection equipment, movie-related books, art films, and documentaries. The facility, beside the Love River, attracts many Kaohsiung film aficionados, providing a diversified visual feast.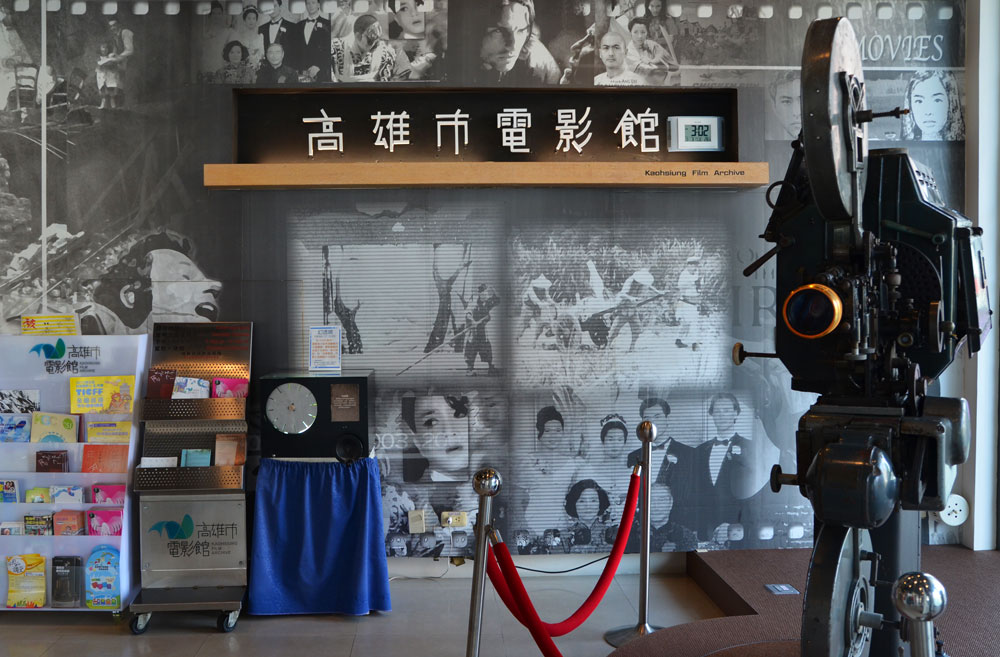 Tel: (07) 551-1211
Add: 10 Hexi Rd., Yancheng District, Kaohsiung City
(高雄市鹽埕區河西路10號)
Website: kfa.kcg.gov.tw
Hours: Tue ~ Sun, 1pm ~ 9:30pm (closed on Mondays)
KMRT: Yanchengpu Station (Orange Line)
C-Bike: Kaohsiung Film Archive (高雄電影館站)
Kaohsiung Museum of History
The building housing this museum was constructed in 1939, during the Japanese colonial era, to serve as Kaohsiung's second City Hall. Bright and imposing, it is in the Imperial Crown Style. The museum, opened when the government relocated, houses documents and artifacts telling the city's story. Special exhibits and activities are staged regularly.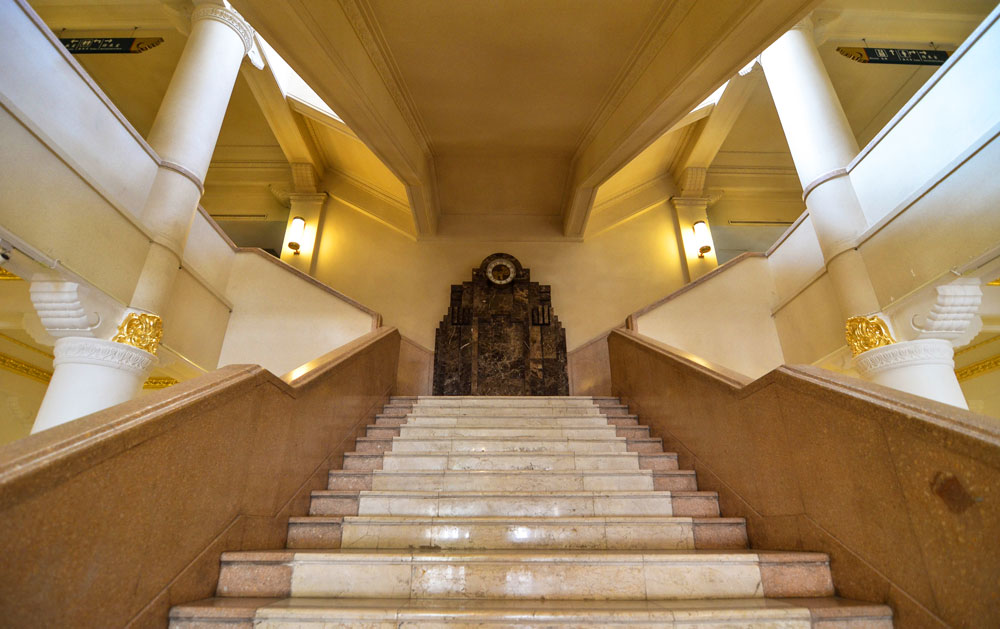 Tel: (07) 531-2560
Add: 272, Zhongzheng 4th Rd., Yancheng District, Kaohsiung City
(高雄市鹽埕區中正四路272號)
Hours: Tue. ~ Sun. 9am ~ 5pm (closed on Mondays)
KMRT: Yanchengpu Station (Orange Line)
C-Bike: Kaohsiung Museum of History (市立歷史博物館站)
Wude Martial Arts Center
Completed in 1924, this facility was originally used as a martial-arts training center for police and youth. Made of red brick, the grandiose entrance features Chinese Tang Dynasty stylistic elements, and even more intriguing are wall reliefs symbolizing the traditional Japanese "wude" spirit, emphasizing chivalry and morality. The facility, managed by the Kaohsiung City Kendo Culture Promotion Association, is open to tourists, has kendo-related activities, and rental facilities.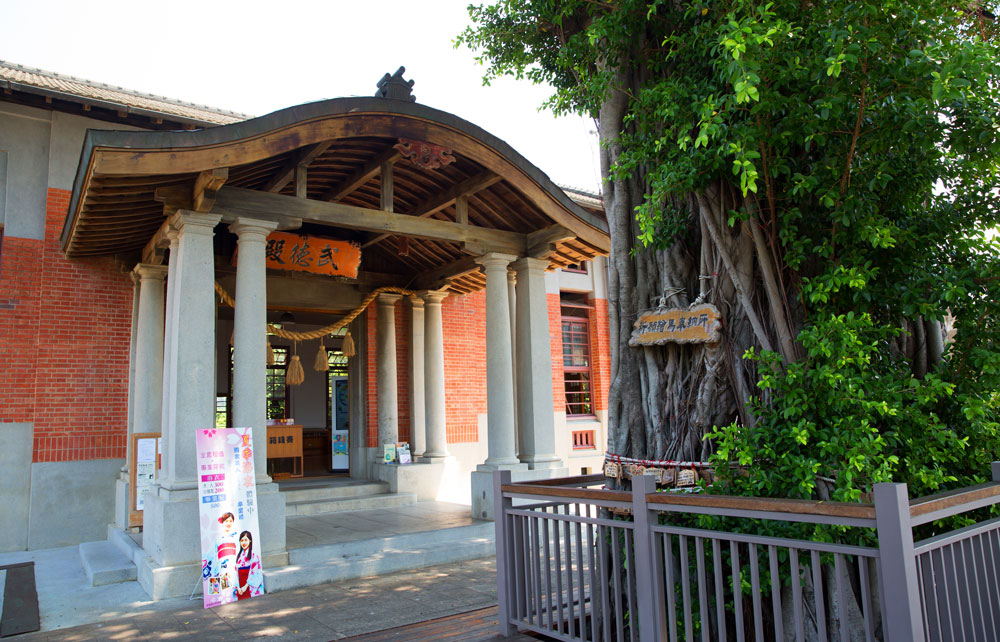 Tel: (07) 531-8845
Add: No. 36, Dengshan St., Gushan District, Kaohsiung City
(高雄市鼓山區登山街36號)
Hours: Tue. ~ Sun. 10am ~ 6pm (closed on Mondays)
KMRT: Sizihwan Station (Orange Line)
C-Bike: Sizihwan (MRT) (西子灣站)
This was just a small sampler of attractions you can find in the city of Kaohsiung. There is much more with in the itself and even more in its outlying districts. Make sure to visit khh.travel to find out more.
Getting Around Kaohsiung City
KMRT
Kaohsiung's metro system has three lines (Red Line, Orange Line, and Light Rail [LRT]) and many of the places of interest introduced below can be easily reached by taking the KMRT. Some, however require a ferry ride (Qijin), bus/taxi ride (Shoushan/Hongmaocheng), and perhaps a bit of walking (Xizi Bay). You can either pay for each single trip (cash, iPass, EasyCard, iCash, happycash) or buy a 1-day ticket (NT$150) or a 2-day ticket (NT$250), allowing you to make limitless trips. For more info, visit: www.krtco.com.tw.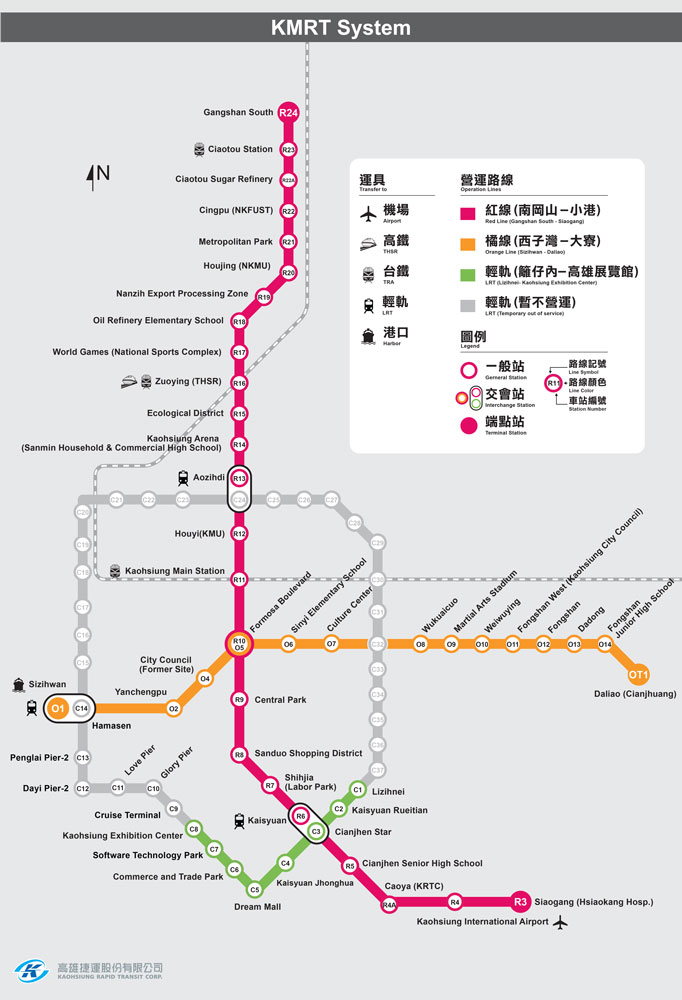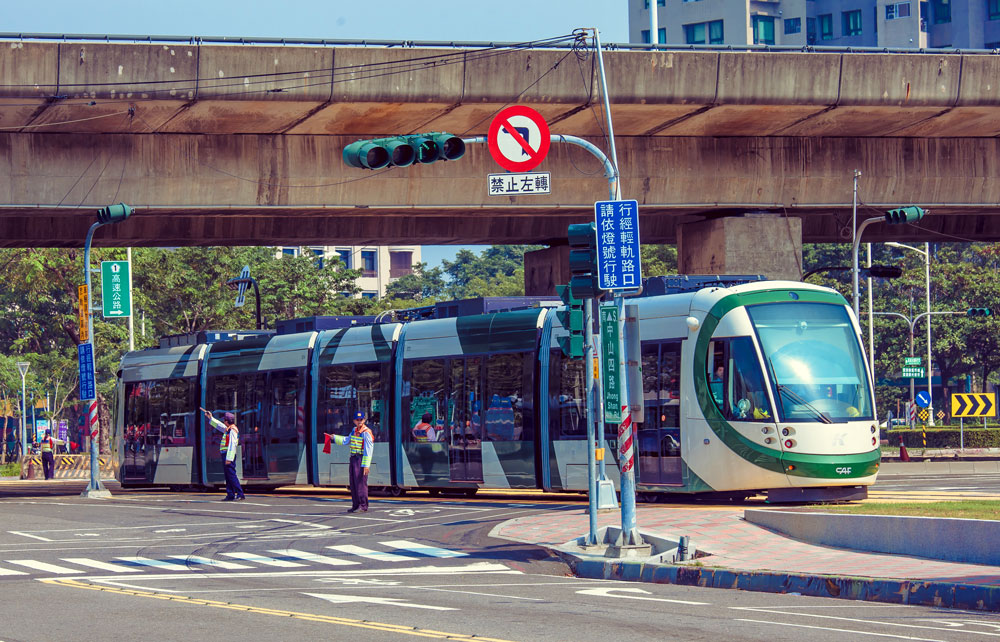 Public Bikes
Like Taipei City, Kaohsiung has an efficient public bike rental system with many rental stations all over the city center and in some outer districts. In order to use the system you need to register your iPass card at one of the rental stations. Also, you can download the free c-bike app, Kaohsiung Bike Easy Go! (Android and iOS; the apps is only available in Chinese so far), so you can check on your phone where the next rental station is from your location and if there are bikes or free docking spots available. For more info, visit www.c-bike.com.tw.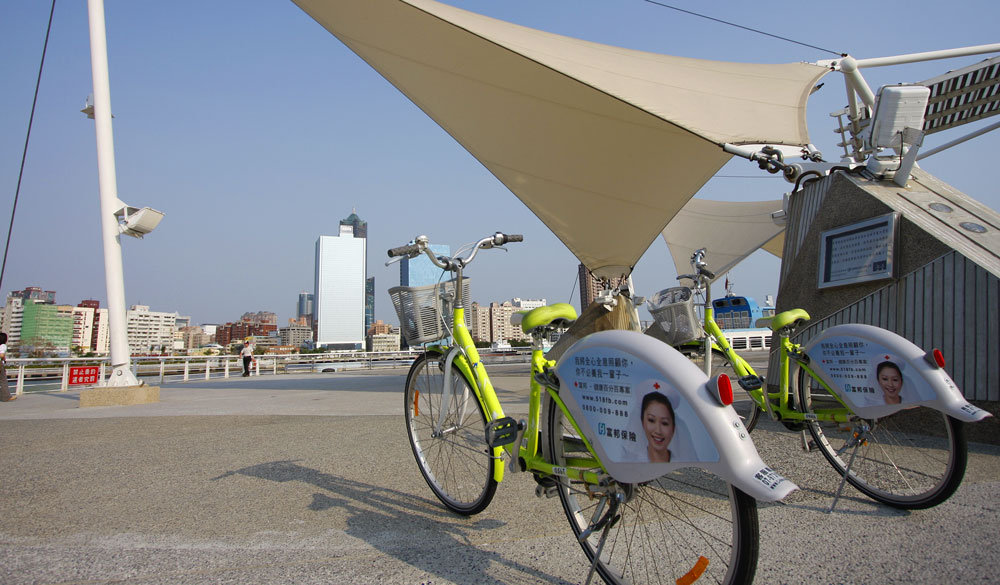 KLOOK: Kaohsiung Popular Sightseeing Private Car Charter