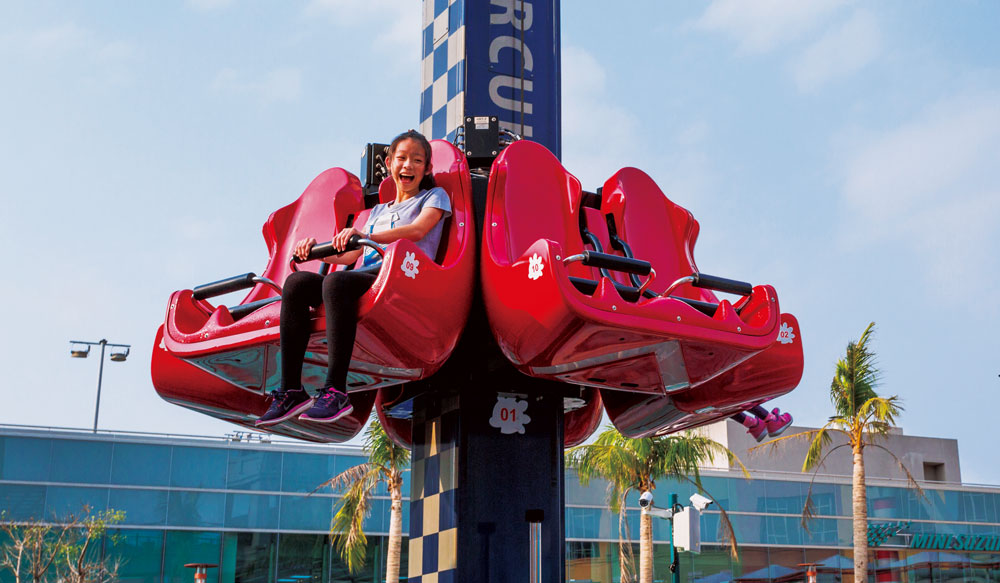 Visit Taroko Park, Kaohsiung's New Shopping Center/Sports-Theme Amusement Park Hybrid!
Text: Nick Kembel; Photos: Maggie Song
Not even remotely related to the famed Taroko Gorge scenic natural wonder on Taiwan's East Coast, Taroko Park is a brand-new multifunctional theme park in the southern metropolis of Kaohsiung, where a wide variety of action-fun facilities for the whole family is offered.
Taroko Park in Kaohsiung City is Taiwan's latest shopping mall-slash-theme park. It follows the tried-and-tested formula that has proven successful elsewhere on the island. This is not to say that you should give this one a miss; Taroko Park is Taiwan's first sports-theme park, and arguably offers the best range of facilities for toddlers and young children, making it ideal for families. What's more, it is the only major theme park accessible by metro in Taiwan; and being located only one stop from Kaohsiung International Airport, it tempts travelers with a last-stop shopping and entertainment experience before catching their flights.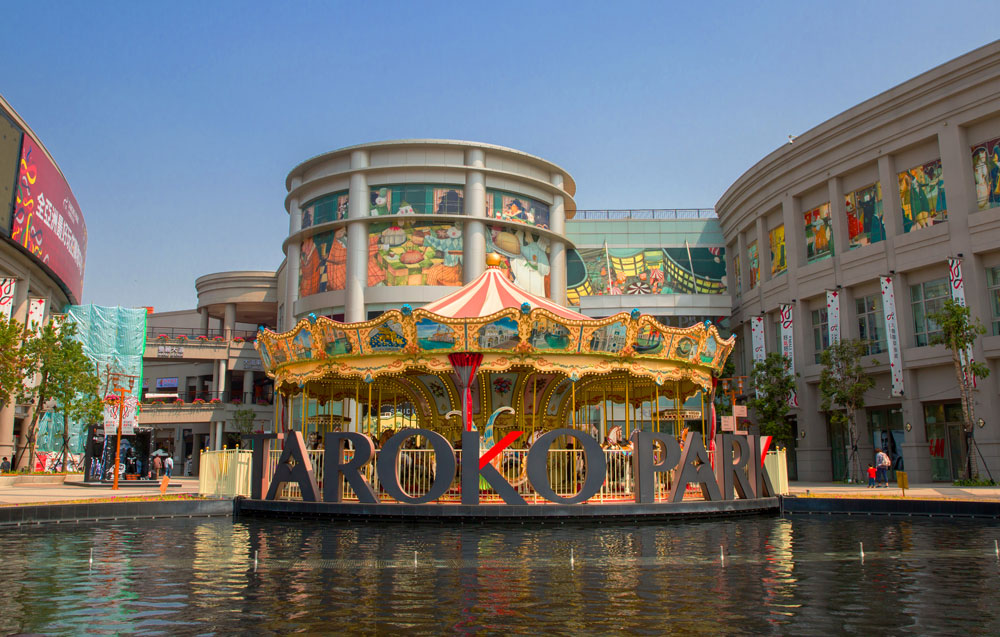 Location
Taroko Park was inaugurated in May 2016 with much fanfare as a joint project by the Kaohsiung Rapid Transit Corp. (KRTC) and Taipei-based Taroko Development Corp., part of the Taroko Business Group, with the aim of increasing metro ridership. The 8.7-hectare multifunctional facility is located a stone's throw from the northwest corner of the city's airport in Qianzhen, a city district just south of downtown Kaohsiung. The twin Kaixuan and Jinzuan night markets, which together are billed as Taiwan's largest night market, are just two stops from the Red Line's KMRT Caoya Station, which gives you direct access to the park.
One thing to note about Taroko Park is that, unlike most theme parks in Taiwan, there is no entrance fee. You pay for individual facilities, making the park a great place to while away a few hours if you've got time to kill before a flight, for example, and your visit can be as cheap (or expensive) as you want it to be. Also, even if you aren't much of a shopping mall person, the mall here contains multiple entertainment and dining facilities that may appeal to you nonetheless.
Main Square
In the hallway leading to Exit 2 at Caoya Station, cute pastel murals of animals riding amusement-park rides will confirm you're on the right path. The exit brings you right to the main square of Taroko Park, where the first things that catch your eye will be an impressive water fountain and the park's name in block letters right in front of a gorgeous carousel, the largest in Taiwan, which has an 88-person capacity. Even if you don't take a ride on one of its bobbing horses or carts (NT$40), get up close for a moment to admire the craftsmanship of the merry-go-round and scenes of Venice painted on the ceiling.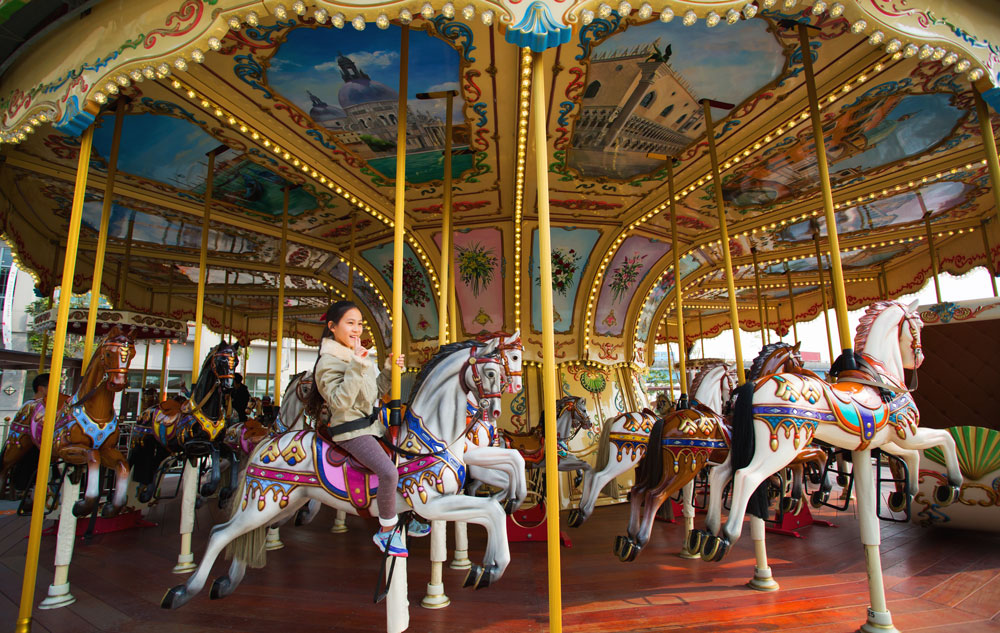 Manli Avenue
Right next to the carousel, you can hop on board the only trolley car (NT$50) in Taiwan, bright orange and built to resemble a vintage streetcar, complete with uniformed drivers. The car meanders up Manli Avenue, the park's main artery, and terminates at the entrance to the amusement park area. It's not a long ride, and there are runs every 12~15 minutes. Manli Avenue is reminiscent of a typical European boulevard. You'll find toyshops, ice cream shops, donut shops, a handmade-pizza restaurant, and a convenience store, as well as multiple entrances and staircases for the three floors of the malls on either side.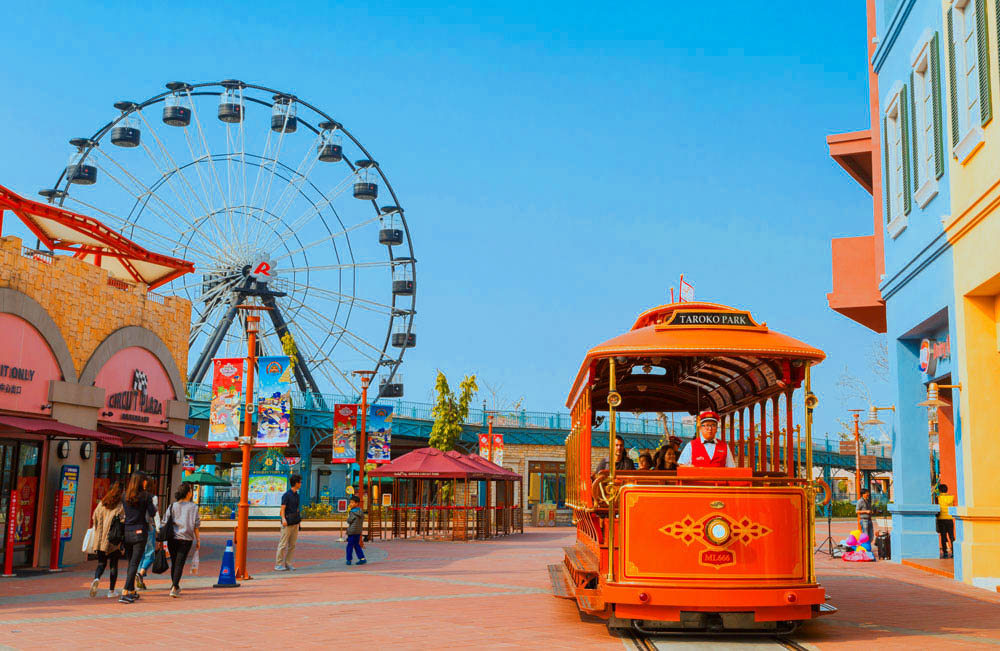 West Mall
West Mall, the smaller of the two, features an exhibition center and a POYA outlet on the ground floor; POYA is a Taiwanese shopping-mart chain that sells a bit of everything. On the side facing the outdoor amusement park, you'll find Taroko Laser Wars (NT$250/30mins), where daily specials and group discounts are offered. The second floor is home to the Crazy Jump Trampoline Park (NT$299/1hr), where you can literally bounce off the walls. There's also a laser room, Xbox console stations, and a kids' jungle gym within the trampoline park. If in need of a more traditional workout, there's a fitness center next door.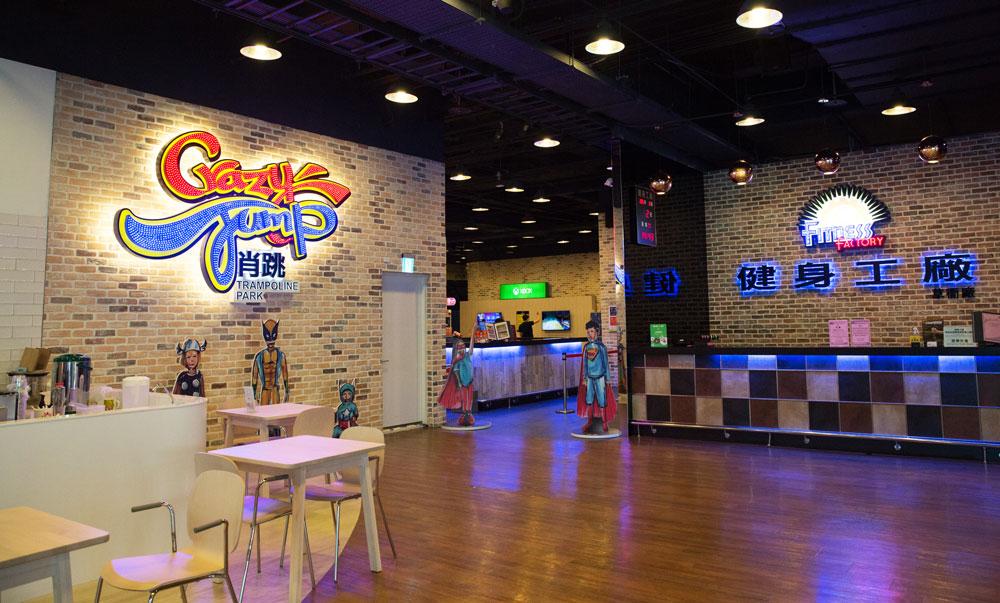 The second floor also features the handsomest bowling alley I have ever seen (NT$140/person/game or NT$599/hour/lane + NT$20 for shoes), with illuminated lanes in a darkened room with blue lights decorating the red-brick walls, cushy sofas to sit on between turns, and a bar at the back. On the third floor, you'll find a handful of restaurants.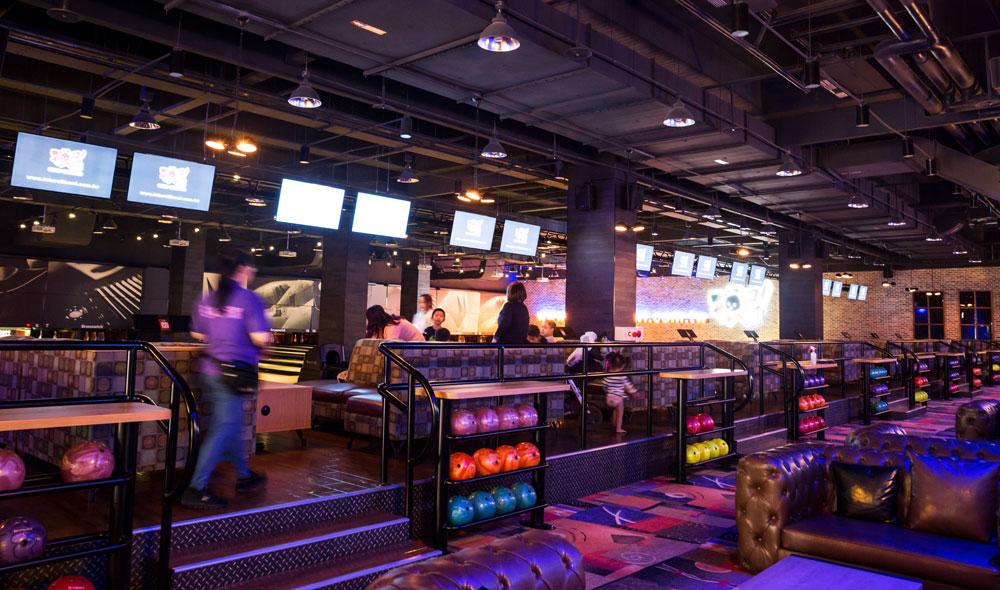 East Mall
East Mall contains most of the 220+ international-brand outlets housed at Taroko Park, including a number of flagship stores, biggest stores, only-one-in-southern-Taiwan stores, and so on. Ray-Ban, Converse, Puma, Swatch, Uniqlo, Calvin Klein, Levi's, Guess, Patagonia, and H&M are just the tip of the iceberg and, in keeping with the park's sports theme, over a quarter of the retail shops are sports-related.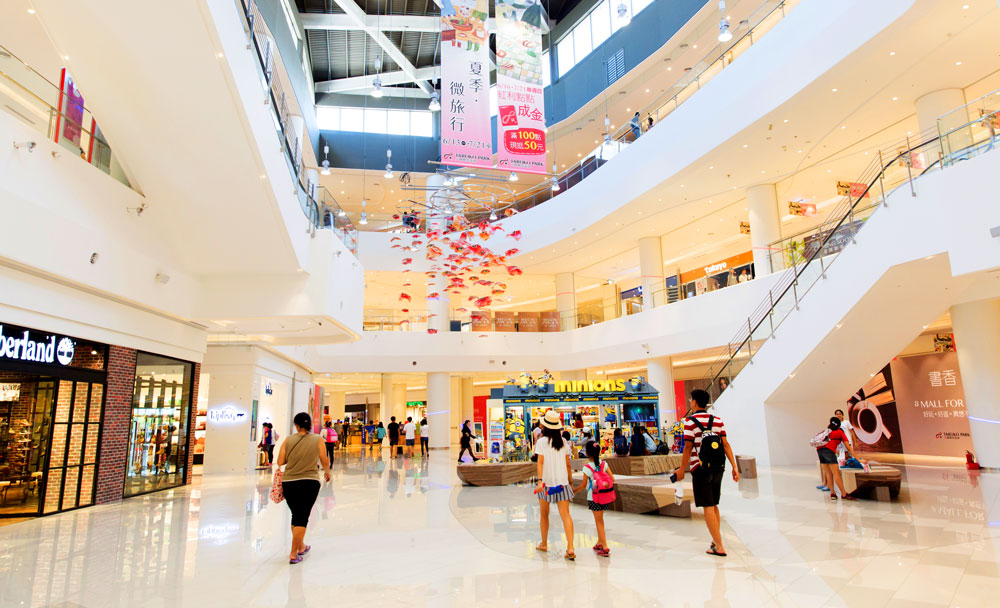 Besides the shopping options, one of the first things you'll see on the first floor if you enter from the main square is VR+, a virtual-reality center with four games to choose from (NT$129~$299).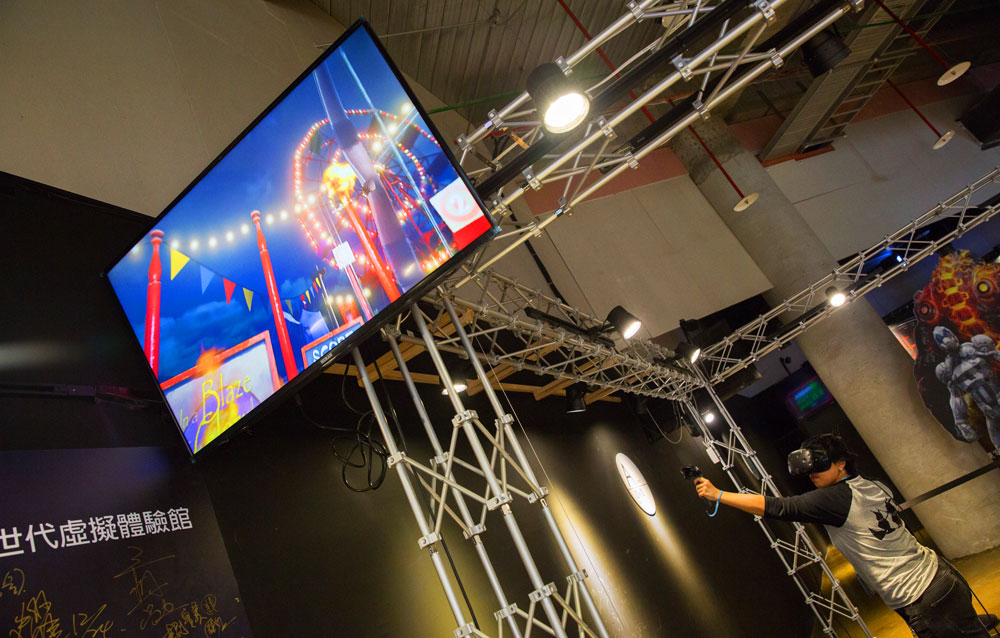 At the amusement park end, you'll also find a WeSport basketball court (NT$85/70 weekends/weekdays per person/single time session), where you can shoot some hoops with friends.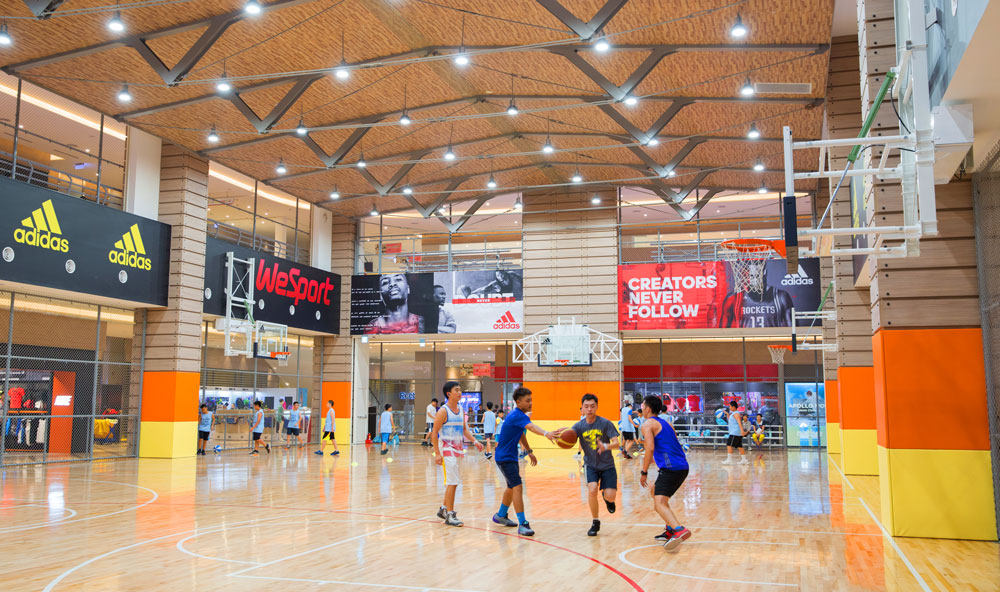 The second floor features a large number of shops selling baby clothing, and Brick Works, a Lego-theme café. There's also a 125-meter WeSport track where kids can enjoy rollerblading using their own blades (NT$30/20 weekends/weekdays per single time session), and can ride Strider pedal-free bikes, while kids/adults can try out Fliker Air three-wheeled scooters (bikes/scooters NT$80 per single time session).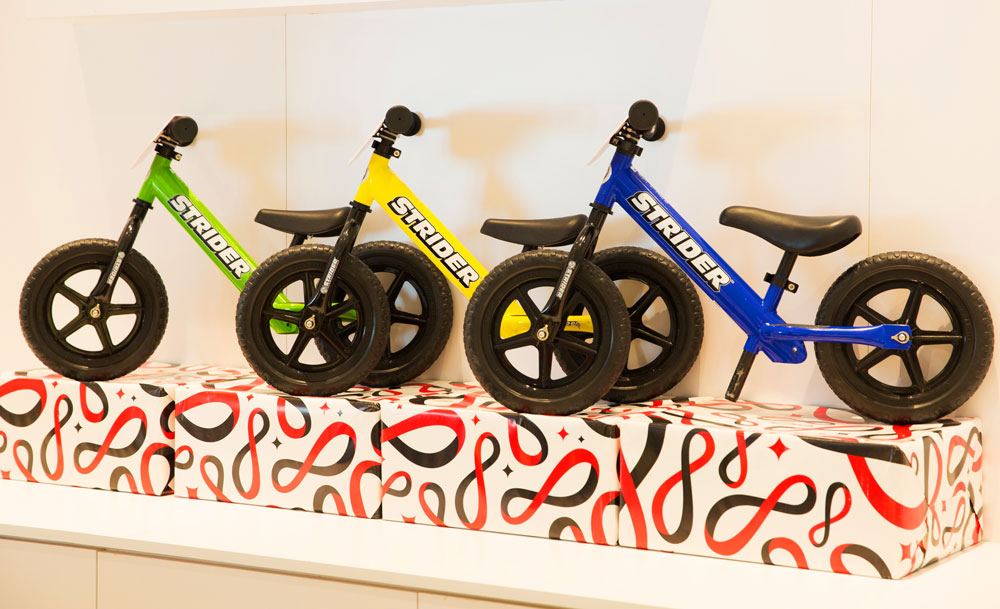 There's also a mini golf course (NT$120/90 weekends/weekdays per 20min session; 40min also available) beside the track.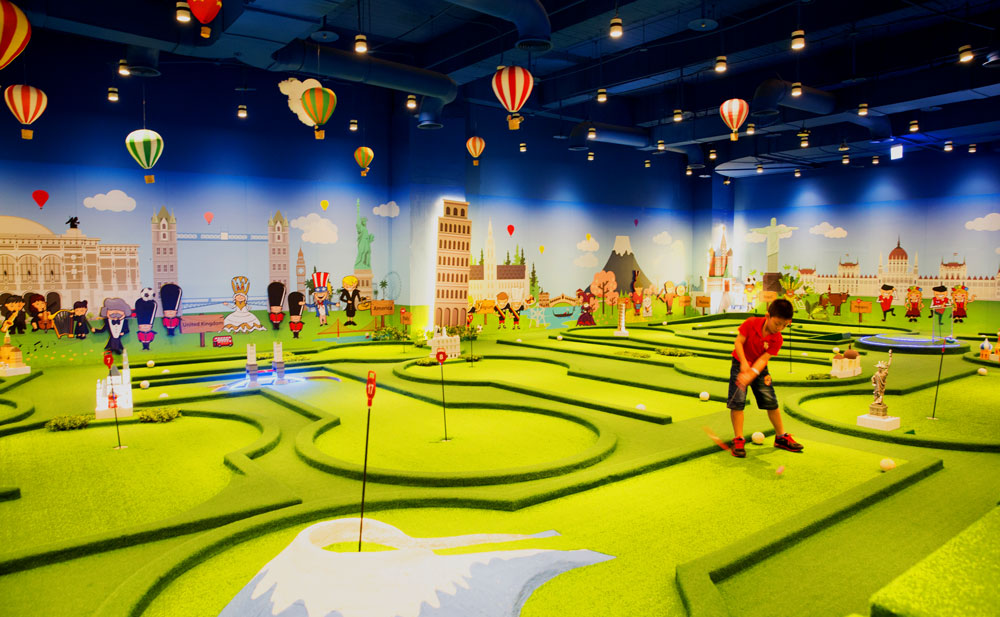 The third floor offers the largest variety of eating options, and the west side of the food court boasts an expansive view over the amusement park.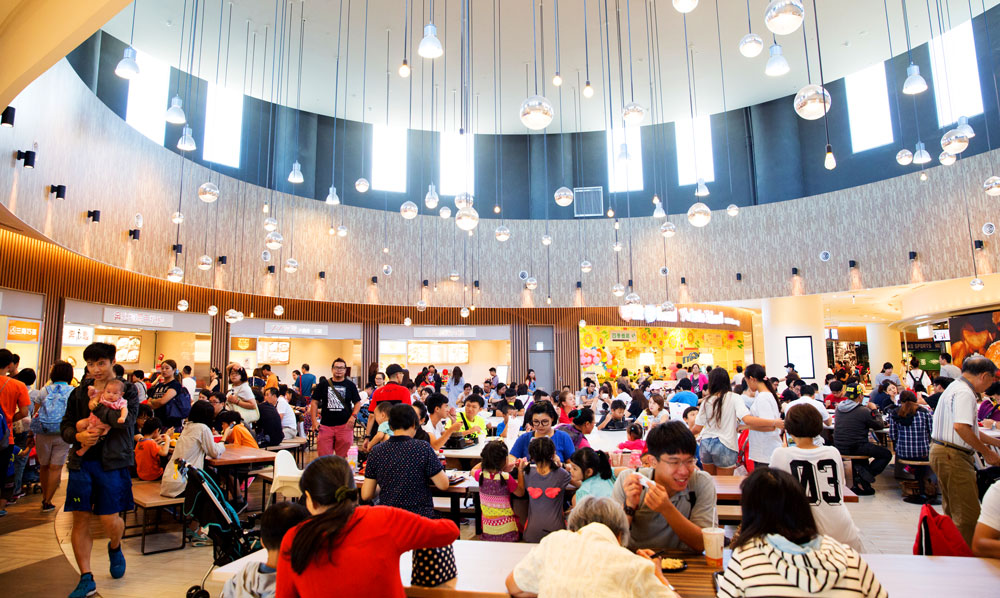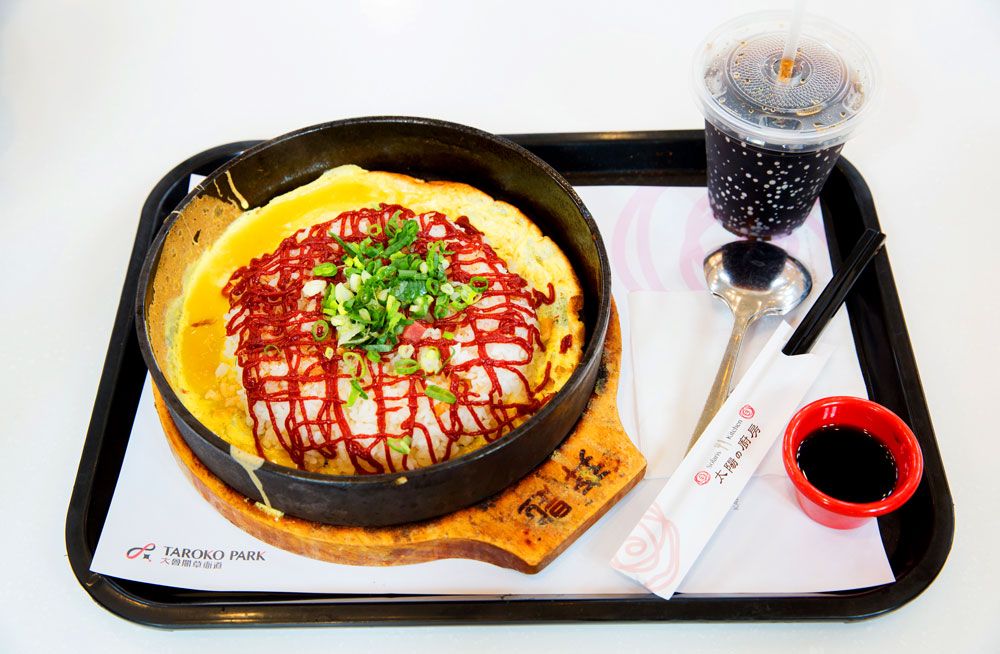 Beside the food court, Yu Kids Island is the best children's play center I've seen in Taiwan, with the largest ball pool, blow-up slides, and areas where children can pretend to go grocery shopping or work as night-market vendors. Also on the third floor is a movie theater, a baseball center with batting and pitching cages (NT$499 for 15 tokens), as well as basketball, pool, and a mini bowling alley for kids. The center also sells official merchandise of the Lamigo Monkeys professional baseball team.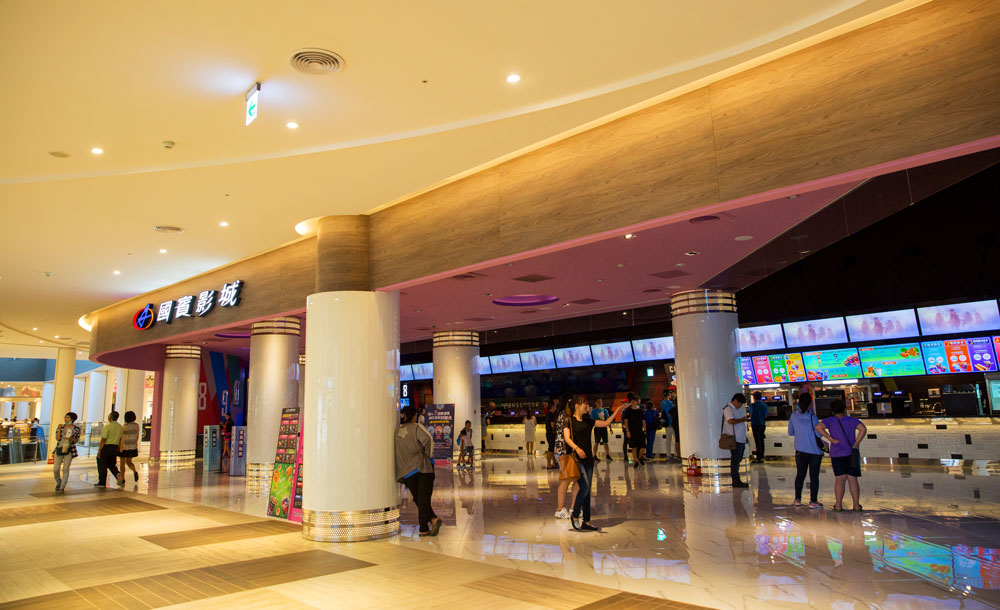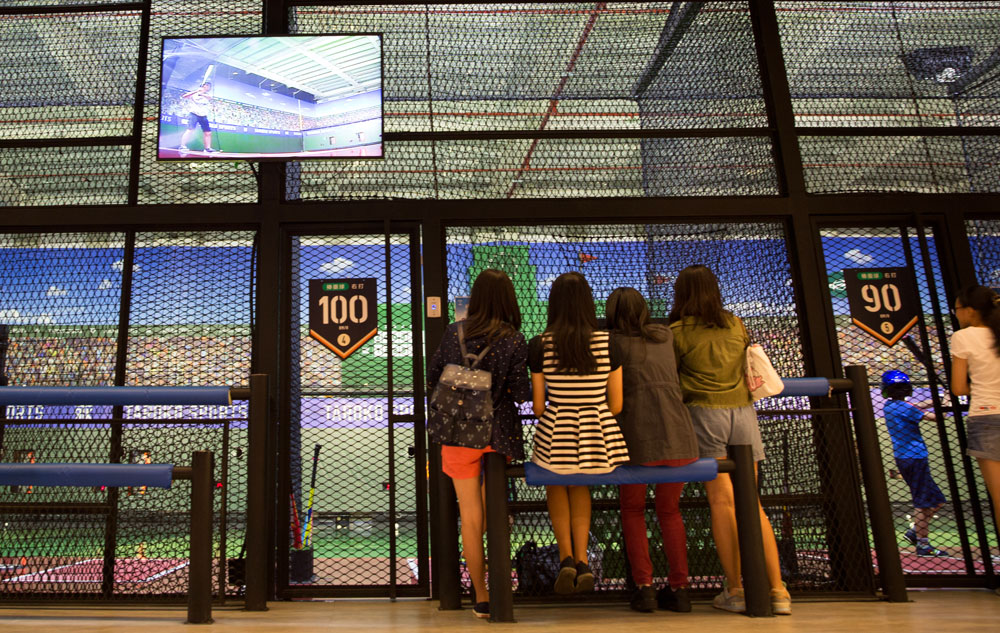 Suzuka Circuit Park
North of the two malls lies the amusement park, Suzuka Circuit Park, named after its most notable feature, a 1/10-scale go-karting version of the renowned F1 raceway in Suzuka, Japan. Eight minutes of ripping around the 600-meter, figure-8 track on a state-of-the-art Birel N35 go-kart (NT$550/700 single/tandem, NT$400 from 11am to 2pm and for female riders all day on Wednesdays) is itself worth the trip to Taroko Park.
[You can also do go-karting at Dapeng Bay in Pingtung County and at Lihpao Land in Taichung.]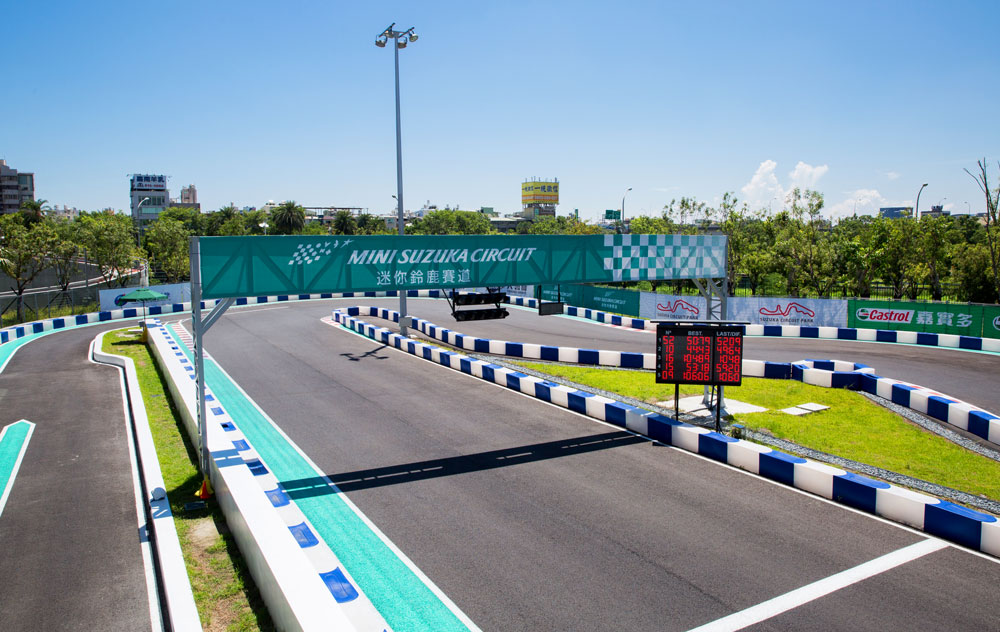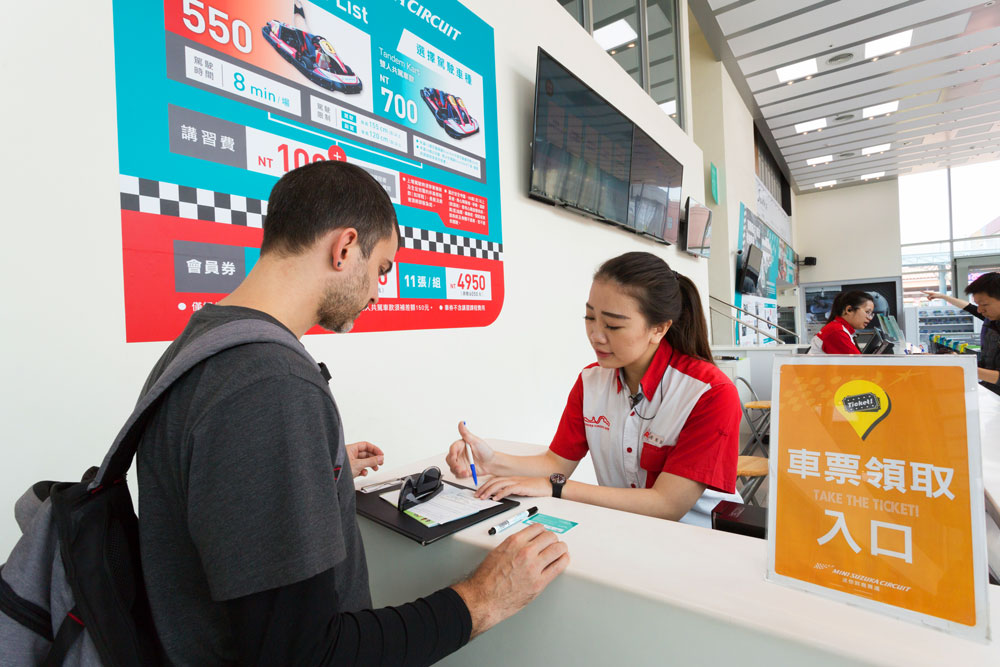 After you have taken the safety class (NT$100), you get a membership card so you don't need to do so again for subsequent rides. The class is conducted in Mandarin, but a full printed version of everything you need to know is offered in English.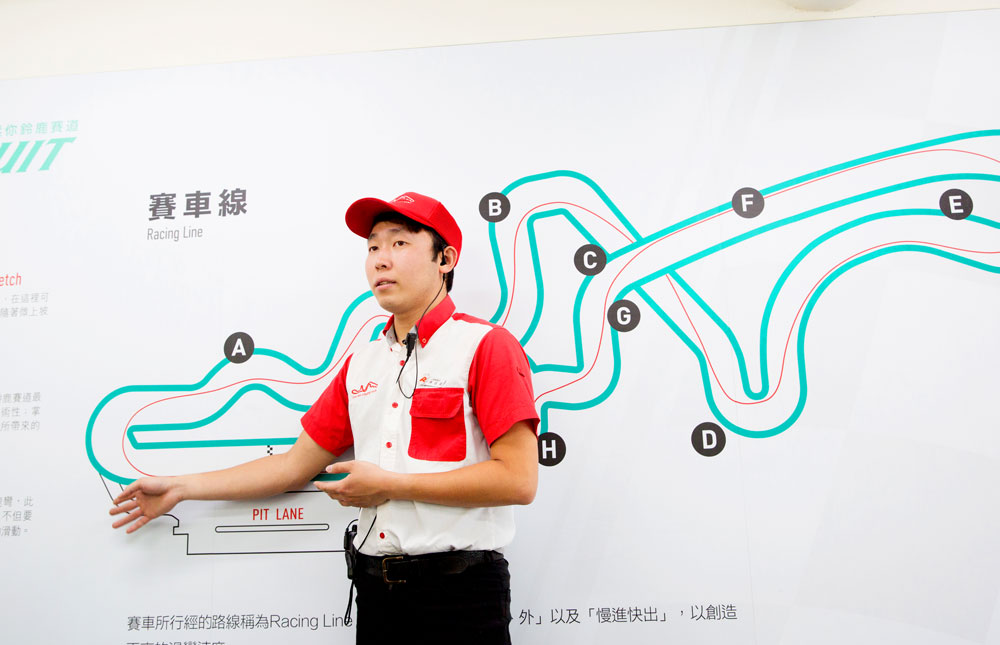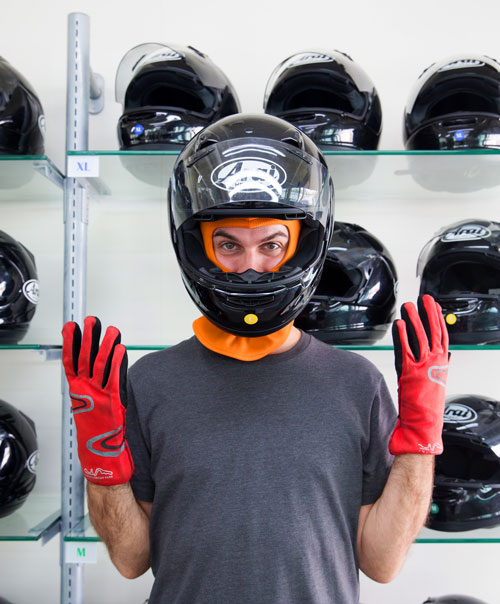 On the track, I put the pedal to the medal but was still left in the dust by more than a few local go-karting enthusiasts. The top five racers' times are continuously updated on a board that can be viewed from the second-floor spectator area, and at the end of your run you get a printout of your own times and those of all your competitors on each lap. Sandals and long skirts are not allowed, but pants can be rented.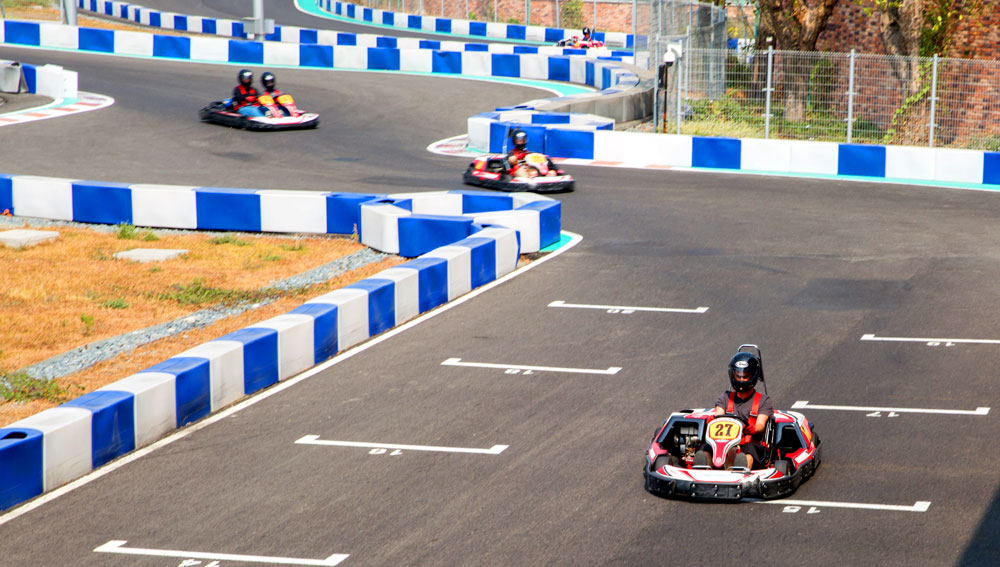 KLOOK: Mini Suzuka Circuit Kart Racing Ticket in Kaohsiung
Kochiro's Putti Town
The modestly sized amusement park features two other areas in addition to the racetrack. Kochiro's Putti Town features Circuit Wheel, Taiwan's fastest Ferris wheel, and three different driving facilities for kids: motorbikes at Kids Bike, entertainingly difficult-to-control cars at Drift Kids Racer, and parent-and-child cars at Kochira Driving School. The Tic Tac Train circumnavigates the full area on an elevated track (NT$60-160 per ride).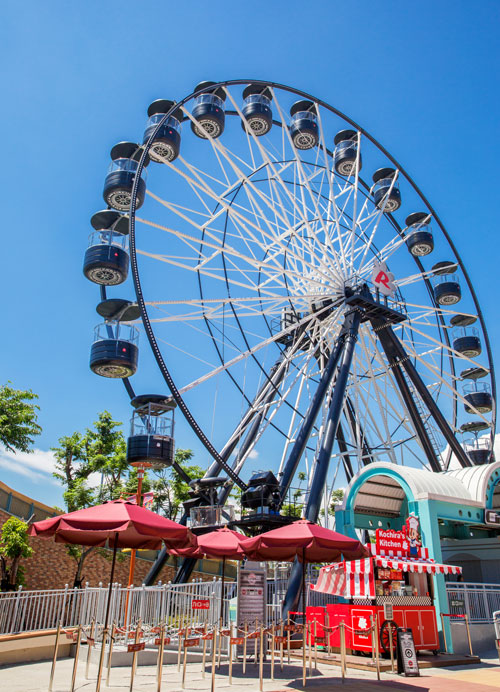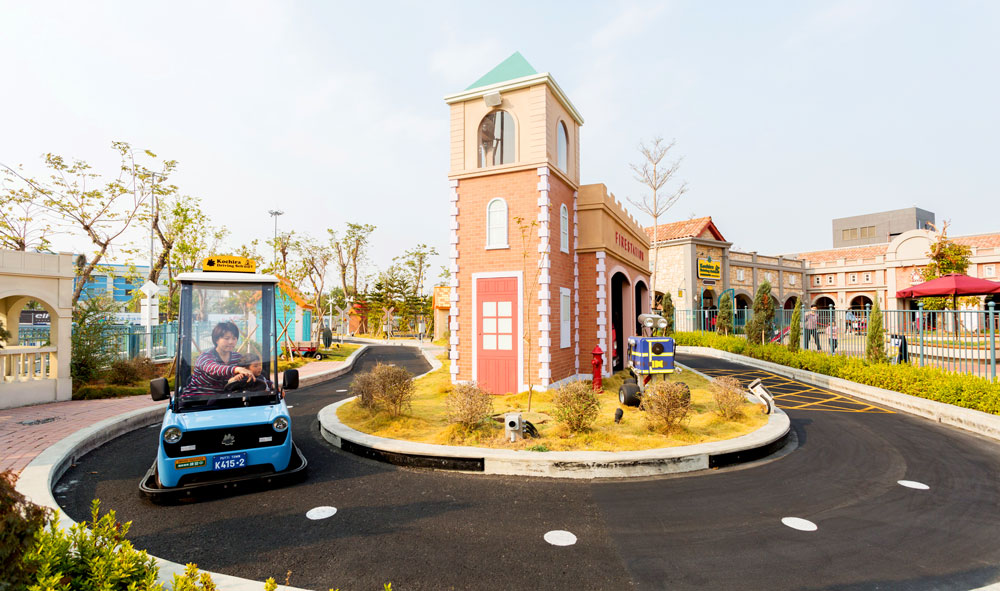 In Skill Up Village you can try adult-sized drifting cars at Drift-S, fly in the air (and even do sidewise flips if you get the angle right) at Air Racers, ride all-terrain vehicles along a bumpy, steep, and wet course at Acro-X, plunge to the earth at Drop Zone, and spin wildly at G-Speed.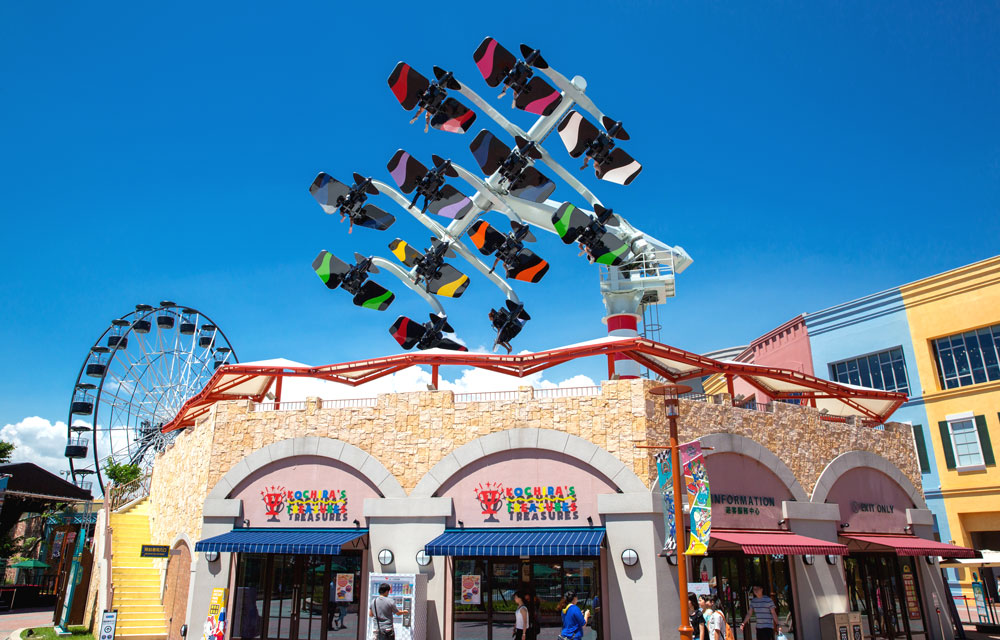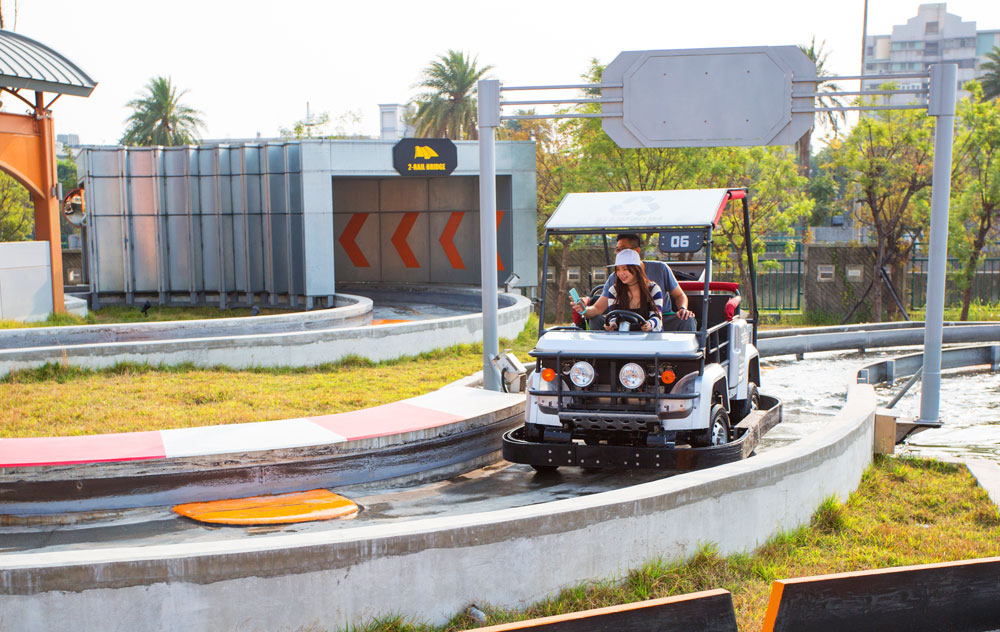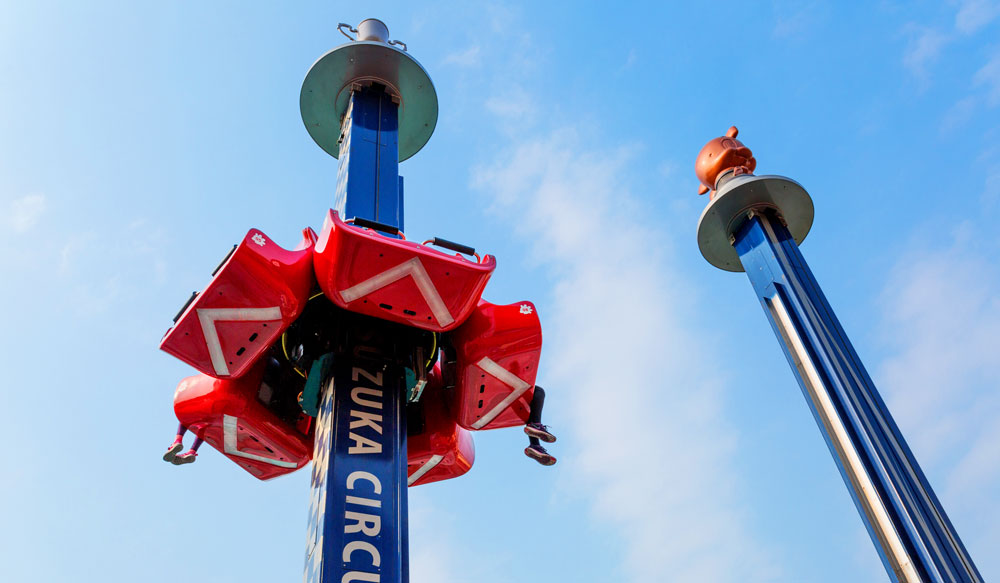 Taroko Park Hours
Taroko Park is packed to the gills on weekends and national holidays, but when I visited on a recent weekday afternoon there were virtually no lines, and there was a lot of space to spare, at all of the facilities described above. Some activities require tickets, such as a ride on the trolley, which are available from the booth at the entrance of the amusement park, while for most rides you can pay in cash or swipe you KMRT iPASS and enjoy a small discount. The park is open 11am to 10pm Monday to Thursday, 11am to 10:30pm on Friday and holiday eves, 10:30am to 10:30pm on Saturday and public holidays, and 10:30am to 10pm on Sunday.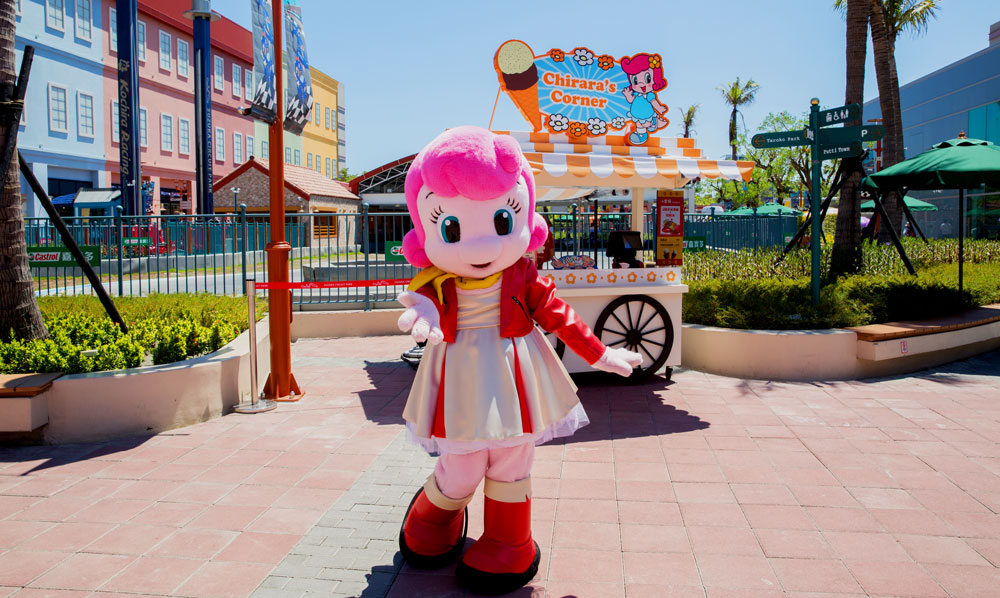 Taroko Park (大魯閣草衙道)
Add: No. 100, Zhongshan 4th Rd., Qianzhen Dist., Kaohsiung City
(高雄市前鎮區中山四路100號)
Website: www.tarokopark.com.tw (Chinese)
Book a room at the Holiday Garden Hotel next to Taroko Park here
Hotels in Qianzhen District
KLOOK: Kaohsiung Classic Attractions Day Tour
Other theme parks in Taiwan
Leofoo Village
Lihpao Land
Window on China
Leofoo Village
Janfusun Fancy World
Other articles about Kaohsiung
KAOHSIUNG Modern Culture
Staying in Kaohsiung
Tainan/Kaohsiung Eateries
Let's Do Some SIGHTSEEING in KAOHSIUNG!
Sightseeing in Kaohsiung's FENGSHAN District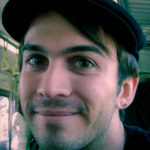 Kembel is passionate about tea, spending time with his kids, and all things travel. He has been to nearly 50 countries but called Taiwan home for the last decade. In 2011 he authored Taiwan in the Eyes of a Foreigner.