For most travelers Taichung City's Wufeng District, tucked up against the base of the central mountains southeast of the city center, has long been a place to pass through or by on the way to tourist attractions better known. Now no more. Within a short distance of one another is a triple crown of rewarding destinations collectively well worth a full day of a culture explorer's precious time. Let's start with the newest, Guangfu New Village.
Text: Rick Charette, Photos: Maggie Song
I'll bet you haven't been in a "military dependents' village" before. I'll also wager that most readers of this article will have only the foggiest notion of what such a place might be. I had certainly never heard of the term before coming to Taiwan.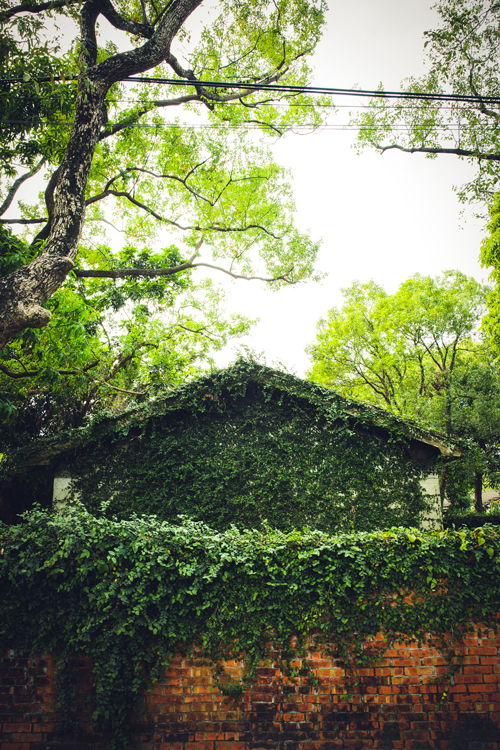 These are "public housing" villages that were specially built to house military-service personnel and their families. They were not built on bases, and the homes eventually came to be privately owned. Taiwan's military dependents villages arose 1949~1960. About 1.2 million people came across from mainland China in the late 1940s Nationalist government exodus, and a total of 886 villages were constructed. Today, the older generation is passing on and younger residents keep moving out, desiring larger and/or more luxurious, modern abodes. Complexes all around Taiwan are now being converted into cultural-creative hubs, and becoming new-style tourist attractions. Two well-known and successful rebirths have been Taipei's Treasure Hill Artist Village (www.artistvillage.org) and 44 South Village, both busy with visitors on weekends/holidays.
Guangfu New Village
The new Guangfu New Village cultural-creative hub is quickly staking a claim to tourist attraction status. Whereas in most dependents' villages small, cramped, quickly built bare-cement-wall homes and narrow lanes predominate, Guangfu New Village would not look out of place in North America. Laid out in a neat grid, roads are spacious and the detached bungalows and rows of attached bungalow-style structures have small front/back yards.
Clearly, the model here was the US military residential complexes built in Taiwan in the same era. Clearly as well, this was a place built for higher-level officials. In the mid-1950s the decision was made to move the provincial government to this area, away from the sea, for protection against Communist Chinese attack. This village was established in 1956. "Guangfu" means "Restoration," reference to the so-called restoration of Taiwan to China after WWII.
Artists and other cultural-creative types have been invited to move in, the renovated bungalows now housing studios and sales rooms. Adding to the distinctive village character is that original residents still inhabit the outer sections.
The standard image for a cultural-creative hub is a mini-community of indie designers concocting fashionable non-mainstream works such as jewelry, leather items, and woven goods. There is that here, by the score, but there are also ventures that will redefine one's ken, including a noodle house, craft brewery, and more.
Mode Yang has vivid ceramic, glass, and other works with Taiwan-culture themes, the religious works most sublime. Mr. Wuller, a fine example of Taiwan's burgeoning craft-brewery scene, serves a series of fine brews. 2 Fish Café is most fetching of the village's café trio, its raised-window service portal making it look like the street-vendor trucks common in the West, its umbrella front-yard seating perfect for watching the village world stream by.
Throughout the village you'll find eclectic village-theme installation artworks. Many are visitor-friendly chairs and benches. My favorite: a bench painted as the Republic of China national flag, the bold colors dominating the local mini-tableau. Others have been painted to resemble a piano, a book, and so on. Mode Yang's outer wall is decorated with solid-block stone and wood owls. In one village corner is a trio of bandaged blue-colored statues, a reminder of the 921 Earthquake's insult.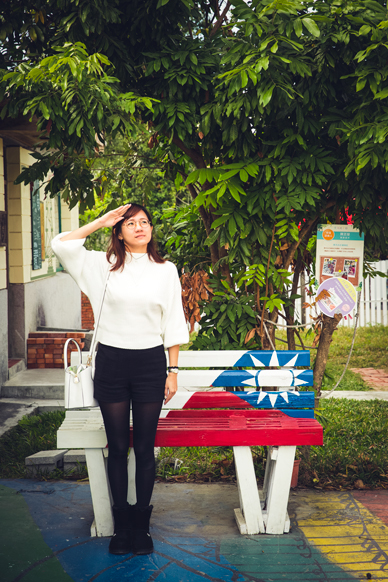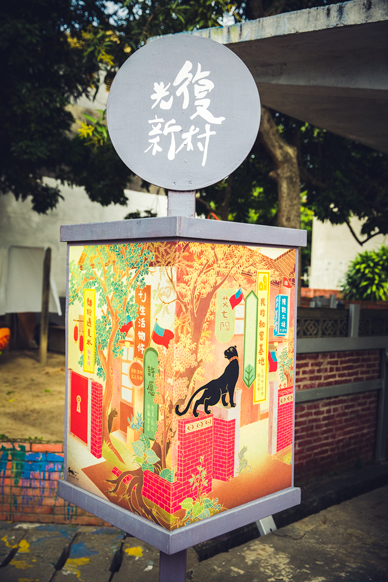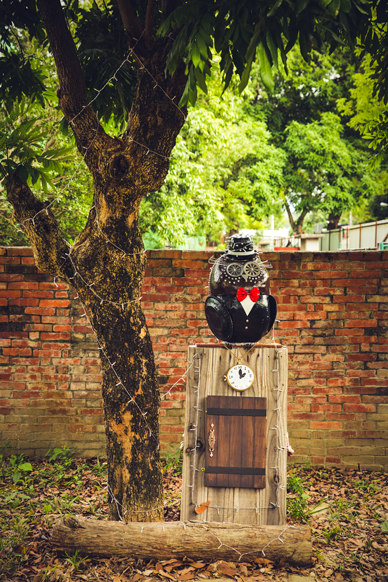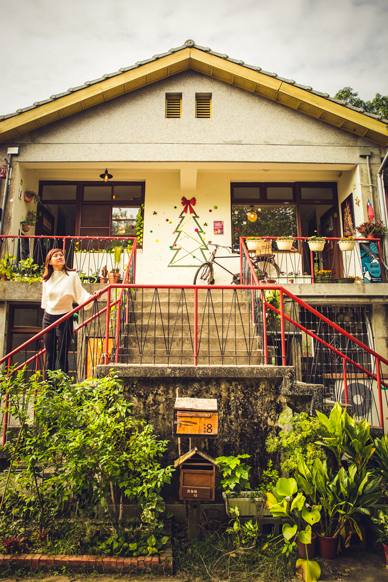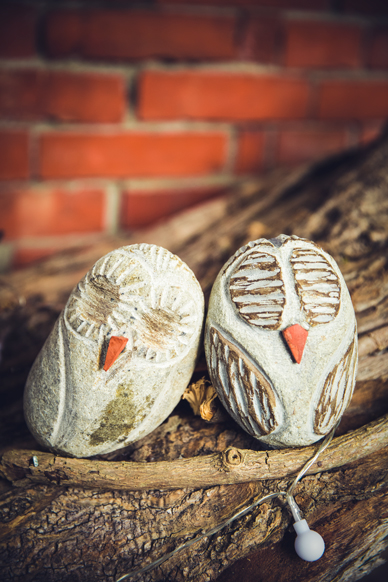 Tip: Visit on the weekend or a holiday, when all enterprises are open, crowds pour in, and there is an air just short of festive. Studios put on demos and hold DIY sessions, places like the craft brewer give out samples, and street performers and musicians are often booked. During the week the studios have staggered opening times, leaving things much quieter, and though sales rooms are open the artists/crafts workers are often hidden away in their studios, out of sight, concentrating on creativity.
921 Earthquake Museum of Taiwan
On September 21, 1999, the people on the island of Taiwan were shocked awake in the middle of the night when their home, which sits atop two tectonic plates locked in Herculean battle, went into terrifying convulsions – the brutal assault called the 921 Earthquake. The damage was mind-numbing – thousands killed, tens of thousands left homeless. Many of the children of Guangfu New Village attended Guangfu Junior High School, located right next door, and the ruins of this devastated complex are today the centerpieces of the 921 Earthquake Museum of Taiwan (www.921emt.edu.tw; NT$50 adults), an architecturally dynamic facility with extensive English.
What would it have been like to live through the massive 921 Earthquake? This museum provides real sensory understanding, putting a little shake into your knees. The temblor, which measured 7.3 on the Richter scale, was centered on the long Chelungpu Fault, running along the mountain base in the west-central region – and right through Wufeng's heart. It is on glorious, chilling display – you stand right atop it – on the former school track, now grotesquely deformed with a two-meter-high vertical displacement (displacements elsewhere measure up to 8m).
Most compelling here are of course the crushing ruins, but be sure you test your mettle in the Quake Experience Theater, where time is reversed and you are taken back to just before the attack from below, and take in the 3D Theater, where international educational videos on the wonderful world of nature are run.
Wufeng Lin Family Mansion & Garden
In its imperial-era pioneer days from the 17th through 19th centuries, when Han Chinese settlers came across the dangerous Taiwan Strait from mainland China, there was little government presence on the island of Taiwan. Much local authority and social responsibility hence fell by default into the hands of the richest local clans, their large and increasingly elaborate and luxurious walled residential compounds visual testaments to their power, status, and authority. Four clans stood above the rest, and one clan above those – Wufeng's Lin clan. Want to know what it was like to live in their privileged world? The Wufeng Lin Family Mansion and Garden is a vast complex of walled compounds covering an area of almost 11,000 square meters. The courtyard-style residential complex is the largest, most complete, and most elaborate of its kind in Taiwan.
This architectural treasure-trove was devastated in the 921 Earthquake, but is being systematically revivified in a dedicated government/academia/Lin family cooperative effort, in which intricate, faithful reconstruction has been undertaken. Clan members still live here, their areas off-limits to visitors. Two restored areas are open to the public: the middle section of what is called the Lower House, in the Wufeng Lin Family Gongbaodi Park (wufenglins.com.tw; Chinese; NT$250 adults), and the Wufeng Lin Family Garden, on the grounds of nearby Ming Tai High School, founded by the Lins (free entry; guard at gate may request ID).
The Gongbaodi section was built in 1858. Note the swallow-tail roofs; in imperial days these were only permitted on temples and the private residences of high officials. There is also a stand-alone theater, unique in Taiwan. Note the large ceramic jars below stage; filled with water, they helped project the stage sound. Important clans also organized militias to fight against rebels, bandits, etc., and the collection of beautiful arquebuses is a treat. In the garden, opera troupes played on an island theater before the family's grand lady, seated within a purpose-built grand building.
Tip: English tours can be arranged, with advance notice; call (04) 2331-7985. An English audio guide is also available on the regular group tours.
Getting there
Each of this article's three attractions are a short distance from Provincial Highway 3, Wufeng's main thoroughfare. Self-drive: If self-driving, exit National Freeway 3 at the Wufeng Interchange, which brings you to Highway 3 almost immediately. Turn left to reach central Wufeng where Wufeng Lin Family Mansion & Garden is located, turn right to reach Guangfu New Village/921 Earthquake Museum of Taiwan. Public transport: From Taichung Railway Station you can take bus No. 50 to central Wufeng, where Wufeng Lin Family Mansion & Garden is located and also to Guangfu New Village/921 Earthquake Museum of Taiwan, about 2km further south along Zhongzheng Road (中正路).
Further reading on other sites:
+ Rainbow Village Taichung: A Paradise for Instagrammers
+ Tzude Temple in Nantou's Caotun Township