The Old Plains Town of Xingang — Where Yesteryear Remains at the Heart of Modern Daily Living
Text: Rick Charette; Photos: Vision
Xingang, the urban hub for Xingang Township, sits on the plains in Taiwan's southwest near Chiayi City. Surrounding it is a region of small villages and farms, one of the island's first settled by Han Chinese, way back in the 1600s. In many ways life goes on here much as it did in imperial times, before railways and highways transported the outside modern world in. Visit Xingang to explore snack foods, religious architecture, arts, crafts, and souvenir treats that have aged very well with time.
National Religious Heritage Site – Fengtian Temple
Established in 1700, this is the religious heart of Xingang – aged and ornately grand, always busy, always bathed in the heady aromas of worship incense. The southern destination on the famed annual 8-day, 7-night Dajia Mazu Pilgrimage, one of the world's great religious-pilgrimage spectacles, it stands at the north end of riotous-color Zhongshan Road, the approach road for religious processions. These deliver Mazu (Goddess of the Sea) icons from temples around Taiwan for "visits" with Fengtian's Mazu icon, among Taiwan's oldest and most powerful; the belief is that the icons gain strength from her to better protect their home districts.
The people of central/southwest Taiwan have always had a close relationship with the sea, and Mazu is by far Taiwan's most worshipped deity. The temple area becomes breathtakingly busy around the time of her birthday (third lunar month).
Website: www.hsinkangmazu.org.tw (Chinese)
Traditional Specialty Snack Foods – Duck Meat Thick Soup
In the countryside of Xingang Township an abundance of food ingredients is produced so that there is unbeatable freshness to the taste of Xingang's must-try specialty snacks. Duck farming is a venerable regional industry, and one of Xingang's signature treats is yarou geng, or duck meat thick soup. And the provider esteemed above all others is Xingang Yarou Geng, at No. 17 on Zhongshan Road, the pedestrian-busy road directly in front of and perpendicular to Fengtian Temple.
This dish features duck-bone broth thickened with starch, thin-strip duck meat, and goodies such as shredded bamboo shoot and ginger, onion, dried preserved cabbage, mushroom, black fungus, and seasonings.
Traditional Art – Bantaoyao Crafts Studio of Jiao-Zhi Pottery & Chien-Nien
Koji (cochin) pottery is a traditional Taiwan art form featuring bright, glossy pastel colors, originally used for decorations on temple-roof ridges and walls. The region around Chiayi is this form's home. Xingang's Bantaoyao is a learning park where the koji production process and role in temple construction is showcased. Among the attractions are a craft museum, workshop with DIY pottery-crafting opportunities, classical Eastern-style garden, and a theme restaurant.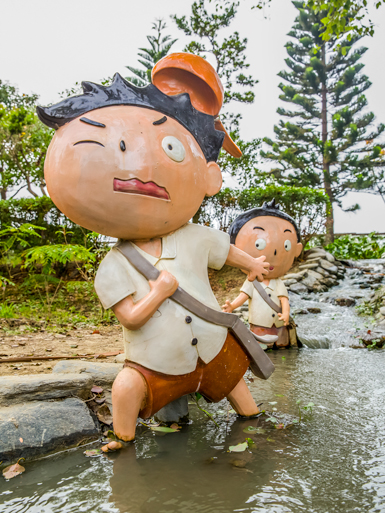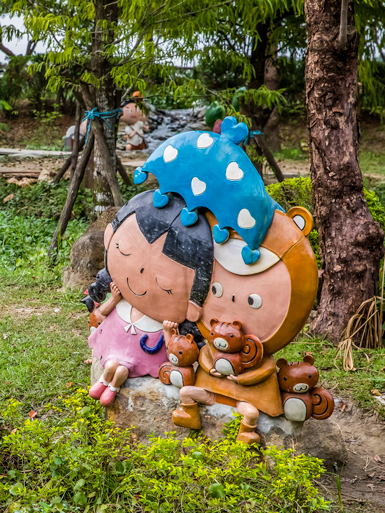 Website: www.bantaoyao.com.tw (Chinese)
Traditional Craft Industry – Singang Incense Artistic Culture Garden
The Xingang region has been one of fervent Chinese-religion devotion for over three centuries, so it's only natural that many related traditional industries have taken root here to serve devotees' varied worship needs. One is the craft of incense-making. The Singang Incense Artistic Culture Garden is unique in Taiwan, introducing the history of incense and the art of making it. Among the subjects explored are the origins and development of incense, the varied religious rites and ceremonies in which it is used, and of course the secrets of its traditional manufacture by hand. As well, visitors can explore a themed herb and flower garden, where many natural ingredients used in incense making are on display. There are also demonstrations, DIY sessions, and an incense-products shop.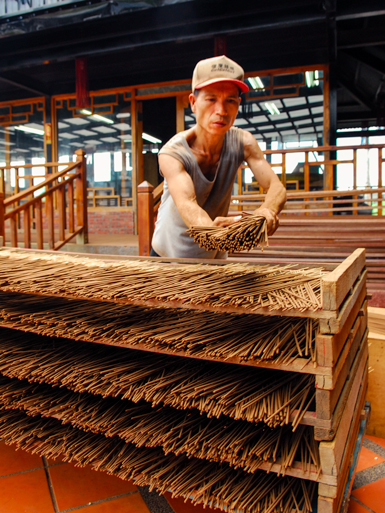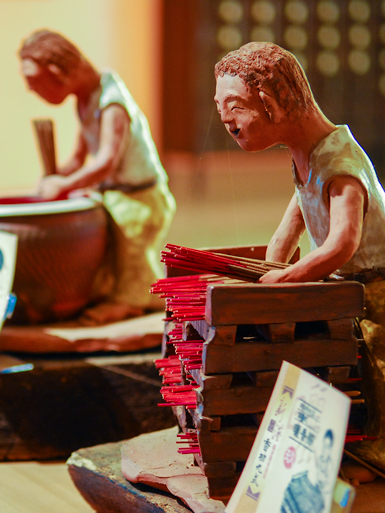 Website: www.incense-art.com.tw (Chinese)
Souvenir Favorite – Xingang Candy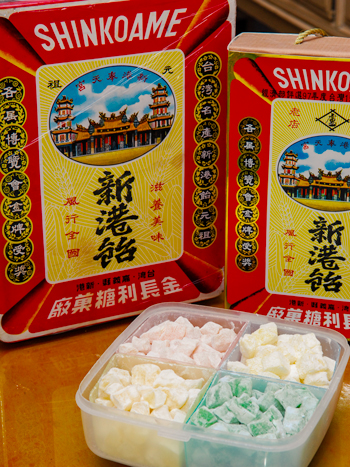 Xingang Candy, sometimes also called Xingang Maltose, is an old-time Xingang confection and one of its most popular take-home souvenir buys. The main ingredients are maltose, granulated sugar, wheat flour, and peanut. The bite-sized treats are only lightly sweet, comparatively low in calories, and chewy without being sticky. At the heart of this Xingang specialty is the tasty regionally cultivated Taiwan No. 9 Peanut, giving it unique flavor and character. Xingang's best-known maker/seller is Jin Zan Cheng Food Shop, near Fengtian Temple at No. 130, Zhongshan Road, in operation since 1931.
Website: www.jzc.com.tw (Chinese)
Getting There
Taiwan Tourist Shuttle (www.taiwantrip.com.tw) buses depart from both Chiayi's High Speed Rail Station and Chiayi Railway Station on the service's hop-on, hop-off Southern Branch of the NPM (National Palace Museum) Route, with stops at Fengtian Temple and Bantaoyao. Staff at the station's visitor information center can provide English assistance.
Also read:
5 Things to Do in JIUFEN/JINGUASHI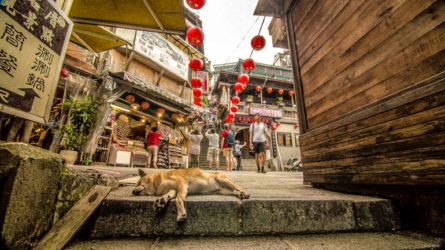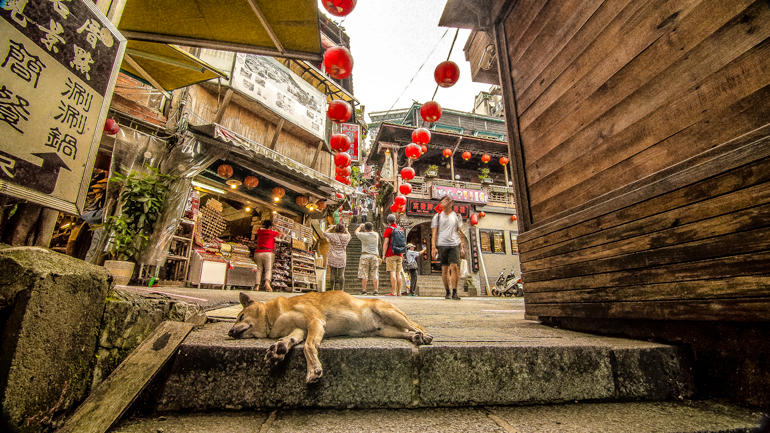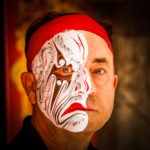 A Canadian, Rick has been resident in Taiwan almost continually since 1988. His book, article, and other writings, on Asian and North American destinations and subjects—encompassing travel, culture, history, business/economics—have been published widely overseas and in Taiwan. He has worked with National Geographic, Michelin, APA Insight Guides, and other Western groups internationally, and with many local publishers and central/city/county government bodies in Taiwan. Rick also handles a wide range of editorial and translation (from Mandarin Chinese) projects.