Kayking on the Shuangxi River near Fulong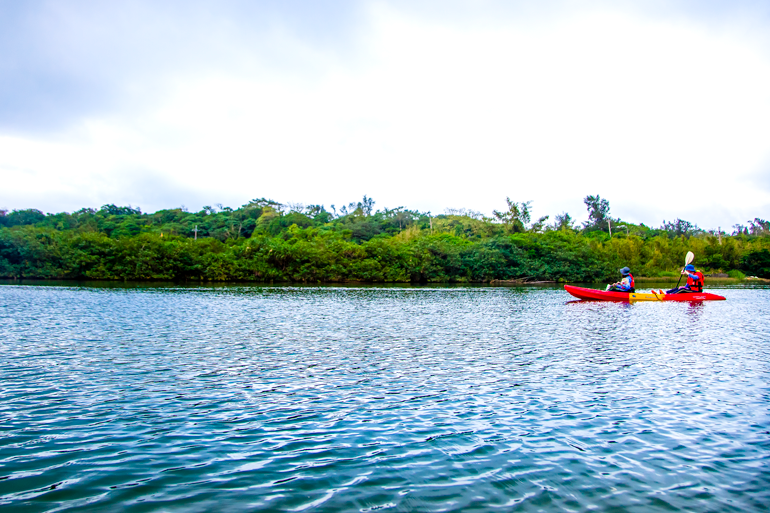 Text: Francesca Chang; Photos: Chen Cheng-kuo
If relaxed paddling in a kayak on a calm river is your cup of tea, head to the beach-resort village of Fulong on the Northeast Coast to launch yourself on a short trip up and down the enchanting Shuangxi River!
Considering Taiwan's beautiful natural landscapes, including its alluring beaches, it is hard to imagine that adventure sports have only gained significant popularity in this island realm in the last two decades or so. One of the most attractive outdoor activities on the local scene at the moment is kayaking, done both on rivers and the sea. It is easy for beginners to sign up for organized trips with both instructors and equipment provided. Together with some friends, I recently had the chance to experience just such a trip, on Taiwan's Northeast Coast near the popular beach-resort village of Fulong.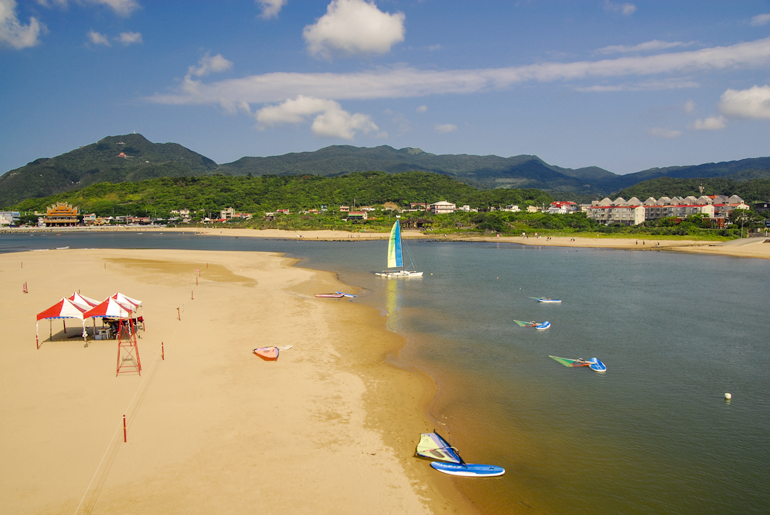 Fulong is at the center of a recreation area known for its beautiful sand beach, the Longmen Camping Resort, and an old railway tunnel that is now part of a popular bike path. Among the water-sport activities available for visitors are sailing, surfing, canoeing, and kayaking.
For those arriving by train or bus, a 15-minute walk from Fulong Railway Station will bring you to the Longmen Kayaking Base, which is on the grounds of the Longmen Camping Resort. There, Paddle Around International has been hosting kayaking tours for the past ten years. Kayak outings are offered that last two hours (NT$1,000/person) and six hours (NT$2,800), the latter including a lunch break at the kayaking base. A minimum of six persons is required for an excursion; but individuals and smaller groups can still make a booking, and will be joined with others who book separately. All reservations must be made at least three days in advance. Paddle Around can accommodate groups of up to 200 people; the outfit often organizes outings for schools and businesses (the age requirement is 7 years and older).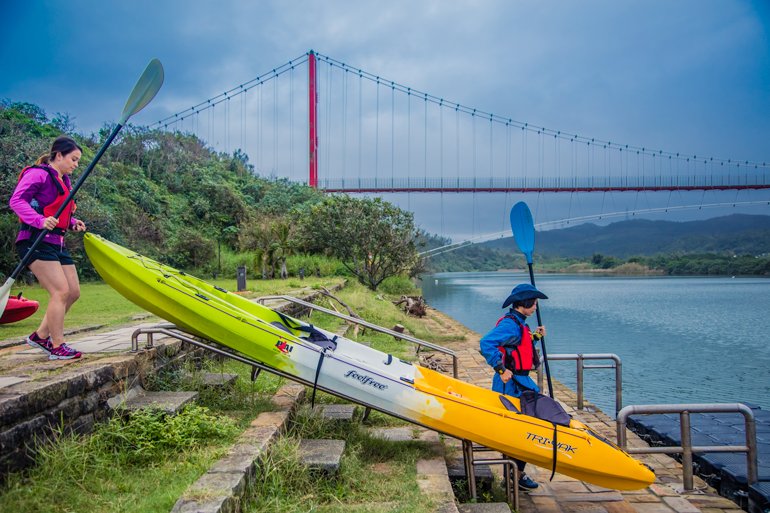 Into the River
Upon our arrival at the kayaking base, the friendly staff suited us up with life vests, gave a safety demonstration, and went over proper kayaking techniques. We lifted our craft into the Shuangxi River and embarked on a tranquil journey. The river was very calm, meaning there was little chance of crashing or flipping. If you don't know how to swim, your life vest is one safeguard in the unlikely event you end up in the water. Another is that according to local law, one certified kayaking instructor is required per every 20 kayakers. Paddle Around meets this requirement by providing one instructor for every 15 kayakers.
As calm as the Shuangxi River was on this day were also the certified staff members who accompanied us on our journey. Their top priorities are always your safety and enjoyment. There is no pressure to kayak like a pro and you can dictate your own pace, leisurely to determined.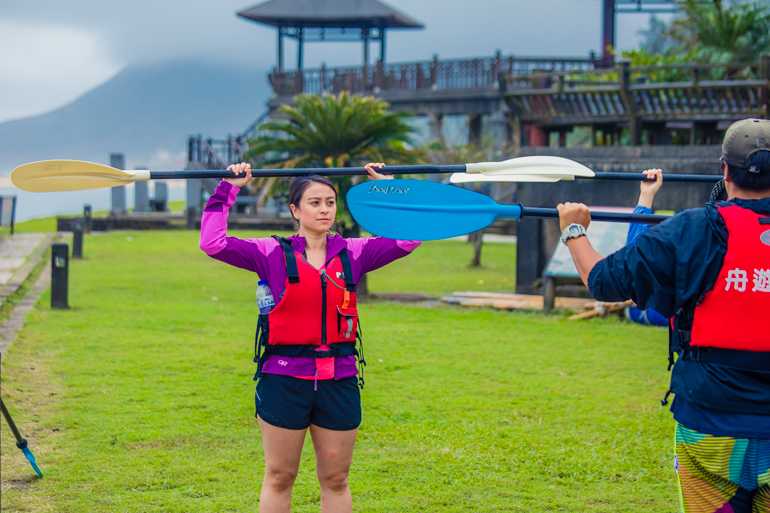 With larger groups, the Paddle Around staff often provides some high-spirited team-building activities. Sometimes groups are divided into smaller teams which then compete in fun activities against each other. One example is raft-building. Basic materials are provided, and participants have to figure out how to build a floatable craft. Each team gets an allotted amount of time to piece it together and the goal is to come up with the sturdiest creation.
For groups with children, a version of "Noah's Ark" is sometimes played, during which as many children as possible try to sit or stand on a raft without tipping or sinking it. Tug-of-war is also played; teams in two craft that are connected by a rope "pull" against each other by paddling with their bare hands.
Whatever the size of your group, the Shuangxi River is wide enough to accommodate you when you go kayaking at Longmen. Our small group of six enjoyed the river all to ourselves on a gray November day. We first ventured down the river on our two-hour trip to have a look at the 3km-long golden-sand Fulong Beach. Each summer, this beach first serves as the venue for the Fulong International Sand Sculpture Festival, and then for the Hohaiyan Rock Festival. Since 2008, talented artists from around the world have participated in the sand sculpture festival, creating architectural wonders from the highly cohesive white-quartz sand. This type of sand has been recognized by the World Sand Sculpting Association as ideal for making sand sculptures. The rock event, Taiwan's largest outdoor music festival, features many bands from Taiwan and abroad. It lasts three days and attracts more than 100,000 people.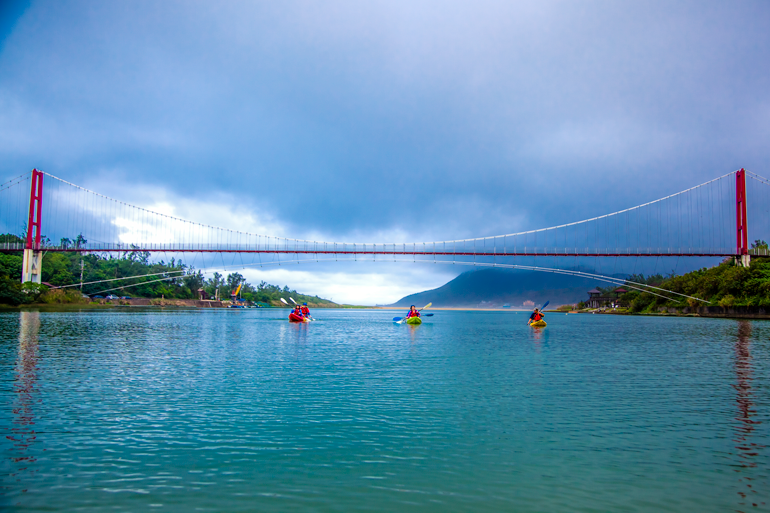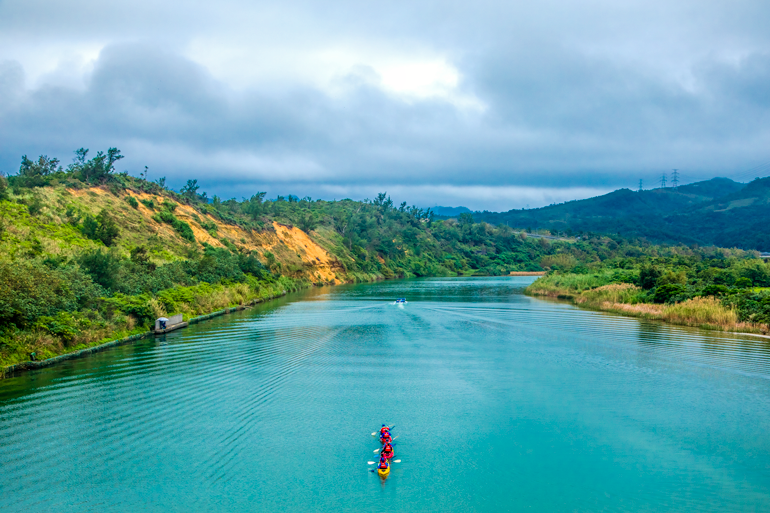 After visiting the beautiful sand beach, we turned around and headed upstream, paddling underneath and past Longmen Suspension Bridge, an ideal location for our photographer to capture us from high above. The guides helped us line up our craft in different formations, including a single-file line, for the ideal photographic moments. After taking pictures at the bridge, we continued further up the river, heading toward Shuangxi village.
Soon we arrived at a long and narrow island that bounds a slim channel on the left when heading upstream. There you can have a closer look at the rich vegetation on the banks. A string of ducks soared into the sky upon our arrival – spotting water birds is one of the highlights of kayaking trips on the Shuangxi. Our guides introduced us to many of the natural wonders that surrounded us, including the screw pine, the fruit of which resembles a pineapple.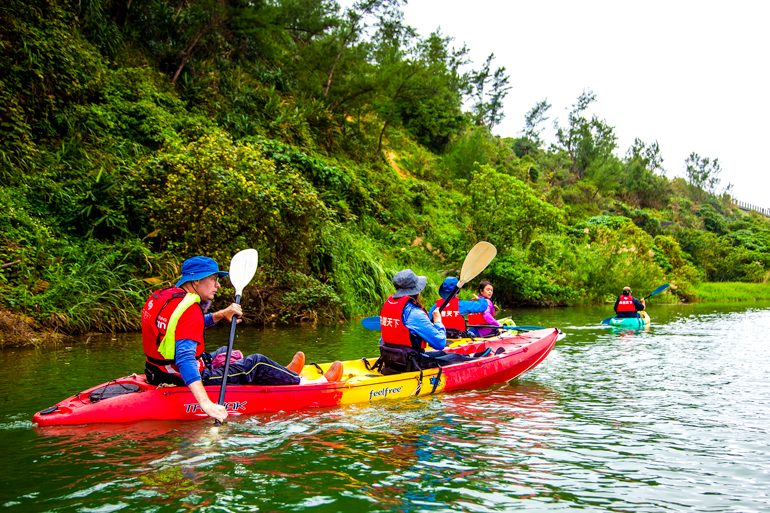 We very much wanted to continue our journey after this brief introduction to the local ecology, but a sudden downpour prompted an early return to the kayaking base.
On a 6-hour trip you will explore the river much further inland than we did on our brief excursion. Nevertheless, I was already very much satisfied with my kayaking experience despite being on the water for less than two hours.
Apart from kayaking at Fulong, there are many more ways to have a great day on the Northeast Coast. Explore the amazingly strange and beautiful rock formations at Nanya and at Shen'ao Harbor (Elephant Trunk Rock), go snorkeling/scuba diving or rock climbing at Longdong Bay, hike the Bitou Cape, have a seafood meal at one of the fishing harbors… the list goes on and on.
Paddle Further
In addition to its beginners' kayaking outing, Paddle Around also offers courses for more experienced kayakers, venturing into the sea off Fulong. Sea kayaking can also be done at other locations along the Northeast Coast, as well as along the North Coast and East Coast. Skill and stamina is required for these excursions, and it should also be noted that sea kayaking is prohibited during the winter due to unfavorable weather conditions. Kayaking is also prohibited at all fishing harbors in Taiwan.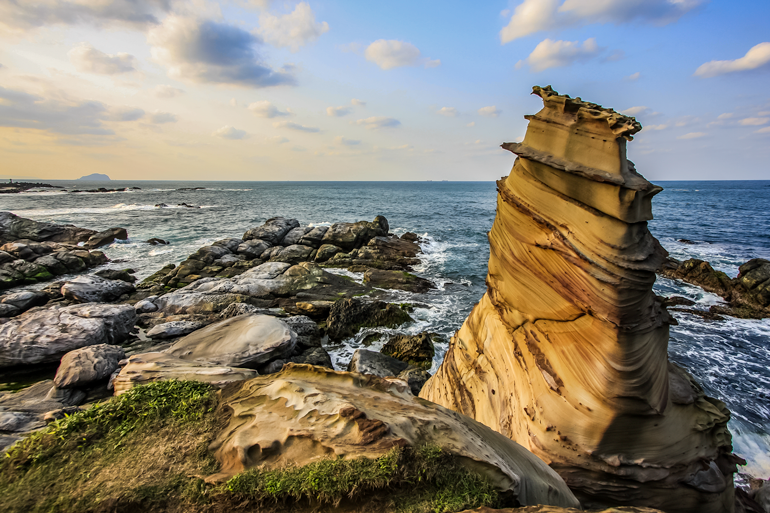 Kayaking fun can also be enjoyed on lakes in Taiwan, notably Sun Moon Lake in Nantou County and Liyu Lake in Hualien County. If interested in mountain-stream kayaking, note that kayaking groups meet regularly and tackle streams in areas such as Sanxia (class 2~3) and Wulai (class 3+ year-round), both locations near Taipei City. Whitewater kayaking definitely requires the highest skill level, and is obviously only for advanced kayakers.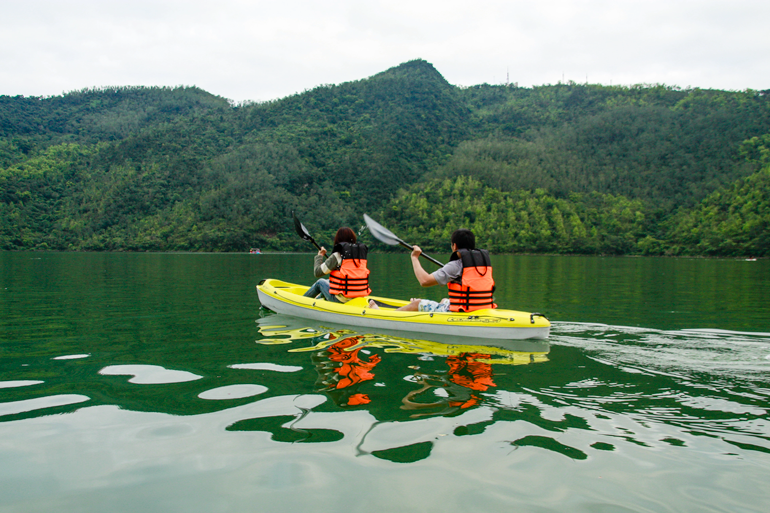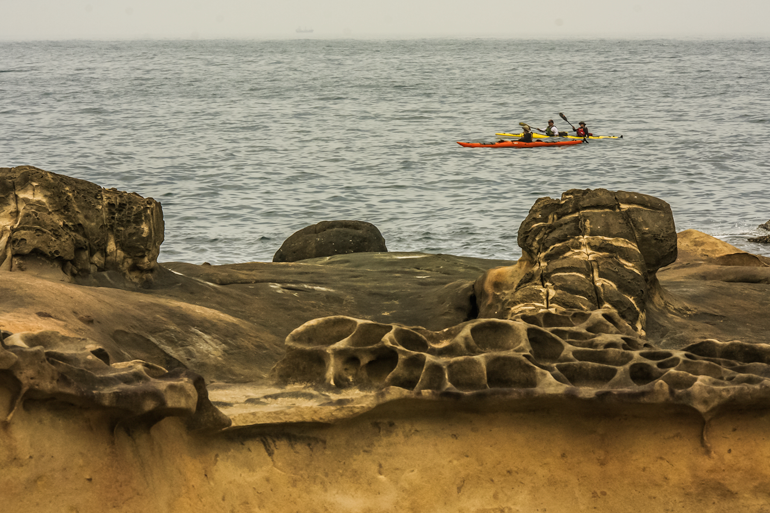 Practicalities
Reservations must be made three days in advance, at kayak.com.tw.

The website is in Chinese, but English-speaking Paddle Around staff will reply to any English e-mails and will accompany foreign participants on trips.

Sea kayaking courses are only offered May through September, and the Longmen Kayaking Base is closed January through March.

Parking at Longmen Camping Resort is NT$50 per vehicle.
What to Bring
Expect to get wet. Avoid wearing any cotton clothing, and instead opt for water-friendly clothing that dries quickly. For both men and women, wearing board shorts, water shoes, and rash guards is recommended. Don't forget sunscreen, sunglasses, and a hat during sunny weather! Bring a change of clothes and a towel; there are hot-shower facilities you can use after kayaking. There are also secure lockers in which you can store your belongings. Basic items like hats, sunscreen, and snacks are available at the base's second-floor shop.
Getting There
Self Drive: Taiwan's Northeast Coast stretches from the port city of Keelung all the way down to the northern part of Yilan County, its many bays and capes, enchanting rock formations, rugged cliffs, rolling green hills, and pristine beaches attracting visitors. The coastal highway (Provincial Highway 2) is a dramatically scenic route, a 40-minute drive will take you from Keelung to Fulong. A faster but somewhat less-scenic route is Provincial Highway 2C from the town of Nuannuan to Fulong, via Shifen and Shuangxi.
Public Transport: Getting to Fulong by train is very convenient. Just take an eastbound train from Taipei (60~90 min., NT$83~NT$128 depending on train type; note that most of the faster trains don't stop at Fulong). Another option is taking a bus. From central Keelung take bus No. 791, which follows the coastal highway all the way to Fulong. From close to Ruifang Railway Station, take a Taiwan Tourist Shuttle bus (Gold Fulong Shuttle Bus; No. 856) via the towns of Jiufen and Jinguashi. From outside Taipei Main Station (Exit M1) take Kuo Kuang Motor Co. bus No. 1811/1812. Finally, there is a small-bus service from Taipei's MRT Nangang Station (Capital Bus No. 1577) to Fulong (leaving at 6am, 10am, and 3pm).
Info
Paddle Around International (舟遊天下)
Add: No. 100, Xinglong St., Fulong Village, Gongliao District, New Taipei City [inside Longmen Camping Resort]
(新北市貢寮區福隆村興隆街100號[龍門露營區])
Tel: (02) 2499-1147
Website: www.kayak.com.tw (Chinese)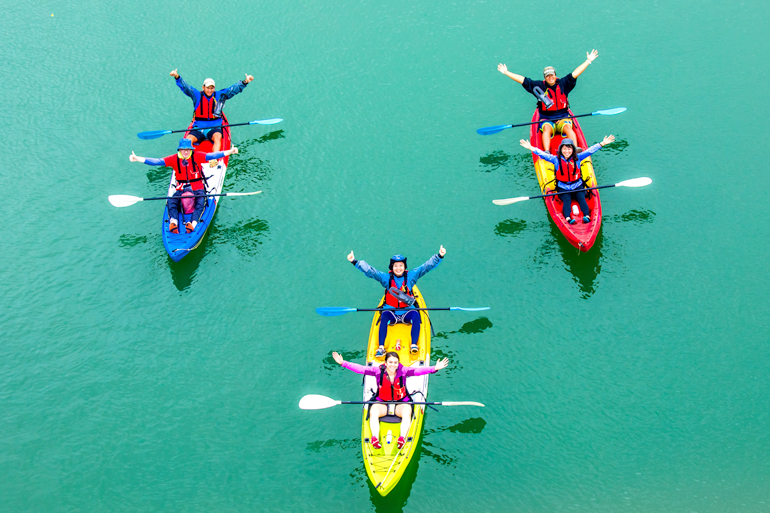 Also read
Rock Climbing, Diving, Surfing, Kayaking, and other Outdoor Activities on the Northeast Coast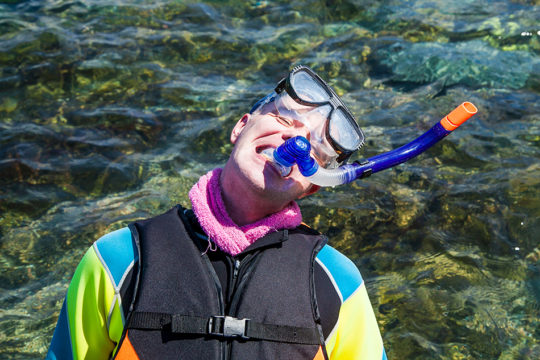 taiwaneverything.cc/2016/05/15/taiwan-northeast-coast-trip/
PARAGLIDING at Wanli on the North Coast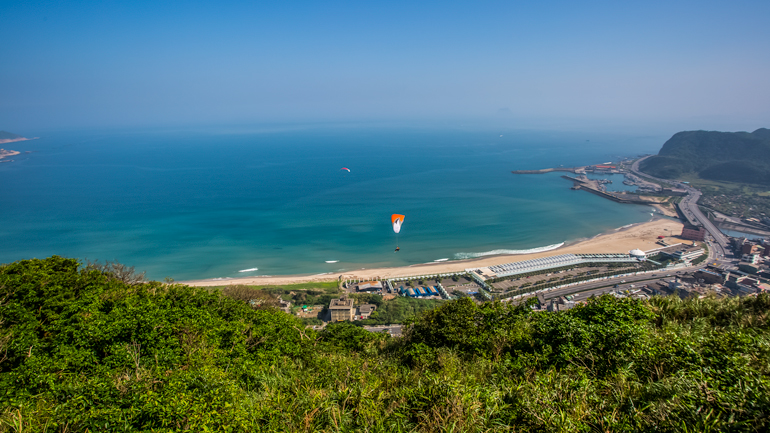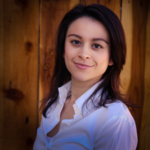 Francesca is an attorney from California who left a life of pushing papers behind a desk to travel the world. Currently, she combines her passion for travel and community service at her base in Taipei, Taiwan, where she is a regular volunteer at a local homeless shelter and elderly assistance organization. Still an activist at heart, she is committed to eco-tourism and giving back to whatever community surrounds her. She has volunteered with rescue elephants in Thailand, taught English to orphans, and fed the homeless in Asia. Follow her "active" lifestyle on IG!