Let's Experience Tree climbing in Taoyuan!
Text: Han Cheung; Photos: Maggie Song
There is no shortage of trees on this subtropical/tropical mountainous island. Even from the center of northern Taiwan's densely populated urban centers, it usually takes just a short bus or taxi ride to bring you to a trailhead and lush forest. If you want to find out how to climb the forest denizens with the help of professional tree-climbers, read on!
After about an hour of relaxing in hammocks hung near the top of a tree about 10 meters above ground our instructor, Weng Heng-bin, asks if we want our lunchboxes delivered up to us.
"You can do anything up here – stare into space, play with your phone … and we'll deliver what you want to you," he says., then adds with a laugh, "Of course, coffee will cost extra. "Someone even asked for beer once, but we told him that it would make him want to go to the bathroom, and he would have to descend from the tree sooner than he'd like to."
It makes sense; as you will no doubt find out, you'll want to stay in the tree for as long as possible. There's a nice breeze, birds are chirping, and everything feels a bit surreal – it's still hard to believe I managed to haul myself up here.
Arborist-Style Climbing
This type of recreational tree climbing is completely different from what you did when you shimmied up and down trunks and branches in your grandma's backyard as a child. Derived from professional arborist techniques, this version of tree climbing involves securing a rope on a branch and pulling yourself upward.
"And most of the time, you're climbing the rope instead of the tree," Weng says.
It can be a little intimidating for some, as climbers are dangling in the air for most of the journey upward, which can take quite a while depending on the individual's conditioning. After being obliged to abort my first attempt upon getting "treesick" from swaying in the air, I feel better when Hsu Nen-nen, another instructor, tells me that she also felt nauseous and panicky when she tried tree climbing for the first time. She soon became addicted to the thrill of climbing higher and higher, honing her craft to the point of winning first place in the female division of this year's Taiwan Tree Climbing Championship.
Weng and a third instructor, Maverick Du, are no slouches either – both are among a handful of Taiwanese to receive professional certification from the International Society of Arboriculture. But since demand for arborists is rather low in Taiwan, the two spend a lot of time providing recreational services through their business, Climbing Tree.
Based in Taoyuan City's Guishan District just a short drive from Taoyuan Railway Station, Climbing Tree offers tree climbing experiences on a plot of sloped land with trees of several different species and degrees of climbing difficulty. It's a serene spot that climbers have all to themselves, save for the three resident black dogs that laze around a large pavilion. At least six people are required per group for a whole-day session, with a ceiling of 20. Each person pays NT$1,400, which includes equipment, lunch, and insurance. It's even possible to spend a night up in one of those trees.
While people have been climbing trees recreationally in Taiwan since 2000, popular interest has only picked up in the past two years or so. Local public interest in individual outdoor activities comes and goes in cycles, and Weng believes that tree climbing is just reaching its peak. Jason Liang, who runs Oudo Explore Travel, a travel agency that promotes and handles bookings for this and other such experiences around Taiwan, says that it is among the current top three outdoor activities, along with kayaking and stand-up paddle boarding.
There are many reasons to climb trees, but Weng says most customers tell him that they enjoy the feeling of accomplishment after challenging themselves to such an unlikely feat. He adds that many people who may not have the ability to partake in other extreme sports, such as rock climbing, can handle tree climbing because it can be done in tiny increments.
"As long as you don't give up, you will make it to the top eventually," he says, adding that he's taught students from age 4 to 65. They must be able to fit in the harness, though, which has a 42-inch (106.68cm) waist limit.
And there's the stunning bird's-eye views enjoyed once you are up high in the tree. Weng recommends that participants attempt to climb to at least 10 meters – at that point, when they look downward they will marvel at the view, and start feeling that all the hard work is worth it.
"It's way different from the experience of climbing just five meters," he says.
Weng has a master's degree in environmental education, and hopes that his customers also develop an appreciation for trees and nature. "Many people tell me that they had not realized how strong trees are," he says. "I hope that they can feel the vitality of trees and start thinking about how to protect them."
Vertical Ascent
Despite Taiwan's high population density, it's still pretty easy to get away from civilization into mountainous areas where scalable trees are abundant. With most of the island belonging to the subtropical evergreen-forest eco-region, Taiwan is home to a wide a range of forest types, including some that contain massive "sacred trees" that Weng has his set his sights on scaling.
But without proper equipment and preparation, tree climbing can be quite dangerous, and only those well-versed in the sport should venture out on their own. Before we set off, Weng gives us a presentation on safety and how to use the equipment, for which there are very specific requirements; techniques used for other activities should never be substituted. Weng and his team also care for the trees they use, and make sure before each group's arrival that the targeted branches are healthy enough to support human weight.
The equipment consists of a helmet and gloves, plus harness, carabiners, and a rope. Fortunately, there's no need to learn how to put the latter group together – the instructors will take care of that. All you have to do is to master the climbing motions.
I look upward, and Du is already scampering about the higher branches setting up a hammock and waiting to provide support to the other climbers. He looks far away, and I feel a bit queasy at the thought of being at that height.
"If you're afraid of heights, that doesn't mean heights are dangerous," Weng says. "Also, you have a great deal of control during tree climbing – you can go at your own pace, and take a break whenever you want."
After the instructors secure a rope on a suitable branch, they connect it to the climber's rope, creating a "doubled rope system" with a foot strap. The climber puts a foot on the strap, pulls his or her body upright, and pushes a knot on the dangling rope in an upward motion. In the beginning it's rather difficult to maneuver while dangling in mid-air, and I end up struggling mightily, body jerking around in all directions, just to make miniscule progress. I get the hang of it after a while, and suddenly I find I'm higher than I thought I could go.
Getting into the hammock is also quite a challenge, as I have to swing (with Du's assistance) and enter feet first. But once I lie down and get comfortable, the trembling subsides and the sweating stops. I marvel at our photographer Maggie, who swings around seemingly with ease, or at least without fright, as she snaps photos while being several meters higher than me.
Under the soft warmth of sunshine raining through the canopy, with the occasional falling leaf floating serenely by, I look down from the hammock. Yeah, the view is pretty worth it.
The wind isn't too strong today, but occasionally it does sway the hammock gently back and forth, in time with the branches. As mentioned earlier, it's possible to get "treesick," feeling dizzy and nauseous – but even this can eventually be overcome. I stop worrying and doze off.
The hardest part is the descent – you have to really place your faith in that rope to be able to leave the hammock and head into the nothing-ness below. Once I'm stabilized enough, I push the knot downward to descend, trying to control my speed for a smooth landing.
Finally, I'm on the ground. I'm pretty beat; but the day is not over yet, for we next head over to a nearby camphor tree to swing from one of its branches.
If You Go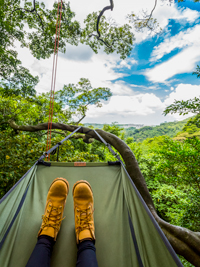 Due to the lack of parking space close to the climbing site, Climbing Tree recommends that guests park at Daoji Temple, at the entrance to Lane 1300, Datong Road, Guishan District, and walk uphill from there. If you don't have a car, note that the site is about 20 minutes by cab from Taoyuan Railway Station. Pick-up service (for a fee) can be arranged for groups of more than ten.
Climbers should wear comfortable clothes, with long-sleeved shirts and pants, and sneakers or hiking boots. Other recommended items include a thermos, mosquito repellent, and a change of clothes.
Booking and More Info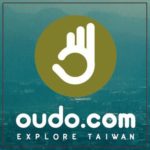 Oudo Explore Travel
(歐都探索旅行社)
Tel: (03) 425-2581
Website: oudo.com
Also read:
Slippery, Cold, and Wet… RIVER TRACING in Jiaoxi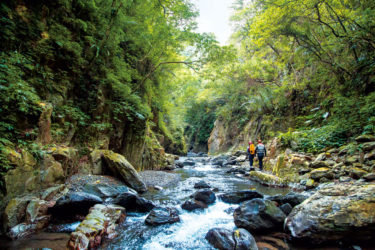 taiwaneverything.cc/2017/05/15/jiaoxi-river-tracing/
PARAGLIDING at Wanli on the North Coast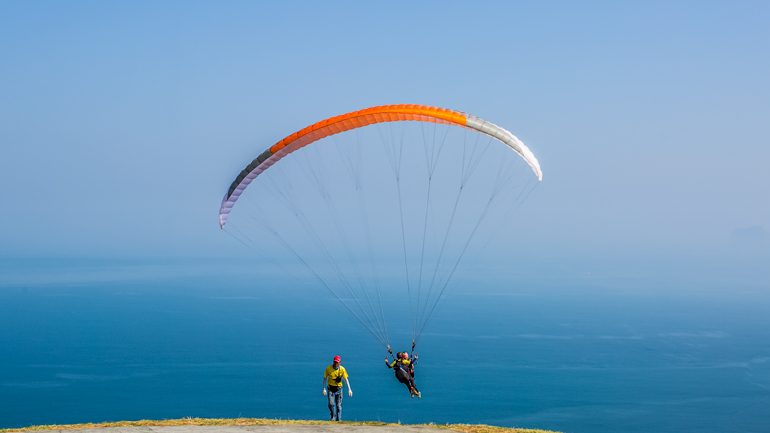 About the author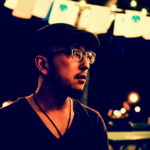 Han Cheung
Han Cheung moved back to his adolescent stomping grounds of Taiwan in 2015 from frigid Wyoming, where he was the editor of the small town Rawlins Daily Times. He has a Master's in Journalism from the University of Missouri and has reporting experience in the US, Latin America, and Taiwan.