Shenji New Village — Culture and Creativity in Taichung
Text: Han Cheung, Photos: Maggie Song
In recent years a major trend in cities around Taiwan has been the restoration of old houses, industrial sites, military dependents' villages, and other heritage treasures. The aim has not just been to preserve these gems, but also to transform them into centers of culture, creativity, and small-scale businesses. Shenji New Village, in Taichung City's urban core, is a great example of this type of successful transformation.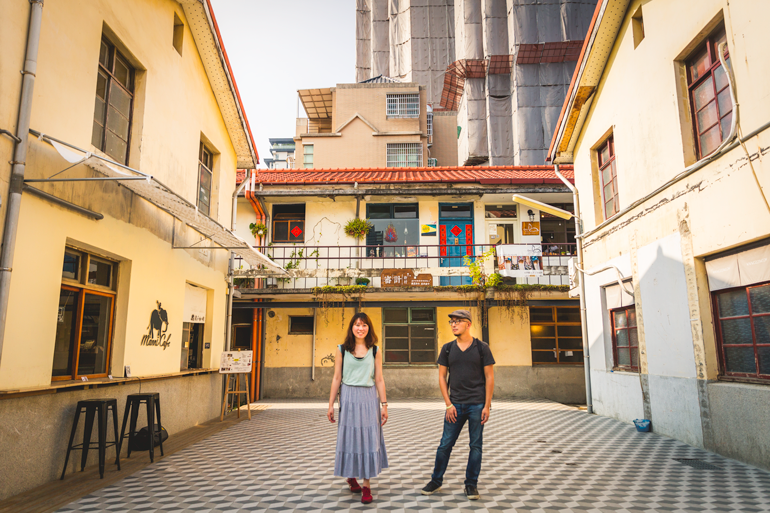 S
elfie lovers, rejoice. From giant cream-puff helmets to a room with a faux merry-go-round that is eerie and cute at the same time, Taichung's Shenji New Village is tailor-made for taking pictures both atmospheric and whimsical. And it's not just the gimmicks – this cluster of light-yellow concrete-and-brick buildings in the city's West District has been preserved and renovated well, transporting visitors back to the late 1960s when the complex was built to serve as dormitory housing for the Taiwan Provincial Government.
With a pebble-stone and red-brick main street and plenty of footpaths to wander along, as well as wooden staircases allowing you to climb to tree-brushed second-floor balconies, there's a whole lot packed into this relatively small city space. It's grown so popular that even on a weekday afternoon visitors can be seen waiting for their turn to snap group photos with their friends on the main plaza, laid with subtle and tasteful geometric tiles that match the surrounding buildings.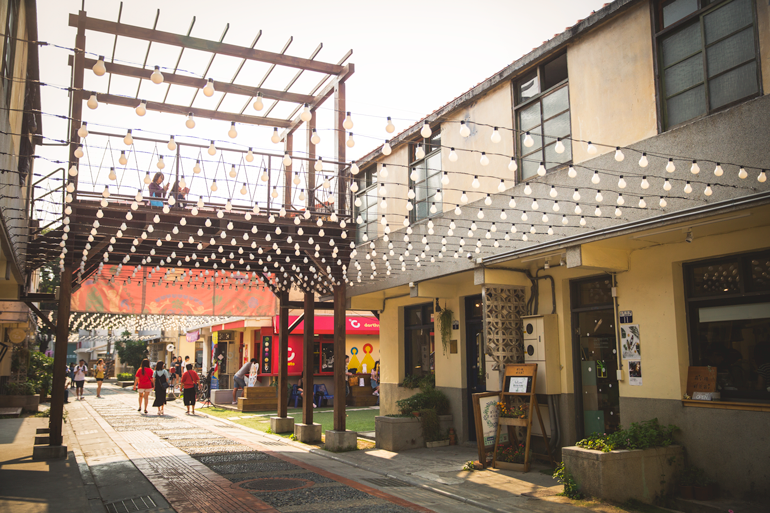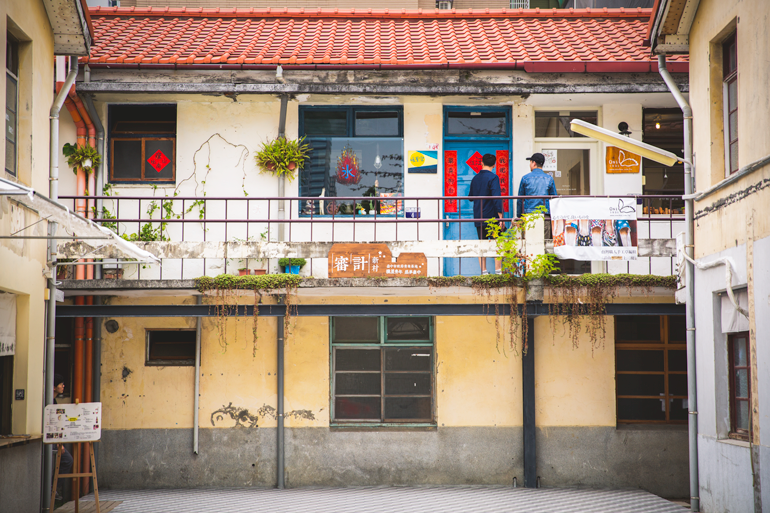 Even if taking photos is not your thing, you could still easily spend a whole day here, browsing shops, eating pasta, and ending the day with a nightcap at a craft-beer bar. The village's two-story concrete structures are jam-packed with intriguing businesses, about a quarter established through the "Catch Star Youth Dream Taichung" program (www.tcdream.taichung.gov.tw; Chinese), under which the city government selected a first batch of young creative entrepreneurs to start ventures here three years ago.
The others have arrived over the past year under a new village management team led by Steven Wu, founder of the Red Dot Hotel (www.reddot-hotel.com). The hotel, located in Taichung's Central District, is in a restored building and is best known for a 27m-long indoor slide. Wu has expanded the original enterprise demographic of the village by extending invitations to owners of old shops and other established businesses elsewhere with an interest in opening a new branch and/or trying something new.
"We've noticed that many cultural-creative complexes feature the same kind of businesses," Wu says. "We want to have things one can't find at other such places. Also, variety is important – a barbershop could be next to a traditional-sweets store, which could be next to a record shop or maybe a fountain–pen boutique."
In addition to the shops and photo ops, Wu says, there is also an attractive range of activities, such as monthly markets and Taiwanese-style roadside banquets. The theme is changed every few months, and can include art festivals, picnics, and concerts. Wu hopes to eventually ply his old trade once again here by adding a youth hostel to the village late this year or early next year.
"We intend to make the hostel different from just finding a piece of land and building something on it," Wu says. "We want to have a complete package that is integrated with Shenji New Village, with various workshops or activities as well as collaborations with the stores in the complex."
Lin Jie-yu did not expect Shenji New Village to become as popular as it is today. When, about three years ago, she established Blossom, a creative studio that draws inspiration from window-grille patterns, much of the village was still under restoration and was not attracting many visitors.
Responding to increased numbers since then, however, the two-person team that runs the studio has recently amped up production, and what was once a design school graduation project is now a full-fledged shop with ceramic wares, masking tapes, pins, coin purses, lights, and other practical items on display, each creation inspired in one way or another by window grilles from Taiwan and around the world. The patterns are used in carvings, pottery, stitching, printing, and paper debossing. Lin says one of their more popular items is a ceramic chopsticks holder resembling a piece of window grille, colored in a way that mimics the often rusty surfaces of actual grilles.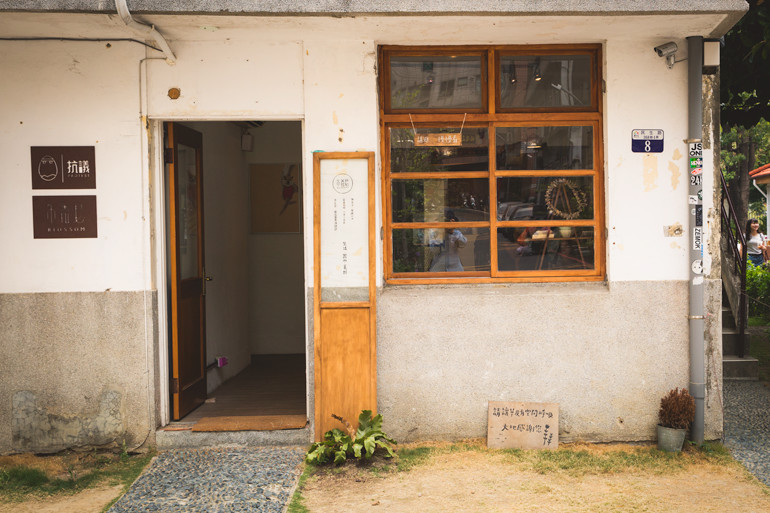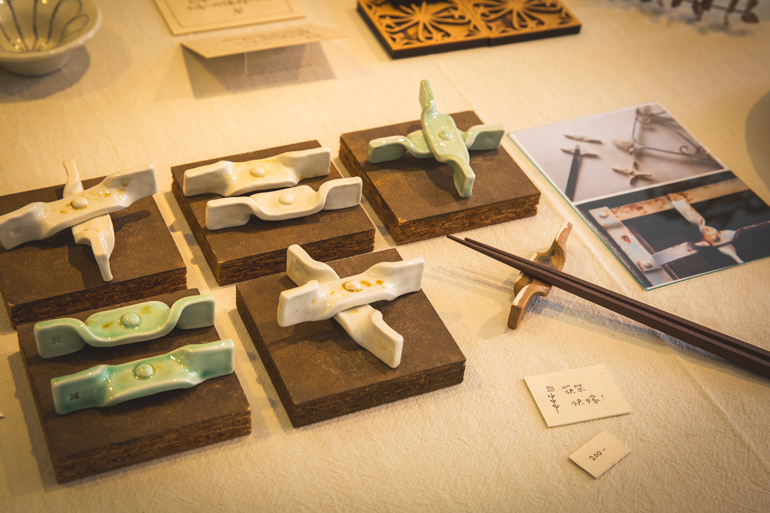 Tim Lin of Protest Studio, which shares a floor with Blossom, has made an even larger adjustment. This was originally a design studio with an art focus that mostly operated on a case-by-case basis; production has now been expanded and the focus is more commercial.
"Before, people who came were mostly interested in arts and culture," he says. "But now we have all kinds of visitors packing the village, especially on the weekends. It's a whole different ecosystem compared to two years ago – and it would be a waste not to capitalize on the increased traffic. So we've shifted our focus to commercial products."
Animals are all the rage here, with earrings, pins, stickers, and necklaces of different sizes crafted in the shape of Shiba Inus, sloths, owls, and even blobfishes. The studio has also designed bags with graphics that go with the pins. Everything is handcrafted and painted, with the paint details customizable.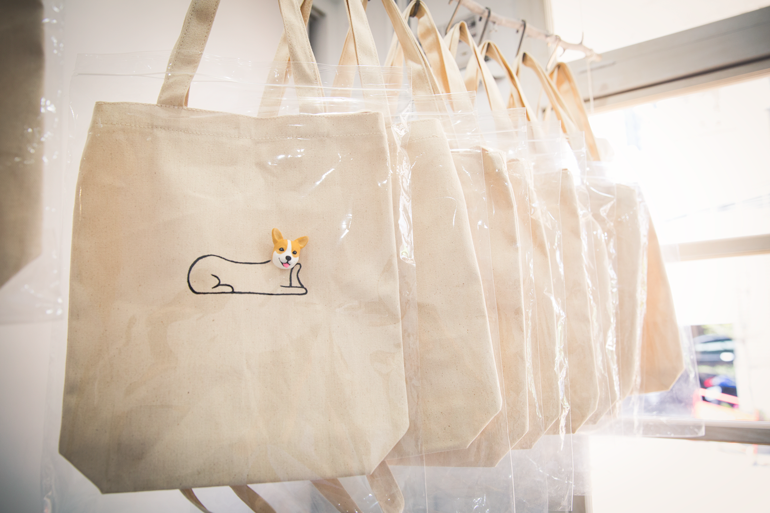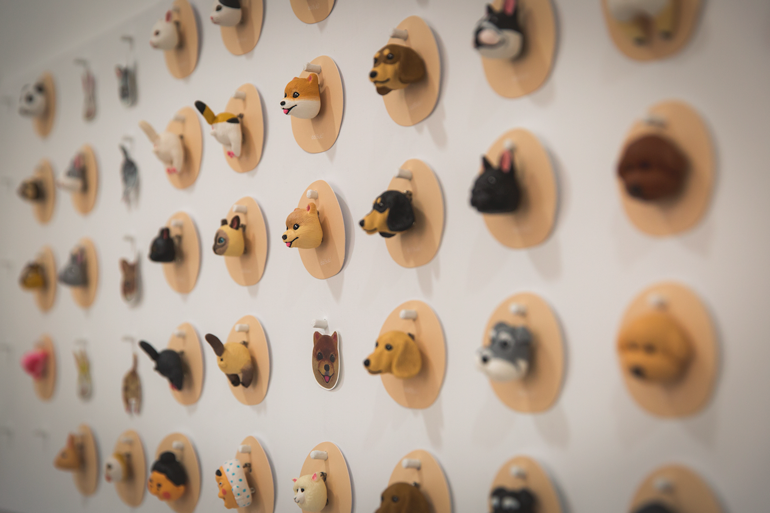 Hsu Chen-hao has used a different approach. While he still runs his design studio Chaiwood, which makes products that feature leather stitched onto solid wood, he has taken advantage of the village's popularity by opening Groceries Wood, a cramped room on the second floor of a café that sells various handcrafted designer products made of wood and has a tiny rotating exhibition space for featured artists. From coasters made of different types of wood to stick pencils, vases, and earrings, the possibilities for wood seem endless.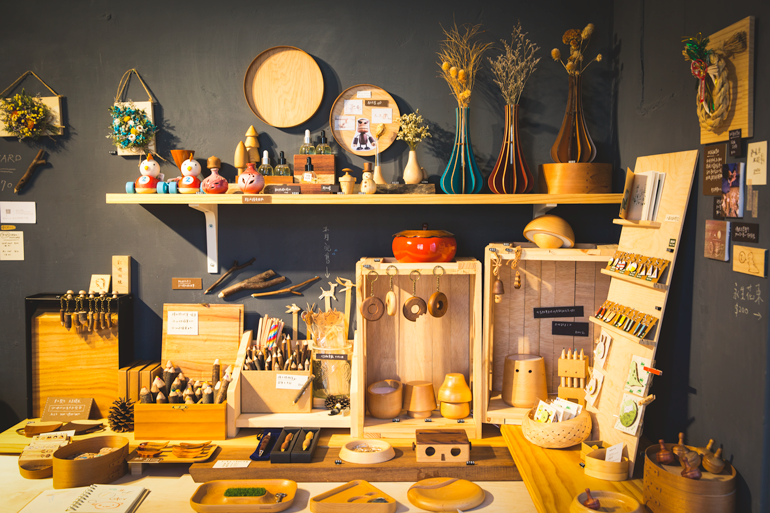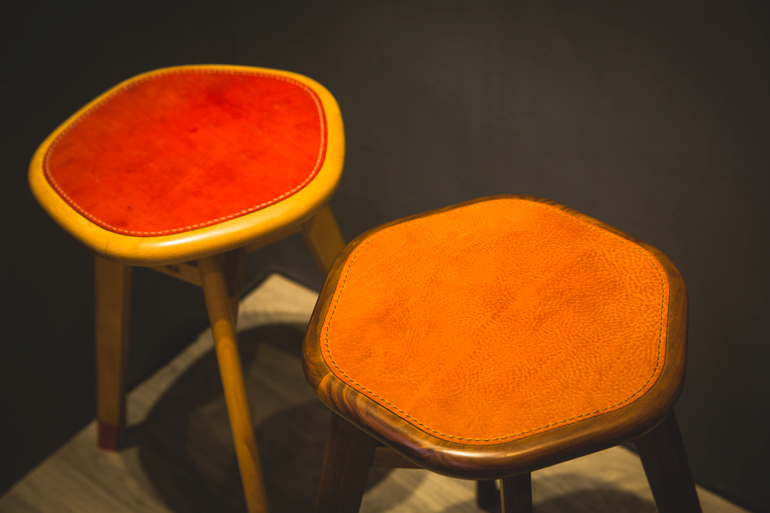 Still Light, a fountain-pen store, and Nikai Library, a Japanese and Taiwanese zine shop, are among the more recent arrivals recruited under Steven Wu's "maximum variety" concept.
Customers can often be seen standing around a table at Still Light scribbling in the many notebooks using selections from the almost overwhelming variety of pens. This is the second Still Light store, but it's not just a replica of the original – manager Shih Chang-hui says the aim at the Shenji New Village outlet is to introduce the casual visitor to the art of fountain-pen calligraphy.
"We won't have items that are too expensive or difficult to use here," he says. "This place is more introductory, and if you're interested in more upscale products you can visit our flagship store."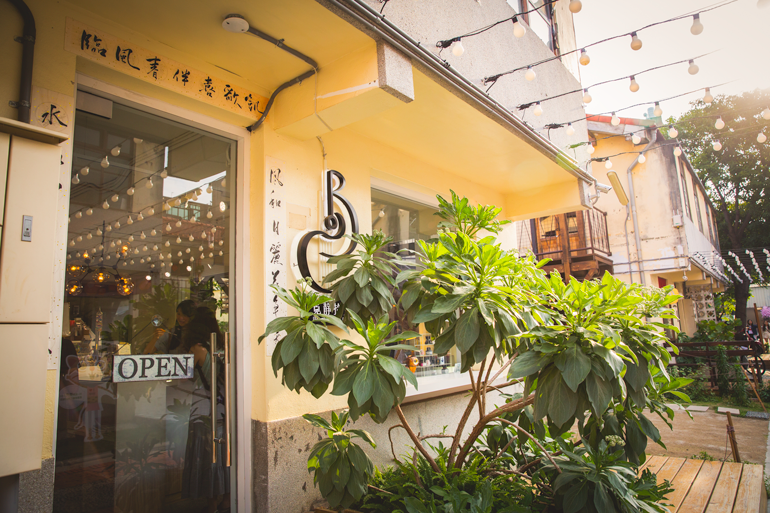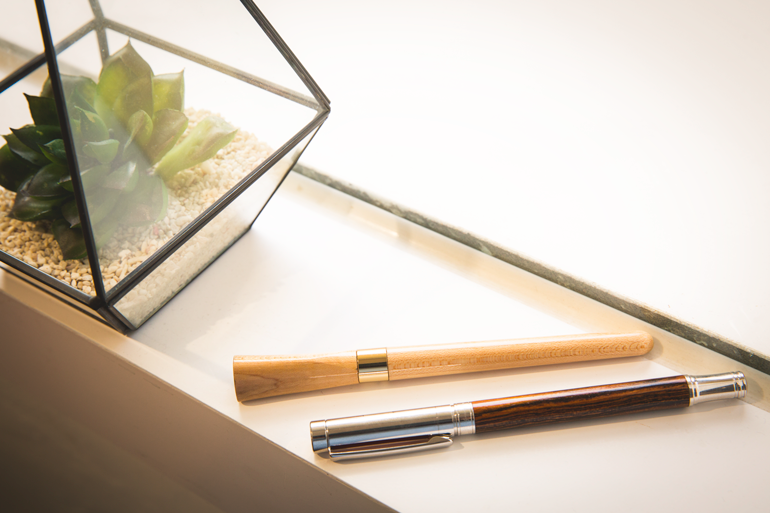 Shih says that it was a gamble setting up here, as the village was not nearly as popular today when they first moved in about a year ago. The decision has paid off, he adds. Still Light is working on creating its own branded products for each of the three major components of fountain-pen writing – the pens themselves, the ink, and the paper. Building on each person's writing habits, techniques, and color preferences, the store will fine-tune the materials to create a unique calligraphy experience.
Nikai Library also moved here about a year ago from another cultural-creative park after receiving an invitation from Wu's team. Now enjoying three times their former space, the owners have an exhibition room as well as a multi-purpose room they usually use as a workshop for in-house zines, but which they also use to host collaborations, such as a recent one with a Japanese café.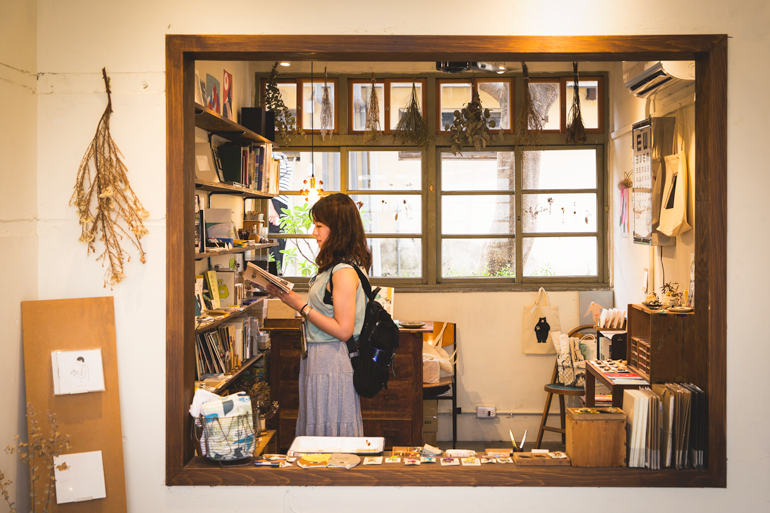 "It's an experimental space," says co-owner Kuo Shih-hsien. "It's not just a zine shop. We hope that people can see different things each time they visit."
Kuo hopes that Nikai Library can introduce people to the zine culture. The outlet also has intriguing stationery items from Japan, and the management team also travels to Japan to present interesting items from Taiwan.
"Our mission is to bring the good stuff from Japan to Taiwan, and vice versa," Kuo states.
The exhibition space is being used to display works by a Japanese illustrator in July and August, with the following month showcasing a Japanese stationery brand.
From a full-service Italian restaurant to craft-beer bar to an outdoor milk truck, food and beverage options abound at Shenji New Village. One shop of particular interest is Grass, a sandwich joint where visitors can put on rubber animal masks and take photos with the large circus-style merry-go-round rabbits and squirrels.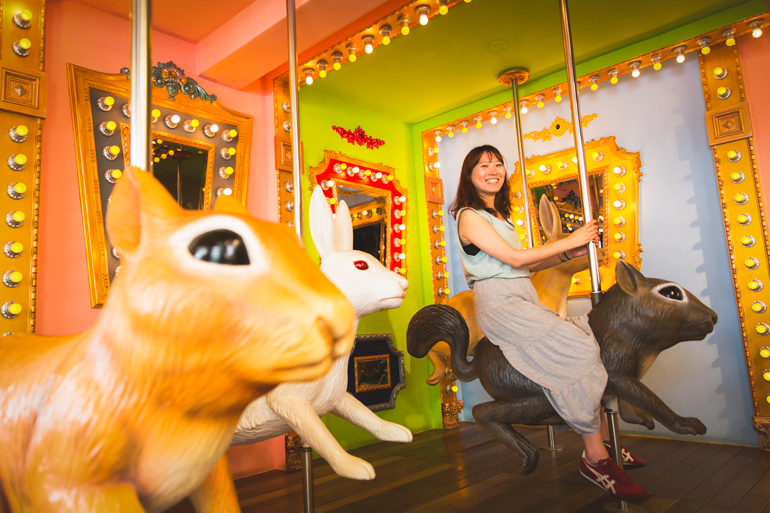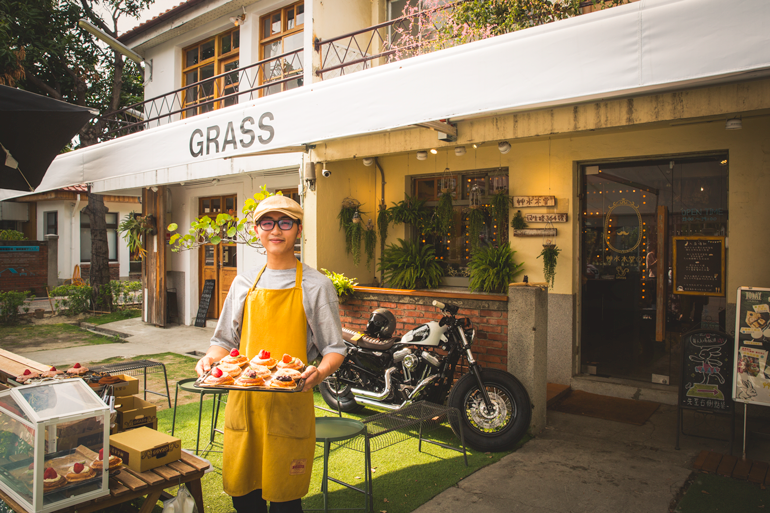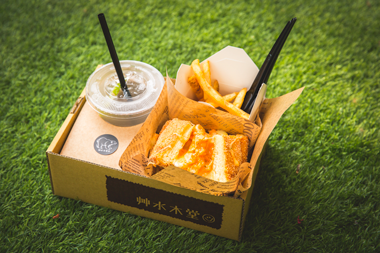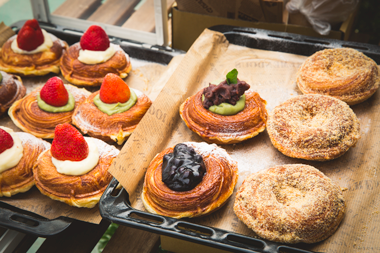 There's no seating here, and beyond the counter area the space is tailor-made for impromptu photoshoots. After concluding that the building is too small to put in seating, owner Sam decided to focus solely on takeaway food. Even the menu is animal-themed, with "hedgehog" (roasted pork panini), "squirrel" (black truffles with mushroom panini), and "reindeer" (cherry sauce and cheese sandwich) creations, and "hippo" donuts with Hawaiian nuts and maple syrup.
The most popular item is the "polar bear" sandwich, a fried lobster salad concoction with rich layers of cheese. In the afternoon, there's a pop-up stand outside the shop from which donuts and other sweet pastries are sold.
"Our food is made for takeaway so people can eat while they wander the village grounds, or they can even have a picnic," Sam says. "We remove some vegetables typically found in sandwiches so they don't drip. Everything is animal–themed, because we want people to eat in a fun and relaxed manner."
If you still have time for exploration after you're done with Shenji New Village, the National Taiwan Museum of Fine Arts (www.ntmofa.gov.tw) is a short walk away, and you can also walk along the Calligraphy Greenway, browsing other intriguing cultural-creative establishments all the way to the CMP Block Museum of Arts (cmpblockmuseum.tw) and the National Museum of Natural Science (www.nmns.edu.tw).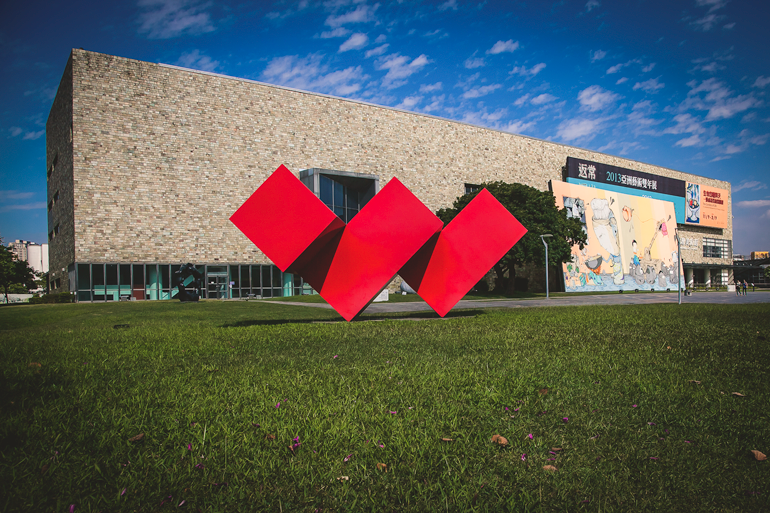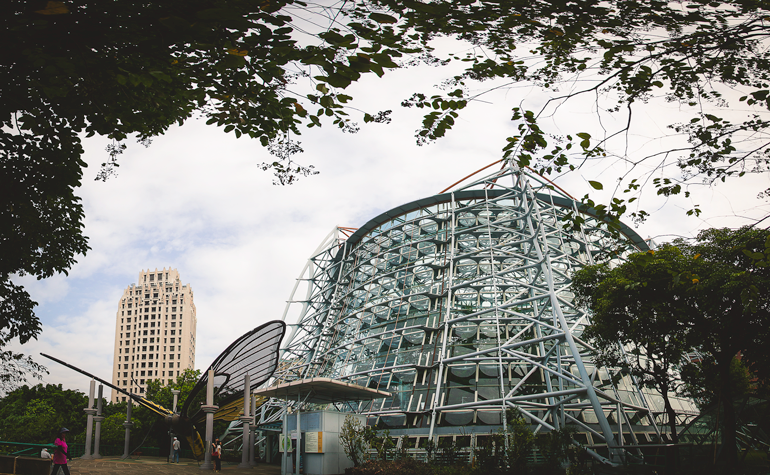 Getting there
From Taichung Railway Station, take bus no. 11, 71, or 89 to Hsiang Shang Junior High School bus stop; from there, head north, turn right onto Minsheng Road, and find Shenji New Village on the left-hand side (5 minutes from the bus stop).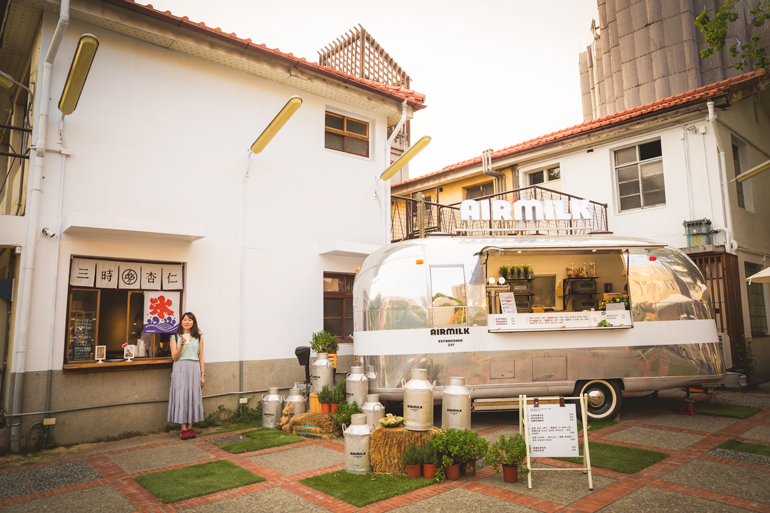 More articles about Taichung
TAICHUNG / ART & ARCHITECTURE
Taichung's Cafés and Restaurants
TAICHUNG COAST — Many Interesting Spots!
Things to Do in Taichung (klook)
Lihpao Land Theme Park Combo Ticket in Taichung
Taichung Half Day and One Day Tour: Gaomei Wetland, Rainbow Village, and Miyahara (From Taichung)
Hotels in Taichung (booking.com)
Also read
Old Neighborhood in TAICHUNG: Wufeng's Guangfu New Village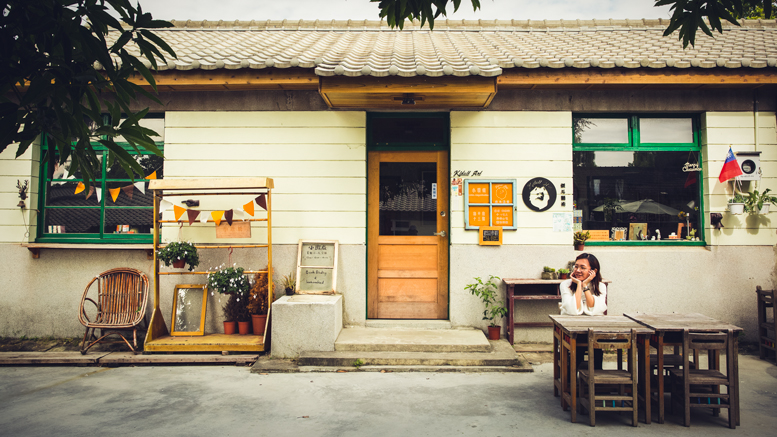 taiwaneverything.cc/2017/07/26/guangfu-new-village/
TAICHUNG City: Modern Metropolis in Central Taiwan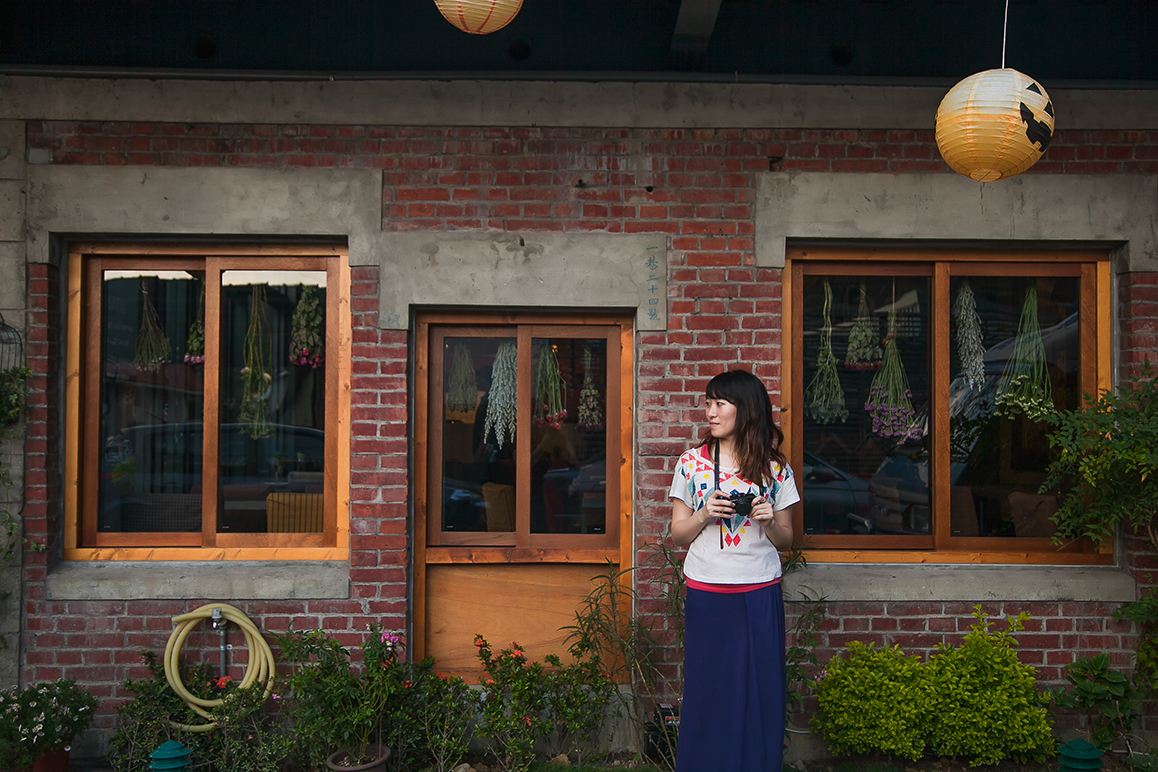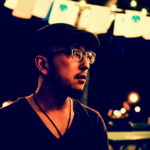 Han Cheung moved back to his adolescent stomping grounds of Taiwan in 2015 from frigid Wyoming, where he was the editor of the small town Rawlins Daily Times. He has a Master's in Journalism from the University of Missouri and has reporting experience in the US, Latin America, and Taiwan.