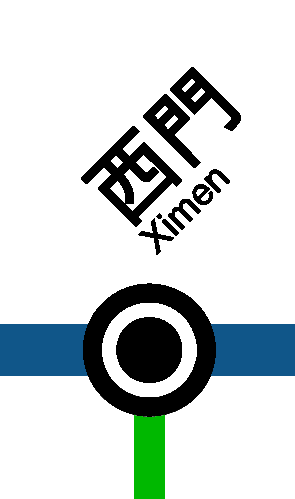 [This post will be updated if new information about places around the station comes available. 🙂 ]
Ximending Pedestrian Area
The popular Ximending pedestrian area stretches from Exit 6 of MRT Ximen Station and includes Emei Street and Section 2 of Wuchang Street. Packed with stores selling a wide variety of clothes, accessories, miscellaneous fashion items, and 3C products, and also many snack vendors and sit-down restaurants, by day the area is bustling, but it really comes into its own at night. As this area is a must-visit place for foreign visitors, there are also quite a few gift stores.

This area was developed as a leisure and shopping district during the Japanese era. Changing with the times while constantly flourishing, it today continues as a pop-culture mecca for youth, showcasing all that's trendy in clothing, cultural-creative goods, food, and entertainment, attracting travelers from near and far.
Location: Hanzhong Street (漢中街) Emei Street (峨眉街), Sec. 2 of Wuchang Street (武昌街2段)
The Red House (西門紅樓)
This red-brick Western-style complex was built during the Japanese era. Designed by a Japanese architect as Taiwan's first public market, it features an octagonal front building attached to a cross-shaped building today home to the 16 Workshops. A live-music venue, Riverside Live House, is in the far-rear section.
A creative market is held weekends in the north-side square; the focus is on young designers, their self-created offerings including clothing and accessories, bags and backpacks, and much else. Concerts and outdoor exhibits are also sometimes held, attracting even more people.
Add: No. 10, Chengdu Rd., Taipei City
(台北市萬華區成都路10號)
Tel: (02) 2311-9380 (Closed on Monday)
Times of creative market: Sat. 14:00-22:00, Sun. 14:00-21:30
Website: www.redhouse.org.tw
Nishi Honganji Relics (西本願寺)
This temple, distinct Japanese in style, is today a cultural-arts and leisure space. Until the end of November, enjoy the Nostalgia Antiques Market held here on Fri./Sat./Sun. during each month's first and third weeks. The theme is "childhood pleasures"; travel through old toys and games, paintings and drawings, handicrafts, living essentials, and much else, in what is transformed into a collector's treasure vault.
Add: No.174-1, Sec. 1, Zhonghua Rd., Taipei City
(台北市萬華區中華路一段174號)
Tel: (02) 2708-1000
Nostalgia Antiques Market: First and third Friday, Saturday, and Sunday in October and November, 15:00-18:00
W
Eighty-Eightea Rinbansyo (八拾捌茶輪番所)
Located in the Xibenyuan Temple square, in a heritage Japanese-style building with exterior faithfully maintained, premium oolong, green, and black teas sourced from around Taiwan are offered at this teahouse, plus smoked teas blending tea and floral flavors. Tea refreshments are also served, enabling enjoyment of the great taste of traditional pastries along with the superb teas.
Add: No. 174, Sec. 1, Zhonghua Rd., Taipei City
(台北市萬華區中華路一段174號)
Tel: (02) 2312-0845
Website: www.facebook.com/rinbansyo
Movie Street and Taipei Cinema Park
(臺北市電影主題公園)
Section 2 of Wuchang Street is populated with numerous upscale cinemas, including Lux Cinema, Vieshow Cinemas, and in89 Cinemax, where colorful posters and huge billboards are used to draw attention. Toward the end of the street is Taipei Cinema Park, where on Saturday nights the Moonlight Movie Theater and at times cultural-arts events of various genres can be enjoyed. As well, savor the nostalgic ambience, and the great coffees and confections, at the Belle Époque café.
Locations: Sec. 2 of Wuchang St. (Movie Street);
No. 19, Kangding Rd. (Taipei Cinema Park)
(台北市萬華區康定路19號)
Website: www.cinemapark.org.tw
Tattoo Street (刺青街)
Down along Hanzhong Street's Lane 50 are many tattoo and nail-painting parlors, creating a street of unique avant-garde character. Many young folks come here for tattoo art that declares their personal character. You can also get temporary tattoos, equally intricate and colorful, that fade away completely after a few weeks.
Location: Lane 50, Hanzhong St.
(台北市萬華區漢中街50巷)
American Street (美國街)
On and around Lane 96 of Kunming Street is a strong cluster of shops selling hip-hop and personalized apparel. Walls and rolling doors are decorated with bold colors, displaying distinctive graffiti art. The location attracts droves of youngsters interested in American cultural trends, especially things related to hip-hop culture.
Location: Around Lane 96, Kunming St.
(台北市萬華區昆明街96巷)
Costume Street (服裝街)
Along Hanzhong Street and Changsha Street are many shops renting costumes, dance apparel, and performance props, frequented by school cheerleading squads, people needing items for year-end banquet performances, Christmas parties, etc. Items range from ancient Chinese clothing to cartoon characters. Come here to rummage for the most unusual Halloween costume you've ever worn.
Location: Around Hanzhong St., Chengdu Rd., and Sec. 2, Changsha St.
(漢中街, 成都路, 長沙街二段)
Fong Da Coffee (蜂大咖啡)
This venerable café, in business over half a century, percolates with rich coffee aromas and deep air of nostalgia. In addition to the ice drip coffees and fancy coffees, coffee equipment is sold, along with such traditional Cantonese-style pastries as walnut crisps, almond cookies, mung-bean cakes, and baked pork cakes.
Add: No. 42, Chengdu Rd., Taipei City
(台北市萬華區成都路42號)
Tel: (02) 2371-9577
Website: www.facebook.com/蜂大咖啡-183855974985361
East of Ximen Station
Long's Shanghai Restaurant (上海隆記菜飯)
This venerable eatery, in business over 60 years, offers classic side dishes and, as its signature dish, rice with eel and vegetables. The eel is first deep-fried and then grilled, rendering the eel ultra-tender. The dish is served with slowly simmered rice and vegetables, a perfect taste combination. Another fine selection is the braised silver carp roe with scallions, crispy and delicious.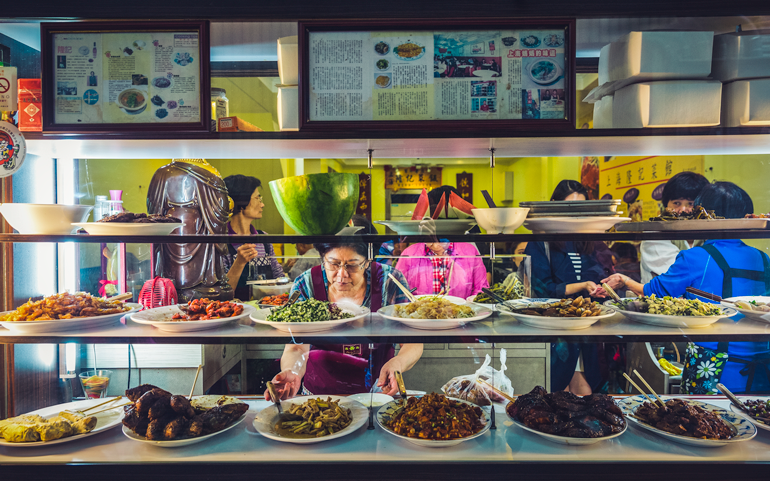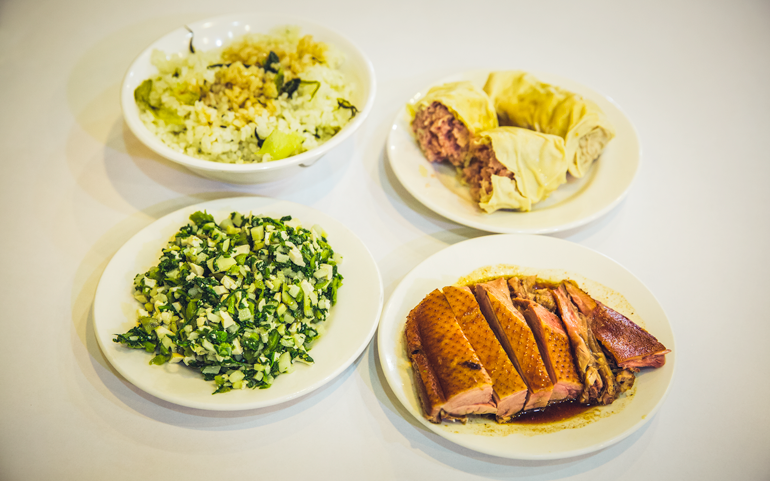 Add: 1, Ln. 101, Yanping S. Rd., Taipei City
(台北市中正區延平南路101巷1號)
Tel: (02) 2331-5078 (closed on Sundays)
Chengzhong Market (城中市場)
Born in the Japanese colonial period as a commercial street satisfying the everyday needs of Japanese customers, great tastes await down local alleys. At "Laopai Niurou Lamian Dawang (老牌牛肉拉麵大王)," only the freshest yellow beef is used, accompanied by delightfully chewy hand-rolled noodles. The tender, richly filled wontons at "Little Zhou's Knife-Cut Noodles" are acclaimed. The hundred-plus Cantonese-cuisine dishes at "Yang Cheng Xiao Shi," and old-style snack treats such as thick squid soup with shacha sauce and beancurd pudding, are foodie favorites.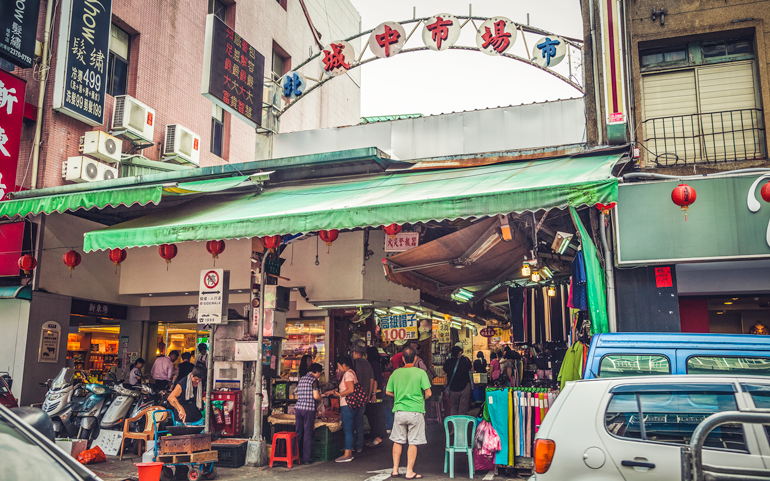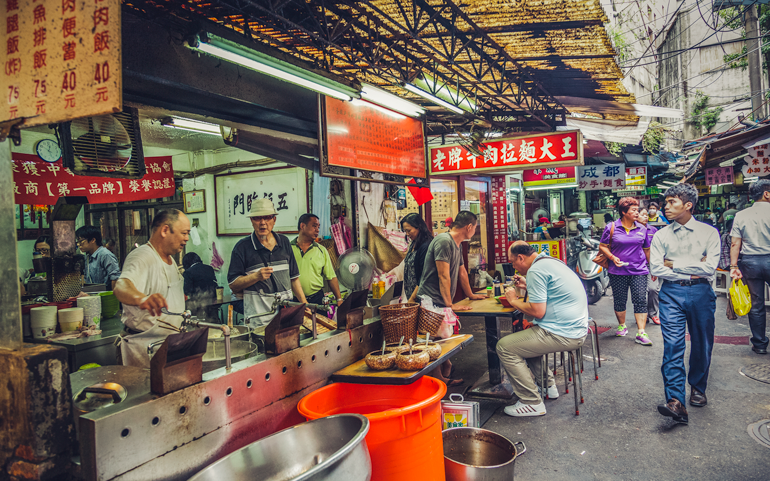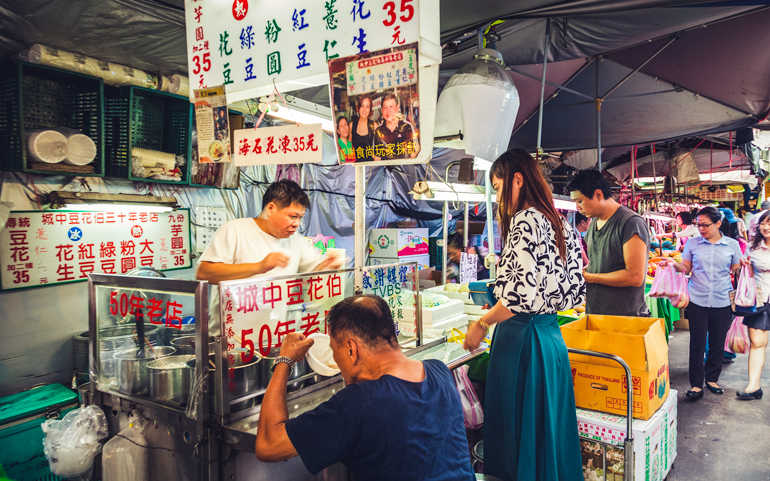 Location: Ln. 46, Sec. 1, Chongqing S. Rd., Taipei City
(台北市重慶南路1段46巷)
Taoyuan Street–"Beef Noodles Street"
(桃源街 — 牛肉街)
In days gone by Ximending was Taipei's busiest commercial district. Nearby Taoyuan Street was choc-a-bloc with shops selling beef noodles, qiangguo (lit. "grab pot") noodles, meat and veggie wontons, steamed buns, etc. Beef noodles was undisputed king, leading to the nickname "beef noodles street." The unique old-time flavors are today still enjoyed at such familiar old places as "Old Wang's Beef Noodles," "Zhao Family Vegetable and Meat Wonton King," "Three Flavors Fragrant Wontons and Steamed Buns," and "Taoyuan Street Authentic Shandong Beef Noodles."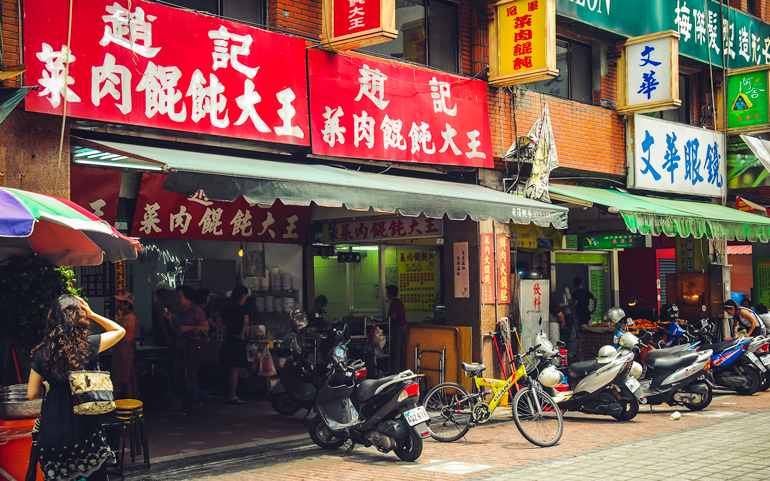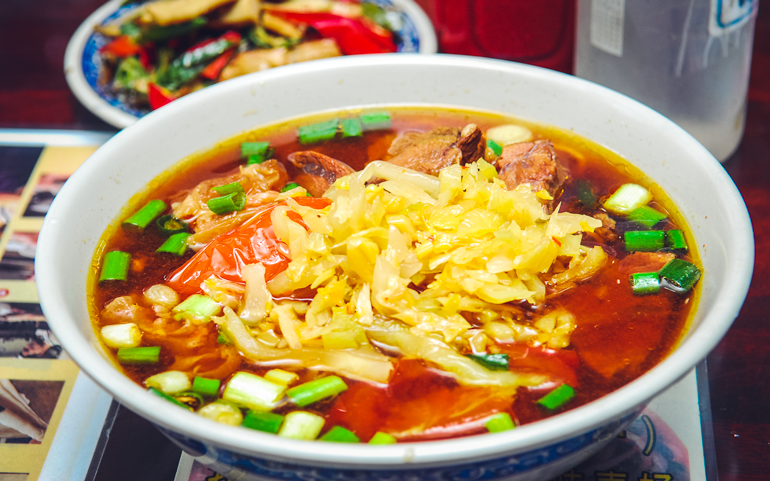 Location: Taoyuan St., Taipei City (台北市桃源街)
Taipei Zhongshan Hall (台北中山堂)
Built in 1936, the distinctive exterior is Spanish Moorish. Built as Taipei's public assembly hall, the facility was once a key government venue for receiving foreign dignitaries. Today a cultural-arts performance space, the 4th-floor Le Promenoir Coffee offers fine coffees, cultural-arts performances, and a relaxed, refined ambience.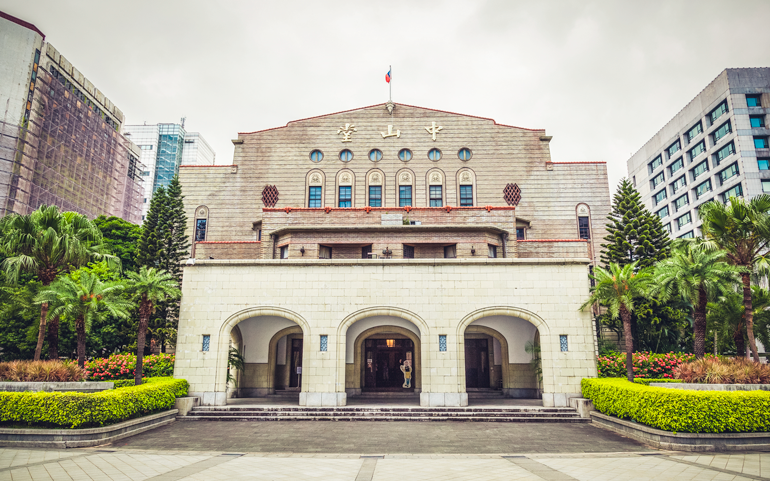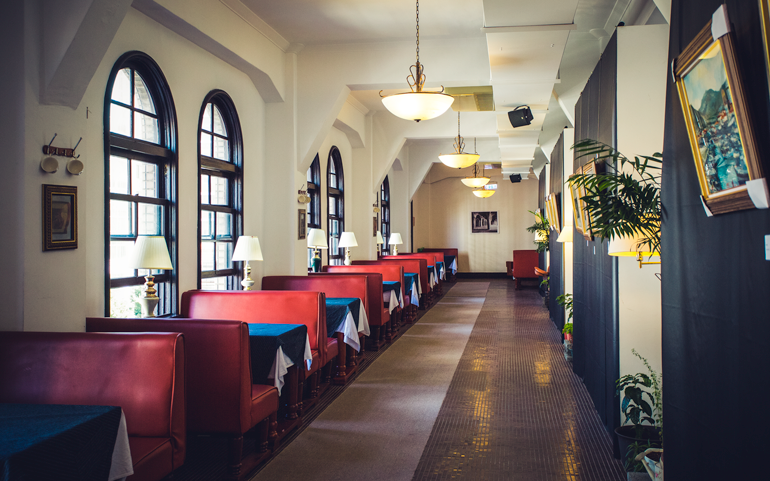 Add: 98, Yanping S. Rd., Taipei City
(台北市延平南路98號)
Tel: (02) 2381-3137
Lao Shandong Homemade Noodles
(老山東牛肉麺)
Tel: (02) 2389-1216
Add: B1, No. 70, Xining S. Rd., Taipei City
(台北市萬華區西寧南路70號B1)
Website: www.facebook.com/西門町萬年老山東牛肉家常麵店-286031141424176/
Niu Dian Beef Noodles
(牛店牛肉麵)
Tel: (02) 2389-5577
Add: No. 91, Kunming St., Taipei City
(台北市萬華區昆明街91號)
Website: www.facebook.com/pages/西門町牛店牛肉麵/495435760519052