Picking Vegetables at a Greenhouse Farm in Shigang District
TEXT / DANA TER
PHOTOS / CHEN CHENG-KUO

At the You and Me farm in Taichung's Shigang District you can pick tomatoes, peppers, and other seasonal produce grown inside greenhouses while learning about agriculture and leisure farms in Taiwan.
Taiwan is often described as a bountiful island. Its subtropical climate, fertile soil, and varying terrain, ranging from coastal plains to alpine mountains, make it suitable for growing an especially wide range of crops, and in quantity. Vegetable plantations are common in central and south Taiwan, while in the north you'll find strawberry farms and orange orchards. During the summer, fruit vendors and dessert shops throughout the island are stocked full of tropical fruits such as dragon fruit, papaya, pineapple, guava, and mango.
While working in the agricultural sector still means hard labor for many, the toiling under the sun does not have the back-breaking connotation that it did a generation or so ago. Disillusioned by city life, a considerable number of people young through old have felt the urge to return to the countryside in search of greener pastures, literally. Over the past 15 years there has been a proliferation of "leisure farms," or farms that engage and educate tourists, whether it's through planting rice or feeding chickens and ducks. Many visitors come for the sheer entertainment, while others are curious about where their food comes from. Leisure farms often rely on tourism for survival – only some derive a portion of their income from sales to vendors and supermarkets. Many have even gone beyond just offering basic services, such as DIY fruit-picking, to providing complete vacation packages for tourists, including accommodations.
You and Me Farm
On a particularly balmy day in February, together with a couple of friends I visit an operation that specializes in greenhouse fruit and vegetable cultivation. Located in Shigang, a rural district northeast of the Taichung City center, it is known in English as the You and Me farm. The bustling urban core of the city of Taichung, Taiwan's second-largest, is a gateway to central Taiwan's high mountains and indeed, as we approach the Shigang area I get a glimpse of the soaring Central Mountain Range in the distance.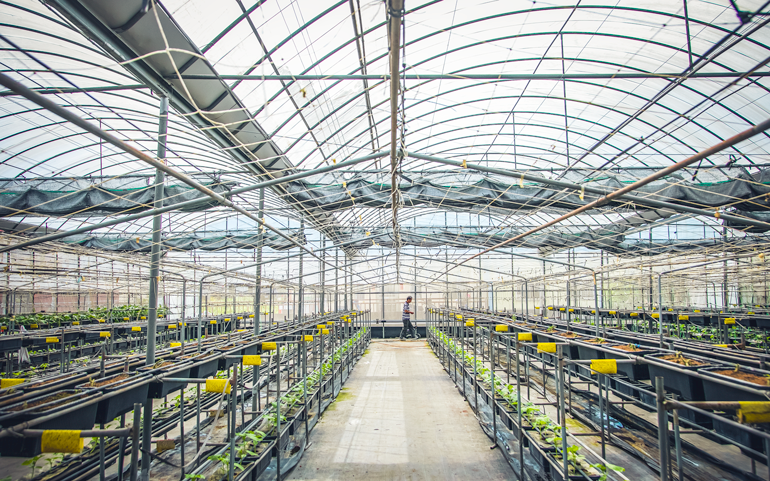 The farm is located on Provincial Highway 3, the main road through the district. Along the highway in this section are auto-repair shops, shops selling colorful birds, sundries shops, and other businesses, interspersed with plots of palm and banana trees. We take a narrow lane opposite an off-road-vehicle shop (look for a yellow sign on a fence at the intersection with the name of the farm in Chinese written on it). Walking away from the highway, we enter a wondrous world with thickets of wild hibiscus plants. Soon I spot the greenhouses of the farm to the right. Entering the grounds, we find the smiling owner, Chiu Shun-jun, brewing Oolong tea. He gets up to greet us, showing us to a wooden table from where you can peer into the first of the greenhouses. Vines droop from the transparent netting-roof of the greenhouse, forming a green arch from which clusters of brilliant yellow cherry tomatoes and stark-hue purple peppers dangle.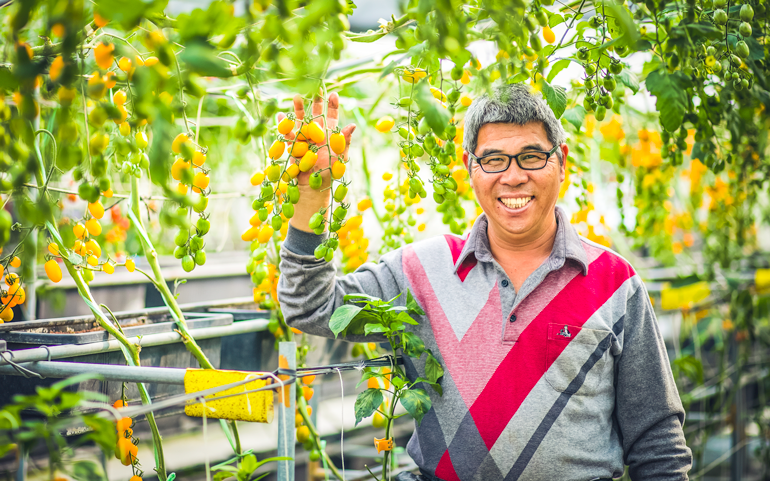 We are served tea and a plate of freshly-plucked cherry tomatoes and peppers in various colors. As I eat the crunchy veggies, I imagine that we are in an enchanted garden. Most of the fruits and veggies are grown inside the greenhouses, the durable netting allowing in ample sunlight while shielding the precious crops from bad weather, notably the typhoons that can visit Taiwan during the summer and autumn.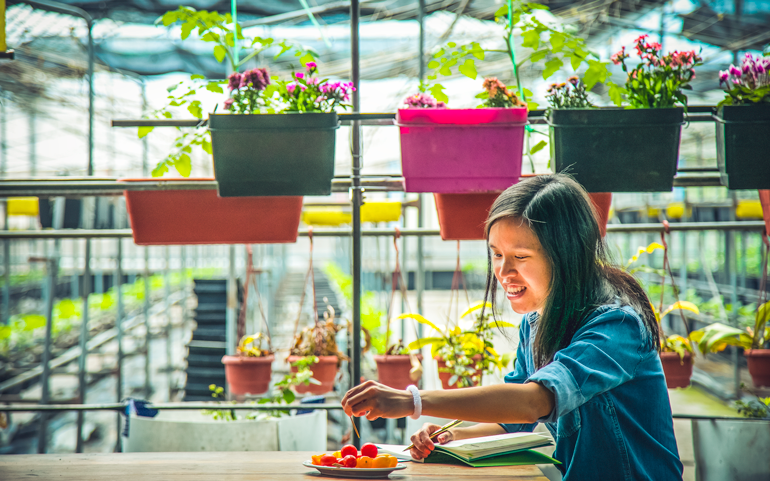 A retired military doctor from a Hakka family that lived in Dongshi, the district neighboring Shigang to the east, Chiu started helping friends using hydroponic systems to grow vegetables nearly 30 years ago, before opening his own farm. In the beginning he sold his produce to supermarkets in central Taiwan, but later he realized that operating a leisure farm was more profitable. "I also like to talk to people!" he chuckles.
Since he revamped You and Me into a leisure farm more than 15 years ago, Chiu has entertained countless visitors, from around Taiwan and abroad. He explains that the characters in the farm's Chinese name, written as you en mi in Hanyu Pinyin and translating literally as "excellence, kindness, sweetness," were chosen to convey the meaning of "produce grown with care," and though the crops are not entirely organic, they qualify for the Taiwan Safe Fruits and Vegetables stamp and meet the strict Taiwan Agricultural Products Traceability System standards.
It's definitely a step up from the days of harsh farm life," Chiu says. "And it's rewarding seeing visitors, especially city folk who take an interest in farming or just enjoying nature.
Approximately 70 to 80 percent of You and Me's earnings come from tourists. A cover fee of NT$100 is charged for fruit and vegetable picking, with additional charges for every 600 grams of produce picked. Around 10 percent of the farm's earnings are from sales to supermarkets in the cities of Taichung, Tainan, and Kaohsiung, while the remainder comes from locals who visit the greenhouses to buy fresh fruit and vegetables. In addition, Chiu teaches interactive classes on how to sow seeds, grow hydroponic veggies, and build greenhouses. His students range from elementary-school children to the elderly.
We visit at the end of winter, during the tomato and pepper season, and are to be shown around by Hung Min-fang, a young woman who approaches us wearing a distinctive checkered apron and pushing a cart full of colorful peppers. Noticing our wide-eyed reactions, she explains that six varieties of peppers are grown on the farm: red, green, orange, yellow, purple, and white.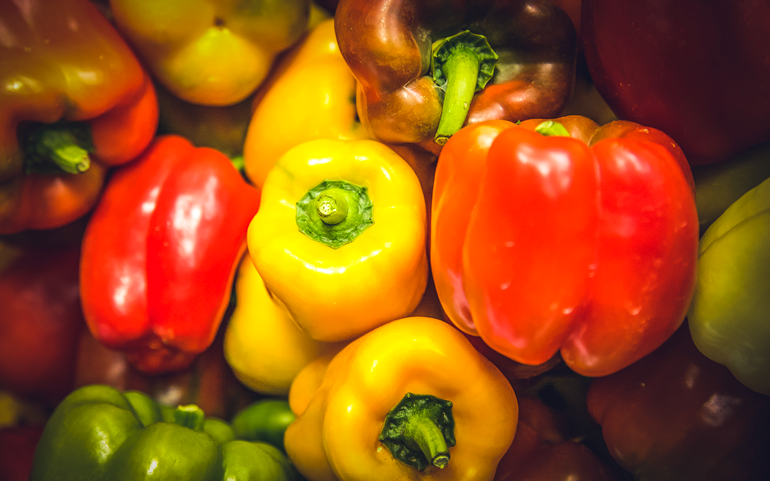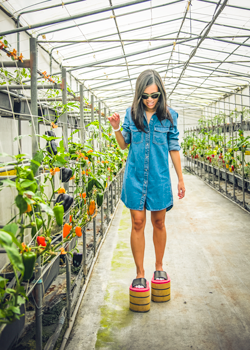 The farm has several greenhouses. Hung leads us into one of the houses, and shows us tomatoes and peppers that have been planted on raised beds, arranged in three tiers. Above the beds are thin black rods used for watering the plants according to a set timer. The aisles are intentionally spacious to allow visitors – including those in wheelchairs – easy access.
Hung explains that coconut-fiber soil is used, which is better at absorbing water than other types of soil. She lets us touch it – it's incredibly soft and spongy. The beds are changed seasonally to accommodate different crops. In the summer, hundreds of watermelon and squash fill the greenhouses.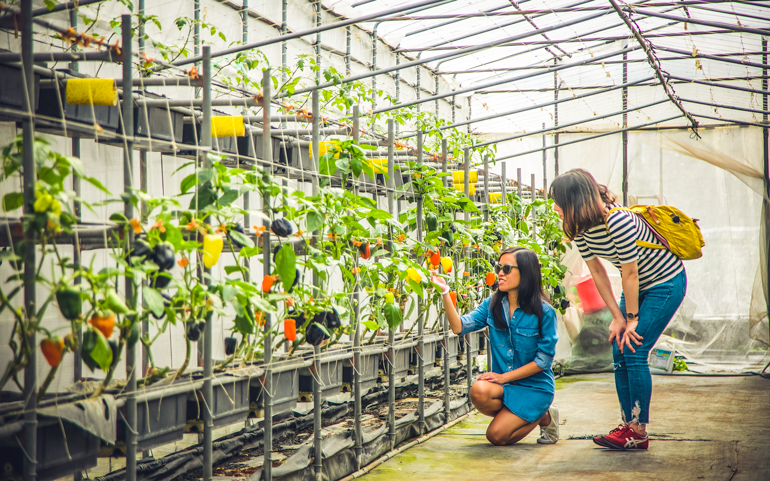 "We're always experimenting with different crops," Hung tells us. She shows us some of their other winter crops, including corn from a small field behind one of the greenhouses, along with Taiwanese basil, figs, and blueberries, which are planted in pots. There are also apples, turnips, and – most amusing – giant-sized Taiwanese cabbage that are so big and heavy that I would definitely struggle to carry one by myself. Good thing, I think to myself, that I won't be obliged to do any veggie hauling today as part of my farm experience.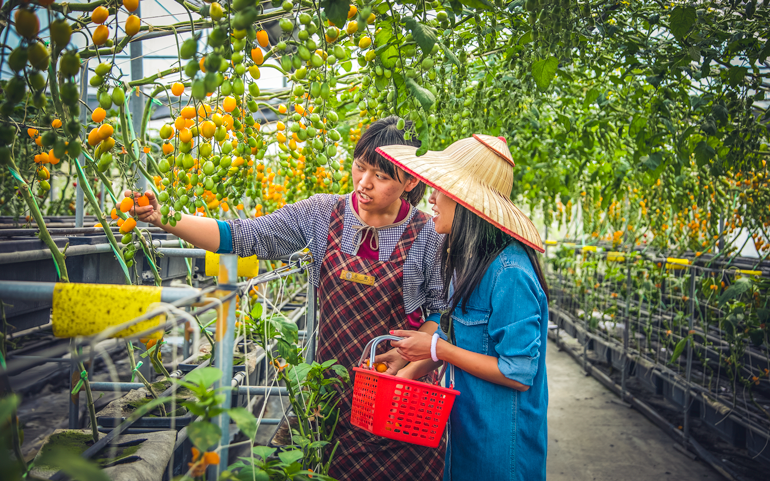 Hung brings out a small red shopping basket, scissors, and a traditional-style Taiwanese conical straw hat. It's time to pick cherry tomatoes! There are a number to choose from – yellow, red, light green, and dark purple. "The yellow and red ones are the sweetest," Hung says. She describes how to tell ripe ones from ones that aren't ready; basically, there shouldn't be any dark-green coloring on the skin.
I put on the big hat and clutch the basket with one hand, feeling a little silly, like a farmhand depicted in an illustrated book. I'm not as deft with my fingers as Hung is, so I use the scissors to slowly and delicately snip red and yellow cherry tomatoes from their stems, choosing plump-looking ones and standing on my toes to reach tomatoes dangling below the roof.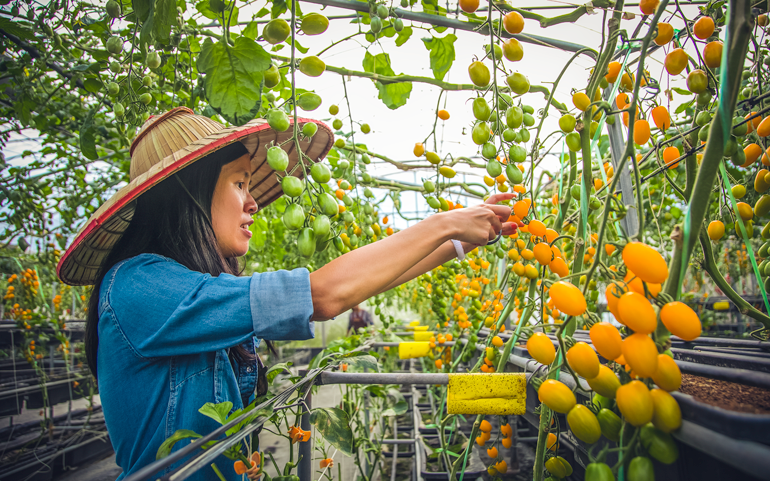 Ten minutes into the picking, my fingers are a dusty shade of green. I think that maybe I'm not cut out for farm life. "Don't worry – that's normal!" Hung laughs reassuringly. We rinse the cherry tomatoes with water and sample a few. I prefer the yellow ones, as they are less acidic than their red counterparts and a pleasant sort of sweet.
The rest of the cherry tomatoes are packed neatly in a tiny, transparent plastic box for me to take home. Outside, a dark-grey cloud cover has settled in, and the tall palms and scraggly banana trees have become gnarly silhouettes. Like curtains coming down on an afternoon play, it's the perfect end to our visit to Shigang, a place that's both urban and rural, both tame and wild, and where the people are welcoming – and their tomatoes are lip-smacking good.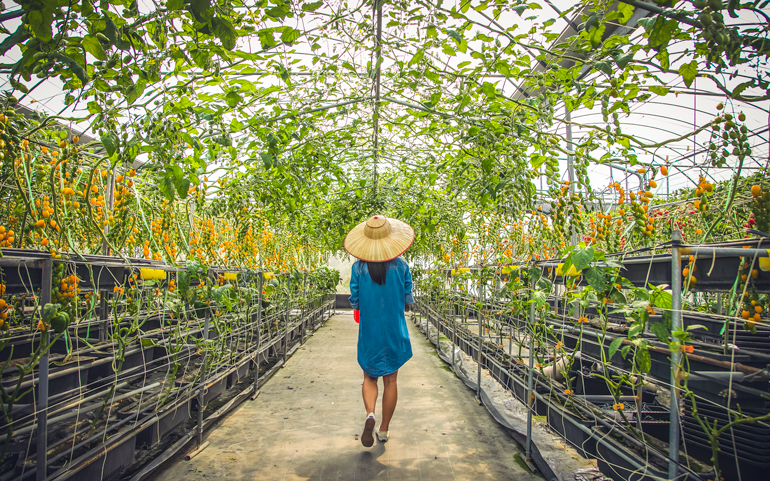 You and Me Fruits & Vegetables Tourist Farm
(優恩蜜溫室蔬果觀光果園)
Add: No. 391-10, Fengshi Rd., Shigang Dist., Taichung City
(台中市石岡區豐勢路391之10號)
Tel: (04) 2582-6058
Website: you-ame.myweb.hinet.net (Chinese)
Tuniu Hakka Restaurant
Close to the farm on Provincial Highway 3 is the Tuniu Hakka Restaurant, run by the same people as the farm. Order delicious Hakka-style dishes, including the Hakka versions of fried noodles, eggplant, preserved pork, and omelets. The restaurant is a humble abode with round communal tables and stools under a simple metal roof. In fact, many buildings in the area are what in Taiwan is known as tie pi wu, a term meaning "iron house," describing four walls and a flat roof all made with metal sheeting and designed for utility, not aesthetics.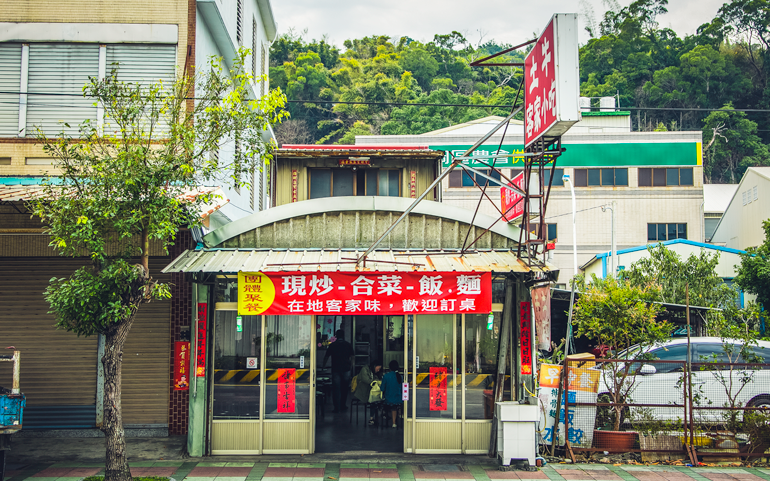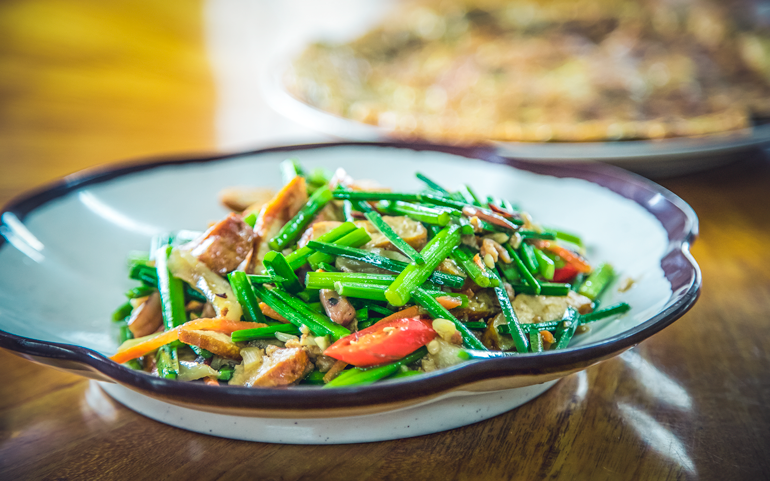 Other Things to Do in Shigang
Shigang District has a few prominent tourist attractions. There's the impressive Shigang Dam on the Dajia River, built in the 1970s for flood control and irrigation purposes, and the picturesque Dongfeng Bikeway, which follows an abandoned railway line. Like neighboring Dongshi District across the Dajia River, Shigang is a Hakka stronghold. At the Tuniu Hakka Cultural Museum you can learn about the Hakka way of life inside a complex of traditional red-brick, blue-roofed courtyard-style residences fronted by a half-moon-shaped pond. At the center of the complex is a glittering ancestral shrine, complete with red lanterns dangling from the ceiling, with the names of members of the clan that own the complex, the Liu family, dating back to the late 18th century.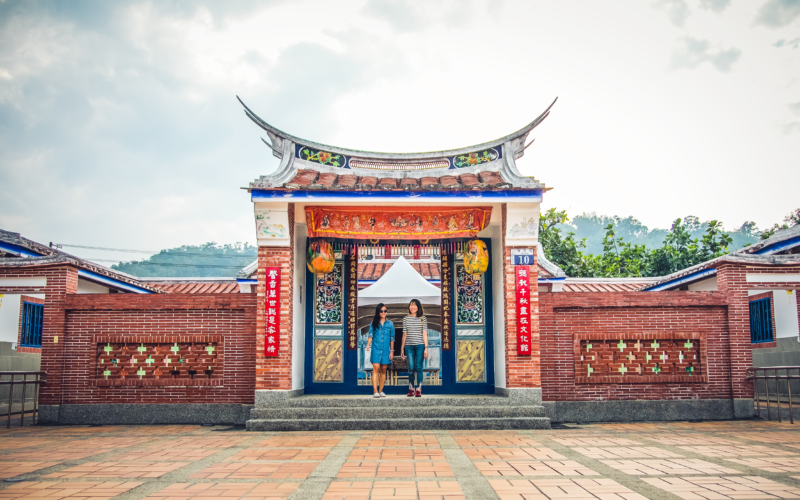 GETTING THERE
Public Transport
Take a train (TRA) to Fengyuan Station, transfer to Fengyuan bus No. 90 (headed for Dongshi), get off at the Mingshan Temple (明山寺) bus stop; look a little further east along the highway and you'll see the a large brown-background road sign for the You and Me farm, which is just beyond on the right (south) side of the road.
Self-Drive
Take National Freeway 1 or 3 to northern Taichung City, switch to National Freeway 4 and drive to its eastern end, then take Provincial Highway 3 further east.