A Refreshing Seafood Farm Experience in Yunlin
TEXT / DANA TER
PHOTOS / RAY CHANG

At the Bon Bon Fresh fish farm, located close to the Hukou Wetlands in southwestern Yunlin County, visitors can immerse themselves in a traditional way of life by fishing, bamboo rafting, and digging into a scrumptious barbecue.
When I moved back to Taiwan in 2014, I was in search of wild, primitive experiences, be it eating flying squirrel in a small Hualien County mountain community or surfing off a deserted beach next to a driftwood guitar-making factory in Taitung County. Yunlin was not at the top of my list, due to stereotype descriptions declaring it rural and dull, with nothing to offer but flatlands and farms.
Flash forward to 2019, and the night before a Travel in Taiwan visit to Yunlin's Bon Bon Fresh fish farm. Things seem to be off to an amusing start when owner Lin Chung-hsiung calls to remind our contingent of three to bring a change of clothes lest we stumble and fall into the water while fishing. "Thank you for visiting," he says. "Yunlin doesn't get much coverage at all!"
One of the least developed counties in Taiwan, Yunlin is about 80 percent flat land and has mild winters, which make it ideal for growing tropical fruits such as papaya and pomelo and cereal/vegetable crops such as corn and sweet potato.
However, our gastronomic exploration target for this trip is more of the crustacean variety – we're headed to the southern coastal area of Kouhu Township, which is home to several wetlands, including the Hukou Wetlands. Once fertile farmland belonging to the Taisugar company, this area became marshy due to encroaching seawater following a major typhoon in 1986. The Hukou Wetlands now spans 200 hectares, and is home to a wide variety of migratory birds. Close to the wetlands you will find many a fish farm where tilapia and other fish, as well as oysters, clams, and shrimp, are raised in manmade ponds. One of these farms is the place we are going to visit.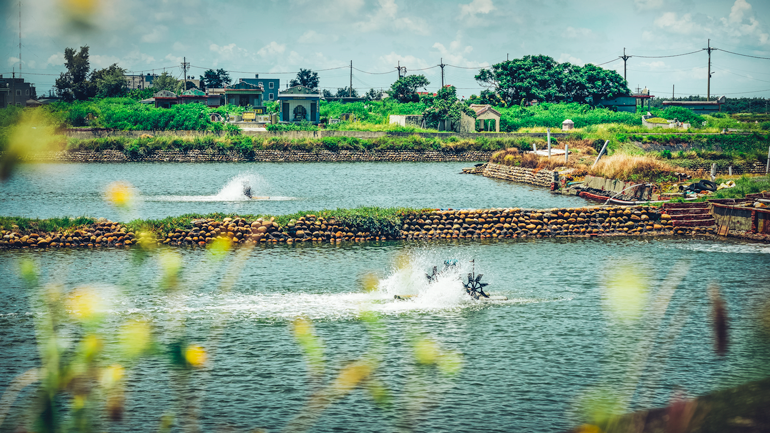 We pull into Bon Bon Fresh, a place with a seemingly endless grid of fish ponds encircled by grassy walkways. The smell of saltwater and shucked oyster shells is raw and enticing, which I take as a sign of an adventurous stay ahead. There is no time for niceties – after a quick bathroom break, Mr. Lin, a tan, pudgy man in black slippers, puffing on a cigarette, hands each of us a long bamboo fishing pole and we're off to one of the ponds. Our mission: catch our own lunch.
As Lin shows us how to hook the bait – just drive the hook right through the body of a shrimp – he tells us the interesting story about how he ended up running this fish and oyster operation. Like many locals, he left Yunlin in search of better opportunities in the big city, and worked for years as an interior designer in Taipei. However, also like many, he became disillusioned with the 9-to-5 office lifestyle.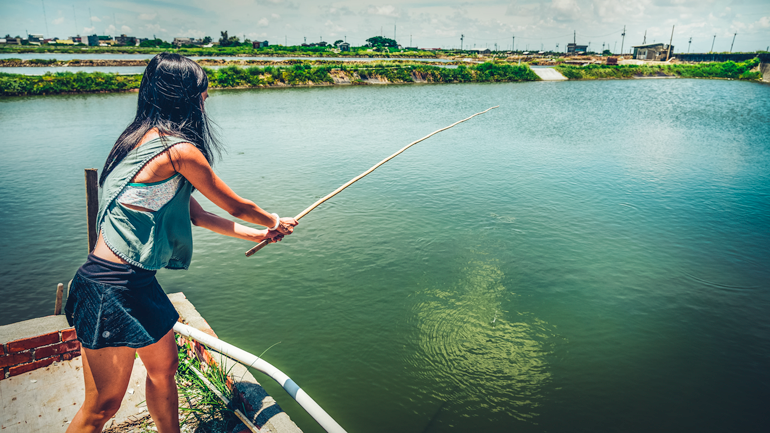 Lin missed being outdoors, and decided to return to Yunlin. Having grown up fishing in his home village, over 10 years ago he started a seafood business, the seafood restaurant Bon Bon Fresh, which has grown into a chain with branches around Taiwan. In the initial years he did most of the work himself, including driving a large truck to deliver seafood harvested from Yunlin's wetlands to his own and other seafood restaurants around the island.
By the time I have finally managed to wind my line around my fishing pole, I see that one of my friends has already caught her second medium-sized tilapia. She douses it with a bottle of water, then tosses it in a bucket. Lin continues: "My family thought I was nuts when I moved back to become a fish and oyster farmer." He chuckles, and gazes out at the blue-green expanse. A couple of seagulls have landed near us, and appear to be watching us curiously. It's a wonderful, sunny day, with blue skies and temperatures of around 32 degrees Celsius.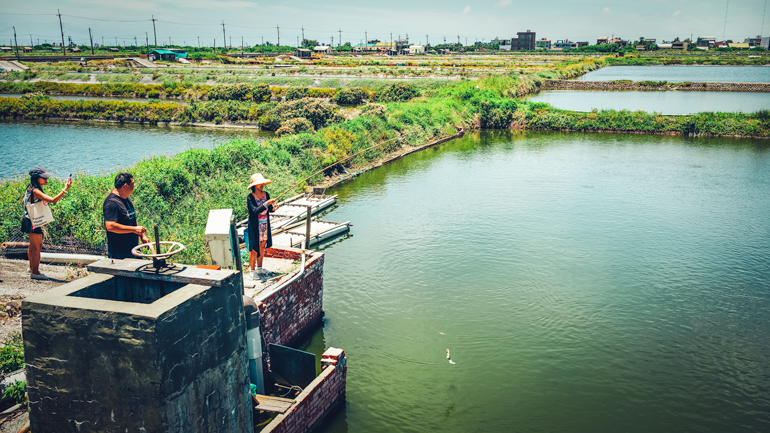 The farm still derives most of its income from supplying seafood to restaurants, including oysters, clams, prawns, and fish – for instance, it delivers about 20 big buckets of oysters to restaurants every day – but over the years Lin has since put together a small team to help with that. Today he spends most of his days teaching visitors like us how to fish, and educating them on Yunlin's agriculture and ecosystems.
I finally give up on my attempt at fishing, and try another activity on offer at the farm – rowing a bamboo raft on a fish pond. Surprisingly, it's easier than I had imagined, the process being similar to standup paddleboarding. "The schoolchildren who visit us love it!" Lin exclaims encouragingly. I stick a bamboo oar into the black-sand bottom of the pond, which feels more like mud, and it creates a small whirlpool that makes some of the smaller fish scatter.
It's now almost afternoon, and we decide to give oyster collecting – another popular fun activity at the farm – a miss, having already built up an appetite for lunch. Luckily, Lin and his nephew have prepared a feast of freshly-harvested oysters, clams, and shrimps to barbecue, so we drive over to the farm's "restaurant," operated out of the driveway of the Lin family home.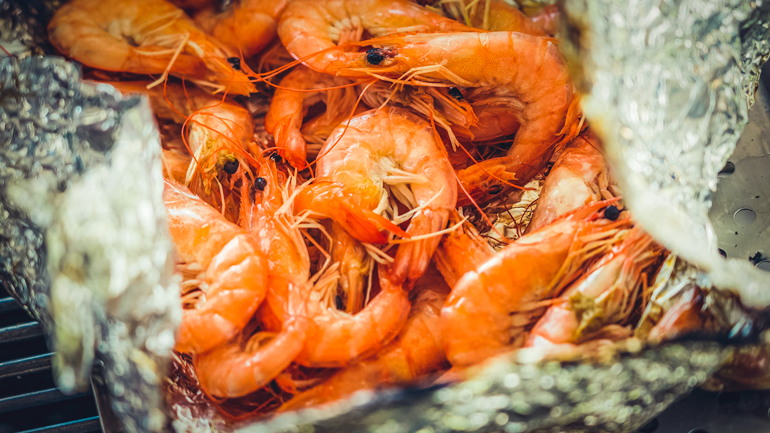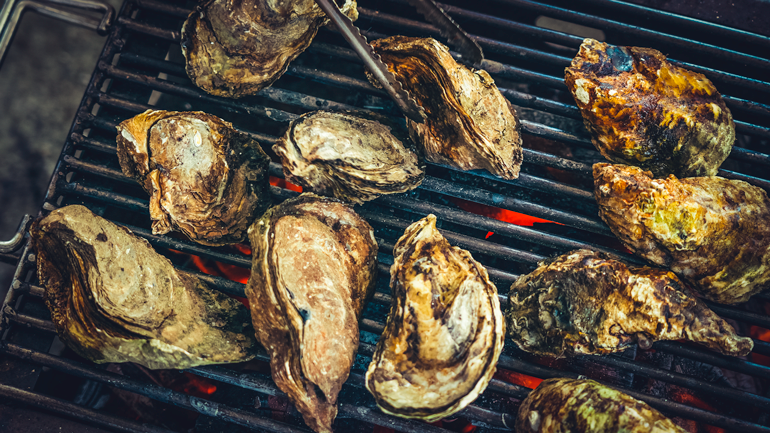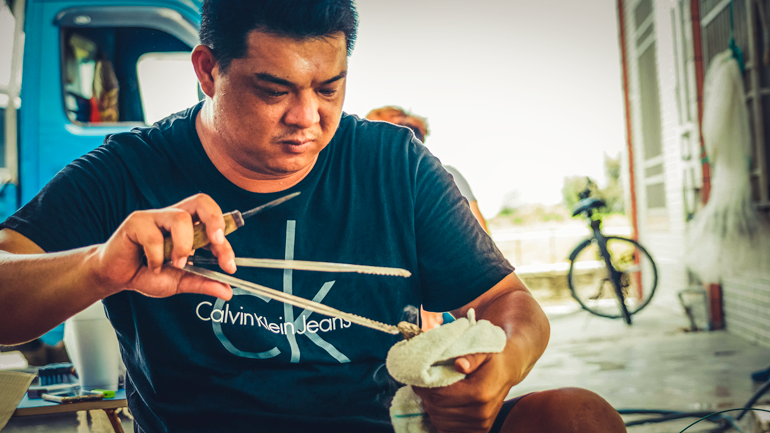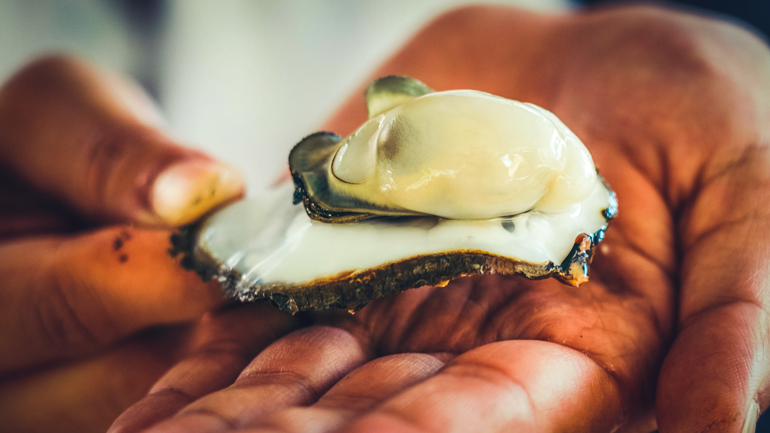 Here, we unstack and set up plastic stools around a little grill under a bamboo shelter and refresh ourselves with iced green tea as Lin barbecues the seafood, a process that involves quite a bit of crackling and spitting. In the neighboring driveway, an elderly man and woman are shucking oysters that have been spread across a large wooden table.

Lin hands us disposable wooden chopsticks, which we use to pry open the hot oysters and clams. It's not the tidiest process, but the meat tastes excellent, juicy and naturally sweet, needing no sauce or other flavoring. Lin's nephew has brought out a big white bucket to toss our shells in. I proceed to peel prawns and, looking at my slow progress, Lin offers to peel them for me, doing so deftly and shoveling the shells into the bucket quickly. The prawns are fat and succulent, and the tilapias we caught earlier are just as delicious. Sauce-free once again seems to be the best option.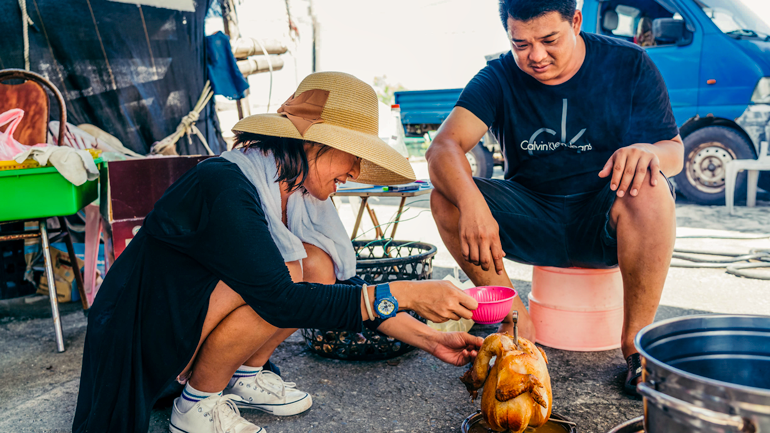 "It's quite a different experience than eating seafood at a fine-dining restaurant," Lin remarks as we use the outdoor hose to rinse our hands. "After years of eating fresh seafood in Yunlin, I can't go back to more upscale seafood restaurants. There's always too much unnecessary preparation, too much sauce!"
It doesn't get more farm-to-table than this, I am thinking to myself, just as Lin surprises us with a grand finale – tuji (according to Lin, chicken released early in its life to roam about for one month, then caught and raised in a cage) or free-range chicken, its neck contorted, and its little head slumped lifelessly to one side. Lin skillfully debones the chicken, barbecues it and cuts it up with a huge knife. We dig in with our chopsticks, relishing the meat, which is thick and naturally sweet.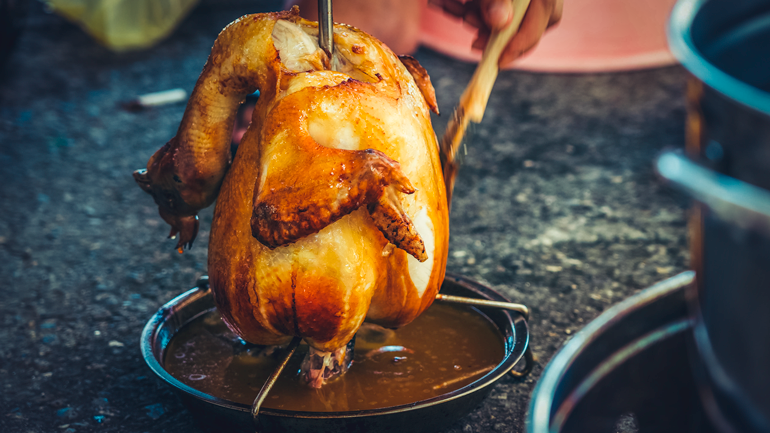 After we've eaten our fill there's still much meat left. So naturally, Lin sends us to his mother to ask for a paper plate. "Sorry, my leg isn't good," he apologizes. He places the remaining chicken meat on the plate, wraps it in a plastic bag, and sends us on our way back home. This is true southern hospitality.
Chicken strapped safely in the back seat, we drive about five minutes to the Hukou Wetlands. A better-known wetland in Yunlin is Chenglong, venue for the Chenglong Wetlands International Environmental Art Project, an annual event that brings artists from around the world to the site each spring to create art that raises environmental awareness.
The Hukou Wetlands is just as breathtaking, however, and we're the only people here on a weekday afternoon, making it more serene. There is a feast of narrow, muddy passageways to explore. We spot two pieces of installation art rising from the marsh water that have been made to look like fishermen's nets, and serve as resting posts for seagulls. In the distance, patches of grass poke out from the water, looking like little green islands.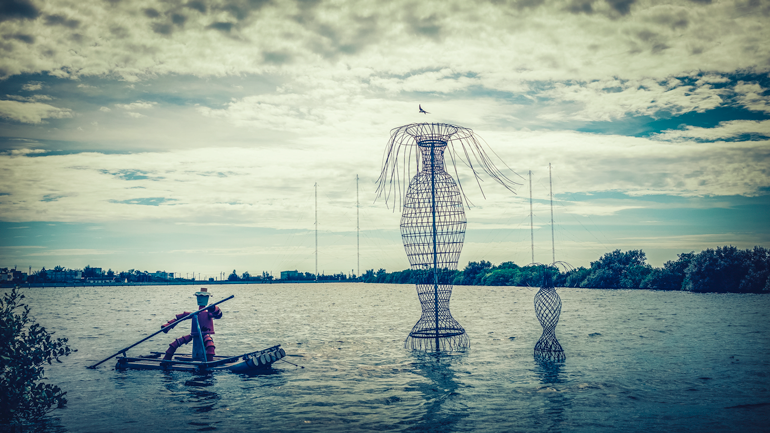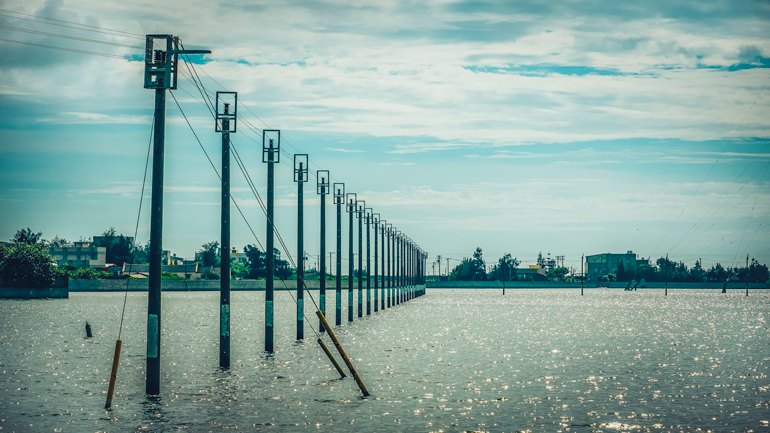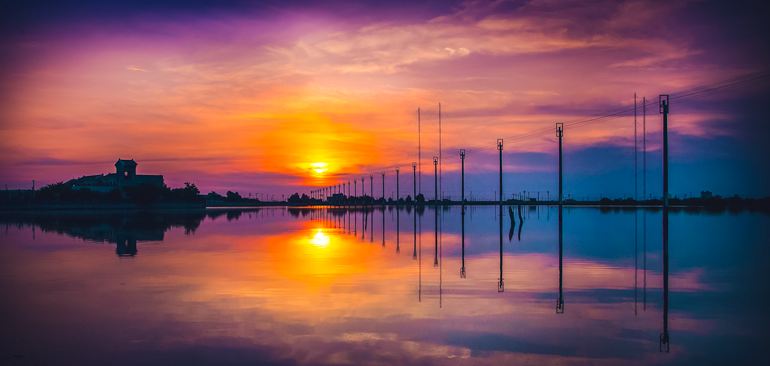 Largely free of mass-market tourist frills and gimmicks, Yunlin is a place to go for introspection. It's possible to spend hours just gazing out into its southeast wetlands breathing in the salty air and watching seagulls swoop. Far from being dull, our trip has been the perfect mix of untouched nature, exceptionally fresh seafood, and genuine hospitality.
Getting There
There is no public transport to the farm, but it is a convenient half-hour taxi ride from Chiayi's high-speed rail station, which is a 1.5hr high-speed rail ride from Taipei.
Bon Bon Fresh (雲林口湖第一蹦蹦鮮)
Add: No. 3, Hukou Rd., Hukou Village, Kuhou Township, Yunlin County
(雲林縣口湖鄉湖口村湖口路三號)
Tel: 0972-359-131
Website: www.facebook.com/Bon.Bon.Fresh (Chinese)