Taipei Breakfast options in Taipei are endless, ranging from chic farm-to-table dining to more typical Taiwanese choices such as rice vermicelli, congee, and soybean milk served in a bowl.
Text: Dana Ter  
Photos: Maggie Song
While breakfast in the West often means an endless array of options, from pancakes topped with bacon to toast paired with poached eggs and accompanied by a shot – maybe two – of espresso, the typical morning meal in Taiwan, though more limited in range, is an equally delightful, albeit sinful, assortment of carbs and eggs stacked on plates that is washed down with a steaming bowl (yes, a bowl!) of soybean milk.  Walk into a traditional mom-and-pop breakfast shop and you will find youtiao (deep-fried dough sticks) and danbing (fried egg in a crepe) scattered across tables. Either that, or a medley of dishes that are also served for lunch and dinner – including rice vermicelli, congee, steamed buns, and xiaolongbao (steamed dumplings) – and consumed in voracious amounts at small eateries and roadside stalls at the crack of dawn.
However, of late the healthy-eating movement which has swept restaurants and cafés around the island – think organic veggies with a side of potatoes and carrots – has also found its way to the breakfast plate. Somewhat akin to hipster Brooklyn bakeries, for example, that serve gluten-free everything, new breakfast shops decked out in modern, rustic décor cater to young people's increasing desire to live a more holistic lifestyle. Health-conscious diners now have the option of roasted okra, for example, plucked fresh from a farm in northwest Taiwan's Taoyuan County to start their day.
Ryou Café
Said health-conscious connoisseurs can be found at eateries such as Ryou Café near National Taiwan Normal University, close to MRT Taipower Station. Established four years ago, Ryou serves hearty yet healthy Western-style meals using local ingredients and Taiwanese twists, such as an omelette burger with mashed sweet potatoes and chili sauce and toast with spinach and sautéed mushrooms. The eatery throws open its wooden-framed glass doors daily at 8:30am.
It's easy to miss the snug single-story café – the wooden deck by the entrance is shrouded in potted ferns. The interior has a chic country atmosphere, complete with teal-colored wooden tables, antique gramophones, and framed pictures of various flower species. Behind the cake-and-pastry counter is a blackboard with a hand-drawn map of Taiwan pinpointing where the ingredients in Ryou's various food selections, which are all organic, are from. Further information, such as on farming methods, can be found in the menu, though in Chinese.
I chat with one of the co-owners, Aaron Li, over a rice-bran-flour milk with a shot of coffee made with beans grown in Chiayi County, southwestern Taiwan. The warm drink has a grainy yet frothy texture that's at once soothing and energizing. Li says he and the other owners love to travel, and that they wish to convey a sense of love – for food and for the environment. These are two things that are translatable across cultures, after all.
 "We hope to give customers an opportunity to learn more about the importance of environmental awareness through dining with us," Li tells me.
Having traveled around Taiwan, and having visited the island's abundance of nature reserves, Li wanted to conjure feelings of being immersed in nature and the outdoors for patrons, despite the fact that the café is smack in the middle of the city. "Farm-to-table" is an understatement with Ryou: Its social media is filled with pictures of young farmers tending fields – more so than images of the café itself.
Though the healthy-eating movement has been around in the West for quite some time, the desire to eat fresh and to know about where the ingredients on a plate come from has hit Taiwan only recently.
"Cafés like ours are providing an alternative to cheap night-market fare," Li explains. Ryou coffees and teas are priced NT$130 to NT$180, while a meal is between NT$290 and NT$410 – more than at your average mom-and-pop eatery, but not over the top. "Traditionally, the mentality in Taiwan is that you eat until you're stuffed. But there are also more and more people who prefer to end their meals on a lighter, more wholesome note."
I order a Farmer's Plate for breakfast. An assortment of various roasted veggies, fresh greens, sautéed potatoes, sweet potatoes, soft-boiled eggs, chicken patty, bagel, and a side of homemade yogurt and jam, with an edible, spicy roselle plant as the centerpiece, the Farmer's Plate is a simple and nutritious meal.
The roasted okra and carrots, which are grown on a farm in Taoyuan County, are lightly charred on the outside and warm and soft on the inside. The same can be said for the sautéed potatoes sprinkled with basil and pepper, which are sourced from Taipei's Muzha District. The soft-boiled eggs, sourced from a free-range chicken farm in Hsinchu County, are delightful savory thanks to the runny yolks, while the sweet potatoes provides the perfect balance. Any or all of these can be paired with the plain bagel, made with wheat from Hualien.
My favorites are the chicken patty and homemade yogurt with jam. The meat is lightly burnt, which gives the patty a crispy outer layer, while the inside is soft, tender, and easily digestible. Surprisingly, the pecan sprinkled on top is pleasantly complementary. I suggest finishing this dish with the plain yogurt; creamy and savory, it goes well with the sweet jam.
If you're in need of a carbs and eggs fix, try the Ryou Bolognese Sauce with Poached Egg. The Bolognese sauce is made with red wine, and the poached egg sprinkled with alfalfa sprouts – a topping normally reserved for salads – is placed atop, the runny yolk oozing out. Bread – white and whole wheat – is provided for dipping. This warming and hearty concoction is made for those seeking something reasonably light but with an added punch.
Li recommends taking your breakfast leftovers away in a doggy bag if you can't finish the meal. The owners abhor wasted food – after all, it's bad for the environment.
"The idea is to try to reduce waste," he says.
I remember my mother telling me to not waste my food when I was a kid. She was right. Go figure. But seriously, Ryou Café is just as homey as it is hipster. All that's missing, perhaps, is a few garden gnomes hidden amongst the potted ferns outside.
Info
Ryou Café (Hi,日楞)
Add: No. 24-1, Pucheng St., Da'an Dist., Taipei City
(台北市大安區浦城街24-1號)
Tel: (02) 2363-6268
Hours: 8am~7pm; Closed Tues.
Website: http://ryoucafe.blogspot.tw
Minle Sailfish Vermicelli and Ye Family Meat Congee
For a more traditional Taipei breakfast, head to Dihua Street in Taipei's historic Dadaocheng neighborhood. Breakfast remains nearly unchanged from when the area was a thriving commercial port in the late 19th century, and there are endless rice and noodle stores to choose from. Minle Sailfish Vermicelli, by Yongle Market, serves rice vermicelli and fresh sailfish soaked in a gooey, frothy soup. Also, try the deep-fried pork, fried squid, and fried oysters. Seating is minimal, and chairs and tables spill out onto the street. Be sure to get there early, because the store closes around noon, or earlier, depending on when it sells out.
Near Cisheng Temple is another inexpensive mom-and-pop shop that serves up filling fare, the 40-year-old Ye Family Meat Congee. The specialty, meat congee, is only NT$20. Its literal translation, "meat gruel," is fitting, as the dish consists of deep-fried pieces of meat soaked in a steaming gruel, which is sprinkled with onion and chives. If you're feeling adventurous, order the red-braised pork or fried liver, both costing NT$50. No need to arrive here at the crack of dawn, as Ye Family closes at 4pm.
Info
Minle Sailfish Vermicelli (民樂旗魚米粉湯)
Add: No. 3, Minle St., Datong Dist., Taipei City
(台北市大同區民樂街3號)
Hours: 6am ~ 1pm  
Ye Family Meat Congee (葉家肉粥)
Add: No. 17, Ln. 49, Bao'an St., Datong Dist., Taipei City
(台北市大同區保安街49巷17號)
Hours: 9am ~ 4pm
Yonghe Soybean Milk
A popular drink in northern China since the late 19th century, soybean milk was introduced to Taiwan when the Chinese Nationalists fled the mainland in 1949. Served hot and in a bowl, it become a Taipei breakfast staple. The first soybean-milk shop was opened in 1955, in the Taipei suburb of Yonghe. Since then countless soybean-milk shops around the island have been opened with "Yonghe" in the name, even if located nowhere near the place.
One well-known chain is Yonghe Soybean Milk, which has numerous branches all over Taipei and New Taipei City, including in the Shilin, Neihu, and Banqiao districts. Some are open 24 hours a day. An assortment of popular Taiwanese breakfast foods such as youtiao, danbing, and xiaolongbao is served at all the branches. Of course, be sure to wash all chosen goodies down with some thick, frothy, hot or cold soybean milk. Most of the dishes are less than NT$30.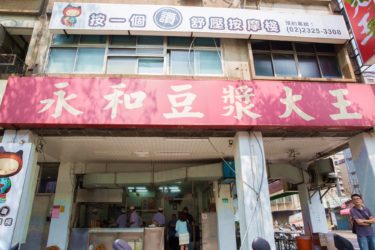 Info
Yonghe Soybean Milk (永和豆漿)
Add (Daan Branch): No. 102, Fuxing S. Rd., Sec.2, Daan Dist., Taipei City
(台北市大安區復興南路二段102號)
Hours: 24h; Closed Mons.