Haute Cuisine Taiwan-Style — Reinventing Taiwanese Cuisine in Taipei
What is old is new as traditional Taiwanese fare receives a modern makeover, with many restaurants finding new ways to create high-end cuisine focusing on fresh and healthful local produce.
Text: Dana Ter; Photos: Maggie Song
When Taiwanese food is mentioned, many people will first think of street food – for example, a bowl of NT$50 roadside ganmian, or "dry noodles." Many travelers come to Taiwan especially for the street food, as well as for the night markets, where they will almost surely encounter the wafting, somewhat unpleasant odor of stinky tofu and will likely enjoy a big cup of bubble tea as well. For some, night markets are a gastronomical nirvana, while for others a visit is simply an experience to tick off a "did that" while pinching their noses.
Locals love to eat at mom-and-pop eateries serving staple foods such as oyster omelets and steamed dumplings, hotpot restaurants where they can cook their own mix of meats and vegetables, and all-you-can-eat seafood and vegetarian buffet restaurants offering a wide variety of food options. Also popular are re chao restaurants – cheap, cramped, no-frills places serving stir-fry meat and vegetable dishes that are almost always downed with glasses of cold local beer.
For a long time, Taiwanese food has been thought of as being traditional, fast, and cheap, though a few restaurants, such as Shin Yeh and Mansui, have been serving higher-end Taiwanese cuisine for quite some time. For the most part, however, fine dining in Taiwan has meant Japanese, Italian, or French cuisine, for which many of the ingredients are imported.
There has, nevertheless, been a gradual shift over the last few years towards modernizing Taiwanese food and emphasizing fresh, local, and seasonal produce. This is important because it shows that Taiwanese ingredients are in fact of the highest quality as well, and can be utilized to create upscale Taiwanese-style dishes.
A couple of factors have encouraged this change, including a rising GDP and more exposure to such global trends as the healthy-eating and green-living movements. Young people have more time – or are making more time – for leisure pursuits, and this includes trying new cuisines.
While the term "new Taiwanese cuisine" has yet to become a catchphrase, fine-dining Taiwanese restaurants have of late been revamping their menus to infuse a more modern ethos, and new restaurants serving higher-end versions of Taiwanese food, or Taiwanese fusion, have been opening in Taipei to cater to people's changing palates.
TUA
One of the restaurants spearheading this change is TUA. Located on a residential road in the middle of Taipei's busy Da'an District, TUA is a quiet haven for connoisseurs.
There is no signage, since the chef and owner, Calvin Chen, detests signs and believes that the charm of the rustic, tree-shrouded double-story building that is home to the restaurant should be enough to make TUA a recognizable landmark. A visual-arts major in college, Chen entered the food & beverage industry as a result of the serendipity of life and fate. "Back then Taiwanese people didn't appreciate art as much, but I know how much we love food, so I decided to try my hand at cooking," Chen says with a sense of mirth.
Chen's previous ventures have included Japanese restaurants, which made use of ingredients imported from Hokkaido, but he grew tired of that and started to question why Taiwan's chefs were not sourcing locally. Si Zhi Tang, another of Chen's current endeavors, was his first foray into upscale Taiwanese cuisine using local ingredients. While Si Zhi Tang serves more traditional versions of Taiwanese dishes, TUA – the word itself means to "enjoy a scrumptious dinner with good friends" in Taiwanese – is fusion and experimental.
It's pouring rain the day I visit TUA. The inside is dimly lit yet inviting, like a country inn that's both a bit mysterious and cozy. Chen's preferred attire is an oversized t-shirt and painter's pants, and it's obvious that both his eccentricity and penchant for fine things are in line with the restaurant's decor.
Upside-down potted plants dangling from the ceiling, and rows of antique shelves bedecked with his exhaustive collection of books and paintings from around the world, draw the curiosity of diners. He tells me that he imported the restaurant's chairs from Denmark, the lamps from the UK, and the handmade soap in the washroom from the south of France.
Unlike the décor, however, the ingredients in the kitchen are nearly 100% Taiwanese. Chen visits different markets in Yilan County and New Taipei City by sunrise every morning to buy fresh seafood and vegetables. Though he uses Facebook as a visual diary to post pictures of his market finds, he tries not to preach too much about farm-to-table dining, and instead emphasizes the importance of community. "It's about channeling the simple joy of sharing a meal with friends that is so integral in Taiwanese culture," Chen explains. For this reason, TUA has long communal tables rather than two-person seaters.
The restaurant's menu is hand-written in Chinese calligraphy, adding a sentimental touch. "In a way, it's to evoke the sense of a home-cooked meal," Chen says. Though the menu is minimal, with just ten dishes, and is rotated every few weeks, Chen keeps the base ingredients the same, and trades soy sauce and sugar – which are common in Taiwanese cooking – for healthier options such as olive oil. He also prefers to extract the natural sweetness of fruits and use it in his cooking instead of adding sugar.
"I just don't believe in having cheap things," Chen reiterates. You won't find him in cramped restaurants chowing down on a bowl of fried noodles. Rather, Chen's approach is to treat decorating his restaurant and cooking for his guests like an art. "The ambiance needs to match the quality of the food," he insists.
This doesn't mean that he's shunned tradition, though. Chen's pork with dried octopus, lychee, and Chinese mustard (NT$780) is a harmonious blend of elements and his own rendition of Western-style pork belly. Chen uses a light soy sauce and pairs the meat with pickled Chinese mustard as well as longans and lychees, tropical fruits cultivated in Taiwan. The natural sweetness of the fruits amplifies the buttery taste of the pork belly, which has been steamed, pan-fried, then stewed and slow-cooked to achieve a charred but chewy texture.
The seafood risotto (NT$850) is another example of a dish that seamlessly blends different cooking styles. Chen invokes a simple comfort dish here – fried rice – which is topped with shrimp, squid, roe, quinoa, and Taiwanese red shallots. The textures and flavors are as varied as the colors in the bowl, the result of which is a mix of familiarity and intrigue.
The most interesting dish, however, is the seasonal salad. Priced at NT$1,000 and served in a giant hinoki-wood box, it may raise a few eyebrows. In the version I sample the ingredients are highly varied – grilled figs and mushrooms, raw lettuce and tomato – the most interesting element the chicken-soup jelly, which Chen makes from chicken broth. It tastes delightfully cool and herbal. The sesame dressing is incredibly cleansing and pulls the different elements of the salad together.
As Chen likes to say: "You need to respect the ingredients." A few years ago, I might have scoffed at this. Only on rare occasions would I fork over NT$1,000 for a salad. But TUA is one of those exquisite dining experiences that are exceedingly hard to replicate in Taipei.
TUA (TUA 攤)
Add: No. 15-1, Ln. 44, Siwei Rd., Da'an Dist., Taipei City
(台北市大安區四維路44巷15-1號)
Tel: (02) 2708-2082
Website: www.tuaculture.com
Shin Yeh
Shin Yeh's restaurants have been serving high-end Taiwanese food since 1977. Starting from a humble space on Shuangcheng Street near the Taipei Fine Arts Museum, Shin Yeh has since expanded, and today the name signifies a group of several restaurants throughout the city.
The most iconic branch is on the 85th floor of the Taipei 101 tower, which boasts a sleek and sparkly interior, featuring an abundance of chandeliers, mirrors and, of course, expansive windows through which patrons can gaze out at the Taipei skyline.
Shin Yeh's set menu includes more upscale renditions of traditional Taiwanese fare, such as stir-fried rice noodles, sautéed king prawns, and a fair amount of seafood. A set for one person will cost between NT$1,000 andNT$2,000.
Shin Yeh (欣葉)
Add (original outlet): No. 34-1, Shuangcheng St., Zhongshan Dist., Taipei City
(台北市中山區雙城街34-1號)
Tel: (02) 2596-3255
Website: www.shinyeh.com.tw
Mansui
Taiwan's subtropical climate means that it's home to a wide array of fruits, and locals have long been adding fruit to drinks such as tea. Mansui puts fruits to creative use in its dishes. While the interior, which is designed as a traditional Taiwanese banquet hall, is nothing to shout about, the menu contains some interesting concoctions, for instance the stir-fried beef with pear (NT$570/large bowl, NT$380 small bowl) and stir-fried fish fillet with mango (NT$720/large bowl, NT$480/small bowl).
There are numerous healthy options, such as the stewed loofah with mushroom (NT$540/large bowl) and, of course, old-school Taiwanese favorites such as grilled sausage in deep-fried intestines (NT$540/large bowl, NT$360/small bowl).
Mansui (滿穗台菜)
Add: 1F, No. 128, Songjiang Rd., Zhongshan Dist., Taipei City
(台北市中山區松江路128號1樓)
Tel: (02) 2541-2020
Website: www.mansui.com.tw
Also read
TAIWANESE FOOD at Taipei Alley Restaurants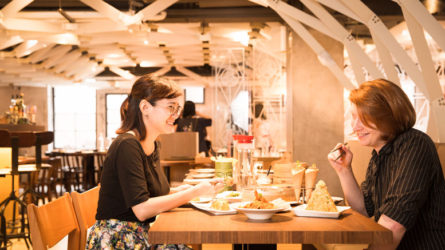 taiwaneverything.cc/2017/08/16/taiwanese-food-taipei/
Taipei VEGETARIAN DINING — Three Great Places