Small and "Slow" Towns in Central Taiwan
TEXT / STEVEN CROOK
PHOTOS / VISION

Small-town travel has come into vogue in recent years in Taiwan, with travelers increasingly seeking out what's in between the big cities and the top tourist draws. In central Taiwan there are numerous small towns of great character. Some, like Lugang, are better known to the foreign visitor; others, like Beigang, have in the past only been on the radar of domestic tourists.
Visitors who spend any time in central Taiwan are sure to pass through Taichung, which recently became the island's second most populous municipality. As befits a growing city, Taichung's airport is now "international," handling direct flights to/from several major hubs in East Asia.
The urban core of Taichung has many and varied attractions, yet many of the region's most appealing sights and experiences are to be found elsewhere, in little towns like the three described in this article. Lugang is near the coast in Changhua County, south of Taichung. Beigang is a lowland town a little further down-island in Yunlin County. Xinshe, in the hilly interior of Taichung, is in fact a rural district rather than a town.
Lugang
Between the first quarter of the 18th century and the middle of the 19th century, Lugang was second only to Tainan as a population center and commercial hub. At one point, 3,500 ships per year were docking here. However, after silt blocked the harbor, the town's entrepreneurs drifted away. Long term, there was an upside to this loss of vitality: the town retains a great deal of its preindustrial character.
During Lugang's heyday, many of the town's businessmen lived on Putou Street and Yaolin Street, conjoined thoroughfares which have never been widened for cars. To tourists, they're collectively known as Lugang Old Street, and it's here – and in the alleyways nearby – that you can best get a sense of life in the Taiwan of yore.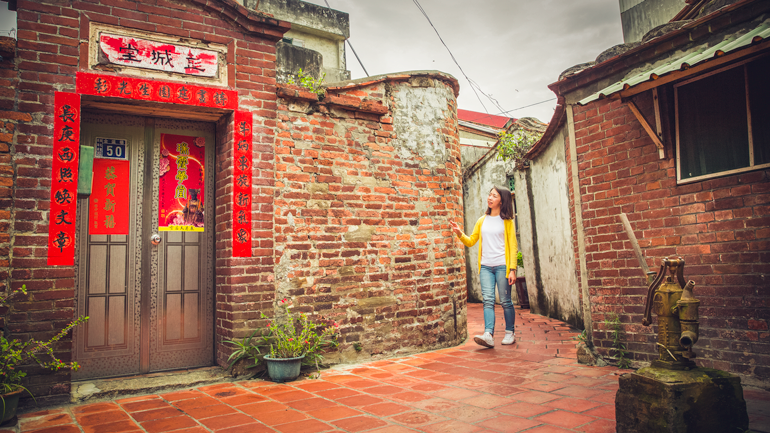 Wander the neighborhood slowly, because each old abode is unique, with many intriguing features. At No. 12 on Yaolin Street, for instance, a wealthy yet public-spirited household that once lived here wanted the convenience of an on-site water supply, but decided to dig the well that is today still in place on the perimeter of their land, so neighbors could also draw water from it.
Lugang has several shrines of interest, and one of the most convenient to visit is the Chenghuang Temple, at No. 366 on Zhongshan Road, about 100m from the Old Street. Some of those who come here to pray and offer incense have special requests for Chenghuang Ye (City God), the deity they believe protects the town. This god, it's said, has a remarkable ability to identify thieves and recover stolen items. The faithful claim he's even cracked cases that had confounded human authorities.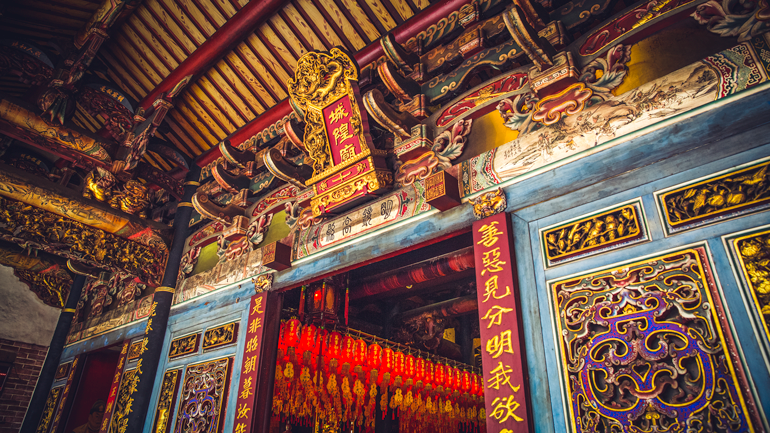 Chenghuang Temple (城隍廟)
Add: No. 366, Zhongshan Rd., Lugang Township, Changhua County
(彰化縣鹿港鎮中山路366號)
Tel: (04) 778 8545
Website: www.cheng-huang.com (Chinese)
The Lugang Folk Arts Museum is housed in a former residence that's strikingly different from the merchants' abodes along the Old Street. This imposing century-old Baroque mansion was built for the Koo family, one of Taiwan's most important business clans right up to the present day. The Koos donated the house as well as many of the books, musical instruments, antique furnishings, and traditional garments now displayed inside. Admission is NT$130/$70.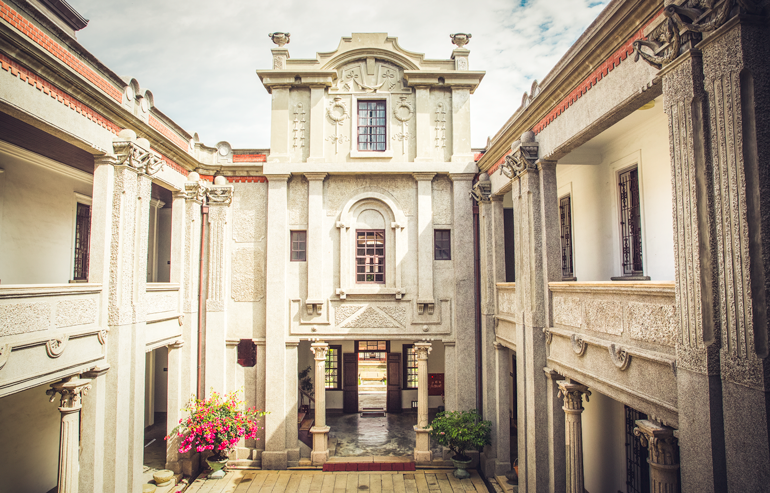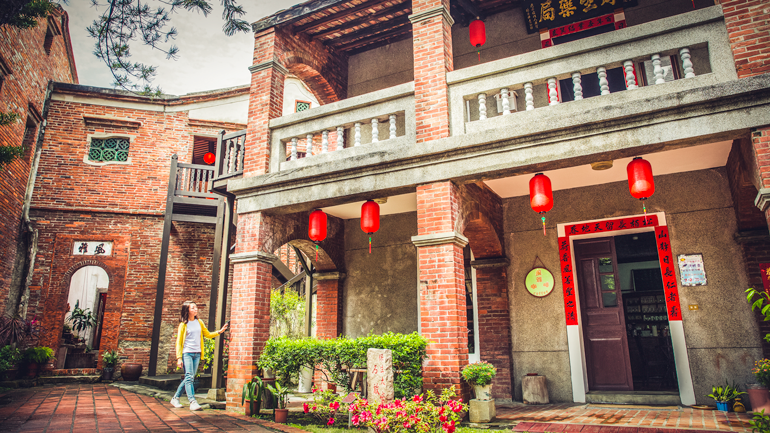 Lugang Folk Arts Museum (鹿港民俗文物館)
Add: No. 88, Guanqian St., Lugang Township, Changhua County
(彰化縣鹿港鎮館前街88號)
Tel: (04) 777-2019
Website: lukangarts.org.tw
The best way to reach the museum is by entering the Ding Mansion, at No. 132 on Zhongshan Road, and exiting from its back door. Behind the 1920s façade is a tastefully restored residence built in 1893 by a local scholar of considerable renown. There's no admission charge.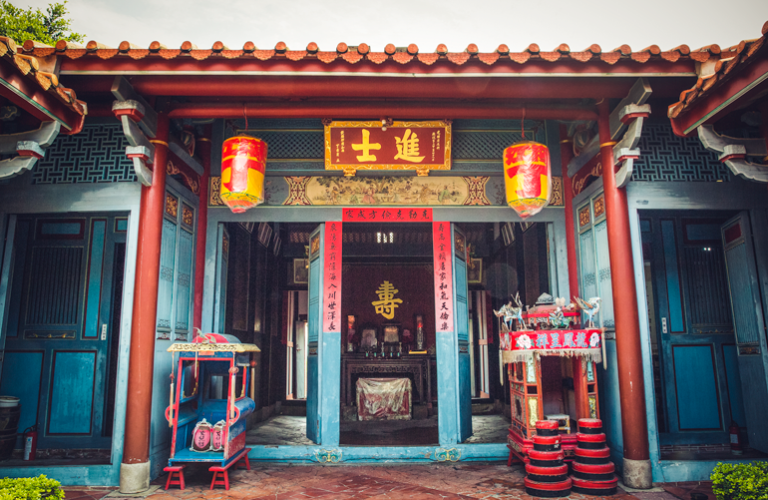 Ding Mansion (丁家古厝)
Add: No. 132, Zhongshan Rd., Lugang Township, Changhua County
(彰化縣鹿港鎮中山路132號)
Tel: (04) 778-3488
If you're willing to walk a little further, head south to the Longshan Temple. It's possibly Taiwan's oldest Buddhist shrine, and without doubt a superb example of religious architecture. The complex has 99 doorways, delicately carved wooden screens, and a stunning octagonal ceiling in the front pavilion.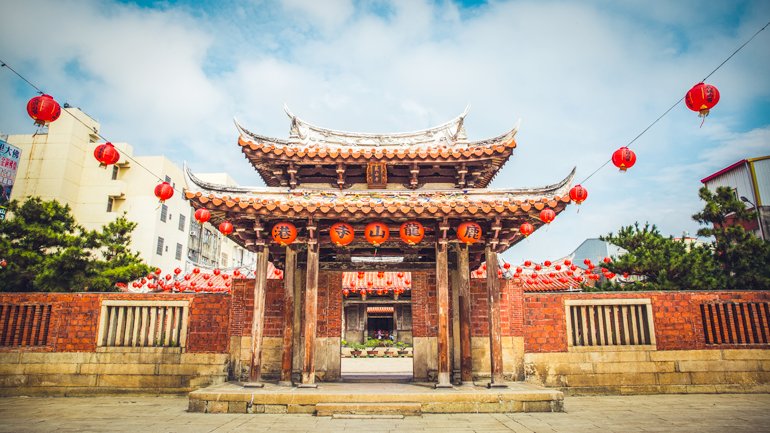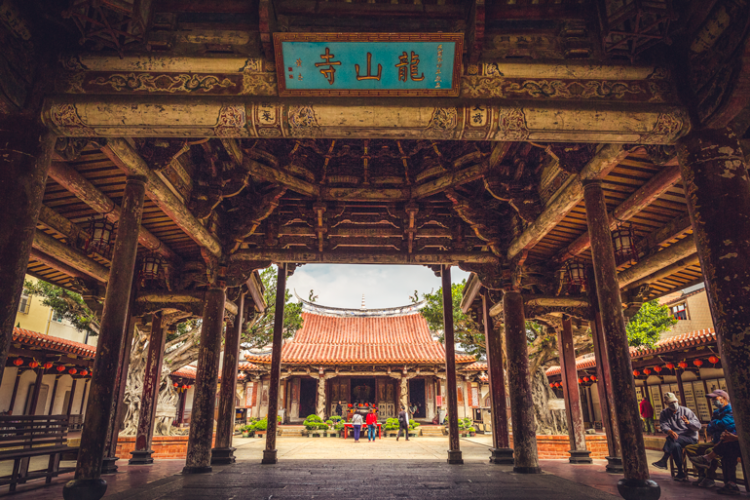 Longshan Temple (龍山寺)
Add: No. 100, Longshan St., Lugang Township, Changhua County
(彰化縣鹿港鎮龍山街100號)
Tel: (04) 777-2472
Lugang has its own culinary traditions, and one of the town's longest-running food businesses is called Yu Zhen Zhai. At the flagship store on the corner of Minzu and Zhongshan roads, you can sample old-school baked goods filled with pineapple, mung bean, adzuki bean, or sesame paste, as well as other delicacies.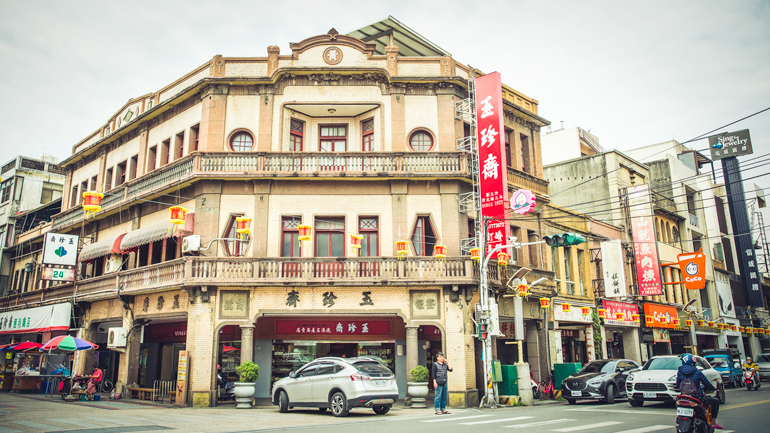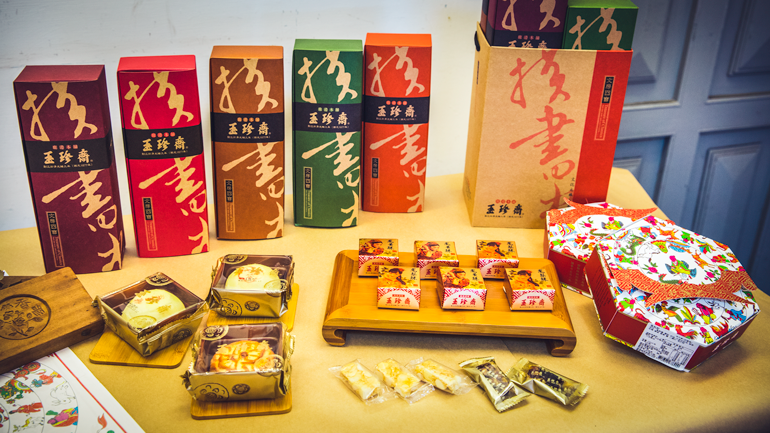 Yu Zhen Zhai (玉珍齋)
Add: No. 168, Minzu Rd., Lugang Township, Changhua County
(彰化縣鹿港鎮民族路168號)
Tel: (04) 777-3672
While Yu Zhen Zhai plays up tradition and history, Men Men Cha Cha offers a modern coffee-shop aesthetic, not to mention desserts and drinks that the folk of yesteryear wouldn't recognize. Among the ingredients these concoctions bring together are boba, diced mango, adzuki beans, pudding, and mian cha – the last being flour that's been heated with a little sugar and some white sesame, then served in the form of a powder ideal for mixing. If this sounds altogether too strange, instead order a simple Americano to get your strength up before continuing your small-town tour.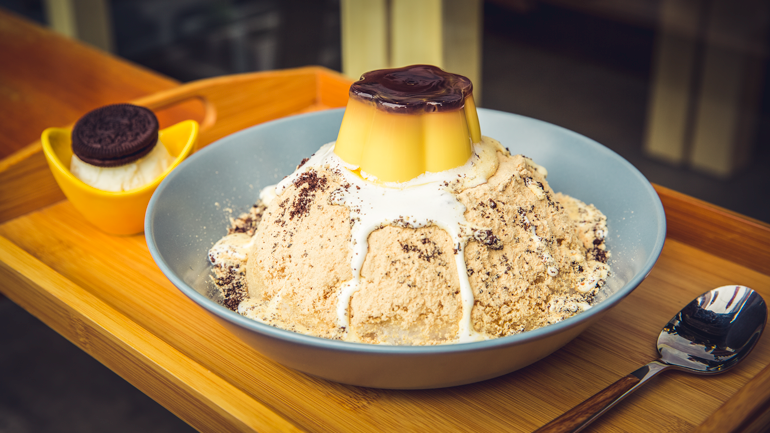 Men Men Cha Cha (麵麵茶茶)
Add: No. 439, Zhongshan Rd., Lugang Township, Changhua County
(彰化縣鹿港鎮中山路439號)
Tel: 0916-017-504
Beigang
For generations a magnet attracting both traders and pilgrims, Beigang was also once accessible to the nimble, shallow-draft vessels that during the 17th and 18th centuries were used to carry migrants to Taiwan and ship rice and other produce to the Chinese mainland. The river that shares the town's name, while no longer a transportation artery, doubles as the border between Yunlin County and Chiayi County.
The Chaotian Temple stands at the very heart of this town of 40,000 people. Founded in 1694 and devoted to the worship of Mazu, the Goddess of the Sea, who is likely the island's most popular deity, the temple is among Taiwan's busiest places of worship. On weekends, expect a non-stop barrage of firecrackers and clouds of incense smoke. You may even see one or two tangki – individuals possessed by a supernatural spirit. To demonstrate how their patrons protect them from pain and serious harm, some tangki cut their foreheads or shoulders with ancient-style instruments, or push needles through their cheeks. "Tangki" is the Taiwanese pronunciation.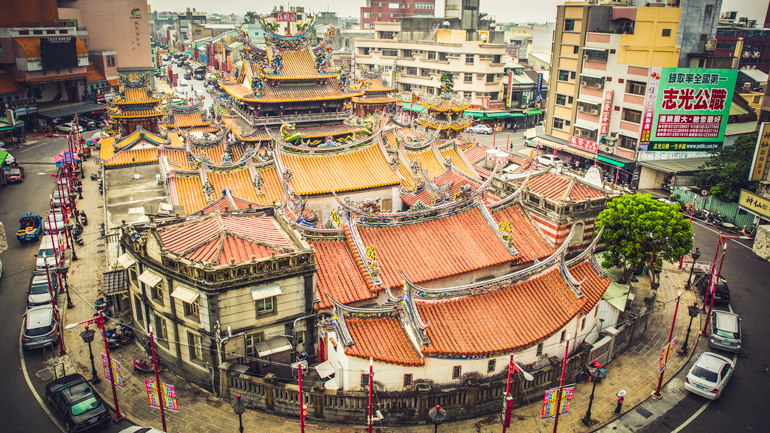 Chaotian Temple (朝天宮)
Add: No. 178, Zhongshan Rd., Beigang Township, Yunlin County
(雲林縣北港鎮中山路178號)
Tel: (05) 783-2055
A far newer religious landmark stands 2km north of the Chaotian Temple. Major sections are less than a decade old at the visually impressive Wude Temple, a place of worship that has a fascinating backstory. It was founded by a man surnamed Chen who had moved to Beigang in 1955 to practice traditional Chinese herbal medicine.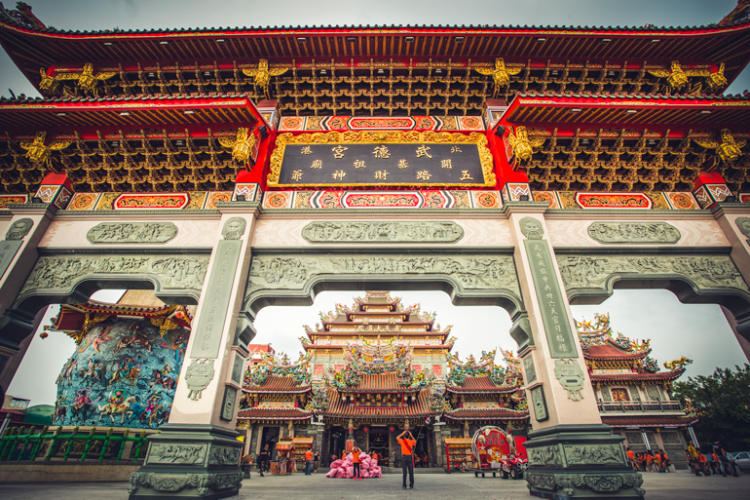 Despite being a healer, Chen was unable to cure his wife when she fell ill some years later. Perplexed and perturbed, he sought comfort and answers through the set of beliefs that's variously known as Chinese popular religion, folk religion, or Daoism. The results from conducting divination rites convinced him that he should set up a censer in his own home, and offer incense to the gods each morning and evening. He followed these deity-provided instructions with zeal, and his wife finally recovered.
Eventually, he determined that the god who had helped him was Zhao Gong-ming, the Military God of Wealth. Accordingly, when he later established Wude Temple, the principal deities enshrined there were the Five Directions Wealth Gods, among whom Zhao represents the "central" direction. The temple has subsidiary altars for Zhao's parents and three sisters, as well as the Jade Emperor and other major deities. If you want proof that Taiwan's thousands of temples aren't merely relics of a bygone age, and that traditional religious belief thrives throughout the island, you'll find it here.
Wude Temple (武德宮)
Add: No. 330, Huasheng Rd., Beigang Township, Yunlin County
(雲林縣北港鎮華勝路330號)
Tel: (05) 782-1445
Tramping around town, you're likely to work up an appetite. While you're here, you should try jianpanguo, a delicacy that's usually fried on a circular griddle. It looks quite similar to Taiwanese savory radish cake, but it's 100% made of rice. If you're trying to cut down on carbs, don't worry, because at vendors like Chen Family Jianpanguo you can order some sliced sausage or pig intestine stewed in gravy to go with the delightfully textured jianpanguo.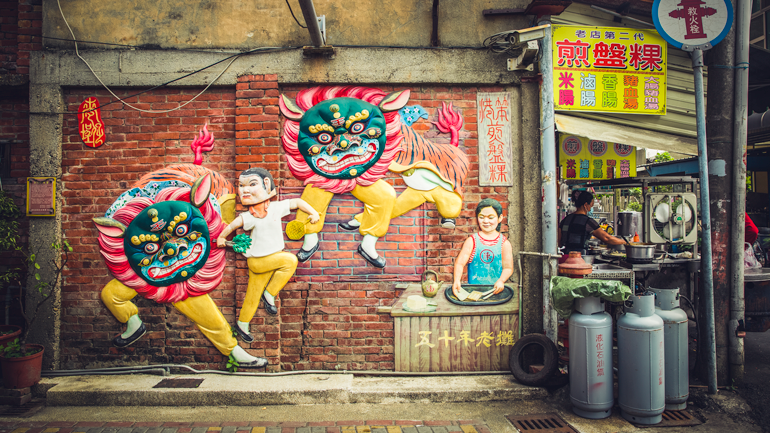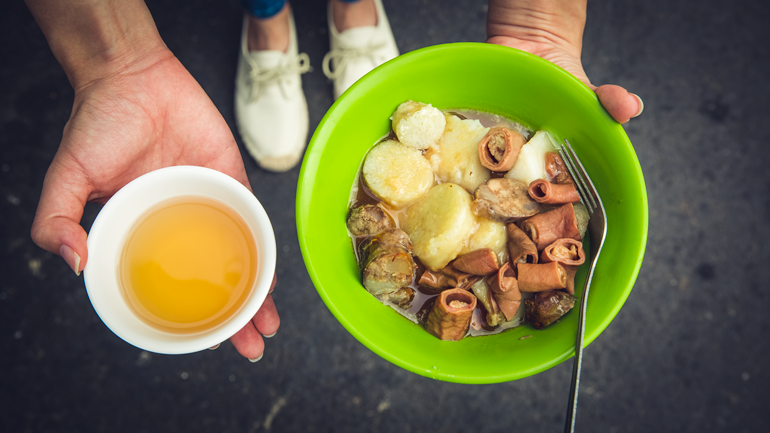 Chen Family Jianpanguo (陳家煎盤粿)
Add: No. 84, Guangming Rd., Beigang Township, Yunlin County
(雲林縣北港鎮光明路84號)
Tel: 0927-252-833
Beigang is synonymous with what are known simply as "Beigang big cakes," large pies given to friends and relatives to mark joyful occasions such as a daughter's impending wedding or a son's college graduation. They come in various flavors, sweet and savory, among them adzuki bean, mushroom, and braised pork. The town's bakers also sell palm-sized pastries and cookies ideal for travelers who want to taste something traditional. Of the several bakeries that operate close to the Chaotian Temple, Zhenxing Theater is perhaps the most popular with tourists. As its name implies, this 84-year-old building in which this retail operation is located used to be a movie theater, with a good bit of its pre-TV-era character preserved.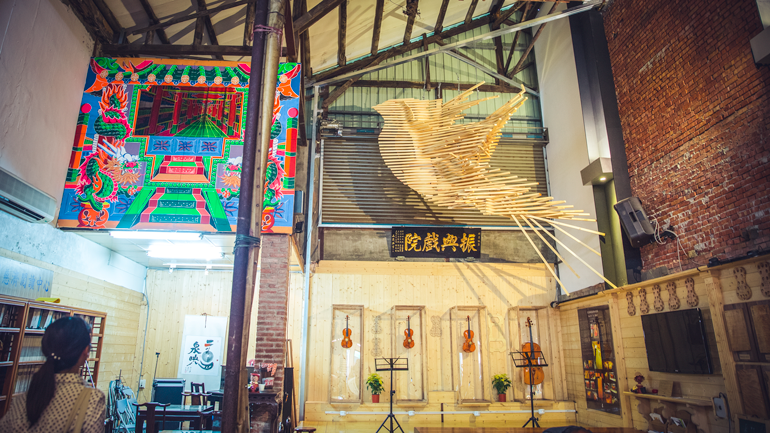 Zhenxing Theater (振興戲院)
Add: No. 42, Zhongshan Rd., Beigang Township, Yunlin County
(雲林縣北港鎮中山路42號)
Tel: (05) 782-3798
For another type of inexpensive and refreshing snack, sit down for a spell at the modest shop Beigang Yuanzi Soup, named for the dish that made it famous. Its bite-sized rice-flour dumplings, which have no filling, are cooked just before serving, then eaten cold in a "soup" that's awash with mung beans, adzuki beans, and steamed peanuts. This medley of natural flavors is sweetened with a little honey, then covered with shaved ice – an ideal combination on a warm day!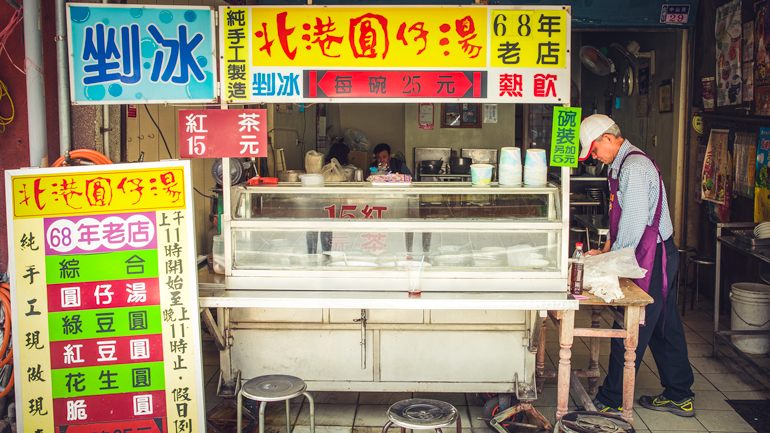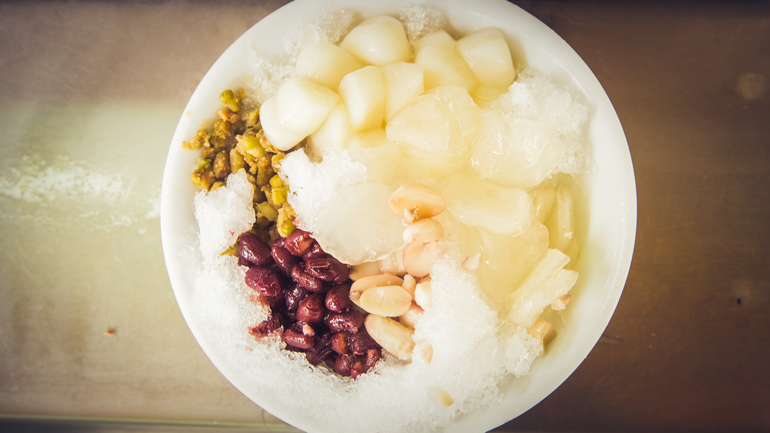 Beigang Yuanzi Soup (北港圓仔湯)
Add: No. 29, Zhongshan Rd., Beigang Township, Yunlin County
(雲林縣北港鎮中山路29號)
Tel: (05) 773-1231
Xinshe
If you're driving yourself, and plan to head into Taiwan's mountainous interior the following day, spending the night at a B&B in the Taichung district of Xinshe makes a great deal of sense. From here, Provincial Highway 21 leads southeast toward tourist-popular Puli town, Sun Moon Lake, and Hehuanshan (Mt. Hehuan).
During cherry-blossom season, a significant part of Greater Taichung's population heads to Xinshe to take photos of the trees that line County Road 129. The annual Xinshe Sea of Flowers festival – typically scheduled for early November to early December – is even more popular. The landscape becomes a stunning multicolored patchwork, and visitors aren't confined to viewing it from afar. Thanks to a network of paths between fields, anyone with a camera can grab Instagrammable images.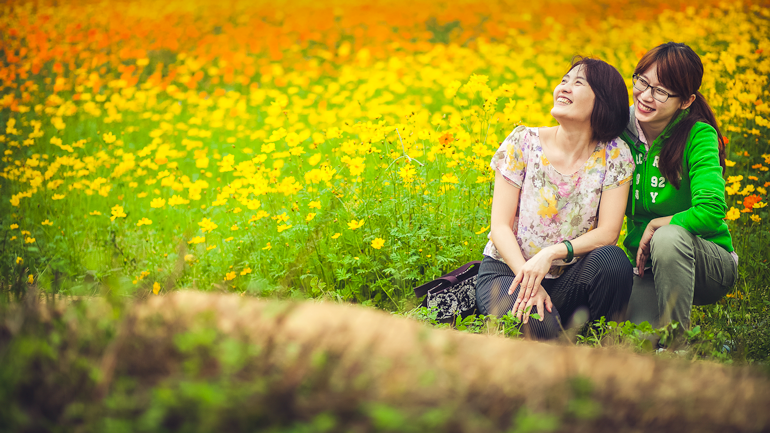 Xinshe's farmers don't only grow flowers. Mushroom consumption in Taiwan has surged in the past few decades, and Xinshe is a center for the production of king oyster mushrooms, wood ear, and other edible fungi. At the Baigu Chuang tourist farm you can pick your own fresh organic mushrooms, or buy dried mushrooms perfect for adding to soups and hotpots. As you might expect, Xinshe also has a number of restaurants that specialize in mycological cuisine. Come, see, and eat!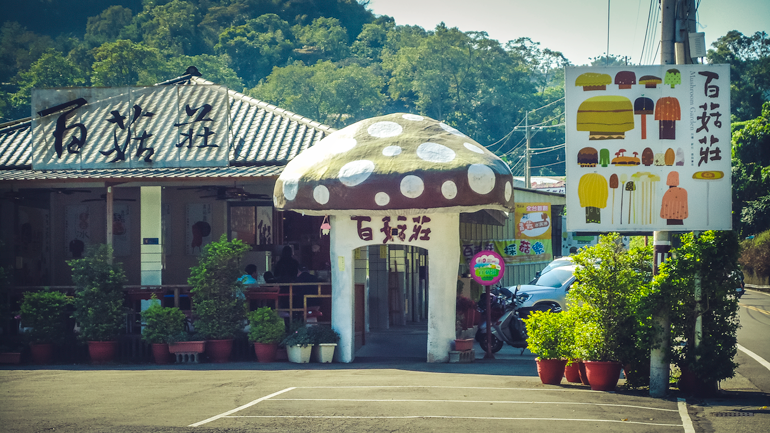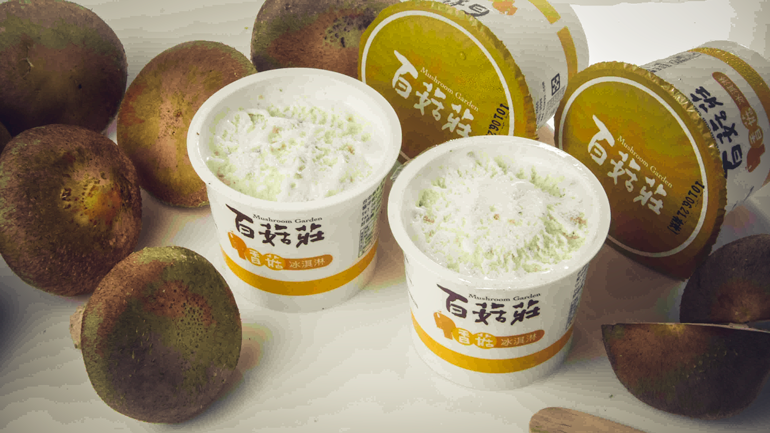 Baigu Chuang (百菇莊)
Add: No. 2-1, Xiezhong St., Xinshe District, Taichung City
(台中市新社區協中街2-1號)
Tel: (04) 2582-3598
Website: www.howgu.com.tw (Chinese)
Beigang Spring Living Museum
TEXT / DANA TER; PHOTOS / RAY CHANG
A woodwork factory since the Japanese colonial era (1895~1945), Beigang Spring was transformed into a local-history museum in 1992. A 10-minute drive from the iconic Chaotian Temple (see above), this museum is in the heart of Beigang Township. It is easy to recognize thanks to the dozens of multicolored, spotted, and white chickens that run out to greet visitors entering the museum's wonderfully manicured garden grounds.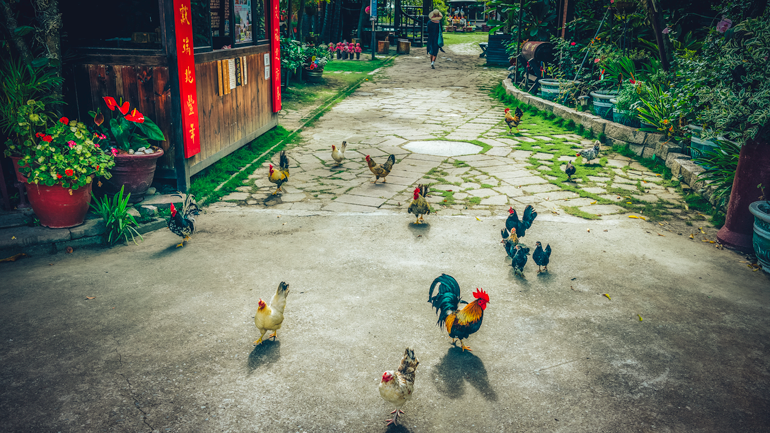 Follow these friendly, pint-sized guides past giant potted plants with colorful pinwheels to a raised, single-story wooden home where pots of piping-hot floral tea await. Museum owner Hsu Shu-chu (徐淑珠) loves taking care of her guests, and serves tea in wooden holders she makes by hand, accompanied by a small platter of her homemade chocolate cookies.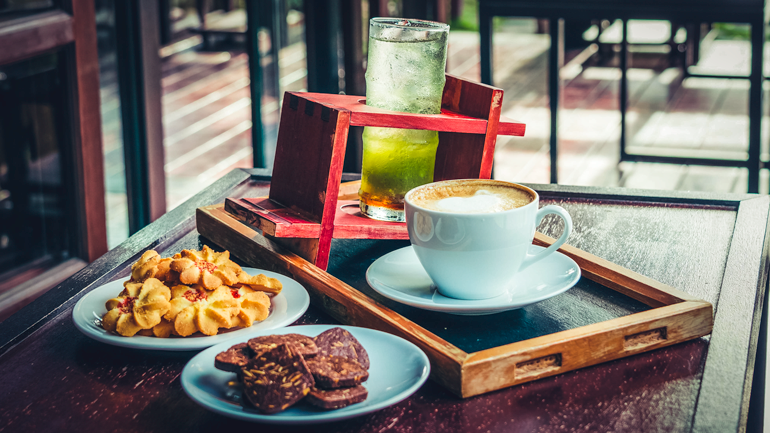 The centerpiece at Beigang Spring is several wooden residential-style buildings made with hinoki, or Japanese cypress, each serving as a showcase of a different aspect of traditional life in the township, told through antique furniture, trinkets, and paintings. Among the items you will see are beautifully carved wooden dressers and vanity sets, some of which are for sale, though the most impressive item is a 70-year-old bicycle (not for sale) made with wood framing, which is accompanied by an equally old, frayed tote bag.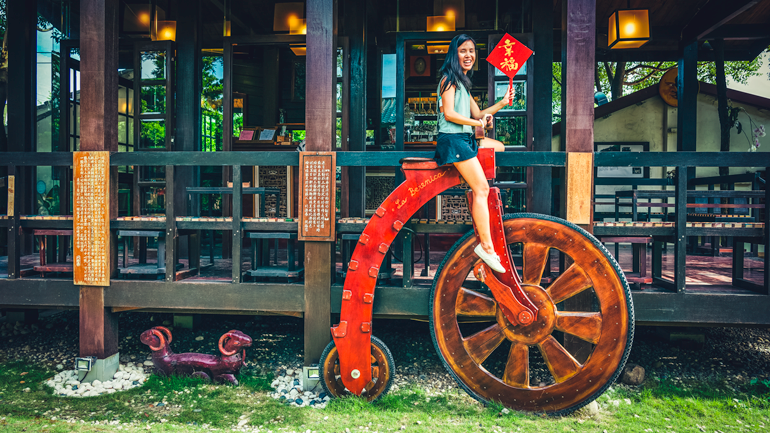 A large warehouse at the back of the complex houses a DIY station where visitors can learn to make their own wooden chopsticks, which they can bring home, and play games more suited for young children, such as balancing on wooden stilts or tinkling the keys on a wooden xylophone. Some of the games, such as hopscotch and skipping rope, do not have a direct tie-in with the Beigang area's woodworking past, but are, as Hsu will enthusiastically explain, windows into traditional Beigang life – and opportunities for guests to put their smartphones down.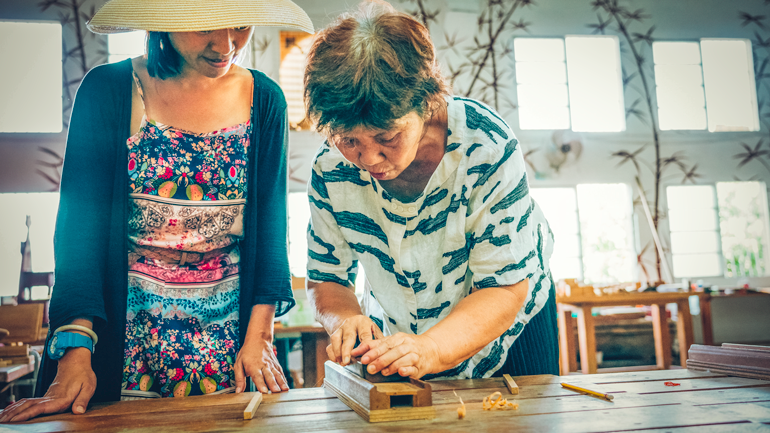 Out in the garden area, visitors can throw dried rice to the chickens and watch them gather around their legs. There are also cute cut-outs for the taking of pictures, including life-sized cartoon depictions of farmers with strategic holes for propping your head – something for which it is definitely worth once again whipping out your phone.
Beigang Spring Living Museum (北港春生活博物館)
Add: No. 53-1, Liucuo Borough, Beigang Township, Yunlin County
(雲林縣北港鎮劉厝里53-1號)
Tel: (05) 7833768
Website: www.facebook.com/pg/www.beikang.tw (Chinese)
How to Get There
All three of the above-introduced towns can be easily reached by public transportation. There are regular buses to Lugang from THSR Taichung Station (high-speed rail) and Changhua Railway Station (regular rail). To get to Beigang, board a bus in downtown Taichung or at THSR Chiayi Station. Xinshe is served by the no. 270 bus from Taichung Railway Station.