Visiting the Green Light Farm and Pinglin Old Street
TEXT / HAN CHEUNG
PHOTO / ASKA CHI

The fortunes of New Taipei City's Pinglin District suffered after the completion of National Freeway 5 and the Xueshan Tunnel in 2006. Once a bustling pit stop on the rugged highway from Taipei to Yilan County, the main settlement in the district, Pinglin town, was bypassed by the freeway and its economy sharply declined. Today a renaissance is under way, bringing sightseers back.
The district is still fairly quiet on weekdays, but from talking to locals one gets the feeling that this quaint, laid-back tea-producing area, just a 40-minute drive from Taipei along the scenic old Provincial Highway 9, and 15 minutes along the freeway, is slowly headed toward revival. The weekend crowds are trickling back, and two new businesses opened this year in historic buildings along the sleepy Old Street in Pinglin town.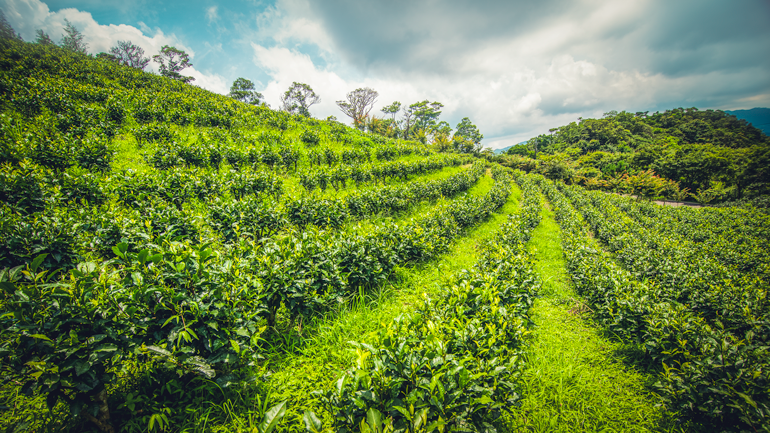 Dotted with tea farms and a population of just over 6,600, part of Pinglin's tranquil charm is that there are no hotels or guesthouses, because the entire district is within a water conservation area. Pinglin was originally known for producing dye, but there was a switch to tea cultivation in the 1800s. Today, the region mainly produces Baozhong (Pouchong) tea, which is lighter and less oxidized than Taiwan's famed Oolong. Many of the rolling-hill terraced tea plantations here have a majestic appearance, and some of the farms provide guided tours and tea-picking experiences. In Pinglin town, one can take a tour of the Old Street and interact with long-time shopkeepers, traverse the bike trails along the Beishi River, or go on a walk along hiking paths in the hills surrounding the town.
Green Light Farm
"One tip, two leaves," Green Light Farm owner Chen Lu-ho repeats as he demonstrates how to pick tea on a recent Travel in Taiwan visit to his farm. It seems easy enough as we watch him deftly remove the budding tips of each plant in quick succession, but when our turn comes it takes us a bit of practice to get the hang of it.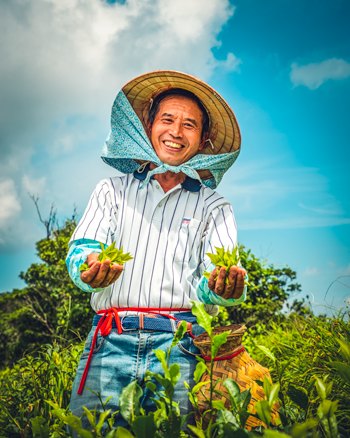 Although Chen grew up in Pinglin, he didn't start growing tea until he was 50 years old. Like many of the district's young people, he moved to Taipei City to find work, only returning after retirement.
About 80 percent of the district's residents are involved in the tea business. The area has all the right ingredients for tea cultivation: mountainous terrain, acidic soil, abundant rain, and convenient access to water. More than 200 years ago immigrants from mainland China's tea capital, the county of Anxi in Fujian Province, brought plants and the skills involved in tea cultivation to Taiwan.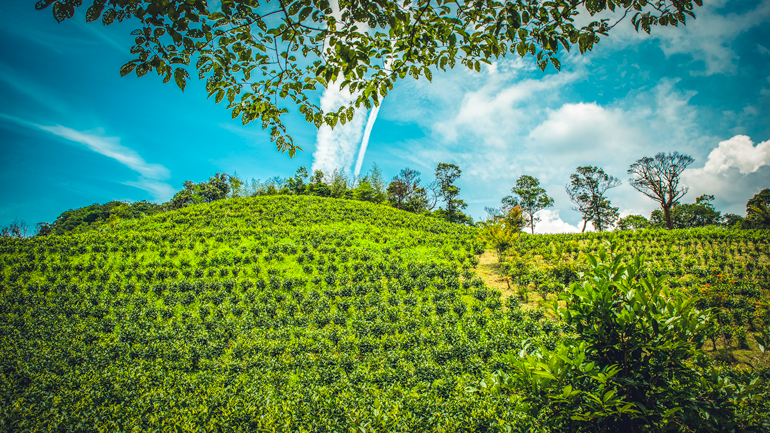 Recession hit the mainland China/Taiwan tea industry in the 1870s, and many producers in Taiwan turned to making Baozhong tea due to a saturated Oolong market. The lighter tea was considered a relatively new flavor in the international market, lauded for its floral aroma, smooth profile, and sweet aftertaste. At first, Taiwanese tea growers would send their leaves to mainland China to be processed into Baozhong, but the arduous journey made shipping costs high.
In 1881, Chinese tea merchant Wu Fu-yuan decided it would make more sense to bring the Baozhong process to Taiwan. Soon thereafter, most of Pinglin was producing the variety. For an in-depth, hands-on exploration into the region's tea-steeped history, check out the Pinglin Tea Museum, which is housed in a picturesque recreated Anxi-style courtyard compound located on the opposite bank of the Beishi River from Pinglin Old Street.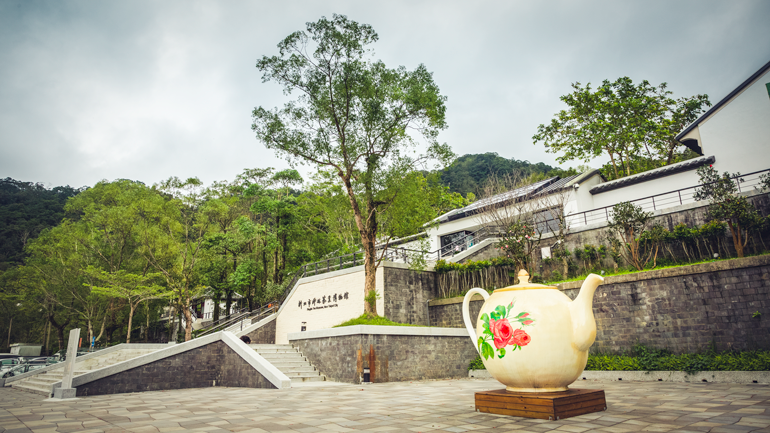 Pinglin Tea Museum (坪林茶業博物館)
Add: No. 19-1, Shuisongqikeng, Shuide Borough, Pinglin District, New Taipei City
(新北市坪林區水德里水聳淒坑19-1號)
Tel: (02) 2665-6035
Website: www.tea.ntpc.gov.tw
Thirteen years after returning home, Green Light's Chen Lu-ho was named a National Model Farmer in February earlier this year. He had wanted to return to his home area and grow tea right after his early retirement, but it took years to convince his family to go with him. He was set on organic methods from the get-go, hoping to restore balance to an ecosystem that had suffered from traditional use of pesticides – though it took years of experimentation to work out a productive system.
Visitors must call ahead to arrange their Green Light Farm tea experience, which includes tea picking in the morning in the farm's picturesque fields, hand rolling and processing in the main building, and sampling the farm's tea varieties, which in addition to Baozhong includes Black, Green, Oolong, and Oriental Beauty, along with sampling of tea pastries and tea oil.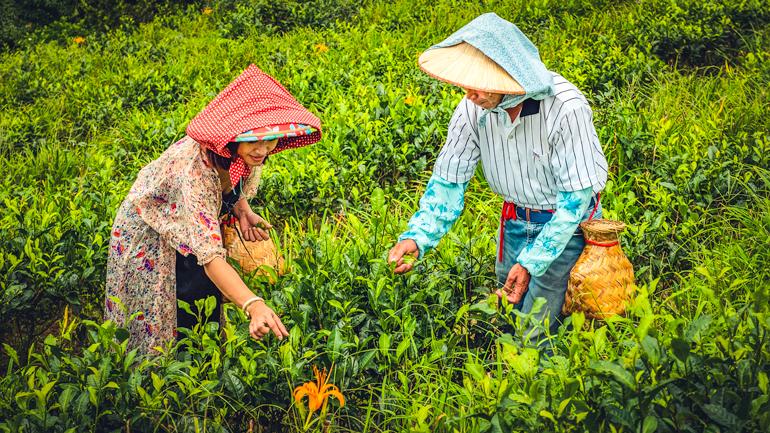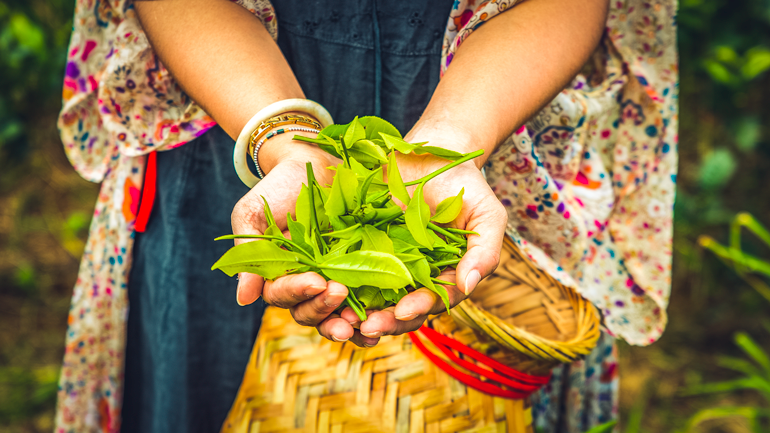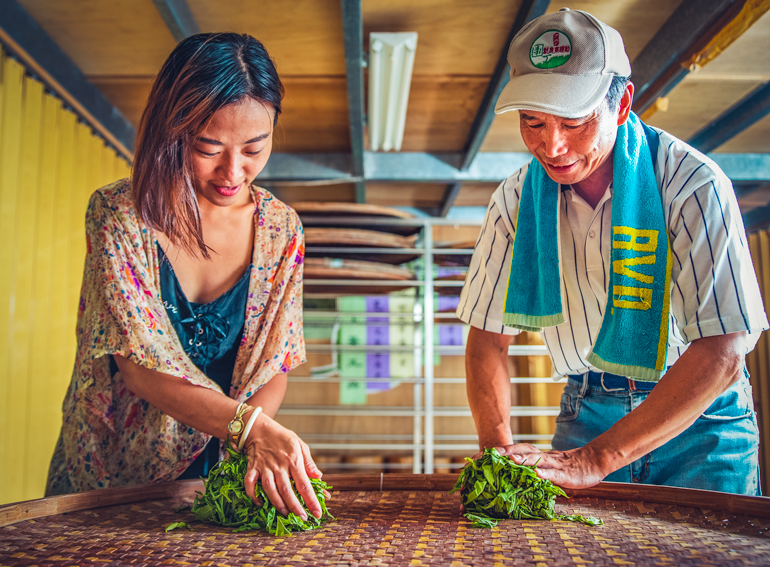 Due to Pinglin's conservation-area status, a successful grassroots fish and river protection movement, and decreased traffic, flora and fauna is abundant. Hanging on the walls of the Green Light Farm are photographs of local critters, including the Swinhoe's pheasant and the crab-eating mongoose – as well as stunning "sea of clouds" scenes that can be seen forming in the morning hours. On Chen's business card is an image of the endemic emerald green tree frog, which has returned to the area through his efforts, earning him the moniker "frog prince" among locals.
Green Light Farm (綠光農園)
Add: No. 11-2, Dashe Hu, Yuguang Borough, Pinglin District, New Taipei City
(新北市坪林區漁光里大舌湖11-2號)
Tel: 0952-600-268
Website: www.facebook.com/chenluho/
Just Pinglin
The fact that the local waterways can support the Taiwan shovel-jaw carp is proof of how unpolluted the waters are. Young business owner Wu Shu-hsien, who runs the trendy Just Pinglin café on Pinglin Old Street, recommends visiting the Fish and Fern Trail along the protected Jingualiao River.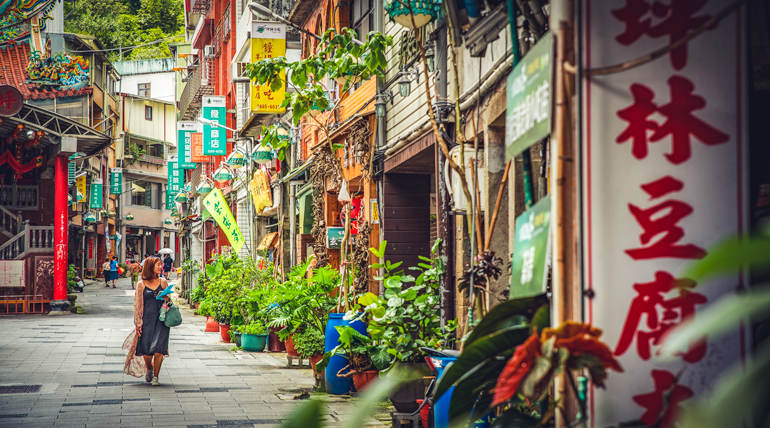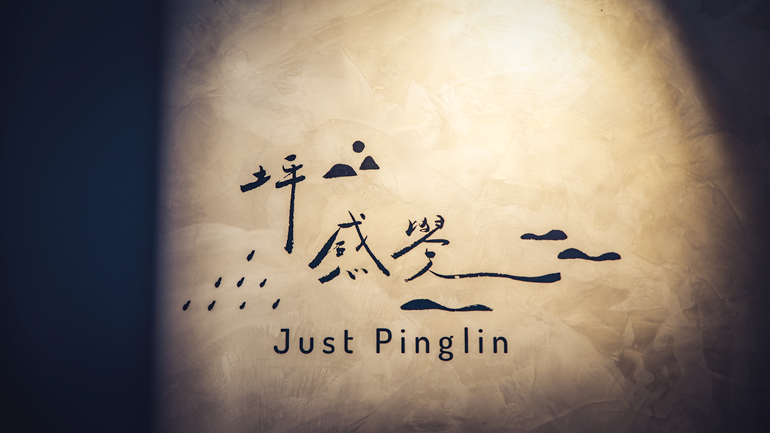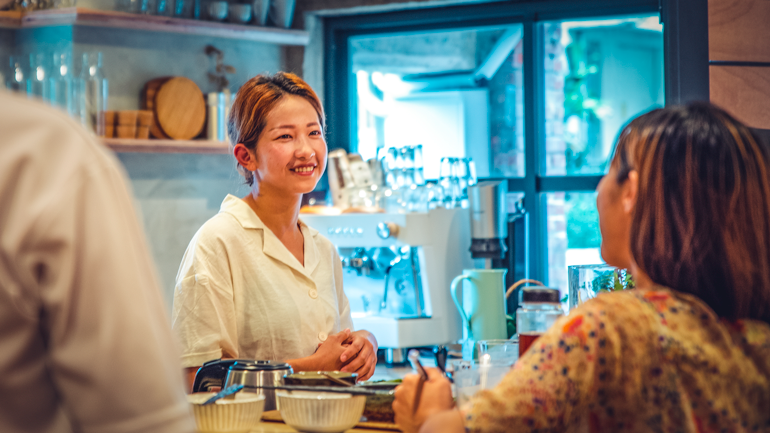 Wu and her boyfriend Wade Tsai both hail from southern Taiwan. The pair first came here to conduct school-related studies, eventually staying and opening a small enterprise close to Jingualiao River named Pumpkin No. 3, offering guided tours, tea-themed fusion cuisine and exhibits, as well as homestay accommodation.
"It's fate that drew us to this place," Wu says.
The couple's current business, which opened in April this year, also adheres to the ethos of their previous establishment, and in addition helps local businesses and farmers with marketing and branding. They re-purposed a century-old stone building once used for drying tea; a unique feature on a side facade is the remnants of a tangled mass of roots belonging to a banyan tree that once grew inside the building's atrium.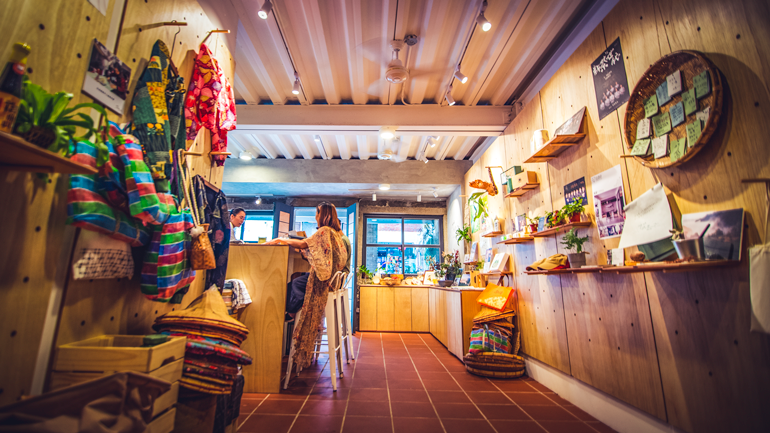 The colorful ceramic plaque on the red-brick façade above the entranceway is well-preserved. The Just Pinglin interior is modern in layout, but the building's historic charm has been retained with features such as vintage furniture items, the display of original red brick on the walls, and exposed ceiling beams – reminiscent of a retro-chic style commonly seen in repurposed old buildings in Taiwan.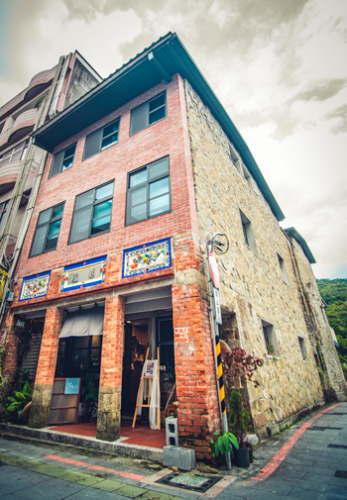 Just Pinglin provides set meals that make use of tea and other local ingredients. We order the cafe's signature Baozhong tea latte, and Wu recommends that we try the cheesecake topped with locally homemade pickled vegetables. This type of condiment is usually found on savory foods, but surprisingly it pairs well with the cake.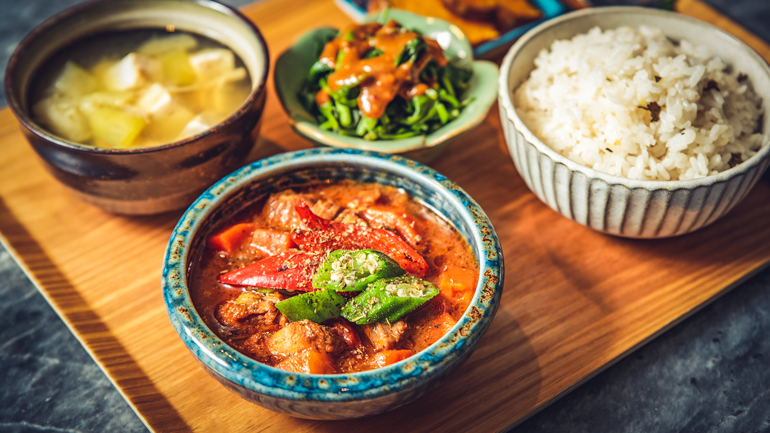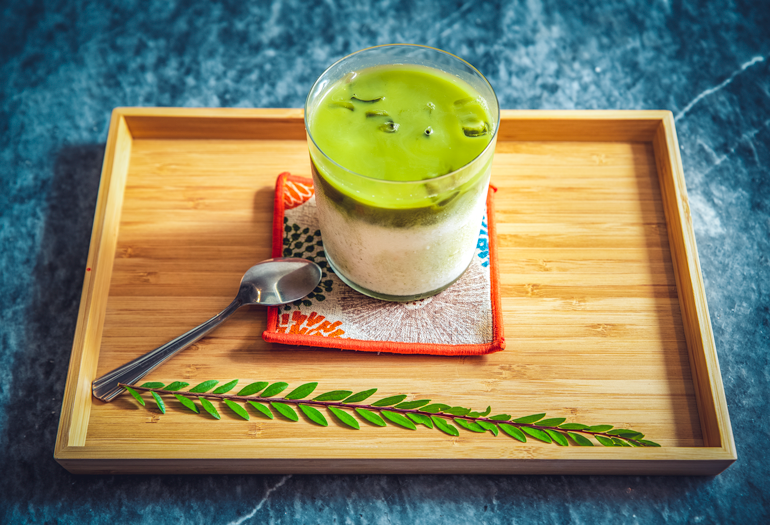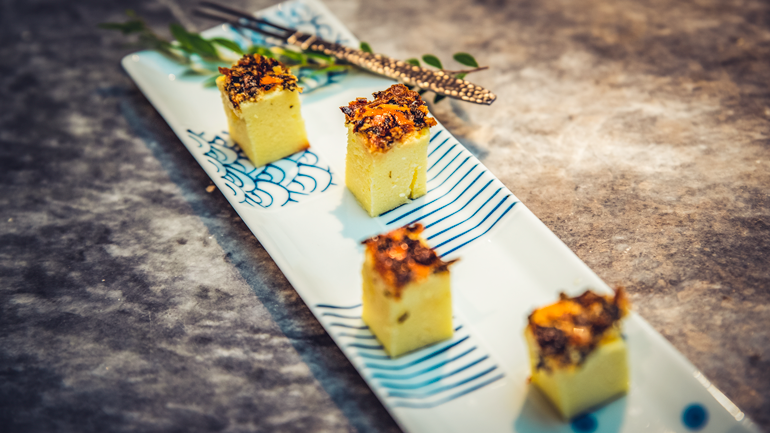 Just Pinglin (坪感覺)
Add: No. 12, Pinglin Street, Pinglin District, New Taipei City
(新北市坪林區坪林街12號)
Tel: (02) 2665-7210
Website: www.facebook.com/justpinglin12
Visitors have the chance to interact with the Old Street's longtime shopkeepers and hear their stories through Just Pinglin's guided tours (Chinese). The venerable thoroughfare is short, at just 200m, but is both quite charming and well-preserved. There's a few establishments that provide standard Taiwanese fare, and one of the more popular vendors carries all kinds of handmade mantou (a type of steamed roll), including a variety that is infused with Baozhong tea. A traditional grocery store right across the street from Just Pinglin doubles as a hair salon and also offers the district's famous tea eggs, which are simmered for three days in a stock made with local tea. It also has tea-flavored ice cream.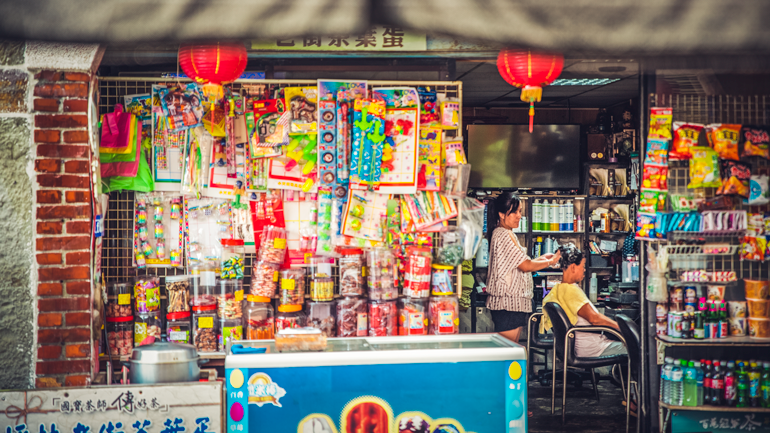 Feicui Reservoir
While the Pinglin District contains part of the Feicui Reservoir, head over to the neighboring Shiding District for stunning views of what is known as the Thousand Island Lake, said to somewhat resemble the lake of the same name in mainland China's Zhejiang Province. The "islands" are sections of mountains left unsubmerged when the reservoir was created. The lush green hills rising out of the emerald waters, along with the terraced tea fields in the foreground on the reservoir's north side, make for some spectacular postcard-perfect photos.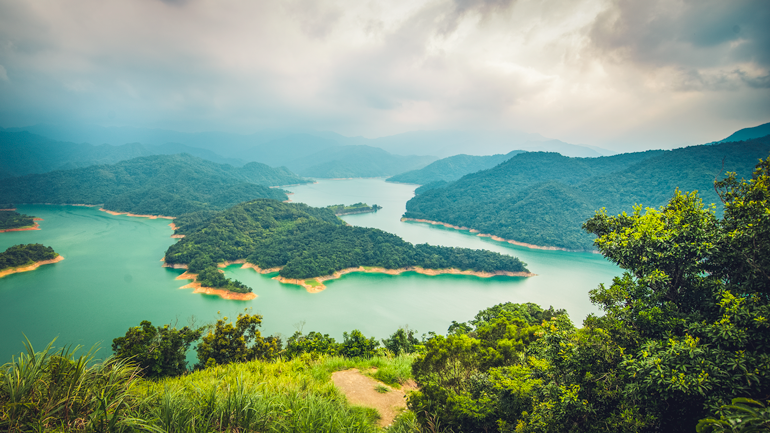 Getting there
From Taipei Metro's Xindian Station take bus no. Green 12, which travels on the Beiyi Highway (Taipei-Yilan Highway, Prov. Hwy 9) passing the Feicui Reservoir, or bus no. 923, which follows the much-tunneled National Freeway 5. Free local shuttle bus services are available from Pinglin town to destinations such as Nanshan Temple (only on weekends) and the Fish and Fern Trail, but a car is recommended to visit the Green Light Farm, which is high in the mountains (about 2km from Nanshan Temple), and scenic spots near Feicui Reservoir.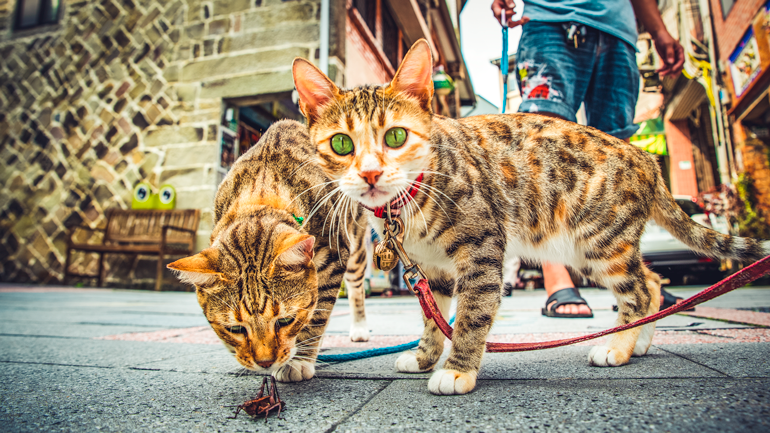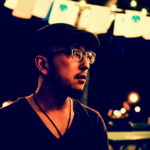 Han Cheung moved back to his adolescent stomping grounds of Taiwan in 2015 from frigid Wyoming, where he was the editor of the small town Rawlins Daily Times. He has a Master's in Journalism from the University of Missouri and has reporting experience in the US, Latin America, and Taiwan.