Ways to Enjoy Top-Quality Artisanal Taiwanese Tea in Taipei
TEXT / HAN CHEUNG
PHOTOS / CHEN CHENG-KUO
For a country seemingly obsessed with tea-drinking, it's surprising to learn that until the 1970s most of the tea produced in Taiwan was exported. Coffee shops tend to be trendier than artisanal teahouses these days, but local tea aficionados have been trying to change that by opening more relaxed yet stylish establishments.
Taiwan is world-famous for its high-quality teas, grown in mid- and high-altitude areas all across the island, which has an amenable warm and humid climate. The production and trade of tea has flourished here for over two centuries, and Formosa Oolong (Wulong) was first introduced to the West by Scottish merchant John Dodd in 1869. However, Oolong tea gradually lost its importance starting in the 1890s, as the Japanese colonial government (1895~1945) focused on black tea, while the Chinese Nationalist Party (KMT), which took control of Taiwan and its offshore islands after WWII, preferred green tea.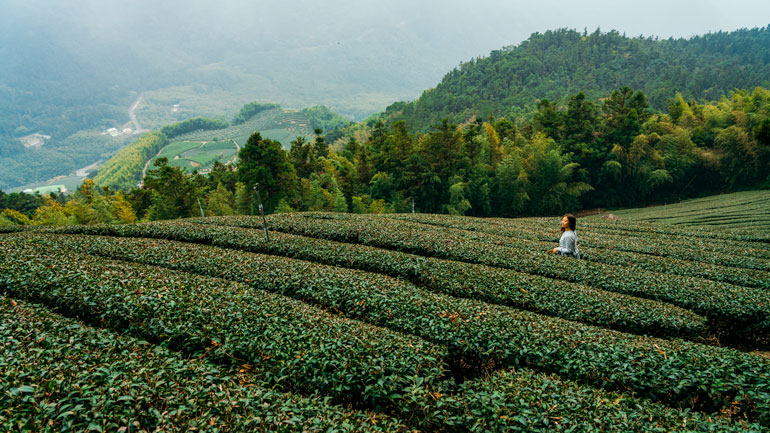 Despite the international success of Taiwanese tea, domestically the beverage was mostly restricted to the privileged until the 1980s. In 1975 the export market crashed due to the global energy crisis, and the government started promoting experimentation and local production and consumption of such now-renowned Oolong varieties as Dongding Oolong and Wenshan Pouchong (Baozhong). The economy was soaring then, and soon tea became one of the nation's favorite beverages. The tea industry also changed drastically, from large-scale export-oriented factories to small farmers who process their own leaves.
Today, tea is ubiquitous in Taiwan, whether it be at roadside counters, convenience stores selling tea drinks, traditional teahouses, or stylish retro-chic tea salons. Demand is so high that much of it is imported these days, with much of this leaf of mediocre quality, but there are a growing number of trendy establishments promoting high-end, artisanal local teas where the atmosphere and decor is just as crucial as the quality of the tea.
Liquide Ambré
The lacquered stairs leading to this intimate tea salon are designed to appear wet, making visitors pause before heading up.
"We hope that people walk up the stairs carefully," marketing manager Armo Hsieh says. "They may have just come from the bustling streets, but once they arrive here, they can slow down and calm their hearts."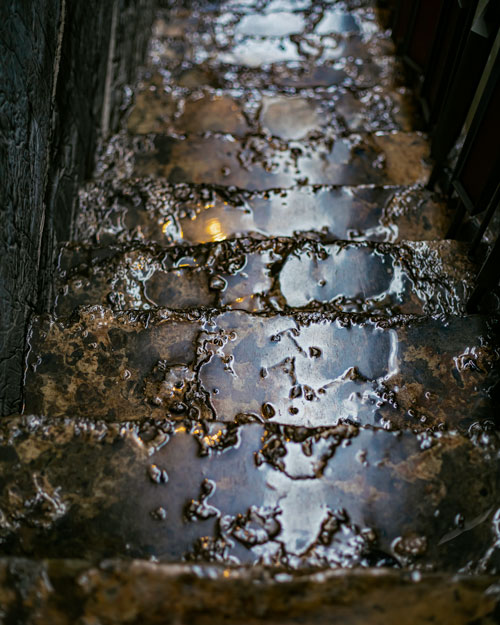 The classy, darkly-lit space has only six seats, with a tea master sitting in front of the guests behind a massive wooden table meticulously brewing and presenting the selected teas with care and precision.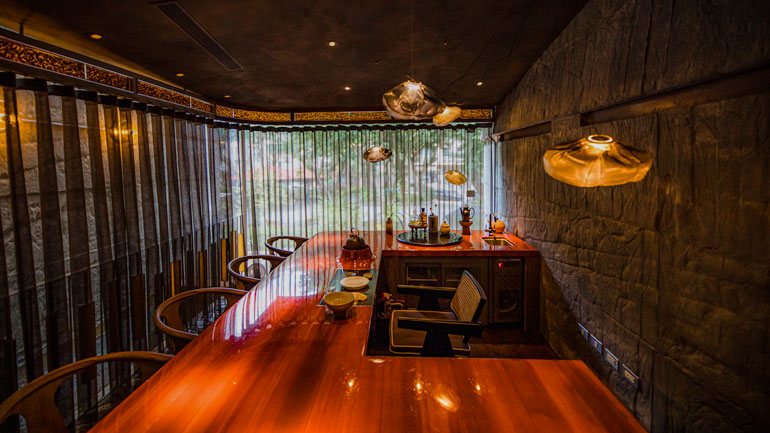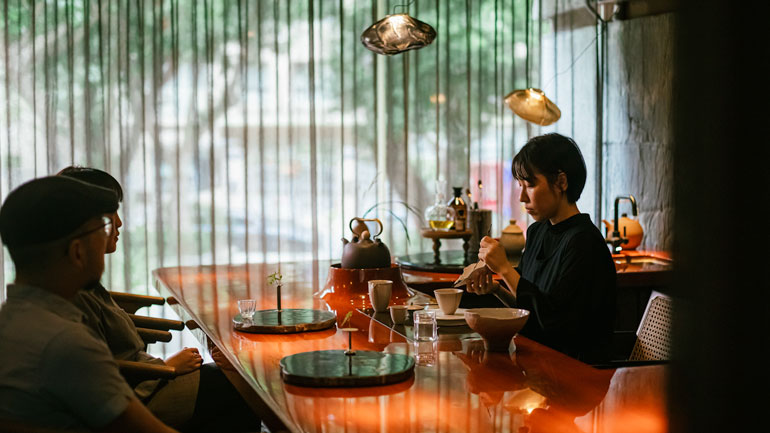 The shop area boasts an array of chic designer teaware, and the tea master chooses which utensils to use according to the "personality" of each tea.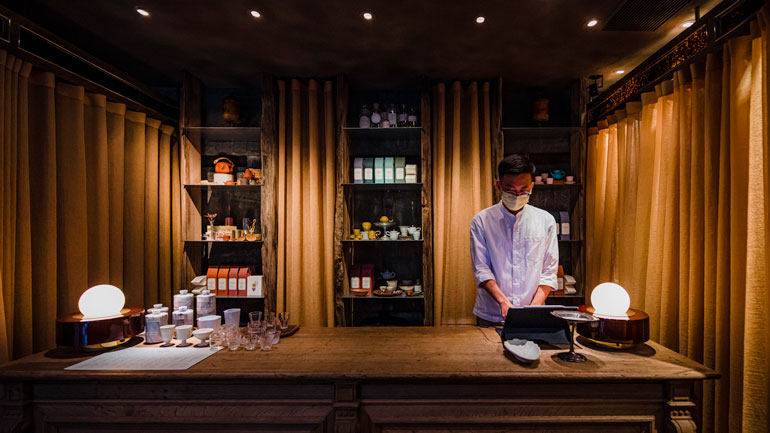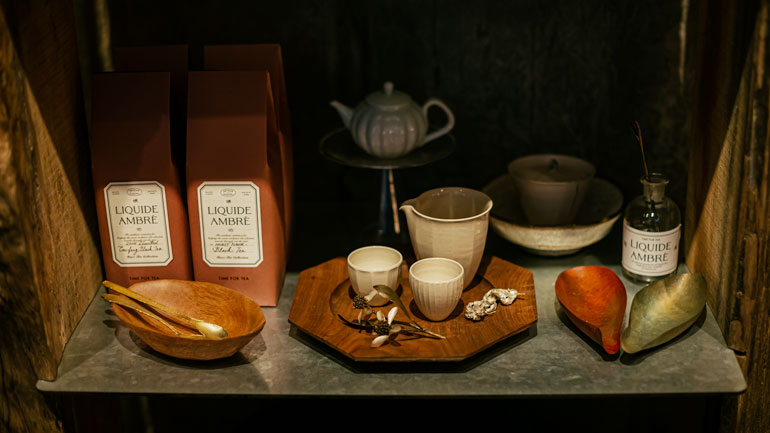 Despite this attention to detail, Hsieh encourages customers to relax and enjoy the process however they wish without worrying about rules or rituals. After all, Liquide Ambré was launched to promote the art of Taiwanese tea to a wider audience, especially young people who feel more at ease in cafés and may feel intimidated by traditional-style tea establishments.
The menu contains mostly teas sourced by the owners from across Taiwan, as well as tea cocktails and herbal brews. The honey black tea originates in Chulu (Taitung County in southeast Taiwan), and the Lava Mist is from the Kalon Tea farm in Nantou County (central Taiwan). The flavor profile of the latter is described as "smoked wood, nuts, and cocoa beans."
We are served a cold welcome tea before the tea preparation begins.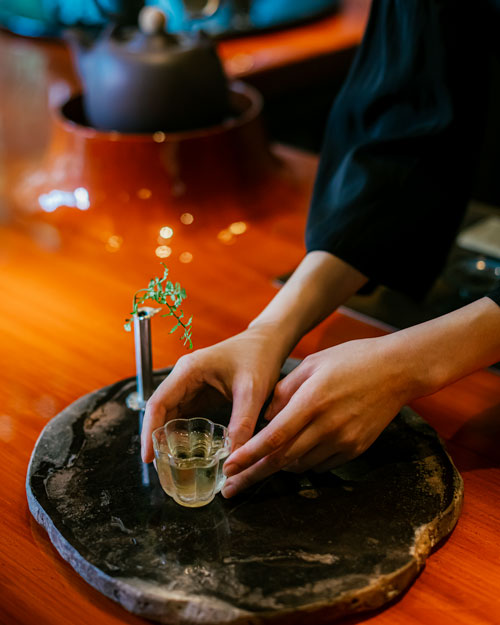 Then the tea master asks us to smell tea leaves, before she carefully transfers them to a cup using a twig, heats them up, and has us smell them again.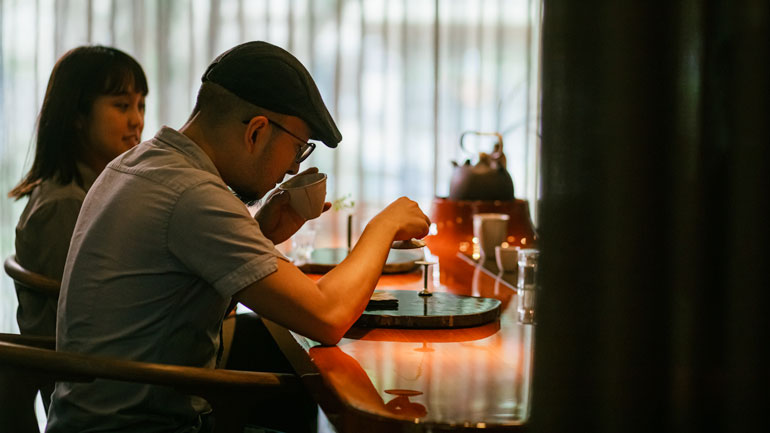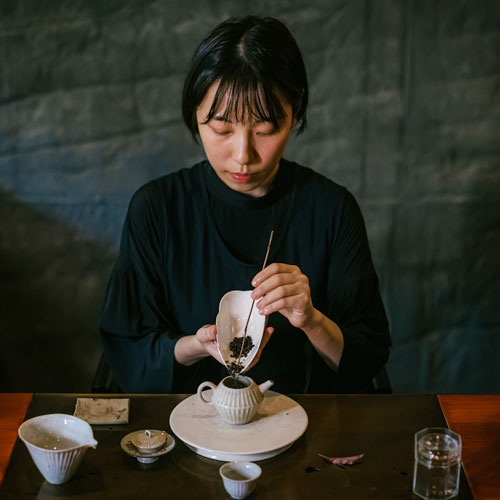 The aromas are much stronger the second time. The tea is served on a smooth slab of fossilized wood, adorned with a single fern leaflet in a tin holder.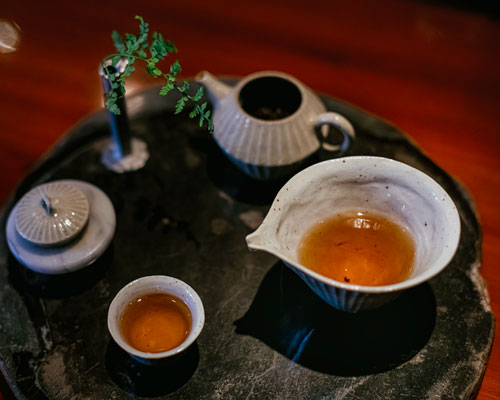 The same process is repeated for the honey black tea, and the difference in flavor profiles is apparent as this one is sweet and light. One doesn't need to be a tea connoisseur to appreciate these contrasts, and the owners hope that people can make tea-drinking part of their everyday lives.
Unique desserts developed in-house are served after the second infusion. We try the peanut tofu, which is surprisingly unsweet; the subtle hints of peanut blend well with the sprinkling of salt and lemon juice. The lotus seed paste inside a crispy Japanese monaka pastry is also on the lighter side – both are refreshing companions that don't overpower the main act of the tea.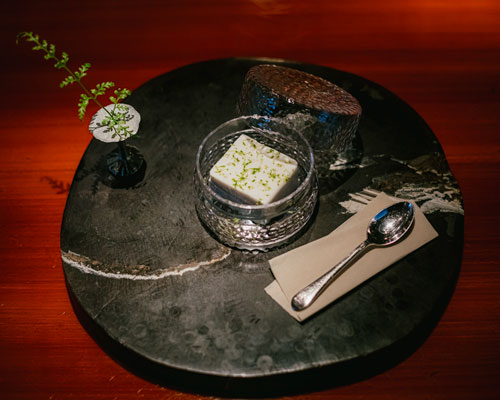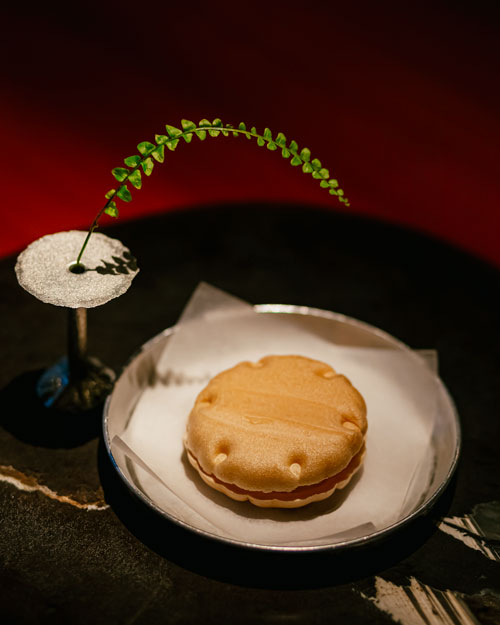 Liquide Ambré
(琥泊)
Tel: (02) 2736-7287
Add: 2F., No. 15, Ln. 72, Leli Rd., Da'an District, Taipei City
(台北市大安區樂利路72巷15號2樓)
Website: www.liquideambre.com
Xiao Yin Tea House
This teahouse is charming enough with its atmospheric Taisho romanticism-style interior that seamlessly blends Eastern and Western aesthetics, but one just can't ignore the ridiculously fluffy and genial house cat Dede (Taiwanese for "Tea Tea"). Dede knows exactly how to be a good host, sitting by but not too close to the customers or lazing around, reminding them to relax and take things easy.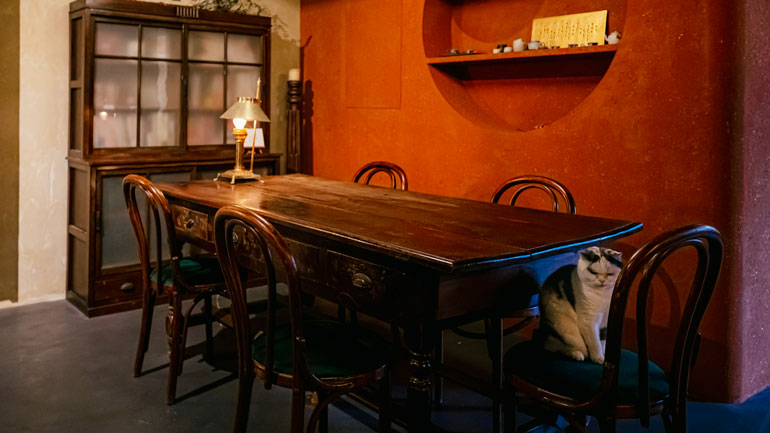 Located on a quiet side street at the foot of Elephant Mountain but just a short walk from the trendy and busy part of Xinyi District, the proprietors of Xiao Yin Tea House hope to offer their customers a place of respite in the big city.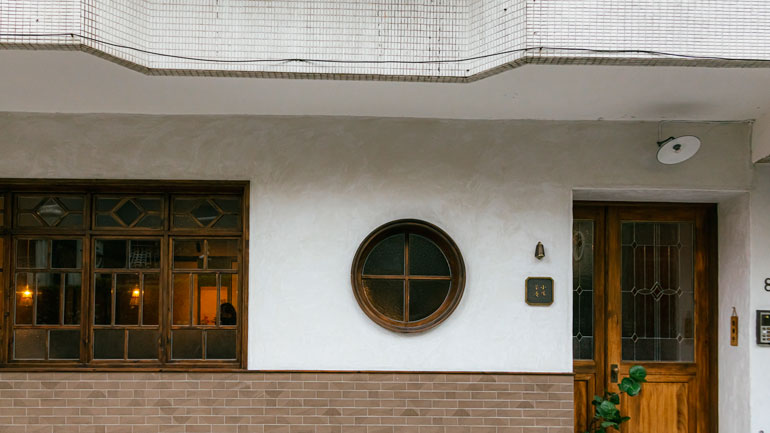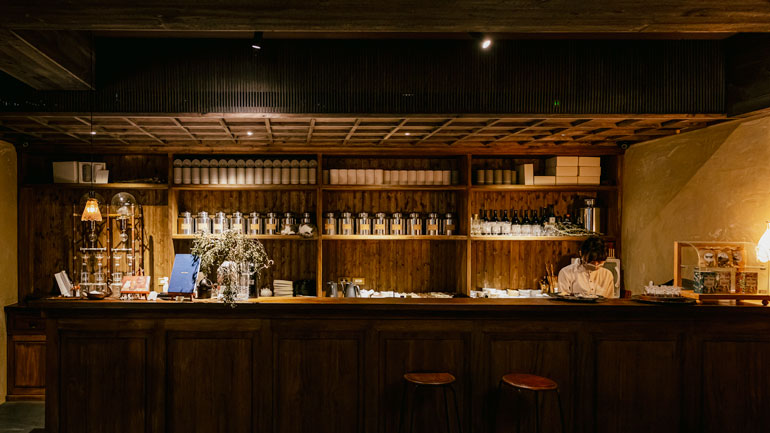 Visitors steep their own tea here, and each table gets a water pot on a mini-stove, a tea-serving pot, and tea cups, their minimalist aesthetic the work of ceramicist Wang Wende.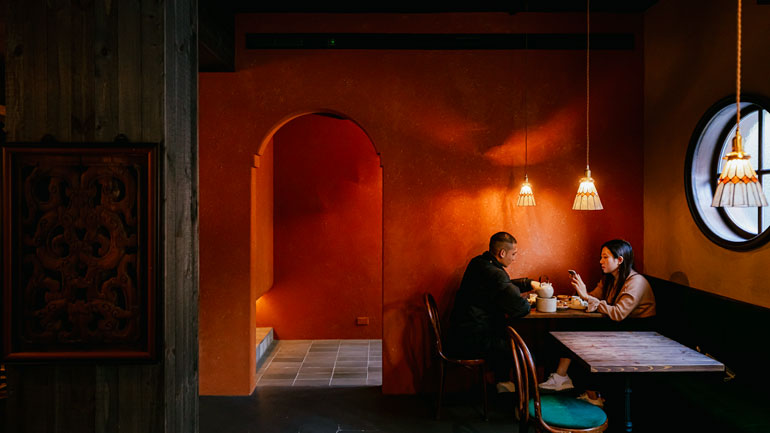 Store manager Wiola Wen says that they hope to promote tea drinking among the younger crowd that usually prefers hanging out in cafés. Compared to coffee, tea drinking is a slower-moving process, as the leaves can be infused at least three times, with each infusion tasting different.
"We want to make tea more accessible," she says. "Many young people feel that they have to really understand tea before entering a traditional teahouse. We keep the process as simple as possible here, while still maintaining a sense of ceremony."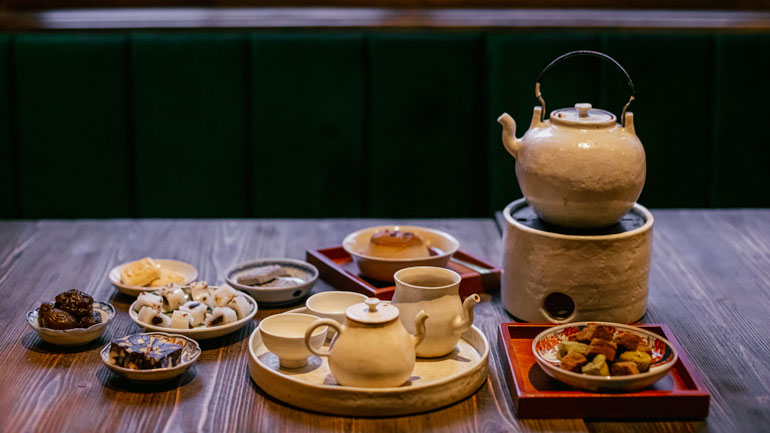 There's a card provided to customers with suggested infusion times, and staff can also offer detailed instructions to newbies. Wen says the art of tea drinking is quite subjective and they don't want to impose too many rules, but some behaviors should be avoided, such as drinking directly out of the serving pot.
The offerings here focus on Taiwanese Oolongs, and are given poetic names according to their flavor profile: wild ginger, autumn sun, cloud dance, mountain mist, puffing rice in the courtyard, etc. We order the morning mist, which Wen says carries the fragrance of milk tea. The place also offers a wide variety of traditional-style bite-sized sweets and pastries as well as tea-infused creations such as a Ruby No. 18 black tea pudding.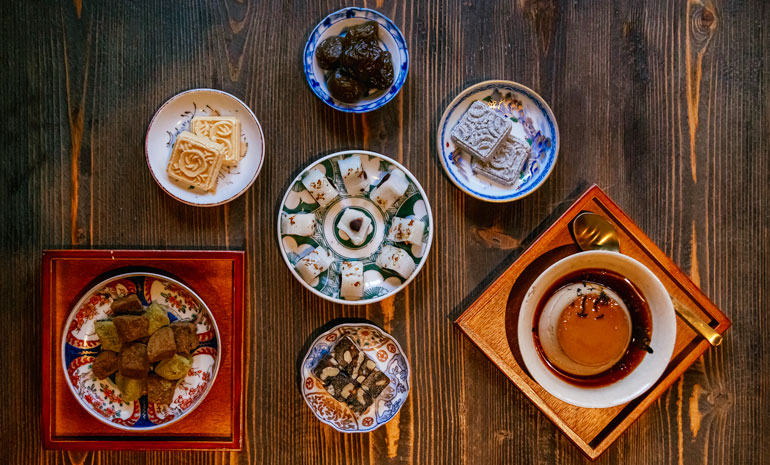 It's tricky remembering to keep infusing and pouring the tea while chatting, but it's also fun to do it ourselves; I'm sure I will get better at it after some practice. Xiao Yin also offers zhajiang noodles, dumplings, and other staple Taiwanese dishes.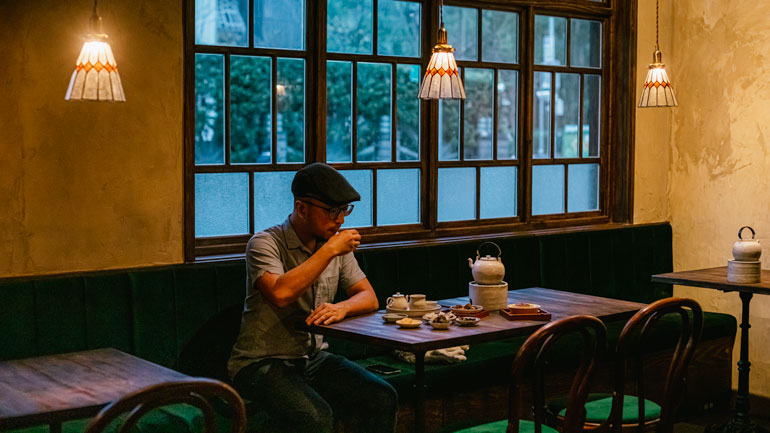 Xiao Yin Tea House
(小隱茶庵)
Tel: (02) 2723-8520
Add: No. 8, Aly 14, Ln. 150, Sec. 5, Xinyi Rd., Xinyi District, Taipei City
(台北市信義區信義路五段150巷14弄8號)
Hours: 11am~8pm
Website: teaart.gridnet888.com
Facebook: www.facebook.com/xiaoyinxinyi
Chen Wey Teashop
Taipei's historic Dadaocheng neighborhood was still an expansive rice-drying field when tea trader Lin Lan-tian built the area's first three commercial buildings in 1851. The area would later become a major center for Taiwan's international tea trade before its eventual decline./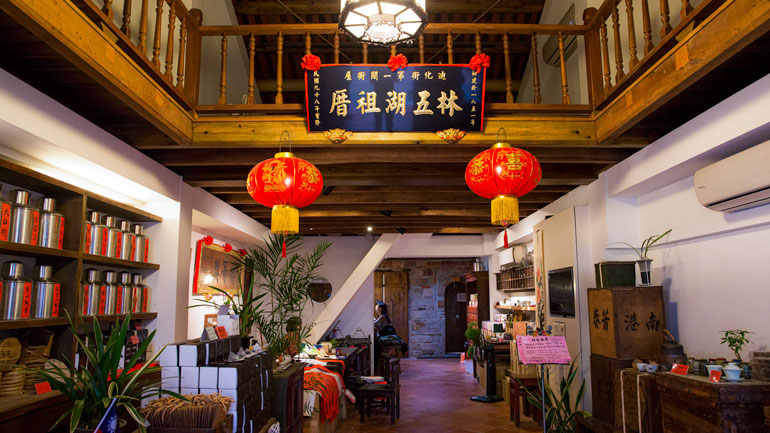 Today, one of Lin's Minnan-style structures houses the Chen Wey Teashop. Run by renowned tea master Lu Li-chen, this classic, traditional-style teahouse offers naturally farmed Taiwanese leaf as well as Pu'er and Wuyi varieties grown under Lu's supervision in mainland China. The shop's renovated interior still looks very much like it did over a century ago, complete with antique tea boxes, furniture, and other intriguing artifacts.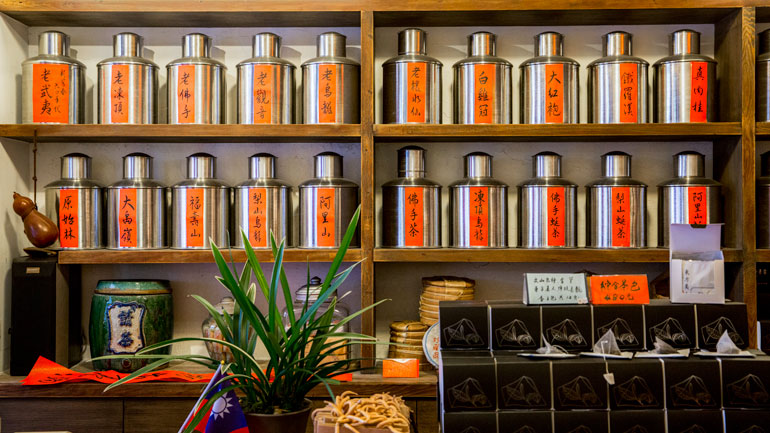 Lu is known for the attention to detail he pays to the production of his teas, and the farmers he works with grow the plants and process the leaves exactly according to his instructions. This quest for perfection is reflected not just in Lu's teas, but in the wares that are used here to make and serve tea as well. Chen Wey is not just a place to enjoy the fruits of Lu's life work, but also to learn about and experience the traditional and historic side of Taiwanese tea.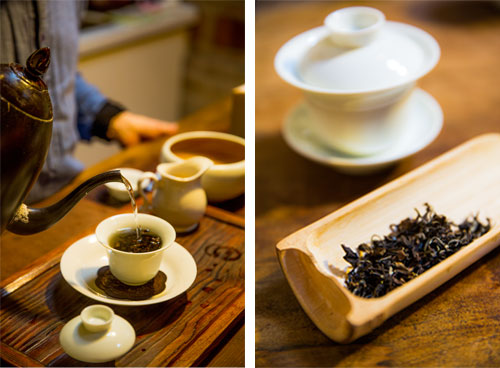 Chen Wey Teashop
(臻味茶苑)
Tel: (02) 2557-5333
Add: No. 156, Sec. 1, Dihua St., Datong District, Taipei City
(台北市大同區迪化街一段156號)
Hours: 10am~6pm
Facebook: www.facebook.com/Zhen.Wei.Cha.Yuan
Stop By Tea House
This cozy, unassuming teahouse tucked in an alley in Taipei's Yongkang Street commercial district blends modernity and tradition in a whimsical yet tasteful space that almost feels like a modern art gallery.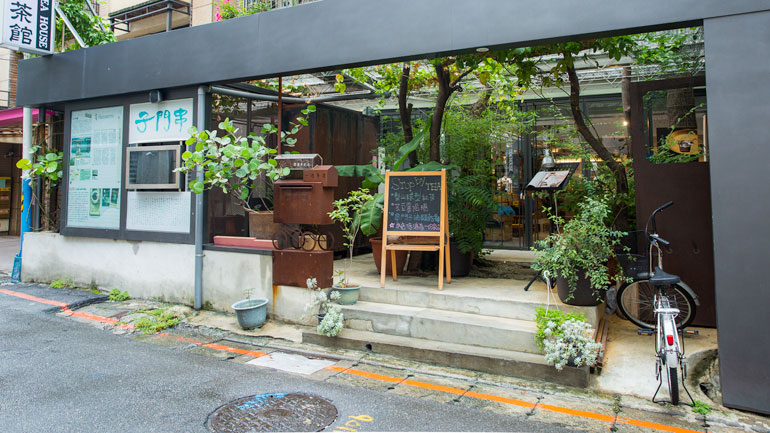 The tea is served in various creative ways – for example, the cold brew sampler consists of Oriental Beauty, high-mountain Jin Xuan, and charcoal-roasted Oolong tea served in test tubes, and during special events in the basement the tea masters deliver sample cups to guests through a winding "river" that snakes between the seats throughout the room. This is an ode to the "winding stream parties" of ancient China, where participants waited by a stream and composed a poem before a cup full of wine reached them. There's also a funky seating room made out of plastic cups.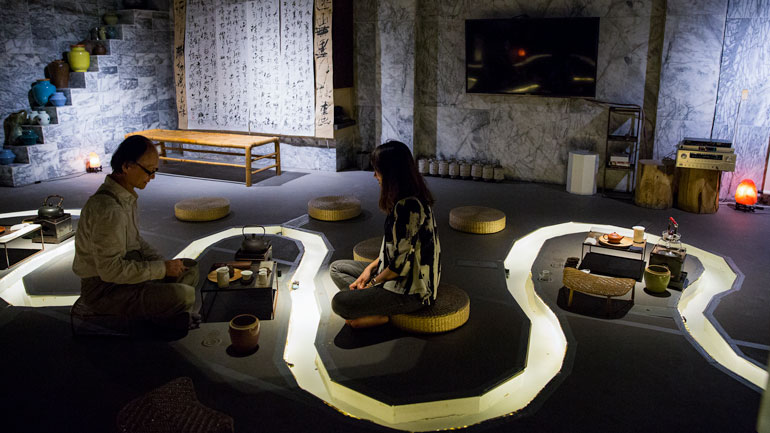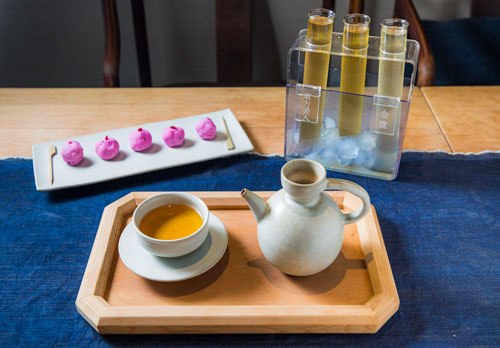 The main draw, however, is still the tea, and the menu is just as eclectic as its decor, ranging from classic Taiwanese varieties and aged bricks to more modern creations and non-tea offerings such as ginseng silver ear mushroom and charcoal roasted orange tea. The oil-less, low-sugar mini Chinese pastries are quite popular, as well as the vegan noodles and dumplings.
Stop By Teahouse
(串門子茶館)
Tel: (02) 2356-3767
Add: No. 9, Lishui St., Da'an District, Taipei City
(台北市大安區麗水街13巷9號)
Hours: 1pm~9pm
Facebook: www.facebook.com/stopbyteahouse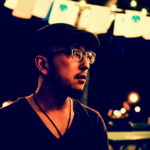 Han Cheung moved back to his adolescent stomping grounds of Taiwan in 2015 from frigid Wyoming, where he was the editor of the small town Rawlins Daily Times. He has a Master's in Journalism from the University of Missouri and has reporting experience in the US, Latin America, and Taiwan.