Bringing Ocean and People Closer Together
TEXT / RICK CHARETTE
PHOTOS / SU HUAI, VISION
Su Huai is a man on a mission. A licensed dive instructor and lauded underwater photographer based on Taiwan's tourist-hot Xiao Liuqiu Island, he runs a popular eco-focused dive-excursion enterprise, an eco-themed bookstore, and an ever-expanding sea turtle census. His mission: protecting the marine world by bringing fellow humans into more intimate and edifying contact with it.
Protectors of the Marine Environment
Visit the official PADI website (www.padi.com/diving-in/taiwan) and you'll read that Taiwan has "five major diving regions with fantastic visibility and varied marine life year-round." These locations also offer excellent snorkeling. One of the five is Xiao Liuqiu (Little Liuqiu), home to the Islander Divers outfit. This tiny upraised-coral island, just off Taiwan's southwest coast, is reached from the mainland via regular fast-ferry service. PADI describes this dive location thus: "…offers diverse coral reefs and walls make pleasant dives. Spotting turtles is almost guaranteed."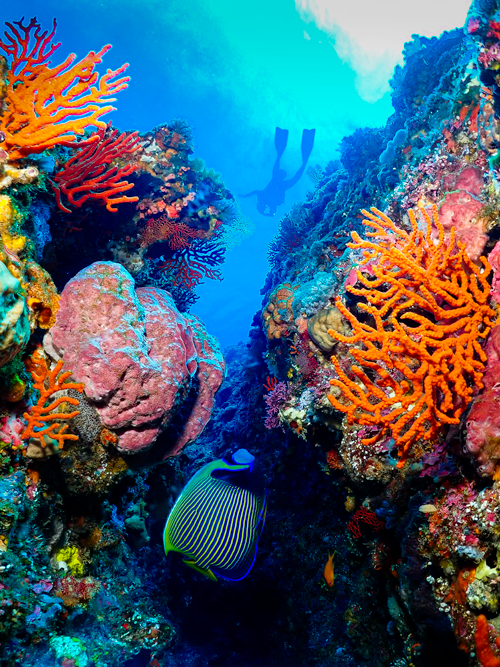 The mission of Islander Divers is much more than merely facilitating "tourism-industry entertainment distraction," and is a vision shared with other like-minded Taiwan dive enterprises. The Taiwan Dive Center (Taiwan-dive.com), perhaps the best-known dive operator name beyond Taiwan's shores, expresses the shared mission this way: "Bring Ocean Into Your Life …. Through diving, we wish to influence more people to become sea lovers, and follow us to protect the ocean. It's an important mission for our island nations to get closer to the ocean, know the ocean, and love the ocean."
Islander Divers was founded on Xiao Liuqiu in 2015. Su Huai, one of the two co-founders, is a former non-swimming city lad who has established a stellar reputation as a conservation photographer and PADI sea turtle specialty instructor. Islander Divers offers a range of excursion options accommodating those both with and without dive experience, and provides English service. Among its most compelling excursions are night dives (these are shore dives) and specialty sea turtle awareness dives. The enterprise also runs the island's sole bookstore, Linger Bookstore.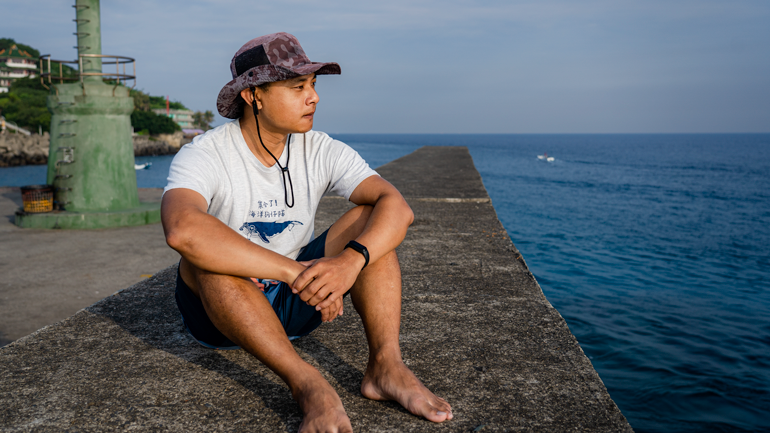 Instructor/Photographer/Environmentalist Su Huai
Su decided to learn to swim after, as he remembers, "a discouraging and somewhat frightening snorkeling outing in Kenting National Park with university friends during which I was pushed around almost helplessly by the swirling waters." Overcoming his landlubber fear of the water, he learned to swim, then trained as a lifeguard, then in 2010 learned scuba diving, and finally in 2013 became an accredited dive instructor.
During summers of professional work on Taiwan's Penghu Islands, "I developed a keen interest in marine life and ecology photography. Watersport activities are only appropriate in Penghu in summer, so I traveled in the off-season, living, doing internships, and working in Southeast Asia, especially Thailand, in Australia's Whitsunday Islands, and further abroad." During this period he came to feel deeply that there was a need to develop better understanding and a sense of caring for the marine ecology of Taiwan among the country's population, and in 2015 he co-founded Islander Divers. Describing himself as a "sea turtle nerd," beyond promotion of Taiwan marine ecology awareness through Islander Divers' dive courses, Su specializes in underwater photography and recording the ecology of Taiwan's sea turtles, sharing his love of the sea through his images and writings.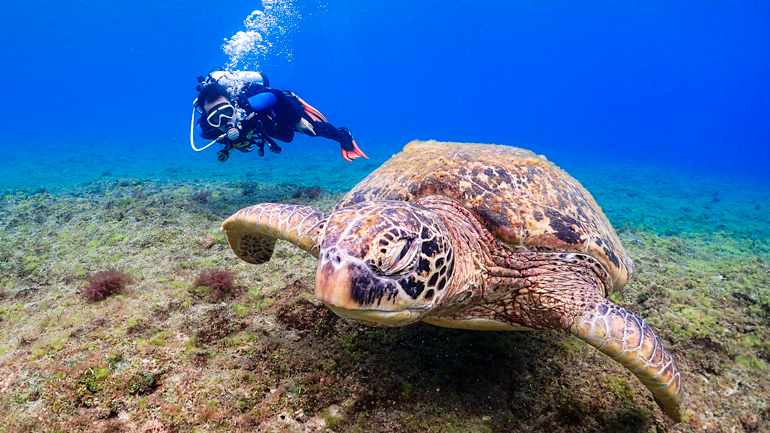 Another Su/Islander Divers venture is the TurtleSpot Taiwan initiative, an ongoing census of Taiwan's sea turtles. "This is a citizen-science 'household registry' for sea turtles in Taiwan," says Su. As his interest in marine life deepened in his early dive years, "I became curious about where sea turtles come from, and in their behavior. TurtleSpot Taiwan, established in 2017, has collected thousands of turtle photos and recorded the behavior of turtles all around Taiwan, identifying and naming each and developing a behavior profile – things like where they like to eat, sleep, and rest, feeding preferences (he points out that sea turtles are omnivorous), and so on – and also recording changing marine conditions." Individuals are primarily identified using their facial scutes patterns. To date, over 500 turtles have been profiled around Xiao Liuqiu and over 100 around the rest of Taiwan. Check out each at turtlespottw.org.
Su states that humans are now the greatest enemy of turtles, notably invasive human developments in turtle habitats and marine pollution. Xiao Liuqiu has seen a great tourist boom in the past two decades, and this has meant more boats, more propeller injuries, waste-treatment issues, underwater trash…. "If I can help people gain a better understanding of our marine environment, everyone benefits – the human denizens that live above the water, and the marine denizens that live in it."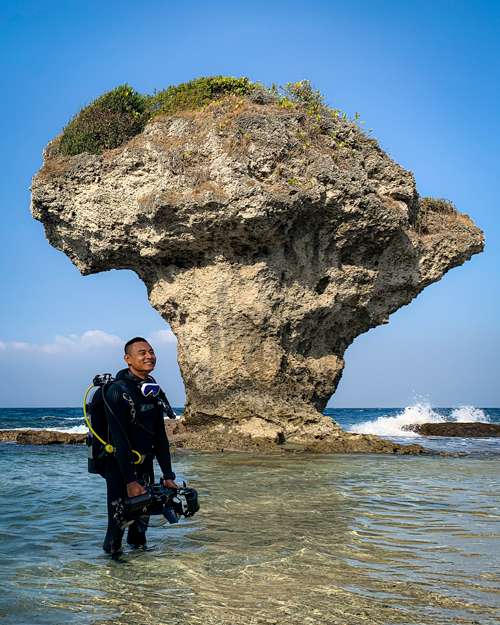 Underwater Photography Around Taiwan
"Though Taiwan may not be the first country that comes to mind when talking about diving in Asia, it is an excellent choice, with great biodiversity." The five premium sites are Longdong on the northeast coast, Green Island and Orchid Island off the southeast coast, Jiangjun'ao Island and Dongji Island in the Penghu archipelago in the Taiwan Strait, Kenting [Kenting National Park] at Taiwan's south tip, and Xiao Liuqiu. Among the greatest Taiwan prizes for divers, and especially underwater photographers, are Green Island's hammerhead sharks (January~March) and Xiao Liuqiu's sea turtles.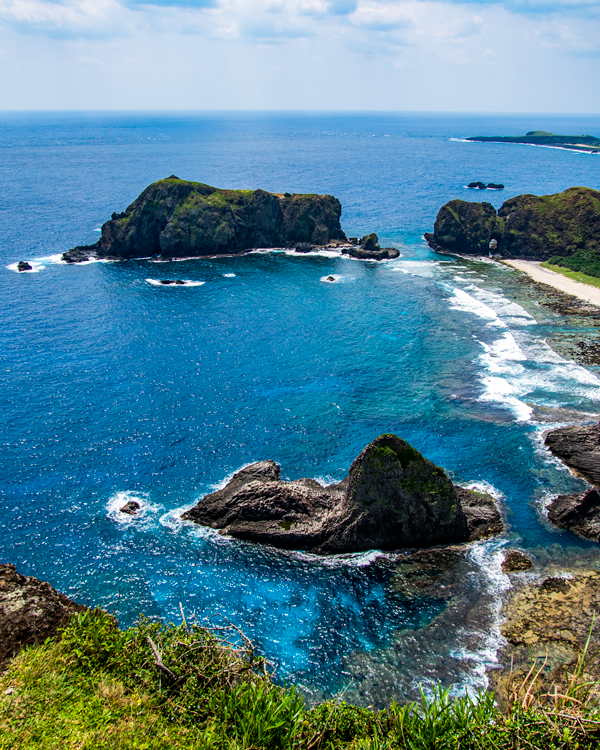 "The best diving is April~September, with good visibility everywhere. October through February, most Taiwan dive sites are not suitable for diving due to the cold northeasterly seasonal winds. Waters are more turbulent, and visibility reduced. The exceptions are far-south Kenting and Xiao Liuqiu; with their warm currents, you won't even need a dry suit. Winter water temps are about 24~26 Celsius." He reminds everyone that though summer is prime dive time, it's also typhoon season, so weather checks are a must.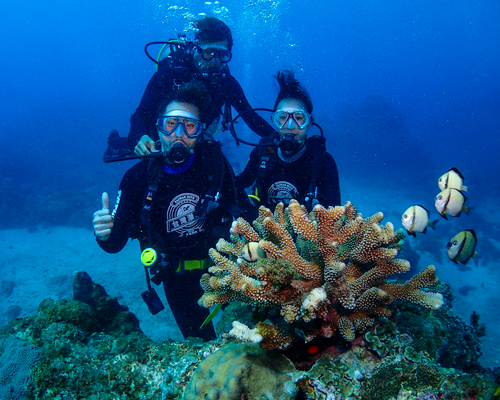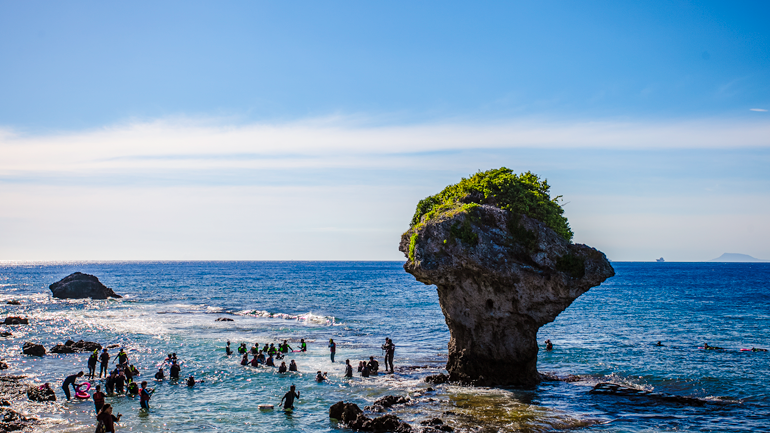 Su's interest in underwater photography emerged in tandem with his deepening understanding of marine life. "In effect, I wanted to use photography to deepen my learning. I'm primarily self-taught, finding information online and in print and picking the brains of all underwater photographers I'd come across."
His favorite subjects are sea turtles, and he's also photographed whales around Tonga. In recent years, he has developed a keen focus on coral and on the "inanimate elements of the marine environment," such as trash and other manmade "contributions," as part of the TurtleSpot campaign to record marine environment changes.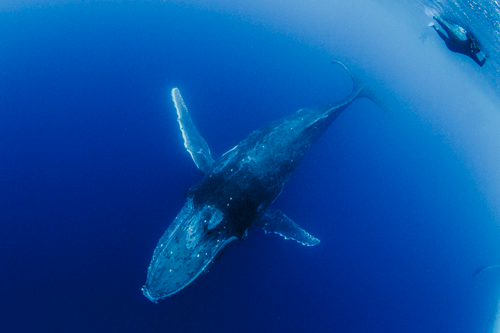 "The best tip I can give others for the best shots of marine animals – patience. Each turtle, for example, is an individual. Observe what it's doing, and don't get too close. If its behavior doesn't change, move just a bit closer, observe again, and repeat."
Islander Divers
(島人海洋文化工作室)
Tel: 0936-237-586
Website: www.islanderdivers.com
Linger Bookstore
(小島停琉)
Tel: 0936-237-586
Add: No. 255-1, Zhongzheng Rd., Liuqiu Township, Pingtung County
(屏東縣琉球鄉中正路255-1號)
Facebook: www.facebook.com/lingerbookstore
Website: www.lingerbookstore.com (Chinese)