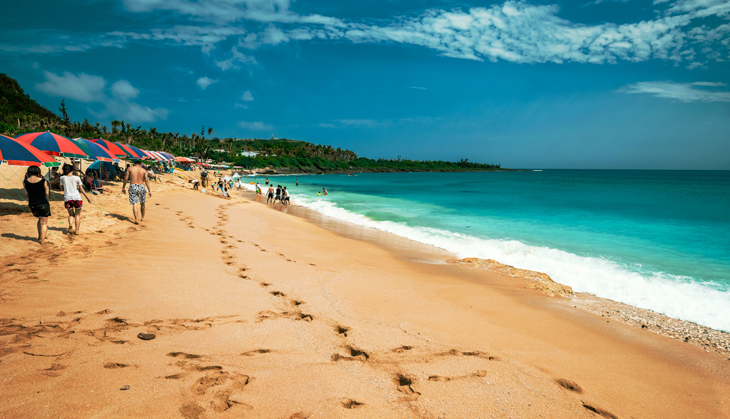 Let's go on a Kenting Trip! Kenting National Park is one of Taiwan's premier international-tourist attractions. Taking up island Taiwan's southern tip, it is a vast sun-drenched playground. Nobody visits for just a day; to do it justice, three are recommended. Your play-options list for outdoor fun is almost ocean-wide.
Text: Rick Charette; Photos: Ray Chang, Maggie Song
By the sea, on the sea, and in the sea, it's swimming, jet-skiing, banana-boating, beach volleyball, coastal-zone eco-tours, snorkeling, scuba diving…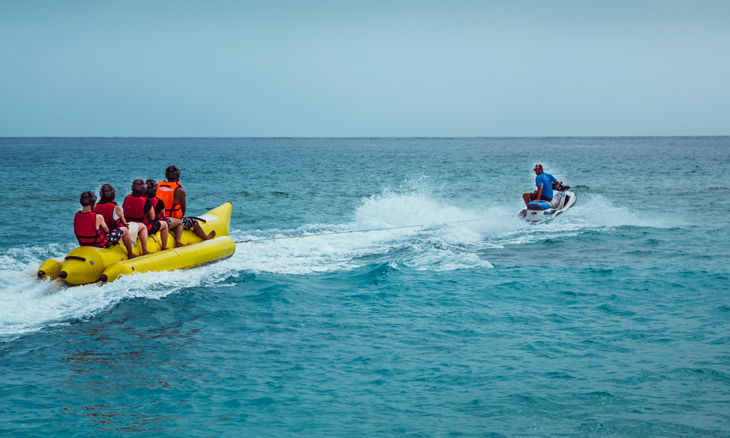 Inland, it's bicycle and scooter jaunts, visits to peninsula-edge lookouts and a historic lighthouse, history and nature walks (guided if desired), night-market browsing, go-karting…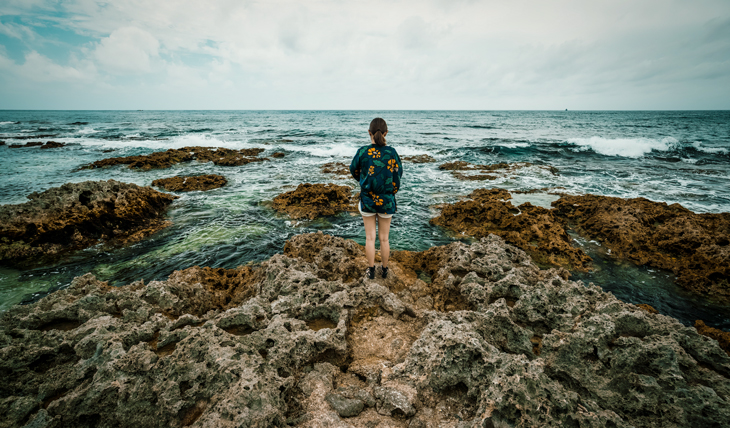 Nicely rounding out the Kenting* experience are also such indoor pleasures as seaside café/restaurant/bar trawling, resort fun with large fitness centers, gamesrooms, and massage/spa services, a fully indoor family-theme water-fun park, and even a beer museum/craft-beer brewery.
* In this article "Kenting" refers to Kenting National Park, plus Hengchun (which lies just outside the boundary of the park), following the official Romanization used by the park administration. "Kending" (Hanyu Pinyin Romanization) refers to the beach-resort town where most of the area's hotels and businesses are located.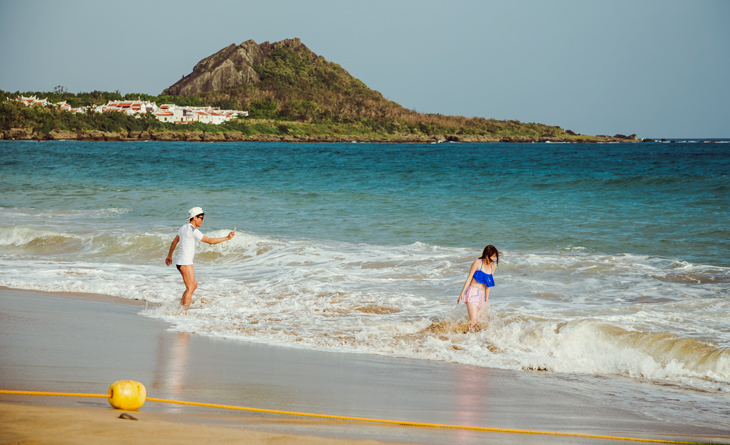 The area's key road is Provincial Highway 26, which on the peninsula's west, south, and east sides provides splendid views of coast and sea. Almost all visitors enter the region along the west side via the city of Kaohsiung.
In the pages to follow we roll out Kenting destinations explored and experiences chalked up on our most recent . Time's a-wastin'. Let's hit that coastal highway!
Kenting National Park and Its Hengchun Peninsula Home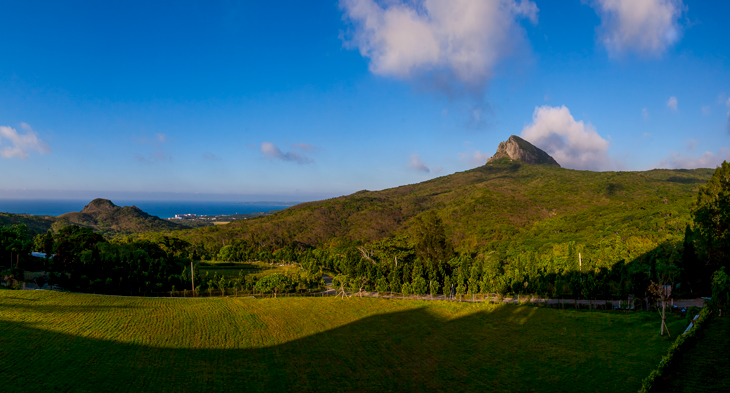 Kenting is one of Taiwan's six national parks. It was the nation's first, officially opened in January 1984. On the southern tip of the tobacco-leaf-shaped island, it takes up much of the Hengchun Peninsula. The park today encompasses about 20,000 hectares of land and about 16,000 of ocean. This precious ecological/recreational area is best known for its exposed coral reefs (uplifted through tectonic activity), oceanic natural resources, and coastal tropical rainforest.
Kenting Trip: West Coast and Maobitou Peninsula
On the coast in the park's northwest corner, along County Highway 153 not far off Highway 26, is the renowned National Museum of Marine Biology and Aquarium (www.nmmba.gov.tw). Directly to its north, lookouts cap a large hill that strikingly soars up amidst flatlands all around. This is gentle-slope Mt. Gui ("Turtle Mountain"), shaped like a giant turtle shell. The Mt. Gui Trail snakes up to the 72m-high crest, from which grand inland panoramas of farmland, towns, and backdrop mountains fill the eye. The hill's upper reaches are dotted with military ruins; the Japanese landed a punitive expedition on local shores in 1874, after area natives massacred shipwrecked Japanese sailors, and fortified the mountain after taking over Taiwan in 1895.
Klook:
Kenting National Museum of Marine Biology & Aquarium Admission Ticket
National Museum of Marine Biology and Aquarium Sleepover Experience in Kenting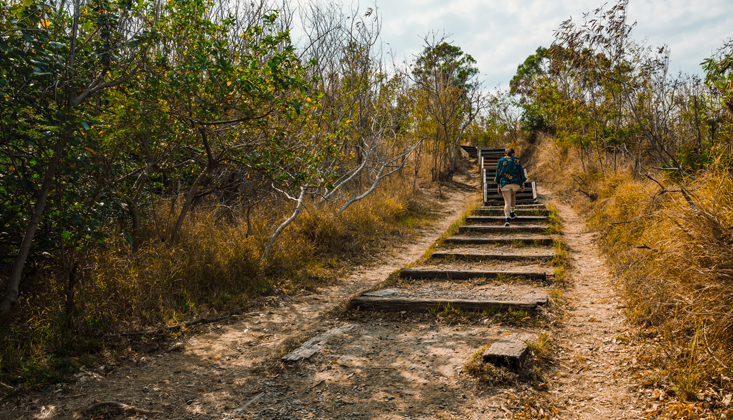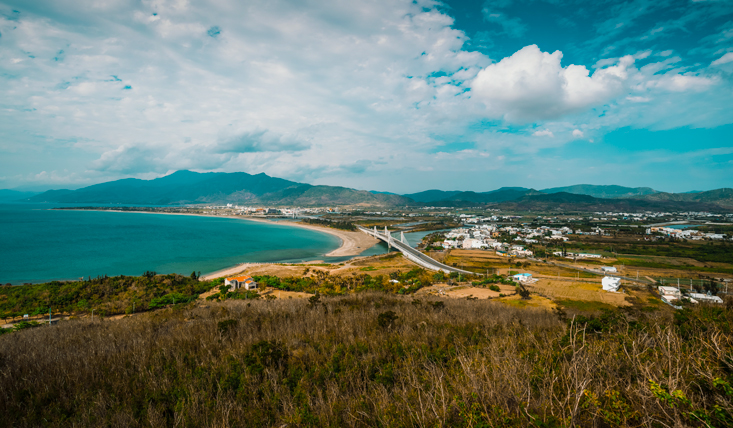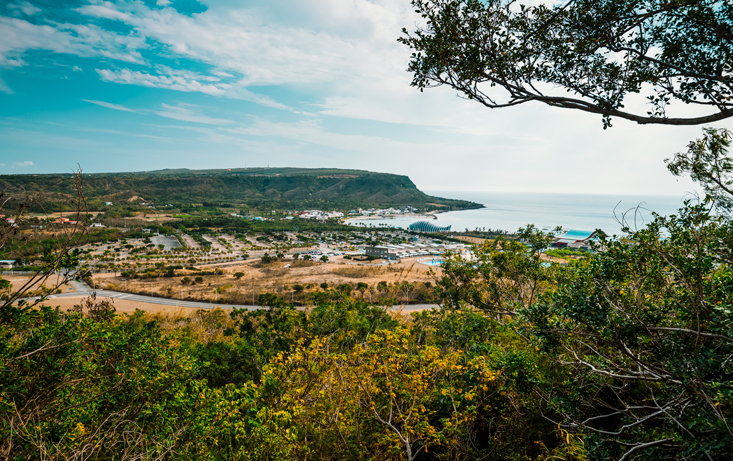 Directly south of the museum is Houwan (Back Bay), fronted by an eponymous somnolent fishing village. The village's short water-facing street is home to a diving/snorkeling enterprise, attractive café/guesthouse, and a few other tourist-targeted businesses. Between the village and the bay's placid waters, framed by upraised coral reefs, is a wide wood-built sun terrace with info boards; from here, a long boardwalk follows the shoreline. The combination of open sea and museum complex, Mt. Gui, and soaring southern mountains beyond ensures pretty take-home photo memories.

Further south along the national park's west-coast side is Wanlitong and, near its southernmost tip, Baisha Bay. Compact Wanlitong village, markedly quieter than most other local tourist hotspots on the Hengchun Peninsula, is perched up above the raised-coral coastline. The tiny, shallow bay here is a first-rate snorkeling spot and there is just one on-site snorkeling outfit, resulting in a notably relaxed feel to the fun akin to a party atmosphere, with waves of groups wading out into the waters behind instructors.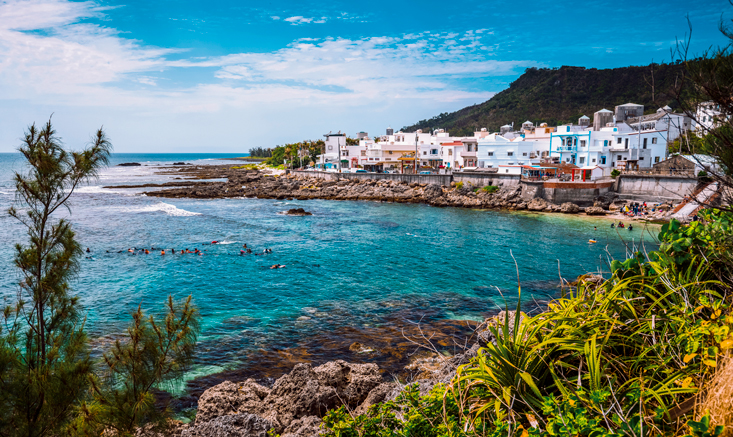 Baisha ("White Sand") Bay has a long white-sand beach with a cluster of beach bars and simple eateries at its northern end, and water-fun rental facilities at different points. There is paid parking at the northern end, and free parking about halfway down its length, the latter leading to a stretch somewhat quieter on busy weekends/holidays.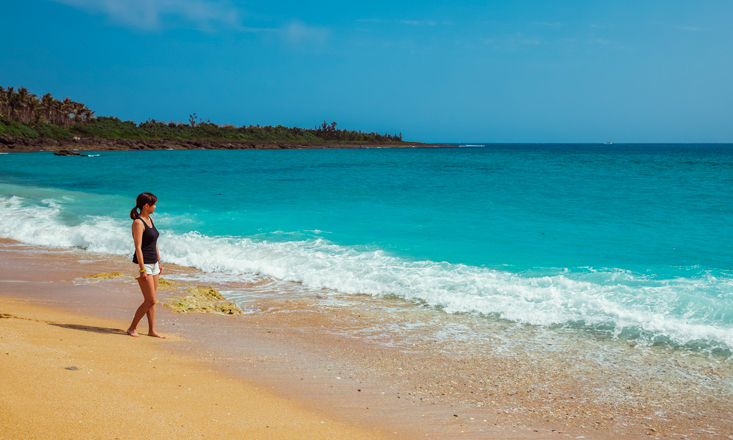 Note: Adding to Baisha Bay's popularity is the fact that it was a shoot location for Hollywood director and Taiwan native Ang Lee's huge hit Life of Pi. When Pi finally drifts ashore on a beautiful deserted white-sand beach in tropical Mexico, it was actually here.
Baisha Bay is on the Maobitou peninsula, which projects south into the sea from Hengchun Peninsula's southwest corner. Maobitou offers superb scenery at its southern tip, giant boulders strewn at the foot of its cliffs, viewed from a breezy plateau-top park which has food and drink facilities. High up its eastern side is Houbihu Fishing Harbor, from which many area diving/snorkeling enterprises launch boat expeditions.
Klook: Kenting Shore Diving for Beginners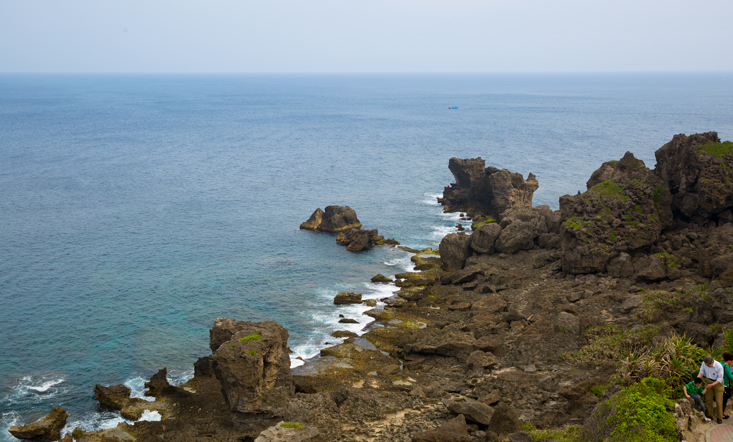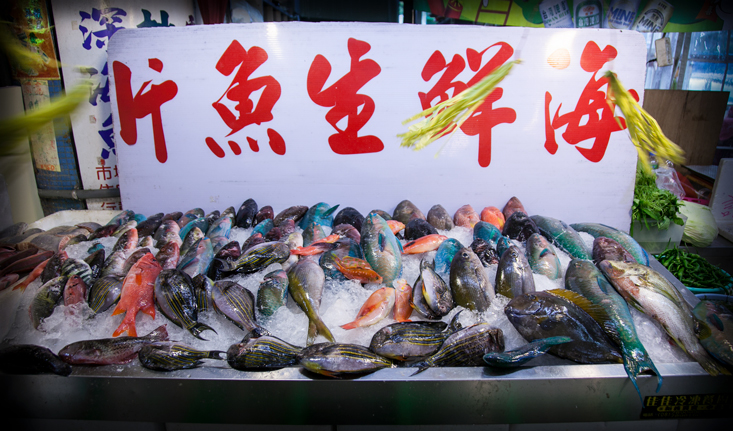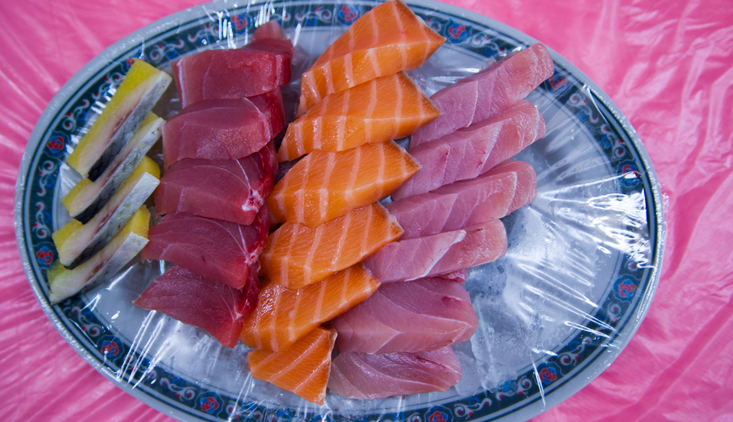 Tip: The dockside Houbihu tourist center has busy seafood eateries with fresh-off-the-boat selections, and many Kenting specialties. Sashimi at just NT$100 a plate – an unbeatable deal.
Now, back to Highway 26. Hengchun is Hengchun Peninsula's largest settlement, and the national park's gateway town. The key attractions in this slow-paced old place, which labels itself an "Ancient Town," are the remnants of the brick-façade city wall built by China's Qing Dynasty government in the late 19th century, for protection against anticipated attacks by the world's colonial powers and to intimidate the region's rebellious indigenous population.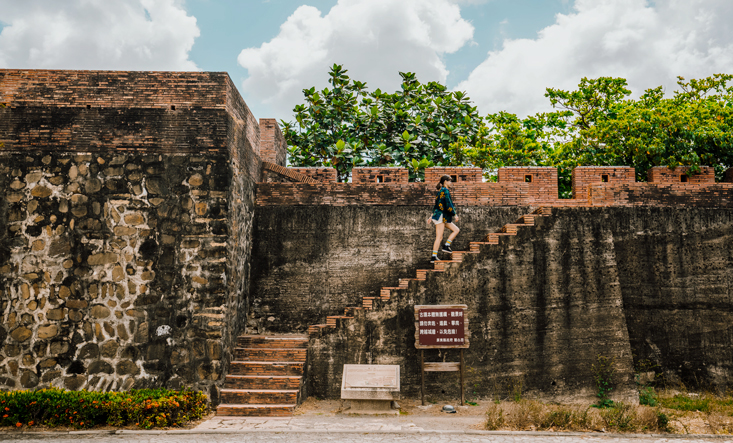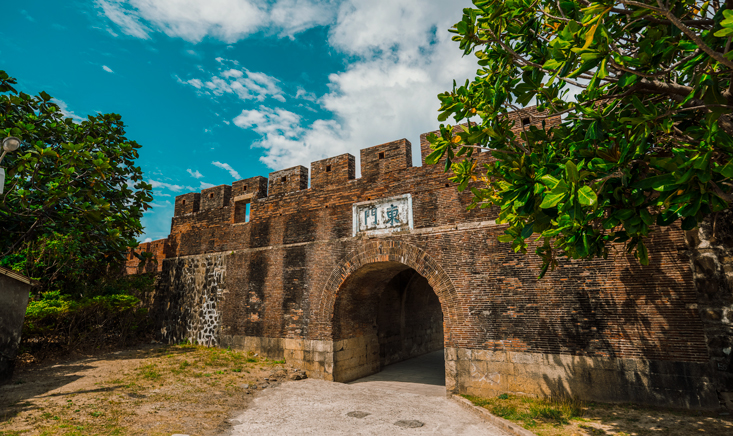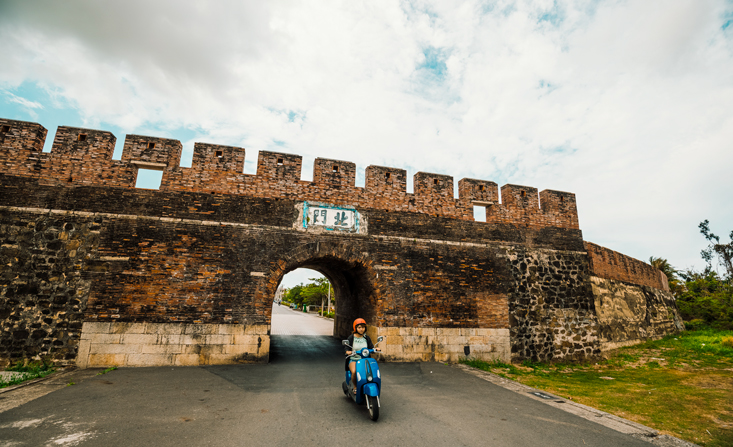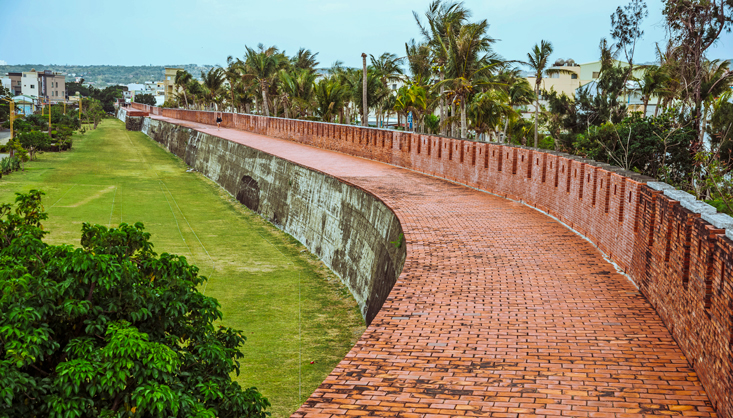 A total of 2.7km of the wall and gates has been preserved. The best-known site is Nanmen (South Gate), in a small traffic circle in today's town center, famously featured in Cape No. 7 (2008), the top-grossing movie in Taiwan film history. Close by is Hengchun's bright, floral-color City God Temple, first built in 1892, razed by the Japanese, and rebuilt in 2014 to house the City God icon, which was hidden away from the Japanese.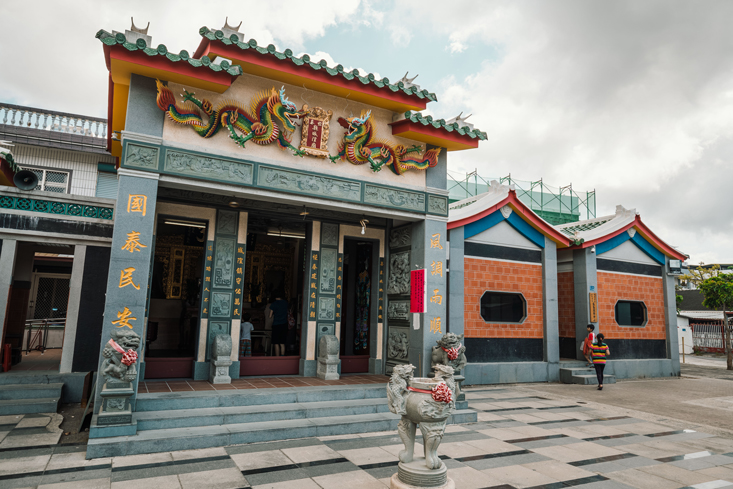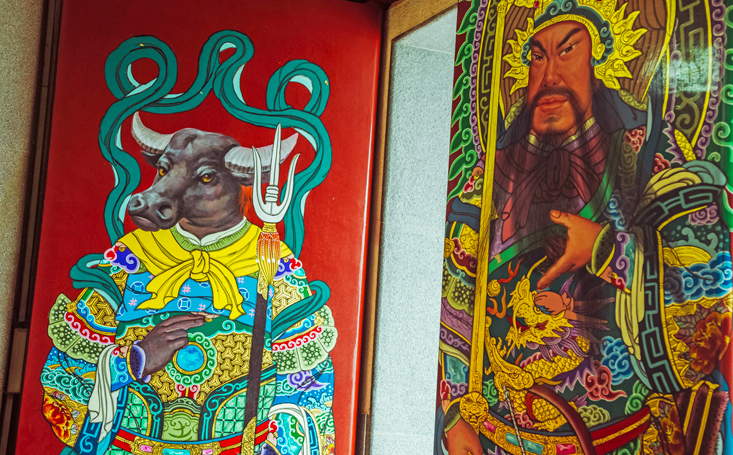 Café 1918 is close by Hengchun's South Gate, in a heritage building originally built in 1918 to house a credit union and last housing a farmers' cooperative. One of the original safes is now part of the décor. Café by day and bar by night, the quest here is to be a welcoming LOHAS space, sharing space with artists and craftspeople – currently, metalwork-jewelry classes are held on weekends, and local crafts and specialty-food products are displayed for sale. The highlight menu offering is a distinctive chicken curry made with dark chocolate.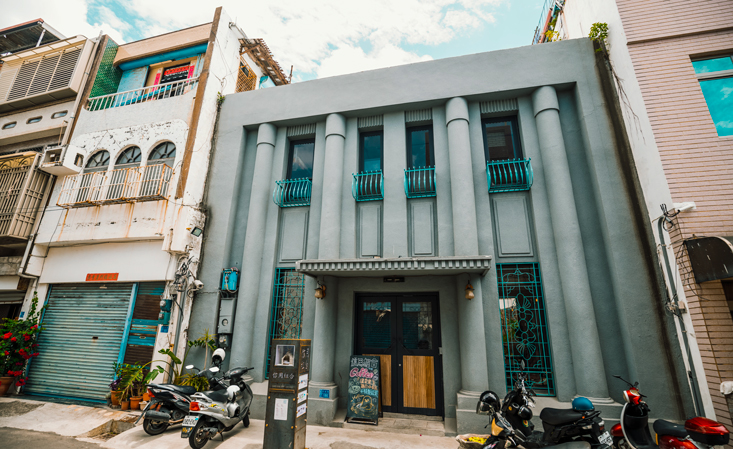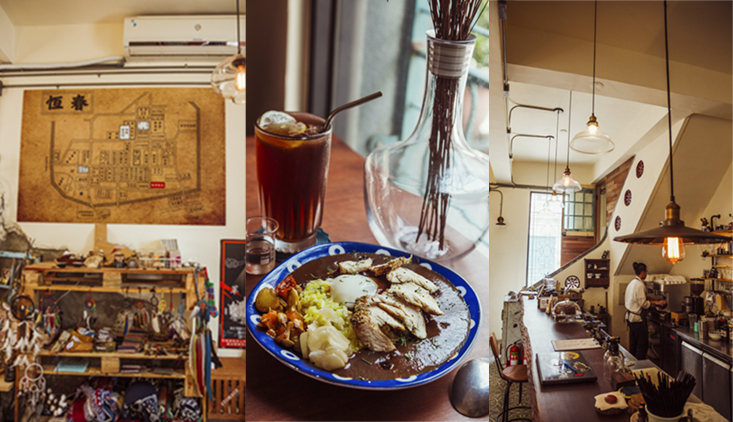 Taiwan's only beer museum, off Highway 26 on Hengchun's west side, is also home to a craft-beer brewery. At Hengchun 3000 Brewseum visitors are met with one soaring wall lined with 3,000 beer mugs/steins sourced from around the globe, and another with a giant Mona Lisa made of beer-bottle labels. Sit down to try the brewery's numerous creations on tap, all named after Hengchun-area places, or buy them in cans to take home. The upstairs museum covers the history of beer, the highlight a rendition of an ancient Mesopotamian beer-drinking song.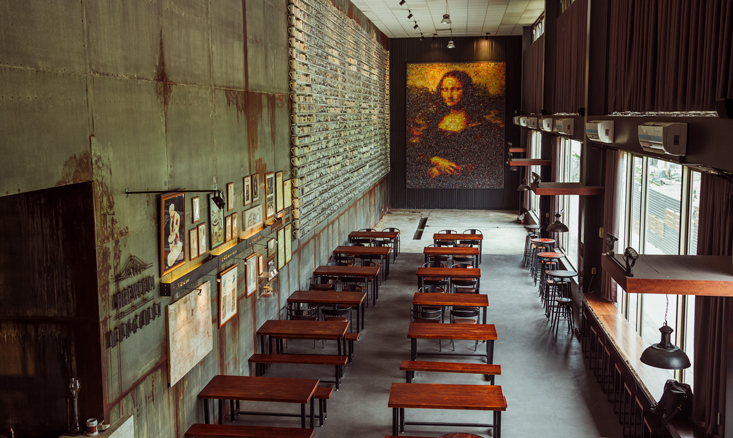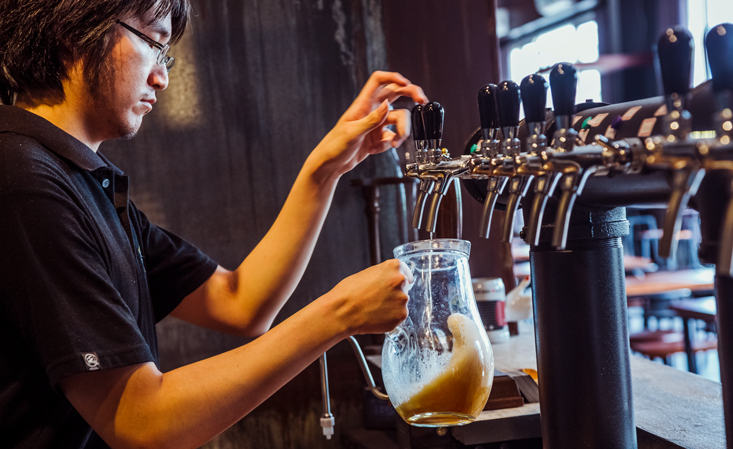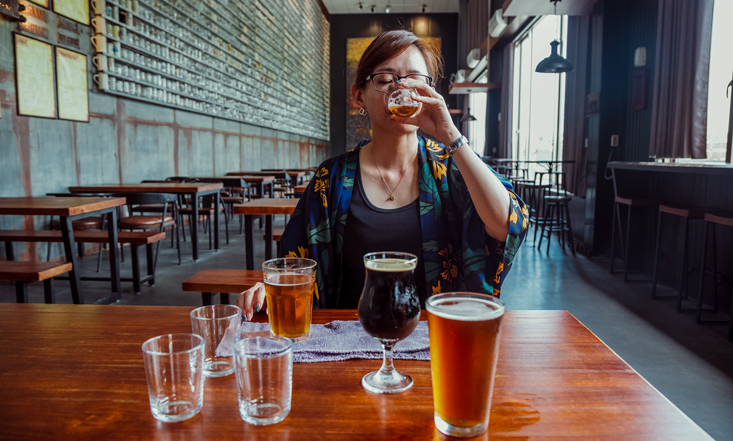 Hengchun 3000 Brewseum (恆春3000啤酒博物館)
Further reading on other sites
Kenting Trip: South Coast
Between the Maobitou peninsula on the west and Eluanbi peninsula on the east, this is Kenting's most popular tourist area, with a high concentration of beaches and resorts as well as restaurants, bars, cafés, and boutiques.
Nanwan (South Bay), is in the crook where Maobitou and the main body of the Hengchun Peninsula meet. This is the best and most popular locale for inshore frolicking – swimming, windsurfing, jet-skiing, kayaking, banana-boating, skin-diving, snorkeling, what have you. There are changing rooms, showers, and shops renting all necessary gear/toys. Adding to Nanwan's allure is the fact it is second only to nearby Kending town, which we visit next, for restaurants and watering holes.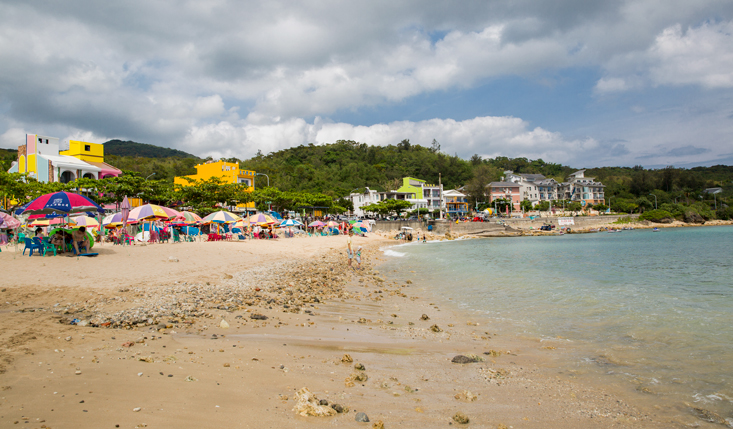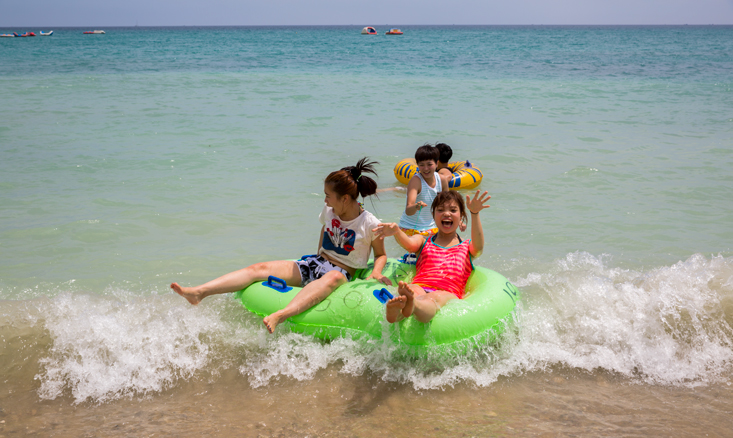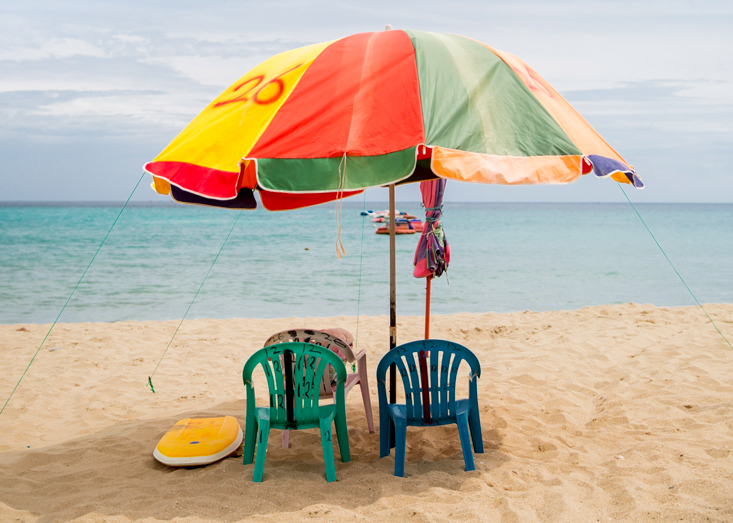 Piccolo Polpo has a superb location on Highway 26 at Nanwan, with an unfettered beach-action view through its large windows. The dishes crafted in the bistro's central-area open kitchen are oriented toward continental European selections. Most impressive among the numerous first-rate experiences are the seafood carpaccio and the wild mushroom and truffle risotto with duck confit (the latter the most popular entrée), and for dessert the affrogato with crème brulee. The menu is changed with the seasons, in keeping with the changing regional ingredients available.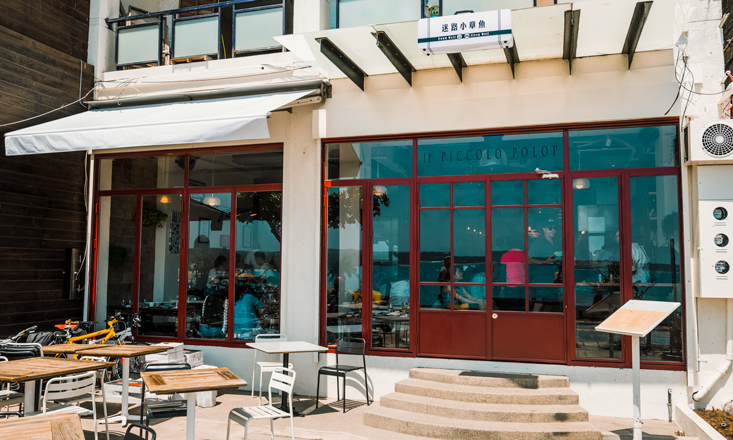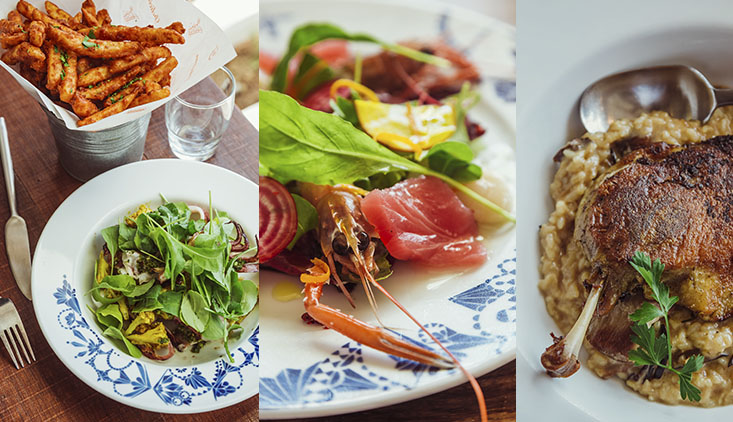 Piccolo Polpo (迷路小章魚)
Add: No. 68, Nanwan Rd., Hengchun Township, Pingtung County
(屏東縣恆春鎮南灣路68號)
Tel: (08) 888-2822
Website: piccolopolpo.com (Chinese)
Hotel
Kenting's Finest — CHATEAU Beach Resort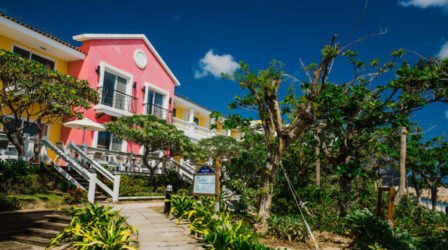 Kending is fun-central in the park. This is where all the action happens at night. Highway 26 acts as the town's main street, and as the sun retires over the western horizon each day local residents don vendors' hats and line both sides of the road with food stalls. Backing them are scores of bricks-and-mortar enticements, with everything from cafés, bars, and restaurants to indie-designer jewelry and craft shops.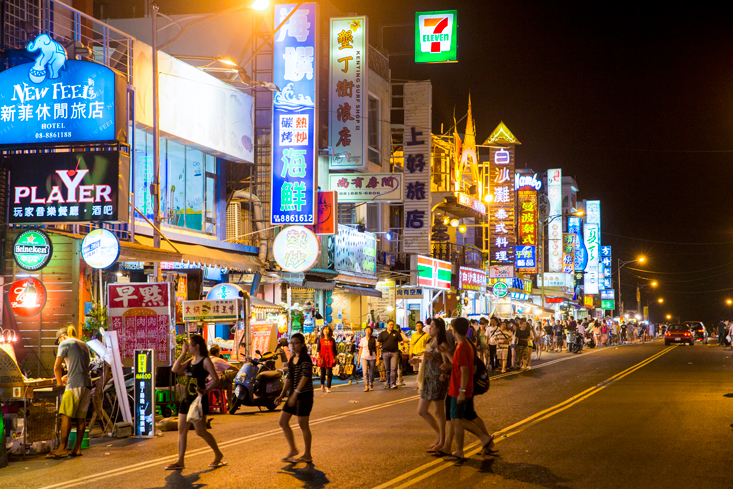 On the town's eastern edge are some especially entertaining sights – small lorries which, once the shutters on the back cabins are lowered, magically become bars and pizzerias. Owners set up seating alongside. The former are stocked to "the rafters" with famous spirits brands, and the latter have flatbed-mounted brick pizza ovens.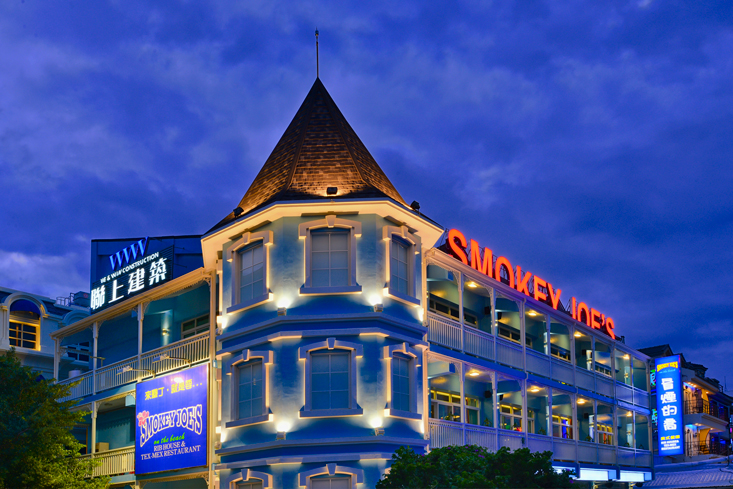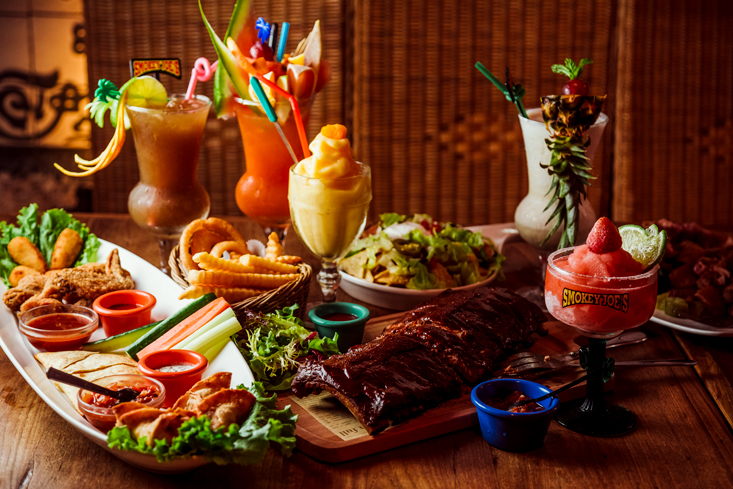 Smokey Joe's is a south Taiwan restaurant chain that has expanded into boutique hotels, one on Kending town's main drag. Restaurants have a retro U.S. of A. 1950s style, decorated with iconic old-times food-brand cans, old license plates, etc. The food matches the décor – burgers, BBQ ribs, pizza, and so on. At the new Kending town 3-floor Dawan Street branch, the special focus is on Tex-Mex, at the main-drag hotel restaurant, just steps away, pizza and pasta.
Smokey Joe's (冒煙的喬)
Add: No. 188, Dawan Rd., Hengchun Township, Pingtung County
Tel: (08) 886-2631
Website: www.smokeyjoes.com.tw
Ocean Blue is right on Kending town's main drag, making it prime real estate for people-watching, especially when the daily night market gets rolling. The restaurant has been in place for 20 years. The menu sees continual transformation – today's foci are Thai, Japanese, and Italian dishes, with selected local specialties. Another emphasis is fresh, healthy, natural ingredients, with no use of MSG. Plans are to introduce ever more local Hengchun produce. Specially recommended are the Italian-style smoked salmon salad, Bloody Mary beef stew, French-style lamb chops with mint, and Japanese-style baked potato with cod roe.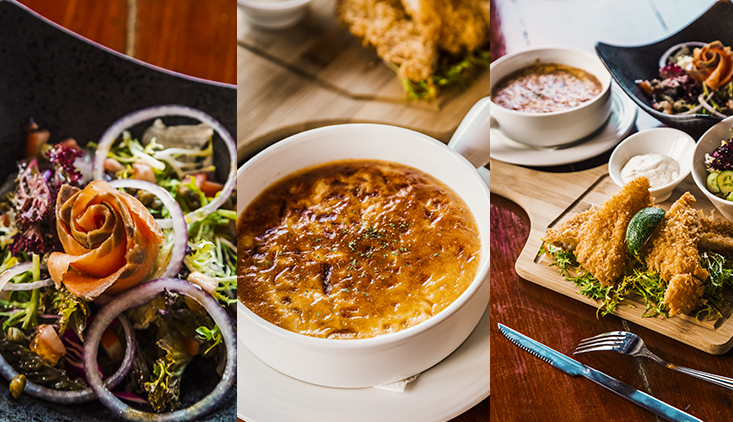 Ocean Blue (海餐廳)
Add: No. 111, Kending Rd., Hengchun Township, Pingtung County
(屏東縣恆春鎮墾丁路111號)
Tel: (08) 886-2800
Website: www.ocean-blue-kenting.com
Off Kending's eastern end, in a pretty sheltered cove, is the Xiaowan ("Small Bay") beach, directly across Highway 26 from two of the park's major resort hotels, one of these the Howard Beach Resort. During the day, a wide range of watersports equipment is available for rent at the beach. At night, after the water-focused fun ceases, the wide-deck wood-theme café/eatery here transforms into a mellow open-air bar, '70s rock complementing the soothing music of arriving waves.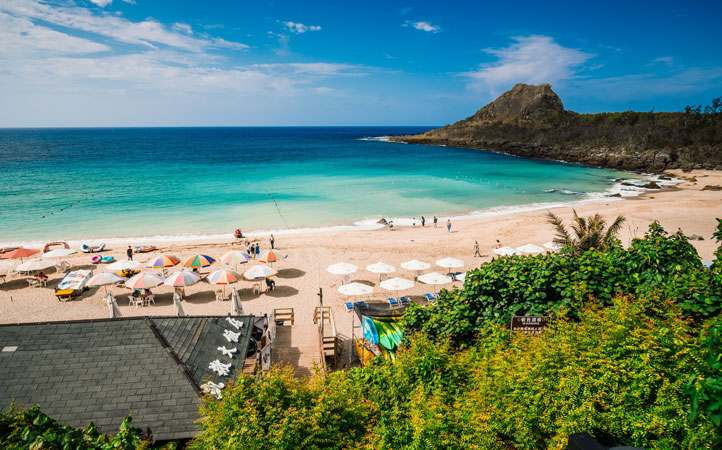 Hotel
Another Great Hotel: HOWARD Beach Resort KENTING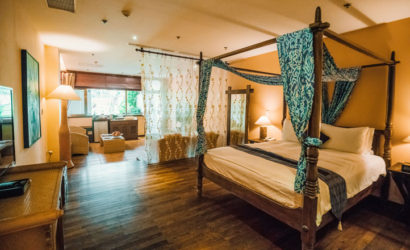 East of Kending is Banana Bay, site of a miniscule fishing harbor. On either side of its cement breakwater walls is easily accessible upraised-coral shoreline, beyond which is an underwater world popular with divers.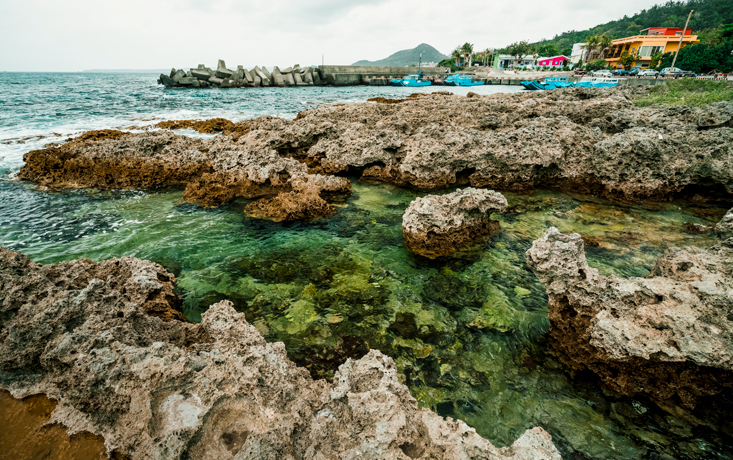 Nearby iconic park attractions are Shadao and Sail Rock. The first is a magnificent 300m stretch of protected beach that actually shines. In the on-site exhibition hall, explanatory signs say that this is Taiwan's purest shell-sand; the coast makes a dramatic 90-degree turn here, meaning materials are washed in and churned but not easily washed out. Sail Rock is a towering 18m-high slab of exposed coral offshore said either to resemble a Chinese imperial war junk or US President Richard Nixon's profile. But what I see is a Kenting angelfish.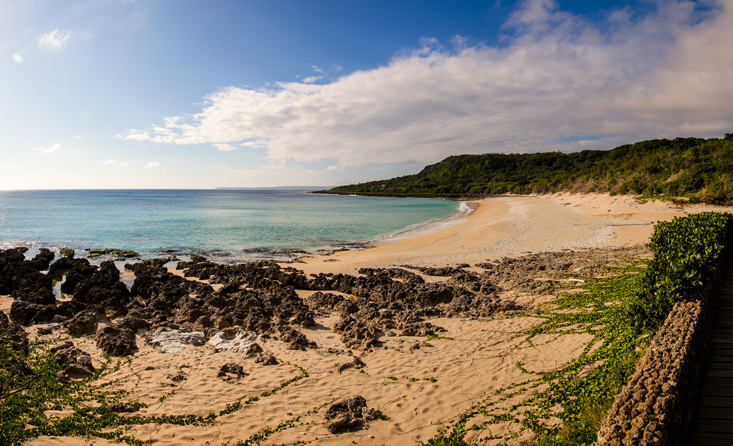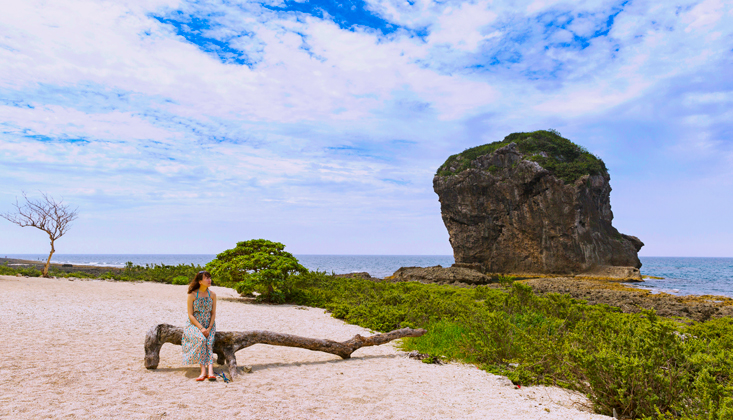 Holiday+ Kenting (承億文旅 墾丁雅客小半島)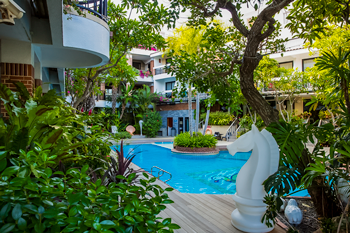 Add: No. 237, Kending Rd., Hengchun Township, Pingtung County
(屏東縣恆春鎮墾丁路237號)
Tel: (08) 886-1272
Website: www.hotelday.com.tw
Kenting Trip: East Coast and Eluanbi Peninsula
Like its Maobitou sibling across the bay, the Eluanbi peninsula juts from its Hengchun Peninsula anchor pointing south. Its southernmost point is also the Southernmost Point of Taiwan, reached on foot in about 15 minutes from the Highway 26-side parking lot (fee), the last 500 meters along a wide, pleasant path shaded by thick tropical growth, notably various cactus species. You emerge, quite suddenly, right on the jagged, wave-pounded rocky shore, at a lookout deck with an artistic geo-point marker. Neighboring-area sightseeing spots are the historic Eluanbi Lighthouse and pristine Longkeng Ecological Protection Area.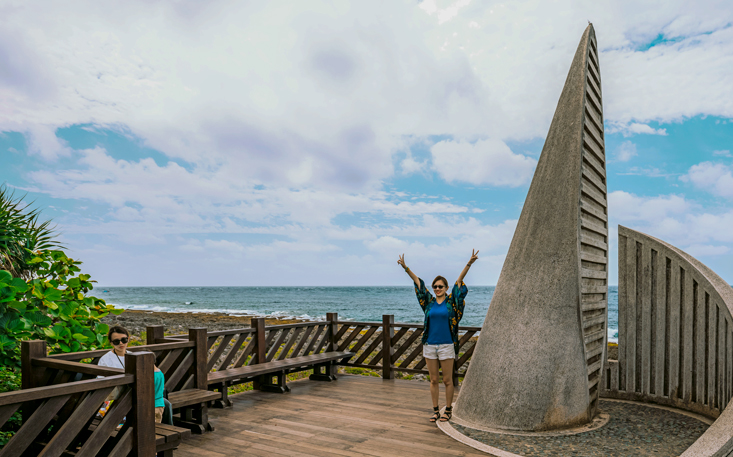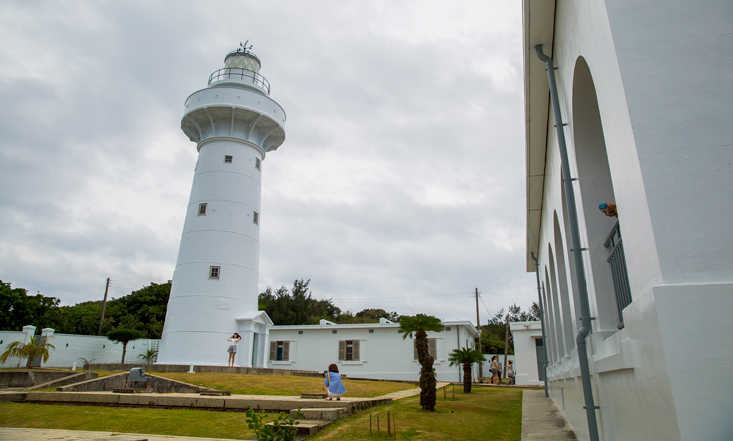 Spread out alongside Highway 26, Longpan Park is not much more than a selfie-stop for most – move beyond the roadside parking lots to the most popular lookout points, however, and you'll be rewarded with what to your writer are Kenting's most magnificent visuals, save perhaps for the circus of colors witnessed on its snorkeling/diving excursions. The eagle-vantage views from the coastal clifftops, with their disintegrating cliff sections (off limits), wave-pounded reefs below, mountain after mountain falling into the sea beyond that, are stunning. Watch for water buffalo and sika deer grazing in the cliff-base grassy areas.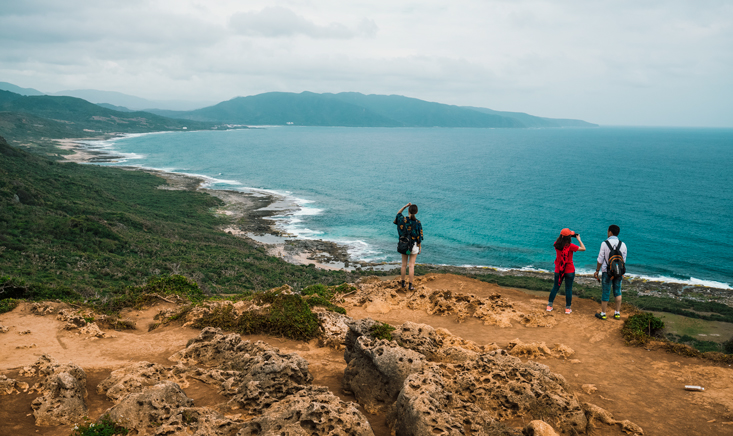 North of Longpan, Highway 26 reaches a T-intersection. Turn right for almost immediate entry into Jialeshui (entry fee). This isolated, cliff-backed 2.5km stretch of coastline is one of Taiwan's premier geological classrooms. Tours are given on open-sided golf-cart-style buses, drivers explaining (in Chinese) the three different geological layers clearly discernable, most notably pointing out the nature-carved outcroppings of the sandstone stratum, once on the sea bottom, resembling such familiar figures as the hare, frog, and seahorse.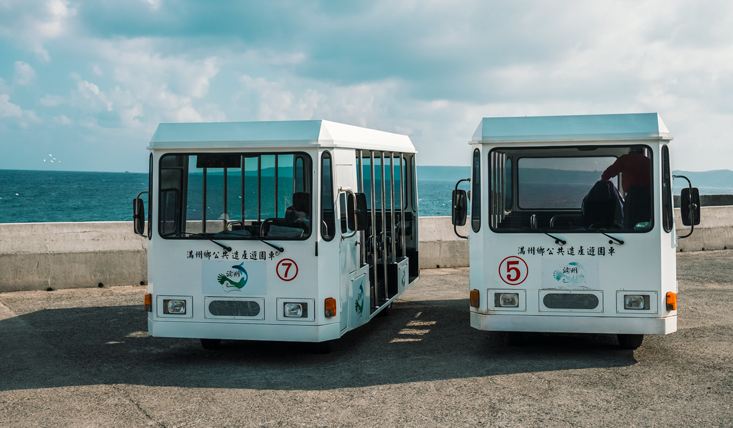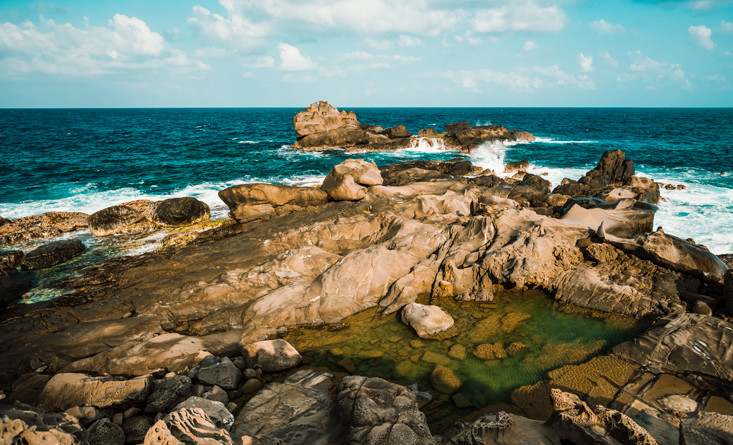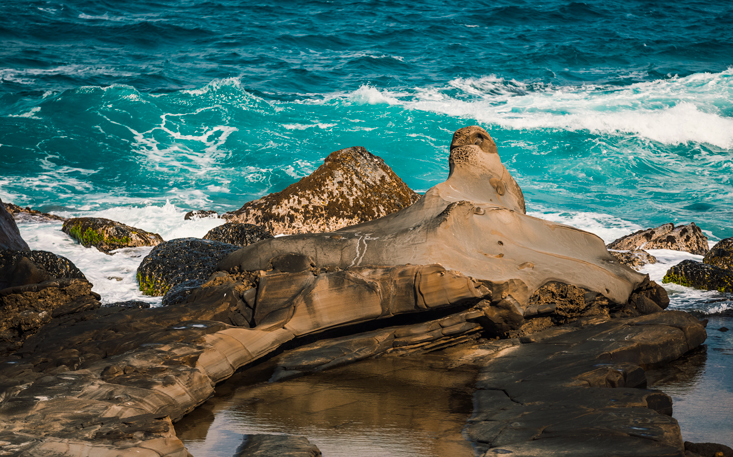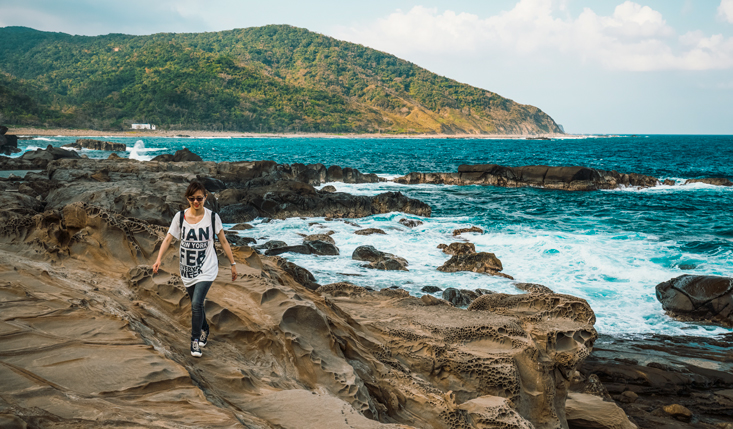 Back at the T-intersection, inexpensive eateries line the periphery of a large parking lot. Beside this lot is a ticket booth, at the head of the picture-perfect Gangkou Supension Bridge that shoots across the river mouth here. Purchase a ticket to access the eco-park across. Better yet, call the Gangkou Community Development Association (09-6352-2868) three days in advance for a guided tour of the park (fee), learning among other precious things where/how/why the many local crab species dig "secret" homes, and also visiting the restricted White Banyan Tree Park. The magnificent old Japanese-planted banyans here are featured in Life of Pi, with special-effects help, when Pi comes across a magical floating "island," exposed roots everywhere.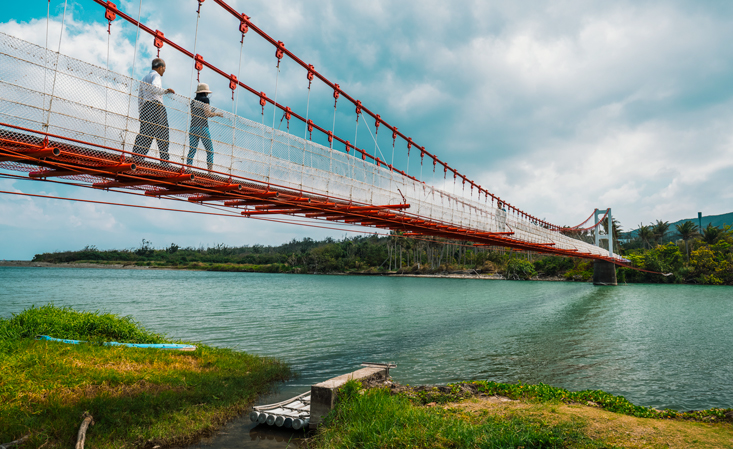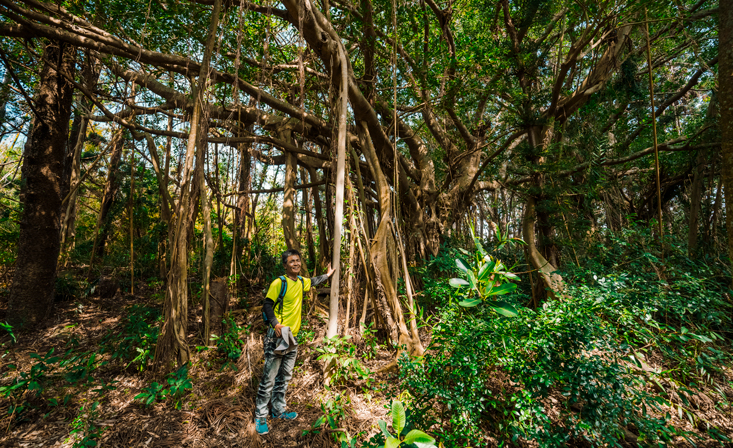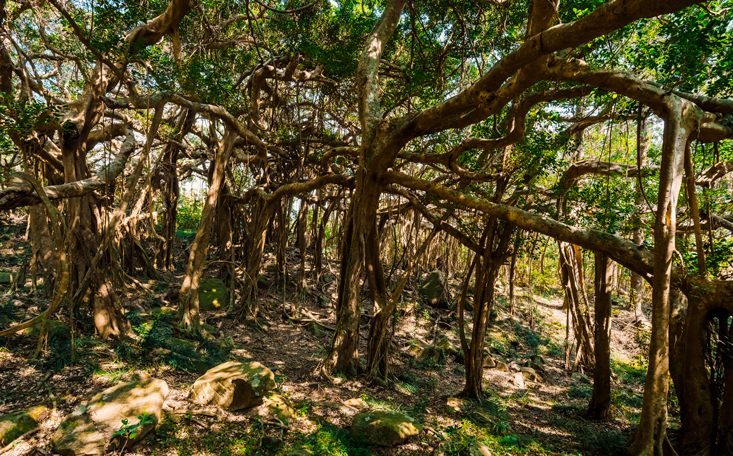 From here, most visitors choose to head back along Highway 26. However, you can also consider heading inland from the T-Intersection along County Highway 200, which will give you an up-close look at farm life on the Hengchun Peninsula while taking you back to Hengchun town. Either way, pretty scenery will be your companion.
KLOOK:
Best of Hengchun Peninsula
Private Boat Dive
Kenting Yacht Sailing Experience
PADI Open Water Diver
Also read:
If you like Kenting, you also want to reade about Dapeng Bay and Little Liuqiu Island!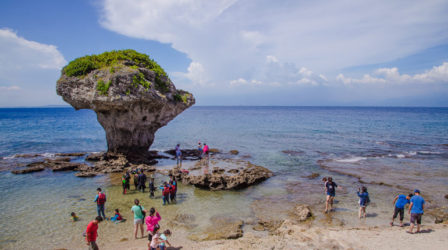 Related articles
A Visit to Cool KENDING National Park
PINGTUNG County — Places to Visit
Railway Travel: The SOUTH LINK LINE (Pingtung-Taitung)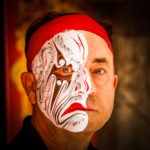 A Canadian, Rick has been resident in Taiwan almost continually since 1988. His book, article, and other writings, on Asian and North American destinations and subjects—encompassing travel, culture, history, business/economics—have been published widely overseas and in Taiwan. He has worked with National Geographic, Michelin, APA Insight Guides, and other Western groups internationally, and with many local publishers and central/city/county government bodies in Taiwan. Rick also handles a wide range of editorial and translation (from Mandarin Chinese) projects.