A Penghu Islands Surf & Turf Getaway Adventure
TEXT / RICK CHARETTE
PHOTOS / CHEN CHENG-KUO

Ahoy! We're headed out to the scores of islands big and small, populated and unpopulated, that make up the Penghu Islands, all within the Penghu National Scenic Area gem that floats smack in the middle of the Taiwan Strait. What awaits the tourist visitor to these islands, surrounded by shallow coral-rich waters of turquoise, aquamarine, and other color nouns you may well have not been in-person inspired to use in far too long a time? Treat yourself to an inexpensive trip to what is a hot local-tourism "faraway, exotic" destination with a quick hop from Taiwan's main island.
When I think of the Penghu Islands, my image is of a giant marine-theme recreation park spread out on a giant patch of beautiful pastel-hue waters in "the middle of the ocean." They're not actually in any ocean's middle, of course. The archipelago is almost smack-dab in the middle of the Taiwan Strait.

Whatever you do, it seems that big open water is always a focus. Riding a motor scooter or driving a car along the islands' ring roads, the sea is always in view. Most villages are spread out along the coastlines, the heritage settlements with the most interesting architecture all fishing villages seemingly forever in place. Farm walls are made of stacked coral taken from the sea. The produce cultivated behind them is all low-lying edibles that can resist the strong salt-laden winds that come hurtling over the sea from faraway places in the cooler months. Cactus of five different types are seen everywhere, thriving where trees struggle because of the sea winds. Heritage fort facilities look warily out to sea, still searching for waterborne enemies. Picturesque natural stone sculptures crafted by sea water and wind erosion adorn the shores, as do massive exposed basalt-column formations formed, long before man and woman showed up, by magma exploding from the sea bottom and instantly cooled by the waters. First-rate, super-fresh, and very inexpensive seafood is always right hand, everywhere you go.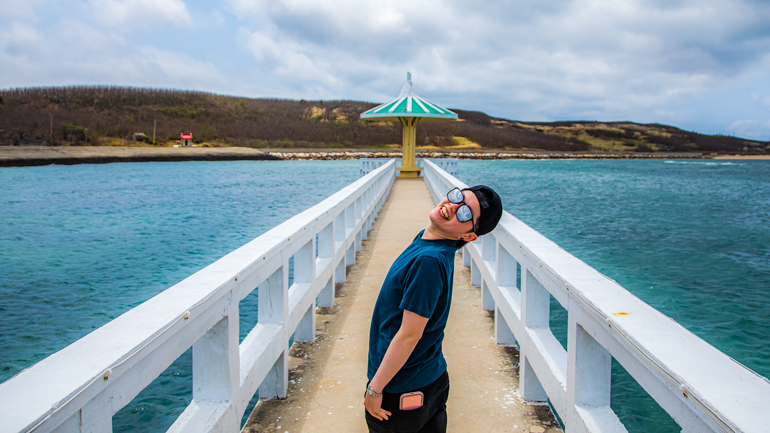 Travel between the islands is by ferry ride, save for on the closely clustered main islands – three large and one small – where the open waters between are jumped by scenic bridges. There's also all types of different fun you can have on and in the water. The many fine-sand beaches. The floating seafood boat restaurants, anchored out in open water. The special guided tour-boat outings and nighttime squid-fishing expeditions. The guided tour-boat adventures to snorkeling locations (the biggest of our introduced fun-frolics in this article). Intertidal zone exploring. Et cetera, et cetera.
CORAL REEF ADVENTURE
Hey! Yacht-touring to different islands over the open sea your kind of thing? Snorkeling coral reefs in idyllic isolated saltwater bays your kind of thing? We'll, then, we've got something to tell you!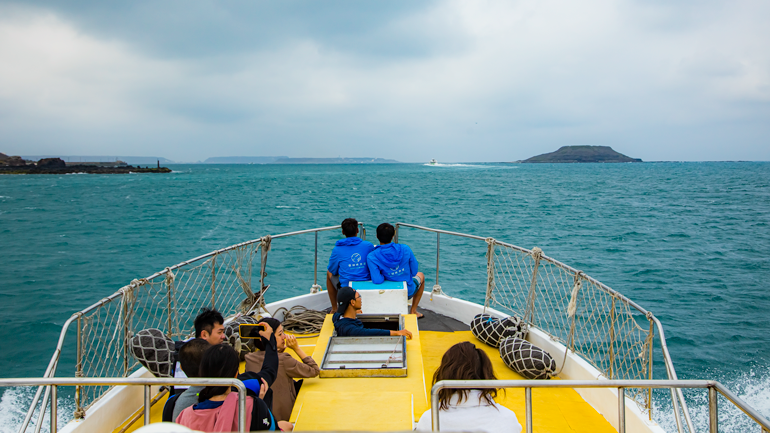 On our research trip for this article your Travel in Taiwan team had more than a ton of fun vetting a full-day snorkeling/yacht touring guided adventure offered by a first-rate Penghu outfit called Penghu Coral Reef Travel. Called the Blue Paradise One Day Tour it has won several national awards. You meet up at 8 in the morning and are brought back between 5-7 in the evening. Here's a skeleton outline, to be filled out with key details afterwards:
Meet-up and launch from Magong City on Penghu's main island – Snorkeling prep and coral-reef snorkeling off two small islands – Eco-walk on unpopulated reef island – Seafood feast on open-water moored barge – Barge-based water fun ("cliff jumping" from second level, "sea walking" contest on floating pads, etc.) – return to Magong.
A Coral Reef Adventure Walk-Through
Here we go!
You meet up at 8am at the Penghu Coral Reef Travel desk in Magong Harbor's Penghu South Visitor Center, from which South Sea tour-yachts and ferries launch. The Penghu archipelago's main islands form what is called the Inner Sea between them; the city of Magong (Penghu's only) is on this body of water. The islands south of the main islands are in what is called the South Sea; there's also a North Sea area. Your yacht heads south out of the Inner Sea and past various islands, reaching Jiangjun'ao Island less than an hour later. Note that all through the day the many-person coral reef travel crew will be providing info (in Chinese) on a wide range of topics – eco, culture, history, military….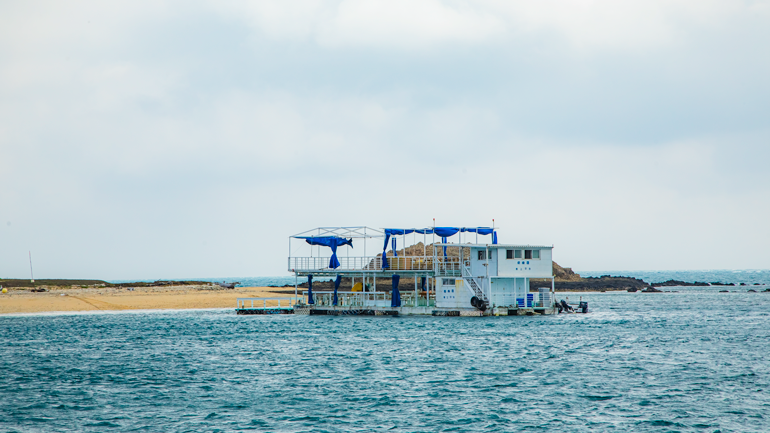 Arrival! A moored double-decker barge, your base for the day. Just meters off Jinguazai Reef, a tiny island right off Jiangjun'ao Island, the two forming a quiet protected area. First activity is snorkeling. The team distributes all your needed snorkeling gear here and you transport yourself from barge to shore on a raft by pulling a rope. Final instructions are provided, coaches divvy up teams, and you wade in slowly above your head per comfort level to start snorkeling. Coaches are always there, with circle floats.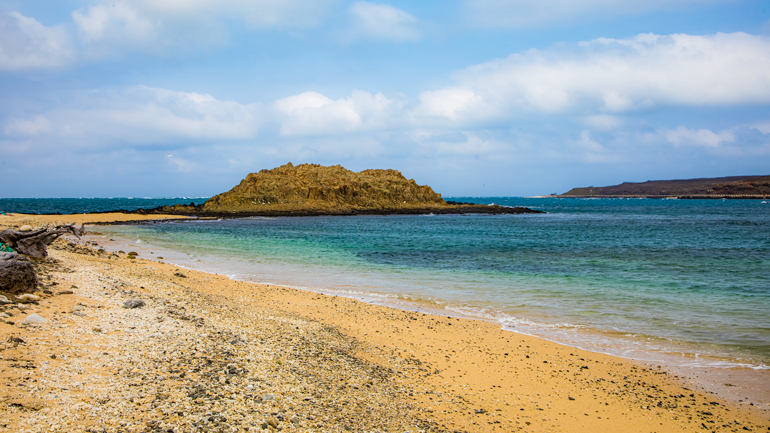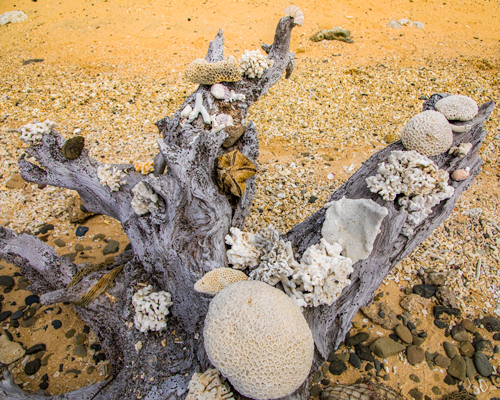 After this, return to the barge, a rest, and then a 25-minute ride further south to a bigger snorkeling challenge, in a broad bay on the north side of Dongyuping Island. This is an open-water snorkeling adventure – you jump in right from the boat, a hundred-or-so yards offshore directly before an old, mostly abandoned fishing village with many traditional stone-wall houses. The winds, waves, and currents are stronger here, the swimming slightly harder, but your coach's floats are always there per need. Your reward is reefs deeper down with fish and coral color and variety far richer than your first round – turtles and stingrays are also sometimes spotted here.
Your coach will inform you that until recent years the Penghu area has been overfished, especially by fleets from mainland China engaging in illicit bottom-dredging, but bans are now bringing the below-surface beauties back and Penghu tourism operators are highlighting this source of treasure.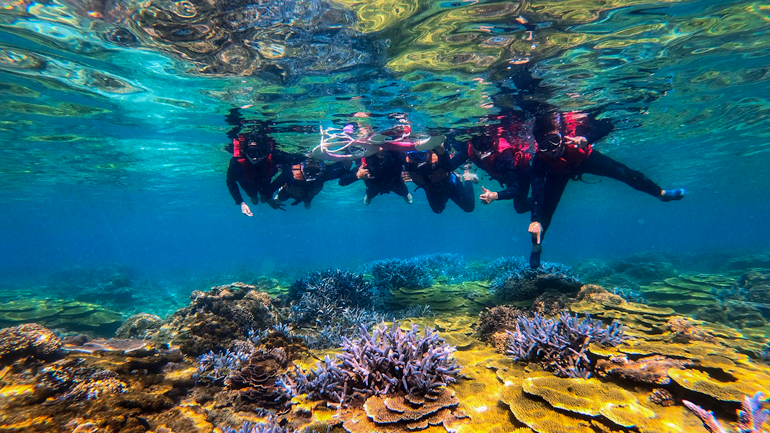 Back to the barge base, first for an eco-walk on Jinguazai Reef, which is a few hundred meters in diameter and has a 30m-high plateau area in the middle, followed by a hearty seafood meal on-board the barge, which has kitchen facilities (along with bathroom and shower/change facilities, picnic tables on both decks, and upper-deck awning protection if needed). The star of the very filling meal is a hearty seafood soup containing a small neritic squid, large prawn, oyster (with shell), jiukong abalone (with shell), and other appetizing morsels. All the exercise you've done this day will guarantee you'll think this is the best repast you've downed in quite some time.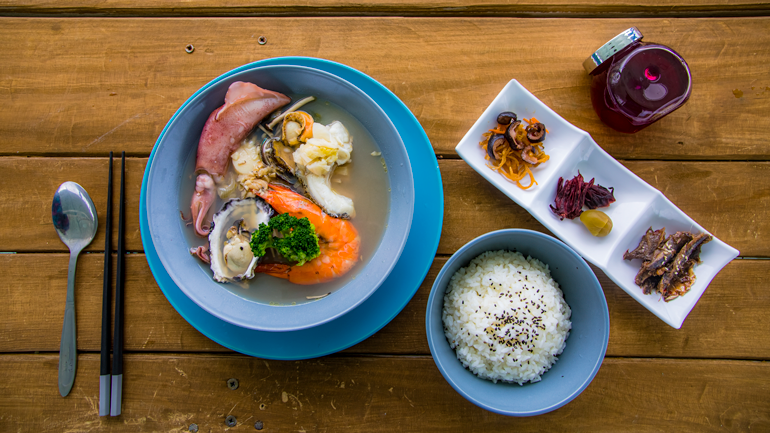 After this, a rest period, then a wholly different kind of fun 'n' frolic session. First, "I dare you" fun jumping off the barge's upper deck – about 3m to the water. Then a friendly competition emulating the famed Taiwan TV game show 100 Wars, 100 Victories. In this you "walk the plank," stepping from the barge to navigate a row of colorful connected floating cushions in the fastest possible time and return. Those who complete the feat win Penghu memento prizes. Then a final "surfing" session with two choices: a small motor boat pulling you about individually on a type of paddleboard, and another boat pulling as many as six about on a contraption resembling a floating sofa. You can try all of these merrymaking gambols as many times as you want, time allowing. Then a rest session with snacks provided, including Penghu's renowned brown-sugar cakes and peanut brittle.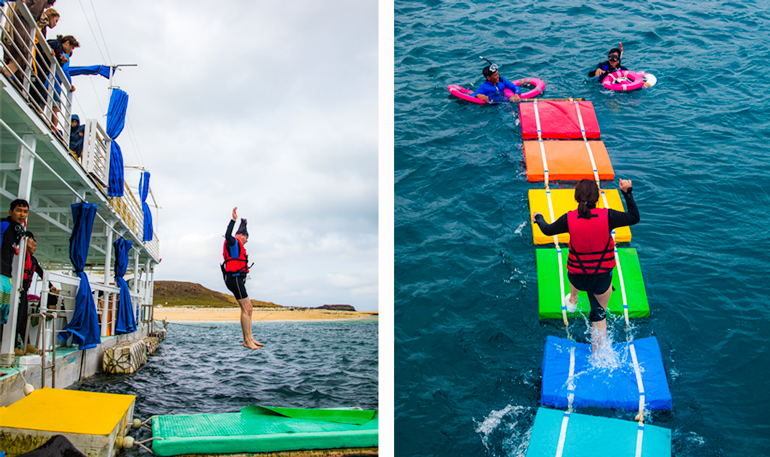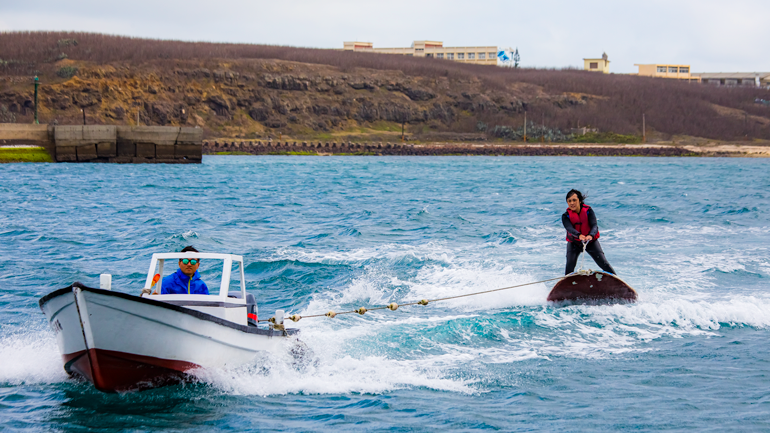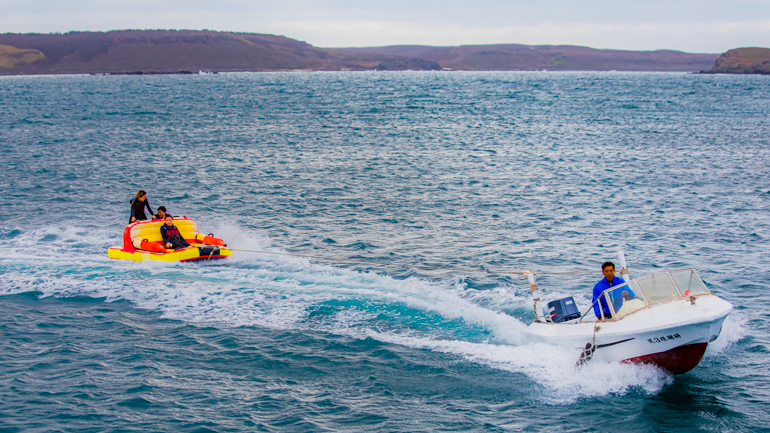 And then, the happy homeward journey back to Magong.
Bookings and Cost
Advance booking, a deposit, and then full payment prior to the outing are required. Details in English on these and other matters are available on the Penghu Coral Reef Travel website. The cost at time of writing is NT$3,200 for adults.
Other Practical Bits and Bites
Your guides are young, very congenial, well-trained, professional, and well-informed; most have taken marine-related studies in university. But don't necessarily speak English fluently, so if you cannot speak the language having a Chinese speaker with you is obviously beneficial.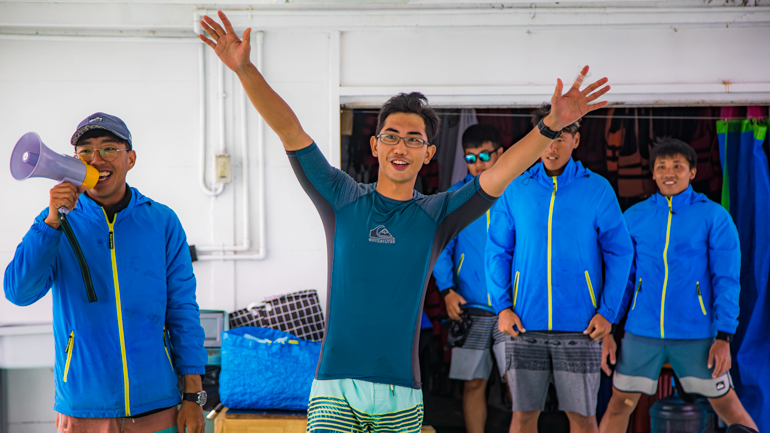 On windy days the open-water boating can get a little choppy, so consider seasickness pills. As well, have only a light breakfast, and bring along something light to occasionally munch on until the platform barge is reached.
Have comfy, light clothing to wear under your wetsuit. Beyond your snorkeling equipment, big towels are also provided. Have sunscreen as well – note that you're asked not to have any on when going into the water, because some ingredients are harmful to the below-water denizens.
During the second snorkeling session your guide will take photos of you and your group while in the water, which you can download.
The outfit also offers the Unmanned Island Camp experience, in which you camp overnight on Jinguazai Reef (which has a large tent platform set up). There's also snorkeling, a daytime eco-walk, barge dinner, nighttime ocean and intertidal-zone tour, campfire, and stargazing. (English details on website.)
South Penghu Marine National Park
Though your guides will be filling you with info through the day, your rewards will be even greater if you do online Google satellite view and other checking of the various locations mentioned above, so you'll know exactly where you are and what you're seeing at all times. Especially, check out the South Penghu Marine National Park; you'll be in it for your second snorkeling session. You enter and exit by passing pointy-top Steeple Islet, a massive block of stone hurled straight up from the sea bottom (thick black sections basalt, brown center sandstone). This is an important tern-breeding spot; nesting locations are revealed by the telltale cliffside white-droppings splotches. As elsewhere in Penghu, the park's islands have basalt landforms, including columnar basalt formations.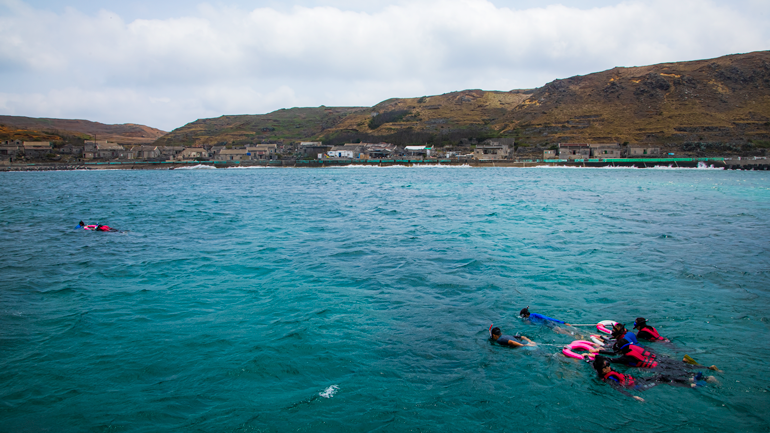 The park area was once home to thousands of humans; today there are less than a hundred permanent residents. Cold weather in 2008 and 2010 affected marine life in Penghu's more northerly areas, and the park was thereafter established as a protected Penghu "germplasm bank." It's home to 254 fish species, including 28 recently discovered, and 154 coral species.
UNIQUE PLACES TO CHILL IN PENGHU
Gilly primavera
Let's now take a little land tour of some of the chill places to visit on the main islands, starting with the largest, where Magong is located. This is also called Penghu. In breezy, forested Lintou Park, on the island's south shore in its southeast, Gilly primavera sits amidst tall shade trees directly off the popular fine-sand beach. This is a glass-fronted café with umbrella seating in front of it in the trees and a large stained-wood deck with umbrella seating right beside the beachside boardwalk.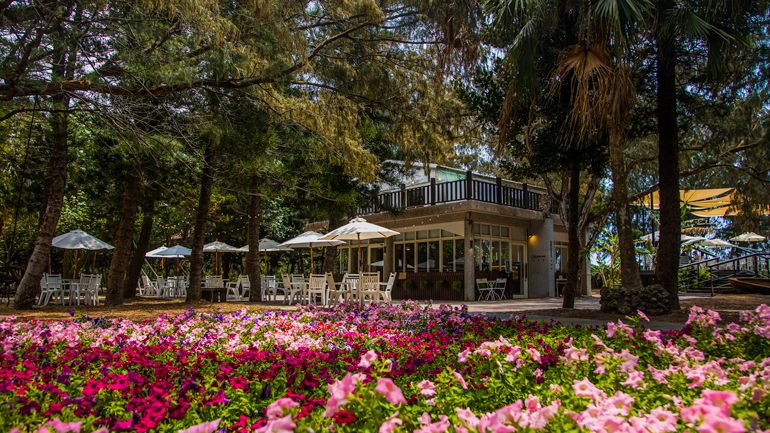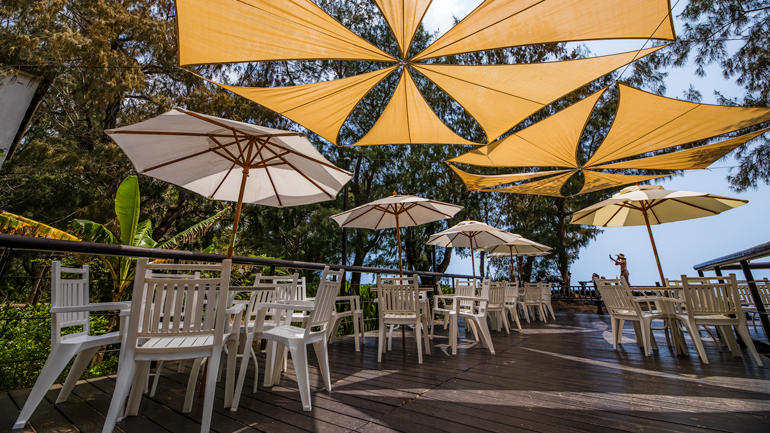 There's a wide range of single-origin coffees here, plus a list of Italian-style coffees. What seems to most excite the palates of many if not most visitors, however, are the homemade baked goodies, such as the cranberry scone, cheesecake and chocolate cake, and honey-glazed croissant – and the cooling beverages, especially the muscovado sugar milk tea, strawberry carbonated juice with lemon slice, and passionfruit carbonated juice with orange slice.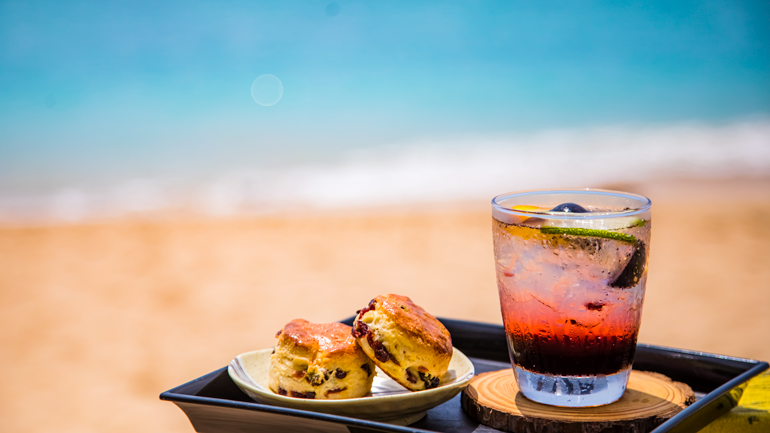 Gilly primavera
(及林春)
Tel: (06) 992-3639
Add: No. 1-3, Lintou, Huxi Township, Penghu County
(澎湖縣湖西鄉林投村1-3號)
Website (Chinese)
There are also other fine beaches on this side of the island, notably Shanshui Beach, which has a bustling cluster of beach-bum-style eateries and cafés. Nearby this beach, right at the island's southwesternmost point, is the Fenggui Cave, where the sea pounds into a basalt-column shoreline cave and blows out the cliff-top opening with thunderclap audio.
Leisure Time Café
On the island of Baisha, the exquisitely decorated Leisure Time Café, open six years now, has become a go-to destination. You head down a long dirt road off a secondary highway through thick bush to emerge at a large villa-style building looking out over an expansive lawn and, beyond, the Inner Sea and far-distant Magong. The bright-white building is a whimsical affair, looking to me like a giant white-icing wedding cake, featuring a turret tower, faux Roman-style arch ruins, trellisworks rich with green foliage and pastel-hue flowers – and a gorgeous chapel (unconsecrated) at the side. The chapel and other facilities are often used for weddings.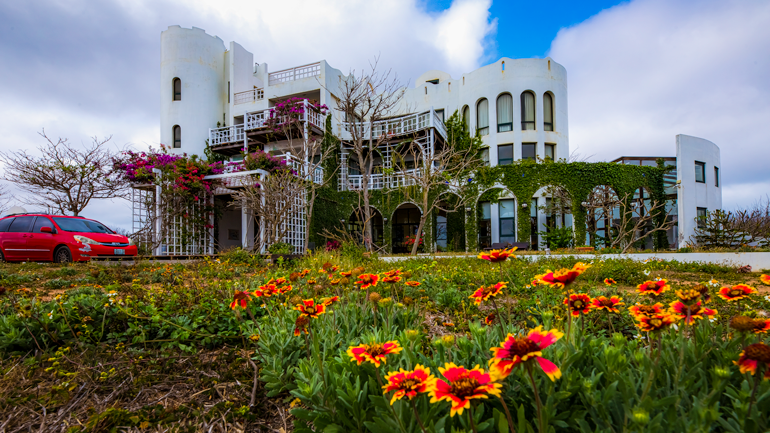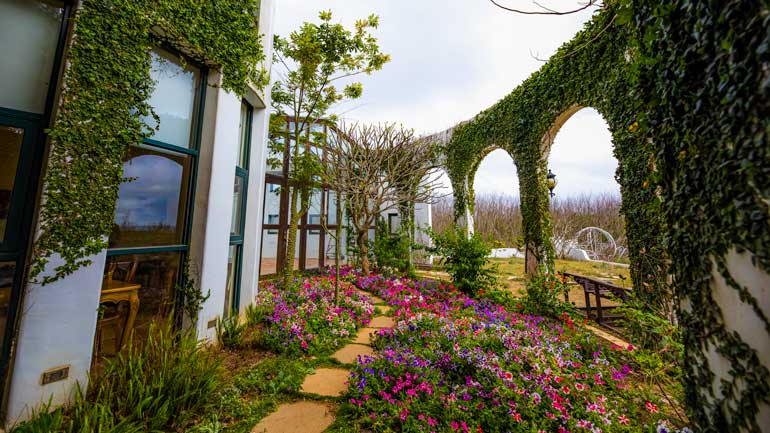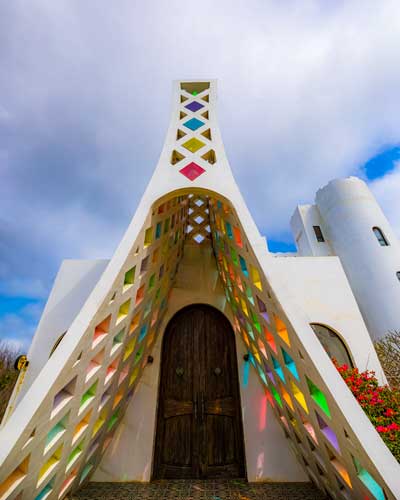 The café is open for lunch and afternoon tea. Penghu produce is emphasized. Among these is fengru (Cobbler's tack) tea, a Penghu-specialty herbal tea. The herb is collected wild, and the tea marketed locally in English as Grandma/Nana's Tea. The stars of your afternoon tea set are homemade bite-sized quiche, custard puffs, honey bread with chocolate topping, and scones.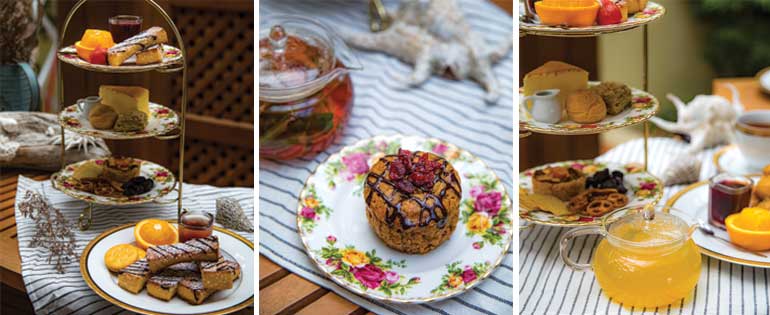 Leisure Time Café
(半日閑下午茶)
Tel: (06) 993-1366
Add: No. 71, Zhenhai Village, Baisha Township, Penghu County
(澎湖縣白沙鄉鎮海村71號)
Facebook
Paradise Road
Paradise Road, on Baisha's north side, has in recent years become one of Penghu's most popular locations for taking photos. The "road" is a long, narrow, winding pier wall, part of an abandoned fishing port, that leads out into the deep blue waters like a sea serpent headed to sea. It's footpath-top is not much above water at high tide.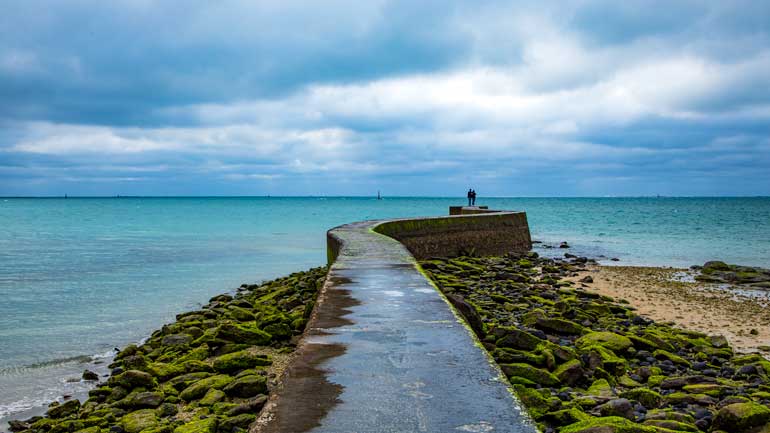 Erkan Village
On Xiyu, the westernmost island, always the busiest tourist destination is old Erkan Village, today thoroughly renovated and tourist-oriented save for a few homes. You'll walk through a dense collection of heritage stone-wall residences in the old Minnan style – the style of China's southern Fujian province. Many of these venerable places now house retail operations – eateries, cafés, a soybean-milk shop…. You'll also come across such old-time examples of rural living as Qing dynasty-era scales and weights, thigh-high ceramic storage jars, and winnowing equipment.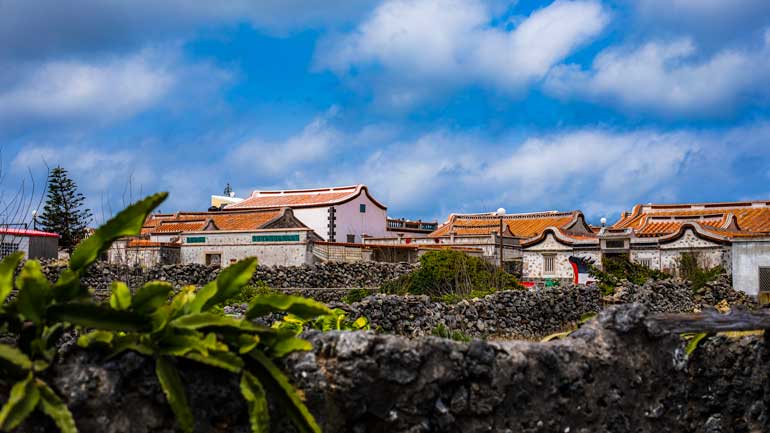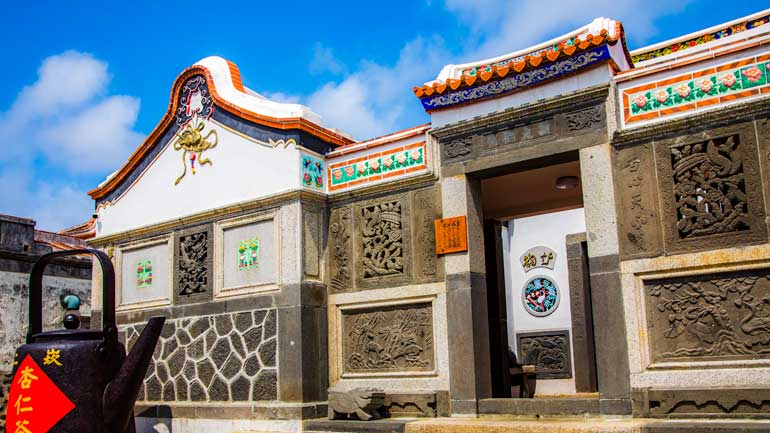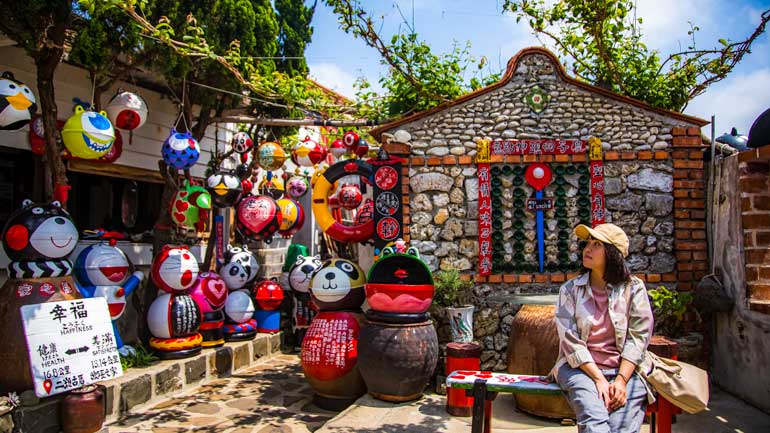 Lao-Pai Café
Spend a little time and lucre at Erkan's antique-filled Lao-Pai Café, run by a young owner-couple, opened two years ago. This is the ancestral home of the wife's family, built a century ago. Lao-Pai serves single-origin hand-drip coffees, Italian-style coffees, teas, and fruity beverages, plus simple treats such as homemade cheesecake and a delicious old-style Xiyu confection called sanjiao bing (three-corner pastries), made with either savory fried onion or sweet muscovado sugar. They're sourced from a local 90-year-old shop now run by the third generation.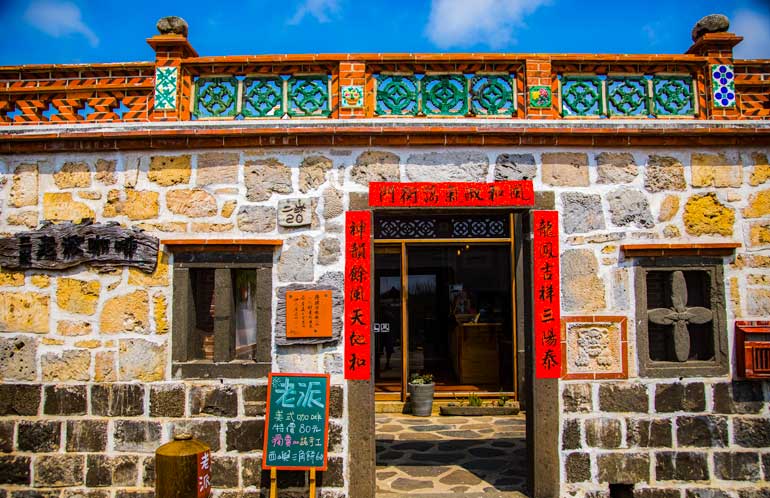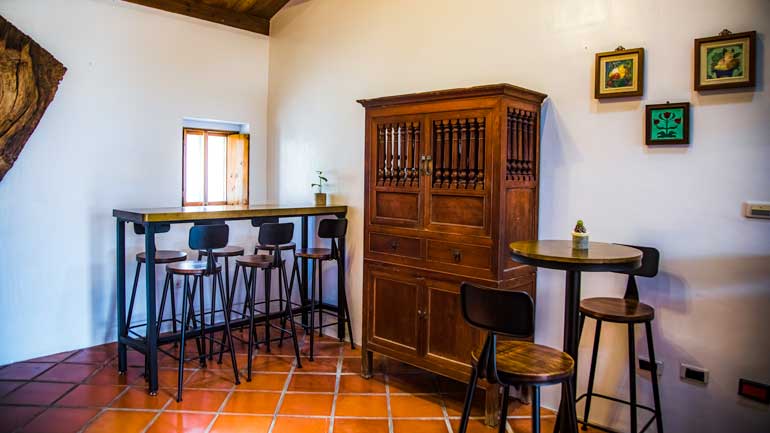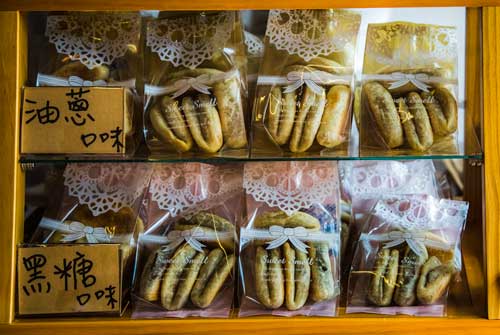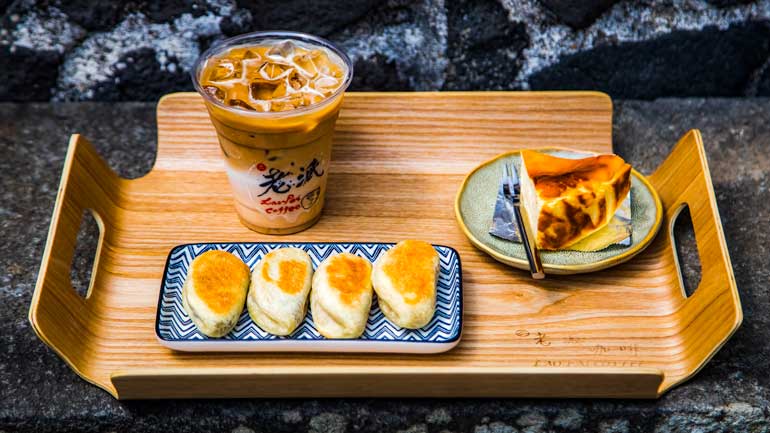 Lao-Pai Café
(老派咖啡)
Tel: 0988-235-278
Add: No. 20, Erkan Village, Xiyu Township, Penghu County
(澎湖縣西嶼鄉二崁村20號)
Facebook
Sights on Xiyu Island
Xiyu is also home to a number of other key main-islands draws, including the well-preserved Xiyu Western Fort, built in the 1880s to repel attack by foreign empires, Yuwengdao Lighthouse, the first lighthouse built in the Taiwan area (1778), the giant Whale Cave formation, a sperm whale-lookalike artwork formed by wave erosion, and the Daguoye Columnar Basalt site, a huge wall of uncovered columns which looks across the Inner Sea at Magong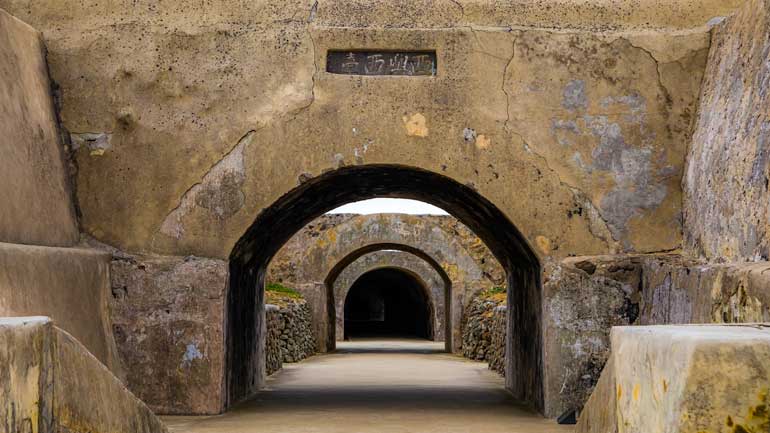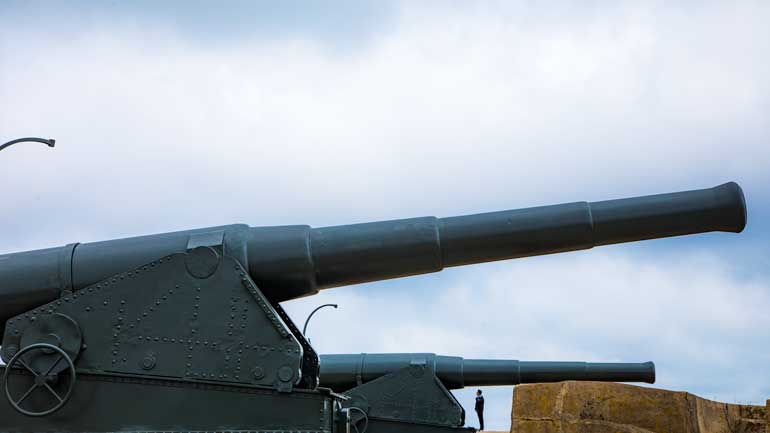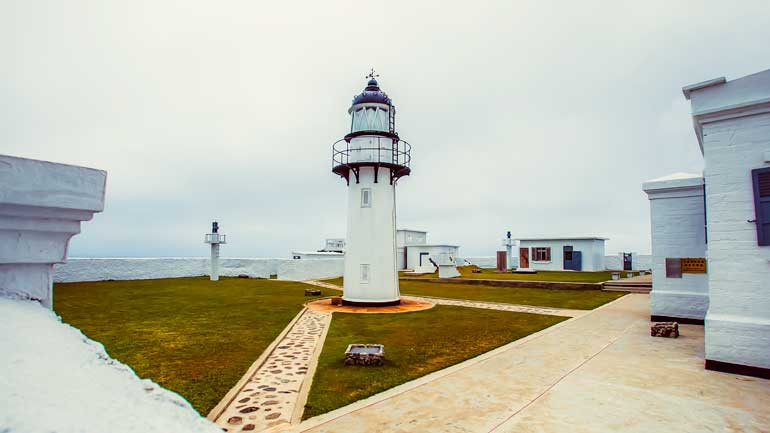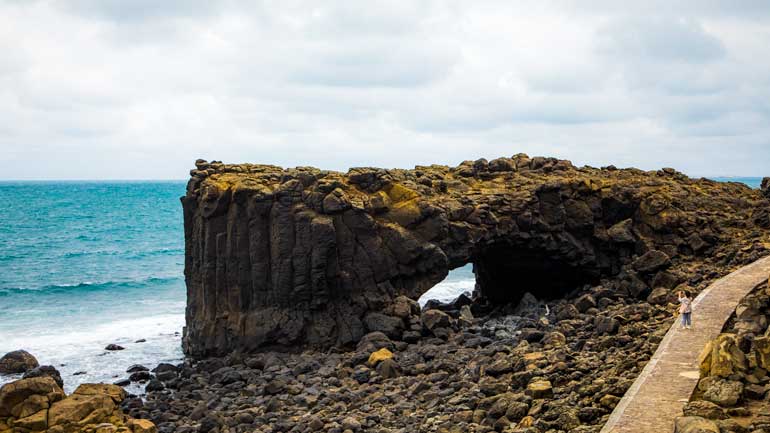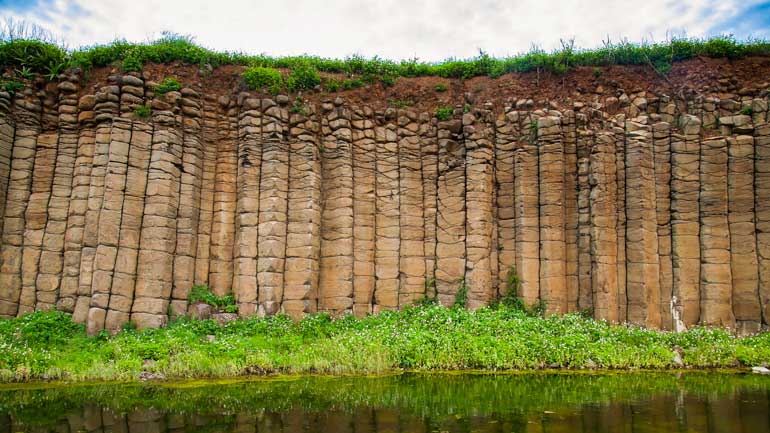 UNIQUE PLACES TO OVERNIGHT IN PENGHU
Enishi Resort Villa
The Enishi Resort Villa is on Penghu. It's on the edge of a quiet farming-family hamlet a short distance from two popular beaches, Aimen Beach and Lintou Beach (connected by a long coast-side boardwalk). This is a dynamic purpose-built creation that looks like a giant slab of concrete sticking straight up from the ground.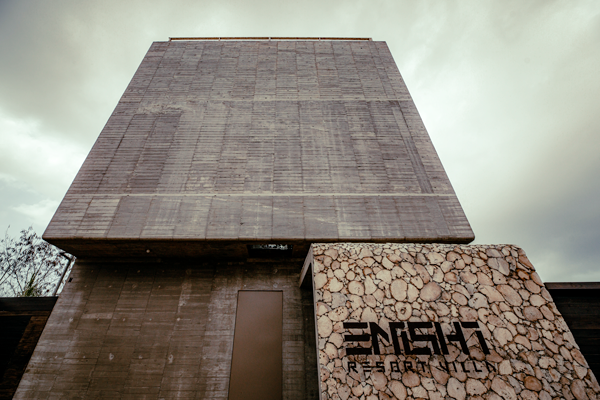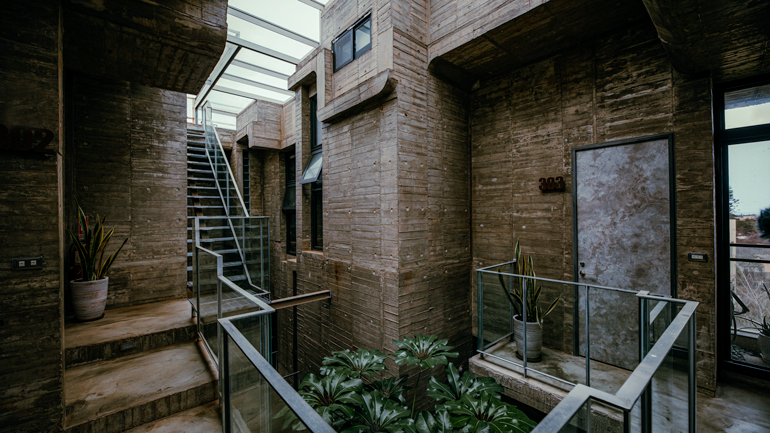 Inside, concrete predominates as well. Stepping within, the view is like looking up through a narrow crevasse, sunlight streaming in through the (glass) top, guestrooms exiting from the "cliffs" facing each other either side. The crevasse runs east-west, meaning the sun shines directly inside all through the daytime, no lights needed. Each guestroom has a uniquely quirky ultra-modern interior design. There's also restaurant, bar, and café facilities, and a deeply quiet walled-in outdoor pool area out back. The ENISHI project won 1st prize in Taiwan's 2018 ADA Awards for Emerging Architects.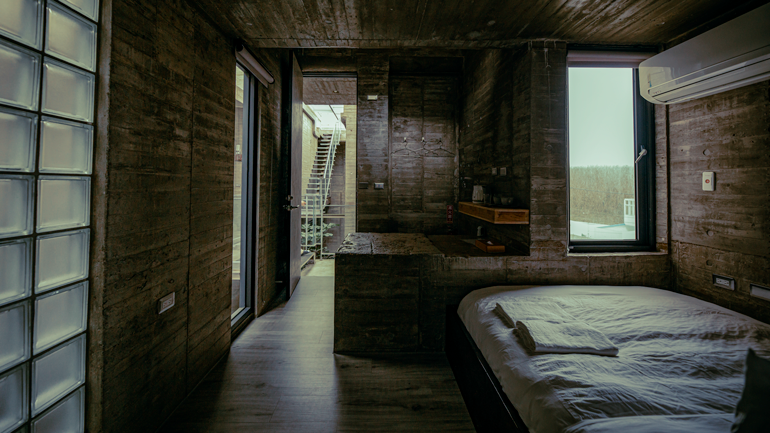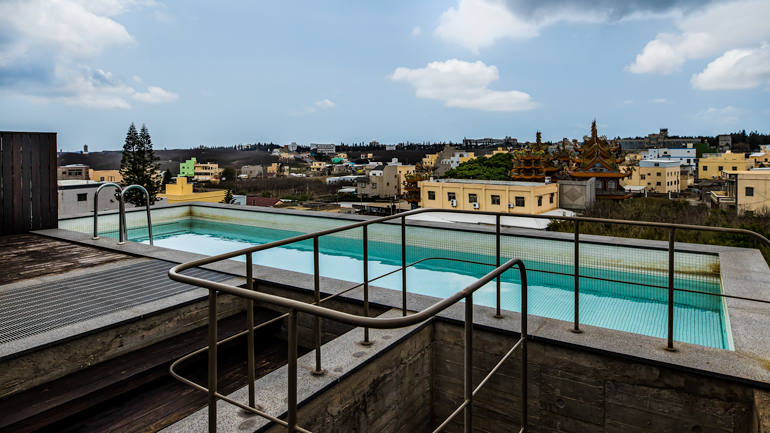 Enishi Resort Villa
(緣民宿)
Tel: (06) 926-0302
Add: No. 45-3, Aimen Village, Huxi Township, Penghu County
(澎湖縣湖西鄉隘門村45之3號)
Website
Murraya Paniculata Villa
The small, cozy, exceedingly tranquil Murraya Paniculata Villa, which has just a few rooms, sits amidst open grassy countryside, low hill behind, on Penghu's south side, short drives from Fenggui Cave and Shanshui Beach. The purpose-built facility is in the style of the ornate classical southern Fujian-style residences found at Erkan Village. Guestrooms, which feature all modern amenities, are rich with antique items sourced from around the archipelago by the owner.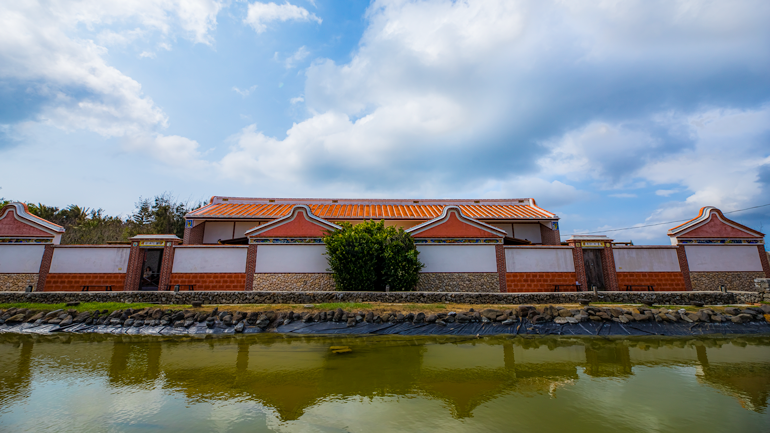 Guests walk from rooms directly into a small, private inner courtyard with small swimming pool. A compact private garden space is located behind the rooms in the complex rear. Directly in front of the walled-in complex is a large pond busy with carps.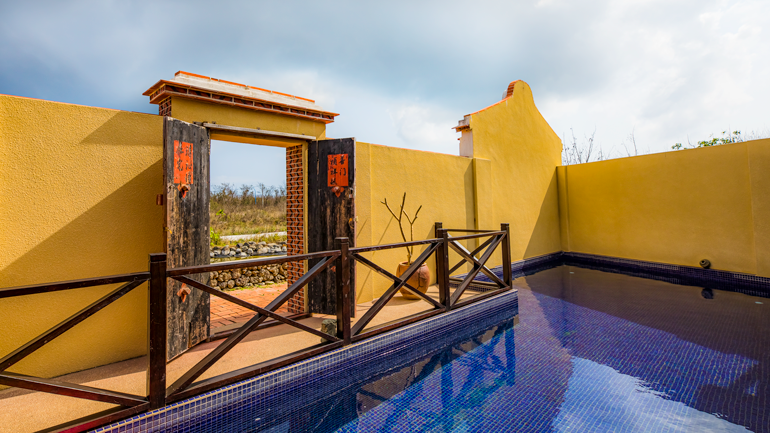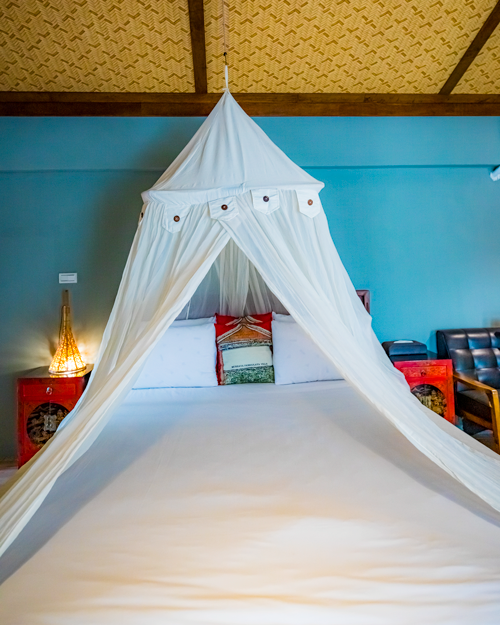 Murraya Paniculata Villa
(月橘獨棟Villa)
Tel: (06) 995-1926
Add: No. 185, Wude Borough, Magong City, Penghu County
(澎湖縣馬公市五德里185號)
MAGONG CITY
Magong's story begins at Tianhou ("Empress of Heaven") Temple, erected in 1604. This is Taiwan's oldest temple dedicated to Mazu, protectress of seafarers. Nearby is the tourism-focused Zhongyang Old Street, which encompasses narrow Zhongyang Street and its side arteries. Zhongyang, as old as the temple, was for centuries Magong's high street. The Old Street area is packed with old-timey shops selling specialty foods and handicrafts (see Food/Souvenir section below). Threatened with demolition decades back, today the area beams with wood-and-red brick façade shops lovingly returned to heydays visual charm. You'll also come across the renowned ancient Four-Eyed Well, still used, which has four narrow openings to prevent kid accidents and to maintain water-access order.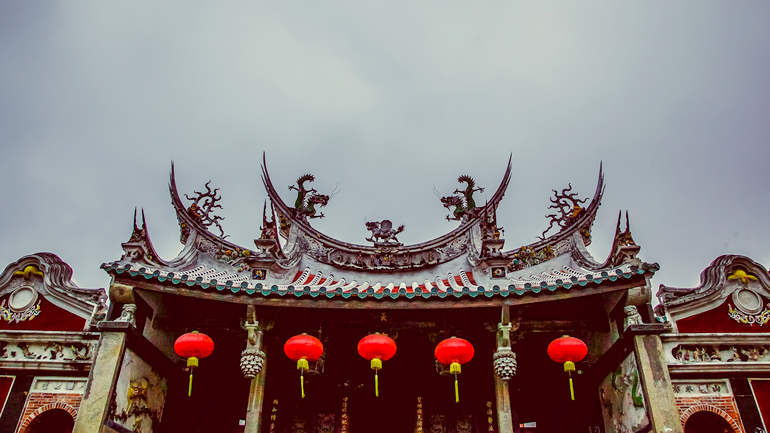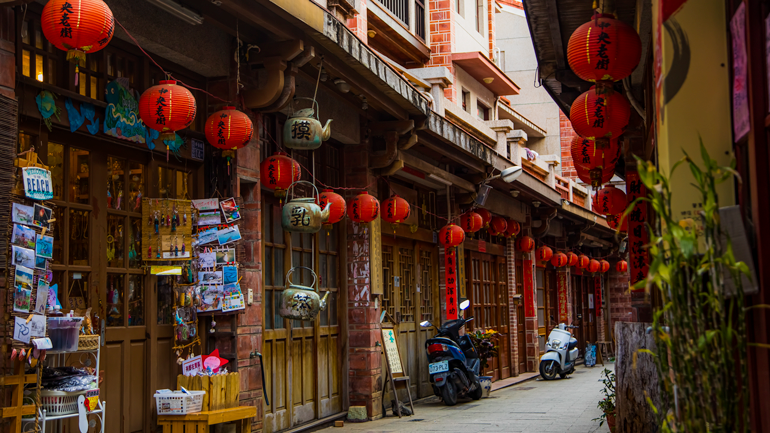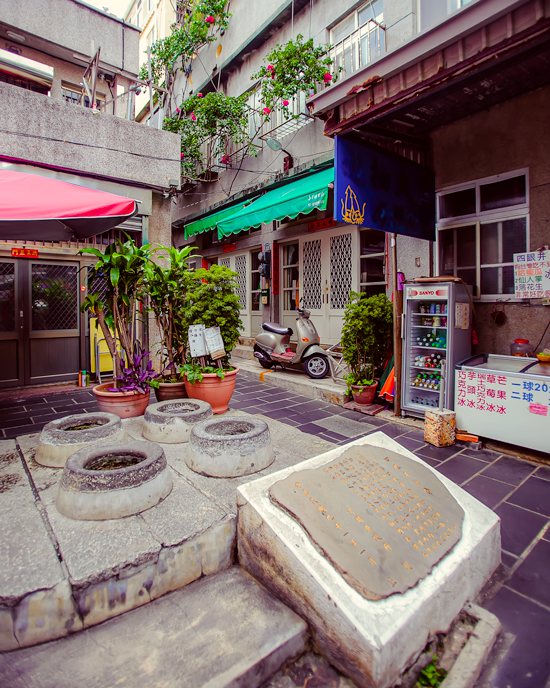 Duxingshi Village Cultural Park is a fascinating enclave located on the city's north/northwest side. This is a former military dependents' village, long abandoned, that has been thoroughly restored and does service today as a key Penghu tourist attraction. There is a mix of scores of compact concrete-wall homes and more expansive traditional Japanese-style wood-built buildings. Many are open to the public, some serving as cute cafés and eateries. The most interesting have a dedicated theme – for example, two homes of residents that later became famous pop singers, their music heard inside and outside, a mock-up of an old-days mom-and-pop store, etc.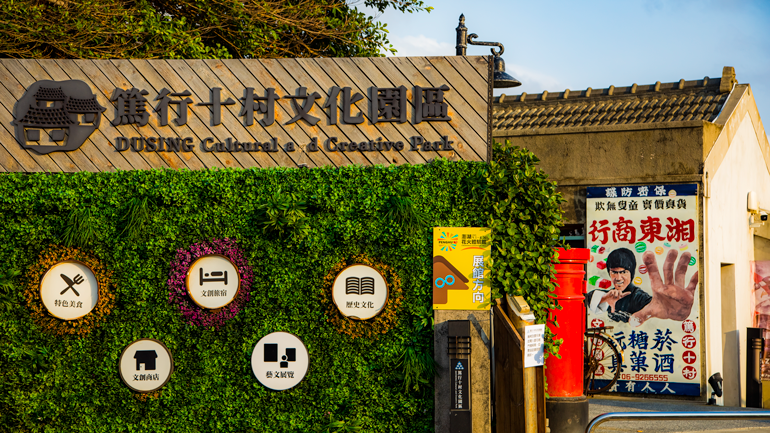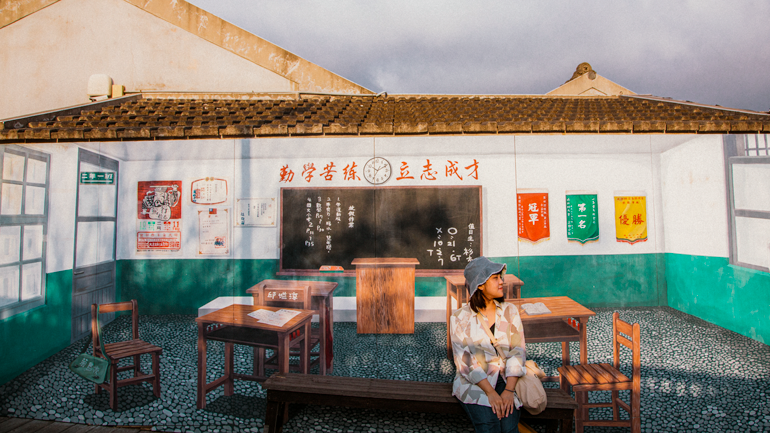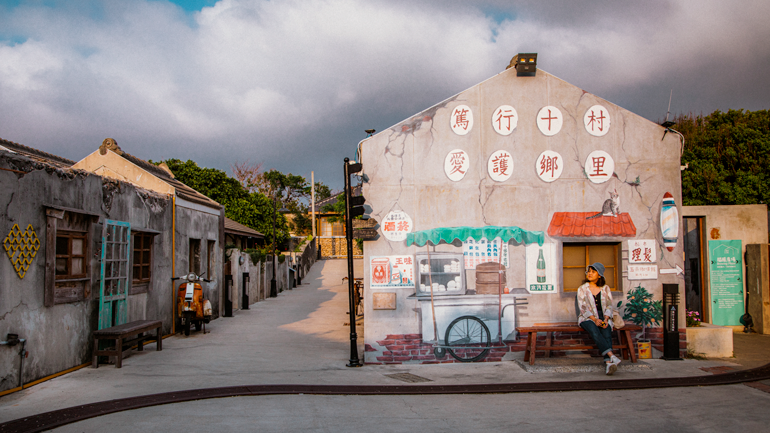 The pedestrian-only Xiying Rainbow Bridge, north of the cultural park, is one of Penghu's best-known and most-photographed landmarks. It soars almost 200m across a man-created harbor inlet that runs almost completely dry at low tide, inviting rewarding tidal-zone exploration. Sunsets here are gorgeous, and through each evening the romantic rainbow lights of this arch glow on the waters below. The park area here is the site for the annual Penghu International Fireworks Festival, stretching mid-April through late June, which brings in the high tide of the Penghu tourist season. It features spectacular high-altitude fireworks shows over harbor and bridge every Monday and Thursday night, preceded by stage shows featuring Taiwan's hottest pop singers.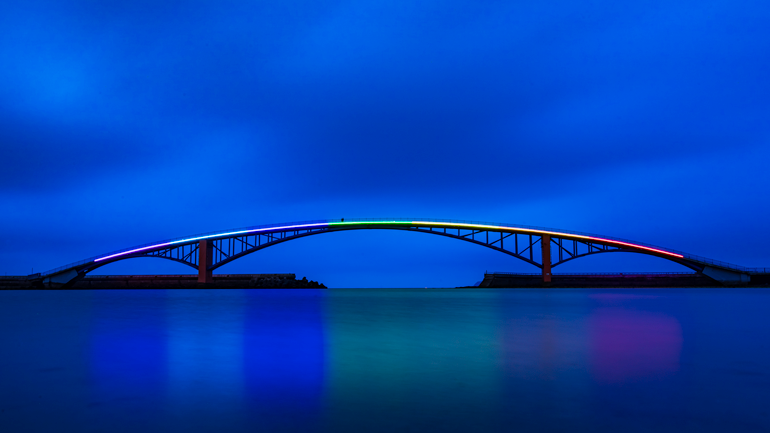 STAYING IN MAGONG
The comely Hai Yue Hotel is perfectly situated for visitors eager to explore the core of the city on foot. The core, where most of the tourist action happens, takes up the peninsula north of the harbor. It's just a minute on foot to the harbor itself, five or so to the Penghu South Visitor Center. South-facing rooms have a terrific view over harbor comings and goings. The streets behind the hotel are filled with eateries, and are pleasantly busy with foot traffic during the summer high tourist season. The Old Street area is just a few blocks southwest.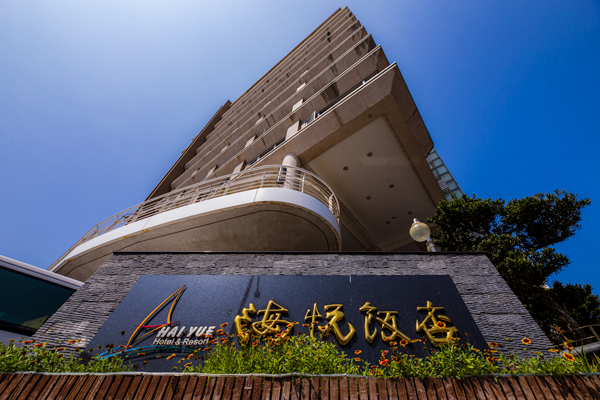 The hotel lobby is accessed from the street via a broad staircase, lending the hotel a magisterial mien. Between lobby and staircase is a guest favorite, a wide and long stone-paved outdoor patio with inviting seating (rain cover provided awning-style by the protruding second floor). More shade is provided by a wall of green plants on the street side, beside the staircase. You'll see a line of bright-colored Giant bicycles outside along the lobby's floor-to-ceiling glass wall, and a line of Merida bikes inside; guests can use these free of charge. The hotel also provides map information (Chinese) with four recommended cycling routes.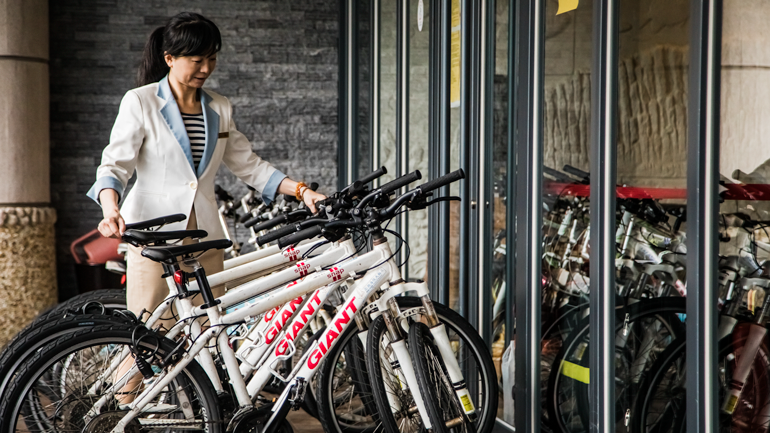 Paying homage to Penghu traditions, the sun-drenched 2F restaurant has a nautical decorative theme, with a large mural at one end, overlooking the buffet food-display area, depicting a Penghu lighthouse scene. A smile will invariably come to your face looking down "into" your table through the tabletop glass at that table's playful mini-mockup of an iconic coastal tableau. Your complimentary all-vegetarian Chinese buffet-style breakfast includes classic items such as congee, fried Chinese dumplings, vermicelli with fried veggies, spicy dried beancurd, and pickled cucumber.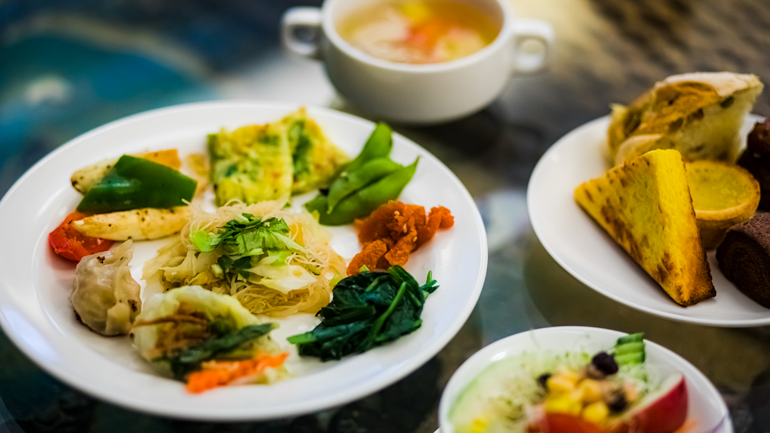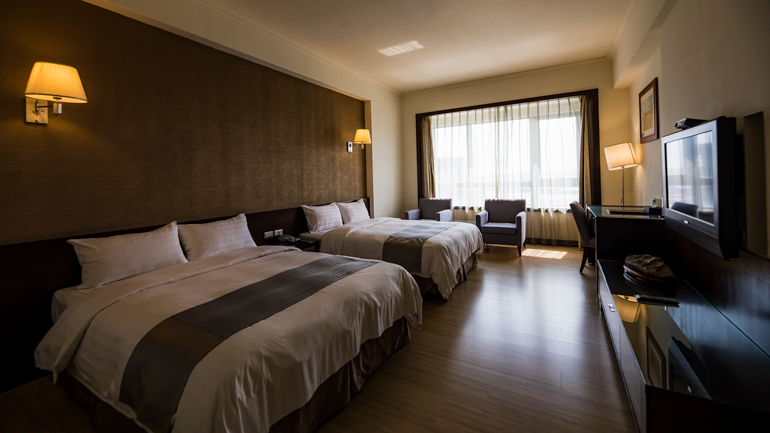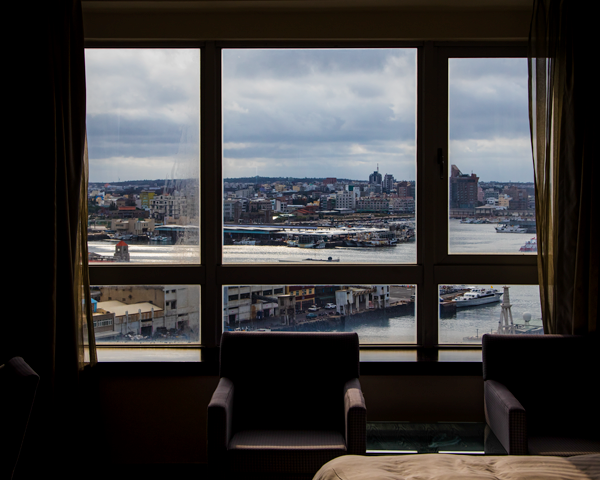 The spacious guestrooms feature chic contemporary styling, with understated earth tones predominant, and have a work desk and WiFi connection. Each bathroom has a spacious shower stall.
Hai Yue Hotel
(海悅飯店)
Tel: (06) 926-9166
Add: No. 75, Minfu Rd., Magong City, Penghu County
(澎湖縣馬公市民福路75號)
Website (Chinese)
FOOD AND SOUVENIR SUGGESTIONS
Chinese Mesona Shop
While perambulating around the islands, be sure to foray into Penghu's culinary specialties, especially its toothsome snack treats. Directly across the street from the Hai Yue Hotel is the Chinese Mesona shop, with perhaps the islands' best shaved-ice treats, many starring Chinese Mesona, commonly called "herbal jelly."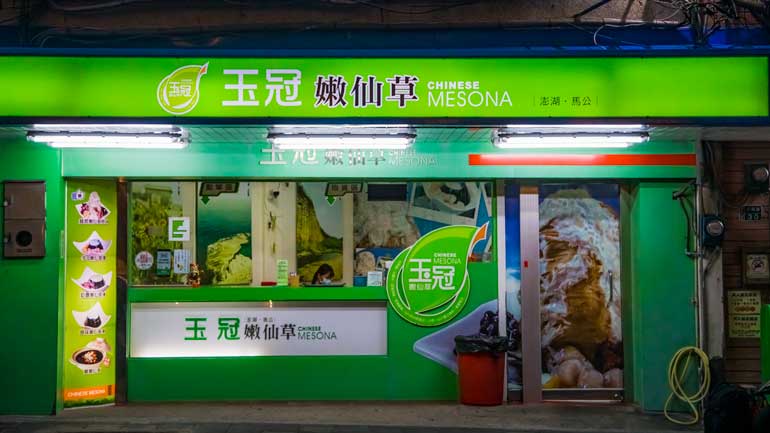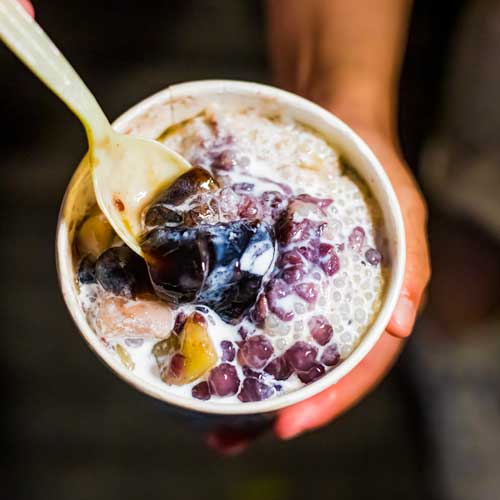 235 Cactus Gelato Shop
The fruit of a local cactus is used to make delicious sweet, purple-tint cactus shaved ice, ice cream, and sorbets. At the cutesy 235 Cactus Gelato shop, on Magong's Minzu Road, choose Cactus Fruit Gelato, Herb Tea Gelato, Seaweed Gelato, or Black Pineapple Gelato (the blackness comes from cuttlefish ink).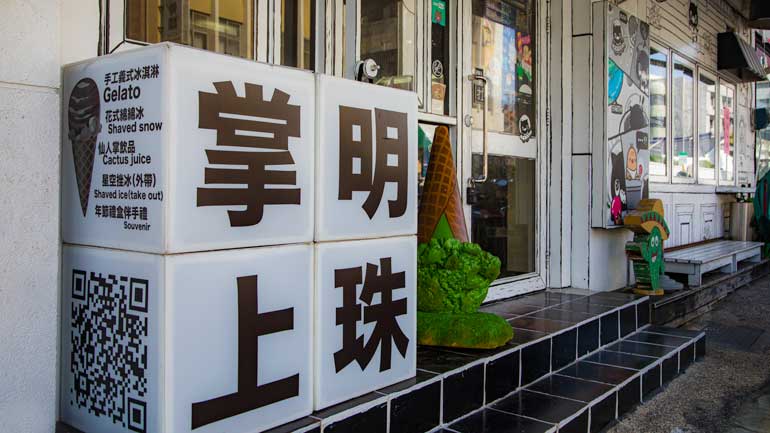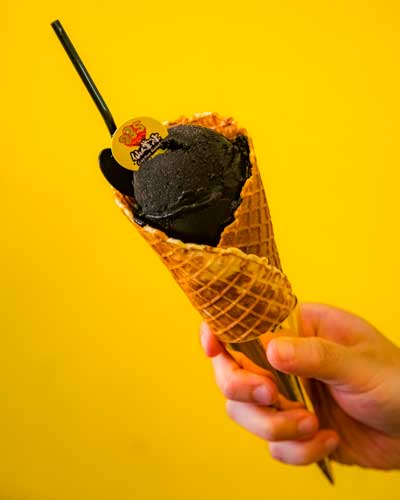 Liyang Bakery
On Old Street, just a short walk from the gelato shop, drop in at Liyang bakery for a slice or two of its delicate, tasteful cactus-fruit mille crepe cake. Its cactus-fruit cream puffs are also a delight.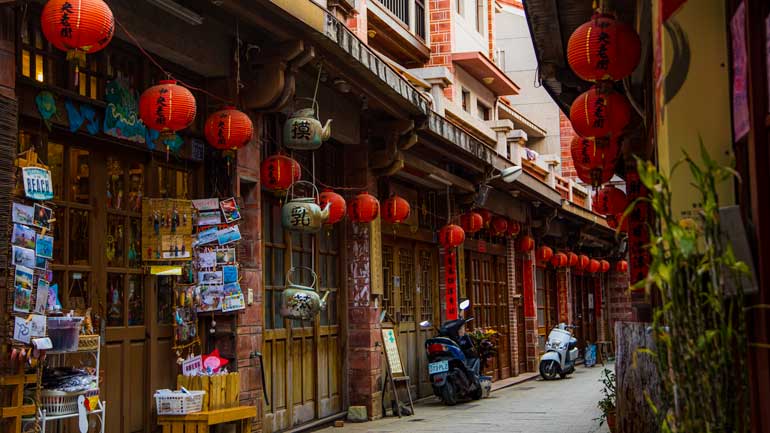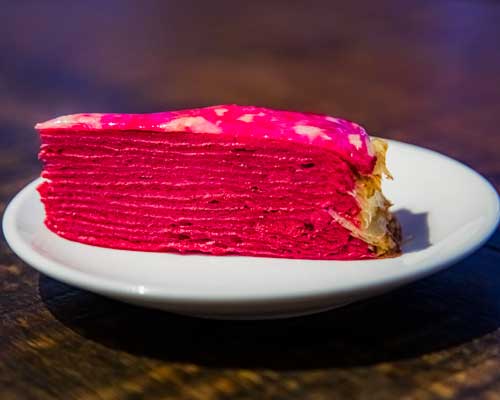 "Brunette Brown Sugar Cake"
Brown-sugar cakes are a favorite Penghu tourist take-home purchase. Made with muscovado sugar, they're steamed, not baked. Pick yours up on Old Street at "Brunette Brown Sugar Cake."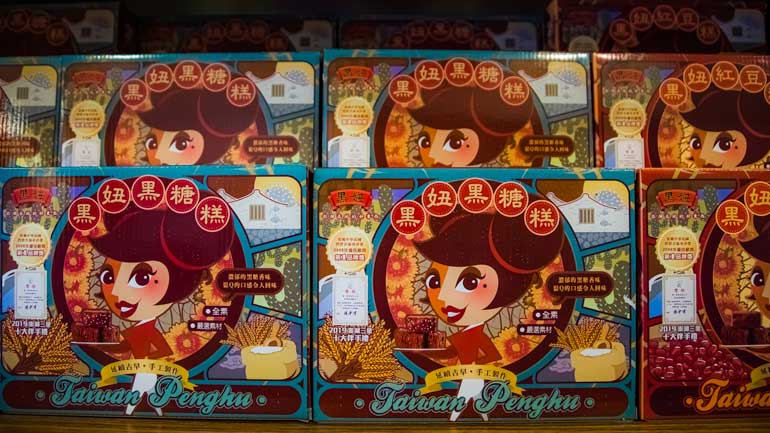 "Little Ping's Shop"
The local seafood is wide-ranging, supremely fresh, and delectable, and squid vermicelli, served in a rich broth, is a Penghu culinary icon. Tourists visiting Xiyu make special foodie pilgrimages to "Little Ping's Shop" at Xiaomen Fishing Harbor, close to where the Whale Cave is located.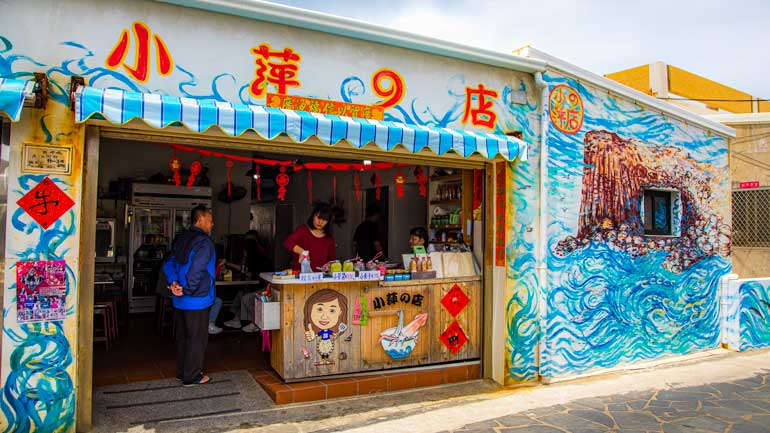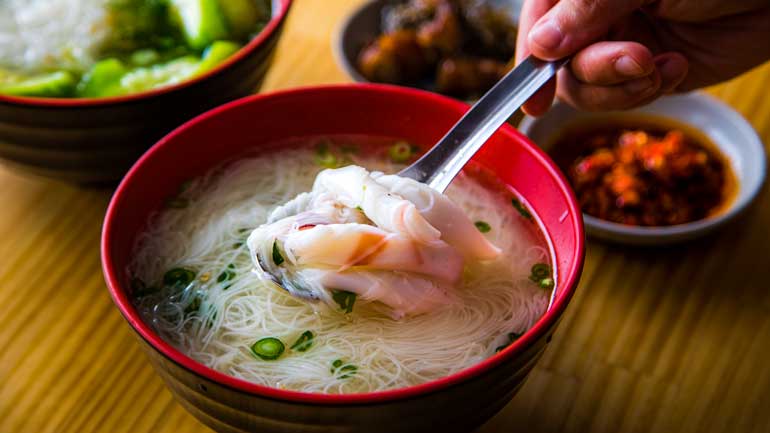 And I'd be remiss if I didn't mention some of my other personal favorites: Penghu's naturally sweet peanuts, soft and lightly sweet peanut brittle, winter-melon cakes, and shrimp fritters.
More Info
Those interested in diving info-deeper on Penghu should visit the website of the Penghu National Scenic Area.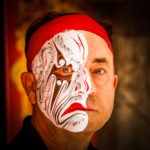 A Canadian, Rick has been resident in Taiwan almost continually since 1988. His book, article, and other writings, on Asian and North American destinations and subjects—encompassing travel, culture, history, business/economics—have been published widely overseas and in Taiwan. He has worked with National Geographic, Michelin, APA Insight Guides, and other Western groups internationally, and with many local publishers and central/city/county government bodies in Taiwan. Rick also handles a wide range of editorial and translation (from Mandarin Chinese) projects.