Taipei Seafood Options
TEXT / HAN CHEUNG
PHOTOS / POWEI CHEN, VISION
Taipei residents don't have to travel to coastal fishing ports to enjoy the fresh bounty of the ocean. Some sort of fish, shrimp, and squid dish can be found in virtually any city restaurant, but there are also specialized restaurants who do it so well that people are willing to queue up to satisfy their taste buds.
On average, the Taiwanese consume more than 35kg of seafood per year. Easily accessible and reasonably priced, marine catch can be found served in all sorts of settings and cuisine styles. Taipei restaurateurs source their goods straight from not-too-far-away harbors or from Binjiang Market, close to Taipei Songshan Airport, or the Taipei City Fish Wholesale Market, in Wanhua District. Many preserve decades-old recipes, others introduce new twists.
All In One
With a dish heaped over the top with high-grade maritime ingredients called "Pompous Seafood Congee", this unassuming, minimalist resto-bar takes everyday Taiwanese seafood cuisine to another level. After working as a hotel chef for more than a decade, the owner started this joint to bring the flavors of his southern hometown to Taipei in a more sophisticated setting. That's still the soul of the place, but it has evolved into much more, offering an expansive menu ranging from classic street foods such as rice sausages to an omakase set one might find in higher-end Japanese bistros. Customers must order this selection of small but exquisite morsels presented in a nine-square box in advance. There's also a decent selection of libations, with a bartender.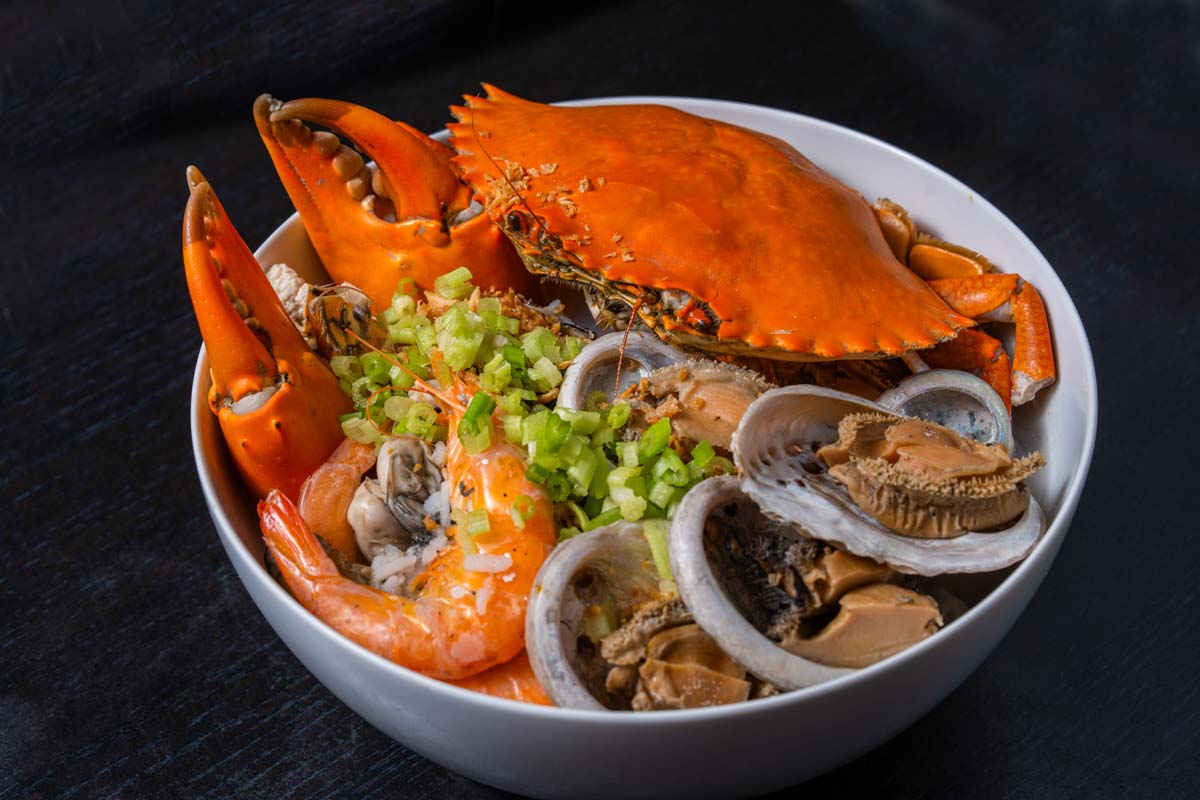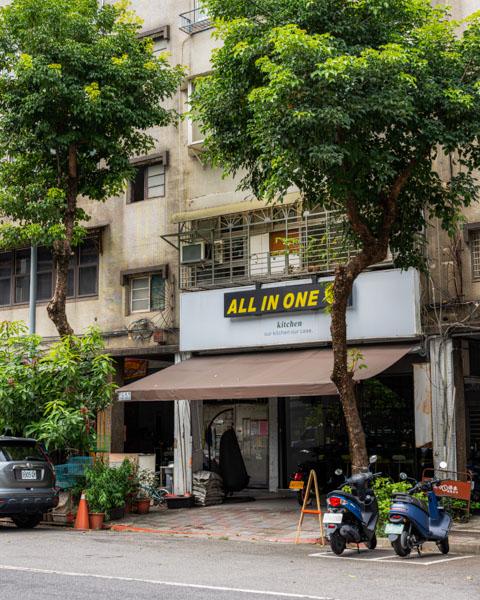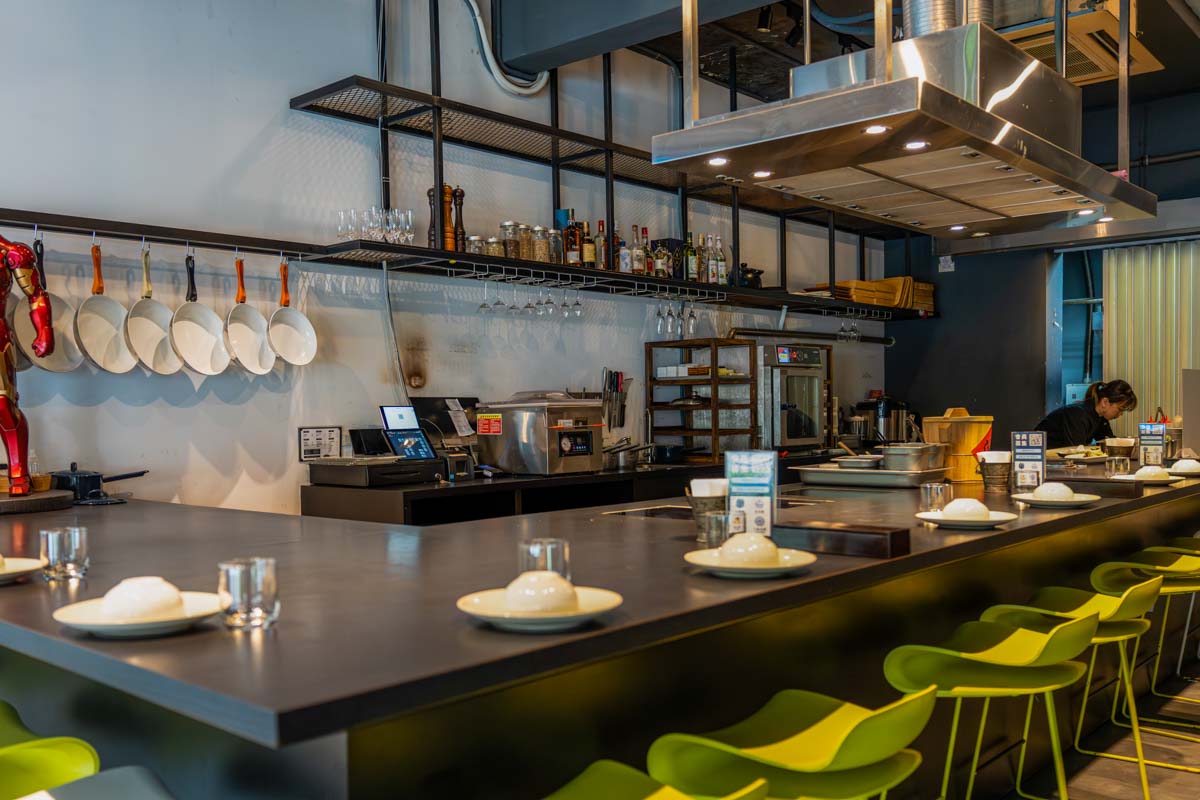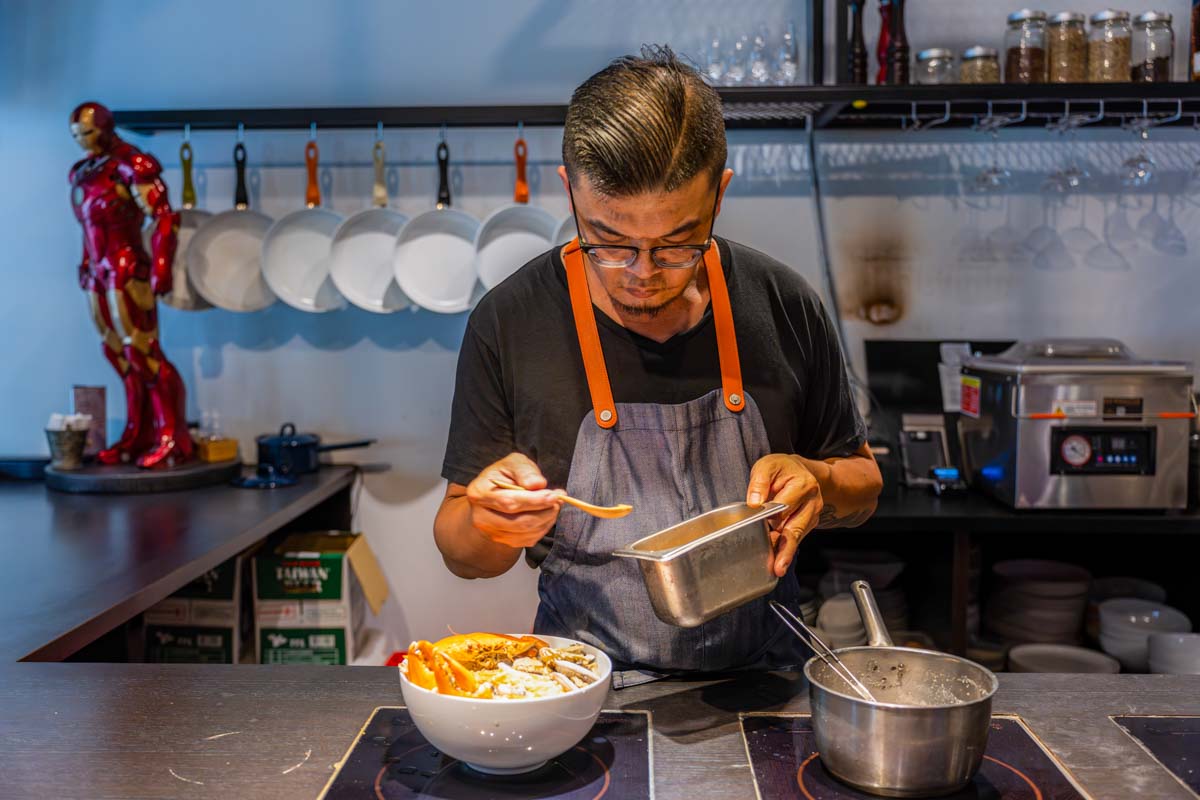 Located near the north edge of ritzy Xinyi District, All In One offers an alternative for gourmand visitors who want a break from the bustling night markets and raucous stir-fry eateries. Visitors can choose to sit at the bar, where they can watch the chefs prepare their meal right in front of them. The celebrated congee, carefully prepared one bowl at a time, is generously packed with prawn, oysters, clams, abalone, squid, and a choice of crab or lobster. For the more budget-conscious, there are also personalized servings of the congee with fewer ingredients. The charcoal-grilled, freshly caught lobster is also a favorite, as well as the refreshing seared tuna salad and grilled squid. Western-style choices are also available, such as steak and risotto.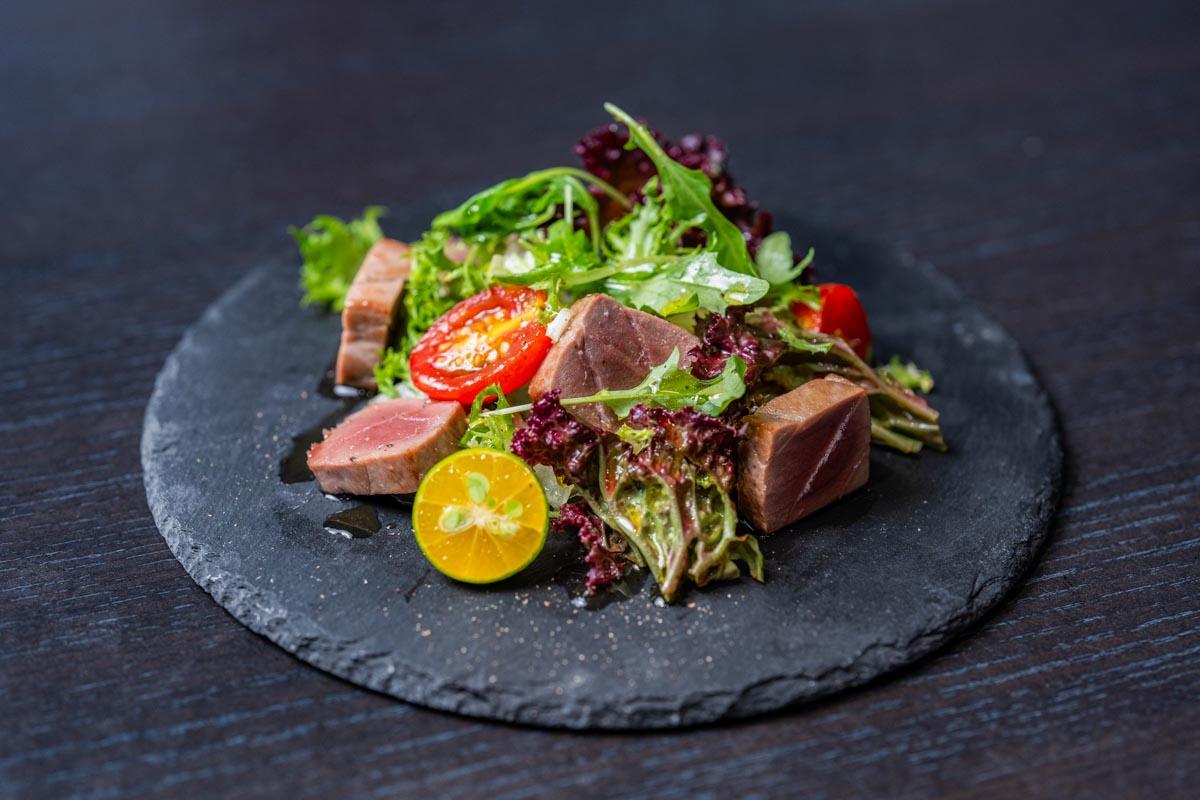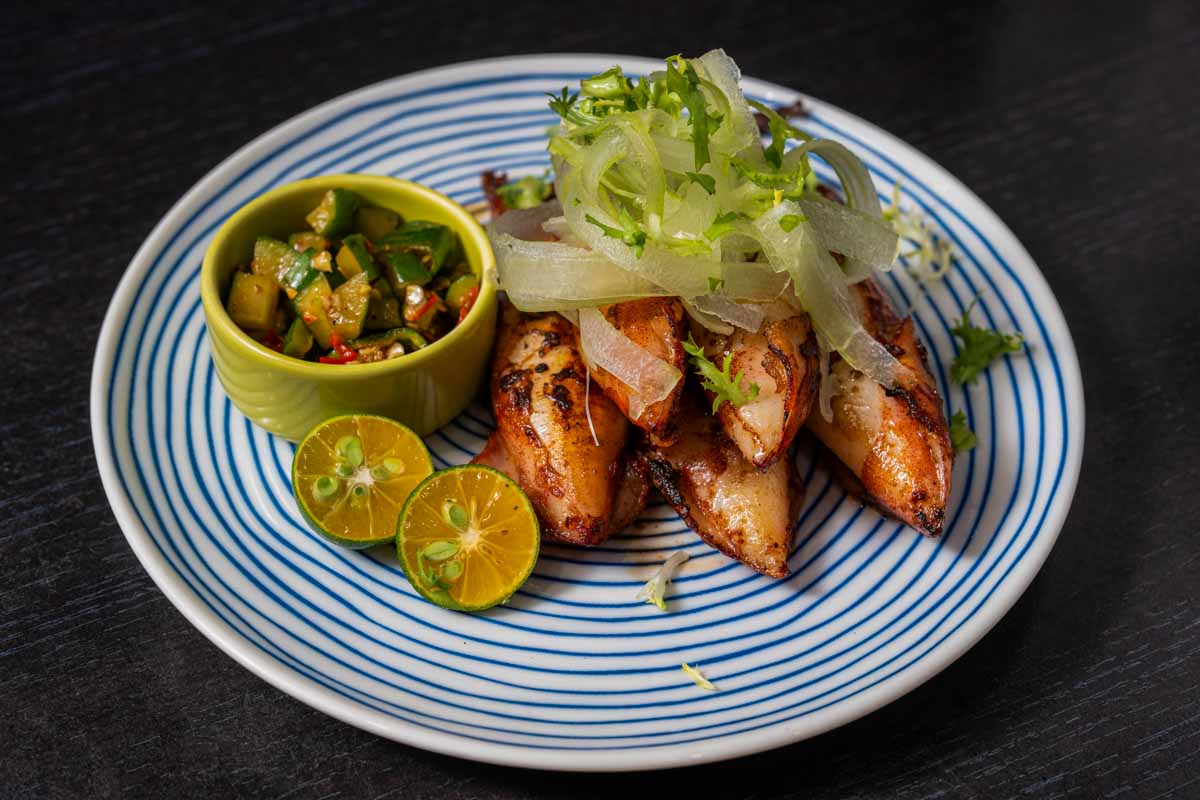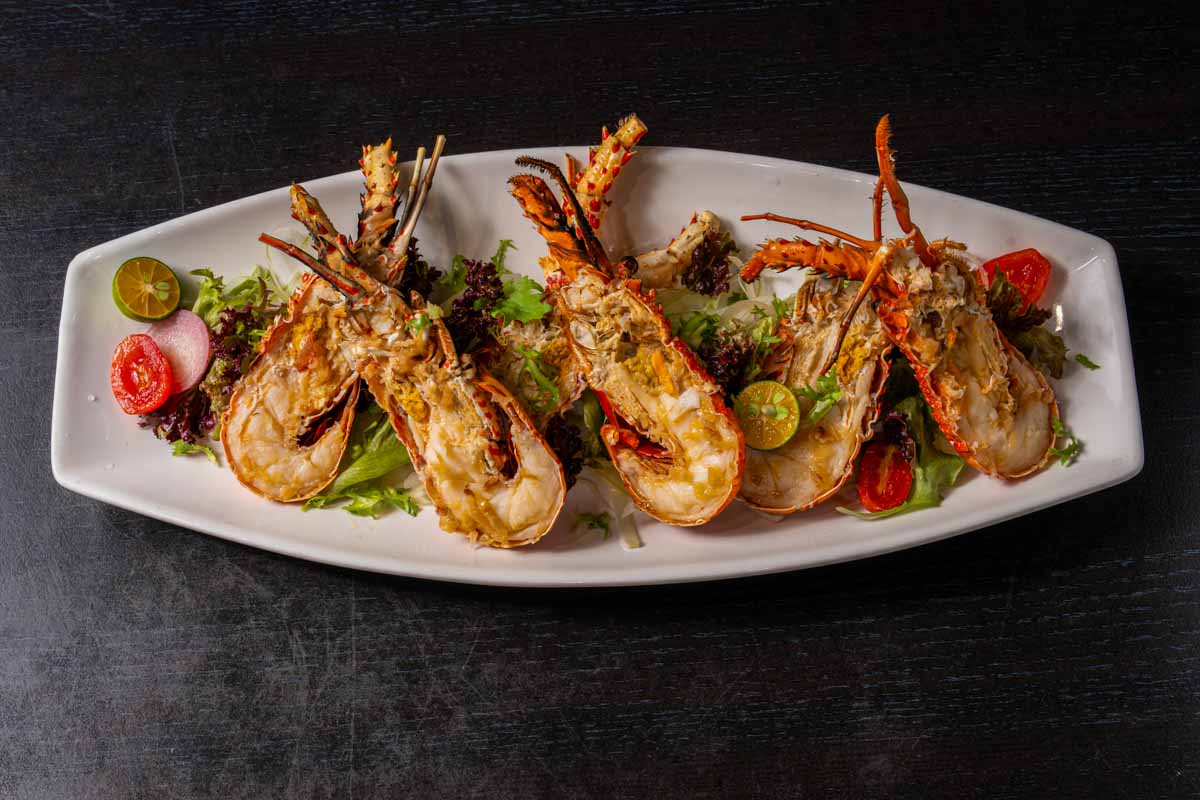 All In One
(A.I.O餐廳)
Tel: (02) 2767-7058
Add: No. 23, Lane 101, Sec. 1, Keelung Rd., Xinyi District, Taipei City
(台北市信義區基隆路一段101巷23號)
Facebook: www.facebook.com/aiorockworld
"Lin Mei Ru Seafood Stir Fry Restaurant"
"Lin Mei Ru" is not the name of the smiling auntie wearing hair curlers on the restaurant sign. Hint: It's about what's in the mug she's holding. Pronounced in Taiwanese, the name sounds like "drink beer" (lim bi-lu), and drinking beer is what people do at this boisterous rechao (Taiwanese stir fry) and izakaya fusion joint, the walls and ceilings of which are plastered with quotes about alcohol consumption. Located in the bustling East District, it's an ideal place for people to gather after work; there's a large basement for group celebrations. The retro-style decor provides a cozier, more atmospheric experience than the typical rechao place, but it's brighter and more casual than an izakaya.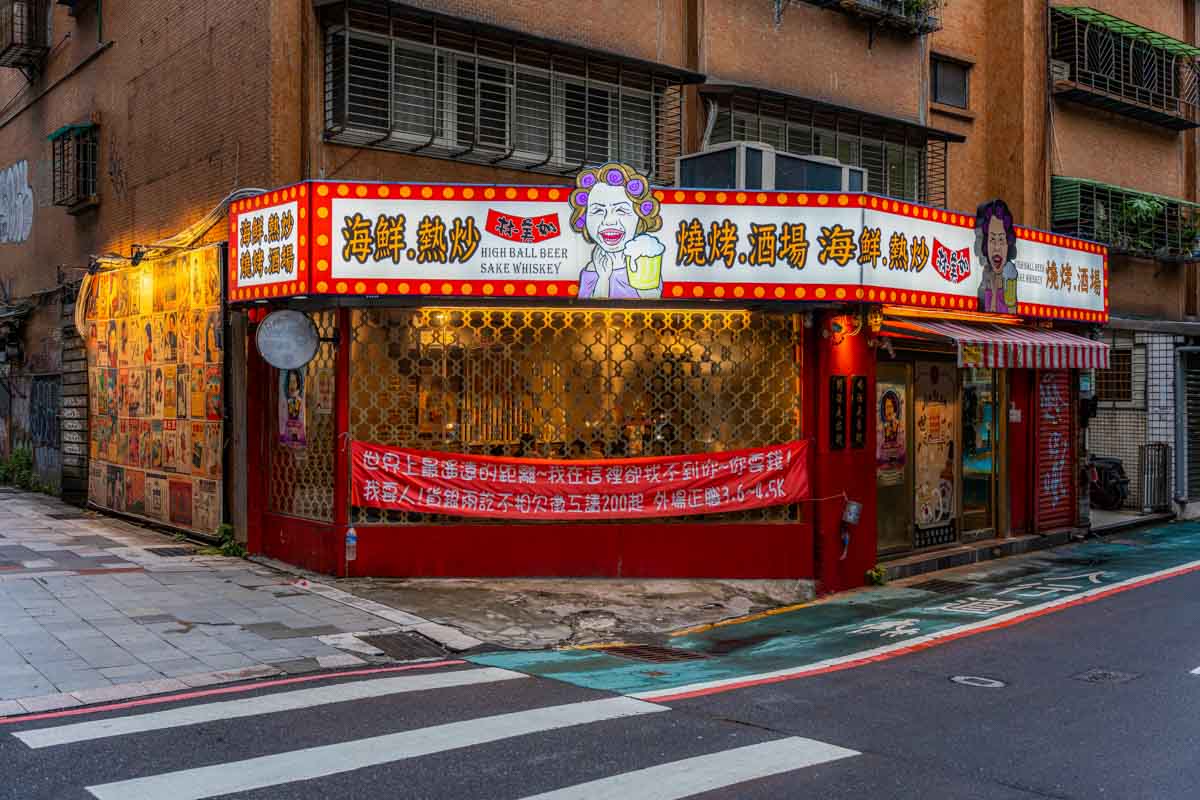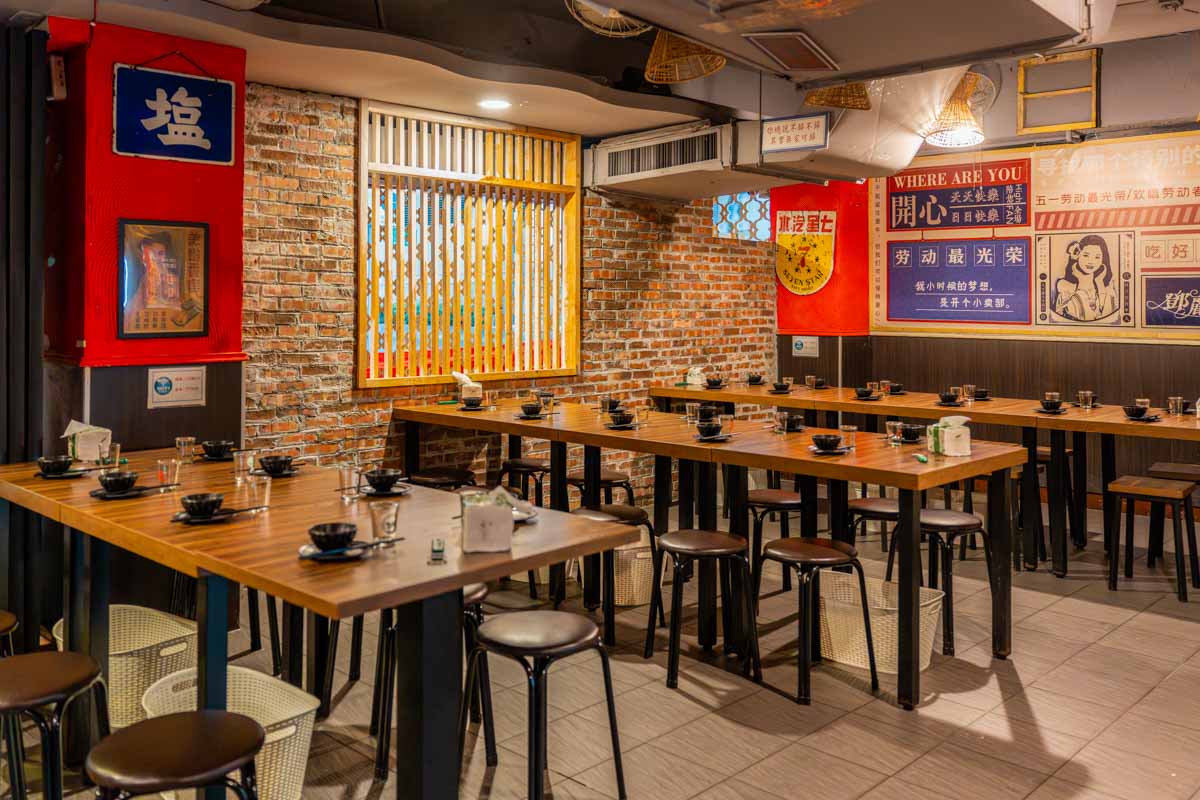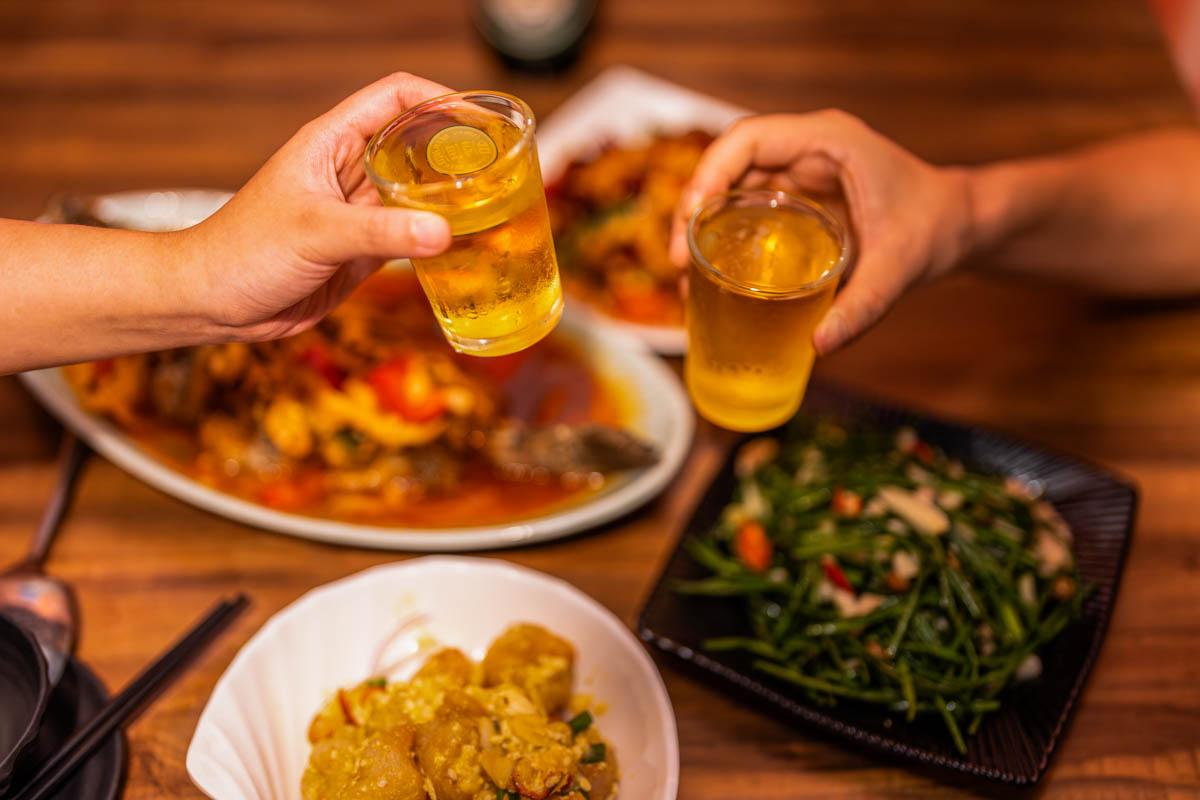 The alcohol selection also melds the two types of eatery – in addition to the staple Taiwan Beer varieties, there are also Japanese beers such as Sapporo and Orion, as well as black tea plum wine, soju, sake, highball, and even kaoliang (sorghum liquor) selections. The dizzying menu, with more than 100 choices, is typical of such establishments, which of course have plenty of seafood options – including live selections from the fish tank by the entrance. In addition to rechao classics, there's also sashimi, grilled meat, fish and vegetable skewer, salted threadfin, and other izakaya snacks that pair well with alcohol.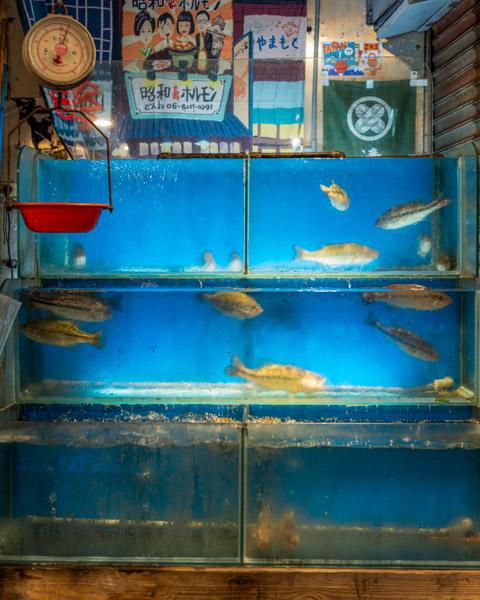 After much deliberation, on a recent visit we ordered a maritime medley of fried egg with shrimp, sweet-and-sour fish, kung pao squid, and a garlic-fried watercress. It was only 6pm on a weekday, but the place was already beginning to fill up, with most customers seemingly in a cheerful, festive mood. It can get loud, but that's expected – just soak in the atmosphere, enjoy the tasty food, and throw back a few cold ones.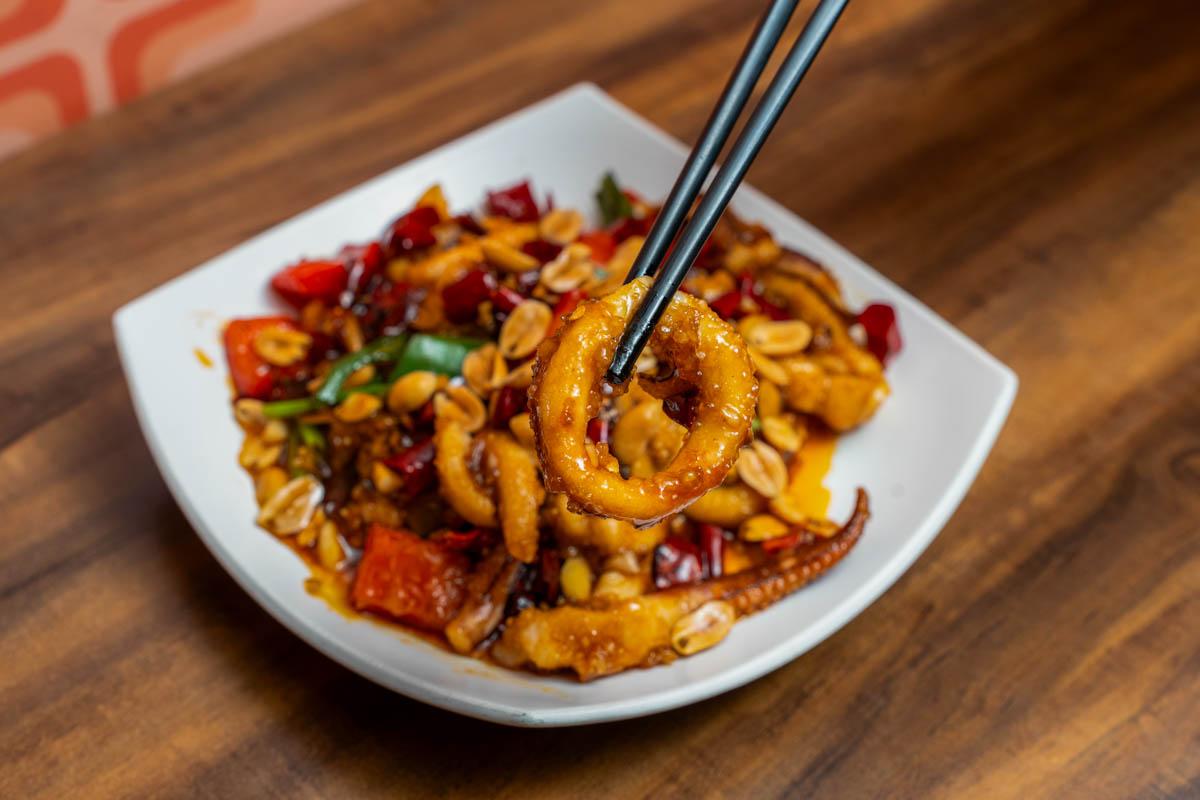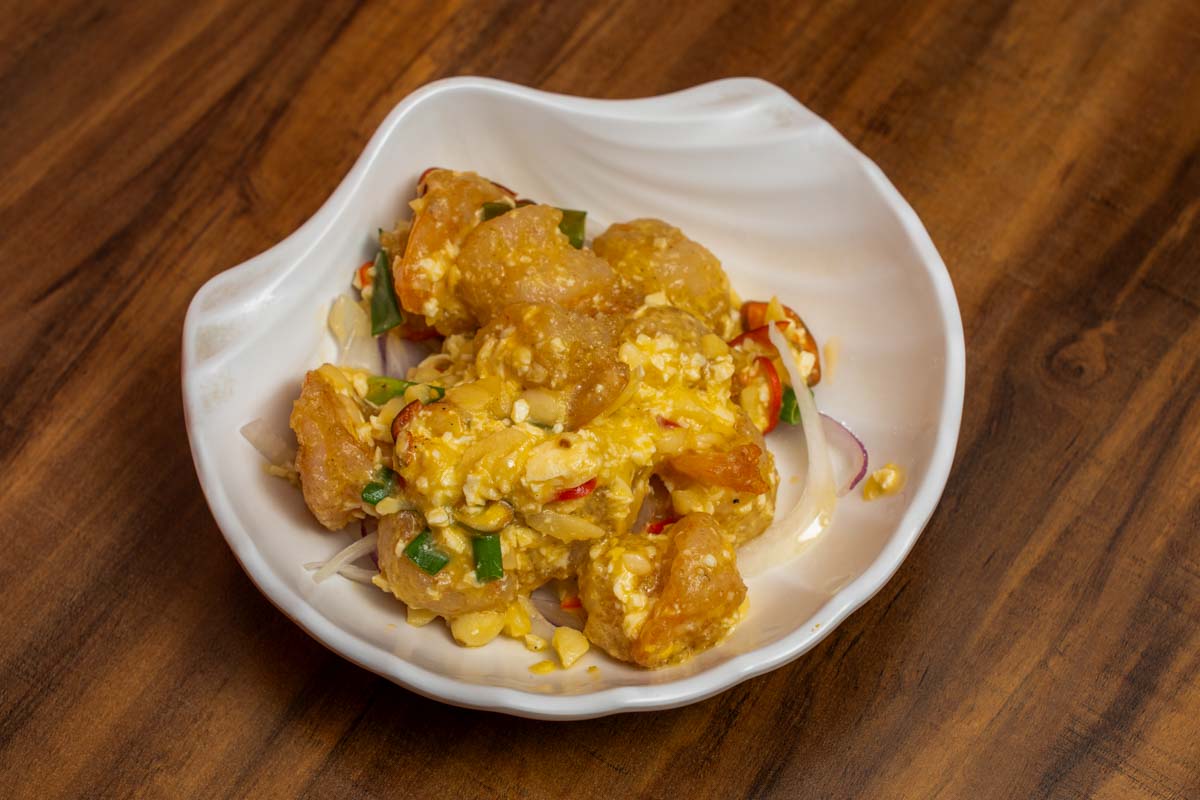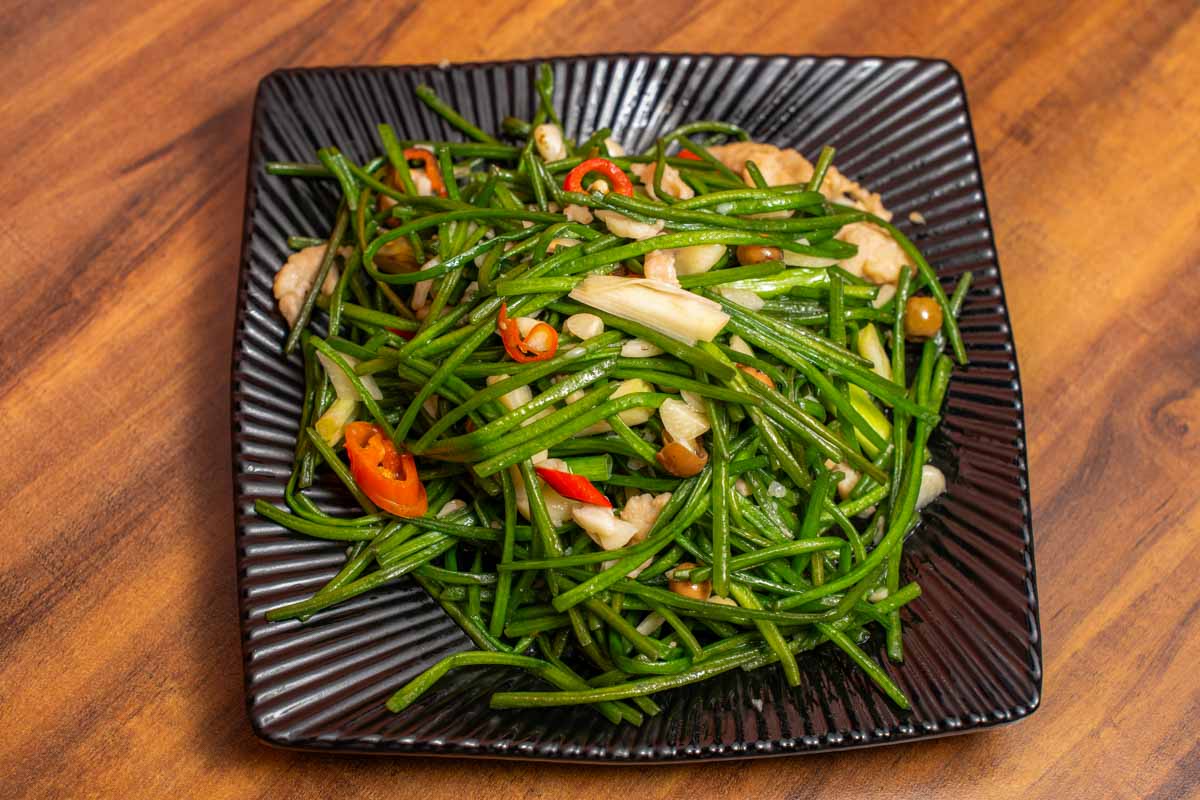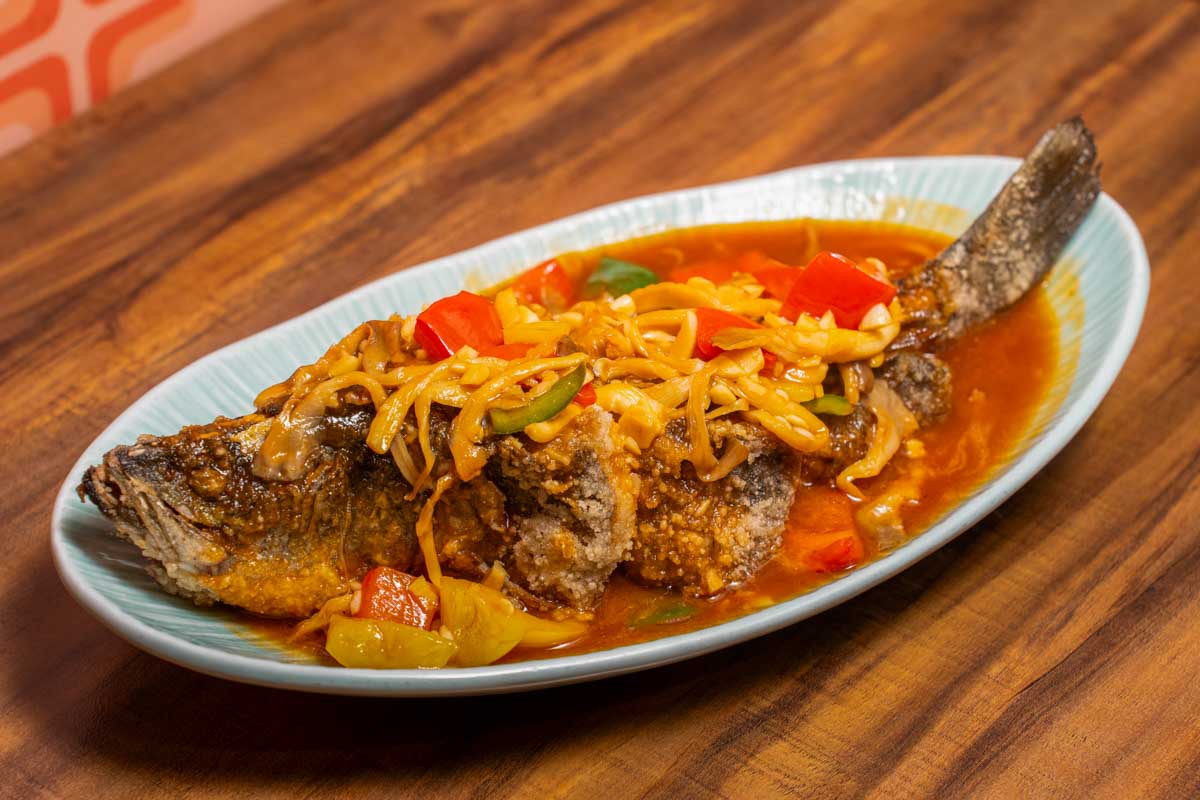 "Lin Mei Ru Seafood Stir Fry Restaurant"
(林美如海鮮熱炒)
Tel: (02) 2776-1669
Add: No. 80, Lane 300, Sec. 2, Bade Rd., Zhongshan District, Taipei City
(台北市中山區八德路二段300巷80號)
Facebook: www.facebook.com/ot27761669
Huh Pot Taipei Zhongxiao Branch
Huh Pot's brilliant, comic-like neon signage beckons in the night to visitors looking for a place to warm up on a cool evening with some hot broth. The Chinese name of this place is a play on words – the character for clam (蛤, pronounced "ha") is often used in casual texting to represent the question sound "huh?"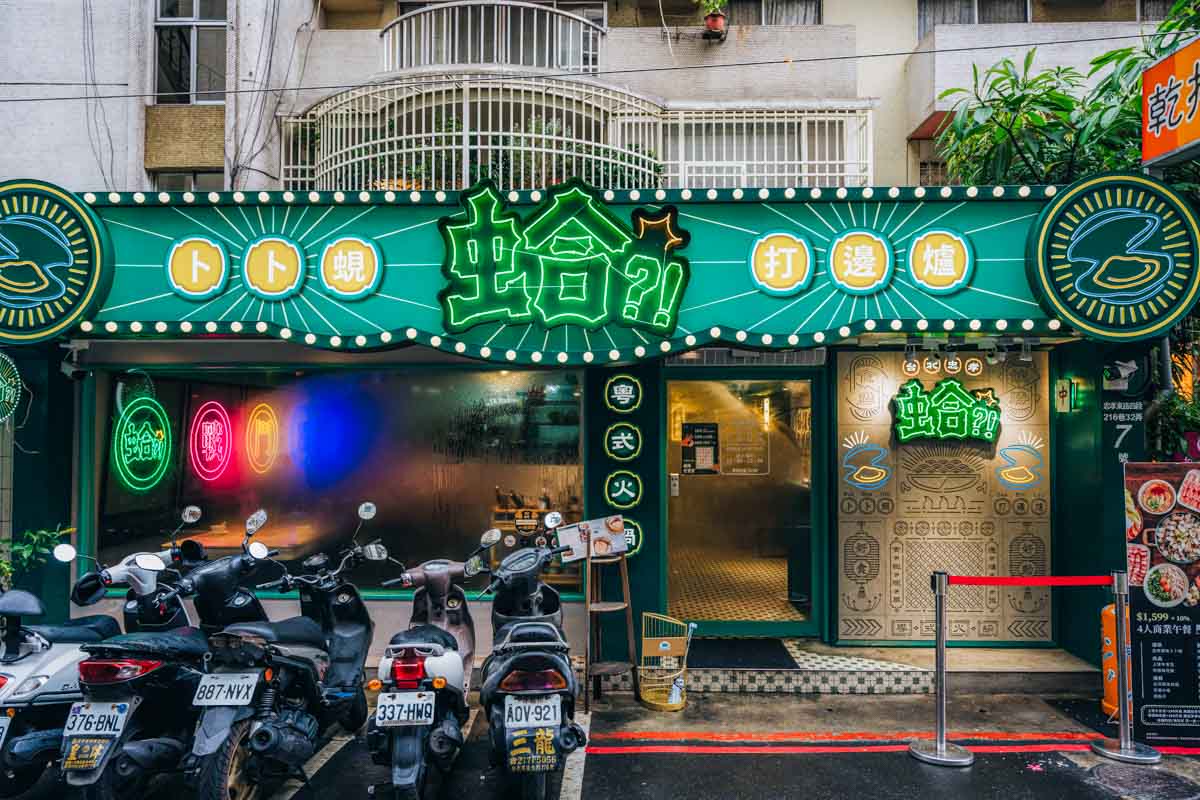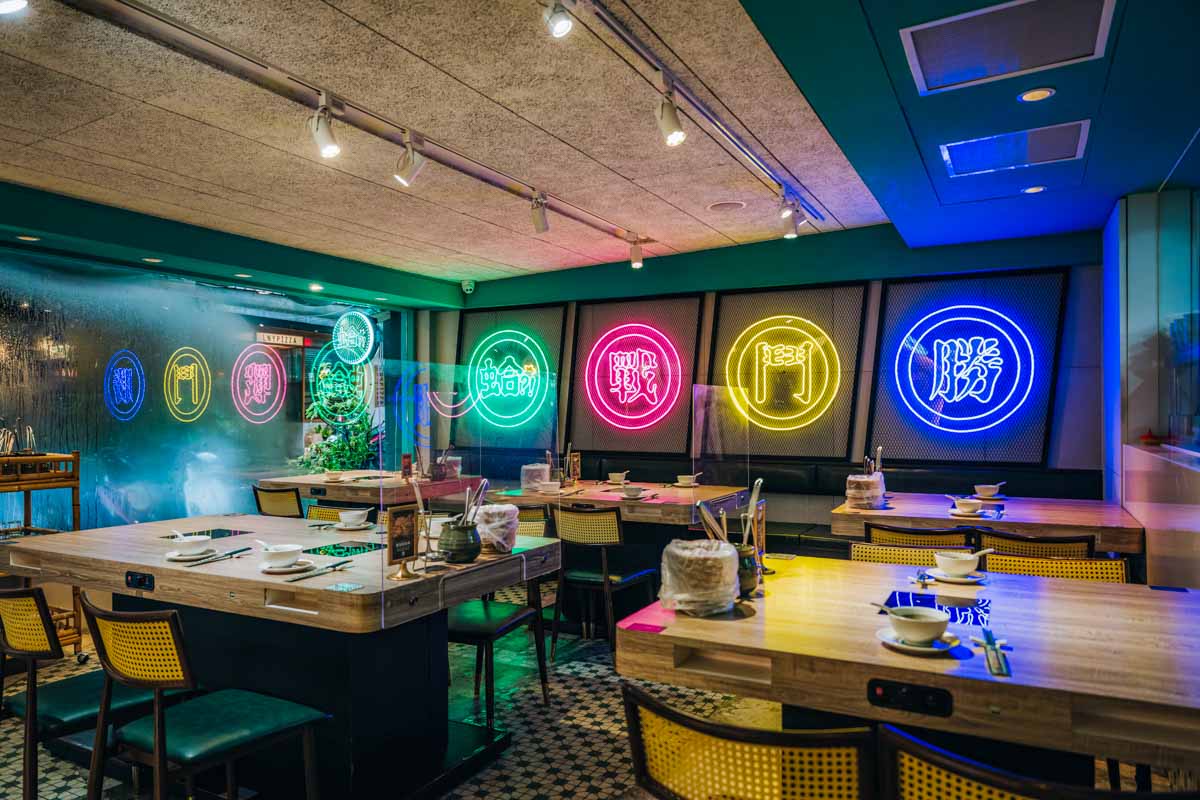 Featuring Hong Kong-style clam hot pot, this eatery got its start in the East District along Civic Boulevard, but has since added the nearby Zhongxiao branch as well as one in the city of Taichung. The loud, nostalgic, and playful decor is full of Mahjong elements and Cantonese sayings, and there's a large pinball game where patrons who spend a certain amount or have birthdays in the same month can win prizes such as side dishes. "Those under 28 years old must be accompanied by a parent to play," one sign jokes. "The camera gets to eat first," another sign states, which is especially true for such an instagrammable place.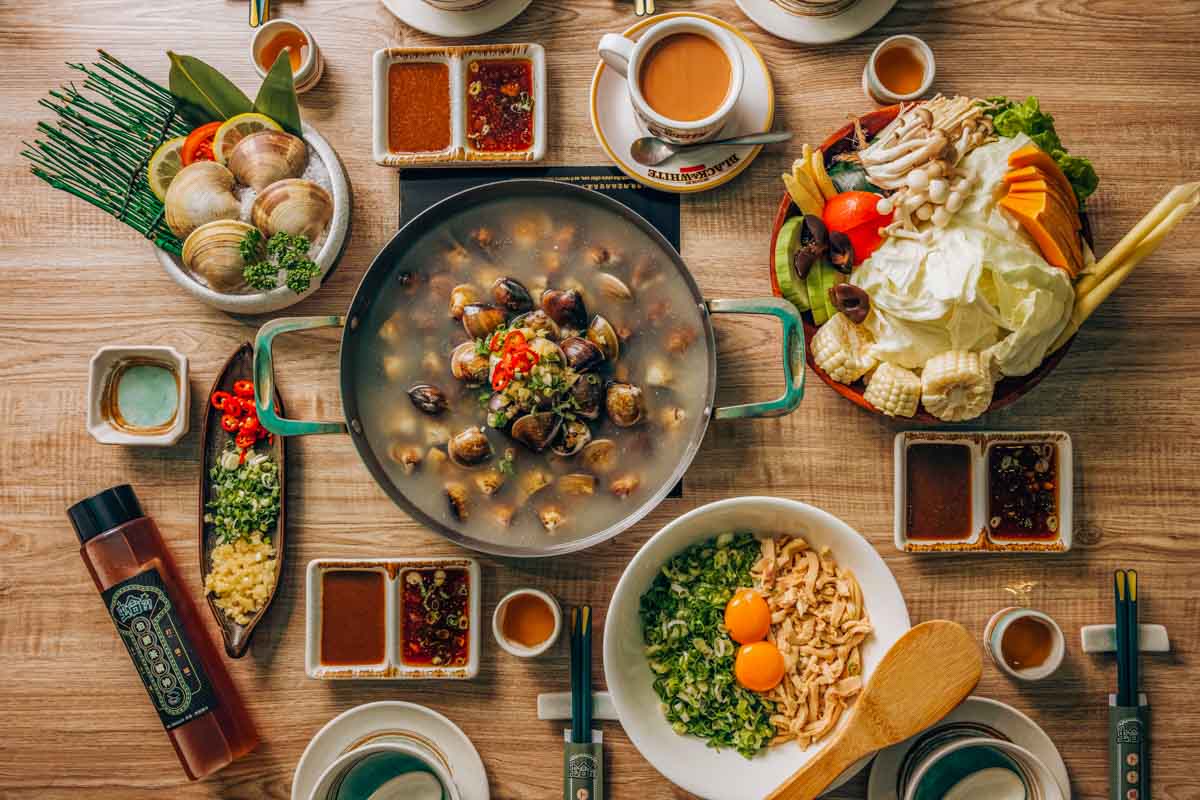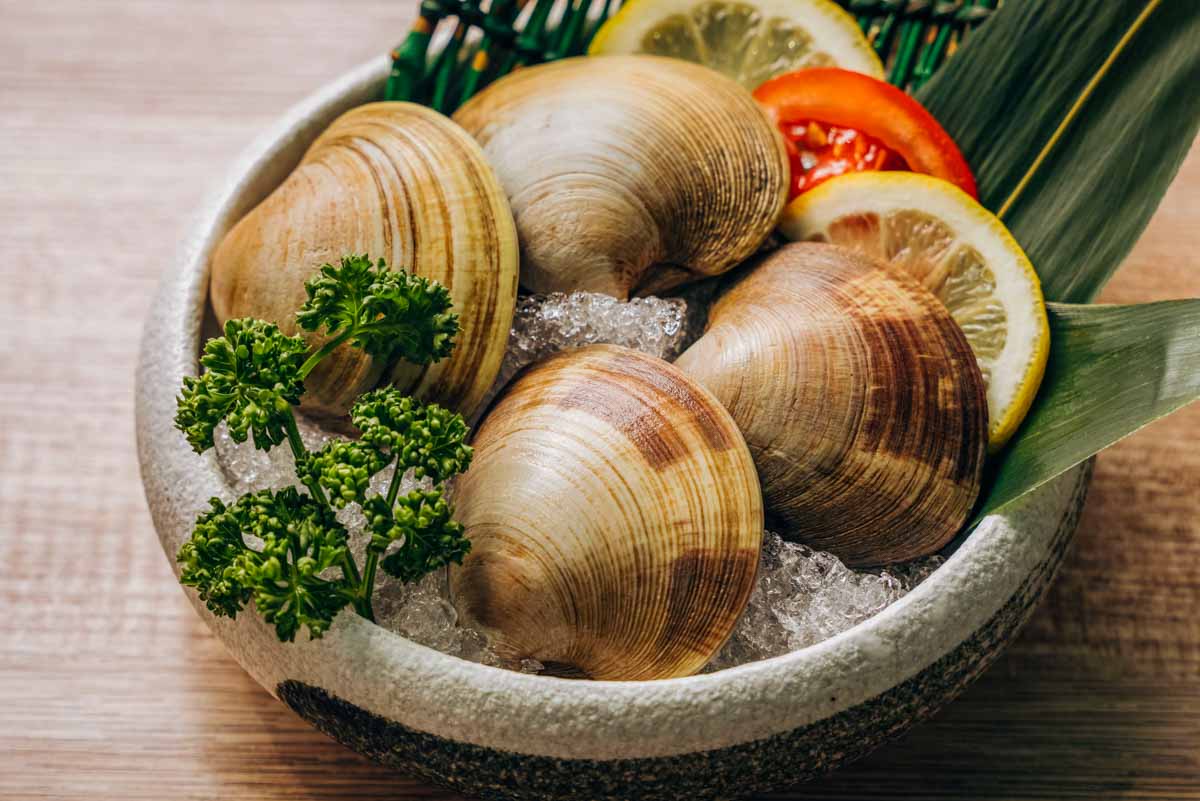 Clams are the main culinary character here, with every pot laden with the delectable morsels. There's even a supersized option containing 2kg of clams. Each meal comes with fruit sauce and a signature spicy pepper sauce, and there are seven soup bases to choose from. The original recipe includes garlic, chicken, chili pepper, spring onion, and rice wine. Diners can add other classic hot-pot ingredients such as sliced meat, fish balls as well as scallops and lobster to their pots. Hong Kong-style drinks such as "silk stocking" milk tea and salted lemon 7UP are also available.
Drinking alcohol is highly encouraged, beer is consumed in a "battle bowl" instead of a cup, and according to the house "dining rules," those who play with their phone, go for a smoke, or use the bathroom during their meal need to down one cup.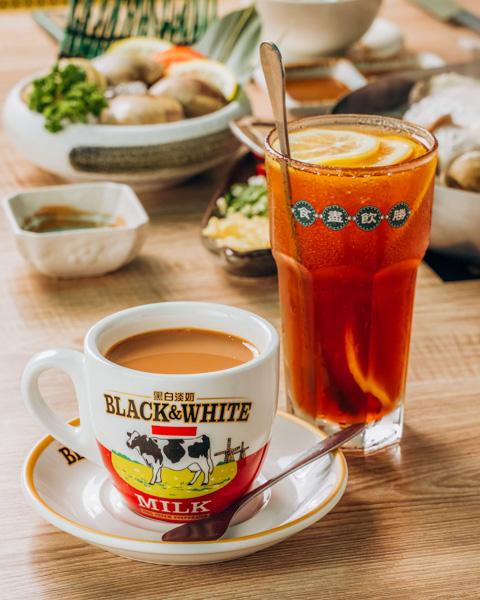 Huh Pot Taipei Zhongxiao Branch
(蛤huh pot台北忠孝店)
Tel: (02) 8771-7177
Add: No. 7, Aly 32, Lane 216, Sec. 4, Zhongxiao E. Rd., Da'an District, Taipei City
(台北市大安區忠孝東路四段216巷32弄7號)
Facebook: www.facebook.com/huhpotzhongxiao
"Yi Ma Nei Li Fish Soup Restaurant"
Beginning as a roadside stall more than 40 years ago, this small eatery by MRT Shandao Temple Station has a simple yet attractive storefront that attracts long lines during peak hours. Open just for breakfast and lunch, this spot offers a simple menu of various soups and noodles. As its name suggests, the signature offering is the fresh fish soup, which comes with a whole Taiwanese tilapia; the sweet, umami flavor is accentuated with basil and ginger. This type of tilapia is known for often having a fishy-smell, but it's barely detectable here. The signature soup is limited in quantity, and another popular option is the combo soup with squid, pork slices, as well as pig's blood and liver. Customers can choose to add rice vermicelli or noodles in this dish. The seating in the narrow dining space is a bit tight, and coupled with the surge of people often waiting outside, it's one of those places where you won't linger for too long.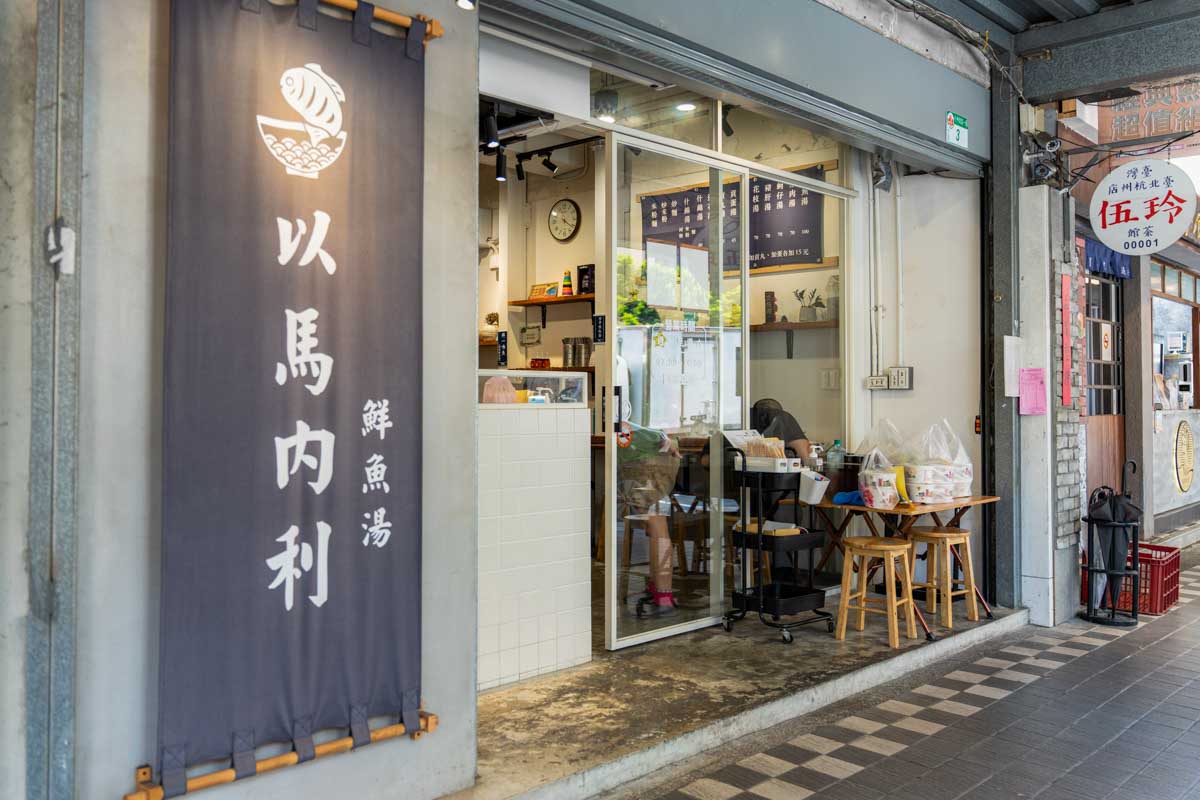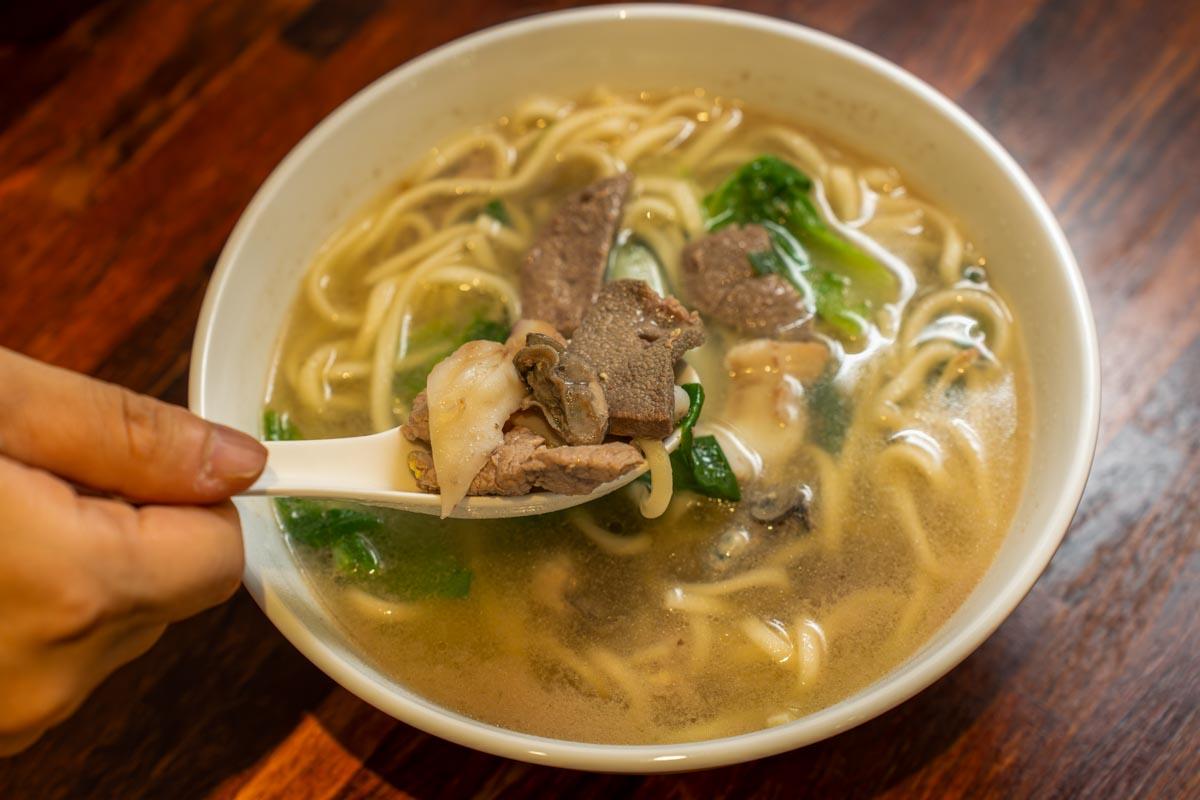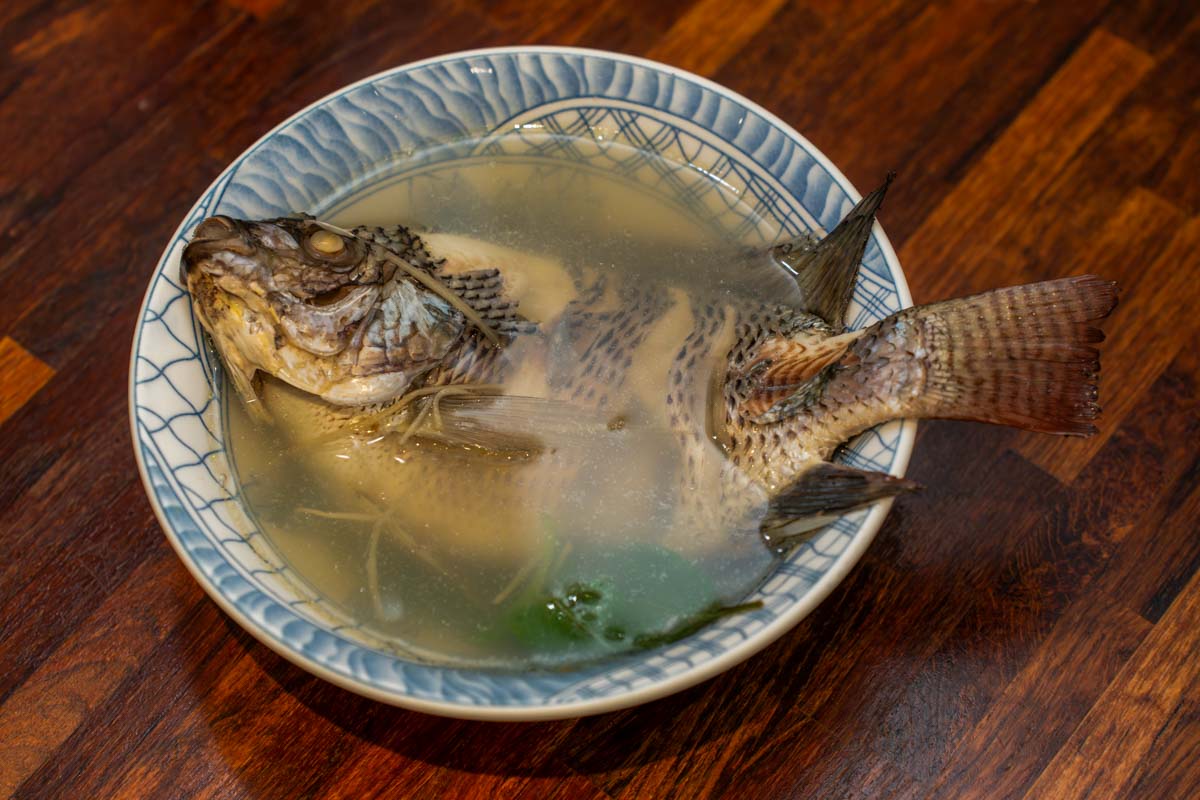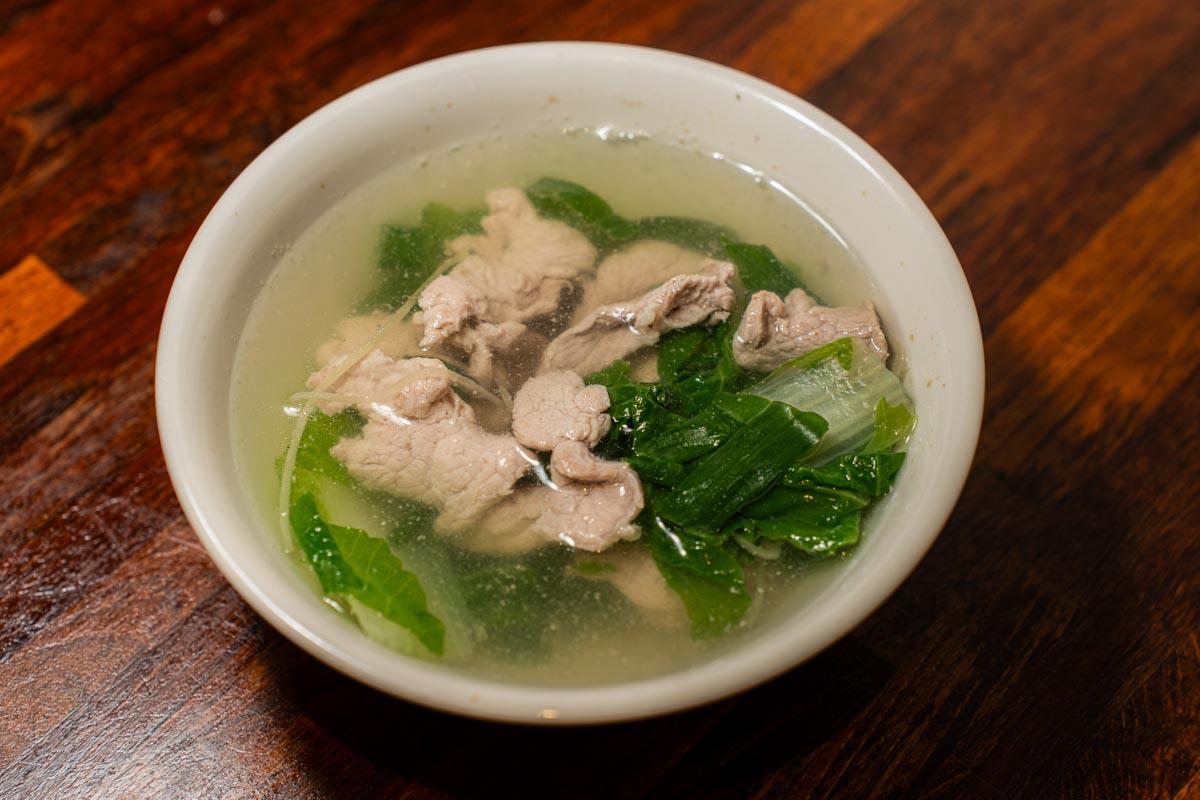 "Yi Ma Nei Li Fish Soup Restaurant"
(以馬內利鮮魚湯)
Tel: (02) 2351-5378
Add: No. 3, Sec. 1, Hangzhou S. Rd., Zhongzheng District, Taipei City
(台北市中正區杭州南路一段3號)
Facebook: www.facebook.com/fishsouphsu
"Wanlong Sushi"
Sashimi for breakfast? Why not? This popular place inside historic Dihua Street's Yongle Market already teems with customers at 9am. The affordable and hefty assorted slices expertly carved from fish delivered straight from the harbor are firm and mouthwatering, and the sushi rolls are also large and flavorful. Customers who spend more than NT$250, which isn't difficult at all, get to enjoy bottomless miso soup that's generously loaded with tofu, seafood balls, and even pieces of fish. Despite being in a traditional marketplace, the environment is clean and air-conditioned while retaining the atmosphere of the old days. After the renovation of the market and revival of Dihua Street as a tourist hotspot, the owner, who had been selling fish for a long time, began collaborating with a retired hotel chef to create this unique and high-value eating experience.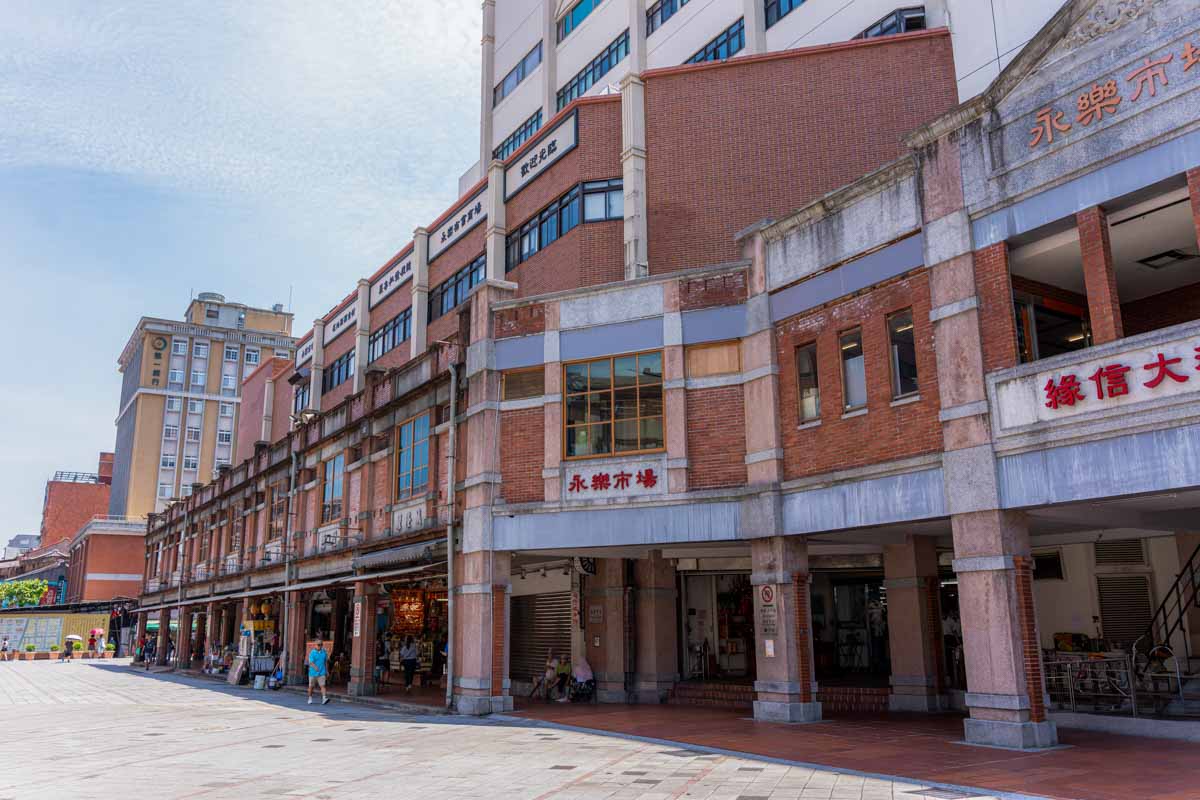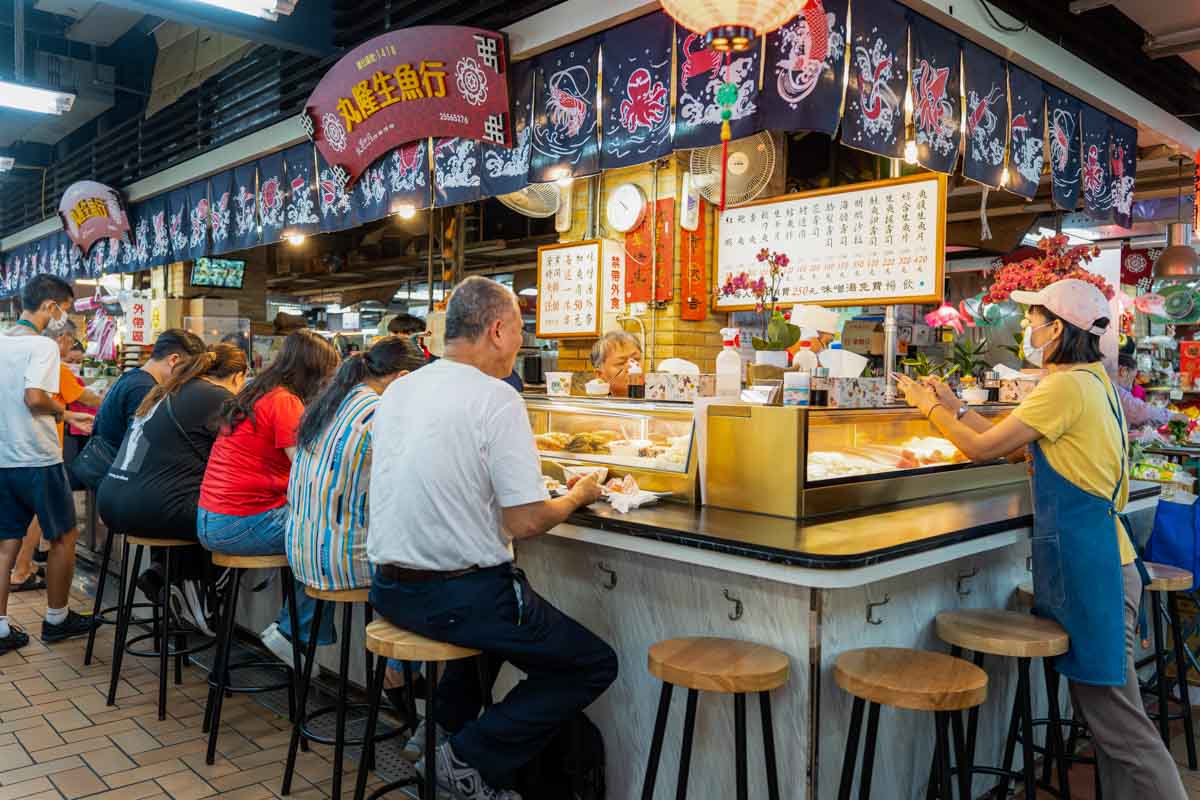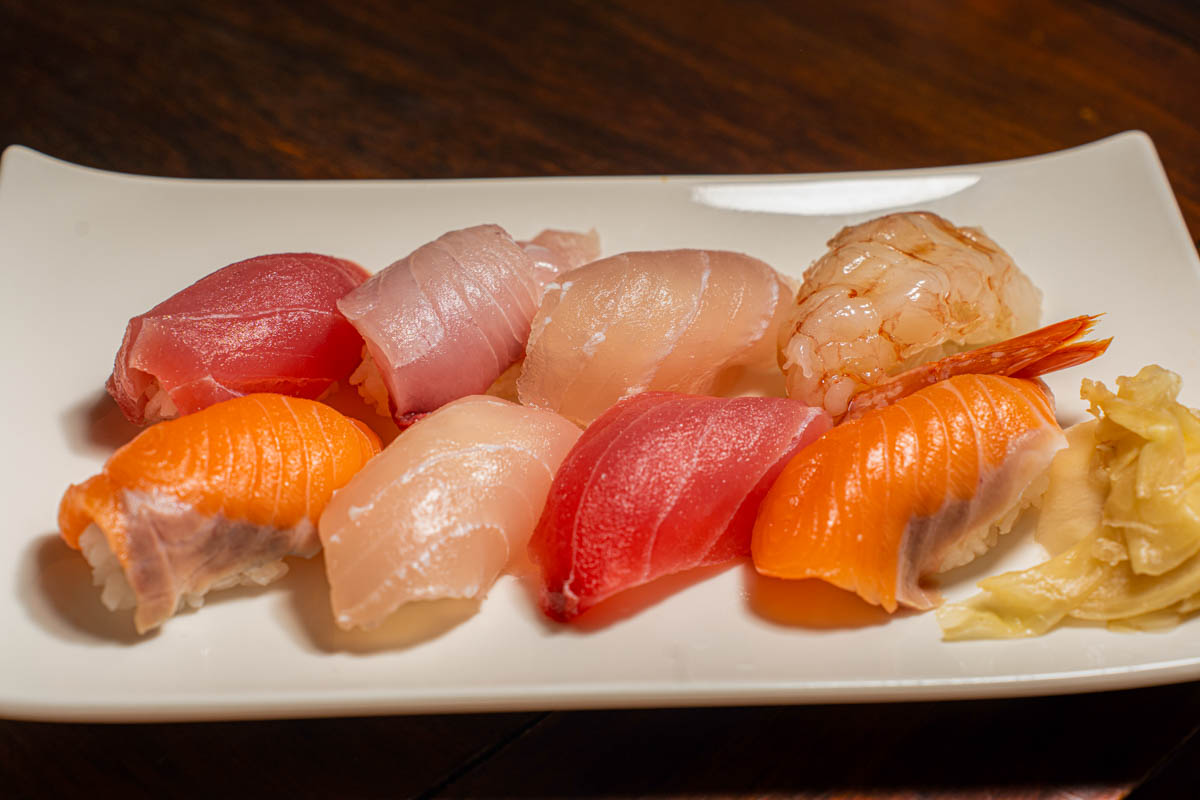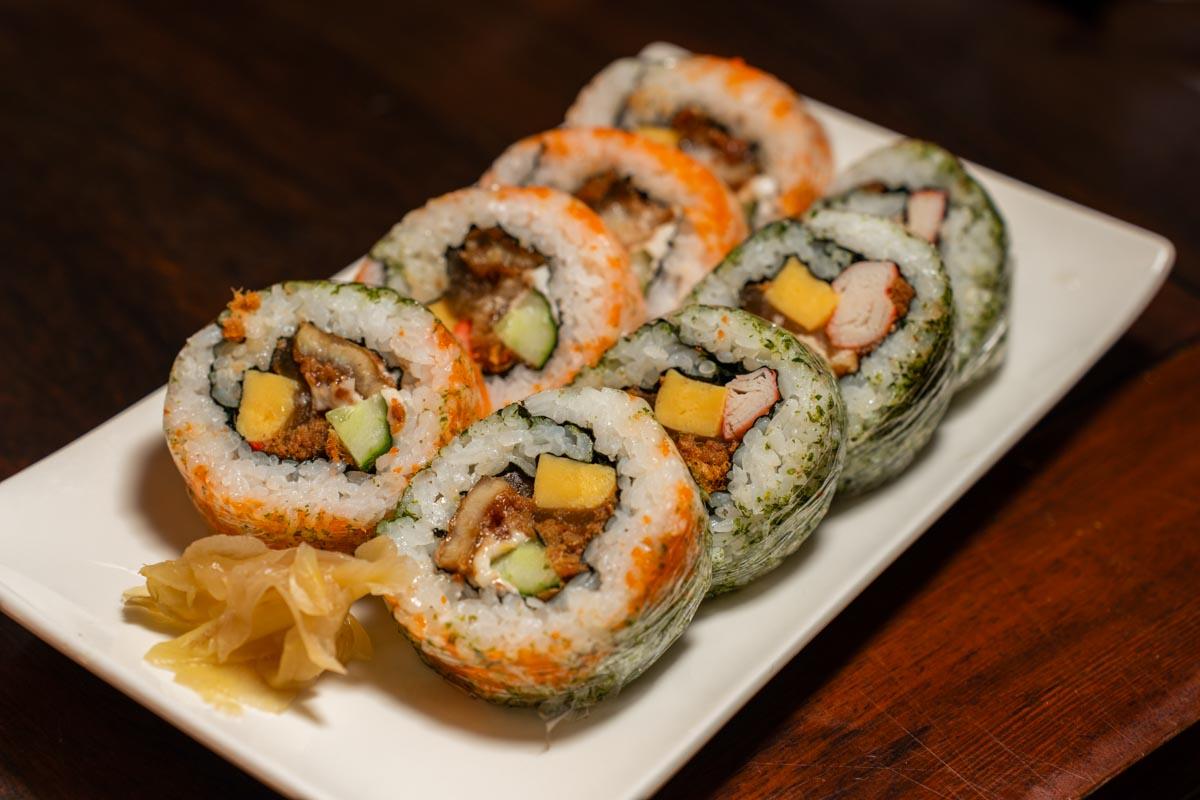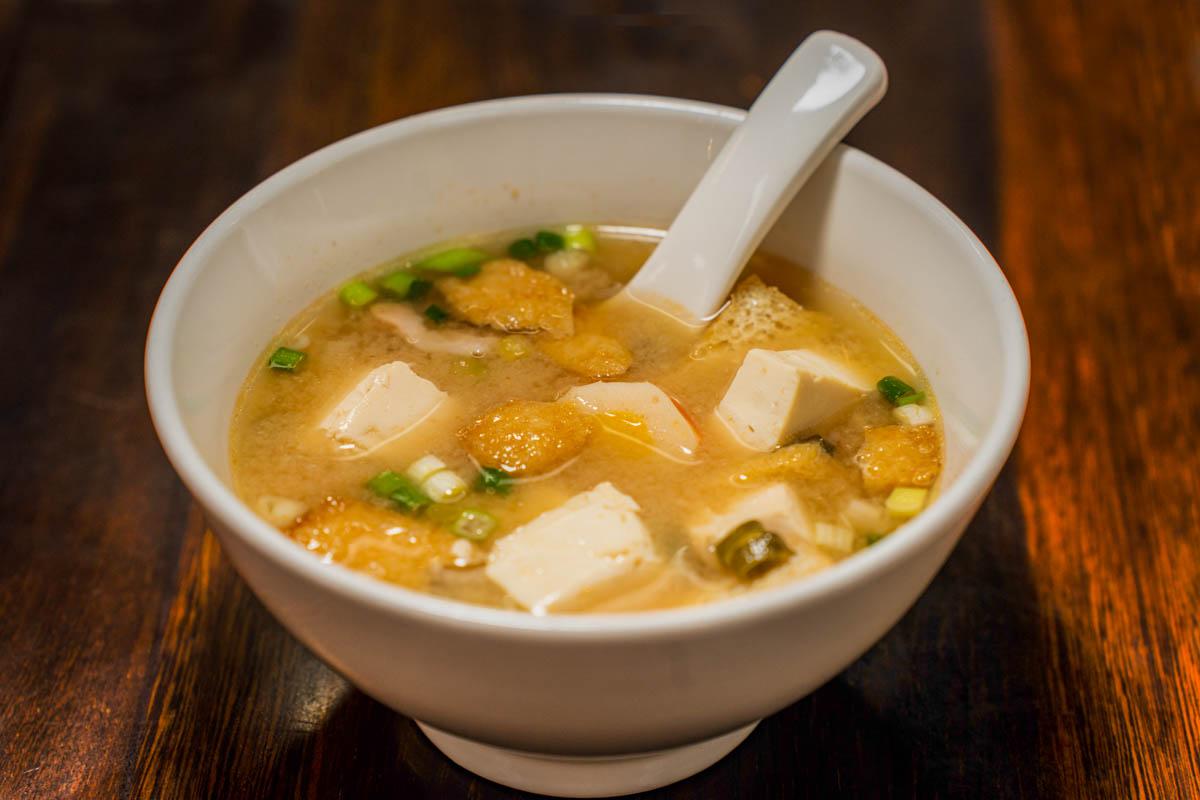 "Wanlong Sushi"
(丸隆生魚行)
Tel: (02) 2351-5378
Add: No. 21, Sec. 1, Dihua St., Datong District, Taipei City [Yongle Market Stall No. 1418]
(台北市大同區迪化街一段21號) [永樂市場第1418攤位])
Facebook: www.facebook.com/fishsouphsu
"Kaga Squid King"
Exclusively selling boiled Argentine king squid with speciality shacha and garlic sauce, "Kaga Squid King" has been a mainstay of the tourist-favorite Raohe Street Night Market in Songshan District for decades. Blanched on the spot, the meat is chewy yet crispy at the same time, and served in satisfying quantities. The standard flavoring is already quite bold, but many customers like to turn it up a notch by adding chili pepper sauce or wasabi to the mix ("it's very spicy," a sign above the sauce warns). For those who don't eat garlic or have other particular preferences, the sauce can also be adjusted per request. The stall, which is inside a building, has an air-conditioned second-floor dining space for hot days, and the food is best enjoyed with a cold beer or soda.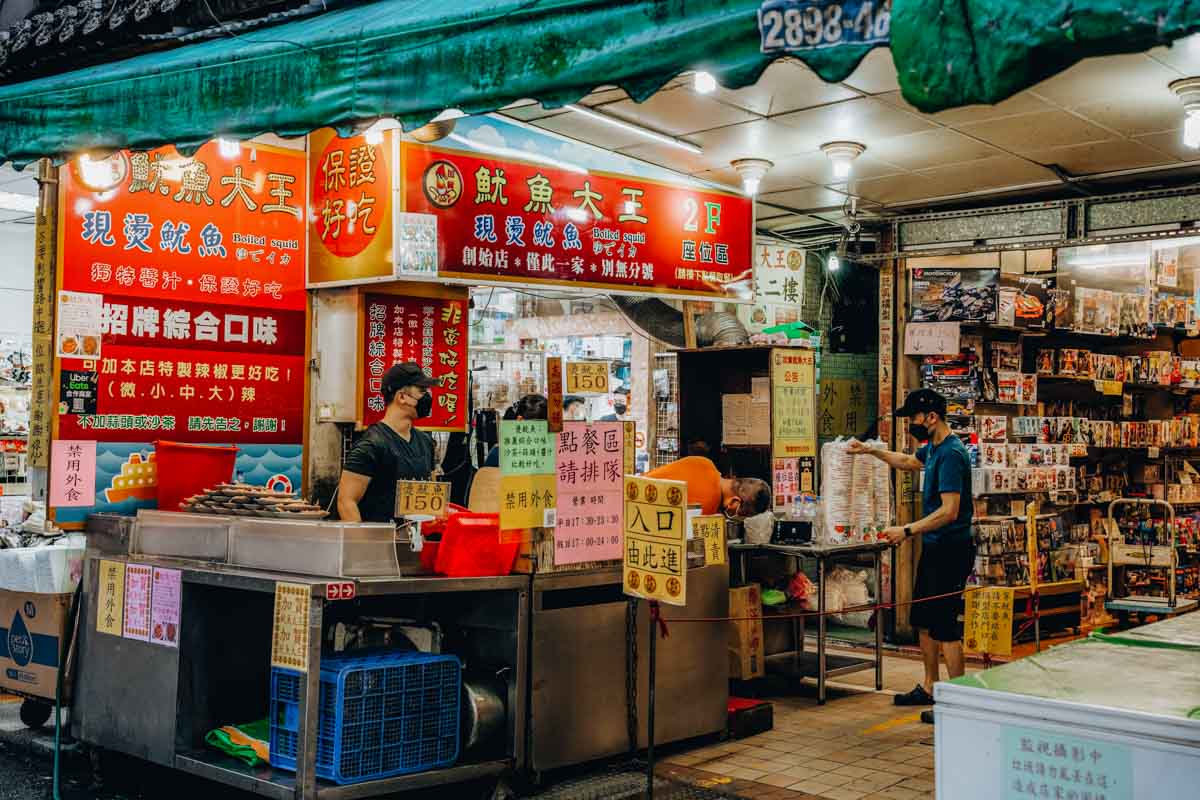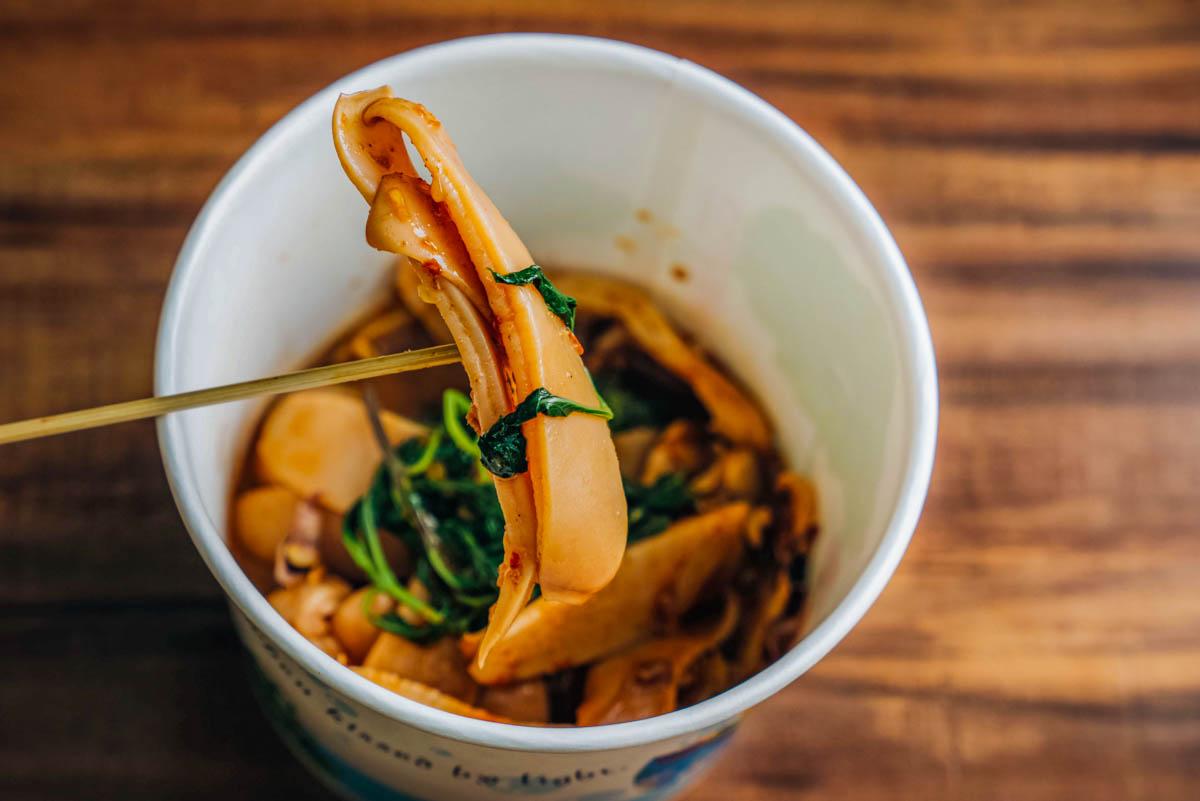 "Kaga Squid King"
(加賀魷魚大王)
Tel: 0968-579-555
Add: No. 120, Raohe St., Songshan District, Taipei City
(台北市松山區饒河街120號)
"Dong Fa Hao Oyster Vermicelli"
In operation since 1937, this immensely popular eatery, also located in Raohe Street Night Market, is still packed as ever after recently moving to a larger and brighter spot across the street from its original location. The shop offers only three items, all at extremely affordable prices: pork thick soup, oily sticky rice, and its famous oyster vermicelli. The vermicelli normally comes with chewy pig intestine as well, but for a few extra coins one can enjoy a bowl with just oysters. This shop's version of this popular Taiwanese street dish is unique, as it comes with a more refreshing clear pork bone-based broth rather than the usual thick soup. The flavor is relatively mild, but cilantro, chili sauce, and vinegar can be added to taste. This eatery is also known for its long hours, satisfying people's bellies daily from 8:30am to midnight.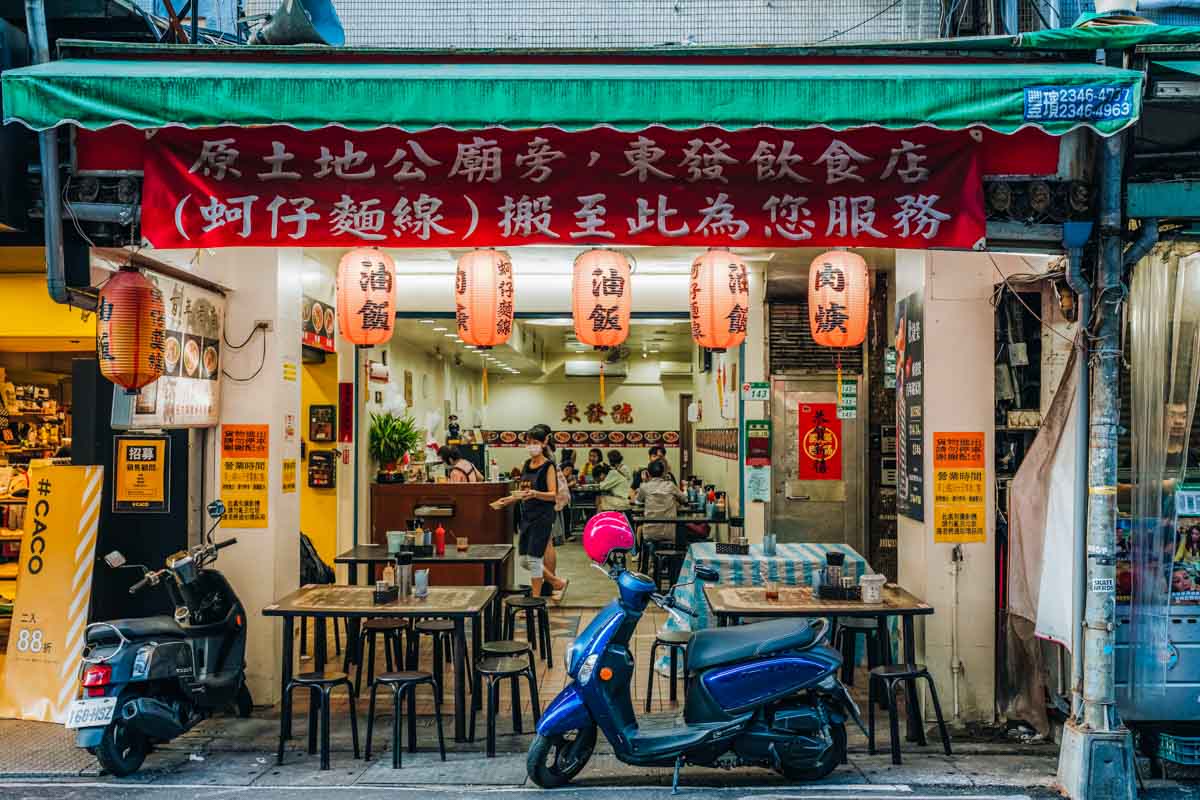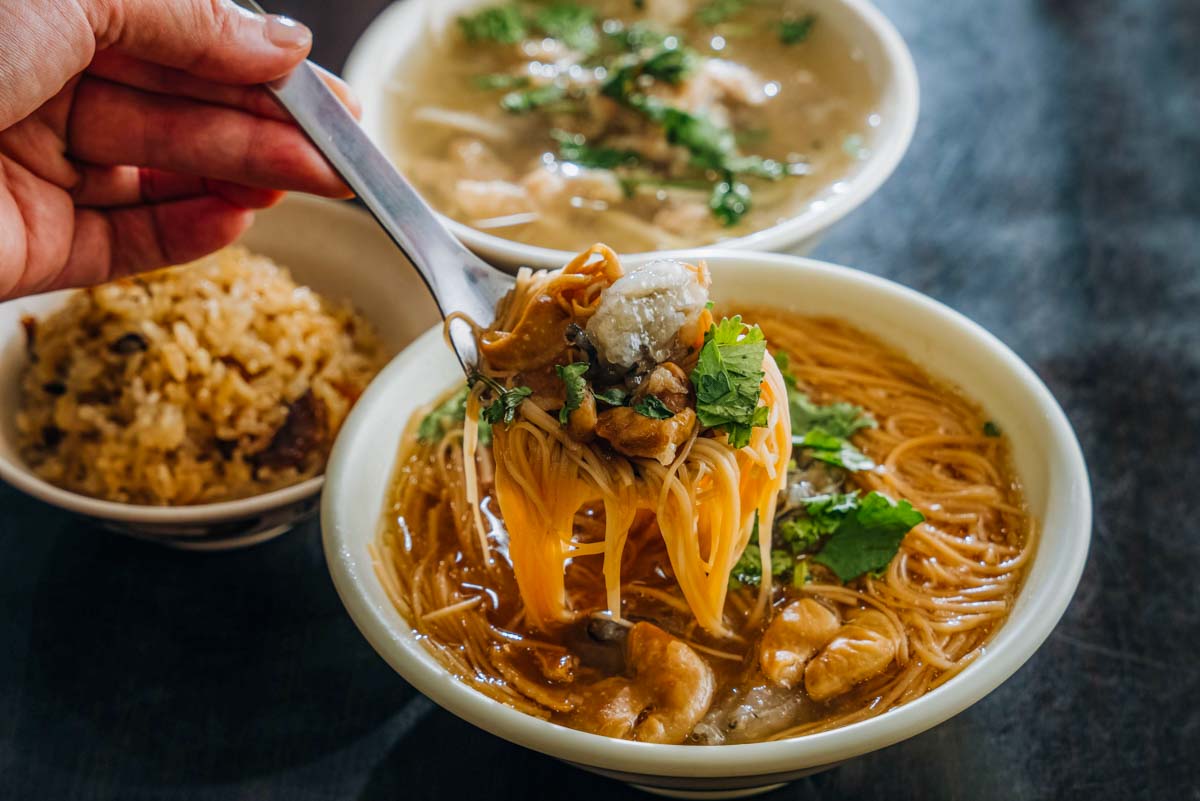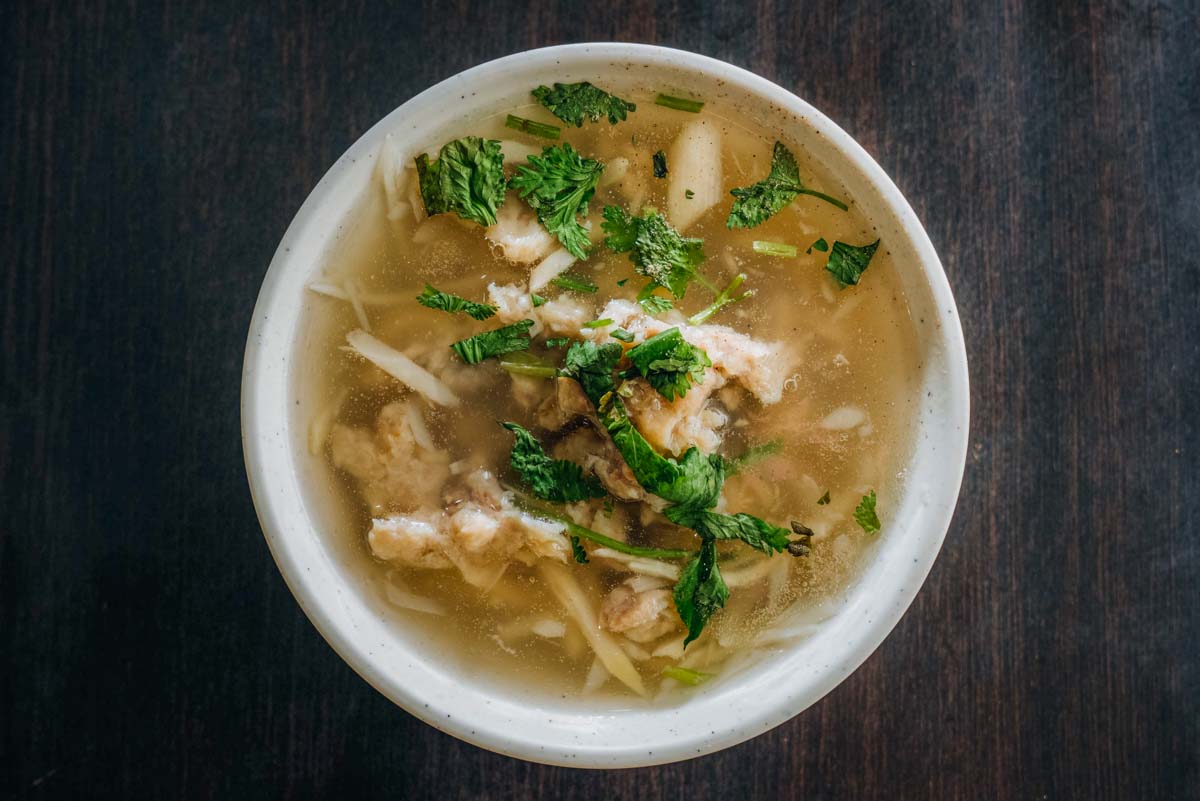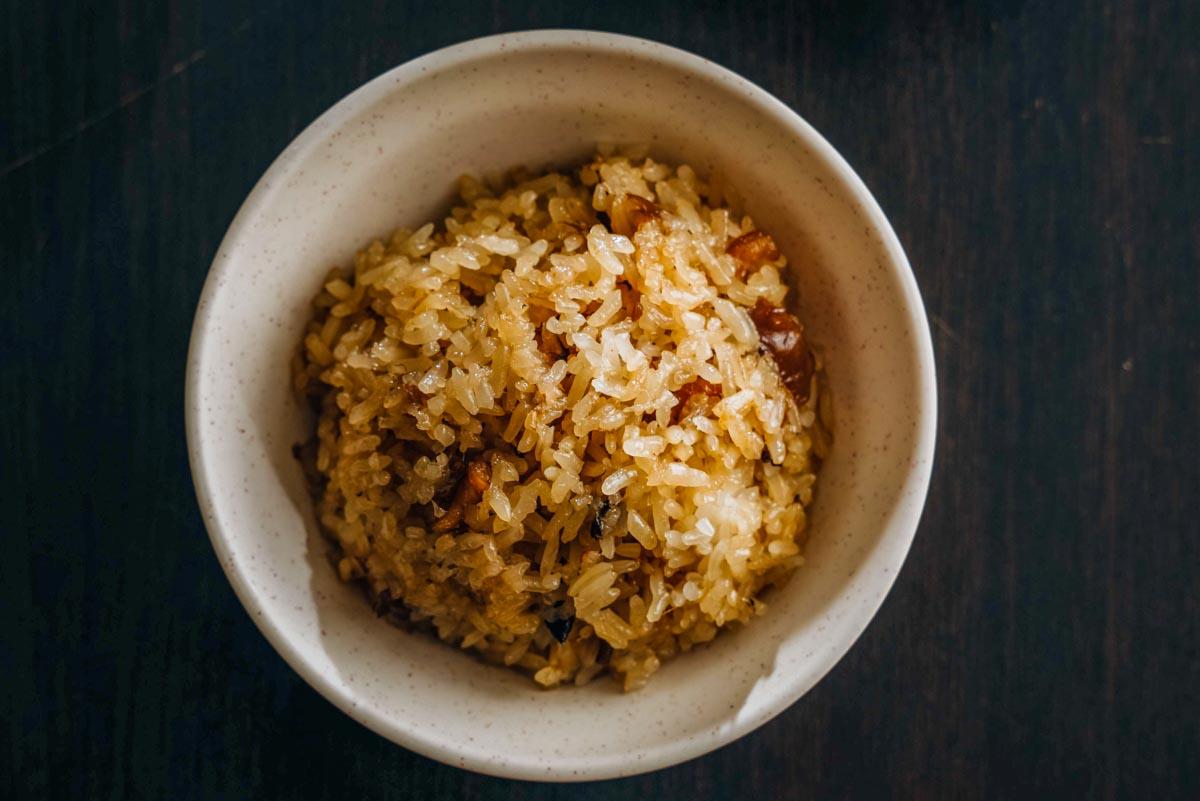 "Dong Fa Hao Oyster Vermicelli"
(東發號蚵仔麵線)
Tel: (02) 2769-5739
Add: No. 143, Raohe St., Songshan District, Taipei City
(台北市松山區饒河街143號)
Facebook: www.facebook.com/tung.fa.hao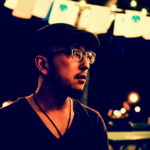 Han Cheung moved back to his adolescent stomping grounds of Taiwan in 2015 from frigid Wyoming, where he was the editor of the small town Rawlins Daily Times. He has a Master's in Journalism from the University of Missouri and has reporting experience in the US, Latin America, and Taiwan.