Summer Trip to One of Taiwan's Most Popular Sun and Beach Destinations
Text | Rick Charette
Photos | Chen Cheng-kuo
In-the-know foreign travelers love this still-little-known, off-the-beaten-track Taiwan travel destination.
The Penghu Islands – an archipelago of very small islands floating in the middle of the Taiwan Strait between mainland Taiwan and mainland China. Virtually all international travel-guide publishers are enthusiastic boosters, including the Michelin Green Guide Taiwan, which bestows a coveted two-star rating:
"… a place of rare natural beauty, with dramatic seascapes, sandy beaches and gentle grass covered hills … famous for its sea birds, nesting sea turtles and other wildlife … It is historic as well, (with) abandoned forts, atmospheric temples, and traditional villages …."
Though Han Chinese did not come in any real number to the island of Taiwan until the 1600s, their first efforts to settle and tame the Penghu Islands came about 600 years earlier. The Portuguese christened them the Pescadores (Fishermen's Isles) in the 1500s. The Dutch set up colonial camp in 1622-1624, seeking to control East Asia trade through the strait, before being encouraged by a miffed, armada-backed Chinese imperial court to decamp to Taiwan. The French invited themselves in during the 1884-1885 Sino-French War, seeing Penghu as an "unsinkable battleship." The Japanese ruled Taiwan and the archipelago 1895-1945. And after 1945 the Republic of China government fortified the islands, in case Mao Zedong and friends invited themselves in. Evidence of all this awaits your discovery on your Penghu adventure – while you also savor the sun, sand, surf, seascapes, sea creatures, and seafood.
Boat Cruise
First on the adventure agenda during a recent 3-day sampler trip taken on your behalf by a crack Travel in Taiwan team was a boat tour in the waters off small Magong City (pop. about 60,000). These craft launch from the South Sea Visitor Center, from which ferries to what are called the South Sea islands below the three main islands of Penghu, Baisha, and Xiyu (which are connected by bridges) also launch.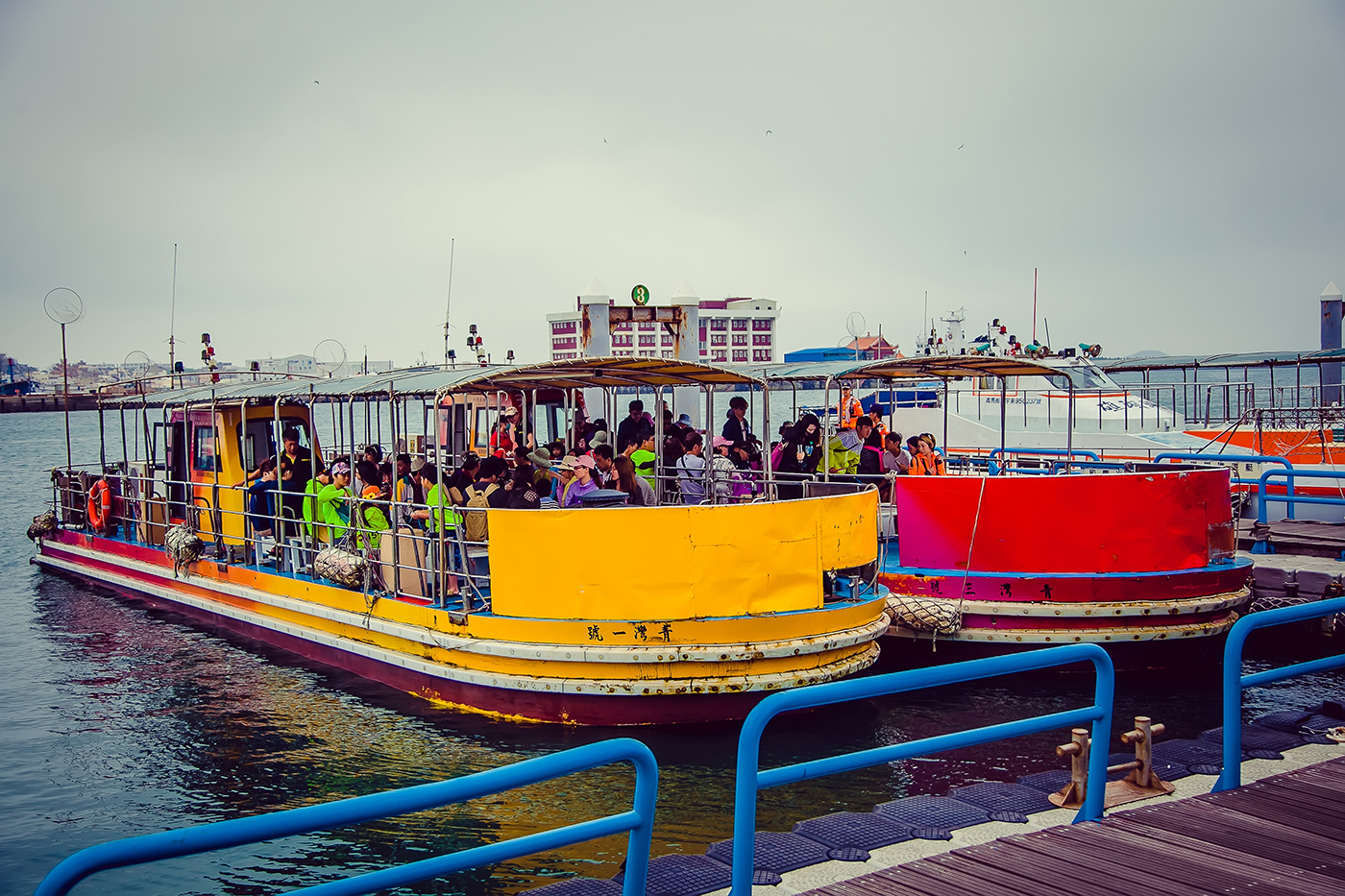 The tour boats cruise the two large, interconnected bays directly south of Magong. Ours was "glass-bottomed" – outfitted with below-deck viewing windows. At the tour's half-way point the pilot slows to a crawl to ensure clear bay-bottom gazing – we enjoyed close-up inspections of coral formations, small squid, a school of I-don't-know-what-the-heck-they-were, and other marine treasures.
There's running commentary throughout (live, in Chinese), giving you background on things seen both above and below the surface: the marine life, local fishing industry, and Magong and Penghu in general, notably the man-made structures such as the distinctive harborside architecture left behind by the Japanese.
Another excursion highlight was a stop at a large floating "restaurant" for an all-we-could-eat, grill-your-own oyster feast (price included in ticket; inexpensive sausages, drinks, other items also available). Also on the platform are pens filled with members of the marine-animal groups swimming and crawling freely directly beneath, some very large specimens indeed.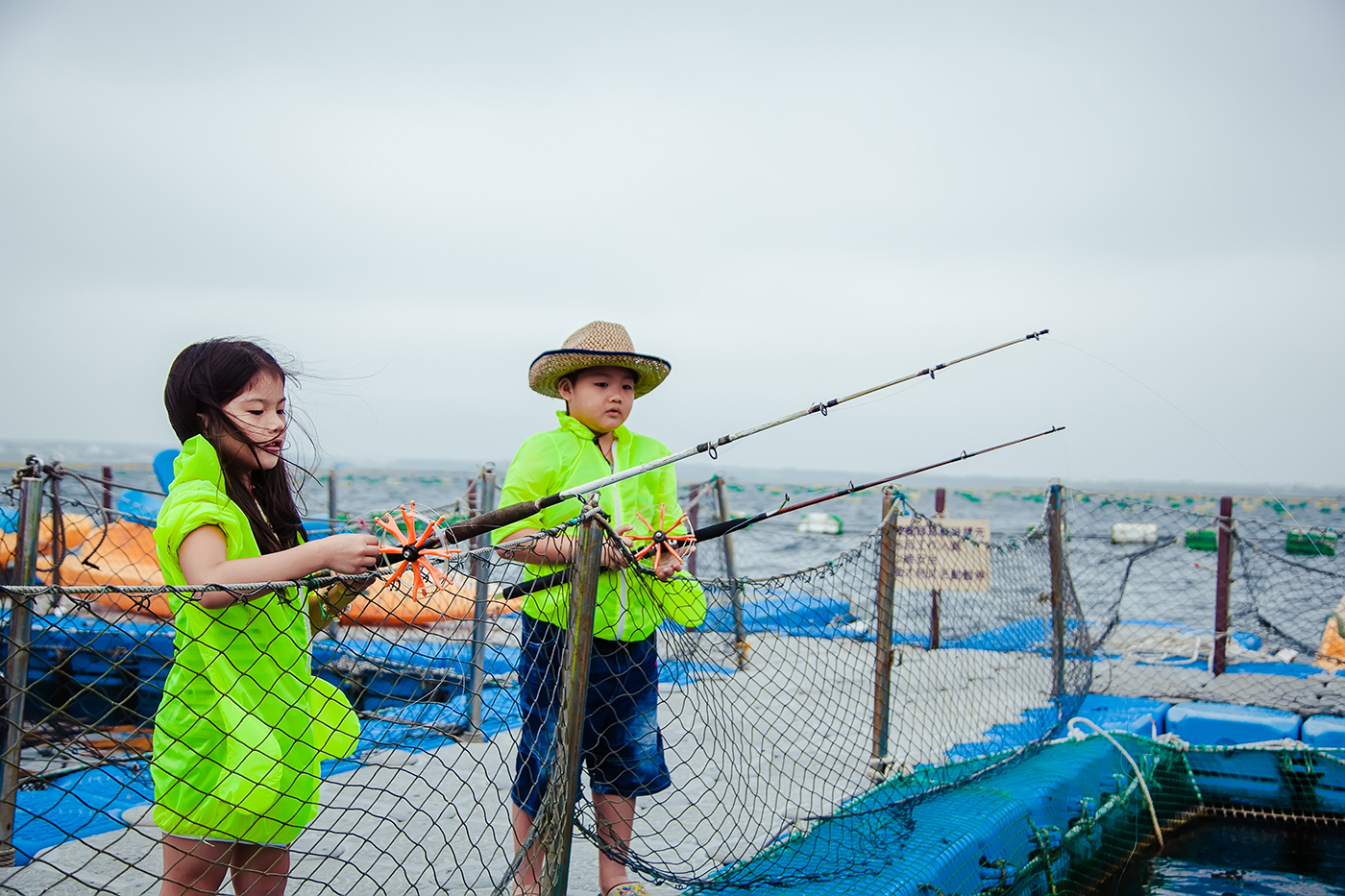 After about 3 hours on the water and our return to the South Sea Visitor Center, we hopped on our two-wheeled gas-propelled steeds and zoomed over to nearby downtown Magong, spending the rest of our afternoon on a perambulating heritage walking tour through the city's oldest section. Give yourself a leisurely 4 hours, leaving you time for plenty of stop-and-start sampling of the great range of traditional foods and snack treats on offer.
Magong
The story of Magong begins at the grand old Tianhou Temple, Taiwan's oldest temple dedicated to the goddess Mazu, patron saint and protector of seafarers. Nearby on narrow, picturesque Zhongyang Street is the Four-Eyed Well. The street, Magong's original commercial artery, lined with sellers of specialty handicrafts and food products, has been tastefully restored to its former glory. The large well has been supplying local residents for 400-plus years; the four narrow openings were long ago introduced to prevent curious children from falling in and to maintain order in drawing the much-in-demand cool liquid.
Straddling a narrow road by the nearby waterside is the Shuncheng Gate, with a section of the old city wall beyond, wonder-inspiring remnants from the last defensive walled-city fortifications to be built by China. The Magong Cultural Center is an intriguingly eclectic, photogenic place that I was utterly riveted by. This is the site of Taiwan's oldest military-housing community, with numerous residences dating back to the Japanese period. Abandoned in recent times, many living quarters have been renovated, and the homes of the two most famous residents, pop singers that grew up here, are now dedicated boutique museums.
The culinary diversity of Taiwan's military dependents' villages is renowned, with residents, hailing from all around China, introducing Taiwan ingredients as well as well as other regional-cuisine elements to their own. Get a taste of this here in a special area of replica military housing, opened about two years ago, filled with tiny region-representative eateries.
Qimei Island
We woke up bright and early this day to catch an early-morning ferry to Qimei, the southernmost South Sea island. Hopping on scooters right at the pier (rental included in ferry-ticket price), we headed out on the very quiet coastal road – more goats than cars. Qimei's iconic symbol is the Twin Hearts Stone Weir, made of stones piled laboriously, which fills at high tide and leaves fish stranded at low. The Tomb of the Seven Beauties – "Qimei" means "Seven Beauties" – is built around a well down which seven chaste Ming Dynasty maidens are said to have thrown themselves on the approach of nasty-intent Japanese pirates. Among the other must-visit Qimei attractions we checked off our to-do list were the picturesque Little Taiwan and Waiting for Husband Rock, two coastal rock formations viewed from above.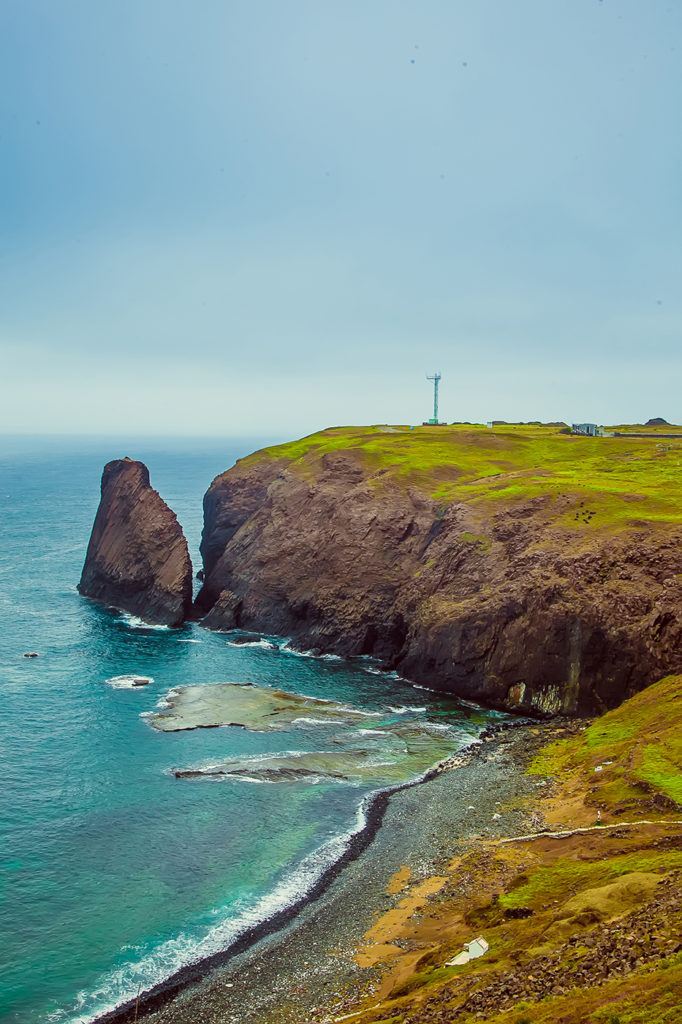 Places to Stay on Qimei Island
Wang'an Island
Rather than traveling straight back to Magong, we stopped off at Wang'an for a few hours' exploration of this island. The highlights of our meander along the sleepy round-island coastal road? Tiantai Hill and the village of Zhongshe. Your walk up Tiantai Hill, the island's highest point, leads to wonderful panoramic views over Wang'an and its numerous nearby islands. Wonderful Zhongshe is an old narrow-lane fishing village, almost all homes stone/coral-built. Be sure to stop in for the homemade ice-cream at the shop – shade is at a premium in the village – under the huge Penghu-renowned "Wang'an Township Tree," an Indian almond tree planted by the shop owner's mother in 1928.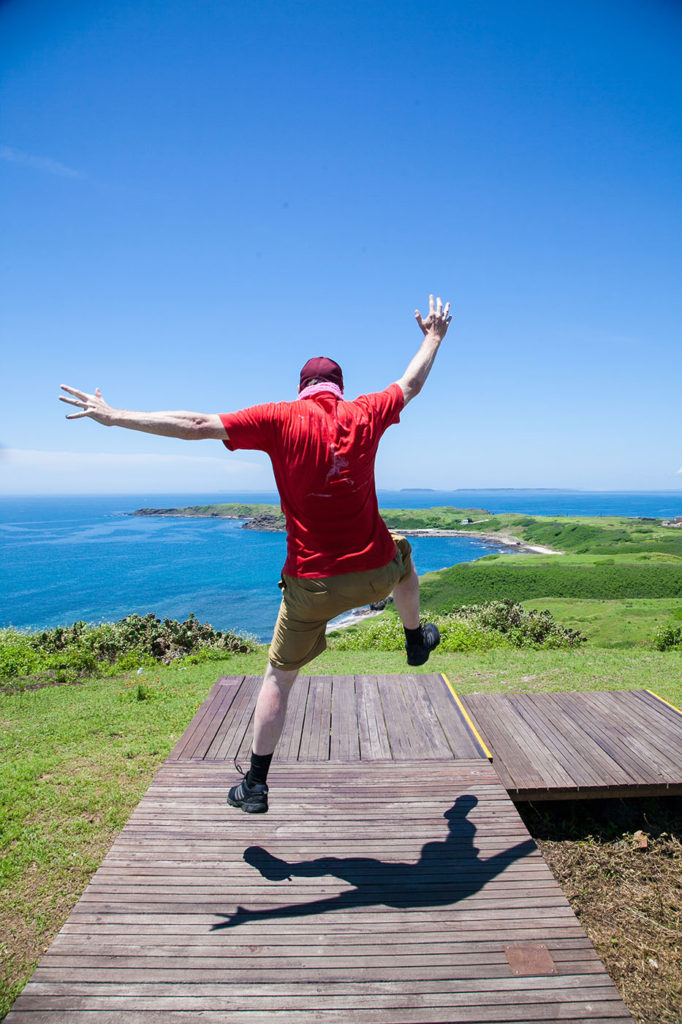 Squid-Fishing Excursions
On our second night we enjoyed one of the most popular Penghu Islands tourist experiences, a nighttime squid-fishing outing, again launching from before the South Sea Visitor Center at Magong Port, again plying the same bay waters as on our first-day tour. The Penghu-area waters teem with catch, with squid and cuttlefish amongst the most highly prized. Deciding on a likely lucky spot, our captain cut engines, intensely bright squid lights were switched on to lure our prey toward the surface, each passenger grabbed a rod, crew members demonstrated the cast-and-jerk fishing technique used, and off we were trying our luck. My result? No luck. But I had tons of fun. On each trip, before heading back in (total time out: about 2 hours) everyone feasts under the stars on a huge crew-cooked pot of Penghu vermicelli, a local specialty, with fresh-caught squid and other goodies, zested up if desired with delicious, fiery hot-chili fish sauce, another specialty.
Beaches
Penghu is home to many long, fine-sand beaches. Four of the most popular are on the island of Penghu's south side – Lintou, Aimen, Shanshui, and Shili. On the morn of this day we visited each in turn. I especially like Lintou and Shanshui. Lintou and Aimen are connected by a long beach-edge boardwalk; behind Lintou Beach is Lintou Park, a shady, aesthetically laid-out tree park in which you can sit yourself down to alfresco coffee at a bright and breezy café. At Shanshui's entrance is a bustling cluster of beach-bum-style eateries and cafés, and backing its west side is an attractive protected lagoon area traversed in part by a long boardwalk. This leads to a high promontory that drops into the surf at the beach's west end. Topped with a large lookout, formerly part of an off-limits military zone, the promontory is dotted with abandoned camouflaged bunkers, pillboxes, and other facilities, one outfitted with heritage photos and information boards (Chinese) on this spot's military and ecological past.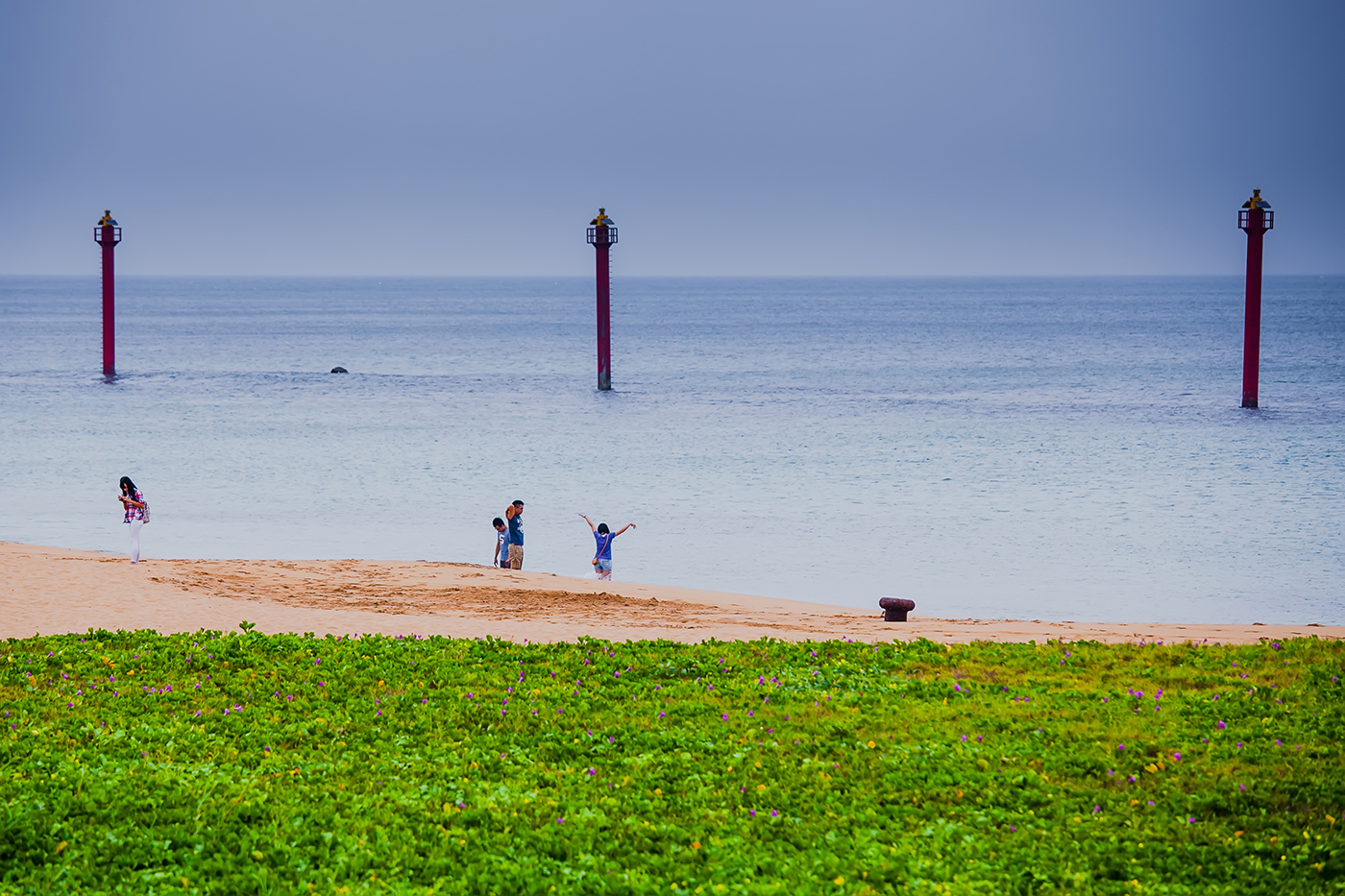 Cactus Park
Near Shili, pretty much at Penghu's southwest tip, is the compelling, still-being-developed Qingwan Cactus Park. There are two foci. Cacti, yes – the archipelago's dry, flattish, windswept environment is perfect for cactus growth. And military history – the park site is a former Japanese military base rich in ruins, notably hidden big-gun emplacements, bunker barracks, and command posts.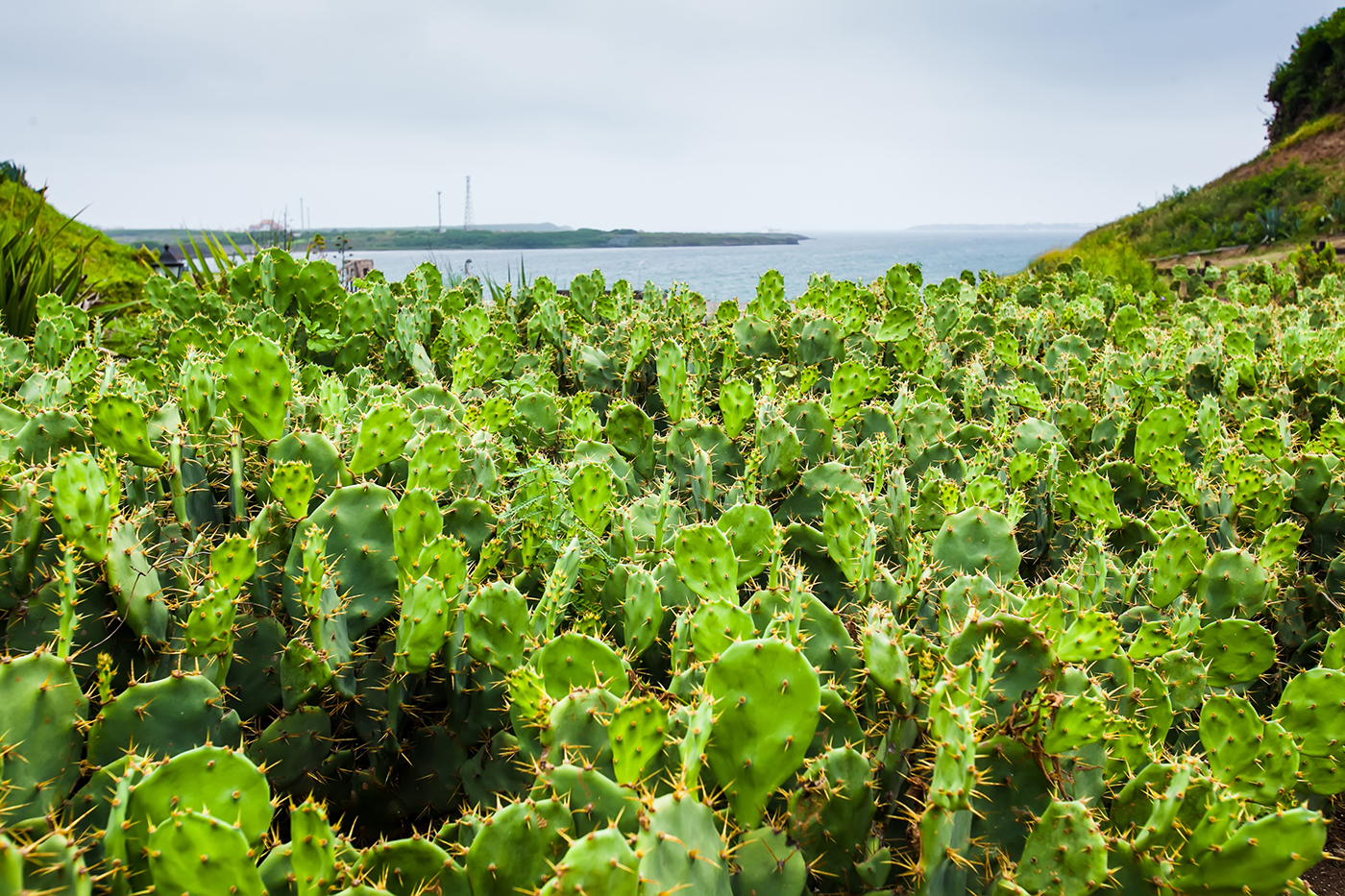 Xiyu Island
We finished our trip with a foray to Xiyu, traversing the long, slim island's entire length. Being a history buff, the highlight for me was Erkan Village, a dense collection of heritage houses in the old Minnan (southern) style of mainland China's Fujian Province. Today the village is quite tourist-oriented and you'll find such examples of old-time rural living as Qing-era scales and weights, oversized ceramic storage jars, and winnowing equipment. Other key Xiyu sites visited this day were the Whale Cave, not a cave at all but a sea-holed rock promontory that resembles a giant sperm whale, the extensive ruins of the late Qing Dynasty-built Xiyu Western Fort, erected to protect against pirates and invaders, and Yuwengdao Lighthouse, at Xiyu's south end, the first lighthouse built in the Taiwan area, in 1778.
And with that, our Penghu adventure was over. Sun setting, we headed out on a breezy one-hour drive back to Magong Airport and our night-time flight back to Taipei, tired, somewhat tanned, somewheres burned, and content.
Scooter Heaven
For your Penghu Islands rambles, the way to go on your land jaunts is by scooter. The cost is generally just NT$350-$400 per day. There are many rental facilities, especially outside major transport facilities. Save for downtown Magong City, the roads are almost empty, and major roads wide. Locals may well tell you it's best to rent a car, because the general flatness and minimal tree cover can mean strong sun and gusty conditions, but take proper precautions and you'll be fine. I, a pasty white-skinned fellow, spent not a moment not covered in sunblock, and came home (mostly) nicely tanned. Note that the eco-conscious county government is now getting operators to systematically introduce e-scooters.
More Places to Visit
Nanliao Community
Located on the northeast coast of Penghu's main island, the east shore of Huxi Township has two villages. In the north is Beiliao Village, north of which is the well-known Kuibishan area. In the south is Nanliao Village. Due to its location away from the coast, Nanliao has somewhat struggled in the past. As many of the old buildings have been abandoned, the village retains more of a traditional Penghu rural atmosphere than other villages in Penghu. Recently, efforts have been made to preserve this traditional appearance of the village, to revitalize the community, and to infuse new vitality by transformation. Take your time when visiting Naliao, walk slowly past the old buildings and savor the slow pace of life common in Taiwan's offshore islands.

Nanliao Community has won international honors two years in succession; it was named one of the 2018 Top 100 Green Destinations at the 2018 ITB Berlin travel fair. Success this time can be attributed to the effort of its residents who have been engaged in re-building the community. The Penghu National Scenic Area Administration and the Huxi Township Township Office as well as various entities at central and local level have also been hard at work assisting in Penghu's sustainable development.
The Penghu County Government believes that the successful development of villages like Nanliao will allow Penghu to move even further onto the international stage and introduce the islands to more people overseas, and attracting more visitors to this beautiful archipelago. More communities are encouraged to join in and to develop the local environment and overall improve Penghu into an excellent place to travel. The county government will also, with regards to the results of Nanliao Community's traditional culture preservation and community building, enhance cooperation and strengthen promotion, developing distinctive tours that introduce visitors in creative ways to traditional villages, including tours during the winter season and with fun elements such as cosplay.
Duxingshi Village Cultural Park
Duxingshi Village is a historic military dependents' village that spans the Japanese Colonial Period and the "Chinese" period after 1949. The oldest military dependents' village in Taiwan, it was once home to quite a few famous people, including the late Pan Yu-bang, who sang the song "Grandma's Penghu Bay," which was popular on both sides of the Taiwan Strait, and singer/songwriter/producer Chang Yu-sheng (Tom Chang). Both grew up in Penghu.
Getting There & Getting Around
There are regular flights and ferry runs between Penghu and Taiwan proper, regular ferry services between Penghu's islands, and car/scooter rental facilities at various locations. Your best source for details on these subjects and other matters, such as boat tours, accommodation, and dining/snacking, is the Penghu National Scenic Area website (www.penghu-nsa.gov.tw) and, secondarily, the Penghu County Government website (www.penghu.gov.tw). Tickets for Magong boat tours and for other South Sea ferry destinations can be purchased at operator counters in the South Sea Visitor Center. Your hotel/B&B will also help with reservations/purchases. If you need English assistance, use the Taiwan Tourism Bureau's visitor centers at Magong Airport or its Penghu National Scenic Area headquarters, on the road between the airport and downtown Magong.
Also read:
Penghu Trip. What a Wonderful Island!
Further reading on other sites:
HOPONWORLD: HOW TO GET TO PENGHU: THE BEST TRANSPORT METHODS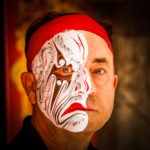 A Canadian, Rick has been resident in Taiwan almost continually since 1988. His book, article, and other writings, on Asian and North American destinations and subjects—encompassing travel, culture, history, business/economics—have been published widely overseas and in Taiwan. He has worked with National Geographic, Michelin, APA Insight Guides, and other Western groups internationally, and with many local publishers and central/city/county government bodies in Taiwan. Rick also handles a wide range of editorial and translation (from Mandarin Chinese) projects.