How to Do One of Taiwan's Best and Most Scenic Tourist Spots
Text | Rick Charette
Photos | Ray Chang
Sun Moon Lake has been a lodestar Taiwan tourist destination for many decades. Yet up to just 15 years ago the visitor experience here was largely restricted to a narrow range of options – static views of the pretty body of water from the shore, tour-boat rides, and visits to a limited array of cultural attractions. Today the options menu is far deeper and richer, calling for repeated visits to the lake and surrounding area and making each an experience wholly different from those prior, and those yet to come.
This area was the epicenter of Taiwan's great 921 Earthquake in 1999, which left the people reeling. The Sun Moon Lake National Scenic Area (www.sunmoonlake.gov.tw) was established soon after, and today the local economy, in which tourism has been given the leading role, is abloom just as the thousands of local cherry trees engage in a glorious renaissance each spring, blossoms bursting forth, radiant. Here's a 3-day sampler of the things you can get up to.
Mt. Maolan Trail
The lake is in the mountains just about in the exact center of the island, and just about in the exact center of Nantou, Taiwan's sole landlocked county. If self-driving, from Taipei it is reached in about 2.5 hours, via National Freeway 1 or 3 and then 6, then Provincial Highway 21. I arrived lakeside one cool recent Wednesday morning, with a small crew of Travel in Taiwan friends. Those of you who love big crowds – as said, Sun Moon Lake is one of Taiwan tourism's brightest beacons – be sure to visit on a weekend/holiday.
The first adventure on our SML-experience itinerary to be checked off was a traverse of the scenic Mt. Maolan Trail. The clearly marked entrance (Chinese/English) is off the round-lake highway a few hundred meters west of the Shuishe Visitor Center. About 4.6km long, save for a timber-staircase section it is in fact a narrow paved road that leads up past the neat fields of the Tea Research and Extension Station, established by the Japanese when they ruled Taiwan 1895~1945, to a mountaintop weather station. This was where Assam black tea, today a favorite SML souvenir purchase, was introduced to Taiwan. Near the trailhead you pass renovated old-style cypress-built Japanese worker dormitories. There are info boards with good English along the way, and superb sweeping views along the upper section. The crest is a prime choice for SML sunrise viewing, and fireflies come out in splendid number in April.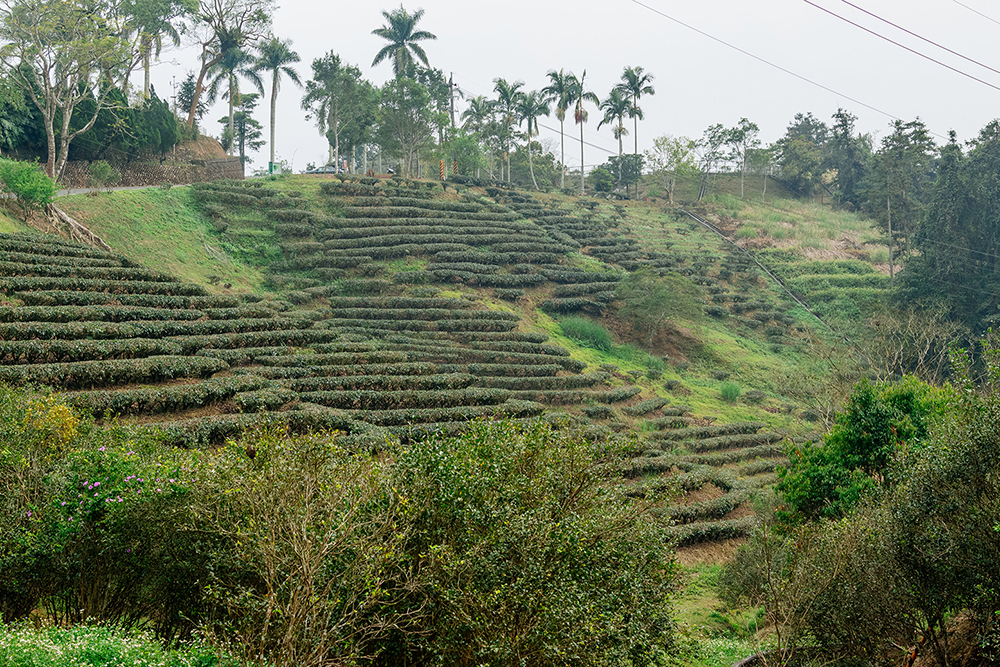 Xiangshan Visitor Center
Over the past half-decade I've visited the lake once a year on average, and dropping in at the striking Xiangshan Visitor Center for a leisurely coffee, served with a large dose of idyllic scenery, has become a ritual. Located at the end of a small, tranquil bay, the broad-shouldered complex is fronted by a reflecting pool that blends seamlessly with the lake waters. The bright glass-walled café here has outdoor seating; patrons go noticeably quiet after sitting, soaking in the soothing mountain-backed vista. Be sure to explore the exhibit hall, which has first-rate information displays, short films, and a 3D film on the national scenic area, all with English.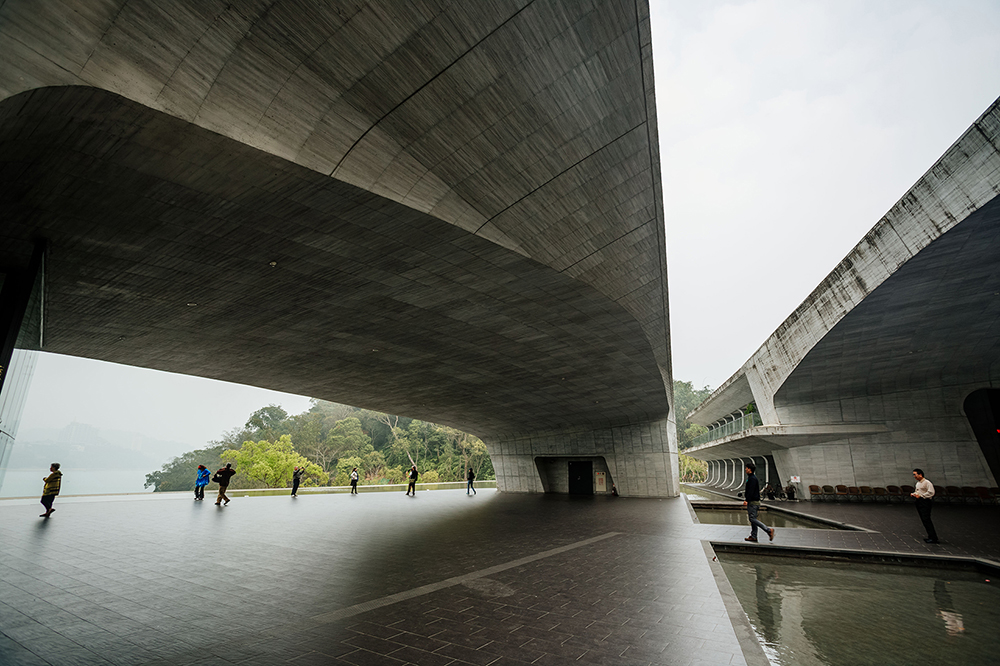 The fatigue accumulated during our Mt. Maolan ascent now fully dispersed by our java interlude, we hopped on bicycles sourced at the rental station located across the round-lake road, on the other side of the bridge just north of the visitor center, and followed the inviting lakeside walking/biking pathway system, which features long boardwalk sections jutting out over the water. Leisurely meandering all the way to Wenwu Temple on the lake's other side, then back again, along the way we stopped off at the pretty, new Xiangshan Scenic Outlook skywalk, Tongxin Bridge and Yongjie Bridge, the latter duo known as the "wedding photo bridges," and Shuishe Pier, where we had wonderful gelato, another of my SML rituals.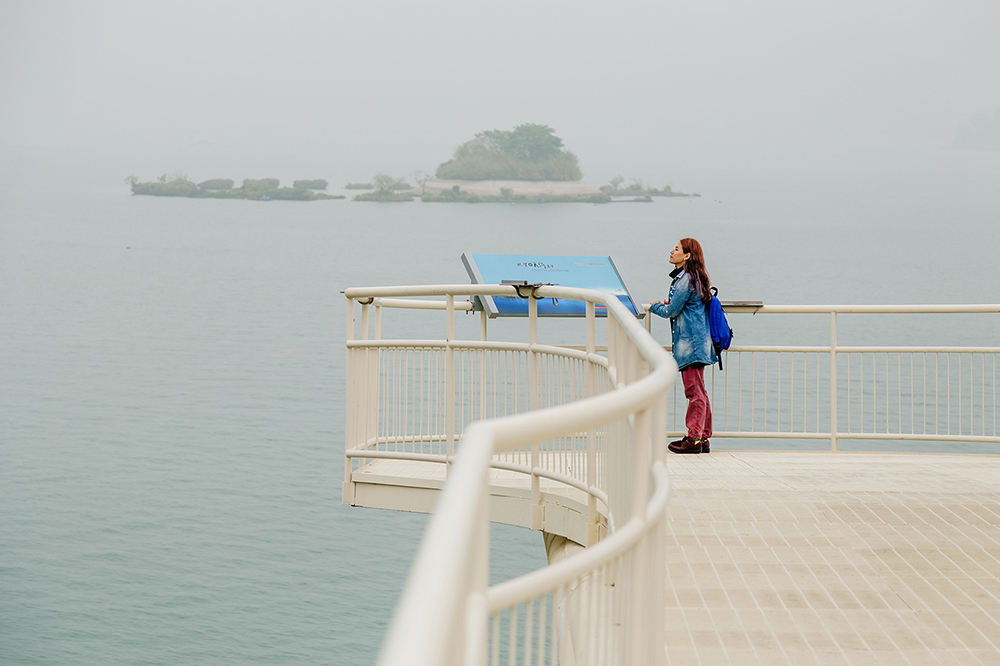 Wenwu Temple
Monumental Wenwu Temple, on the north side of the lake, was built in China's Northern Dynasties style (386~581 AD). It was severely damaged in the 921 Earthquake but, if anything, today surpasses its former glory. Its distinctive, prominent imperial-yellow glazed-tile roofing draws the eye from all round the lake. "Wen" and "Wu" mean "civil" and "martial"; the temple is dedicated to scholar Confucius and to warriors Guan Gong and Yue Fei, major figures in Chinese history. By way of example, teachers and civil servants will make offerings to the former, policemen and businessmen to the latter. The two giant entrance-guardian stone lions are claimed as Taiwan's largest. My favorite time of day here is sunset, after the day's tour-bus busyness, when a deep air of peace and tranquility wafts in with the lake breezes.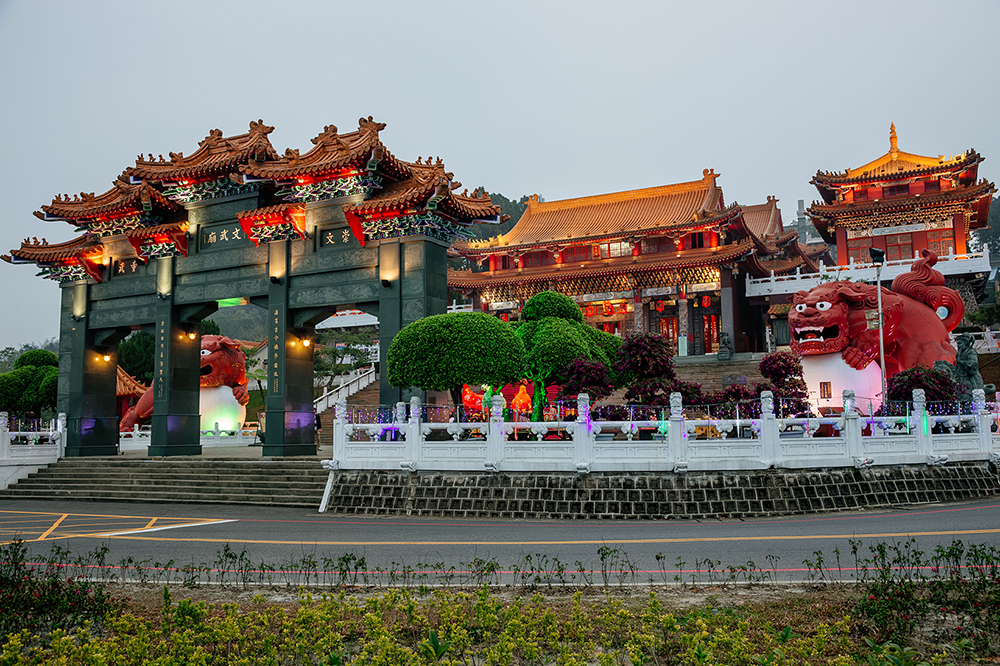 Lake Cruise
A yacht tour is a de rigeuer SML experience. Mid-morning, while the waters were still relatively quiet, we hit the pier at Shuishe after browsing the gift-and-souvenir shops on the busy, narrow, tourist-focused street that runs parallel. There are also many places to eat here, both stand-alone and in the various hotels. Shuishe is one of two villages on the lake; the other is Ita Thao, visible on the opposite side. We chose quiet electric boats for our lake meandering, hopping off to visit Xuanguang Temple, then hopping on another boat headed to Ita Thao.
SML Boat Tours
Boats launch from four points around the lake: Shuishe, Ita Thao, Xuanguang Temple, and Zhaowu (the last for group excursions only). Ticket booths are right at the piers. A standard outing is a visit to Ita Thao if launching from Shuishe (and vice-versa), with a visit to Xuanguang Temple and a swing around iconic Lalu Island. Passengers are entertained with broadcast info and stories in Chinese. Service is 8:50am to 5pm; bicycles can be brought on board. Fares are stage-based, NT$100 per stage, NT$300 for a full lake tour (ie, back to original spot). The electric boats are in the minority, with numbers steadily growing; choosing one might entail a bit of a longer wait than normal.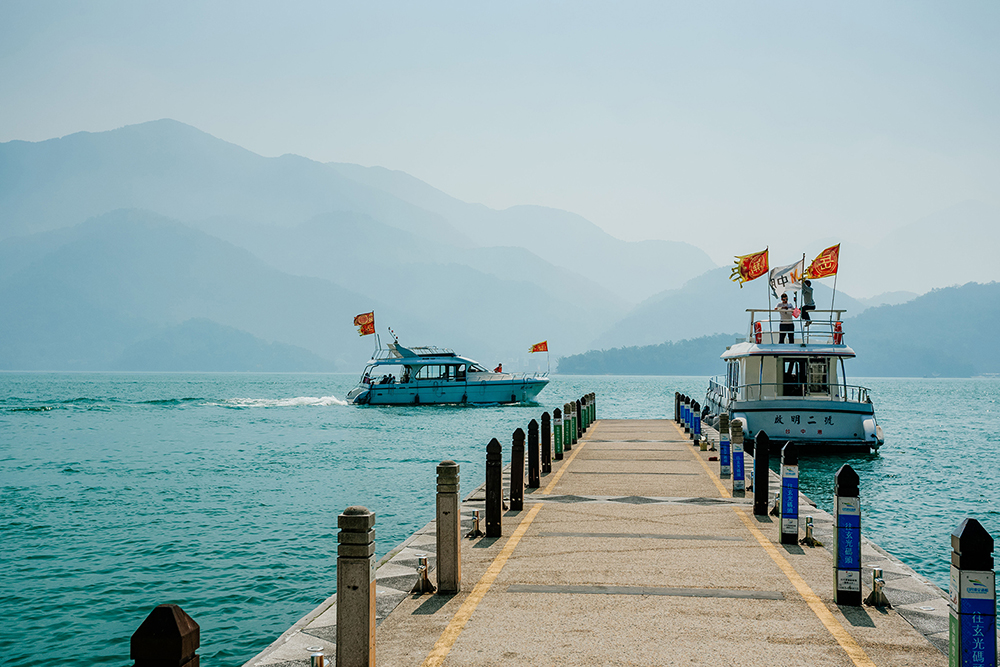 Xuanguang Temple
Xuanguang Temple, a short walk from Xuanguang Pier, enshrines a statue of the famous monk Xuanzang, sent to India by Tang Dynasty Emperor Taizong to learn about Buddhism and bring back scriptures. His sojourn forms the core of the adventures related in the classic Journey to the West. After visiting, we started up the stairs of the sometimes steep Qinglong Hiking Trail, which begins near the pier and leads to Xuanzang Temple and, beyond, Ci'en Pagoda, visible from around the lake and with sweeping views of the lake. Xuanzang Temple, which also offers fine high-up views, is among my favorite temples in Taiwan. It is built in Tang Dynasty style, featuring a pure-white exterior and pretty landscaped grounds, and among the sacred items inside is a parietal-bone relic of Master Xuanzang and a golden Sakyamuni Buddha statue. Ci'en Pagoda, which faces mainland China, was built by a homesick Chiang Kai-shek in memory of his mother. By climbing the pagoda you earn the right to bang the great drum at the top, ensuring a year's good fortune. The trail is about 1.5km; leave 3 hours (return), not including stops.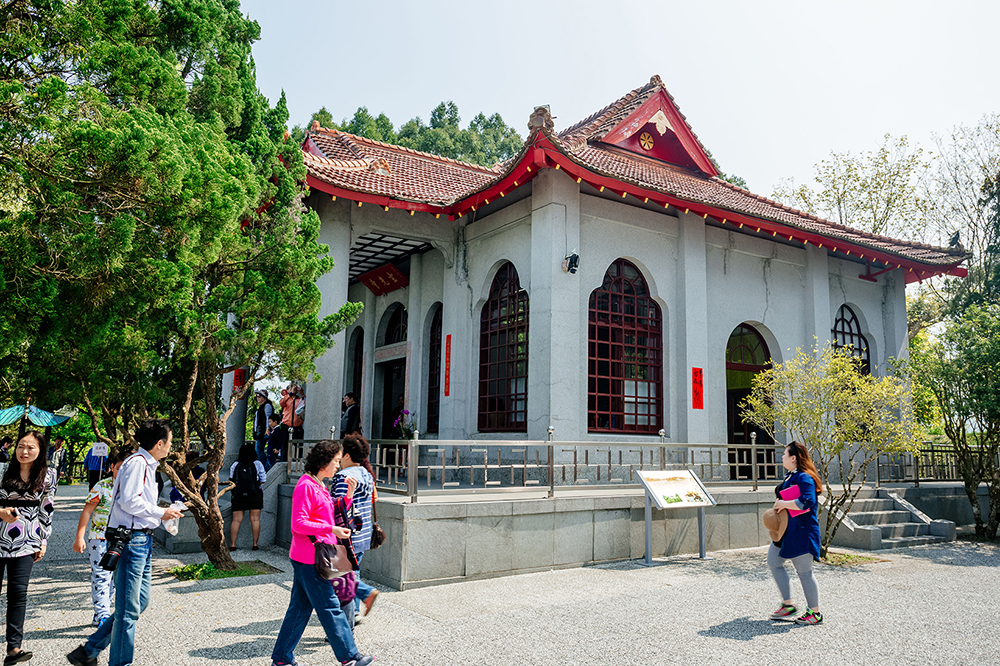 Ita Thao, Sun Moon Lake Ropeway
Ita Thao is the main settlement of the Thao people, one of the smallest of Taiwan's indigenous groups. Among its scores of eateries and tourist-oriented retail outlets are a good number selling indigenous fare and handicrafts. After a quick, late lunch of Thao delicacies served with rice or noodles, capped with snacking at street-side stands, we headed to the Sun Moon Lake Ropeway (www.ropeway.com.tw) along the Ita Thao Lakeside Trail, a picturesque forest-backed, bay-fronted 500m boardwalk pathway connecting village and cable-car station.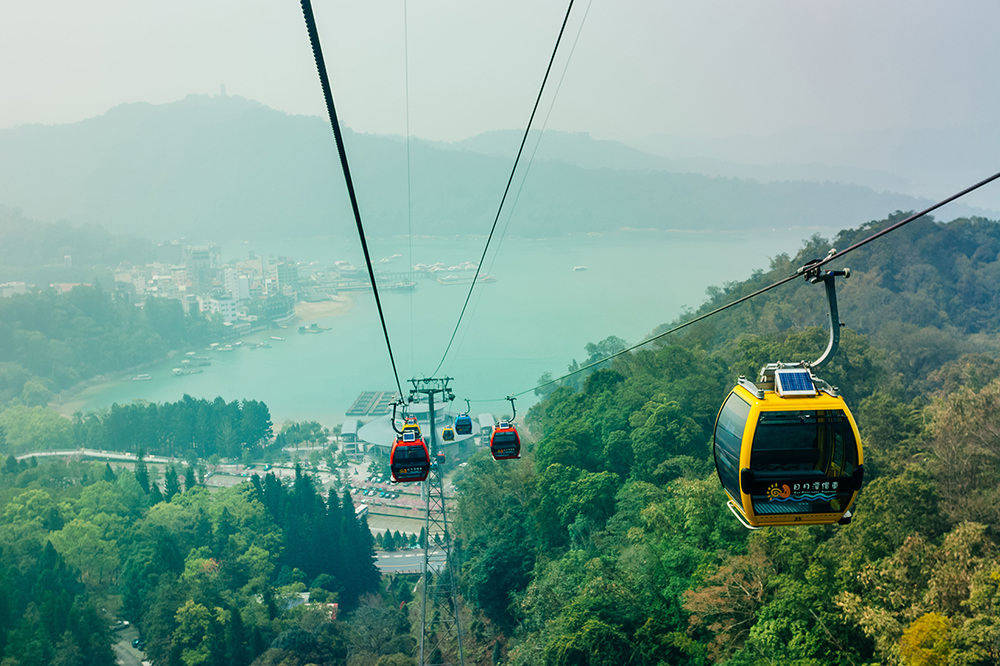 Thao Song-and-Dance Shows at Ita Thao Zhulu Market
Thao-theme song-and-dance performances, with elements from Taiwan's other tribes incorporated, are staged daily at 11:20am, 2:20pm, and 5:20pm, with an additional show at 4:20pm on weekends/national holidays. A special outdoor performance is also staged at 10:20am in the Ita Thao Pier plaza on weekends/holidays.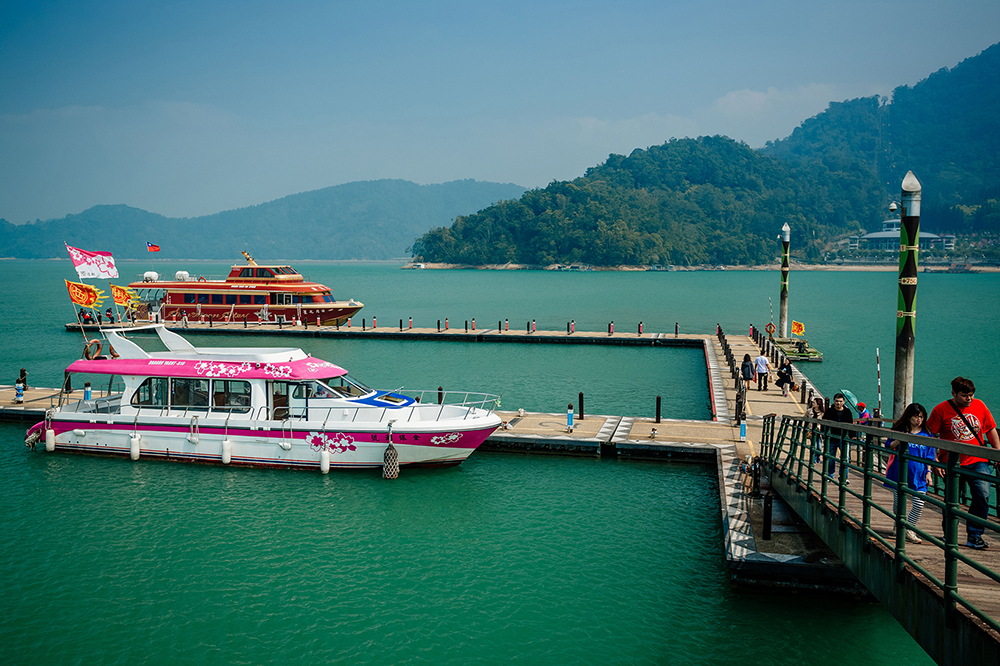 The much-praised gondola service takes you on a pulse-lifting 1.8km aerial ride from lakeside to the Formosan Aboriginal Culture Village (www.nine.com.tw), sailing over two mountain-ridge crests. A combined gondola/FACV ticket brings a significant discount. FACV is a large theme park with amusement rides, a European Garden area and, very popular with international tourists, an Aboriginal Villages section that celebrates Taiwan's indigenous peoples with scores of first-rate architectural replicas, song-and-dance shows, and traditional-culture demos.
Mingtan and Daguan Power Stations
Sun Moon Lake is Taiwan's major production center for Assam black tea. It is also a key producer of electric power. What's the story? Visits to the Mingtan Power Station and Daguan Power Station, on the Shuili River far below the lake, reveal all. The Mingtan grounds are open to the public, with prime photo-shoot spots over the V-shaped reservoir, where a side river joins in, backed by jagged, soaring riverside cliffs. Daguan, where great water pipes streak down the mountainside in a giant postmodernist landscape artwork, offers both a visitor center and plant access.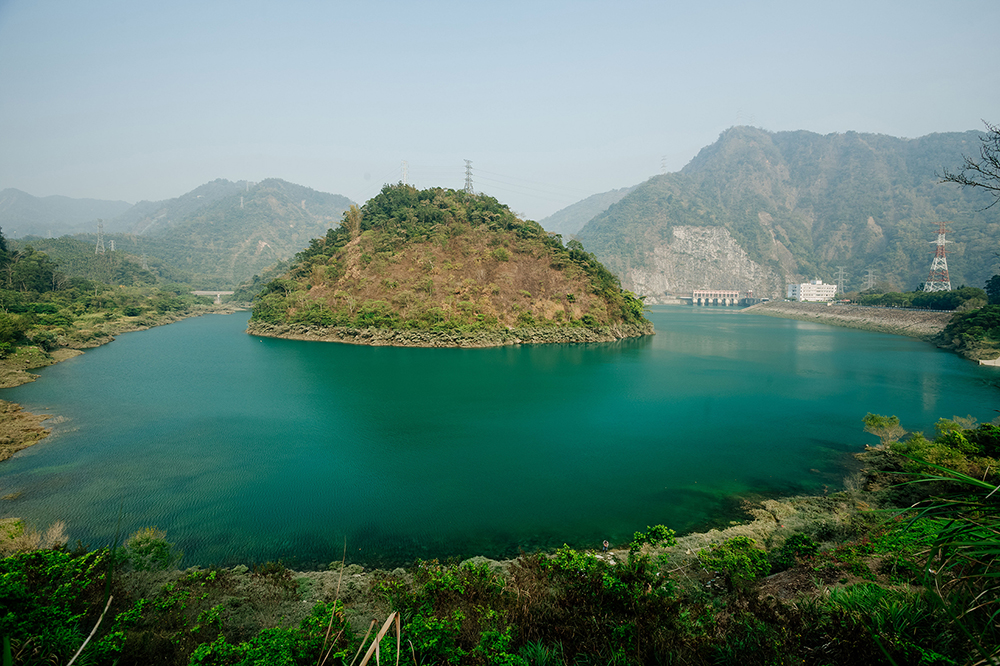 In the center (good English), you'll see how almost a century ago the Japanese dammed the Sun Moon Lake basin and raised its waters, building the Jiji Line, Taiwan's longest branch rail line, to haul in the equipment and materials for the massive endeavor, Taiwan's first hydro-dam project. In the public-access plant you'll inspect some of that equipment, heritage pieces still at work – German boilers marked "J.M. Voith 1923" and US-made generators marked "GE Co., Schenectady, NY."
Photogenic Checheng village sits, dramatically, just below the Mingtan dam. The rail-line terminus, it bristles with attractive wood-built structures. In the Qing Dynasty this was a camphor-production settlement. The Japanese first built a push-trolley railway for sugarcane and people transport, then replaced it with the Jiji Line. Logging was key thereafter, local operations eventually shut down in the 1980s. Today the town is a popular tourist destination.
Visit the sprawling, airy Checheng Wood Museum, in the old timber mill, which has displays with good English on Checheng's past and different types of wood. DIY wood-handicraft sessions are also held. The quaint Checheng Railway Station is a replica in the classic Japanese rural architectural style. The town's graceful boardwalk-rimmed pond is the original timber storage pond; logs stored in water release resins faster, augmenting preservation.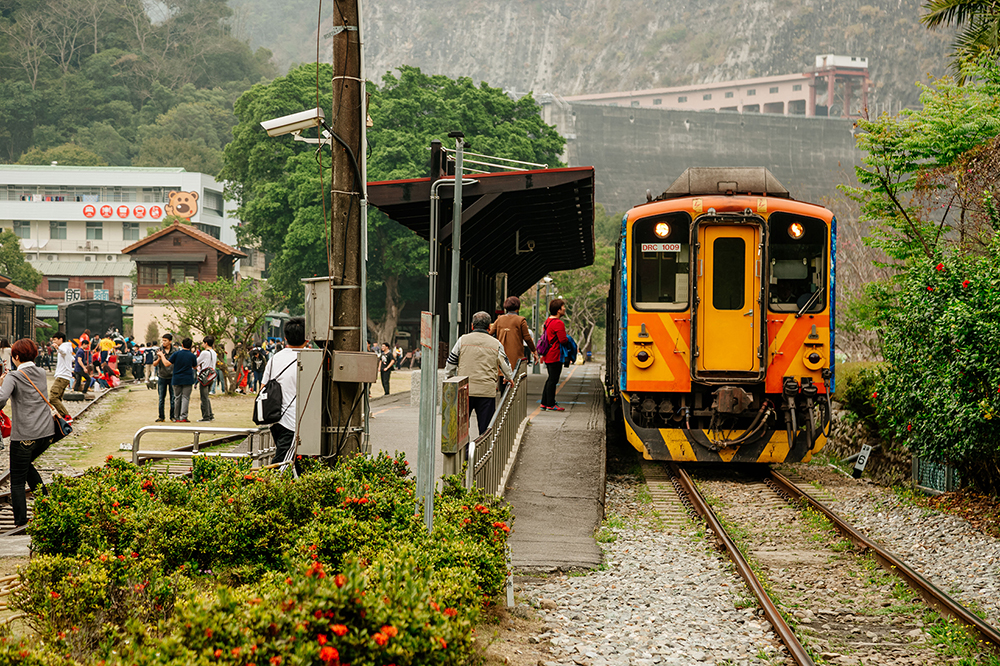 Getting There and Around
There is regular Taiwan Tourist Shuttle bus service (www.taiwantrip.com.tw) to Shuishe Visitor Information Center from Taichung's railway/High Speed Rail stations. Catch the bus at the latter's ground-level bus terminal. The village of Taomi is passed on the way; tell the driver in advance if you want to get off there. There's also regular round-the-lake shuttle service from the visitor center at Shuishe (hop on/hop off, NT$80 day pass, bike racks on buses), as well as shuttle service to/from Checheng.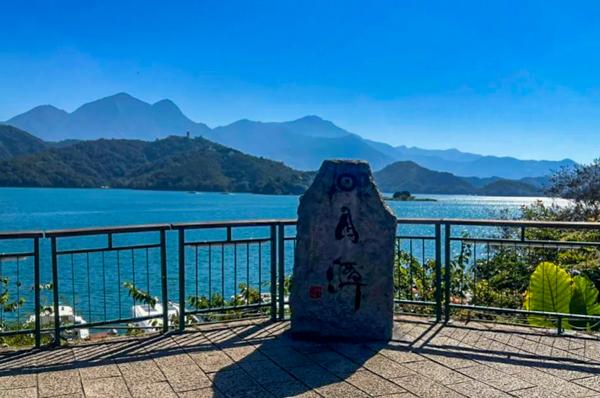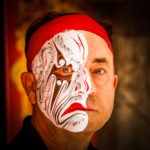 A Canadian, Rick has been resident in Taiwan almost continually since 1988. His book, article, and other writings, on Asian and North American destinations and subjects—encompassing travel, culture, history, business/economics—have been published widely overseas and in Taiwan. He has worked with National Geographic, Michelin, APA Insight Guides, and other Western groups internationally, and with many local publishers and central/city/county government bodies in Taiwan. Rick also handles a wide range of editorial and translation (from Mandarin Chinese) projects.