Beiping Tianyuan is a small restaurant in Taipei's Zhongzheng District, a short walk from Taipei's main railway station. The family-run establishment has been in business for 40 years, the chefs preparing an ever-evolving array of dishes concocted by members of the Wang clan.
Text: Joe Henley, Photos: Maggie Song
Now run by Sandy Wang along with her husband, the intimate, unpretentious eatery was opened by her father-in-law, Deng Qing-yu, a retired Nationalist Army soldier. After coming to Taiwan in the wake of the Chinese Civil War, he and his military buddies would often fondly recall favorite dishes they had enjoyed back home in the Beijing area, lamenting the fact that there was no place to get them in their newly adopted homeland. Eventually, Mr. Deng and company decided that the old axiom "If you want something done right, you'd better do it yourself" held true, and Beiping Tianyuan was born.
The restaurant is located in an area that has gone through a thorough revitalization of late. Previously choked by an overpass constructed to take vehicular traffic over a railway line that was eventually put underground, the blocks surrounding Beimen (North Gate), one of five gateways into the old walled city of Taipei, have now been freed from the hulking concrete boa constrictor.
Modern business and boutique hotels now line the main thoroughfares. But some of the old guards, the places that have been here for decades, hold on thanks to the loyalty of their customers, some of whom have been coming since the early days.
"We talk to each other like friends," Wang says during a break in her hectic 12-hour day. She notes that the restaurant has some patrons who come in two or three times a week, keeping up routines they have followed for years. "Even if they go abroad," she adds, "they come back and share stories of coming here years ago.
During noon on a post-Lunar New Year holiday Monday in mid-February, the restaurant's ten or so tables are packed with many such familiar faces, drawn by the authenticity of the Beijing cuisine. Wang, a former nurse at the city's Mackay Memorial Hospital and a mother of four, took over running the place in 2008, and quickly brought her own style to the restaurant's kitchen. One of the eatery staples, beef noodle soup (almost invariably simply called beef noodles in Chinese and English), was the first dish to undergo a few minor – but nevertheless vital – modifications.
Though the handmade noodles remain the same, Wang tweaked things slightly by adding tomato and bits of chopped fried pork to the beef broth. After first testing out the new recipe on family, friends, and restaurant regulars, she entered the dish in a city-wide competition (serious business in a town billing itself as the "world capital of beef noodles"), taking third place in 2009 and second in 2012.
Beef noodles, however, isn't the only specialty to keep local customers coming back and attracting a steady stream of tourists from Korea, Japan, Hong Kong, and the West as well. The pork roll with sweet bean sauce is another favorite. Whereas the secret with the beef noodles is in the handmade noodles and broth, it's the sauce that sets this dish apart (a tightly rolled pastry stuffed with pork, locally sourced vegetables, and other ingredients). In most other restaurants serving this food, the sauce is salty, reminiscent of soy sauce. Going to the opposite end of the flavor spectrum is a bold move that pays off, making for a mid-meal treat that almost feels like a dessert.
Such flavor twists are very much part of Beiping Tianyuan's grand dichotomy – remaining faithful to the northern-Chinese style of food preparation while adding new elements along the way that, while innovative, don't take the cuisine too far away from its roots.
The fried leek pie, a staple found throughout Taiwan at night markets, street stands, and elsewhere, has been augmented with pork oil. Vegetarians fear not, however. There are true vegetarian options available on the menu, such as the vegetable steamed dumplings, served up the traditional way in their wooden steam trays. There are also pork-free dishes for Muslim guests, specified on the bilingual menu.
Mr. Deng now spends much of his time in the Pacific Northwest, moving between the homes of his children living in Seattle and Vancouver. But the 90-year-old grandfather will no doubt be pleased to know the little place he started back in the mid-'70s has withstood the test of time by remaining faithful to his vision and that of his partners.
To this day, tourists coming in from Beijing, his old stomping grounds, remark that the dry noodles with minced pork (and other dishes, of course) are just like those they get at home. Those from the area who, like him, came over to Taiwan after the end of the civil war in 1949, and now call Taiwan home, say it takes them back to their younger days.
Beiping Tianyuan is an out-of-the-way place, found down a narrow, nondescript alley where canvas awnings hang over the rear exits of other area eateries, the chefs sitting outdoors enjoying a smoke break during the afternoon downtime. It's in a neighborhood that has seen, and continues to see, great change. But for a city to retain a sense of what it used to be, it needs places like this to hang on and thrive. This is a place which proves that food is culture. Food is history. It's an integral part of a city's makeup, and of the diverse group of people that call it home.
Beiping Tianyuan (北平田園餡餅粥)
Add: No. 1, Lane 5, Chongqing S. Rd., Taipei City
(台北市重慶南路一段5巷1號)
Tel: (02) 2314-8032
Website: www.beiping-tianyuan.com (Chinese)
Further reading on other sites:
Tricky Taipei: Where to Eat Beef Noodle Soup in Taipei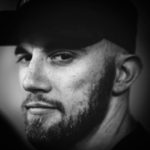 Joe Henley is a Taipei-based freelance writer, journalist, author, and musician. Originally from Saskatoon, Saskatchewan, he moved to Taiwan fresh out of journalism school in 2005. After a seven-year stint as an editor at a Taipei publishing firm, he decided to dedicate himself to freelancing full-time in 2012.