The southern city of Tainan is arguably the best place in Taiwan to go on a history and heritage hunt Here are just a few suggestions to get you started on a Tainan streets tour of intriguing sights and memorable delights.
Text: Owain Mckimm, Photos: Rich Matheson
As Taiwan's first and former capital, the beautiful southern city of Tainan is rich in history – far richer, it has to be said, than its hastily modernized usurper, Taipei. Once the regional base of the Dutch East India Company (VOC), and later the pet project of the Ming Dynasty general and folk hero Koxinga, Tainan boasts some of the oldest forts and ruins, temples, streets, and best-preserved historic buildings in Taiwan. And whereas Taipei aims to be international, modern, and forward thinking, Tainan remains a very old-school Taiwanese city, staunchly proud and protective of its heritage.
That's not to say, though, that Tainan isn't innovative – indeed, artists and young entrepreneurs are taking the shells of the city's old buildings and repurposing them as cafés, shops, and restaurants, simultaneously preserving the city's antique facades while also catering to the needs of the modern urbanite.
National Museum of Taiwan History
You can, of course, soak in Taiwan's early history by wandering around historic districts like Anping (controlled by the VOC in the 1600s) or the city center (home to the country's first Mazu and Confucius temples). However, for something a little broader in scope and more detailed, a visit to the National Museum of Taiwan History – without hyperbole, one of the best museums in Taiwan – is most certainly in order.
The museum was opened in 2011 after 12 years of preparation and construction, and you'll find little in the way of gilded antique vases or jadeite sculptures here. Unlike the National Palace Museum in Taipei, which showcases ancient Chinese imperial artifacts that were evacuated to Taiwan from mainland China during the Chinese Civil War, and which, as a result, portrays Taiwan in a distinctly Chinese context, the National Museum of Taiwan History is all about the fascinating history of Taiwan on its own terms. The museum covers the whole gamut of this land's short but chequered modern history, from Taiwan's early indigenous inhabitants, through its Dutch, Spanish, Ming/Qing, and Japanese periods, and ending with the martial-law period of the mid-to-late 20th century.
Rather than illustrating local history via a collection of fragile artifacts hermetically sealed in glass cases, the museum instead presents a three-dimensional snapshot of each period with a population of lifelike and life-sized models.
Reconstructions of cargo ships and their crew illustrate how early Han Chinese settlers immigrated to the island from southern China; a group of indigenous people signing papers with Han farmers show how the new immigrants interacted with the original inhabitants; an entire Mazu (Goddess of the Sea) temple procession complete with red- and green-faced guardian demons illuminates the island's religious life; besuited tea merchants and guild heads introduce the Taiwanese-tea boom of the 19th century. The jewel in the collection, however, is without doubt the reconstructed Japanese-era shopping street, complete with a grocery shop, photography studio, cloth seller, and café.
The museum has excellent information boards, in both English and Chinese, as well as a comprehensive English audio guide. Set some time aside for this visit – you'll be captivated for hours.
National Museum of Taiwan History (台灣歷史博物館)
Add: No. 250, Sec. 1, Changhe Rd., Annan Dist., Tainan City
(臺南市安南區長和路一段250號)
Tel: (06) 356-8889
Hours: 9am~5pm; Closed Mon.
Admission: Adults NT$80; concession NT$40
Website: www.nmth.gov.tw
Luzao Teahouse
After gorging yourself on history, you may be in the mood to savor something a little more tangible than historical facts. Tainan has no shortage of good eateries, and a stop at a "coffin bread" or shrimp-roll stall will undoubtedly sate your appetite. However, in keeping with the historical theme, you might try lunch in one of the city's many converted old buildings.
The Luzao Teahouse, for example, found beside a little courtyard down an inconspicuous alley off Weimin Street, was once an old family residence that was left vacant when the family moved into more spacious accommodation. The owner of the teahouse – Huang Shao-qi – whose mother once ran a restaurant by the same courtyard, often used to walk by the empty house and, wondering who owned it, one day slipped a letter underneath the door asking for permission to rent. A while later he got a reply, and seven years ago he opened the teahouse.
The upstairs area has something of a Japanese feel about it, with a tatami-covered floor – though this is in fact a call-back to Huang's childhood, when he used to sleep on tatami, rather than an overt attempt to imitate the Japanese.
The teahouse sells a range of local and foreign teas, but Huang recommends the four-fruits tea (made with fresh passion fruit, watermelon, kiwi, and pineapple) and the afternoon tea set, which includes finger sandwiches of pork and cheese, a mochi Swiss roll, and a whipped-cream-and-cherry-topped pudding – all delectable, though more suitable as a light refreshment than a real lunch.
Jieyichang Historic Restaurant
For something a little grander in scale, try the Jieyichang Historic Restaurant, located in the old Xinhua Township Office. If you ask the manager, Gao Rong-jie, to tell you a little about the building's history, he might direct you to look at a mural on the wall of the building opposite, which features a team of burly men tugging on a thick rope.
In the year 2000, in order to preserve the township office following plans to build an underground car park beneath the building, 1,500 volunteers moved the structure over 300 meters away and then back again using only ropes and rollers.
Of course, after expending so much effort to save the building, there was no question of demolishing it – giving it new life as a business was the natural next step. The mural also depicts Xinhua Township's "three treasures" – pineapples, bamboo shoots, and sweet potatoes. These are put to heavy use as ingredients in the restaurant's dishes – along with, somewhat incongruously, olives.
A rarely seen crop in Taiwan, the local olives are larger and more strongly flavored than regular European olives. Local cultivation was undertaken during the Japanese colonial period (1895-1945) to provide a refreshing snack for soldiers barracked nearby. The restaurant's olive hotpot is quite the pleasant oddity, the olives giving the stock a sour, briny quality that you'll find nowhere else on the island.
Lufu Creative Industries
Tainan's Anping District is without question one of the city's finest, with mazes of streets and alleys clustered with traditional low-roofed red-brick buildings that are, unfortunately, much a thing of the past in other cities on the island.
It's only fitting, then, that traditional art is preserved in these buildings too. While handicrafts can be expensive, if you're on the lookout for some characterful souvenirs that don't break the bank, you could do a lot worse than visiting Lufu Creative Industries.
This store sells handmade scented sachets – embroidered silk pouches filled with fragrant herbs and spices, traditionally said to ward off evil spirits and disease – and charm bags – flat, purse-like packets containing a piece of Buddhist or Daoist scripture, some semi-precious stones, or a lucky coin, designed to bring the bearer good fortune, protection, or wealth.
The items are made by a small and dedicated staff right in the shop, and come in a variety of patterns, ranging from traditional flowers and Chinese characters to more flamboyant caricatures of local folk deities and talismanic emblems such as peanuts, lions, and auspicious fruit. Prices start at around NT$40 (a bargain considering each sachet takes at least 3 hours to make) and top at around NT$350 for the most intricate.
Blueprint Culture and Creative Park
If you're heading back into the center of Tainan for the evening, a pleasant place to end the day is the Blueprint Culture and Creative Park (the "blueprint" in question is a three-dimensional optical illusion on the east side of the park, which fools the eye into mistaking a solid wall for an architectural blueprint).
The park, which opened in December 2015, was created by renovating a set of old dormitories – that once housed employees of the local judiciary – as a way to both preserve the buildings and make the assets financially viable.
The area is particularly lovely after sunset, the shop windows lit up and the artwork that adorns the walls brightly illuminated. The stores that are housed here are a mixture of cultural and commercial – selling everything from luxury pet products to artisanal stationery.
Juzhen Taiwan
Indeed, one of the most interesting shops in the complex is Juzhen Taiwan, which sells postcards, prints, and maps inspired by Taiwan's past. The shop's general manager – Qiu Tian-zhi – is a fount of local knowledge, and certainly worth striking up a conversation with. One particularly lovely set of products that Qiu likes to introduce is a collection of thin metal bookmarks shaped to resemble the patterned wrought-iron window bars that you'll see on many of Tainan's old buildings. Walk through the little streets and alleys, Qiu tells visitors; you'll see them. The beauty of Tainan is everywhere.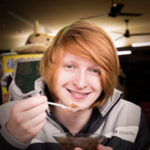 Owain McKimm is a freelance writer who has been living in Taiwan since 2009 and has written about everything from Taiwanese foot massages to flower cuisine.
E-mail: owain [dot] mckimm [at] googlemail [dot] com