The city of Taipei is known as a paradise for food lovers, offering everything from cheap and simple snack foods at night markets to lavish banquet-style meals worthy of a foreign dignitary at upscale hotels. While you might first want to satiate your longings for local specialties when visiting the city, note that there are many excellent foreign-cuisine options as well. Following are some suggestions.
Text: Owain Mckimm, Photos: Maggie Song
Taiwan is often described as having a pan-Chinese gastronomy, meaning (thanks to the island's long history of Han Chinese immigration) a microcosm of Chinese food culture. Wonderful news, if you're looking for a Chinese meal. Taiwan's international-food scene, however, is not quite as bountiful, with the notable exception of Japanese cuisine. Due to a relatively homogenous population, and a relatively small amount of long-term immigration from outside the Sinic world, the foreign visitor looking to find the authentic tastes of home sometimes has to try a bit harder.
Local takes on foreign dishes are also often "Taiwanese-ified" to suit home-grown tastes, whether it be by giving Western dishes Taiwanese shapes (spaghetti with tomato sauce is sometimes turned into noodles in tomato soup), or by adding local ingredients (red-bean paste, taro, or pork floss, for example) to dishes that a purist might not take too well to.
It's a welcome pleasure, then, to find a place like Safranbolu, a Turkish restaurant where the aim is to bring authentic Turkish cuisine, unadulterated, to both adventurous locals and homesick foreigners alike.
On Nanjing East Road, a short walk from MRT Songjiang Nanjing Station, Safranbolu was opened in 2014 by Ergülü Kayretli, a long-time restaurateur from Ankara, the capital of Turkey. While visiting his nephew Musa, now the restaurant manager, who was studying Chinese in Taipei on a scholarship, he saw a gaping hole in the market for Turkish cuisine and decided to set up shop. Safranbolu is the only Turkish restaurant in Taipei, and one of only three in the entire country.
Looking at the shopfront, with its two vertical rotisseries set up behind the counter, slowly cooking seasoned stacks of beef and chicken, you'd be forgiven for mistaking the restaurant for the type of takeaway joint or kebab shop common in those countries where some like to drink copiously on weekends and soak up their binges in döner meat. Up a narrow set of stairs on the right, however, patrons emerge into a spacious, second-floor dining area, painted red and cream to match the color palate of the traditional houses of Safranbolu, the town in northern Turkey the restaurant is named after. Intricately woven Turkish carpets hang on the walls, lanterns of yellow, purple, and green drop from the ceiling, and lithe, curvaceous Turkish coffee pots ornament the shelves and sideboards.
We order four mains, some home-made lavaş bread, dips, two salads, two desserts, and coffee to finish – a veritable feast, and not an inexpensive one, with enough to comfortably feed five at least.
The centerpiece of our Turkish banquet is the Safranbolu Special Kebab, a packed platter of barbequed chicken breast, wings, lamb, beef, eggplant, and tomatoes, with a healthy dollop of hummus on the side. The meat is rich and flavorsome, rubbed with such classic Turkish spices as sumac, cumin, and isot pepper. Safranbolu's hummus, like its bread, is also home-made, and slightly chunkier than the hummus I'm used to – you can actually feel the small chunks of chick-pea on your palate – a little less tangy, too, but fresh and moreish nonetheless.
To drink, a salted yogurt beverage called ayran, which provides a cooling, silky palate cleanse after the heavily spiced dishes and comes, pleasingly, in stylized copper mugs.
The second barbeque dish, the Beyti Kebab, is a particular favorite of mine. Ground lamb is barbecued, wrapped in lavaş bread, topped with tomato sauce, and served with rice, which Ergülü imports from Thailand – Taiwanese rice is too glutinous and chewy to use in Turkish dishes, while the long-grain variety from Thailand is more akin to that eaten in Turkey. The kebab also comes with a little mountain of sour yogurt, providing a layer of piquant pizazz to an otherwise staple-heavy dish.
Our third main, the Mixed Pide, is a canoe-shaped flatbread served with a topping of ground beef, cheese, and egg, and is the Turkish equivalent of a pizza. The pide are cooked in a brick-based oven on the first floor, constructed by Ergülü himself for the purpose. Those ordering takeaway downstairs can glimpse the pide being cooked alongside sheets of lavaş bread, which balloon as the hot air expands between the layers. 
Our final main was Köfte (beef meatballs marinated in sweet chili, tomato, and garlic, topped with cheese), which is baked in a terracotta dish at the back of the oven. Accompanying all of this, of course, is our selection of dips: a peppermint-infused yogurt with mushrooms (yoğurtlu mantar), yogurt with mayonnaise and carrot (havuç hydradi), a side dish called şakşuka, featuring eggplant, sweet chili, tomato paste, and potato, and green beans in olive oil, which we scoop into our mouths with the help of the aforementioned lavaş.
We round off the meal with a classic crème caramel, and sütlaç – a baked vanilla rice pudding that Musa informs me holds a special place in Turkish hearts. It's easy to see why: simple, sweet, and creamy, it is excellent, and though Musa informs me that many Taiwanese find it a little too sweet, I must admit to disagreeing wholeheartedly and rudely hogging most of the dessert for myself.
To finish, we have coffee, served in dainty enameled cups with a motif of Turkish tulips. What sets Turkish coffee apart is not the beans, but rather the brewing method. The beans are ground incredibly finely and added to water (rather than the other way around) to soak, before being heated to almost boiling and then immediately removed from the heat. This heating process is repeated several times until all the flavor has infused. Musa also tells us that the grounds left in your cup after drinking are used for fortune-telling, much as tea leaves are elsewhere, though I am by now so full of the brew that the only future I can imagine is one in which I slip into a food coma.
Halal-certified
No alcohol is served at Safranbolu, for religious reasons, and the restaurant is also halal-certified. For non-Muslims, this simply means that all meat used by the restaurant has been slaughtered according to a specific set of religious guidelines. With the number of Muslim visitors from Southeast Asia on the rise (notably from Islamic-majority Malaysia and Indonesia), more and more restaurants in Taiwan are providing Muslim-friendly and halal options. A list of these can be found at www.travel.taipei/muslim/eat.jsp.
Safranbolu Turkish Restaurant (番紅花城土耳其餐廳)
Add: No. 60, Sec. 2, Nanjing E. Rd., Zhongshan Dist., Taipei City
(台北市中山區南京東路二段60號)
Tel: (02) 2522-2939
Hours: Mon~Sun, 11am ~ 10pm
Also read:
Taipei NOODLES, BUNS, and DUMPLINGS
https://taiwaneverything.cc/2016/06/28/taipei-noodles-buns-dumplings/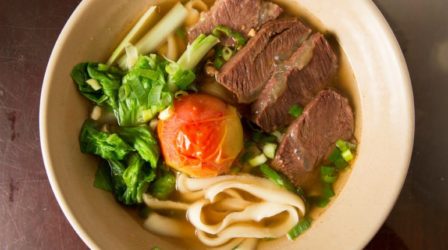 Further reading on other sites:
A Style Alike: Safranbolu Turkish Restaurant 蕃紅花城土耳其餐廳 l Taipei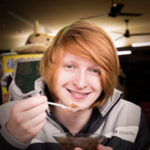 Owain McKimm is a freelance writer who has been living in Taiwan since 2009 and has written about everything from Taiwanese foot massages to flower cuisine.
E-mail: owain [dot] mckimm [at] googlemail [dot] com