Let's do Taipei biking! For this article we followed the Tamsui River and visited Guandu, Tamsui, and Guandu, on the western bank of the river.
Text: Owain Mckimm
Photos: Maggie Song
Unlike many rivers that cut through big urban areas, the Tamsui River has a pretty good life. In the early days of Taipei, the river provided the industry and access to international trade that facilitated the rapid development of what are today inner-city districts such as Wanhua and Dadaocheng, which could have led it to a polluted present sandwiched between gray high-rises and factories. Fortunately, however, the river enjoys a rather more pleasant existence, flanked as it is with long stretches of riverside parks. And this doesn't stop when it leaves the city center. As the Tamsui travels on towards the sea, it enters a land of nature conservation areas and charming estuary settlements. Three settlements, Tamsui and Guandu on the river's eastern bank and Bali on the western bank, form something of an Arcadia for Taipei folk, who flock there on weekends in order to soak up some of the seaside joie de vivre, cycle along the riverside bike paths, and/or get in touch with the natural world in one of the area's several nature parks.
Getting There and Around
Take the Taipei Metro (Taipei MRT) Tamsui-Xinyi Line (Red Line; Line 2) to its northern terminus, Tamsui Station. Or get off a few stops earlier at Guandu Station. Bali can be reached by ferry from Tamsui Ferry Pier (tickets are NT$23 for an adult, NT$25 with a bike), located along the boardwalk north of Tamsui Station, or by taking the Red 13 or Red 22 bus from outside Exit 1 of Guandu Station (the bus journey takes just over an hour).
By far the most pleasant way to explore the area is by bike. An excellent network of bike paths is available, winding through old riverside streets, mangrove parks, and wetlands. The sheer number of bike-rental shops en route makes it impractical to list them all, but if you feel the urge to cycle, throw a stone and chances are you'll hit a rental shop. Most rent bikes for the whole day, with returns due at 7 or 8pm. One of the people in your party will need to leave ID – a passport or driver's license if you're not a resident, your national ID or health insurance card if you are. Prices differ, but expect to pay between NT$50 and NT$150 for the whole day. Tandems and four-person quadricycles are also available at most shops.
Guandu Temple
In walking distance from MRT Guandu Station is Guandu Temple. Though the main building has been rebuilt several times, the site itself has been used for the worship of Mazu, Goddess of the Sea, for over 300 years. Apart from Mazu, the temple also pays homage to Guanyin, Goddess of Mercy, and Emperor Wenchang, God of Culture and Literature. To the right of the main hall is the Old Buddha Cave, an 80-meter-long tunnel with painted life-sized statues of 28 Buddhist deities set into the walls on either side. At the end of the tunnel is an imposing golden statue of a thousand-armed Guanyin and a terrace with a pleasing view over the river.
Guandu Food Court
Looking to fuel up before cycling on to Tamsui? Just pop round the back of Guandu Temple to the Guandu Food Court, home to tens of stalls selling traditional Taiwanese snack delicacies. Classics such as braised pork rice, oyster omelet, deep-fried taro and sweet potato, fried rice noodles, stinky tofu – all can be enjoyed here. And, if you're interested in taking some fresh produce home to cook yourself, check out the stall in the far left corner at the back, which sells live loaches, swamp eels, toads, and turtles for your culinary adventures.
Guandu Nature Park
Covering 57 hectares, this collection of ponds, marshes, and mudflats is a haven for waterfowl and shorebirds. It's also an important wintering and breeding ground for many species, and as a result over 250 bird species have been documented here, making it a hotspot for birdwatching. The areas of the park open to the public offer serene strolls by freshwater ponds and through coastal forests. In addition, sculptures and other artworks made of all-natural materials found in the park – stick-and-mud huts, giant seed pods, curling wooden ferns – have been subtly integrated into the landscape, giving the impression that you're walking through some enchanted elfin forest. In the visitor center you'll find a café and an observation area set up with telescopes and bird guides so you can hone your birdwatching skills.
Tamsui Old Street & Around
You could easily spend a whole day exploring the delights of Tamsui. Tamsui Old Street is the place to load up on the town's renowned iron eggs (quails' eggs stewed in spices and dried until chewy), and of course visit the surreal Believe It Or Not Museum, with its assortment of pickled oddities and some live ones too – a two-headed, six-legged turtle for one. Along the riverbank you can take in herons fishing in the Tamsui estuary, blow all your change on fairground-style games, and try another Tamsui specialty, ah-gei (fried beancurd stuffed with vermicelli noodles) at the Original Ah-Gei Store (No. 4, Alley 11, Zhongzheng Rd.).
Up the narrow set of stone stairs that make up Alley 14 of Zhongzheng Rd. is the Red Castle – a 19th-century mansion built in the Victorian style, now home to a high-end restaurant and terrace bar with wonderful views from the café on the 3rd floor. Follow the river downstream and you'll come to the "Old Dutch Fort," Fort Antonio (better known as Fort San Domingo) and the Former British Consular Residence. From the fort, head uphill on Zhenli Street and you'll arrive at the former Tamsui Customs Officer's Residence, also known as the Little White House – a beautiful white colonial-style building with vaulted arcades, fronting a meticulously tended garden.
Bali Old Street
Across the river from Tamsui, just a few meters from where you step off the ferry, Bali Old Street is a slightly shorter, slightly more laid-back version of Tamsui Old Street. The pace here is a little slower, a little less frantic than its counterpart on the other side of the river. Food choices include more roasted corn, fried squid, corn dogs, barbequed tofu, and fried birds'-eggs-on-a-stick than you can shake a stick at. The most popular vendor though is undoubtedly the donut shop at the top of the street. Three snacks are on sale here – your classic donut, a two-pronged crispy bun called "twins," and taro cookies, which consist of taro paste sandwiched between two deep-fried cream crackers.
Bali Left Bank Park
A fairly similar experience to Tamsui's riverside boardwalk, Bali Left Bank Park is, as well, somewhat more easy-going than its cousin across the water. A slew of interesting shops selling Western '50s-style toys line the bank – think cup-and-ball and rubber-band rifles (though you'll also find that some are distinctly Taiwanese – child-sized versions of the war god Guan Gong's Green Dragon Crescent Blade, for example). There are also some expansive green spaces and sheltering trees where you can sit awhile in the shade and enjoy your ice-cream tower. Follow the path downriver and you'll come to the Wazihwei Conservation Area – an old village and a peaceful mangrove park, which few tourists visit, even on weekends, with soft muddy earth that is home to fiddler crabs and mudskippers galore, as well as several species of waterfowl.
Shihsanhang Museum of Archaeology
The archaeological site at Shihsanhang, discovered in the 1950s, offered up a rich trove of archaeological treasures that shed considerable light on the history of one of Taiwan's northern lowland tribes. The site threw up pottery, beads, bronze utensils, silver, copperware, gold jewelry, and coins, as well as human and animal remains, some dating back almost 2,000 years, and, moreover, provided evidence that the Shihsanhang people were the earliest in Taiwan to have possessed iron-smelting technology. The museum, opened in 2003 to exhibit the finds, provides a fascinating look both into the lives of this early Taiwan indigenous people and into the archaeological process itself. Good English signage throughout, and lots of hands-on activities for youngsters, makes this a fun place to visit as a family.
Bike Rental
Perhaps the most practical of the bike shops to rent from is the Bicycle Classroom, situated in an alley near Exit 1 of MRT Guandu Station. Bike hire is NT$100 for the day (to 7pm on weekdays, 8pm on weekends). For an extra NT$50, you have the option of returning your bike to one of its partner outlets in Tamsui or Bali, meaning you can do the full tri-area without having to worry about speeding back to Guandu come sundown. The outlet provides maps with the location of its partner shops.
Info
Bicycle Classroom (單車教室)
Add: No. 36, Alley 296, Sec. 3, Dadu Rd., Beitou Dist., Taipei City
(台北市北投區大度路三段296巷36號)
Tel: (02) 2897-5559
Hours: Weekdays 8am~7pm; weekends 8am~8pm
There are also plenty of places to rent bikes in Tamsui and Bali.
In Tamsui:
Tamsui Bike Rental (淡水租車站)
Location: Near MRT Tamsui Station at the riverfront
Tel: (02) 8978-5108
Hours: Weekdays 8am~7 pm (6pm in winter); holidays and weekends 8am~8 pm (7pm in winter)
Fee: NT$15 per hour; bikes need to be returned same day
Websites: www.rhbd.ntpc.gov.tw/cht/index.php?code=list&ids=13 (Chinese) / www.ukan.com.tw/main.html (Chinese)
Leqi Bicycles (樂奇單車)
Add: 6-1, Zhongzheng E. Rd., Tamsui District, New Taipei City
(新北市淡水區中正東路6-1號); near Exit 2 of MRT Tamsui Station
Tel: (02) 2626-3233
Hours: Weekdays 10am~9pm; weekends and holidays 9am~9 pm
Fee: NT$100 per bike/day; bike needs to be returned on same day
Website: hbike.myweb.hinet.net/
In Bali:
Huanle Bike Rental (歡樂協力車)
Location: 8, Alley 21, Duchuantou St., Left Bank, Bali District, New Taipei City
(新北市八里區左岸渡船頭街21巷8號); Bali riverside, near Bali Ferry Pier
Tel: (02) 2610-0356
Hours: Weekdays 12 noon~8pm; weekends and holidays 10am~10pm
Fee: NT$50 per day
Video about Tamsui:
Another video (for Tamsui, watch from the 7:25 mark)
Further reading on other sites:
Josh Ellis Photography: Fort San Domingo (紅毛城)
Hotel in the Area
Fullon Tamsui Fishermen's Wharf (福容大飯店淡水漁人碼頭)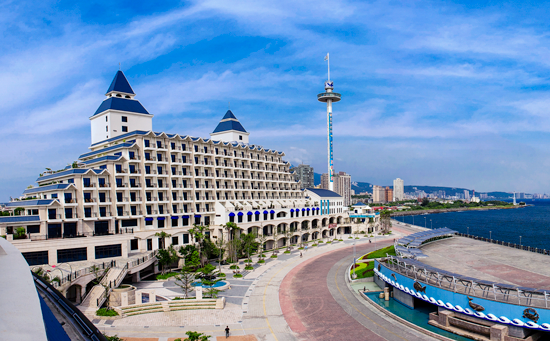 No. of Rooms: 198
Add: No. 83, Guanhai Rd., Tamsui Dist., New Taipei City
(新北市淡水區觀海路8 3 號)
Tel: (02) 2628-7777
Website: www.fullon-hotels.com.tw/fw/
English and Chinese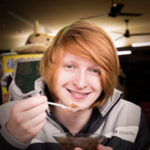 Owain McKimm is a freelance writer who has been living in Taiwan since 2009 and has written about everything from Taiwanese foot massages to flower cuisine.
E-mail: owain [dot] mckimm [at] googlemail [dot] com