Northeast Coast Loop
Text: Owain Mckimm Photos: Maggie Song
Fulong Beach is among the most popular beach resorts in northern Taiwan; and while the hot summer months attract the most visitors, this is a place where you can enjoy the outdoors all year round. Bicycling around Fulong is one of the best options for exploring the resort area, which has cultural, historical, and scenic attractions galore.
Come summer, the consensus in northern Taiwan is that if you're looking for a splash in the surf, or a frolic on the beach, head to Fulong Beach. Just a short train ride from Taipei, with golden sands and waves perfect for watersports, the beach resort, just outside small coastal Fulong village, simply ticks all the boxes. In summer, Fulong can get pretty crowded, off-puttingly so for some. Fulong in late spring, on the other hand, is quieter; and with temperatures more genial than in the sweltering summer months, visitors can take advantage of one of the area's other great attributes – the Old Caoling Circle Line Bikeway, a 20km circuit of Taiwan's rugged northeastern tip, and one of the island's finest bike routes.
Visitor Center & Bike Rental
The first thing to do when visiting Fulong is to check out the Fulong Visitor Center, a short walk northeast of the train station, just outside Fulong Beach. One of the most comprehensive visitor centers that I've visited in Taiwan, it has docks to charge your phone, lots of good English leaflets and maps covering the scenic spots and trails on the northeast coast, and information boards aplenty. In addition, it's worth spending a little time here browsing the Driftwood Rebirth Gallery – an exhibition of driftwood gathered after two typhoons swept a huge amount of debris onto the shores in the Fulong area back in 2001, now carved into stunningly intricate scenes of myth and nature.
The next thing on the list is, of course, to get a bike. Heading back towards the train station, we rent our bikes at a shop on the main highway with the name Jiushi Baifenbai Zuche Lianmeng ("100% Bike Rental Alliance"). The shop rents singles, tandems, kids bikes, and electric bikes by the day, rather than by the hour, and the price for an adult bike is a mere NT$100. In addition, those who reach Fulong on a Taiwan Tourist Shuttle bus (www.taiwantrip.com.tw) can present their ticket to get a 20% discount.
Jiushi Baifenbai Zuche Lianmeng
(就是百分百租車聯盟)
Add: No. 21, Xinglong St., Fulong Village, Gongliao District, New Taipei City
(新北市貢寮區福隆里興隆街21號)
Tel: (02) 2499-2206 / 0928-204-447
Old Caoling Tunnel
We retrace our path to the train station, turn left just in front of it, and then follow a narrow road along the railway tracks. Before long, we arrive at the Old Caoling Tunnel. Completed in 1924, the tunnel was used by trains traveling between Fulong and Shicheng further south on the East Coast. In 1986, a new tunnel was constructed right beside it and the old one abandoned – that is, until it was reopened in 2009 as part of a shorter bike path that is now part of the Old Caoling Circle Line Bikeway. At 5m high and 2km long, the tunnel was, at the time of its construction, the longest in Taiwan. Zipping through it with a bicycle at speed is quite a rush, taking about 10 minutes.
Emerging on the other side, we stop for a while and have a bite to eat at the southern end of the tunnel. It's here that we get our first view of Turtle Island (named so because it resembles a red-eared slider turtle raising its head out of the water), an islet about 10km off the coast that is in fact the top of an inactive volcano, known for its precipitous cliffs, offshore sulfurous springs, craggy peaks, and deep sea caves. Though its flora and fauna are known to be stunning, visiting the island requires an extra bit of effort, with permits having to be applied for in advance and boats chartered, so for now a glimpse is sufficient.
Lai Lai Eroded Platform
A little further up the coast (i.e., northeast) from this spot is one of Taiwan's many geological oddities. Situated as it is on a complex convergent boundary between tectonic plates; and hit often by violent typhoon winds and monsoon rains, Taiwan is as scarred and stretch-marked as they come. The Lai Lai Eroded Platform is just one of these many intriguing blemishes – a section of coastline molded by the elements into a corrugated expanse of ridges and grooves that make the area look a little like a giant washboard.
Sheltered by Sandiao Cape on the north and fed by the warm Kuroshio Current, the sea surrounding the platform is something of an Eden for algae and plankton (which, in spring, coat the platform a deep vegetative green), and attracting, in turn, throngs of tropical fish. As a result, you'll see plenty of zealous anglers balancing precariously on the platform's edge, waves crashing about them as they try to hook a prize catch.
Sandiao Cape Lighthouse
As we follow the bikeway further north we catch a glimpse of Sandiao Cape Lighthouse, perched on a high promontory above the coastal highway. To reach it, we first pass by below, then double back along a steep and winding narrow roadway. The lighthouse, which has a range of 25 nautical miles, was built following the wrecking of two Japanese ships off the cape in the early 20th century. Inside is a small museum detailing various types of lighthouse apparatus and displaying some interesting historical nautical maps of the area. To one side of the lighthouse, down a brief flight of stone steps you come to a raised lookout with a view encompassing the mountains to the west, Bitou Cape to the north, and Turtle Island to the south. Curiously, the promontory's name, Sandiao Cape, is a sinicized version of "San Diego Cape" – a name bestowed upon this part of the coast by passing Spaniards back in 1626.
Fulong Food
Back in Fulong and needing to refuel after our bike ride, we grab one of the town's famous Fulong lunchboxes. Now these aren't the brightly colored plastic boxes that kids take their lunch to school in; the Taiwanese-style boxed lunch is a hearty meal (typically rice, cabbage, pork, tofu, pickled vegetables, sausage, and a hard-boiled egg) packed into a cardboard or thin-wood box about the same size as an old VHS tape. And as they're particularly popular as lunch on long train journeys, most of the lunchbox vendors in Fulong are centered around the train station.
We grab our lunchboxes at the Xiangye Biandang shop, which has been providing the good train passengers coming to Fulong with lunch since the 1950s. Its lunchboxes are top-notch; mine comes with a big slab of pork and crispy chunks of crackling to boot for just NT$60.
For dessert we go a few doors down the street to try some shi hua dong, a strange aspic-like substance produced by boiling algae and then allowing the sieved liquid to cool. The jelly cubes – which are essentially flavorless – are then served with your choice of flavored syrup. A bowl will cost you just NT$40, and is pretty refreshing, if a little bit of an acquired taste.
Fulong Beach
Before we return our bikes there's just time for a frolic on the beach. The 3km-long stretch of sand (accessible via bridge from the "mainland") lies on a peninsula formed by silting by the Shuangxi River as it flows into the sea at an acute angle to the coast. For those keen on sea-surface watersports, the strong steady breezes that blow through provide prime conditions for windsurfing, canoeing, bodyboarding, and surfing, while the calm waters of the river are perfect training grounds for beginners.
A bit further to the east, at the mouth of the river, we see Dongxing Temple, dedicated to Mazu, Goddess of the Sea, with its many-tiered, mustard-colored roof resplendent in the late-afternoon sun. Mazu is an important deity for the local fishermen, who need all the divine help they can get negotiating the treacherous waters around Sandiao Cape and Turtle Island.
Fulong Beach is also the stage for two major events in northern Taiwan's cultural calendar – the two-month long Fulong International Sand Sculpture Art Festival (May-July), which sees the beach covered in enormous and intricate sandy sculptures, and the HO-HAI-YAN Gongliao Rock Festival (second weekend in July), one of the highlights of Taiwan's alternative-music scene.
(Note: Fulong Beach is operated by Fullon Hotels & Resorts; entrance fee: NT$40; hours: 8am ~ 6pm; tickets are sold until 5pm; no water activities are allowed after 6pm and all visitors are asked to leave the beach; free admission to hotel guests.)
The temptation now is to find somewhere to soak our aching muscles. The Fullon Hotel, a new hot-spring resort that recently opened near the beach, seems just the place. Partly resembling, as it does, a European castle with blue-and-white towers, the hotel is not difficult to find. Hot-spring facilities open to the public include a steam room, Jacuzzis, and hot/cold pools. The water – light yellow, semi-opaque, and odorless – contains hydrogen carbonate, and is said to have beautifying and stress-relieving effects. For non-guests use of the facilities costs NT$800 per person, with a time limit of 2 hours. Opening times are between 8am and 10pm with a two-hour break between 12 noon and 2pm. Last entry is 9 pm.
Fullon Hotel Fulong
(福容大飯店)
Add: No. 41, Fulong St., Fulong Village, Gongliao District, New Taipei City
(新北市貢寮區福隆里福隆街41號)
Tel: (02) 2499-1188
Website: http://fulong.fullon-hotels.com
Getting There and Getting Around
Fulong Beach is 60-90 minutes away from Taipei by train (depending on type of train); trains are frequent and run until late at night. You can also take a Taiwan Tourist Shuttle bus (Gold Fulong Route), which leaves from Ruifang Railway Station and terminates at the Fulong Visitor Center.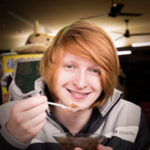 Owain McKimm is a freelance writer who has been living in Taiwan since 2009 and has written about everything from Taiwanese foot massages to flower cuisine.
E-mail: owain [dot] mckimm [at] googlemail [dot] com