A Relaxed Ride from Scenic Beach into Enchanting Countryside
Text: Owain Mckimm
Photos: Chen Cheng-Kuo
Hualien, the largest city on Taiwan's east coast, has plenty of attractions to keep a visitor busy for a day or more. If you want to take things in at a slower pace, rent a bike and follow a bikeway that connects a scenic pebble beach north of the city with a scenic lake to the west of it.
The Two Lakes Bikeway stretches 35 kilometers from Qixingtan (Qixing Lake), just north of Hualien, to Liyu (Carp) Lake at the mouth of the East Rift Valley. It skirts along the coast before cutting west on old railroads and levees through the rural villages south of the city, until it jackknifes southwards into the funnel formed by the north-south Central and Coastal mountain ranges. If you don't fancy doing the bikeway in one go, there are plenty of places to rent bikes en route, so it's easy to start partway along the bike path and do your preferred section.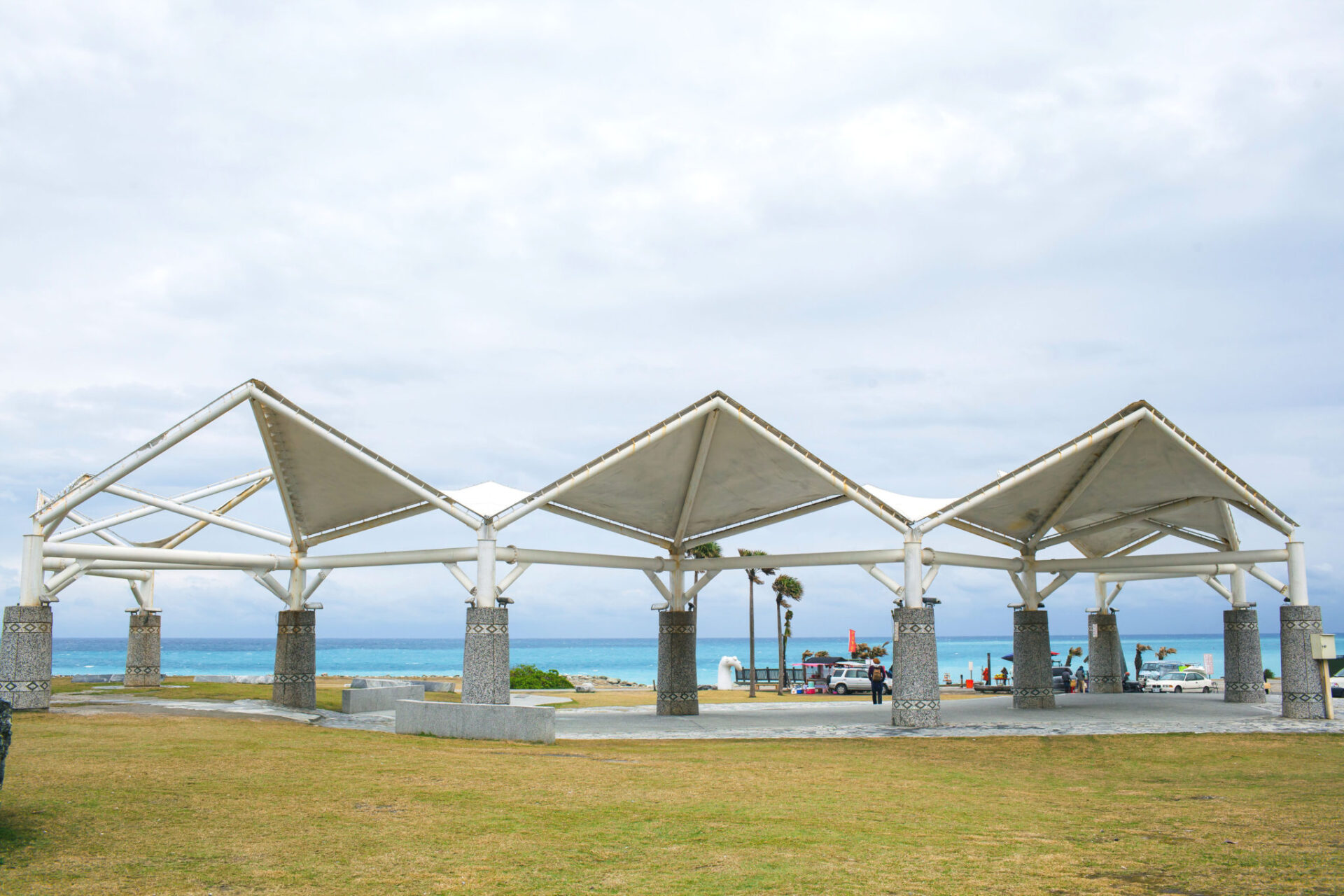 Qixingtan
With a group of travel friends, on a recent spring day I start a trip at Qixingtan, a popular tourist spot. Uninitiated visitors to "Qixing Lake" will be surprised to find that it is not in fact a lake at all, but rather a picturesque stretch of coastline that includes a small fishing village and a shingle beach.
The misconception comes about because there once indeed was a group of lakes nearby, but they were rather unceremoniously filled in in 1936 to build an airport. The bay, which now retains the name of the once-upon-a-time lakes, is a visitor-busy scenic area known for its gorgeous aquamarine waters – which seem to shine even in gloomy weather – and also as an ideal spot for stargazing.
Though it might be tempting, considering how beautiful the water looks, swimming is prohibited because the waves and currents here are particularly treacherous. The beach, though, is certainly not off-limits. Due to the protruding headland on the south at Qilaibi, the rocks from the area's rivulets have over time accumulated on this stretch of coast into a long, pebbly beach. The constant weathering by the Pacific has also revealed the stones' inner beauty, and you'll find many colorful agates and striped pebbles littered about.
If you visit in the summer, you might be lucky enough to catch a display by local fishermen of one of their traditional fishing methods – use of the beach seine, a net cast into the ocean from the beach and dragged to shore, hopefully thrashing with fish.
There are vendors selling traditional Taiwanese snacks in the park area near the beach, and the visitor center in the village on the south side also has a coffee shop and seafood restaurant attached, in case you need to fill up the tanks before cycling.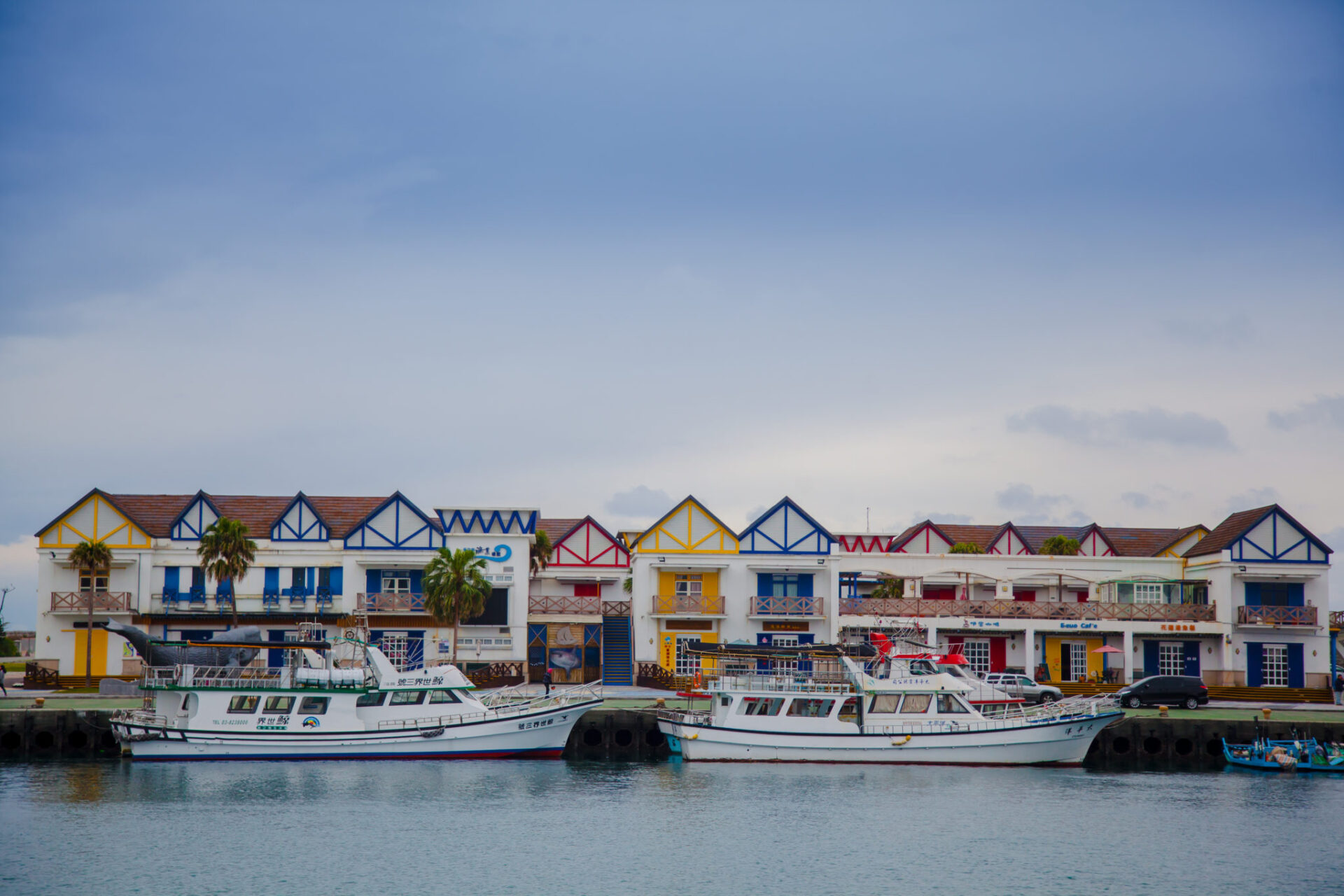 Hualien Harbor
Further along the coast, we come to Hualien Harbor. The aromas of the working fishing port within this large-scale fishing/shipping facility hits you like an iron chum bucket to the nose. Freshly caught fish, diesel fuel, and the salty ocean air; it's enough to make you want to pull on a pair of oilskins, hop on a trawler, and have a good ol' scrap with Davy Jones.
There is a bustling fish auction here every day, from 11am until sunset, and while carting a fish along on your cycling trip may not be ideal, it's certainly worth stopping by to soak in the atmosphere and see the vendors hawking the morning's catch.
If you fancy a bite, you can also try some fresh seafood at the Tian Mama ("Field Mothers") restaurant at the head of the market. "Tian Mama" is a scheme launched in 2001 as a way to allow local women in various locations around Taiwan to open restaurants specializing in local delicacies. At the Hualien Harbor branch, the focus is unsurprisingly on freshly caught saltwater catch. Choose yours out front, and the talented ladies will rustle up tasty dishes for you.
If you fancy something a little more upmarket, head across the harbor's north-end fishing port to the Sunward Plaza, a large mock-Tudor manor house painted in red, blue, and yellow – you really can't miss it. Inside you'll find the "Chinese & Japanese Food" Restaurant, which serves top-notch seafood cooked in both Chinese and Japanese styles, accompanied by locally grown vegetables. Elsewhere in the plaza, purchase products made from the locally caught fish, such as fish floss, fish balls, and cured surimi, and participate in such DIY activities as making your own coral jewelry and even rolling your own fish balls.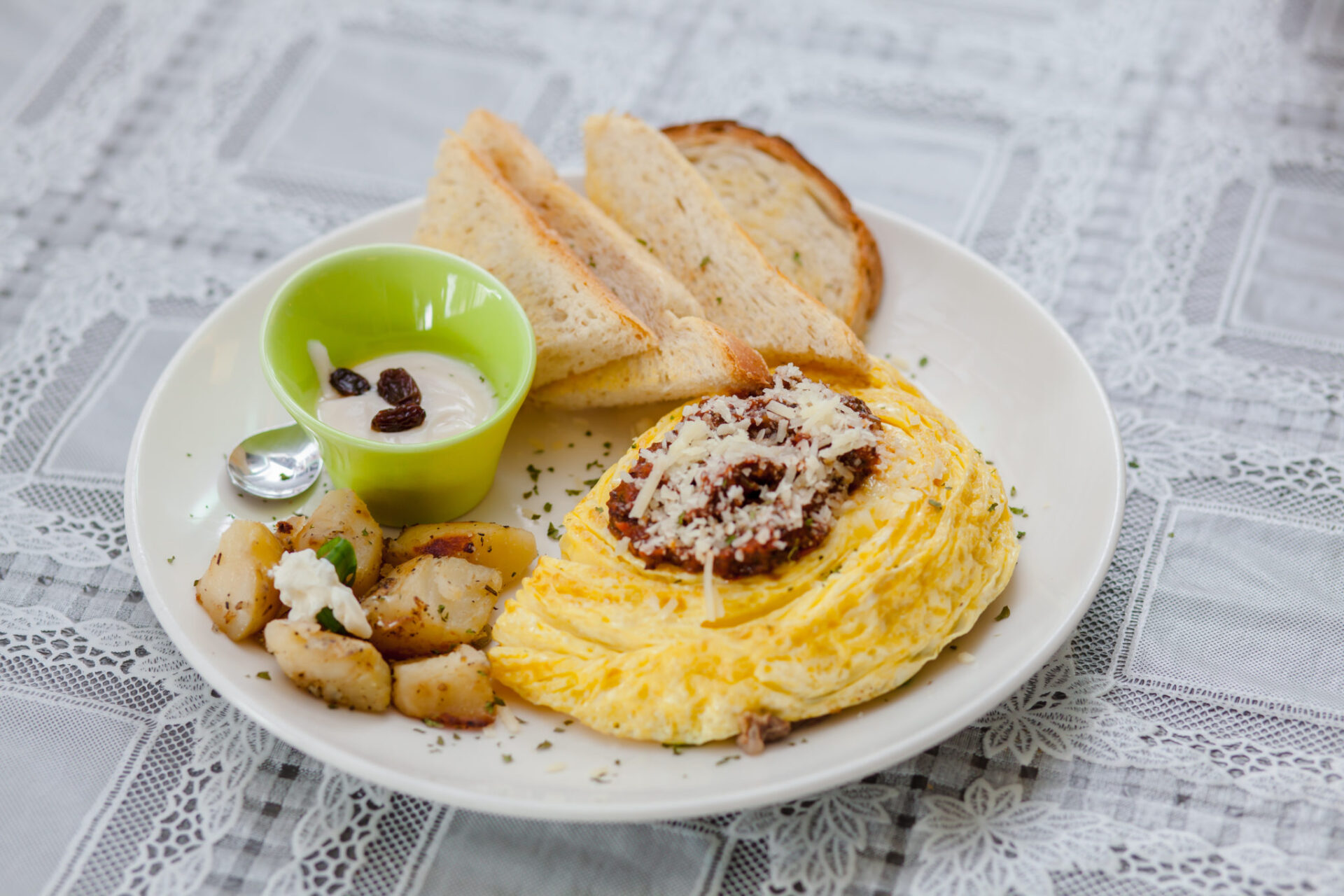 Country Mother's
Veering off the trail slightly, heading a bit into the city from the harbor area's mid-point, we stop for a refuel at a Hualien institution – Country Mother's. A Western-style breakfast/brunch restaurant, Country Mother's is rather a novelty in Hualien, where breakfast habits are still largely traditional (unlike in Taipei, where brunch places are now two a penny). What's perhaps more surprising, though, is the fact that this ostensibly provincial effort stands toe to toe with the best on offer in the capital. Perhaps the secret is Country Mother's authenticity. The brainchild of a Canadian expat with more than 12 years' experience in Canadian restaurant kitchens, along with his Taiwanese partner, Country Mother's bakes all its bread and makes all its preserves in-house, and serves some really fantastic homey grub in very generous portions – eggs Benedict, French toast, waffles, pancakes, bagels, and more types of omelet than you can shake a whisk at. It closes at 2pm, so make sure you pick up the pace to get there before it closes.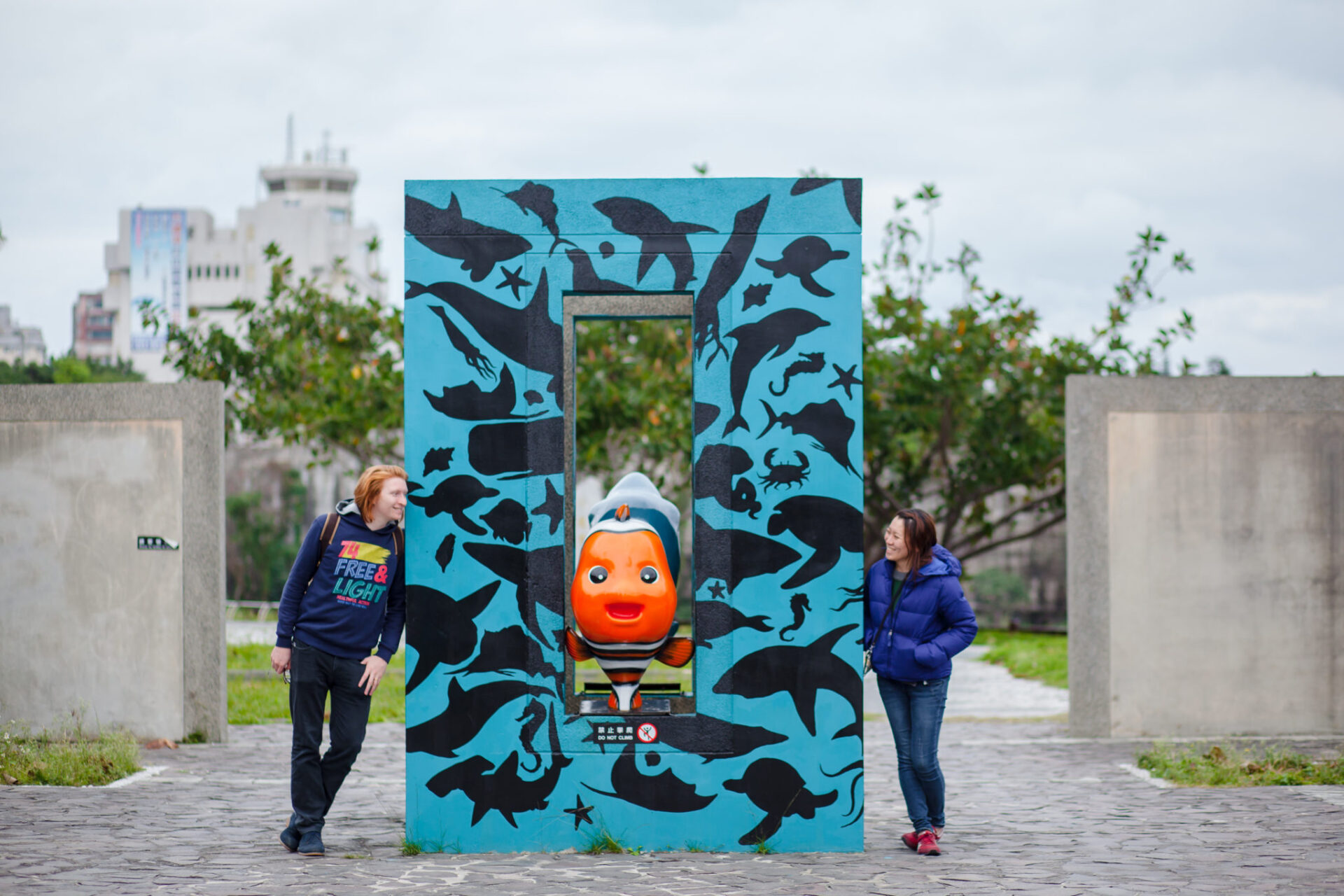 Beibin (North Shore) Park
Continuing south on the trail, we pass over the old Daybreak Bridge, an attractive little viaduct topped with several wooden-frame arches. Built in 1939 by the Japanese, the bridge crosses the Meilun River, and gets its name from the fact that by standing on it and looking east you get a perfect view of the dawning sun. Once a railway bridge that connected Hualien Harbor to the city, it was, after the old line was decommissioned, converted for cycling path use.
Crossing the bridge, you enter Beibin Park, a pretty little green area that has recently been given a bit of a makeover as an open-air art gallery – though don't expect any Renaissance masterpieces. The art on offer here is purely whimsical. Three-dimensional paintings of whales, clownfish, sharks, and other ocean dwellers line the walls around the park, providing photo ops aplenty for the so minded. If you're feeling peckish and don't want to go off-route to find an eatery, there's an Australian pie shop at the south end of the park, which is sure to fill in any meat-and-gravy-shaped holes you might have.


Liyu Lake
Finally, we reach the jadeite waters of Liyu Lake – the largest lake in eastern Taiwan. The lake was formed through a complex series of natural events that caused the diversion of a source river on the south and the blockage of exit waters on the north, creating a barrier lake. Five peaks, resembling deep-emerald waves, surround the lake and look, on drizzly, misty days, as if they come straight out of a classical Chinese painting.
The flora and fauna in and around the lake are quite spectacular, too. The lake itself is full of several species of carp (liyu means "carp" in Chinese), and its banks are home to egrets and herons. At the end of spring, around April, the area is a breeding ground for fireflies, which can be seen flashing through the forest or near the shores.
The 5km circuit around the lake can be done in no time, but there are also numerous diversions along the way. On the lake's eastern shore you'll find the trailheads for several hiking trails, which take you up onto Mt. Liyu, where you'll be able to see barbets, shrikes, babblers, and bulbuls as well as several species of butterfly, while on the western shore you can rent dragon-shaped paddle boats for a jaunt on the lake, or take a photo with the Red-Faced Duck – a blow-up Muscovy duck of the same ilk as Florentijn Hofman's floating Rubber Duck sculpture. Perhaps a little baffling to visitors, it is in fact a bit of an in-joke for the Taiwanese – Muscovy duck, fried with ginger and served in a hotpot with various pungent herbs, being a popular dish here.
Getting There and Around
The easiest way to get to either end of the bikeway is to take a Taiwan Tourist Shuttle (www.taiwantrip.com.tw) service bus from outside Hualien Railway Station or the nearby tourist information center. Buses plying the Hualien East Rift Valley Route stop at Liyu Lake, and those that ply the Taroko Route stop at Qixingtan. If you'd like to start your bike outing right away, you can rent bikes from the Giant bicycle shop near the railway station (exit the station and bear left). From this point, follow the Two-Way Bikeway east, then proceed down along the Meilun River, and you'll emerge at Beibin Park.
Lishiuan International Hotel (麗軒國際飯店)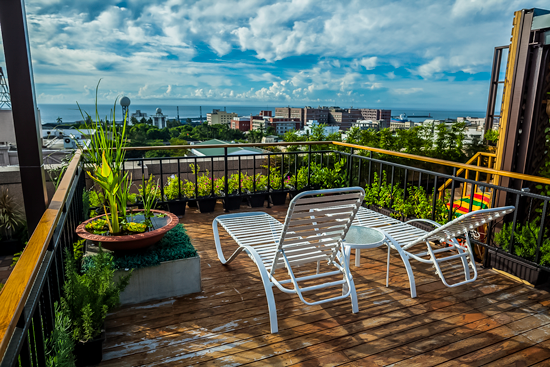 Add: No. 99-1, Zhongmei Rd., Hualien City (花蓮市中美路99-1號)
Tel: (03) 824-6898
Hualien Toong Mao Resort Hotel (花蓮統茂渡假莊園)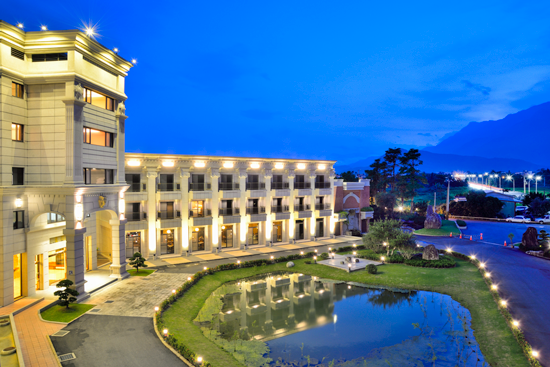 Add: No. 199, Sec. 2, Jifeng Rd., Ji'an Township, Hualien County (花蓮縣吉安鄉吉豐路二段199 號)
Tel: (03) 854-2111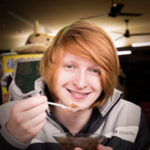 Owain McKimm is a freelance writer who has been living in Taiwan since 2009 and has written about everything from Taiwanese foot massages to flower cuisine.
E-mail: owain [dot] mckimm [at] googlemail [dot] com