Half-Day Experience for Beginners
TEXT / TWELLI
PHOTO / UNIQUEFUN, VISION

This post has been created in cooperation with Uniquefun Hualien.
Whenever I have the chance to go to the East Coast of Taiwan, I will jump at it without hesitation, and rarely do I return to Taipei disappointed. Hualien and Taitung have so much to offer, scenery, friendly people (and lack of annoying people), and lots of opportunity to have fun in the great outdoors.
There are numerous outdoor tour companies based in Hualien, offering adventure trips with a major focus on river-tracing. In recent years, sea kayaking on the ocean has become very popular as well, and now every day you can see kayaks leaving the pretty pebble beach south of the Qingshui Cliffs before sunrise with participants paddling out to see to marvel at the impressive cliff wall on one side and the rising sun on the other.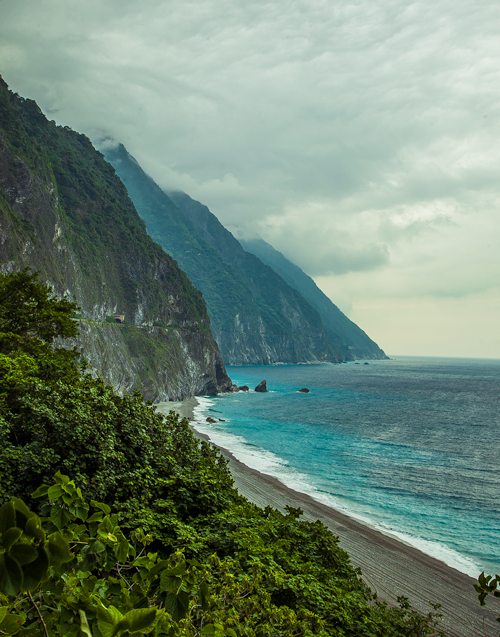 One of the players in the East Coast outdoor adventure market is Unique Fun, a small operation with a friendly owner, friendly staff, and friendly tour guides/coaches. Like other Hualien-based companies, they organize predawn kayaking trips on the ocean. But they also have a wide range of other options. Check out the trips on their website at Uniquefun Hualien.
If you like hiking, Zhuilu Historic Trail inside Taroko Gorge is an amazing adventure, the perfect combination of easy access and incredible scenery. If you like water-based fun, apart from sea kayaking you can also sign up for river kayaking and stand-up paddleboarding (SUP). And then they also have tours of a different kind that other outfits don't offer: motocross biking.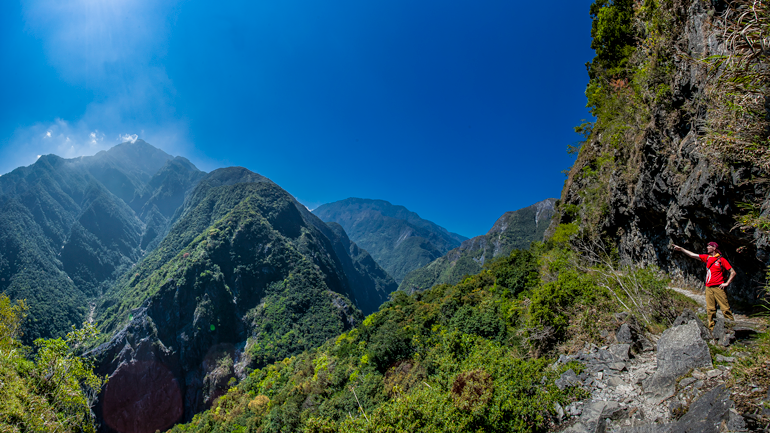 Invited by Uniquefun to give it a try, agreeing to write this post and filming a short a video (see below) in exchange, I decided to spend a day on the East Coast, and do the Totoro Forest Motocross experience.
On a super-hot day in June I took the 6am train from Taipei Main Station down to Hualien. This is the earliest express train between the two cities, which allowed me to do this trip without staying in Hualien overnight and be at the meeting point (Hualien Railway Station) a quarter past 8am. Unique Fun staff will pick you up from any location within Hualien City.
After jumping in a nicely air-conditioned van, Jason, one of the company's staffers, drove us down to Fenglin Township, a quiet rural area in the northern part of the long East Rift Valley between the cities of Hualien and Taitung. Also in the van were six young guests, eager to go on this moto-cross bike ride for beginners.
Unique Fun has chosen a location perfectly suited for this first motocross experience trip, a large forest area with straight long roads and almost no other vehicles around. When we arrived at the forest the coach was already waiting, the bikes neatly lined up on the side of the road.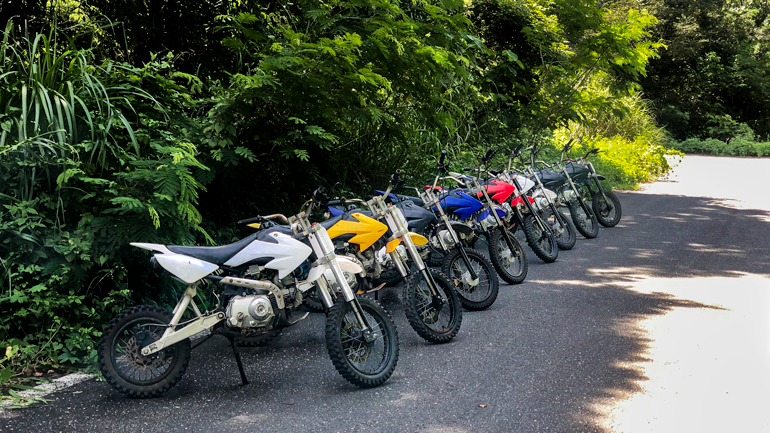 The whole experience is quiet straight forward. You'll receive instructions on what to do — ride safely, stay behind the coach — and what not to do — speeding, overtaking, etc. You'll have to put on protective gear: helmet, shoulder pats, knee pats, and gloves. Riding the bikes is safe, but because part of the fun is going a little bit off road to experience what it's like to ride on the forest floor, safety precautions are taken seriously.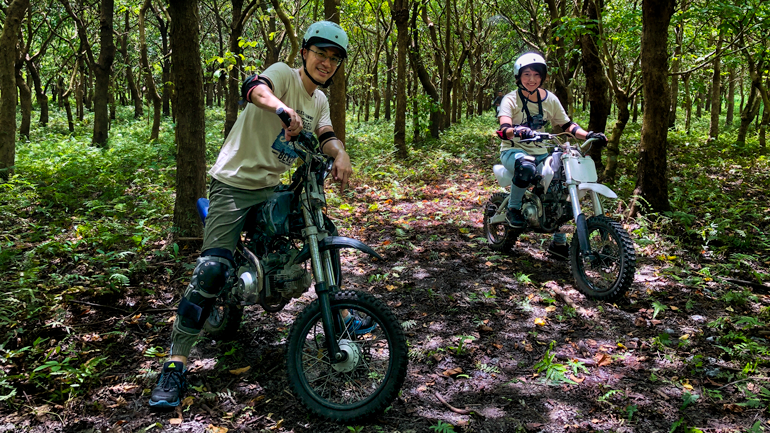 The bikes are rather small, at least for a 187cm guy like me, but I found riding mine easy and a lot of fun. There is not need to change gears; all bikes were modified to make handling them as easy as possible (turn on the engine, accelerate, brake).
The ride is mostly on the small roads through the forest, then along rice paddies and water melon fields, and also to the Hualien River. It's a relaxed experience, but the strong vibrations of the bikes certainly fills you with excitement. The coach stops at scenic spots and takes pictures of everyone, which participates can download a few days after the experience (notification on Uniquefun's Facebook and Instagram sites).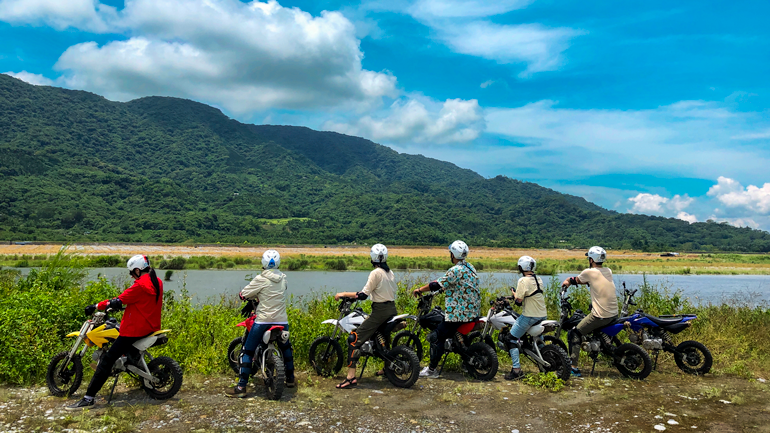 A simple lunch (yummy rice balls) is served toward the end of the trip. Especially during the hot summer months, drinking a lot of water is strongly suggested. Since water is not supplied please bring your own. Before reaching the forest, you'll make a stop at a convenience store during which you can stock up on whatever you need for the trip.
This was my first motocross experience with Unique Fun, and now I am eager to do the other moto trips they offer as well. They do have a bit more challenging rides in their program (Banana Grove, Ruisui Mountain). I also like most of their other adventures, including the Zhuili Historic Trail hike (which I have done before and would definitely like to do again), and the sea kayaking outings).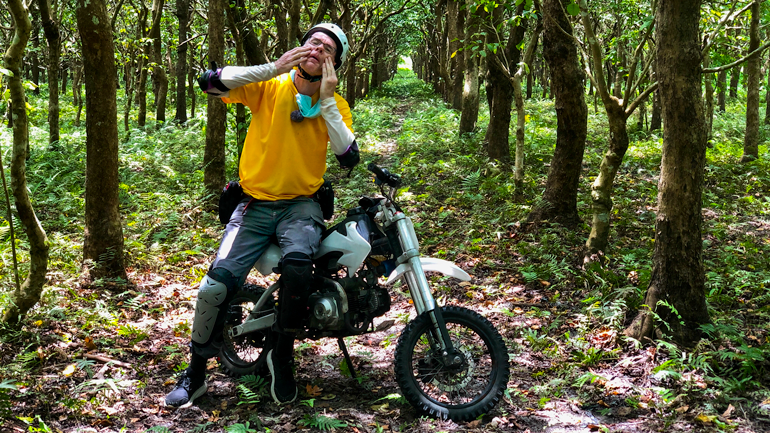 If you are interested in this trip or any other offered by Unique Fun, check them out at: Unique Fun.
If you are planning to stay in Hualien, check out hotels listed here.