Strolling, Biking, and Relaxing in Taiwan's First "Slow City"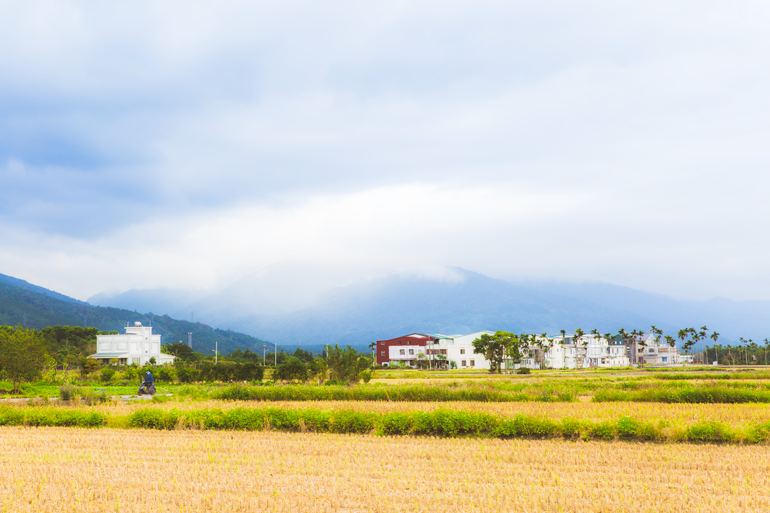 If you are curious about the meaning of terms like "slow living," "slow food," and "slow cities," consider heading to a place in Taiwan where the pace of life is the opposite of fast, the township of Fenglin in Hualien County.
Text: Francesca Chang; Photos: Maggie Song
Fenglin, literally "Phoenix Forest," is a township in eastern Taiwan's Hualien County. The area, according to legend called "maliwu" by the people of the region's indigenous Amis tribe, got its current Chinese name from arriving settlers in the mid-1800s, who discovered mulan magnolia trees in the thick forest that covered the terrain at the time. The flowers of this tree resemble a Chinese phoenix spreading its wings.
Today a quaint rural township with a rich history, Fenglin was the first place in Taiwan to be recognized as a "Slow City" by Cittaslow International (www.cittaslow.org), an Italy-based association that promotes a slow-paced lifestyle and provides incentives encouraging food production with natural, eco-friendly techniques. The focus is on environmental conservation, sustainable development, and improvement of living environments.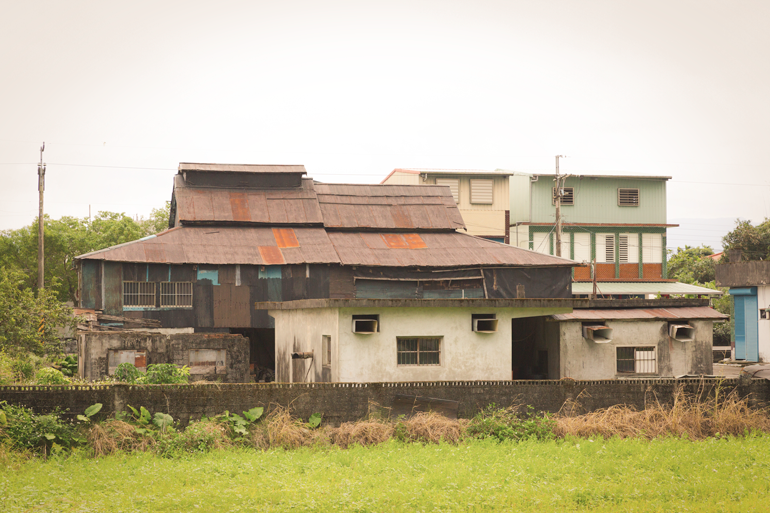 Old houses in FenglinIn order to obtain the status of a "Slow City," a municipality must agree to follow the guidelines of the "Slow Food" movement and strive to protect and preserve the local environment and culture. On a short stroll down one of the main roads in central Fenglin, it is easy to see why the small township – with a population of less than 11,000 – would turn naturally to promotion of a slow lifestyle. It has fresh air, friendly people, a pristine environment, and excellent locally produced foods.
On a recent trip to eastern Taiwan, I had the chance to venture into this relaxed rural area, meeting locals, learning about the township's history and culture, and eating its "slow food."
Hakka Cultural Museum
After arriving at Fenglin Railway Station, I first headed to the Hakka Cultural Museum. The Hakka people are a subgroup of the Han Chinese, with origins traced back to northern China. During the Chinese imperial era, due to social unrest, upheavals, and invasions, the Hakka were forced on southward migrations several times, with many eventually settling in the southeastern provinces of Guangdong and Fujian. In the late Ming and early Qing dynasties significant numbers from this region made the journey across the Taiwan Strait to settle in Taiwan.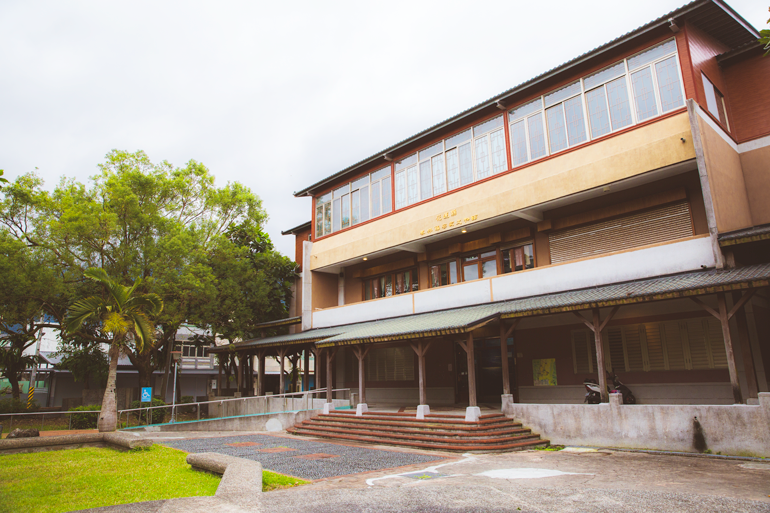 Today, the Hakka are the second-largest ethnic group in Taiwan, mainly distributed in the Taoyuan/Hsinchu/Miaoli region in northwestern Taiwan, the Liudui area in the southwestern Kaohsiung/Pingtung region, and the East Rift Valley, including Fenglin, in eastern Taiwan. Fenglin is in fact the oldest Hakka area of settlement in Hualien; 60% of the township's residents are Hakka, comprising the largest concentration of this ethic group in eastern Taiwan.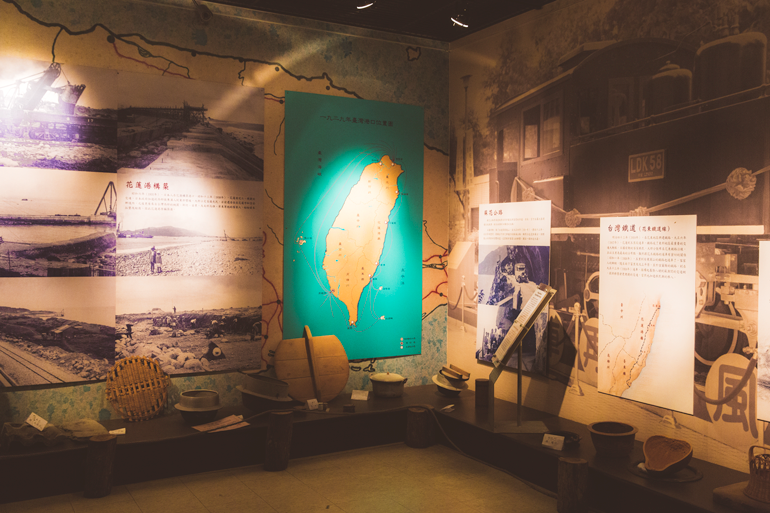 I was greeted by the museum's sole tour guide, a local retired school principal, a Hakka who traces his ancestry back to Guangdong. A 75-year-old man who doesn't look a day over 50, he attributes his good health to the clean air, healthy lifestyle, and slow pace of living in Fenglin. After welcoming me, he gave me a detailed history lesson and tour of the museum.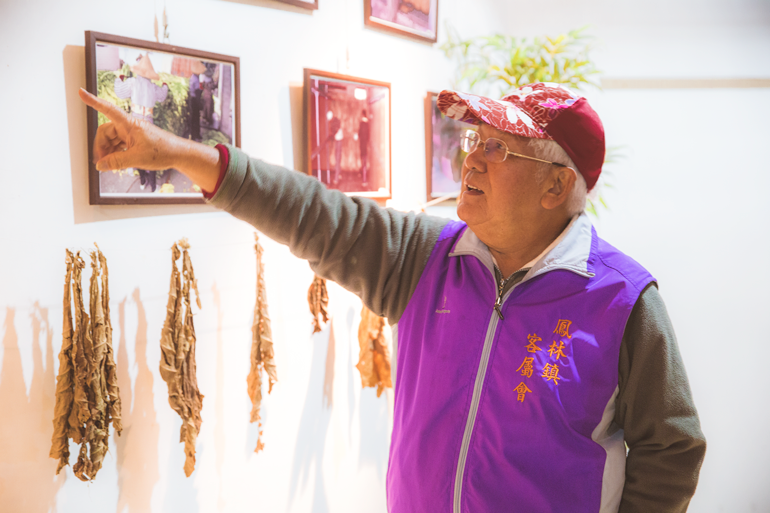 In 1910, during the Japanese occupation of Taiwan, the Japanese government began offering monetary incentives to Hakka people living in the northwest, encouraging them to settle on uncultivated land in today's Hualien County. This led to many Hakka from today's Hsinchu and Miaoli counties making their way, on foot, to the open lands in the east, spending up to half a month migrating to their new home turf.
In 1917, the Japanese government discovered that tobacco could be cultivated in Hualien soil, giving a boost to the development of Fenglin and neighboring districts. The new settlements that had been established before this were slowly becoming prosperous, attracting even more Hakka migrants from other parts of the island, who arrived with the hope of producing tobacco and selling it at good profit to the government. In today's Fenglin one can still see old tobacco-drying sheds, Japanese-style houses, an old police building, and an old school – all remains from the colonial era.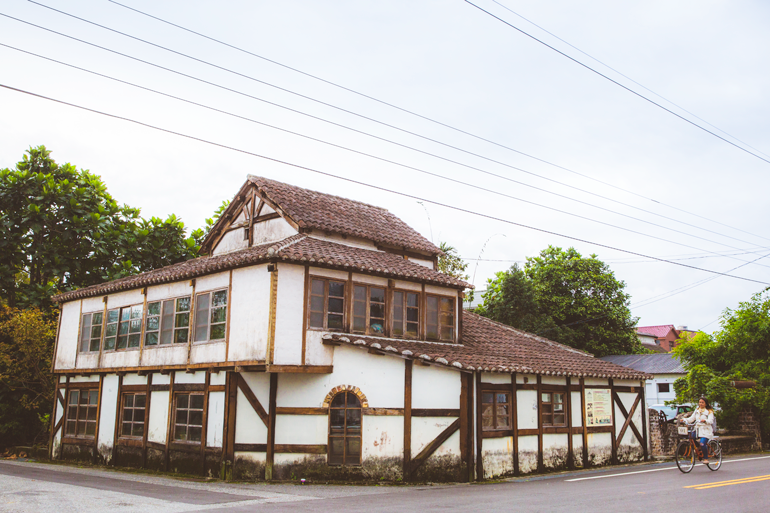 Hakka Cultural Museum (客家文物館)
Add: No. 124, Guanghua Rd., Fenglin Township, Hualien County
(花蓮縣鳳林鎮光華路124號)
Tel: (03) 876-2771
Feng Colorful
After thanking my generous museum guide for a highly educational tour, I walked next door to a fabric-dyeing shop named Feng Colorful.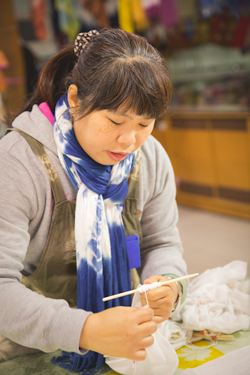 The shop is run by a team of women who use natural ingredients and traditional methods to dye fabric and create clothing, purses, stuffed animals, and various knick-knacks. These creations are recognized as local products by the Cittaslow organization. A "work for fun" attitude is promoted at the enterprise, and workshops where you can learn fabric dyeing are held for locals and tourists alike.
Walking into the shop, I was greeted by colorful silk scarves and purses hanging from the ceiling. The women were tending to their respective sewing projects, and I was introduced to Wendy, an English-speaking woman from Hong Kong who had left that bustling metropolis to live in the "slow city" of Fenglin with her husband and in-laws. She guided me through the process of dyeing a handkerchief, teaching me about the local ingredients employed in making the dye we were using (onion skins, herbs, and tree leaves) and instructing me on how to tie the cloth with rubber bands, strings, and chopsticks to create my desired design pattern. After I had properly tied my handkerchief I was brought outside, where the shop's "Ah-ma" (granny) assisted me with the dyeing process, dunking the cloth repeatedly in the hot, colored liquid. Since the dyeing takes up to half an hour, after a spell she recommended that I take a break and have lunch while she finished up for me.
Fragrant Grass and the Old Tree
So I took a break. I walked to a place two blocks away, Fragrant Grass and the Old Tree, an old tobacco-drying-shed complex transformed into a restaurant and B&B (homestay). The name of the business is in part derived from a hundred-year-old tree on the grounds. Farmland plots are in view across the street – in adherence with Slow Food guidelines, natural farming techniques are promoted in Fenglin, and local food producers supported.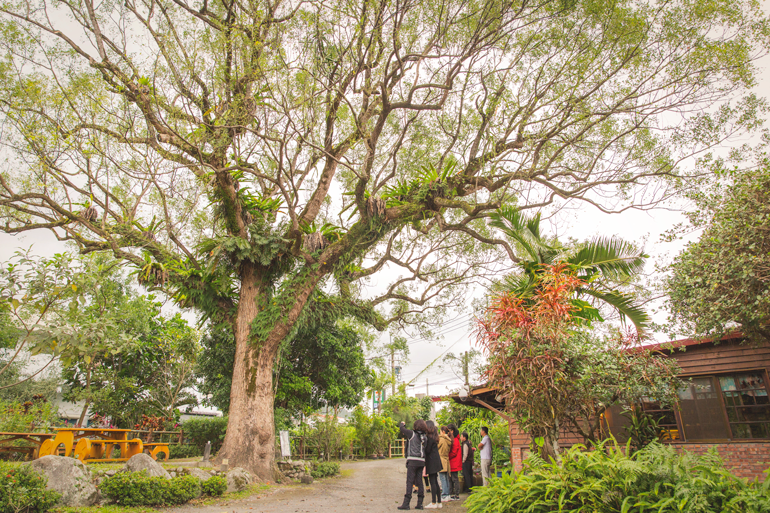 Fenglin farmers have been encouraged by local non-farming families to grow rice and other items without the use of chemicals, and to not use GMOs. The consumers then buy the produce, such as peanuts, soybeans, and peeled chili peppers, directly from the farmers, providing them with a stable income.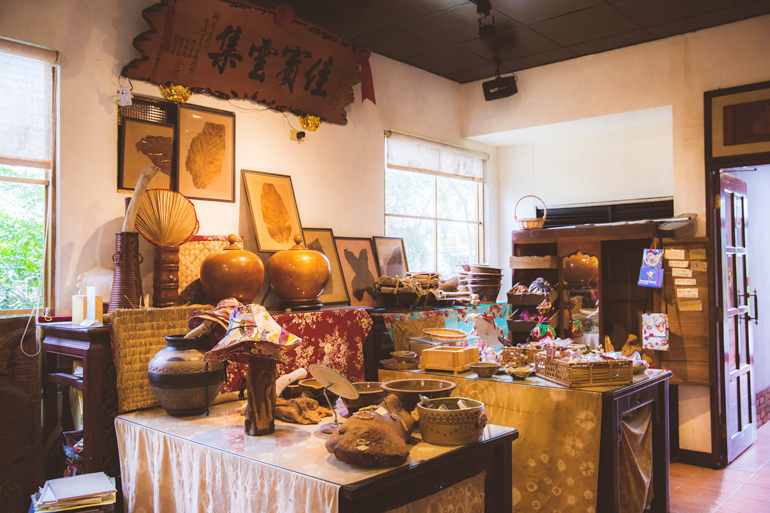 At the Fragrant Grass and the Old Tree restaurant, locally sourced ingredients are the focus and authentic and delicious Hakka cuisine is served, including braised pork hock, fresh ferns – grown directly on mountaintops not far away – and hot soup with pork, bamboo shoots, and seaweed, all of which I thoroughly enjoyed. The staff at the restaurant was very warm and friendly, and it almost felt as if I was part of their family.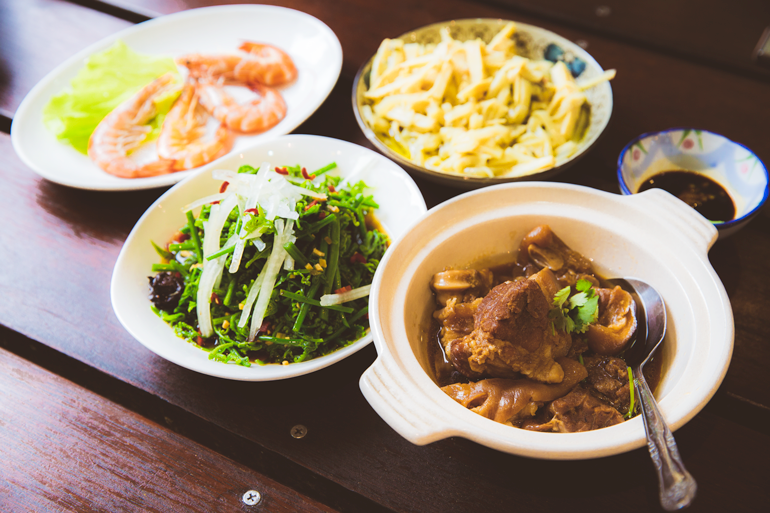 Fragrant Grass and the Old Tree (芳草古樹民宿)
Add: No. 71, Zhonghe Rd., Fenglin Township, Hualien County
(花蓮縣鳳林鎮中和路71號)
Tel: (03) 876-0437
Website: www.fangshuh.com.tw (Chinese)
Bike Ride
After my stomach (and soul) was fed, I decided to explore more of Fenglin – the local way. The local residents make an active effort to reduce carbon emissions. Instead of driving cars, most ride bicycles or walk to get to their desired destinations. I walked back to Feng Colorful, rented one of their bikes (NT$100), and started off on a short bike ride, taking my time and stopping to enjoy the surrounding environment.
I rode past the beautiful greenery and roadside fields pervasive in this slow township, passing local farms, the remains of tobacco-drying sheds, and the old police station building. It felt as if I had entered a different world, with a stillness and tranquility rarely found in modern cities.
Back at Feng Colorful, I returned the bicycle and picked up my DIY handkerchief. As I was leaving, I smiled upon spotting a group of seniors contentedly playing mahjong in the park next door, beneath an awning adorned with long, thick tree leaves. On the walk back to the railway station I stopped at a well-known stinky tofu stand for a snack of smelly beancurd cooked with garlic chives and accompanied by pungent kimchi.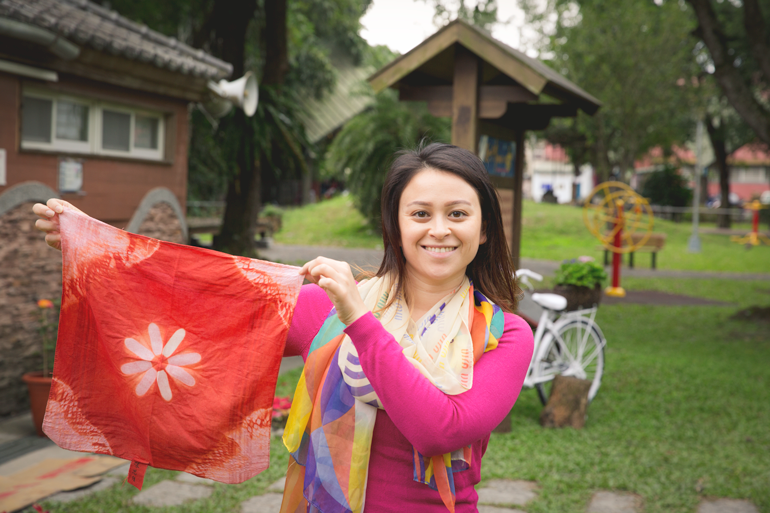 Ming Xin Ice and Fruit Shop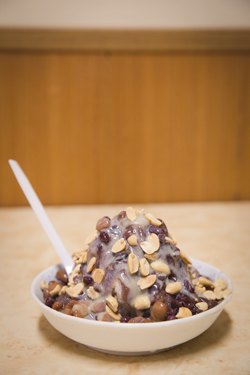 I ended my time in Fenglin with a "sweet goodbye," stopping for dessert at Ming Xin Ice and Fruit Shop, where for 50 years the owners have been serving "three-bean ice," a yummy shaved-ice dessert with peanut, adzuki bean, runner bean, and condensed milk. I also tried the frothy lemon juice, made fresh to order. It was a treat to catch the shop owners making tangyuan (glutinous-rice balls) from scratch in the back of their shop.
Ming Xin Ice and Fruit Shop (明新冰菓店)
Add: No. 26, Xinsheng St., Fenglin Township, Hualien County
(花蓮縣鳳林鎮新生街26號)
Tel: (03) 876-4168
Just a hop, skip, and jump away was Fenglin Railway Station, from whence I started my journey back to the city of Taipei, refreshed, centered, and with a new appreciation for a simple way of living that preserves the environment and nourishes the soul.

Getting There and Around
By train: From Taipei, there are five Puyuma Express trains a day that stop at Fenglin (2 hrs 40 min.; NT$514 one way). Alternatively, take a slower train to Hualien City and there transfer to a train bound for Taitung City.
By bus: From Hualien Railway Station, take a bus on the Taiwan Tourist Shuttle network's (www.taiwantrip.com.tw) Hualien Route.
Also read
HUALIEN Railway Trip — Through the EAST RIFT VALLEY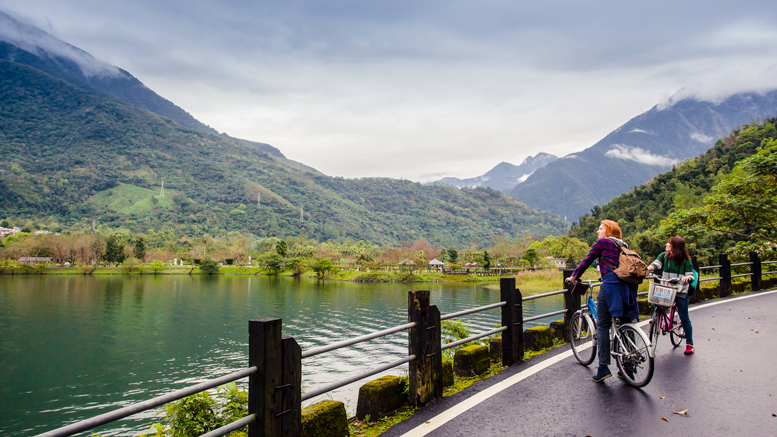 taiwaneverything.cc/2017/08/02/hualien-railway-trip/
HUALIEN Places — Where to Go in East Taiwan's Largest City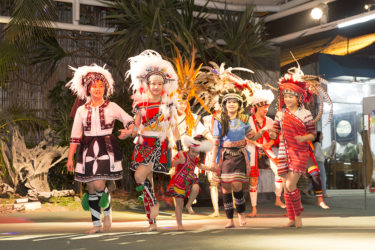 Further reading on other sites:
Spectral Codex: Huadong Valley Ride 2018: Hualien City to Fenglin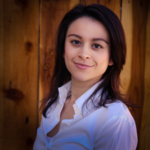 Francesca is an attorney from California who left a life of pushing papers behind a desk to travel the world. Currently, she combines her passion for travel and community service at her base in Taipei, Taiwan, where she is a regular volunteer at a local homeless shelter and elderly assistance organization. Still an activist at heart, she is committed to eco-tourism and giving back to whatever community surrounds her. She has volunteered with rescue elephants in Thailand, taught English to orphans, and fed the homeless in Asia. Follow her "active" lifestyle on IG!