Restaurants Constantly Rolling Out Creative New Flavor Trips
TEXT / RICK CHARETTE
PHOTOS / VISION

Taiwan the land of rice? Yes – and an ever-increasing slice of no. Over the past few generations the local population has made ever more room for wheat flour-based culinary treats. It started with old-time gems from mainland China's regional cuisines such as steamed buns, dumplings, and so on, expanding in the past few decades to include a passion for denser European-style breads and richer Western-style cakes and pastries – generally made in lighter versions. The menu is ever-expanding, and a great introduction is to taste-test the creative offerings of the Taipei restaurants to follow, which satisfy all palates in terms of interior-décor trappings and budget demands.
In this article we're taking you out on a gastronomic adventure, visiting a number of Taipei restaurants that show off how wide-ranging the menu of wheat flour-based items is. These are exemplars of how local culinary talent incessantly works to bring forth creative brand-new treats and novel-version offerings of classics to excite Taiwan's knowledgeable patrons, always on the lookout for new-taste outings. Note that local chefs also commonly work with other flours: rice, glutinous-rice, sweet potato, millet, etc.
We've chosen Taipei enterprises simply because most international travelers come in via the north's international airport, and most spend the majority of their time in and around Taipei, so these are dining spots most will have the greatest chance to visit. Your experience will range from traditional "little dragon wraps" to highly creative ones, and from innovative "pulled cakes" to novel "Taiwanese hamburgers" to "golden lava" buns and beyond. In all chosen eateries, the emphasis is on healthful and nutritious Taiwan-produced ingredients.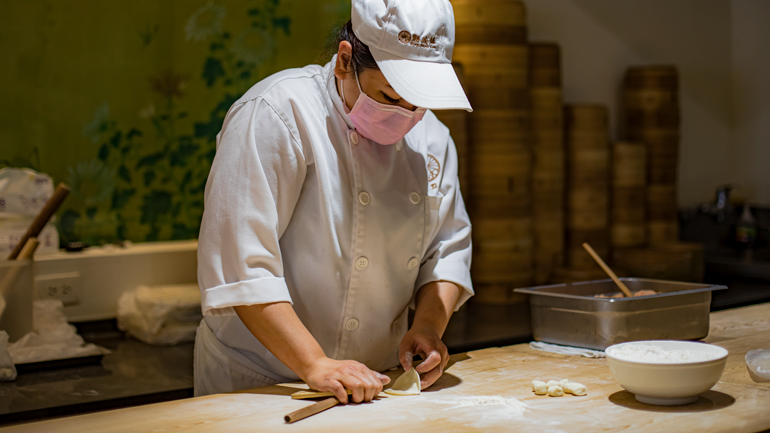 Latest Trends
Though small in size, Taiwan's fecundity has long made it an agricultural powerhouse. And as with southern China, rice has been king in local fields and on tables. Foods made with wheat flour began to make deep inroads in the 1950s and 1960s, however, based on two factors. First, retired servicemen from northern China, part of the late 1940s Nationalist influx, opened food stands and small eateries to make a living, introducing many traditional northern wheat flour-based foods. As well, under a US aid program wheat flour and milling were brought to Taiwan in scale, and the central government promoted foods such as steamed and boiled dumplings, scallion pancakes, and knife-cut noodles through demonstration events.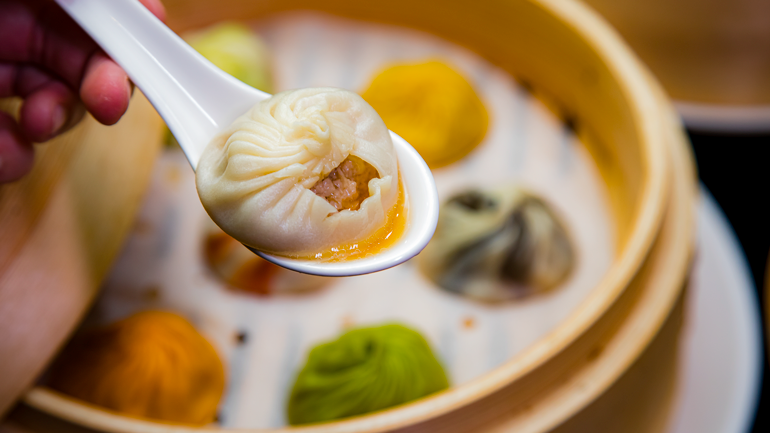 Today wheat flour-based foods have a cherished place in the hearts of local folk, most of which are passionate foodies. And to keep customers coming back, eateries are constantly unveiling new creations and creatively reinterpreting familiar old favorites, such as with the Dian Shui Lou chain's wonderfully colorful, wowingly flavorsome, and wildly popular "seven colors" xiaolongbao ("little dragon wraps," steamed dumplings traditionally containing minced pork and rich brothy juices).
Dian Shui Lou
Dian Shui Lou is a big name of great prestige in Taiwan's culinary circles. The first outlet in this chain, which specializes in Jiangnan cuisine, opened in 2005. "Jiangnan" means "south of the river," referring to the region south of the Yangtze River with Shanghai as hub. Today there are four outlets in Taipei and three in the surrounding region.
The five-story outlet on Nanjing East Road, steps from MRT Taipei Arena Station, is a member of the exclusive MICHELIN Guide Taipei club. Part of the MICHELIN review: "Diners are greeted with sumptuous modern Chinese furnishings and antique art pieces; the bridges, water features, carved screens and lanterns are reminiscent of a traditional Chinese garden. Ingredients are mostly from Taiwan and … the menu changes seasonally to include the freshest produce."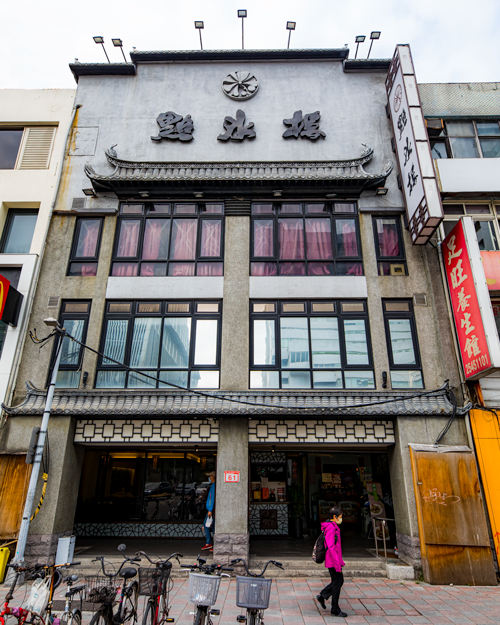 Another especially appealing feature is the large 1F open-concept kitchen area used for preparation of the restaurant's many different wheat flour-based dainties. Dian Shui Lou's xiaolongbao are renowned for an especially thin and tender skin (5 grams of skin, 16 grams of filling, 19 folds).
Though beloved for its many culinary classics, the Dian Shui Lou is also known for avid innovation. Its bestseller is the inventive "seven colors" xiaolongbao, seven wraps served in a traditional-style bamboo steamer, looking like a painter's palette. You start with an original-flavor dumpling, then things get steadily more exotic. On the way to my favorites, a seafood with XO sauce creation (XO sauce = an "extra old" spicy seafood sauce, nothing to do with cognac) and a mala or "numbing and spicy" creation, celebrating Sichuanese cuisine, you can also enjoy the house-specialty truffle dumpling.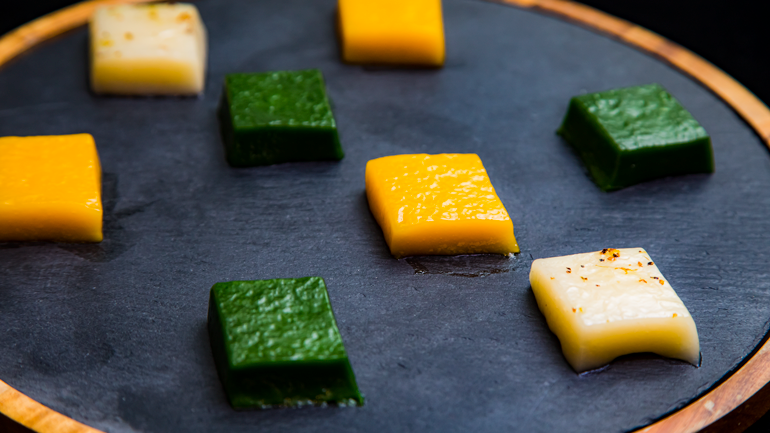 Two other highly recommended house-specialty flour-based delights are the naihuang yulubao, mini steamed "golden/molten lava" buns containing a superb sweet/savory custard made with condensed milk and steamed + mashed salted duck egg yolk, and the fengwei la gao (lit. "flavored 'pulled' cakes"), delicious, colorful, and delectably gooey bite-sized cakes made with glutinous-rice flour and iconic produce sourced in Taiwan, including mango, green tea, and osmanthus.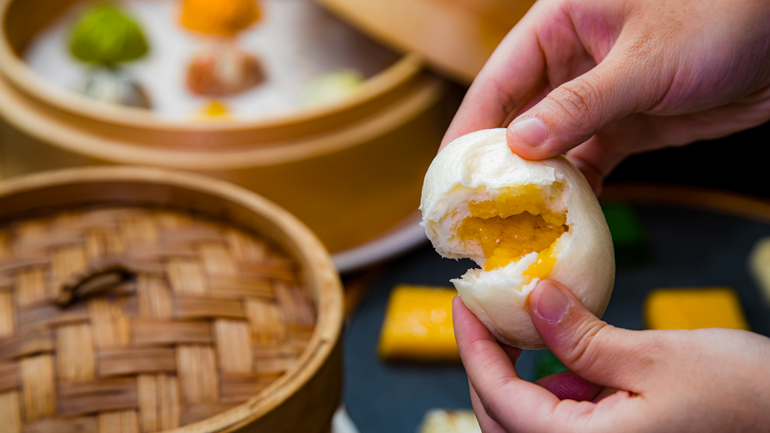 Dian Shui Lou
(點水樓)
Add: No. 61, Sec. 4, Nanjing E. Rd., Songshan District, Taipei City
(台北市松山區南京東路四段61號)
Tel: (02) 8712-6689
Website
Noodle ("Gu Bei Tao")
Despite its rather simple English name, there is much more flour-based joy on tap in this young venture than noodles. It's run by a group of foodie buddies who wanted to sail their ship of destiny together. One was previously a chef at renowned KaoChi, a restaurant chain famed for its high-end Shanghai delicacies, where his specialty was xiaolongbao.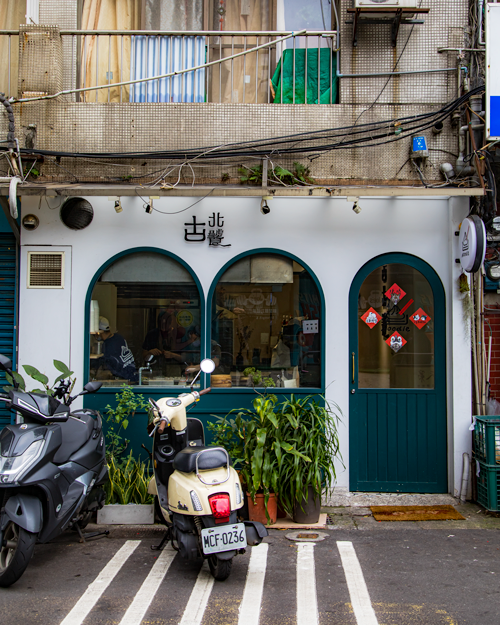 Their cozy venture is just off Roosevelt Road on a quiet side street, not far from MRT Guting Station. There is a real comfortable neighborhood feel here – Noodle is surrounded by cafés busy through the day.
The compact kitchen works as a powerful marketing pull. It's right in the front, a large window allowing passersby a full view of the always busy well-coordinated team at work in their tight ship-galley-like artistry space, flour dust floating through the air.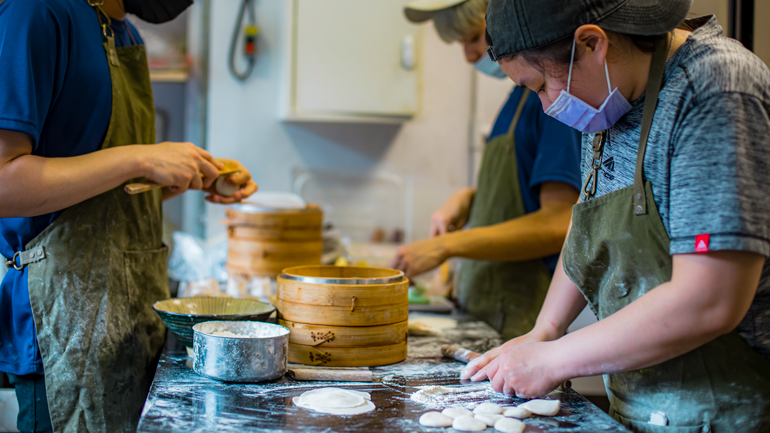 Especially juicy and satisfying here are the crab roe xiaolongbao, which have both roe and crab meat and extra-thin skins almost translucent. The skins are lighter in taste and have a sweetness not found in the dumplings you'll find elsewhere – sugarcane juice is added. They're unusually broth-lush – when eating xiaolongbao, to avoid scalding first nibble a small hole before taking a bigger bite, to prevent a juice explosion.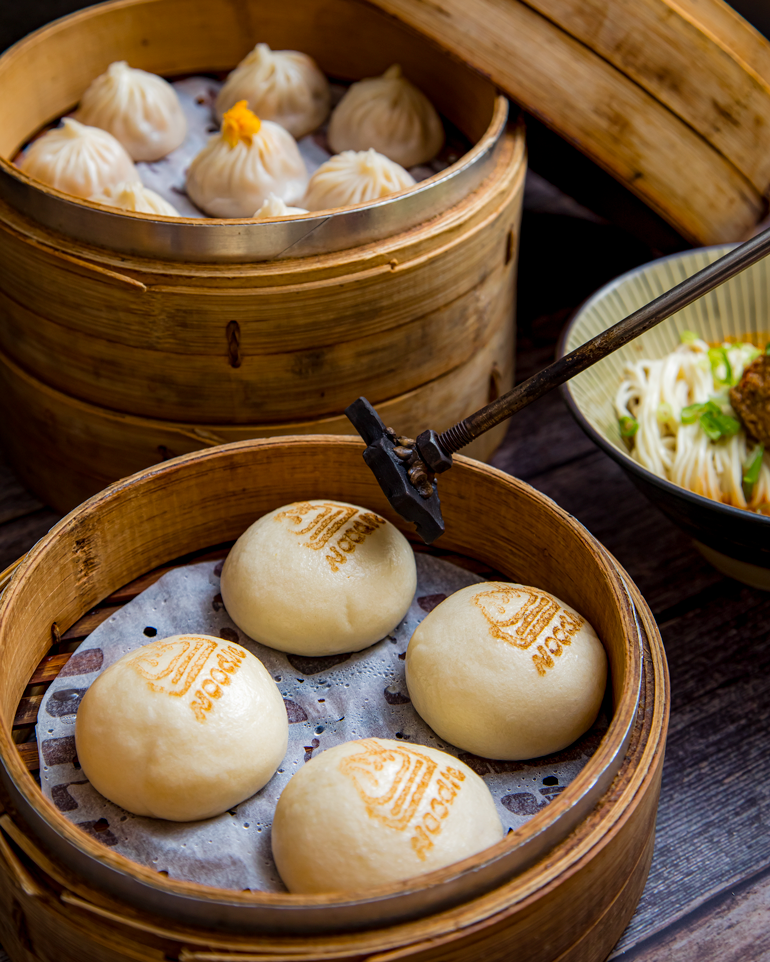 Shaomai are a popular type of Cantonese dim sum. Noodle's shrimp shaomai is done Shanghai style, with a whole plump shrimp in the small mouth at the top adding a pleasing texture contrast with the minced shrimp inside. Another creative filling ingredient is Chinese water chestnut, bringing minced crunchy sensations and hints of sweetness.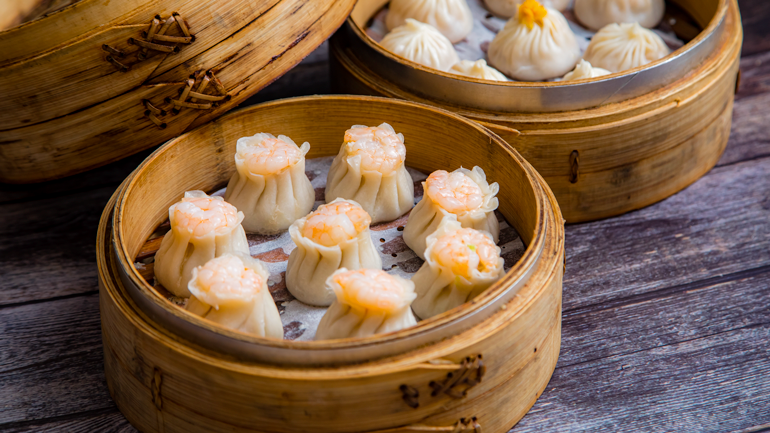 Other Noodle must-tries are the dandan noodles, featuring a zingy broth made with garlic, peanut sauce, sesame sauce, and a house-crafted Sichuan-style mala sauce, here with a big spicy minced-pork ball on top, and the golden/molten lava buns, a Cantonese dim sum made sweeter here than elsewhere and fresh-branded with the "Noodle" logo, adding a pleasurable contrasting crisp texture and scorched taste to the creamy innards.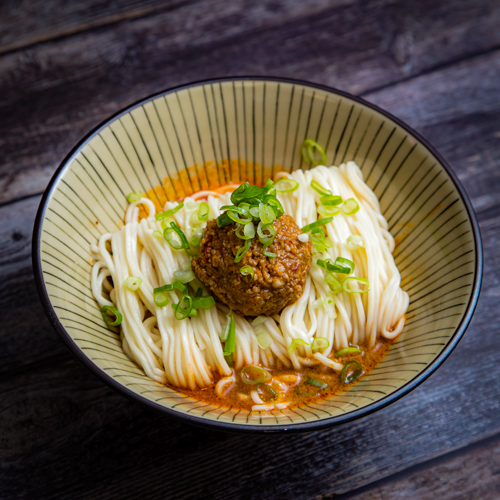 Noodle ("Gu Bei Tao")
(古北饕)
Add: No. 1-6, Jinmen St., Zhongzheng District, Taipei City
(台北市中正區金門街1-6號)
Tel: (02) 2365-2030
Shiyu
Shiyu is located on Jianguo North Road not far from MRT Songjiang Nanjing Station. This is a stylish compact place on the second floor of a seasoned apartment building. It's a combo beef noodles restaurant and (well-stocked) bar that gives you the look and feel of walking into a friend's apartment. Old-style household items, such as numerous antique clocks and kitchen-use sieves and strainers, adorn the walls. The seating is an assortment of unmatched wooden tables and chairs. The meaning of "Shiyu," is "clock-time apartment."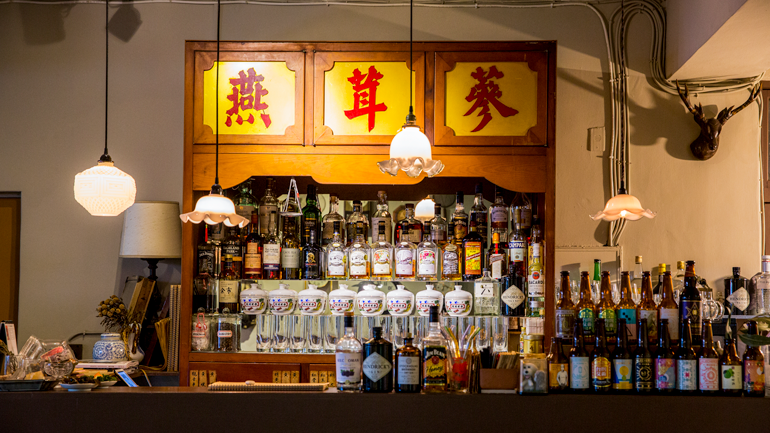 The culinary celebrities here are beef noodles and luwei (foods braised in soy sauce and spices). The proprietor has taken his mother's old-time recipes and updated them, making them healthier. His celebrated "Lai Jin" beef noodles, named after his mom, is a new take on a Taiwanese classic. Traditional beef noodle offerings are soy sauce-based; here the clear, lightly sweet broth is made stewing an organic vegetable-and-fruit orchestra that includes onion, cabbage, corn, apple, and 12 different Chinese medicinal herbs, including Chinese red dates and dwarf lilyturf.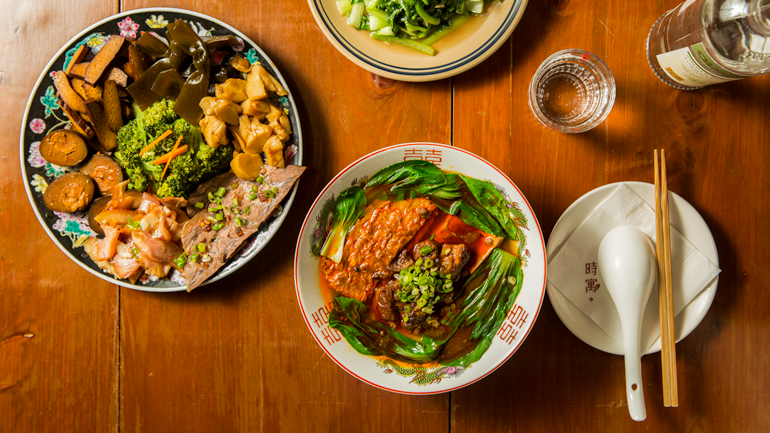 Shiyu
(時寓)
Add: 2F, No. 68, Sec. 1, Jianguo N. Rd., Zhongshan District, Taipei City
(台北市中山區建國北路一段68號2樓)
Tel: (02) 2506-9209
Facebook
Pin Chuan Lan
Though not invented here, Taiwan offers hearty, savory beef noodles (beef noodle soup) that are uniquely its own. Its Sichuan-style spicy soy sauce-braised beef noodles are said by some to have been invented in Kaohsiung City by air force officers from Sichuan who were part of the 1940s Nationalist exodus.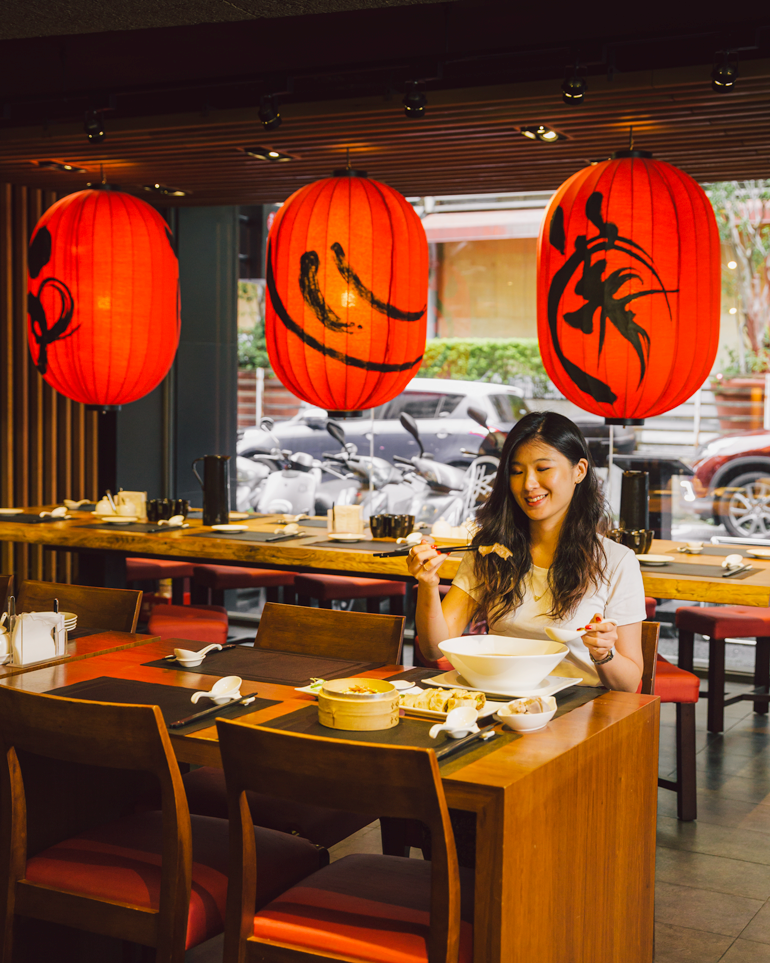 A few years ago the noodles at the stylish modern-decor Pin Chuan Lan (flagship outlet near MRT Shuanglian Station) were described by CNN Travel as among Taipei's best. It offers a wide range, featuring the dark broths of the Sichuan-style variety and the clear broths traced back to Lanzhou in northwest China. CNN Travel proclaimed its beef noodles with US ribeye steak (7oz) and peppercorns as best of the bunch.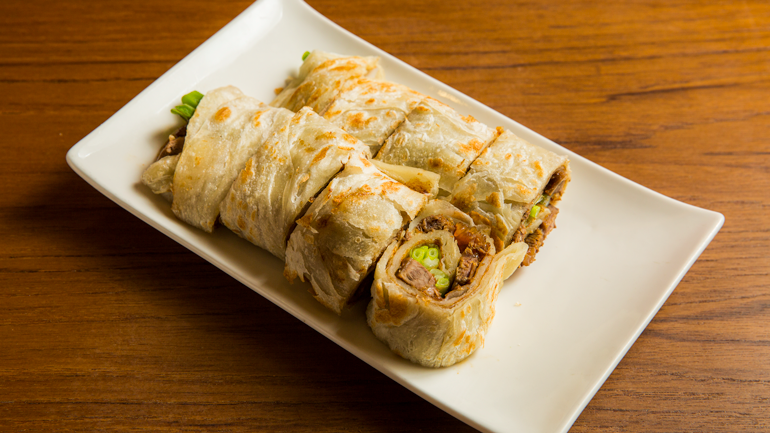 Also much-loved by local gastronomes are Pin Chuan Lan's jinbing selections. Jinbing are flaky, non-greasy Chinese thin pancakes, slowly pan-fried in minimal oil, crispy outside and soft inside. The restaurant serves them with salted pork and garlic sprouts, with shredded pork and sweet bean paste, and as (most in demand) beef shank rolls.
Pin Chuan Lan
(品川蘭)
Add: No. 78-2, Sec. 2, Zhongshan N. Rd., Zhongshan District, Taipei City
(台北市中山區中山北路二段78-2號)
Tel: (02) 2523-3890
Website
Kezuo
KEZUO is an elegant hipster restaurant/café located along an exceedingly quiet alley very close to MRT Dongmen Station. The alley is too narrow for trucks and wide cars, so foot traffic is pretty much all you'll see passing by, making this a great hideaway to do a little reading or computer work.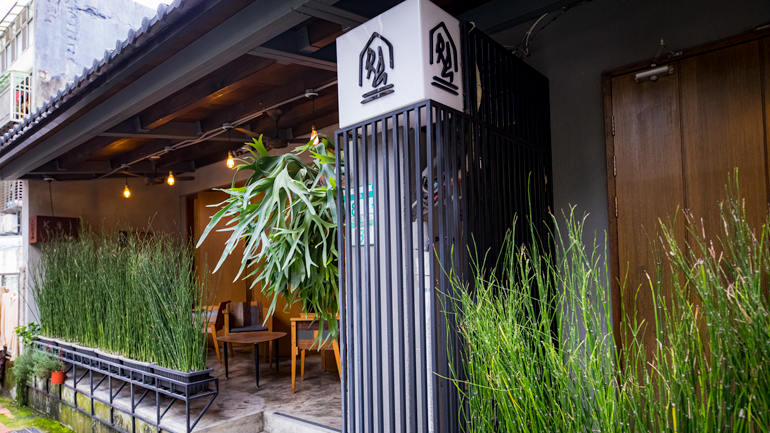 The façade is a series of floor-to-ceiling wood panels that can be angled to create an open-front setting, letting the day's fresh air stream in. The folksy-style seating on the narrow outdoor porch area is made of driftwood pieces. Key interior features are walls and a floor of smooth, cool concrete, an exposed ceiling, and liberal use of Taiwan's distinctive, exquisitely lovely majolica tiles.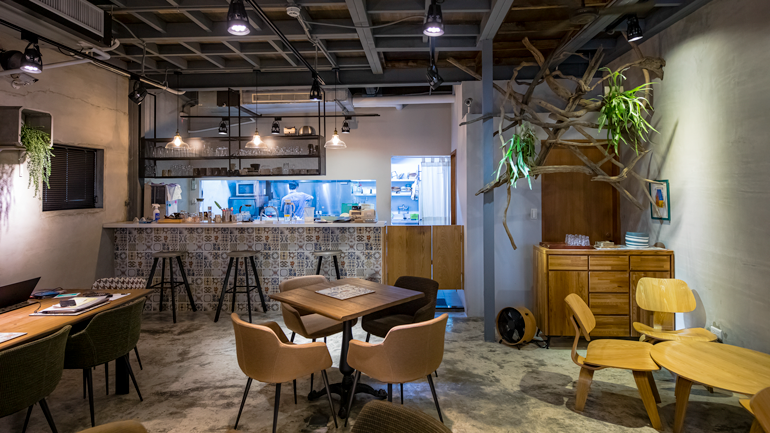 Its mouthwatering list of cultural-creative guabao has given KEZUO a wide-flung reputation. Popularly called "Taiwanese hamburgers," classic guabao is Taiwan-style braised pork belly in a plump, fragrant, chewy steamed white bun sliced open in an open-mouthed clam shape, with pickled mustard greens, cilantro, and slightly sweetened peanut powder. KEZUO offers guabao with Western-, Japanese-, and Taiwanese-themed re-imaginings, the last of the three most popular, showcasing iconic Taiwan-produced ingredients. One features a "golden sands" pork chop (i.e., cooked with salted egg yolk paste), sunny-side up egg, lightly fried pineapple slices, purple/green lettuce, arugula, and a creamy "secret" Ranch-style sauce. Another features Taiwanese fried breaded chicken, fried pineapple and zucchini slices, lightly bitter greens, and a house-made savory/sweet thick soy-based sauce.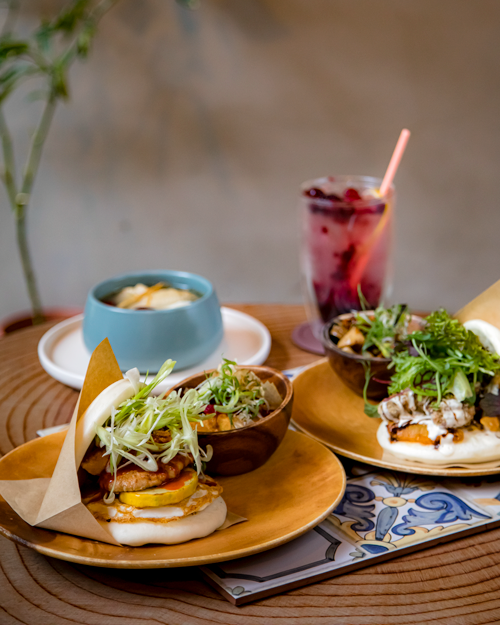 Be sure as well to explore the flavor-bursting range of luscious "Comfort" beverages and salads. Perhaps most notable is the Taiwan-celebration sparkling mulberry with honey and the salad starring sweet potato, spring onion slivers, miso-based sauce, and bonito flakes.
Kezuo
(客座)
Add: No. 8, Lane 74, Lianyun St., Da'an District, Taipei City
(台北市大安區連雲街74巷8號)
Tel: (02) 2321-8558
Website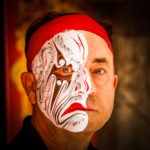 A Canadian, Rick has been resident in Taiwan almost continually since 1988. His book, article, and other writings, on Asian and North American destinations and subjects—encompassing travel, culture, history, business/economics—have been published widely overseas and in Taiwan. He has worked with National Geographic, Michelin, APA Insight Guides, and other Western groups internationally, and with many local publishers and central/city/county government bodies in Taiwan. Rick also handles a wide range of editorial and translation (from Mandarin Chinese) projects.