Old Culture Meets New Culture Sightseeing Attractions in Tainan
TEXT / RICK CHARETTE
PHOTOS / CHEN CHENG-KUO
Tainan City, born four centuries ago, is Taiwan's most illustrious repository of important heritage sites. Here is a quartet of attractions that have been born – perhaps "reborn" is the better word – within the past two decades, historical sites that have been revivified and now serve a dual role as heritage learning centers and hubs for artistic endeavor.
For travelers with a thirst for historical sites, and especially those keen on Taiwan history, the city of Tainan is nirvana. It's also ground zero for Taiwan history, the first place of Han Chinese settlement and the island's capital for over 200 years. Here we escort you on a special journey to large-scale heritage sites that have been revivified, under government oversight, to serve both as showcases of the island's historical story and creative nodes promoting the cultural arts. We spend time at two sugar refinery complexes and a waterworks complex, and amongst the vestiges of an inland port.
Ten Drum Culture Village
The Taiwan landscape is dotted with old, historically invaluable sugar-refinery complexes, built by the Japanese when they ruled as Taiwan's colonial overlords 1895~1945, that after being abandoned for a time have been rescued and resuscitated – renovated and put to use as time machines for history aficionados while also serving as bases for artists, cultural-arts troupes, and cultural-creative enterprises. What is today named the Ten Drum Culture Village, built as the Rende Sugar Factory, is the largest, most intact, and both the most comprehensively and most innovatively renovated and re-missioned. It's located in the south of Tainan's urban center.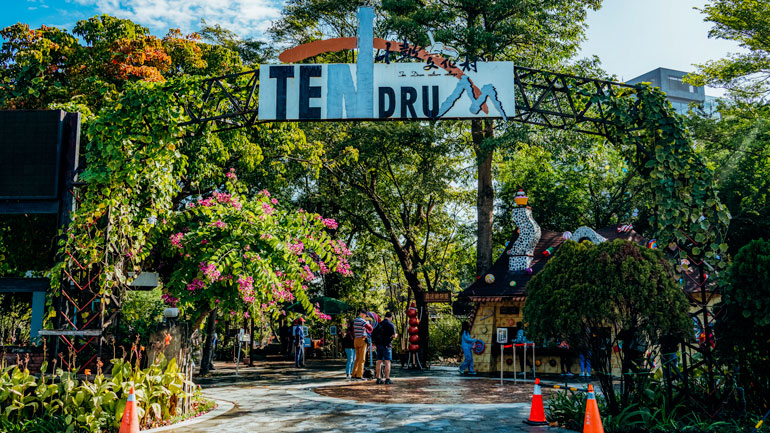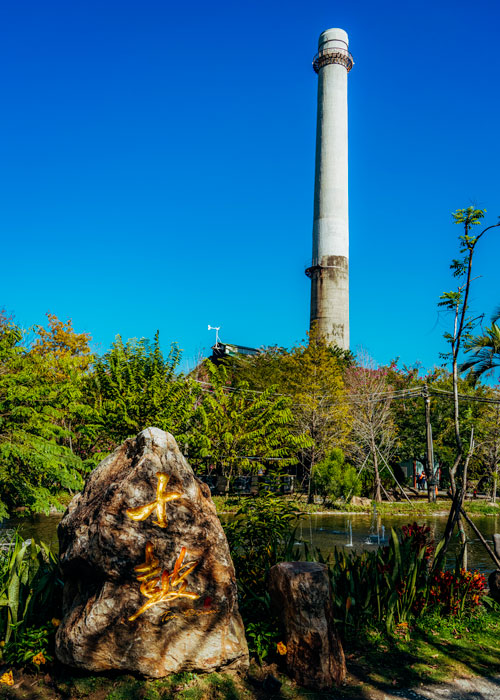 The celebrated Ten Drum Art Percussion Group is a performance and educational troupe that combines traditional drumming with modern theatrical elements. It has become an intrinsic part of Taiwan's modern urban culture, and has performed around the globe. The troupe has three aims in managing the old 5ha Rende refinery complex: presentation of the troupe and its music, preservation of the history of Taiwan's sugar industry, and creation of an ecological attraction. The grounds are gracefully landscaped, bright with floral colors and busy with beauteous butterflies. The village is meant as a full-day attraction for entire families, with something for everyone, as we'll see. Your ticket brings you free access to everything inside, save for your food, beverages, and retail purchases.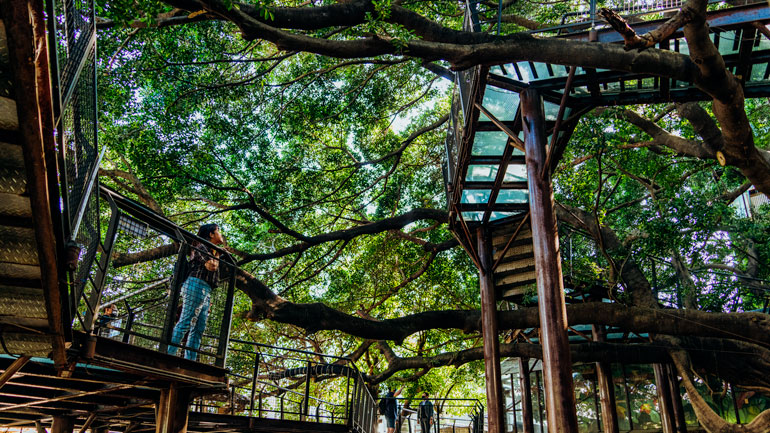 The menu of attractions is far too long to fully address here, so a highlights menu instead:
One large, airy old plant contains the percussion troupe's state-of-the-art performance theater. Shows are presented daily.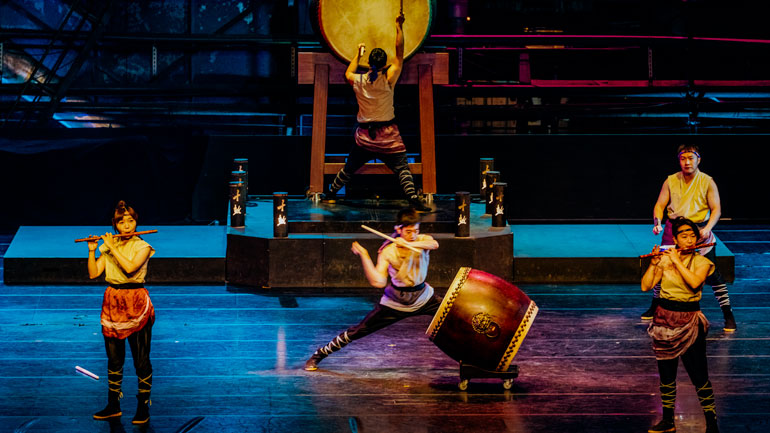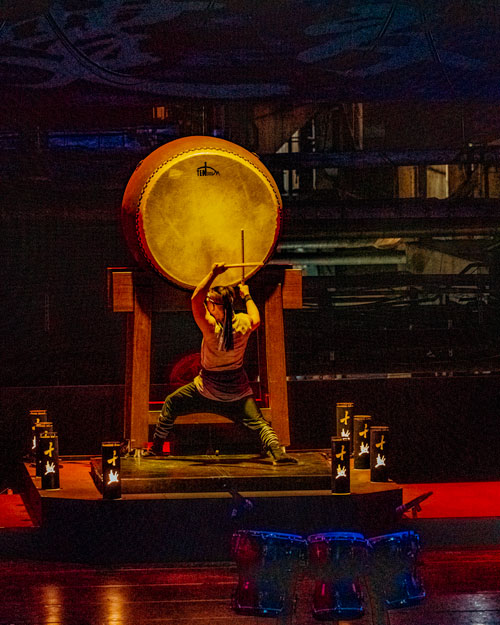 A second large plant is divided into four floors. On the first is a high-ceiling bar, and on the second a pretty-as-a-picture bookstore stocking Chinese-language titles.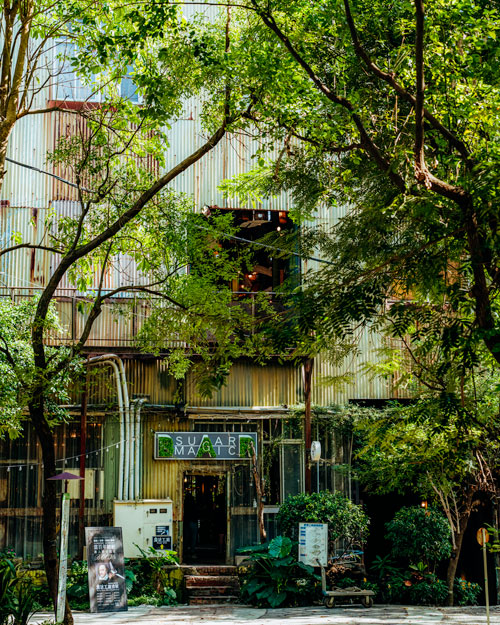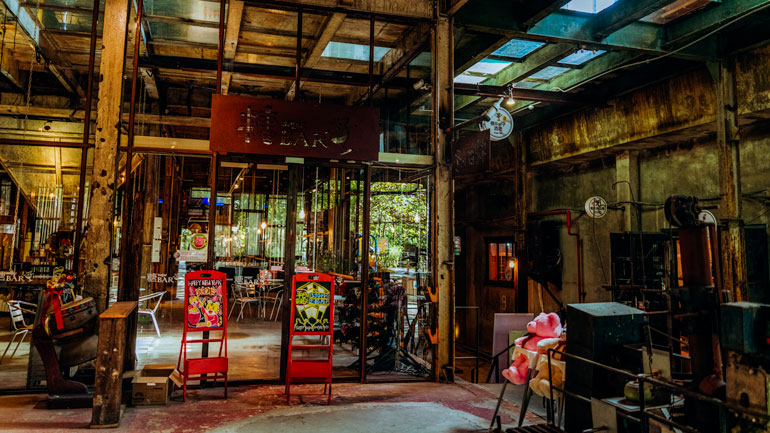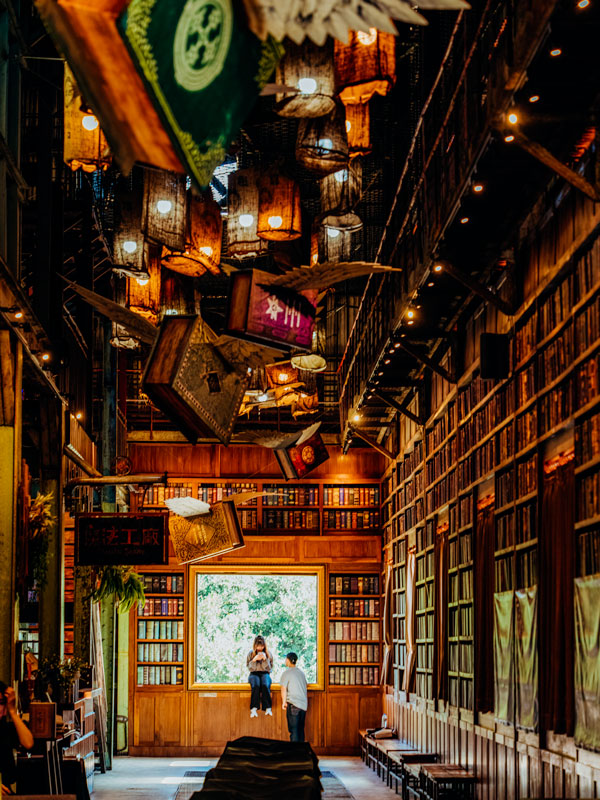 The third level has a mini archery range (kid-oriented, with soft arrows) amidst the cacophony of pipes, machinery, and other clangy metal things. The fourth is lined with new-painted distillation vats; you can write wishes and blessings on small wooden tablets, Japanese style, place them on a long string, and they'll eventually be "absorbed" into the vat. At this plant you can even get up outside on the roof's catwalk, presenting rousing views.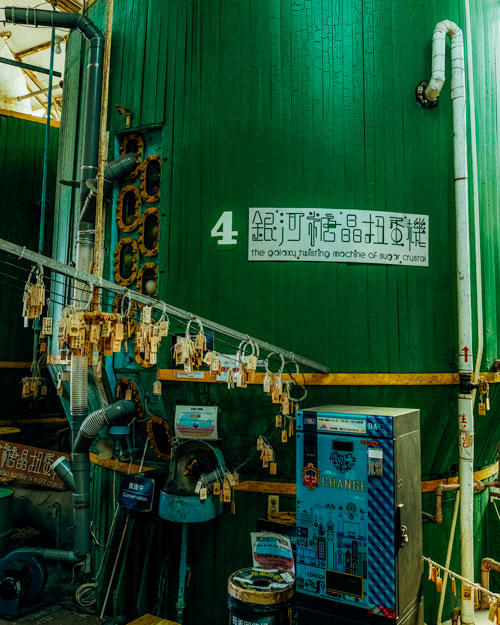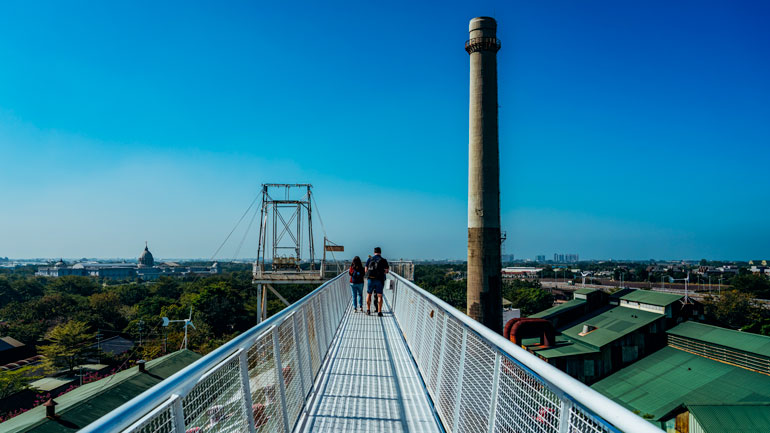 Directly behind the second plant is a line of three monstrous multi-story-high distillation towers. Today, inside one is a swank café, inside another a tall many-turn tube slide, and in the last a small museum exploring the troupe's history and the refinery's history, with a focus on the Japanese families whose lives revolved around the complex.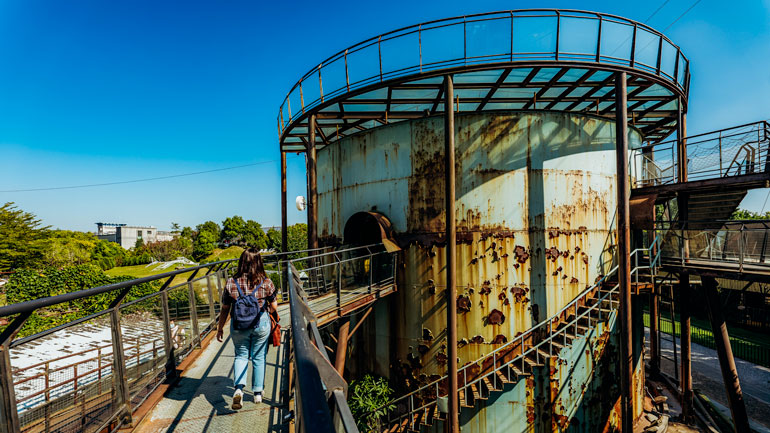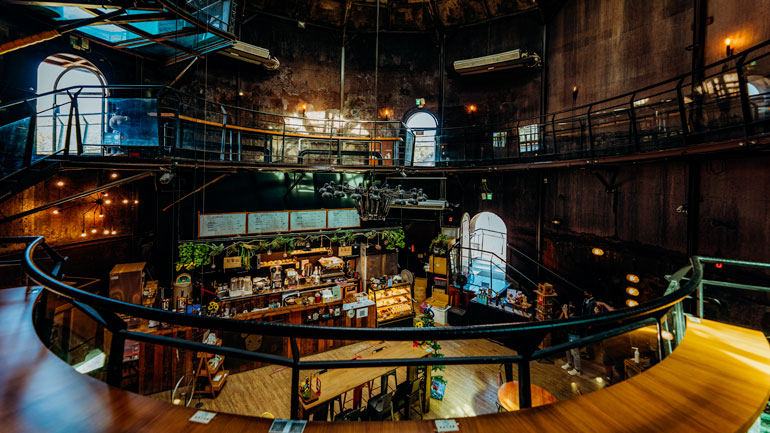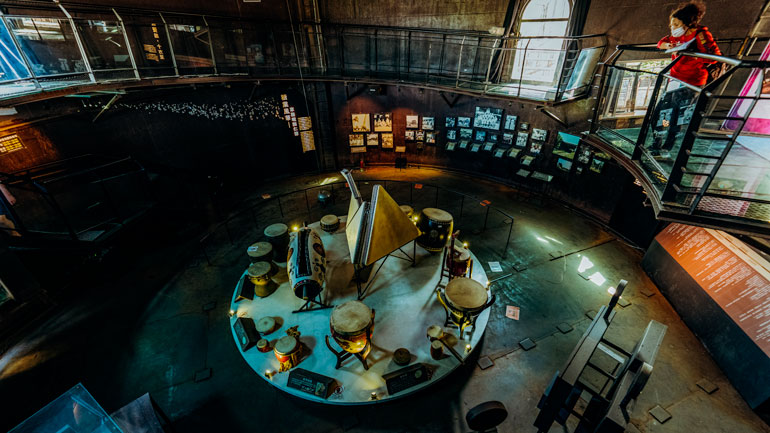 Elsewhere, get up to fun things like going right inside the cleaned-up interior of the 67m-high smokestack, doing some free-falling and ziplining (zipline launch-point just below the catwalk on the second plant), and both learning about Ten Drum's drums and drumming yourself, with a Ten Drum expert as your instructor.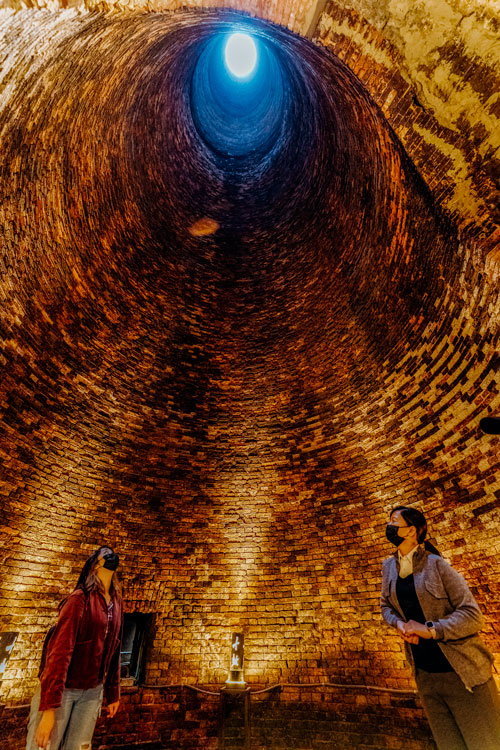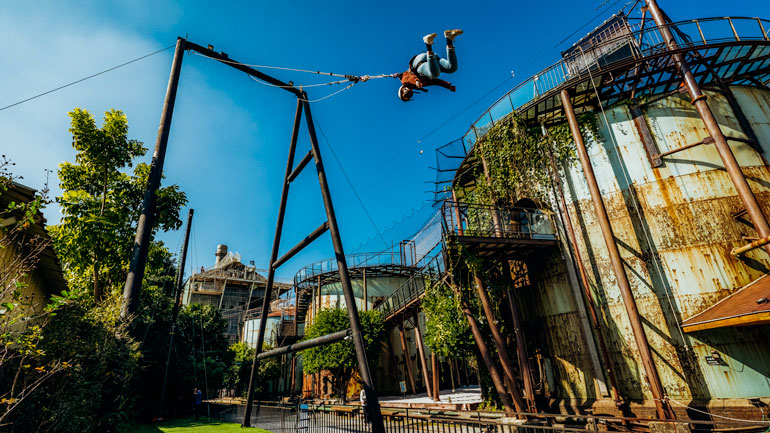 Ten Drum Culture Village (Rende Sugar Factory)
(十鼓臺南仁糖文創園區)
Add: No. 326, Sec. 2, Wenhua Rd., Rende District, Tainan City
(台南市仁德區文華路二段326號)
Hours: 9:30am~5pm (daily)
Tickets: NT$449 (adults)
Website: tendrum.com.tw (Chinese)
Other Recommended Places
Tainan Shan-Shang Garden and Old Waterworks Museum
The Tainan Shan-Shang Garden and Old Waterworks Museum is in the countryside northeast of the city's urban core. This heritage attraction provides a fascinating look into the systematic development work of the Japanese when they controlled Taiwan. This well-preserved complex took water from the Zengwen River and purified it before sending it on to Tainan City via what is now called the Old Tainan Watercourse, using a gravity water-supply system.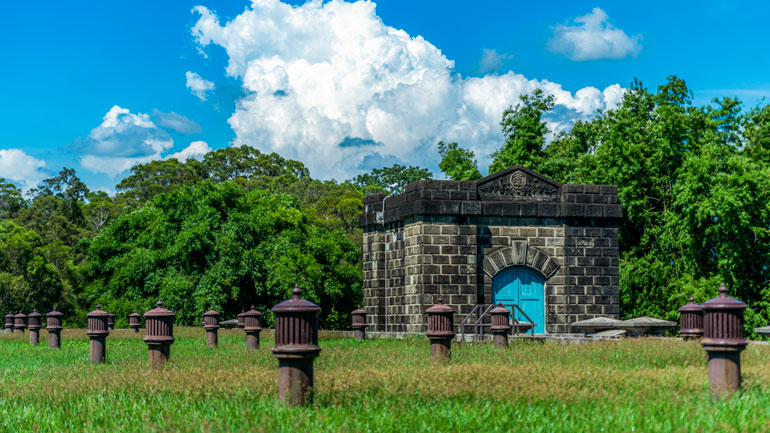 The Filter Room/Watercourse Office features red brick and a wooden roof. Inside the Filter Room are 14 complete sets of British-made fast-filtering machinery. The Pump Exhaust Room, built in the same style with extra-high ceiling, has an array of original large machinery, including four pumps and a skid crane. The Purification Pond, on a high hill reached via a grand staircase of 180 steep steps, is fronted by a fortress-like building built of natural stone and stone-imitation material.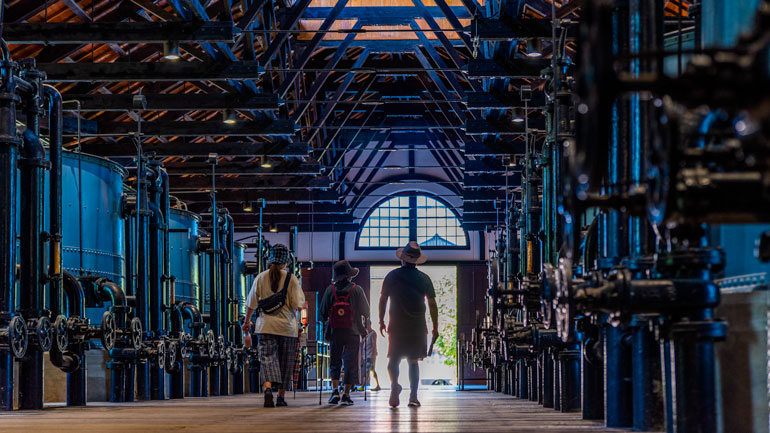 Among the garden area's artistic attractions are selected large-scale installations from the annual Yuguang Island Art Festival.
Tainan Shan-Shang Garden and Old Waterworks Museum
(台南山上水道博物館)
Tel: (06) 578-1900
Add: No. 16, Shanshang, Shanshang Borough, Shanshang District, Tainan City
(台南市山上區山上里山上16號)
Hours: 9:30am~5:30pm (daily)
Tickets: NT$100 (adults)
Website: waterworks.tainan.gov.tw
The old farming-center town of Madou is north of the city's urban core. Located alongside the Zengwen River, "Madou" is a Chinese rendering of the name of the original indigenous village that stood here. In days of yore sailing craft could make it to the Taiwan Strait from this area, and the busy local port sent such items as sugarcane sugar and deer leather for transport abroad. The port was also an arrival point for Han Chinese immigrants from mainland China. Silting eventually choked off the port.
Madou Old Port Cultural Park
The Madou Old Port Cultural Park celebrates these glory days with high-quality displays along with such vestiges of the port of old as traces of the old wharves, rivercraft moorings, viaducts, and old river channel. The attractive on-site museum, an enticing work of modern abstract art, is entitled the Daofeng Inland Sea Story House, an indication of the local environment's friendliness to sailing craft centuries back. Exhibits showcasing Taiwan artists are also staged here.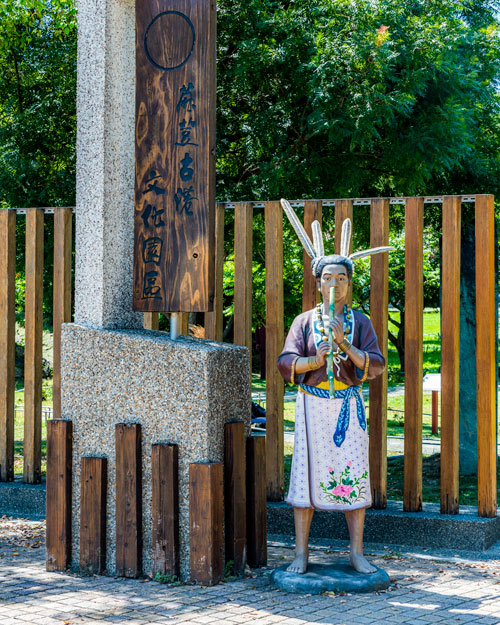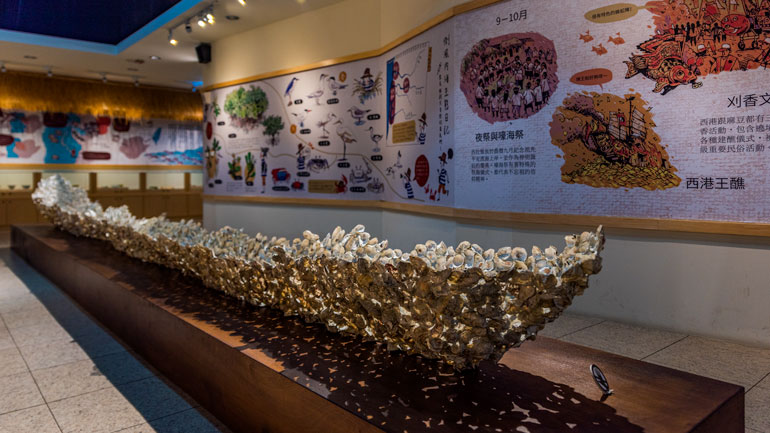 Madou Old Port Cultural Park
(蔴荳古港文化園區)
Tel: (06) 571-8088
Add: No. 87-30, Nanshi, Nanshi Borough, Madou District, Tainan City
(台南市麻豆區南勢里南勢87-30號)
Hours: 9am~5pm (closed on Mon. & Tue.)
Website: www.twtainan.net/en/attractions/detail/4605
Tsung Yeh Arts and Cultural Center
The Tsung Yeh Arts and Cultural Center is immediately south of the Madou Old Port Cultural Park. This is another heritage complex that dates to the Japanese era, site of a Japanese-operated sugar refinery. After the plant was demolished in 1998, calls went out to preserve the rest of the site. Today visitors can tour the Red Brick Office, Wooden Official Residence, Wooden Guest House, Red-Brick Dining Hall, Japanese Garden, an old sugarcane-transport narrow-gauge locomotive, and century-old camphor trees. This is now also a center for traditional crafts, with a craft center, special exhibitions, and workshops.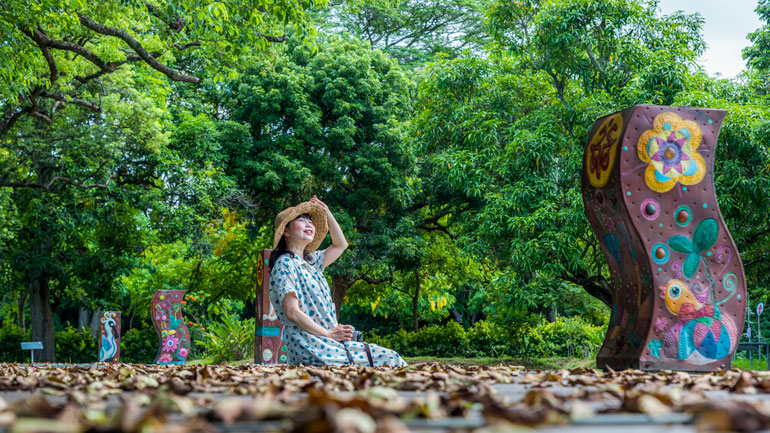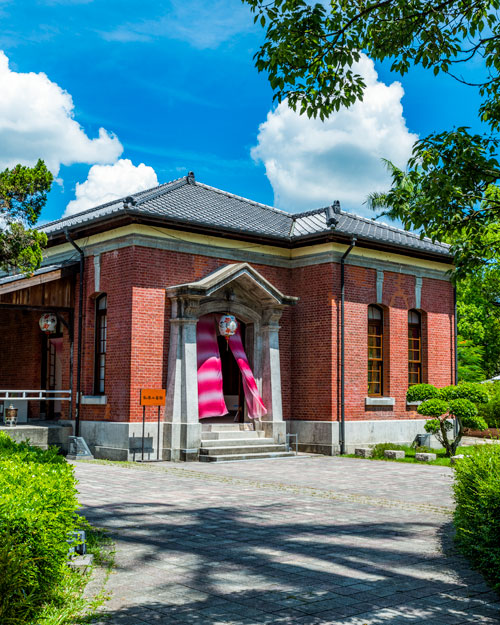 Tsung Yeh Arts and Cultural Center
(總爺藝文中心)
Tel: (06) 571-8088
Add: No. 5, Zongye, Nanshi Borough, Madou District, Tainan City
(台南市麻豆區南勢里總爺5號)
Hours: 9am~5pm (closed on Mon. & Tue.)
Facebook: www.facebook.com/TsungYehArtsandCulturalCenter
Website: www.twtainan.net/en/attractions/detail/4604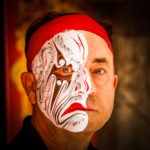 A Canadian, Rick has been resident in Taiwan almost continually since 1988. His book, article, and other writings, on Asian and North American destinations and subjects—encompassing travel, culture, history, business/economics—have been published widely overseas and in Taiwan. He has worked with National Geographic, Michelin, APA Insight Guides, and other Western groups internationally, and with many local publishers and central/city/county government bodies in Taiwan. Rick also handles a wide range of editorial and translation (from Mandarin Chinese) projects.