Staying Overnight in One of the Port City's Charming Places of Stay
TEXT / HAN CHEUNG
PHOTOS / VISION
Just a half-hour drive from downtown Taipei City, the port city of Keelung is often visited by tourists on day trips. But there's actually much more than day-trip quantity to see and eat in this gritty yet charming historic city, and it's also a great base to further explore the North Coast and Northeast Coast. A wide range of accommodations can be found across town, from barebones backpacker inns to chic designer lodgings.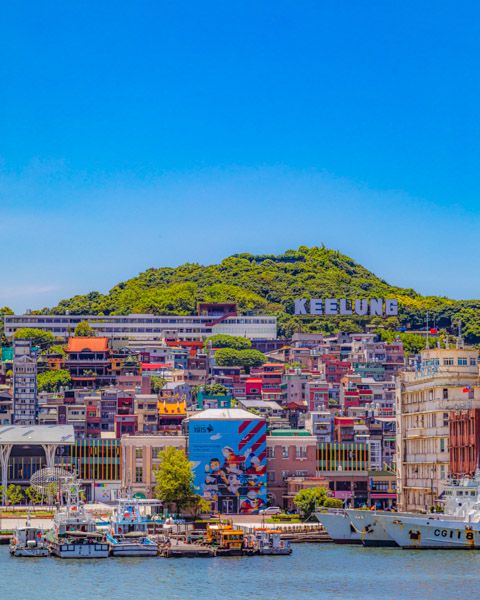 Light Inn
Don't be fooled by the grimy-looking exterior; this no-frills hostel located on the sixth floor of an old commercial building is well-lit, clean, and wholesome with all the required amenities for a budget stay. There's a spacious, comfy lounge to hang out in, and the hostel has free Wi-Fi, laundry and drying machines, a public kitchenette with fridge and coffee machine, a public computer, as well as lockers inside the guestrooms. Sticky notes gushing with kind messages cover the wall of the lounge and spill over to the ceiling, along with maps and detailed travel information.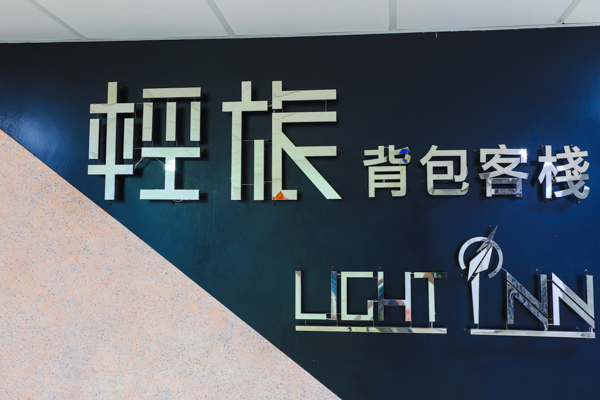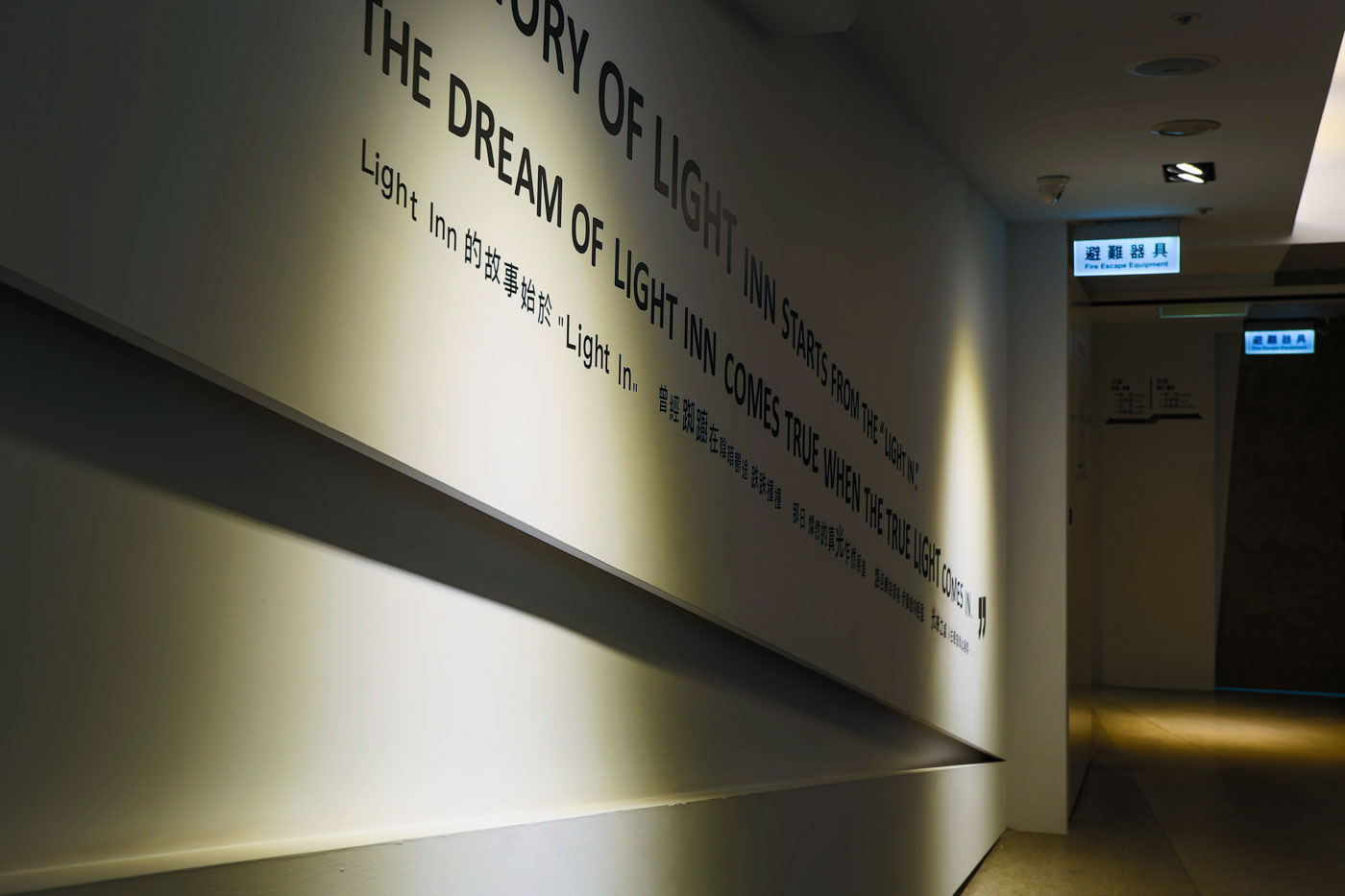 Located close to Keelung's railway and bus stations and just a one-minute walk to the popular Miaokou Night Market, it's an ideal place to drop off your bags after arrival and head off exploring. Staff have listed their personal recommendations for the night market's dizzying array of offerings, and there is also a large number of restaurants and shops close by. Buses to other parts of the city and beyond can be hailed right across the street. The well-known Kanziding Fish Market, where auctions begin at midnight, is just a five-minute walk away.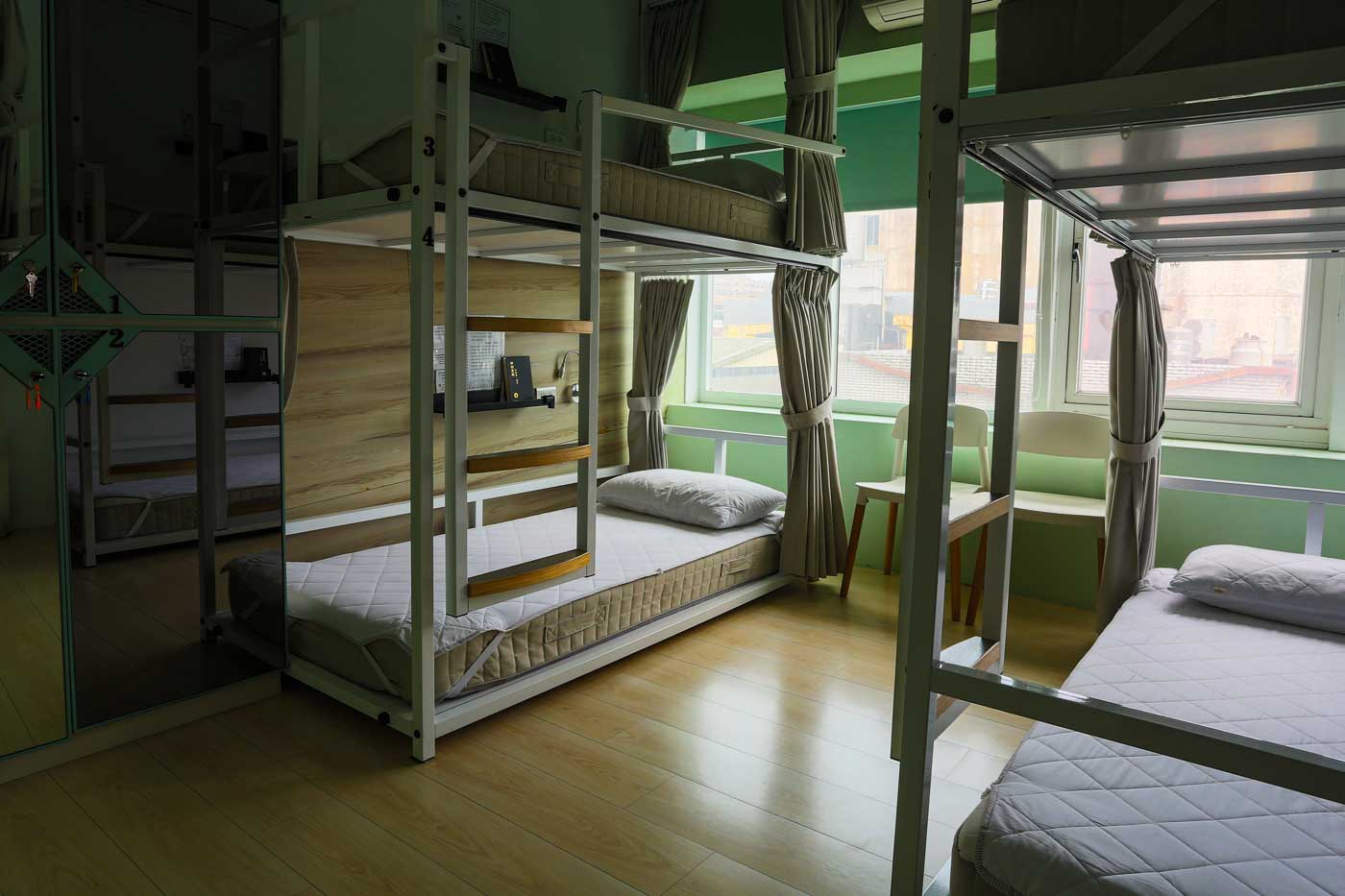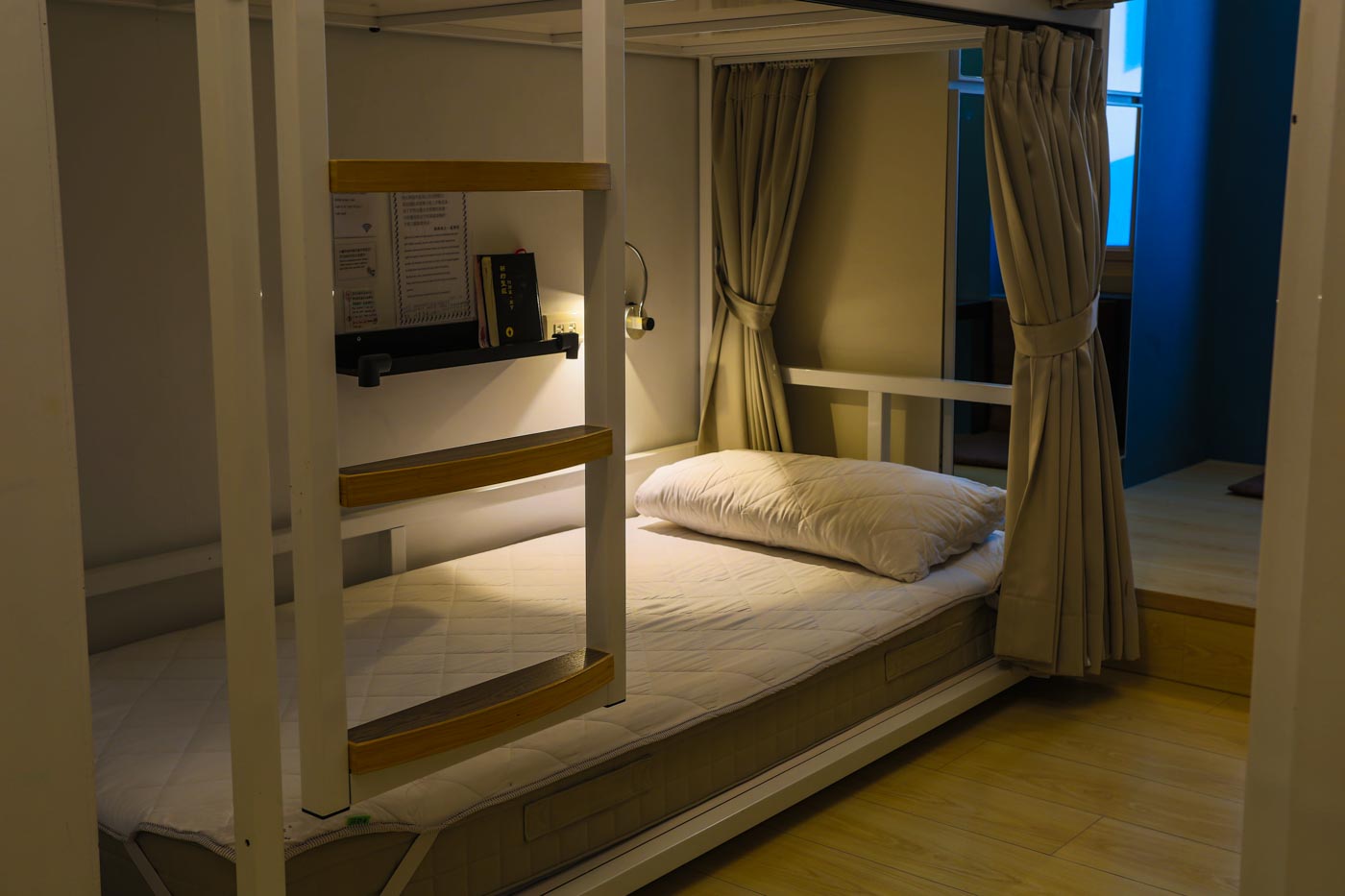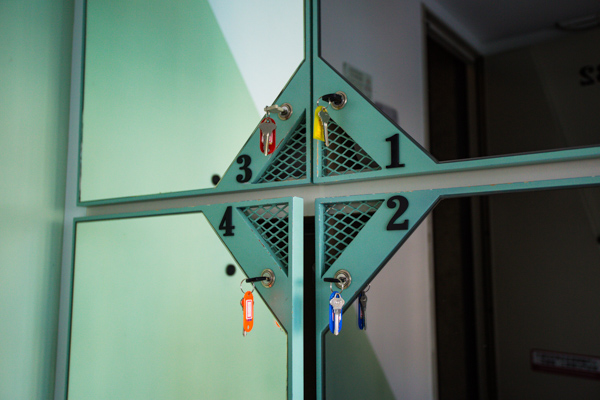 The decor of the hostel is simple and crisp, primarily featuring whites and gray washes for the walls with splashes of bright color. The public space has nice views of the bustling waterfront and the city center.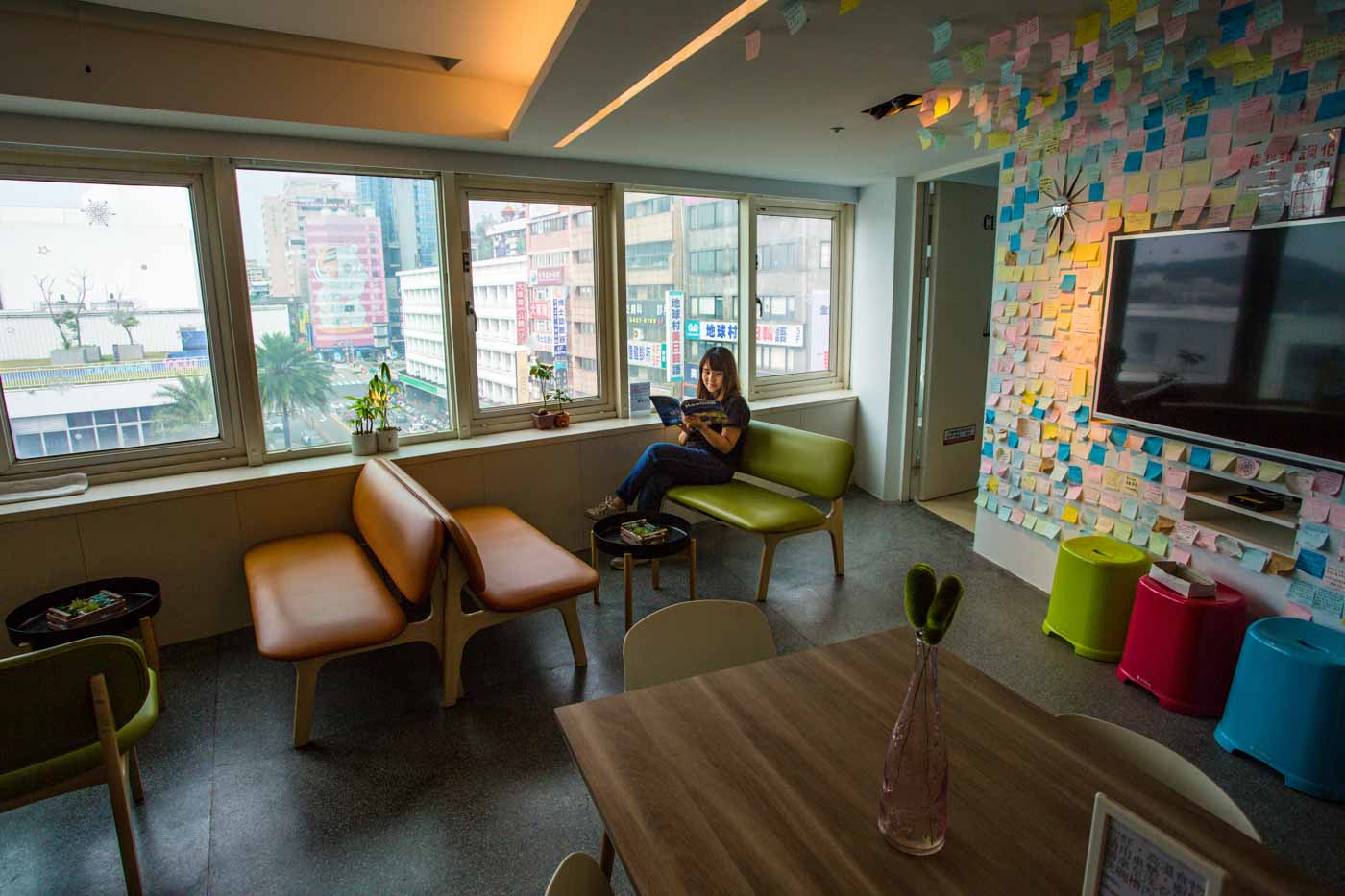 Light Inn offers eight-, six-, and four-person bunk-bed rooms as well as more costly private single and double rooms and a four-person family suite. Christian scripture passages are written on the walls, as the owner says he opened this spot five years ago to provide employment opportunities for the disadvantaged youngsters at his church. He says his hope is that after a few years they can take over the place so he can retire.
Light Inn
(輕旅背包客棧)
Tel: 0908-953-358
Add: 6F-1, No. 87, Sec. 3, Ai 3rd Rd., Ren'ai District, Keelung City
(基隆市仁愛區愛三路87號6樓之1)
Website: lightinn.com.tw
Facebook: www.facebook.com/lightinnkeelung
Hotel Drizzle
This atmospheric boutique hotel doubles as an art gallery – colorful, quirky prints of scenes in Keelung punctuate the monochrome, industrial-style decor throughout the four-story building. A solo exhibition by Taiwan artist Aeemi runs until October, the works on show the result of a three-week residency at the local Zhengbin Harbour Museum of Art that allowed her to roam the city and soak in the ocean port vibes.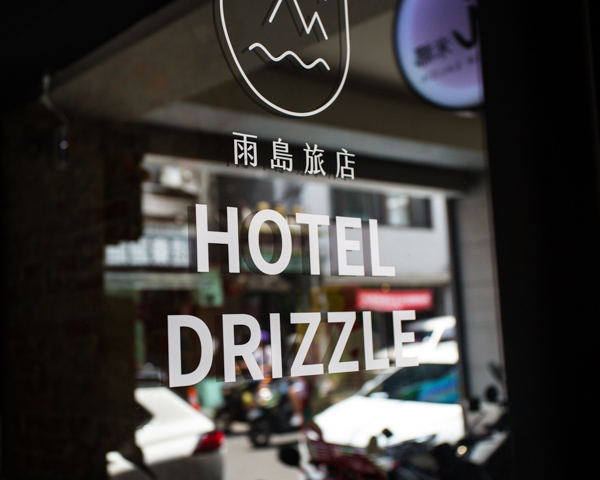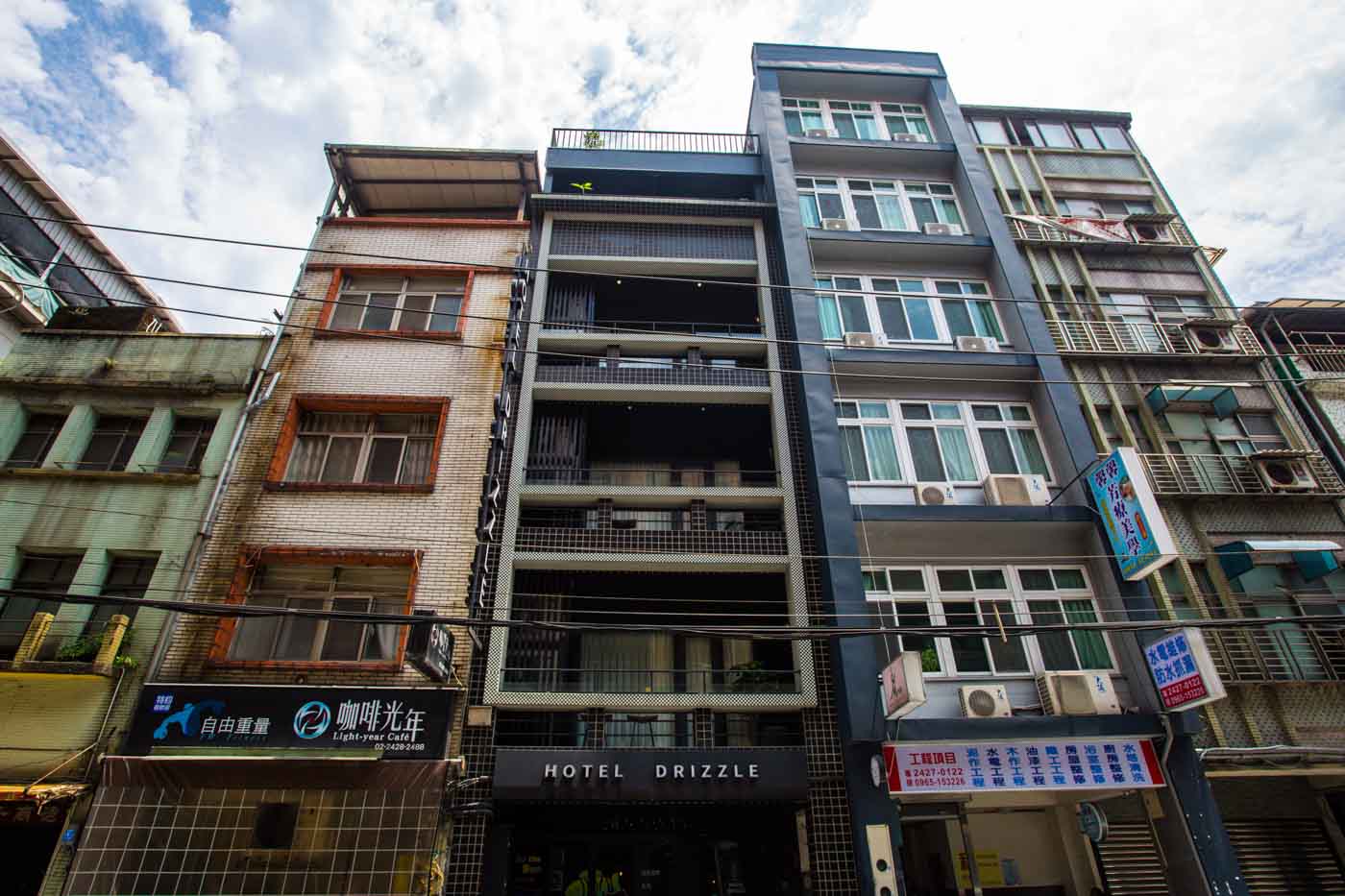 Located on a curving street of fading historic buildings, the pet-friendly hotel is right by the Miaokou Night Market and just about a 10-minute walk from the railway station. Across the street is the famous Yuandong Bubble Ice shop, which is considered the originator of the icy treat, inventing it in 1955 when the operation was still a roadside stall.
Hotel visitors first pass through a mini-store selling all sorts of design crafts, books, and drinks (including Ramune marble soda and craft beer). Guests get 10 percent off on all items. The ground-floor lobby is a compact yet comfortable space to lounge in, and the darker tones give way to brighter walls until you reach an atrium with sunlight shining straight down the shaft.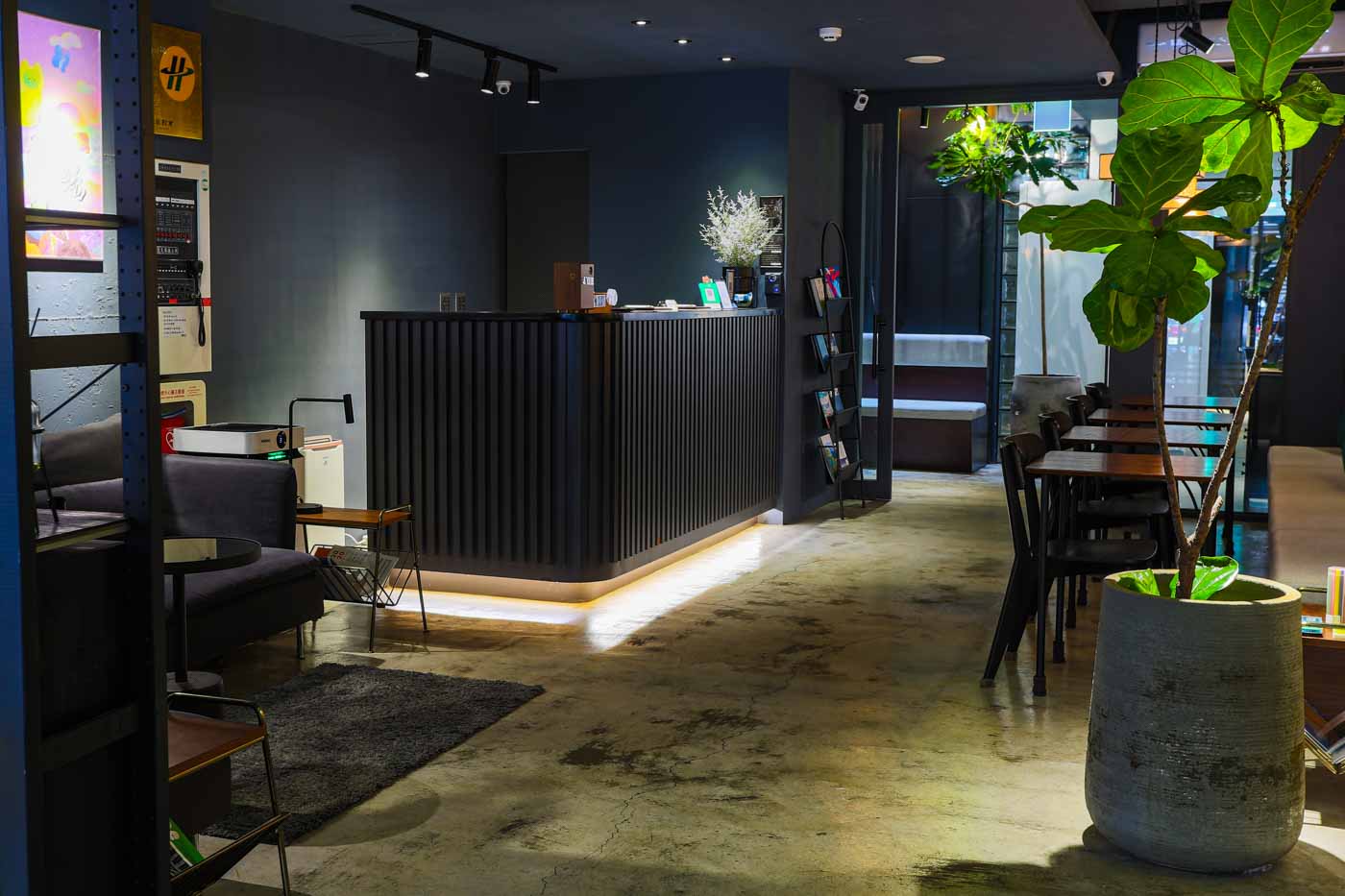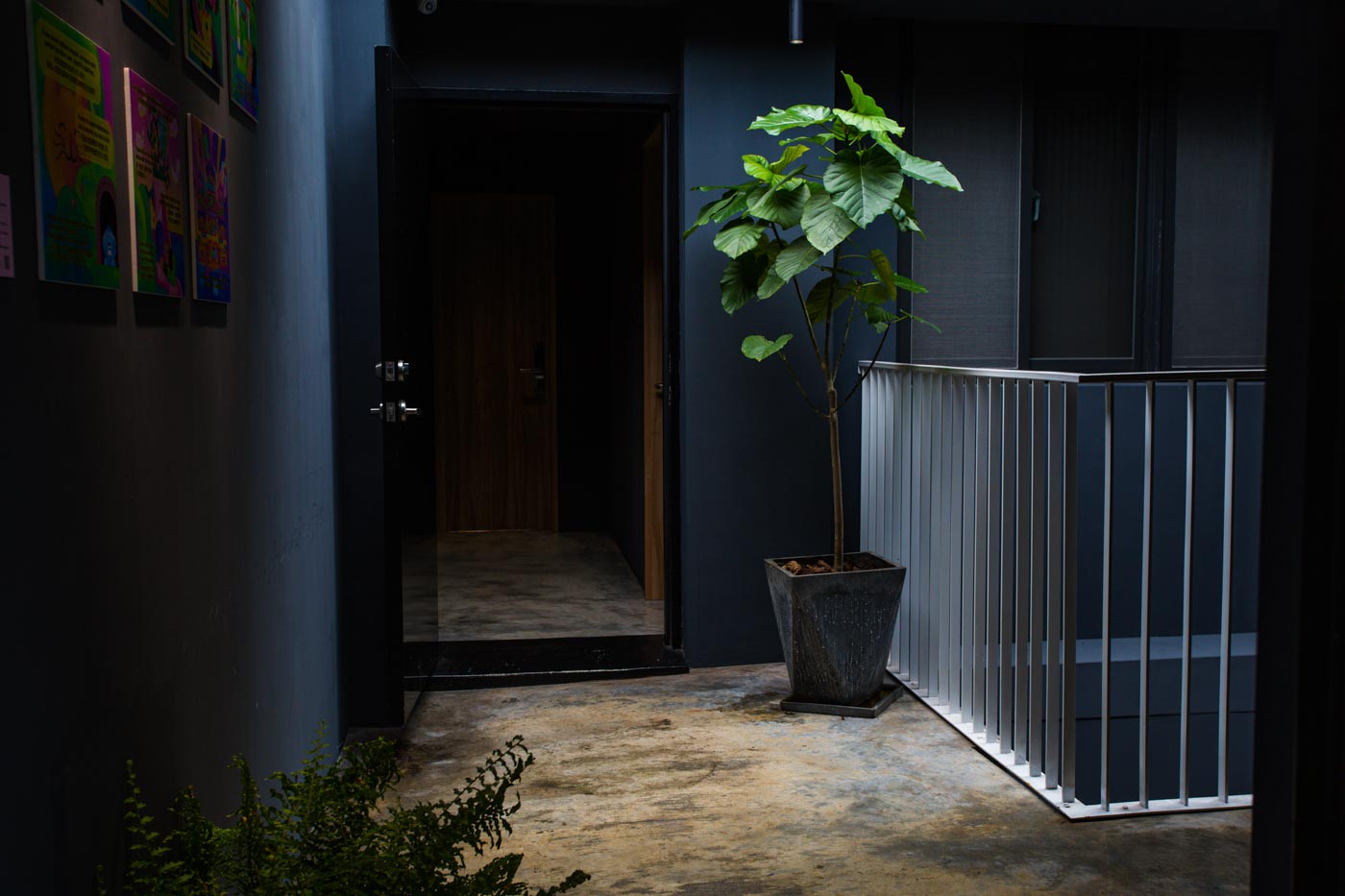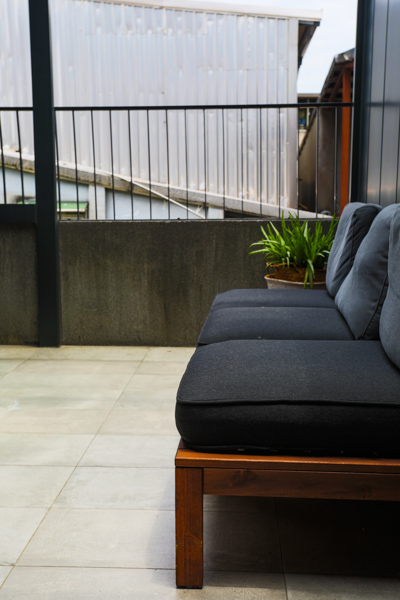 Accommodations range from dormitory-style bunks (with lockers) to cozy, well-lit two-person rooms and a split-level suite for eight people with a balcony, dining area, and spacious bath. There's a lounge on the roof, with characteristic views of the city and the hills beyond.
The amenities, from the linen to towels to mirrors, are all locally sourced, and the shampoo and body wash are environmentally and animal-friendly. Bring your own toiletries or purchase them from the counter.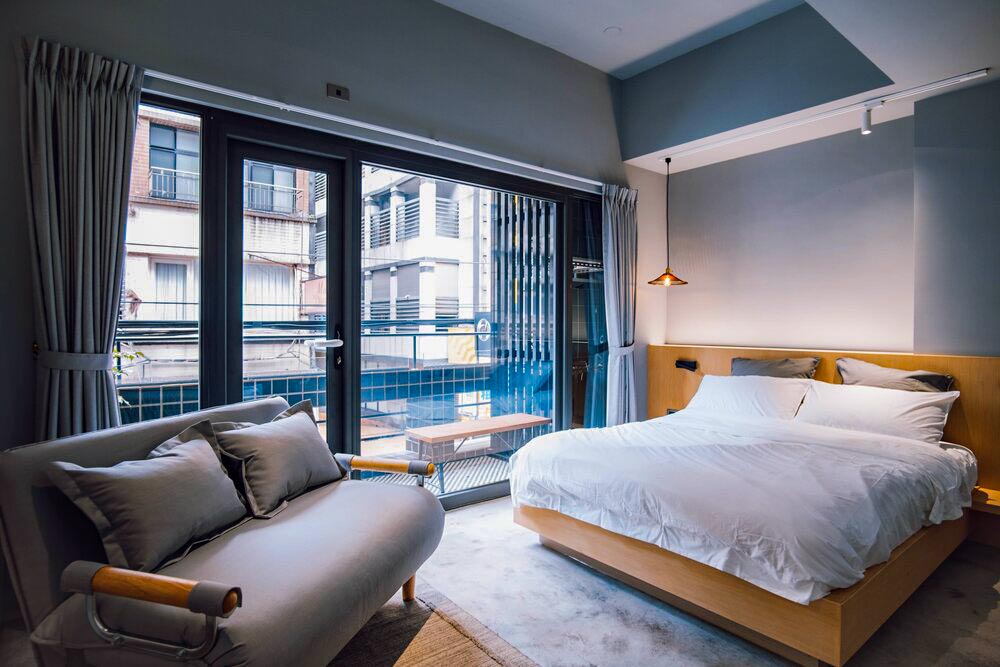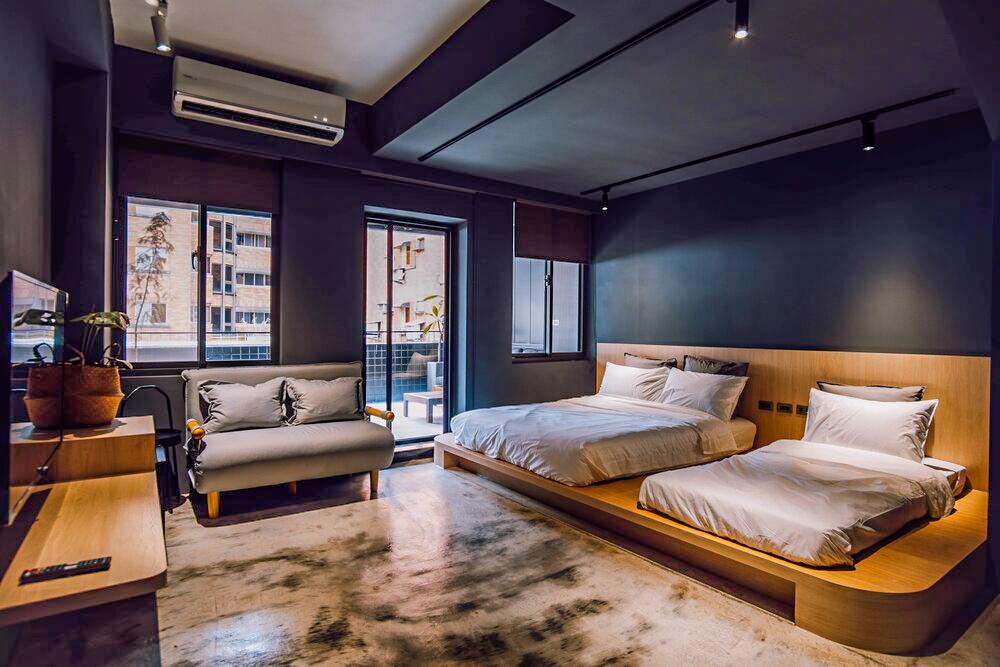 Breakfast is not served due to the abundance of food options nearby, but there's a shared kitchen on the ground floor for those who wish to cook. There's also coffee and a coffee machine, as well as cereal, fresh milk, toasting bread, and eggs for a hearty breakfast.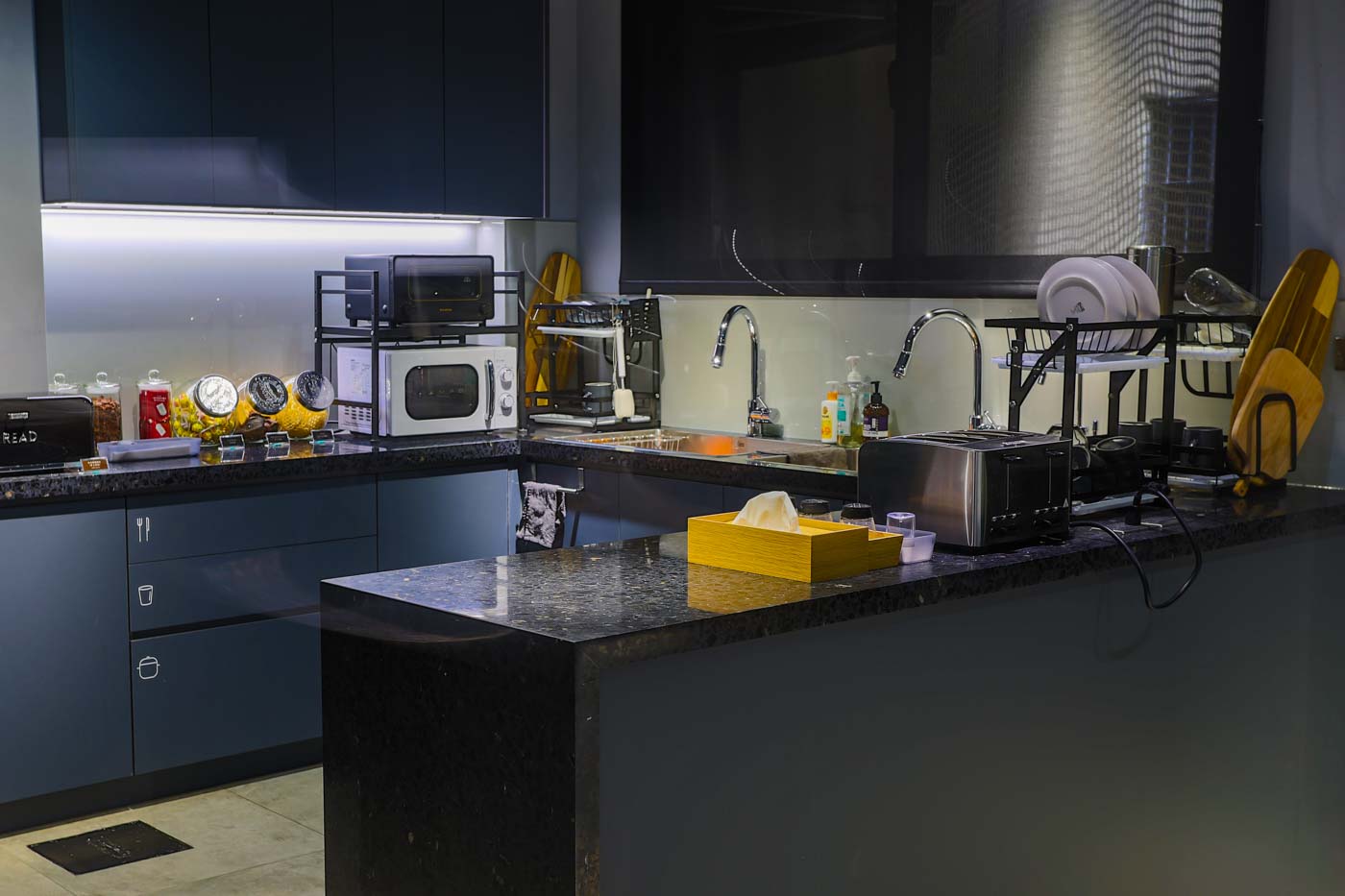 Hotel Drizzle
(雨島旅店)
Tel: (02) 2425-2929
Add: No. 8, Ren 3rd Rd., Ren'ai District, Keelung City
(基隆市仁愛區仁三路8號)
Website: www.hoteldrizzle.com
Spangle Inn
Superbly located, this designer inn boasts splendid views of the colorful houses of Zhengbin Fishing Port, a popular spot filled with coffee shops, galleries, and eateries. The inn's name is drawn from the shimmering light of the ocean.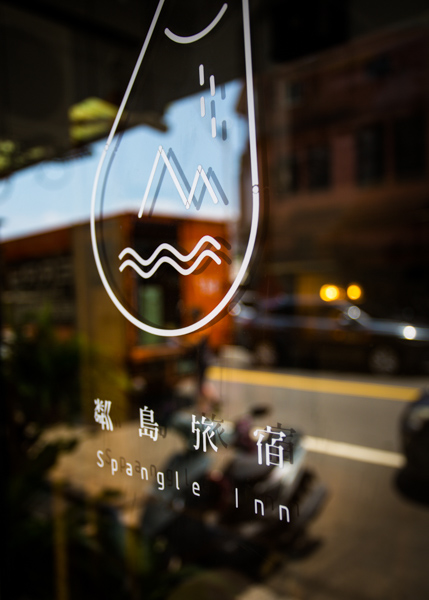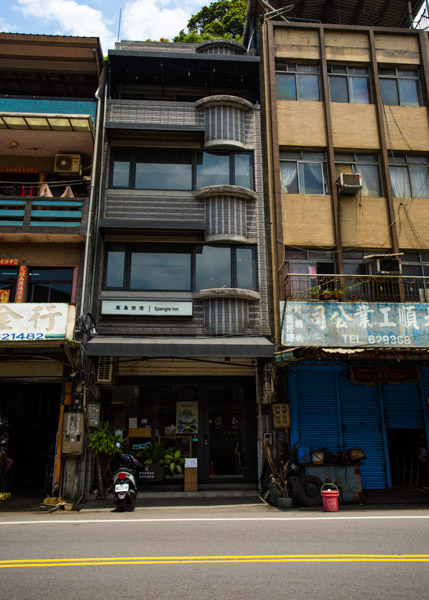 Like Hotel Drizzle, run by the same proprietor, this place also opens to a shop, albeit slightly larger, selling arts, crafts, books, and drinks. The interior is much brighter, the designer opting for lighter woods and wall colors. The first floor is a gallery also run in collaboration with the Zhengbin Harbour Museum of Art.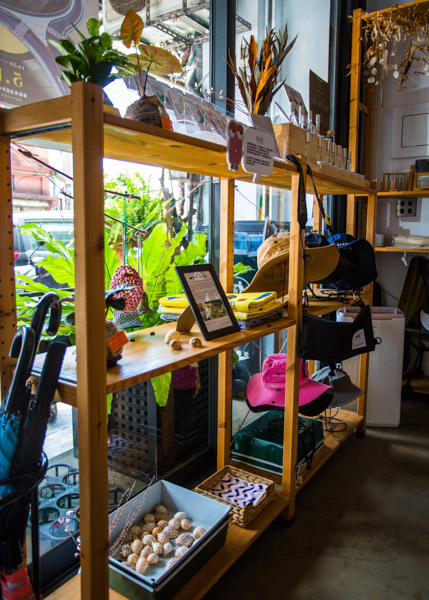 With the building situated against a hill, a surprise feature is an air-raid tunnel in the back of the first floor that retains its original rough form. This space is sometimes used for events and exhibitions.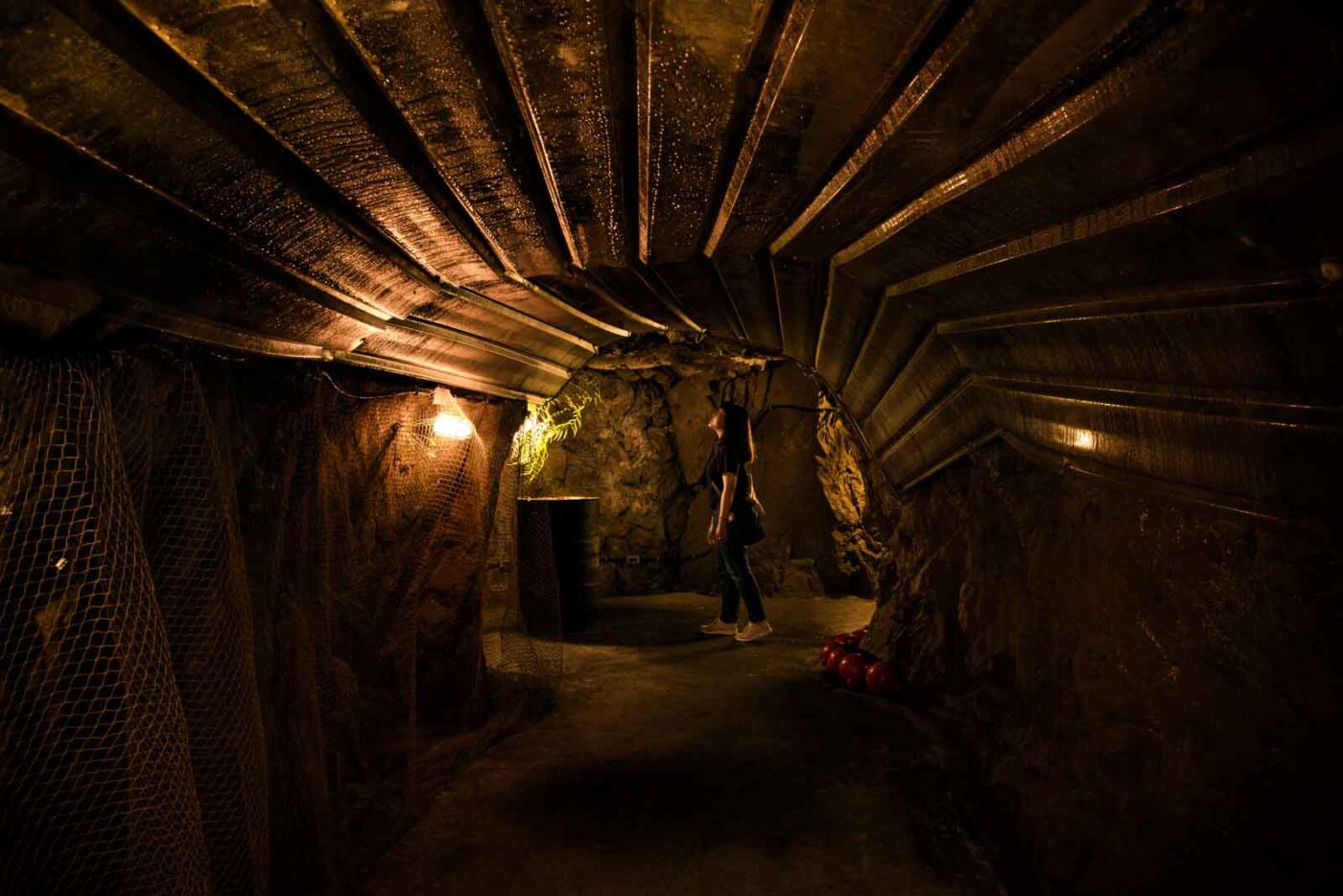 The inn has no elevator, as this is an older edifice. Each floor has two rooms; the street-facing side has large windows with harbor views, the best option being the Spangle double room with private terrace. Accommodations on the other side (facing the hill) are smaller, and the windows open up to rocks and vegetation, creating a more intimate feel. As at Drizzle, for amenities local brands are used wherever possible, including camellia oil-based shampoo and body wash. A shared kitchen with basic breakfast foods is also available.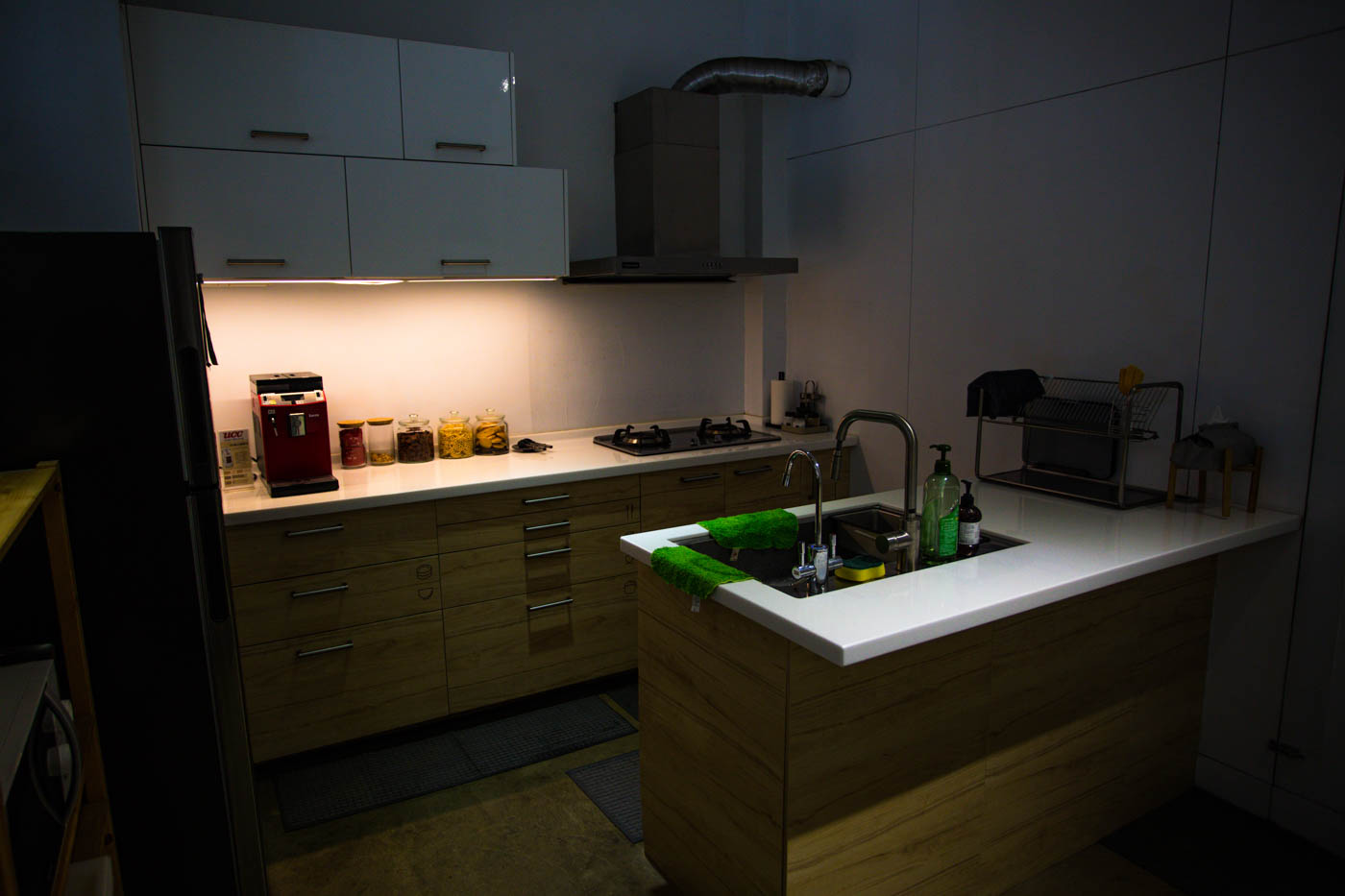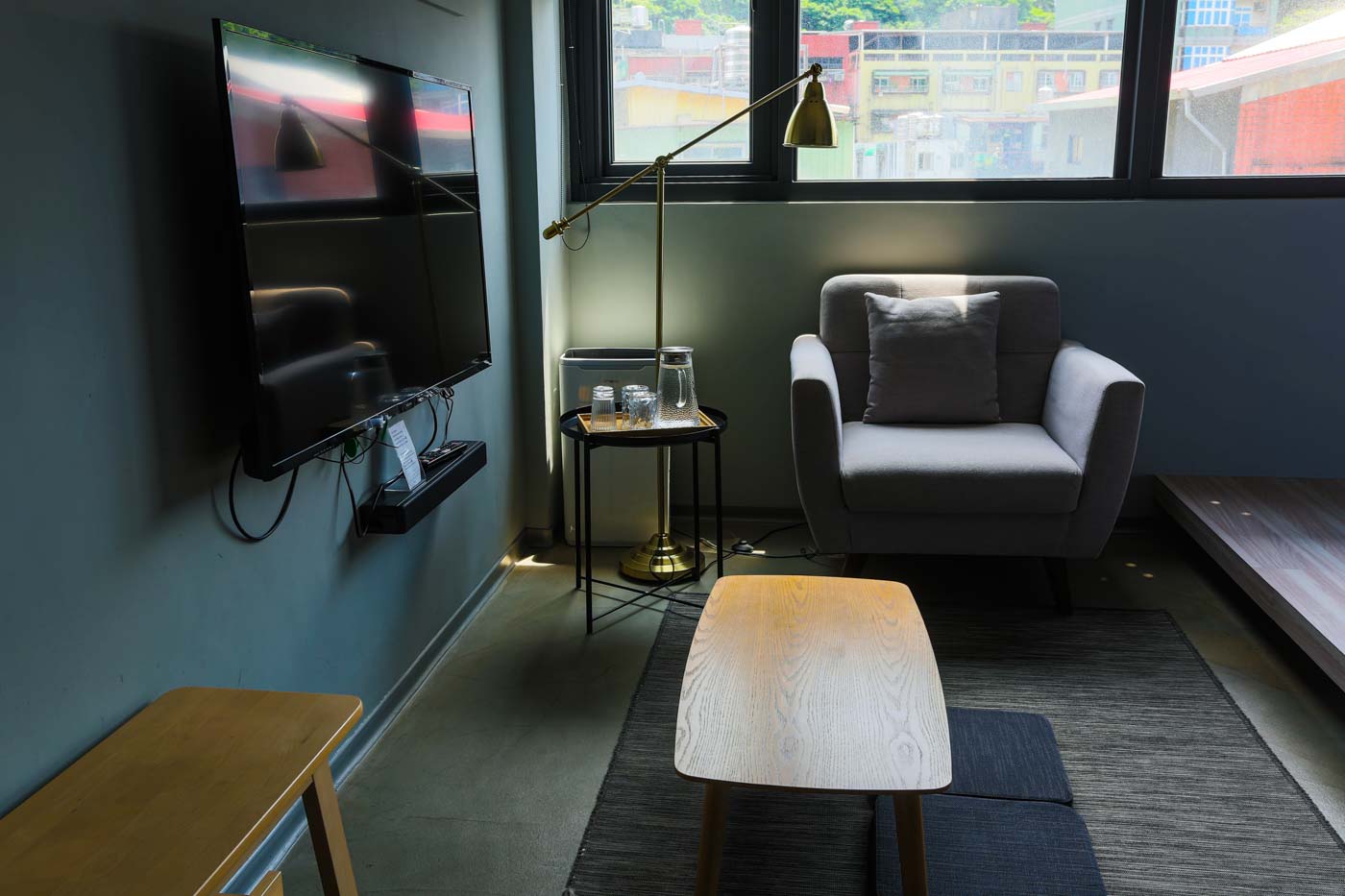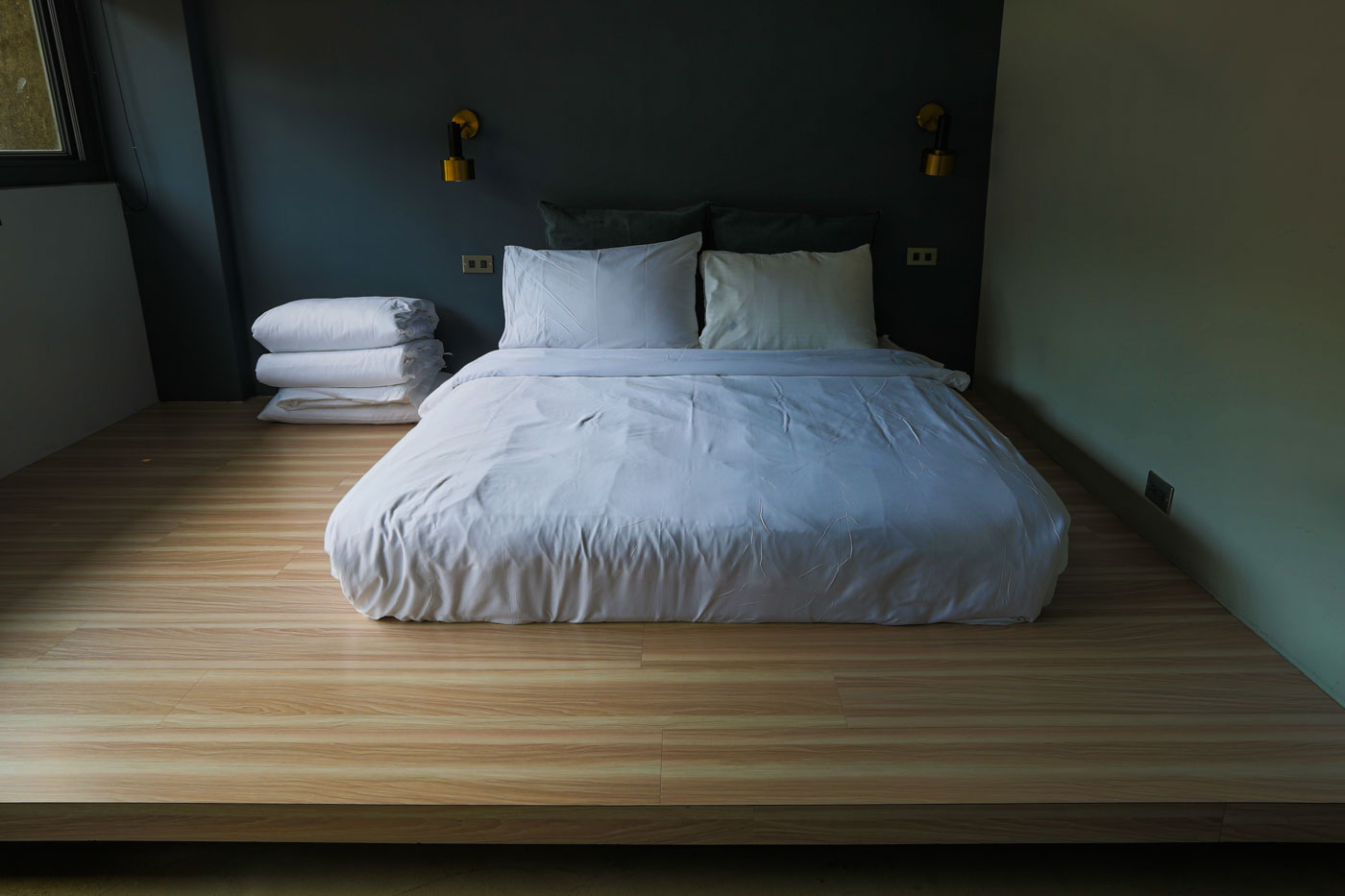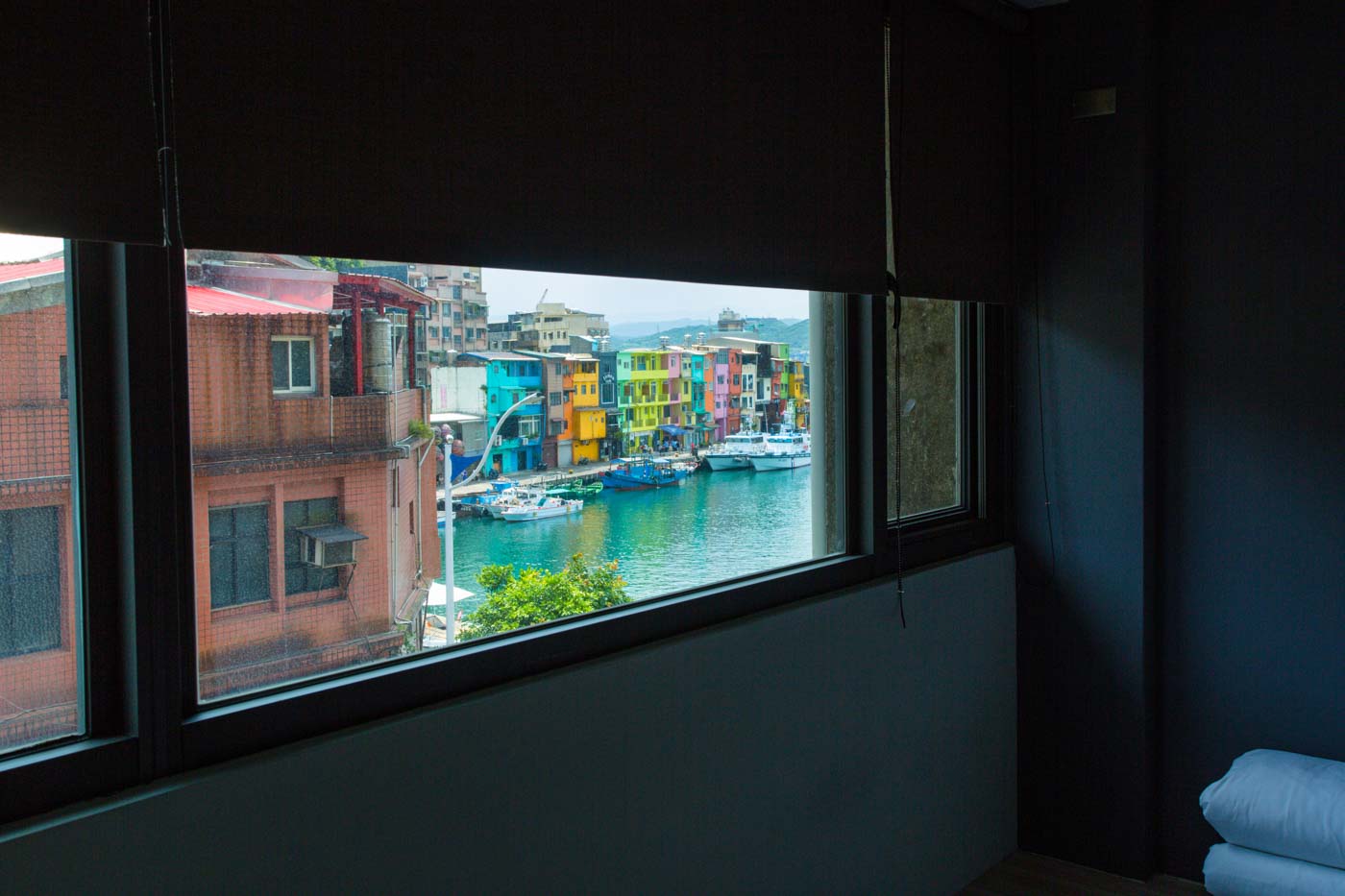 The rooftop lounge provides the best of both Spangle worlds, with harbor views in the front and the lush greenery of the hillside rising up at the back.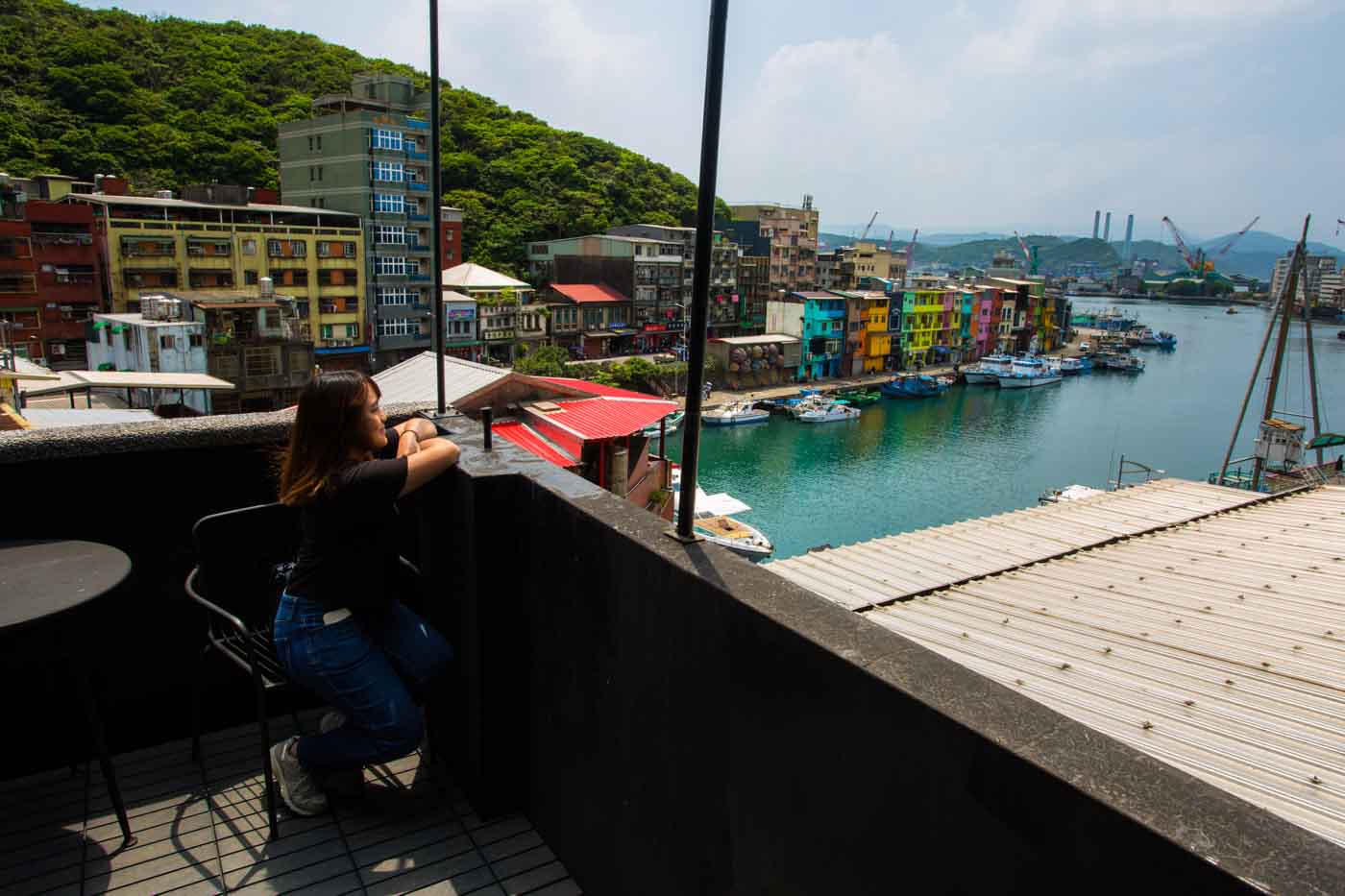 Spangle Inn
(粼島旅宿)
Tel: (08) 875-3999, 0955-750-272
Add: No. 34, Zhengbin Rd., Zhongzheng District, Keelung City
(基隆市中正區正濱路34號)
Website: spangleinn.com
Facebook: www.facebook.com/spangleinn
Places of Interest Nearby
Built in 1934, Zhengbin Fishing Port was once the largest fishing port in Taiwan, and was vital to Keelung's development as a bustling fishery hub. The harbor was not able to handle the increased sizes in fishing ships over the years, and eventually declined. It was revitalized as a selfie hotspot after the buildings were given a colorful makeover in 2017, and although today all sorts of trendy cafés and shops have opened up, it still retains a lot of its original character.
Heping Island is famed for its colonial history and otherworldly rock formations. Many visitors go straight to the geopark, which offers swimming in ocean pools and a pleasant 400m-long hill trail that passes through/by the main sights. You can see mushroom rocks, tofu rocks, the Fanzi Cave with wall inscriptions carved by Dutch sailors in the 17th century, and a monument to Ryukyu fishermen who once lived here, brought to teach locals fishery techniques. Outside the park, the ruins of the Todos Los Santos church, built by the Spanish in the 1620s, are definitely worth visiting.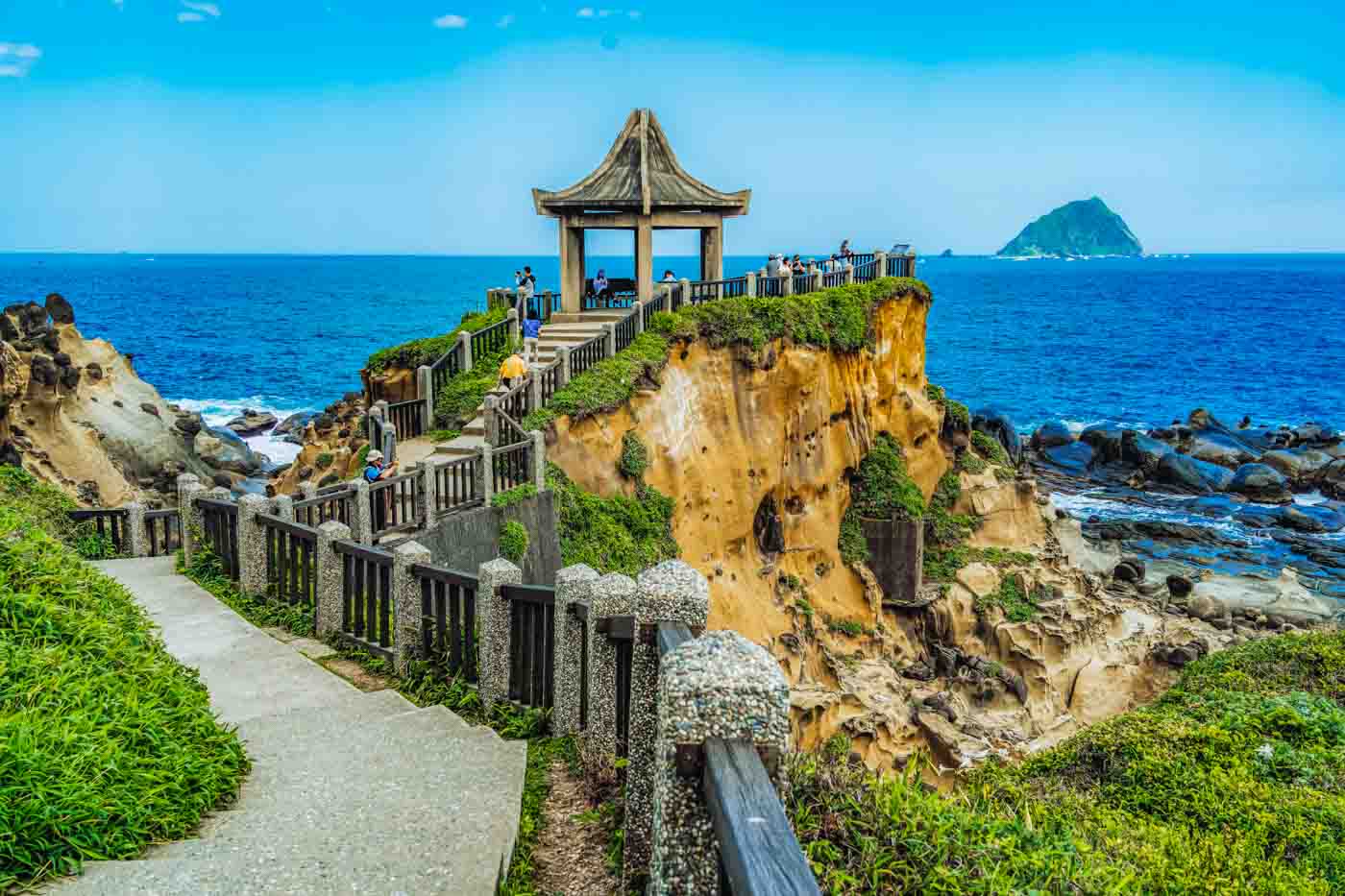 About 4km southeast of Heping Island, you come to Badouzi Fishing Port and a peninsula popular with tourists. On the peninsula, follow the stark-white staircase down a verdant, narrow valley to the open blue sea on the Wangyou Valley Seaside Trail, a breezy 1.3k-long walk with spectacular vistas. Visitors will forget all their troubles here – the characters for wangyou form a homophone for another Chinese term meaning "forget your worries." Visible out on the ocean is the volcanic Keelung Islet, which was opened to tourism a few years ago. At the highest point on the Wangyou Valley trail is a pagoda that offers panoramic views of Badouzi Fishing Port and beyond, as well as interesting geological structures created by erosion.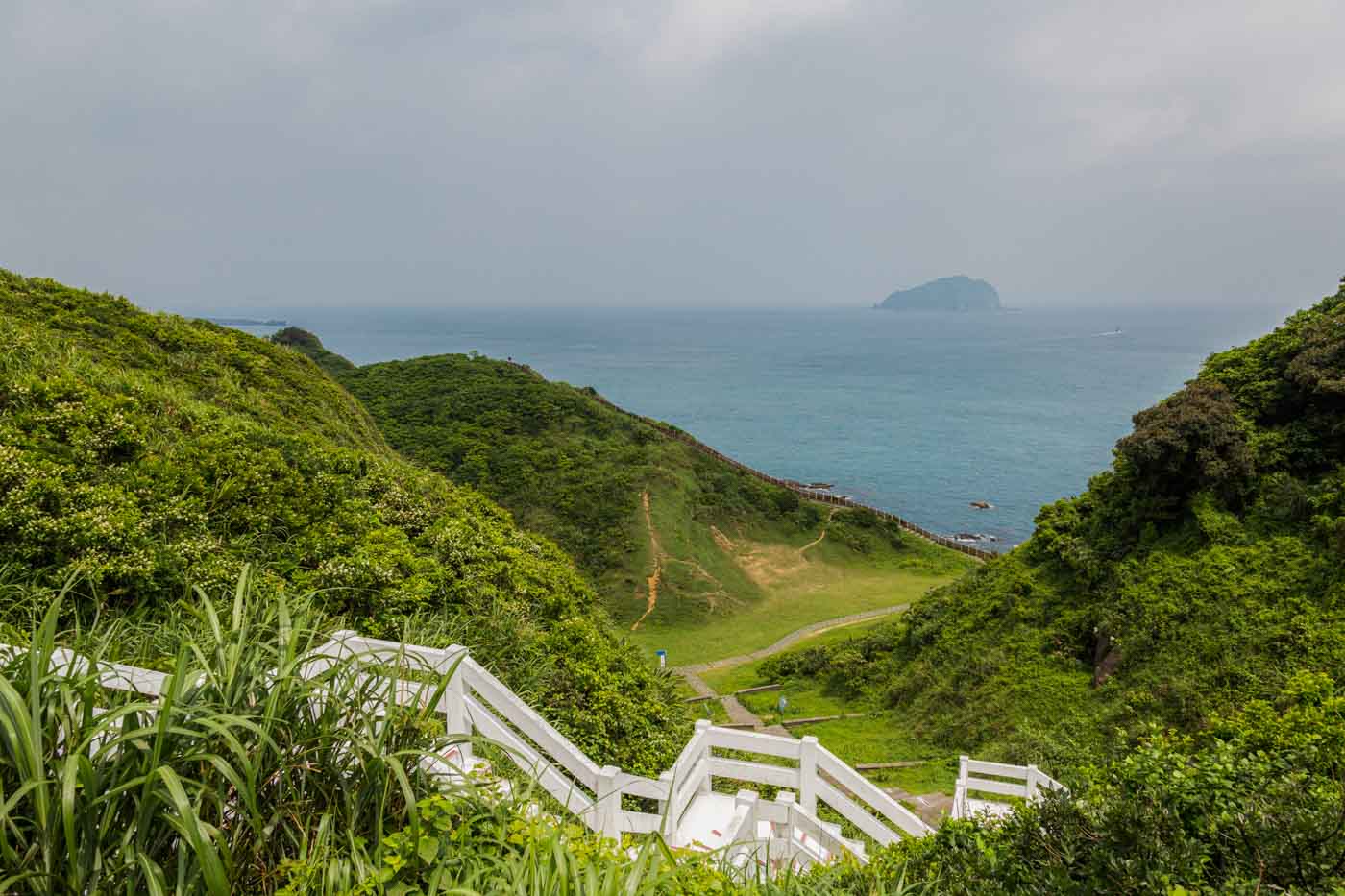 On the eastern side of the same peninsula is Chaojing Park, an expansive seaside grassland that was once a landfill, converted with the help of the nearby National Museum of Marine Science and Technology. It's accessed from Changtanli Fishing Harbor, a small settlement that's also worth exploring. The eroded rock platform in the park is accessible during low tide, and visitors can see all sorts of intertidal creatures. Many artworks and installations can be seen along the park's paths, with the field of upright brooms, especially, a smash hit for people to take Harry Potter-esque portraits.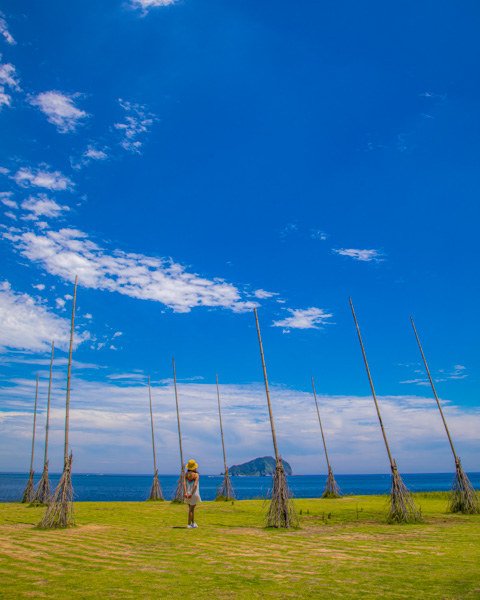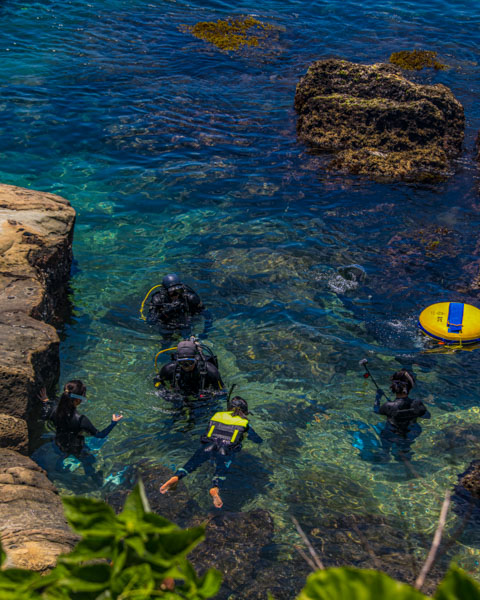 Back in central Keelung, it's hard to decide where to start when visiting the compact Miaokou Night Market, as the lantern-lined streets with numbered stalls are said to boast "the largest variety of dishes in Taiwan." Staff at your chosen place of stay will offer suggestions – Light Inn's owner, for example, lists crab thick soup, rice wine sweet dumplings with egg, shacha beef, the famous "healthy sandwich," and mini sausages among his personal favorites.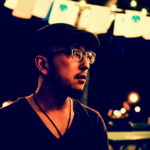 Han Cheung moved back to his adolescent stomping grounds of Taiwan in 2015 from frigid Wyoming, where he was the editor of the small town Rawlins Daily Times. He has a Master's in Journalism from the University of Missouri and has reporting experience in the US, Latin America, and Taiwan.