Westward Ho! Into the Taiwan Strait!
TEXT / RICK CHARETTE
PHOTOS / RAY CHANG
Commonly shortened simply to "Penghu," this is a wide-flung archipelago of low-lying islands in the Taiwan Strait's mid-section. Locals describe their home as "pearls scattered on the turquoise sea." The sun shines so constantly and intensely here, and the shallow turquoise waters coruscate so brilliantly, it's said that Penghu has two suns – one in the sky, the other in the water.
This is a slow-paced realm of old fishing villages, old temples, old lighthouses, and old fort ruins. Small farm plots are protected from the famed winter winds that rush down the strait by hoary stacked-coral walls. The main islands, connected by bridges, form the outer walls of the comparatively calm Inner Sea. Sailing and other sports are popular on the water, snorkeling and diving in the water, scooter and cycle touring on the land. The archipelago is rocky, with massive formations of exposed volcanic basalt columns prominent and seascapes dramatic. Ferry rides to the outlying North Sea and South Sea islands are popular, as are nighttime squid-fishing outings.
Northern Islands
Jibei Island
The islands north of Penghu's main island grouping float in what is called the North Sea. Travel to Jibei is by ferry from Chikan Fishing Harbor, on the north shore of the island of Baisha. There are multiple departures daily, by different operators (and multiple return trips from Jibei).
The small island's best-known feature, by far, is the Jibei Sand Tail, Penghu's largest, which is clearly seen from planes as flights approach/leave Magong Airport. Extending into the pastel-hue waters at the island's south end, it is about 800m long and 200 wide. The landform has been crafted by the ocean tides and currents, with fine coral debris and shell sand accumulating. The local currents change in accordance with seasonal directions, ever-changing the shape and size of the ginormous sand spit. Locals call this the island's "wagging tail." The spit is a popular swimming/snorkeling location.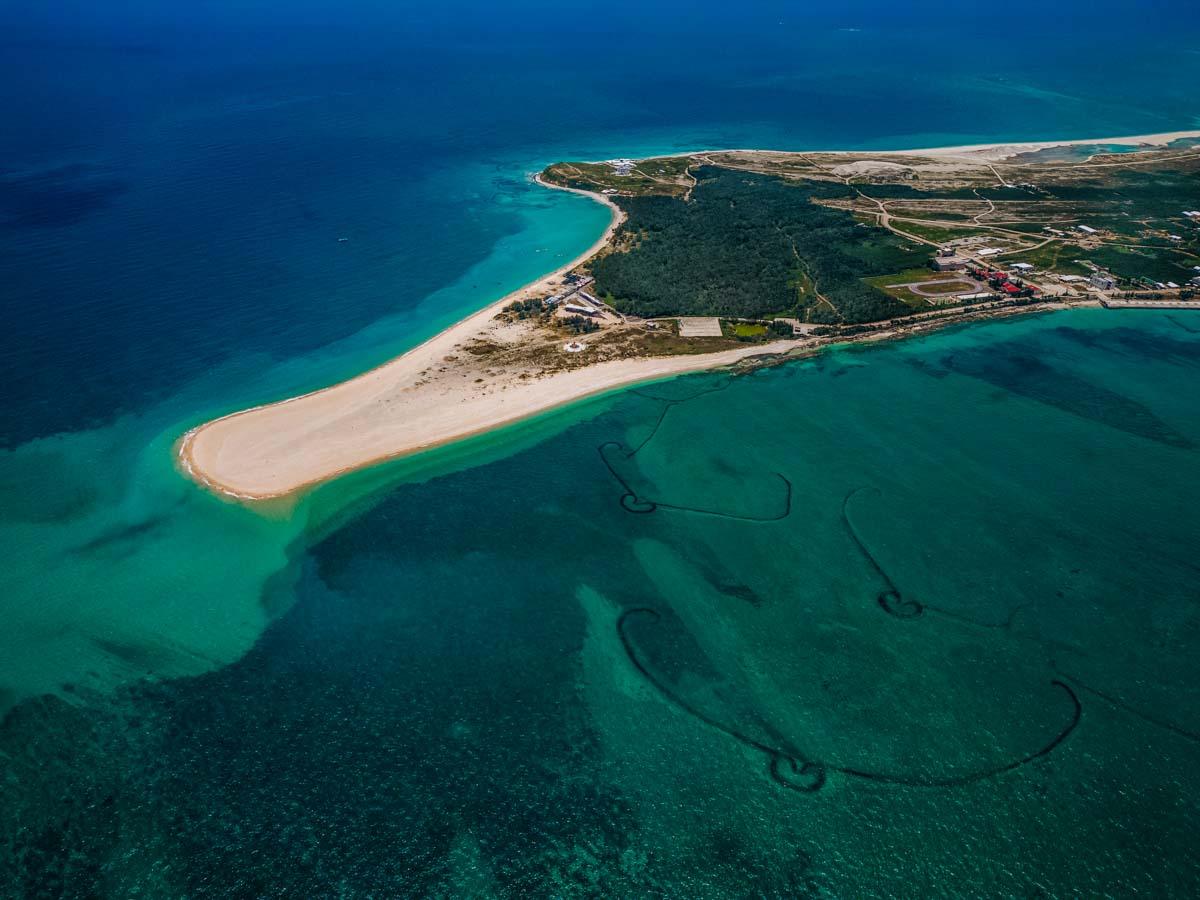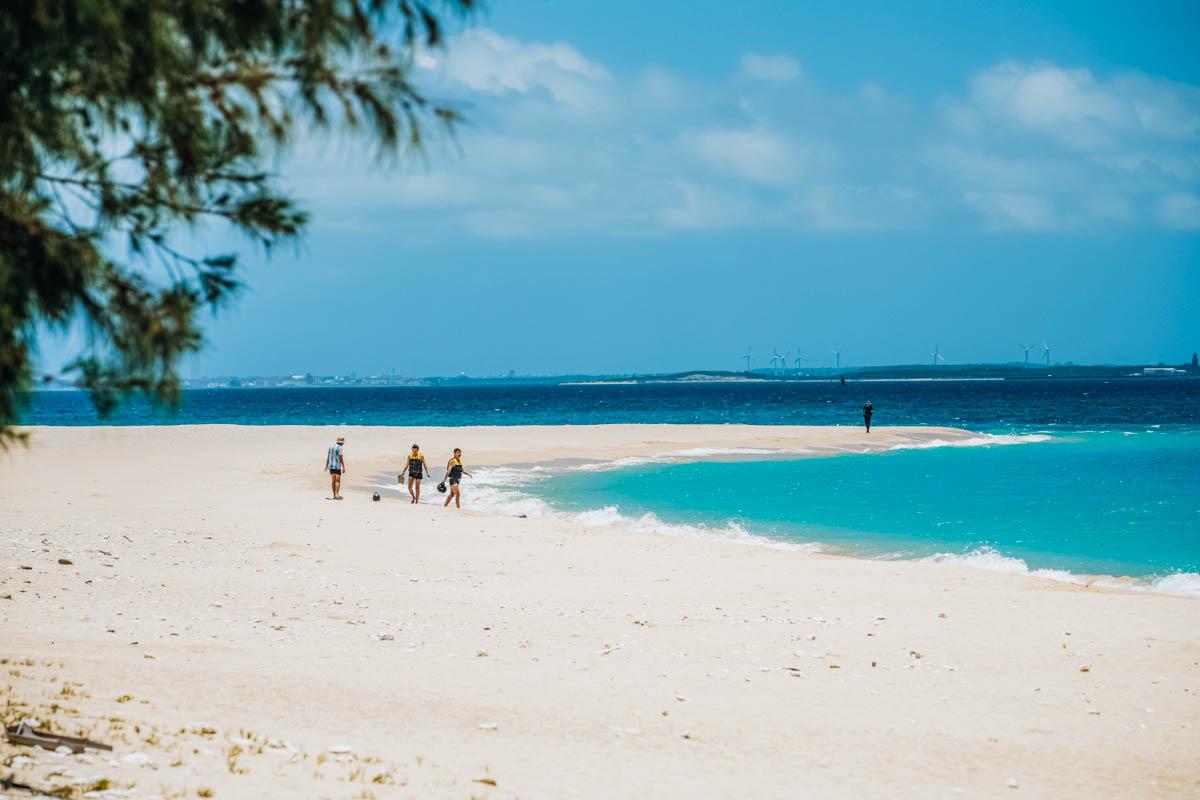 The standard tourist means for moving about the island is the same here as on Penghu's other islands of size – rented scooter. These are available aplenty at Jibei's harbor; all Penghu scooter-rental operations are vetted by the local authorities. The standard tour route, which delivers you to all major Jibei sights, is the narrow paved road that runs around the island's perimeter (a short side road brings you to parking facilities at the Jibei Sand Spit's north end). Be sure to always have good sun protection with you when in the Penghu outdoors; shade, nature- and human-created, is in short supply.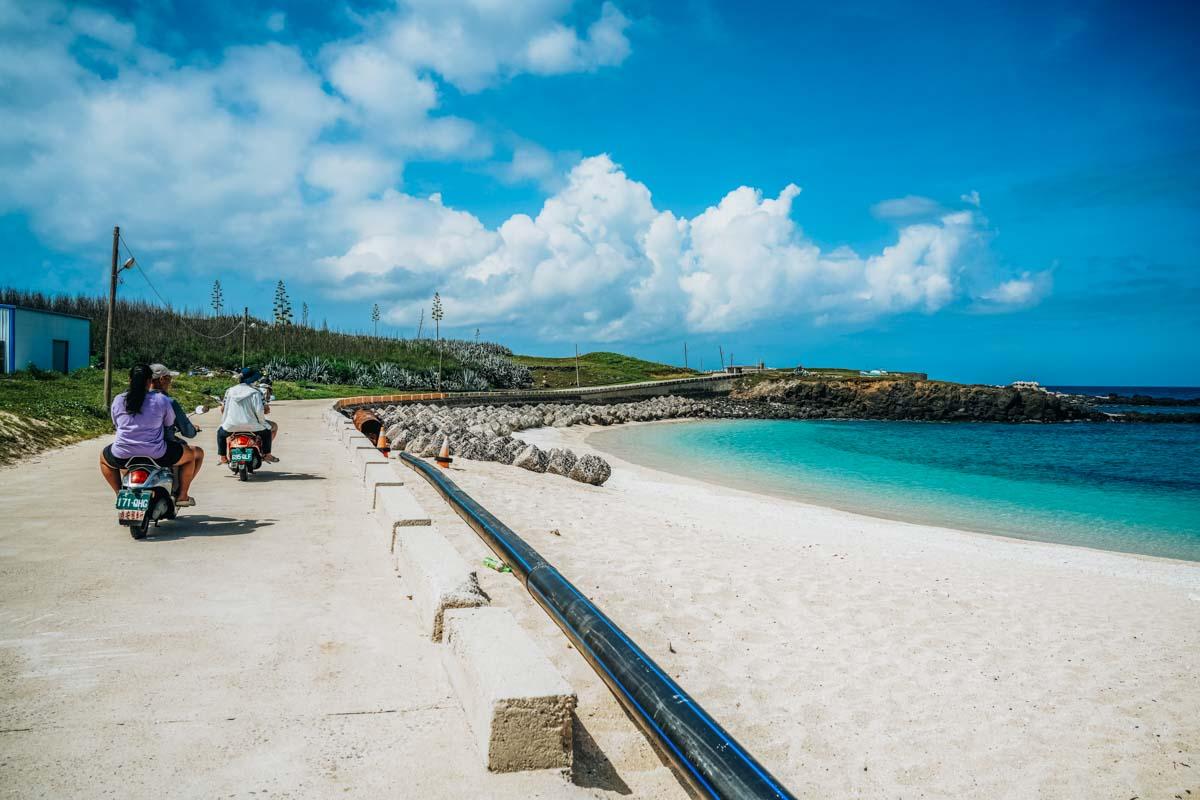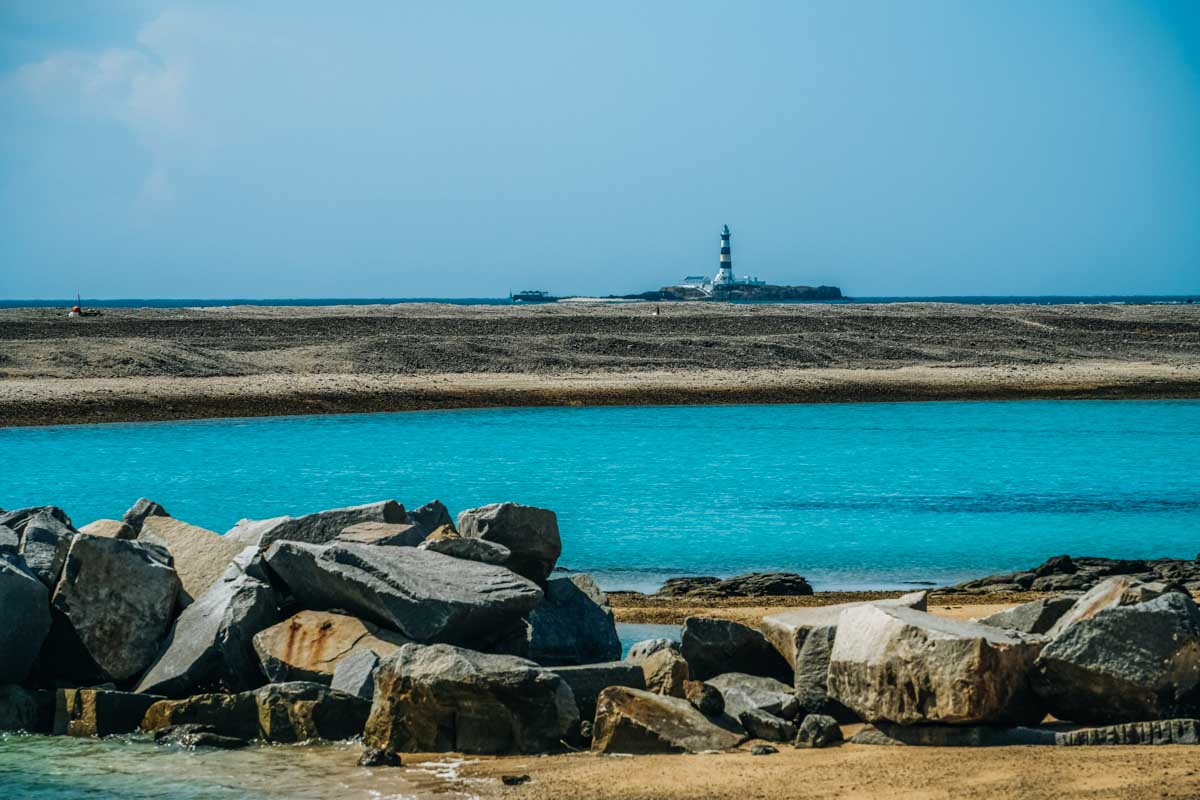 On the coast a few hundred meters northwest of the Jibei Sand Tail is Xikan Hill, separated from it by a long, wide beach. This hill is just 18m in elevation, its flat-top pinnacle the island's highest point. Once a basalt-column reef separate from the Jibei mainland, long-term accumulation of coral debris long ago filled in the gap. A boardwalk pathway leads from a small north-side parking lot to two wood-built lookouts perched right at the seaside basalt-cliff edge. From here sweeping, unobstructed views are enjoyed south, west, and north. An information board with good English helps you pinpoint the various large and small islands in far-off view, and describes the latter's special geological/biological features.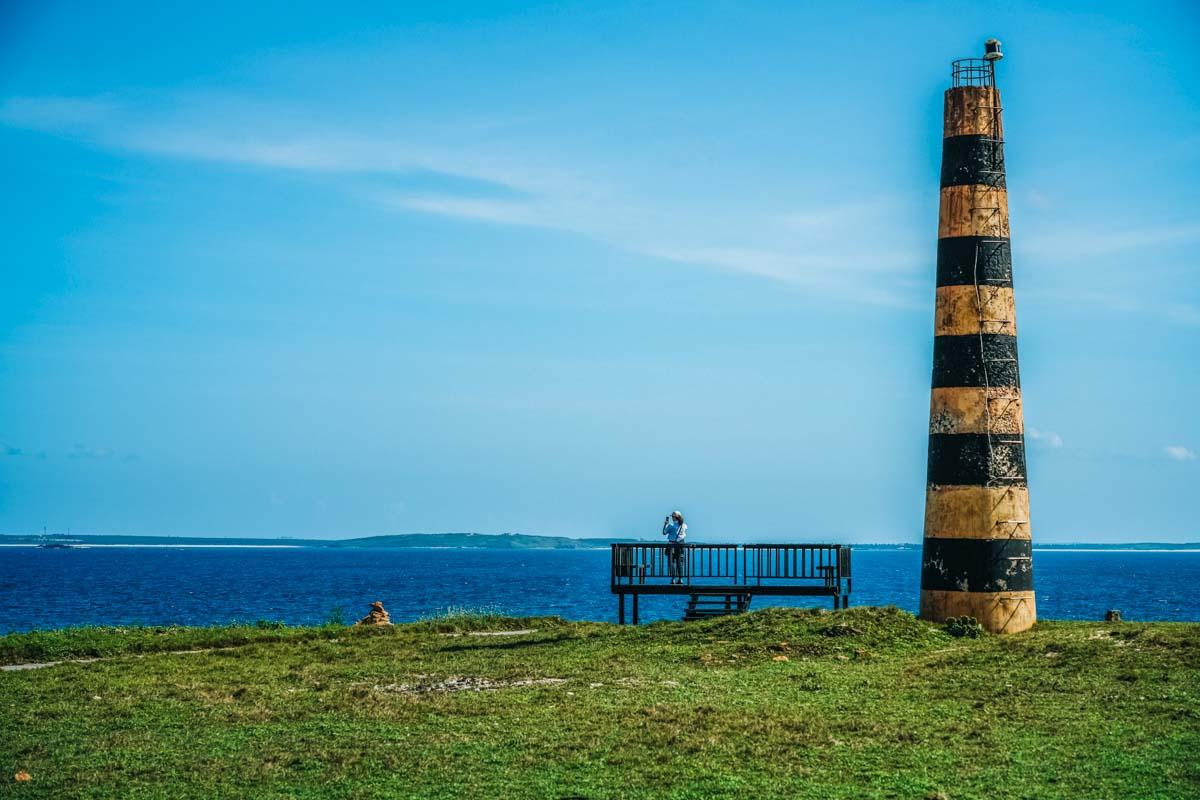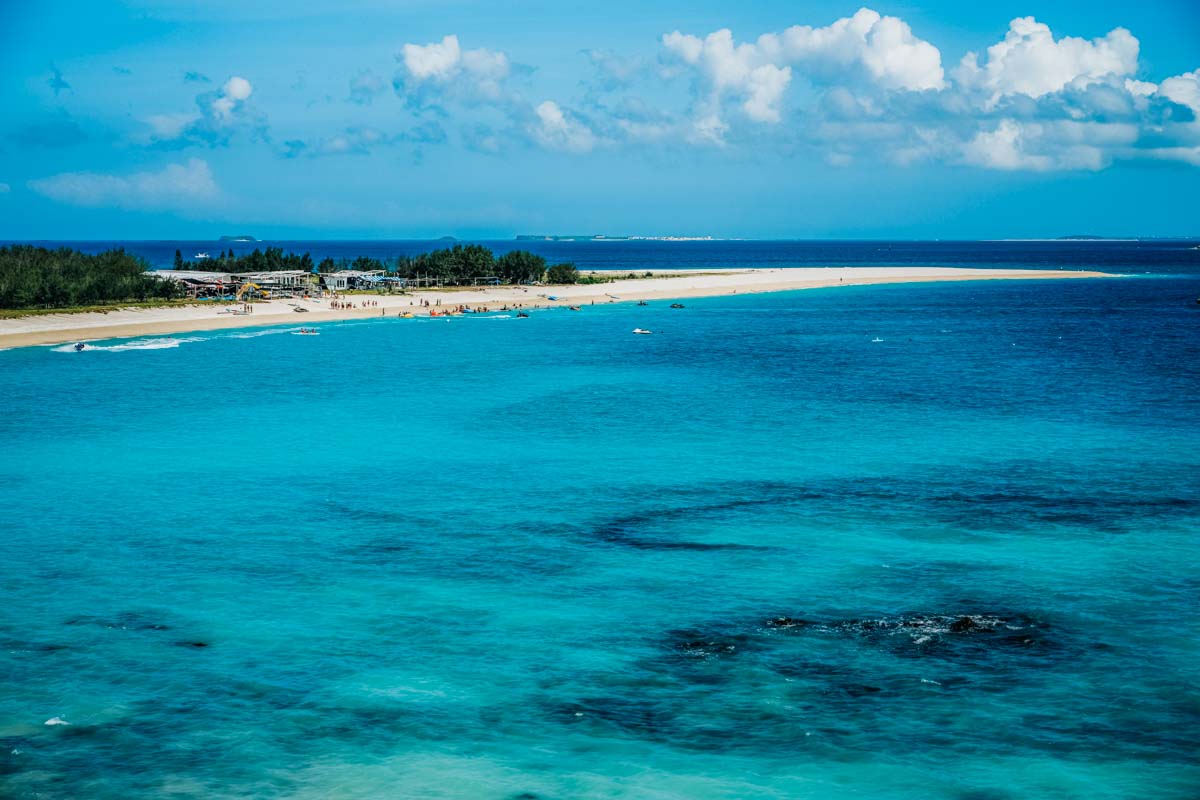 Penghu is home to about 600 well-preserved stone weirs, an ancient fishing device, likely the highest concentration in the world. Walls of stacked rocks are created in intertidal zones; fish swim in when the tide is in, and are trapped when it goes out. When seen from high vantage points the weir clusters remind many of the Nazca Lines, especially when just under the water's surface. Jibei has Penghu's largest stone weir collection, with over 80. The best viewing spot is the island's north tip – there are a number of the archipelago's iconic heart-shaped fish traps here, and access is easy for up-close inspection at low tide (be sure to first check the tide schedule at the harbor's visitor center).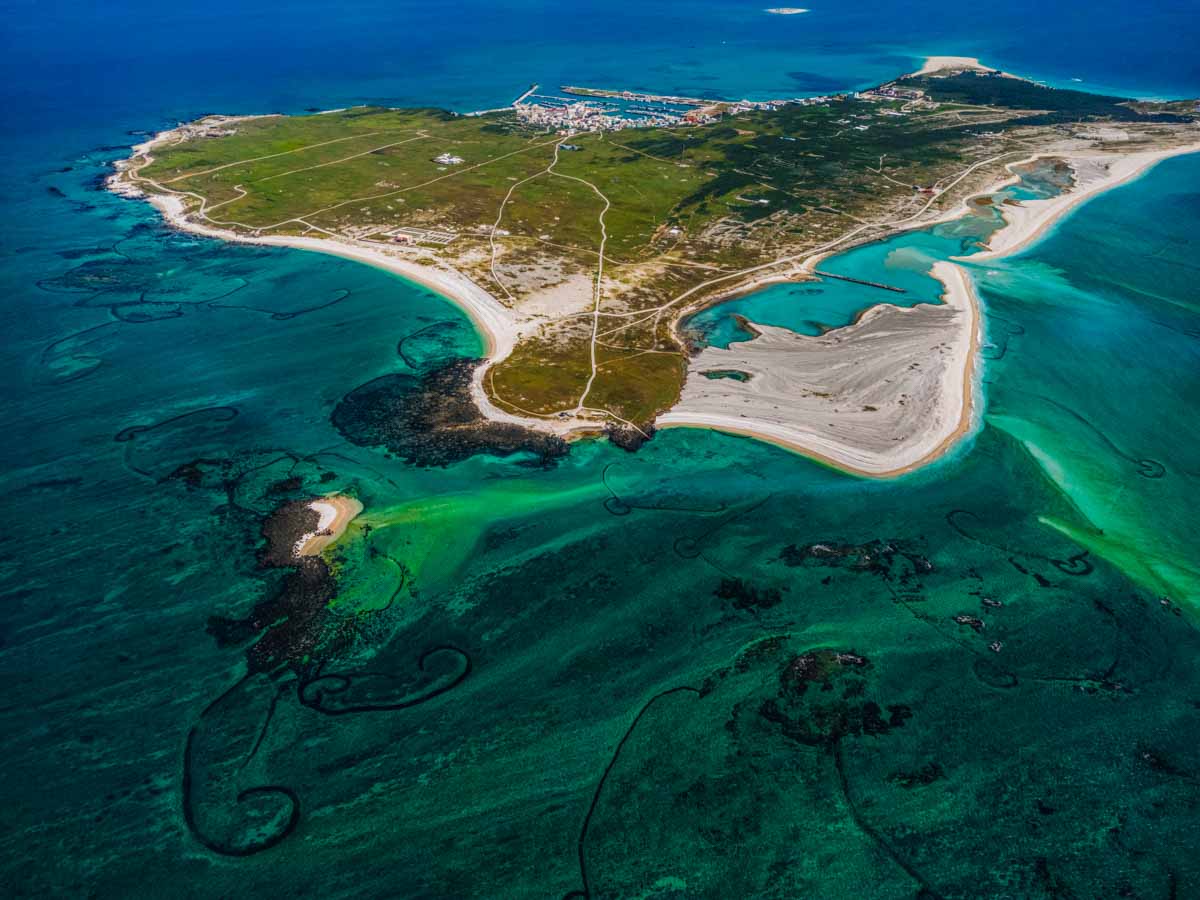 As so many do, end your Jibei frolic with a heat-defeating shaved-ice dessert treat at the invariably busy Xiangxiang Ice Shop, which has big-window views of the ferry-docking harbor area and out toward Baisha. Two of the most popular selections are assorted fruits with shaved ice served in a seashell and cactus ice + cactus jelly shaved ice served in a shell. Cactus ice, made from cactus fruit, is a classic Penghu treat.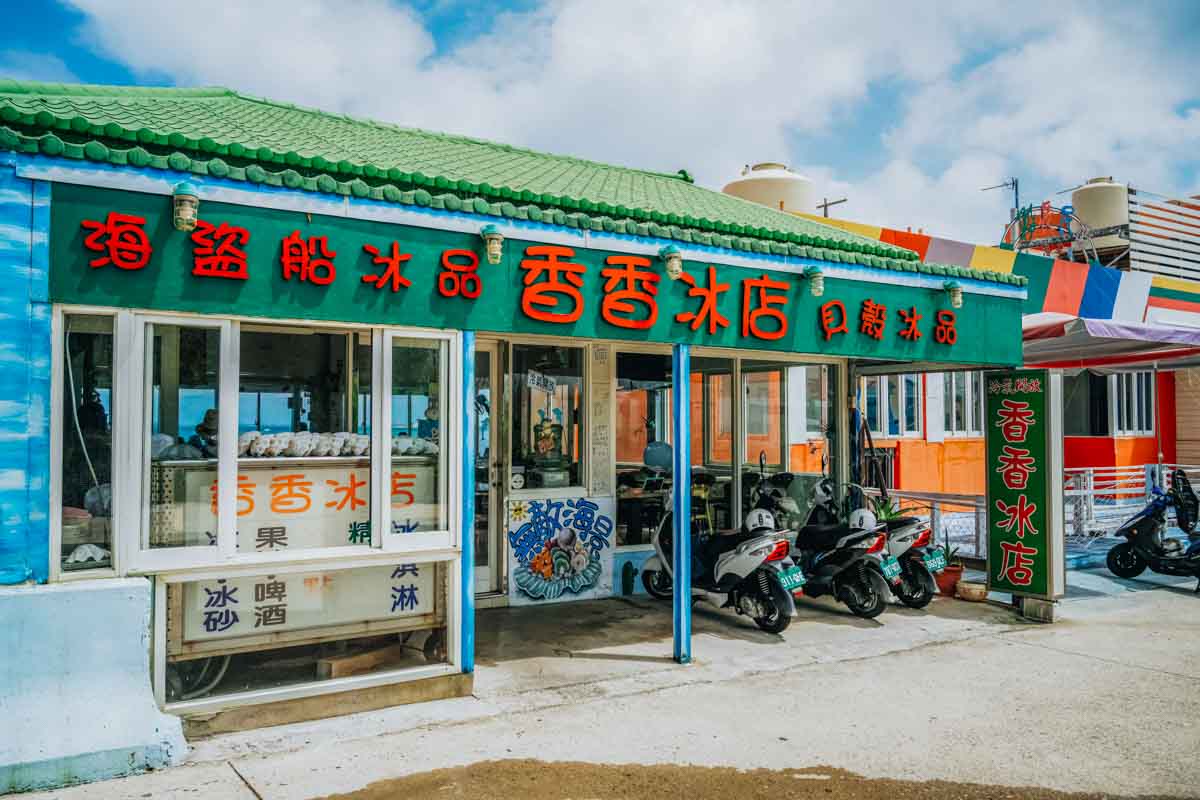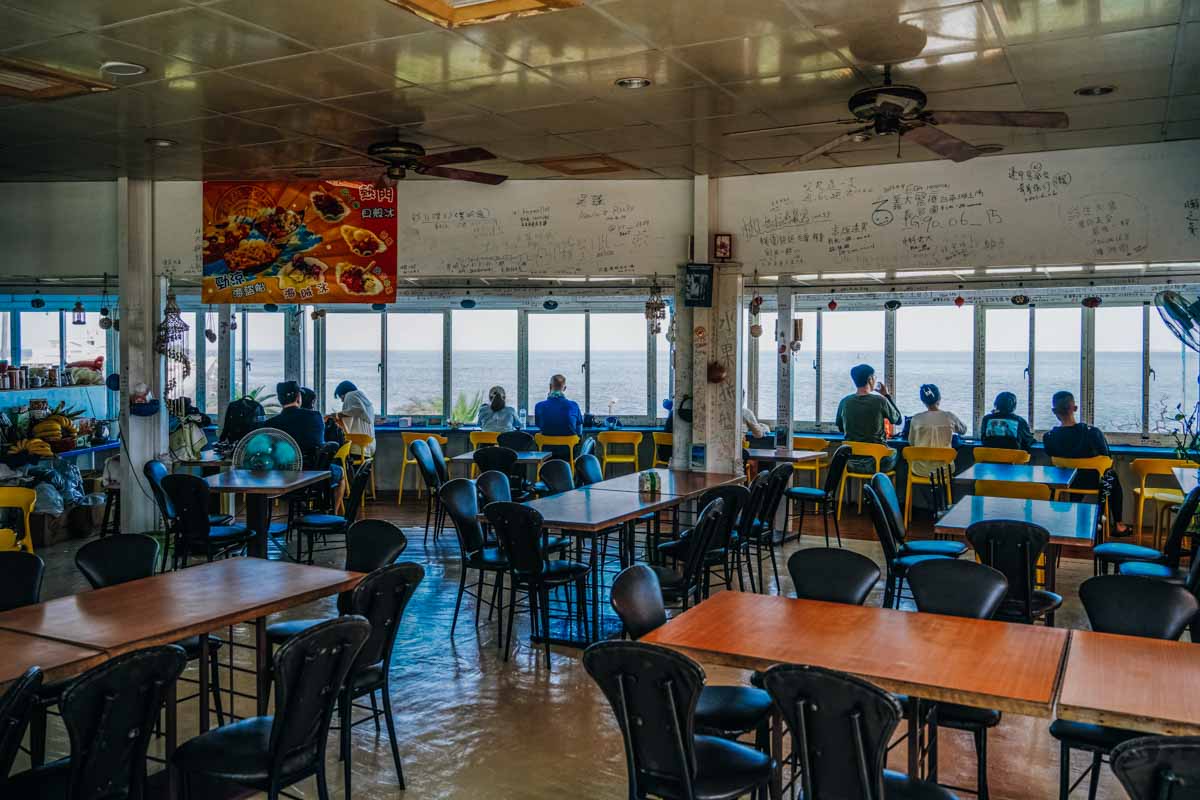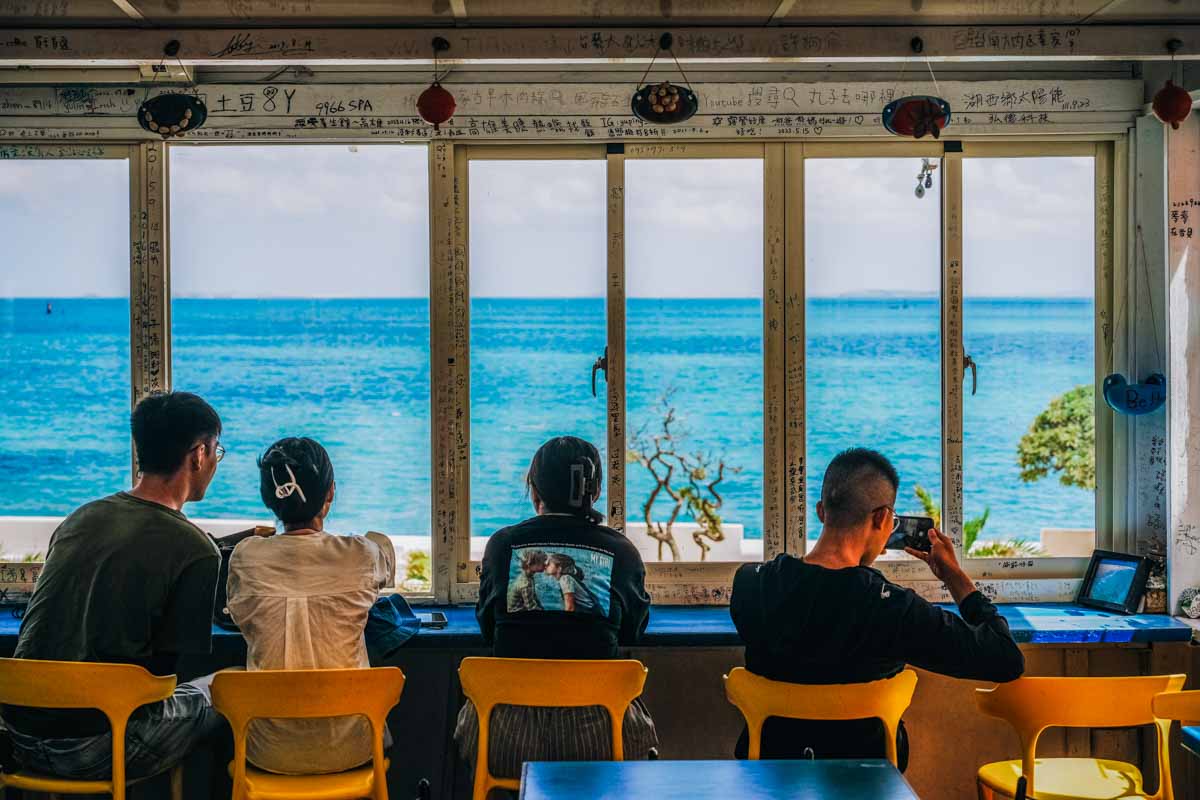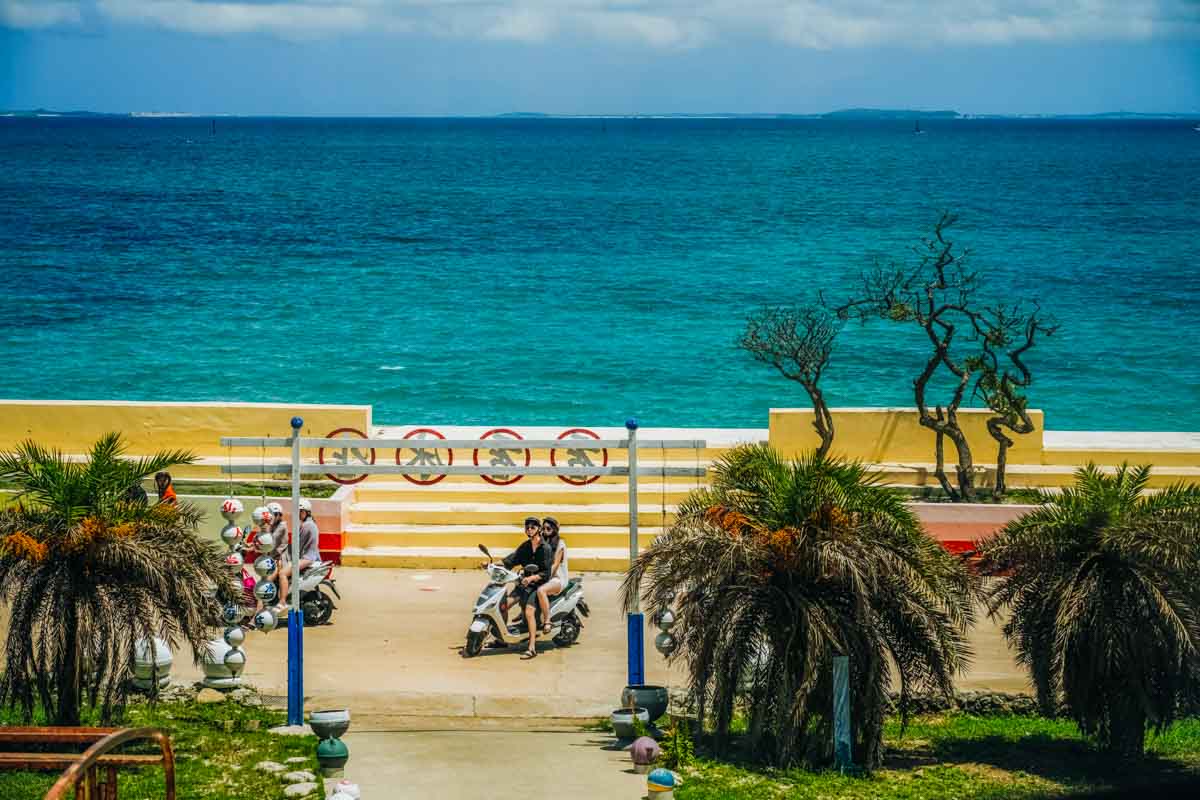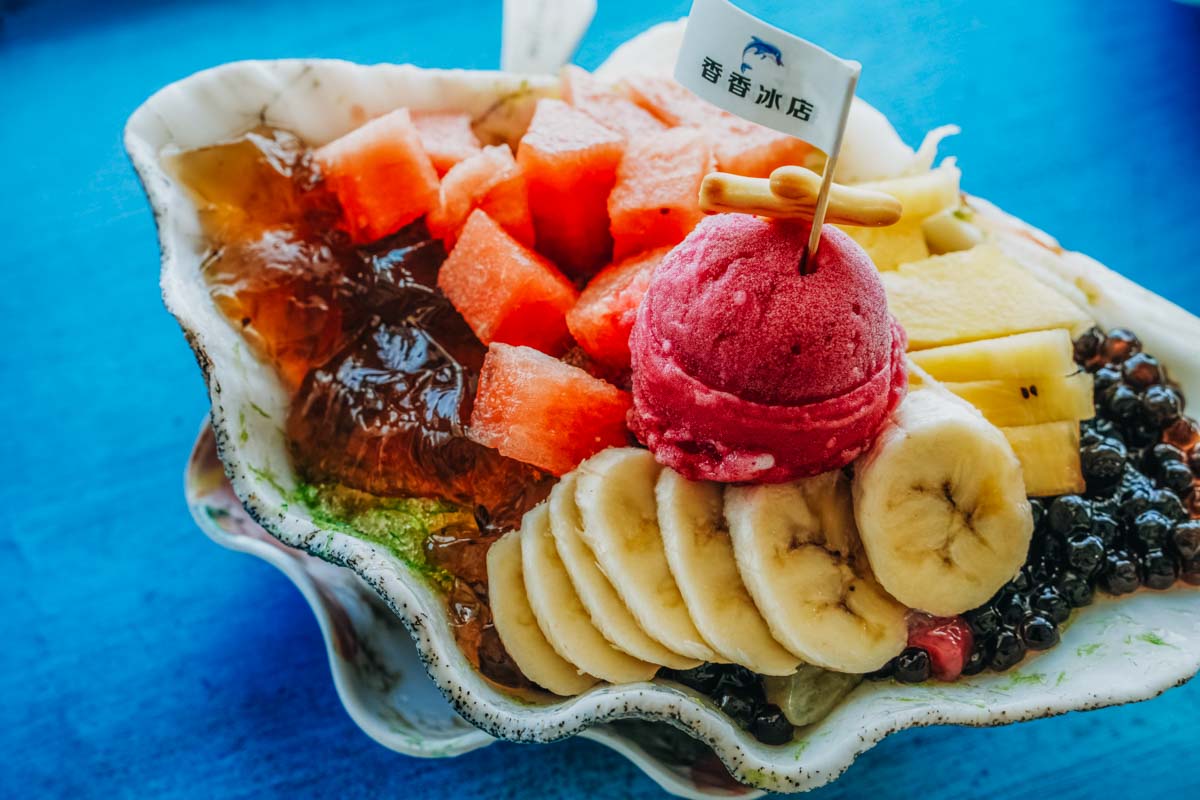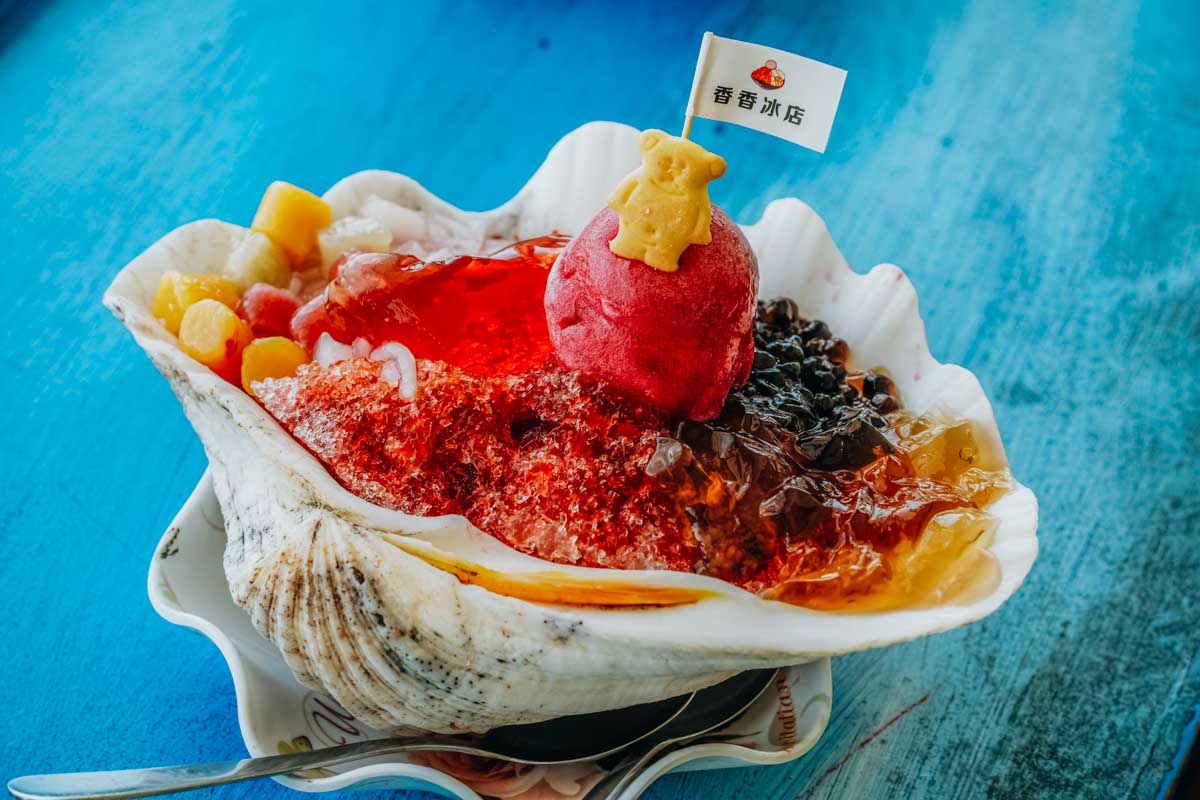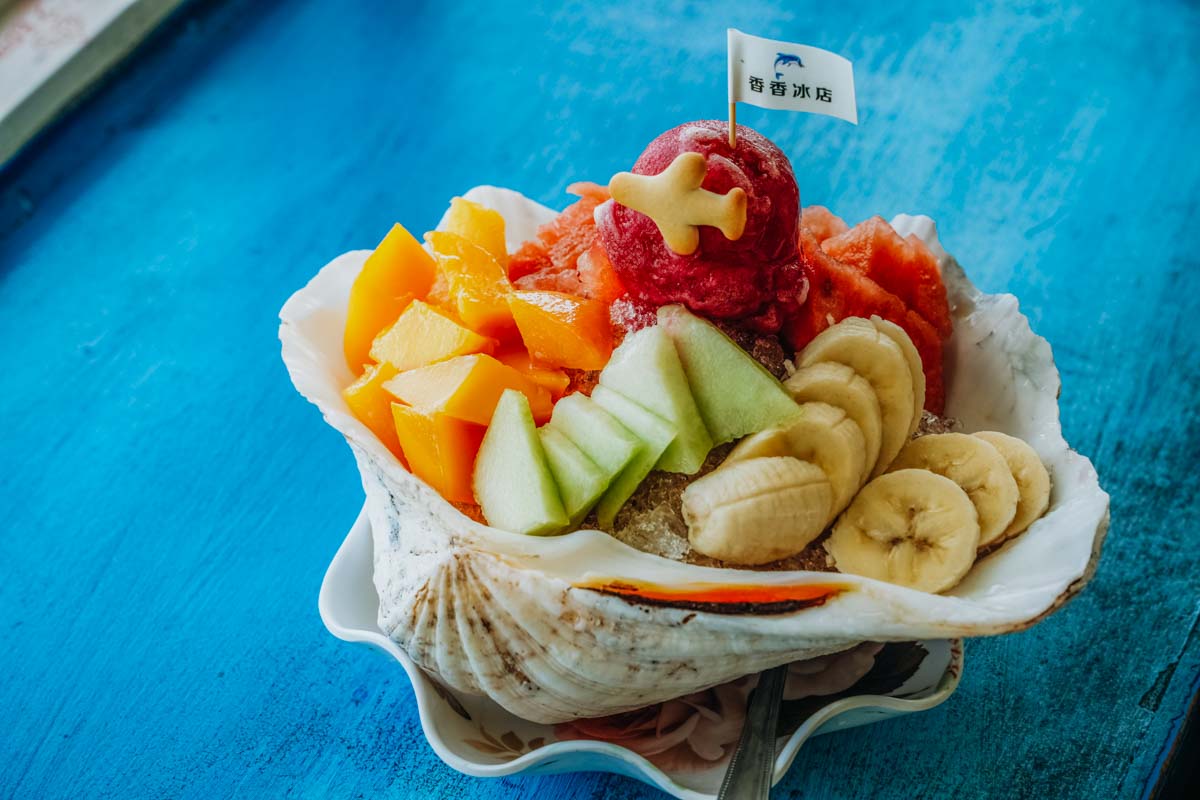 Xiangxiang Ice Shop
(香香冰店)
Add: No. 182-13, Jibei Village, Baisha Township, Penghu County
(澎湖縣白沙鄉吉貝村182-13號)
Along with the Jibei Sand Tail, Jibei water-recreation fun is an intrinsic element of the Jibei brand and experience. The main action venue is the aforementioned long beach that runs between the sand tail and Xikan Hill, which has a heady range of water-play toys. There are covered rest areas and umbrella-shade seating, shower and toilet facilities, and counters serving drinks and light foods.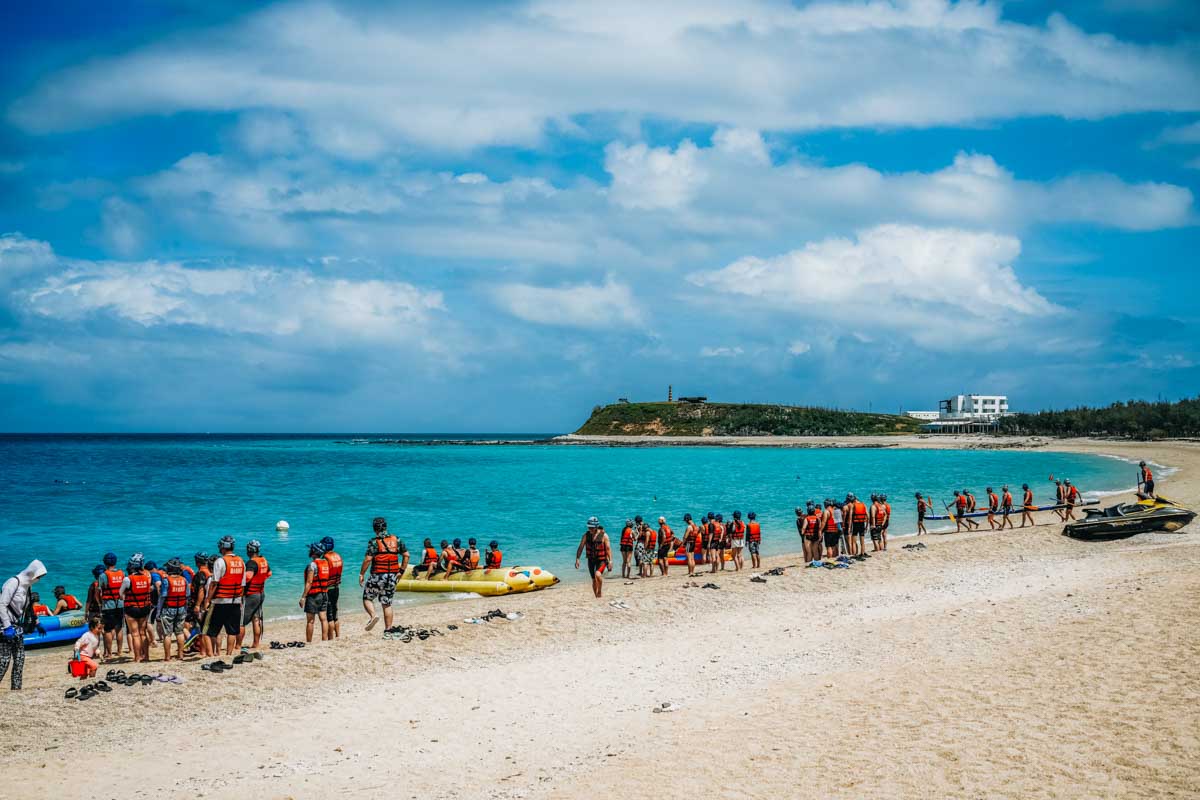 The stars here are engine-powered vehicles, the jet-ski and speedboat, especially the former. What can you get up to? Most popular on the long choice list are the various types of jet-ski drags, on banana boats, flying sofas, doughnut boats, sea UFOs, magic carpets, and other inflatables. You can also enjoy fast jet-ski rides – no, you won't be driving – in which the operator makes your sea-steed bounce around the waves like a bucking bronco. Jet-skis are also used for the in-demand power snorkeling outings, with groups pulled along holding onto a raft-like inflatable, enjoying the world of the underwater coral reefs.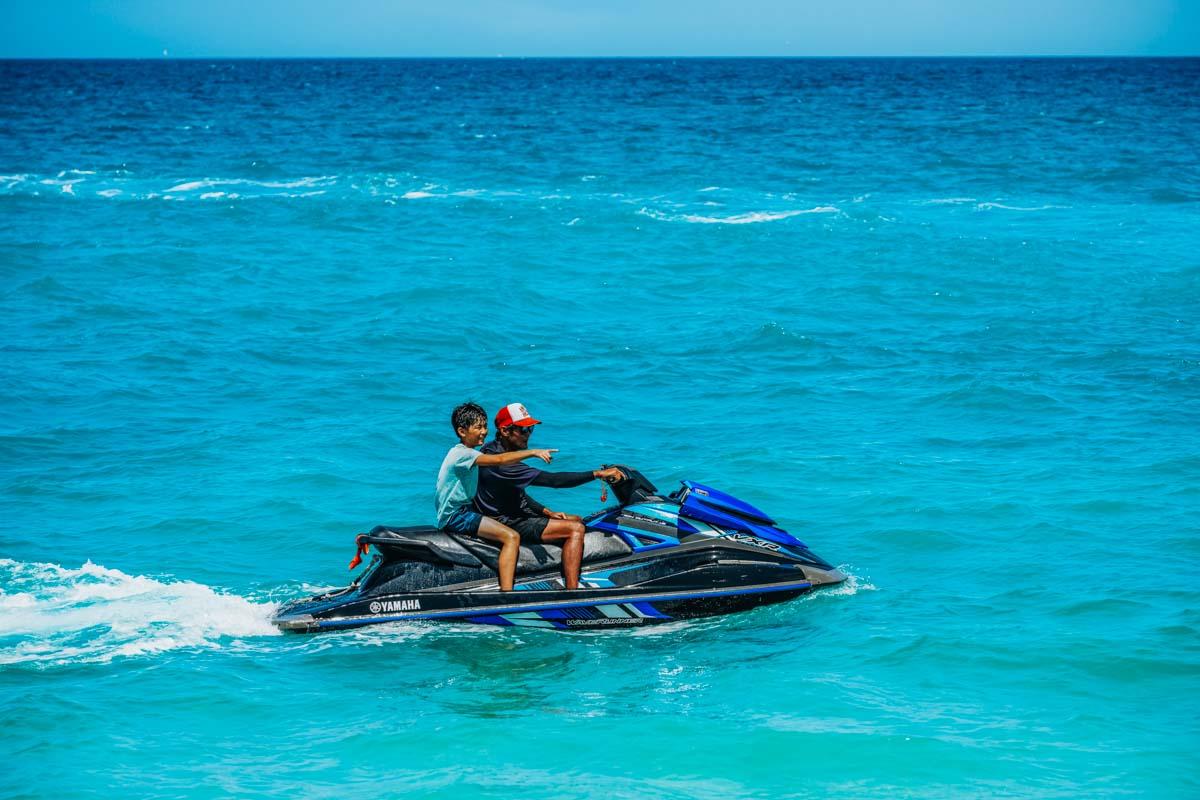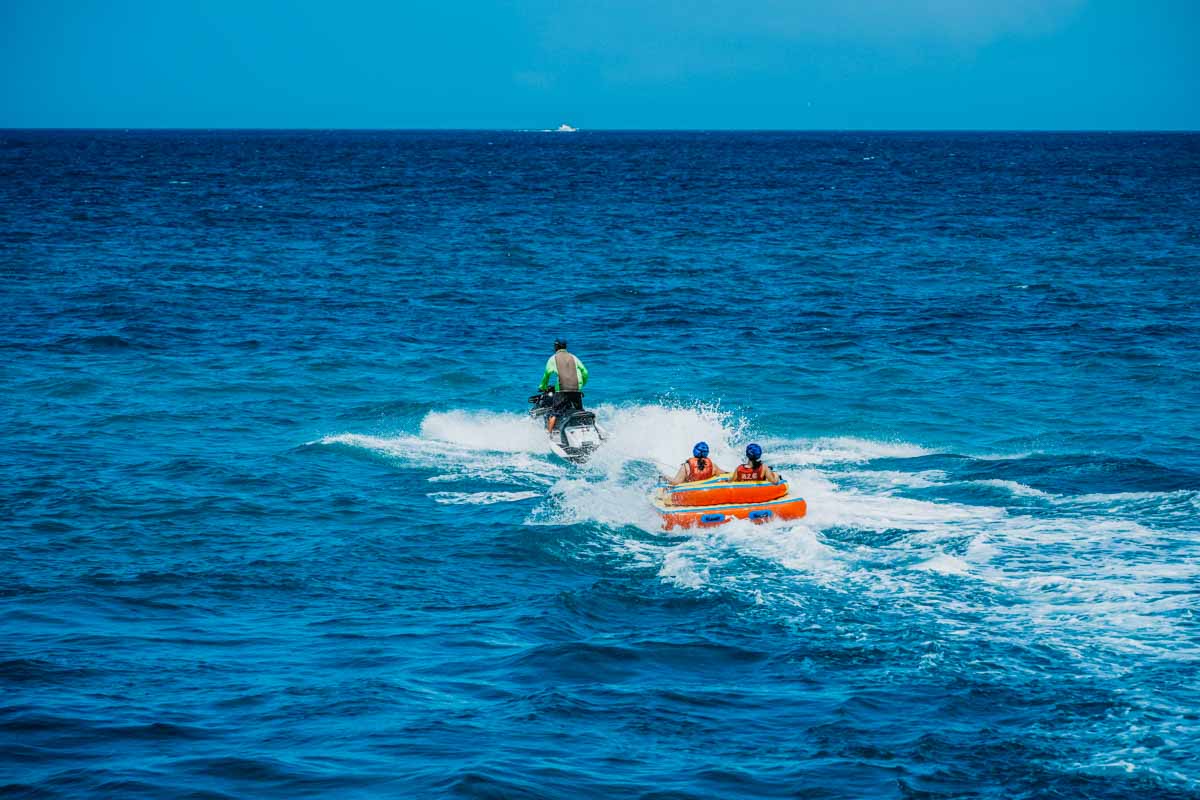 Speedboats are used for the parasailing experiences. And if desiring a slower tempo, head out on your own in the quieter area between the main play zone and Xikan Hill on a stand-up paddleboard or inflatable sea kayak.
A few points to note: on-site personnel usually does not speak English; activity participants must wear life vests and safety helmets (no helmets during snorkeling outings); instruction is provided before all activities.
Mudou Island
While here, many travelers also choose to take a pleasant boat trip to the miniscule island of Mudou, north of Jibei, which can be seen from Xikan Hill and north shore spots. More specifically, it is Mudou's renowned lighthouse that catches the eye out amidst the vast swathe of turquoise water, standing prominent atop the high, pretty much barren rocky outcrop. Looking so lonely out there by itself, it's hard to imagine people once voluntarily lived there. Mudou is the Penghu Archipelago's northernmost island.
A large, open-sided barge-like boat with low prow and sides pulls up close to shore, you wade in and climb a prow ladder, and off you go. A tip: do not sit right at the front – the flattish prow can send up a good deal of spray, and the roof does not extend right to the front, meaning extra sun exposure. The ride, slow and leisurely compared to the Penghu ferries and charters, takes about 25mins one way.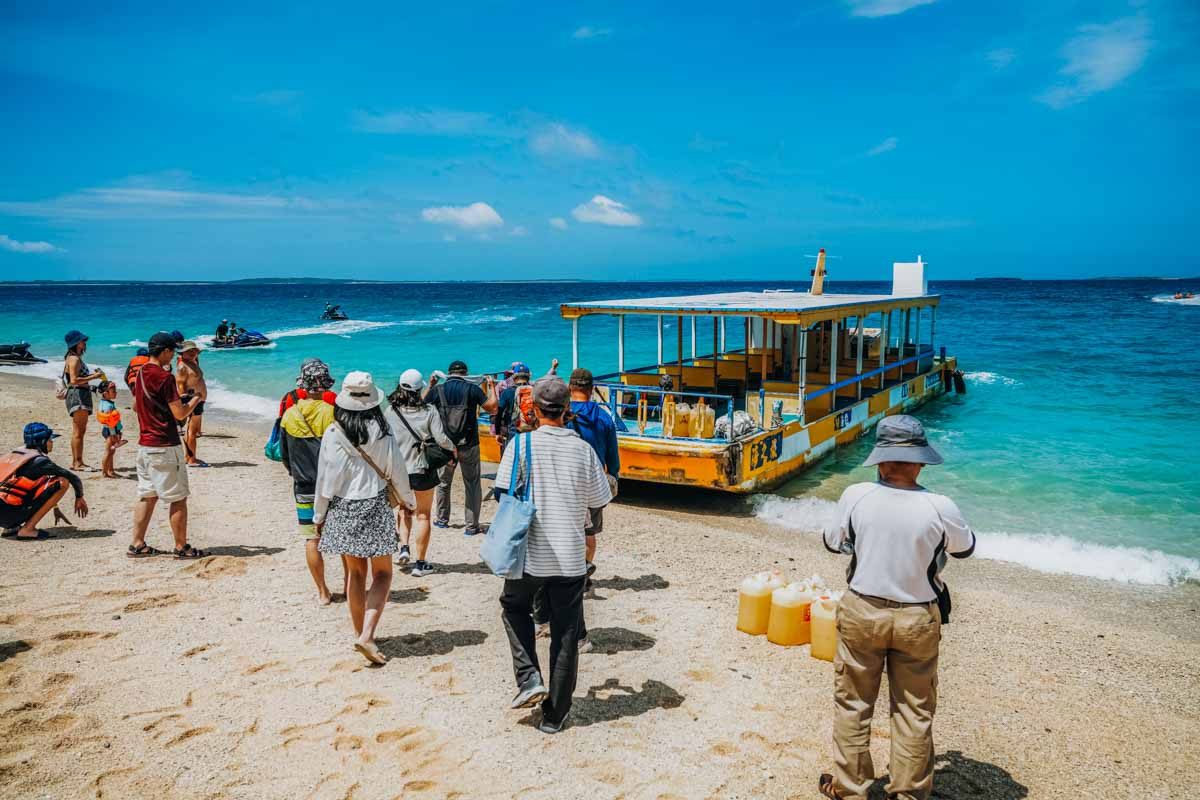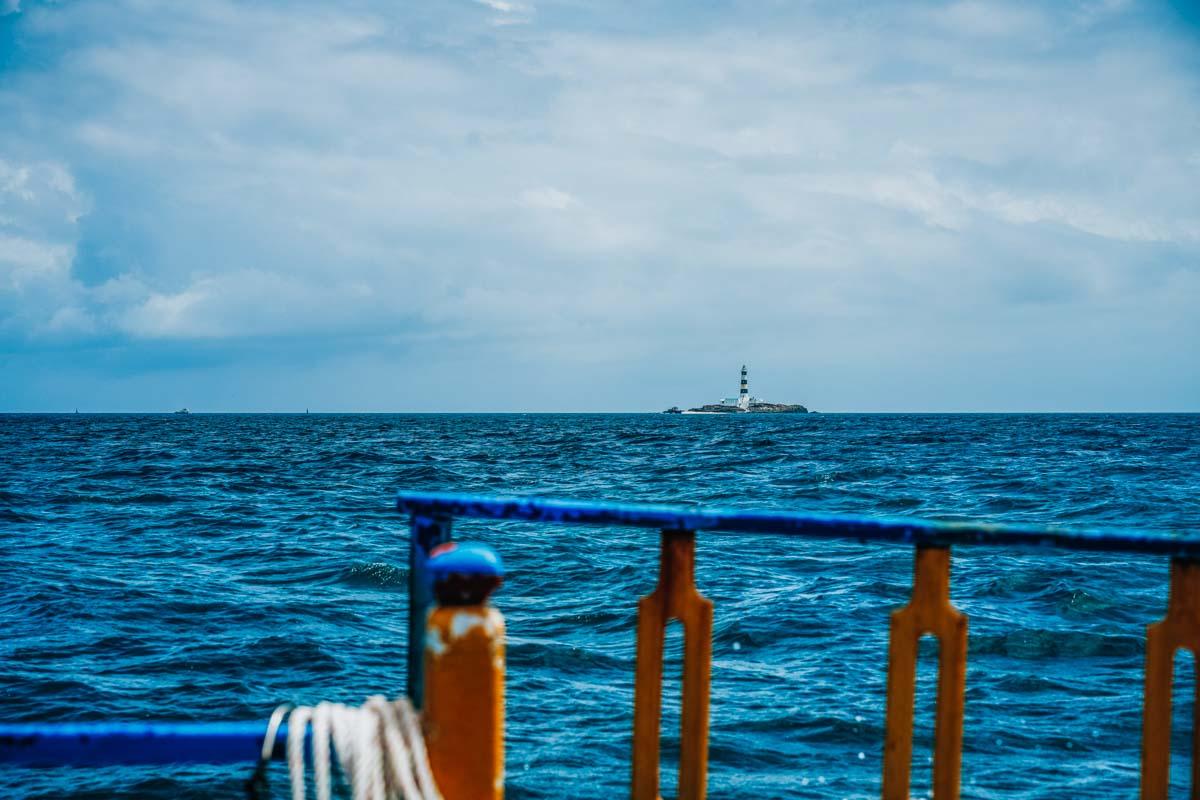 The boat lets you off on a sandy beach beside a high, long concrete pier built to create a sheltered landing spot, and you are then free to wander the rugged, parched outcrop on your own. At a set time after landing, about 40mins, everyone is loaded back on and you're off again, Jibei-bound.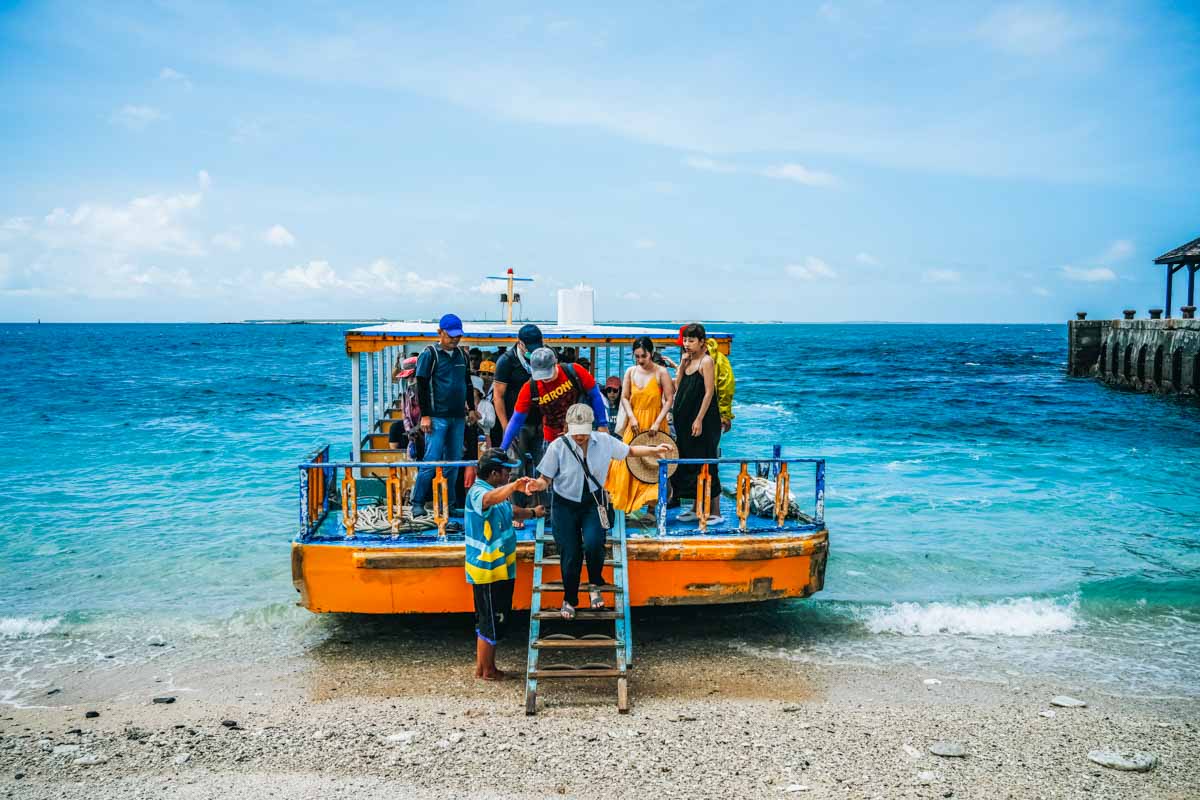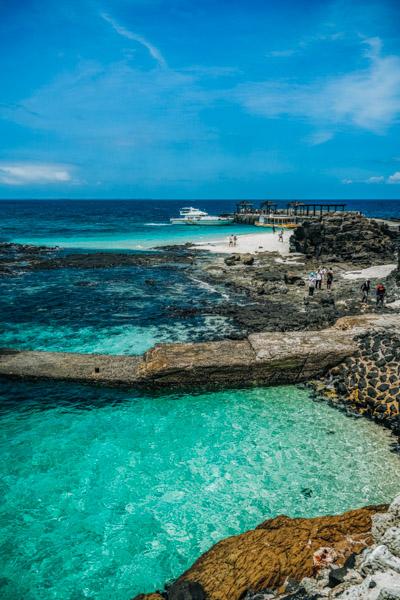 Built in 1902, the Mudou Island Lighthouse has a height of 39.9m. Strikingly painted with thick black and white horizontal stripes, this is the tallest lighthouse in Taiwan as well as the tallest steel-frame lighthouse in East Asia. At its base are concrete-built residential and storage facilities. All are closed to public entry; the lighthouse is now automated. Looking outward from the island's high points, you'll clearly see the ominous black shapes that are the lighthouse's raison d'être – the surrounding waters bristle with hidden reefs that have snared many a passing ship.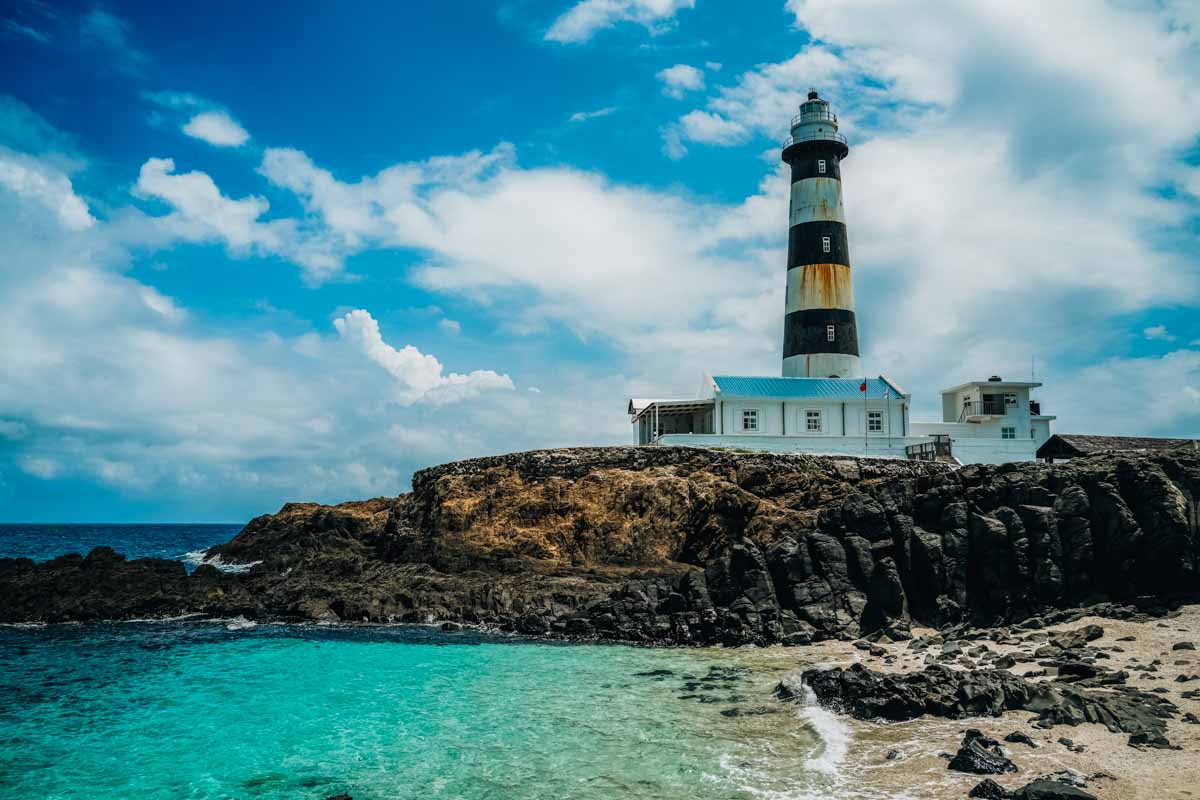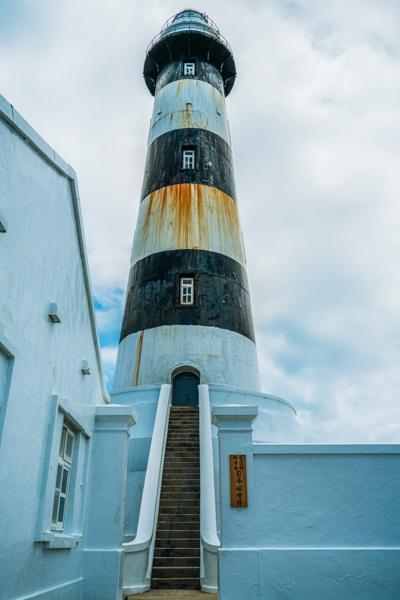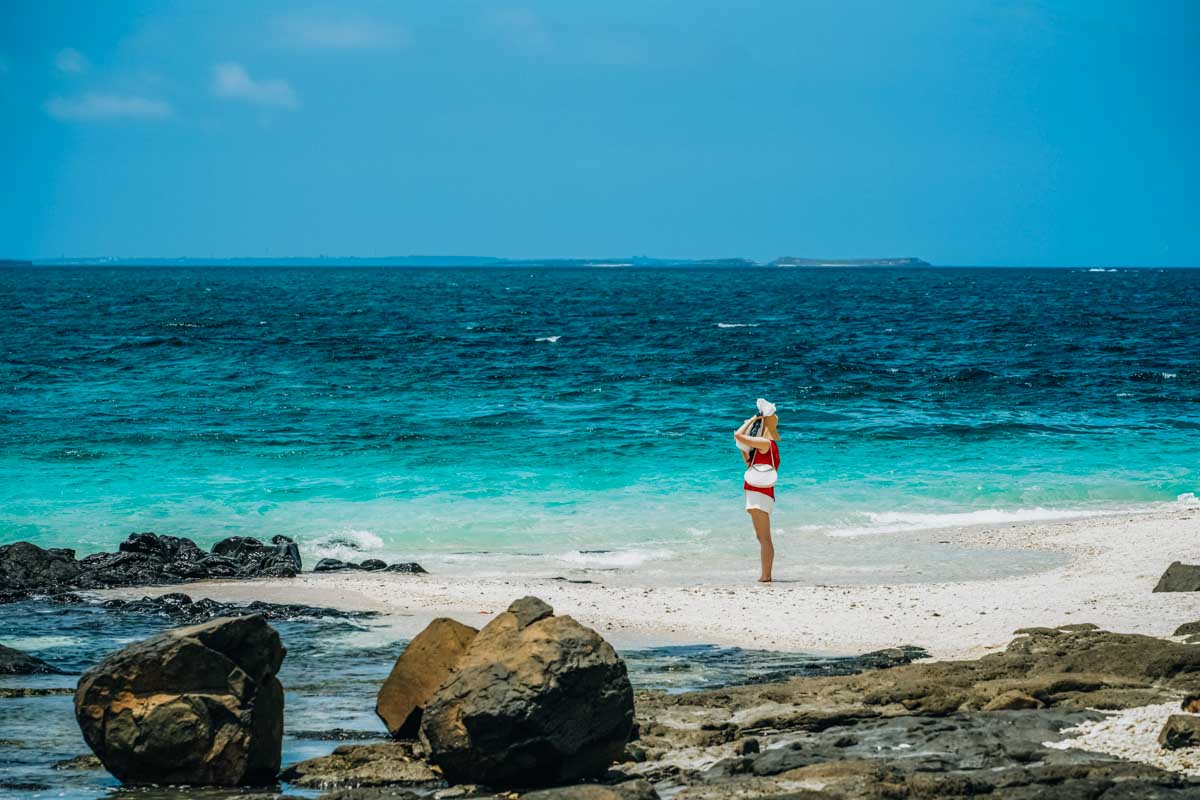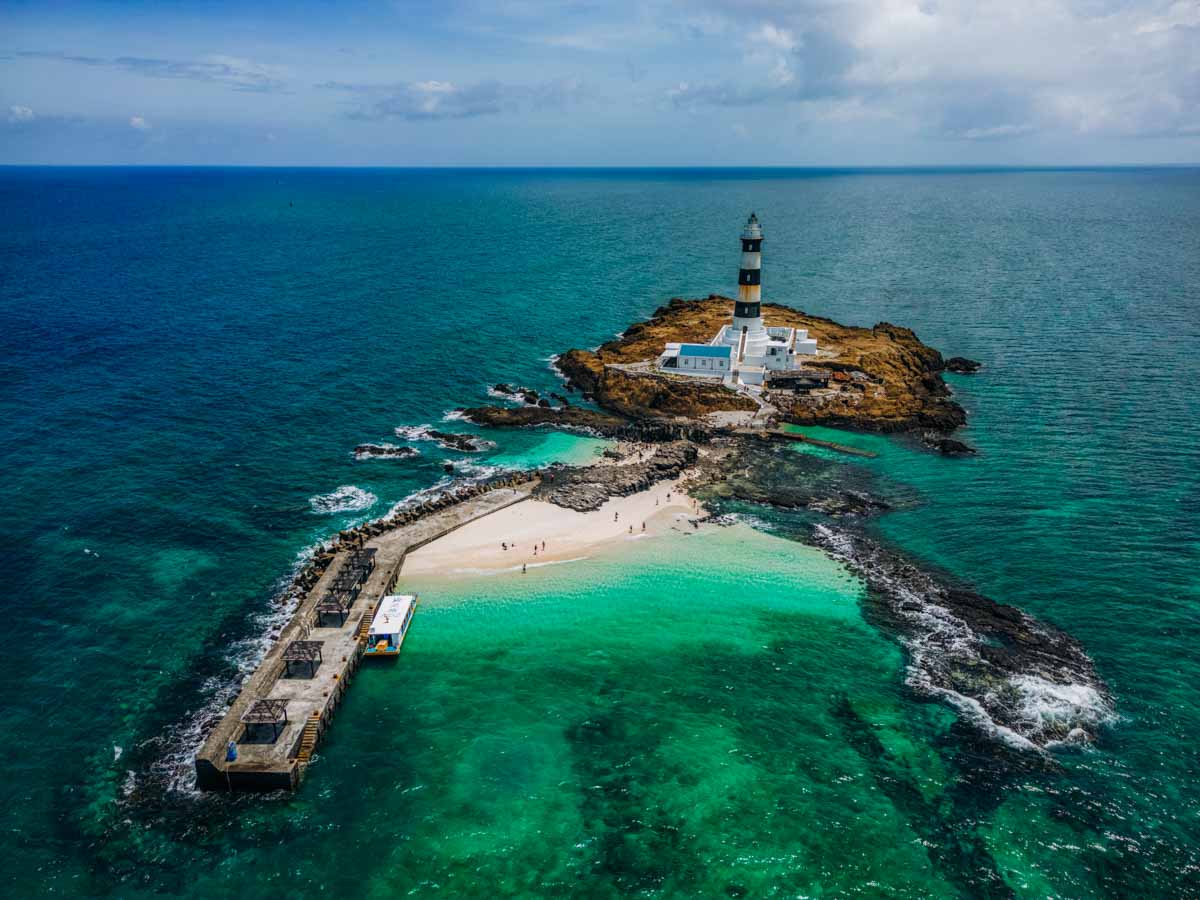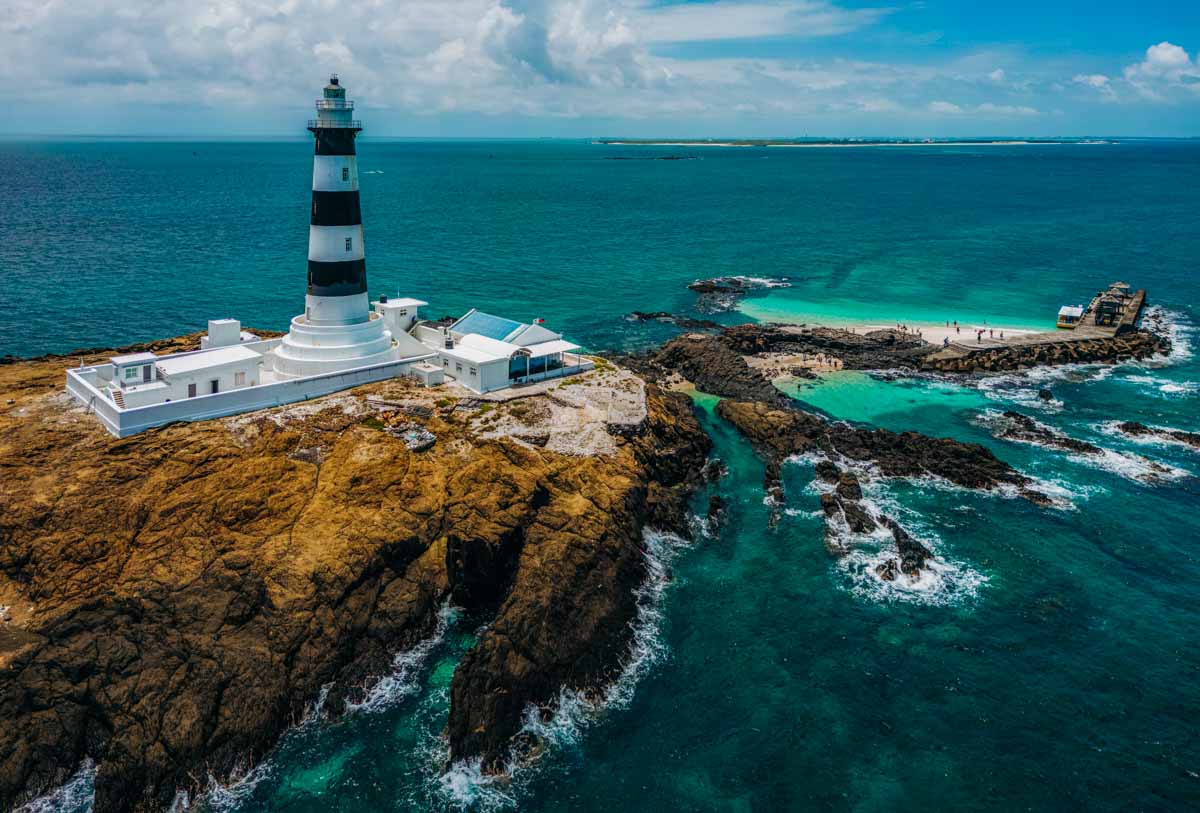 Note: You can buy your Jibei ferry tickets at the harborside North Sea Visitor Center, but it's recommended to do so in advance online (klook.com, kkday.com, etc.), especially during the busy summer season. Tickets for the water-fun activities and Mudou excursion can be bought in combination with the ferry tickets, and this is also recommended.
Southern Islands
Tongpan and Hujing Islands
The place to catch ferries to the various South Sea Islands is the South Sea Visitor Center, at Magong City's Magong Harbor. Note that at the center you'll also find info/ticket desks for operators that offer special boat tours, such as the snorkeling-centered excursion to the South Penghu Marine National Park introduced later.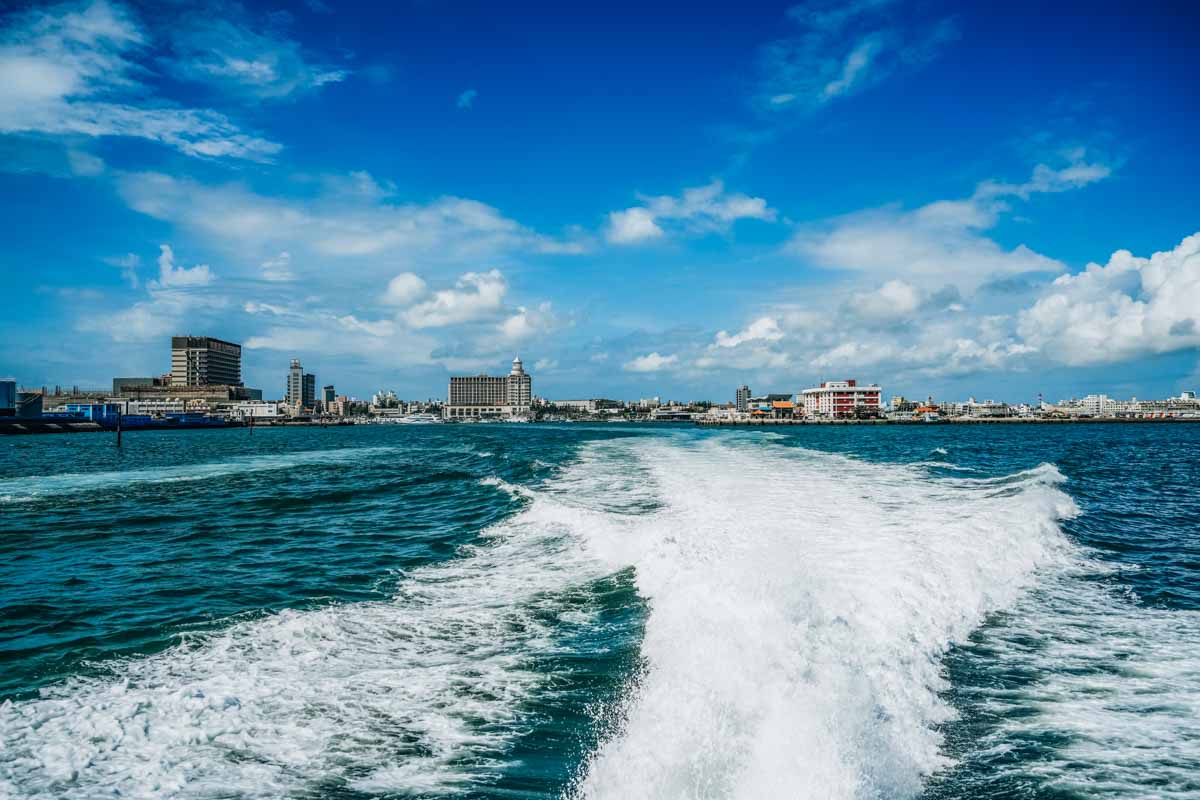 The islands of Tongpan and Hujing, just southwest of Penghu main island, are clearly visible as your craft exits Magong Harbor and makes its south-heading turn. Hujing is much the larger of the two.
Tongpan
Though Tongpan, north of Hujing, has few roads and no scooter rentals, it's small enough that walking is not a problem. This island, famously, has what is considered Penghu's greatest display of basalt columns. It is a typical basalt mesa landform, and a solid exposed shoreline wall of tall and almost perfectly symmetrical columns stretches from the northwest corner to the southwest and on to the southeast corner. This spectacular showcase of nature's wondrous sculptural talent is the focus of the Tongpan Geology Park.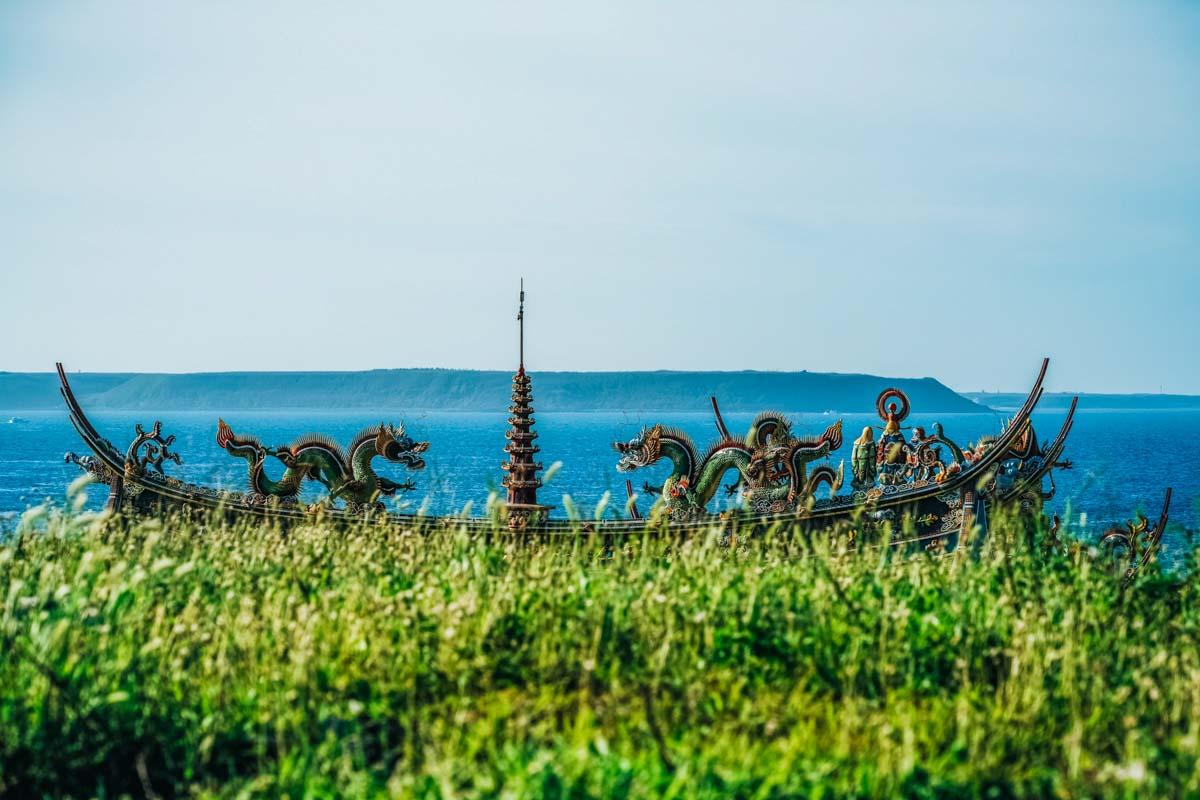 The lone fishing village and harbor are in the middle on the north side. There are few full-time island inhabitants left, and you'll come across many abandoned old residences in and outside the village.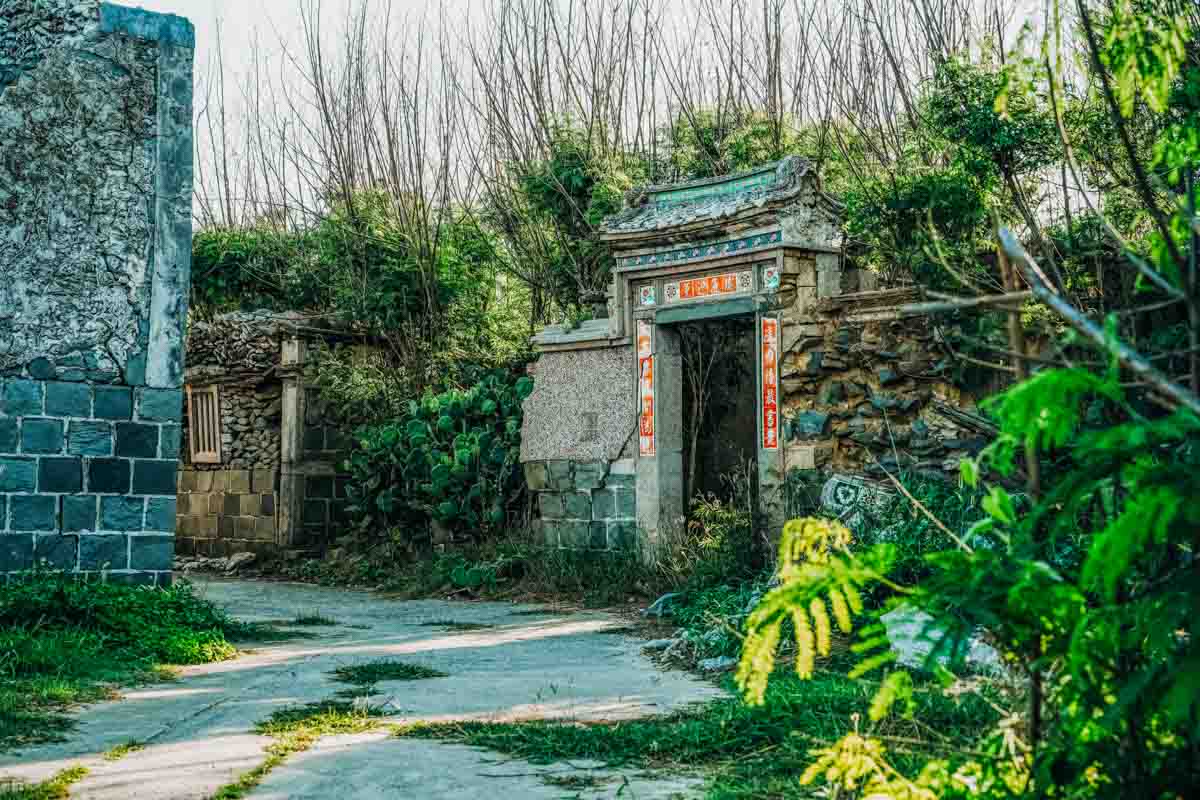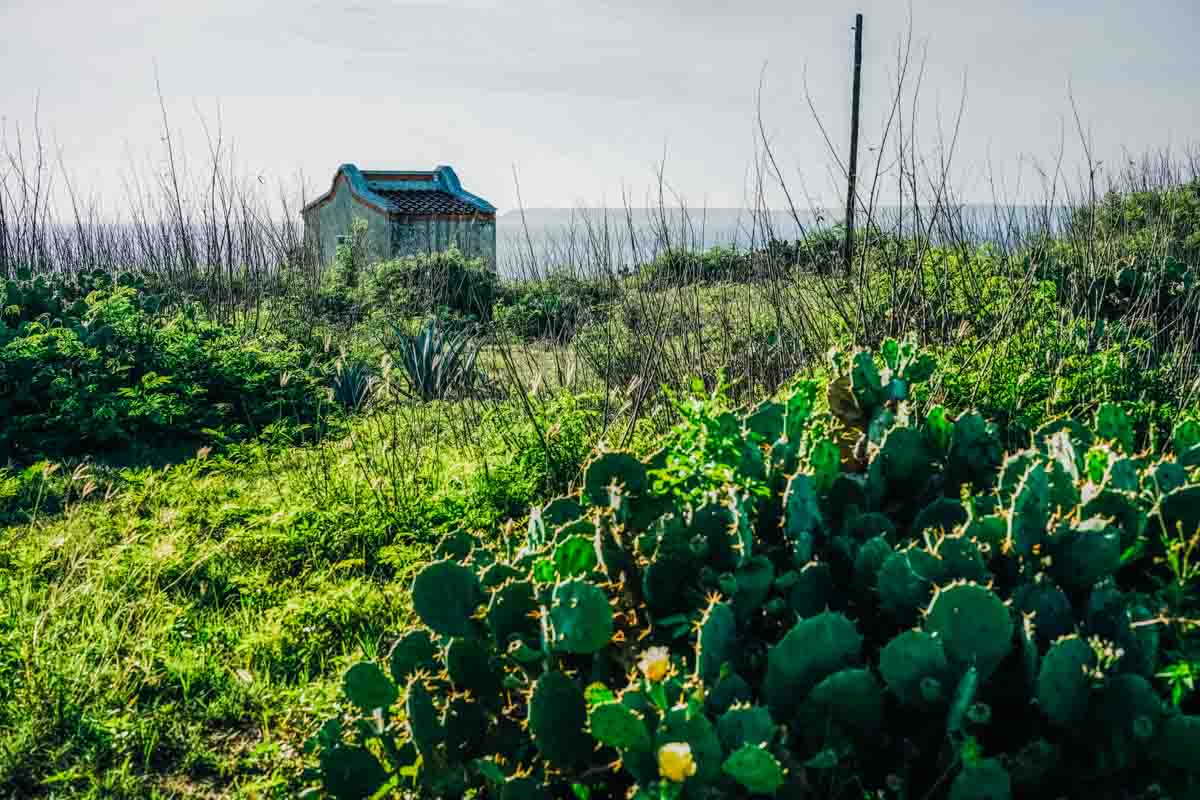 To get to the basalt columns, most tourists take the pathway over the mesa to the southwest area. You can also take a pathway that leads around the island at the base of the columnar cliffs. On the former, you move through a full small neighborhood of abandoned imperial-era traditional residences that demonstrate the wealth this island once produced, with exterior walls featuring cut stone rather than the more common simple coral blocks, and decorated with delicate painted-artwork ceramic tiling.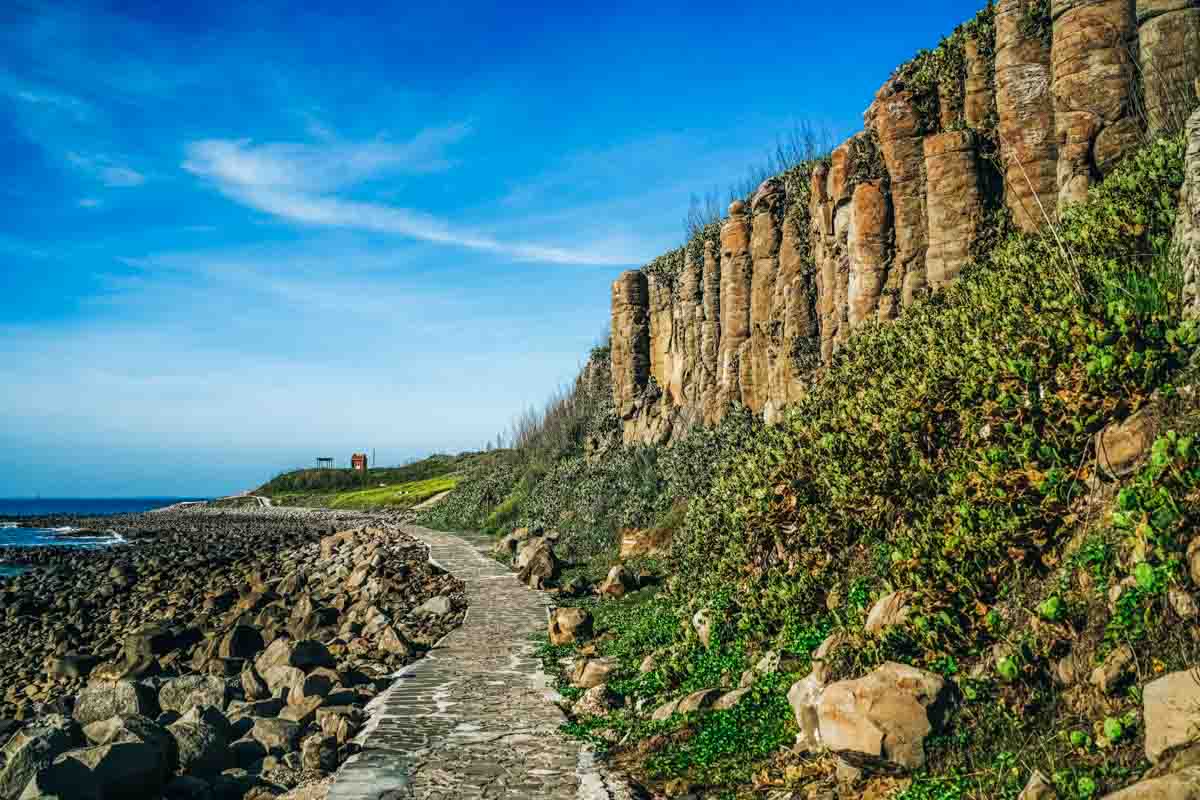 On a sea-eroded platform on the island's southwest shore, accessible via the aforementioned perimeter pathway, is the Lotus Seat. This is a large stepped basin with a raised middle "seat," created from columns in concentric circles eroded down to their roots.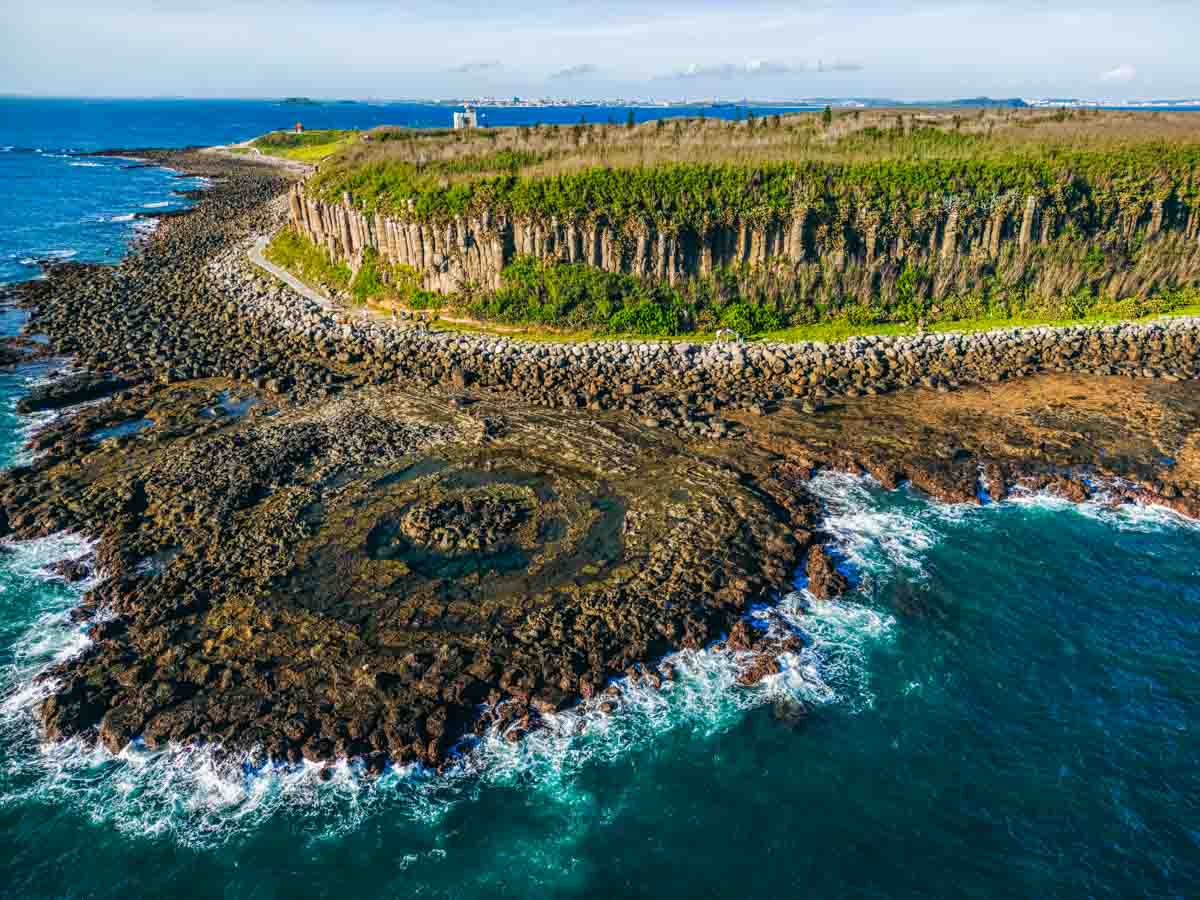 Hujing
Hujing has a distinctive shape that roughly resembles half a giant dumbbell. The middle section, made of gathered sand and coral, is flat and low. This is the location of the island's somnambulant fishing settlement and harbor. The two large "dumbbell ends," Xishan and much bigger/longer Dongshan ("West Mountain" and "East Mountain") are large, high formations made of basalt columns. These are flat-topped and feature steep columned cliffs, some with rock exposed, some covered with vegetation.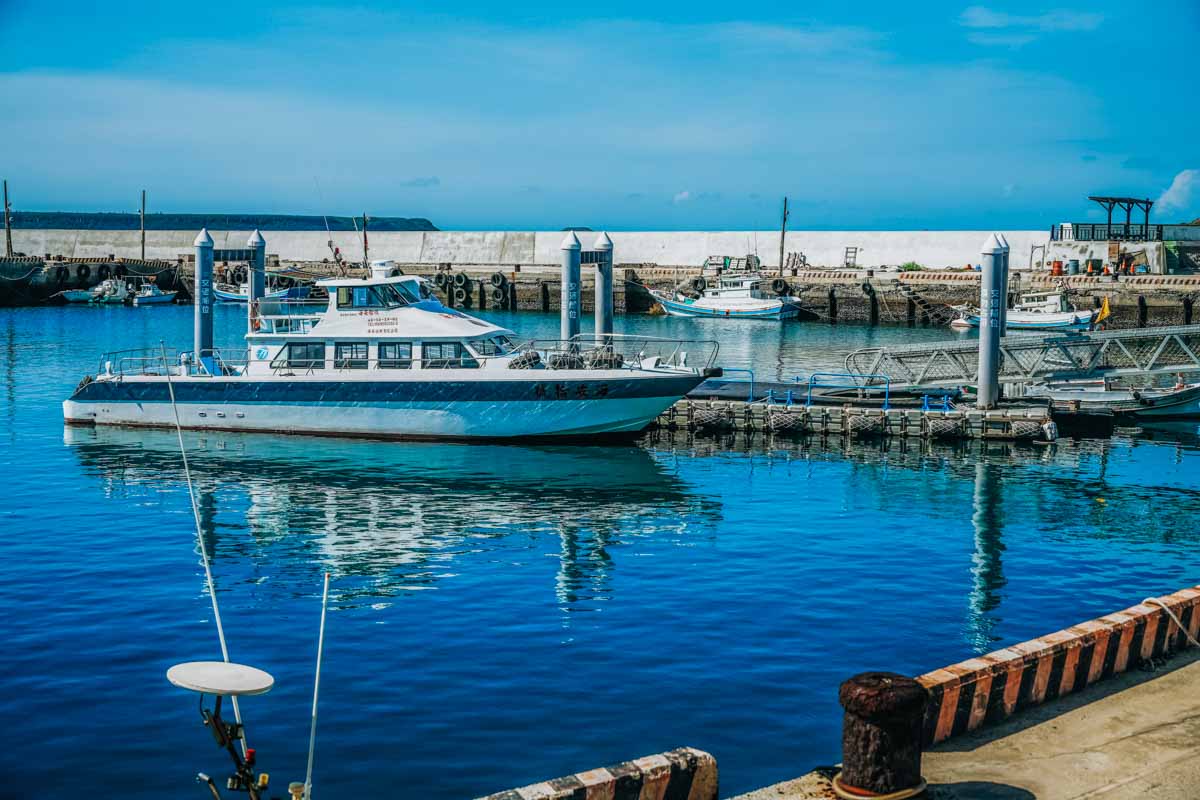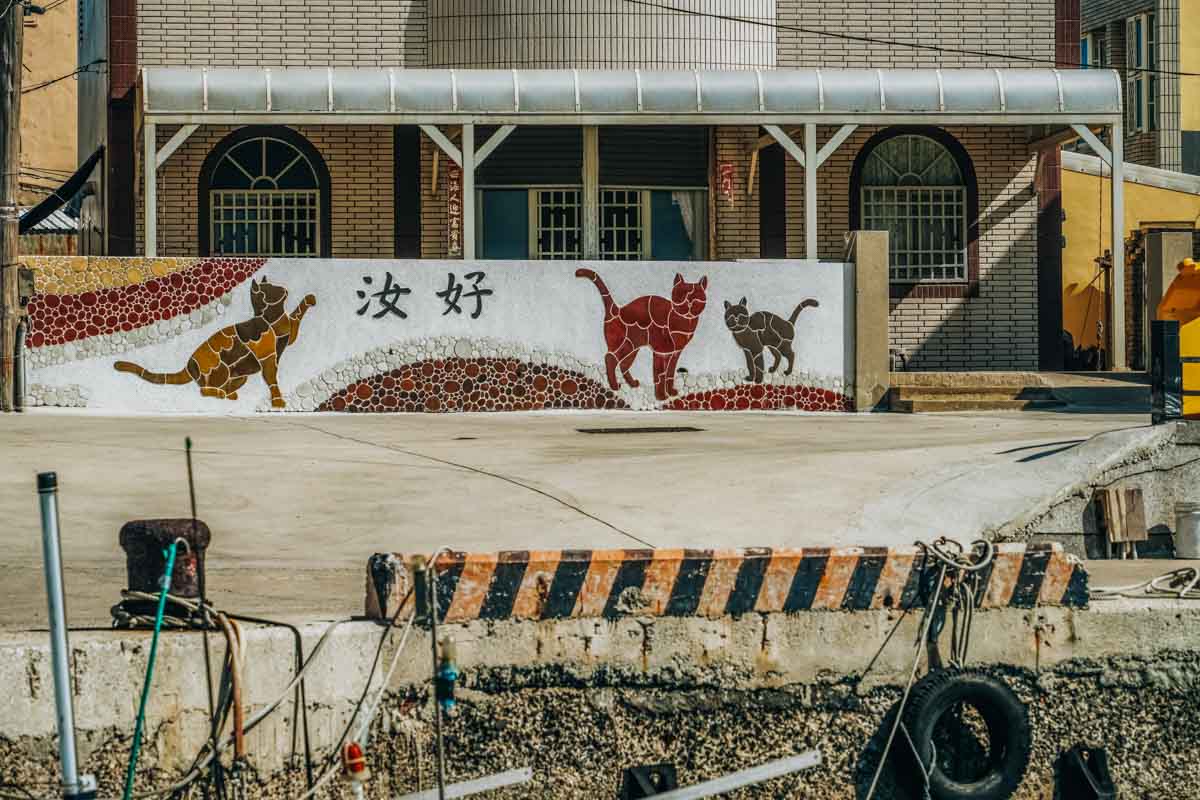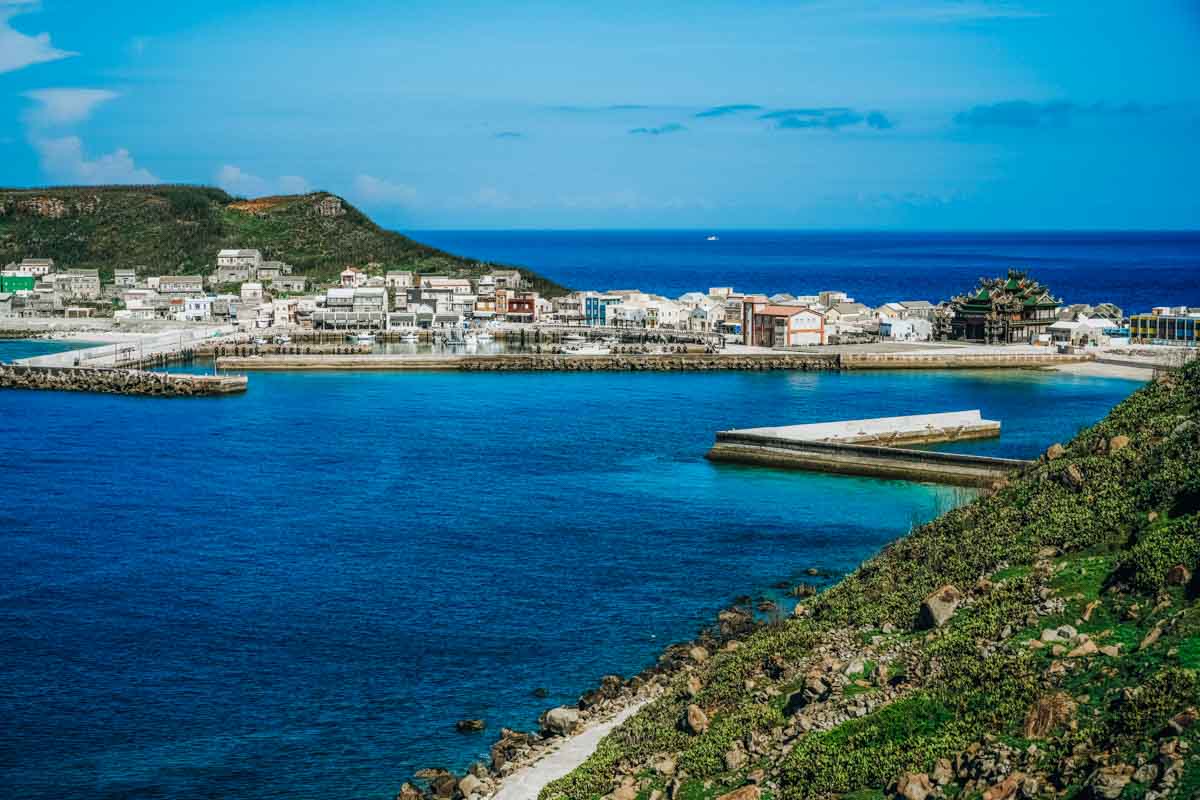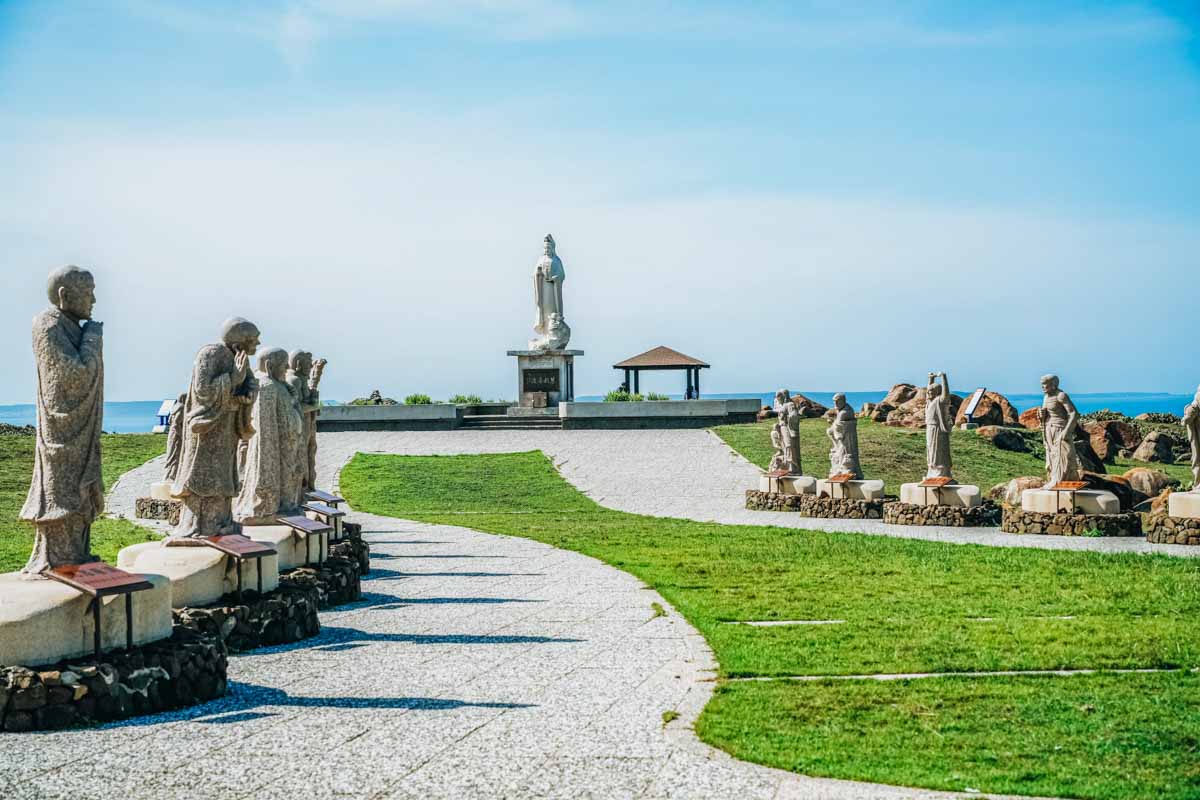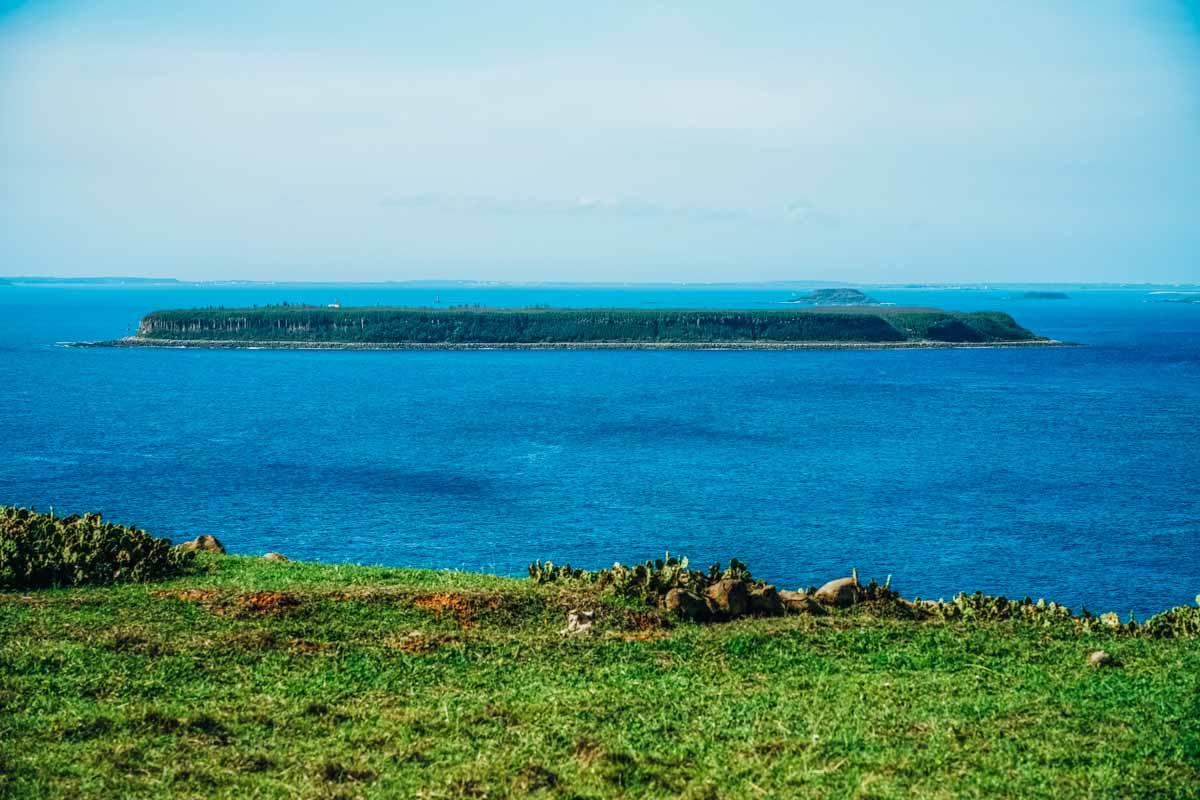 Visitors are limited to the village and Xishan area; the Dongshan area is a military restricted zone with limited access for locals. Up on Xishan, on the north is cliff-edge Guanyin Park, a small, tranquil grass-lawn park dramatically filled with large Buddhist statues of the Goddess of Mercy and 18 Arhats, plus a Ping An ("Peace and Security") Bell. About mid-way along the plateau road you pass through an area thick with abandoned military facilities, all accessible on foot (no entry inside structures), including a command post, bomb shelter, barracks, and pillboxes. And in the southeast corner is another grassy cliff-edge park, this with a Tropic of Cancer theme that looks directly down into Hujing's fishing village. A long, wide blue Tropic of Cancer marker line runs along flagstone pavement, "pointing through" two sets of large Lotus Hands statues off either end, through which graceful framed scenic photos can be taken.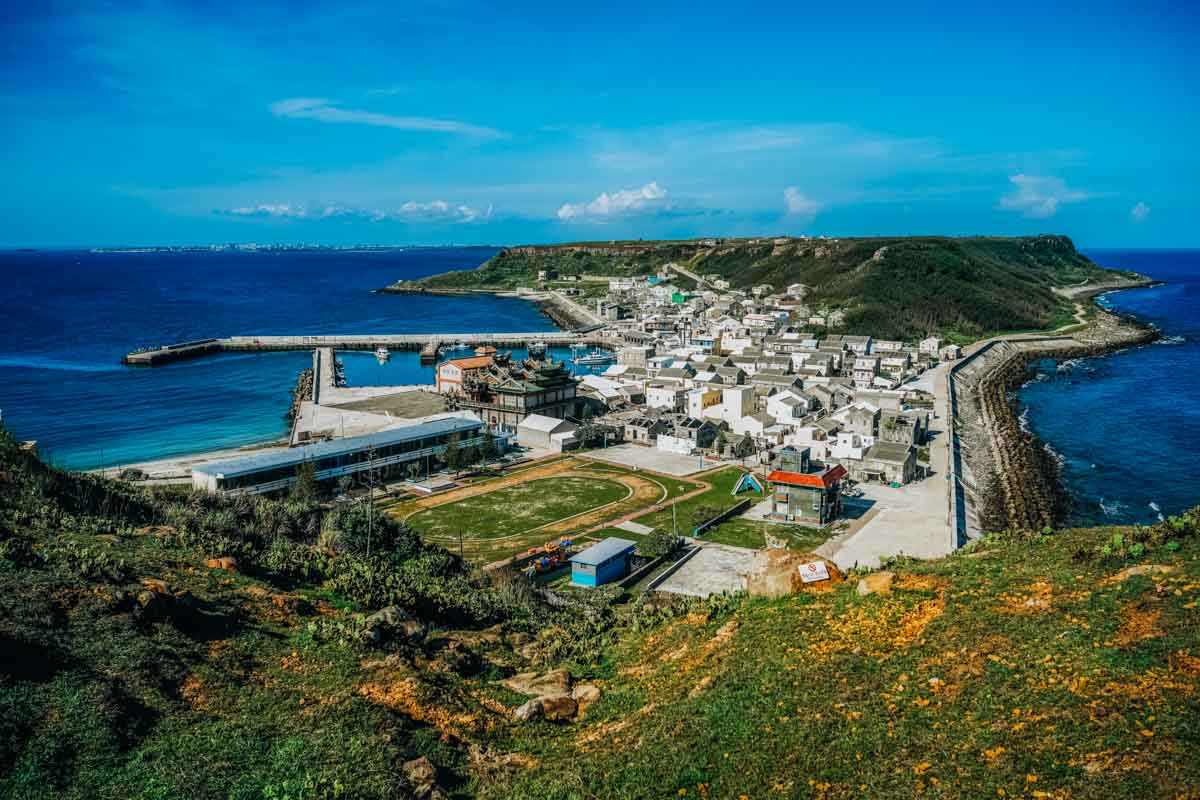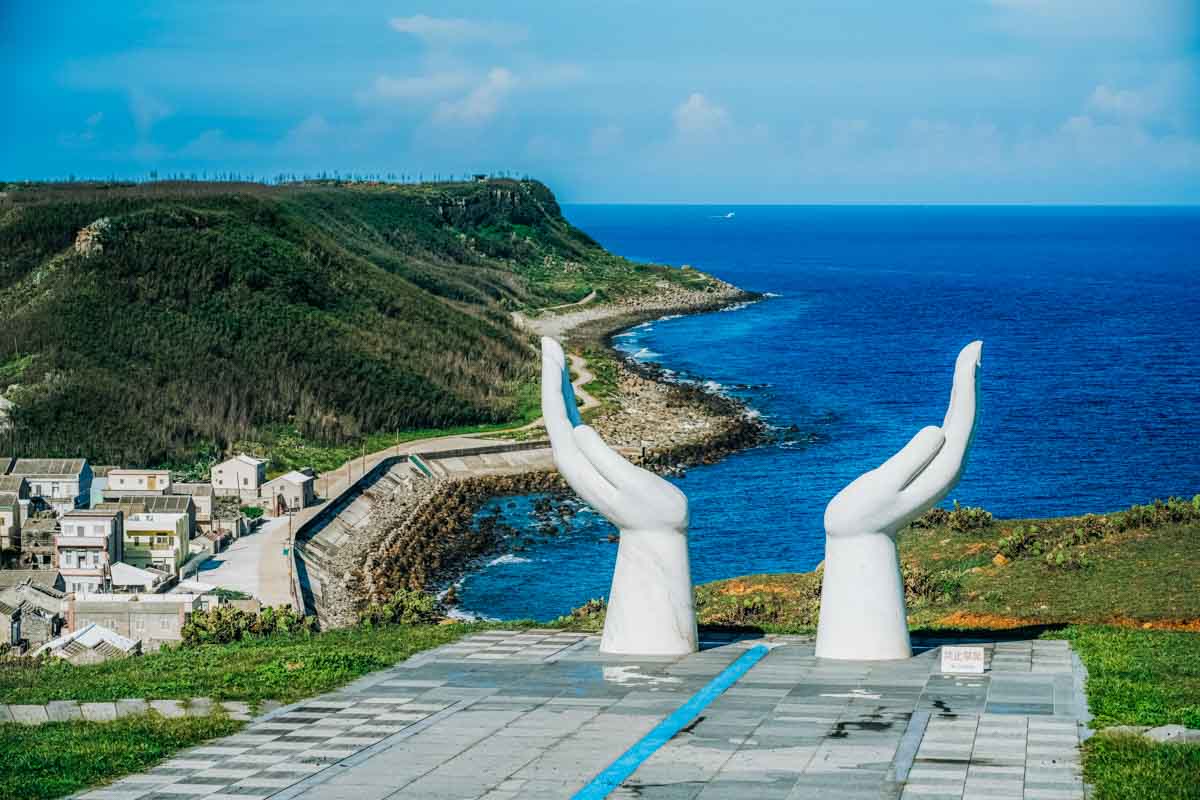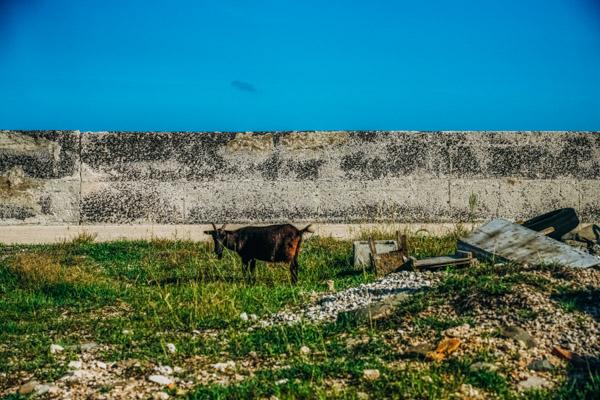 Southern Islands
Qimei and Wang'an Islands
These are the two largest islands in the South Sea, and Qimei is the region's southernmost.
On Qimei, you head out east from harborside in the southwest along the island-perimeter circumnavigation road and quickly find yourself atop its wide grassland plateau, the road providing terrific views down to the rocky shores from along plateau-edge lookouts.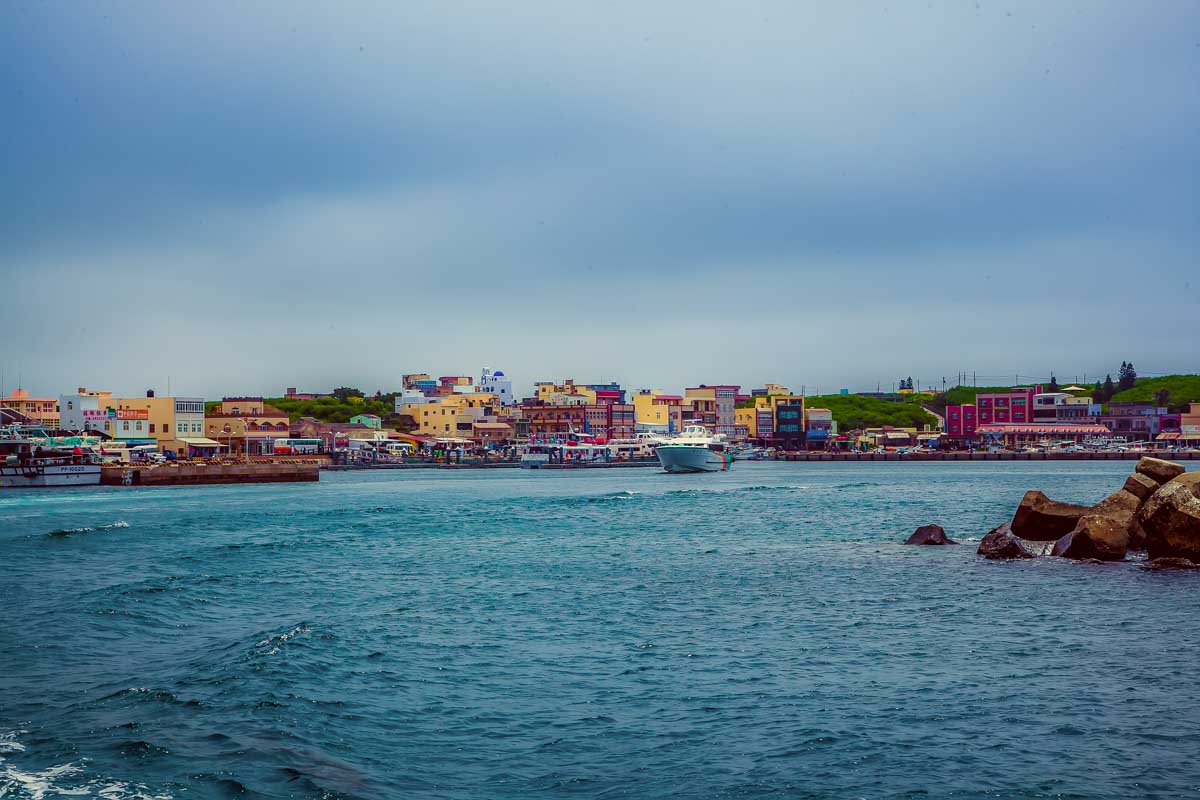 Meandering grass-chomping goats far outnumber wheeled vehicles – even the hordes of tourist-toting scooters in high summer. Qimei's iconic symbol is the Twin Hearts Stone Weir, at its northeast tip, which can be reached from the top of the adjacent bluffs via a paved, stepped path. The romance and scenic beauty of this place entice a steady tide of soon-to-be-newlyweds for wedding-photo shoots.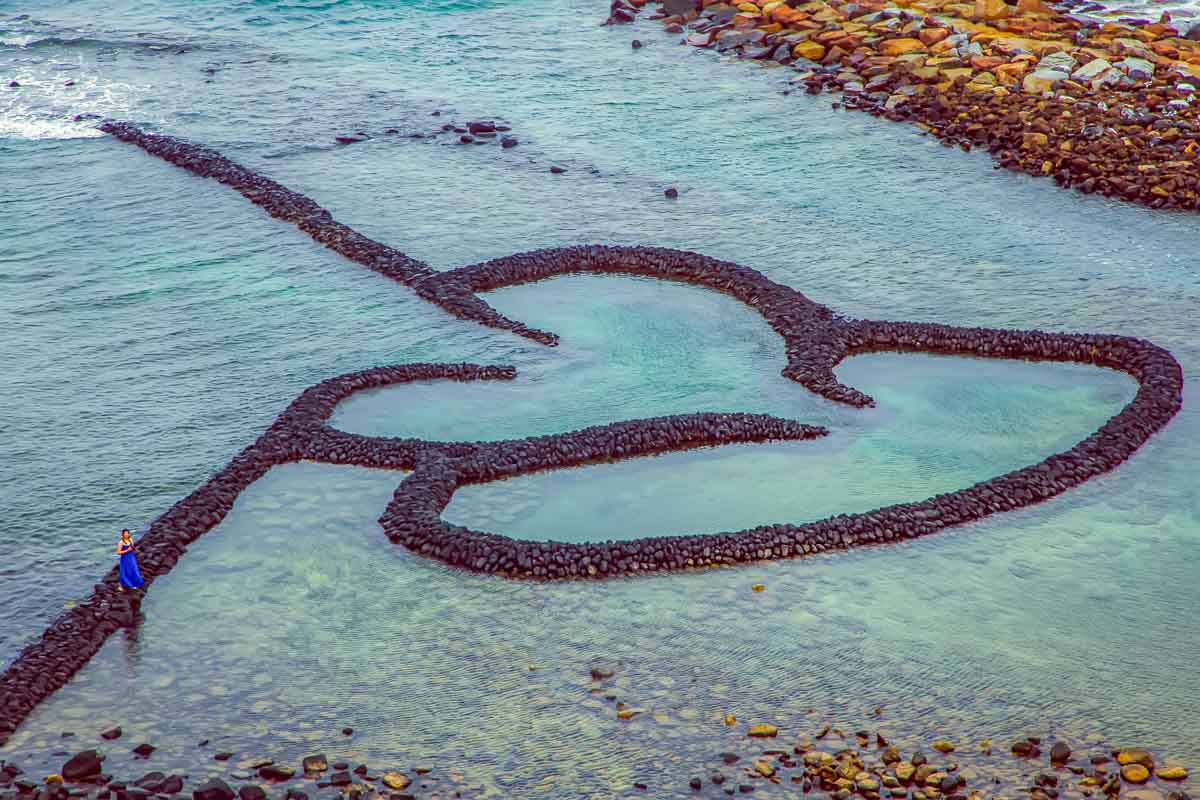 Another key Qimei enticement is the island's shoreline collection of unusual nature-art rock formations. Best-known is Little Taiwan, about mid-way on the east side, a giant flat stone slab that sticks out from the mainland and does look uncannily like a map of mainland Taiwan, with its distinctive tobacco-leaf shape.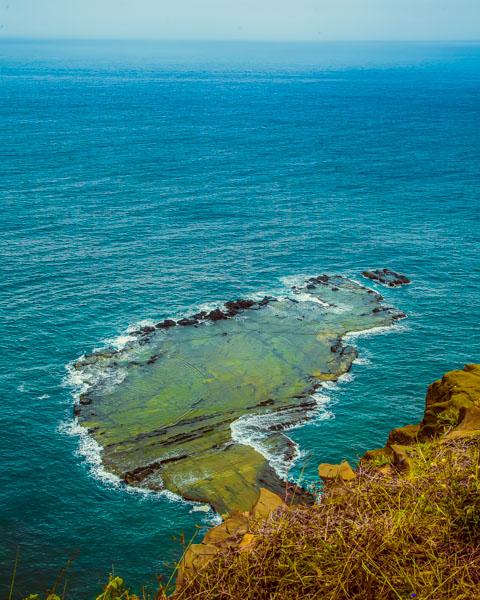 South of this on the east side, a short side road leads down to the Yueli Bay Recreation Area, site of a lovely arcing bay, Qimei's sole sand beach (soft white coral sand). The coral reefs in the bay and abundant colorful tropical fish make this a great snorkeling spot; guided sessions and camping facilities are offered.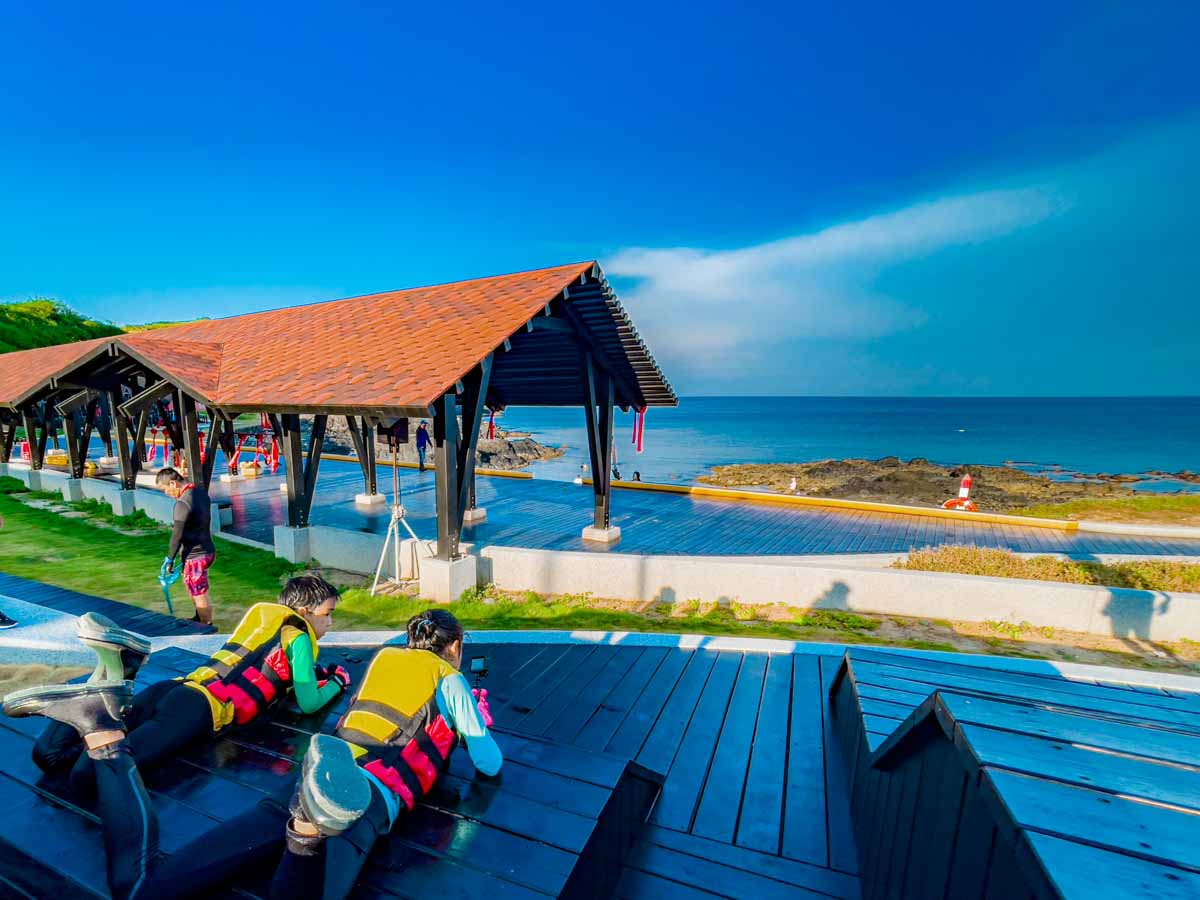 The name "Qimei" means "Seven Beauties". Legend says the Tomb of the Seven Beauties, on the plateau just southeast of the harbor, is built around a well down which chaste Ming Dynasty damsels tossed themselves when ne'er-do-well wako pirates attacked.
Wang'an is to Qimei's northeast. Low in the south, it rises to 53m (Tiantai Hill) in the north. Studded by peninsulas, its main road does not strictly follow the coastline; you take side roads to get out to the peninsula tips.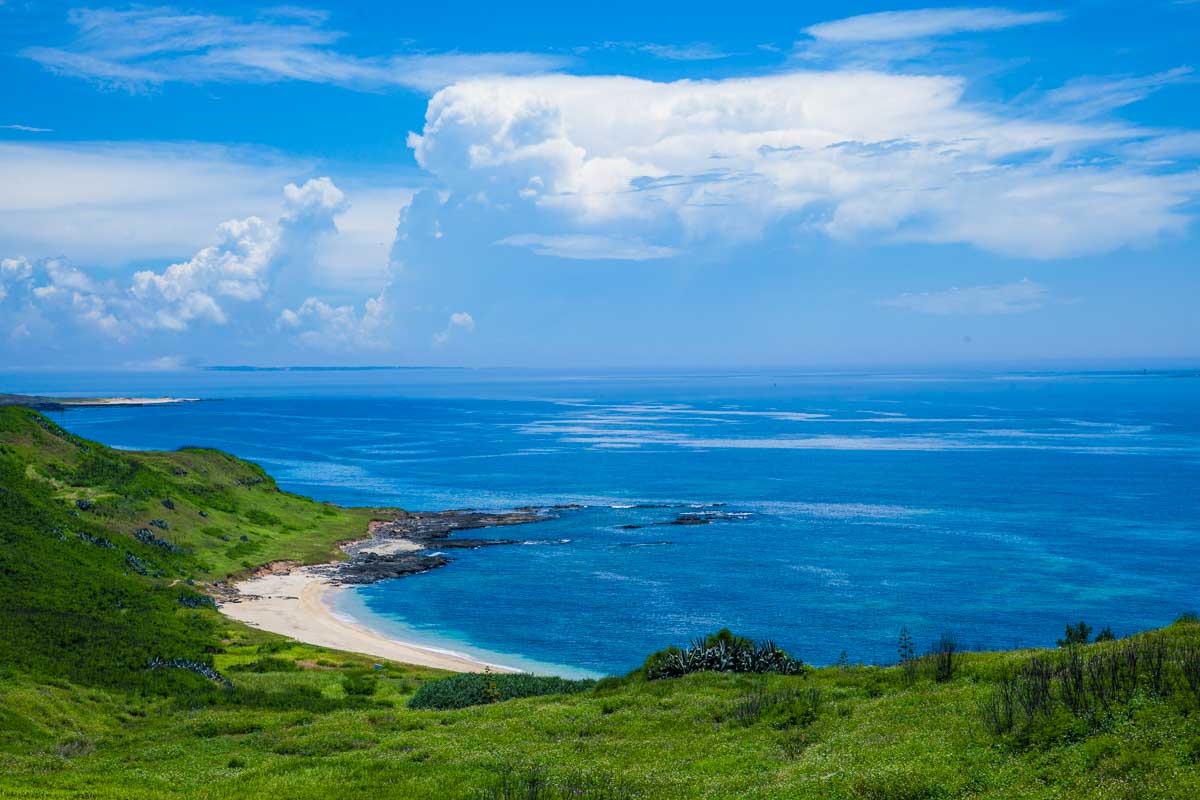 The ferry harbor is in the southeast. Clearly visible to the east, across a patch of water, is the small island of Jiangjun'ao (see next section) and its single, building-dense fishing village. Immediately north of the ferry harbor is the Wangan Green Turtle Tourism and Conservation Center, overlooking a protected sandy beach where sea turtles come to lay their eggs (guided in-season viewings, with limited spaces). Its exterior is in the stylized shape of a turtle, and inside are displays on Penghu's marine ecology, with English provided. There's an English introductory video, and English-speaking guides can be booked. The highlight is a small aquarium that is a temporary home for turtles undergoing rehabilitation after being found sick or injured.
Mighty Tiantai Hill – at least in comparison to the flat land and sea surrounding it – presents boundless views over Wang'an and its numerous nearby islands. The mount has a high basalt-column foundation, with a dramatically exposed seaside section viewable to adventurous types willing to tackle the in-places steep 15min pathway walk from the hilltop.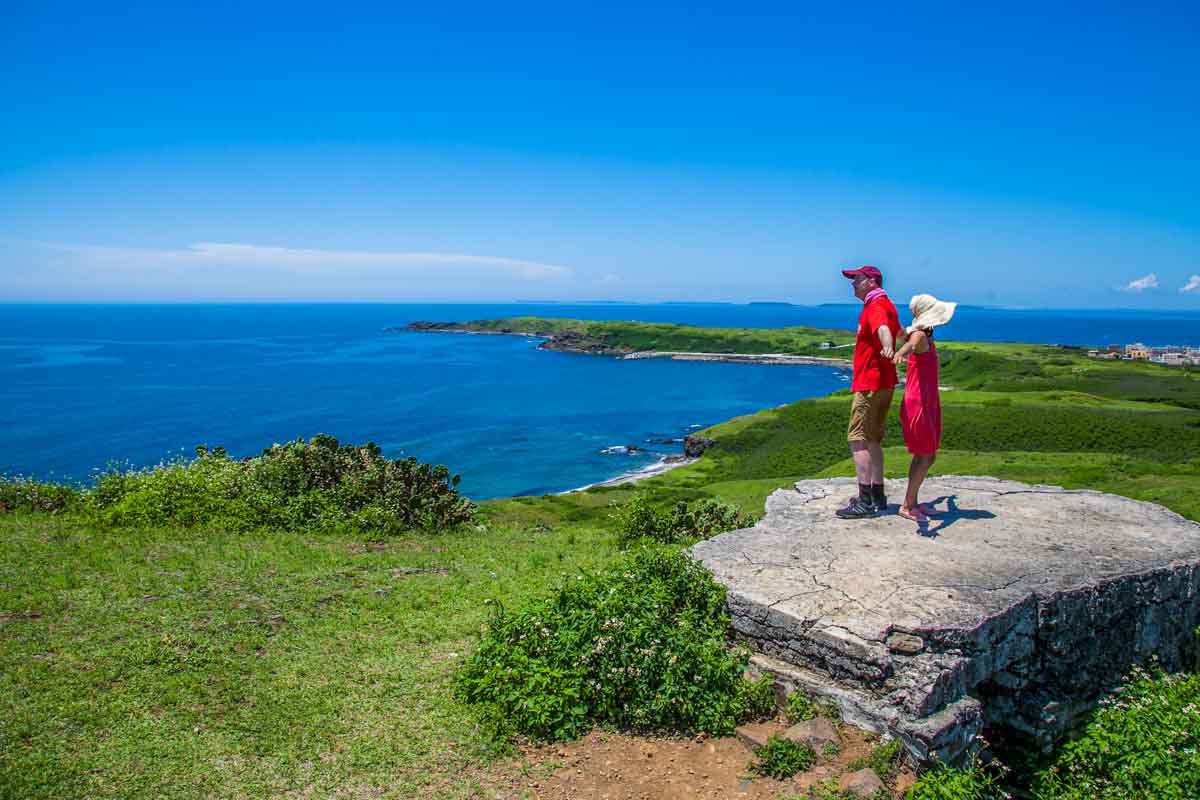 Zhongshe is an old fishing village of narrow alleys and tight-clustered heritage residences (protection against wind and pirate attack) dating to China's Qing Dynasty era, almost all stone/coral-built. The majority are still inhabited, and many have been returned to their original state to attract tourists. The refurbished homes of the rich of former days are easy to identify – white stucco covers exterior walls to reflect the intense sun, and exteriors are decorated with elegant glazed ceramic tiles featuring individual paintings.
South Penghu Marine National Park
This park, created in 2014, is southeast of Wang'an, northeast of Qimei. Just under 360 square kilometers in size, it contains four islands and numerous islets. As elsewhere in Penghu, these feature basalt landforms, including columnar-basalt formations. The park area was once home to thousands of humans; today there are less than a hundred permanent residents. Cold weather in 2008 and 2010 severely impacted marine life around Penghu – the warmer southern area somewhat less so than the northern – and the park was thereafter established as a protected Penghu "germplasm bank." Among its underwater denizens are 254 fish species, including 28 since discovered, and 154 coral species.
For a visit, consider the Blue Paradise One Day Tour by Penghu Coral Reef Travel (www.excitingpenghu.com.tw), a full-day snorkeling/yacht touring guided adventure. You meet up at 8 in the morning at the South Sea Visitor Center and are brought back between 5-7 in the evening. Some of the key highlights: snorkeling prep and coral-reef snorkeling off two different South Sea islands, one inside the marine park; an eco-walk on an unpopulated reef island; a seafood feast on a large open-water moored barge, followed, after a rest, by barge-based water fun ("cliff jumping" from second level, "sea walking" contest on floating pads, etc.). As well, all through the day the Coral Reef Travel crew will be providing info (in Chinese) on a wide range of topics – ecology, culture, history, etc.
Your first stop is the aforementioned Jiangjun'ao – more specifically, a moored double-decker barge off the island, just meters off Jinguazai Reef, a tiny uninhabited island. The first guided snorkeling session is in the calm, shallow waters here.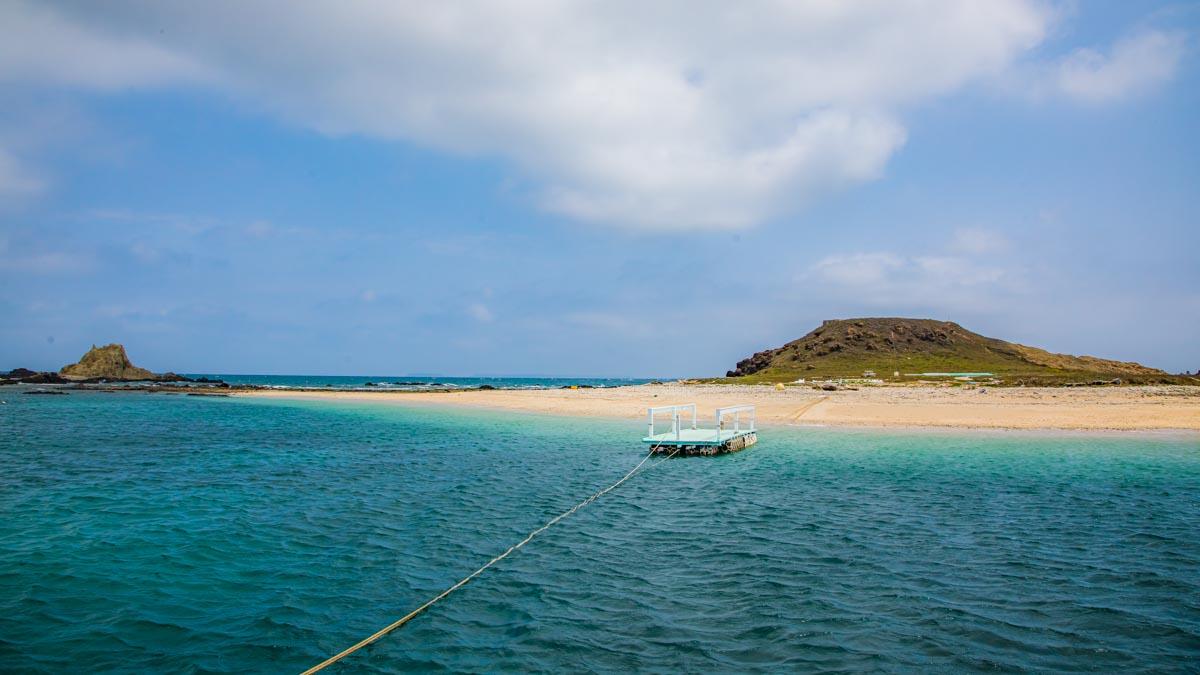 After this, a boat run further south into the marine park, to a broad bay on the island of Dongyuping's north side, passing the park's dramatic-outline, soaring Steeple Islet (no access permitted), an important tern-breeding spot.
In the bay, an open-water snorkeling adventure; you jump in right from the boat, a hundred-or-so meters offshore directly before an ancient, mostly abandoned fishing village with many traditional Penghu coral-wall houses. The winds, waves, and currents are stronger here, and the underwater community more lively and colorful – turtles and stingrays are sometimes spotted.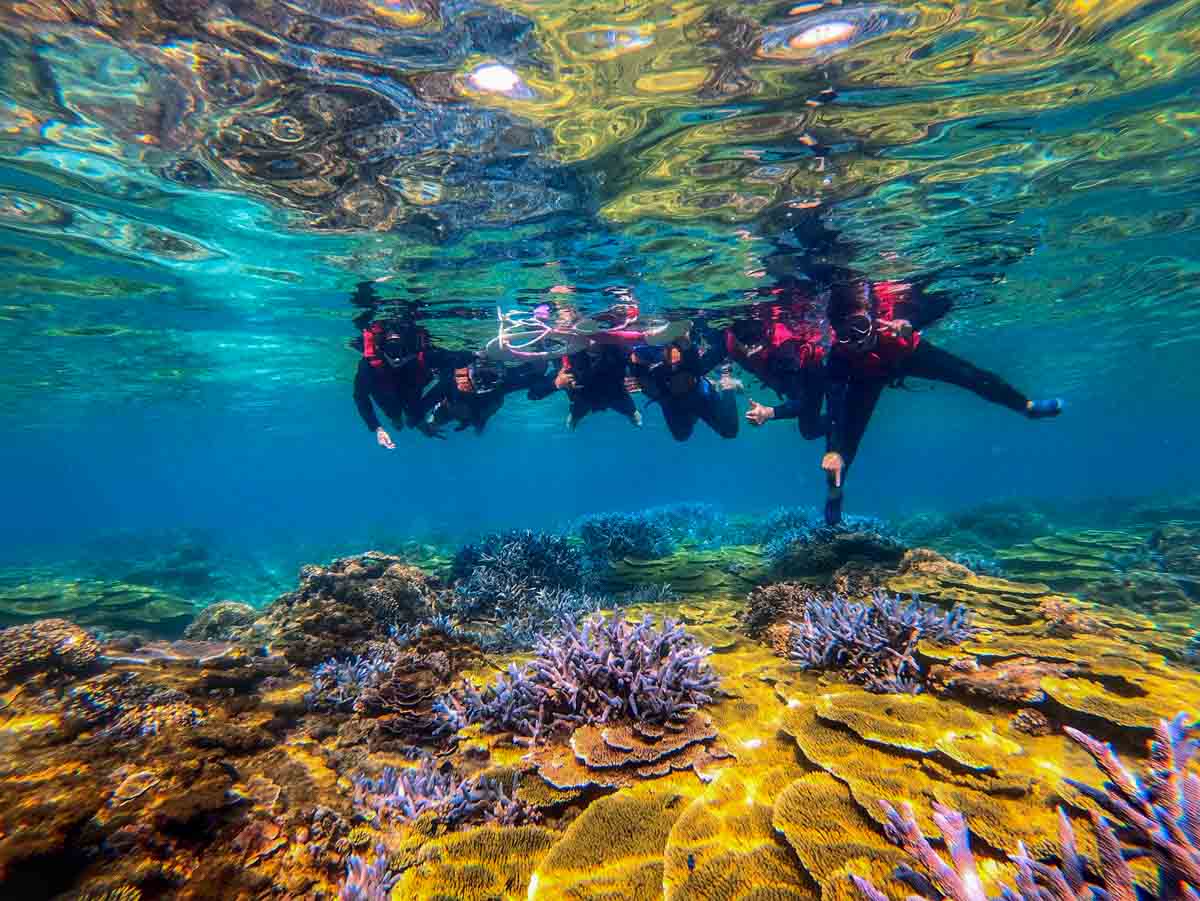 Now, a boat ride back to your barge base, where you're first taken for an eco-walk on Jinguazai Reef, which is a few hundred meters in diameter and has a 30m-high mini-plateau area in the middle, followed by a hearty seafood meal on the barge – downing neritic squid, large prawn, oyster, abalone, and other fresh-harvested bounty.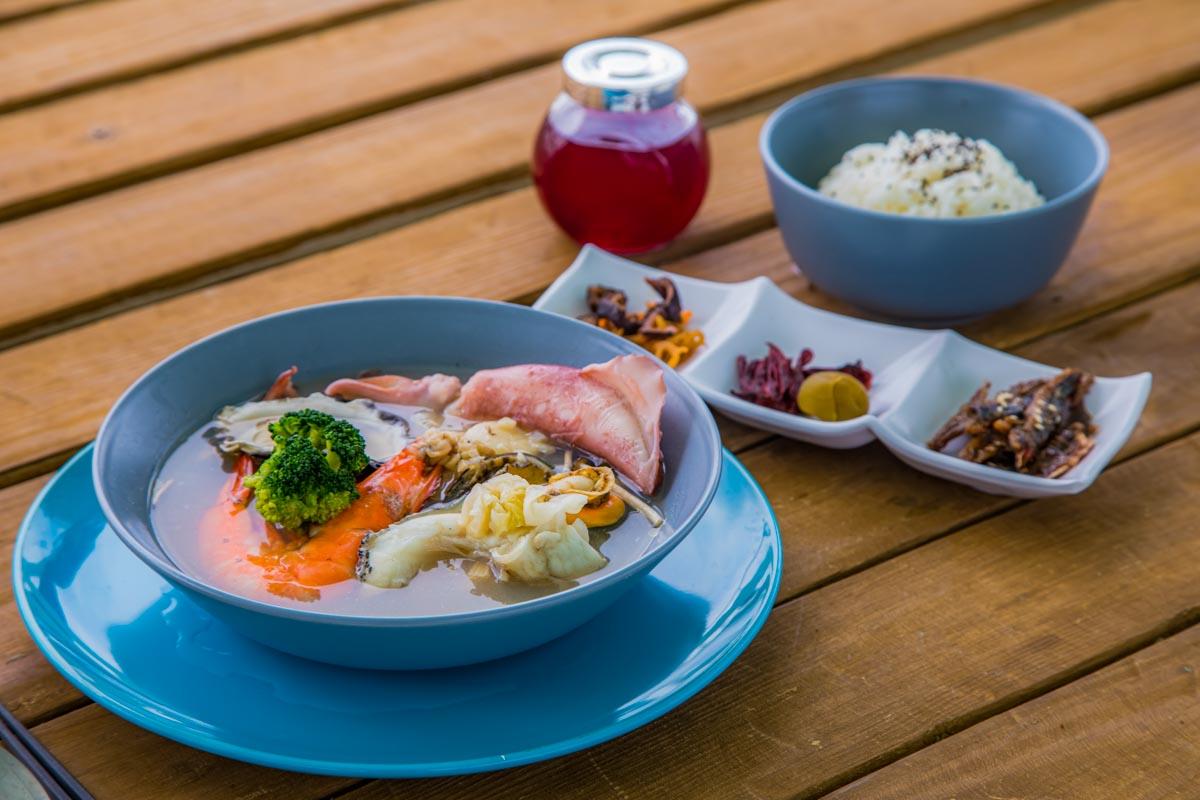 The day's final act is the barge-based sea-surface sporting fun, including the aforementioned "cliff jumping" and "sea walking" contest, plus "surfing" session with jet-skis zipping you over the waves on different types of floating frolicker-transport tools.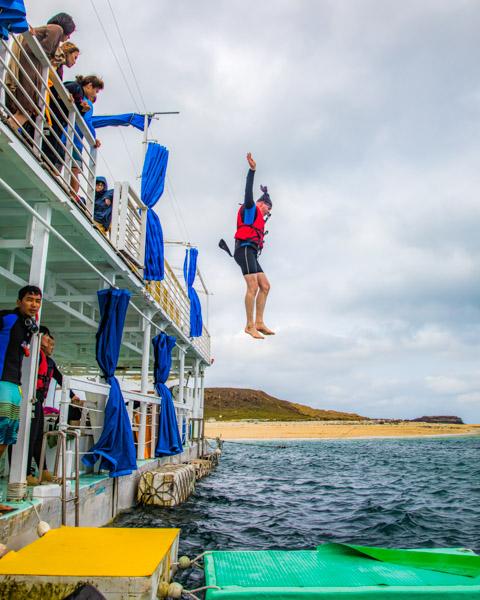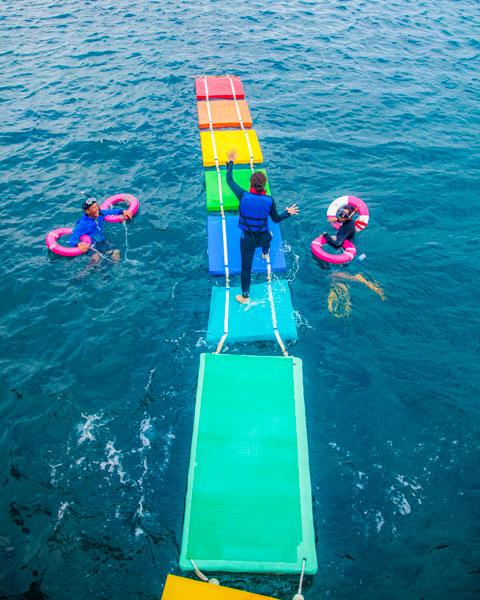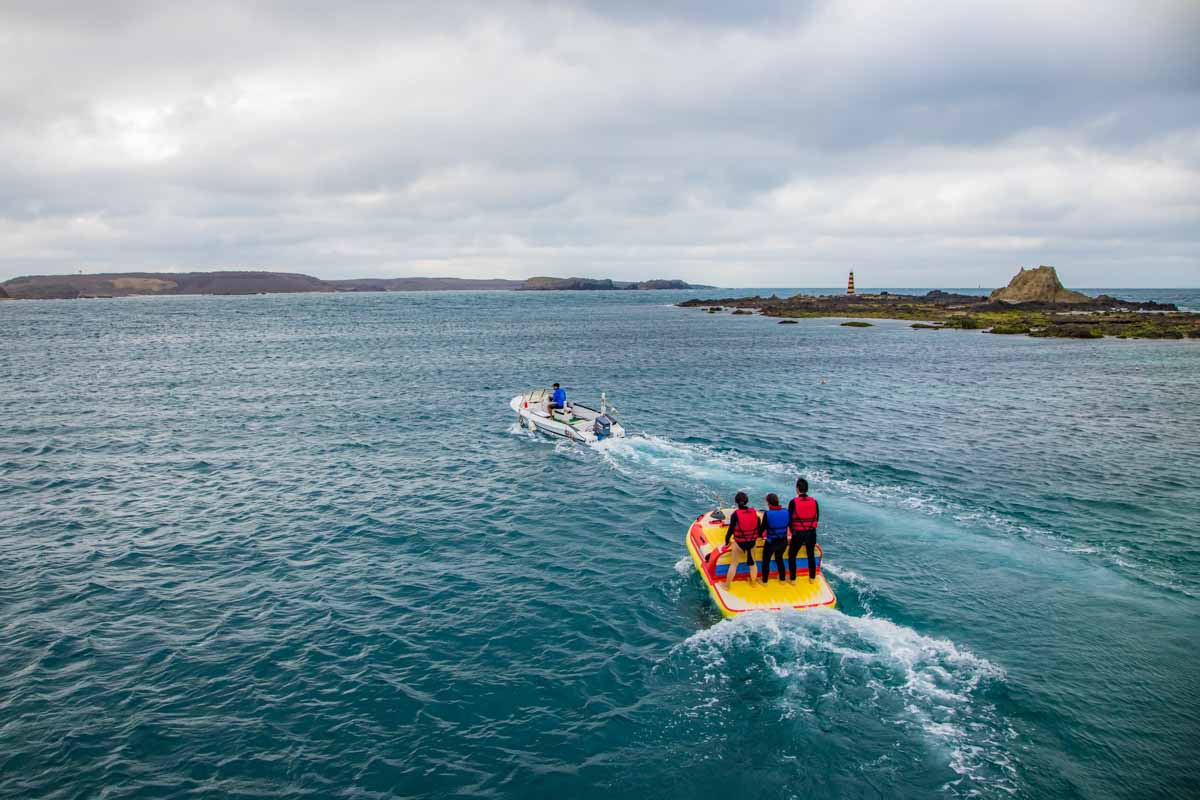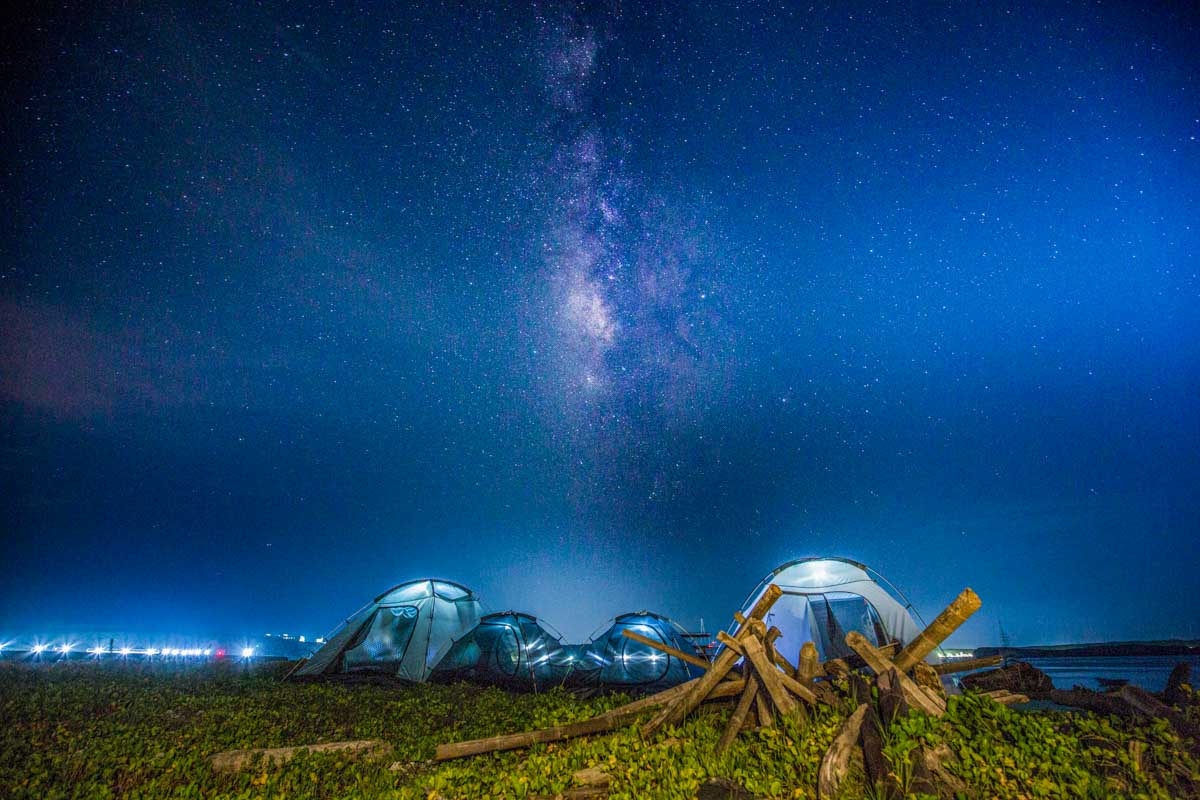 How to get to Penghu Main Island and Where to Find More Info
There are regular flights and ferry runs between Penghu main island and various locations on Taiwan proper. Flights come in at Penghu Airport, near Magong City, and ferries come in at Magong Harbor, right in the city. The air trip takes about 40mins, ferry trips about 4hrs. A limited number of flights are also offered from Kaohsiung City to Qimei and Wang'an islands, respectively, and one ferry service to/from Chiayi County also stops in at Qimei.
For further information on these and other related Penghu-adventuring practical subjects, visit the Penghu National Scenic Area website (www.penghu-nsa.gov.tw) and Penghu County Government website (www.penghu.gov.tw).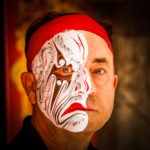 A Canadian, Rick has been resident in Taiwan almost continually since 1988. His book, article, and other writings, on Asian and North American destinations and subjects—encompassing travel, culture, history, business/economics—have been published widely overseas and in Taiwan. He has worked with National Geographic, Michelin, APA Insight Guides, and other Western groups internationally, and with many local publishers and central/city/county government bodies in Taiwan. Rick also handles a wide range of editorial and translation (from Mandarin Chinese) projects.